This was to be Kamara's first ever experience of First Class, at this stage I don't think she was really convinced that this would be much better than Business, particularly given how good the Cathay Cirrus business class seats are.
As we approached the gate at ground level, I saw this:
I was immediately overcome with a sense of giddy excitement. I swear this hobby is the closest you get to recapturing the childlike wonder of Christmas. I've had sleepless nights before, waiting to fly a new cabin or better yet an entirely new carrier.
We showed our boarding passes and were immediately invited to board. There was only one other passenger in the cabin, although once seated, we never heard nor saw him. Seated in 1A and 1K, we were in our own private world.
As soon as Kamara saw the cabin, her face lit up. Once she sat in the enormous seat she actually started to giggle… I did too.
The Cabin
The Seat
Once we settled in to our seats an incredibly elegant and well mannered FA came to offer us PDBs.
The champagne served on this short flight isn't Krug, they serve Amour de Deutz, which while not in quite the same league is still pretty damned drinkable.
We had a couple of minutes for a bit of plane-spotting before enjoying the thunderous roar of the take off. Take off and landing in the nose of a 747 is a life changing experience.
I love being able to look forward whilst sat in row one of a 747
A little bit nicer than the runway view at LHR
The FA gave us menus with our PDBs although K an I already had a pretty good idea that we'd be going for the Kaiseki menu. To this day, the Kaiseki menu aboard NH F is one of the greatest meals I've ever had, airborne or not. I really wanted to see how CX compared.
So yeah, a pretty extensive selection for a four hour flight.
Once safely at cruising altitude the FA came to take our pre-meal drink orders and confirm our dinner selection.
There's something magical about the way the sunlight illuminates the effervescence of the champagne, the light unfiltered by clouds. Or perhaps that's the champagne talking
Two minutes after setting down our drinks the FA rushed over to apologise for not serving us the Japanese snack mix…
We were excited to be able to eat together and being a true British gentleman I offered to go from this: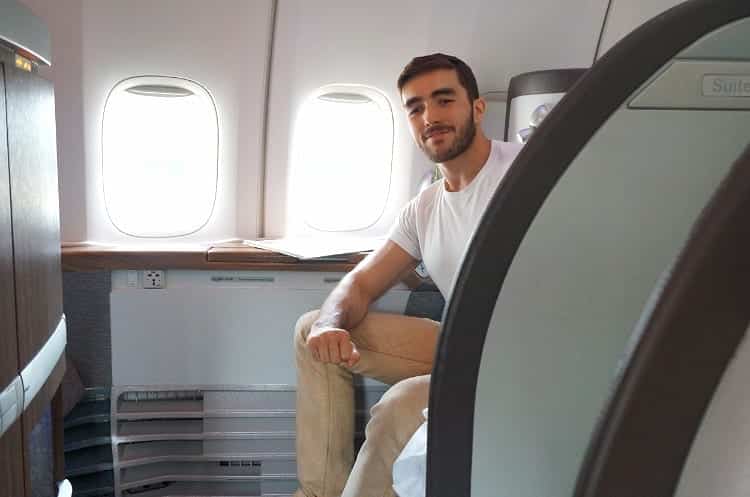 To this:
Still, how could I be mad at my little seat? A wonderful, elegant cabin, delicious food, impeccable service and of course the beautiful Kamara to share it with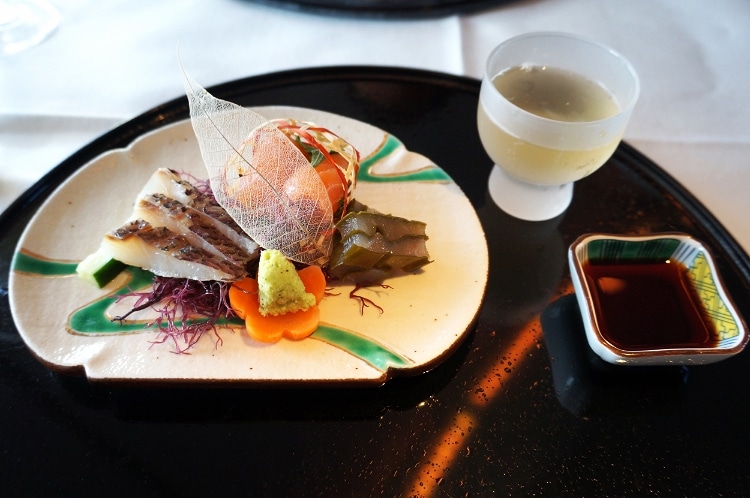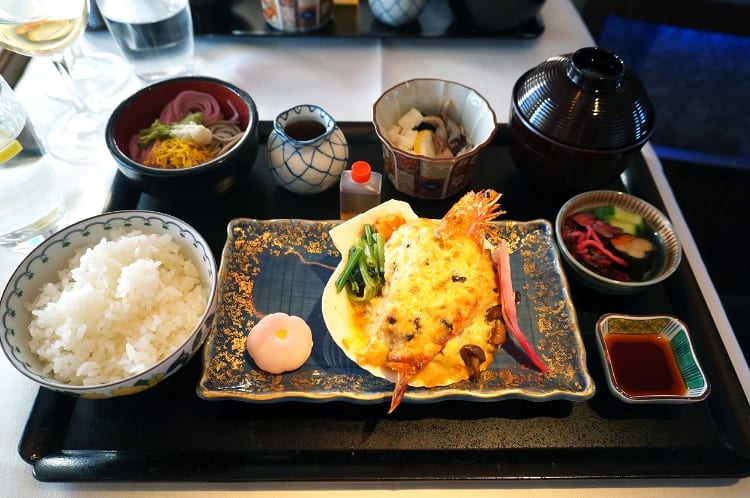 I'm pretty sure this face says it all
The meal was as close to perfection as one could hope for. The food was varied and interesting. The service was attentive without being intrusive. We skipped desert given the monolithic quantity of eating we had done. (small confession, I had a mini breakfast before going to the gym and then having breakfast 2, plus all the food in the lounge, then the Kaiseki meal – hence my frequent use of the gym. Were it not for my frequent visits to the gym, the only seat I'd ever be able to fit into would be CX F).
The FA appeared a little disappointed that we wouldn't be having dessert but was happy to give us a small treat with our tea and coffee.
At this stage I was ready to test out the seat in bed mode. I had a brief snooze and then decided to just stay up and watch a movie.
Oh before I forget, the bathroom was really cool. I love Aesop toiletries and windows in airplane bathrooms.
Back at my seat I went for a glass of JWB on the rocks. THe FA initially brought out a glass of JWB with water and before setting it down realised I'd asked for it on the rocks. She asked if she really had made that mistake, apologised and ran off before I could tell her not to worry about it.
All too soon it was time to return our seats to the upright position and prepare for the exhilarating thrill of landing whilst sat in the nose of the 747. That thump of the nose wheel gets me every time.
It was basically impossible to get a clear shot of the landing but let me assure you, HND is one of the coolest airports ever. The runway looks like an alien nightclub from the future. I have never seen so many lights in my life.
---
Conclusion
---
The service on this flight was ferociously good. I felt like I didn't have a care in the world. Everything was brought to me as soon as I needed it. Sometimes the FAs would proactively suggest a coffee or a snack before I myself had realised I wanted it.
The seat is obscenely large and comfortable in every position I tried it. The IFE had a huge selection and a decent screen too. The headphones sounded crystal clear and no cabin noise leaked through.
It is borderline ridiculous how good this flight was. I cannot wait to fly CX F long haul next year and am delighted to say that I just got my parents booked in on a CX F redemption too. I feel like everybody needs to experience this at least once.