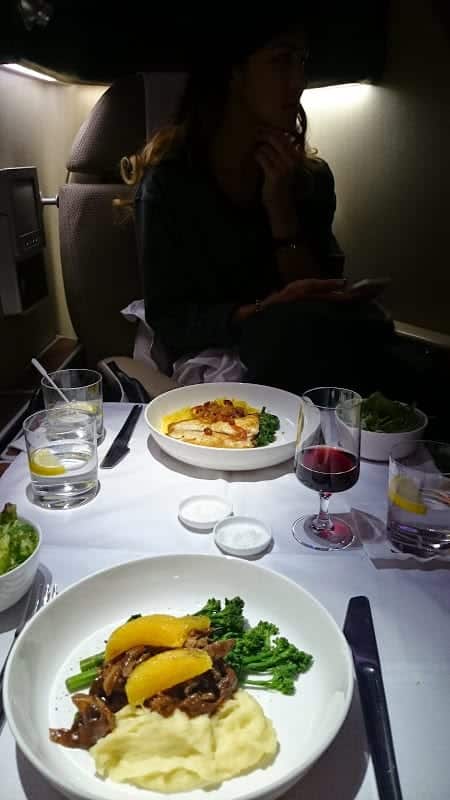 REVIEW – Qantas: First Class – London to Dubai (A380)
August 22, 2016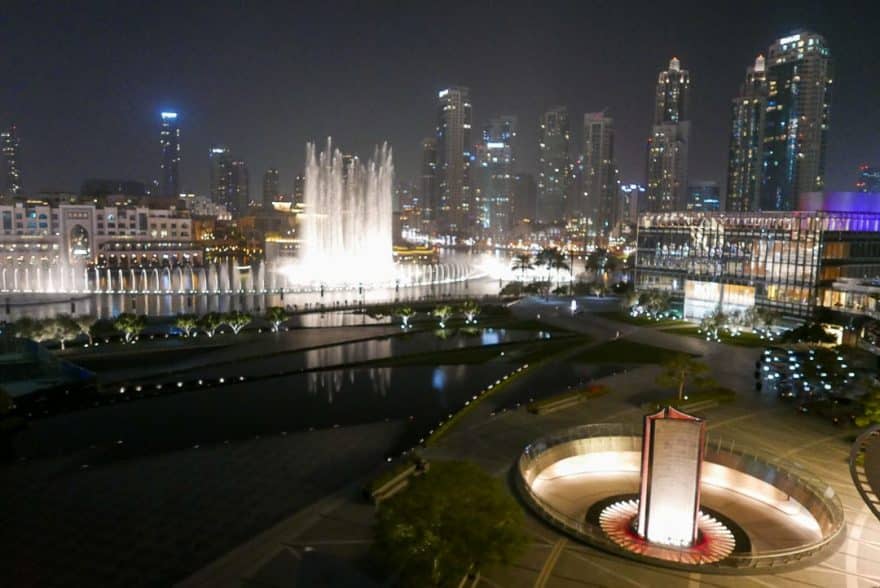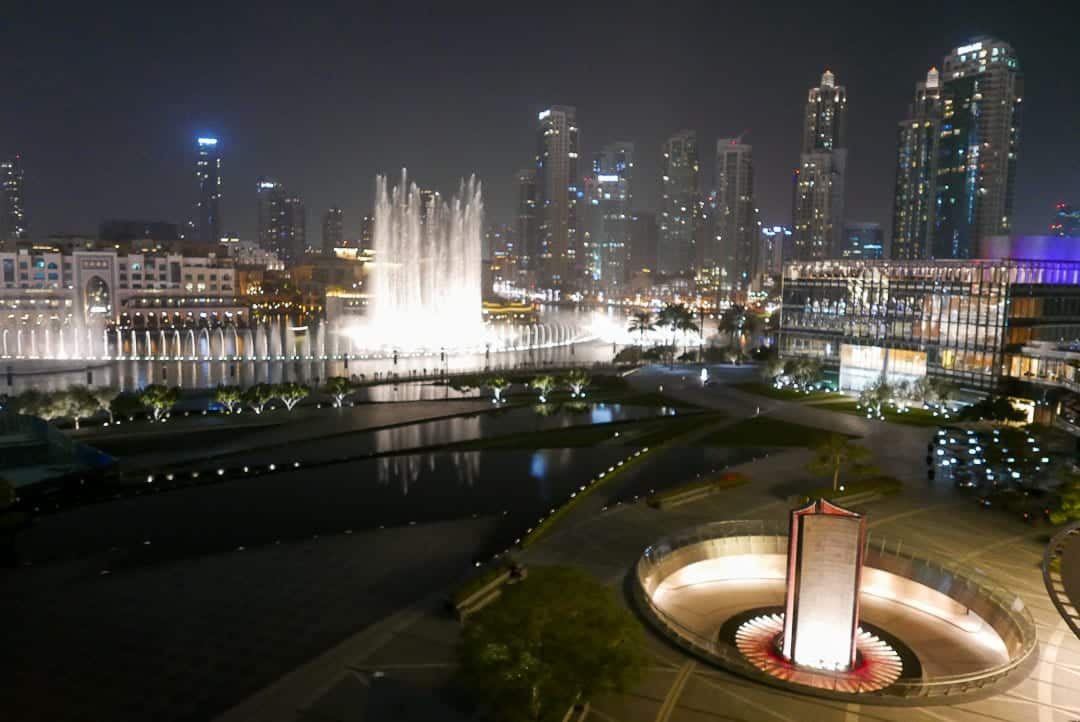 Eating and drinking our way around Dubai
August 22, 2016
---
Booking
---
September rates tend to be very keenly priced in Dubai. I paid 459AED per night for a standard Park King room with Hyatt Privé benefits.
Since booking via Hyatt Privé was the same price as booking on Hyatt.com but included extra benefits, this was something of a no-brainer.
True, I could already get breakfast for free as a Globalist but the extra $100 of property credit plus the chance of getting a better upgrade than all the other globalists staying over NYE was definitely better than just booking via Hyatt.com. Since Hyatt Privé rates are considered to be direct Hyatt bookings, I was able to earn points and stay credit EXACTLY like any booking made on Hyatt.com
As soon as I had my confirmed Hyatt Privé reservation I called Hyatt to apply the suite upgrade, which reflected immediately.
---
Arrival
---
Stepping off the plane, we emerged into a deserted EK terminal. Given that F is given something of a head start disembarking, it truly felt like we had this enormous airport to ourselves.
The terminal is very large, very new and absolutely bathed in marble. Pretty much exactly what I was expecting. I've got to say I was particularly astonished to see this hologramatic projection man though :
Help me Obi Wan Qanobi, you're my only hope.
We were at the baggage carousels in under 10 minutes and thankfully our bags were first off. My snowboard bag drew some incredulous stares from a few people… but more on that later.
As a result of the QF tie in with EK, not only do QF planes land at the EK terminal, QF passengers are also permitted to use the EK chauffeur drive service. The chauffeur drive check-in area was somewhat utilitarian but I guess that's fine, there looked to be so many cars prepared that you would never actually need to sit and wait there.
We were assigned a car and immediately walked outside to be met by our driver. This is when it hit us, that incredible sensation that you get, stepping off a long-haul flight, that first moment when the difference in heat, humidity and smell of a new country bombard you all at once. Really, there's nothing quite like it.
The car was a top of the range Mercedes, very comfortable for the short ride to the Park Hyatt.
Location wise the hotel is probably the closest decent hotel to the airport. The location has both advantages and drawbacks.
The plot of land that the PH Dubai is on, is absolutely enormous. It is part of a larger, gated yacht club. The drive from the front gate to the actual hotel building is a good couple of minutes, the gardens and privately owned homes are all immaculately presented.
Upon arrival we were immediately met by staff who took care of our bags for us. This gave us a chance to look around and really enjoy the design of the hotel. The lobby of the main building is spectacular.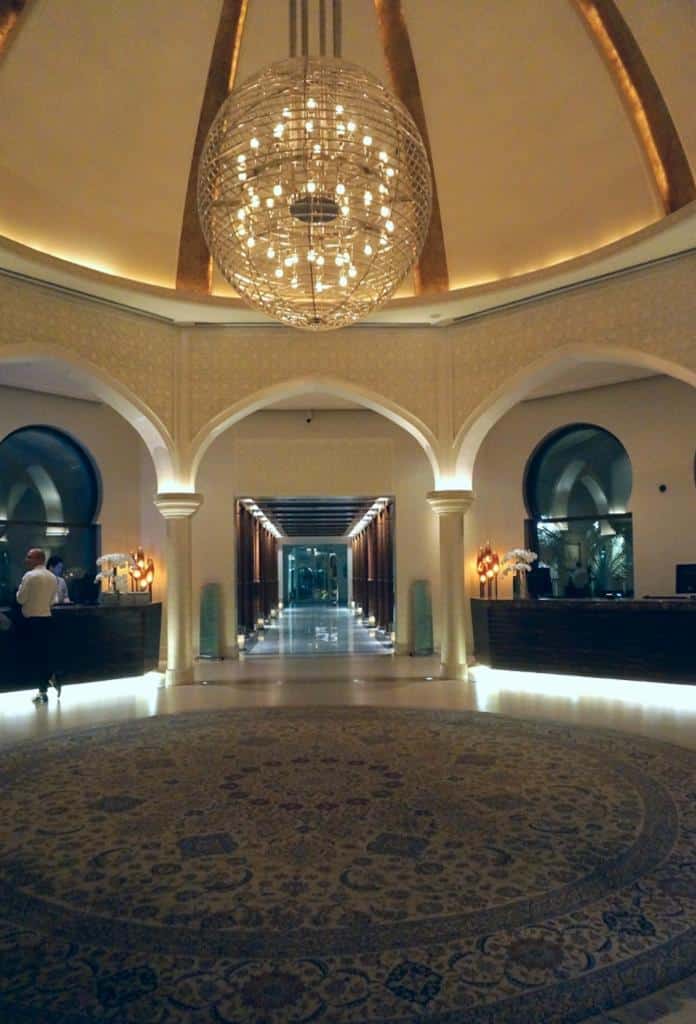 Photo taken at night to show off the amazing chandelier.
Something that really impresses me about the PH Dubai is how it is unmistakably a Park Hyatt: beige tones, dark wood, glass and stone abound yet it is also undoubtedly Arabic in its design – with geometry and archways dominating the flow of the hotel.
Since it was only 8am we were prepared to have to wait a while to get the room. However at check-in, firstly I was told "happy birthday" and secondly I was told that we had been upgraded to a terrace suite that was just being cleaned, however if we wanted to have breakfast in the restaurant the room would be ready once we finished. Given that we only had tea and coffee for breakfast on the plane, this sounded like a great idea.
We were escorted past some beautiful public spaces on the way to the restaurant.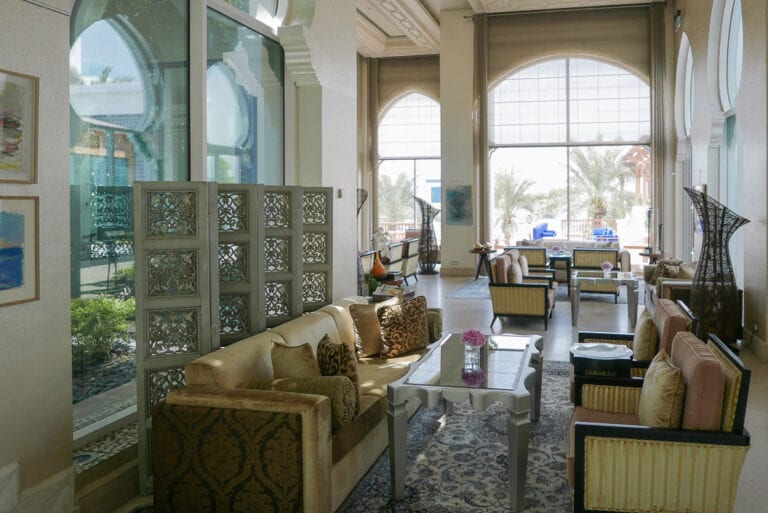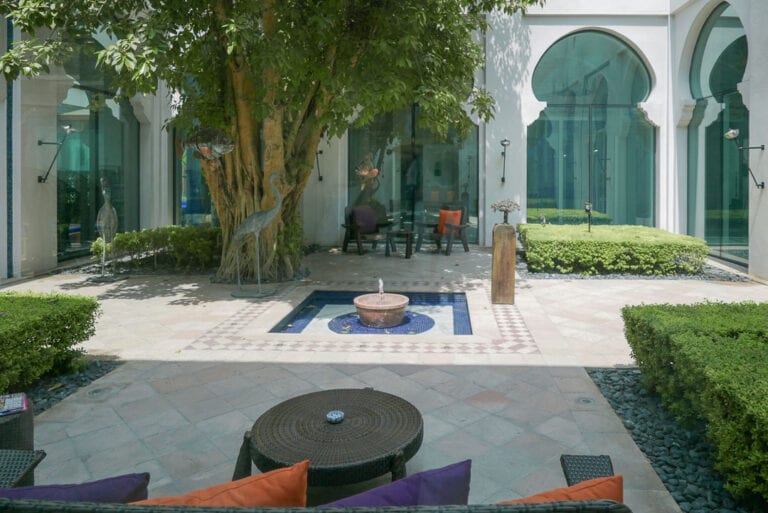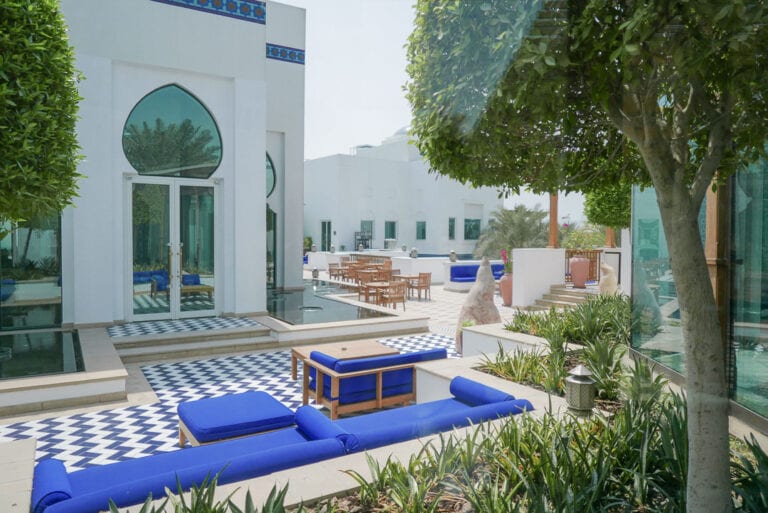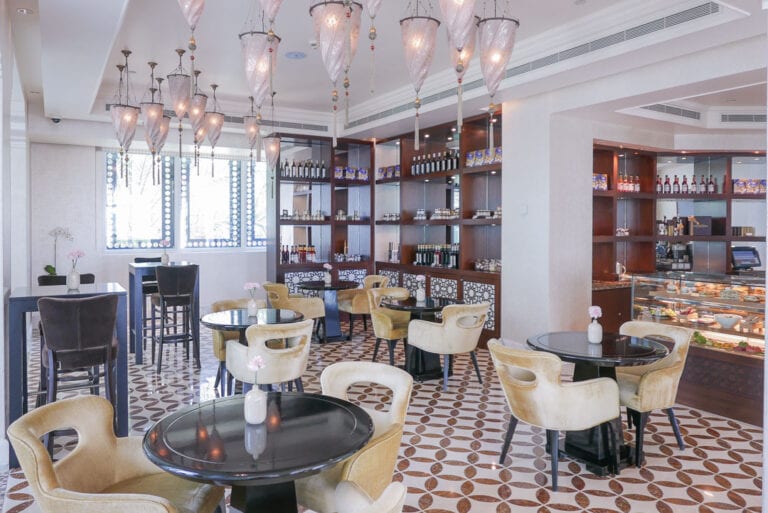 ---
Breakfast
---
The staff were unbelievably friendly and welcoming, offering us newspapers and talking us through the various buffet offerings as well as taking drinks orders and asking if they could help us with any information on the hotel or Dubai in general.
The buffet at the Park Hyatt Dubai is not enormously extensive but the food is of an exceptionally high quality, to my mind that is the best situation to be in. I'd rather eat a few amazing things than lots of average ones!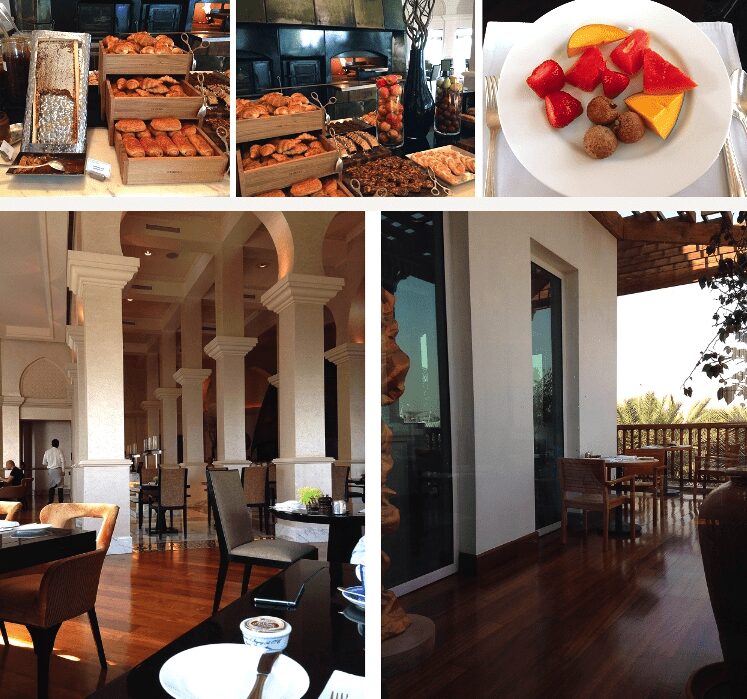 Both the indoor and outdoor seating areas are very elegant, with plenty of space between tables.
As soon as you set foot in a Park Hyatt, everything has that heavy, solid feel of quality to it. I always love to hear the sound of a heavy chair being moved a couple of inches across the floor, or the sound of a solid knife knocking against a fine china plate.

Super fresh fruit.

The Eggs Benedict were unreal.
After breakfast we were asked if we needed an escort to the room. We declined, saying we'd be happy to make our own way (more than anything because we wanted to snap loads of pics!).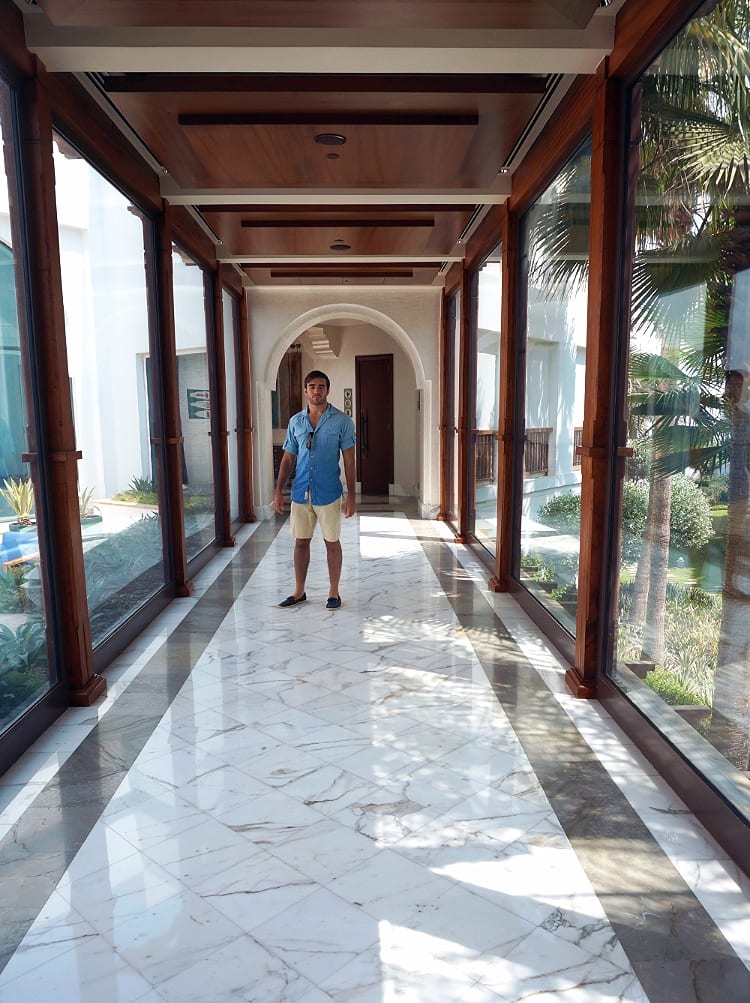 ---
Terrace Suite
---
The hotel is comprised of a series of different building so getting around isn't enormously straightforward, still we were very happy with the location of our room. It was far from the lobby but very close to the pool (which in my mind is a better place to spend one's time!).
As you can see from the fire escape plan, our suite was more than double the size of the regular rooms adjacent to it.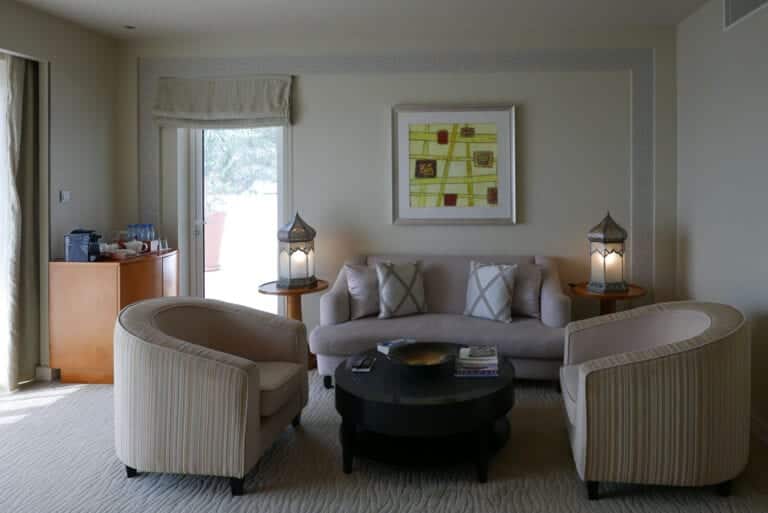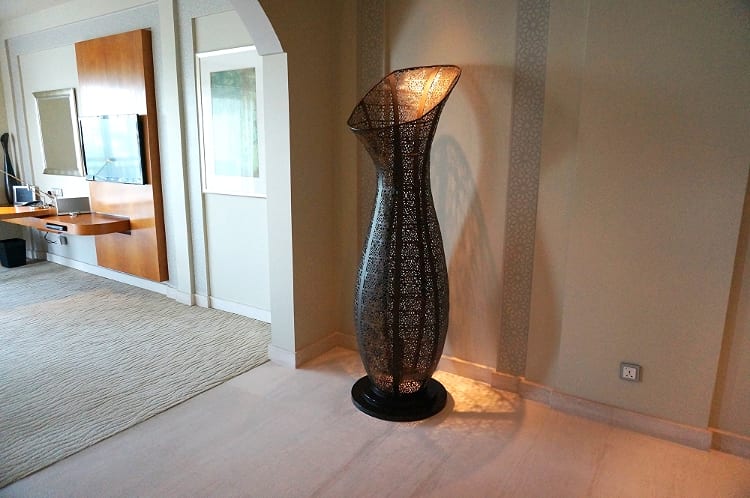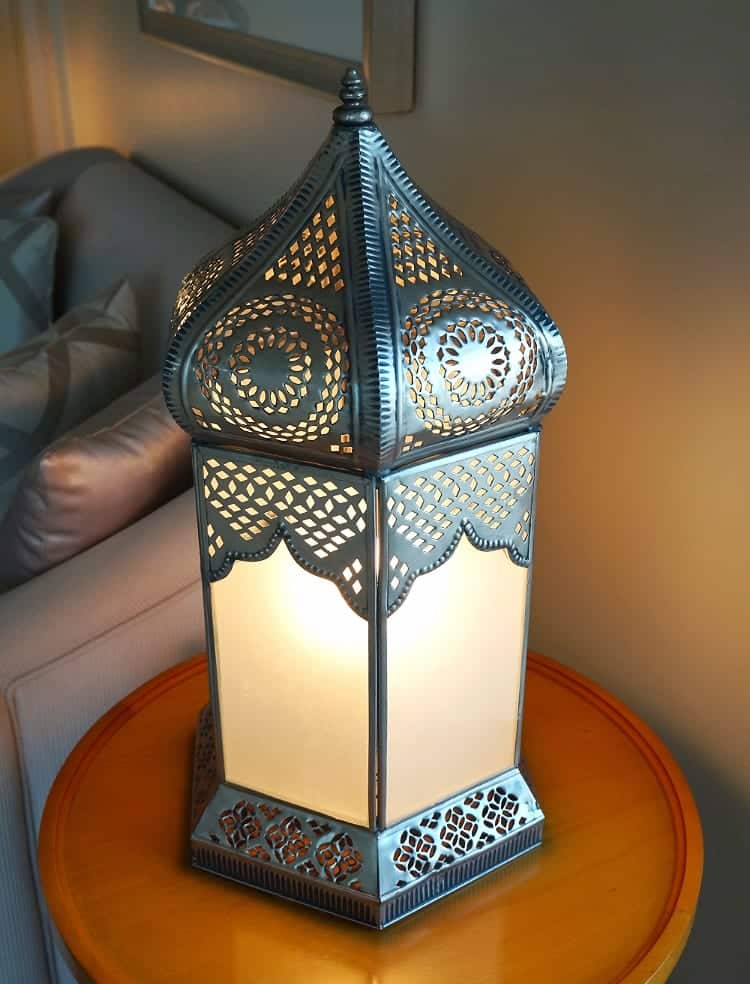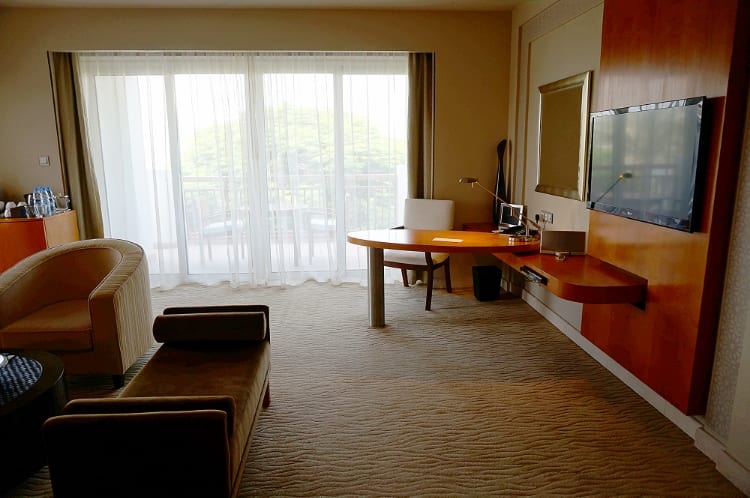 A few minutes after we arrived in the room there was a knock on the door; in came two members of staff with a birthday cake!
I don't have much of a sweet tooth but I have to say that the cake was delicious and also a wonderful gesture from the hotel. Really the PH went above and beyond to make my 30th birthday great.
This is:

The view towards the rest of the hotel.
The view from the terrace is phenomenal. You really feel like you are in such a privileged location, away from all the noise and bustle of the city. I particularly enjoyed seeing the seaplane take-off and land a couple of times each day.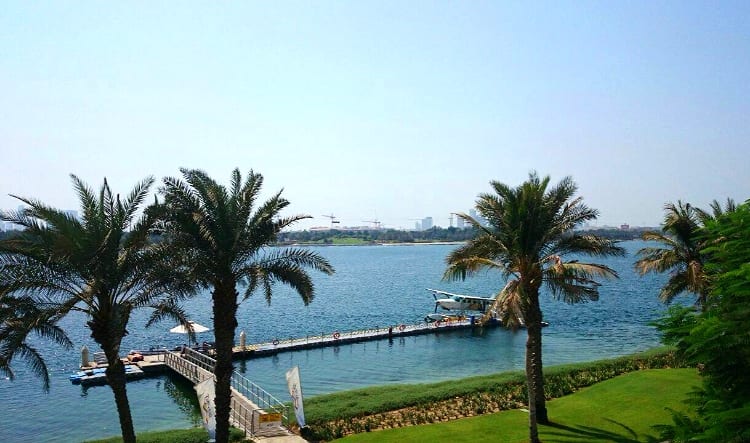 Hearing the propeller rev into action in an otherwise totally quiet surrounding was quite evocative of summers at home as a child. I could close my eyes and imagine myself transported back to the garden at home, feeling the sunshine on my skin, hearing my dad punctuate the silence with the roar of the lawnmower.
Also, from an aviation geek perspective, I had not expected a runway view at this hotel!
The rest of the room was superbly appointed. I love free standing baths and really liked the way you could open panels to let light through from the bedroom into the bathroom.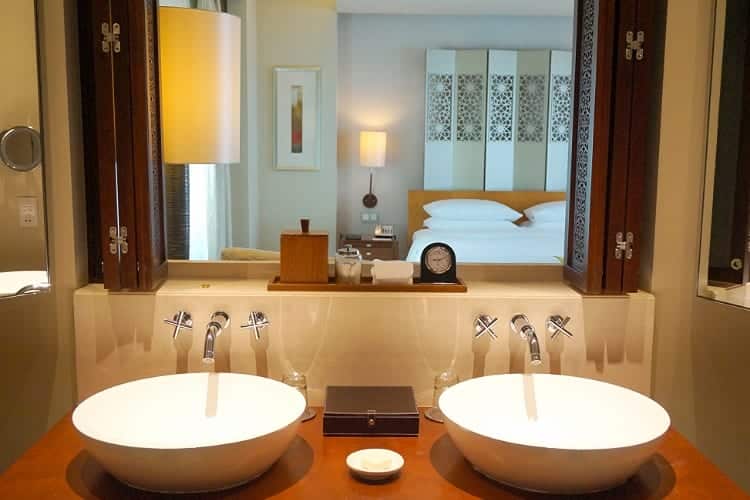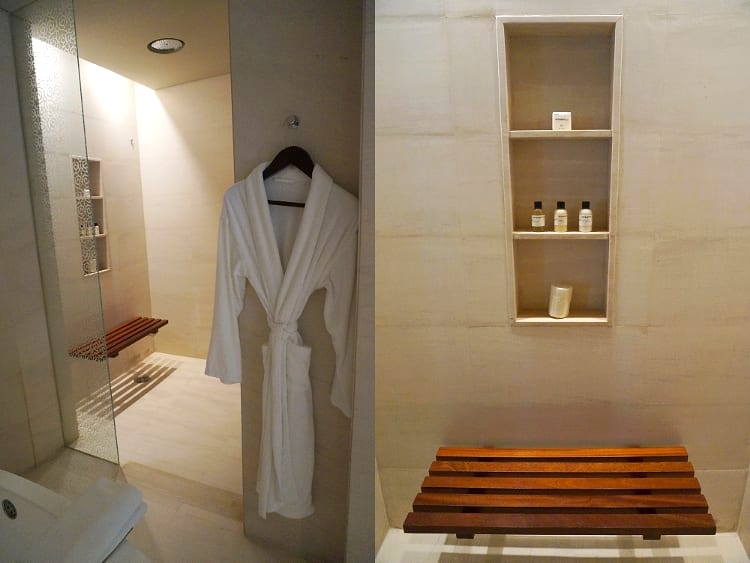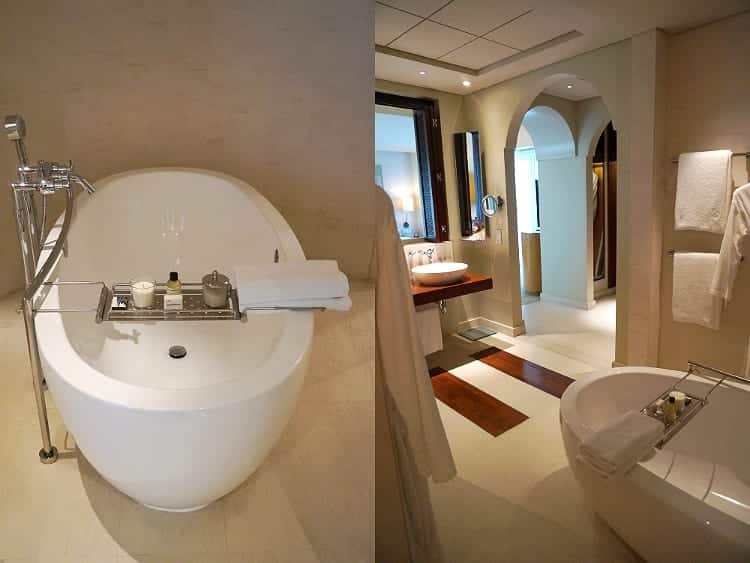 The toiletries at the PH Dubai are Le Labo Bergamote. One of my favourites. Also they are one size larger than at any other hotel I've been to. Around double the size of regular shower gels etc. found in other Park Hyatts…
Moving on to the bedroom:
The room was so large that there was space for an additional sitting area. Honestly though the room was too big for the TV, given how far it ended up being from the bed. Either the TV needs to be bigger or the stand needs to be closer!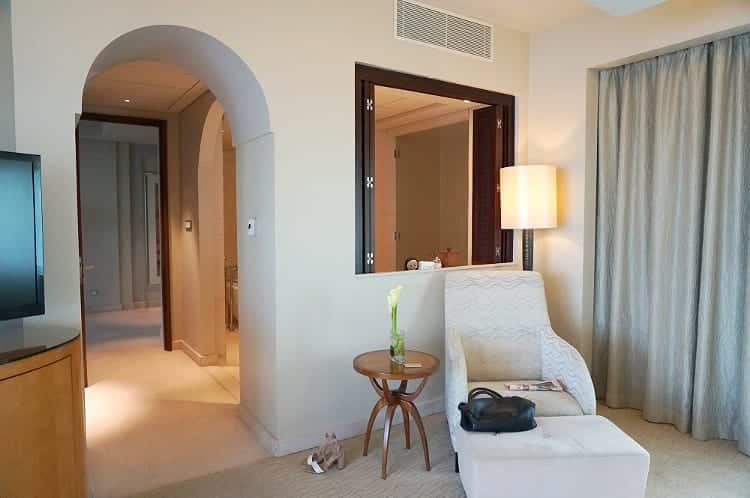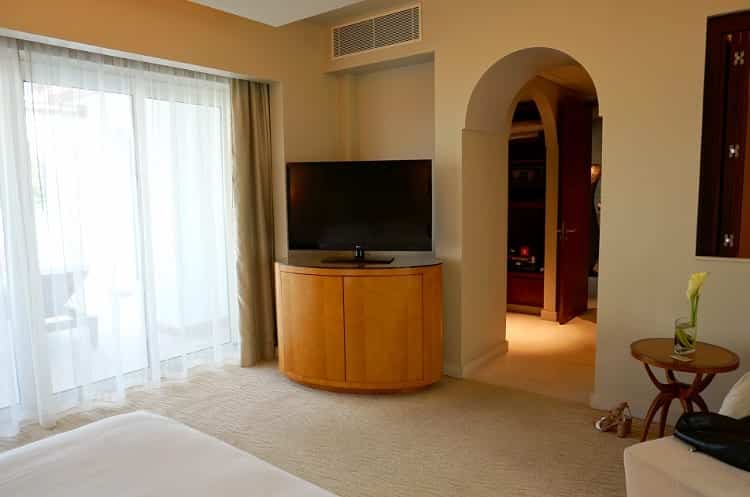 ---
Leisure Facilities
---
Whilst at the hotel, we spent the majority of our time at the pool. I mean, just look at it.
The pool staff were remarkably attentive, always eager to bring you towels or water, or help you to move the sun-loungers should you wish to get more shade.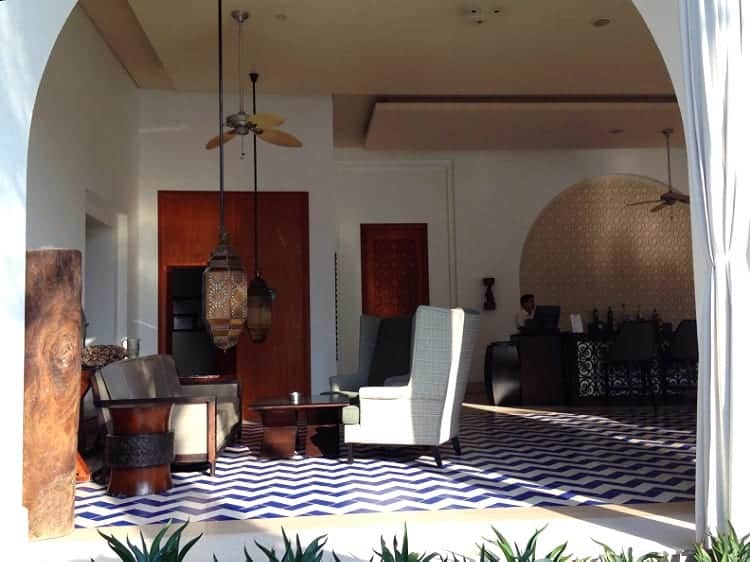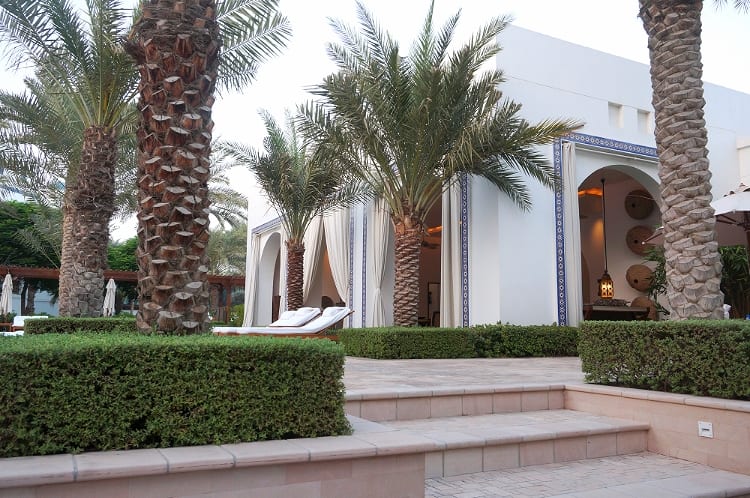 Of course, we couldn't just lie around the pool all the time, eating and drinking like savages. Otherwise the plane home would have had trouble taking off, given our increased body mass. So we decided to investigate the gym facilities, located around a magnificent Arabic courtyard.
The gym is very extensive. Easily in the top 5% of hotel gyms I've been to in terms of equipment. There were no attendants around but there were plenty of fresh towels and bottled water that you could help yourself to and the facilities were kept clean with no machines damaged or malfunctioning in any way.
So far, with the exception of the lobby picture, all the shots I've shown were taken during the day. However, the hotel really becomes magical at night when the hallways are quiet and the lanterns are lit. The views across the creek, as the skyscrapers all light up, are magnificent as well.

In late September the pool was totally usable, even at night.

We saw a couple of these incandescent dinner cruisers during our stay.
---
Brunch at Traiteur
---
Friday brunch isn't included in regular room rates at the Park Hyatt, which is understandable given how popular it is with locals. People often reserve tables weeks in advance but thankfully hotel guests are well taken care of. We asked the hotel to reserve a table for us and were given our choice of rooms in which to sit. There were outdoor seating areas but in September nobody was crazy enough to brave the heat!
The spread was honestly one of the most incredible that I've ever seen. The food quality was every bit as good as you could hope for unlike a lot of other Dubai brunches where venues hope that patrons are too drunk to notice low quality…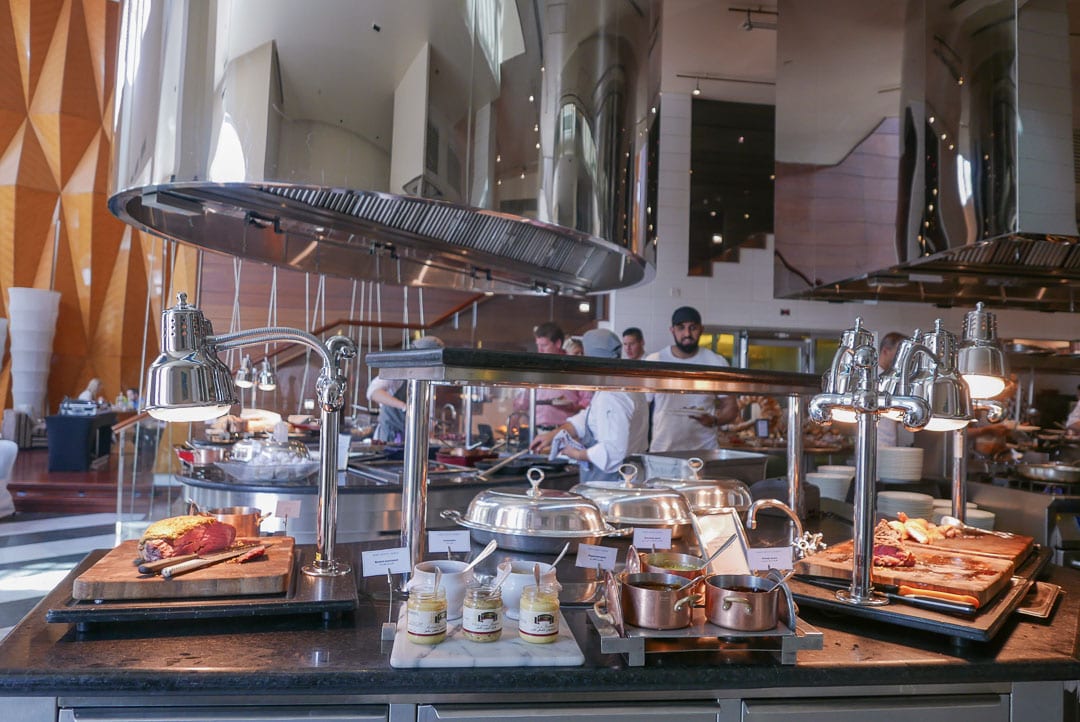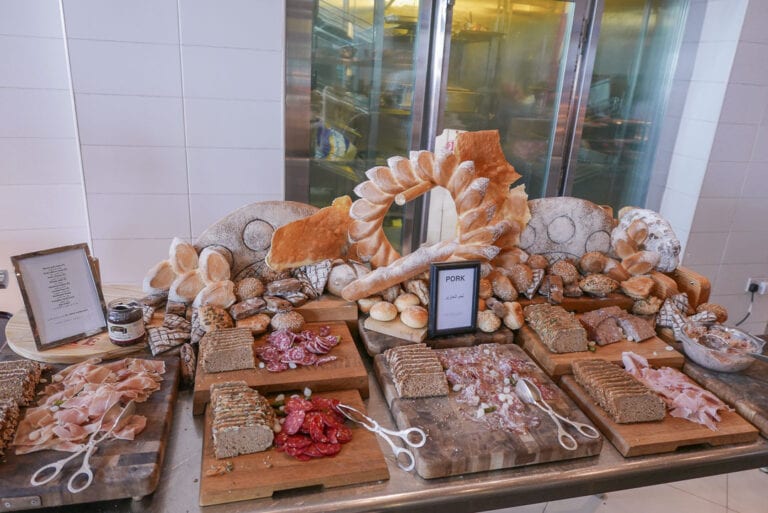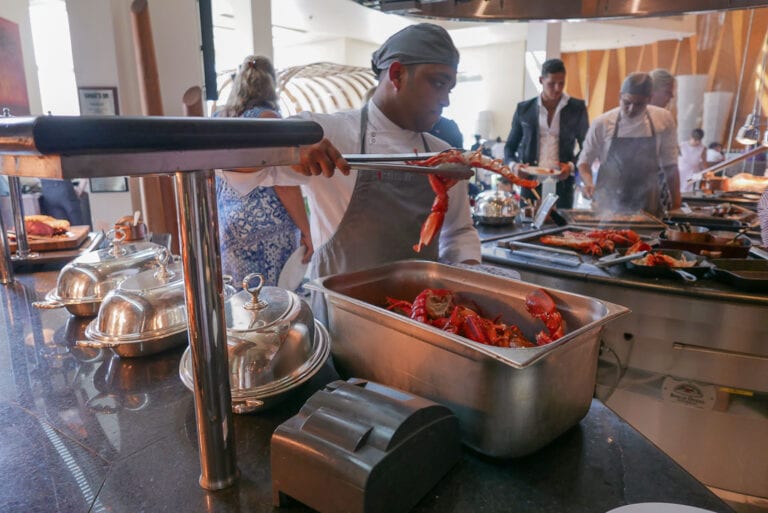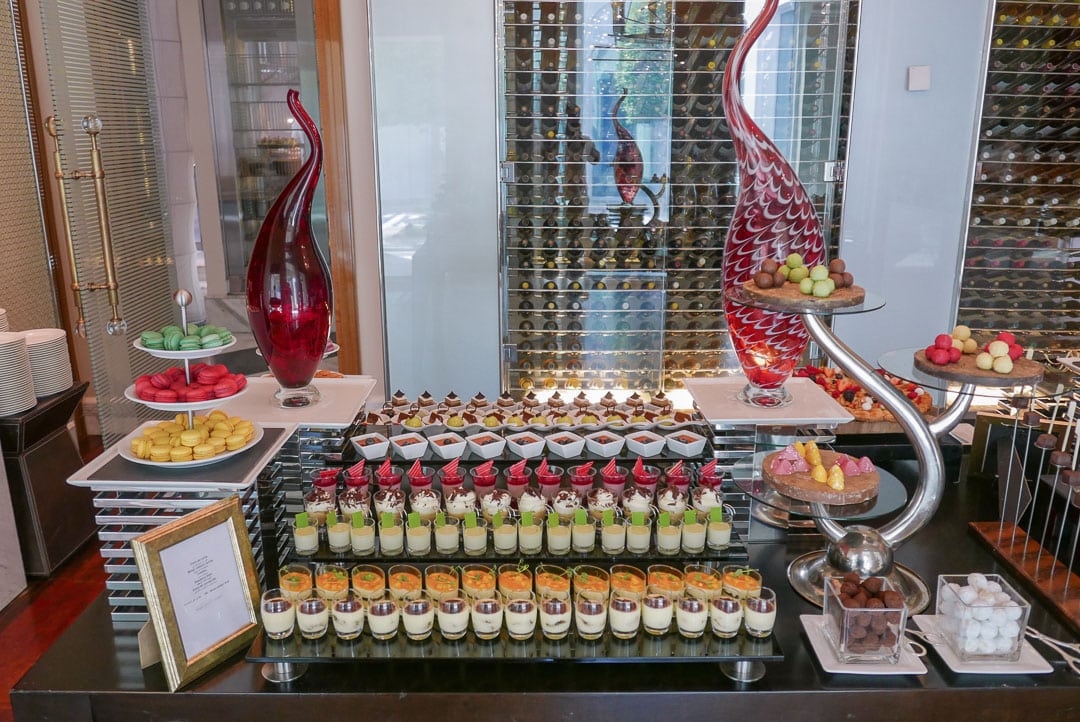 Not only was there a never ending supply of lobster, foie gras and prime rib, the desserts were also freshly prepared onsite and again, locals travel to buy sweets especially from the bakery here… you can see why.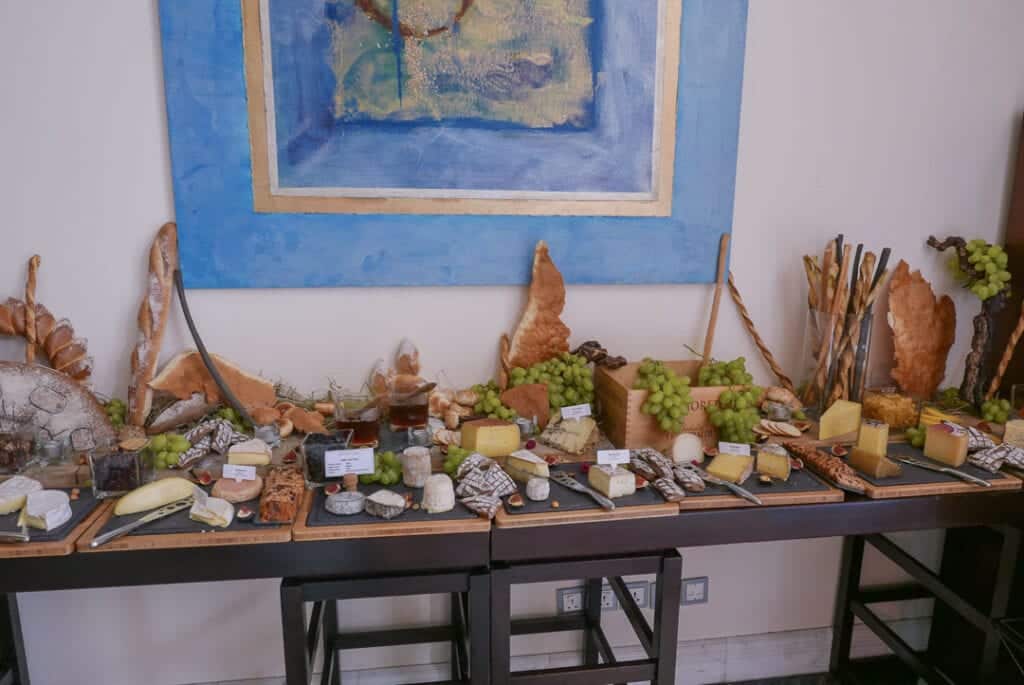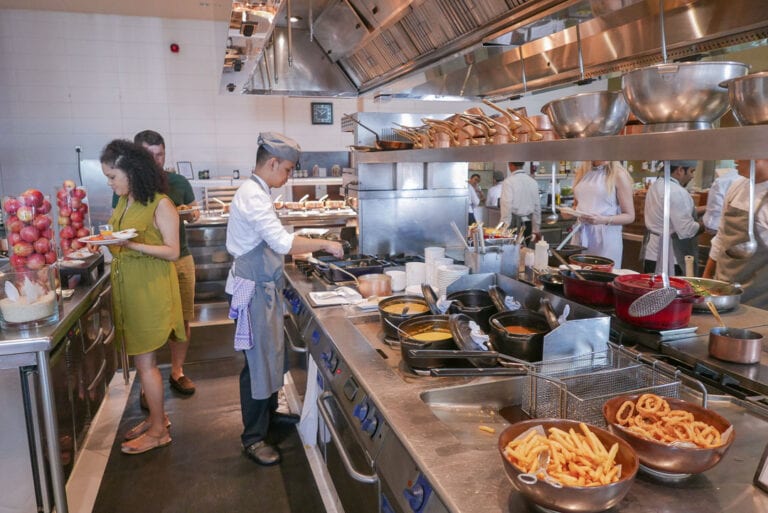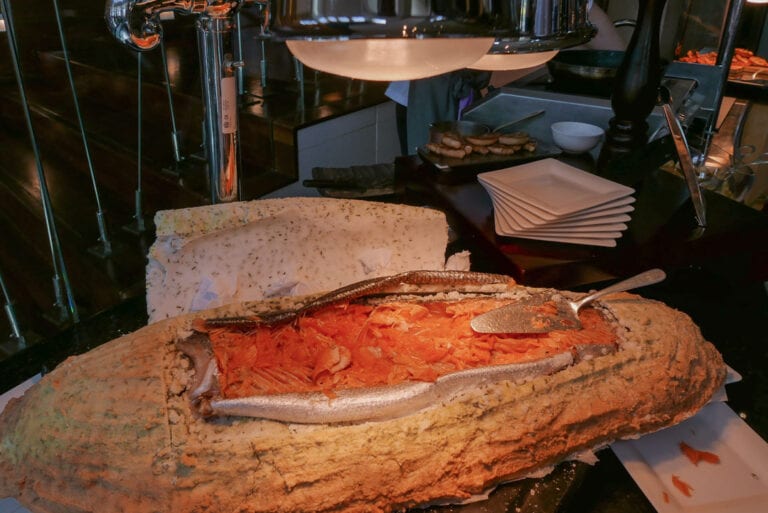 I would highly recommend brunch here even if you aren't staying on property.
---
Before we reach the conclusion of this review, I feel I must point out a couple of negatives we experienced during our stay.
1. I was emailed post stay asking me to pay extra for our breakfast on the last day because we had eaten breakfast on the first day, pre check-in.
Given that no charge was mentioned when we were directed to breakfast on day one, I would have been annoyed to be ask to pay retroactively but would probably have done so. However, given that we skipped breakfast on one day and paid for the (fantastic) Friday Brunch on another, I felt that we were well within our limits having eaten breakfast only 2 times for a 3 night stay.
I raised this in my email reply, the hotel apologised and left it at that.
2. The cleaning staff were very friendly but obviously a little overstretched, understandable given the size of the hotel.
They would knock loudly several times and generally entered the room without waiting for a response. K always had to have a dressing gown at the ready in case a group of them came bursting into the room whilst she was in the shower or sunbathing outside!
Some people are concerned about the location being too far from the action. However, taxis are cheap in Dubai and even better, the Park Hyatt has a fleet of luxury sedans which can take you on single journeys or even be hired for the day. We always used these and ended up signing them to the room. The charge was only around $120 for 3 days of extensive use including airport transfers. The best part? We earned HGP points for the rides too!
---
Conclusion
---
Overall, this was a superb stay. The hotel really went the extra mile with the upgrades and amenities, particularly given that I was back to Platinum status at the time of my stay. The grounds are meticulously maintained and there were no signs of wear and tear on anything at all.
Given how close Dubai is to London I have a feeling we'll be making trips here something of a regular occurrence.
---
Book The Park Hyatt Dubai with Hyatt Privé benefits
---
Hyatt Privé Partner Booking
Click the image to get the best available, flexible rate and also receive:
Priority room upgrades, subject to availability.
Full breakfast for up to two in-room guests.
$100 hotel credit.
Welcome amenity.
Early check-in/late check-out, subject to availability.
Note: You will still earn stay credit and ALL elite benefits, exactly like a direct booking with Hyatt.com.
The Park Hyatt Dubai can be booked directly online by clicking the "BOOK NOW" image.
First time booking with us? Here's how to quickly get set up:
HOTEL BOOKING GUIDE EMAIL FOR BOOKING ENQUIRIES
---