The PH Tokyo is an iconic property, ever since featuring in Lost in Translation the hotel seems to have transcended the boundaries of regular hotels into another realm. The hushed tones of reverence reserved for trip reports on the PH piqued a curiosity in me.
I spent months reading up on all the various diamond benefits, the free bicycles, the spa, cocktail hour and the overall feeling of 'home' and calm that people experienced at the property. When the 10% discount appeared for Hyatt stay certificates (stay certificates have since been eliminated by Hyatt) I leapt at the chance to lock in a stay for the 4 of us at the property. It was pretty hard convincing my parents to part with $290 a night, my mum kept asking if the Hilton in Shinjuku wasn't a better idea for $180 a night, seeing as both were 5* hotels. I told her to trust me and that I'd pay the difference if they didn't think the PH was in a whole different league. Spoiler alert: she didn't cash in my offer!
My parents arrived in Japan a day before us and spent their time in Hakone. We agreed to meet at the PH Tokyo and check in together.
The line at NRT to exchange rail passes was absolutely huge, so K and I decided to take the Keisei skyliner for around £10, opting to pick up our rail passes in town, the following day.
The walk from Shinjuku station to the PH Tokyo is very straightforward, you basically just walk in a straight line. If you walk past this place, you're going the right way:
When you approach make sure you do so via the actual hotel entrance, otherwise you may well get lost walking through the halls of the shopping mall in the basement. In Tokyo pretty much everything at ground level is either a mall, a train station or both.
For some reason the elevators in the PH Tokyo feature some truly nightmarish brass sculptures. They are utterly devoid of class and give a terrible impression. I cannot fathom why in the hell they are there:
She likes to keep things classy, just like me. But I digress.
The elevators open up into the peak bar, a wide open space located in the top of one of the 3 towers. We were greeted by a member of staff and walked to the check-in area.
We were particularly lucky that during our visit not only did we hit the peak bloom of the cherry blossoms, we also had some haze free days where Mt Fuji was clearly visible:
The library is, I think, a key contributor to imbuing the hotel with a sense of calm. It really serves to separate the bars and restaurants from the rooms:
Past the library are the check-in desks.
We were checked in by a very friendly and professional member of staff, he made us aware that he would be checking us in at the desk rather than the room because he wanted to discuss the arrangements for my Dad's birthday cake and didn't want my parents to overhear since they had already checked in and were waiting for us in the connecting room.
I had called in advance to arrange a birthday cake for my Dad's birthday and the concierge had been very helpful in helping me to choose the right one.
The check-in agent also informed us that we were not able to get one of the rooms with the bathtubs under the window as the hotel was really full during cherry blossom season. In the end this wasn't much of a problem as we didn't really have time for soaks in the bathtub given we were only in Tokyo for 2 nights.
The agent then walked us to our room and said that out bags would follow shortly.
One thing that really makes the Park Hyatt Tokyo stand out in Japan is the fact that the hallways are so large (and beautifully decorated). Their size and decor really helps to add to that sense of home that people talk about here.
After a brief catch up with my parents, we heard a knock at the door. In came a spectacular trolley, carrying a bottle of red wine, a bottle of white wine (our diamond amenities) and my dad's chocolate cheesecake.
Suffice to say, Dad was pretty pleased:
After eating a slice of the astonishingly good cake and drinking a glass of wine each, we decided to meet back up in 30 minutes in head into Tokyo.
This was just enough time for K to get all the photos of the room that I knew you guys would need.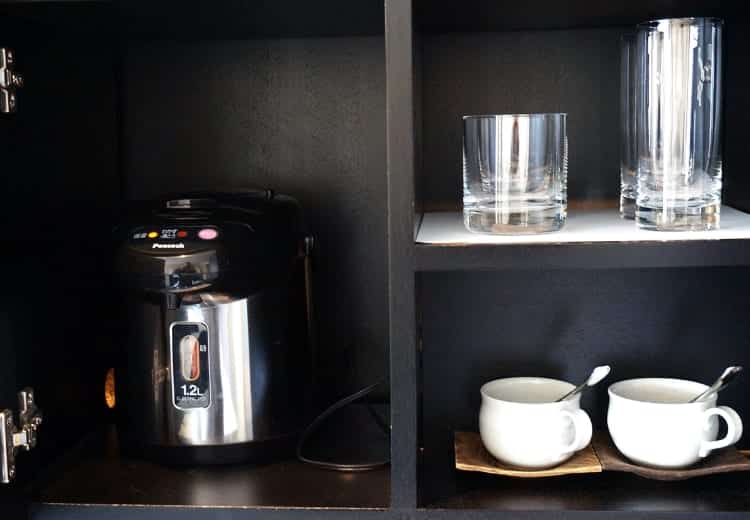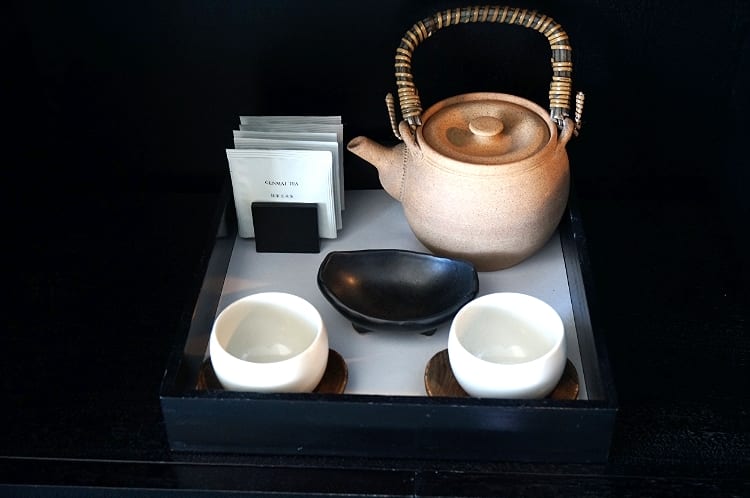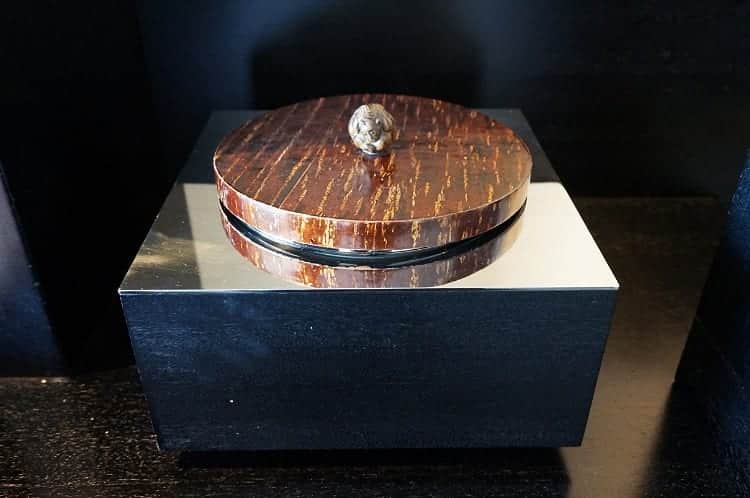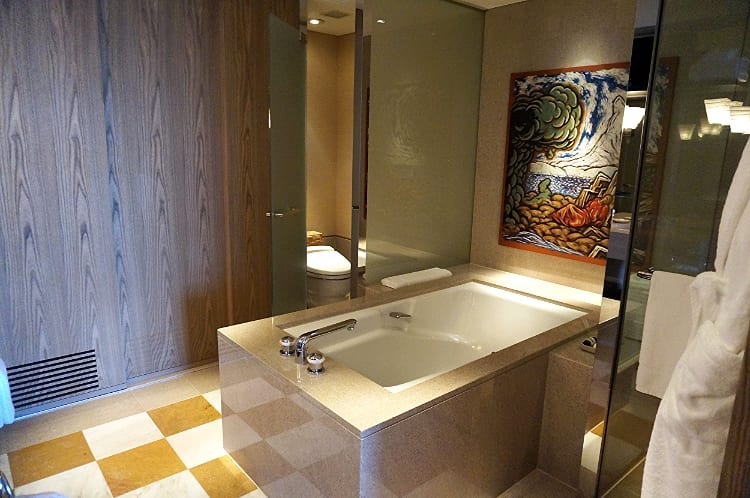 The quality of every fitting, amenity and piece of furniture is unparalleled. Although there is no bling here, the feeling of luxury is palpable. The ample empty space in the room helps to add to this effect.
The beds are monstrous in size too. Easily the biggest bed I've ever seen in a hotel room. They are a little firmer than Western beds but are still unbelievably comfortable.
---
Diamond Perks
---
Being here as an HGP Diamond member really changes everything. The gym/spa access, breakfast and cocktail hour (actually four hours long!) are all available as optional extras for non-status residents but adding each of those to a stay could add an additional 50% to your stay.
If you are unsure as to whether going for a Diamond challenge makes sense, I can assure you that you'll get good value out of it here – even when your room is not upgraded.
Cocktail Hour
Although this used to be held in the New York bar, this has now moved to the quieter and more spacious Peak Bar. To make up for this 'devaluation' it has been extended to 4 hours.
Guests and even members of the public can pay for this and at 3,900 JPY or so, it is still pretty incredible value.
We brought our friends the Ms along one night and spent 4 hours enjoying the food, the view and the cocktails.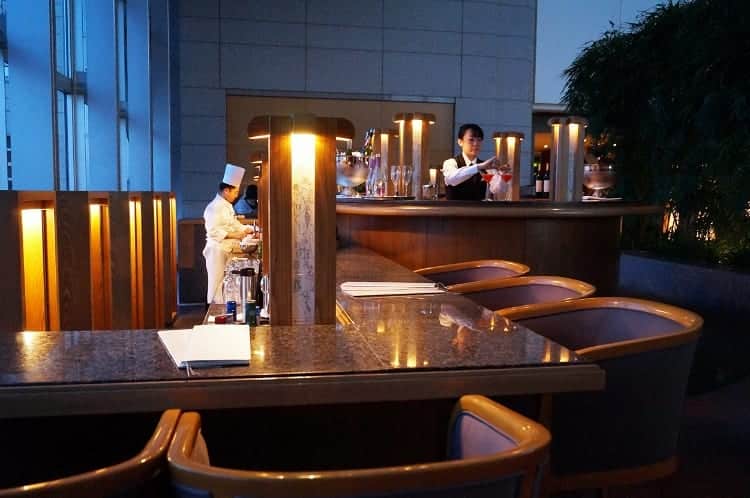 Mr M and I were particularly happy with the fact that any and all cocktails were included in the price and that the bar staff were more than willing to take instruction on how to make things they hadn't heard of. They even took notes and made the same drinks for me the following night.
(You should now be able to order a Sbagliatto or a Bramble, at the PH Tokyo, without too much trouble.)
Mr M and my Dad enjoying a deliciously masculine Cosmo.
---
Leisure Facilities
---
Gym
In order to not disintegrate into a horrific, amorphous tub of goo, given all the eating and the drinking I indulge in, I always try and find time to hit the gym whenever possible, particularly when travelling.
Some hotel gyms are a total hardship, you do what you can with a 1980s treadmill, 6 pairs of dumbbells going up to 10kg and some kind of lat pulldown machine.
Then again, other gyms are mind-blowing, have state of the art equipment, free gym clothes and epic 360 views of an entire city, stretching all the way to the mountains in the distance.
Guess which one the PH Tokyo is ?
Spa
I checked out the spa pre-breakfast on the last day, just as it had opened. I was greeted my a member of staff, shown where I could pick up a free tracksuit and socks, handed some slippers and shown around the facilities. There are a series of different relaxation areas, a small buffet area (with an honour bar section) and every imaginable type of Aesop product ever.
I didn't take any pics inside the actual spa area, you'll be glad to hear, even though I was alone. That could have made for a seriously awkward conversation had anybody walked in!
The spa itself has a bunch of showers featuring Aesop products and a main room with a huge hot tub, set in stone in the middle. there are then various steam rooms, saunas and a waterfall around the edges, pretty cool and relaxing.
---
Breakfast at Girandole
---
Although you can take your breakfast in your room, we all wanted to enjoy breakfast together plus you have more choice with an option of having the buffet plus whatever else you'd like from the a la carte menu.
On day 1 I just had buffet items. Much like the rooms, there wasn't any massive bling on display here, just a lot of very high quality and very fresh basic items.
My mum went for the Japanese breakfast and it looked great, so on day 2 I ordered it as well:
In the spirit of fairness I have to say that although the food was fantastic, the service was patchy at best. We waited for ever for coffees and smoothies and when they finally arrived there was no apology offered. It was pretty much the same both days and applies to any request.
You would struggle to find a server so would have to get up and go over to them and then your request would take a minimum of 20 minutes to fulfil, no matter how small.
Such a shame, but basically this was the only service failing in an otherwise outstanding hotel stay.
Although I really love the size of the rooms, the decor and location of the Conrad, there is something very special about the PH Tokyo, which really does make it stand out in Tokyo and for that matter, the world.
The level of service is just exceptional and that calm sense of serenity, the feeling that you are in a space which transcends the city, is remarkable. If you have a chance to stay here, do. If you didn't think you had a reason to visit Tokyo, start with this hotel. There is no one 'monument' that really puts Tokyo on the map. I love the city because of the deep energy and the sheer variety of experiences on offer. I understand that this alone can make it hard to convince people to visit.
They need a monument, a glamour location. Tokyo, it transpires, does have one: the Park Hyatt.