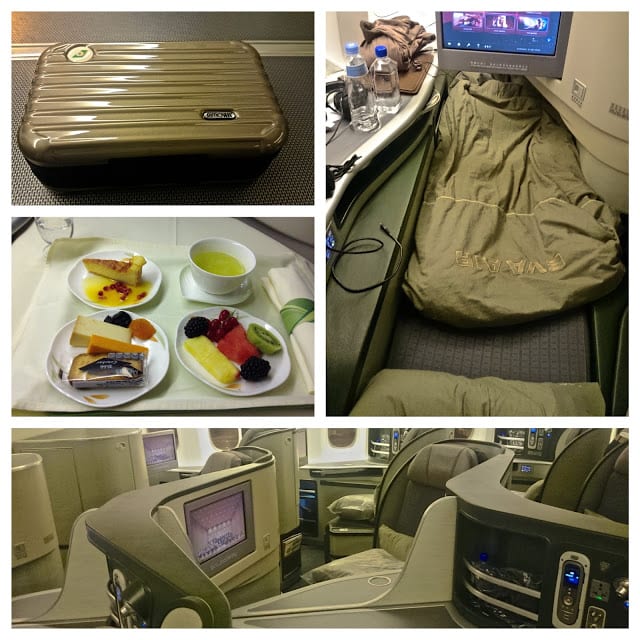 REVIEW – EVA Air: Royal Laurel Business Class – London to Bangkok (B77W)
August 24, 2016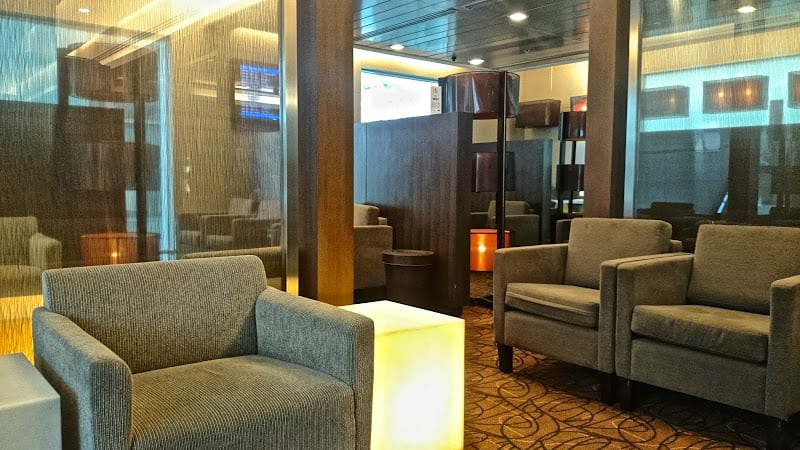 REVIEW – Thai Airways and Singapore Airlines Business Class Lounges, Bangkok Airport
August 24, 2016
---
Arrival
---
From one Grande Dame to another…
After landing at BKK Suvarnabhumi we're through priority immigration very quickly. I was happy to observe that priority bags were unloaded first, nothing worse than having priority tags ignored.
I used to live in BKK and always love spending time there whenever possible, unfortunately most of the time I can only snatch a day here or there so time is always of the essence.
Not exactly a stampede today.
Although there are public transport options to get into central BKK there is an annoying change of lines involved and I always tend to go for a taxi.
Given the Peninsula's location on the other side of the Chao Praya, I felt that a taxi made even more sense as we'd be able to circumnavigate the major areas of gridlock around Sukhumvit.
On arrival to the Peninsula's grounds you get the feeling that you're not in a regular city hotel. The fact that the hotel is set within grounds as opposed to being immediately visible from the street, really sets it apart in this city.
We were greeted by a phalanx of bell boys in the traditional Peninsula attire and escorted to the check in area. The receptionist was very polished and professional whilst also coming across as polite and interested. This was my first time at a Peninsula hotel, if I were to draw a comparison I would equate the service here with that of CX F, very discrete but also quite warm. The receptionist was very thorough in his introduction to the hotel and ensured that we were escorted through the traditional, woven-walled hallways to our room.
---
Deluxe Room
---
The hotel is designed so as to give all rooms river views, this means that there is an abundance of natural light in the bedroom, although the curtains are very much able to block it out should you so choose.
The nice thing about Peninsula Hotels (much like Four Seasons) is that there is no traditional loyalty program. This means that everybody gets to enjoy little touches like fruit plates upon arrival.
The bedside controls for lights and curtains were very old fashioned but worked perfectly. The TV and its inputs were completely modern though.

The bed was firm but squishy, like a giant solid marshmallow.
Although ours was billed as a deluxe room it had more of a junior suite feel to it – given the fact that there was a hallway with dressing mirrors, baggage area and mini bar separating the bedroom from the bathroom.
I generally tend to prefer more modern styling in my luxury hotels, Park Hyatts tend to be my favourite choice. However I have to admit I was already starting to quite like the Pen. Things really kicked into high gear when I saw the bathroom. Although bathroom seems like a bit of an understatement. This was more of a marble clad bathing sanctum.

Dual sinks.

The deep soaking tub featured a TV.

The super powerful, walk-in shower.

Oscar de la Renta amenities. (First time I've ever gotten hand sanitiser in a hotel bathroom!)
---
Riverboat Service
---
After settling into the room and getting showered we decided to head into town using the Pen's famous complimentary riverboat.
The hotel grounds are beautifully maintained and the low, wide profile of the riverside bar presents a wonderful frame around the view of the Chao Phraya.

We were lucky enough to have the boat to ourselves.
We jumped onto the Skytrain and headed into Sukhumvit for a walk around, taking in the amazing sights and smells of the streets. I love the feeling of walking around in a hot country at night, as the humidity lightly clings to you. The energy of the streets and the balmy nighttime temperature made me feel like I was 6,000,000 rather than 6,000 miles from dreary East London.
I love street food but my guilty pleasure is food courts in Asian shopping malls. My face breaks into a smile at the thought of loading up the pre-paid card and darting around all the various stalls, piling up my tray with all kinds of delicious treats! We ended up at Paragon, which is not the best in BKK but still pretty damn good.
I took it fairly easy, seeing as I'd only just come off a long haul flight with nothing but the physical exertion of light unpacking, with which to work up an appetite.
Roast Duck and Duck blood – Noodle hotpot with Duck soup.
Hainan Chicken rice with Crispy fried chicken and Clear soup.
Those
yolks with
that
crispy chicken. Unreal.
As we headed back to the Peninsula day had fully given way to night; the neon shimmered in the heat and reflected in the water.
The hotel grounds really come to life at night, the atmosphere is wonderful. (my mobile phone camera, on the other hand, leaves a lot to be desired).
---
Leisure Facilities
---
Feeling a little guilty about all the eating (and not very tired yet due to jet lag) we decided to check out the gym.
The entrance to the spa and gym.
The gym is very well equipped with a huge variety of equipment, although with it being a Saturday night, we certainly got the impression that the staff wanted us out of there so they could go home.
Quite often I've found that gym staff are trained to a different set of standards to the rest of the staff at top tier hotels. Unfortunately, the Peninsula Bangkok falls foul of this as well.
Still, we took our cue and headed to the pool instead. The pool alone is worth visiting this hotel for. Unusually enough there were no mosquitoes at all, maybe they spray the grounds or maybe we got lucky. Either way we were happy!
Thirsty from our swim we headed back to the room to get changed before heading to the riverfront bar.
Much like the rest of the city, our room was transformed by the night.

The view from our room.
---
The Bar
---
We got to the bar just before closing time but here, the staff outdid themselves. When we were told it was nearly closing time, this was followed with "but please sir, have a seat. There's still time for a relaxing drink". A selection of mixed nuts was brought over for us, along with a menu.
The barman prepared our drinks expertly and brought them over in a pair of satisfyingly heavy glasses, placed on freshly folded linen napkins.
After finishing our drinks the barman wandered over to us (15 minutes after closing time) and laid down the menus again. I said that we didn't want to hold him up, "not at all sir, relax, you're on holiday". Wow. Now that's service. Seriously.
Since he asked so nicely we were happy to oblige! We ordered two more drinks and enjoyed the warmth of the evening, listening to the nighttime insect sounds, punctuated occasionally by the sound of passing riverboat motors.
---
Room Service
---
Back in the room, Kamara said that she was feeling hungry. Her metabolism is a wondrous and efficient machine. I on the other hand wasn't particularly hungry but equally, not one to pass up on one of life's little luxuries – the ordering of room service.
We called for chicken fried rice and within 15 minutes there was a knock at the door. A bellboy in crisp white attire set down a lacquered wooden tray, with a beautifully presented dish. Flowers, linen tablecloth, a side pot of chilies and a tall glass of iced water with protective cover – a fine way to end our brief evening in Bangkok.
---
Conclusion
---
There's a lot to like about the Peninsula Bangkok.
In a city full to the brim with competitively priced luxury hotels, The Pen still really stands out. The grounds are enormous and beautifully kept and the riverside location really adds to the appeal. The service is excellent too: discrete pre-emptive and personalised.
This hotel is not for everyone though. It is a great place to come and unwind after a hectic day out in the city but if you want the convenience of numerous malls, restaurants and clubs right outside of the hotel door the Pen is not for you.
Likewise the degree of old school formality may be off putting to some people. Personally I see the appeal and I would consider alternating this with a few nights at a hotel nearer Sukhumvit (The Conrad or Sofitel So for example) to get a more complete feel for the varying facets of Bangkok's charms.
---
Book The Peninsula Bangkok with Virtuoso Amenities
---
Virtuoso Partner Booking
Virtuoso bookings match the best rate on Peninsula.com and are fully flexible.
In addition, you will receive:
Upgrade on arrival,

subject to availability (does not apply to Grand Deluxe categories).
Daily buffet breakfast for up to two in-room guests.
Afternoon Tea for 2 on one day during your stay.
800 Thai Baht SPA gift certificate per person for any treatment at The Peninsula Spa.
Early check-in/late check-out, subject to availability.
The Peninsula Bangkok can be booked directly online by clicking the "BOOK NOW" image.
First time booking with us? Here's how to quickly get set up:
---