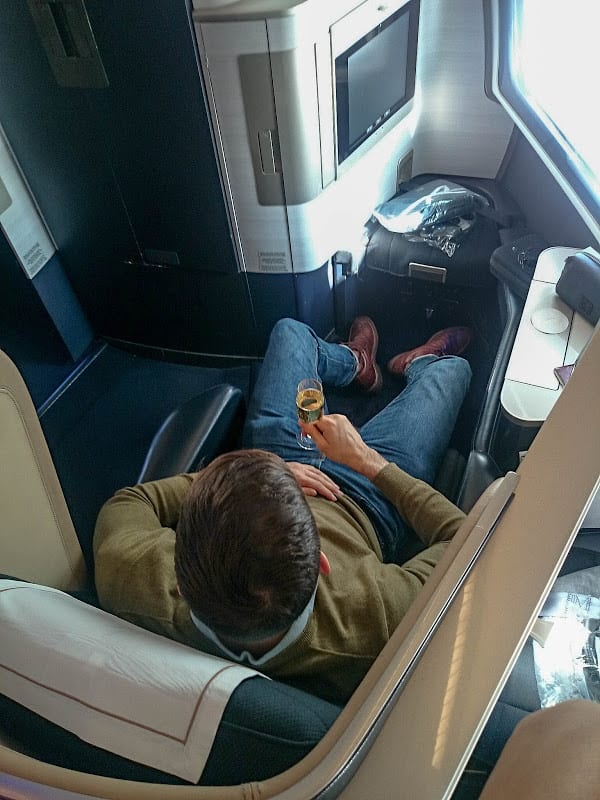 REVIEW – British Airways : First Class – London to New York JFK
September 1, 2016
A one night stopover in NYC in March of 2015
September 1, 2016
Andaz Wall Street
Location: New York
Loyalty Program: Hyatt Gold Passport
Status during stay: Platinum
Room Type: Large King Room
---
Intro
---
Since we were some of the first pax off the plane we were able to avoid the horrific queuing time that economy pax often experience at JFK. Nonetheless it was still at least half an hour before we cleared security and got to the luggage claim area.
Thankfully there were announcements explaining that connecting passengers have to collect their bags manually from them at a a connections counter. BA's check-in staff had forgotten to mention this to us.
As a result of schedule changes, we actually ended up with a 25hr layover (I love sneaky little victories like this) but AA were happy to take the bags despite our next flight being more than a day away.
After this we called for an Uber and within minutes we were headed outside, into the freezing cold, to meet our driver. The snow was really coming down.
As we were loading our bags Kamara spotted a uniquely American scene, like something out of a movie, a convict in jumpsuit and full on chains being loaded into a van as what appeared to be air marshals and police officers, exchanged banter on the sidewalk.
You definitely don't see this sort of thing in Europe.
The uber car was way nicer than what we get in London (invariably a Prius), otherwise we would have struggled with luggage and what turned out to be a pretty long drive to the Andaz Wall Street, the snow and rush hour traffic were conspiring to eat into our 25 hours!
---
Andaz Wall Street – Large King Room
---

We pulled up to the Andaz, on the corner of Wall and Water, at around 6:45pm. The blizzard was still in full force, so unloading of luggage was done with maximum haste. We rushed in and were met with a very busy, high ceilinged lobby.
The lobby was busy because it was the tail end of the Andaz's daily 5-7pm happy hour. Which is particularly happy given that the alcohol is free.
When we made our way to the check-in counter the receptionist asked if we'd like to help ourselves to wine whilst we checked in. We did but one sip told us why it was free. This was box wine that had somehow made its way into a bottle. In Spain we mix wine of this quality level with coke, to make Kalimotxo.
We booked the room through tablet hotels which meant we got upgraded to a Large King from the standard King Room, we were also entitled to a 4pm checkout and any bottle of alcohol we wanted from the minibar. We were also told that all soft drinks and snacks from the minibar are free at Andaz hotels.
---
Large King Room
---
I had arranged to meet some friends at the hotel and we bumped into them as we made our way to the room. We arranged to meet them downstairs, in the regular bar with its (hopefully) normal tasting drinks.
This gave us a few minutes to photograph the room and get freshened up.

Our room had a very open plan feel, the sinks and toilet were on the left immediately upon entering.

A giant rotating wardrobe/ shelving unit/ cupboard was central to the design of the room.
The unit could be rotated to either close or open the room up as well as enabling you access the minibar whilst brushing your teeth/ hair. Multi-tasking is important in Wall Street.
On the right, as we entered was the wet room, which featured both a standalone shower and a deep soaking tub with a view!
The toiletries were Beekman branded.
I quite like having a window into the bedroom from the bathroom, I still remember the first time I saw a design feature like this back in 2000 as a teenager staying in a hotel in Malaysia – sitting in a jacuzzi bath, opening the windows onto the bedroom, watching TV whilst enjoying an ice cold drink from the minibar.
The bed was ultra comfortable, in exactly the way it needs to be after finishing a long day of travel.
iPod dock and alarm. I really like the slanted metal tray for coins and keys, built into the surface.

The furniture at the Andaz is all very cool looking and feels very solidly made.
I love when hotels have a padded seating area against the windows from which you can watch the city below. There's an amazing feeling of escape, seeing the bright lights of a foreign city below, not worrying about the time, just relaxing. One of my all time favourite hotels, Conrad Tokyo, also has this feature.

Kamara liked it so much that she shot a couple of pics for her blog there.

Another very cool design trick was the use of the space around the TV.

The TV was housed within a unit with a mirrored back so that the space behind it could be used as a vanity area.
Just as we were heading out to meet our friends in the bar, K said she was "feeling peckish". I love that you can just grab little snacks and not worry about the cost at Andaz hotels, it definitely makes you feel more at home.

Looking at the minibar there appeared to be a strong contender for our choice of one free alcoholic drink.
I called my friends, telling them to bring ice and glasses up with them. Given the size of the room, the four of us had plenty of space to hang out and pre-game before heading out to dinner at ABC Kitchen.
---
Conclusion
---
The Andaz Wall Street has huge rooms, a free minibar and two hours of free (slightly horrific) booze every day.
The staff are friendly and the rooms are cool and modern, without emphasising style over substance.
The location is out of the way compared to some Midtown hotels but then again it's closer to everything south of Houston (that's How-ston to you out of town-ers), including Battery Park, South Street Seaport, The Statue of Liberty and the Freedom Tower (and of course Wall Street!).
I probably wouldn't recommend it for a first time visitor spending two nights or less in the city, as they'd miss out on the unique buzz of stepping out of a Midtown hotel into the bustling streets of Manhattan. For a repeat visitor or somebody willing to split their stay between North and South Manhattan, I'd say this hotel should be near the very top of the list.
---
Book the Andaz Wall Street with Hyatt Privé benefits
---
Hyatt Privé Partner Booking
Click the image to get the best available, flexible rate and also receive:
Priority room upgrades, subject to availability.
Full breakfast for up to two in-room guests.
$100 hotel credit.
Welcome amenity.
Early check-in/late check-out, subject to availability.
Note: You will still earn stay credit and ALL elite benefits, exactly like a direct booking with Hyatt.com.
The Andaz Wall Street can be booked directly online by clicking the "BOOK NOW" image.
First time booking with us? Here's how to quickly get set up:
---