REVIEW – American Airlines : First Class – New York to Los Angeles (A321T)
September 1, 2016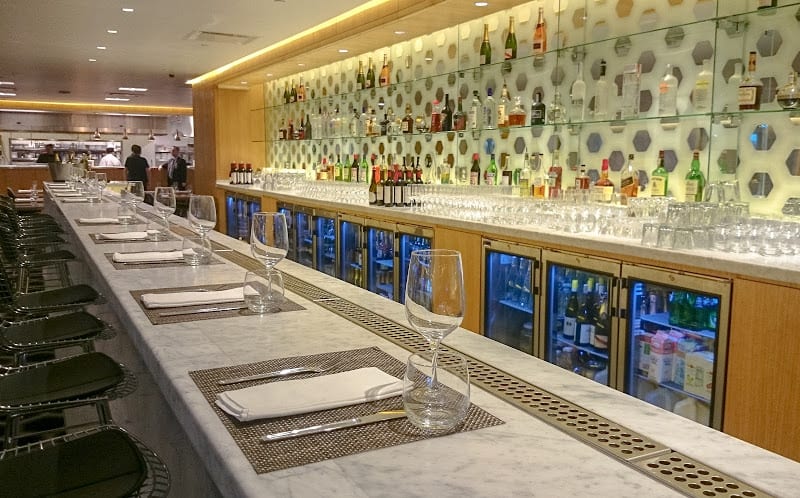 REVIEW – Qantas First Class Lounge – Los Angeles LAX Airport (TBIT)
September 1, 2016
Andaz West Hollywood
Location: Los Angeles
Room Type: Strip View Room
Status During Stay: Hyatt Gold Passport Platinum
---
Intro
---
Our flight arrived into L.A. at around 9pm. Hoping to get to our hotel as soon as possible, we tried Uber. Unfortunately there were no standard Uber cars, only Uber black – I've since learned that Uber has been actively blocked from serving LAX, although the situation is quite fluid.
So, we ended up taking a massive town car to the Andaz West Hollywood. The ride was super comfortable and the driver was very friendly and provided bottled water. For around $50 the value actually wasn't too bad.
An interesting turn of events: our bags had disappeared and we were told by an AAgent that they would be arriving sometime the following day. Quite why this would happen, given that we'd checked them in over a day in advance, I couldn't understand.
I've never had luggage go missing before and this was particularly annoying, given that we were dressed for a New York blizzard.
Still, one quick call to Amex confirmed that we were entitled to claim £300 (around $450 at the time) each for clothing and toiletries if our bags were delayed by over 3 hours. Given the time of day, we'd have to wait until the following morning to go shopping…
That £600 in itself was enough to cover the annual fee on my Amex Platinum card, before you even factor in all of the other benefits!
Given the late hour of our arrival, the lobby was much quieter than in Wall Street. We were greeted and asked to take a seat as well as being offered a glass of wine to drink during check-in.
I made this booking directly with Hyatt and was informed that we'd been upgraded to a Strip view room as a result of my Platinum HGP status. There is a real difference between the regular rooms round the back and those with a strip view. Back in the days when this hotel was branded as a Hyatt House (and more commonly known as the Riot House due to the rock and roll debauchery that took place within its confines) it had balconies on all the strip view rooms. Axl Rose once barbecued steaks and threw them to fans below but this didn't bother management as much as the frequent defenestration of TVs that happened here.
---
Strip View Room
---
With the refurb and name change the balconies were shut off and incorporated into the strip view rooms. This added an additional sitting room with floor to ceiling glass windows onto the rooms.
The initial impression was that the room was that it was much smaller and cheaper looking than the sister property in Wall Street.
The orange plastic dog was for sale in the minibar menu for $300. Imagine the money they'd make if the balconies were still there and people starting launching these onto the strip…
The shower area was pretty nice though.
With the curtain at the far end of the room drawn (or if you had a room round the back) you'd be disappointed paying 5* hotel prices for this room.
However, once you pulled the curtain back:
The people watching from here on a Saturday night was exceptional. I saw things that can't really be repeated on this forum. Let's just say it's a dynamic and exciting place to be.
After freshening up we made our way along the strip, looking for some dinner. Foursquare suggested one place which is very close to the Andaz, saying that it had some of the best Mexican food in the area.
---
Pink Taco restaurant
---
---
A hotel with an equally storied and devious past as our own, looms over our amusingly named dinner venue – the castle-like hotel is the Chateau Marmont (or just the Chateau to locals).
We arrived just before the cut off for food but our server was unbelievably helpful and enthusiastic and told us not to worry. What a contrast to the buzzy New York restaurant from the night before. Relaxing in a rose filled terrace on a warm March evening in California.
After eating so little on the transcon, I think we may have over ordered. Still I couldn't resist ordering fish tacos when in California, it just so happens that they came with a bunch of sides.
After dinner and a couple of margaritas we made our way back to the Andaz for some much deserved rest.
---
Jet lag being what it is, I awoke at 6am the next morning, super alert and awake.
I let Kamara sleep whilst I headed to the lobby for complimentary coffee and snacks.

I obviously couldn't avoid catching up on FlyerTalk.com along with my first cup of coffee!
The coffee was pretty weak, particularly seeing as the Andaz Wall Street had a capsule based machine. Still it was coffee and it was there, so I drank three cups before getting my first 'real' coffee of the day once we left the property.
I took a cup up for K who was semi-awake. However, the pastry I brought up was the major incentive she needed to get out of bed.
Whilst she got ready I sat in the living room area and called AA and Amex to confirm that we 100% definitely weren't about to get our bags and that we could go ahead and start buying replacement clothes.
We'd arranged to meet a friend of ours for Sunday Brunch at the Polo Lounge so didn't have much time to shop. We literally had 3 hours to spend $450 each. Our destination: The Grove.
We chose it because it has a farmers market which opens before the regular shops on a Sunday, where we could get breakfast and be there ready to go as soon as the shops opened.
Welcome to L.A.

Hot dog for breakfast? Don't mind if I do.

The results?

Shopping spree complete!
Aside from the slight complication at LAX, uber works fantastically in LA. The best thing? Whilst we were there they were trialling a service called UberPool where you can offer to share your ride with somebody else, whether or not you end up sharing: the cost of your ride gets capped at $5!!!
Heading back and forth to our hotel paying 5 bucks for taxis, arms loaded with free new clothes was pretty damn cool.
---
Brunch at the Polo Lounge, Beverly Hills Hotel
---
---
We managed to make it to the Beverly Hills Hotel just in time to meet our friend in the Lobby. She were staying at the hotel, which was a world away from our accommodation. It is a Hollywood institution and more country club than rock n roll. Rumour has it that many of the biggest movie deals in Hollywood history have been done in the very same Polo Lounge where we were about to have brunch.
View from our friend's room.
We managed to score a great outdoor booth table which offered privacy whilst allowing us to see everybody else.
This has got to be my new go to drink for a boozy brunch. The Ramos Fizz : Gin, Cream, Orange and Soda Water – amazing!
The girls.
---
Andaz Pool
---
After our brunch, the sun properly came out for the first time since we'd left London. We thought this would be a perfect opportunity to check out the Andaz's famous rooftop pool.
The view around the back of the hotel, not too bad!

The views go on for ever from the Andaz rooftop.


Miss H.


K enjoying the sun.


Plastic glasses, not exactly 5* but I guess it avoids accidents when things get a little too 'Viper Room'.
---
Animal Restaurant
---
---
One of the things I was most excited about on this trip was having dinner at Animal. Its a restaurant that specialises in meat, particularly offal.
This is clearly one of the top places to eat in LA right now. Countless people turned up whilst we waited for our table and they were all turned away. We ended up having to wait for nearly 40 minutes after our allotted time and others appeared to be waiting longer.
The staff were in a little over their heads but man, the food was seriously good. Like unbelievably lick the plate clean good. I can taste it now looking through these images. If any of you are doing and ex-DUB HNL and are wondering whether to stop in LA, the answer is yes. Eating at Animal is worth the trip alone.

Veal brains, vadouvan, apricot puree, carrot.

Rabbit larb, minutina, herbs, thai chili, crispy shallot.

Pig ear, red chili, lime, market egg.

"Honey walnut" sweetbreads, JW' black sriracha, chili threads, scallion.

Bacon chocolate crunch bar, s&p ice cream (the server kindly comped us this as we had to wait so long for our table; it was absolutely spectacular).
---
Our final morning in la la land.
We were both up early so took the opportunity to pack our stuff and make the most of our last few hours in LA before our 1pm flight to Tokyo Narita.
This started with a couple of cups of coffee and then a trip to the rooftop for some early morning photography.
After that we took an Uber over to Hollywood boulevard for some good old fashioned sightseeing.

Who the fudge is Buster Crabbe?

That, my friends, is what I called targeted advertising.

One of the best views of the Hollywood sign can be had from the Hollywood & Highland Mall.

The view through the mall's binoculars.
Our time in LA was all too brief. Still we got to see the sights, eat all kinds of delicious food, drinks some awesome cocktails and go on a shopping spree courtesy of Amex (and the baggage handlers).
The Andaz was a great hotel for our purposes, in a city the size of LA location is really important and for me The Strip is where it's at. Next time though, I might spring for the Chateau…
---
Book the Andaz West Hollywood with Hyatt Privé benefits
---
Hyatt Privé Partner Booking
Click the image to get the best available, flexible rate and also receive:
Priority room upgrades, subject to availability.
Full breakfast for up to two in-room guests.
$100 hotel credit.
Welcome amenity.
Early check-in/late check-out, subject to availability.
Note: You will still earn stay credit and ALL elite benefits, exactly like a direct booking with Hyatt.com.
The Andaz West Hollywood can be booked directly online by clicking the "BOOK NOW" image.
First time booking with us? Here's how to quickly get set up:
HOTEL BOOKING GUIDE EMAIL FOR BOOKING ENQUIRIES
---