British Airways (BA)
Location: London (LHR) Terminal 5
Class: First
Access: First Class ticket on a BA flight or CCR card holders only
Date: March 2015
---
This trip started out like most other big trips. With a Christmas like inability to get to sleep the night before.
We've all been there, refreshing Awardwallet; picking seats; changing our minds and picking slightly different seats; looking at previous days' flight paths trying to see which side will have the best view; looking through recent menus and of course reading Trip Reports here on FlyerTalk!
When the moment finally comes, when the folder is packed full of reservation print outs and loose foreign banknotes, the passport goes into your pocket and you finally get to wheel your luggage out of the front door – there's no feeling like it in the World.
We got to LHR T5 3 hours before our flight to JFK. Looking around, it wasn't immediately clear where the First Class check-in area was. We could have easily gone to one of the many empty business class check-in counters but we didn't want to miss out on the opportunity to get the 'full experience'.
We soon spotted where we needed to go, tucked away in a distant corner of the terminal was the First Class Area. There was an empty greeting desk beyond which lay a series of counters. No seats or drinks here. Definitely not on a level footing with First Class services provided by ANA at Tokyo Narita or Thai Airways in Bangkok.
We asked the agent checking us in to check our bags all the way to LAX but she had real trouble with this. She wasn't able to look up our sabre PNRs herself so I had to get my trusty folder out and show her the printouts from AA. After 10 minutes and some help from a colleague she was able to print some tags. The first set of tags she printed still had JFK printed on them, luckily I spotted this and got her to reprint them with JFK//LAX. Not a great start.
Not wanting to waste any more time we quickly rushed over to security. Where we stumbled upon a faintly absurd scene.
Which to take? Fast Track or Regular?
Luckily the security process was quick and painless and we were soon ready to experience one of the coolest things about flying out of BA's home turf. If you bear right immediately after security, you come to a doorway which leads straight into the Concorde Room, bypassing the labyrinthine gauntlet of shops one must navigate if making a left turn. (One of the few times in our hobby where making a right turn is a good thing!)
Rumour has it that BA pays the airport £1M a year for the privilege of having its F passengers bypass the shops. Apparently a second door and private security channel will now be built by the F check-in area, allowing entrance from the other side of the CCR and directly into the regular OW Emerald lounges.
Having a separate security channel will definitely help BA's F to stand out as more of a premium experience.
---
The Concorde Room – LHR
---
At the entrance our boarding passes were checked and we were directed towards a reception desk where we were greeted and asked if it was our first time here. We said it was and were told where we could find the bar, terrace area, spa, cloakroom and restaurant.
A very British lounge
We had pre-booked Spa treatments, one after another, so Kamara went straight through the CCR to the Elemis Spa whilst I through the lounge, past the crowded bar and restaurant, into the terrace area.
Unfortunately it was a bit of an overcast morning so the whole lounge was quite dark, although the terrace at least got a little more light and was significantly less crowded.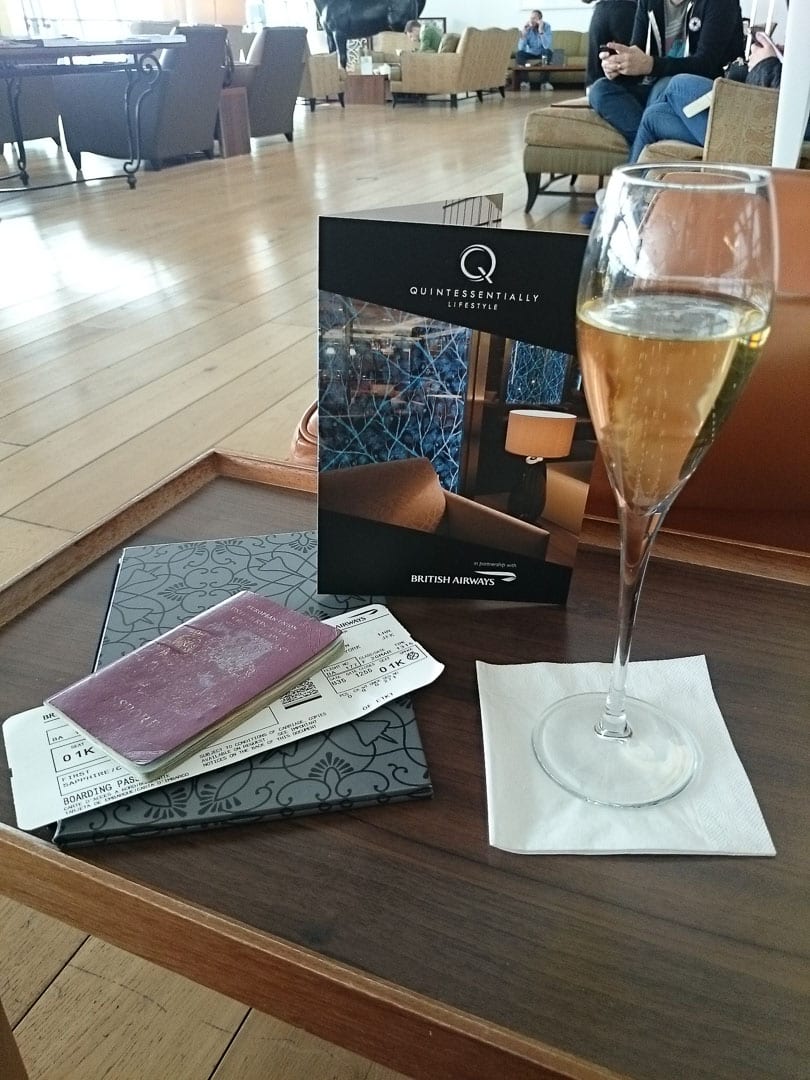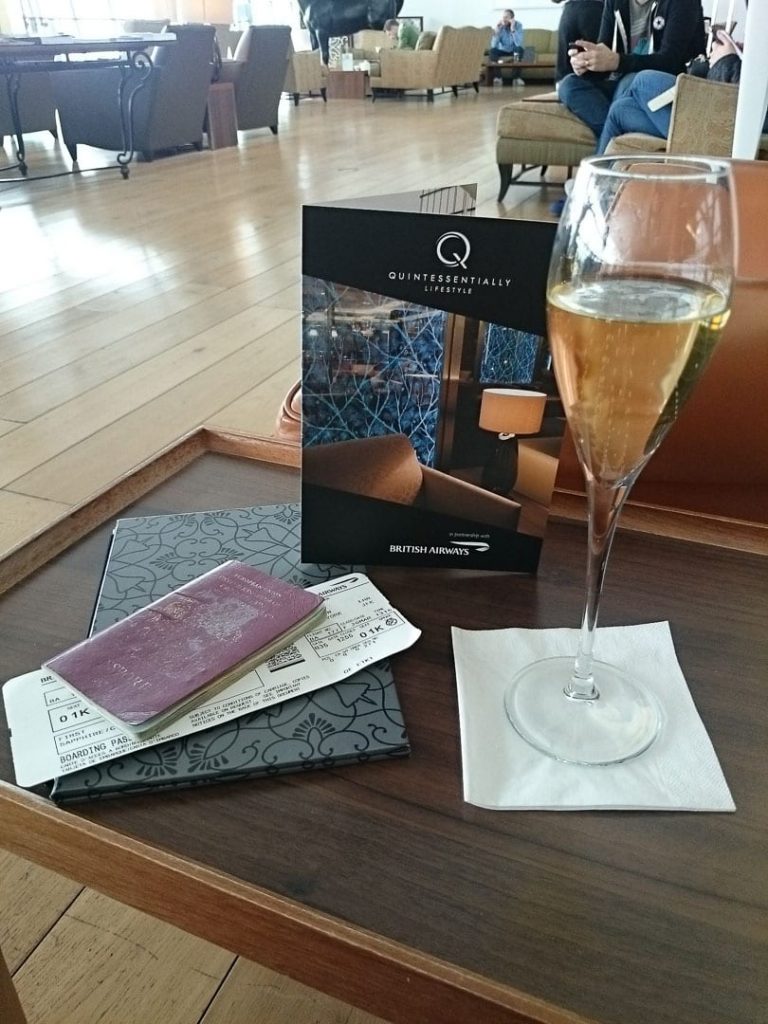 I was quickly greeted by a server and brought the morning menu. I knew exactly what I wanted though and it was brought to me in an appropriately large flute.LPGS is not my favourite prestige cuveé but it is certainly a notch above all other lounge offerings I've encountered, with the exception of the Qatar Al Mourjan Lounge in DOH, which serves Krug.
Soon enough K returned and I headed over to the Elemis Spa for a 15 minute 'Aviator Facial' (i.e. somebody applying moisturiser to your face for 15 minutes). The treatment rooms are all located around a central waiting area and are separated only by stained curtains. The therapist was very chatty and friendly but unfortunately the overall experience was a bit drab and sallow. The lighting was dim, corners on furniture were scuffed and frayed, even the clipboard and pen used to fill out a pre-treatment survey were broken. The pen was wrapped several times in sellotape to keep it attached to the string holding it to the clipboard.
The Elemis Spa at LHR T5 is considerably worse than the treatment area at the Virgin clubhouse in T3 (a Business class facility). It's like comparing a Holiday Inn to a W.
After the Spa experience we made our way to the Dining Room where we were promptly met by a server and handed some menus.

Legroom

I opted for the, very generous, Seared Scallops with Pancetta.

Kamra went with the, equally enormous, Confit Duck Leg.
The food was better than I was expecting and the duck in particular was delicious. At this point we didn't have much time left so we headed to gate B35 to meet our ride for the day.
---