British Airways (BA)
Flight: BA177
Class: First
From: London (LHR)
To: New York (JFK)
Aircraft: Boeing 747-400
Seat: 1K
Date: March 2015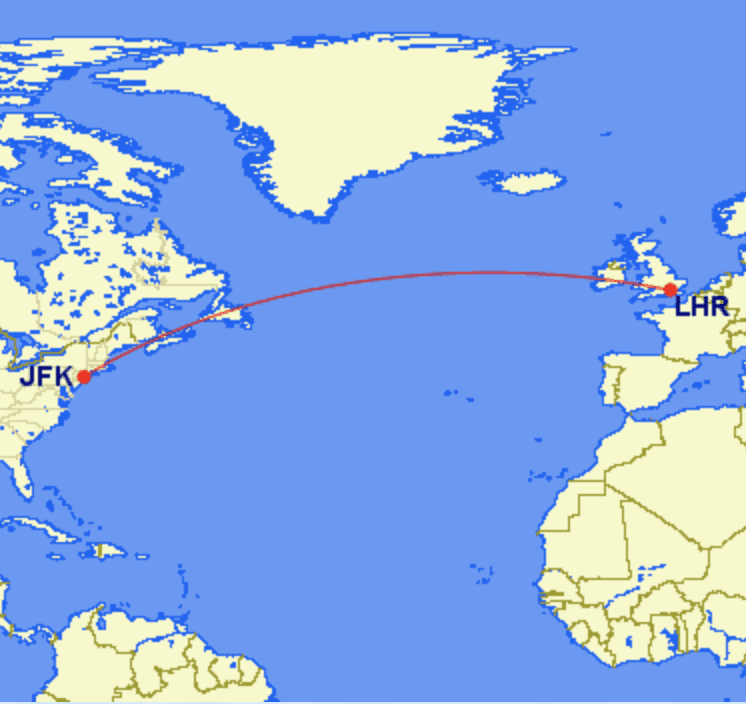 ---
We were warmly greeted as we stepped aboard and directed to our seats. K was taken through a full tour of the features whilst I went about exploring by myself.
On the face of it the BA First Class seat has the same basic design as the Sicma Aero Cirrus and similar products as found on Qatar, Cathay, US Airways, American etc. However, the leather quality, glossy surfaces and brushed metal used give the cabin a very exclusive feel.
I would say that in terms of wow factor there are few products out there that compare. There are certainly more spacious seats but the nose of the 747, with the lamps and blue tinted electronic window blinds, really looks special.

Plenty of legroom, even in 'cramped' Row 1.

BA are a bit behind the times with these IFE controls.
An amenity kit was waiting for each of us on our seats. The BA First Class kit is unbranded but actually feels quite soft and luxurious to the touch. The contents are decent too, although the deodorant stick just doesn't work. Nice idea but it crumbled to pieces pretty much instantly
After settling into our seats one of the FAs came over to introduce herself and ask if we would like anything to drink. I continued with the LPGS, of course
Having spotted that seat 1A was free I asked if Kamara could move over there, the FA checked and said that the seat was indeed free and we could have it!
Kamara quickly gathered her things and moved across. We'd managed to grab the best seats in the house!
The feeling of privacy in the nose of the Queen of the Skies is absolute. The only thing in front of you is a cupboard. There is zero foot traffic. Hell, even the pilot is sitting behind you, about 6 feet above and behind you in fact. Best of all, the curvature of the fuselage means that you can see ahead of you. The feeling of exhilaration sitting in these seats; feeling the thrust of the engines, pushing this majestic beast into the skies as it takes off, is without equal.
Soon after take off the beep sounded releasing the FAs to begin the service. I switched to water for a quick burst of hydration pre-lunch. This was served with mixed nuts.
The Menu was very comprehensive for a seven hour flight. The wines are something that BA are particularly proud of.
The table setup on BA F is very good, the cutlery and china all have a heavy feel of quality to them and small details like the bread selection and butter presentation show that effort has been made to present a high level product.
There was a large selection of delicious looking (and smelling!) breads to choose from. I'm not usually a big carb guy but I made an exception for this.
Next up was the spectacular starter. A mountain of sweet and succulent crab meat flanked by an assortment of beautifully piped sauces. This was one of the best looking and tasting First Class dishes I've ever had. I honestly did not expect to be saying that about BA but there you have it.
This was followed by a fresh salad, I took the balsamic dressing on the side. Not groundbreaking but it was fresh, as described.
I subsequently did two unexpected things: 1. I stopped drinking champagne and switched to red wine – a very nice Château Destieux 2006. 2. Even stranger, I ordered beef on a BA flight. I think it may have been the effect of the booze, a sudden fit of bravery – despite the horror stories, I ordered it.
The result? Not bad at all. It was definitely more cooked than I'd prefer but then again I'm the kind of guy who orders steak "briefly passed through a warm room". In terms of flavour and texture I'd give this a 7/10. Will I ever be brave enough to order the beef in Club World? Well I'm finally trying BA Business Class for the first time in October so I guess you'll have to wait and see…
After all that I was quite full (I'd also managed to inhale some eggs Benedict in the CCR but hunger prevailed over photography), so I decided to forego the cheese and dessert.
The FA very kindly offered us some hand painted chocolates though and asked us to take as many as we wanted…
After getting the picture of the chocolates I shut the electronic blinds in order to get the glare off the IFE monitor.
I ordered a double espresso with milk on the side, to go with my chocolates. Kamara made the mistake of ordering a double macchiato. You may think that they're the same thing but I've had enough experience outside of major cities to know that ordering a macchiato can lead to some blank stares and confusion.
Kamara's 'coffee' arrived in a huge mug. She'd been given a hot chocolate. I laughed… a lot. 5 minutes later an FA wandered over and asked if the macchiato was ok because none of the cabin crew knew what a macchiato was. Here Kamara made another mistake, she tried to describe it, "It's just an espresso with a little bit of milk". The FA apologised profusely and returned a few minutes later… with a massive hot milk, faintly stained by coffee.
Kamara was also unlucky with her IFE, the screen was hanging out at a jaunty angle and she had to jam it upright with a folded up napkin wedged between the screen and the table.
Oh well, at least the FAs left the box of chocolates behind!
Full of food and several glasses of champagne into the day, I decided to turn in for a bit of sleep. K beat me to the punch.
First I needed to get changed into something more comfortable.
The BA F PJs were indeed very comfortable and fit well. They aren't 'keepers' like the dark blue ones TG had for a while but still good for a flight.
There was no turndown service or mattress pad but the bed was well cushioned and reasonably spacious.
I soon bored of watching Birdman, to be honest I struggle watching films during the meal service, as I always like to take the headphones off to talk to the FAs and end up missing crucial bits of the plot line.
Speaking of headphones…
The BA First Class headphones were very low quality compared to the competition. They would be just about acceptable in Business but in First you expect branded headphones with active noise cancelling technology and soft leather ear cups that feel good to wear.
Considering the fact that you get Bose noise cancelling headphones on AA in Business, on the exact same route, you'd think BA would step things up a notch.
A shame really, as the lilting dulcet tones of Corey Taylor and his merry band of metal maniacs suffered as a result.
After two hours of sleep I awoke, too excited about the fact I was on a plane to be able to sleep anymore.
One of the best things about sleeping on a plane is that instead of waking up to your alarm and the brash brightness of your mobile phone screen, you wake up to the gentle roar of jet engines and the majesty of nature.
An FA noticed that I was awake and asked me if I'd like to have afternoon tea. I graciously accepted.
There was no choice of sandwiches, they came as a set. Sadly, none of them were above basic petrol station quality.
The warm scones, clotted cream and jam were fantastic though. The scones were very moist and flavourful and not at all crumbly/ dusty as I've experienced in other mass catered environments.
The FA noticed that I'd polished the scones off quite quickly and asked if I was still hungry. I opted to finish my afternoon tea with a Lamb slider with baba ghanoush and slaw. I left the bread and ate the rest, it was all simple and delicious. The lamb was even moderately spicy.
Shortly after my table was cleared, the Captain made his announcement that we would soon commence our descent. We quickly had time to snap a selfie on the GoPro before packing our things away and changing, ready to disembark.
We landed at JFK on time, although we weren't quite ready for the weather given that it was supposed to be the first day of spring.
Being half Spanish I feel an odd sense of patriotic nostalgia pulling up next to an Iberia plane. I remember back in the 80s, flying Iberia to Spain, my mum would always send me to sit in the cockpit and talk to the pilots, whilst she headed back to the smoking section of the plane for a cigarette…
---
Conclusion
---

BAs Firs Class product is a bit odd. In some ways it is very good and in others it is wilfully bad.
The lack of a proper First Class fast track is being addressed and that is a definite plus.
The Concorde Room is too crowded, they need to expand it or add another lounge.
There are a lot of seats in the F cabin but this isn't a huge deal, the finishes and ambiance are very elegant.
The IFE controls and headphones are in need of an update.
The food and beverage are borderline excellent but there is no caviar except for the shortest F route: Moscow. I personally prefer the money being spent on the rest of the ingredients but know that many F passengers disagree.
The lack of branding on the amenity kit, PJs and headphones gives the overall product a generic, second rate feel.
Overall the experience was better than I was expecting. I was glad to be able to review BA F after having flown many of the airlines that it has been compared unfavourably against.
The hard product is certainly better than all of the Asiana 747s and half of the Thai First Class cabins (this half, not this half). I also prefer it to Qatar's First on the A330s. The service is not highly polished though and certainly not up to the standard of SQ, NH and JL as for 'Western' service I think Qantas is still the one to beat although Virgin comes close.
The food and beverage were the big surprises. It seems that BA have turned something of a corner here. Both the CCR and onboard dining were above average in the context of airline catering. If only they could get the rest of their lounges up to scratch…
---