Japan Airlines (JL)
Flight: JAL61
Class: First
From: Los Angeles (LAX)
To: Tokyo (NRT)
Aircraft: Boeing 777-300ER
Seat: 1K
Date: March 2015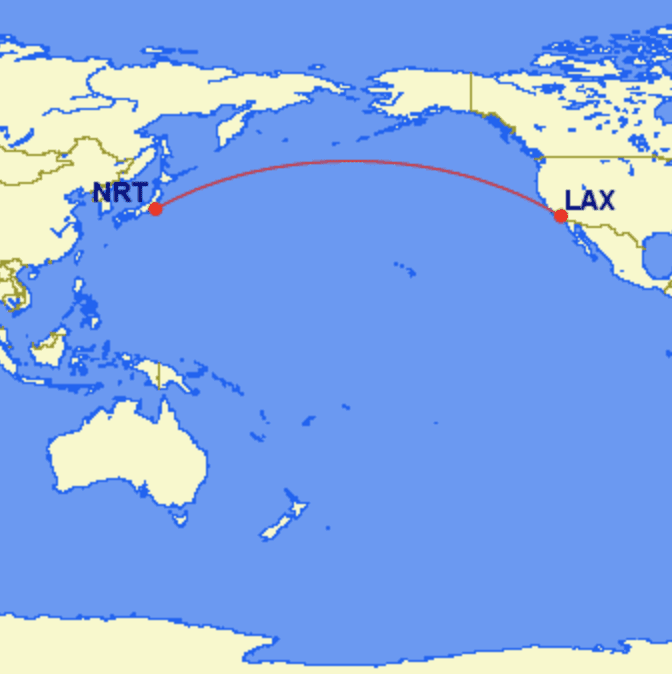 ---
---
We made our way to the plane with about 30 minutes to go before scheduled departure. Usually I leave it even later to get on the plane. However nice the cabin is, it isn't going to be as spacious as the lounge!
In this instance though I was eager to see the sunshine one last time before heading off to the snowy North of Japan.
Our ride for the next 11 hours, resplendent against the bright Californian sky
We were warmly greeted at the door and shown to our seats on opposite sides of the cabin. Bizarrely JL blocks half the seats in its F cabin before check-in so we were left with no option. Kamara was in 2A and I was in 1K. This meant that in order to talk to each other we would have to walk through the galley each time.
I asked the FA if we she could ask one of the Japanese gentlemen in 1A or 2K if they wouldn't mind swapping. She either didn't understand what I was asking for or was embarrassed to ask them. So we just left it and headed our separate ways.
The JL F seat is a big, sturdy leather armchair. It is quite firm with a softer top layer which makes it very pleasant for sitting and lounging. The seat cushion was made of memory foam and was ridiculously comfortable.
My first impression of the seat was that it looked good but also quite generic. I think it would have been better if JL had added more Japanese touches. They also should have moved away from the sanitised look of the white plastic, either by employing different interior colour scheme entirely or at least by framing the windows in the way that BA does. It may sound strange to say this but for me, the best F products change the interior of the plane so much that the normal shape of the fuselage is almost entirely obscured. This is a great way of differentiating F from J. In terms of its peers I'd say that JL F is most similar to TG F on the A380 albeit with higher quality finishes.
Having said all that the seat is very comfortable and private, which is more important than aesthetics when you have to spend half a day sitting in it.

A glass of champagne and a seat with massage controls. Life is good.
Before I could even begin exploring the seat an FA came over with a bottle of Salon Blanc de Blancs 2002. Given that this is the most expensive champagne regularly served in First Class on any airline I was very curious to see how good it was.
Personally I prefer Pol Roger Winston Churchill but otherwise Salon is right at the top of the list of champagnes I've tried. At double the price of the Churchill I don't think I'll be popping down to Berry Brothers for a bottle any time soon though.
At this point I decided to pop the window shades up and enjoy that Californian sunshine one last time, as well as a close up view of the SQ A380 at the gate next to us.

A preview of things to come in my next trip report…
After finishing my first glass of Salon I indulged in one of my favourite pursuits (aside from drinking top shelf champagne): childlike exploration and photography of a new aircraft seat.

Plenty of storage space and the backup remote for the IFE

I love the fact that we even got controls for the foot light

The main IFE control, smartphone style.
I feel like they could have either moved this power socket into the main storage compartment or, better yet, added another one there.
A couple of minutes into my exploration an FA approached with an amenity kit and a top up for my PDB.
The amenity kit is Loewe branded. Being half Spanish I'm very familiar with this brand and was delighted to see it in this context. For those of you that don't know it, it is often described as the Spanish Hermes and like Hermes their silk ties and leather goods are of the highest quality. Sometimes airlines just take generic items and license the branding, I'm happy to report though that the JL Loewe corduroy kit bag feels soft and sturdy and has a cleverly designed zipper system which allows it to be stored horizontally or hung vertically in the shower. It is one of the few amenity kits that I've kept and used regularly since first receiving it.
In fact, in terms of design and quality, this is the nicest amenity kit I've ever seen.
In addition to the main kit I was handed a Shiseido Men skincare box.
After my quick play with the amenity kit I turned my attention to the amazing view out of the windows.
Up until this point, my best ever in-flight dining experience was on ANA First Class so I was very excited to see how its major domestic rival would compare. A look through the menu showed that I was likely to be in for a real treat.
I didn't even make it to the food portion of the voluminous menu before an FA appeared with an amuse bouche and a fresh glass of Salon.
Honestly the three mouthfuls were all very similar, doughy base with an indeterminate paste on top (one of which also had caviar). This was certainly not a patch on the NH F amuse bouche I had experienced a year earlier.
Still, I was excited to see what awaited me in the main act of the meal.
As the FA came over to set my table I asked if it would be possible for Kamara to come and join me. The ottoman on JL is full length so there is plenty of room for two people to dine together.
I like that JL gives you an entire tin to yourself although the caviar wasn't particularly special. The mouthfeel was a little soft and you couldn't really discern the individual eggs bursting in your mouth like you do with higher quality caviar.
I thought the little garnish boat looked good though and provided condiments in measured and appropriate quantities. I was also pleasantly surprised to see a perfectly cut disc of potato in lieu of a third blini.
Since the caviar is on the Western menu I was brought a full set of Western cutlery, beautifully presented:
I was expecting a plastic or mother of pearl spoon for the caviar but one wasn't offered. I therefore committed an act of sacrilege and used a metal teaspoon to eat the caviar with.
After the caviar was cleared the FA returned with a tray full of small dishes. Our Japanese starter.
The soy milk jelly was quite interesting but the seafood all seemed quite chewy, the abalone in particular. The crab was a little sinewy and the sea bream was dry. I was pretty disappointed to be honest. I was expecting better. One thing I really liked though were the chopsticks. The were made of cedar wood, the smell of the wood made for a very pleasant sensation whilst eating. Being wooden also made them great for gripping slippery food items, much better than plastic or metal chopsticks.
Japanese clear soup with shrimp mousse. This was quite flavourful although the mousse was a little on the dense and rubbery side.

The sea-bream sashimi style was the best fish course of the meal. It was fresh with a clear taste and firm texture. Unfortunately the squid and potato; shrimp and vegetables; duck roll and smoked salmon rolls were all bland and lacking in flavour.
Our photographer
The Japanese sweet was not great, it had a starchy taste and texture and very little in the way of actual sweetness. I would have preferred a mochi of some sort.
Rather than my usual coffee I opted for a green tea to finish the meal with.
K had been drinking the Queen of Blue Royal Tea throughout the meal and I actually switched from champagne midway through as well.
The tea has a wonderful and complex flavour and is bottled like wine. It retails for an astronomical amount. I can actually see why. It is really, really nice. I have another flight on JL F coming up soon and I think I may actually be looking forward to drinking this more than the Salon!
I think we actually managed to drink 3 or 4 bottles between us on this flight, I was certainly more hydrated than on my usual flights when I drink a similar amount of Krug!
After finishing the meal I changed into my PJs. I was offered Large at first, this seems to be the default "foreigner size" when in Japan. The trousers were like a ludicrous set of pirate pantaloons. The FA gladly switched them for a full set of Medium PJs.
At this stage she also asked whether I preferred a firm or soft bed. The fact that airlines not only provide mattresses on a plane but actually have the capability to accommodate differing levels of firmness, is nothing short of incredible.
The JL F trousers are very high quality and have a thick and comfortable waistband. The top is way too thick in my opinion, great for a set of winter PJs but not so good for an airplane cabin. I just wore a thin t-shirt instead.
I should mention though that I didn't find the cabin too hot. A lot of people complain about this on JL but I found the cabin no different than any other major carrier. Maybe they have the thick PJ tops so people who like it hot can have it their way, whilst the rest of us have things at a more moderate room temperature.
I came back to my seat to find the bed made.
Melatonin, Nyquil and a glass of water. Crucial tools for sleep on a RTW itinerary.
The mattress topper could be set to either soft or firm. I opted for soft, figuring that a seat would provide a firm enough base as it is.
The final piece of the sleeping puzzle? noise cancelling headphones.
For some reason, unlike the ones on AA, you have to manually flick the power switch on these Bose headphones.
I love this little detail. A groove on the top of the reading light, made for you to rest your headphones.

After attempting to sleep for a couple of hours I gave up and decided to watch some movies.
JL has quite an extensive movie selection. In fact I'm not usually one to complain about IFE quality. As long as the system is responsive and there are at least one or two decent movies, I'm happy.
It's great that BA, AA, SQ etc. all have tons of full series available, as well as movies but it doesn't bother me too much when the likes of TG, JL and NH don't. On an 11 hour flight there's really only time to watch two or maybe three movies after you've factored in time eating, drinking and sleeping. Plus I'll often use the time to catch up on some reading.
There is no formal second meal on JL flights but the snack selection is very extensive.

Look what showed up this time: a mother of pearl spoon!

After many hours of self-imposed temperance, I dove head first off the wagon

The salt grilled wild salmon, despite being served many hours into the flight was much more moist and flavourful than the sea-bream from the first meal. I think that fatty proteins work much better on airplanes. Fat carries flavour and keeps food moist, both important factors to consider in the dry atmosphere of an aircraft cabin, where taste is impaired.
This is why I'll almost always go for short ribs when they feature on a menu. Similarly I'd usually expect salmon to blow away cod or bream.
With less than two hours to go before touching down in Narita, I decided to freshen up and change out of my PJs in preparation for our 5pm arrival.
Of course, after almost a full 30 hours without proper sleep I would require some assistance to make it through the rest of the day.

The coffee was absolutely superb


As were the chocolates
---
Conclusion
---

The hard product on JL is very comfortable but also a little spartan feeling. The seat and bed are superior to BA First but the styling and finishes are not.
The food was a big disappointment, at least when it came to the main omakase meal. The freshly cooked rice was great though and the beverage selection is second to none (and equalled only by NH First Class in my experience).
The crew were competent but not particularly warm, they didn't provide what I would call luxurious service. I keep coming back to NH as a point of reference but their crew were much more friendly and proactive. Unfortunately the seating problem at the beginning set the tone. Funnily enough after we got off the plane Kamara told me that her PJs had been taken away from her (as others on FlyerTalk have reported) whereas I came away with two sets: one L and one M! Perhaps this was the result of being 8/8 in F.
As always though, I find it better to reserve judgement, particularly on matters of soft product, until having a larger sample size. I was very curious to see how my return HND-LHR flight was going to pan out…
---