Japan Airlines (JL)
Flight: JL43
Class: First
From: Tokyo (HND)
To: London (LHR)
Aircraft: Boeing 777-300ER
Seat: 2A
Date: March 2015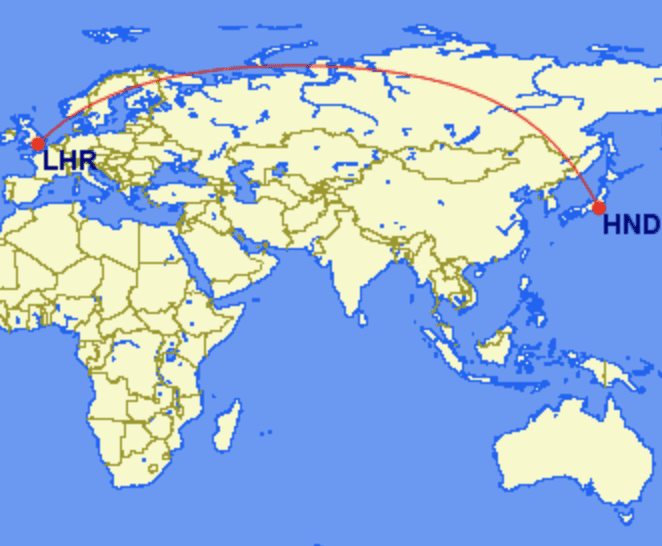 ---
After a wonderful time in the F Lounge, it was time to step aboard yet another 12+ hour flight in JAL First Class. Life can be tough sometimes…

The feeling of turning left never gets old

I was very warmly welcomed at the door to the plane and escorted to my seat. I chose 2A this time as opposed to 1K on the outbound. Whilst I guess there is a certain amount of cachet from having seat number 1, I prefer having the wall behind me and being able to see the whole cabin, rather than being at the front, near the galley and lavs.
I could immediately tell that this was going to be a good flight. I was served by the cabin supervisor (you can tell them apart from the rest of the crew because they wear badass dove grey uniforms) and she was just 100% on top of her game. I was also one of only 3 passengers in the F cabin, this can be a mixed blessing. Sometimes it means the crew have a lot more time to dedicate to the pax that they have, other times it means they put their feet up and relax, given the fact that there are less people to serve.
I had a strong feeling this would be a case of the former, given Japanese standards of professionalism and in particular the finesse with which the CSM went about her job. Lucky for me, I was right!
As I took my seat I was brought a refreshing towel and asked if I would like something to drink pre-departure. I asked for champagne. "We have Salon champagne, it's really good. Do you know it?". This kind of pride in the product shone through in every interaction.
There are few sounds in this world as magnificent as the sound of a champagne cork popping. My pavlovian response was instantly triggered, seconds later the CSM emerged from the galley to show me the bottle and effortlessly poured me a glass of its effervescent, straw coloured contents.

The amenity kit ex-Japan was quite different to the green corduroy one on my prior flight from LA to Tokyo
This amenity kit can be hung in the shower and is definitely more practical than the green kit. However, I don't like the style as much and as is so often the case I prefer good looks to practicality…

We begun taxiing on time and unlike NRT, we were in the air very quickly

The views of Mt Fuji, presiding majestically over Tokyo, were absolutely breathtaking.

After a magical few minutes, Mt Fuji disappeared from view and gave way to some more spectacular scenery.
20 minutes into the flight, the crew began the service. I was brought a menu along with an amuse bouche of Mozzarella with Duck ham and Cod brandade with tomato and pine nuts. It was ok but still nowhere near as good as the amazing amuse bouche served on NH F.
I started with the caviar from the Western menu. I was a little worried that this was incorporated into a starter as opposed to being a standard caviar service. I needn't have been. It was obscenely good. (Note the MOP spoon and fork were brought out by themselves, the CSM didn't feel the need to give me a full Western cutlery set just for this starter)
The salmon and scallop tartare was magnificently plentiful and utterly delicious. The clean sweetness of the scallops interplayed wonderfully with the rich fatty salmon, the sharpness of lemon and slightly bitter crunch of the radish rounded out the dish perfectly.
Staring forlornly into the middle distance, knowing that it will be a long time until I get a starter this good on a plane again.
The absolutely awesome CSM tops up my glass of Salon after bringing me my next course
Next up was the first course of the Japanese omakase menu. This time I got the full display on a lacquered board, decorated with bamboo and a small Japanese flag. The CSM went into detail describing each of the dishes and then turned to leave. She then quickly turned back around and pointed to the flag, exclaimed "Japan!" and left. Amazing.
Soft boiled egg & Sea urchin
n
Seared Tofu with Japanese pepper flavoured miso
Egg Cake

Spring Vegetable medley

Steamed Abalone (my favourite)

Next up was the clear soup course

The soup was very delicately flavoured and tasted great.
I mentioned to the CSM how much I liked the cedarwood chopsticks that JL use. She was delighted that I recognised the type of wood and assured me they were some of the best chopsticks available and very expensive!
The seafood course is where things really kicked into high gear
White Asparagus dressed with Prawn broth jelly and Caviar. You can never have too much caviar.
Beautiful presentation for the Japanese Spiny Lobster and Scallop sashimi

This dish was outrageous, orgasmically good
I asked to try some of the Japanese red wine to accompany the Dainomono (meat course). It was surprisingly good as well.
The meat course was accompanied by freshly steamed rice with bamboo shoots, miso soup and a selection of Japanese pickles
Unimaginably tender, with a deep and rich savoury flavour. The wagyu beef fillet was beyond reproach.
You could tell the soup was freshly made. All the ingredients had the appropriate consistency as opposed to pre-made soups where everything turns to mush.
Dessert: Yoghurt ice cream with strawberry, Baked Strawberry cheesecake and Ryugin's Signature Roppongi pudding. I like how all the desserts were a riff on the same idea.
This stuff is ludicrously popular. Apparently people queue for hours to get their hands on this. It was really good but I'm glad JL did the queueing for me.
After that absolutely spectacular lunch I began to work on rehydration (the Royal Blue Tea is so good), whilst watching a movie.
I then began to work through the 1000 plus photos I'd taken on this trip, which would eventually make their way into this very Trip Report.
With 5 hours to go I asked an FA to make my bed in 2D. I love being able to move back and forth between bed and my seat. For me F is all about freedom, eat when you want sleep when you want. It's all up to you. J gives you added comfort but more often than not, you still very much get the impression of being part of a giant production line.
An interesting thing I noticed: the middle seat was a lot warmer than the window. I switched from the JL PJ top to a regular white t-shirt in order to sleep. If heat bothers you at night (as tends to be the case for most Europeans and Americans) I would suggest taking a window seat. It was only whilst I lay in the middle seat that I understood why people complain about JL's cabin temperature.
Around 3 hours out from LHR I began investigating the menu for some culinary inspiration.
It's tough when you're on your way home from an amazing trip in F. On the one hand you're full from days of overeating. On the other you know you won't have the chance to indulge like this for at least a couple of weeks!
My second meal: Another helping of Caviar with Scallop and Salmon sashimi plus an exquisitely presented Foie gras with Quince vinegar and Balsamico coulis. This was served with a warm and crusty Maison Kayser roll.
This was followed by a selection of cheeses of varying strengths and consistencies, each of which was paired with a different garnish. My absolute favourite was the honey with fresh rosemary, used to accompany the blue cheese. The cheeses were paired with a phenomenal 30 year old Graham's Tawny Port.
The finale, a double espresso served with a giant square of Jean Paul Hevin chocolate.
---
Conclusion
---
This flight was incredibly different to the experience ex-LAX. Almost every single aspect was better. The HND First Class lounge resoundingly beats the Qantas First facility in LAX. The cabin was less than half full so I had space for a separate bed and seat. The catering out of Japan was also inordinately superior to the ex-LAX catering. Although I still think my experience on ANA First ex-NRT last year was superior, this was incredibly close. Ex-LAX the JL offering wasn't much better than BA First.
Finally the service: it was absurdly good. This made the biggest difference of all, the CSM was super engaging and conversational. She had fun looking through pics on my GoPro and was eager to pose for the shot for this review. She went out of her way to explain all the aspects of the food and drink. I didn't just eat a meal, I came away learning a little more about Japanese culture.
In fact, once the meal was finished she came over with a duty free bag and handed it to me. "A gift for you. The cedar chopsticks that you liked. I hope you'll be able to enjoy eating with them at home". I really do. Every time I use them and smell the aroma of the cedarwood, the memories of this fantastic flight come flooding back.
Overall this was one of my favourite trips ever. I tried several new products, visited some of my closest friends in NY and Japan, took Kamara to finally see LA (a place she'd been dreaming of visiting for years) and took a trans-Pacific flight for the first time, crossing the international date line.
With this RTW completed in a single week, I finally felt like a real #AVGeek. This is not the kind of thing that normal people do. Thankfully, we're not normal people
***
Thank you so much to all of you who've read this far. These trip reports are enormously time consuming but ultimately, massively worthwhile.
I'm off on another huge trip next week but will have the beginning of the next Trip Report up by then. It's going to be a good one!
---