Singapore Airlines (SQ)
Flight: SQ830
Class: First
From: Singapore (SIN)
To: Shanghai (PVG)
Aircraft: Airbus A380
Seat: 3A
Booking Type: KrisFlyer award ticket (via Amex points)
Date: April 2015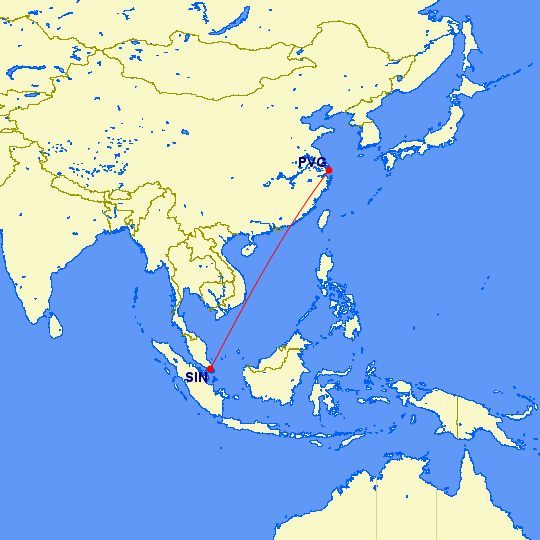 ---
Walking along the jetway I was positively giddy with excitement.
I'm pretty sure I was warmly greeted by a full contingent of cabin crew but was unable to completely register this because I was so utterly mesmerised by the cabin. I was coming at this from the perspective of someone who had only flown Thai and Qantas A380s before.
Both of those are nice. However, SQ is in another league.
---
---
---
I was getting pretty sleepy at this point, given my early start and late night, the night before. Science has proven that drinking coffee before a nap leaves you more refreshed than either having a coffee or a nap alone.
There is no scientific rationale for the extra chocolate.
Arriving back at my suite I was totally wowed by the transformation! All of a sudden my opulent dining car had given way to a peaceful sleeper carriage.
I slept very soundly for around an hour.
---
Conclusion
---
I went into this flight with some pretty high expectations.When I first flew Business Class a few years ago (Thai Airways in a cradle seat), I was totally blown away. My friend who had booked with TG miles told me that this was nothing, the best product was a private suite on Singapore Airlines.
Back in 2010 you couldn't book that for anything under 1,000,000 KF miles.
Still, from that moment I vowed to one day travel in that cabin, It didn't matter how, I was going to make it happen. The elusiveness and inaccessibility of SQ's flagship product are ultimately the factors that drove me into this 'game'.
***
The check-in and fast track experience are very slick. They set the tone very well indeed. In my opinion, the sooner and longer you are 'separated from the masses' the more an F experience shines.TPR is very cleverly designed, the ever increasing levels of exclusivity help to build anticipation and excitement. This once again gives you a feeling of separation from the outside world. It really makes the airport experience seem effortless. SIN is a lovely airport but it is very busy, TPR is an oasis of calm.
All of that is completely secondary though.
The cabin itself is the star of the show. In this respect my expectations were truly exceeded. Photos just don't do it justice. Sure, Suites have been around since 2007 so the IFE is a little slow and there are a couple of small scratches on the surfaces. Overall though the hard product is just spectacular.
I honestly spent a good 5 minutes just grinning and giggling when I first sat down.
It's not often that you capture the childlike feeling of waking up at christmas to find your presents. SQ achieves this. In spades.
The service was not as attentive as on my Business Class flight the day before but this may well be due to the fact that this was only a short hop.I was served by a number of different FAs, this made it hard to build rapport with any individual FA in particular.
Nonetheless, the service was polished, professional and very efficient. So not exactly something to complain about!
All told, this was one of the highlights of my time spent chasing points and miles; one of the moments where all of the hard work really paid off. Moreover it was also a great anticipation builder for the trip that Kamara and I were due to take, flying long-haul Suites, two months later…
---