After a long weekend spent with fantastic friends, wonderful weather and a spectacular suite at the Andaz, it was time to head to JFK for our return flight on AA.
I called for an Uber and 5 minutes later this behemoth showed up. In England the basic UberX gets you a Toyota Prius 99% of the time. In the USA you get an SUV as big as my London apartment.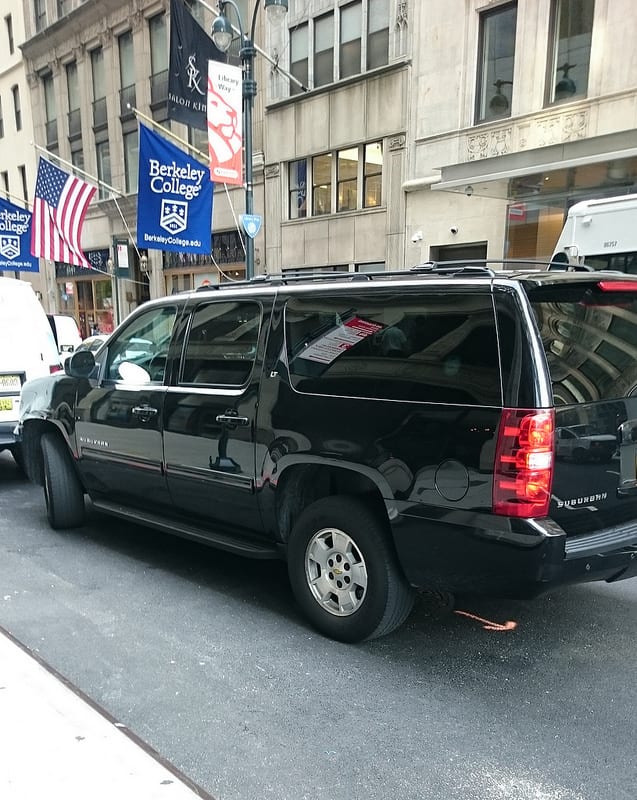 An hour or so later we pulled up at AA's Terminal 8. This does not look very premium to me.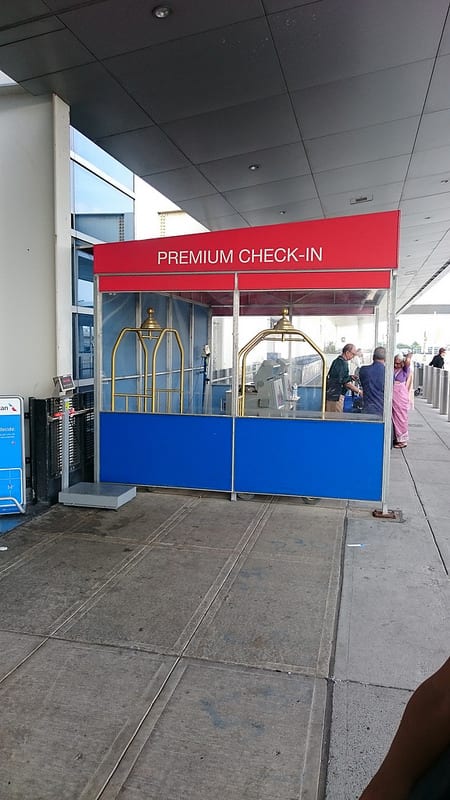 The line for priority security was as large, or perhaps larger than the regular line. Both of them spilled out past the cordoned off areas. It took at least 40 minutes to get airside. An experience which was largely responsible for me deciding to take the plunge and apply for GE and Pre✓.
Cool airplane art on the way to the Admirals Club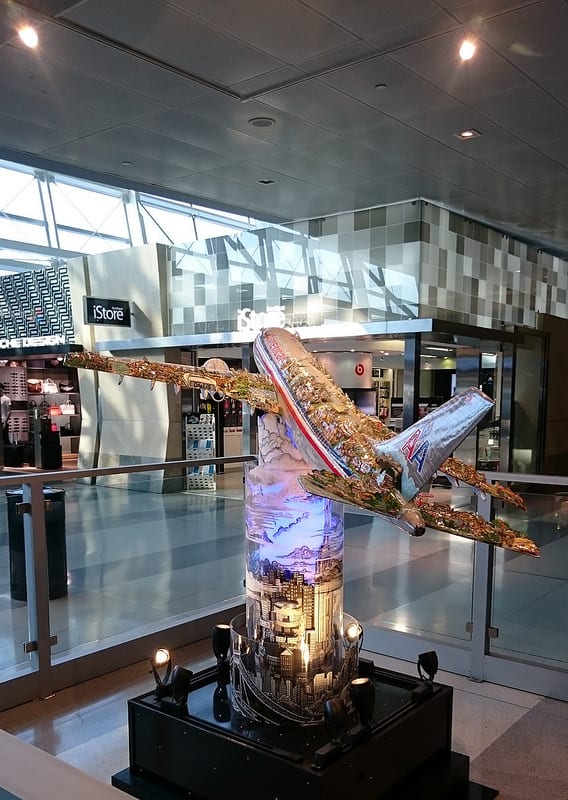 ---
American Airlines (AA) Admirals Club
Class: Business
From: London (LHR)
Access:

OneWorld First and Business class ticket holders
Non-AA OneWorld Sapphire and Emerald Cardholders

Date: August 2015
---
The Admirals Club is currently undergoing an extensive refurbishment to the 'New American' branding. At the time of this report it was clearly in need of some attention. The key problem is that the lounge is hugely overcrowded and the seating areas are not really divided up. This gives the place the feel of a Premium economy version of a gate area.
The weirdest concept for anybody not used to bizzarre alcohol policies in the US is the fact that you are given two premium drinks coupons upon entry. Can you imagine the uproar if BA tried to introduce the concept of a two drink maximum at its LHR lounges?! Apparently you can order unlimited basic drinks but only get two 'premium' drinks per person (which includes bottled water), although this was never explained by anybody.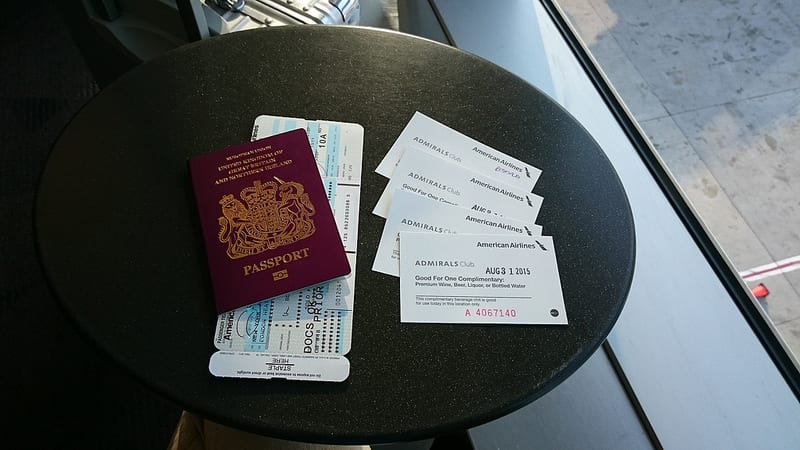 On the plus side, there was an army of waitstaff constantly clearing tables and delivering drinks. I wasn't expecting to have my G&T delivered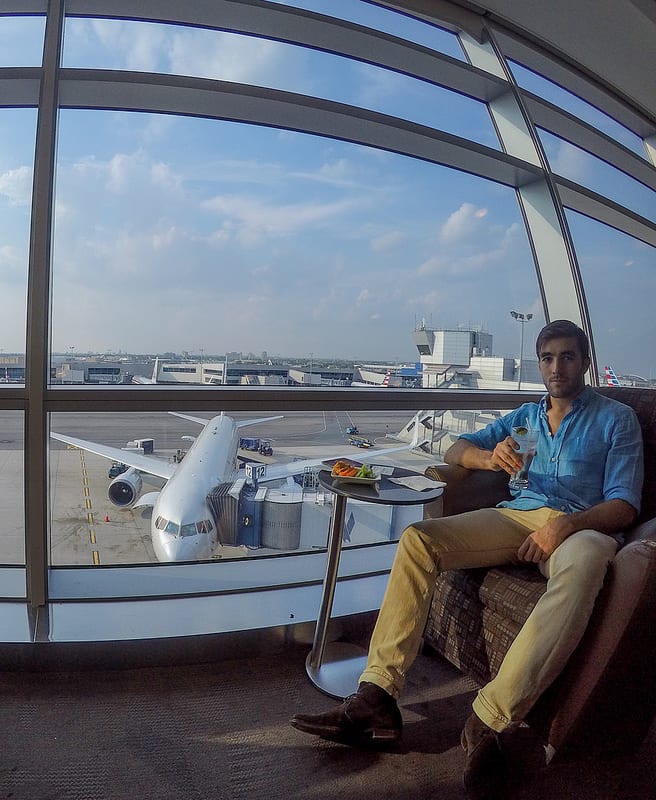 As you can see from the image above, one big advantage (or should that be AAdvantage?) of the lounge is the tarmac view and the resulting flood of natural light. I'm also a fan of the healthy raw veg and dips that AA features in all of its lounges. Don't expect any extensive hot options though, there is a soup and that's it. Other meals are available in the coffee shop for a charge.
Give me views of the planes and drink and I'm happy for an hour or so. Any longer and I'd start to get tired of this lounge. Judging by what I've seen of the PHX and GRU lounges the refurb will bring the lounge quality in line with the standard of the 77W experience.
Speaking of which…
---
American Airlines (AA)
Flight: AA100
Class: Business
From: New York (JFK)
To:London (LHR)
Duration: 7hr00
Aircraft: Boeing 777-300ER
Seat: 10A
Date: August 2015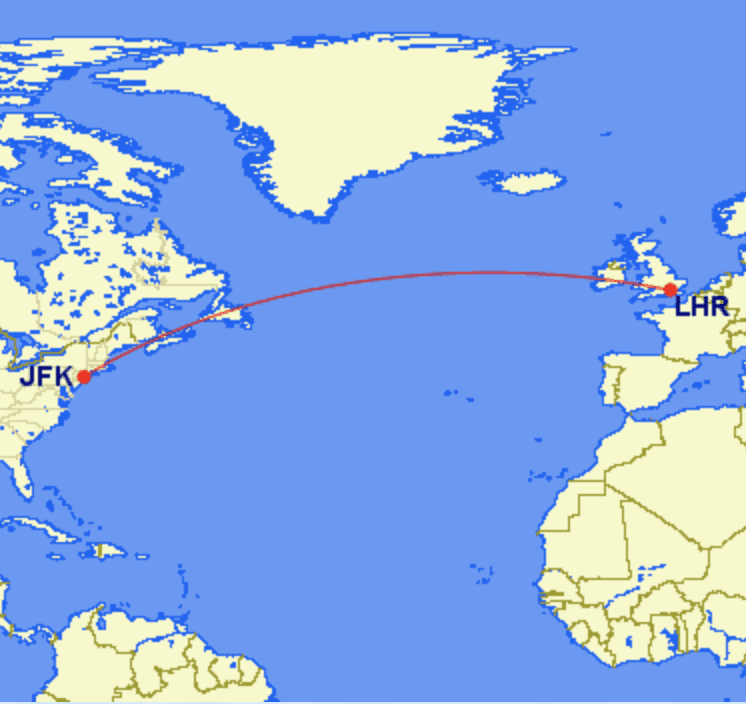 ---
Unfortunately there was a change to our flight's schedule a few weeks earlier. I was in the air when it happened and upon getting my internet connection back, I discovered that we had lost our coveted seats in the two row mini cabin.
I was disappointed but I guess sitting in the regular Business Class cabin is a more representative experience for review purposes.
Immediately upon boarding, Kamara asked, "is all of this business? Oh my God, it's like we're all cattle".
I totally see her point. Even compared to Thai's very open plan regional Business, this cabin seems massive and impersonal (when we first flew BA Business a few months later, her commentary was far less restrained by the way).
Gotta love that Red, White and Blue lighting scheme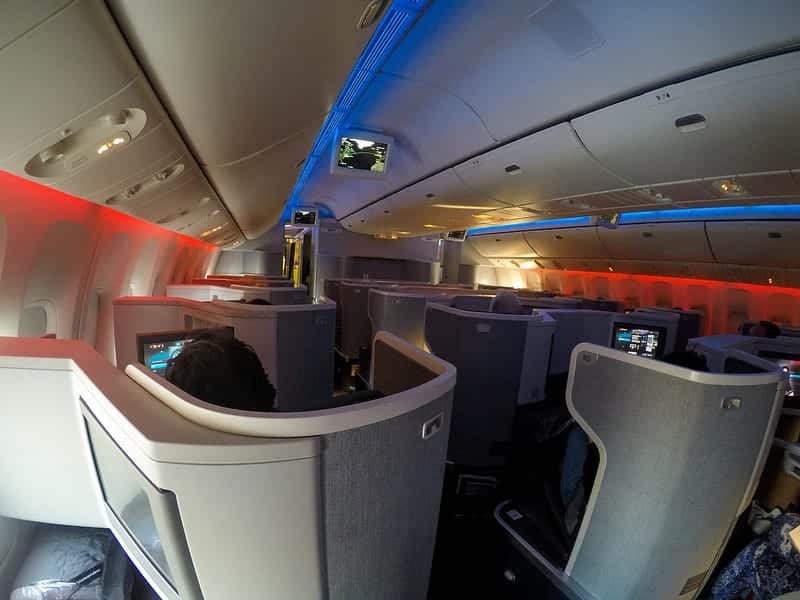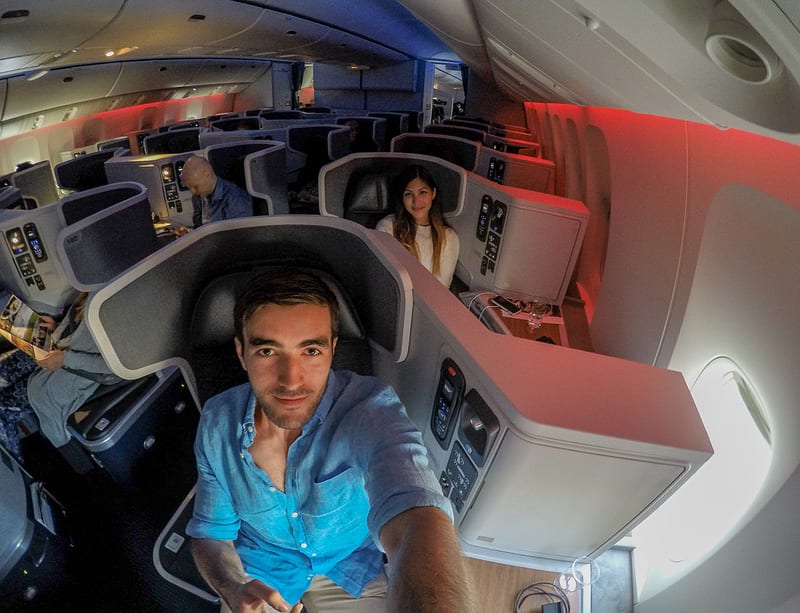 The seat is the reverse herringbone that we all know and love, it is most similar to that of Cathay, albeit with a slightly different trim. I immediately noticed how much more spacious it seemed than the seat on the A321T, whilst they look broadly similar, the 77W's seat feels notably more ample.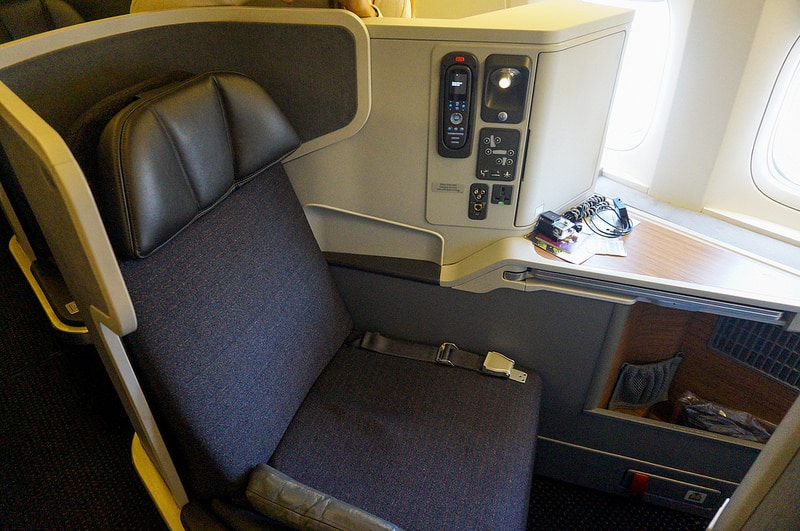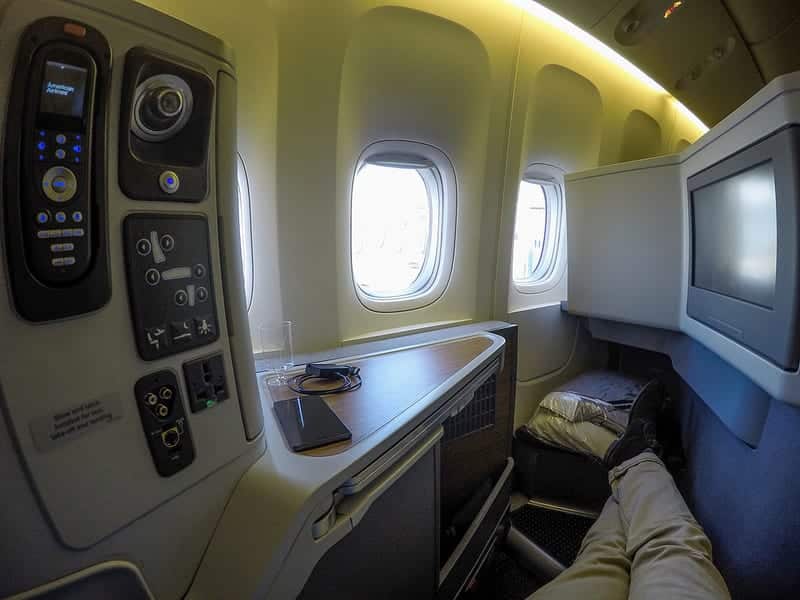 A wide variety of storage options. The net is very useful as a phone/ passport holder.
An amenity kit, sized for an iPad mini, was waiting at the seat. It was part of a series depicting all the airlines which preceded AA. Thanks to numerous Viking fares I've collected tons of these. The only one I ended up keeping was the US Airways one – for sentimental reasons (100K miles for RTW in F, those were the days)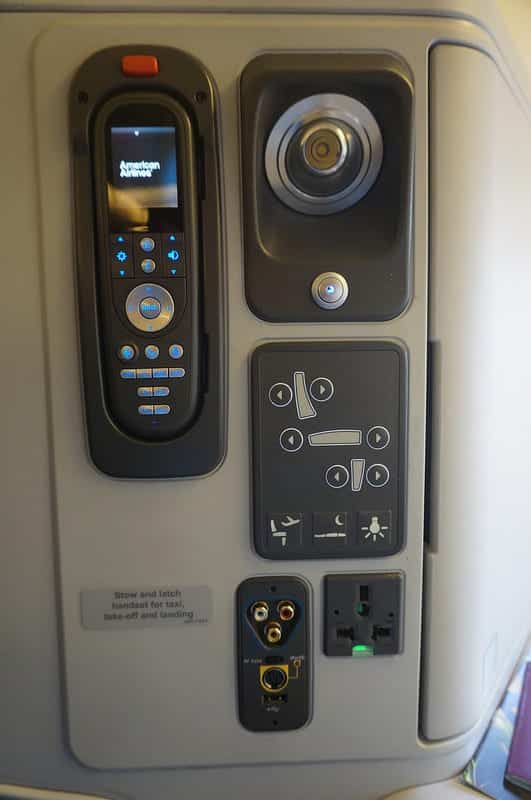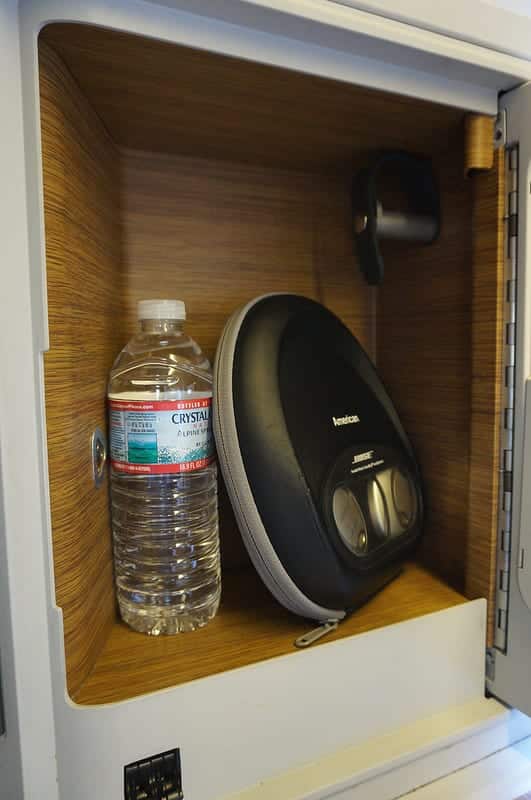 Did they really need to add RCA and forego an HDMI connector?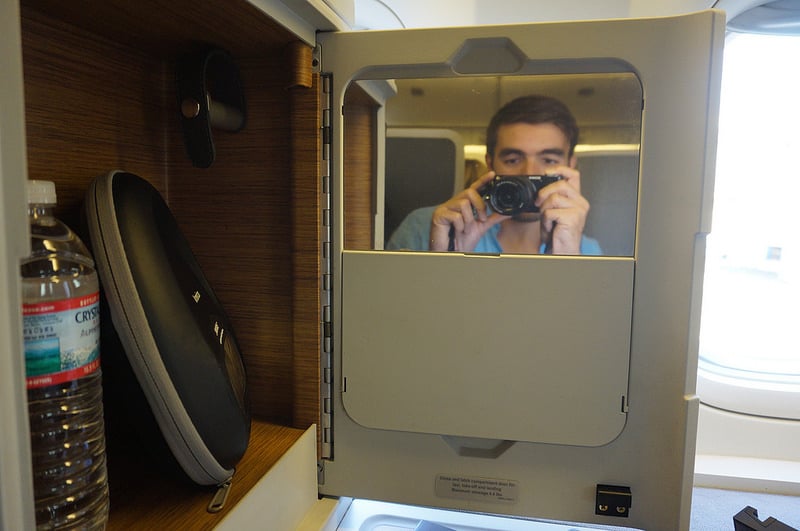 American has Bose QC headphones in business class. The best of any airline. Few airlines supply these even in First. This is light years ahead of BA. The headphone jack is inside the little cupboard, so there is no issue with knocking into it whilst getting up or transferring to bed mode.
Fairly drab upholstery, certainly not a patch on the finishes of the BA First Class seat to which it is often compared. Nice to see the large, eye-level, privacy shield though. This is something missing from the first generation US airways seat as well as EVA Air and Qatar version of the reverse herringbone seat.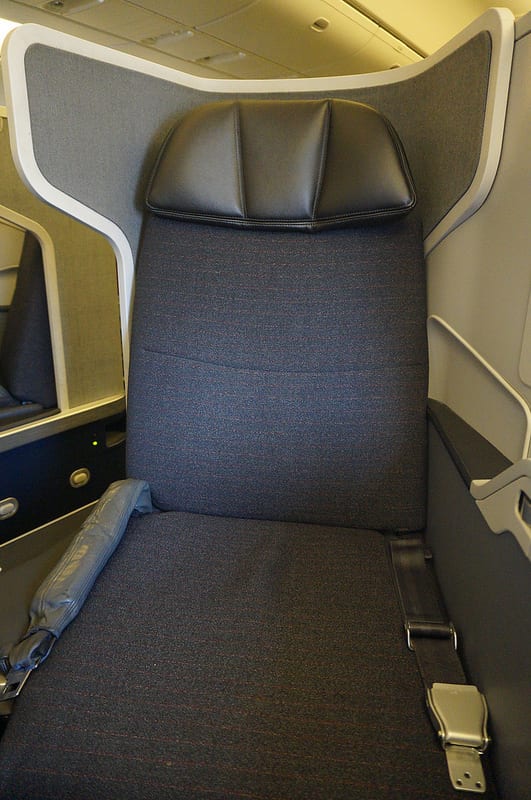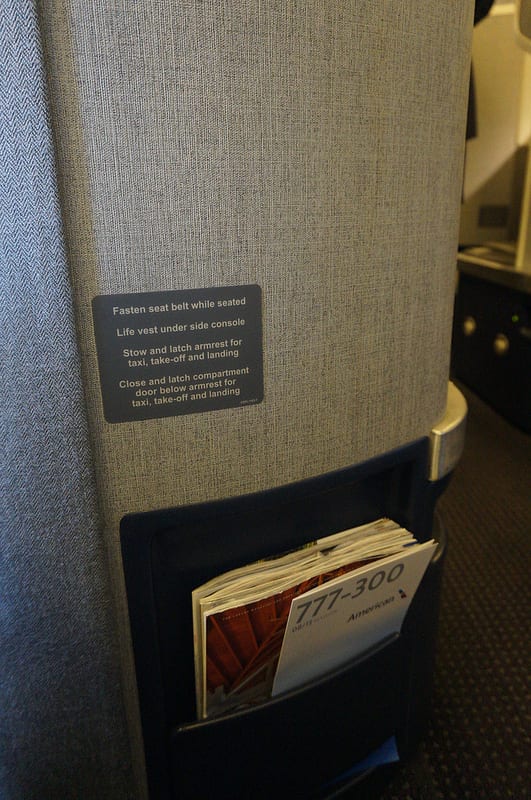 The #AVGeek in me loves the fact that the seat back has a herringbone weave though!
The FA working our aisle was very rude and curt in her demeanour. For some reason she seemed to have it in for me and Kamara from the start. She addressed all other passengers in the vicinity by name but chose not to do so with us. When taking the meal order she rolled her eyes when I asked for the speedy tray service to maximise sleep. "We do that as standard on this flight anyway. What main do you want?", she said.
Unfortunately AA has a policy of collecting the headphones an hour prior to landing, which gives a distinctly Low Cost feel to the proceedings. The announcement to this effect woke the whole cabin fairly abruptly, whether or not they were intending to wake up for breakfast.
I handed my headphones over to the rude FA. Who then stood for a few seconds scowling at me; said, "The case is there isn't it?" and reached over me to open the cupboard and retrieve the case. She then rolled her eyes again and went off to shine a ray of sunshine into the next passenger's life.
I was too tired to care and just spent the last hour enjoying the view.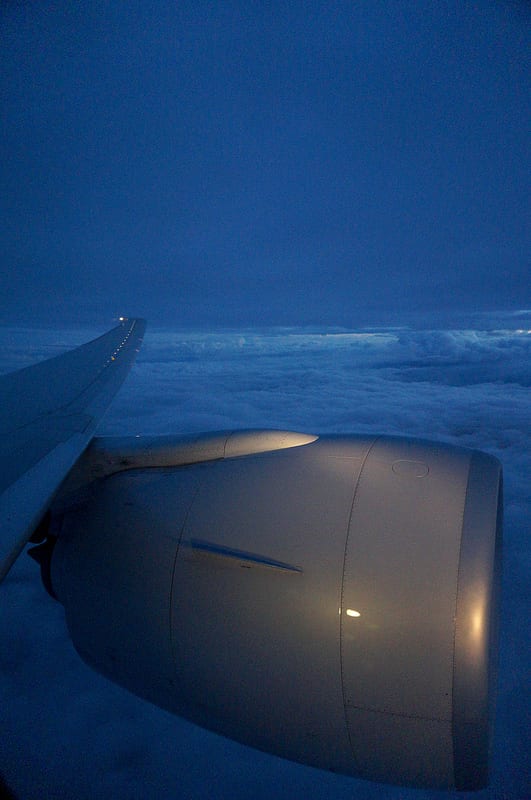 Upon landing we had a clear run through immigration, we pretty much landed as soon as the LHR curfew ends, at 6am.
---
American Airlines (AA) Arrivals Lounge
Class: Business/ First
From: London (LHR) – Terminal 3
Access:

Arriving Long-haul : OneWorld First and Business class ticket holders
Arriving Long-haul : OneWorld Sapphire and Emerald Cardholders

Date: August 2015
---
I headed straight to the AA arrivals lounge for a shower. I have a soft spot in my heart for this lounge. Many years ago I managed to talk my way in, during a 6 hour layover, on my last ever long haul Y flight: BKK-BOM-LHR-MAD-VLC
What an awesome feeling having all that space to relax after the horrors of 9W Y with a dawn transit in BOM.
The thing that struck me the most then, as it does now, is the shower room setup.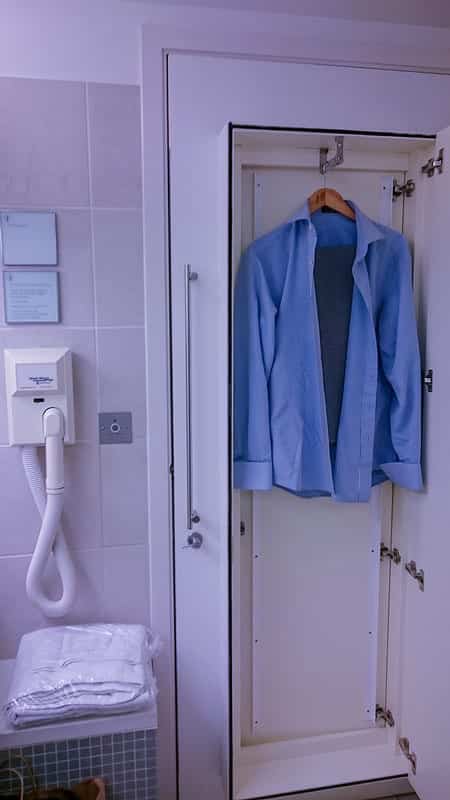 The door has a wardrobe built into it, which can be accessed from both the shower room and the corridor.
The process goes like this:
You place your clothing in the wardrobe and close the door
You press the button on the wall, which alerts an attendant to open the wardrobe from the outside and retrieve your wrinkled clothes
shower and brush your teeth
open the wardrobe to find all of your clothes pressed and ready to wear
It goes without saying that this is totally awesome.
After getting dressed I headed to the peaceful lounge for a full English breakfast and a coffee, before heading to my office refreshed and ready for a full day of work ahead.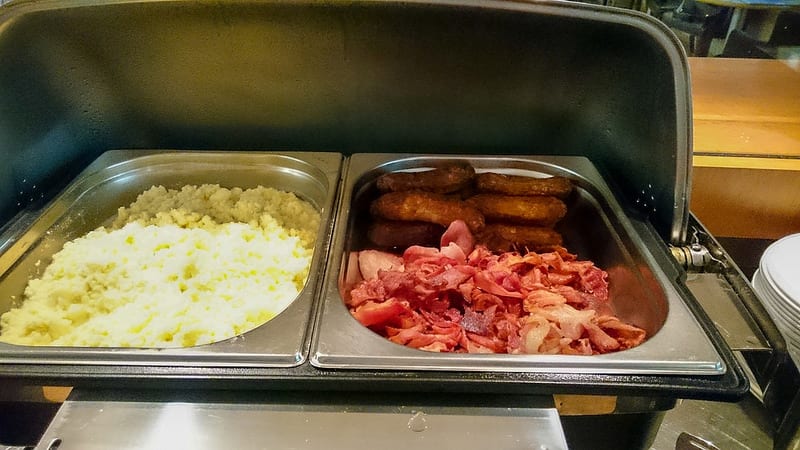 ---
Conclusion
---
Overall, a very solid option for crossing the Atlantic but not even close to my outbound on BA First (which many people call the World's best Business Class)
However, for the 6pm redeye back to LHR I think it is a great choice.
The bed is fantastic.
The seat is private and has direct aisle access.
The flight lands at 6am, giving you plenty of time to get to work in the morning after a decent rest.
There is WiFi in case you want to catch up on emails and news before landing.
The clothes pressing service in the lounge is a great way to ensure you get to work looking good.
In the interests of fairness I will say that the experience has improved on each subsequent occasion that I've flown flight AA100.
The food has improved tremendously. I've been really impressed with not only the flavour but also with how healthy the meals are.
The service has been really good on every other flight (although I did spot the same rude FA working the other aisle on my flight a couple of months ago).
Both the departure and arrivals lounges are in the process of being renovated, which means the ground experience should improve considerably.
Will this take AA J to the level of BA F? No, F is still F. However for an East Coast transatlantic redeye, it is perfect.
I don't always need to fly First, especially if it will make me feel worse the next day at work. When I'm on my way to work I need to eat quickly and get to sleep, I don't need a huge meal washed down with a bottle of vintage champagne. For Business Class, this has to be one of the best products out there; the service is not as good as Cathay but the seat is almost identical, the food is better, the IFE is better and there's WiFi.
AA Business Class used to be one to avoid, now it is one to beat.
---