Cathay Pacific (CX)
Flight: CX 543
Class: First
From: Tokyo (HND)
To: Hong Kong (HKG)
Duration: 4hr35
Aircraft: Boeing 747-400
Seat: 1A
Cost: Europe to Asia for 100k Total US Airways Miles in First

Full route: LHR-HND-HKG-CGK-NRT/HND-HKG-LHR

Date: October 2015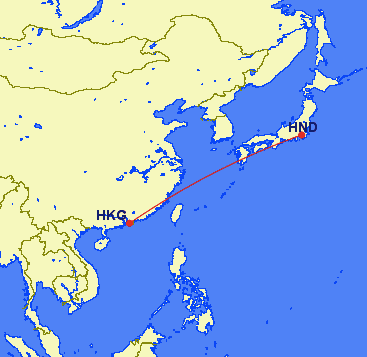 ---
I made my way to Haneda airport with rather less time to spare than on my previous visit (thanks to another intense visit to Bar Champion). When I got to the First Class lounge I immediately downed two double espressos (espressi?) and drank an entire jug of Pocari Sweat from one of the fridges. I sat watching planes for twenty minutes and then headed to the gate area.
Thankfully the flight Gods were on my side this time. Taking this flight two weeks earlier, I ended up at the furthest gate from the lounge, having to negotiate a gate area with no First Class section.
On this occasion I only had to shuffle for about 20 metres and was waived straight through an empty F line and on to the jet bridge.
Given how recently I had flown this exact same route, I was interested to see how this experience compared. My flight at the beginning of this trip, with the entire Firs Class cabin for just me and Kamara.
I was really hoping to be the only passenger this time, seeing as I had breezed straight through an empty line. Unfortunately, upon turning left, I saw a full cabin.
I started off with a PDB of water, which came with a slightly less impressive oshibori than on the last flight. I was very impressed however by the large, freshly cut ice cubes.
Menus were distributed on the ground, unfortunately there had been a mistake and we had some shoddy looking photocopies inserted into pages of the menu. This is strange as the kaiseki meal was identical to what I had been served on the same flight, two weeks earlier.

My sobriety didn't last long, as soon as we reached cruising altitude I asked for a glass of the spectacular Amour de Deutz 2006 Rose. It was just as good as I remembered. On this occasion though I was offered either nuts or Japanese snacks, rather than just being brought both. With the flight being full, I guess they had to ration.

---
The plating was a little more haphazard on the prawn dish this time:
This flight

---
Previous flight

---
---
The plating on the main course was not as impressive this time either. It still looked great but a few little details were off.
This flight

---
Previous flight

---
After the meal I caught up on some sleep, as I still had quite a few hours to catch up on from the night before. I awoke around 45 minutes before landing and just enjoyed the views.
---
Conclusion
---
CX's 747 fleet is being decommissioned in the next few months and I for one will be very sad to see it go. For a flight of this distance it really has to be the best experience available in the sky.
There is something truly magical about that moment when the meals are finished and quiet reigns, when there is nothing in front of you but the nose of the plane and the ocean below. Sure, the overall experience suffered a bit from having more people onboard but I am happy to see that the demand is there for CX to continue offering First Class on this route.
Sure, the 777 will still be nice but nothing beats the Queen of the Skies.
---
Trip Report : Back to Bali
Part 1:

Part 2:

Part 3:

Part 4:

Part 5:

Part 6:

Part 7:

Part 8:

Part 9:

Part 10:

Part 11:

Part 12:

Part 13:

Part 14:

Part 15:

Part 16:

Part 17:

Part 18:

Part 19:

Part 20:

Part 21:

Part 22:

Part 23:

Part 24: