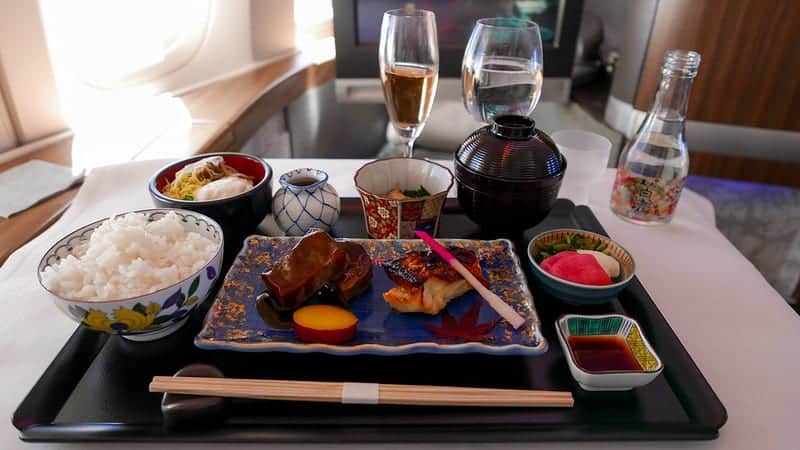 REVIEW – Cathay Pacific : First Class – Tokyo Haneda to Hong Kong (B747) – [twice in a month!]
October 20, 2016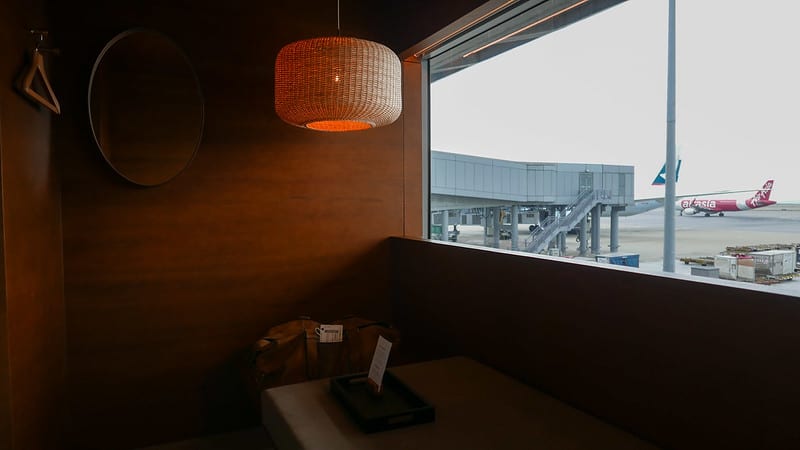 REVIEW – Cathay Pacific: The Pier First Class Lounge, HKG (Lunch service)
October 20, 2016
Intercontinental
Location: Hong Kong
Loyalty Program: IHG Rewards Club/ Intercontinental Ambassador
Status During Stay: IHG Platinum
Room Type: Deluxe Room
Cost: 45,000 IHG Points
---
Intro
---
I felt like a new man after a couple of drinks, a decent meal and a great sleep in Cathay First Class from Tokyo.
Upon disembarking from the Airport train at Kowloon station, I looked all over for an ATM. There aren't any on the level where you exit the train. This is quite annoying, seeing as it is a major transport hub attached to a shopping mall.
I finally gave up and headed to the taxi stand. The line was super long and there was an absolute dearth of taxis. I finally got one after a half hour wait and explained to the driver that I needed to stop at an ATM on the way. He was sure to confirm which IC I wanted, in advance (the IC Grand Stanford is more modern than the regular IC but is much cheaper as the views are worse).
The arrival process was obviously a lot more complicated than my experience with the Ritz Carlton but I was hoping that it would be really worthwhile.
I was welcomed as a (then) Platinum IHG member and told that I'd been upgraded to a high floor room but not one with a view. I said I preferred a smaller room with a better view but the agent said that all the view rooms had been taken by the tour groups.
---
Deluxe Room
---
On the other side of the door was a tea and coffee area… with INSTANT COFFEE.
My thinking when travelling goes like this:
Business class and 5* regular chains – I don't expect my mind to be blown, I know that things could be really great or possibly just average. It's not First class and it's not Aman, I get that. What I NEVER expect is for Business Class travel or 5* hotels to be an active downgrade of my day to day life. I may not be in the lap of luxury but I shouldn't be putting myself out either.
INSTANT COFFEE DOES NOT BELONG IN A 5* HOTEL.
One very cool feature (shared by many hotels in HKG) is the free handy phone. This is a smartphone which you can either use as a phone or as a portable wifi hotspot. This was great as my calling plan at the time didn't include Hong Kong.
You're probably getting the general idea of this hotel by now. Giant. Antiquated. Full of tour groups. In the middle of a construction zone.
Worst of all though, is that half the rooms look out onto this:

After setting my things down, I quickly got showered and changed before making my way to the Star Ferry. I never miss an opportunity to take the ferry whilst in HKG. Sure it's slower than the metro but the views and the sensation of the evening breeze on your skin are absolutely worth it.
---
Exploring Hong Kong
---
I met a friend for a drinks at a place called Sevva, it is on the top floor of a shopping centre, overlooking the town hall.
[Bonus points for having my favourite cocktail on the menu: Penicillin. Best of all it was served with a side shot of whiskey, in case the drink wasn't strong enough.]
After a couple of drinks my friend headed off to get ready for Halloween. I decided to be sensible and get a somewhat early night, given that I was still reeling from the night before and planning on seeing some of Hong Kong before catching my flight home.
I headed towards Lan Kwai Fong and almost immediately regretted my decision. The entire area was cordoned off, with crowd control measures in place. It turns out that HKG takes Halloween super seriously. The streets were crammed with people in costume and almost as many spectators, forming amateur paparazzi circles, mostly around hot girls, using outrageous looking telescopic lenses.

My original plan was to go to Yat Lok for some roast goose but this looked to be an utterly Sisyphean task. All of a sudden I stumbled upon this awesome looking place. Electronic flames, framing an enormous glass box, containing a grill which was completely overloaded with amazing looking meat. This place didn't appear on any maps, Foursquare, Yelp nothing.
It was so good that I ordered three more and ate them instantly. I ended up with grease running down my forearms and chillies in my stubble. I did not even slightly care.
As soon as I got back to the hotel I did my bit for humanity and added this place to google maps.
Suitably sated, I headed back to the ferry, onwards to Kowloon and the Intercontinental.
The following morning I decided to get some fresh air and exercise. I was on a tight schedule though so I took the peak tram up…

…and walked back down. It was actually a really nice walk, there were a few other people on the path and everybody was very friendly, saying hello as they passed, just like at Fushimi Inari in Kyoto.

Not the greatest weather but a really cool view nevertheless. This was taken from the path. I can't imagine that it is worth paying to go to an observation deck full of people when you can have this to yourself for free.

On the walk down I was totally surprised to find a public zoo in the middle of a regular park. No lines, no tickets, nothing. Just a zoo in the middle of a park.
I continued walking towards Hong Kong station and came across a unique Hong Kong sight, group after group of Filipina maids – either on their way to church or gathering in large groups, playing cards, eating and just enjoying their day off.
After my big walk, I'd worked up a real hunger. This was just as well, as I had yet to eat breakfast and had my sights set on one of Hong Kong's most famed dim sum establishments.
---
Tim Ho Wan
---
When the original outpost of Tim Ho Wan received its Michelin star, it was the cheapest place in the world to do so (Now there is another that is way cheaper). I was very intrigued to see how good the food would be, given that the service is known to be non-existent.
I arrived to see this mosh pit in front of the Tim Ho Wan branch at Hong Kong metro station. There was no real explanation of what was going on and the staff seemed completely disinterested.
I reached over the unmanned counter, grabbed a menu and a pencil and started marking off the dishes I wanted. I got a server's attention and waved the menu at her, she said "one", "one" I replied. Then she handed me a piece of paper, and said "number".
I took the paper and realised I was about ten numbers back in the queue. I went upstairs for a quick Starbucks and came back down just as my number was being called.
I ordered some siu mai which were average and not worth photographing.
---
Conclusion
---
I got back to the IC just in time to check out. I was once again thanked for my loyalty and handed a small box of chocolates as a Platinum gift. I can't say it was a great stay as the hotel is just way too run down and in the middle of a building site. Kamara and I did have another free stay booked though, so I managed to negotiate a very good advance rate, for an upgrade to a harbour view, on that one.
Would that really make a difference? Here is my follow up review where you can find out! : REVIEW – Intercontinental Hong Kong Harbour View Deluxe Room
---
Trip Report : Back to Bali
Part 1:

Part 2:

Part 3:

Part 4:

Part 5:

Part 6:

Part 7:

Part 8:

Part 9:

Part 10:

Part 11:

Part 12:

Part 13:

Part 14:

Part 15:

Part 16:

Part 17:

Part 18:

Part 19:

Part 20:

Part 21:

Part 22:

Part 23:

Part 24: