Japan Airlines (JL)
Flight: JL 726
Class: Business
From: Jakarta (CGK)
To: Tokyo (NRT)
Duration: 7hr10
Aircraft: Boeing 777-300ER
Seat: 12A
Cost: Europe to Asia for 100k Total US Airways Miles in First/ Business

Full route: LHR-HND-HKG-CGK-NRT/HND-HKG-LHR

Date: October 2015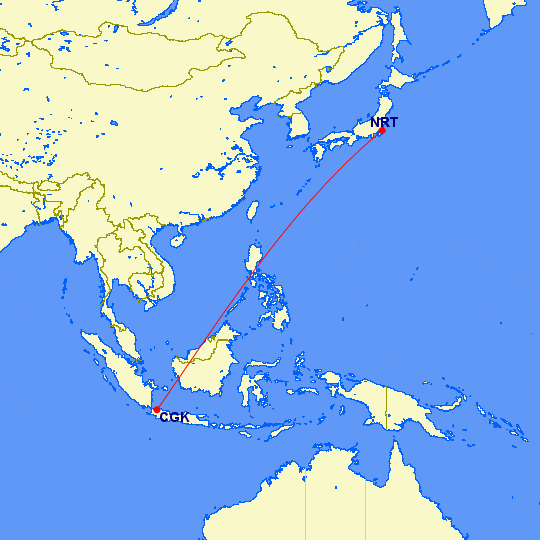 ---
We left the lounge after ten minutes or so and headed to the security screening area before the gate. Once into the gate itself we were greeted by the JL supervisor, who handed us a new set of boarding passes, a window and an aisle, next to each other at the back of the Business Class cabin.
I'm not going to lie, it felt really weird being aboard a JL 77W and turning right but I would hardly have enjoyed JL First to its fullest on a seven hour redeye and I was intrigued to see what the Business Class cabin was like. For the second time in one day I was going to try a new long-haul Business Class product!
My seat: 12A was right at the back of the cabin, I quite like being back here as it gives you the opportunity to see everything that's going on.
My first impression upon seeing the seat was that it looked very private indeed and basically had a lot of the same ideas as BA's Club World without the two major flaws:
No clambering over peoples' legs to exit the window seats
No rear facing seats and awkward eye contact that ensues
Post take-off a lot of people went immediately to sleep. I was initially worried about being seated by a family with two young kids but they made no noise at all. Once the seatbelt signs went off, both kids were placed in the middle seat and left to their own devices, whilst the parents, sat on the outside seats, doing their damndest to finish all of the gin on the plane.
Dude just completely shrugged it off, hell of a chin on him. Potentially the second coming of Kazuyuki Fujita. Well trained for a future of taking five slaps to the face on the Yamanote line, on a Friday night.
---
Conclusion
---
JAL Business Class was a mixed bag. I found the service to be competent but not particularly friendly. I also really didn't like how bare bones everything seemed for a flight which is similar in distance to LHR-JFK. No airline would cross the Atlantic without providing a proper amenity kit and a real dinner in Business, so I was very disappointed to see JL scraping through with the bare minimum. I would actively avoid flying JL on a similar route in the future.
---
Trip Report : Back to Bali
Part 1:

Part 2:

Part 3:

Part 4:

Part 5:

Part 6:

Part 7:

Part 8:

Part 9:

Part 10:

Part 11:

Part 12:

Part 13:

Part 14:

Part 15:

Part 16:

Part 17:

Part 18:

Part 19:

Part 20:

Part 21:

Part 22:

Part 23:

Part 24: