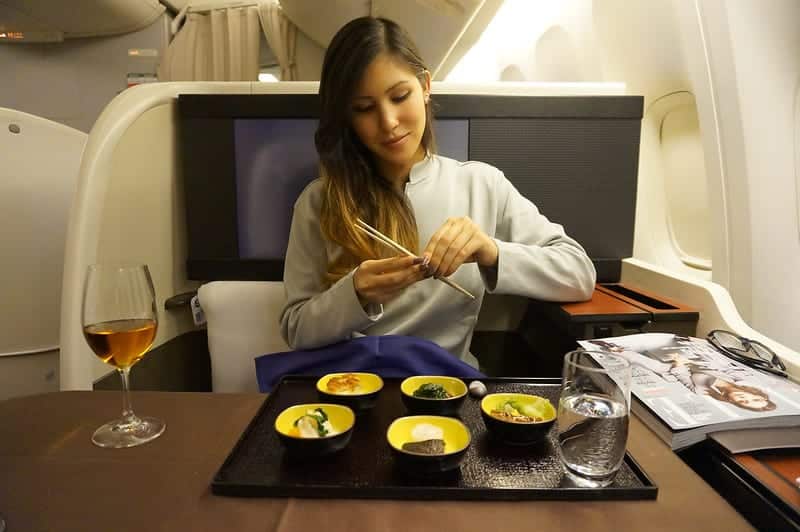 REVIEW – JAL : First Class – London to Tokyo Haneda (B77W)
October 18, 2016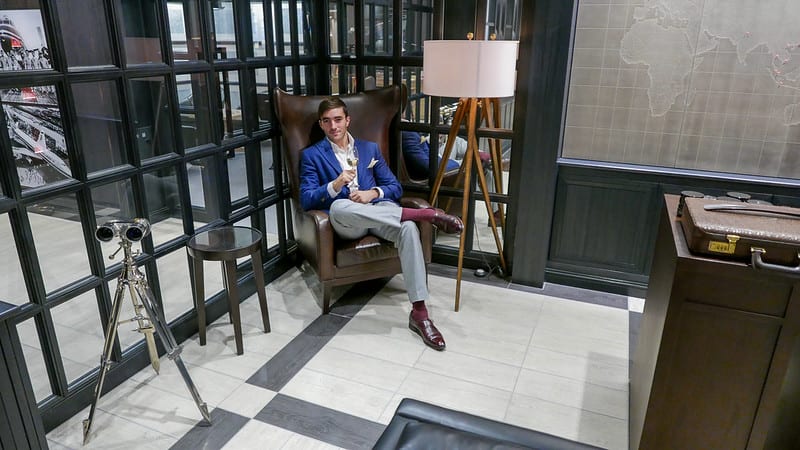 REVIEW – JAL First Class Lounge, Tokyo HND (October 2015)
October 18, 2016
Park Hotel Tokyo
Location: Tokyo
Room Type: Artist Room Geisha Goldfish
---
Intro
---
On my previous trips to Tokyo I've stayed once at the Park Hyatt and multiple times at the Conrad, both are exceptional hotels. For this stay, we were only in town for 18 hours or so. Staying at one of the big guns would have been a waste, conversely our short stay at Dai Ichi seafort back in 2014 was somewhat depressing, I didn't want to stay in a dingy little room in a bare bones hotel. I looked for alternatives: not too far from Haneda, given our early start the following day, yet not so close to Haneda that it would be a pain getting into the more central areas.
The Park hotel seemed to fit the bill. Located right by the Conrad, a five minute cab ride away from the Hamamatsucho monorail station (with its direct link to HND) and right by a subway station, with hundreds of food and drink outlets in the buildings immediately surrounding it.
The Express monorail service is nonstop between HND and Hamamatsucho.
As our cab approached the hotel we saw a film crew gathered near the entrance but didn't think too much of it.
It seemed that they were quite interested in us though. I was approached by a young lady with a clipboard and asked why I had chosen the hotel. I told her that it had great reviews, a lot of the rooms had cool views of the Tokyo Tower and it is close to Haneda.
"Great", she said. "Now can you answer again on camera?"
"No problem", I said.
And so began our time with the film crew.
They asked if they could film us checking in. Again I told them that this was fine.
The hotel entrance is located in an office building, as tends to be the case with a lot of hotels in Tokyo. The hotel itself begins on the 25th floor and reaches up to the top of the building. The Park hotel is known for partnering with artists on a rotating basis, the current installation was advertised right by the hotel's sign.
First impressions really count and let me tell you, here the Park Hotel does extremely well. The design of the central courtyard, surrounded by the wood panelled hallways above and the enormous glass roof, is truly spectacular.
One of the more terrifying images which were projected onto the courtyard wall.

This picture gives you a better idea of how intense the scale of this installation is.

This enormous skylight provides a great deal of sunlight to the lobby during the day.

At this stage I have to mention that we totally lucked out. I had booked the absolute cheapest room and had somehow staggered, jet-lagged, into a situation where I was starring in some form of promotional video.
The welcome we got at reception was super polite and deferential. We were upgraded not only to a room with a view (something I was prepared to pay for on arrival) but to one of the special rooms decorated by one of the hotel's partner artists.
The demure and elegant hallway of the artist floor did nothing to prepare us for the sensory onslaught of our room.
---
Artist Room Geisha Goldfish
---
As we made our way down the hallway, with film crew and perfect American English speaking member of staff in tow, we were asked what we thought about having a Geisha room. I obviously had no effing idea what a Geisha room was and the look on my face gave me away. One of the crew gestured towards this door:
I've always said that Tokyo is the perfect city for jet lag. If you want to stimulate your senses and avoid the lure of the power-nap that morphs into a 5 hour destroyer of time; just head into Shibuya, hit up one of the coffee boss machines and start walking.
Getting into miles and points I've kind of lost touch with the more unique aspects of the Japanese hotel industry. I slept in a capsule hotel in Osaka once and thought that the experience was not only culturally interesting but also insanely good value for money. I have stayed in numerous Ryokans and have enjoyed the tranquility of the simple and clean surroundings, as well as the excellent food. I've even stayed in a love hotel where we at no point made contact with another human being, the whole process automated for anonymity. The bed featured a black vulcanised rubber pillow the length of a ford F350, there was a glass wall between the bedroom and bathroom, the bathroom had an LED display lighting up every single surface. There was an arcade machine in the corner, the minibar was filled with 'adult toys' and the ceiling was mirrored.
The Geisha Room was closest to that.
Rolling deep.
No LEDs but happy to see a Toto washlet.
Japanese hotels tend to be extremely generous when it comes to bathroom amenities. However I was still pleasantly surprised to find Thann branded soaps and lotions, the same brand used by
Thai Airways in First Class.
---
Out & About in Tokyo
---
At this point, it was nearly 5pm and I had a very important mission to accomplish. I had been wanting to get a decent camera for a while, something to really improve my Trip Reports. Specifically, I needed a camera that would work well in low light because we so often find ourselves arriving late at hotels or needing to take photos in an airplane cabin when the shades are shut. After a little research and a lot of help from Kamara's Dad (an insanely good photographer, the kind that takes photos of hummingbirds feeding at a distance of 30 m) I had decided to buy a Panasonic Lumix LX100.
I had an idea of a couple of stores selling the camera and went to ask the concierge for help. He immediately called the two nearest stores and said that he had arranged for one of them to hold a camera aside for me. He wrote me a detailed set of instructions and gave me his card, should I require any assistance whilst in the shop.
I left K napping in the room and headed to BIC Camera in Ginza to buy my new toy. I tested it out by snapping a few pictures of the area near the hotel, on my way back.
Back at the hotel K was awake and hungry, as was I, having only eaten a plate of fruit and a single truffle all day. Our choice was obvious. One of my favourite restaurants in the world. Sure, it may not be Jiro level sushi but it's quick, delicious, cheap and delivered in an unbelievably cool way:
Uobei Sushi – Shibuya, Tokyo
The premise at Uobei is simple. You are handed a kind of pager with your seat allocation on it. You order whatever you want from the video screens in front of you. It is freshly made and shoots out along a set of magnetically charged rails in front of you. At the end you take your pager to the counter and pay. You rarely spend more than £20 including booze.

As you can see, the menu is certainly extensive.

O'Toro for 237JPY!!!

O'Toro, Ikura and the pager.

Testing the macro function.

Periodically the ordering system challenges you to a game of rock, paper, scissors. I've won a fair amount of free sushi over the years!

Sated but slightly suspicious…

After dinner we took a snap in the centre of Shibuya Crossing…

…Before meeting my good friend Mossy for drinks at the Cerulean Tower Hotel.

My Aviation was excellent. Mossy's Old fashioned on the other hand, resembled a fruit salad.
After a couple of rounds of drinks we made our way to the circle line only to find that our train was the last of the day and was stopping two stops short of our hotel.
Last Train on the Yamanote Line on a Friday night
Let me tell you this. You have not truly experienced Japanese culture until you have taken the last Yamanote Circle line train on a Friday night.
A squadron of railway employees in quasi-militaristic regalia are entrusted to go from carriage to carriage, shaking and repeatedly slapping salarymen who are inebriated to the point of near paralysis.
This guy had ingeniously managed to wedge himself between a couple of railings. Nothing five strong slaps to the face couldn't fix.

Outside the station, the carnage continued.

Ladies and gentlemen, we have a winner. The drunkest man of the evening.

He became something of an icon, with people crowding round to get their picture taken with him. It was only when this other guy lay down beside him that he came to and wandered off.

After all that excitement, our Uber showed up. In Tokyo they aren't really any cheaper than cabs (i.e. they are expensive as hell) but they are a good way to skip the enormous queues at stations once the trains stop running. The interior decor is also quite interesting.

---
Back at the hotel, we spent some time enjoying the view before heading to bed. For me, Tokyo has the best views of any city in the world. No matter which part of town you're in, once you get high up and can see the red lights blinking across every building, it feels like you're watching the heartbeat of the city. There's nothing like it; every time I'm here it feels like a piece of me has come home.

---
Conclusion
---
This was a surprisingly good stay. We obviously lucked out with the crazy room upgrade but honestly, I wasn't expecting the public spaces to be so elegant and the service to be so great as well.
The hotel is clearly not in the same league as the Park Hyatt and Conrad but then again, neither are the prices. For the price we paid, the value was phenomenal and I wouldn't hesitate to recommend this property to anybody looking for a hotel in the area.
---
Back to Bali
Part 1:

Part 2:

Part 3:

Part 4:

Part 5:

Part 6:

Part 7:

Part 8:

Part 9:

Part 10:

Part 11:

Part 12:

Part 13:

Part 14:

Part 15:

Part 16:

Part 17:

Part 18:

Part 19:

Part 20:

Part 21:

Part 22:

Part 23:

Part 24: