Ubud is a wonderful and unique place. Billed as the spiritual and artistic capital of Bali, this is a town which spills out over numerous valleys. There are countless temples, waterfalls, villas and resorts hidden amongst the dense jungle foliage.
At first it is weird to see big western brands' signage appearing on unassuming little paths. There's a giant Starbucks in the centre of town which has a crumbling pavement in front of it and an ancient temple next door. You'll find yourself 20 minutes out of town, on a two lane road, on your way to a temple and all of a sudden a Four Seasons sign appears.
It's weird but it just kind of works. The big brands have moved in and Ubud is most definitely on the tourist map but this hasn't really impacted the natural charm of the place. As soon as you find your own little nook of the jungle, nature's green privacy blinds step in and make you feel like you are one with the wilderness.
I was really looking forward to showing our friends around and hopefully discovering a few new places too.
---
Seniman Coffee Studio
http://senimancoffee.com/
---
---
After dropping our bags at the villa the first thing we needed to take care of was coffee. As luck would have it, Foursquare showed that our drive into town would take us past a proper (let's call it what it is) hipster coffee place.
Our friends are native New Yorkers and hit the nail on the head when they said that it was like we were suddenly in Williamsburg.
Pour over, aeropress, cold brew, french press, siphon, tubruk.
You name it, they do it.
The coffee is great, the staff know what they're talking about and the take away cold brew concentrate is astonishing stuff. I took to sipping it on the rocks, poolside, back at the villa. I don't think I've ever felt more alive
I was in real need of some caffeine so ordered a 'tasting menu' as my first coffee. This was composed of a series of serving boards, each of which contained two coffees and a small snack.

We also ordered some food and were quite surprised by how well executed the small snack menu items were.

Seniman has fast wifi, plenty of comfy indoor seats (I loved the rocking chairs) and a decently sized terrace area outside too.
---
Tukies
---
---
From the outside this place doesn't really look like much. In fact it sort of looks like a coconut dumping ground.

Step inside though and you will get one of the most delicious creations on the planet. Freshly made coconut ice cream, mixed in with young coconut flesh and coconut sugar, topped with crunchy coconut brittle. It is insanely good. The sort of good that would compel you to commit lewd acts in exchange for just one more scoop.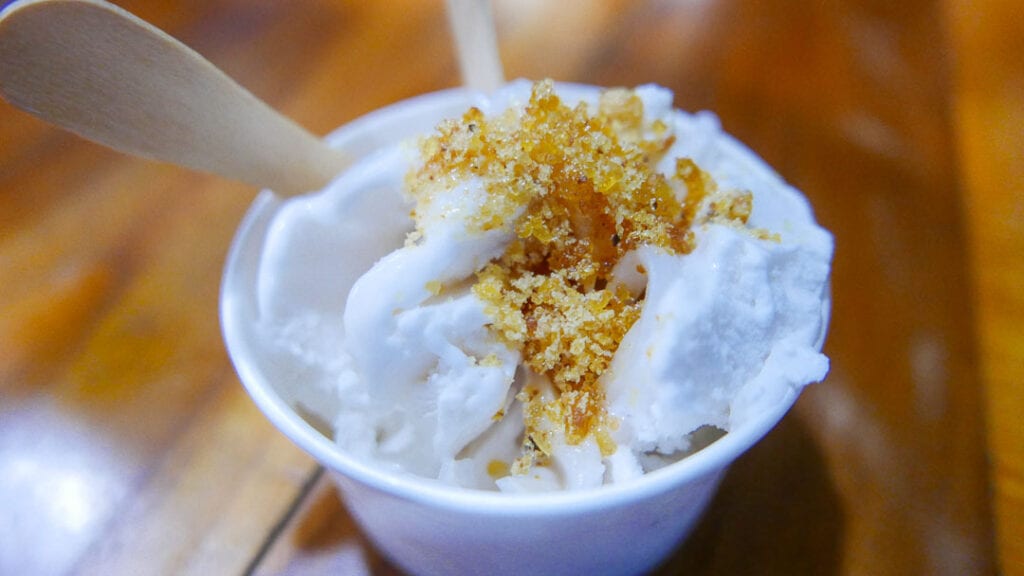 ---
Temples
---
There are thousands of temples in Bali, literally. It can seem daunting at first. What if you miss out on 'the best' one? Honestly I just wouldn't worry. Being in Ubud and enjoying the leisurely pace, wandering from one place to the next is part of the appeal.
I googled Ubud temples and flicked through the images. I stopped when I saw something that piqued my interest and marked it on Google Maps with a star.
Our first stop was the Elephant Cave temple – Goa Gajah. Why? Because it was hot as hell outside and the combination of a cave and plentiful water looked like a cooling counterbalance.
We had similar motives for visiting Tirta Empul. Here you are given one sarong as you enter the temple; you can then hire a second bathing sarong if you'd like to get into the water.

Water temples are a little out of the ordinary though. Batuan's sprawling complex of orange and grey is more representative, an archetypal and unmistakable piece of Balinese architecture. We stopped by to dry off in the sun after our visit to Tegenungan Waterfall

---
Tegenungan Waterfall
---
---
There are plenty of spectacular waterfalls in Bali, a lot of them are easily accessible from Ubud, a quick Google search will reveal top 10 lists compiled by dozens of different sources. My advice would be to pair a waterfall with a temple and make a day out of visiting just those two places. You could cram more in but it feels great to take your time and just enjoy your surroundings when in central Bali.
Be warned though, some waterfalls require significant hikes and the paths are not set up for regular tourism. That can be great if you're well prepared but not so much if you turn up in flip flops with a 300ml bottle of water for a 2 hour jungle hike.
Tegenungan is easily accessible though and only requires around 30-40 minutes of walking to get to. The path is reasonably well maintained, I did it in boat shoes with no problems. There are also a few food and drink stalls at the car park, should you need to stock up before heading down (or if you fancy a well deserved beer after the walk back uphill).
The path to the waterfall is all downhill and offers a tantalising view of the crashing water, at the very beginning.

Although there were a lot of backpackers I really liked the fact that large groups of locals were here too. Who needs a swimming pool when you have this?

---
Tegalalang Rice Terrace
---
---
This used to be just a regular rice terrace that people would stop at to take pictures. Soon locals appeared to sell drinks to the picture takers, then coffee shops and bars appeared and now it charges an entrance fee.
It's a cool place to a take a picture, if you're heading North anyway but as I said in an earlier section, I much preferred seeing the real rice terraces of Java than this attraction.

---
Kintamani
---
---

Kintamani looks like it's really far from Ubud but actually the drive only takes an hour, along a very smooth and traffic free road. I really enjoyed coming here for a change of scenery. There are a lot of tourist trap buffet restaurants around. We hired a driver through the villa and he was clearly very keen on us coming to this specific place.
We'd only had breakfast 90 minutes earlier, so skipped the food and ordered fresh coconuts and beers instead. The drinks were totally standard Balinese prices, the view was magnificent and the driver got his free lunch, so all in all it worked out well.

---
Naughty Nuri's Warung
---
---
This roadside BBQ restaurant has spawned a multi-national empire since originally opening its doors in the 90s. Like many no reservations restaurants, this place gets mixed reviews.

As you can see, the decor is basically full on dive bar, with constant plumes of delicious smoke wafting in from the grill. Come hungry with clothes you don't mind staining. Still, just because the decor isn't upscale that doesn't mean you have to be a savage and forego a pre-dinner cocktail
The Gin Martini at Naughty Nuri's is without equal on this Earth. It is shaken tableside and the glass filled to an absurdly meniscal state. You are then required to sip from the glass (the use of hands is not recommended here) in order to make room for the remainder of the drink to make its way out of the shaker and into your glass.
Absurdly meniscal

One of these martinis contains at least four shots of gin. Of course you'll need another one to go with the food, once that arrives.
Grilled pork chop. Crunchy salty and utterly delicious.

The star dish at Nuri's is the rack of babyback ribs. They are not quite as tender as something that has come out of a wood-smoker but have a deep, rich, sweet and spicy flavour that goes on forever.

I think the best way to tell how good a meal is, is to see what you look like after. Yeah, it was good.

---
Bebek Bengil a.k.a. Dirty Duck Diner
http://bebekbengil.com/
---
---
I've often said that Michelin starred restaurants struggle to do anything with duck that surpasses a thorough deep frying as found at any high street Chinese take away. Luckily one of the cornerstones of Balinese cuisine is crispy duck and Ubud has a couple of restaurants that base their reputations on their execution of this dish.
Bebek Bengil looks like just a regular dining room, from the road. Walk through though and the restaurants opens out into a beautiful garden with numerous dining bales dotted around.

The garden setting is very tranquil but as with all of Ubud, spiders are a not uncommon sight. Thankfully no spider in Bali is poisonous to humans. I'm usually not a fan of spiders at all but knowing that they're harmless actually makes it quite fun to get up close and look at them. This orb weaver was playing around in a plant next to our table. It was roughly the size of my hand.

Even if you are arachnophobic though, it's worth persevering as the food is excellent. We tried a variety of different crispy duck dishes and they all hit the spot, although the Balinese ducks aren't nearly as large as what I'm used to in the UK. The freshly prepared dips and spices added a whirlwind of flavour and really took the food to another level.

---
Spice
http://spicebali.com/
---
---
Spice is a very trendy looking, glass fronted tapas bar in central Ubud. This alone wouldn't really leave me salivating to visit. What did draw my attention was the fact that it was started by the man who runs Mosaic, the fine dining sensation which many claim would be deserving of **, were it located in an area where the inspectors do the rounds for the Michelin Guide.
The food and drink are very keenly priced for somewhere in such a central location with so much having clearly been spent on the decor.

We started things off with a bang. The Beef carpaccio with rendang, mushroom and parmesan was one of the most inventive and brilliant interpretations I've encountered yet, of this global menu staple.

Tuna tataki with sambal and tempe crackers was spicy, fresh, bright and acidic.

The grilled vegetables were exceptionally fresh and flavourful. The sauce was great too

The grilled rib eye with Indonesian sambals was solid but not particularly exciting

I barely tried the apple pie as I was on the verge of total explosion, we ended up ordering almost every dish between the four of us. It was ok but not a patch on Tukies coconut ice cream.

---
Swept Away at Samaya
http://ubud.thesamayabali.com/experi…ning/?id=6&v=0
---
---
On our final night in Ubud we decided to go for something fancy and booked dinner at Swept Away, a riverside restaurant located within the exclusive Samaya resort. We were greeted at the elegant and atmospherically lit lobby building and driven through the resort on buggies. The staff were incredibly friendly and efficient. Torches were brought out with the menus as were additional stools for ladies' bags.

We began the meal with a round of cocktails. I was even asked if I wanted gin or vodka with my espresso martini. Very good.

The setting is absolutely beautiful. A word of warning though, if you come here as an unmarried couple, your partner may well be expecting a certain question to be asked. The staff told us that they get proposals here on a daily basis.

This was taken as the guy was composing himself pre-question.

The service was phenomenal throughout and very much of the level you'd expect somewhere like London, or I daresay a little better. Scented cold towels made numerous appearances, always a relief when dining outdoors in Bali.

There are numerous different tasting menus, which present phenomenal value at around $50 per person for 6 courses. I would go as far as to say that this restaurant has the best price:quality ratio of any restaurant I have ever been to.
We each ordered different things, the regular tasting menu, seasonal truffle tasting menu and a la carte. Here is a selection:
Amuse bouche

The pan seared foie gras with waygu raviolo had me quivering in ecstasy.

The green gazpacho with avocado and prawns was fantastic. A cooling sip of refreshing nature in between heavier dishes.

Mrs R admires Mr R's phenomenally masculine choice of drink. He ordered this as an additional palate cleanser

Seared scallops with pomelo, avocado, caviar and green chili. Another spectacular dish

My cheese course was otherworldly. Thick slivers of truffle sandwiched between brie de meaux, accompanied by a white chocolate truffle.

Apple vanilla souffle with apple ice cream in a sesame shell. (plus coffee with mignardises)

---
Conclusion
---
Ubud has something for everyone: mountains, waterfalls and jungle; Laid back or action-packed; Down and dirty or refined and elegant.
Ubud holds a very special place in my heart and I hope I've inspired one or two of you to check it out too!