The definitive guide to Food, Culture and Nature in Ubud, Bali (October 2015)
October 19, 2016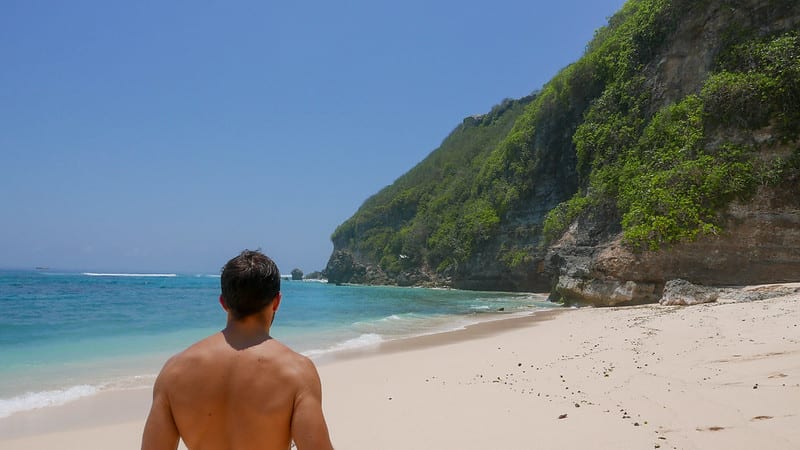 What to do in Uluwatu, Bali
October 19, 2016
The Edge
Location: Uluwatu, Bali – Indonesia
Chain: Mesa Hotels and Resorts
Loyalty Program: N/A
Cost: $550 per night
---
Intro
---
Uluwatu is very different to the other areas of Bali. It is particularly arid and as such is relatively uninhabited by locals. The cliffs make for some particularly dramatic views, though, and numerous high end resorts and villas have appeared over the course of the last decade (many of which we visited during our time here).
Looking out into the endless blue, with no land between you and the town of Onslow, NT; 888 miles to the South, you find a deep sense of calm within.
We absolutely loved our stay at Alila Villas Uluwatu in 2014 but the rates this time around were north of $650 a night, which honestly is a fair price. However, I don't travel as much as I do by paying a fair price for things – I like to get an awesome deal.
The Edge is one of those places that is eminently Instagrammable. If you've ever looked at images of Balinese hotels and resorts, chances are you will have come across a photo of the iconic main pool, flanked by bright orange sun loungers, with the endless blue ocean serving as a backdrop.
Via a combination of topcashback and promo codes, I was able to bring the price down to $550 per night for four people!
When we first pulled up to the reception area of The Edge, we weren't immediately wowed. Other resorts around these parts tend to have either minimalist lobbies which frame the horizon, or enormous lobbies filled with fresh flowers, statues and fountains. The Edge is a lot more low key.
---
Check In
---
We were greeted by the duty manager and asked to take a seat whist he called a buggy for us.
No towels or welcome drinks of any kind were offered
. I was very taken aback, it seemed like we were putting him out and he really didn't seem too interested in us at all. I was so excited to see the amazing facilities that I just kind of let it slide, I figured that we probably wouldn't have much interaction with him during our stay anyway.
We sat and waited for a couple of minutes at which point the manager came to tell us that our buggy was ready and that our butler would bring us welcome drinks by the pool. It sounded like things were looking up! We were then driven the 30 metres or so to the main pool area, totally pointless using a buggy for this simple, straight line path but I guess it helped employ one more person in the local economy. As you can see, they're big fans of the definite article around these parts.
As soon as we got out of the buggy, we all rushed to the wall to look down at the main pool. What a view.
The buggy driver, who we assumed was also our butler, showed us to the poolside bar and then disappeared.
We then spent ten minutes taking pictures and just enjoying the view. It felt almost like coming full circle, seeing a long natural wood table topped with flowers, ten days after being in the Pier F at HKG.
I absolutely love the design of this area, so relaxing.
The glass floor however, is not for the faint of heart!
There was still no sign of our butler (or towels or drinks), so I approached the bar staff and asked them what was going on. At this stage they had made no attempt to engage us in any way and were just keeping their heads down, wiping the bar, polishing glasses and playing with their phones. I thought that maybe I had misunderstood the manager and that we were supposed to order our own welcome drinks at the bar. The barman however asked us to keep waiting and assured us that our butler would be with us soon.
Ten minutes later (twenty minutes after our arrival at the bar), the butler introduced himself and offered us each a non-alcoholic lime and mint drink.

Despite it already being nearly 2pm, the butler said that our villa was not yet ready and suggested that we order some food whilst we waited. The menu at The Edge has quite a variety of menu options covering all corners of the globe. We split a few starters to begin with and then each ordered separate mains.
Beef carpaccio and deep filled potato skins.

Grilled scallops.

Definitely one of the best lunch views ever. It feels very special having this to yourself.

I ordered the lobster Tom Yum soup as my main course. It was delicious and very generous for the price.

The service really dragged on, despite us being the only customers. We got the distinct impression that the staff had been told to linger as our villa was not ready. Still, we didn't mind too much given the setting.

After our dishes were cleared, there was still no sign of the butler and it was now 4pm. I decided to have a look at the rest of the resort and started to head towards this small relaxation area. I was quite surprised to see that on the right of this image was a large room with a water filled floor where a couple were receiving massages. There was no rope or sign of any kind to stop people heading this way, despite it being right next door to the bar. One of the therapists quickly hurried towards me and made an X shape with her arms. So I headed back to the bar and asked them to find out what was going on with our room.
---
The Cliff Villa
---
Our butler showed up ten minutes later and made no mention of how long we'd been waiting, he simply asked us to follow him and took us to the villa. We got in a buggy once again, which was a little ridiculous, given that our villa was directly above the pool. Perhaps this kind of frivolousness seems luxurious to some but honestly I'd rather have the independence to walk around on my own, rather than waiting ten minutes for a one minute buggy ride. We didn't take buggies again after this.
It is all rather confusing with The Edge, as the resort is made up of a series of villas which are interconnected. Bedrooms can be added or subtracted to most of the villas, in order to accommodate groups of varying sizes. It wasn't exactly clear which villa we were going to get as Agoda.com was showing pictures from all of the villas under our booking. Given that we booked a two bedroom villa for four people, we assumed we were getting the villa called
The Mood
(the only one listed as having 2 bedrooms). In the end, we were given two bedrooms within a villa called The Cliff, with the adjoining door to the third bedroom (a standalone villa called 'The Villa') kept closed.The entrance to our villa:
Not exactly a warm welcome, the butler could have moved this sign or put it further down by the main resort path…
Immediately upon entering we could see that the hard product was very impressive. The furniture looked very solid and well designed, plus it was nice to see little details like an umbrella stand with four umbrellas ready and waiting by the door.
At this point, I should mention one of the main reasons why our stay was at a reduced price. The Agoda.com website mentioned that there was some construction going on at the resort, but that this was being done in a way which would have a minimal impact on guests. That temporary bamboo railing was our privacy shield.
The shield unfortunately meant that our pool only saw the sun at midday.
Although Kamara quite liked the fact that there was no bright sunlight blowing out the exposure too much when shooting for her blog:
www.euriental.com
The shade was also welcome during the early afternoon, whilst enjoying a glass of wine.
On the other side of the bamboo screen was a giant building site, easily doubling the size of the resort, replete with pneumatic drilling and constantly moving heavy goods vehicles.
The construction was stopped whilst we were checking in but honestly the loss of a view from the bedrooms, the casting of shadow over the pool and the noise were not worth the reduction in price. In my opinion, the resort should have remained closed whilst this level of work was going on.
Our butler showed us the bedroom nearest to the entrance first. I actually quite like the design here; it has a bit of a 'W' feel to it, not my personal taste in decor (that tends to veer a lot more towards Park Hyatt territory) but fun for a holiday destination. There is plenty of space and a pleasing contrast between the dark wood and the neutral walls, against the bold colours of the carpet and furniture.
The bed was giant and supremely comfortable. (Thankfully there was never any construction after 5pm.)
Plenty of sunlight in the afternoon.
We stayed two nights and I have to say that the turndown service was great both times. In addition to the water, our dressing gowns were folded up in a very cute way, on the bed.
We were also left a gift each evening. The first night we got sleeping masks filled with lavender (but no straps to attach them to our faces).
On the second evening we were given bookmarks, containing pressed flowers, that were purportedly handpicked by our very own butler.
Continuing on from the bedroom was a small hallway with a chest of drawers and a minibar (contents not included in the villa rate).
There were also two large wardrobes containing slippers and dressing gowns as well as some top quality hangers.
The bathroom was fantastic, a very light and open design with lots of nice little details.

Infinity bath with bedroom view.

Super high pressure rain shower.

Very fancy Lanvin toiletries.

First time I've ever seen infinity sinks in a bathroom (or anywhere for that matter).

More Lanvin amenities.

After showing us the first bedroom, the butler led us into the spectacular lounge. I took this shot at night, as the dynamic range of GoPros isn't great and the sunlight in Bali is so strong.
Our jaws pretty much hit the floor as soon as we walked in.
The door on the left was kept locked and led to the possible third bedroom.
The door on the top right led to the study.
The door on the top left by the bar led to a service kitchen and the service tunnels.
The door on the right led to the outside.
Before we could get too excited, exploring the villa, our butler hit us with a pretty weird bombshell. We asked him why half the bags were still in the lounge. He said that the villa was only booked for two people so two people would have to sleep in the living room!

At this point the service had gone from being reactive, slow and indifferent to actively bad.
Why had this not been raised at any point up until now? Clearly there were four of us checking in and we had been waiting for hours to get to our room. This time could have been spent clearing something like this up.
Luckily I always keep a plastic folder with hard copies of all my reservations in it (these folders are then filled with ticket stubs, menus and maps to form a scrapbook of sorts for each of my trips).
The reservation very clearly stated that we had reserved a two bedroom villa for four people. The butler asked us to wait whilst he made a call. In the meantime we carried on taking pics and trying our best to recall a time where we had ever experienced service this bad and wishing that Dedung from Villa Bulung Daya would show up to whip the staff here into shape.
Taking some time out to enjoy the ocean view from our lawn, in front of the living room.

There was a lot of very cool artwork throughout the villa. These folders were our main source of info after we discovered that most of the staff were just winging it.

Our welcome fruit amenity.

The sound system in the villa was great, a bonus of being the only guests at the resort was that we could make all the noise we wanted!

More cool artwork.

The study.

The dining area.

Another member of staff came to supervise us whilst we waited for our butler to return. He poured us some water and made a perfunctory effort to answer questions.
We opened the drawers behind the bar and found a bunch of broken forks and a sticky mess left in one of them.
The second staff member disappeared around the corner into the service kitchen and then left the door wide open.
He said that if we wanted to make coffee we could use the Nespresso machine in the service kitchen, pointing to a boxed machine on top of one of the kitchen shelves, although he qualified this by saying, "maybe it's broken though".
The kitchen itself was pretty run down and grubby looking; we went in from time to time to grab ice from the freezer and not much else.

---
The View Villa (Indoors)
---
At this point, our butler re-emerged and said that we were right and we had indeed booked two bedrooms.
He then asked if we wanted to see the larger villa upstairs as maybe we could stay there instead. I had seen picture of the bigger villa online. It is called The View. It has five bedrooms and looks absolutely outrageous. Straight up, Bond villain, out of control opulent.
I was starting to think that maybe this butler wasn't so bad after all.
We came up through this expansive staircase, overseen by a very cool and enormous painting.
At the top of the stairs we had our second jaw dropping moment.
Either side of the living room were two identical pagodas with moats surrounding them, containing master bedrooms.
The outdoor space of this villa certainly didn't suffer from the same lack of sunlight as The Cliff.
We were pretty freaking excited about the prospect of staying in this epic mansion and started to agree that this was probably appropriate recompense for the shoddy service up until this point.
It felt like we had only just seen Business Class for the first time, thinking this was as good as it could get, only to be immediately shown First.
After our brief tour the butler walked us back to The Cliff and asked us to wait whilst he made another call. Bad news. The big villa was being used to stage wedding photos the next day, so we couldn't have it.
Maybe I'm being too harsh here but would it not have made sense for him to get the OK first before showing us around a much nicer villa and then telling us we couldn't have it?
Oh well, at least we had a chance to get up there and enjoy the view.
In any case, the second room at The Cliff had been prepared whilst we were upstairs in The View, so we flipped a coin and Mr and Mrs R took room #2… which it turns out was infested with ants. The butler spent some time in there trying to clear them, to little effect. I'm guessing The Edge either doesn't have a pest control guy or he was on holiday, because no follow up was offered. The butler just kind of shrugged his shoulders and left Mr and Mrs R with the ants.
At this stage we were all more than ready for a drink. I called reception and asked if they could make reservation for us at Rock Bar and also requested a cab to take us there at 5.20.
We spent the next forty minutes or so unpacking and getting ready.
By 5.30 we hadn't heard anything and were starting to worry that we'd miss the sunset. I called reception only to be told that Rock Bar doesn't take reservations and no cab had been booked for us.
I quickly floated the idea of abandoning Rock bar altogether but we figured we might as well check it out regardless.
After returning from Rock Bar and the amazing meal that followed it, it did feel good to be back at our awesome villa with the curtains drawn, no construction noise and no service issues. Just us and the villa. The little area directly in front of the villa looked pretty great at night too.
---
Food and Drink
---
Luckily for us, I looked through the villa folders and found the section on breakfast. We discovered that breakfast was served in-villa and needed to be ordered the night before (I can only imagine the sh*t tornado that would have ensued the following morning, had I not discovered this). The selection was quite extensive and included continental, American, Japanese, Indonesian and Korean breakfast options.
We awoke the following morning to find the table already set. Having a leisurely breakfast, particularly one served in your room, has to be one of life's greatest pleasures. The butler wished us a good morning and asked if we were ready to eat yet. I said we'd wait for our friends to wake up first.
Kamara couldn't resist though and after a token wait of ten minutes, started gobbling handfuls of cereal. The butler must have taken this as his cue as he quickly disappeared and returned with our breakfasts.
Kamara opted for the Indonesian breakfast, which she really liked.
I thought I'd brave the American breakfast. A high fat, high carb, low protein horror show. Everything was limp and soggy, despite being fried.
The bacon was similar in consistency to fruit leather.
On our second morning I opted instead for the Korean breakfast, which was fantastic.
Unfortunately Mr R didn't join us for breakfast either day. By the time we finished our first drinks at Rock Bar, on evening number one, his stomach was already hurting. As I mentioned earlier, we didn't share mains when we ordered our lunch whilst waiting for the rooms to be prepared (mainly because a couple of us ordered soups, which are pretty hard to share and only Mr R like the idea of the burger).
Everywhere else throughout this trip, the four of us either shared our food or ordered the exact same things.
The chances are very high indeed that the food at The Edge made Mr R sick, to the extent that he created (he was quite clear about wanting me to share this detail) a profoundly green poo. The guy was totally wiped out and missed out on the Uluwatu portion of the trip almost entirely (I'm glad to say that he managed to recuperate sufficiently to drink a bottle of Krug in Cathay First on the flight home though).
I personally found that first lunch to be really good in terms of taste, albeit unbearably slow in its delivery.
We had another late lunch at the villa, on day two, which again took forever to serve and was missing a main course. When I asked what was going on, the butler disappeared and returned 45 minutes later with a criminally overcooked piece of grilled tuna.
Two things:
One – if you've forgotten my dish entirely and everybody else has finished eating, the appropriate response is to admit to this and ask me if I mind waiting for the dish to be freshly made (most good places would offer to comp the dish too), whilst advising me of the estimated cooking time.
Two – if you take 45 minutes to cook and serve a piece of tuna steak, something is seriously effed up in your kitchen. If that tuna is fresh, you only need to grill it for a minute on each side, put some salad on the plate and get it from the kitchen to the villa. Given the fact that the villa is directly connected to the kitchens via tunnels, this shouldn't be a problem. If it is, why not use one of those buggies to save some time?
So, the food was variable in quality, sometimes great, mostly below average, with terrible service and a high likelihood of making you sick.
Thankfully there are plenty more dining options in Uluwatu, many of them exceptional in terms of food quality, service and decor.
---
The View Villa (Pool & More)
---
On the last morning, during breakfast, I asked our butler if we could hang out at The View, seeing as the construction was going on, The View was not being used and we only had a couple of hours to go until checkout.
There were a couple of staff members folding towels and generally tidying whilst K and I played in the pool and went exploring.
One of the master bedroom pavilions, next to the enormous living room.

Hell of a place to enjoy a coconut. The View is the furthest villa from all of the construction and whilst it was still slightly visible and audible, it was markedly less of a nuisance from here.

After a while our butler appeared and offered to give us the full tour, starting with the outlandish home cinema.

There were also a series of smaller bedrooms and a kids room, which weren't too interesting. Then we came to the second living room.

Next to the second living room is a huge private garden where wedding receptions are usually held.

The garden gives a great view of The View as a whole.

---
Conclusion
---
Despite being part of the same group of hotels as Mesastila, The Edge sorely lags its sister resort when it comes to service. I'd like to point out that the service was never rude, we never felt insulted, it is just that the basic training didn't seem to be there.
A luxury property should make you feel welcome and comfortable at all times. There should be no ambiguity and no waiting around. You need to be able to trust that everything will be taken care of and that you don't need to make the effort to go hunting for things yourself.
This stay was the opposite of that, in almost every respect.
To be fair, the butler got slightly better throughout our stay. It appears as if we were helping him to get through Butlering 101.
On the surface here, things look great but so many aspects of our stay were actively bad that I could never recommend this place to anybody, even at half the price that we paid.
As we were in our car, leaving the resort, the butler received a call saying that Mr R had left a shirt behind. He asked me if Mr R wanted it back (we were on our way to lunch at Alila Uluwatu next door so it could easily have been sent over whilst we were eating).
Mr R leant over to me from the back row of the minivan and quietly said words to the effect of: "If he's asking as opposed to letting us know it's being sorted, it means they probably want to charge us or create a hassle of some kind, maybe even delay us from getting to the airport on time after lunch. You know what? I don't even like the shirt enough to want to deal with people from that resort anymore."
And that, ladies and gentlemen, is probably all you need to know.
---
Back to Bali
Part 1:

Part 2:

Part 3:

Part 4:

Part 5:

Part 6:

Part 7:

Part 8:

Part 9:

Part 10:

Part 11:

Part 12:

Part 13:

Part 14:

Part 15:

Part 16:

Part 17:

Part 18:

Part 19:

Part 20:

Part 21:

Part 22:

Part 23:

Part 24: