REVIEW – The Edge, Uluwatu (Bali)
October 19, 2016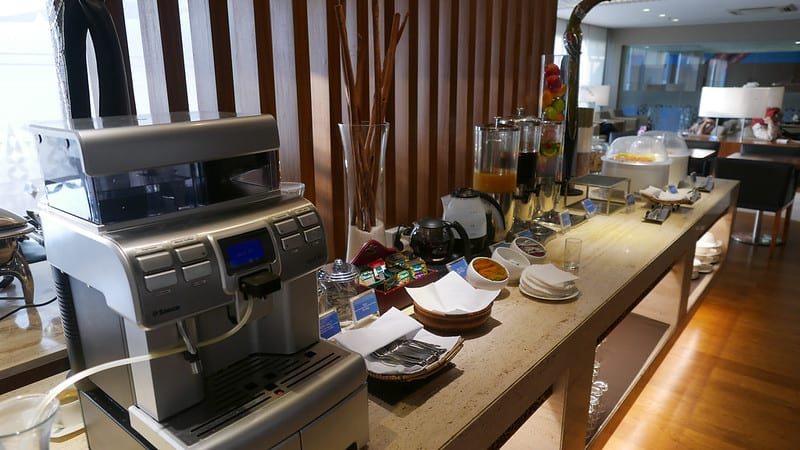 REVIEW – Garuda Indonesia Business Lounge, Bali DPS (Domestic Terminal)
October 19, 2016
As I mentioned in previous sections of this trip report, Uluwatu is quite an arid and sparsely populated region. In terms of traditional cultural tourism, there isn't a huge amount to see beyond (the very underwhelming) Uluwatu Temple and the Kecak dance held in its immediate vicinity.
This doesn't mean that there's nothing to see though.
This southernmost region of Bali is breathtaking, clifftop views and white sand beaches abound. This natural beauty has led to a proliferation of high end resorts.
That storyline probably sounds awful to a lot of people, in my experience though it has made Uluwatu a fantastically exciting architectural destination.
The design of some of these resorts is absolutely breathtaking and hopping between them is a great way to see some of the most cutting edge design on earth whilst enjoying food and service which is easily the equal of anything in a similar price range in London.
Rock Bar is probably one of the most photographed bars in the world, particularly since the addition of the latest circular bar area, which extends into the ocean and provides an uninterrupted sunset view.
The bar is part of the Ayana resort. The resort itself is not hugely impressive and I think suffers a lot, as a result of its size. The feel here reminded me of the Madinat Jumeirah in Dubai; unlike the higher end resorts in the region, Ayana has hundreds of regular hotels rooms, housed in large blocks. There are numerous gift shops and placards advertising buffet specials, kids activities etc.
In spite all of this, it is still a very polished and well presented space when compared to similar sized resorts in other parts of the world.
The minimal and elegant entrance to the Ayana lobby
The Ayana lobby, like many others in this part of Bali, frames a view onto the endless blue ocean.
Walking down the steps, towards Rock Bar, you encounter numerous dining venues such as this one. I like the idea of the overwater restaurant but the tables are way too cramped for my taste.

We got to the line for Rock Bar just as the sun was setting. There are actually two lines, one for hotel guests and another for visitors – which I think is a good call. Our waiting time was about 20 minutes. The capacity of the bar is actually pretty sizeable, the main issue is that you need to wait in line for the funicular car to take you down the cliffside, to the ocean's edge.

The majority of the seating is obscured from above, only the two floating bars are visible whilst you wait in line

For whatever reason, we were told that one of us had to get out of the funicular, just as it was about to set off. I volunteered to let the others go ahead.
Once I got to the bottom I saw that my group had been given a table right by the cable car, bundled together with tons of other people and no view to speak of, there was also a really long line, snaking right next to these tables, of people waiting to go back up again. I spoke to a manager and asked for them to move us somewhere a little more relaxing.

The view to our right.

Rock Bar just seems to go on and on. This very cool looking beach section was below us, at the end of the area shown above. I think this was actually my favourite out of all the areas that we saw.

The service was very prompt, as you'd expect given our proximity to one of the bars. The drinks themselves, whilst inventively presented, were basically fruit juice. Way too sweet and no alcohol detectable. We ordered a couple of bar snacks but if you want dinner you'll have to go elsewhere, the menu is not very extensive and is limited to very small dishes.

After one round of drinks we figured we'd seen the place and ticked it off the list but I definitely wouldn't recommend going out of your way to visit. The drinks are pretty bad, the bar is enormous and impersonal and the lines can get really out of control. It's basically Disneyland for semi-adults.

The resort did look great at night though…

…and gave me a chance to play with the low light settings on my new Lumix LX100

---
Sangkar Restaurant – Bulgari Bali
https://www.bulgarihotels.com/en_US/bali/bar-and-restaurant/sangkar-restaurant
---
---
A short drive away from Ayana (and right next door to The Edge!) is the Bvlgari Resort. I was really looking forward to seeing it in person as the photos I had seen all looked spectacular.
From the moment we arrived we could tell that this was going to be several orders of magnitude above what is offered at Ayana.
As our car pulled up to the resort we were immediately wowed by the enormous lobby. Dark and brooding, it didn't look like a modern structure. It actually felt like stepping into a painstakingly restored, ancient temple.
Once in the lobby I was surprised to be greeted by a European member of staff (the only time I've ever seen a Westerner in a visible front of house role in Bali). He took my name and confirmed my reservation with the restaurant. A buggy was with us almost instantly.
The decor, furniture and lighting at Bvlgari Bali are all exceptional. Conceptually flawless.

The grounds of Bvlgari are actually very extensive, I was surprised at how long it took to make it all the way down to the main restaurant area. Our buggy driver was a delight, very fluent in English and quite well versed not only in the details of the resort but also in the history and culture of our home countries.

Arriving at night, the setting for the bars and restaurants is absolutely enchanting. It honestly felt like we were emperors in some long forgotten kingdom. The architecture manages to perfectly blend the old and the new, so many of the stone surfaces are rough and lava-like that the impression is one of aged elegance rather than brash novelty.
This beautiful lamp marks the stopping point for buggies.

On the left is Il Ristorante, a very highly regarded Italian restaurant. We dined at Sangkar, the Indonesian restaurant on the right, which boasts spectacular ocean views from its outdoor deck.

To reach Sangkar we first had to head towards the bar. This is how busy it gets when the resort is at full capacity.

I just can't get enough of the ambiance of tranquility here.

Looking across the water towards Il Ristorante

Sangkar is by far the larger of the two restaurants at Bvlgari Bali but that doesn't mean that it gets overcrowded. We asked our server why the resort seemed so empty. He said that although occupancy was at 100%, most visitors were on their honeymoons and usually just ordered room service…

We opted to eat outside on the terrace, beneath the full moon. Poor Mr R, the food at The Edge really did a number on him. It's only now, looking back at this photo that I actually remember how bad he felt.

Thankfully he was at least able to enjoy the fantastic basket of breads that was brought to us.

Everything about the tableware was in fitting with the overall design aesthetic of the resort. I particularly loved the antique looking, bronze cutlery.

We ordered a variety of dishes a la carte and the price was considerably less than what we would pay for similar in NY or London. The value for money, given that most people eating here will be a captive audience, paying north of $1000 a night for a room, was great.

I think we ordered Bebek Goreng at the majority of our meals. This was one of the better examples.

The char-grilled prawns were deliciously fresh and generously portioned

Mrs. R fancied a bit of a change and went with sushi. It was fairly unremarkable but nicely presented.

I ordered the Ultimate Nasi Goreng served with Wagyu beef satay and lobster tail, which was really good.

I have no idea what this dessert was but my notes tell me that we all loved it.

---
(Finn's Beach club – Semara Bali)
now: Sundays Beach Club – Ungasan Clifftop Resort
---
---
As we awoke on our final full day in Bali, we figured we would take it easy and finally set foot on one of Bali's white sand beaches.
When we visited there were a couple of beach clubs, side-by-side in Uluwatu: Finn's and Karma Beach. Finn's seemed to be the more popular of the two, so we decided to make that our destination.
Finn's club has since relocated to Canggu, much closer to the heaving throngs of humanity in Kuta and Seminyak. i.e. the No Go Zone.
The Semara resort itself is now under new management and is called The Ungasan Clifftop Resort and this particular beach club is now called Sunday's Beach Club.
The pricing remains unchanged. You pay 300k IDR per person for club access, which includes transport down on the inclinator, towels, non-motorized watersports and 150k IDR of F&B credit.
Unlike Rock Bar, there was no line at all for the inclinator at Finn's, we just had to wait for it to be sent up to us from the bottom. A relaxing enough wait…

…Until this absolute beast turned up. Remarkably enough, our server at Sangkar, the night before, had mentioned that one of the Uluwatu monkeys was something of a legend (the Uluwatu monkeys as a whole have a reputation as being the most aggressive in all of Bali). He said that one particular monkey was bigger and stronger than the rest, this monkey was recognisable as a result of the battle scar across his face. His name was Samson and he was not to be messed with. He didn't seem to like us too much.
Thankfully, the inclinator reached us shortly after he did…

…And we were able to escape to the paradise on the shoreline

Karma beach is just around the next corner so you can walk from one to the other. Note: Both beach clubs still charge you the full fee, including inclinator access, even if you make your own way there (there is a regular path down near Karma Kandara and you can walk here from Alila Villas Uluwatu in low tide too)

This way to Alila Villas Uluwatu

After the arduous task of looking left and right, we were just about ready to start drinking pitchers of icy old booze.

This is the only picture of any of us actually standing on a paddle board (there are plenty of me thrashing around in the water or flying through the air as my buoyant blue nemesis floats idly next to me)

It's not the most cultural way to spend a day but if you're in this neck of the woods and fancy a change from your villa, it makes for a very relaxing and fun alternative.
---
Uluwatu Temple and the Kecak Dance
---
There are seven Sea Temples in Bali, each visible from the next (like that awesome scene with the signal flares in LOTR). The most famous is Tanah Lot (which we visited during our stay at Bulung Daya) after that, the next most visited is Uluwatu temple.
The temple itself is rather unimpressive and can only be photographed from this adjacent walkway.

Uluwatu Temple

The views on the other hand are quite something. Particularly if you've not spent any time in Uluwatu before.

The main reason to visit though has to be the Kecak dance. This is a deeply impressive show in which an all male group creates a surging and rhythmic music, a capella, for an action packed dance performance. The show starts off quite peacefully, a tranquil soundtrack to the sun as it slowly extinguishes into the ocean.

As our surroundings got darker, so did the performance.

The Monkey god Hanoman is the principal mischief maker of the show and also quite the acrobat

He likes to interact with the crowd too

And is soon punished for his transgressions

Before freeing himself by kicking a path clear through the flames

---
Ju-Ma-Na Restaurant – Banyan Tree Bali
https://www.banyantree.com/en/indonesia/ungasan-bali/dining/ju-ma-na-restaurant-and-bar
---
---
After the Kecak Dance we decided to wrap up our final evening with dinner at the Banyan Tree resort. I hadn't really researched the available dining options in advance but figured that an all villa resort with this high a rack rate was probably going to do ok.
We were greeted at the lobby by these stone guardians.

Our main goal was to dine outside under the amazing full moon, which had started to turn red.

Our buggy driver took us directly to Ju-Ma-Na, the resort's French restaurant, without asking. We were more in the mood for Indonesian food but figured we might as well go and have a drink first.

Ju-Ma-Na has a beautiful outdoor bar area, which was deserted.

In fact both floors were

However, we really wanted to sit on the other side, facing the ocean and the moon. Despite the fact that the restaurant was completely empty, the manager was a complete stickler for the rules. One terrace was only for drinks and the other only for dinner. So, we called up the buggy and headed to the centre of the resort to check out the other options.
The pool had an amazing view of the ocean and the moon. (those leaf shaped loungers are everywhere nowadays!)

The Indonesian restaurant looked fairly basic and unappealing though, so we decided to head back to the Ju-Ma-Na for dinner…back where we started!
I'm so glad we did.
From the get go, this was a very special experience. It was the most expensive meal of our trip and the only time we really paid metropolitan restaurant prices in Bali but it was most certainly worth it.
The meal began with a table side Balinese hand washing.

I was rather intrigued by the menu's description of the molecular G&T. Knowing how scarce a commodity alcohol is in Indonesia, I was very dubious when reading that I would be getting three glasses of G&T, filled with molecular tonic pearls, for the price of a regular drink at Rock Bar. I needn't have been. It was so good that I ordered a second one

The bread was super fresh

It was accompanied by two delicious dips

The amuse bouche was exquisitely plated with a taste to match

The lobster bisque cappuccino was a playful little dish with a rich, deep and utterly captivating flavour

I ordered the foie gras starter which was again beautifully presented and perfectly balanced. The foie was clearly front and centre, with the small waffle pieces adding textural contrast without detracting from the mouth coating richness of the goose liver. Each piece of foie then had a different accompanying gel to add acidity and freshness to the dish. Superb.

The octopus was grilled to perfection, with a sauce that ensured that the entire table's bread plates were left barren

Because we were sharing our dishes, I only got to eat half of a raviolo. This made me sad. It was one of the best I've ever eaten.

We finished the meal with a trio of cremes brûlées, finished table side – of course.

It was our last dinner so we felt it was appropriate to go all out and order the soufflé as well. This was a great idea.

Overall, a spectacular meal and well worth travelling for, even if you are staying in Nusa Dua, Jimbaran or anywhere in the vicinity of DPS.
Bonus fact: Ju-Ma-Na also has a pepper mill which is as big as a (small) person

---
It is no secret that I absolutely love Alila Villas Uluwatu. The architecture is in a league of its own, the service is incredibly warm and personal and best of all – the food is utterly delicious.
We had a two night stay here in 2014 and knew we had to come back, I physically could not fathom coming all this way and not setting foot in my favourite resort in the whole world.
As soon as we stepped out of our The Edge car and waved our butler goodbye, it felt like we were safe. We were back home.
The lobby was as stunning as ever
Every single aspect of this resort is utterly photogenic
Being here feels like being in the midst of alien civilisation
We were warmly greeted the moment we approached Warung restaurant. The server greeted me as Bapa and always referred to both myself and Mr R as such. K and Mrs R were referred to as Ibu.
This is a Balinese way of showing both respect and affection and Alila is the only resort in Bali which addressed us this way (I understand it is also standard at the three Balinese Amans, which is no co-incidence).
The enchanting manner of our server was a world away from the horrorshow of The Edge and reminded me of why I love Bali so much.
As soon as she found out that Mr R wasn't feeling well, she suggested that he have a plain congee and a ginger tea (we weren't charged for these. They wouldn't allow us to pay, to be precise)
One of these days I'll bite the bullet and actually buy one of these giant wooden sculptures to take home.

A firm Instagram favourite, shot from the other side.

The meal started as always with two types of crackers and a variety of pickles, sambal and sauces. This beats the hell out of a regular bread service.

We were also brought a supply of freshly chilled lotions and sprays. Why don't other places do this?! Why?!

The menu at Warung is unbelievably extensive. You could stay here for two weeks and never dream of heading to Cire, the western restaurant.

This was a new one for me. Deep fried eels with chili. This would be better as a bar snack than a regular dish, although it did mix well with the vegetables and pickles.

Until proven otherwise, this is the greatest Bebek Goreng in all of Indonesia. I order this dish everywhere and nowhere else comes close. The depth of flavour, the crispiness of the skin and the amount of meat – this is the best fried duck ever, in every possible way.

Enough to make even the most devout vegan salivate. I don't know what arcane witchcraft allows this to be bone dry and moist at the same time but its utterly amazing. Nothing is better than this.

We moved across to one of the bales for dessert and coffee

We ordered another one of my favourite dishes ever for dessert: the jet black Bubur Injin, a reduced palm sugar and black rice porridge served with coconut cream. It features on the breakfast menu too and is one of the most delicious things ever.

After our meal, I took the chance to head up the stairs of the hidden nest, to snap a shot of the villas themselves. I remember looking online before our stay here and never seeing a shot like this, so figured somebody else would be interested in seeing the layout of the resort (note also the volcanic rock on the roofs, used to heat the water here)

I have to admit, the other direction is a bit more photogenic though

Our car was waiting to take us all to the airport but I had one very quick visit to make first. The best toilet in the world.

The trip then ended in the same way as our first, with the Alila Villas Uluwatu car driving us to DPS and the sad, sad journey home. A journey made a little less sad by the fact that I already had another trip to Bali booked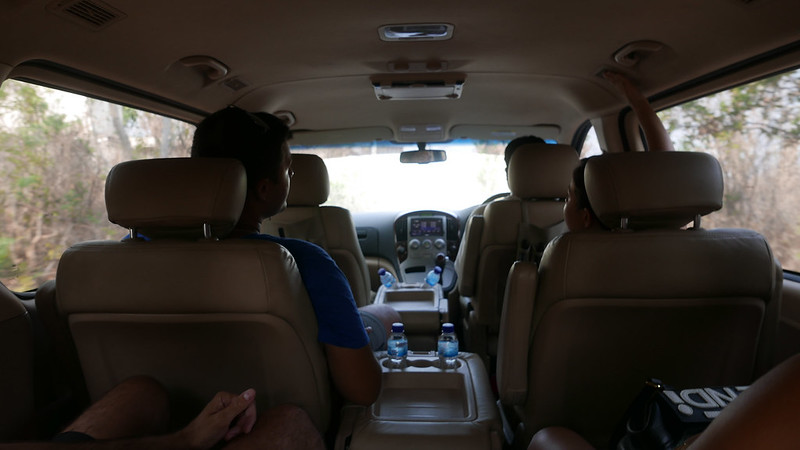 ---
Back to Bali
Part 1:

Part 2:

Part 3:

Part 4:

Part 5:

Part 6:

Part 7:

Part 8:

Part 9:

Part 10:

Part 11:

Part 12:

Part 13:

Part 14:

Part 15:

Part 16:

Part 17:

Part 18:

Part 19:

Part 20:

Part 21:

Part 22:

Part 23:

Part 24: