American Airlines (AA)
Flight: AA 100
Class: Business
From: New York (JFK)
To: London (LHR)
Duration: 6hr55
Aircraft: Boeing 777
Seat: 3K
Status during flight: OneWorld Sapphire
Booking type: £350 for OSL-LHR-NYC Round trip in business
Date: October 2015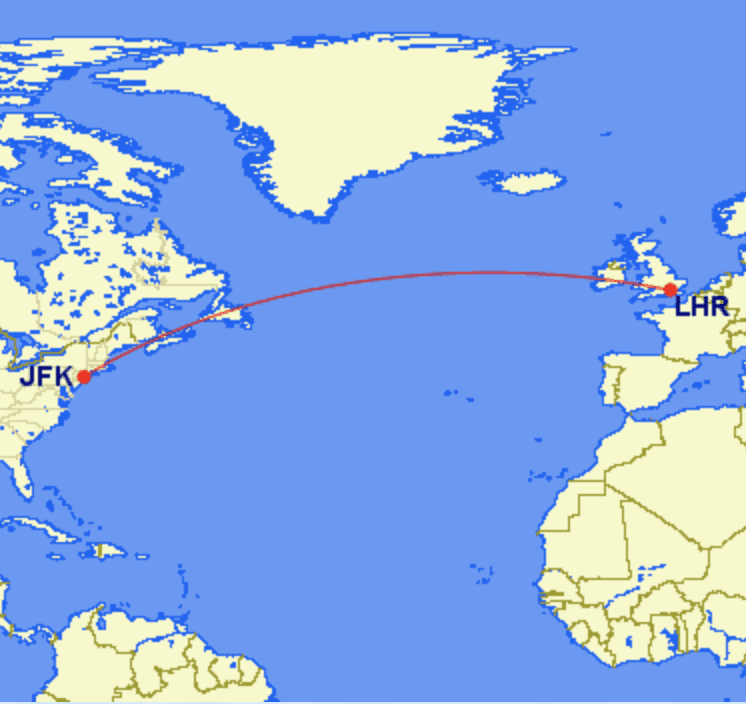 ---
After a single night in Jersey city and two awesome days spent hanging out with my friends, it was time to head back to JFK, as I had to be at work the following morning in London.
The lines at security were as grotesque as always, with the priority lane spilling out beyond the ropes and into the general departure hall. Luckily, this would be my last time travelling in the US without TSA Pre✓
The lounge was also closed for refurbishment, with a temporary 'lounge' set up in the area outside of the existing lounges. This makeshift area was overrun with people and quite honestly not worth photographing. I took one quick look and headed to the gate instead, knowing that AA often board the entire plane before the advertised boarding time, in a bid to improve their on-time record.
---
American Airlines Business Class (B777)
JFK-LHR
---
This time there were no schedule changes and I was able to secure a seat in the mini-cabin: 3K.
With only 8 seats, all of which have direct aisle access, as well as wifi – this is closer to an F product, indeed AA's own F product is only materially different in the fact that it offers a stronger wine list (with LPGS champagne) and in the fact that the seats are a little less private (bizarrely the Business Class seats have privacy screens at head height and the First Class seats do not).
I was sat in the main cabin on my previous flight on AA J and the experience this time was markedly better. During boarding there were almost no people passing through as there were only 5 people sat as far or further forward than me on this side of the plane. This gave me plenty of time to get settled in, without any interruption.
Whilst the crew on my last AA flight had teetered somewhere between indifferent and outright obnoxious, this crew was delightful. When an FA saw me taking pics she offered to take a picture of me and started up a conversation about cameras.
PDBs of cava, juice or water were offered (although champagne was available once in the air as well).
I love the pre-dinner drinks service on AA, the trolley looks so much nicer than the BA galley carts and it is nice to get a decent amount of warm cashews in a dish (with refills offered) as opposed to the small packets given in Club World.
The glassware is also full sized, as are the ice cubes. You can actually get a drink that looks like something you'd get in a bar, rather than feeling like you're compromising as a result of being on a plane.
You have no idea how happy it made me, having this as a soft drink choice. In fact the AA drinks list is incredibly comprehensive, with all manner of iced teas and juices available as well as range of sodas.
Here's the thing: I always feel that there is a sense of occasion when on a plane, being up above the clouds it something that needs to be celebrated. This is half the reason I'll always drink champagne and indulge in multi course meals, where my usual diet tends to consist of water, coffee, protein and not much else.
Having a can of Diet Dr. Pepper felt like something uniquely American and 'different' to mark the occasion with. That way I could save the booze consumption for my next trip in Cathay First (all that Krug isn't going to drink itself)…
The crew were again exemplary during the meal service. Unlike my last AA trip, this time the service was completed far more quickly, in keeping with the fact that this is a redeye flight with a block time of under 7hrs.
When the lady next to me said that she didn't want any dinner the FA then enquired whether she would like to be woken up for breakfast. When the passenger answered no, the FA was very professional and considerate, "In that case I'll be sure not to disturb you but do let me know if there's anything I can get you later on".
Another major change from my last AA flight was the improvement in the quality of the food.
I pre-ordered the grilled duck breast with lime dressing, steamed vegetables and rice. I love how they put a large cabbage leaf over the rice so that it wouldn't dry out when re-heated in the galley. That is seriously clever airline catering.
The side salad featured a variety of different leaves and vegetables, none of which was lettuce. A good thing in my book.
The starter was served alongside the main, the service standard for AA redeyes. Much like the main course and the salad, it was very healthy, fresh and flavourful. Who would have though that one of the healthiest and most delicious meals I've ever had on a plane would be served by AA?
In fairness, this single tray service also had a tablecloth on top of the tray, where AA differs from BA is that this cloth fits the tray well, and a separate tablecloth is lain on the table during the pre-dinner drinks service. A small detail but this goes quite some way towards improving the presentation.
I planned on skipping dessert and getting as much sleep as possible, so retracted my tray table and placed the tray on the side table. Something which would have been impossible on BA. Even if I had managed this, I doubt that the cabin crew would have spotted the tray over the divider whilst doing their rounds.
When I returned from changing into my trusty old TG F PJs, the tray had already been cleared and an FA immediately approached to ask whether I was going to sleep or if I still wanted some dessert.
I said that I wanted to get straight to sleep (she had already confirmed with me earlier that I didn't want to be woken up for breakfast), with that she asked if I had enough water in my bottle or if I needed anything else to drink before bed. I thanked her and said that I had plenty of water to keep me going. With that she wished me a good night's sleep as I settled into my bed.
My only real annoyance with the flight came when I was awoken 1hr before landing, to be told that all headsets would now be collected. I get that Bose headsets are really nice but are that many people really stealing them to make this necessary?
When you're on a 7hr redeye, an extra 40 minutes of sleep would be extremely welcome. I guess I could have taken off the headphones and left them on the side but part of the appeal is that you can wear them whilst sleeping to block out all external noise.
---
Conclusion
---
In a previous trip report, I set out to challenge the oft repeated maxim that BA F is equal to AA J and found that claim to be highly spurious.
On this trip though, I compared like-for-like. Business class on the 777 with the two joint venture partners that fly the London to New York route.
The result was highly damning for BA. The experience on AA was better in just about every way imaginable. I know that some people enjoy some lively banter with BA crews and feel that this makes up for inferior food and beverage as well as a seat which is lacking in a number of respects.
Personally though I don't value this enough to be uncomfortable, whilst being fed inferior food and drink, with no WiFi on board. Particularly since crews are only human and could be having a bad day.
The difference is that a great crew can save BA's mediocre product, whilst AA's product doesn't need saving. When the crew is good and you find yourself in the mini-cabin, I'd argue for it being one of the top five around.
---
Viking One – The £350 return business class trip to New York
Part 1:

Part 2:

Part 3:

Part 4:

Part 5:

Part 6:

Part 7:

American Airlines : Business Class – New York JFK to London Heathrow