Intercontinental
Location: Bali
Room Type: Singaraja Room
Cost: 35,000 IHG Points
Loyalty Program: IHG Rewards Club
Status During Stay: Spire Elite
---
Intro
---
Our visit to the Intercontinental Bali came totally out of the blue. As a result of our flight rescheduling we had ended up with an extra day in Bali, during the very busy new year's period and had to find somewhere to stay at the last minute.
The villa which we had booked for the following few days was unavailable and cash prices for most hotels were crazy.
Thankfully I had a stack of IHG points to burn and there was space available to burn these on a free night's stay. (These points were gained by transferring miles over from Virgin Atlantic, this not only got me the IHG points but also the IHG Spire status).
The IC Bali is very close to the airport and our minimum fare taxi ride took less than 20 minutes, even with the usual traffic. As is the case with most resorts in this part of the world, we were greeted at a gate house by armed guards who smiled and waved us through to the beautiful interior courtyard.
---
Check in
---
The check-in process here made me feel very relaxed, instantly it felt like our journey was over and now we could really unwind.
We were greeted with infectious smiles and immediately asked how our journey was, how long we were planning to stay in Bali and whether it was our first time visiting, meanwhile our passports were taken and cold, lemongrass scented towels and fruit drinks brought in their place. The staff were so genuine and warm, it never ceases to amaze me how hospitable and endearing the people of Bali are.
During check-in we were informed that we had been upgraded from our regular room to a Singaraja Room. I asked if this was a club room and the host explained that it was a sort of Club 'lite'. The Singaraja wings are in their own private section of the hotels and feature separate lobbies with their own concierge desks and have snacks and soft drinks available all day.
The key difference between this and club intercontinental seemed to be booze and breakfast.
Just as I was about to ask how much breakfast would cost, I was told that since we were such loyal Spire guests, we were going to be given complimentary breakfast the following morning as well!
IHG rewards club a notoriously stingy program, particularly when it comes to Intercontinental hotels – which have their own bifurcated program that generally supersedes the benefits of regular IHG status. So to get both the upgrade and free breakfast, on a last minute points booking no less, was a very welcome surprise.
The walk to our room took quite a while but served as a great tour of the resort.
Before heading into the room, our host asked us if we would like to check out the Singaraja area. We were introduced to the concierge, who gave us a quick rundown of all the available snacks and drinks as well as telling us to let her know if we needed any help with restaurant bookings, sightseeing or anything else.
---
Singaraja Room
---
These rooms are exceedingly spacious and have both an indoor and outdoor sitting area. The beds are also huge and super comfortable.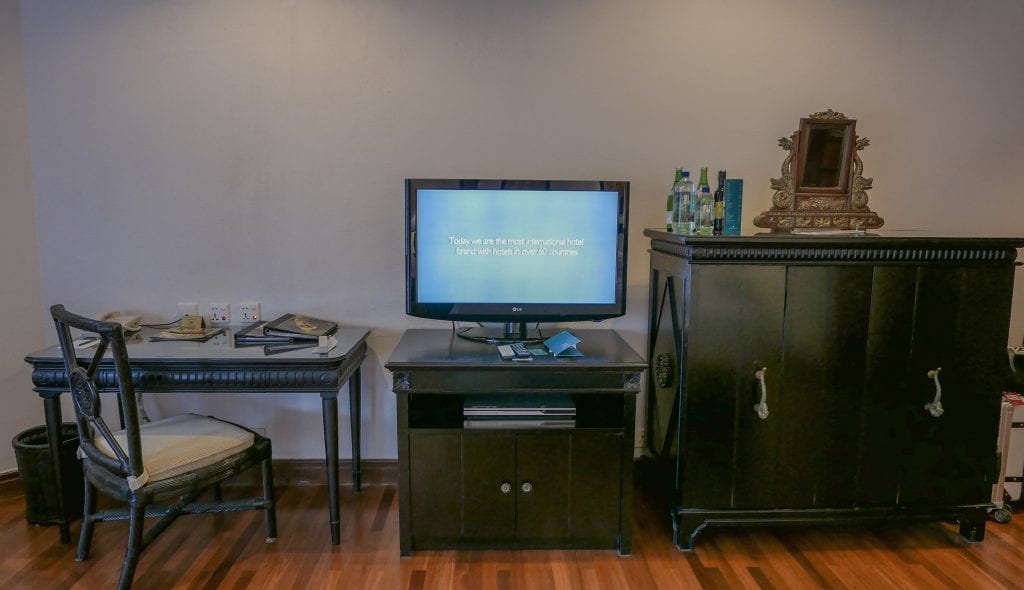 The furnishings are all very traditional but well maintained, technological advances are respected too, as evidenced by the TV and the excellent WiFi. The vibe within this room really reminds me of the Peninsula in Bangkok.
---
Hotel Grounds
---
The Intercontinental Bali is one of the older luxury properties in Bali but has gone through a series of both internal and external refurbs over the years. The grounds are kept to an immaculate standard and serve to make the most of the expansive footprint of the resort, highlighting both the ocean and the greenery for which this island is so renowned.
---
Breakfast
---
Breakfast in Asian luxury hotels tends to be a wondrous feast and the Intercontinental Bali is no exception. There is extensive air-conditioned seating indoors, next to the buffet as well as a beautiful outdoor terrace.
We opted for the latter, having a leisurely breakfast outdoors is one of the cornerstones of a great holiday for me!
The staff were very attentive and as soon as the rain began, they ensured that were comfortable and when we said we'd like to stay outside they brought over umbrellas, so that we could walk to and from the buffet without getting too wet.
The food itself was really varied, with a number of local items mixed in with the usual international fare. I would have been happy to pay, had the breakfast not been given to us as a result of our Spire membership.
---
Conclusion
---
The Intercontinental is a perfect place to stop for one night if you arrive late or are leaving early from the airport. Even if you only have one night in Bali, as a stopover, you would be able to immediately unwind with dinner in one of the seafront restaurants in Jimbaran followed by a walk along the beach and cocktails at the Sunset Bar and Grill.
The hotel is fairly big but doesn't have the Disneyland feel of a mega-resort like the Ayana. The staff were universally excellent and the rooms and public spaces retained an authentic charm without showing the wear and tear that you might expect of a hotel of this age.
---
Book Intercontinental Bali with Virtuoso benefits
---
Virtuoso Booking
An example of the Virtuoso benefits which may be available on your stay:
Upgrade of one category, based on availability at time of check-in.
Full breakfast for up to two in-room guests.
Complimentary lunch for 2 people, excluding alcohol and gratuities.
Early check-in/late check-out, subject to availability.
First time booking with us? Here's how to quickly get set up:
---
Bali III : Return of the Bali
Part 1:

Part 2:

Part 3:

Part 4:

Part 5:

Part 6:

Part 7:

Part 8:

Part 9:

Part 10:

Part 11:

Part 12:

Part 13:

Part 14:

Part 15:

Part 16:

Part 17: