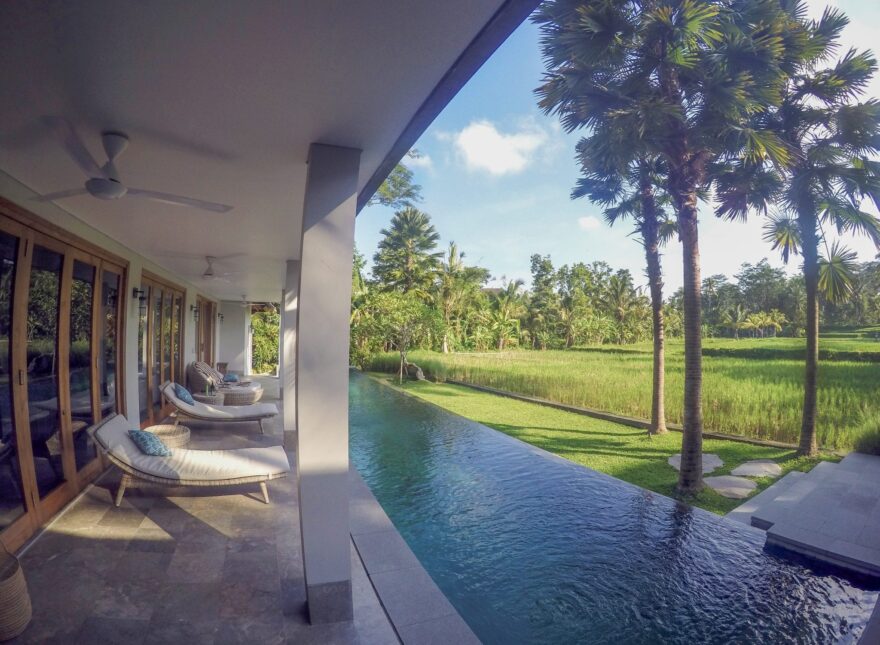 REVIEW – Villa Kerasan, Ubud – Airbnb (Bali)
March 12, 2017
REVIEW – Villa Jiwa, Jimbaran, Airbnb (Bali)
March 22, 2017
Soori Bali
Location: Soori, Bali
Rate: £515 per night (for 4 people/2 bedrooms)
Chain: LHW (previously Alila, GHA, Design hotels)
NOTE: AS OF 2017 THIS HOTEL IS NO LONGER A PART OF THE ALILA PORTFOLIO. IT IS RUN INDEPENDENTLY AS 'SOORI BALI'.
---
Tucked away on the same unspoilt coast of Bali as my favourite Balinese villa: Bulung Daya, this sister resort to Alila Villas Uluwatu had long been on my 'to do list'. It isn't quite as expensive as Uluwatu but still by no means cheap. When I saw that a two bedroom villa was available on Agoda for not much more than the price of a single one (not to mention a very decent 13% rebate via Topcashback too), I leapt at the chance to finally see this resort for myself.
Alila Uluwatu is one of my absolute favourite hotels in the world, the Alila brand was started by former Aman staff and at Uluwatu, it really shows. By the time we finally pulled up to the entrance of Soori, my heart was already beating faster – I was sure that the four of us were going to be in for an awesome experience
---
Arrival
---
---
Two Bedroom Villa
---
We walked down a flight of stairs to the left of the reflecting pool and were led down a pathway, along the back of all of the villas. This meant that we entered the villa through the master bedroom. Once we were settled in, we almost always opted to access the central resort area via the beach though, as the scenery is so much nicer.
Upon arriving at our villa we were introduced to our Butler. He asked what level of service we would like during our stay. He said that he could either be
Permanently and visibly at our disposal
Refresh our room each time we left
Service our room only on request
We opted for option 2. True to his word, whenever we left the villa, we would return to find everything re-stocked, tidied and cleaned.They must have motion sensors in the villas because it felt like he always knew. Even if we were only gone for 30 minutes, the room was serviced.
Master Bedroom
Bathroom
Private Swimming Pool
---
Second Bedroom
---
Outdoor Terrace
My favourite thing about the villa was the outdoor space, it was very spacious and comfortable and served as our 'living room' during the day. It is so relaxing having the combination of pool, sofas, grass, loungers and beach all in such close proximity. However you want to relax, Soori has you covered. All within a maximum 2 minute walk of this spot.
In the evenings our Butler would always stop by with some fresh ice, ready for us to make our G&T sundowners.
---
Evenings at Alila Soori
---
The Reading Room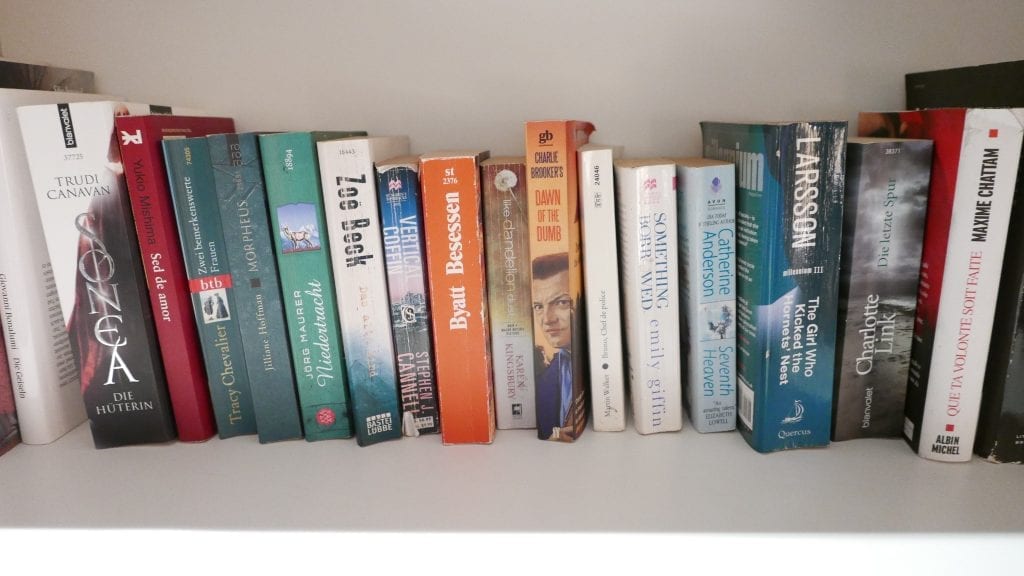 The last place I was expecting to find a Charlie Brooker book. You may be familiar with his TV shows: Black Mirror and Nathan Barley. His writing is an inspiration, particularly THIS masterpiece.
Dinner at the Dining Room
Playing the Gamelan
Every evening, we were entertained by the resort's Gamelan players. On our final night they asked if I'd like to give it a try. We actually ended up playing together for about 15 minutes. I like to believe that he was the solid and dependable Izzy to my freewheeling and dynamic Slash. The G&Ts may have had something to do with this interpretation of reality 😉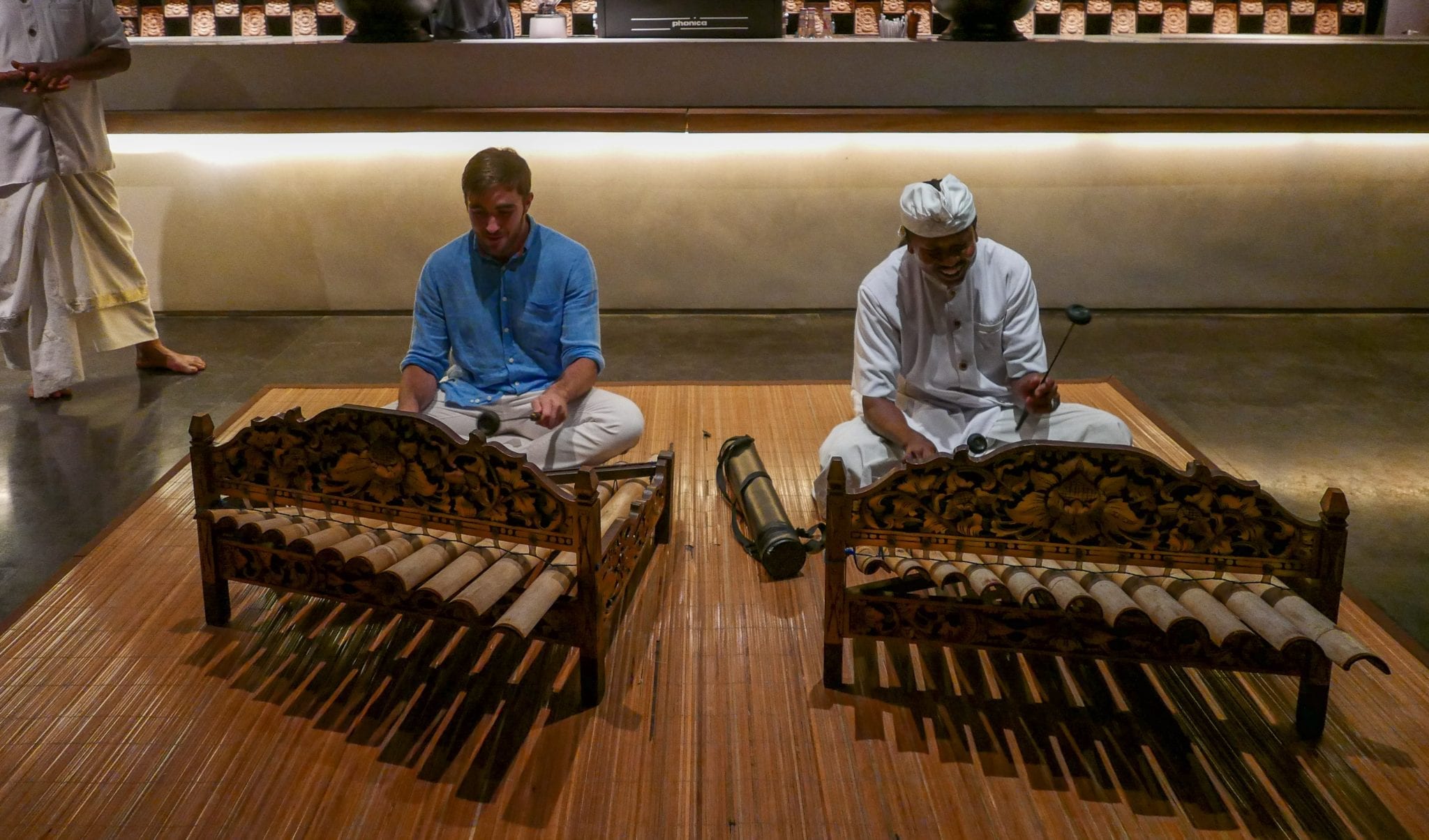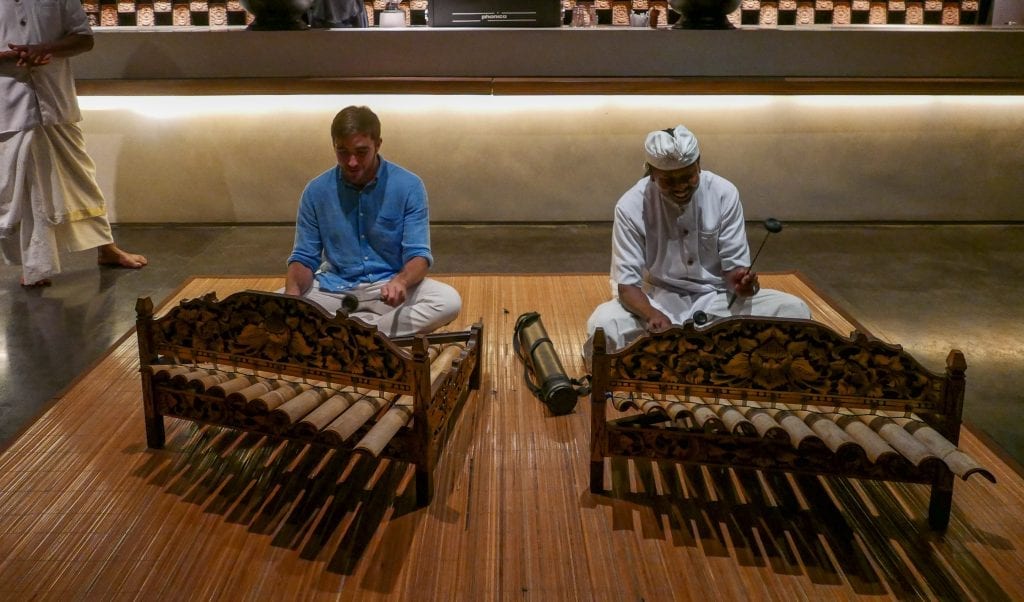 Overall, dinner every evening was a real highlight of our days. The menu was so varied that we never needed to repeat a single dish, although a few were so delicious that we couldn't help but re-order 🙂
The service was unbelievably attentive. On a level I've only ever had the fortune of experiencing in Bali. A real benchmark for future resort stays. This wasn't just a case of asking, "was everything ok?". It was more along the lines of, "I noticed you didn't eat all of x yesterday but you ate all of y, let me recommend z as perhaps it will be more to your liking". So not just attentive but remarkably well spoken too. Ayu's vocabulary was seriously better than most servers that I encounter in London.
The prices were actually a little more expensive than the eminently reasonable Alila Uluwatu but still by no means expensive, particularly when you consider that you have absolutely no other options nearby. (c. $50-60 per person without alcohol)
---
Daytime at Alila Soori
---
Yoga
Everybody at the resort is offered a free yoga class in the mornings. Feeling the cool ocean breeze as the waves crash in front of you is quite an uplifting way to start the day.
Breakfast
After yoga we walked downstairs to breakfast, served once again in The Dining Room.
Each morning our Butler would meet us here and discuss our plans for the day.
Breakfast was not included in the rate we booked with Agoda but was priced at a very fair $35 per person and was served as a limitless, a la carte, tasting menu. Each day would begin with a selection of different juices and smoothies. My favourite was the watermelon, mint and chilli juice, served over ice this is pretty much the most refreshing thing you could ever hope to drink.
After breakfast, our days were either spent lazing around the main pool, the beach or eating even more delicious food at the bar.
Lunch at the Bar
Activities
The resort offers numerous activities and experiences but most of them involved lengthy transfers to other parts of Bali that we had already visited. Part of the appeal of Tabanan is its relative isolation and rugged coastline, immediately flanked by verdant rice paddies. It seemed like a waste to spend a long time heading away from here on day trips, since we'd made the effort to come here in the first place.
Equally, it would have been a shame to come all the way here and miss out on heading inland a little, to see the amazing greenery. So, we decided to spend an afternoon on a Segway tour.
Back at the resort, when we felt like being a little more sociable (or if we wanted a coconut 🙂 ) we spent some time at the gigantic main pool – a sleek and expansive infinity edged lagoon which blended seamlessly with the surroundings.
The Lagoon Pool
---
Conclusion
---
More intimate and more connected with its surroundings than Alila Uluwatu, Alila Soori provides an altogether different and equally amazing experience. The architecture is modern with a few selective nods to Balinese culture – without feeling like it is embracing a Balinese schtick.
Staying here actually feels like an exciting architectural experience, just like Alila Uluwatu, albeit without the wow factor of the sunset cabana and the sliding walled villas. To live within the confines of such considered design is a truly wonderful thing. With every passing minute it seemed as though we came to admire another clever feature of the resort layout.
The staff here were every bit as genuine, thoughtful and kind as the staff at Alila Uluwatu and I imagine that this will not change now that the resort has reverted to private ownership, given that the majority of the staff lived locally and will presumably be staying on.
Tabanan doesn't have the name recognition of Ubud, Uluwatu or (the horrors of) Semniyak and this is probably for the best. When you come here you really feel like you've stumbled onto something special, it takes a while to arrive (nearly 90 minutes from the airport) but those that make the effort are truly rewarded.
---
Book Soori Bali with Virtuoso Benefits
---
Virtuoso Preferred Booking
An example of the Virtuoso benefits which may be available on your stay:
Upgrade on arrival, subject to availability.
Daily Full Breakfast for up to two in-room guests.
$100 USD hotel credit.
Early check-in/late check-out, subject to availability.
Soori Bali can be booked directly online by clicking the "BOOK NOW" image.
First time booking with us? Here's how to quickly get set up:
---
Video Review
---
Check out the video review by our friends Exclusive Travel Reviews below:
---
---
Bali III : Return of the Bali
Part 1:

Part 2:

Part 3:

Part 4:

Part 5:

Part 6:

Part 7:

Part 8:

Part 9:

Part 10:

Part 11:

Part 12:

Part 13:

Part 14:

Part 15:

Part 16:

Part 17: