Qatar Airways (QR)
Flight: QR170
Class: Business Class
From: Stockholm (ARN)
To: Doha (DOH)
Duration: 6hr00
Aircraft: Boeing 787-800
Seat: 2A
Status during flight: OneWorld Sapphire
Date: March 2016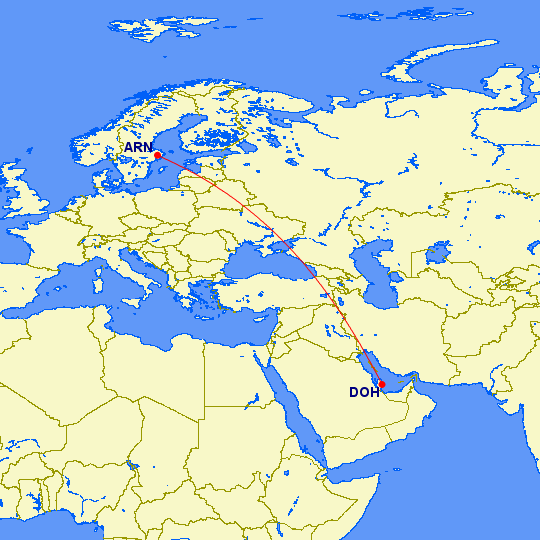 ---
I woke up way too early for this flight but just couldn't sleep knowing that I was going to step aboard a Dreamliner for the first time. I had come so close in the past but the scheduling gods had stood in my way. This time I made sure to check Flightradar in advance, making sure that the inbound flight had arrived on time, just to put my mind at ease!
Given that there isn't a dedicated OneWorld lounge in ARN, we opted to enjoy a leisurely breakfast at the Radisson, rather than going out of our way to spend time in a contract lounge.
We cleared fast-track security and passport control extremely quickly despite thinking we were cutting the timing quite fine.
I wasn't overly bothered by getting a bit of extra time at the gate area though, as it gave me a great opportunity to get acquainted with our sleek and elegant ride to Doha.
Boarding commenced on time and as I walked up the jetbridge, I could barely contain my excitement. I looked across and caught a glimpse of the awesome, flame like tapering on the engines and the blue tint of the windows and couldn't help but break out in a massive smile.
As I stepped on board my jaw nearly hit the floor.
This did not look like any cabin I had ever seen before. It looked more like the shuttle used by the higher orders of an alien society, commuting between their galactic empires:
As I was busy picking my jaw up off the floor, a member of the cabin crew greeted us with a smile, "welcome on board!"
She showed us to our seats, although given how small the cabin is, this wasn't strictly necessary.
Once I actually got to my seat and saw the finishes up close, it was time for my jaw to hit the floor all over again!
I felt like a child playing with his toys on Christmas day as I went about exploring the various features of the seat 😀
Whilst I was busy playing with the seat a very professional and courteous member of the cabin crew came over to offer me a drink and a choice of either hot or cold towel. I almost died of shock ❗ Even JL doesn't offer a choice of towel temperature in F and here I was being given the option in business class! I opted for cold and also asked for a glass of champagne. The towel was promptly brought over with a full sized champagne flute and a bottle of Billecart Salmon. The champagne was then poured for me at my seat. Again, what a contrast to almost every other airline, where the choice is generally between miniature glasses of champagne, water or juice – presented 30 at a time on a large plastic tray.
I was also handed a separate menu and drinks list and, despite this being only a 6 hour flight, I was informed that the service was fully dine on demand. I was free to order whatever I wanted whenever I wanted. The flight attendant mentioned that I should let her know if I wanted to reserve anything though, just in case some popular dishes ran out (I assume this offer was made as a result of my OneWorld sapphire status at the time).
Menu and Drinks List
After the 'missile' excitement I headed back to my seat for lunch. Whilst dine on demand was proactively offered, it seemed like almost everybody had opted to eat straight after takeoff. I guess this facet of the Qatar experience comes into its own on longer flights.
I was served by a very chatty and friendly member of the cabin crew, he seemed genuinely interested in my trip and said he'd make sure that my first experience of the Dreamliner was a memorable one. He also told me that he was A380 trained and assured me that I'd be just as impressed with my upcoming sector to BKK.
I was pleased to see that the table was properly set without the use of a tray underneath. The cutlery felt firm and heavy, there were proper salt and pepper shakers and a very large side plate for the three fresh and crunchy pieces of bread.
The food thus far had been good but not great. There was a spectacular aroma filling the cabin as I made my way through the mezze though and I was quickly able to pinpoint its locus: the plates of chicken tikka masala ordered by other pax in my vicinity. As the flight attendant approached and placed the beautifully decorated dish in front of me, I knew I had made the right choice.
I was totally full at this stage and decided to skip dessert. Rather than ordering a macchiato I asked for a double espresso with some warm milk on the side. That one flight on BA F was just too ridiculous an experience to want to repeat. I needn't have worried though, moments later the FA returned with an expertly crafted double macchiato, a cold towel and a box containing four Valrhona chocolates.
With the meal service over and a few hours to go until landing, I decided to work on some photo editing, whilst listening to the IFE. Unfortunately there seems to be a weird feedback loop created by having a Mac plugged in on the QR787 (something I've since verified on subsequent flights). I'm not sure if it is caused by the metal case of my Macbook but every time I rested my hands on the keyboard the feedback got louder.
In the end I had to unplug the laptop and just let the battery run down as I worked.
Oh well, not every aspect of the flight could be perfect, I thought to myself. Maybe I should have another glass of champagne to cope with the stress. Then the bad thing happened: I was told that the champagne had run out with more than three hours to go. I asked if this included the rosé… it did.
So I endured the Qatar version of real hardship. I sipped a few (full sized) glasses of rich white burgundy, as I worked on my laptop, with plenty room to set up my camera on an adjoining table and still had room to get up from my seat whenever I wanted. I spent some time watching the world go by out of the vast windows and an hour before landing I had another double macchiato and another box of chocolates.
---
Conclusion
---
Anybody that prefers BA or American Business Class to this, is out of their mind. Despite a couple of minor issues this was an incredible flight and one of the few times that I have been genuinely wowed by a Business Class experience, even preferring it to the First Class product of numerous carriers. Given the prices that Qatar is routinely available for, you would have to have one hell of a good reason to fly an alternate carrier if the QR 787 was an option.
---
Cambodia and Thailand
Part 1:

Part 2:

Part 3:

Part 4:

Part 5:

Part 6:

Part 7:

Part 8:

Part 9:

Part 10:

Part 11:

Part 12: