Radisson Blu
Location: Stockholm Arlandia (ARN Airport)
Rate: €80 per night (Friends and Family Rate)
Room Type: Business Class Room
Loyalty Program: Club Carlson
Status during stay: Gold
---
Intro
---
In the last couple of years there has been a real proliferation of cheap premium cabin fares, originating in Scandinavia. Given the timing of connections and the fact that I am usually connecting from London, I've found it makes sense to add overnight stops at airport hotels.
The problem is that airport hotels are usually quite expensive, given the convenience they provide. Once you factor in your connecting flight and the cost of the hotel, the savings on the long-haul can soon begin to disappear.
Thankfully Club Carlson has a comprehensive presence at ARN, OSL and CPH and at ARN airport there are actually two Radisson Blus! One – Sky City, is closer to the terminal and requires a two minute shuttle ride and this one – Arlandia, which is a five minute complimentary shuttle ride away.
So why did I say "Thankfully"? Because Carlson hotels have a very generous Friends and Family rate, which is usually available at all of their airport hotels. Provided you book with a decent amount of advance notice, you can score a room for €80 per night. This represents a significant saving over the Best Available Rate and also includes breakfast and a 25% discount on food and beverage spend.
Of course, you'll need to actually know somebody that works for Carlson Rezidor if you want to use this rate. A quick search on LinkedIn will let you know if you are connected to anybody working there, even if you aren't directly connected, chances are that a friend of a friend does work there. Organise a couple of friendly after work beers and you can turn that 2nd degree into a 1st degree connection!
---
Check in
---
We arrived at the hotel after a very quick and simple transfer from the main airport terminal. It's good to see this hotel providing the transfer as a complimentary service as often hotels located away from the terminal will appear cheaper on paper but then gouge you for the cost of transfers and end up being the same price as their more convenient peers.
The lobby has the feel of a cosy Scandinavian living room, the Arco lamps are a particularly cool touch.
During check-in I was asked if I knew somebody working for Radisson but wasn't asked to provide any further details. Most Radisson hotels either do this or ask you to write the employee's name down on a piece of paper. There are reports of some overly militant hotels asking for an email to be sent to them from a company email address but this is a clear violation of the terms of the program and something that would make me avoid those hotels, even on a regular rate.
In any case, the receptionist was very friendly and informed us that we had been upgraded to a Business Class room as a result of my Club Carlson Gold Status (which came thanks to my Amex platinum).
---
Room
---
The room was located conveniently on the same floor as the reception -which rather confusingly is the 2nd floor.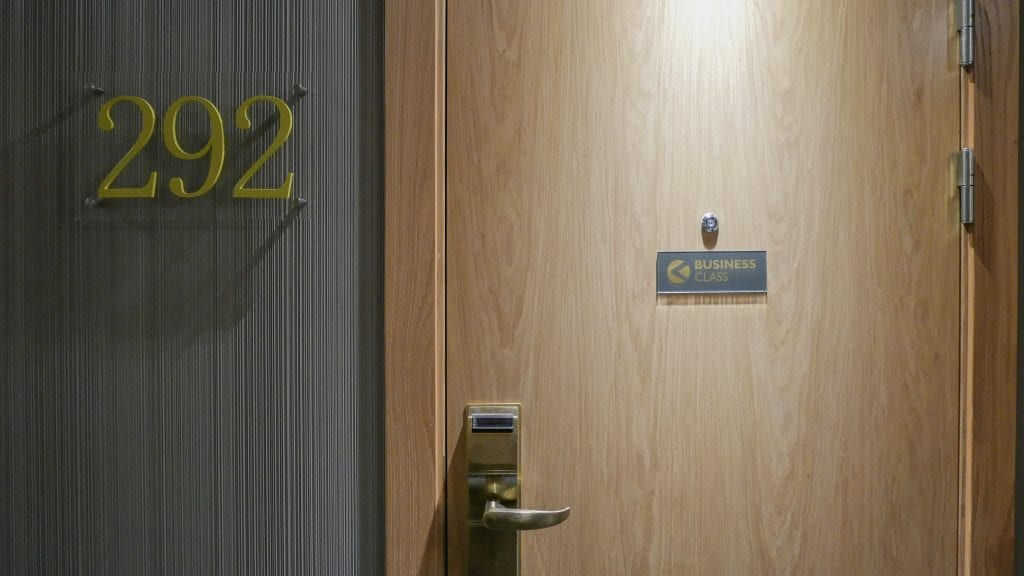 ---
Breakfast
---
The service at breakfast was absolutely excellent. We were greeted at the podium by a smiling host and then led to a table in the bright and airy restaurant. Our coffee orders were taken and drinks deployed to our table before we were back from our first visit to the buffet!
---
Conclusion
---
This hotel is only five minutes from the airport, with extremely punctual and frequent complimentary transfers included.
The design of the rooms and public spaces is cool and modern and the buzz here on a Friday night had the feel of a trendy city centre hotel.
Breakfast was excellent.
Staff were universally helpful and very friendly.
Overall, a great stay and highly recommended if you find yourself in need of accommodation at ARN.
Cambodia and Thailand
Part 1:

Part 2:

Part 3:

Part 4:

Part 5:

Part 6:

Part 7:

Part 8:

Part 9:

Part 10:

Part 11:

Part 12: