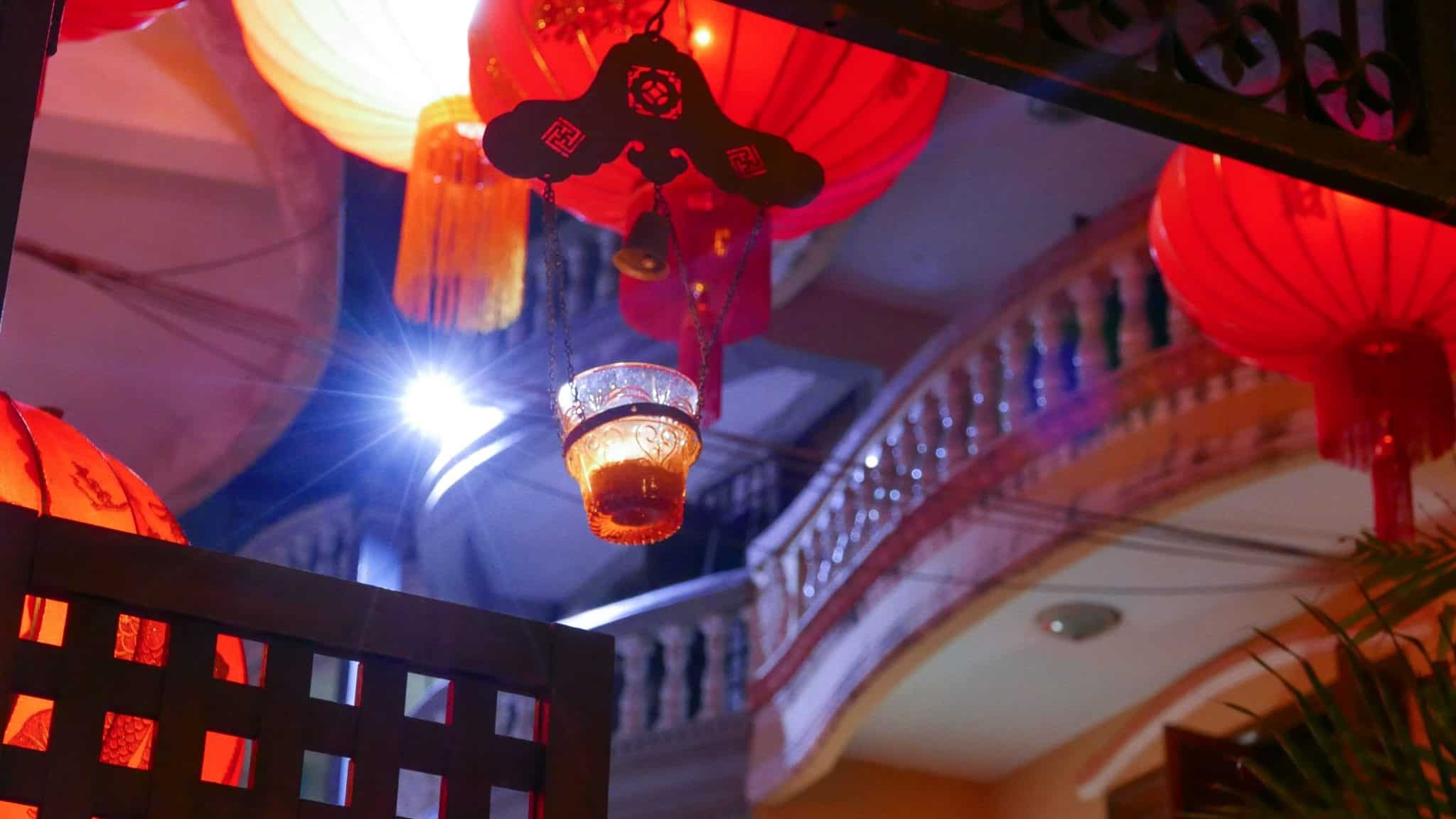 GUIDE – Eating and Drinking in Siem Reap
June 11, 2017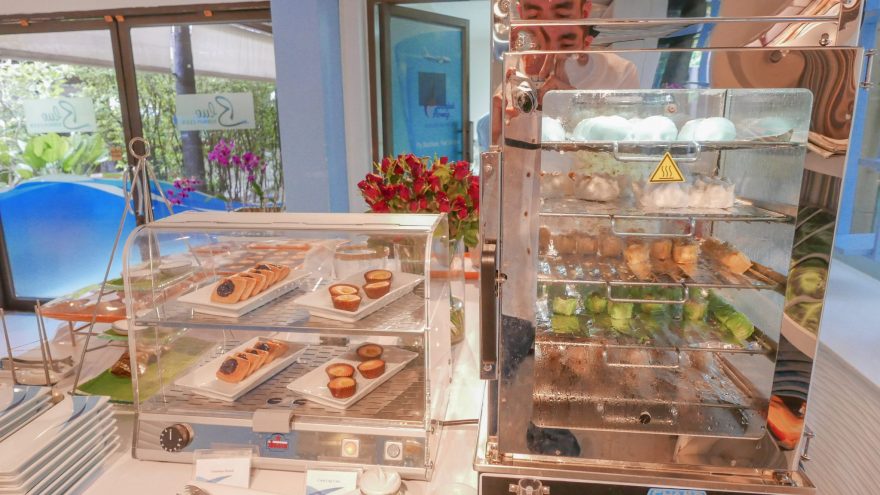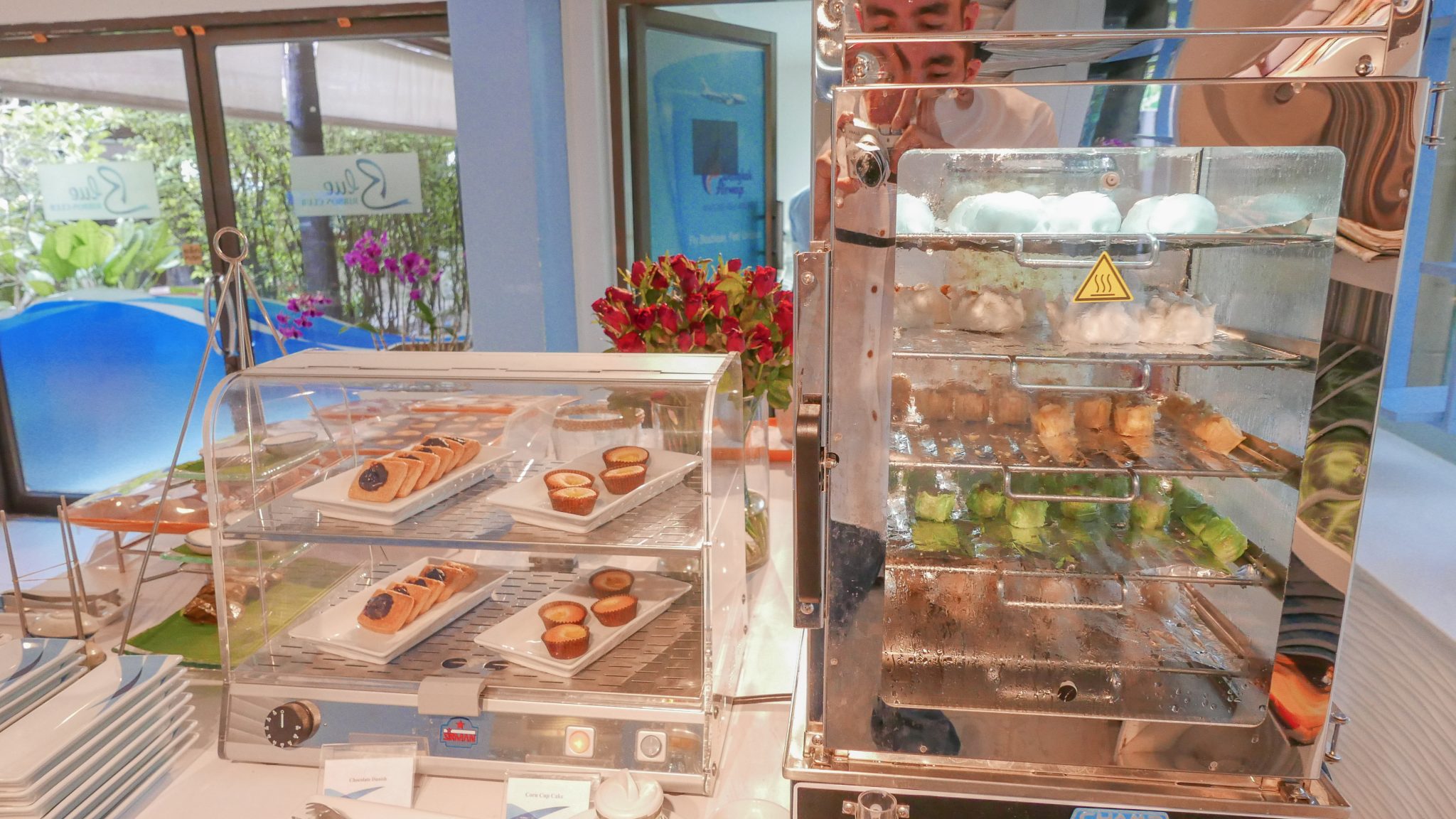 REVIEW – Bangkok Airways : Blue Ribbon Lounge (Domestic), USM
June 27, 2017
Conrad
Location: Koh Samui
Room Type: Oceanview Retreat Pool Villa
Loyalty Program: Hilton Honors
Status during stay: Diamond
Rate: 11,500THB++ (Hilton Premium Club Thailand Rate)
---
Intro
---
It is not often that I return to the same hotel on multiple occasions; the world is a large place and there are so many new experiences out there that I always feel like a bit of a sucker when I make a return visit.
Sometimes though you find a place that ticks so many boxes, a place that you keep thinking about on those drizzly days in the office, a place that is such unbelievably good value that you keep yearning to return and cannot justify the risk of exploring an alternative.
For me, the Conrad Koh Samui is one of those places.
Via Hilton Premium Club Thailand I can book up to 9 nights a year at around 50% of the usual rate and also receive 50% off all F&B including room service. I also get an annual allocation of vouchers good for:
Dinner for two people
Afternoon Tea for two people
A bottle of house wine
50% off a bottle of house wine or spirits
Two signature drinks
This is in addition to my Hilton Diamond upgrade to an Oceanview Retreat Pool Villa and the usual Diamond drinks vouchers.
In short, the value proposition is about as good as I've ever come across at any resort ever. I wouldn't return to somewhere that was just good value though, the place needs to be really special too.
As you will have seen in my previous review, the Conrad Koh Samui is certainly that…
May 2015 Conrad Koh Samui : Part 1
May 2015 Conrad Koh Samui : Part 2
---
Arrival
---
We flew from Siem Reap to Bangkok on one R/T ticket and connected onto another R/T ticket between Bangkok and Koh Samui. Bangkok Air wouldn't sell us the entire itinerary as a single ticket without imposing a long layover in Bangkok and I preferred to take our chances with just an hour to connect in BKK, meaning that we could depart Siem Reap at 9:50am and arrive in Koh Samui by 12:50pm.
REP-BKK (PG 924)
9:50-10:45
BKK-USM (PG 131)
11:45-12:50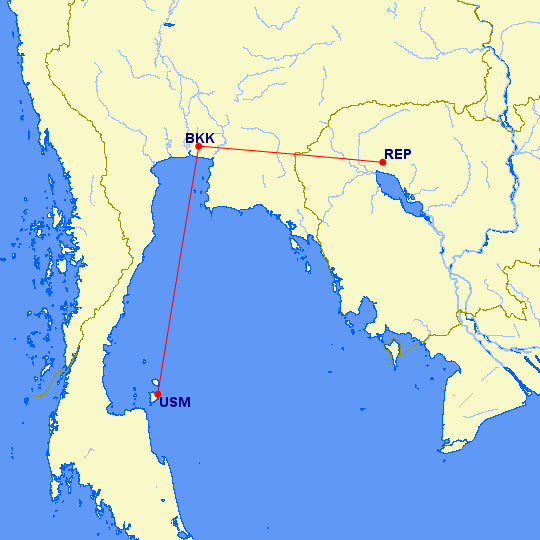 We were able to check our bag all the way through at REP and I wasn't at all concerned about it misconnecting, given how awesome my Amex Platinum Travel Insurance is. In fact, we were pretty disappointed when our bag actually showed up in USM as we had been hoping for a £300 per person shopping spree, courtesy of Amex, like we got in L.A.
Bangkok Airways has to be one of my favourite airlines ever. I guess it helps that whenever I fly them I'm invariably passing through one of my favourite regions in the world. It's hard to argue with an airline that gives lounge access to all pax though, even those in Economy, and still gives free food and drink to all pax – managing to serve a meal and a drink service in the space of less than an hour!
As always, I pre-ordered the seafood meal – firstly because the food is better and secondly because you get served first!
Just like last time we used Mr Samui for our airport transfer. He can be reached via WhatsApp on +66 89 060 6440. The price for our return transfer was 2,000THB. This was what he charged me as a return customer but even if he charged you 2,500THB you'd be getting a significantly cheaper transfer than the one offered by the hotel and Mr Samui is both very entertaining and happy to stop at shops etc. on the way to the hotel. On the way to the Conrad we were driven by his nephew but the man himself rocked up in quite a special vehicle to take us home.
---
Check-In
---
What an amazing feeling returning to one of our favourite resorts in the world! As soon as we were cleared by the security guards at the bottom of the hill, huge smiles broke out onto both of our faces. The anticipation built with every twist and turn up the steep and winding road to the lobby. Even though we knew what we were in for, it felt like our first time all over again, stepping out of the car and setting eyes on the breathtaking views from the lobby.
We were warmy greeted by a member of staff and our bags were taken from us and tagged. We were then shown to the reception area and asked to take a seat, facing that stunning view of the five islands.
We were then brought some iced lemongrass drinks and cold towels before being asked to pick our Diamond surprise from a box of paper slips. Last time we were here we got a free ice cream, this time we got a spa discount. Neither are groundbreaking 'prizes' but it is a nice little extra touch, during the check-in process.
---
Oceanview Retreat Pool Villa
---
A few weeks before our stay, I emailed to ask if we could be allocated the same villa as last time: 309. Failing that I requested the villas on either side. These particular villas have better hardware than the entry level ones (Bose sound system and Apple TV); they are close to the restaurants, meaning that you can get around without being heavily reliant on the buggies; plus these villas have direct and uninterrupted views across to the five islands.
309 was occupied but we lucked out and got 308, right next door. Either of these rooms is basically perfect, as in addition to the points I made above, the two are separated by a large section of foliage and are angled away from each other. This means that you get additional privacy and effectively have only one neighbour (not that you ever see or hear anybody else whilst in your room at this resort anyway).
Stepping into our beautiful wooden sanctuary, I immediately felt relaxed. I remembered where everything was and so felt completely at ease. I was able to immediately focus on unwinding, whilst taking in the postcard perfect views.
I've encountered a number of seriously amazing bathrooms in my travels but I think that overall, this has to be one of the top three. The views are spectacular, there is a ton of space and the whole space just feels utterly relaxing. Sitting in the bathtub tends to give you a different perspective, one from which you can see dirt and the underside of surfaces as you're closer to the floor. Looking up you might see a gap around a light or cracked bit of plaster near the corners. None of this is an issue at the Conrad Koh Samui. Everything is completely perfect. Every little detail has been thought of and the finishes are absolutely top notch. If you leave any toiletries on the countertop, they will be perfectly arranged, with a towel of corresponding size placed underneath them. If your nail file looks worn, a brand new one will be placed next to it, just in case you'd prefer a new one. Leave your sunglasses behind? They will be sparkling clean when you come back to pick them up. Housekeeping are seriously good at this resort and nowhere is this more apparent than in the bathroom.
The housekeeping details continue into night time. At turndown you get a different towel animal each night (we were greeted by elephants when we first checked in). Fresh orchids are also placed on the bed alongside a sweet treat. We also got this little turtle on our first evening.
---
Food and Beverage
---
There are three main F&B options at the Conrad Koh Samui:
---
Zest Restaurant
---
Zest is the casual restaurant option throughout the day and is also where breakfast is served
(you can see full details of breakfast in the review of our previous stay here).
We had an afternoon tea voucher to redeem as part of our Hilton Premium Club membership. I'm not usually a big afternoon tea guy, I tend to view these things as carb festivals that get in the way of having a proper dinner later on. Still, I figured it was a waste to throw the voucher away two years in a row, so decided to hit the gym hard in order to work up an appetite. This also served the purpose of getting some pics of the gym, which we totally swerved on our last visit too…
We were the only ones having afternoon tea and the staff looked quite surprised to see us. Given that it was nearly 40 degrees outside I can see why people wouldn't be beating down the doors to quaff gallons of piping hot tea, served with cream cakes.
Thankfully we were told that we could have any tea or coffee that we wanted and decided that iced coffee was the way to go.
---
Sunset Lounge
---
The Sunset Lounge is located directly across from Zest and as well as housing a bar is also where you'll find the concierge. The actual lobby, where check-in takes place, is right at the very top of the resort and you only ever pass it when arriving or departing from the Conrad.
The bar is unattended for quite long periods throughout the day and only really gets going for happy hour (5-7pm each day). At other times you can pick up the phone and call for service but it's probably easier to just walk twenty feet and grab a drink in Zest.
---
Jahn
---
The resort's fine dining restaurant is frighteningly good. Having an establishment of this quality level at your disposal, a mere five minute buggy ride away, is a true luxury. The service, the ingredients, the level of creativity, the decor, the wine list – all are of a quality level becoming of a Michelin star. We ate here on two out of three nights and honestly I wish it had been more.
On our final evening, free from the burden of an afternoon tea sitting in our stomachs, we returned to Jahn and I decided to go all out with the Tasting of Jahn Menu. Kamara just ordered a starter and a main because she lacks my awe inspiring sense of greed.
Throughout both of our meals at Jahn (and indeed our previous visit the year before) the service was nothing short of impeccable. I never once had to actively look around for staff, a mere turn of the head would instantly result in our server coming over to offer assistance. Every dish was explained to us in great detail and the pacing was perfectly suited to the speed at which we ate. The staff were all very warm and friendly too, striking a great balance between fun and professionalism.
I would gladly return to Jahn time and again. If you aren't staying at the Conrad but find yourself in Koh Samui I cannot emphasise enough how worthwhile the experience of dining here is.
---
Room Service
---
Room service at the Conrad Koh Samui is basically the same price as eating in the restaurants so enjoying a poolside lunch in your villa doesn't have to break the bank. On our last afternoon we just couldn't bear to tear ourselves away from our infinity pool.
---
Miscellaneous
---
Some other areas of the resort.
---
Conclusion
---
All too soon, our four days were up and it was time to take the sad buggy ride up the hill to the lobby. Despite it being our second visit; there is no question in my mind, reading back over this trip report, that I would gladly return again.
There isn't a whole lot to do here other than eat, drink, relax and enjoy the views. You don't even need to leave your villa if you don't want to – and at the Conrad Koh Samui, that suits me just fine.
---
Cambodia and Thailand
Part 1:

Part 2:

Part 3:

Part 4:

Part 5:

Part 6:

Part 7:

Part 8:

Part 9:

Part 10:

Part 11:

Part 12: