Qatar Airways (QR)
Flight: QR830
Class: First Class
From: Doha (DOH)
To: Bangkok (BKK)
Duration: 6hr15
Aircraft: Airbus A380-800
Seat: 2F
Status during flight: OneWorld Sapphire
Cost: £800 for ARN-BKK-DOH Round trip in Business Class

Operational upgrade from Business to First

Flight Date: March 2016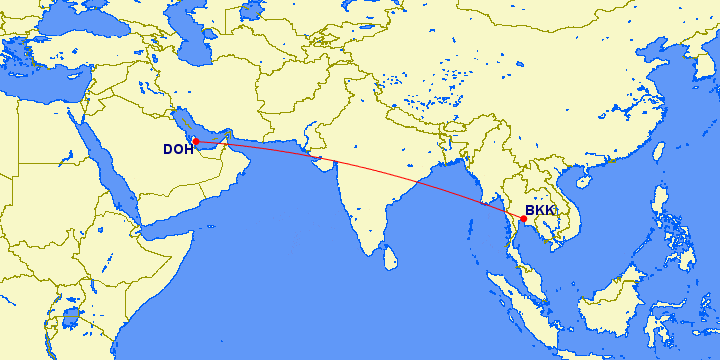 ---
Al Mourjan Lounge – Doha Airport
---
After disembarking from the Stockholm flight, I was surprised to see that we had been instantly deposited airside, without having to clear transfer security. This can be something of a lottery as subsequent QR flights have almost always resulted in my having to go through the security 'pantomime'.
As we were ticketed in Business Class we made our way to the Al Mourjan lounge, Qatar's gleaming and expansive business class lounge.
Last time I visited the Al Mourjan lounge it was brand new and very few passengers seemed to be aware of its existence. This time though there was a lady checking boarding passes at the foot of the escalator, with a secondary check at the main reception desk upstairs.
Since our layover wasn't particularly long and having already visited the Al Mourjan lounge in the past, we decided to make our way to the gate early, in order to get as much time as possible on board the QR A380.
As we walked to the gate, I mentioned to Kamara that I had a feeling we were going to get a magic beep today.
"What's a magic beep?", she asked – not unreasonably.
"Wait and I'm sure you'll find out."
I had heard that this route is often oversold and figured that two confirmed pax, connecting on time, who had checked in many hours in advance and both held status, on a single reservation, would be in with a higher than average chance of an upgrade.
The Economy side of the gate looked like absolute pandemonium and this only served to reinforce my belief that operational upgrades would be on the cards.
My heart started to beat a little faster as we got to the front of the Business Class line, probably a combination of the excitement of trying the Qatar A380 for the first time as well as my rather unscientific belief that we were about to get some good news.
I handed over our boarding passes and sure enough the light on the scanner flashed red and let out its 'magic beep'.
"Is that a good beep?", I asked.
"Only if you like being upgraded to First Class, sir."
"That's the magic beep? How did you know?", asked Kamara.
Sometimes you just know…
---
Flight QR830
---
I practically skipped down the jetbridge with my shiny new boarding pass in hand. Flying F is always a great experience but thinking you were due to fly Business and getting an op-up ? Well that's roughly one million times better.
We were greeted at the entrance door but were not shown to our seats, which I thought was a little strange for First Class.
A soon as I saw the cabin I broke out in a massive smile. Having previously flown the old QR F product on the A330, this was just so, so much better that it is hard to know where to begin.
Whilst the hard product was very impressive indeed, the crew were noticeably lacking in polish and professionalism. We waited at least ten minutes before anybody came over to check on us and offer a drink. Even then I was left with an empty flute for a good twenty minutes as apparently the champagne was still warm.
In the meantime, one of the crew came around to offer arabic coffee.
At this stage I turned to Kamara and asked, "Is it just me or was the service considerably better in Business Class than it is in First?".
"No, it's really bad. I don't know what's going on."
I felt really conflicted. I had just come away from the flight in business class absolutely loving Qatar. Then they outdid themselves by upgrading us to their utterly spectacular F cabin… only for the service to feel like a steep downgrade 🙁
Still, warm Krug aside, the wine list was very strong. Leoville Poyferre, in particular, is no joke.
Once we had reached our cruising altitude the FA approached me to say that the Krug was still warm but she was "making sure it will be chilled", in the meantime she took our dinner orders and then came back to set our tables.
We then waited… and waited…and waited.
We had both ordered the caviar to start and I mentioned to Kamara that perhaps it was taking this long because they were heating it up. I should have known better than to joke about these sorts of things.
Now I'm not totally devoid of personal awareness. I know I spend a lot of time in the unbelievably privileged position of the First Class cabins of the world's top airlines and that the majority of the problems raised in this blog aren't 'real problems'. I also understand that the upgrade was free and nobody on earth ever won any friends by uttering the line, "The caviar was lukewarm".
Here's the thing though. Qatar's CEO makes no attempt to hide the fact that he is a perfectionist. He claims his airline is the best in the world. He says economy on Qatar is so good that it obviates the need for a premium economy cabin. He is such a perfectionist that he delayed delivery of the company's first A380s because the finishes on the F cabin weren't up to his high standards.
People may save up for a year or more, in order to sample this flagship First Class product just once in their lives. If they did, they would come away disappointed. Not because of any failing of the hard product or the physical substance of the food and drink but rather because of a lack of care and competence from the crew. That is an absolute shame.
At this stage we were two hours into a six hour redeye and our starter plates had yet to be cleared. The entire meal service for a full Business cabin was completely more quickly and professionally than the serving of our starter in First. Another thing: not once were either of us offered a refill for our drinks. Even when one of us would ask for more water the FA would only top that person up and completely ignore the other. It was seriously bizarre.
I was about to get up to let the FAs in the galley know that we were happy to just call it a night, when suddenly an FA appeared holding my main course. The FA served me first, sliding my caviar plates to one side of the table and putting my main course alongside them. She then returned with a tray to clear my caviar plates and repeated the same steps for Kamara.
We sat with empty plates in front of us for a few minutes, at which point I headed to the galley and asked for our plates to be cleared and beds to be made. I then went to get changed into my hilariously proportioned PJs. I had mentioned earlier to a member of the cabin crew that the door lock had come totally unscrewed on one of the toilets but returned, not surprisingly, to find that nothing had been done about it. I picked the lock up off the floor and did my best to reattach it again.
Once the lights came on we realised that the crew had basically opted out of serving anybody breakfast. I managed to track down an FA and request a coffee but was not offered any food. The coffee cup was cleared before landing but neither of our bundles of bedding were. The other pax were never offered bedding at all so didn't have to worry about that!
Just before the crew were due to take their seats for landing, we were approached by the cabin manager. He quickly came up to us (ignoring all the bedding on the floor) and said, "so far, so good?", gave us a thumbs up and then ran off before we could answer… which explains the service we got from his crew.
---
Conclusion
---
Based on this flight there is no way I could ever recommend flying Qatar First Class. Given how amazing the Business Class seat, F&B and service are, there just isn't any reason to upgrade. Even if the service had been great, on a six hour redeye you really just need to maximise sleep, flying in First doesn't help with this… at all. Also, despite being much more comfortable for sleeping I noticed that the F seat actually had a lot less easily accessible storage than the reverse herringbone seats in business. All the storage is located in the wardrobe so there isn't anywhere convenient to place your phone, glasses, books etc. There's really just that single side table, whereas Business Class has ample counter space plus a variety of different pockets.
In fairness, I have since flown Qatar First again, on a much longer flight, with a much better crew and really enjoyed the experience. I was willing to take the risk after this flight, I'm not sure if most people would though…
---
Cambodia and Thailand
Part 1:

Part 2:

Part 3:

Part 4:

Part 5:

Part 6:

Part 7:

Part 8:

Part 9:

Part 10:

Part 11:

Part 12: