Etihad Airways (EY)
Flight: EY18
Class: First Class
From: London (LHR)
To: Abu Dhabi (AUH)
Duration: 7h20
Aircraft: Airbus A380
Seat: 3A
Status during flight: Etihad Guest Gold
Booking type: AA Miles Award

40k Miles one way for LHR-AUH in First plus AUH-MLE in Business

Date: April 2016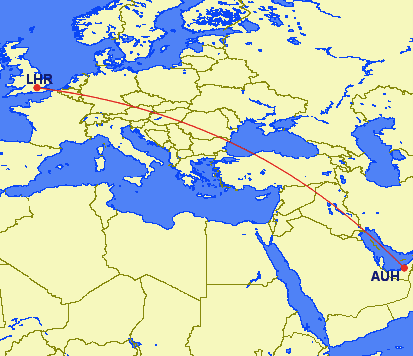 ---
FOR INFORMATION ON HOW I BOOKED THIS FLIGHT CHECK OUT THE INTRODUCTION TO THIS TRIP REPORT HERE:
Trip Report: First Class Apartments to the Maldives
---
Boarding
---
I was so excited to finally see Etihad's A380 apartments that I actually left the lounge well before boarding just so I could wander around the gate area, looking at all of the Etihad signage. Somewhere in the back of my mind though there was a small doubt. I have had aircraft switched on me at the last minute before. If we were downgraded to any other plane in the Etihad fleet I would be inconsolable.
Despite the fact that everything pointed quite strongly to the fact that I was about to step aboard the A380 and finally see Etihad's Apartments for myself, I needed to actually see that massive whale jet in the flesh in order to really let myself get swept up in the excitement.
My heart was really beating fast as I approached the windows by our gate. My boarding pass looked like this, which again was another strong indicator that things were going well:
As I approached the window I finally caught a glimpse of our enormous plane set against a beautiful pastel sunset.
At this point I might have pumped my fist a couple of times and started pacing around frantically. If I bumped into you during my moments of jubilance, I apologise.
It seemed like an eternity until boarding was called but when the moment finally came, we were at the front of the line and ready to have the cabin to ourselves for a fleeting few seconds before everybody else boarded. As we stepped off the jet bridge and onto the plane, we were greeted by a beaming row of cabin crew, one of whom offered to guide Kamara and I to our suites.
I've been fortunate enough to fly in a variety of First Class cabins on A380s; I never thought I'd be able to top the sense of awe and astonishment which seized me when I first set foot in the Suites cabin of the Singapore A380. It turns out that I could in fact get quite a bit more pumped. This pumped in fact:
The lower ceiling and narrower fuselage upstairs really makes the space seem so much more intimate than the cavernous downstairs suites cabin on the Singapore Airlines A380. The sense of privacy when looking around the Etihad cabin is remarkable.
---
Our Apartments
---
Kamara and I selected 3A and 4A as these suites are connected – permitting the creation of a larger double suite with a double bed. The seats themselves are also located by the windows, which means that you can see out during take-off and landing, something which cannot be said for the adjoining suites 1H and 2H. (although 3K and 4K work just as well)
Clearly seeing our excitement and my furious photo taking, a friendly FA asked if I'd like to take a few minutes before he returned to explain the details of the suite and take our drinks order. I was so overwhelmed by the absolute absurdity of how amazing my Apartment was that I hardly knew where to begin, so I panicked and took a photo of a lamp:
Seeing that I had finished taking my first round of photos, Roberto the FA from earlier, returned to offer us pre-departure beverages. I asked for champagne and was asked if I would also like Arabic coffee to go alongside it. I've grown to quite like Arabic coffee and look forward to this small ritual whenever I fly a middle Eastern Airline in F or stay in a Middle Eastern luxury hotel.
Moments later, Roberto returned with a beautifully presented tray for each of us. The tray held the champagne, a cold towel, some dates, Arabic coffee and a welcome note from the Cabin Manager. I've seen one or another of these items on flights before but the overall effect of being presented this 'welcome tray' is really fantastic.
NOTE: At the time of this flight Etihad served Bollinger La Grande Année 2005 although this has now been significantly downgraded to Billecart Salmon 2007.
At this point I asked Kamara to take a photo to capture the outlandish level of happiness that I was experiencing:
I looked at the pic and realised that whilst it captured my emotional state it just didn't do enough to convey the awesome scale of the apartment, so Kamara tried again in landscape mode:
That picture definitely shows the width of the apartment but still doesn't really capture the overall scale of the gargantuan space in three dimensions. Clearly, it was time to reach for the GoPro.
At this point you may have noticed that there are seatbelt clasps spaced along the bench – the same bench which goes on to become a bed later in the flight. In fact there are three of them, meaning that each SINGLE apartment has a seating capacity of four people (if you put the divider down between two apartments as we did, making a double apartment, there is space for EIGHT people!). It is worth noting though that officially Etihad prohibits you from receiving visitors from the Economy and Business Class cabins though, so it is highly unlikely that you'll actually fill all of these spaces at once!
Moments after finishing my first glass of champagne Roberto approached and offered me another. Suitably fuelled, I got to work taking more detail pics.
It may seem weird to focus on it but this drawer is the perfect example of how every little detail has been thought of in the design of the Apartments.
It has a soft closing mechanism, which not only feels satisfying but also reduces noise in the cabin.
The fact that it is leather lined adds a luxurious feel and also stops items from slipping around.
The drawer is easily accessible from both the seat and when lying in bed.
It contains a light which switches on when the drawer is opened, meaning that you don't have to go turning on lights when looking for items at night.
Dining
---
First Cellar
First Dining
---
Etihad make a big deal out of the inflight chef in First class – and so they should. We were first introduced to the chef pre-takeoff and he explained to us in detail that he was able to mix and match any items that we wanted and was also happy to cook meat to our preferred degree of doneness. This is something I've yet to experience on another airline. He also suggested wine pairings to go with our main courses and offered to hold aside any items we might like for breakfast too.
The presentation of the dining experience on Etihad Apartments is absolutely spectacular. I was completely blown away by the entire setup: Perfectly pressed linen tablecloth, full sized designer cutlery, individual oils and butter, massive folded napkins and a varied selection of stemware.
Overall, I was extremely impressed with this meal. The food was presented in a very elegant fashion and there were numerous restaurant like touches like the enormous napkins, amuse bouche and palate cleanser. All crockery, cutlery and stemware was full size, the service was highly pre-emptive and the food and wine was of a very high quality.
I'm sad to say that having flown apartments again a couple of times since, things have definitely gone down hill with the F&B offering but on this flight I experienced on of the best meals I've ever had on a plane, despite the lack of obvious 'luxury' ingredients like caviar, lobster and foie.
Bathroom facilities
With only five hours to go before landing, I finally got to make the request that I had been waiting years to make: I called an FA over and asked him to prepare the shower for me. He asked me to wait five minutes whilst he got everything ready and I took the opportunity to check out the other bathroom.
The same geometric shapes from the bathroom were projected onto the ceiling here. At this point I focused on the amber light emanating from the economy cabin downstairs and became gripped with a sense of the absurdity of my current situation. Downstairs there were almost certainly people crammed into one of the middle seats in a block of four, wedged between people of questionable personal hygiene and paying handsomely for the privilege.
Meanwhile, here I was upstairs, waiting for my shower to be prepared after my fantastic dining experience paired with cocktails, vintage champagne and fine wines. Most ridiculous of all, I had paid around £230 in taxes for the experience plus a haul of miles which I had been given as a reward for flying to the US in business for next to nothing.
And still, there are people who tell me that I must be crazy, how could I possibly have the free time to research all of the travel tricks that I know. Surely it can't be worth it, can it?
They say that a picture is worth a thousand words.
Stepping into the shower room I couldn't help but chuckle to myself. However you cut it, the fact that I was up above the clouds in an enormous double decker jet, about to step into a shower in a room with heated floors and a selection of extremely expensive cosmetics – was borderline absurd. One hundred years previously humankind first took to the skies en masse, flying single propeller planes in a bid to dominate the skies of Europe during WWI. It's hard not to think about how far we've come since.
---
Sleep
---
I returned from my shower to see that our turndown service had been completed in my absence.
After our third round of teas and coffees, we got changed and assembled our belongings in preparation for landing. The cabin manager came over to thank us for flying with Etihad and to wish us a safe onward journey.
---
Conclusion
---
From the moment we stepped on board this was a truly magical experience. I truly doubt I will ever top the wow factor of first setting foot in the First Class cabin and seeing the Apartments in the flesh.
The service throughout was pro-active, pre-emptive, warm and humorous. Perfectly balanced.
The food and drink was very good, despite the lack of real showstopper food items or one of the prestige cuvées with a little more name recognition such as Krug or Dom Pérignon.
I would say that the fact that both the PJs and the amenity kit were unbranded was a minor negative, as was the super hard bed. The fact that you can't store a Rimowa carry on in your apartment without causing a tripping hazard was also quite annoying. In the grand scheme of things though we're talking about some fairly minor complaints when you're being exceptionally well taken care of whilst flying in your own freaking apartment in the sky!
---