---
Step-by-step instructions to book the Conrad Maldives for $380 per night.
---
Intro
---
One of the major advantages that the Conrad has over other Maldivian resorts is its sheer size. There is undoubtedly a charm in being able to walk around your entire island resort in five minutes but I imagine that after a couple of nights things start to get pretty boring.
With ten different bars and restaurants to choose from, all with their own unique identities and cuisines, the Conrad does not suffer from a lack of options. There are also tennis courts, two infinity pools, numerous watersports and several beaches, as well as a house reef.
If you are staying in a beach villa you'll be located on the Main Island whilst the majority of the water villas are across the water on the Quiet Island. Either way, you'll probably find yourself moving back and forth between the two islands throughout your stay, although most people tend to have a favourite…
---
Main Island
---
Rangali Finolhu (aka The Main Island)
Room Types:

Beach Villa,
Deluxe Beach Villa
Junior Beach Suite
Beach Suite
Retreat Water Villa
Family Water Villa

Bars and Restaurants:

Sunset Bar and Grill
Ithaa
Ufaa
Atoll
Pros
More bars and restaurants to choose from
Better facilities for kids
Dive centre, watersports and tennis courts
House reef
Cons
busier and noisier
no adults only areas
---
When we first checked in we were wowed by the palm trees and turquoise ocean visible from the Main Island. However, upon further inspection there was a lot of densely packed seating as well as live music, which may appeal to some but to us felt quite removed from the idyllic island paradise we had envisaged. The views over to the less picturesque staff island also ruined the illusion somewhat.
The Main Island definitely feels a lot more like some of the larger resorts I've visited in the past, like the Intercontinental and Ayana in Bali. The check-in area has the feel of a sandy aircraft hangar… without the added excitement of being near planes.
There are plenty of gift shops, which are both ludicrously expensive (you are screwed if you leave your sunscreen at home, the Conrad will gouge you for all they can) and rather unsightly.
---
Bonus Area : The Bridge
---
Talking of marine life, there is one aspect of the Conrad experience which totally blew me away. I had heard that you could see manta rays from the bridge that connects the two islands but this is quite seasonal and one hadn't been spotted for at least two weeks before our stay. On our second night, we felt like exploring after dinner and thought we'd go and see if the manta had decided to make an appearance.
We struck up a conversation with an American couple who were also staring into the water; it seemed like they had much the same idea as us. This was the final night of their ten night stay and they had come to the bridge every evening in the hopes of catching a glimpse of the elusive aquatic beast.
We stood chatting with them for around fifteen minutes and were about to give up, when all of a sudden somebody further down the bridge shouted over to say that the manta had been spotted!
After that, chaos broke out. We started running up and down the bridge, desperately trying to keep up with the enormous winged creature, as it periodically barrel rolled to the surface only to disappear moments later.
It is kind of weird to see fully grown adults running around laughing, with reckless abandon but that is part of what makes the experience of staying at The Conrad so special. Everybody is completely relaxed.
---
Quiet Island
---
Rangali (aka The Quiet Island)
Room Types:

Water Villa
Deluxe Water Villa
Superior Water Villa
Premier Water Villa / Suite
Sunset Water Villa

Bars and Restaurants:

Vilu
Koko Grill
Quiet Zone Bar
Wine Cellar
Pros
Higher end dining options
Adults only pool
Overall feeling of tranquility
Beautiful uninterrupted sunset views
Cons
Not much for kids to do
No activities beyond strolling, lounging and swimming
---
From the moment you first set foot on the Quiet Island you know you are in for a profoundly different experience to that which you find across the water. In many ways this is part of what makes The Conrad Maldives such a great resort. Most people don't want to be perpetually switched off and relaxed, conversely they don't want to be surrounded by bright lights and lots of people all the time either. Generally we all like to find a balance. The Quiet Island is the perfect yin to the Main Island's yang.
If you take the dhoni boat across the water, the first place you will come to is the Quiet Island's lobby lounge. The low ceilings, ample comfortable seats and breezy, open design immediately make you feel relaxed. The staff here are also super friendly and helpful, probably because they almost never have any guests to deal with! As soon as they saw me taking pictures they offered to take a shot of Kamara and I. I told them that I was just interested in taking pictures of the public spaces, which they thought was very amusing. After I was done with my pictures they came over and asked once again, saying that they would love to take a picture for us, so that we could better remember our visit to the Conrad.
---
Conclusion
---
I think you can guess which of the two is my favourite island but of course these things are entirely personal. I think that these two images of the breakfast options at each island are the perfect representations of each of the islands as a whole (and they also serve as a seamless segue into the next section of this trip report, where
I give the lowdown on some of the food and beverage outlets at The Conrad Maldives…
)
---
Related reviews
Waldorf Astoria Maldives Review
---
Book online with Hilton Impresario Benefits
---
Hilton Impresario Partner Booking
Click the image to get the best available, flexible rate and also receive:
Upgrade of one category

based on availability at time of check-in
Full breakfast for up to two in room guests
$100 Hotel Credit
Welcome amenity
Early check-in/late check-out subject to availability
Double Hilton Honors points and stay credit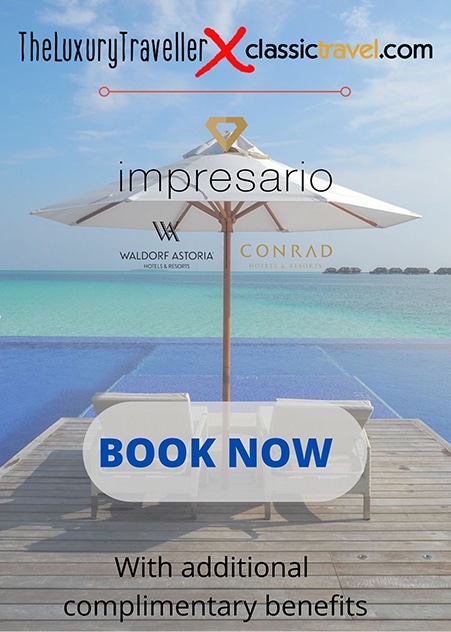 ---
Enquiries
---
Do you want to stay at multiple properties? Send us an email here and we'll manage your booking for you and secure you extra benefits, over and above a direct booking.
If you aren't sure which resort to choose and would like our advice, please fill out our quick & easy Maldives form and we'll match you up with your perfect property.
More Maldives Reviews
---
We are a luxury travel agency specialising in the Maldives, with plenty of first hand experience!
Here is a selection of our most recent Maldives hotel reviews:
---