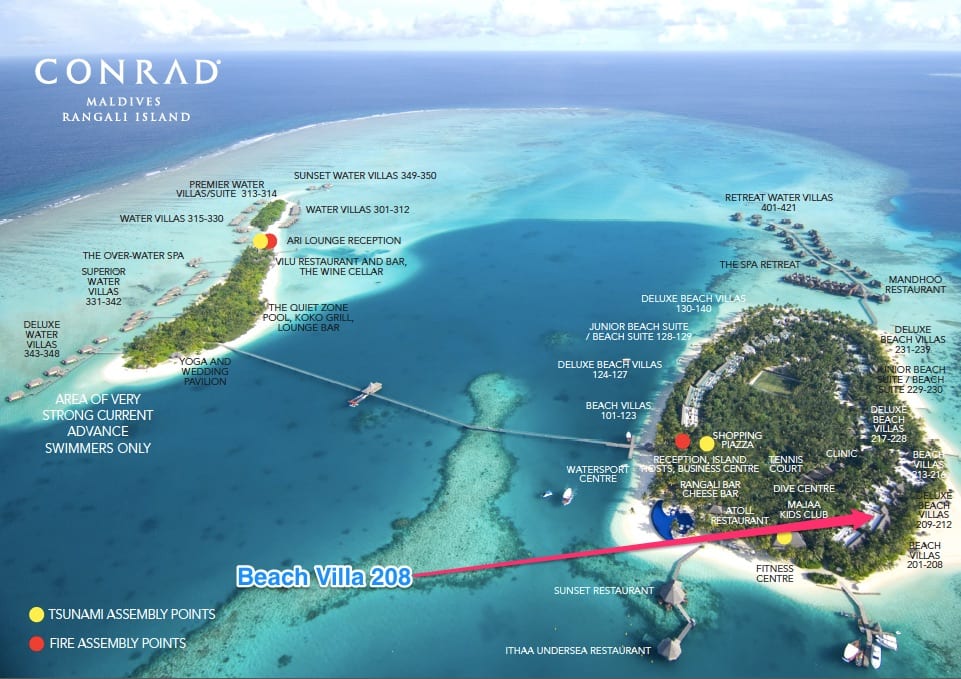 GUIDE – A comparison between the Main Island and Quiet Island at the Conrad Maldives
October 5, 2017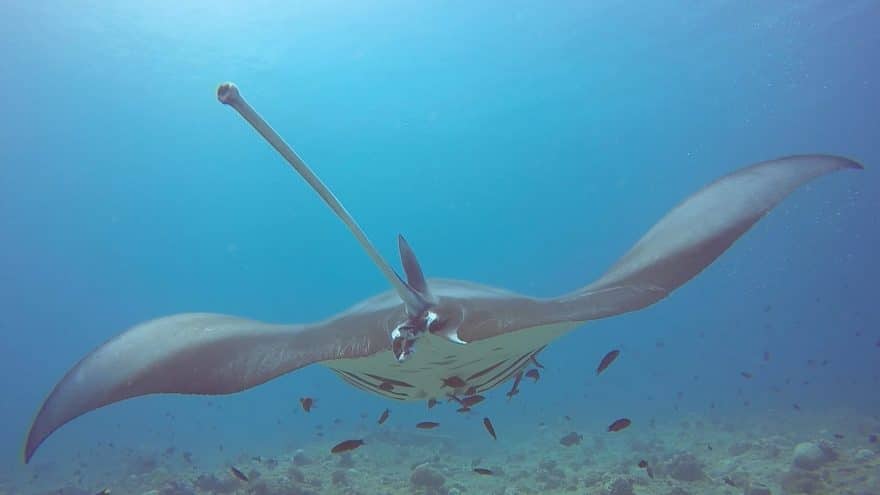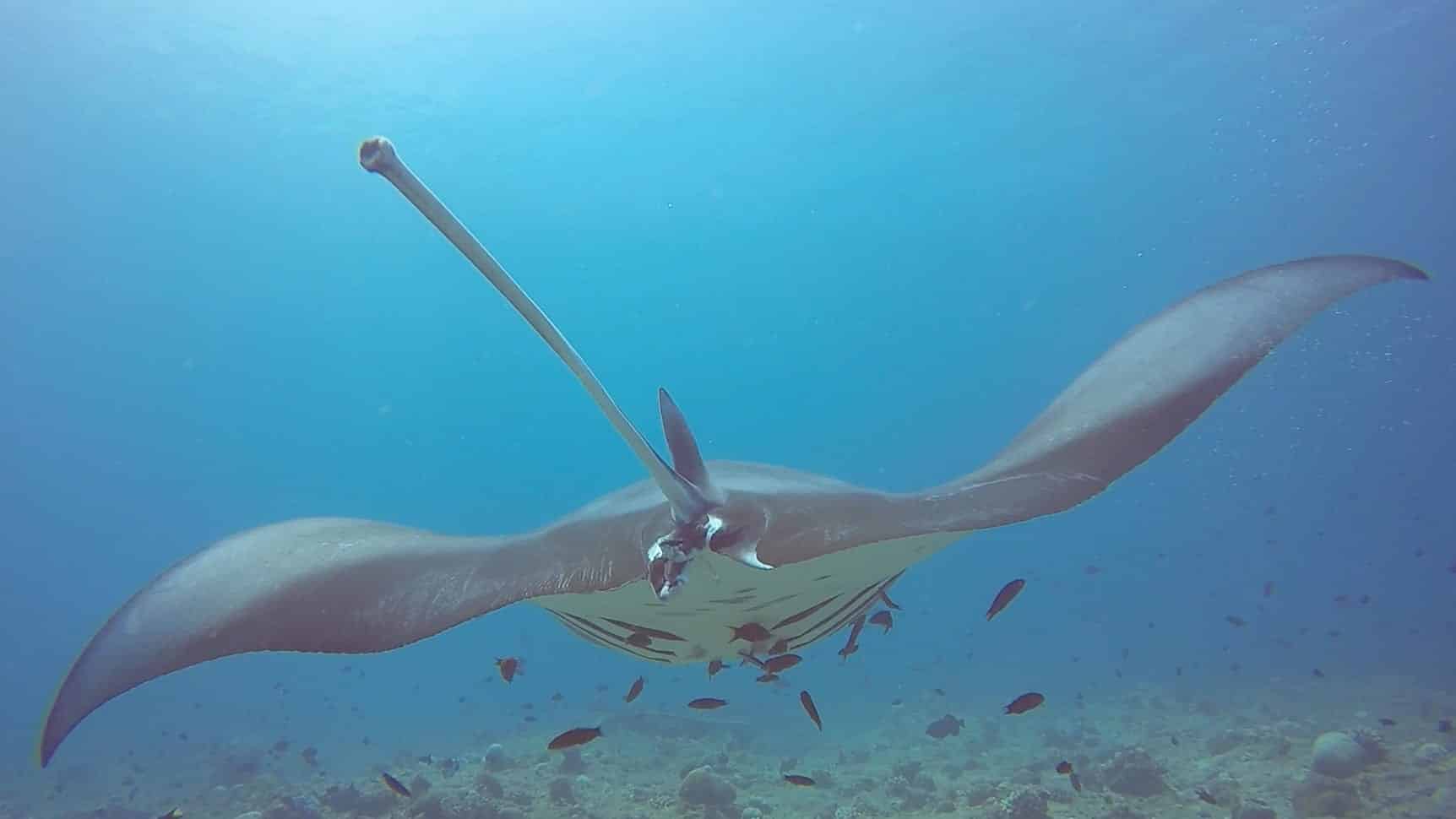 The Spectacular Diving and Snorkelling at the Conrad Maldives
October 28, 2017
Step-by-step instructions to book the Conrad Maldives for $380 per night.
Related reviews
---
Intro
---
The Conrad Maldives has a huge variety of different eating and drinking establishments located across both islands. The most famous of which is Ithaa, the underwater restaurant, which I personally didn't bother with – it is universally derided for being an eye wateringly expensive tourist trap (I did clear a little bit of debris off the glass ceiling for the poor suckers inside, during our orientation dive though)
Whilst it is easy enough to drastically reduce the cost of accommodation here, you will realistically need to budget at least an additional $80 per person per day in order to eat lunch and/or dinner. Add to this the cost of the seaplane transfers and you can see that this is still by no means a cheap holiday, even if you are getting it 'cheaper'.
Still, as a Hilton Gold or Diamond member you'll get:
Complimentary Daily Breakfast (7am-11am)
Complimentary Daily Afternoon Tea (4pm-5pm)
Complimentary Daily Happy Hour (5pm-6pm)
If you don't already have Hilton Gold status and you live in the UK, I highly recommend taking out the Amex Platinum card before travelling to the Conrad Maldives. You'll get Hilton Gold status for a year even if you immediately cancel the Amex and get a pro-rata refund of your annual fee. If you have a buffet breakfast with prosecco every morning, tea and cakes in the afternoon and then 3 or 4 cocktails plus some canapes in the evening, you'll be getting around $150 per person, per day, of freebies.
It is also worth noting that if you are on your honeymoon (and have the marriage certificate to prove it) you will also be treated to a complimentary dinner at Mandhoo, once during your stay.
---
Restaurant Locations
---

Rangali Finolhu (aka The Main Island)
Sunset Bar and Grill
Ithaa
Ufaa
Atoll
Rangali (aka The Quiet Island)
Vilu
Koko Grill
Quiet Zone Bar
Wine Cellar
---
Mandhoo
Health focused cuisine served in a tranquil over water setting
---
Dinner
Before setting off on this trip I was able to grab PDF copies of most of the menus at the Conrad Maldives – including prices. The resort used to share all of these on a public dropbox but has since taken them down. Remember that you need to add 25% to every price in order to account for the service charge and taxes, so on average you're looking at $28 for a starter and $40 for a main.
---
---
We were also handed a separate iPad which contained the resort's universal (and extremely extensive) wine list. The list is shared amongst all of the restaurants – although I've heard that the prices are sometimes adjusted depending on the location. It goes without saying that there is not a shred of value anywhere here. The prices are… sobering. It is also worth noting that despite being ostensibly eco friendly, the resort does not serve the locally distilled water in its restaurants. You are obliged to pay extremely elevated prices for Evian or Voss which need to be imported all the way from Europe.
I've never understood the appeal in paying over the odds for bottled water, I prefer to save my money for things that provide a significant incremental value over the basic option (First Class rather than Economy, luxury hotels rather than Holiday Inns etc.). Getting gouged for a basic necessity by a resort which purports to be ecologically mindful is beyond the pale…
---
---
Here is where things got really cool. Midway through our starters, as we sat feeling the warm ocean breeze pass through the overwater dining room, the light orange glow of the wooden walls giving an ethereal aura to the proceedings, Kamara suddenly shrieked. This in itself in not unusual. A Kamara shriek is standard practice when we dine al fresco. The key is to quickly ascertain whether it is a happy shriek or a sad shriek and act accordingly.
🙁 Sad shrieks include:
Flies near her ears
The realisation that her ankles have been bitten more than twenty times in the space of one minute (whilst I invariably remain unperturbed by mosquitoes)
A wasp anywhere within a 20 kilometre radius of our immediate vicinity
🙂 Happy shrieks include:
A cute bird that is too small to lift food from a plate (usually followed by the epithet, "ooh, he's so brave")
A cat or dog begging for food
A gecko
At this point I was able to add another happy shriek to the list: stingrays swimming next to our table.
It was really fun interacting with all the other guests at the restaurant. Perhaps this is just my British reserve talking but I can't imagine ever getting up and chatting with everybody like this, on any other kind of holiday. The stingrays served as an icebreaker which allowed everybody to abandon all pretence and just act like big kids (albeit kids who were spending $12 a bottle on mineral water)
After the 'show' was over we returned to our tables and continued with our main courses. I opted for the nori encrusted beef tenderloin. I am always a fan of using alternative methods of salting food: scallops with salt are good but paired with bacon they are spectacular. I also like to rub steaks in miso rather than salt when I cook at home.
So, I was interested to see how this dish would play out. The teriyaki shiitake mushrooms complemented the nori perfectly (as you would expect) and the very subtle wasabi kick to the sour cream was also beautifully placed. However, for $55 this as an extremely stingy plate of food. You can eat an entire kaiseki lunch at the Michelin*** Wa Yamamura in Nara for the same price as this.
The atmosphere at Mandhoo is very special. If you are not staying in an overwater villa, this restaurant gives you a real feel for the magic of being over the water. I would venture to say that this experience is in many ways preferable to Ithaa, where you are encased in a glass tube. Here you have plenty of space to move around, advance reservations are not always required and the food is a quarter of the price.
If you really want to see a ton of marine creatures though, you should come to Mandhoo for the daily feeding of the fish.



Fish Feeding
The staff at Mandhoo throw fish food into the lagoon every day at 1:30pm. Given how many show up, I can see this being a particularly efficient method of catching the reef fish and tuna for that evening's dinner service!
Afternoon Tea
For all the Hilton Honors Gold and Diamond guests, afternoon tea at Mandhoo is the beginning of the evening schedule. From 4-5pm you can eat all the carbs and drink all the hot drinks you want, whilst watching the fish swimming beneath you.
The afternoon tea is a nice thought and an ok way to break up your day if you're super hungry but honestly most days we didn't bother with it. When it's hot outside and you're busy doing other things it seems like a bit of a chore to head over to Mandhoo to fill up on bread and hot liquids. When we were staying in a Retreat Water Villa, Mandhoo was on our way to everything else anyway but otherwise I don't think we would have bothered going for tea more than once.
---
Atoll Market
Bustling buffet style restaurant on the Main Island
---
Every paid room rate at the resort includes breakfast, as do all points stays for Hilton Honors Gold and Diamond guests. As such it is understandable that breakfast is not going to be the highest quality offering. Still, against my own best instincts, we went to Atoll Market on the Main Island for breakfast on our first morning. We had to be up early for diving and both our villa and the dive centre were nearby, so it made sense.
The feel of Atoll Market is rushed, frantic and generally un-luxurious. There are plenty of large groups, lots of shouting and plenty of items running out constantly. The service was definitely the highlight though, with staff always trying their best to be chatty and friendly whilst taking our drinks orders.
In Summary: Atoll Market is convenient if you are staying on the Main Island and it has a very extensive buffet selection. However there is no view to speak of and the whole operation feels rushed, busy and totally unrelaxing. Sitting here you could honestly be at a mid-tier resort anywhere in the world. The Conrad Koh Samui is infinitely better in this regard.
---
Vilu
An oasis of tranquility, serving a la carte breakfasts and Mediterranean dinners
---
Breakfast
Our preferred breakfast option was Vilu over on the Quiet Island. Sure, it meant having to call for a buggy in the morning but the wait was never more than ten minutes and the small inconvenience was more than offset by the spectacular views and extremely professional service.
Thankfully MaldivesFreak took time out from his busy schedule of being the lord and overseer of the gigantic Conrad Maldives thread on FlyerTalk to email me pictures he took of the menu under more favourable lighting conditions. Seriously if you want to know anything at all about this place he is probably able to give you a more detailed and accurate answer than even the GM of the resort!
---
---
Our server Tomasso was extremely polished, friendly and welcoming. He explained that we could order anything we wanted from the menu and said that the kitchen would be happy to accommodate any reasonable requests. He asked if we would like anything to drink whilst we browsed the menu; we ordered two iced macchiatos, which came very quickly and were very much the appropriate strength for the first coffee of the day. We were also provided with an ice cold towel each. This experience was already many orders of magnitude better than breakfast at Atoll Market.
After placing our food orders, Tomasso encouraged us to go and look at the buffet options inside. This was a far more limited selection than the offering at Atoll Market, more of a continental spread.
As the days went on we came to appreciate asking for freshly grated truffles on everything. Endless glasses of pink prosecco and the beauty of a two hour breakfast spent watching the clouds reflecting on a perfectly still turquoise ocean.


Cocktail Hour
Diamond and Gold Hilton Honors members are treated to free drinks and canapes every day from 5-6pm. Whilst I am particularly fond of the three hour 'Twilight Time' at the Park Hyatt Tokyo, Vilu's happy hour has now leapt comfortably into the top spot of my favourite hotel happy hours in the world.
A selection of menus:
---
---
There was a revolving line up of fruity cocktails each day but we mostly stuck to white wine and G&Ts. The latter of which were punishingly strong. After a couple of those we were loosened up, to the point where the prices at Ithaa started to seem reasonable.
Aside from the otherworldly views, great service, delicious food and free flowing drinks; another favourite pastime at Vilu was playing with the water hens. They are super friendly and curious (Kamara thought they were both cute and brave).
---
Ufaa
Chinese hotpot dinners served on a quiet stretch of beach near the Sunset Bar & Grill
---
On our second evening we decided to head to Ufaa for dinner. We made our choice based on a number of factors:
It was a two minute walk down the beach from our beach villa
We figured that given the number of Chinese guests, the food would have to be decent
The food prices seemed the least extortionate of any restaurant at dinner time
Ufaa serves a variety of different menus in various locations and at different times of day. You can check out PDFs of the options we didn't try below:
Ufaa A la Carte Menu Ufaa Dim Sum and Noodle Menu – Lunch Ufaa Tasting Menu – Dinner
The hotpot menu is a rather pared down affair. There are two choices:
The setting was very peaceful, the service was quick, efficient, proactive and friendly – plus I got to eat a ton of fresh protein and chili, for something resembling a reasonable price! This definitely wins my 'Under the Radar' award, for the restaurant least likely to be this awesome at the Conrad Rangali.
---
Quiet Zone Bar
Crafted cocktails and light bites served on an infinity pool, sitting atop an exquisite turquoise lagoon
---
The service at the Quiet Zone was superb. The staff were all extremely friendly and engaging, always bringing us fresh glasses of iced water and even offering to polish our sunglasses for us.
There wasn't any fresh coconut water on the menu but when Kamara mentioned that she was craving it , the staff offered to go and retrieve an ice cold coconut for her, from one of the other restaurants. My cocktail was very tasty but a little on the weak side. The food menu here was an almost exact clone of the one at Rangali Bar, which you can find in PDF format at the end of this review.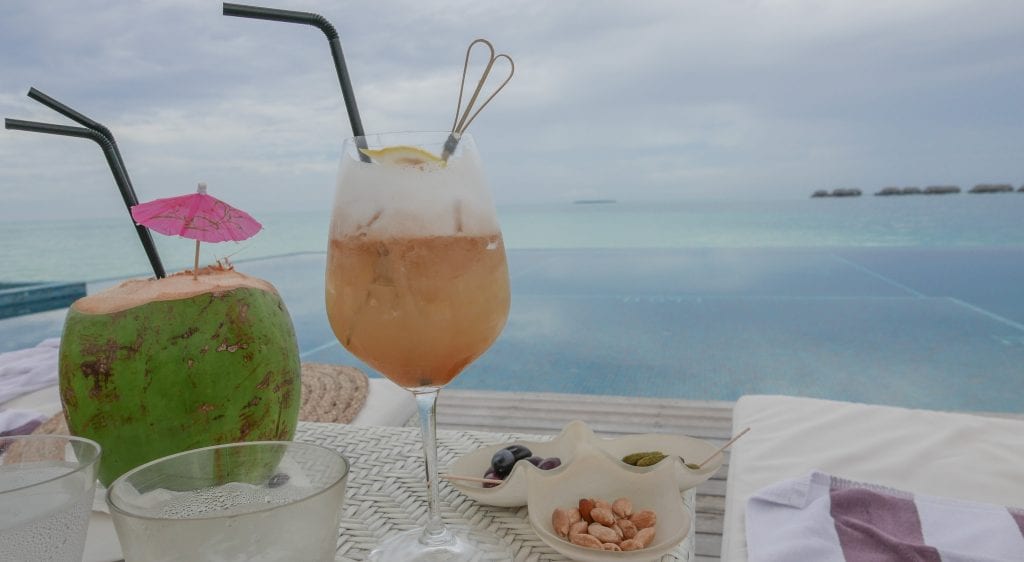 ---
Room Service
Over water dining from the comfort of our villa for a $15 delivery charge
---
Breakfast
After our first two nights at the Conrad we moved from the beach villa to the Retreat Water Villa. At this point an inevitable truth dawned on us: no restaurant had a more pleasant atmosphere than the private deck of our villa and we could order a selection of dishes across a variety of styles, straight to our villa, for a very decent price.
We had to get away early for a dive trip on our first morning at the RWV and couldn't really spare the time to go to Vilu and back (much though we wanted to). We found the menu card after dinner, ticked a ton of options and called to have somebody pick it up. The menu card says that all you have to do is leave it your door before 2am but I didn't want to risk it not being seen, especially as ours was the farthest flung villa on the Main Island.
We woke up quite hungry the following morning and were super excited to see the food arrive. There's something undeniably decadent about ordering room service and the fact that it only costs $15 here, actually makes it an unusually affordable extravagance. The attendant's cart looked like it was absolutely loaded with stuff and we assumed it had various people's orders on it. We assumed wrong…
The two yoghurts, doubling down of each juice and two person bread basket were all mistaken duplicates. The rest, we ordered deliberately. In my defense, I wasn't expecting the bacon to be so munificently proportioned. Seriously take a look at it. It's legitimately bigger than a full sized omelette. That's an egg to bacon ratio I can definitely get behind.
Also, I was expecting a couple of slices of smoked salmon, not half a fish. Finally, I thought I was going to get a few slices of papaya and a mangosteen, not two pounds of finely chopped fruit.
We ate about half of this before diving (any more and we would have sunk to the bottom of a reef) and then had a salmon sandwich each after we got back, plus some fruit and yoghurt for dessert. Later in the afternoon we enjoyed some ice cold watermelon juice whilst sitting in the jacuzzi. Tough times.
If you're really trying to save money, you could deliberately over order and easily get lunch and breakfast for free each day but breakfast at Vilu is such a truly phenomenal experience that we weren't tempted to order in-room breakfast more than once.
Lunch and Dinner
The room service menu is a bizarre mixture of borderline larcenous items: $31++ for the same salmon and bread that came free with breakfast. Plus some dishes which were pretty great value for money: $22++ for the main course of seared tuna (I don't understand the price of this when catch of the day is $40++).
---
---
Since we were so excited to have our own overwater bungalow for the first time, we ordered room service lunch straight after moving into the villa. We just couldn't bear the thought of leaving again in order to find a restaurant.
The sushi was a slight step up from the stuff they had at Atoll Market, despite the fact that two of the pieces were completely vegetarian, in fairness they were also quite generous with the sashimi portion.
Kamara's pasta was cooked perfectly al dente and very well seasoned. Bonus points for the two little chocolates (the same ones you used to get on BA First!). I also preferred this bread selection to the offering at Mandhoo.
The seafood was fresh and delicious but the fruit element was a little off. I really didn't see the appeal in biting into tannic black grapes alongside the delicate flavour of the crustaceans and scallops.
The 'Rangali selection' was a combination of skewers and samosas akin to what you'd get for £6 at an Indian takeaway… but cost nearly $40. The pizza was fantastic, thin crust and cooked in a wood fired oven. I loved the Maldivian tuna so much that I ordered it every night. Extremely fresh, cooked rare and dressed with a really bright and peppery citrus sauce.
The room service crew were really good at coming over to clear up as soon as we were finished. By the time we'd had a coffee and eaten our little chocolates, we'd hear a knock on the door and the table would be cleared in seconds.
Room service was a real highlight of our stay. The food was for the most part delicious, the service was very prompt and courteous and the views and privacy were unparalleled. Plus, we didn't have to waste money on needlessly imported Voss or Evian.
---
All other menus
I didn't try them all but here are the menus…
---
Since we were such homebodies, Kamara and I never tried the teppanyaki at Koko Grill, dinner at Vilu, the Wine Cellar dinner, anything at Ithaa, Rangali Bar or sunset Bar & Grill. Nonetheless I didn't want to leave you empty handed, so here are all the menus I could get my hands on, so that you can plan your budget in advance of travelling to the Conrad Maldives:
---
Book online with Hilton Impresario Benefits
---
Hilton Impresario Partner Booking
Click the image to get the best available, flexible rate and also receive:
Upgrade of one category

based on availability at time of check-in
Full breakfast for up to two in room guests
$100 Hotel Credit
Welcome amenity
Early check-in/late check-out subject to availability
Double Hilton Honors points and stay credit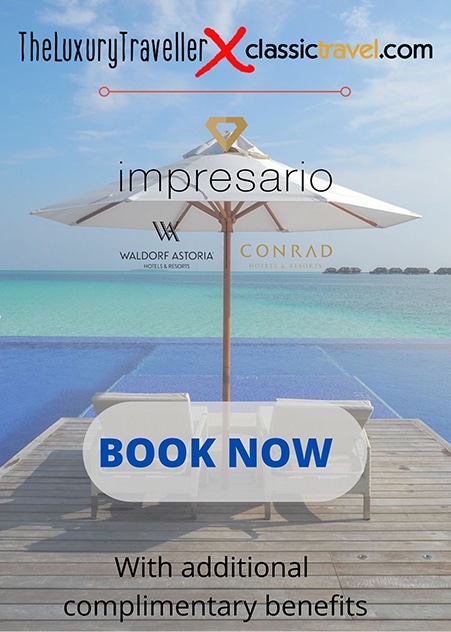 ---
Enquiries
---
Do you want to stay at multiple properties? Send us an email here and we'll manage your booking for you and secure you extra benefits, over and above a direct booking.
If you aren't sure which resort to choose and would like our advice, please fill out our quick & easy Maldives form and we'll match you up with your perfect property.
More Maldives Reviews
---
We are a luxury travel agency specialising in the Maldives, with plenty of first hand experience.
Here is a selection of our most recent Maldives hotel reviews:
---