---
I only got into diving relatively recently, having completed my Open Water Diver course in Bali, back in 2014. Since then I have become absolutely enamoured with the underwater world. Where previously I saw little appeal in staying at beach resorts more than three nights, now my beach stays are longer, so I can spend more time diving and also have enough time to decompress before going up to 36,000ft again!
I have also now started picking travel destinations with diving as the focus, which is one of the reasons I finally relented and came to the Maldives. I had always seen it as an overpriced luxury beach destination with not much to do. Once I heard that manta rays and whale sharks were frequent visitors I changed my tune.
---
Prices
---
I emailed the resort ahead of time and received a full list of dive prices. Whilst some of the prices seem a little unreasonable: i.e a Nitrox course involving a single dive for $400++, I thought that doing the advanced open water diver course seemed like a great idea. We would learn a variety of new skills and get to do some interesting adventure dives, whilst becoming qualified to dive deeper in future.
The price was $750++ for the Theory course plus five dives.
Call me crazy but I wasn't really up for sitting in a classroom learning theory all day, when I could be sipping an ice cold drink at Vilu. So, I paid PADI to do the theory section online, in advance, and got the price of $133++ discounted from the cost of the course.
So in total we paid $623 for five dives including all equipment … and one of them was a night dive!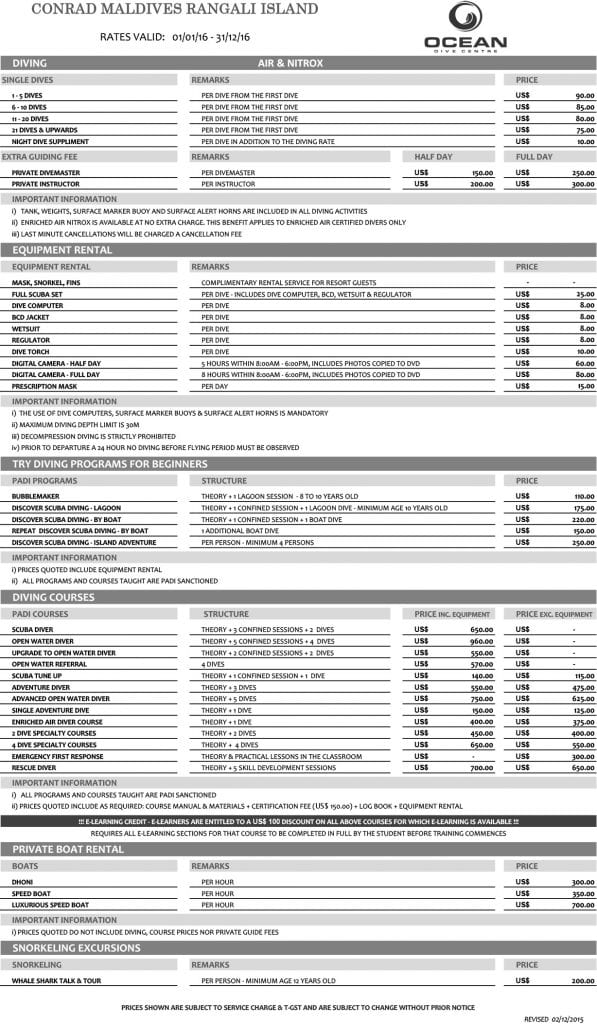 We headed down to the dive centre shortly after moving into our Beach Villa as we wanted to get our complimentary snorkels and fins ready for the following morning, as well as getting all the paperwork ready for our dive course. The dive centre itself is very clean, airy and comfortable and the equipment was all brand new. If you're used to getting your gear sorted minutes before heading off on a group dive trip, the experience here is very different. You have plenty of time and space to ensure that everything fits perfectly.
We were given a bag each for our snorkelling gear, which we took with us and kept until the end of our stay and another numbered box each, which was kept at the dive centre, with all of our diving gear.
On Day 2, our first full day at the Conrad, we took an orientation dive in the lagoon with our awesome instructor Alice. As soon as we met her we could tell that she was going to be a lot of fun to dive with, whilst also being very professional and safety conscious.
The orientation dive is mandatory for anybody who hasn't been diving in the previous three months and is fairly boring but thankfully it is free of charge and gave us the opportunity to dive right up to Ithaa and see people getting the tables set up for dinner, whilst also getting the super boring navigation module of our dive training done.
This meant that we would be able to fully enjoy one of our future dives rather than messing around with compasses whilst everyone else got to dive with sharks!
---
The Boat
---
Up until this point everything seemed very pleasant and comfortable and the staff were undeniably great, however the experience didn't yet feel luxurious. This was about to change.
On previous trips we had gotten into clapped out vans and been driven down dirt roads to dilapidated dive centres, only to then get into a glorified tin can, on the way to our dives. The experience at the Conrad Maldives was rather more salubrious.
After finishing our breakfast we walked a few metres down to the dock to our enormous dhoni. The dhoni was extremely stable and had a huge amount of room for everybody to both store their equipment and move around freely. I loved taking the stairs up to the padded deck and sunning myself during the surface intervals between dives.
---
The Dives
---
Whilst the service was fantastic and the boat made for a very comfortable experience above water, it would all be meaningless if things below the surface weren't interesting. Thankfully we were not disappointed…at all.
HD-Videos
Pictures are great but HD videos really show you how spectacular the underwater world is. Make sure you set your quality setting to HD as these have all been uploaded in 1080 !

We were really lucky to see this. It is the only time I've ever seen any eel outside of its hiding hole, much less a white mouthed Moray.
These have got to be the most 80's fish in the world. I feel like all they need is a perm and some shoulder pads to complete the look ?

Like the majority of sharks, white tipped reef sharks are totally harmless but they look awesome!

I love the weird and cumbersome way in which boxfish move around.
---
Manta Rays
---
Let me preface this by saying that manta ray sightings are relatively rare. Plenty of people will come to the Maldives for ten nights, dive twice a day and still not see one. However we got lucky. Ridiculously lucky. Our first sighting came on our second proper dive at a place called Manta Point. We spent a while looking at eels and sharks until suddenly we caught sight of a male manta, who had come to get his gills cleaned by remora fish at this 'cleaning station'. The manta was super playful and seemed to really enjoy the feel of the bubbles from our respirators on his stomach.
They say that visiting a cleaning station is like the manta ray equivalent of going to a spa for the day. I guess in this instance, we were the jacuzzi!
Spending time with the manta, watching him playfully circle us and even trying to lay on top of me at one stage, was absolutely incredible. By far the greatest experience I've ever had on my travels. Honestly, no first class cabin in the world compares to this. Realising that there are these enormous, wraith like and sentient creatures who are able to actively interact with you was truly eye opening for me. I never had pets growing up but this was the moment where I finally 'got it'.
As I said before, the pics are all well and good but the videos really show you how magnificent these creatures are.

This manta ray really loved the bubbles we created with our respirators, he kept circling round to feel them on his stomach.
The final video was taken in the channel between two atolls. We saw some pretty large sharks here and even saw a manta ray come shooting past, early in the dive. We were happily ascending after a successful dive when all of a sudden a large female manta put on a real show for us, tempting us to stay a little while longer…
---
Snorkelling
---
Obviously nothing could really compare to the absolutely astonishing quality of the diving but for people without the time or the inclination to spend their mornings sailing out to far flung dive sites, the Conrad Maldives offers some very decent snorkelling right on the house reef.
The coral has definitely suffered from some extensive bleaching but there is a veritable cornucopia of aquatic life to be seen nonetheless.
---
Book online with Hilton Impresario Benefits
---
Hilton Impresario Partner Booking
Click the image to get the best available, flexible rateand also receive:
Upgrade of one category

based on availability at time of check-in
Full breakfast for up to two in room guests
$100 Hotel Credit
Welcome amenity
Early check-in/late check-outsubject to availability
Double Hilton Honors points and stay credit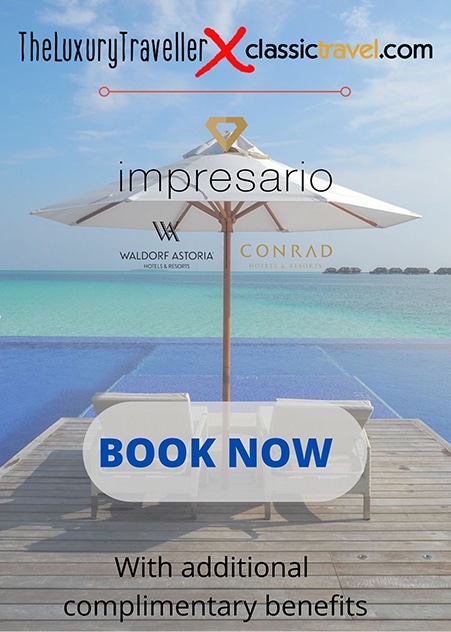 ---
Enquiries
---
Are you looking to stay at multiple properties? Send us an email here and we'll manage your bookings for you and secure you extra benefits, over and above a direct booking.
If you aren't sure which resort to choose and would like our advice, please fill out our quick & easy Maldives form and we'll match you up with your perfect property.
---
More Maldives Reviews
---
We are a luxury travel agency specialising in the Maldives, with plenty of first hand experience!
Here is a selection of our most recent Maldives hotel reviews:
---