Qantas Lounge (QF)
Class: Business and First
Access:

OneWorld First and Business Class ticket holders
OneWorld Sapphire and Emerald status holders
---
Intro
---
Up until late 2016 Heathrow's terminal 3 didn't have much to offer for business class passengers and frequent fliers on Oneworld flights. The choice was limited to a pair of rather drab and uninspiring facilities from British Airways and American Airlines as well as a small and rather antiquated lounge from Cathay Pacific.
In December last year the landscape was radically altered. After an almost year-long closure the Cathay Pacific First and Business Class lounges re-opened with a dramatic makeover from Studio Ilse, the same team behind the critically acclaimed Pier First and Business Class lounges in Hong Kong. These new London lounges were so good that I actively chose holiday destinations flown out of terminal 3, purely on the basis that I would be able to access the amazing new Cathay facilities before flying.
At this stage BA and AA are paying Cathay $90 every time one of their frequent fliers uses their First Class facility and by the looks of it the costs must be really adding up. When somebody ups the ante like this you can either step back or step up. AA have fought back with a beautiful new arrivals facility and a new Flagship departure lounge is soon to follow. BA on other hand are too busy charging for food and drink in economy and installing new thinner and less comfortable short haul seats, to have time to improve their T3 lounge…
With a new non-stop service to Perth on the cards – the headline-grabbing first ever direct flight between the UK and Australia – Qantas decided that they needed a new lounge to complete the passenger experience. In early 2017 the hoardings went up and every time I walked past I hoped to sneak a peek of the new facility being built.
I was expecting something in the vein of the fantastic Qantas HKG lounge with fresh salads, baked goods and expertly crafted cocktails and Aussie style flat-whites. Have Qantas managed to deliver on this? Sort of…
---
I was greeted at the podiums by a friendly staff member who explained that the main action was on the upstairs floor and that dining wouldn't really commence in the ground floor restaurant until around 6pm. I asked if there was anywhere to store my bags but unfortunately this lounge doesn't have a luggage facility. The lift was also out of action, which meant that everybody had to carry their wheeled bags up and down the main staircase.
I was happy to spot Tony here, the man responsible for some of the best espresso martinis ever when he worked at the Cathay lounge. He immediately recognised me and kindly offered to show me around, once I'd had a chance to put my bags down and have my first G&T of the evening.
One big drawback of this lounge is the lack of windows and therefore natural light. Between this image and the one of the bar, you've seen every window upstairs. Unlike the Cathay Business Class lounge (are you sensing a theme here?) these are rather small and do not run from floor to ceiling.
At the far end of the lounge there are a number of these open plan seating areas. The movable tables and ottomans are a nice idea but the space seems quite sparse. A plant or two by the wall would really help to bring some life to this windowless area and of course the lack of power sockets is a problem.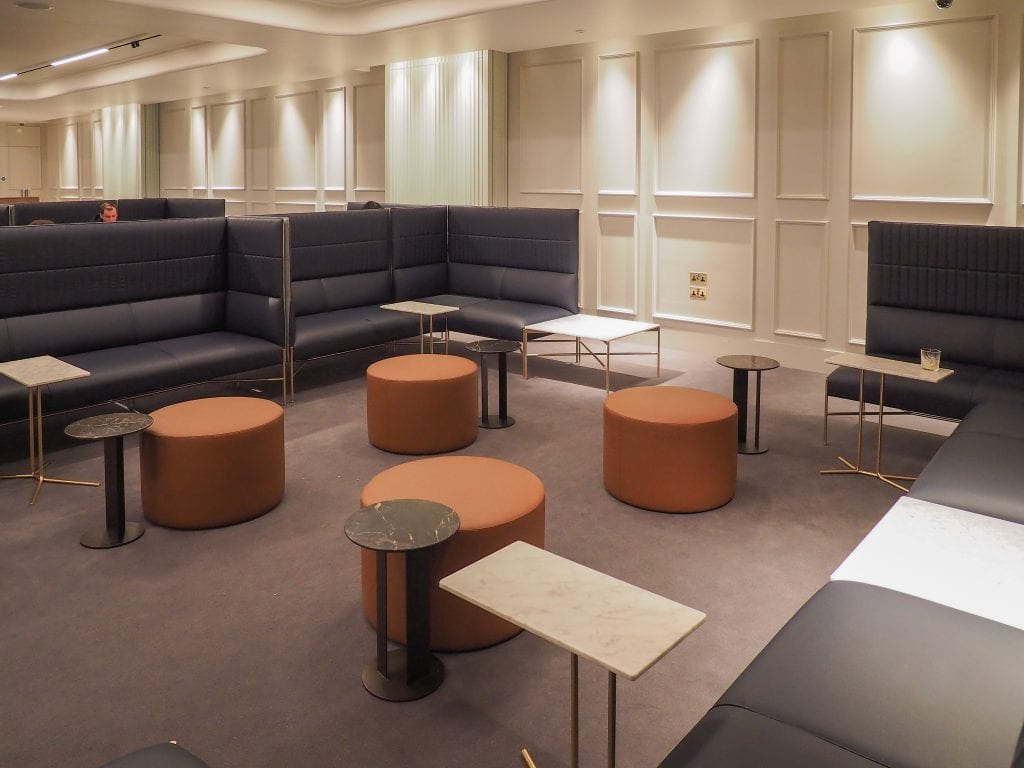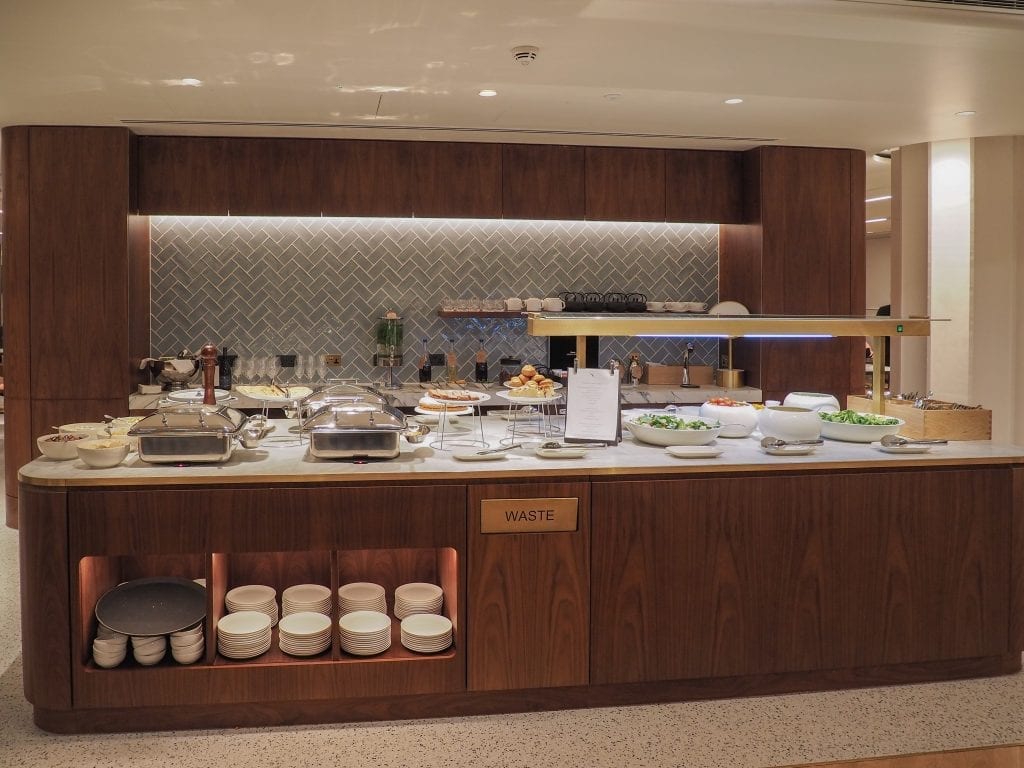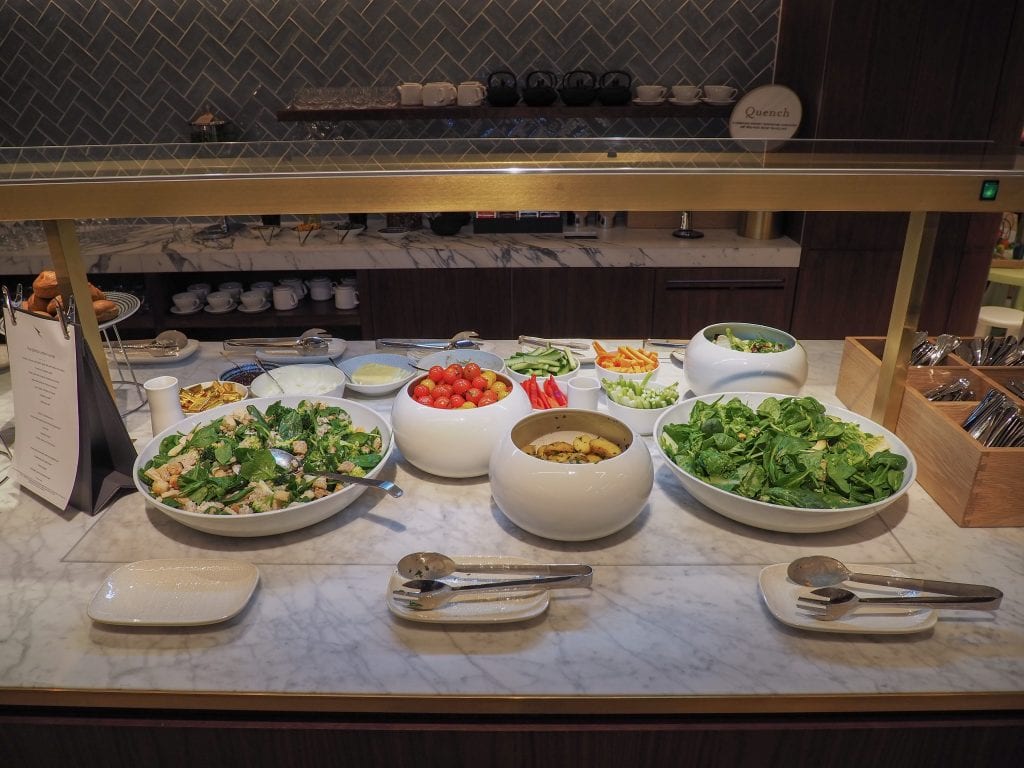 Immediately adjacent to the open plan seats is the buffet area, which has food at all times, even when the downstairs restaurant doesn't. Unfortunately the plain salads and veg sticks were more reminiscent of the old American Airlines lounge in JFK than the beautifully crafted, multi-ingredient extravagances served by Qantas in Hong Kong.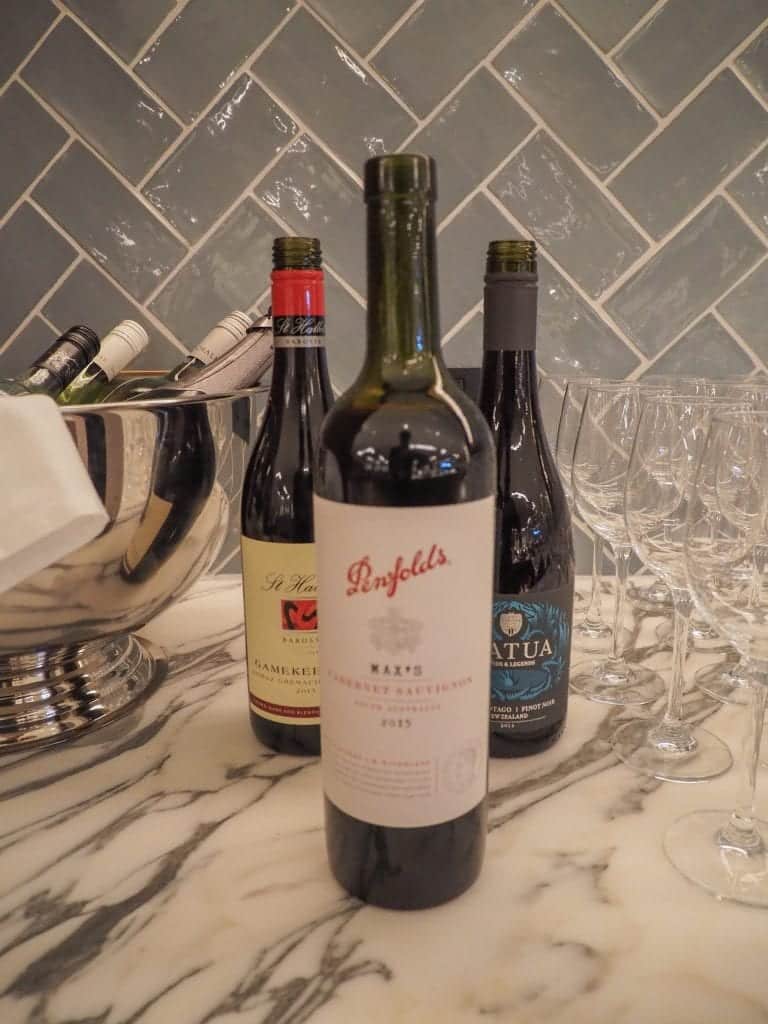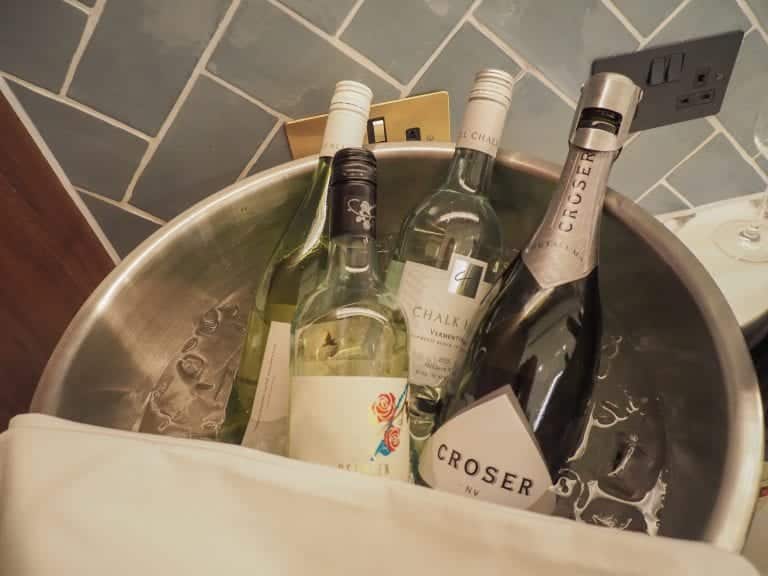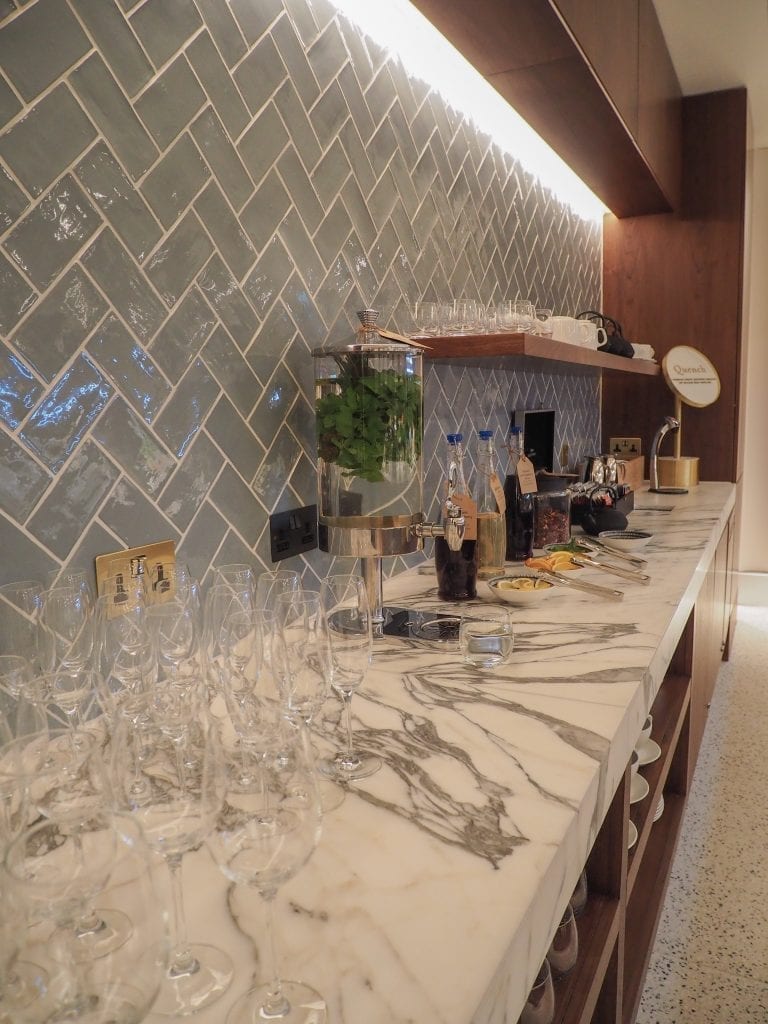 The beverage selection is ok but the lack of champagne is immediately apparent. Although rumour has it that if you ask nicely downstairs, they'll serve you a glass of Perrier Jouet.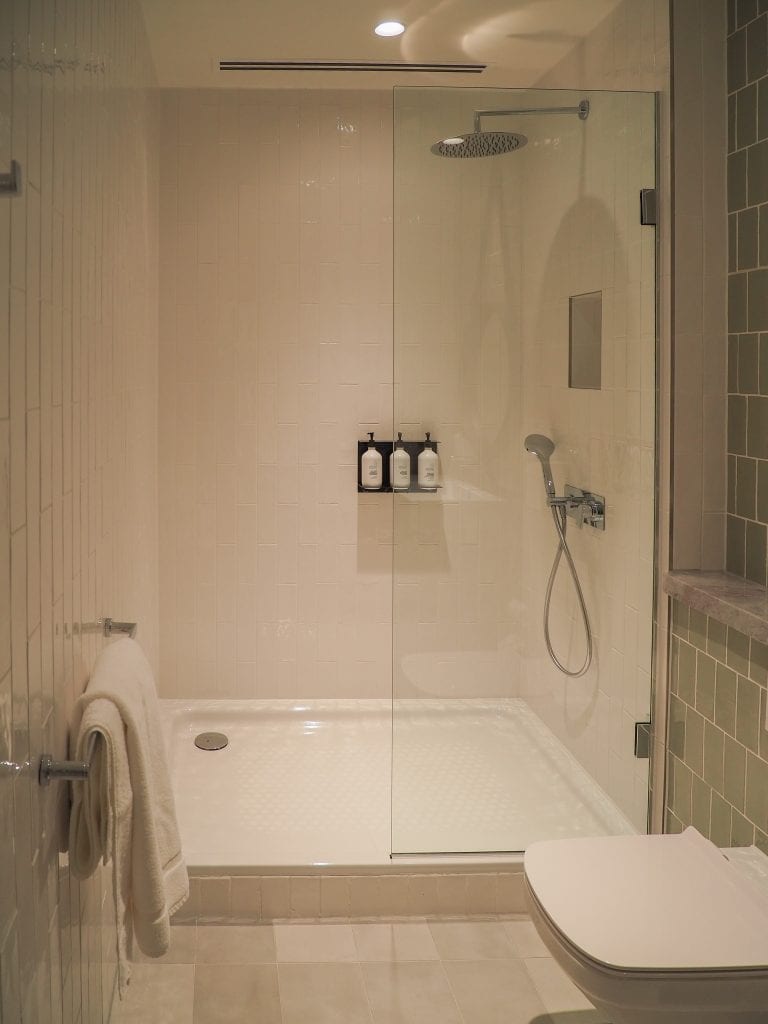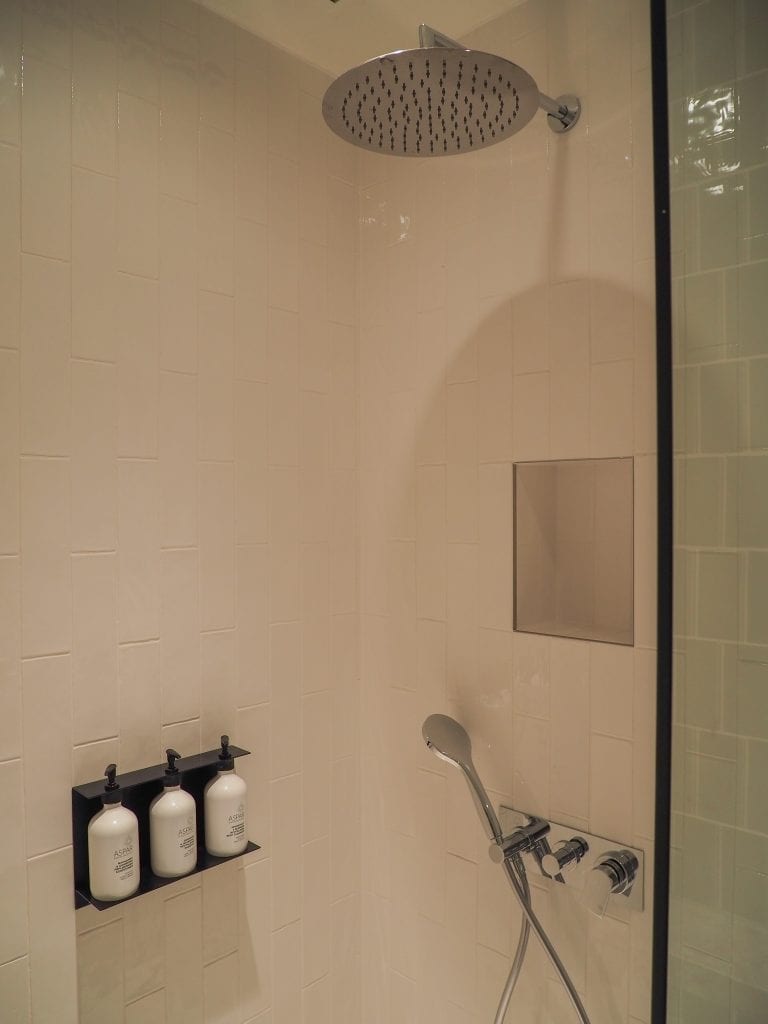 There are a limited number of spacious shower suites available upstairs. The rainfall showerheads provide very decent pressure. The nook for personal items and the airvent immediately above the shower are nice touches.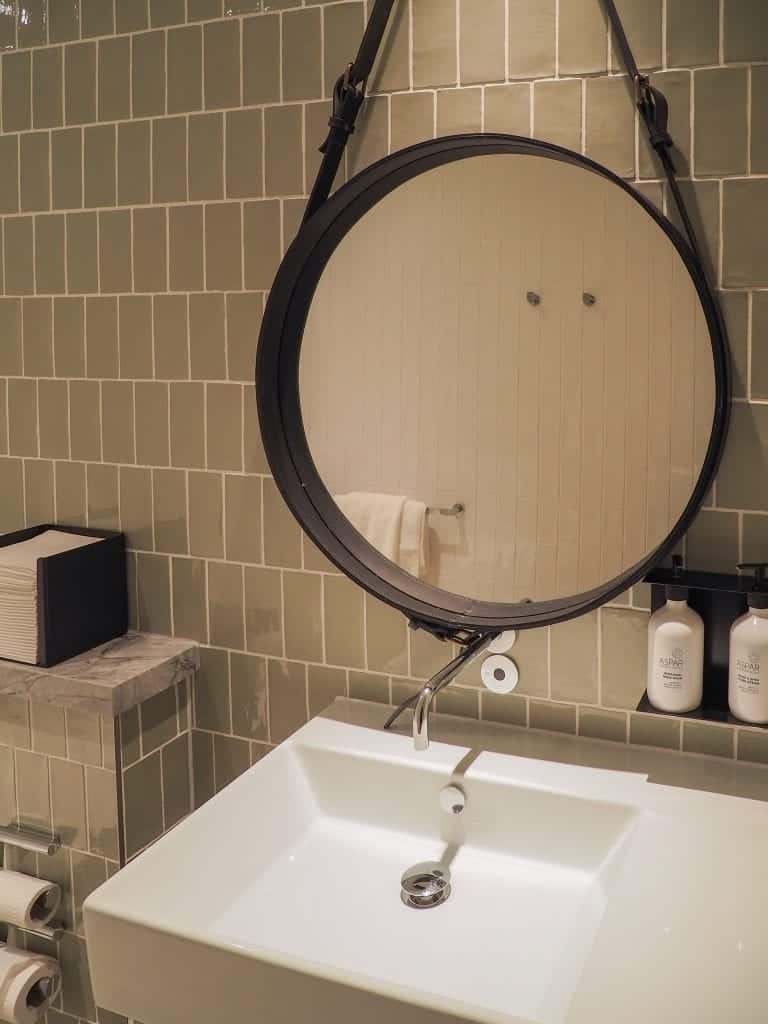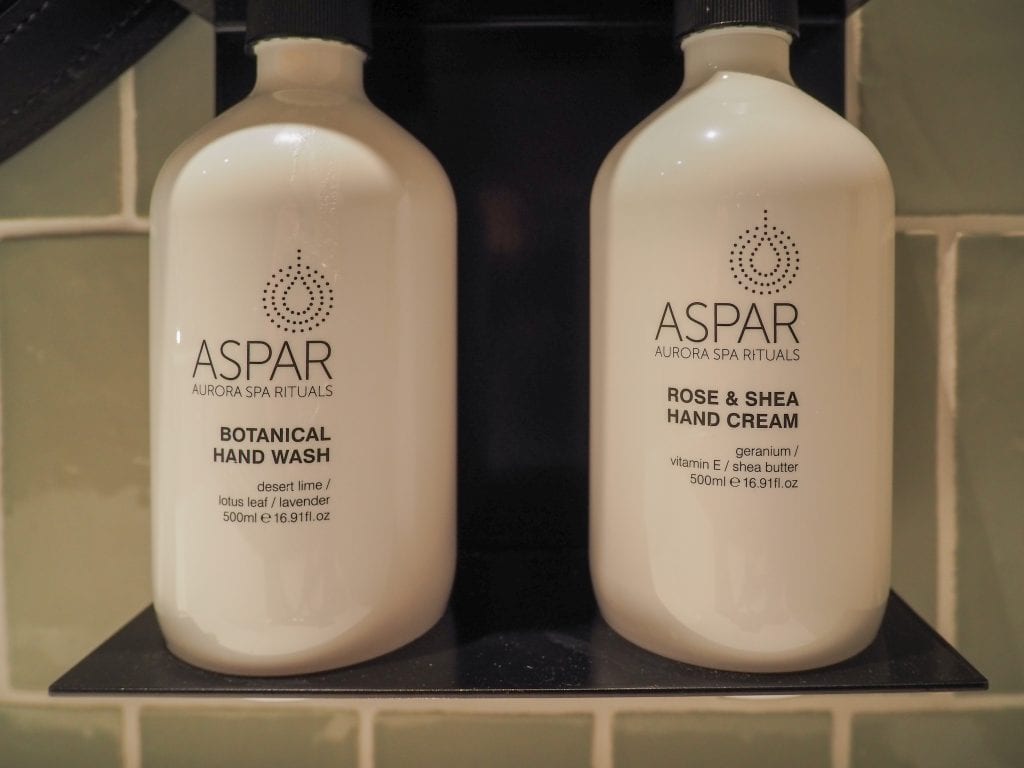 I like the cool leather design of the mirror, there is a decent amount of counter space next to the sink and the Aspar toiletries are very nice.
Right next to the showers is this small business area featuring an iMac and open space for people to sit and use their own devices.
I can't help feeling that some privacy dividers would have been a good idea here. I imagine that people may be working on projects which they don't want to share with everybody.
Just as I was finishing my G&T Tony came over and offered to walk me to the restaurant area downstairs. I told him that I had just received a message from one of my instagram followers recommending a particular drink at the gin bar. Immediately he fired back, " Green Ant Gin!". "Exactly", I said.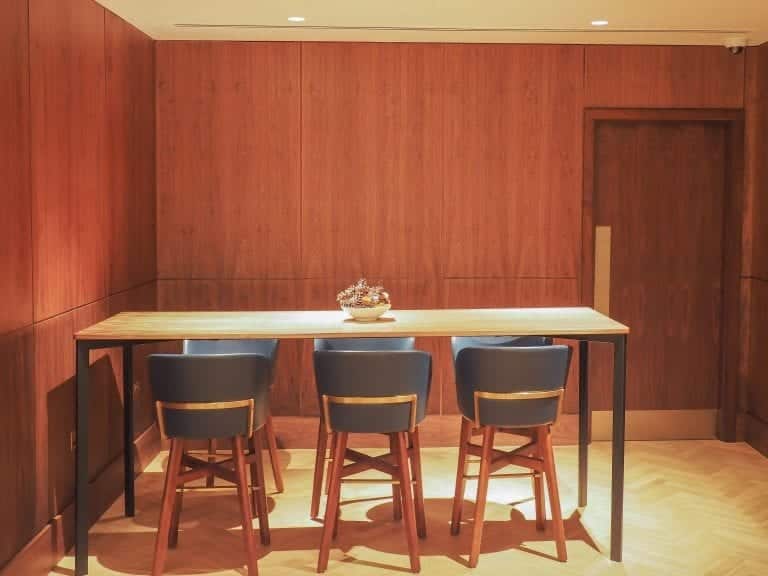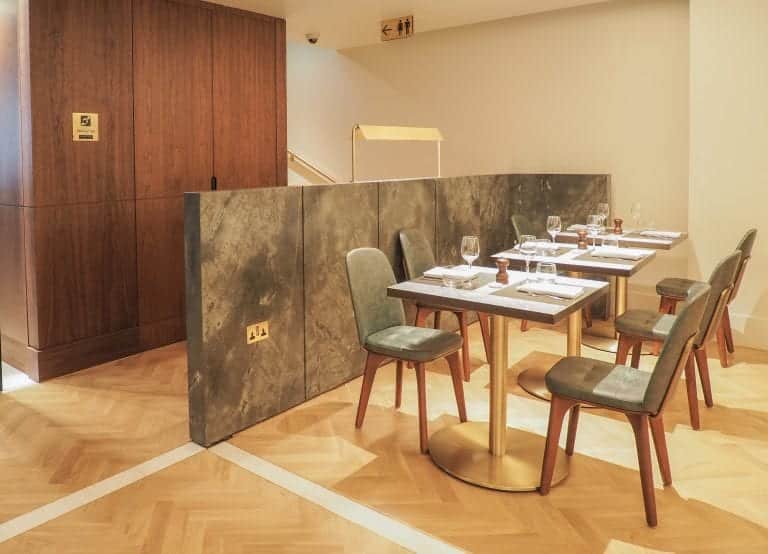 There are a variety of private seating spaces downstairs as well as a main restaurant style area.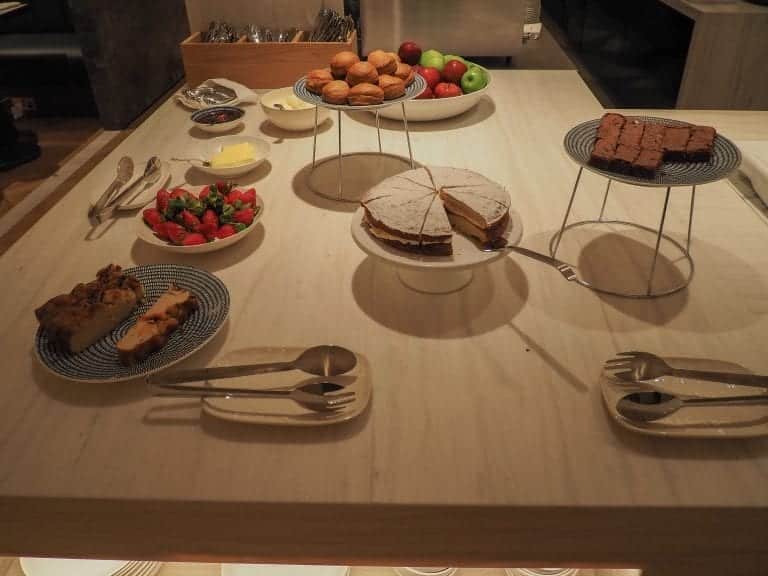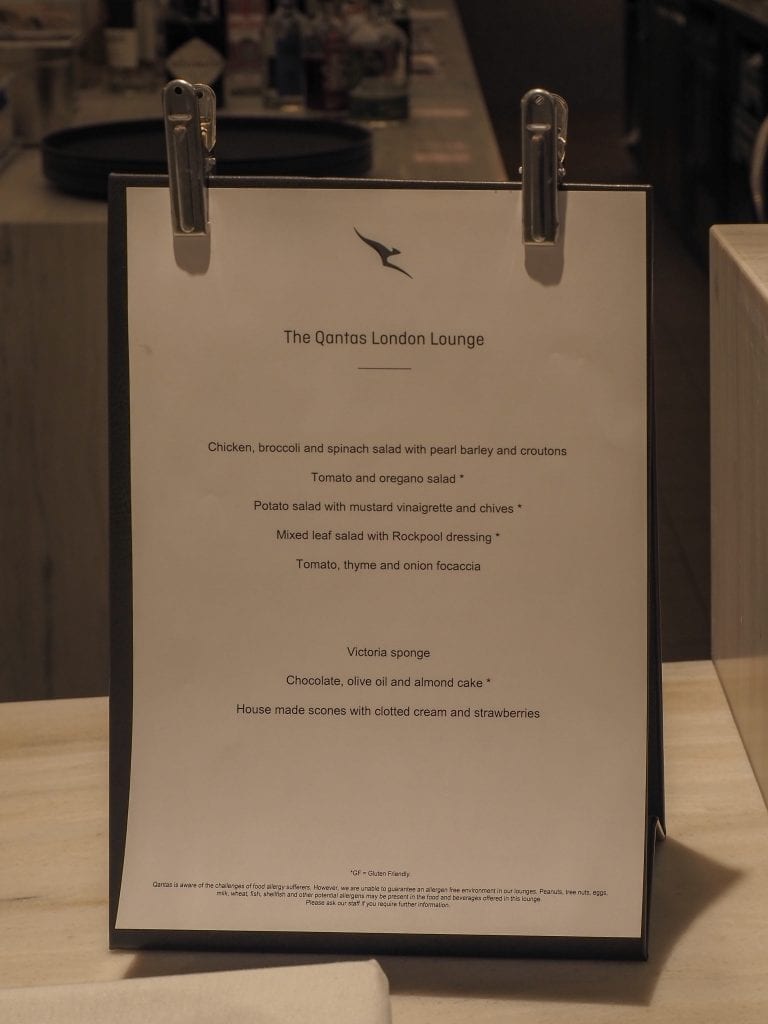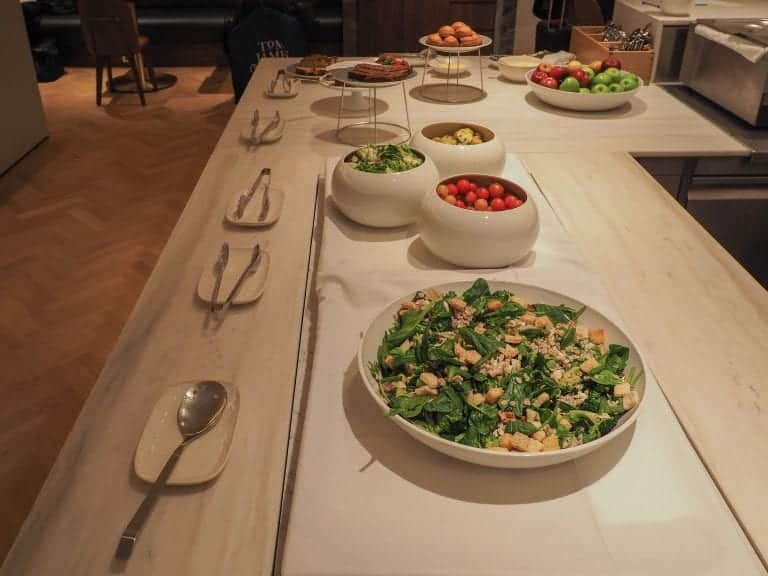 This floor also has a buffet, serving only cold items. With the same rather uninspiring salads as upstairs as well as some freshly baked cakes and fruit.
Whilst the coffee machine looks impressive, unfortunately the barman didn't seem to be trained to the level of the baristas at other Qantas lounges. My friend asked for a flat white and got something that looked like a watery cup of tea. The signature Marc Newsom cups were also conspicuously absent.
The selection is fantastic but I couldn't see the bottle that I was looking for. As soon as I mentioned to the barman that I was after one gin in particular, he pulled out the Green Ant Gin from under the bar and said, "this one?"
A rare Aussie gin with a very special ingredient: every bottle contains green ants which give the gin a unique lemongrass flavour. A clever take on the concept of bush tucker and one which makes for an incredibly rich and complex flavour profile. I used the fever-tree tonic very sparingly and savoured every mouthful. I must say that I preferred the glassware downstairs too.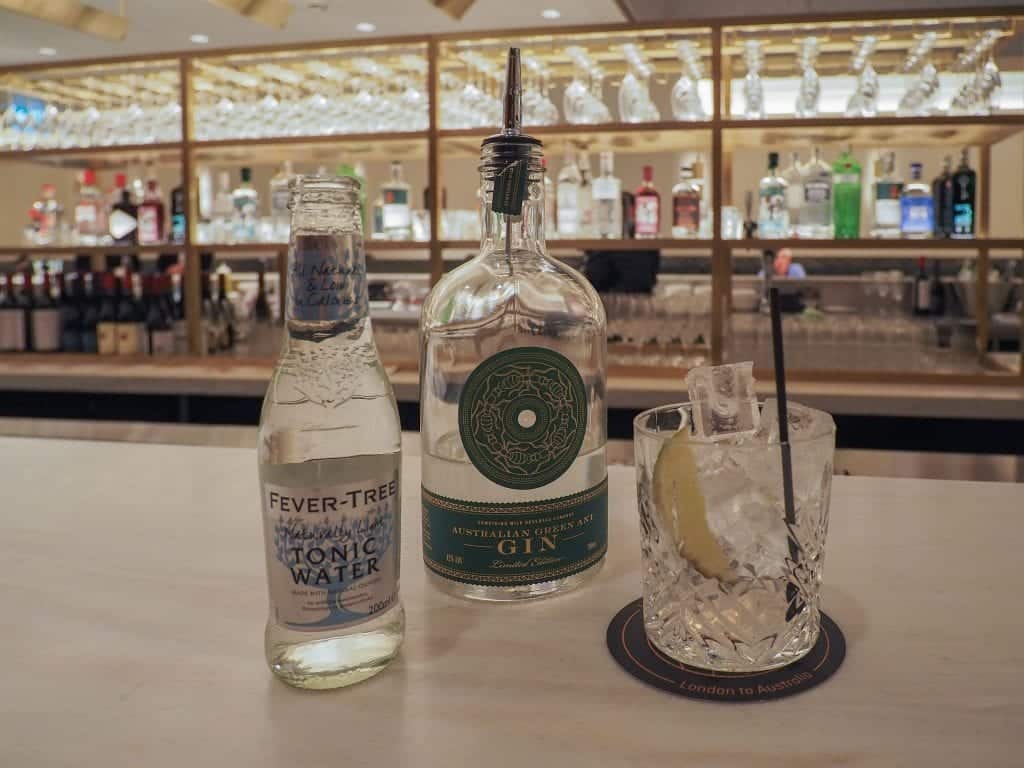 Given that I was drinking gin on an empty stomach I thought it wise to ask for a menu once the kitchen opened. I was disappointed to see that the salt and pepper squid I'd enjoyed so much in Sydney and LAX Qantas First Class Lounges was missing.
Still the scotch egg was very serviceable, I especially liked the meat to egg ratio! (although honestly the presentation was not the best)
---
Conclusion
---
Perhaps I went into this with my hopes set too high but I really don't feel that this lounge is anywhere near the level of Cathay's business lounge next door, let alone the First Class section. The Qantas decor isn't as luxurious, the food is not as good, there is a lack of natural light, runway views and power sockets and if you don't like gin, the drinks selection is far more limited.
My hope is that people will favour this lounge, given that this is a new facility, bringing back some much needed serenity to the Cathay lounge during peak hours. For me, this is definitely the second best Oneworld facility in LHR T3 but having visited a couple of the new AA Flagship lounges in the US, I'd be surprised if it doesn't slip to the number 3 slot very soon…
---
Year end mileage run to Chicago for dinner…
Part 1:

Part 2:

Part 3:

Part 4:

Part 5: