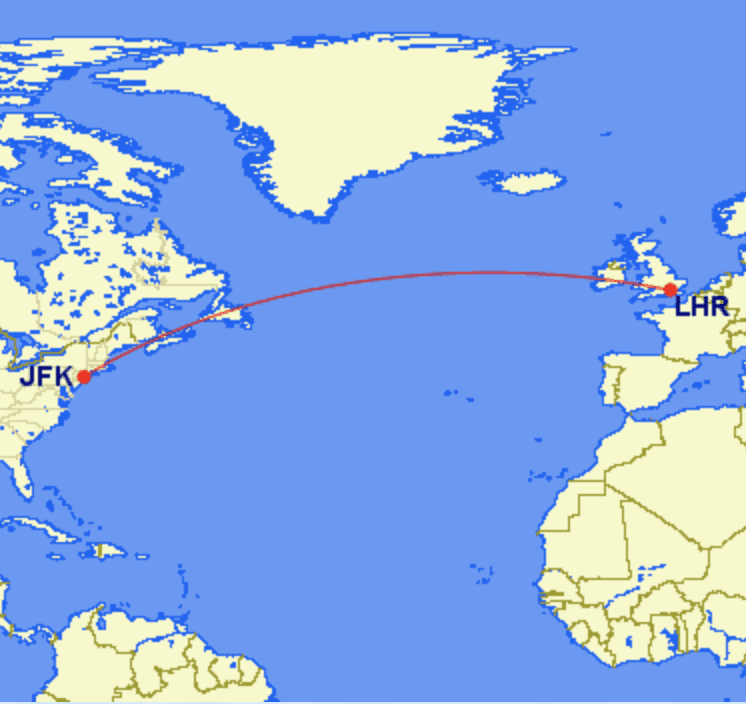 British Airways (BA)
Flight: BA173
Class: Business Class
Seat: 64A
From: London (LHR)
To: New York (JFK)
Duration: 8h10
Aircraft: Boeing 747-400
Status during flight: OneWorld Emerald (AA Executive Platinum)
Fare: $1,466.96 for PRG-LHR-JFK-DCA-ORD round trip in Business Class
Date: December 2017
---
Booking
---
As 2017 started to draw to a close I became increasingly aware of the fact that I still needed around 20,000 EQMs to requalify for AA Executive Platinum status. The systemwide upgrades (SWUs) are utterly invaluable – I will soon be off to Hawaii on a simple LHR-DFW-HNL-DFW-LHR routing for only £700 in business class thanks to this benefit alone.
When an airfare surfaced in the Autumn offering flights to North America for around £1000 when departing from Prague, I was immediately interested.
Prague has a couple of very cheap airport hotels right by the terminal. There is also a late evening flight departing London at 7:20pm, meaning I wouldn't need to take any days off to make it there for the start of my ticket.
Furthermore, flights to Prague depart from Terminal 3, giving me access to the oasis of serenity that is the Cathay Pacific First Class lounge plus the brand new Qantas Heathrow Lounge, which I was very keen to experience.
A number of North American cities were available on this fare, departing from Prague. The cheapest fares came when passing through Washington but I wasn't really interested in spending much time there, given that I'd visited before.
Instead I managed to effectively make Chicago my destination whilst only passing through Washington very briefly. Chicago is a city that I'd never visited before and also has a very recently refreshed AA Flagship Lounge, as well as one of the world's best restaurants: Alinea.
| Day | Origin | Destination | Airline |
| --- | --- | --- | --- |
| Saturday | Prague (PRG) | London (LHR) | BA |
| Saturday | London (LHR) | New York (JFK) | BA |
| Saturday | New York (JFK) | Chicago (ORD) | AA |
| Sunday | Chicago (ORD) | Washington (DCA) | AA |
| Sunday | Washington (DCA) | New York (JFK) | AA |
| Sunday | New York (JFK) | London (LHR) | BA |
| Tuesday | London (LHR) | Prague (PRG) | BA |
Total Cost: $1,466.96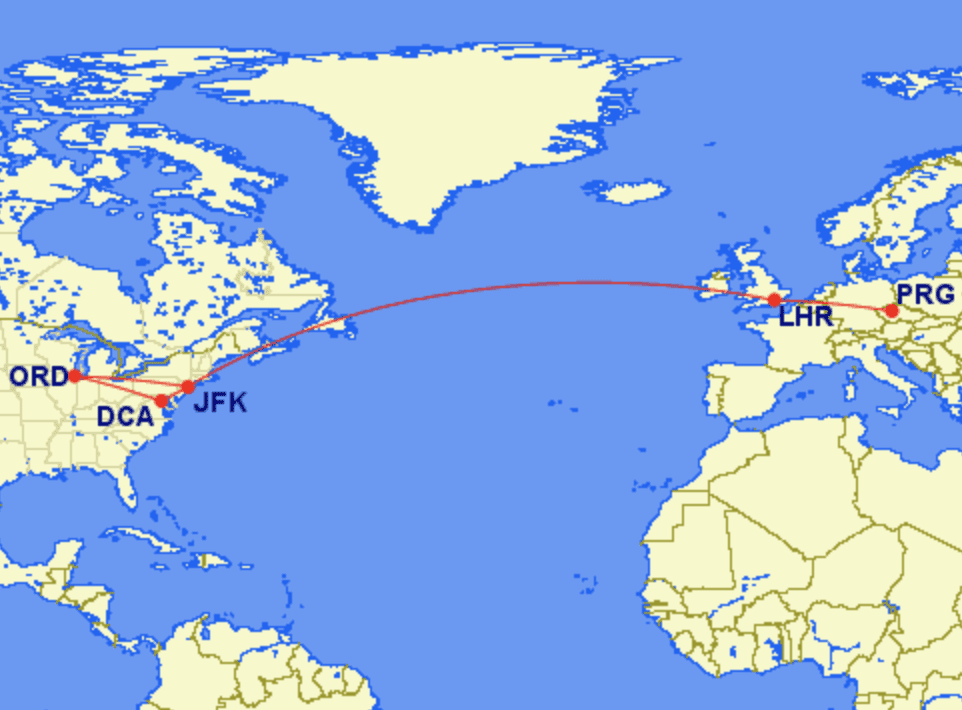 This seemed like a great deal for almost 10,000 miles of business class flying, requalification for AA Executive Platinum, trying the new Qantas lounge at LHR and new Flagship Lounge at ORD, whilst also getting to sample the brand new Do&Co catering and White Company bedding from LHR-JFK!
Having found this deal I had a feeling that one particular friend of mine would be keen to come along, one of the few people I know who travels more than me. I gave him a quick call, set up a PNR for him and he had the thing ticketed within a few minutes!
---
Boarding and exploring the seat
---
As soon as online check-in was possible, I called BA to secure seat 64A, my favourite business class seat on any BA plane. This seat is ordinarily held aside for infants and blocked from selection online, however a call to BA usually releases it, provided you state that you are willing to move, should the infant bassinet be required by another passenger.
A quick look at the seatmap revealed to me that this was a Hi-J plane, containing the most business class seats (and therefore bassinets) of any 747. I figured it was very unlikely that I'd be unceremoniously booted from my seat on the day of the flight.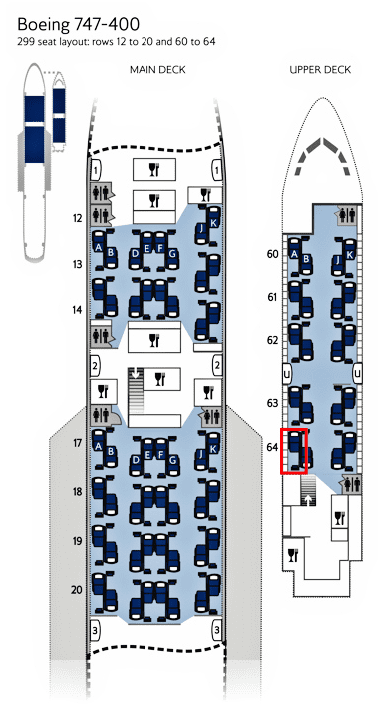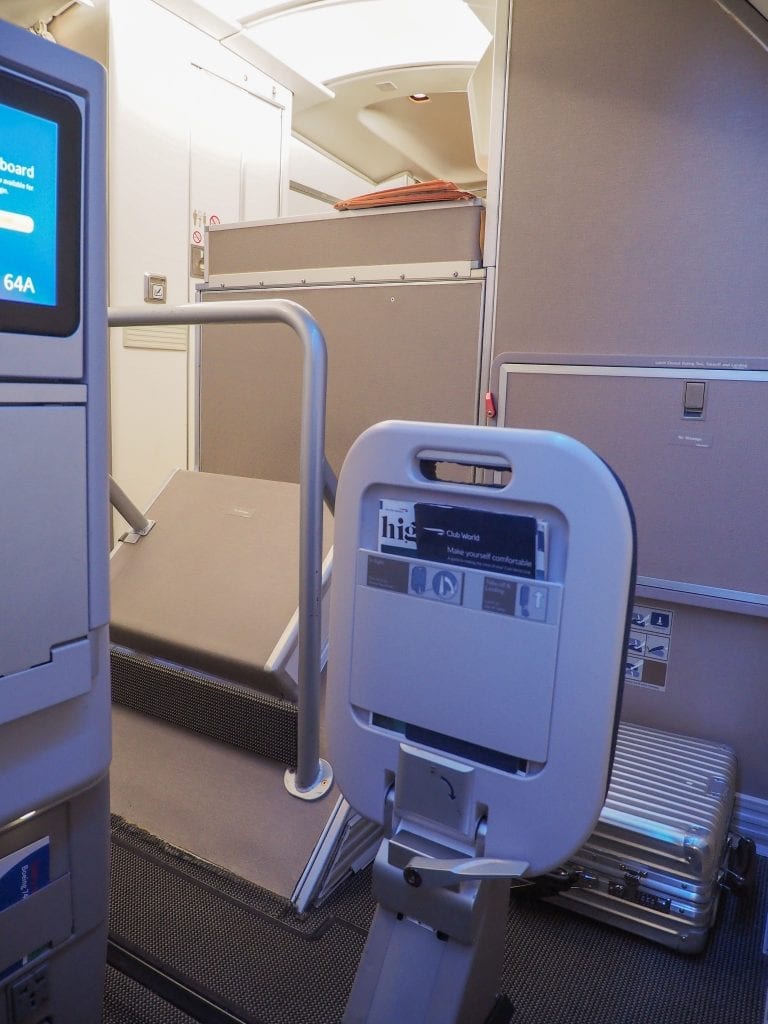 There is something undeniably exciting about being greeted at the door of a plane only to be told that your seat is upstairs. On the A380 the stairs are largely ceremonial and are only really used by the crew. On the 747 however, there is no room for an upstairs airbridge, you make your way up the narrow steps with your carry-on in hand and emerge into a truly unique and wonderful space. People often say that it feels like a private jet up here and I'd say that the comparison is fair. Although the only private jet I've ever flown on didn't have flat beds and the toilet doubled as the jumpseat for our one member of cabin crew!
As there are two bathrooms to be shared between ten passengers, the foot traffic is absolutely minimal. To the point that I would probably prefer an aisle seat upstairs to a window seat in the 'dormitory' below.
The Best BA Business Class seat ever?
Luckily however, with 64A I was able to enjoy both the direct aisle access and views from four windows, in my private little cocoon. I was close to the bathroom, without sharing a wall with it (the minor issue with 64K), I was also close to the galley and able to make eye contact to get the attention of the crew and was also the first off at the end of the flight.
It was great to be able to open my bag in the area beyond the footrest and to have so much space to place my personal items in the side bins beneath the windows.
My biggest complaint about the Club World seat has always been the lack of storage space and the difference between the upstairs window seats and all the rest is enormous in this regard. However, as this is technically an exit row seat, I was required to put my Rimowa in the overhead lockers for takeoff and landing rather than storing it at my feet as shown here.
Thankfully this plane was refurbished with the latest Thales in-flight entertainment system. The controls don't feature a touch-screen as now seems to be the norm but are still very responsive. The BOSE headphones are my own. Unfortunately BA still offers a rather low quality alternative, bereft of noise cancelling technology, in its business class cabins.
Whilst the new IFE is an improvement on the blurry old systems of yesteryear, the image is still far from being crystal clear. The screen is also very small and has to be stowed during takeoff and landing. The entertainment selection is decent but still miles behind the munificent offering on American's planes, flying this route.
The control for the divider is located on top of the dividing wall, between the seats, on the 747. Thankfully we had a veteran crew who raised the dividers as soon as the safety briefing was over and kept them up from then on.
I've been on quite a few BA flights with less experienced crew, who take it upon themselves to implement the invented rule that states that dividers must be lowered during take off and landing. This leads to prolonged periods of awkwardness where you attempt to avoid eye contact with somebody facing you, with their head approximately three feet from your own.
Once I had finished taking my photos the male member of the upstairs cabin crew came to take my PDB order. Full of champagne from my stint at The Concorde Room I asked for water, in a bid to rehydrate.
The male FA returned with a tray containing a bottle of mineral water as well as one of the new drinking glasses. This is the kind of glass you'd expect at a restaurant, quite a change from the usual tray of pre-poured drinks, served in thick-walled miniature thimbles.
White Company Amenity Kit
At this stage I was also given one of the brand new White Company amenity kits. This is an enormous step up from the big cloth bags that BA still gives to business class passengers on the majority of their routes. Bags which I have previously described as blue sacks of despair. A description which I am sticking to.
---
---
Immediately after being handed my water and amenity kit I was presented with the impressive new Do&Co menu.
Do&Co is an Austrian company famed for providing some of the best catering in the airline industry, including the enormous coffee menu on Austrian and the food and beverages at the Lufthansa First Class lounges in Frankfurt.
Whilst the LHR-JFK route is a trial run for the full Do&Co service (including menus, glassware and full staff training) this route has featured standalone Do&Co catering for quite some time. As such, regular New York passengers may not see as dramatic a change in the catering as they might expect…
---
---
The wines and coffee have not changed at all. Whilst the wines are fine, the lack of proper coffee on BA is a major pet peeve of mine. Every time I board a long haul BA flight I tend to board late as I'm usually busy finding my last proper espresso, before the hours long drought ensues. Coffee is the fuel on which most businesses run, so its absence on BA's Business Class is notable.
Shortly after take-off the crew did the rounds with a drinks trolley, which I thought was strange given that the new service calls on staff to deliver drinks by hand. I ordered a G&T and as I was the last passenger to be served the gentleman serving my drink had a moment to strike up a conversation with me.
I learned that he had previously served aboard Concorde and enjoyed hearing his stories from that golden era. When I mentioned to him that my main reason for flying was to experience the new catering he said, "ah, you've probably noticed what's gone wrong then haven't you?"
I said that I was surprised to see a drinks trolley, at which point he confided in me that a large number of items had not been loaded onto this flight, including the over-arm wine carriers and the starter and dessert trollies.
A bit of a shame but at least the new glassware, cutlery and food made it on board!
I was given the ingredients for my G&T rather than having it poured for me in the galley, as per the new service standards, which suited me just fine ? The new cut crystal style tumblers are bang on trend and bring a distinctly British flair to the drinks service. The large ramekin of warmed nuts is a very real improvement over the little bags of 'Out of Africa' cashews.
At this stage I was asked what I would like to eat, I would have liked to see the different options on the trolley but went with what seemed like the lightest options, given that I would be enjoying a multi course tasting menu over the course of several hours at Alinea later in the day.
---
My choices for LHR-JFK (BA173 December 2017)
---
Starter
Loch Fyne smoked salmon tartare with wasabi crème fraîche
Main Course
Grilled Cornish Dover Sole with Mediterranean lentils, celeriac mousseline and lemon butter
Dessert
Do&Co's double chocolate medley
---
I was extremely impressed with the new meal presentation. The tablecloth is still part of a tray service, rather than being placed on the table first (a la Qatar Airways) but now it is at least large enough to fully cover the table. The cut crystal style glass made another appearance as did the enormous stemless wine glass (previously given to me with my bottled water). BA and VS have always had a reputation for serving generous measures of alcohol but with this new glass they really take it to another level!
The napkin is more substantial and pleasingly textured. The shape of the plate also gives this more of the air of a restaurant meal, than one served at 36,000 feet.
Perhaps most impressive of all is the 1/5th of the tray taken up by the bread and its accompaniments. Previously you were only given olive oil when ordering a salad, otherwise it was strictly on request only. Now the oil not only comes as standard but also includes a dipping bowl.
Given that my main course was clearly heated as a single dish, rather than heating and assembling separate ingredients, this was quite good. The ingredients were full of flavour but only the celeriac puree seemed to be cooked to the correct temperature.
Other airlines do take the time to assemble dishes in business class, cognisant of the fact that protein and vegetables cook at different speeds when heated to the same temperature.
---
Before and After
---
The last time that I flew LHR-JFK on BA Club World, before this trip, was in June of 2016. Whilst I am happy that BA is investing in the full Do&Co service, as opposed to just the food items, my personal take is that the food itself has not changed a great deal at all on this route.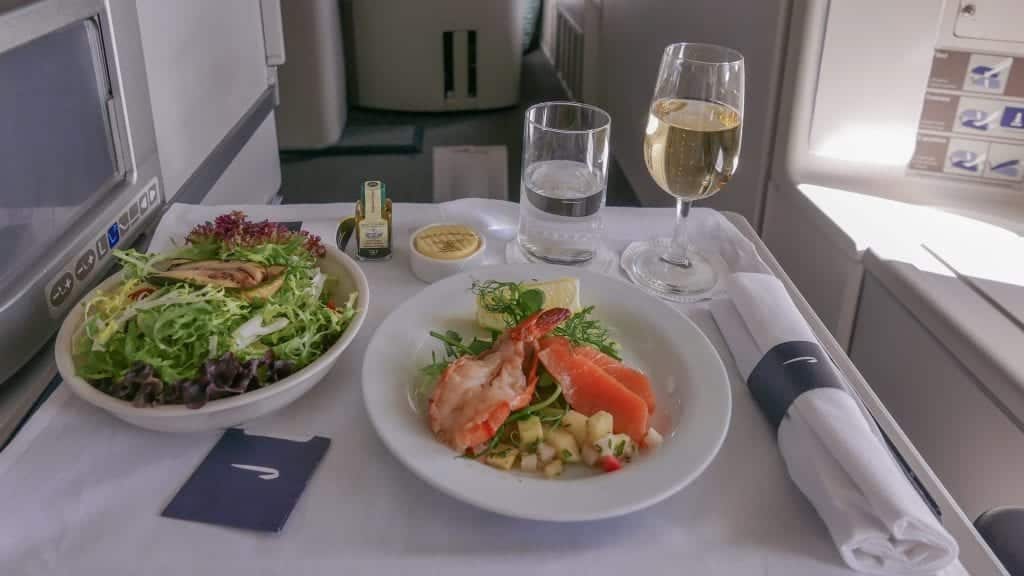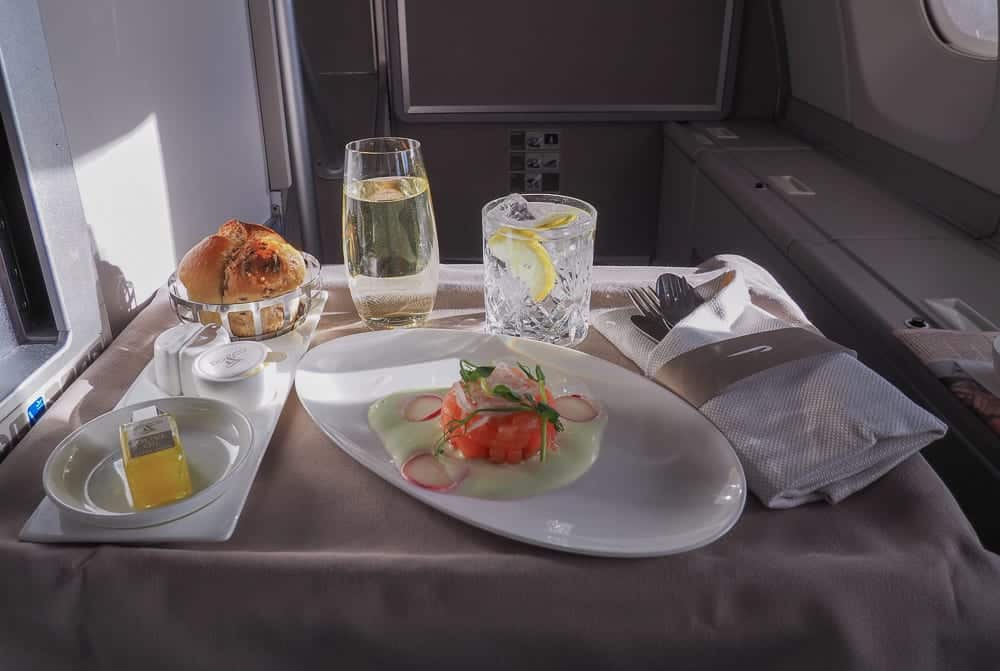 There are a large number of cosmetic differences here, which are to be expected and certainly add to the overall experience. The tablecloth is now fully covering the tray and the table. The napkin is higher quality, there are salt and pepper pots. What's interesting is that the bread is now presented as part of the tray, where before the crew would do the rounds with a basket (and where I, in turn, tend to decline). The new presentation cuts down on an extra bread run and the bread itself is definitely better than the old rolls from before. The butter sports Do&Co branding in both instances ?
The major difference in terms of food is that previously I was offered both a salad and a starter whereas this time I was only offered the starter. The same pea shoots are used as a garnish in both dishes but the 'before' dish featured large fillets of Balik style salmon and a large prawn whereas now we just get smaller chopped pieces of salmon.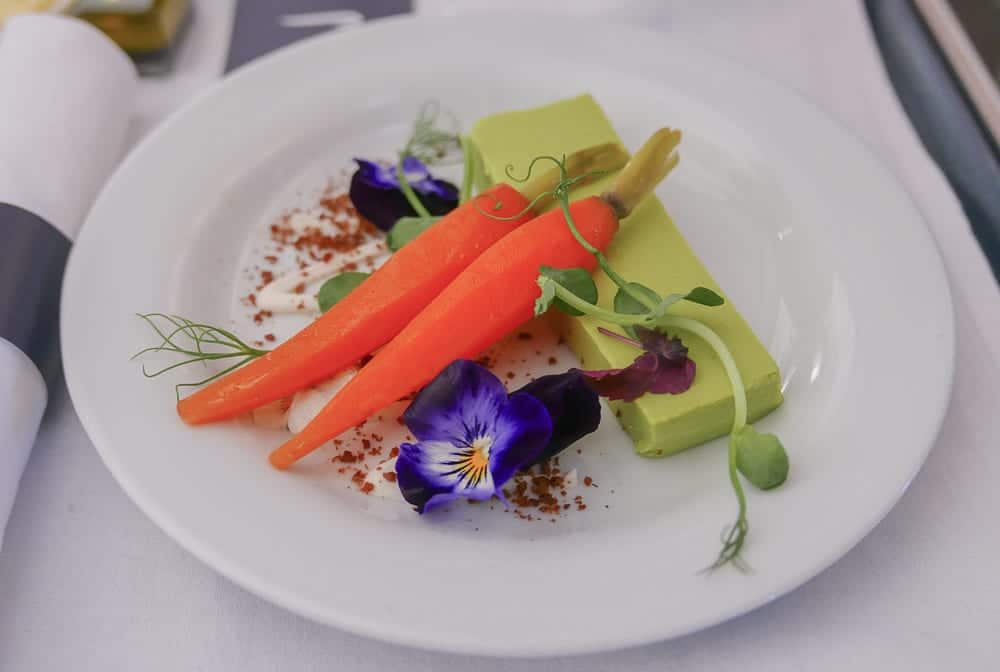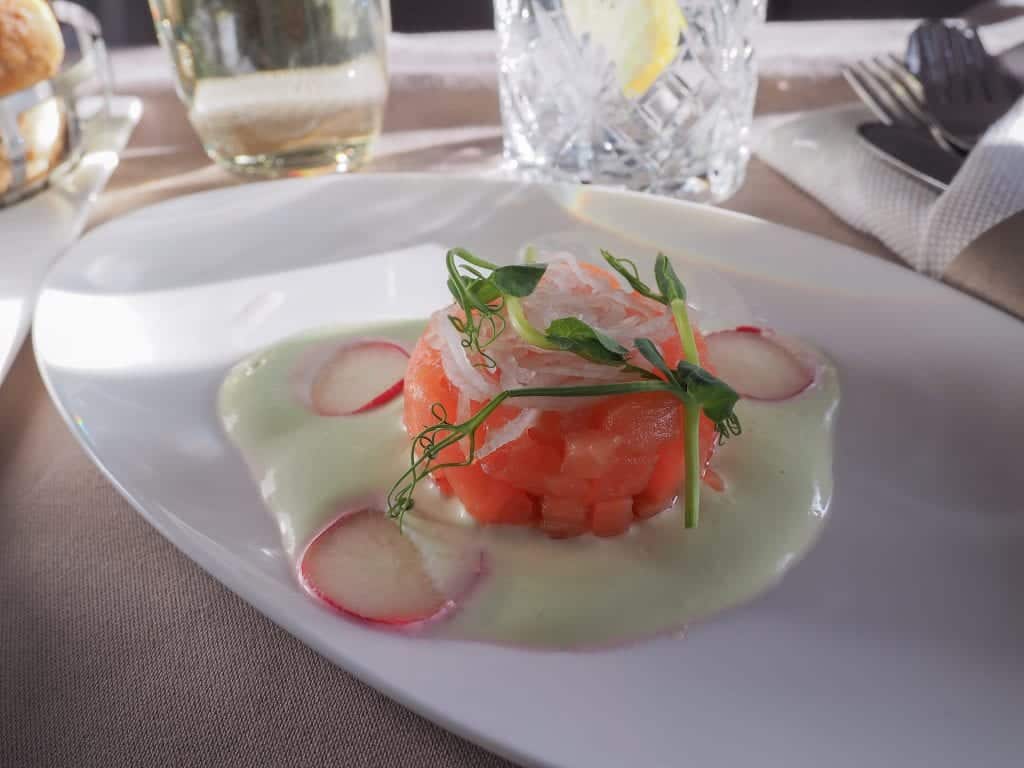 Another time when flying LHR-JFK I was presented with an absolutely beautiful vegetarian starter. The presentation was clearly some way ahead of what I received on this flight and to this day I can still remember how amazing the pea panna cotta tasted. The salmon dish on this flight was definitely in the upper echelons of what you can expect in business class but what I got previously was a starter worthy of JAL First Class.
OK, no doubt about it, the fish dish has greatly improved. The before picture looks like the sort of thing you get on Thai Airways or Cathay Pacific medium-haul flights, whilst the presentation and flavours of the new fish dish are a definite cut above.
The desserts are a bit of a wash. The one I got on this flight wasn't great in terms of presentation but I get that with the new concept they want you to sample several desserts, which explains the smaller bowl. I personally preferred the raspberry and white chocolate cheesecake from last time but both desserts were good.
---
White Company Bedding
---
Of the two changes which BA are currently implementing, this to me is the real game changer for a couple of reasons:
The current bedding is terrible. A scratchy blanket fit for a dog and a pillow so thin that I always pack a sweater when flying BA, just so I can stuff it into the pillow case to bulk it up. Ba is further behind on bedding quality than it is on food.
The sheer abundance of bedding that you now receive, serves to highlight how inadequate the amount of storage is in Club World and hopefully this will serve to push BA into rolling out the new seat sooner rather than later.
When I first got to my seat I was overwhelmed by the number of items waiting for me! It seems like The White Company have really got their money's worth, when it comes to this partnership.
In addition to the large logos, I noticed that every time the bedding was mentioned by the cabin crew it wasn't just "bedding" but rather, "White Company Bedding".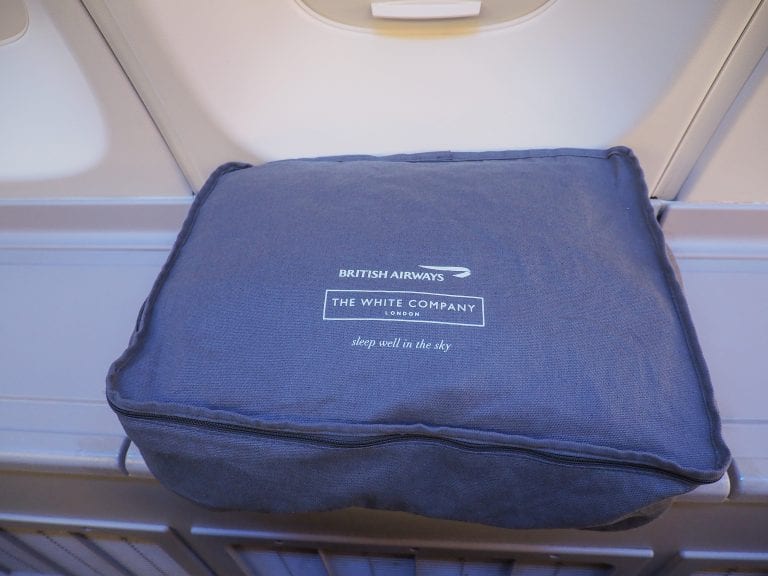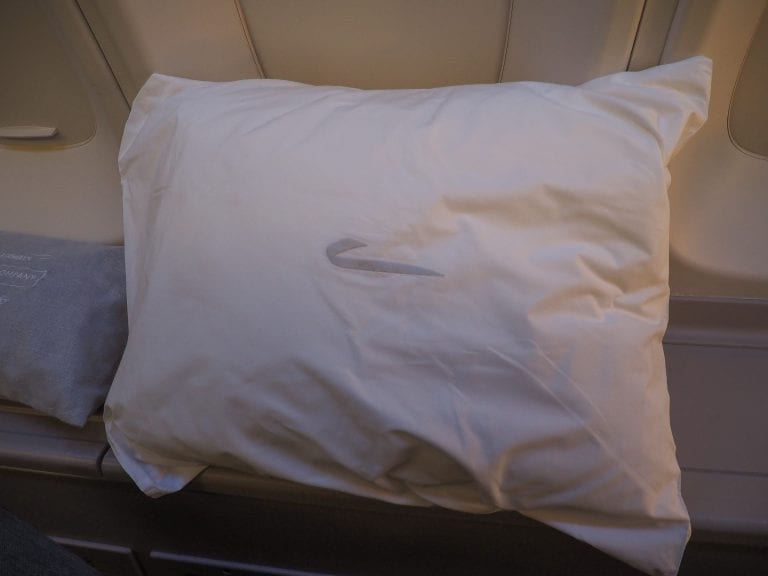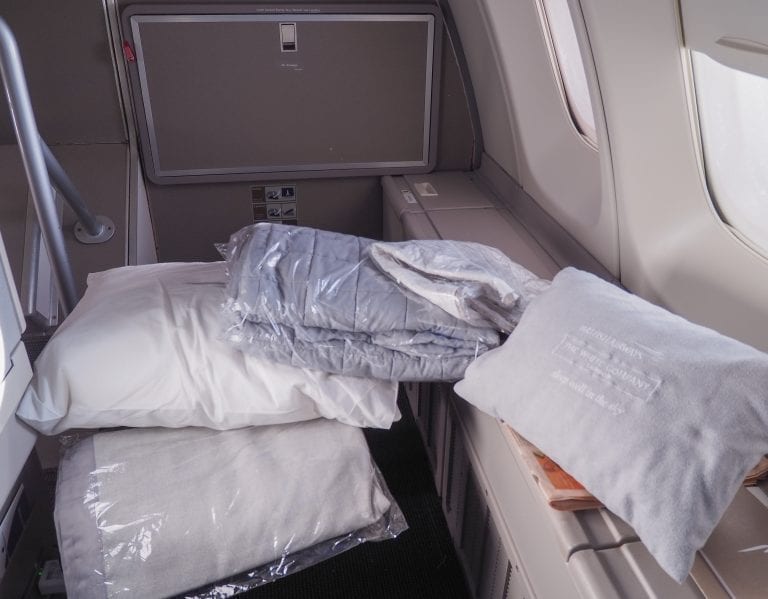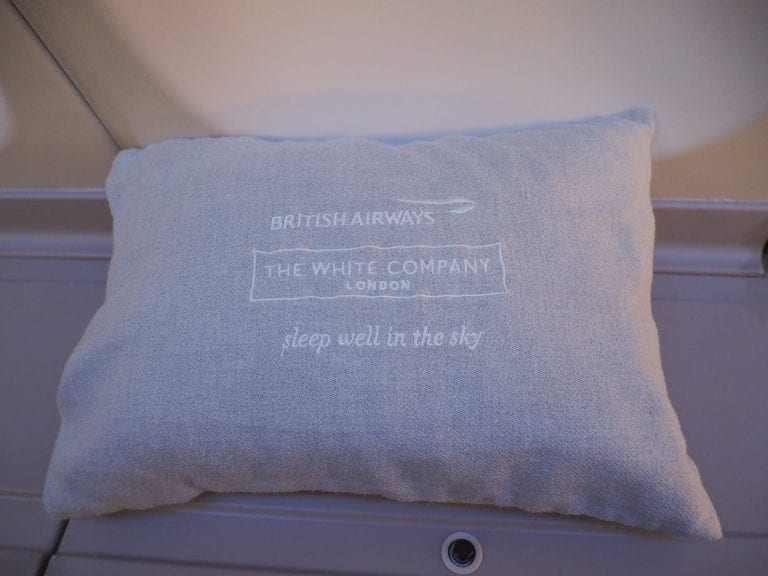 The small grey pillow is roughly the size of the only pillow that BA used to provide. The quality is much higher and it keeps it shape well.
The large white pillow feels soft and luxurious, it is very plump and provides a great deal of comfort. Whether you sleep on your back or your side this pillow will support your head well (I tried both positions out, just to be sure!).
The large bag contains a blanket, a duvet and a thin mattress topper.
Here's the amazing part, with this new bedding I was able to nap for five solid hours on a Westbound daytime flight! Half the reason I got into the whole world of premium cabin travel was because of how badly I usually sleep on planes. I'd be lying if I said this was as comfortable as sleeping on my memory foam mattress back home, surrounded by a phalanx of pillows but it is as close as I've ever come in business class.
I slept so soundly that I completely missed the afternoon tea service. The crew were very sweet and did offer to rush me out a quick tray before landing but I didn't really feel like loading up on carbs before my big dinner in Chicago anyway. For what it's worth the afternoon tea looked identical to what I was served last time I flew this route.
Given that I woke up 30 mins before landing, I actually didn't have a chance to get changed out of my sleepwear before we landed… and then we got delayed on the tarmac in both JFK and ORD, meaning that I ended up heading directly to a *** Michelin restaurant in SWISS Air pyjama trousers with my jeans over the top!
---
Conclusion
---
Tucked away in my private little kingdom with easy access to all of my belongings and the aisle and four windows to myself, I can make a compelling case for this being the best overall business class experience available in the air today.
The problem that BA have is that there are only four comparable seats on this plane 62A and K, 64A and K. That's it. The remainder of the 86 business class seats either have no storage, no privacy or no aisle access and many suffer from not one but two of these defects.
The new bedding is a vast improvement as is the new tableware. The food is not much better than the old Do&Co catering on this route but then again this is BA's flagship service and has always received an extra level of care and attention.
My main concern with the bedding is that there is nowhere for it to go during takeoff and less so during landing, when nobody seemed able to stuff the contents back into the original bag.
With the catering the main issue appears to be speed. I didn't notice this too much upstairs on the 747 but there are a multitude of stories out there of people sat towards the back of the cabins on the 777 who haven't been served a main course until three hours after takeoff.
If BA can roll out both the Do&Co and White Company partnerships successfully, fleetwide, they will go some way to undoing all of the harm that has been done to their reputation after the last three years of cost-cutting. Add in a new seat due in 2019 and then the only issue that remains is the poor quality of the lounges…
BA don't exactly have an easy road ahead of them but for now at least, it appears that things are moving in the right direction.
---