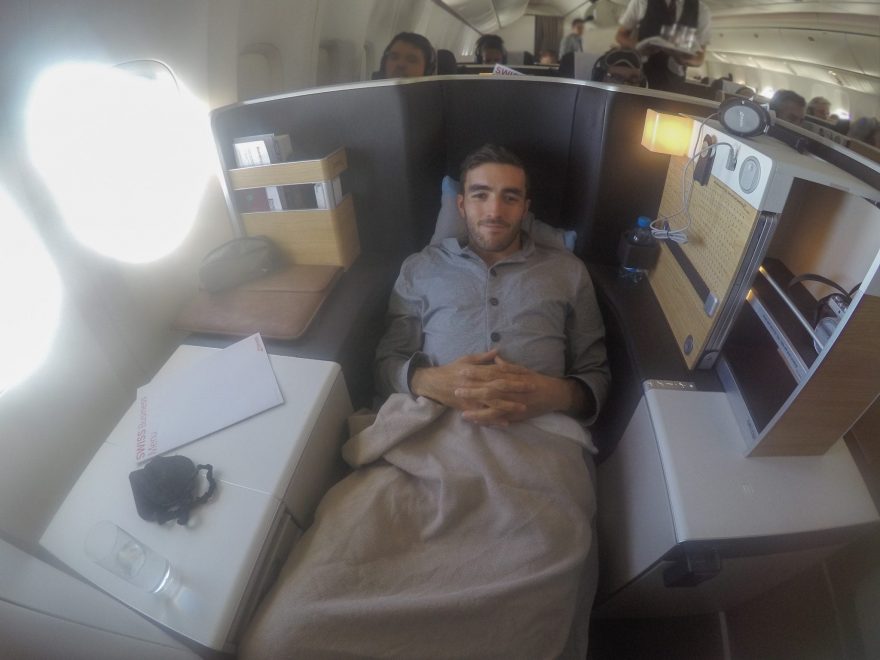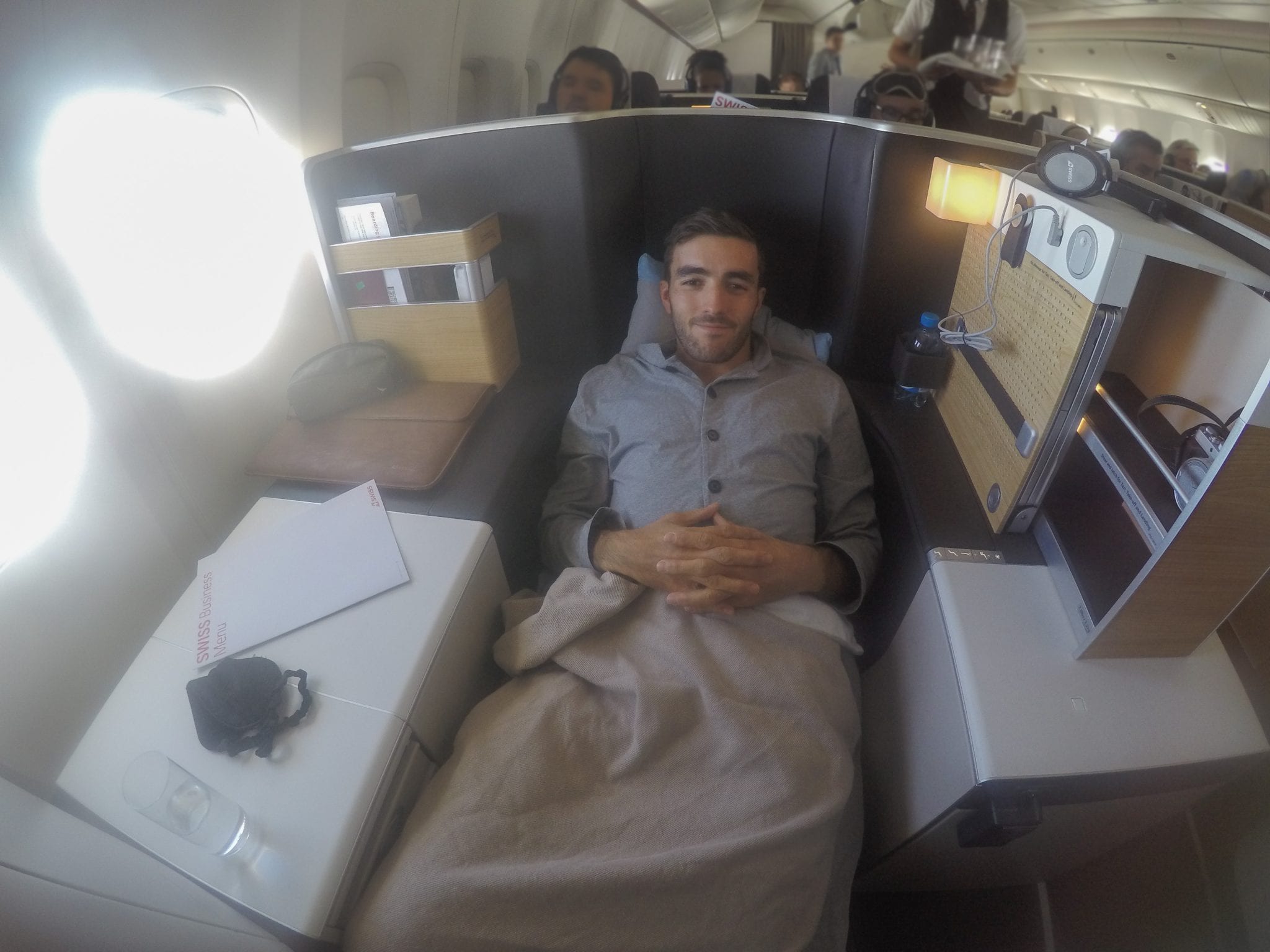 REVIEW – SWISS : Business Class – Zurich to Los Angeles LAX (B777)
January 17, 2018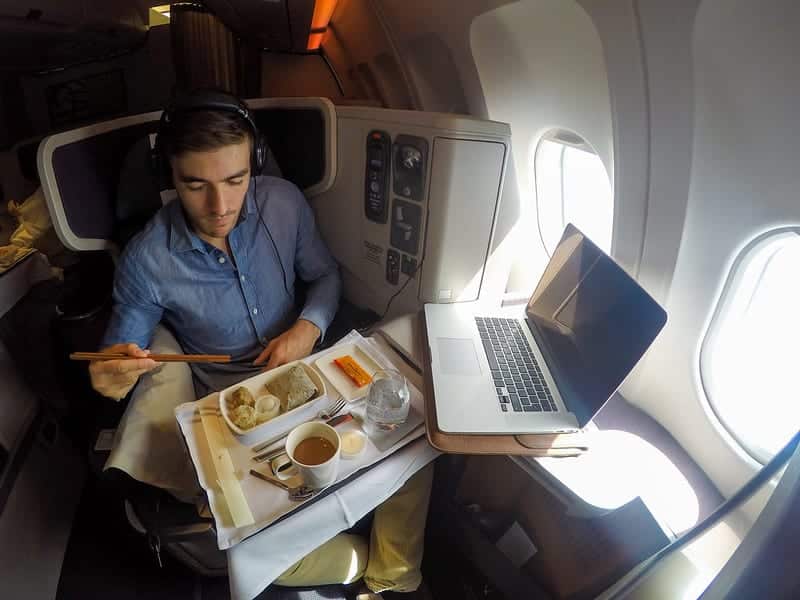 The joys of Alaska Miles: CX Business Class from ZRH to HKG for £675 one-way!
February 24, 2018
Hyatt Regency Long Beach
Rate: $152 +tax
Room Type: Harbor Suite

upgrade from standard room using a Suite Upgrade

Status: World of Hyatt Globalist
---
Arrival
---
My trip was timed at an opportune moment, when Ubers were once again allowed to collect customers from LAX. I also lucked out when it came to the Saturday evening traffic and pulled up at the Hyatt Regency within 25 minutes of leaving the airport. 25 minutes which were spent listening to a monologue from my driver about all the girls he meets at parties, all the parties I should go to whilst in Long Beach and how many threesomes he'd had recently…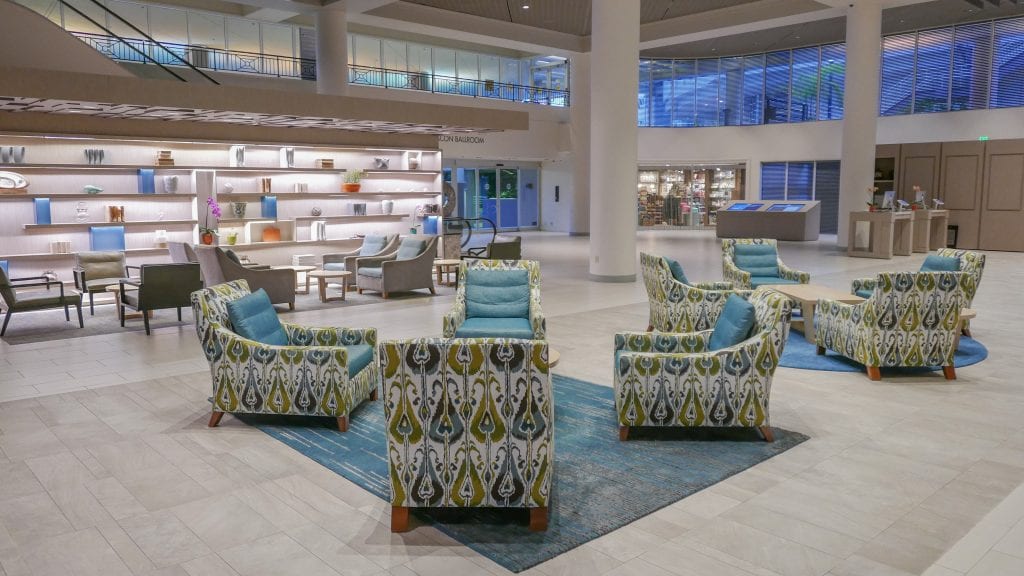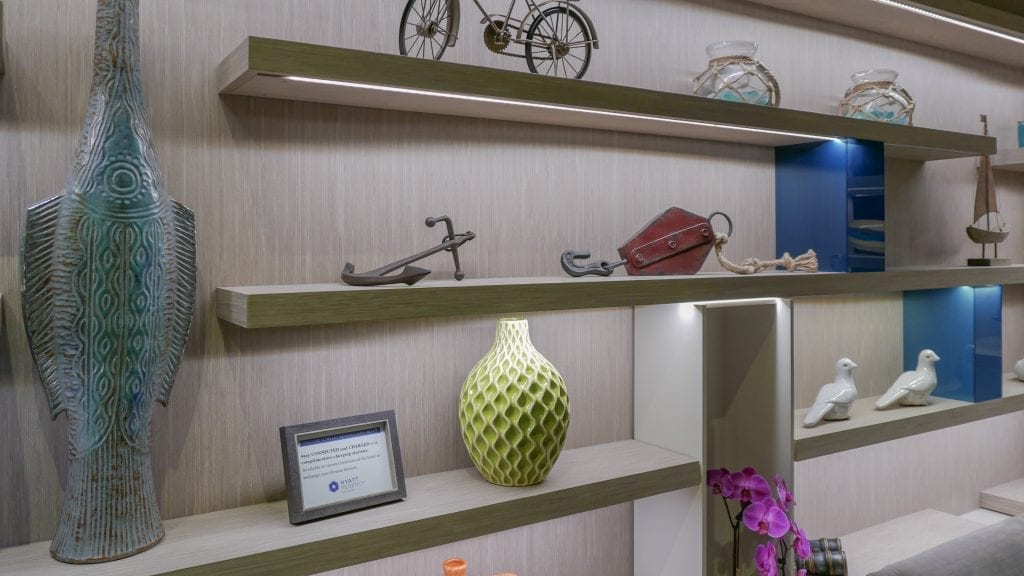 In contrast to the spartan exterior, the lobby was bright, light and decorated in a very cool and modern style. Whilst Hyatt Regency is ostensibly a mid-scale brand, in the same tier as a regular Hilton, the decor was more along the lines of what I'd expect at a W or a boutique hotel.
Check-in was handled quickly and efficiently. I was thanked for my loyalty and handed the keys to my suite. I was also proactively asked if I would require a late check out.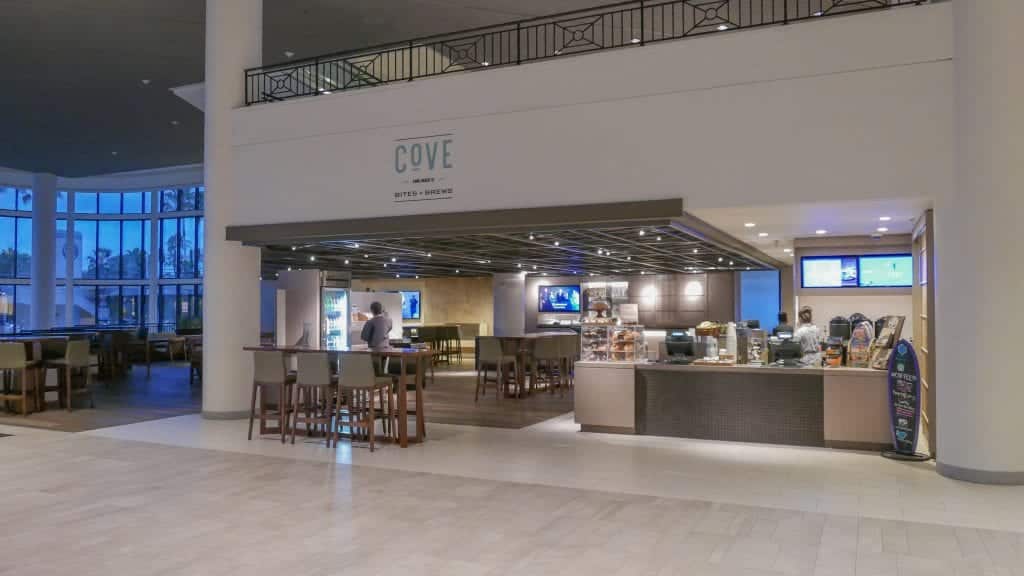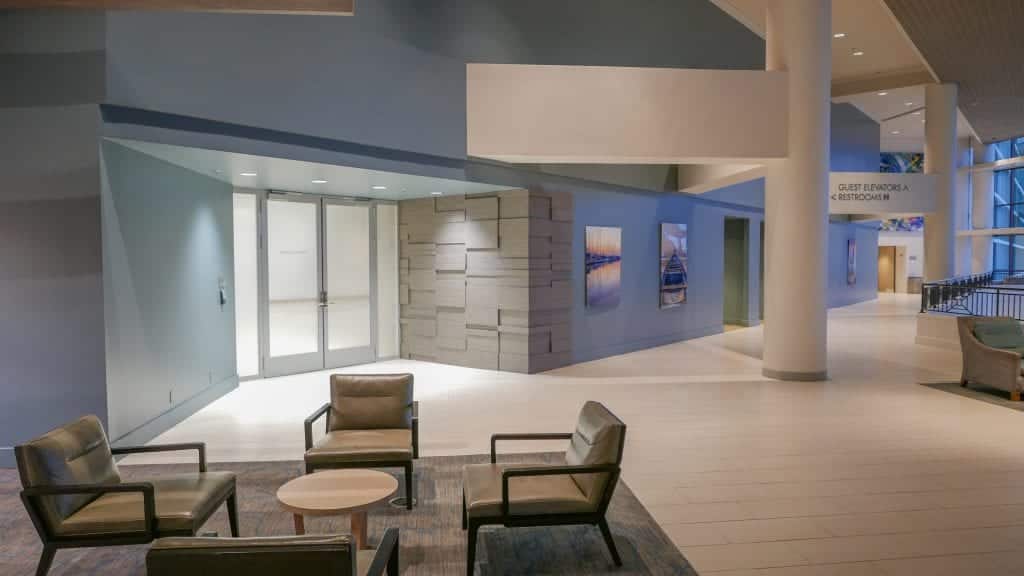 ---
The Room
---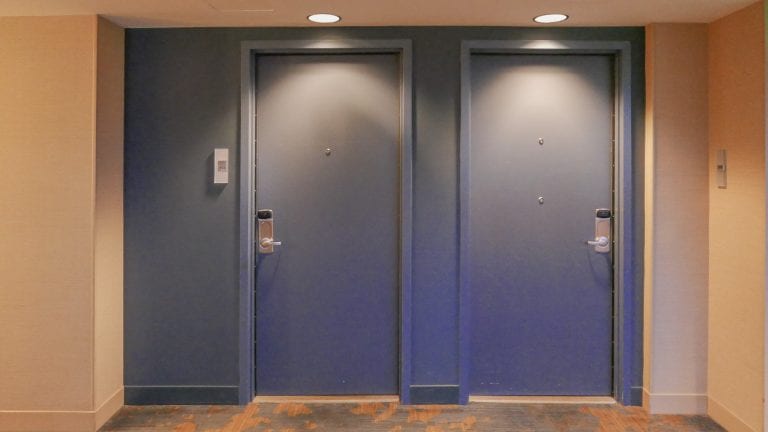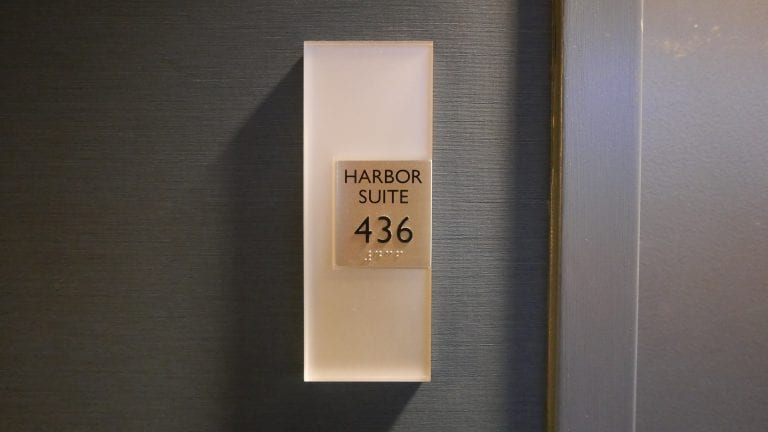 It looked like the harbor suite should span both of these doors but my keycard only worked on the one on the left…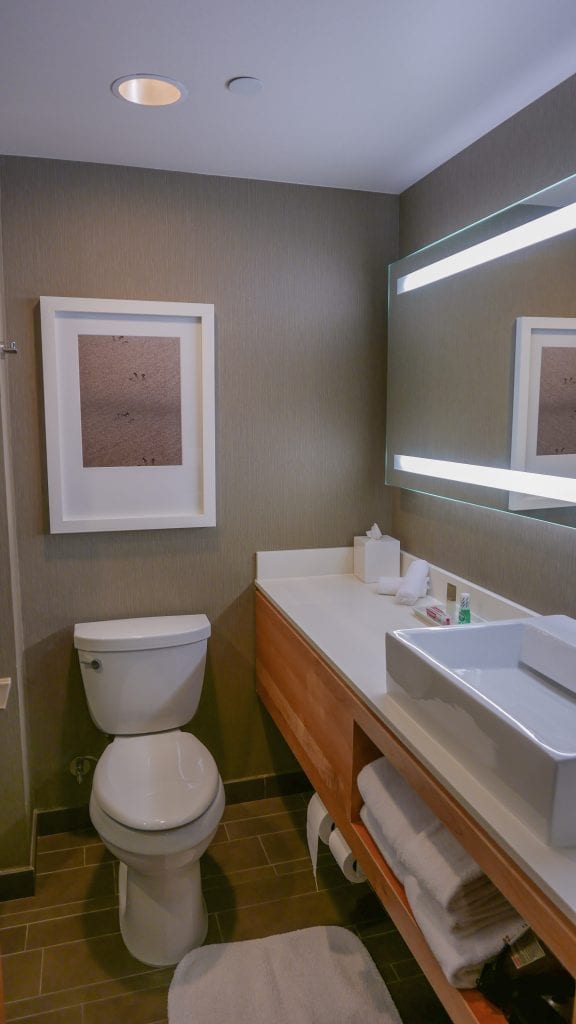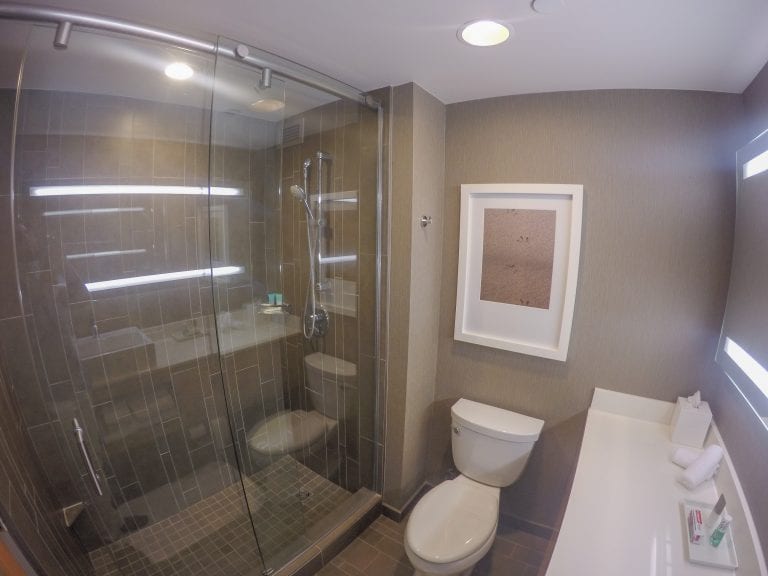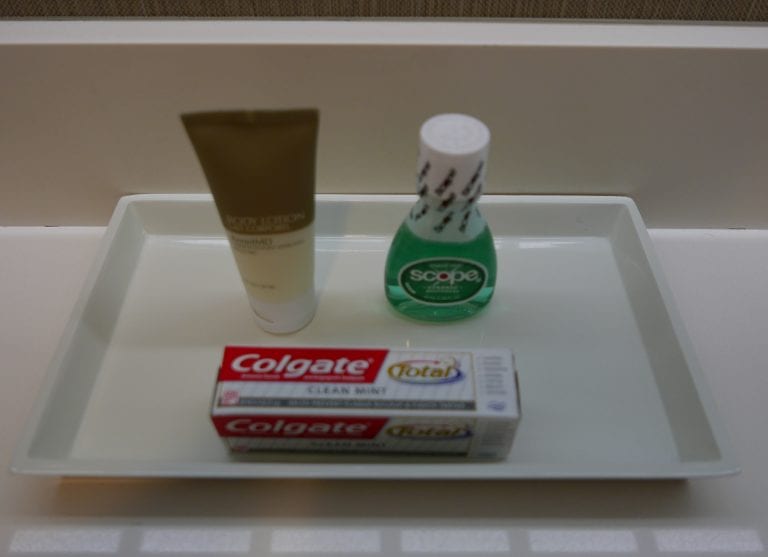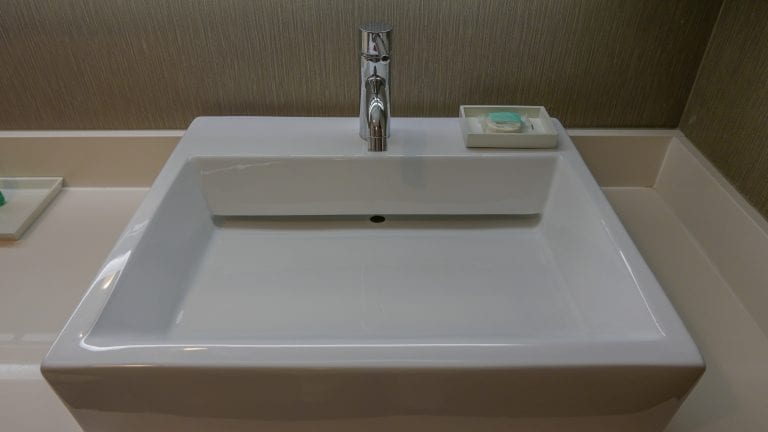 Plenty of light and counter space, a large and powerful shower and a selection of branded toiletries.
I've made a lot of calls to the front desks of hotels over the years but this has to rank as the weirdest, without a shadow of a doubt.
"I've just gotten to my room and I can't find the bedroom."
"Excuse me sir, you can't find your room?"
"No, I'm in my room but I can't find the bedroom. There's a door here but it's locked, it doesn't lead anywhere."
"Ohhhhhhhhkaaaay. What's your room number? I'll send somebody to help you."
I can only imagine the conversation that ensued at the front desk after that.
The poor guy that drew the short straw knocked on my door a few minutes later – an older, white-haired gentleman in blue overalls.
It seemed like he had never set foot in this room before and quite frankly, he appeared to be as confused as I was.
After making a call to somebody else he was able to verify that my suite should normally connect to the door right by the TV. However that room had been accidentally allocated to somebody else, so instead I should have access to the bedroom behind the soundproofing. He disappeared and returned a few minutes later with the key to the connecting door.
He took the soundproofing away and told me that my key would only work to access the living room. If I wanted to use the bedroom door I'd need to get another keycard created at reception.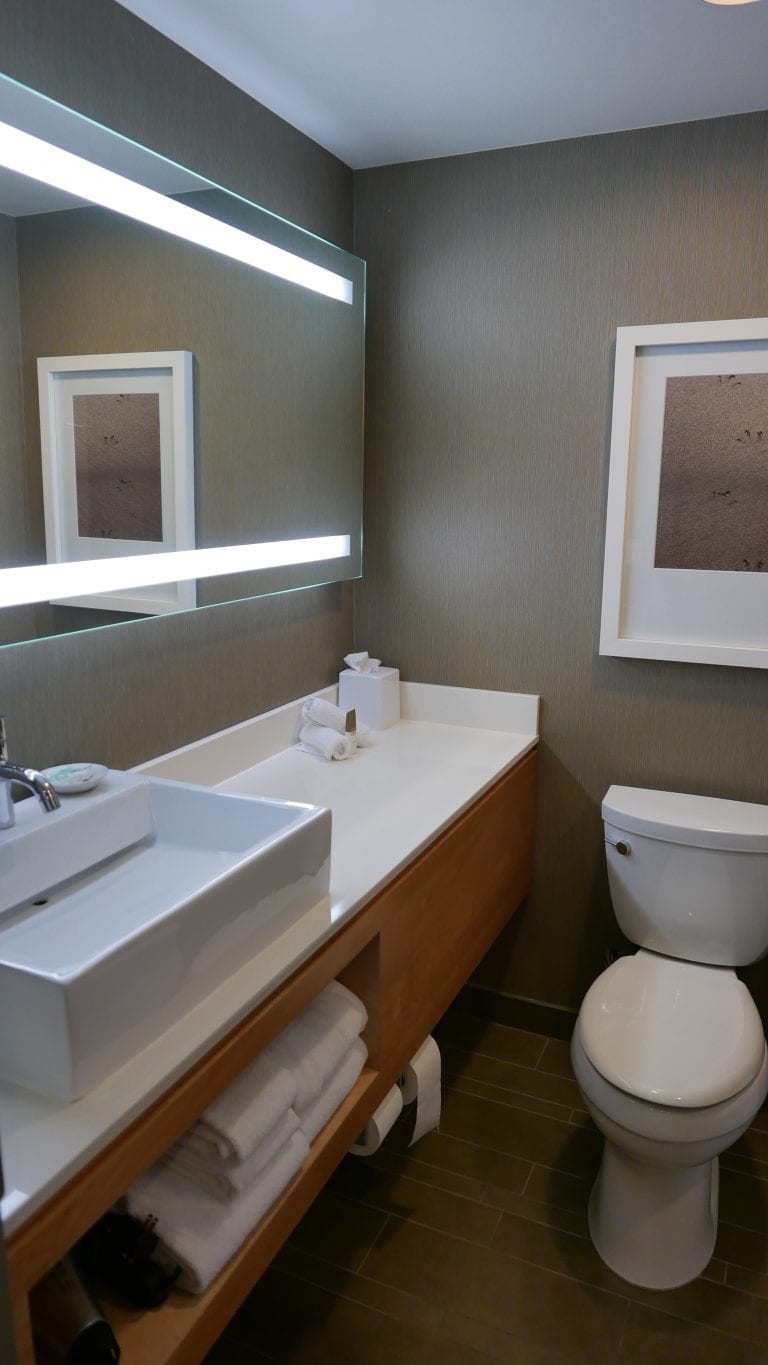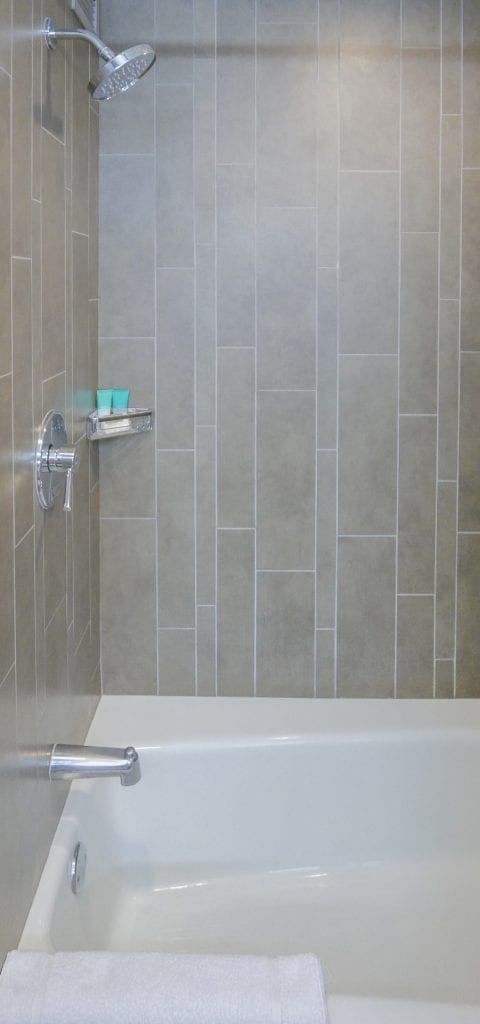 The bathroom was actually a little smaller in this room and featured a tub and shower combo, as opposed to the glass walled walk-in shower next door.
---
The cornerstone of my trip – A visit to In 'N' Out Burger
---
Gym
After my enormously satisfying meal I got some much needed sleep, only to wake up at 3am. Totally wide eyed and ready to rock. Fortunately the gym was open 24 hours and I had the very comprehensive facility to myself.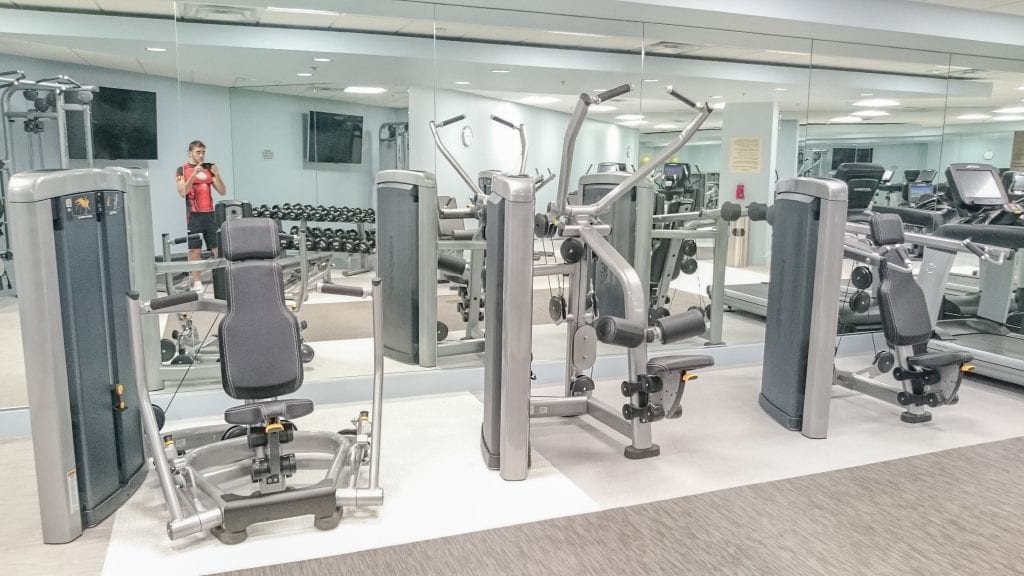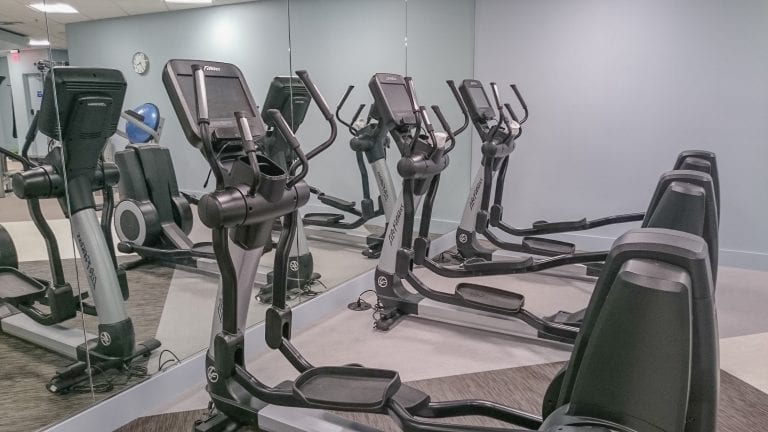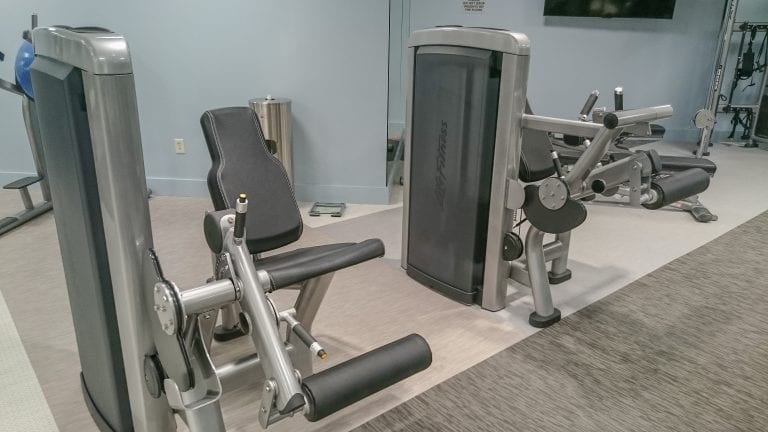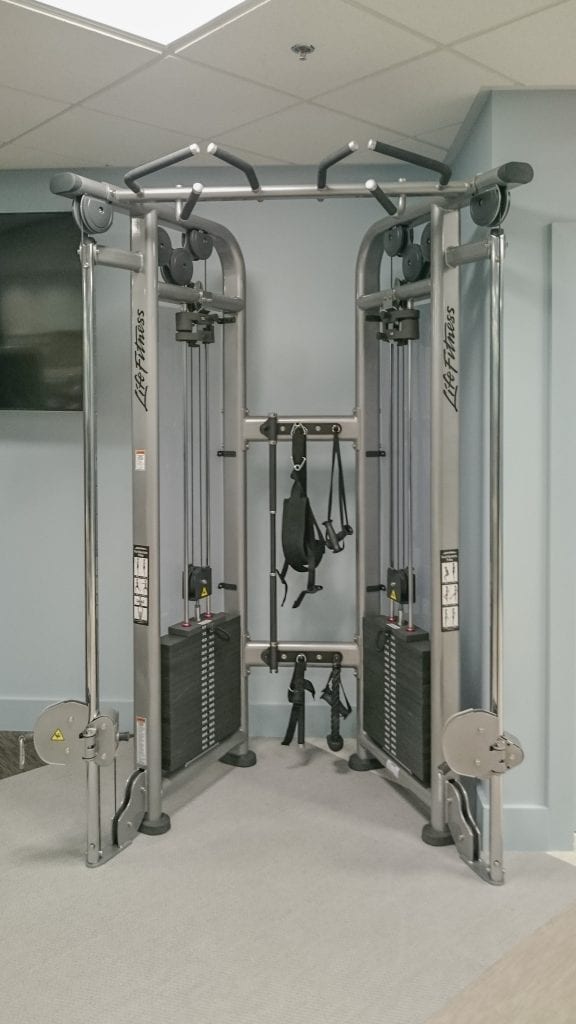 Definitely in the top tier of hotel gyms that I've encountered, very little need to compromise on my usual training routine.
Regency Club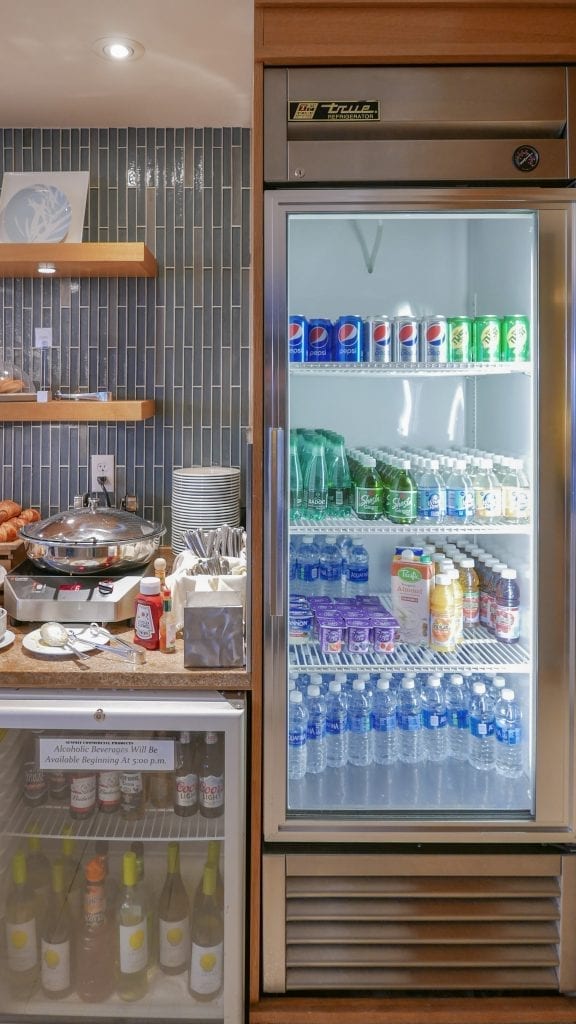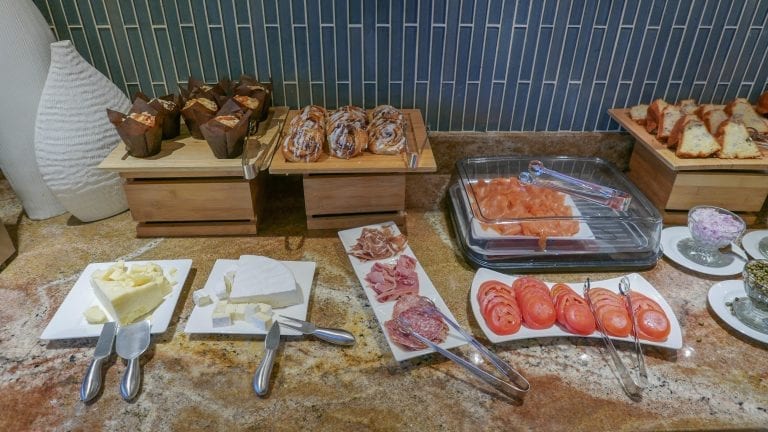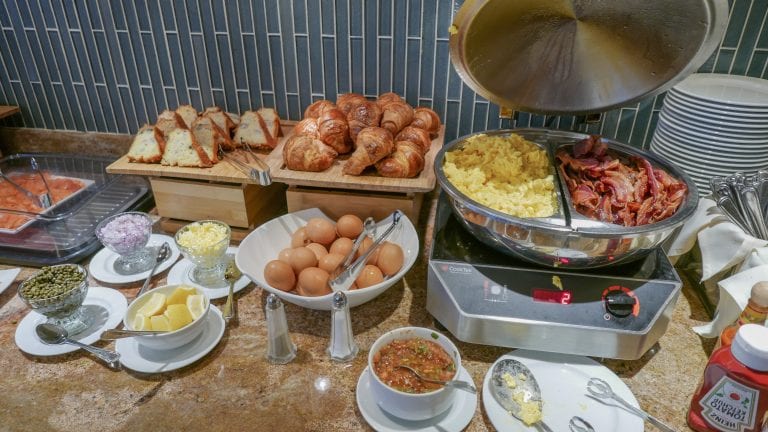 The food was surprisingly high quality: perfectly crispy bacon, thickly cut smoked salmon with all the garnishes and even a bowl of fresh pico de gallo. The service was excellent too, very attentive without being overbearing.
Unfortunately there was one small problem. The coffee machine was out of order. The lounge attendant was more than happy to offer another coffee voucher, so back I went to Coffee Cove for my third of the day… unfortunately the line at 7:30am was 20 deep (this seems to be an American thing, I've never been to a Starbucks in the USA that isn't overwhelmed by customers). So, I opted instead to pack my bags, with a view to spending as much of the day as possible at the Star Alliance Lounge in LAX!
For $152, this hotel was an absolute steal. The gym was fantastic, the decor throughout was very fresh and modern and the staff were all extremely friendly and accommodating. I really liked the club lounge breakfast and am sure that it would be a great place to grab a drink in the evening too.
If you're staying in Long Beach, this hotel is very hard to argue with!
---