Year end mileage run to Chicago for dinner…
Part 1:

Part 2:

Part 3:

Part 4:

Part 5:
As the calendar year draws to close, millions of frequent fliers around the world come to a grim realisation: "I haven't flown enough to secure my airline status for next year"
This could mean losing:
Fast track security access
Lounge access
Higher rate of mileage earning
Access to upgrades
So, every December when company travel is invariably winding down and the Christmas rush has yet to begin, airline fares start to drop – invariably pounced upon by those in need of a mileage run.
When an airfare surfaced in the Autumn offering flights to North America for around £1000 when departing from Prague, I was immediately interested.
Prague has a couple of very cheap airport hotels right by the terminal. There is also a late evening flight departing London at 7:20pm, meaning I wouldn't need to take any days off to make it there for the start of my ticket.
Furthermore, flights to Prague depart from Terminal 3, giving me access to the oasis of serenity that is the Cathay Pacific First Class lounge plus the brand new Qantas Heathrow Lounge, which I was very keen to experience.
A number of North American cities were available on this fare, departing from Prague. The cheapest fares came when passing through Washington but I wasn't really interested in spending much time there, given that I'd visited before.
Instead I managed to effectively make Chicago my destination whilst only passing through Washington very briefly. Chicago is a city that I'd never visited before and also has a very recently refreshed AA Flagship Lounge, as well as one of the world's best restaurants: Alinea.
| Day | Origin | Destination | Airline |
| --- | --- | --- | --- |
| Saturday | Prague (PRG) | London (LHR) | BA |
| Saturday | London (LHR) | New York (JFK) | BA |
| Saturday | New York (JFK) | Chicago (ORD) | AA |
| Sunday | Chicago (ORD) | Washington (DCA) | AA |
| Sunday | Washington (DCA) | New York (JFK) | AA |
| Sunday | New York (JFK) | London (LHR) | BA |
| Tuesday | London (LHR) | Prague (PRG) | BA |
Total Cost: $1,466.96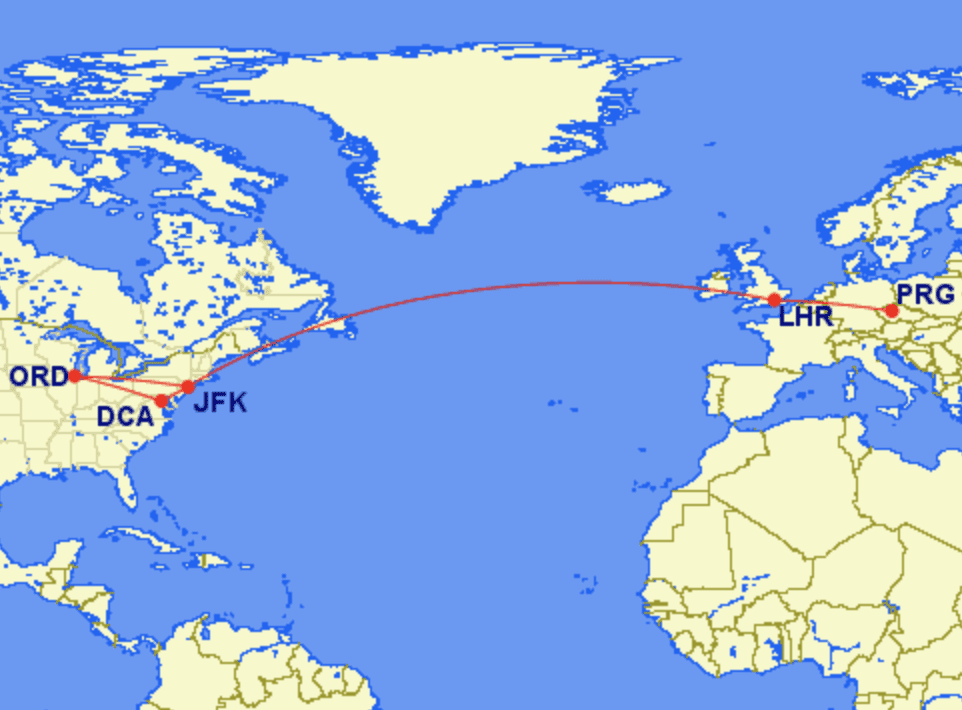 This seemed like a great deal for almost 10,000 miles of business class flying, requalification for AA Executive Platinum, trying the new Qantas lounge at LHR and new AA Flagship Lounge at ORD, whilst also getting to sample the brand new Do&Co catering and White Company bedding from LHR-JFK!
Having found this deal I had a feeling that one particular friend of mine would be keen to come along, one of the few people I know who travels more than me. I gave him a quick call, set up a PNR for him and he had the thing ticketed within a few minutes!