Back when I first got into the miles and points game, deals on cash fares were virtually non-existent. At that point there were effectively two types of people involved in 'travel hacking'.
Americans: who were able to generate enormous amounts of free points via credit card sign-up offers
Everybody else: who had to buy points at a discount in order to accumulate the necessary balances to travel regularly in premium cabins
For us Europeans things have recently gotten much better, as a result of Qatar's continual barrage of extremely cheap premium fare sales. Cash fares on Qatar earn you miles and airline status as well as being far more widely available than award tickets, purchased with miles.
I recently flew round trip London – Tokyo in a combination of Qatar First and Business for £550 and earned over 42,000 AA miles for my trouble! There is no award chart trick that will ever compare with a deal like that.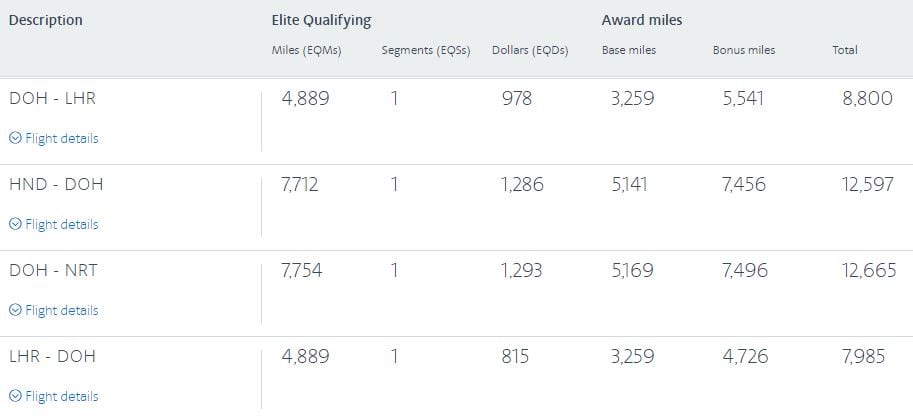 However, this doesn't mean that all award charts are devoid of value, there is still plenty to get excited about. One program currently stands out to me: Alaska Airlines Mileage Plan.
Alaska prices Cathay Pacific business class between Europe and Hong Kong at 42,500 Miles. During one of Alaska's frequent 40% bonus miles sales, these 42.5k miles can be bought for $897.44 (~£640).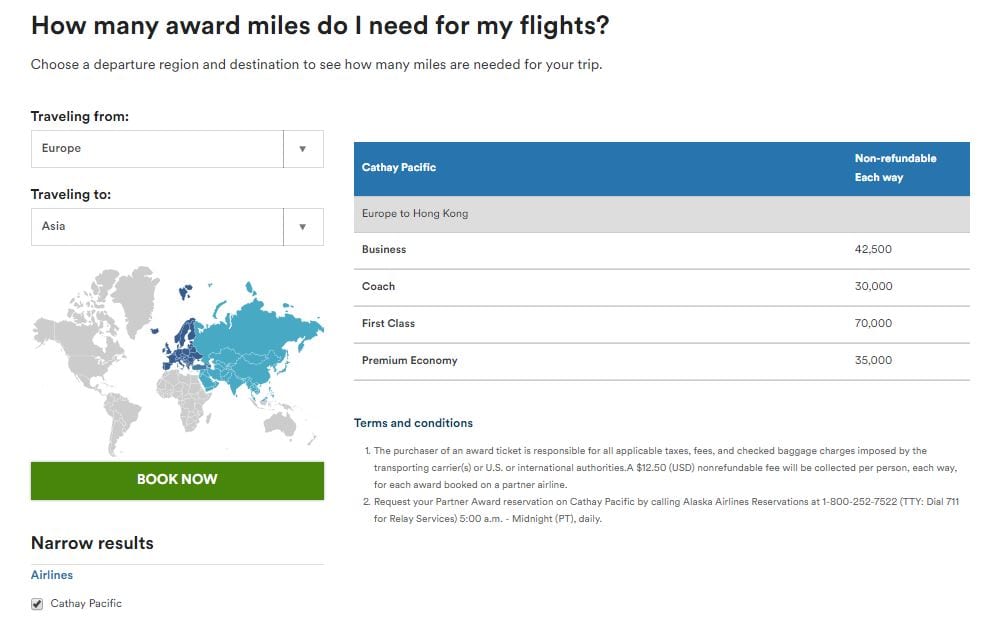 Booking needs to be done on the phone but this is not really a huge problem. Every time I call I go straight through to an agent with no time spent in a queue. The staff are also universally friendly and very helpful, it is a genuinely enjoyable experience speaking to them.
You can check Cathay award availability on the BA website (ignoring the exorbitant mileage costs charge to BA Avios holders, rest assured you will only pay 42.5k Alaska miles for Europe to Hong Kong, even though BA charges 90k avios for the exact same flight!)
Availability doesn't always exactly match what Alaska agents are able to see but if you're flexible on which European city you can depart from, then almost every day will have at least one business class award seat available.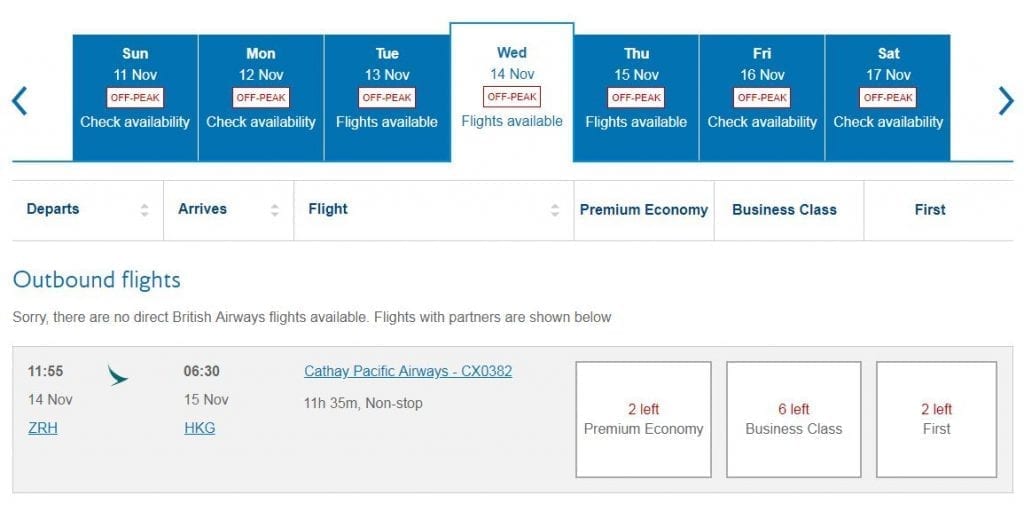 London has horrible taxes and patchy award availability but booking flights from MXP, FRA, ZRH etc. works very well. I paid $37.80 in taxes and a $12.50 fee for ZRH-HKG.
This brought the total cost of my one way business class flight, on one of the world's best airlines, to $947.74 or roughly £675 !
A one-way business class cash fare, on the same random date I searched above, comes to £1,995. The intermediate step of converting your money into Alaska miles and using those to book your flight, means that you save £1,320 (although the cash fare would earn you some miles back) . Not bad for under half an hour's work 😀
After years of ignoring Alaska, they have fast become one of my favourite new ways to secure cheap flights in premium cabins.
What are your favourite premium cabin awards?