Class: Business and First
Access:

Business and First Class Passengers on Emirates
First Class Passengers on Qantas
Emirates Gold and Platinum status holders
Qantas Chairman's Club status holders
Paid Access:

Date visited: September 2016
---
Intro
---
Flying on Qantas First Class you are spoilt for choice in Heathrow's Terminal 3.
Not only can you visit the utterly superb Cathay Pacific First and Business Class Lounges, you also have the option to visit the Qantas Lounge with its huge selection of gins and if you're a real masochist you could even spend time in the overcrowded and poorly catered BA Lounges or the AA lounge, which is basically a dingy office (though admittedly one with very good wifi).
Outside of OneWorld, Qantas' unique alliance with Emirates means that you are also entitled to visit the Emirates lounge. I visited prior to its 2016 refurbishment, on a lounge hopping tour of T3. On that occasion I was distinctly unimpressed, describing it (quite fairly) as looking like a "moderately fancy, Spanish motorway service area".
As I approached the entrance, initially not much seemed to have changed.
However, once I passed through the sliding doors, I saw the first small sign of change. The dark walnut desk had been replaced by sleek grey stone, a far more clean and modern look for the reception.
---
The Lounge
---
Heading to the far right hand side of the lounge you come to the main dining area. Make no mistake, this lounge is designed to accommodate a lot of passengers, since it combines both Business and First for multiple daily flights on EK's premium heavy A380s. However, despite the seating density, the refurbishment has transformed this space from an antiquated free for all into a bright, sleek and elegant dining space.
The before and after slider below illustrates quite how dramatic this change has been:
We took an empty seat in a booth style area, as these have power sockets at floor height. The downside of these seats is that the power sockets make them very popular; moments after sitting down in an empty area, somebody took the seat right next to us and made a small camp with all of his bags and laptop.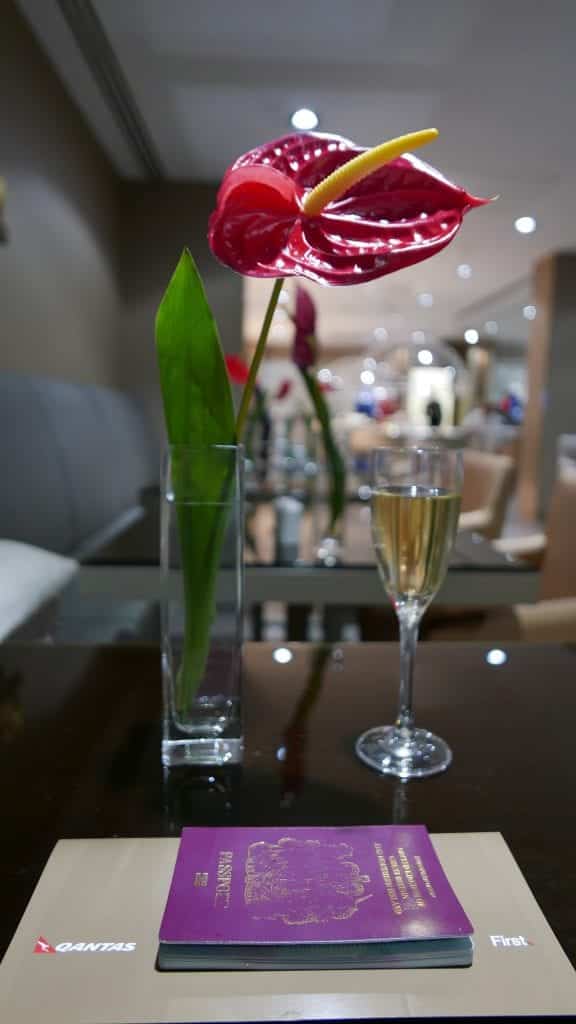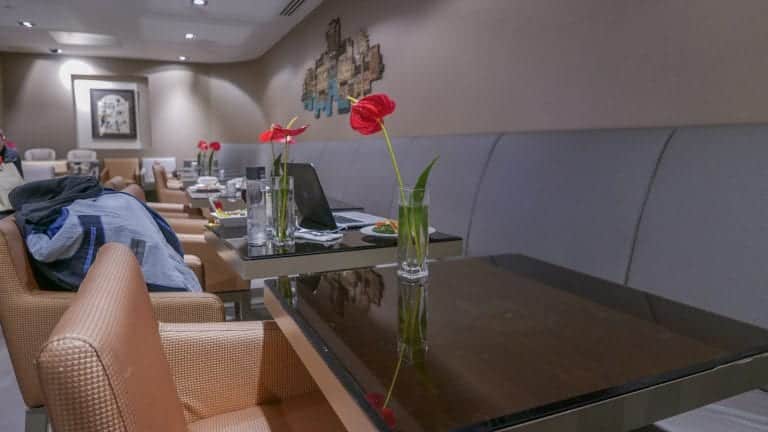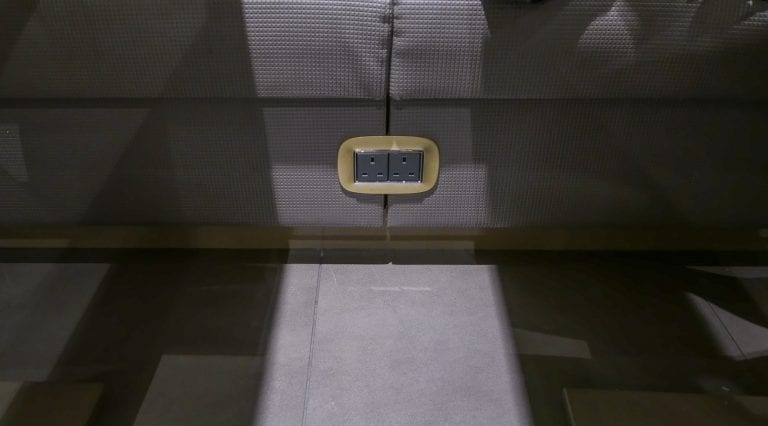 On my previous visit to this lounge I remarked on the strength of the food offerings and that statement holds true. However, with the Cathay Pacific lounges a few metres away having upped their game considerably, I would no longer say that this is a standout offering in this terminal (we mustn't forget the Virgin Clubhouse either).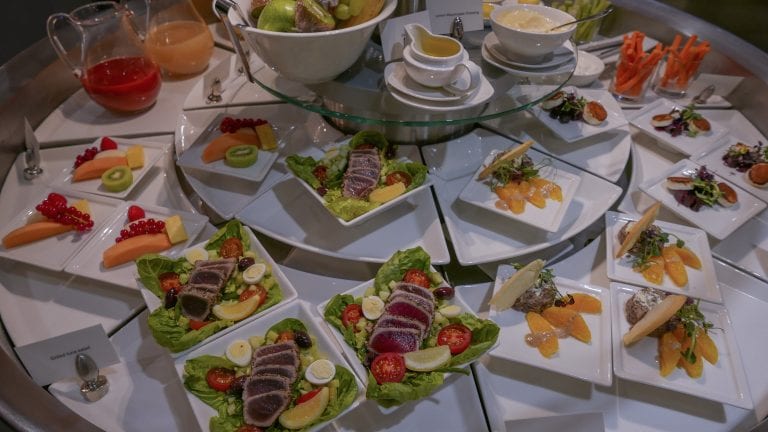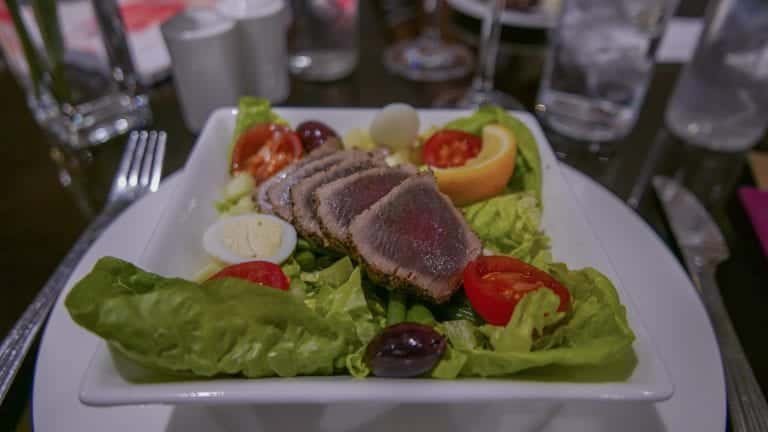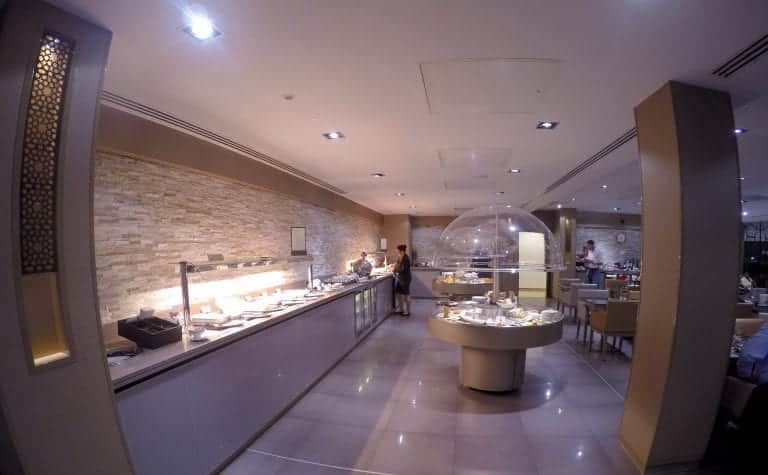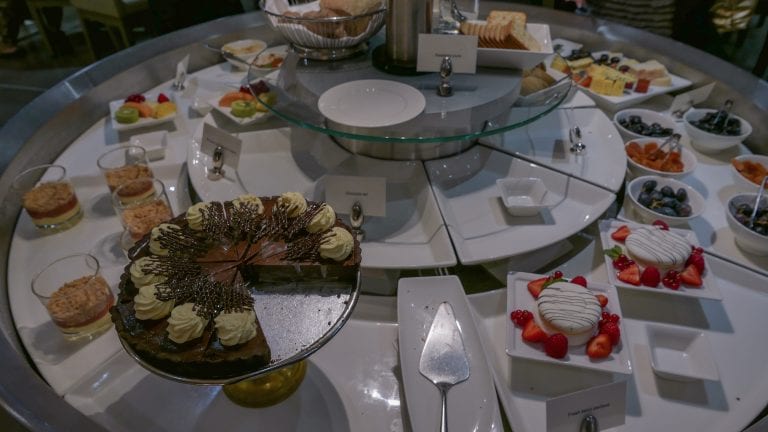 I think that the decision to offer a selection of prepared, small plates is a good one. The presentation is far more appealing than the usual salad station and people are able to retrieve food more quickly whilst making less mess. Win, win, win.
The hot food was not quite as appealing to look at but the quality of the ingredients was undeniable. Large, whole fillets of salmon and chicken where, by contrast, BA offers a slurry-like curry.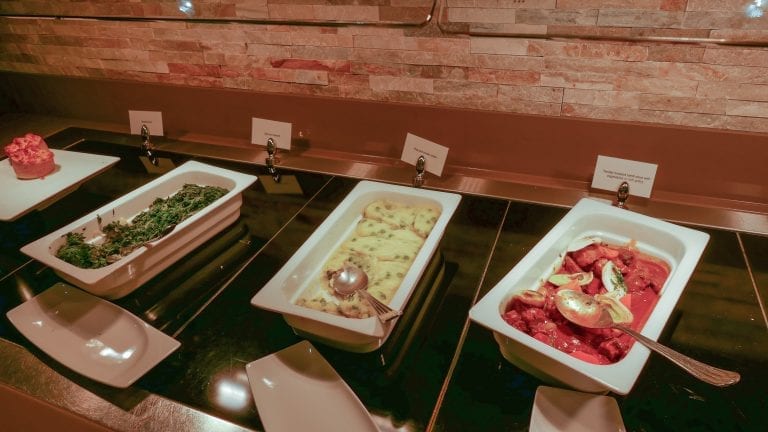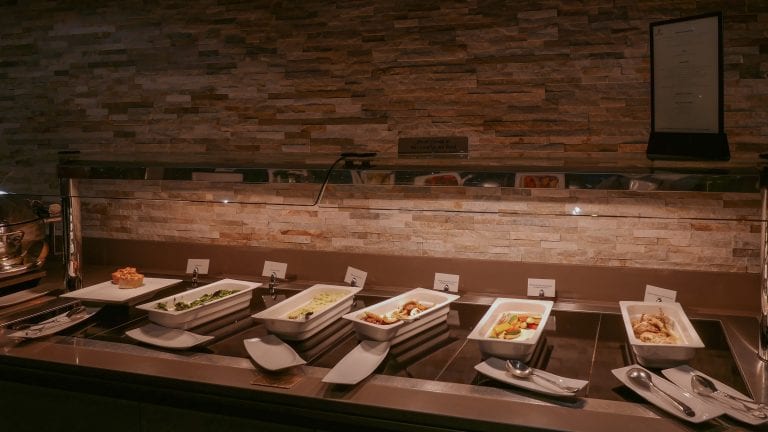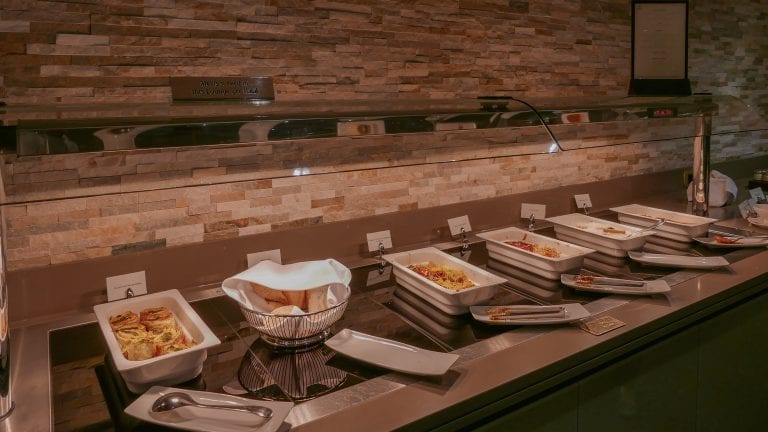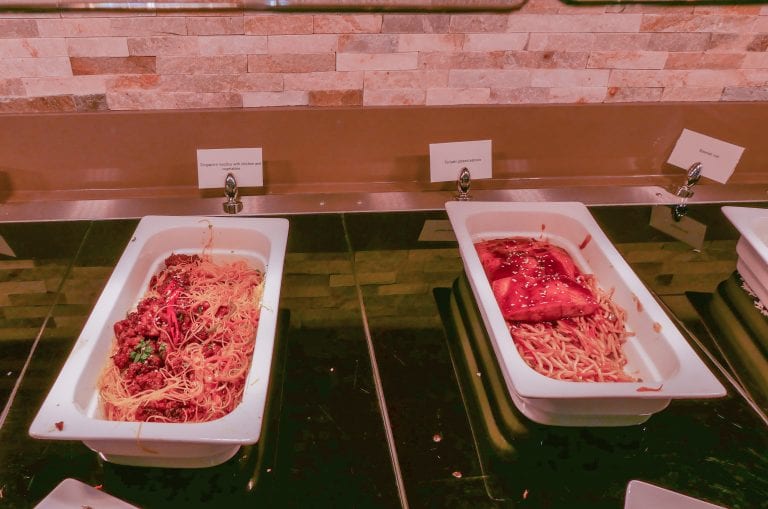 ---
Conclusion
---
The refurbishment of this lounge has been a great success. The transformation is truly remarkable. What was previously a laughably dated looking cafeteria has become an elegant, well lit and classy venue. The food remains as good as it always was and for a business class passenger the drinks offered are well above the market average. Emirates treats its business class passengers very well indeed.
However, one undeniable fact remains: as a First class passenger this lounge lacks exclusivity and is an active downgrade from the onboard experience. If flying First class on Emirates I would board as soon as possible, if flying First on Qantas I would skip this lounge and head straight to the serene sanctuary of the Ilse Crawford designed Cathay First Class lounge.