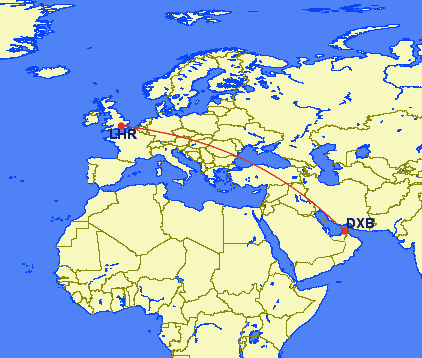 Qantas (QF)
Flight: QF2
Class: First Class
Seat: 2K
From: London (LHR)
To: Dubai (DXB)
Duration: 7h40
Aircraft: Airbus A380-800
Status during flight: OneWorld Emerald (AA Executive Platinum)
Cost: 40k AAdvantage Miles + £203.50
---
Intro
---
Qantas has one of my favourite First Class products in the world. I had been looking forward to stepping onto one of their A380s again for quite some time. Nothing beats that feeling of finally being welcomed aboard and taking your seat in a cabin you've been dreaming about for months on end.
The welcome on Qantas is always warm and friendly, their crews always seem to strike that perfect balance between being professional and laid back. As soon as I step on board a Qantas flight I immediately feel relaxed and at ease.
The Qantas First Class cabin has 14 seats, which is a denser configuration than many. However the 1-1-1 layout makes the cabin feel spacious and the large privacy screens by the aisle work very well once you're comfortably seated.
---
The Seat
---
Qantas were one of the first airlines to take delivery of the A380 and they went with quite a different design than all the others. This unique seat hasn't been changed at all in the last ten years but in my opinion this is a good thing. What you have is effectively a turbo-charged version of a reverse herringbone seat, with more privacy, more storage space and far higher quality finishes than what you get in business.
The seats face forward during takeoff and landing and feature a mandatory shoulder strap. However, once airborne the seat tilts to face the screen, giving you plenty of space to stretch out.
I opted for seat 2K. Whilst 1K is ostensibly more private it only offers views out of two windows, whereas 2K gets three. The K and F seats share an aisle but even with double the amount of foot traffic than the A aisle, this was not even close to being an issue. K and F seats also face in opposite directions, making K seats the most private in the cabin.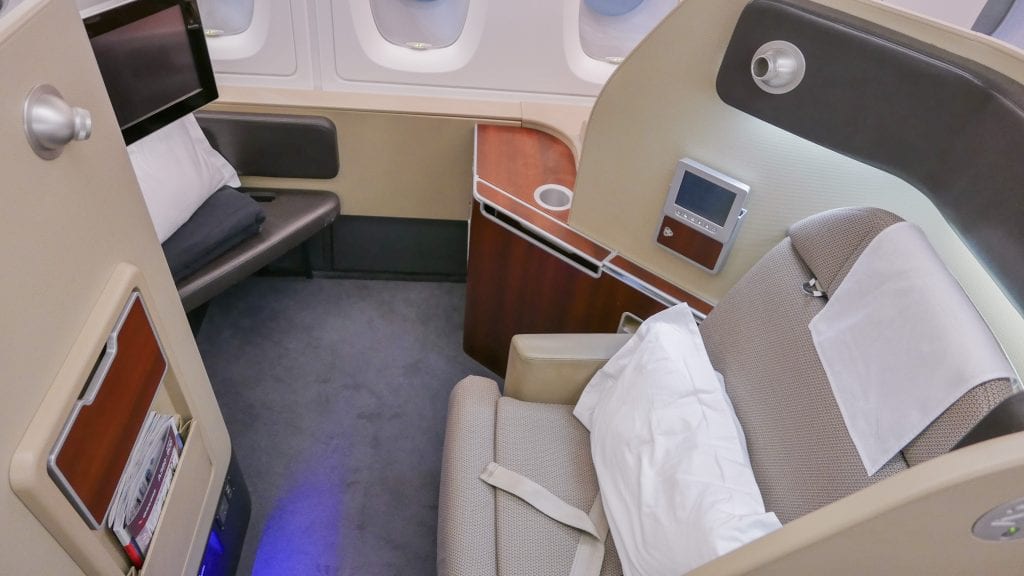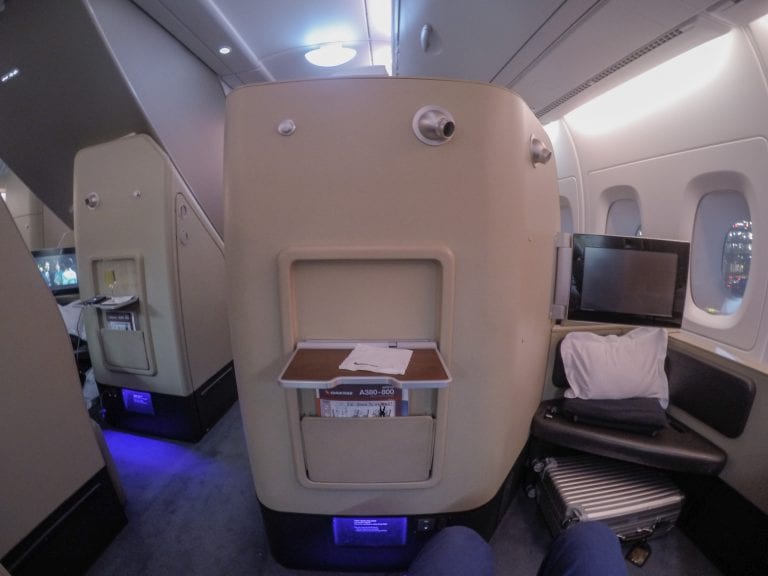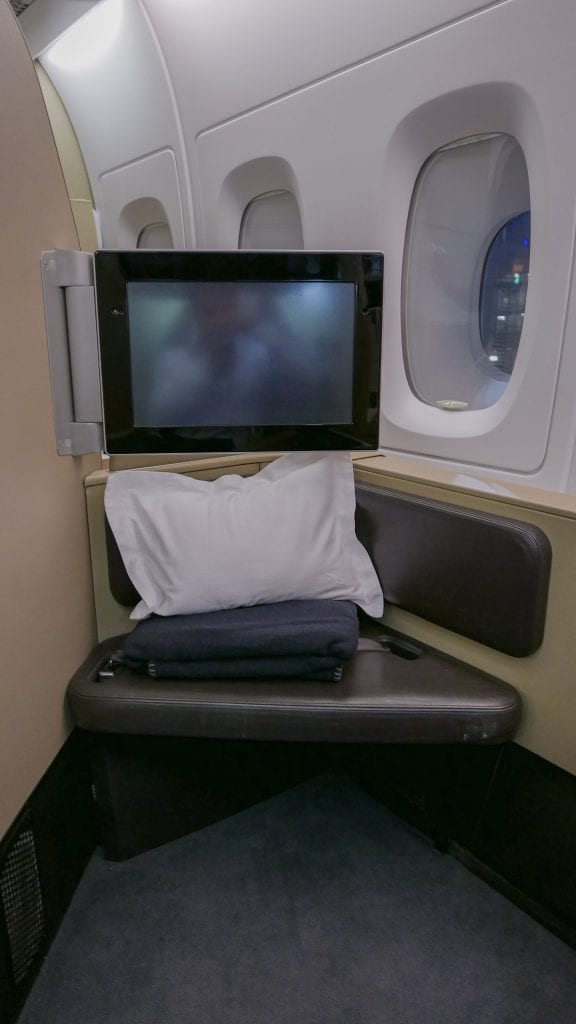 One of the most notable features of the seat is the fact that it comes with giant personal air vents. Given how much focus there is on personalisation in the luxury goods and services industry, it stuns me that airlines still install interiors in which individual passengers are unable to adjust the temperature to their liking. Kudos to Qantas for getting the basics right.
On the face of it the colour scheme makes the seats seem a little utilitarian but the wooden accents, textured walls and recessed lighting add a touch of class.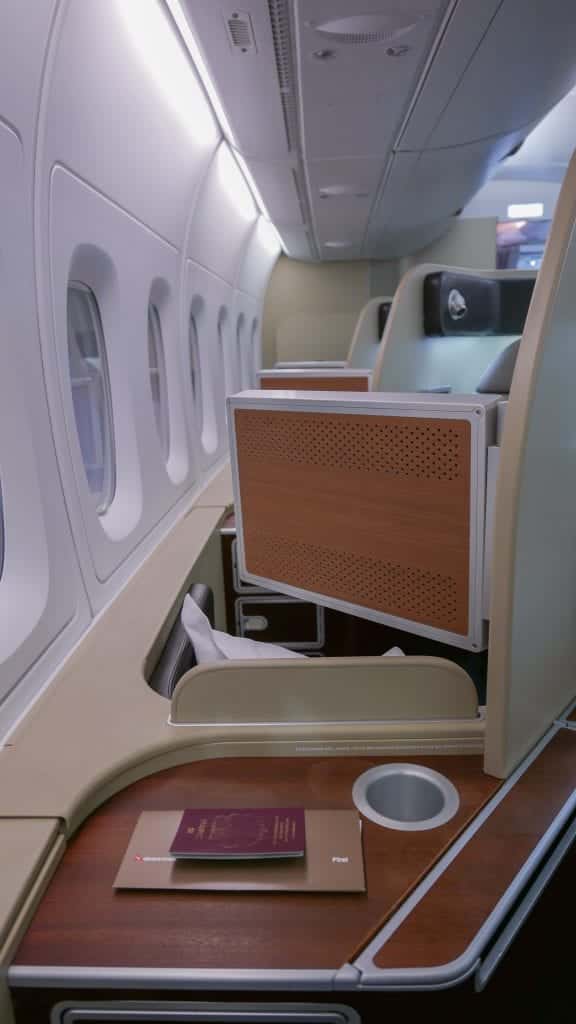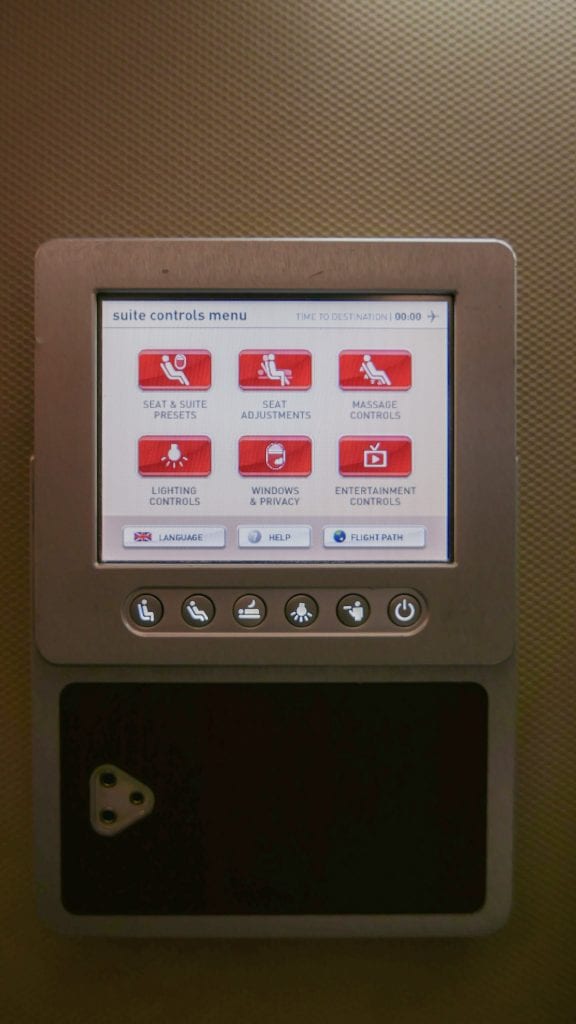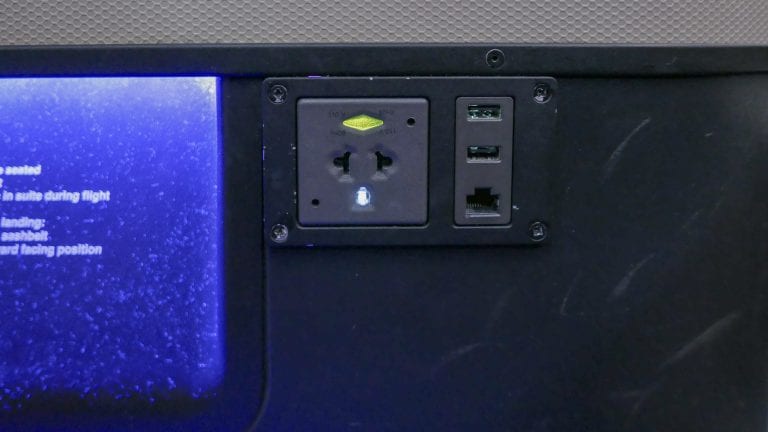 The IFE and seat controls are combined into a single responsive and easy to use panel. The selection of both movies and music was great, more than adequate for an 8 hour flight and even for the full slog to Australia.
There is a 'universal' power socket on board which bizarrely doesn't take UK (or HKG) plugs. Given that this plane flies to both London and HKG this seems like an extremely unusual decision, particularly since Qantas opted to keep the dial-up modem port when refurbing the seat to feature USB power…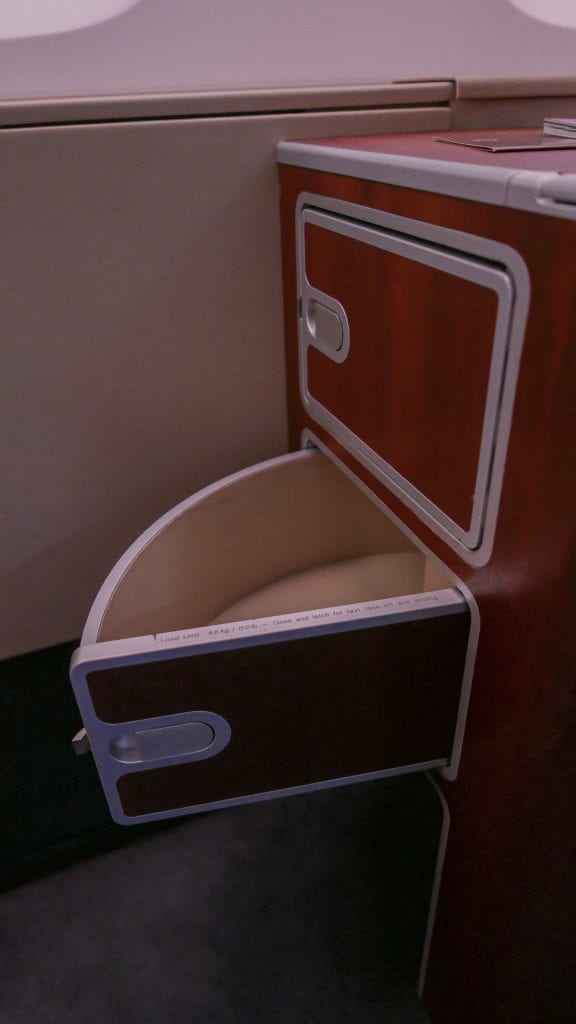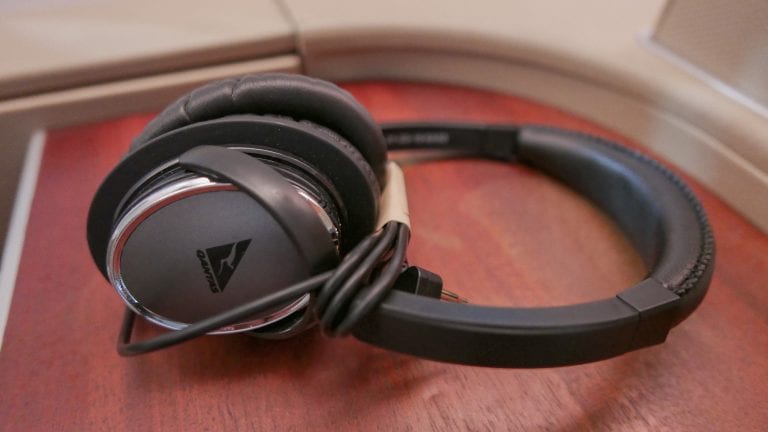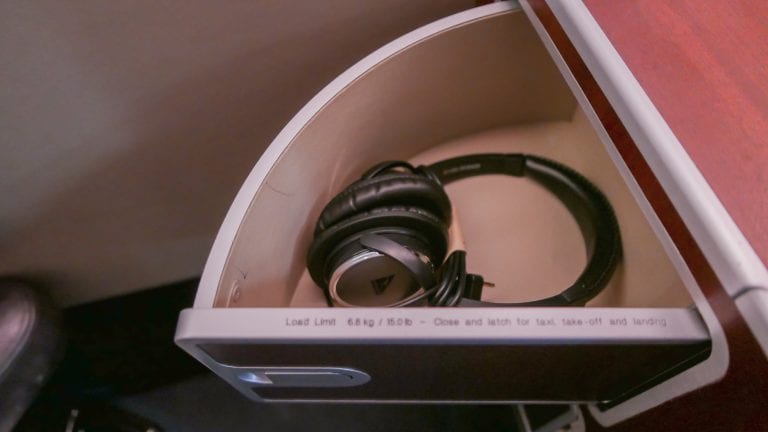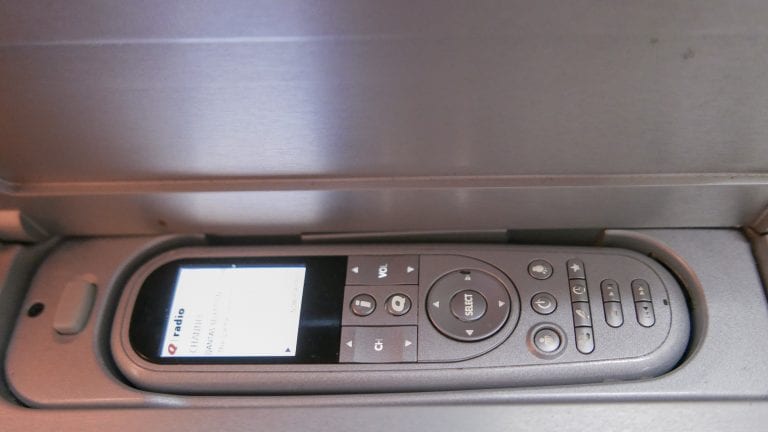 There are a pair of deep storage drawers tucked away by the window, one of these contained a pair of decent noise cancelling headphones. These are not at the level of Bose but were perfectly serviceable. There is also an additional, old school, IFE remote hidden in a flap under the main seat/IFE control unit, for people who really need solid haptic feedback in their lives.
One interesting feature of the cabin is the fact that the IFE screens are effectively the barriers between seats. Privacy really isn't impacted by this and actually this makes the cabin feel a lot brighter and more spacious.
Enjoying a pre-departure glass of champagne in my spacious and comfortable seat: 2K.
---
The Flight
---
Kamara and I were welcomed at the door of the plane and escorted to our seats. The FA, Joel, then offered us a glass of champagne. The drinks list on QF is particularly strong. On my previous flight I was served Pol Roger Cuvée Winston Churchill, this time we were given Veuve Clicquot La Grande Dame. Both are tremendous champagnes, retailing for around £130 a bottle in the UK.
Joel poured the champagne at our seats and also offered us a plate of small canapés each. "There's a cauliflower and caviar tartlet and… I'm not even going to try pronouncing the other one. It's basically a cheese puff and it's really good". Given how polished he was otherwise, his inability to pronounce Gruyère gougeres can be very much forgiven. He was right too, that thing was delicious!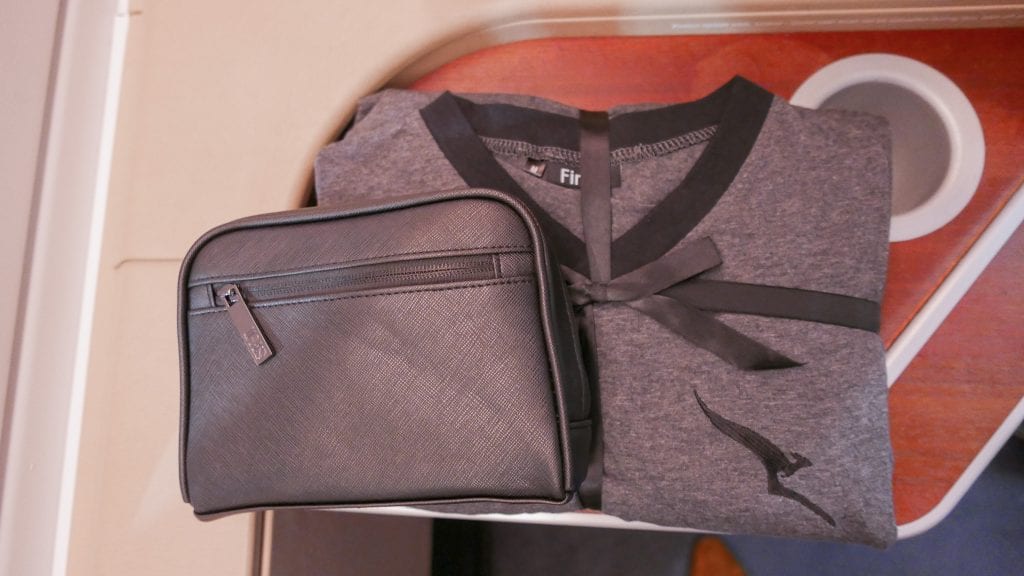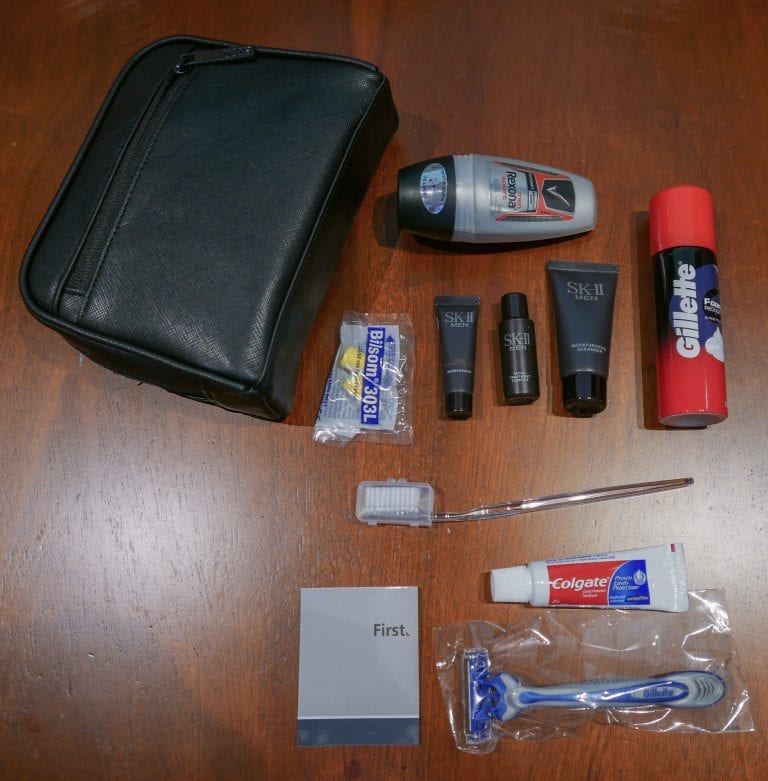 Amenity kits and PJs were also distributed before take-off. Kudos to QF for supplying such high end amenities on such a short flight. Many other carriers try to scrimp and save on this. The PJs were very soft and comfortable and the SKII amenities are very nice indeed. Qantas has to be the only airline that actually gives you deodorant in the amenity kits too, a thoroughly useful basic item (much like the air nozzles).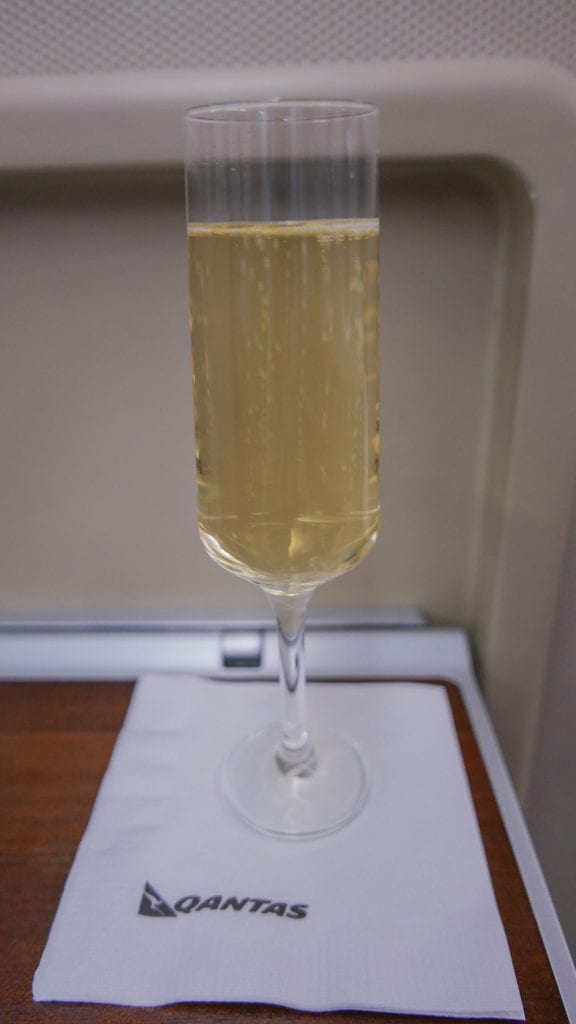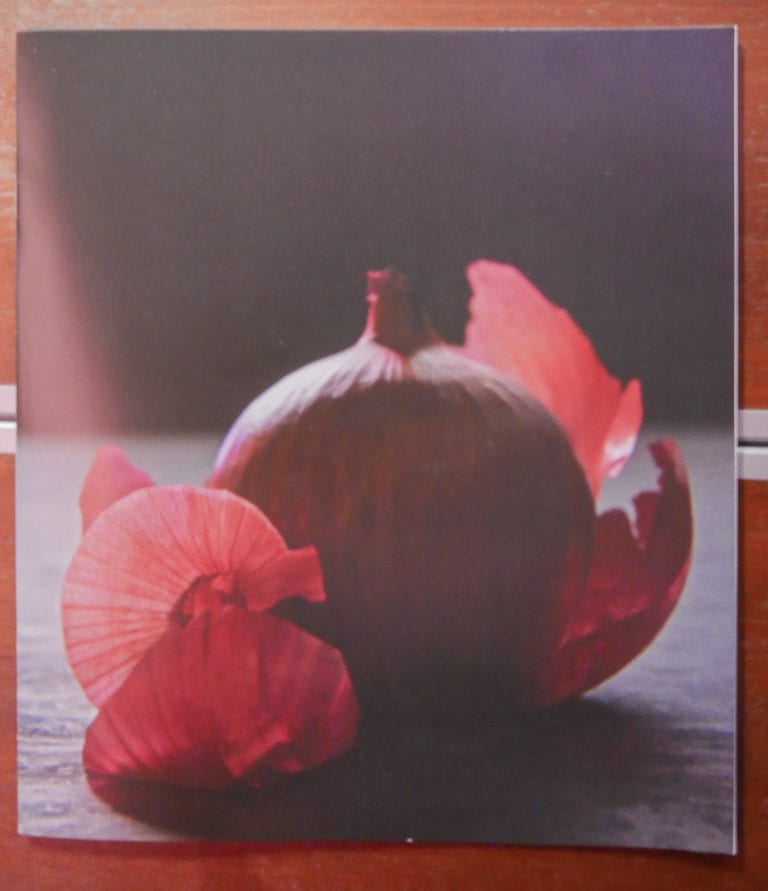 With a few minutes to go before pushback Joel came round again and distributed the menus and more importantly, a top up of our champagne!
Food and Drink
The food on Qantas doesn't feature many expensive ingredients like foie, lobster and caviar (other than the sprinkling on the tartlet) but it is nevertheless, some of the best in the sky. The menu design encourages you to order multiple small dishes, tasting a variety of flavours throughout your meal. The fact that QF caters 14 different courses on a sub 8 hour flight is astonishing.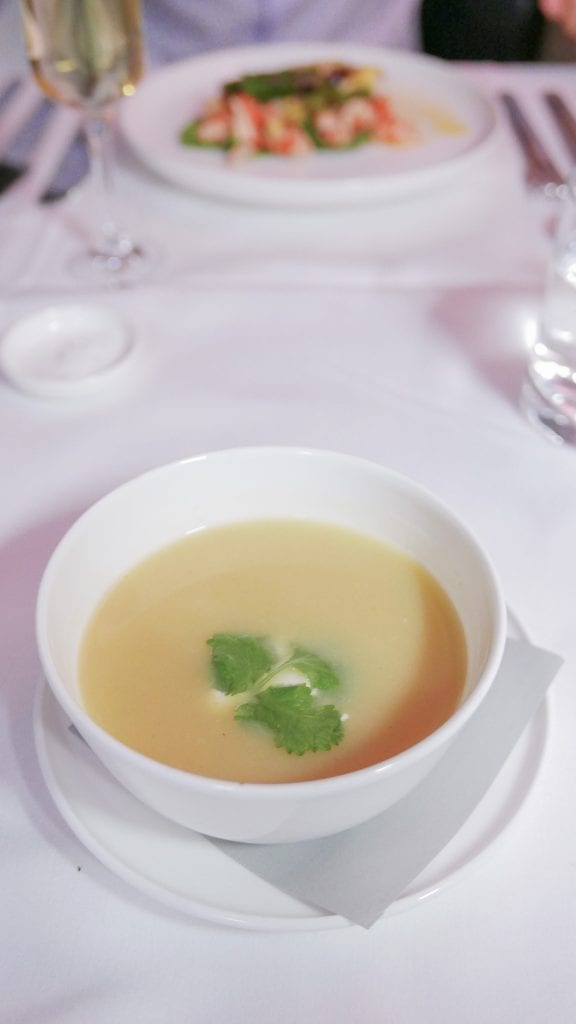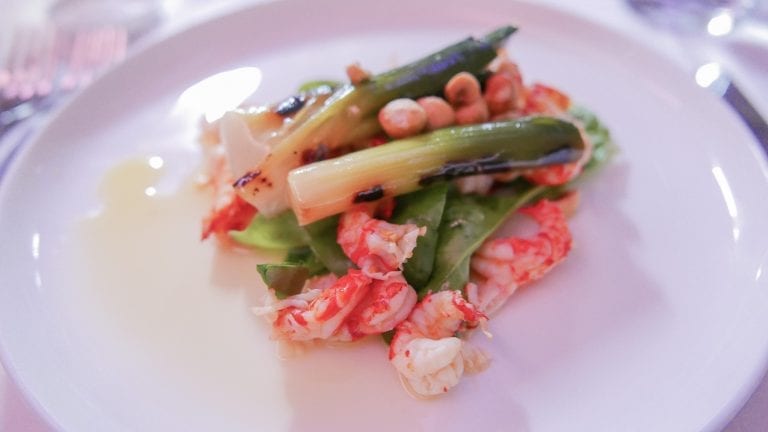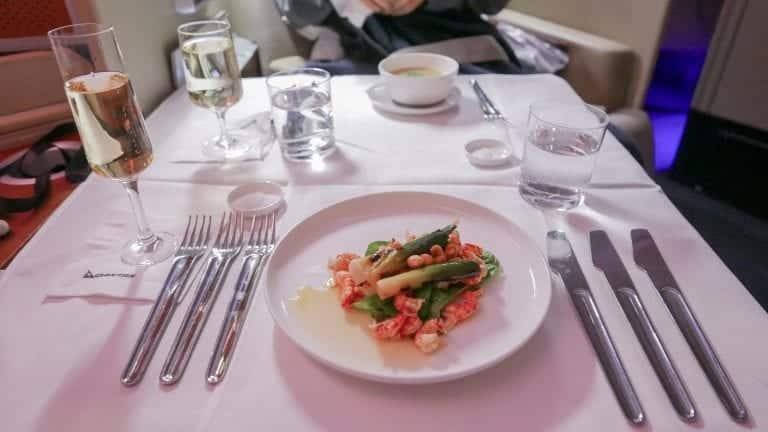 Leveraging the concept of strength in numbers: Kamara and I tried to get through as much of the menu as possible between the two of us. Seeing the table laid out with multiple sets of cutlery, salt dishes and all kinds of glassware was very fun. People ask me if it ever gets old flying in First Class. It absolutely does not.
The fennel soup with lemon and dill crème fraîche was spectacular (I find that soups fare better in the air than almost any other type of food).
The crayfish were abundant and tasted very fresh, the contrast with the firm spring onions and the sharpness of the hazelnut vinaigrette was superb.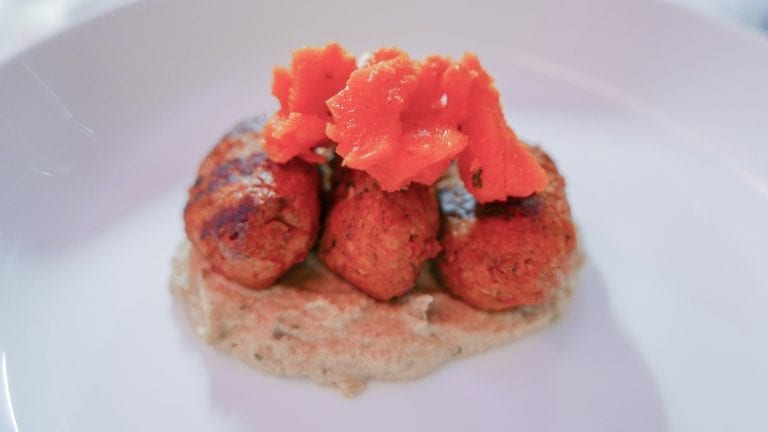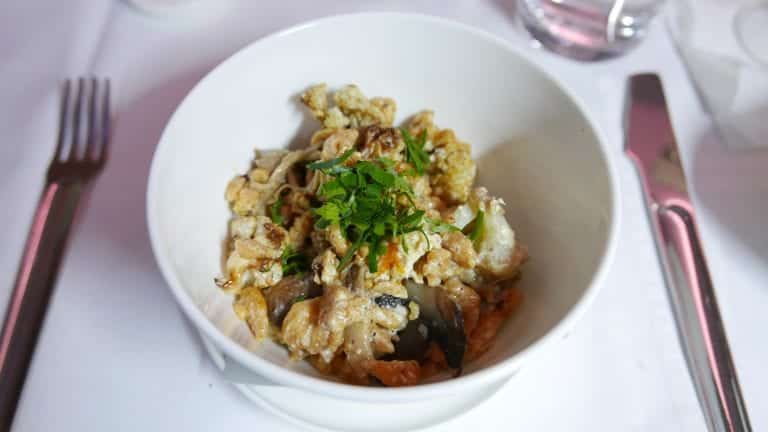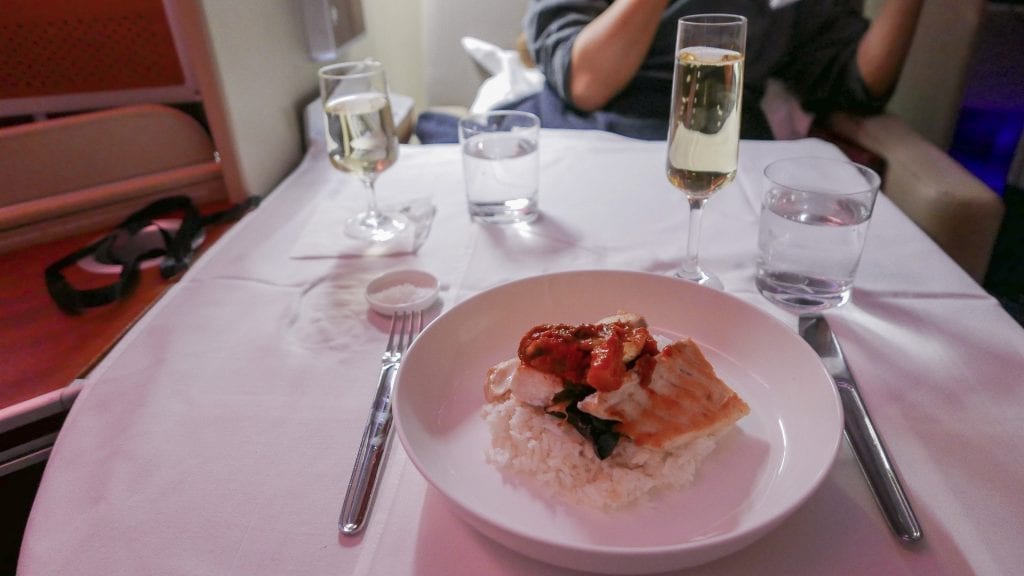 We followed this with a couple of 'small plates': grilled lamb kebabs with smoky eggplant puree and harissa carrots (very juicy meat, packed with flavour, you could taste the charcoal grilling). Spaetzle with mushrooms, roasted cauliflower and parsley (a huge serving of creamy, savoury comfort food).
At this stage Kamara tapped out but I soldiered on with the sea bass, served with shiitake mushroom, spiced tofu, grilled cos lettuce and XO sauce. The serving size was enormous considering how much we'd eaten already, the fish was also a little overcooked. The flavour combinations were decent but at this stage we were almost 3 hours into the flight, so in retrospect I would have skipped this course in order to get more sleep.
We ended our meal with mint tea, presented beautifully on individual serving trays. I'm not a fan of the cutlery but I really love the Marc Newson cups and tea pots.
The tea was served with a full box of Amadei chocolates. Richard, the other FA serving our section told us to go wild as everyone else was asleep… we left behind a total couple of token units.
Bed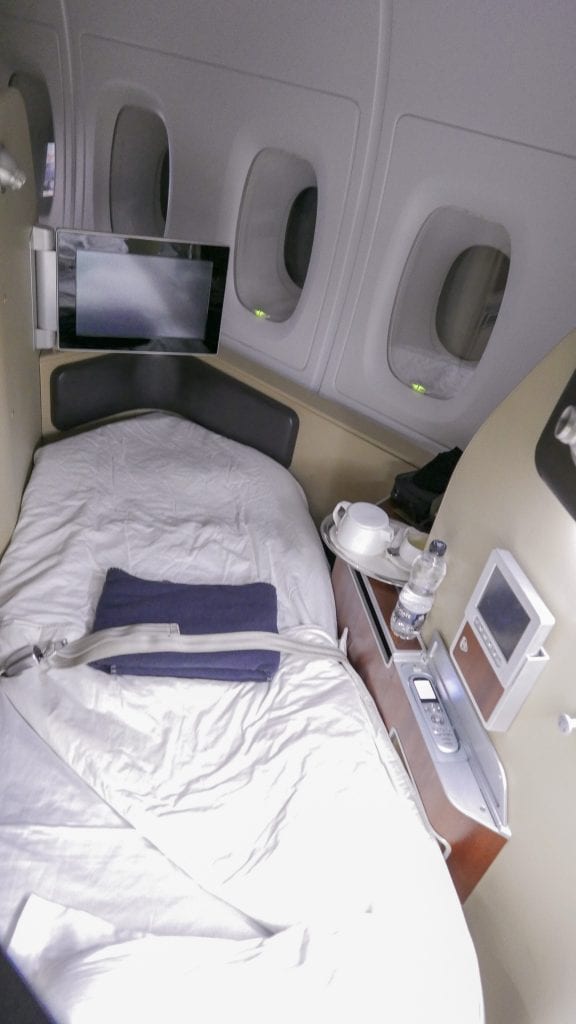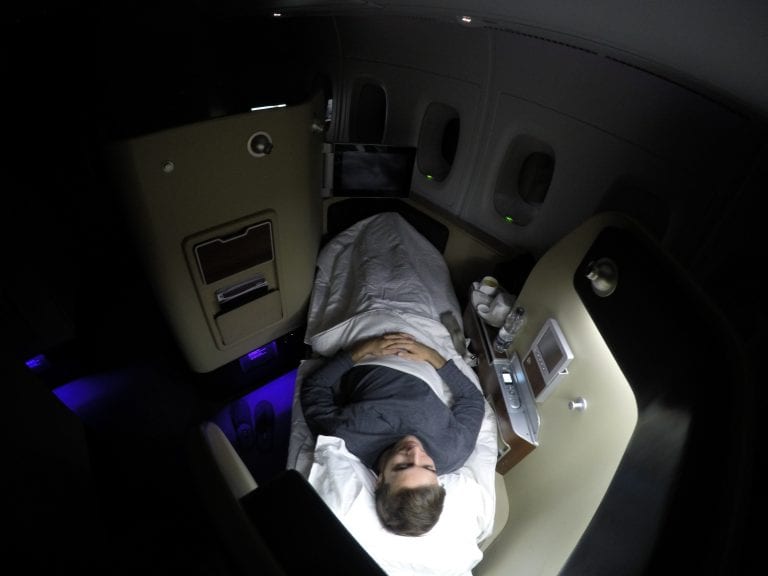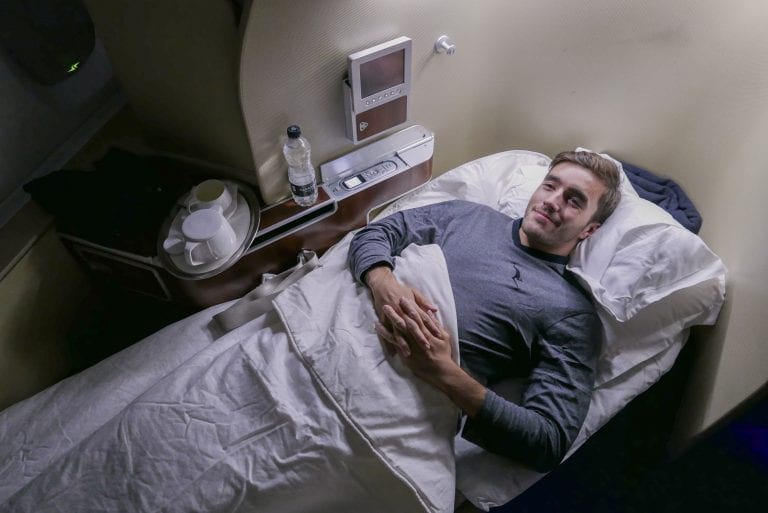 After such a sumptuous feast, a good sleep was in order. Thankfully Qantas has the most comfortable bed in the sky. I've tried a lot of different First and Business class beds and say that without any hesitation whatsoever.
The secret is the fantastically plush and thick mattress topper. This is probably more comfortable than most hotel beds and the plump, feather filled duvet and pillows really complete the effect.
---
Conclusion
---
I wish that I could fly Qantas First more frequently – the bedding is the best in the sky. The menu is varied, creative and absolutely delicious, the flavours and techniques are modern and exciting. The champagne selection is bested only by Emirates and JAL and more so than any other carrier, when I fly Qantas I feel totally at ease, like I'm staying with friends.
Seeing the sun rise, knowing that I was soon to disembark, I really wished that we could circle Dubai for a few hours longer…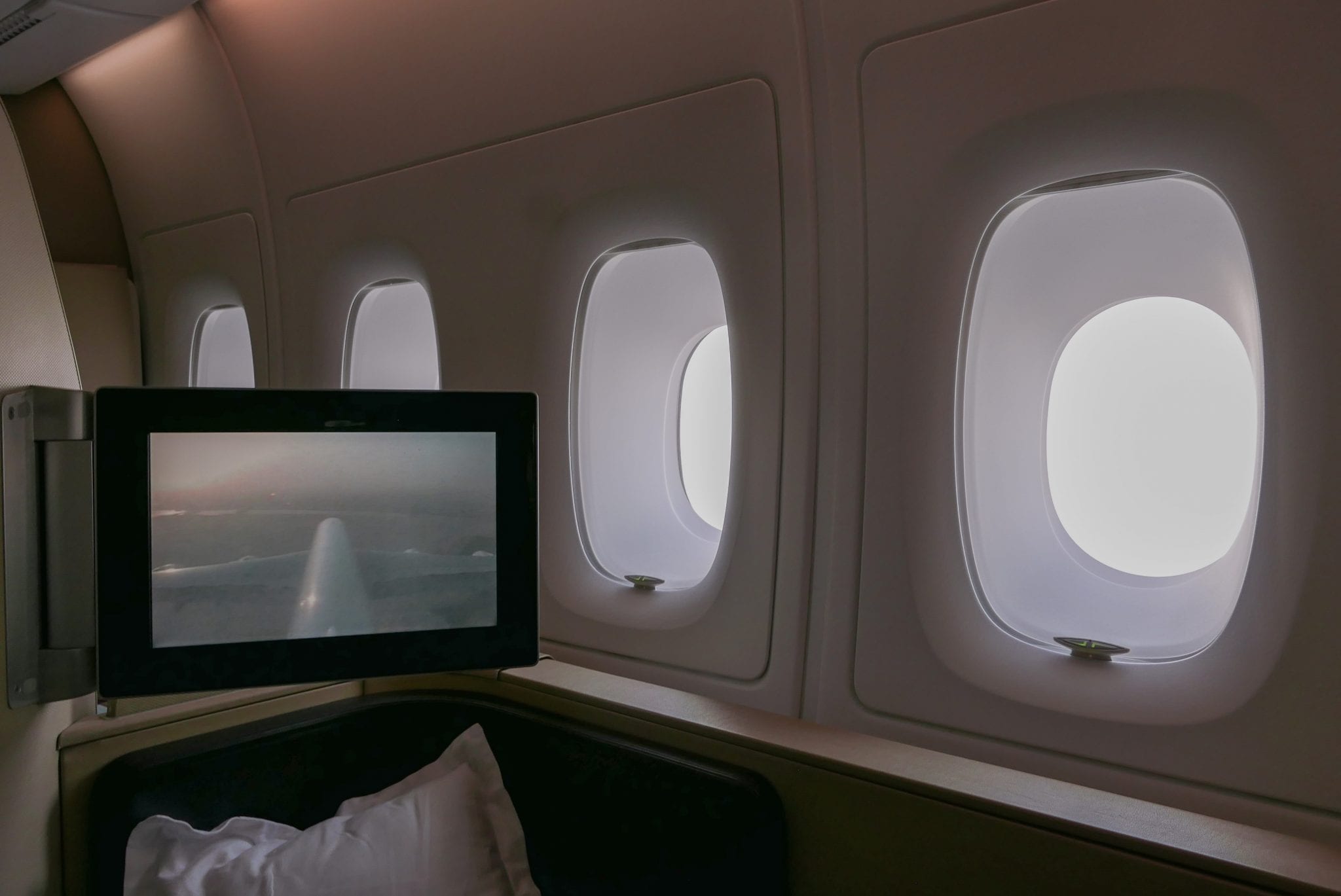 ---
Dubai Hotel Reviews
---
Here is a selection of our most recent Dubai hotel reviews:
---