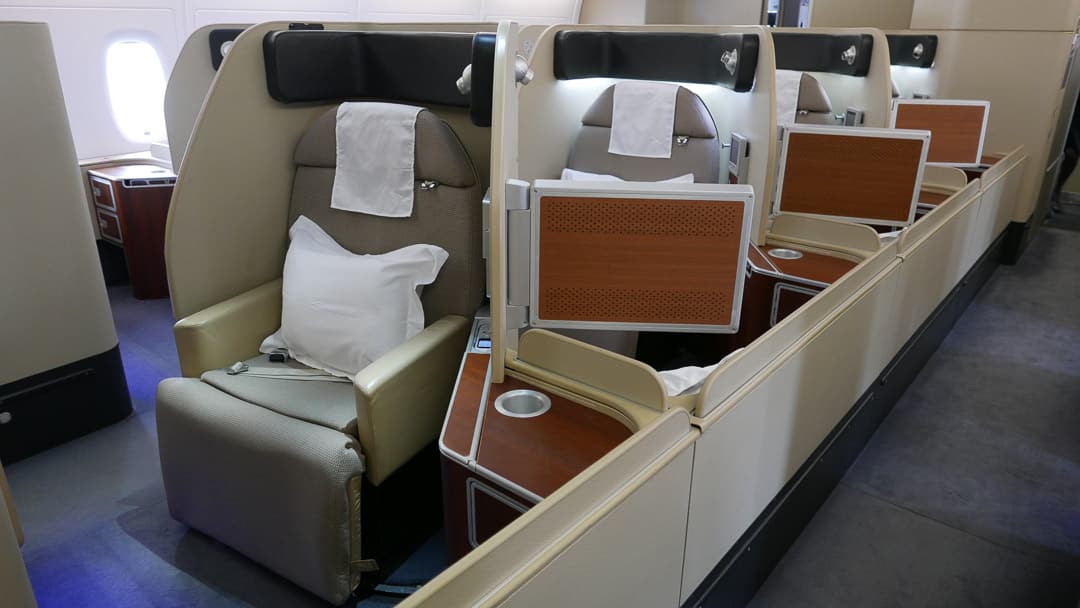 REVIEW – Qantas : First Class – London LHR to Dubai (A380)
May 21, 2018
REVIEW – Etihad First Class Lounge, Abu Dhabi (AUH – Terminal 3)
June 16, 2018
Park Hyatt Abu Dhabi
Rate: 800 AED per night (with Hyatt Privé benefits)
Room Type: Terrace Suite

upgrade from standard room using a Diamond Suite Upgrade

Status during stay: World of Hyatt Diamond
---
Intro
---
Since booking via Hyatt Privé is the same price as booking on Hyatt.com but includes extra benefits, this was something of a no-brainer.
True, I could already get breakfast for free as a Diamond and I was planning on using one of my suite upgrade certificates. However the extra $100 of property credit plus the chance of getting a better suite upgrade was definitely preferable to just booking via Hyatt.com. Since Hyatt Privé rates are considered to be direct Hyatt bookings, I was able to earn points and stay credit EXACTLY like any booking made on Hyatt.com
As soon as I had my confirmed Hyatt Privé reservation I called Hyatt to apply one of my suite upgrades, which reflected immediately.
---
Booking
---
Our clients are able to access Hyatt Privé rates at Park Hyatt Abu Dhabi.
Hyatt Privé bookings always match the best available rate on the Hyatt website, but ALSO offer extras:
Upgrade on arrival, subject to availability
Daily buffet breakfast, for two guests per bedroom
$100 USD Food & Beverage credit
Early check-in/late check-out, subject to availability
You can book a Hyatt Privé rate at Park Hyatt Abu Dhabi for yourself by using our online booking portal:
BOOK PARK HYATT ABU DHABI WITH HYATT PRIVÉ BENEFITS
If you're booking with us for the first time, here's a quick guide on how to use the booking portal:
If you are planning an itinerary involving multiple rooms or properties, please get in touch for immediate booking assistance:
---
Arrival
---
The Park Hyatt is located on a prime stretch of white sand, alongside the St Regis, on Saadiyat Island. It is only 30 minutes from AUH or around 80 minutes from DXB airport.
Although Abu Dhabi is a thriving metropolis, the beachfront area is a lot more sparse than Dubai and approaching the hotel it felt as if we were miles away from the nearest city. Quite a different feeling to the densely packed area of resorts, clustered around The Palm.
The resort's grounds are immaculately maintained and arriving here is an undeniably exciting experience.
You can't help but think to yourself, "if it looks this amazing on the outside, how unbelievable is the interior going to be?"
---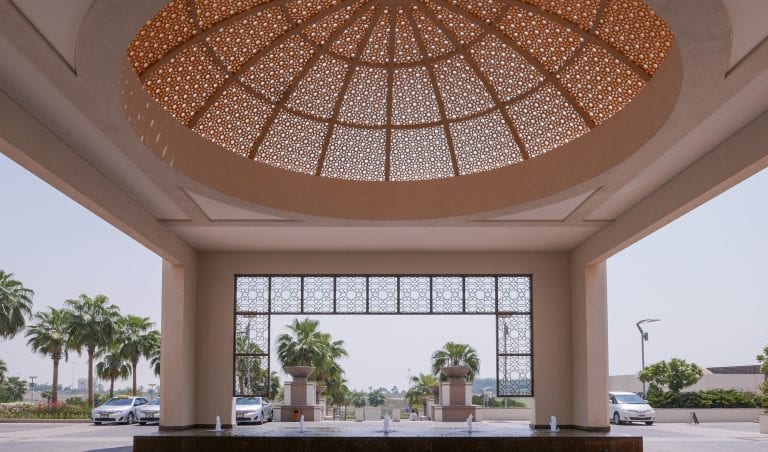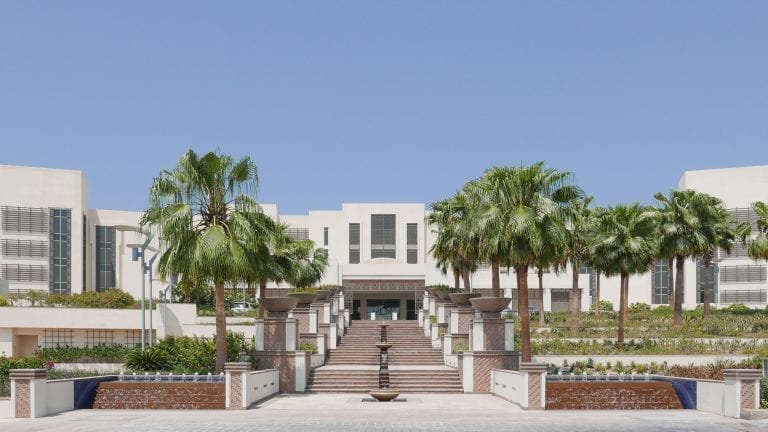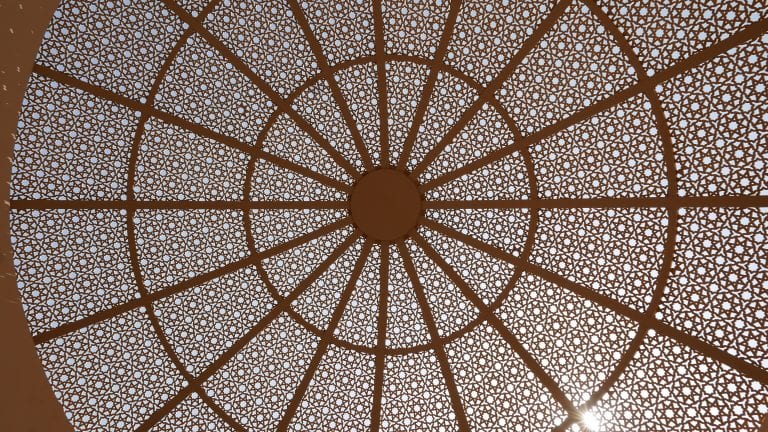 Checking in on my birthday, as a Hyatt Diamond member (on a Hyatt Privé rate, no less), I was hoping to get something a little nicer than the standard Park Suite which I was booked into. I flashed my nicest smile and mentioned that I'd noticed that a Park Terrace Suite was still available. "Surely you wouldn't want a suite like that to stay empty on somebody's birthday?" I said. The lady checking us in laughed and said she'd see what she could do.
After typing away for a few seconds she said she had upgraded us but only this once, since it was a special occasion.
At this point we were introduced to Romal, a lovely man who was described to us as our butler but whom we only ever saw during check-in!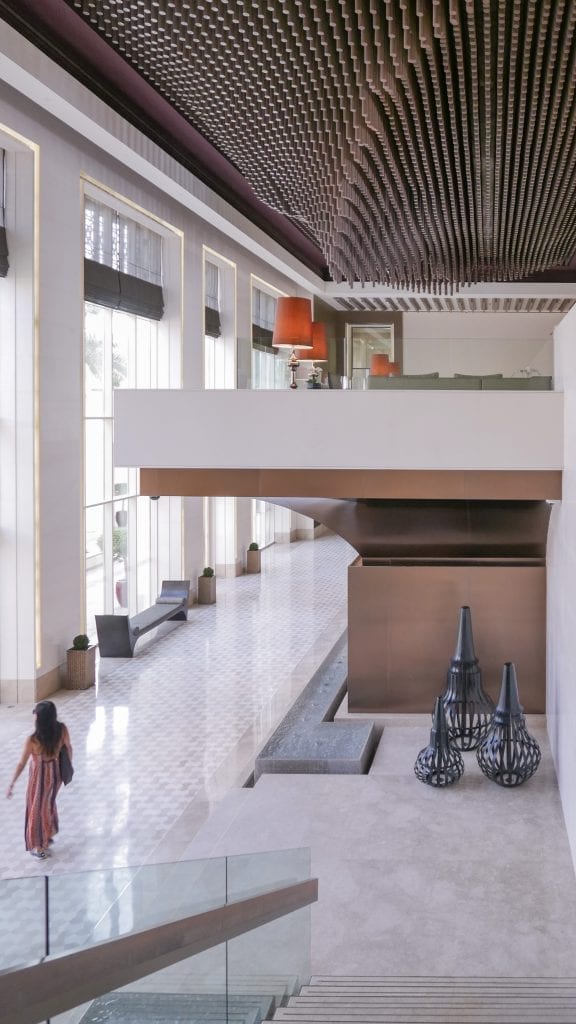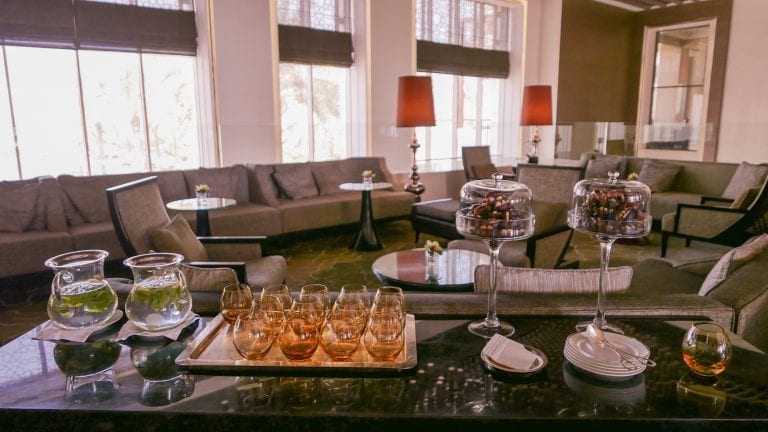 The cavernous ceilings and giant drapes in the public spaces are more than a little reminiscent of Qatar's Al Safwa lounge. Everywhere you look there is tasteful lighting, designer furniture and even a constant supply of drinks and snacks in the lobby lounge!
Romal escorted us to our suite on the 6th floor. I love that feeling of walking through a hotel, wondering how big your door will be or how far your room will be from your nearest neighbour. Seeing that there were no other rooms in this giant hallway, I was pretty sure that our suite was going to be epic…
The main living space of the terrace suite is spectacular, I couldn't believe how much space we were going to have to ourselves!
As you first enter the suite you come to the wet bar, complete with a Nespresso machine and our welcome amenity of red wine and mixed nuts.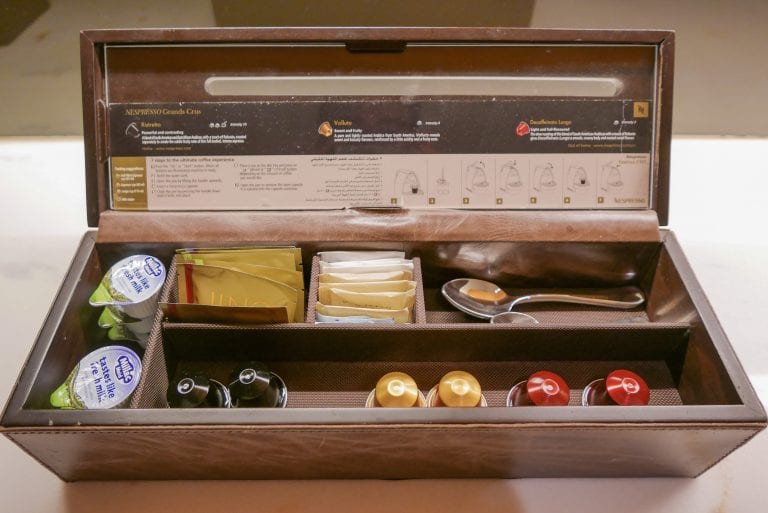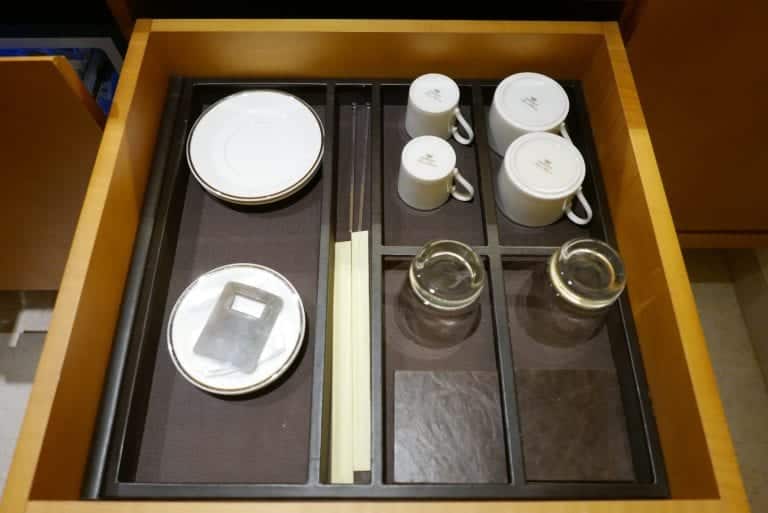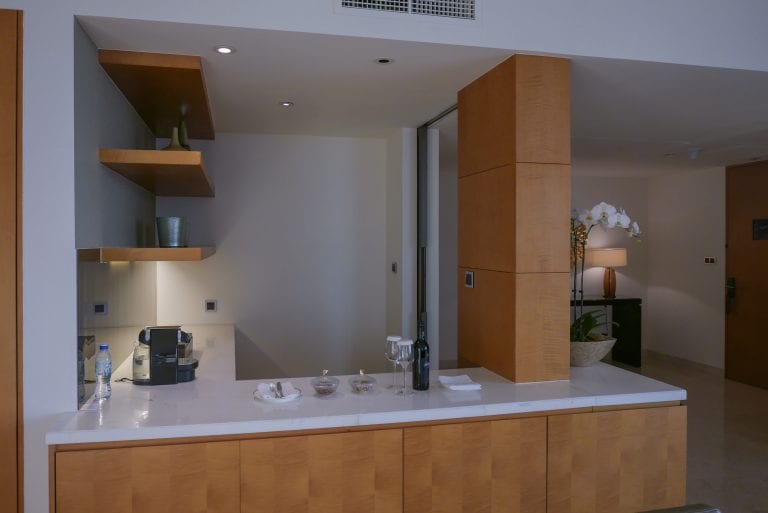 The hotel also left me a beautiful birthday cake but unfortunately I think it had been sitting out for quite some time as it tasted and smelled strongly of egg. I called to let the front desk know, in case this was an issue that would impact other cakes made that day. The person I spoke to on the phone didn't seem too concerned though, it seemed like she didn't really understand what the problem was.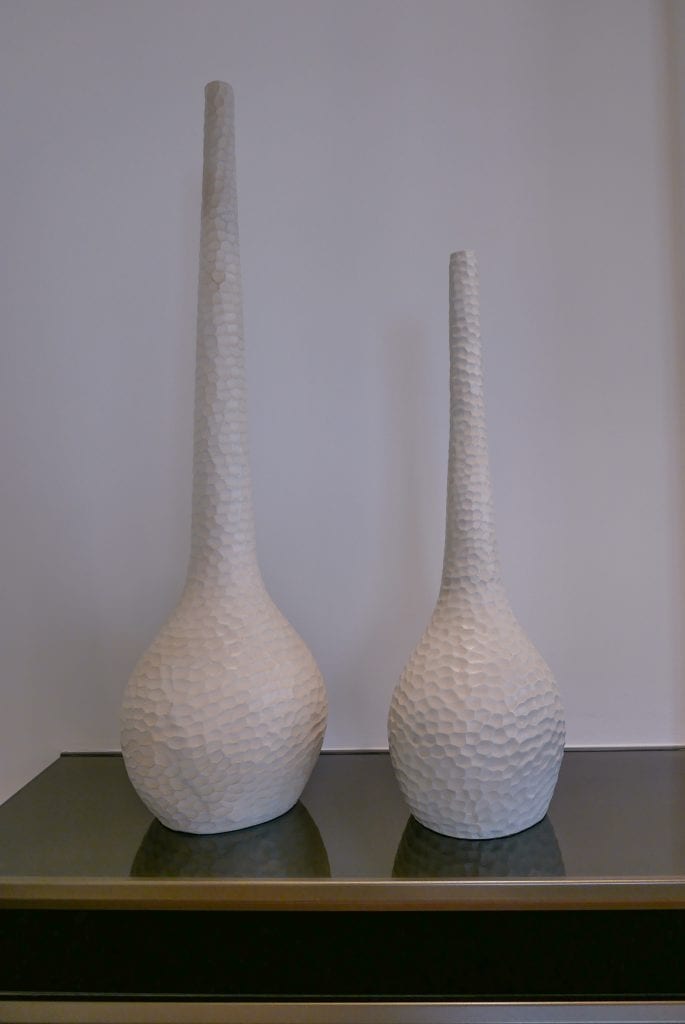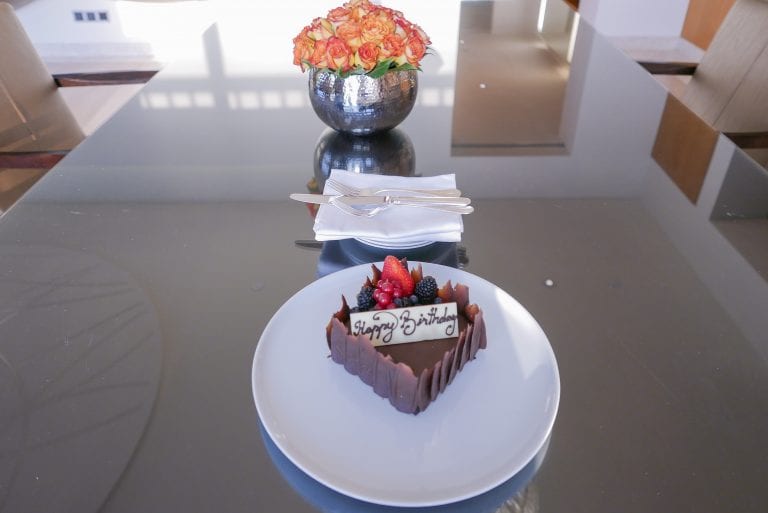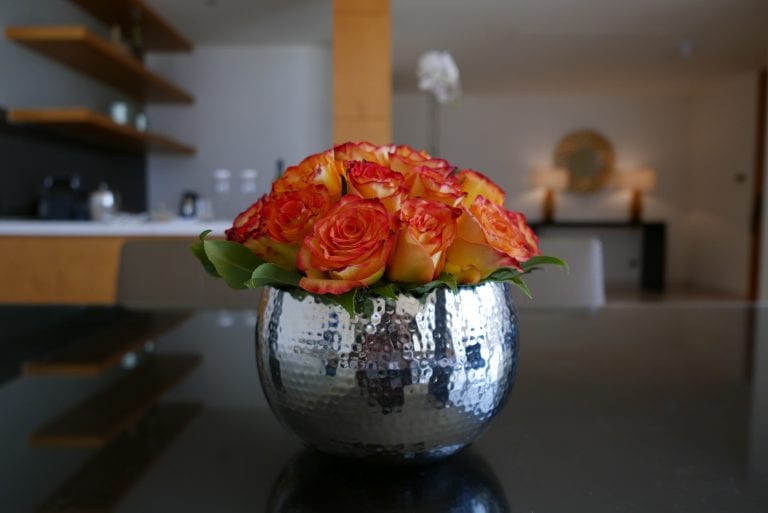 A GoPro shot really helps to illustrate the amount of light and space in the suite.
Continuing on from the living room you come to the very spacious and elegant bedroom.
I love how the bedside tables were designed to maximise storage space, as well as providing conveniently located power sockets.
I also found the chaise longue to be particularly suitable as a venue for my nightly grape feedings.
At the far end of the bedroom is a long corridor, leading back to the wet bar. The cool thing about it is that it doubles up as a walk in wardrobe and dressing room and even comes with its own yoga mat.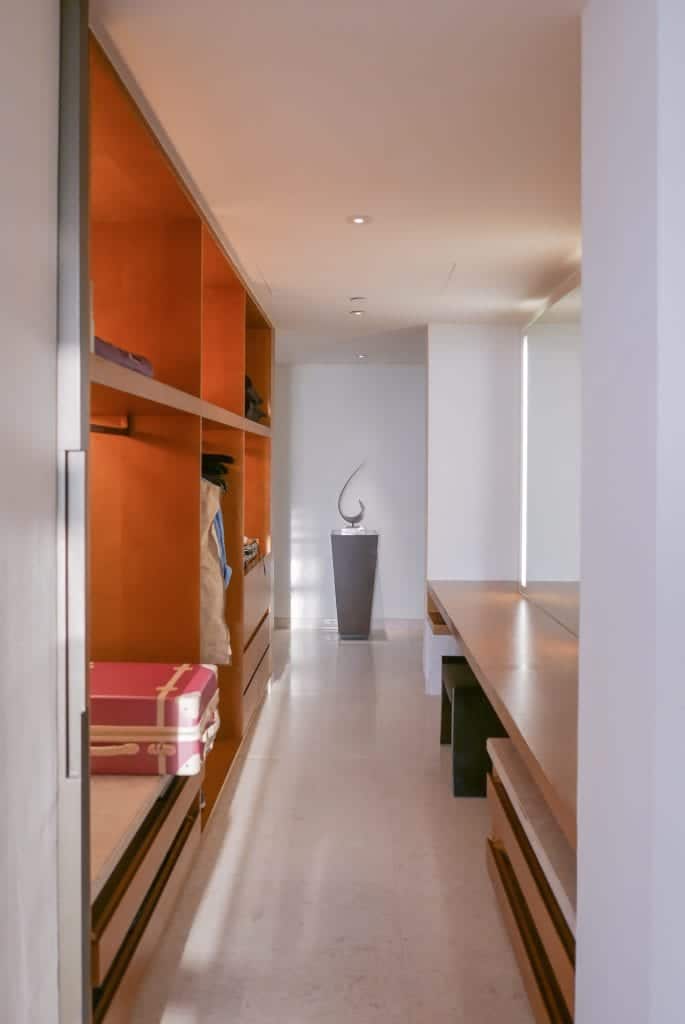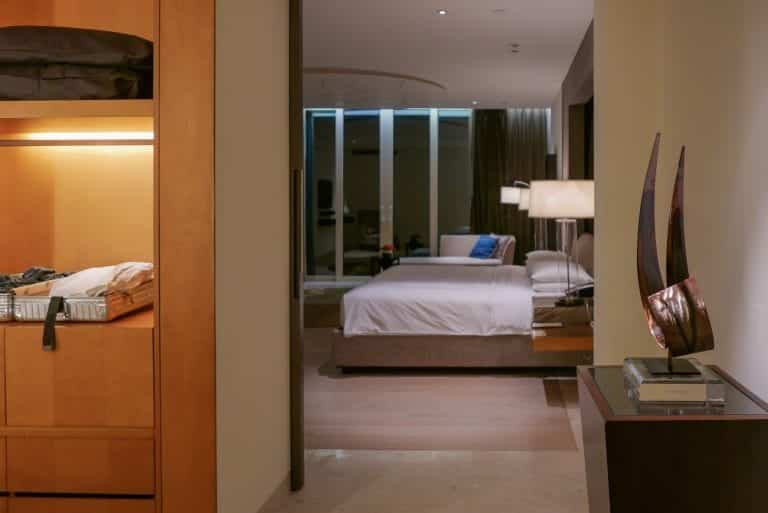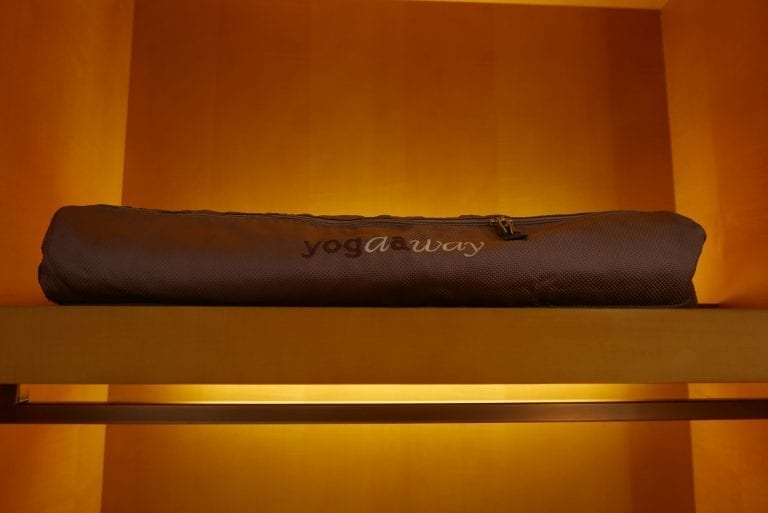 The bathroom is every bit as cavernous and luxurious as the rest of the suite.
A comfy bed is all well and good but real luxury to me is all about a bathroom with: a ton of space, natural materials, recessed lighting, a deep soaking tub, high powered shower, tons of towels and plentiful high-end toiletries.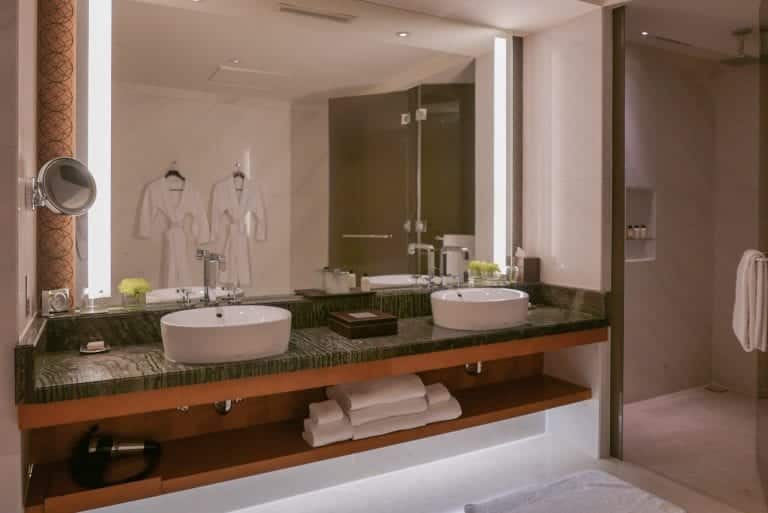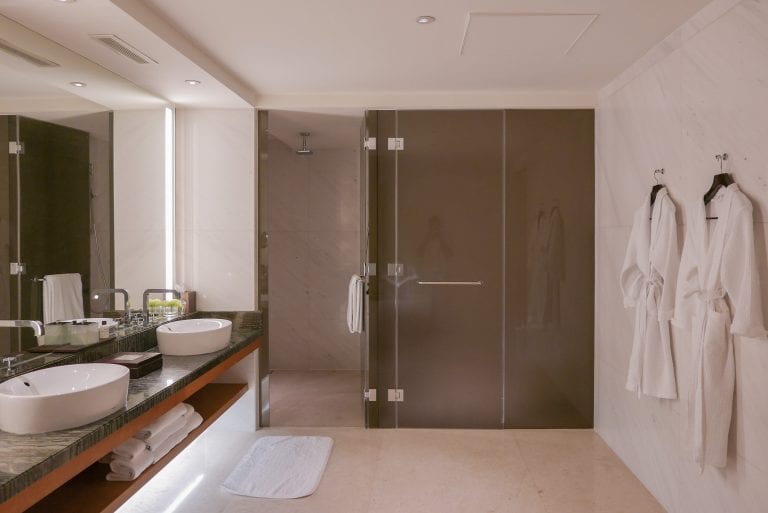 The Park Hyatt Abu Dhabi stocks its rooms with Le Labo toiletries, more or less the brand standard for PH Hotels. Personally I think Le Labo smells great but the toiletries are more thin and watery than my favourite Aesop products.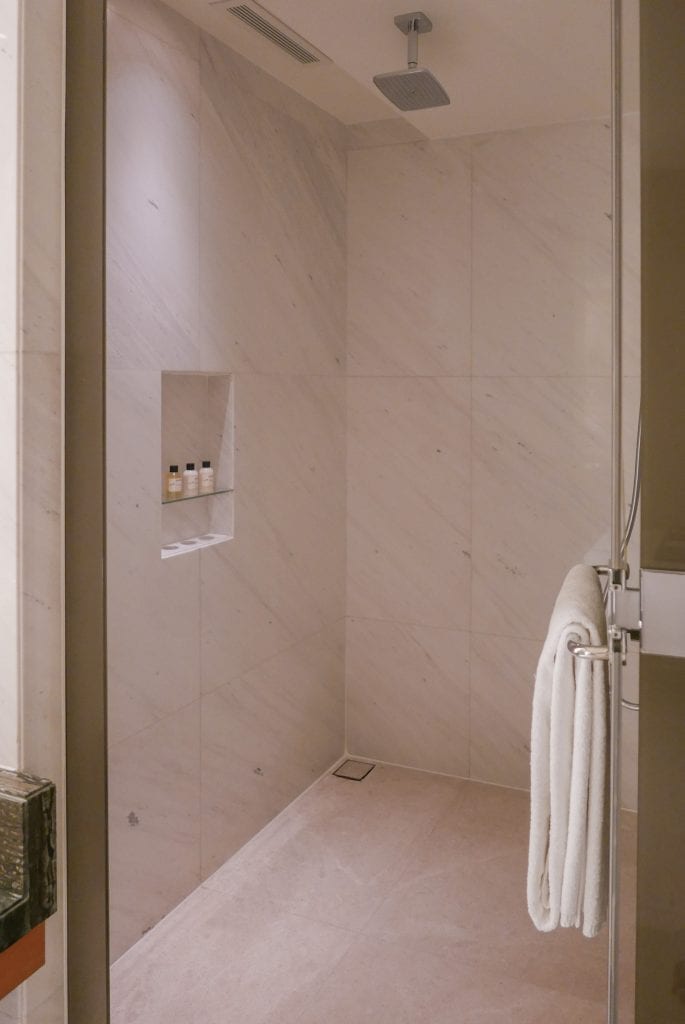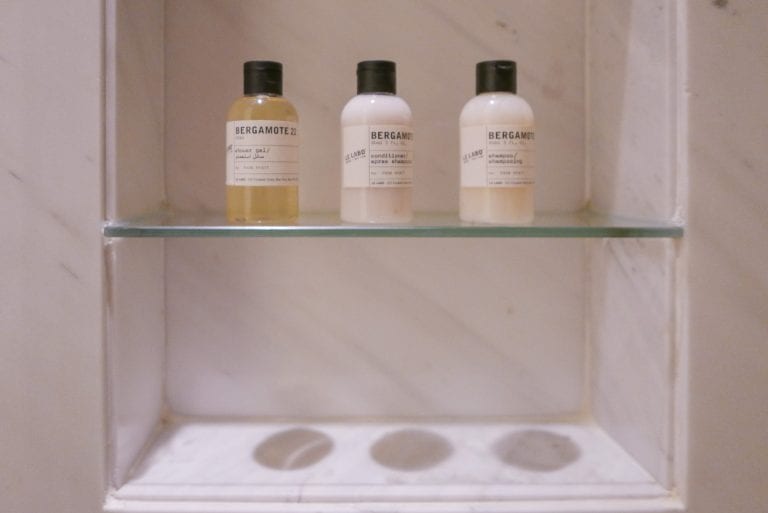 The defining feature of the suite is the enormous terrace that wraps around the living room and bedroom.
The wine that we were given was not the best but mixed with some ice, sprite, brandy and fruit it turned into a pretty passable sangria to enjoy on a hot day. I'm not going to lie, we felt like rockstars having such a huge space to ourselves, seeing the entire resort stretched out beneath us.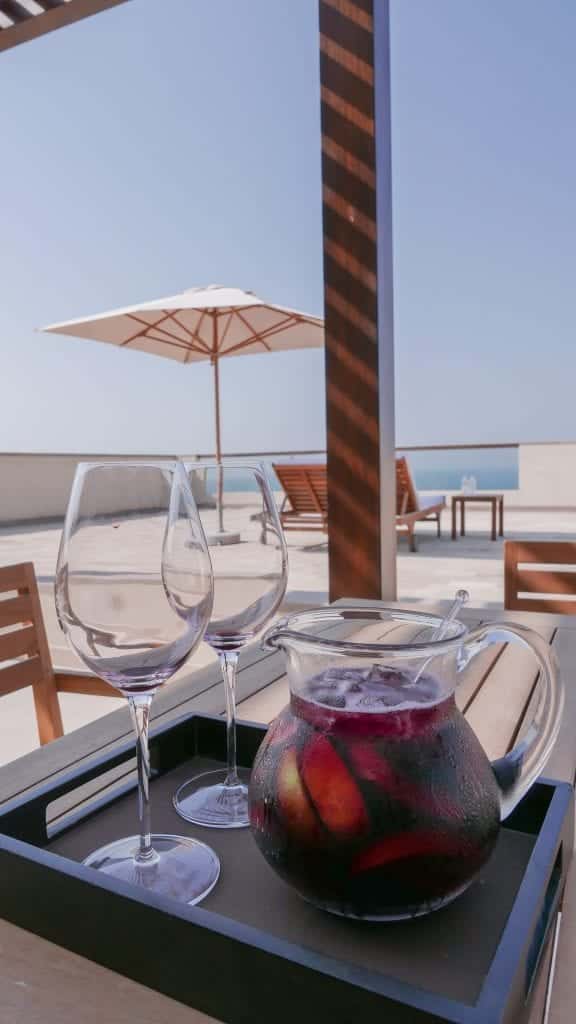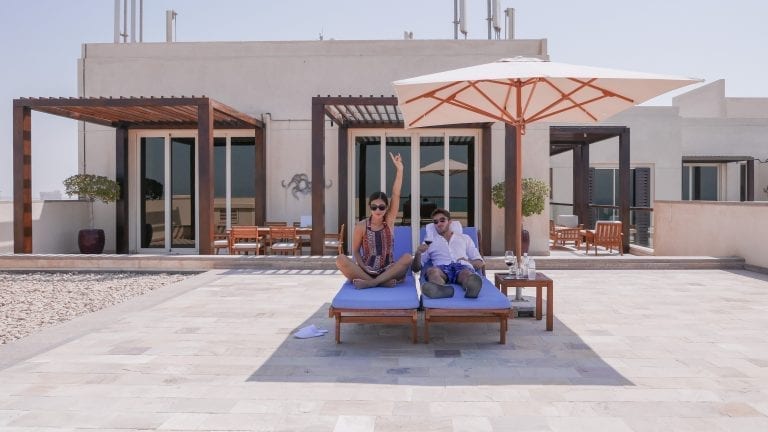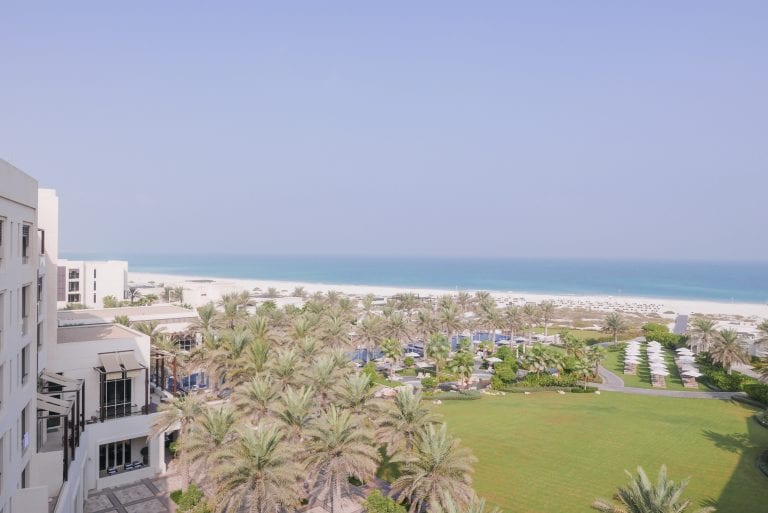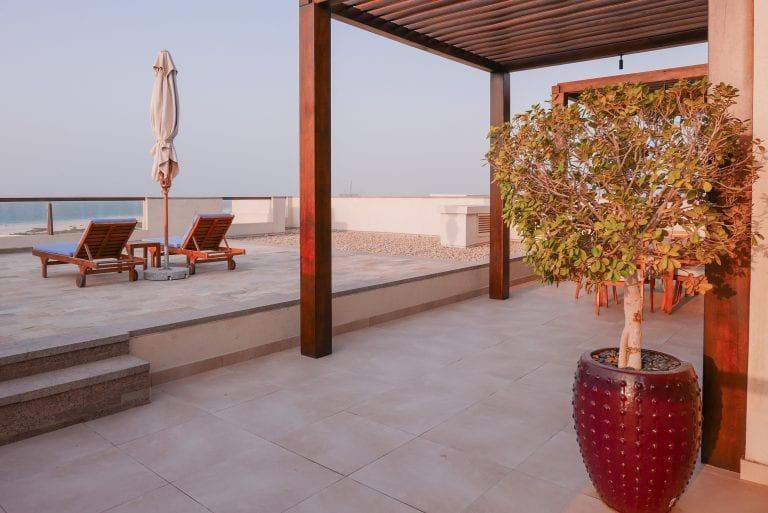 In the evenings we moved over to the area wrapping around the side of the living room, the perfect place from which to watch the sun slowly descend into the ocean.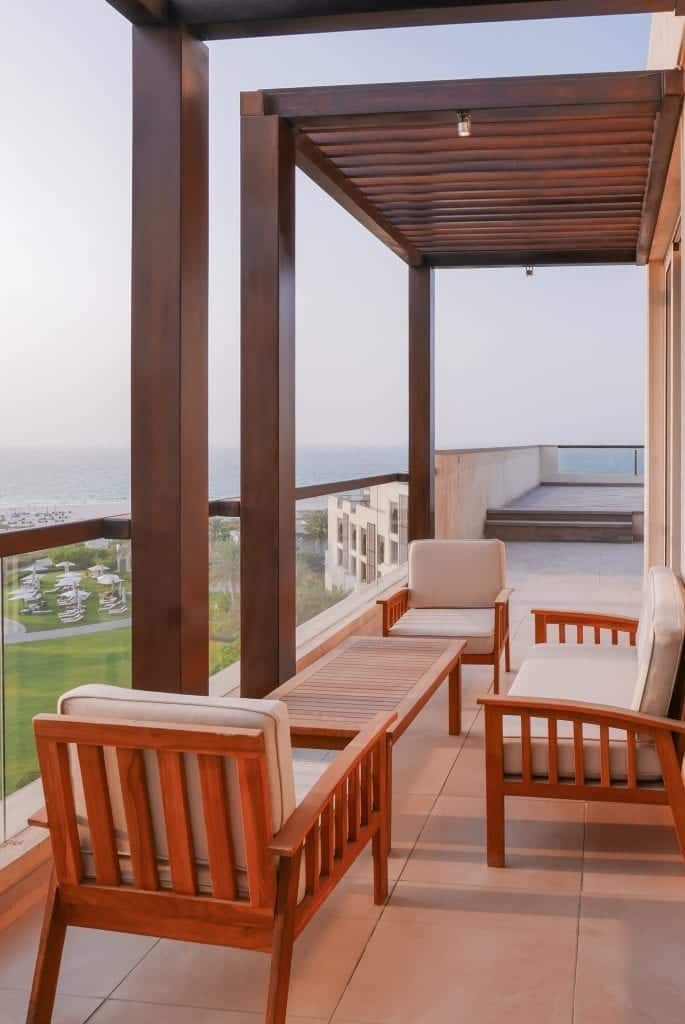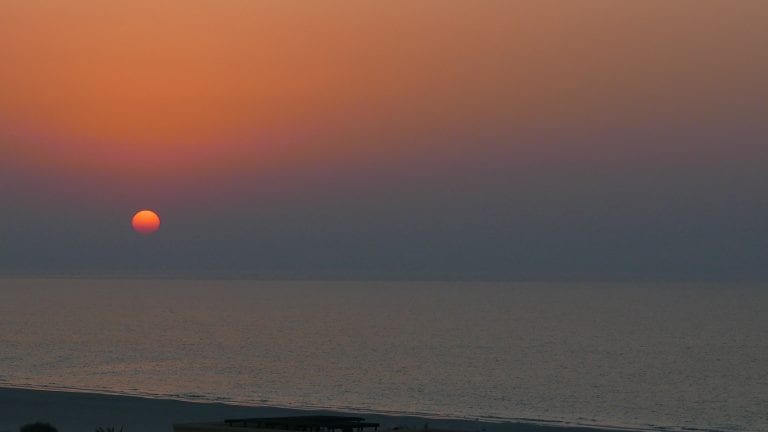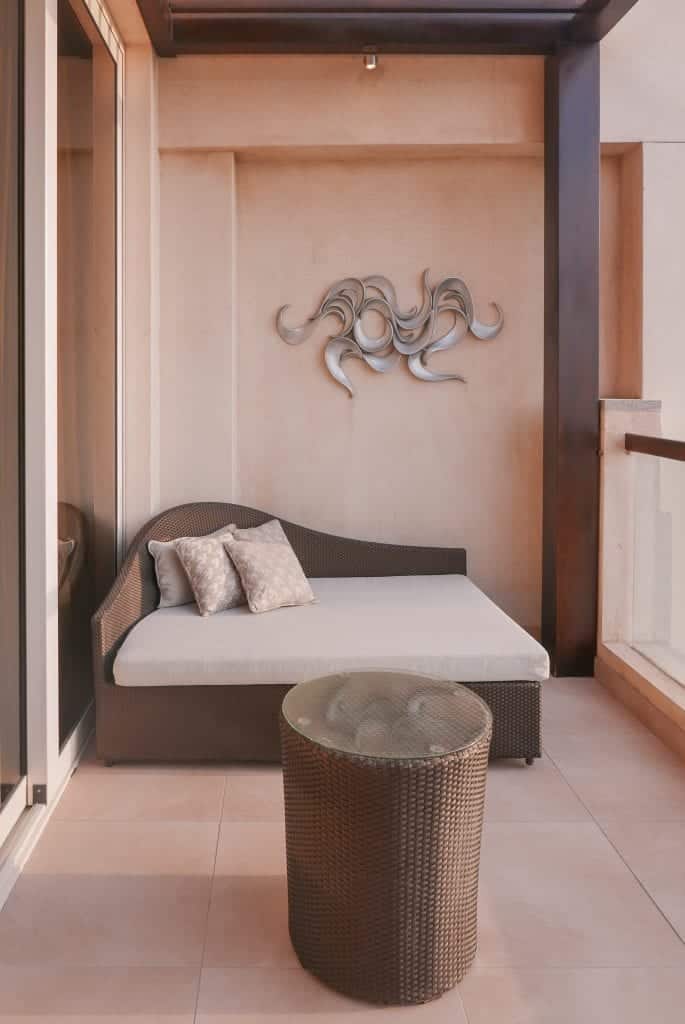 ---
Food and Drink
---
A variety of dining options is 'nice to have' in a city hotel, whereas in a resort the quality of bars and restaurants on site is a lot more important. Let's begin with the most important meal of the day…
Breakfast at The Café
The Café is located next to the main pool and has a variety of indoor and outdoor seating. The large fans outside are a nice touch (and something of a necessity six months of the year).
We opted to take a seat in the interior courtyard each morning.
Inside things are a lot busier, although there are high ceilings, lots of natural light, air con and of course… easy access to the the food!
Speaking of which, the food selection was fantastic, with a wide variety of fresh fruit, vegetables, cheese and charcuterie; as well as a multitude of freshly baked goods.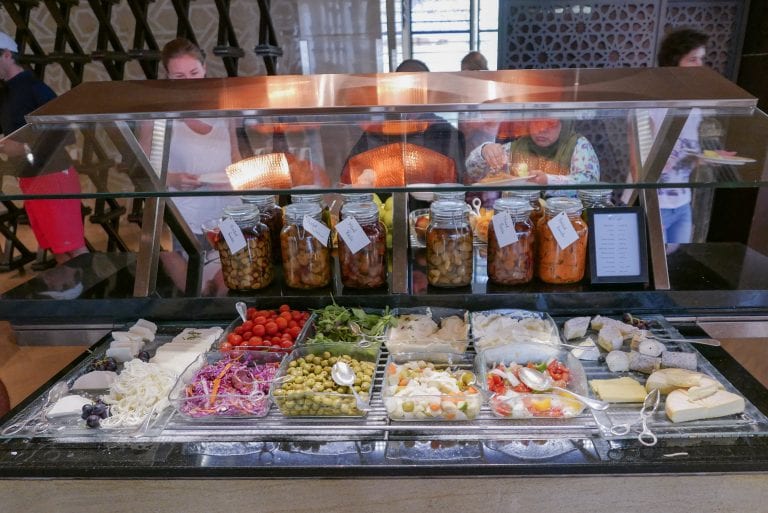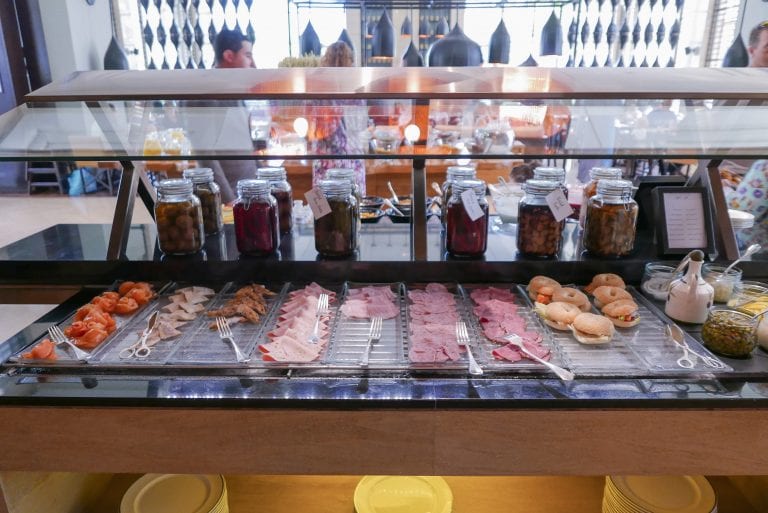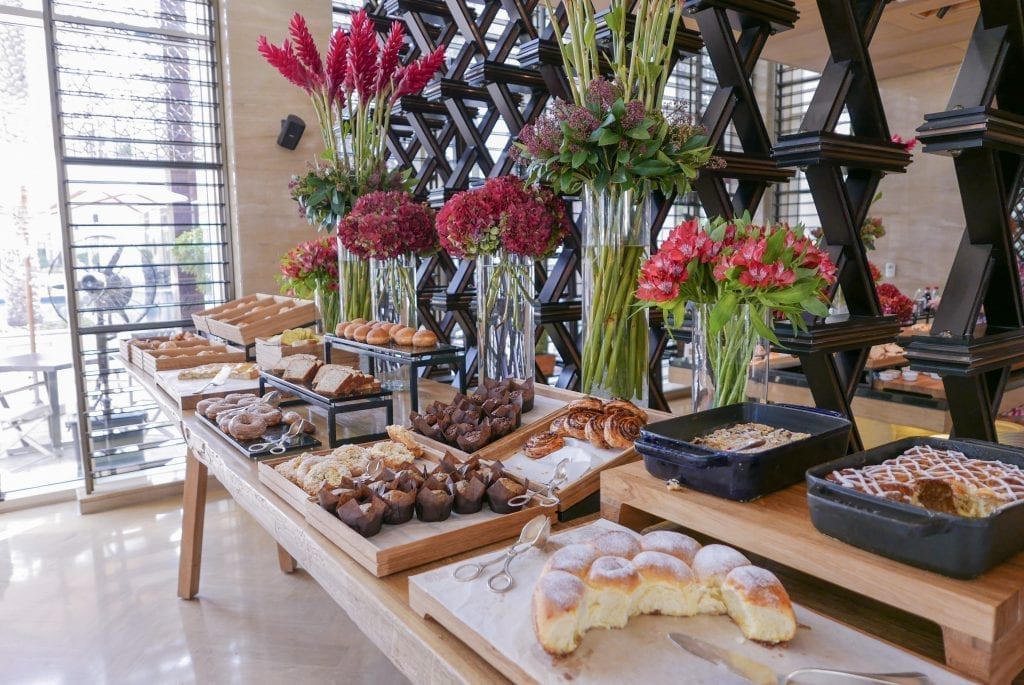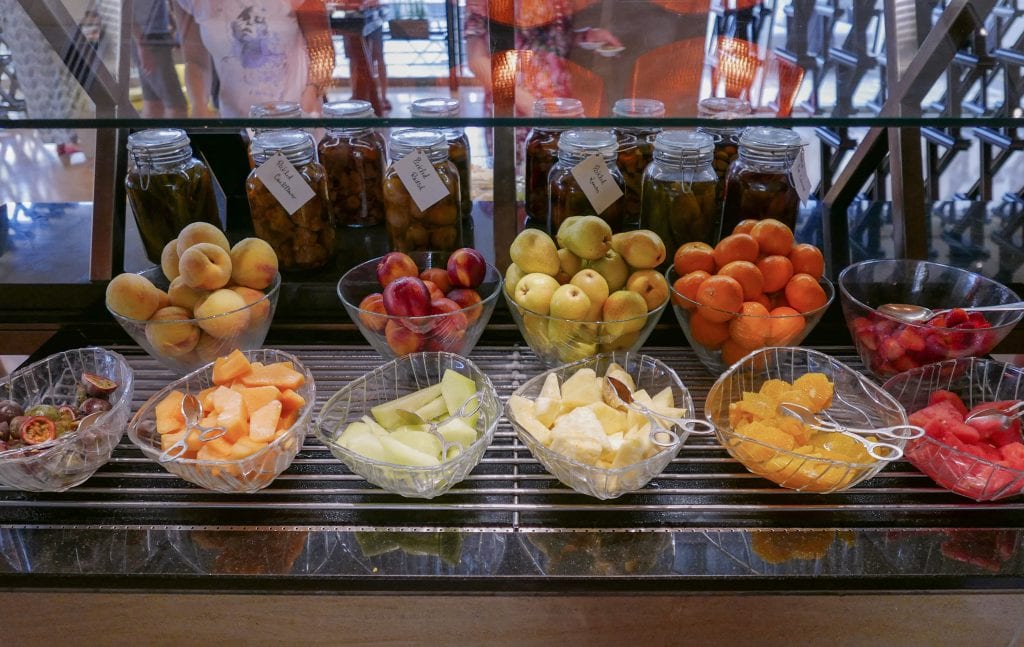 Drinks were offered via table service but top ups for the juices were also available at the buffet.
Hot food buffet and made to order eggs. I can't help feeling that it would have been better to take orders and then deliver the eggs. Standing around in a huddle is not a particularly luxurious experience for the people waiting or others trying to make their way to the hot food.

Beach House
We went for tapas there one night and found the service to be decent although the food was about as inauthentic as it gets. Prices ranged from 30-89 AED per dish.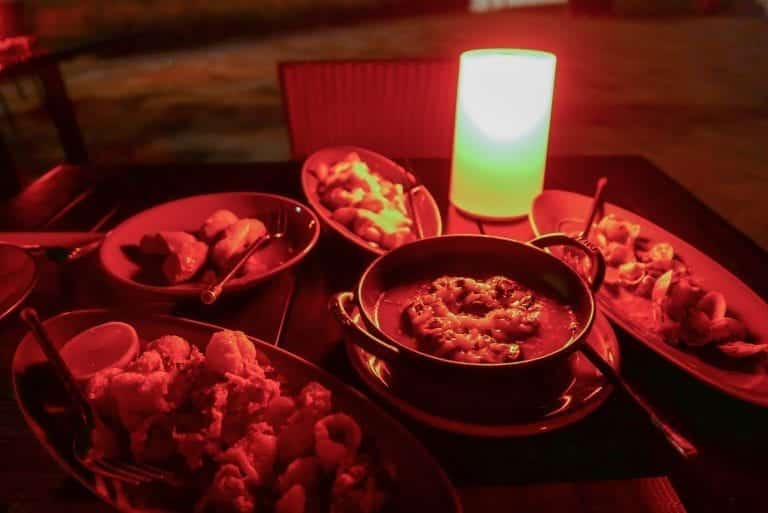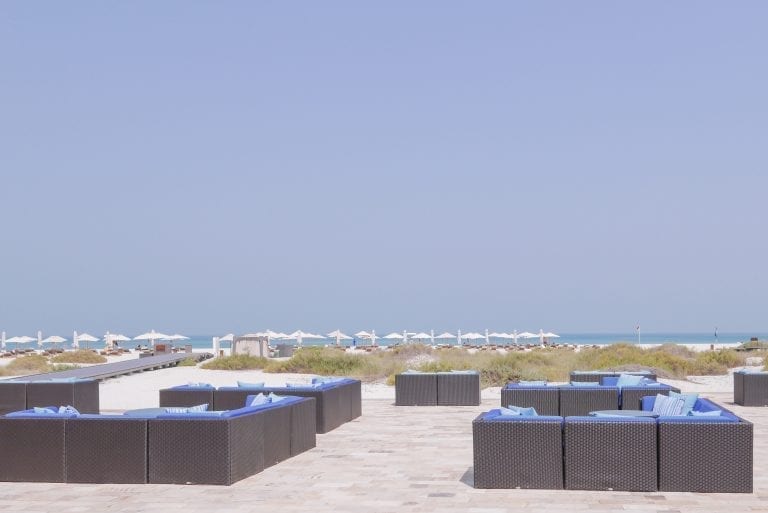 The Library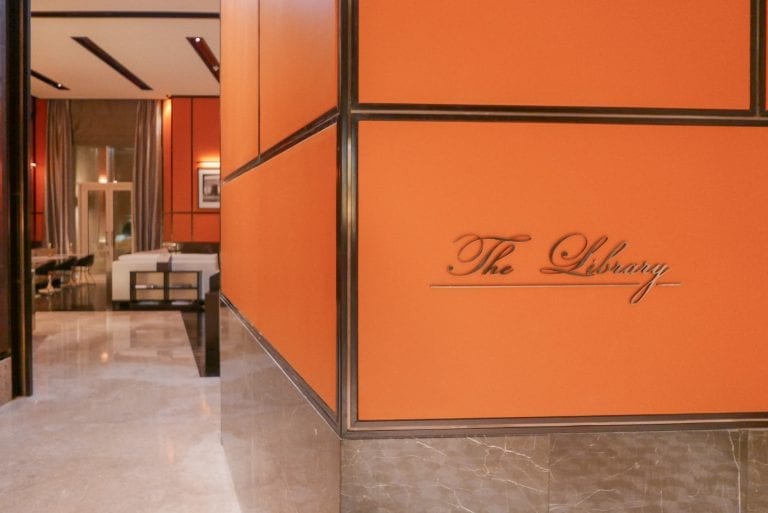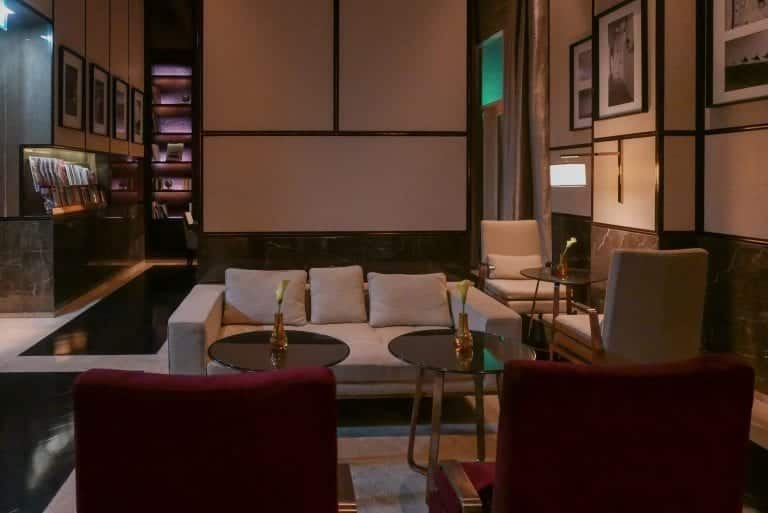 The library is an all day tea and coffee lounge. It was very quiet throughout our stay. We didn't have any food or drink here but the staff were lovely and always smiled and greeted us when we came through.
The Pool
The hotel's main pool is a real showstopper, drawing inspiration from the long pool at the Chedi Muscat, with the added benefit of providing shade over the plush loungers!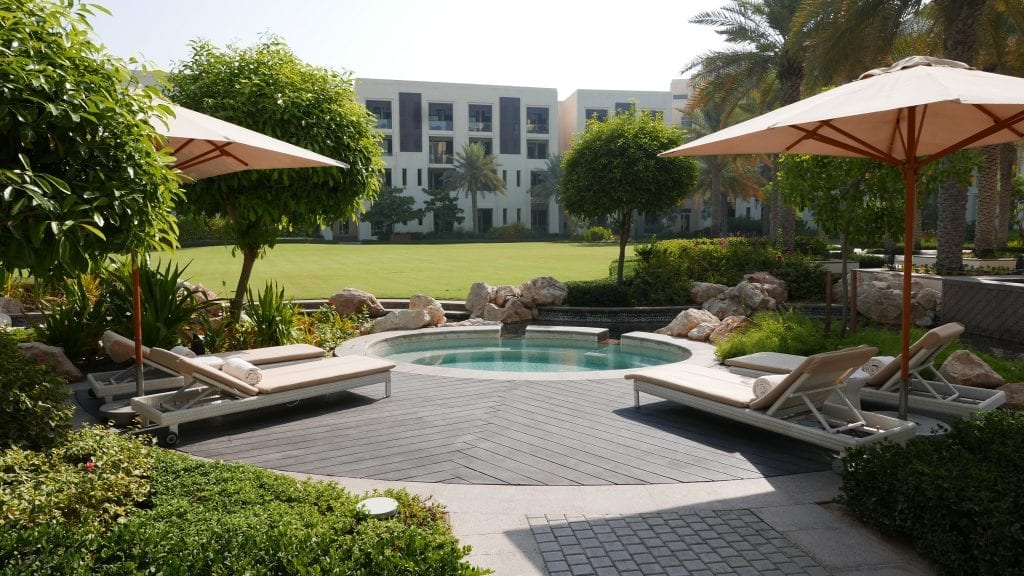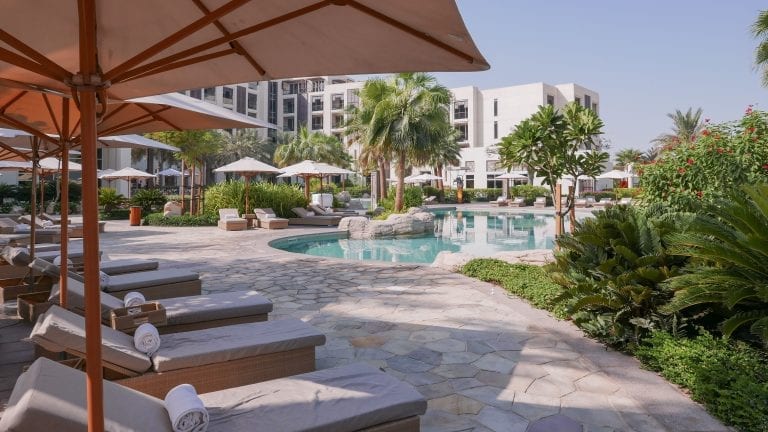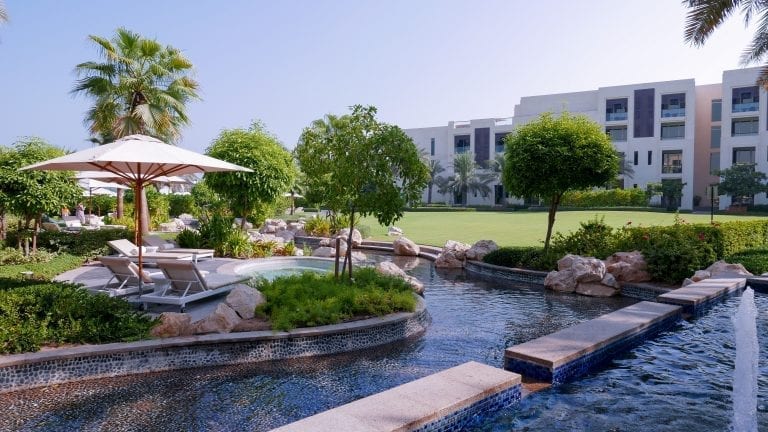 In case the main pool is too busy for your liking, there are also numerous, quieter, subsidiary pools available.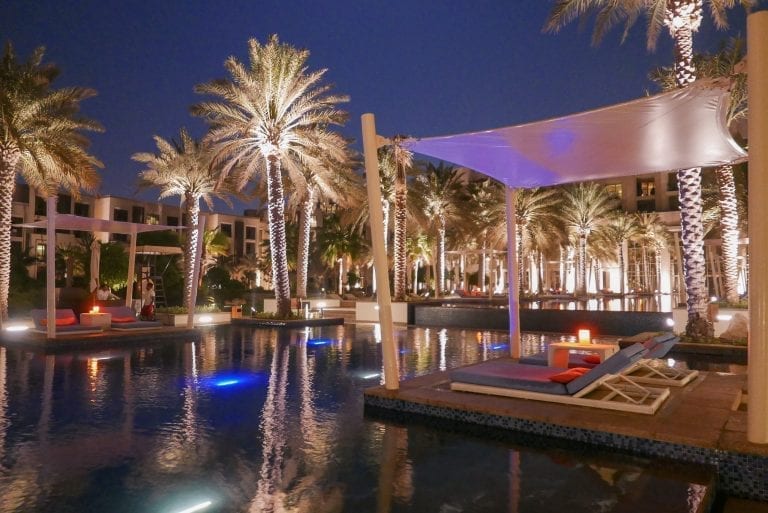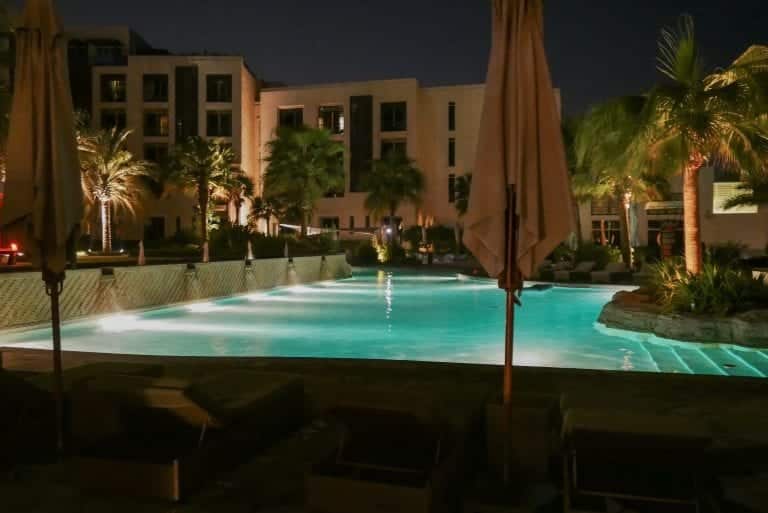 At night, the pools were beautifully illuminated, totally transforming the feel of the resort.
The Beach
I was blown away by the quality of the white sand beach at the bottom of the resort. The attendants were very proactive and there was plenty of space to spread out without feeling like you were on top of other guests. I really hadn't been expecting white sand and turquoise water here.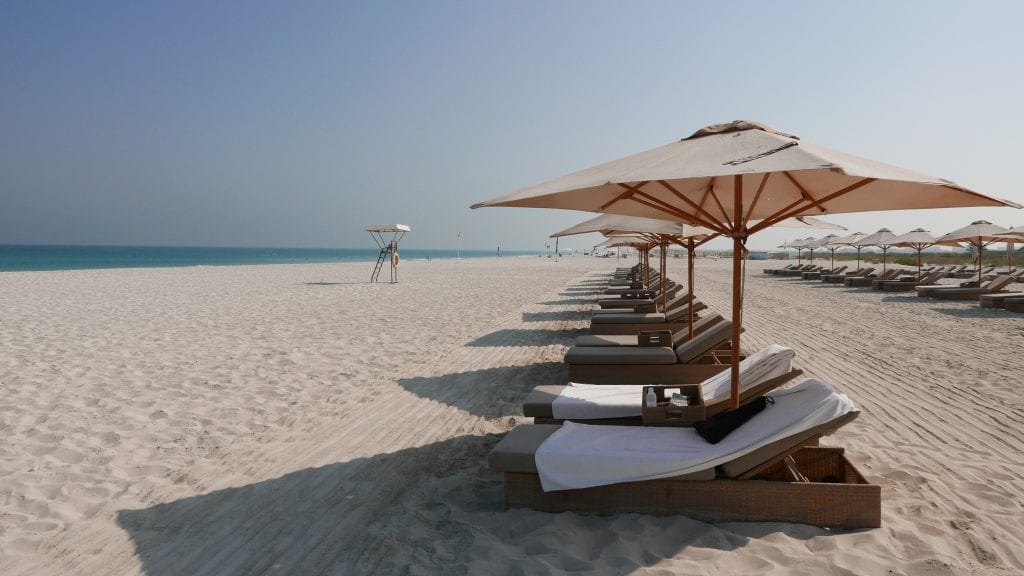 The Gym
The gym is located within the hotel's spa facility.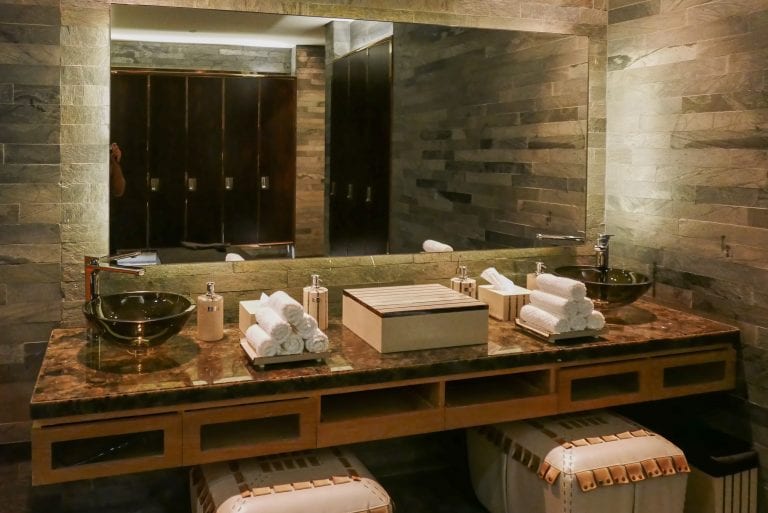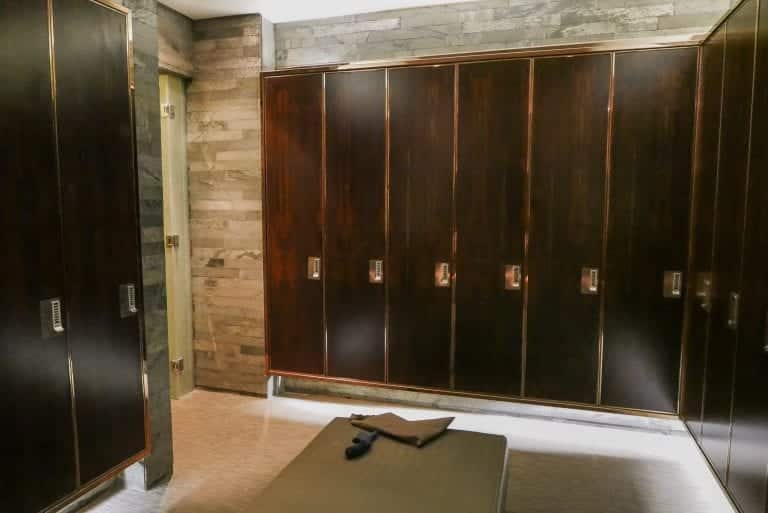 The changing rooms are very dark and luxurious, with a distinct Arabic theme.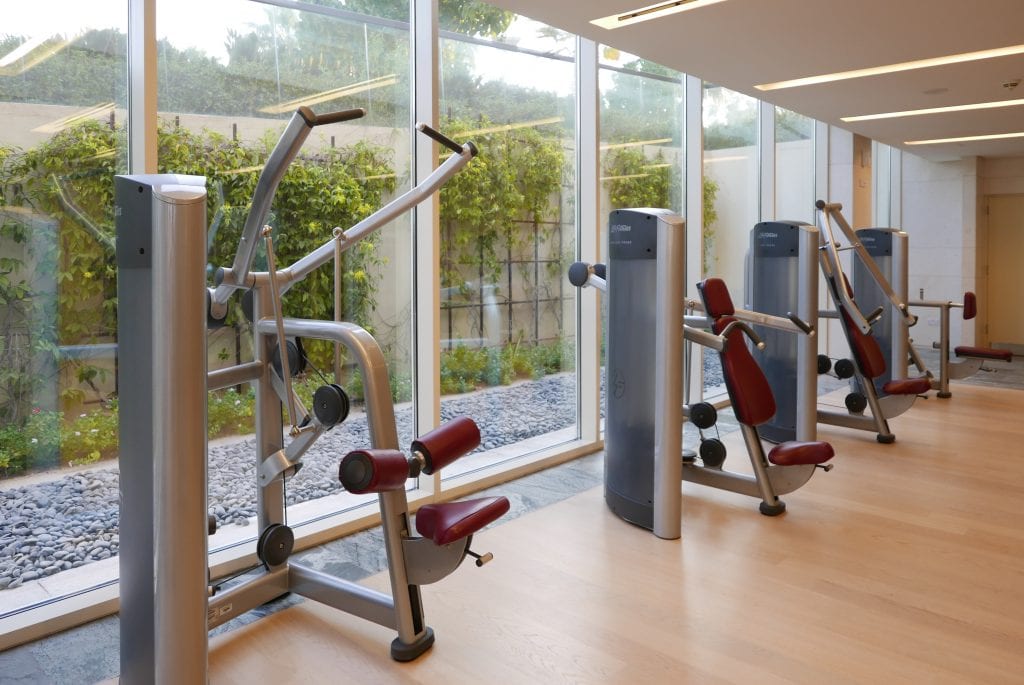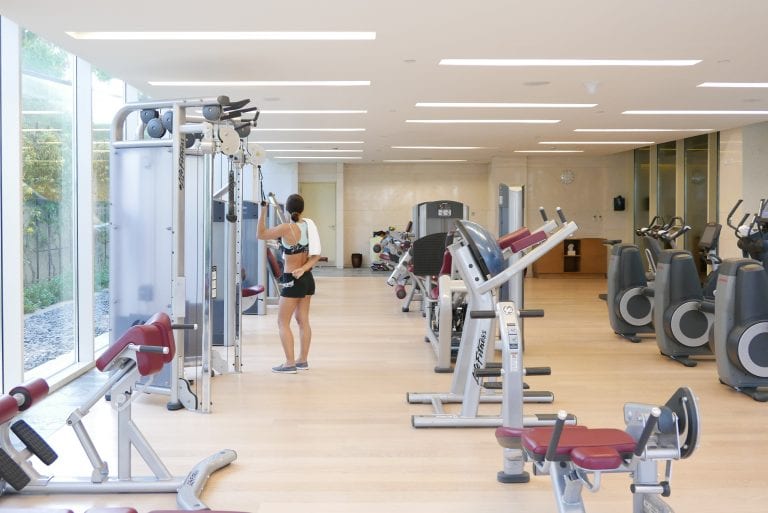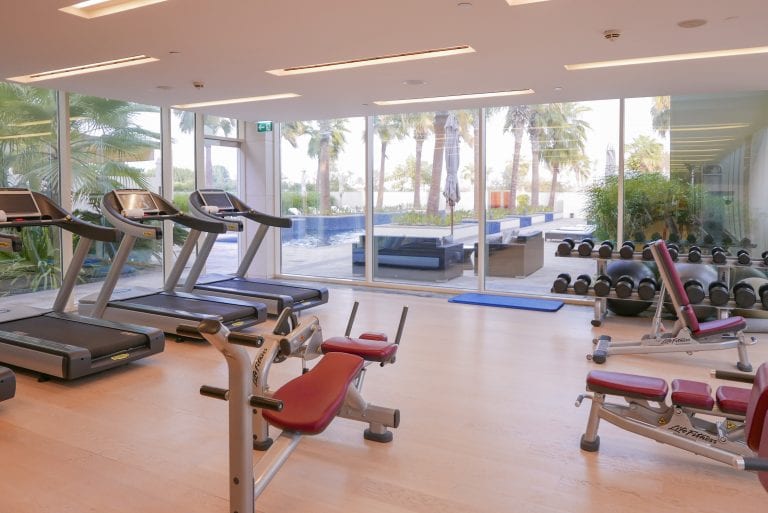 The gym has a great selection of machines and even features a small outdoor pool, walled away from the rest of the resort.
---
Conclusion
---
In terms of hard product this has to be one of the most expansive and impressive suites I've ever seen in any hotel. Considering that this suite retails for less than a night in a basic room in most London luxury hotels, it seems like an absolute steal. Even if you are unable to make use of complimentary upgrades, there is real value to be had here. I can't imagine you'd get anything close for less than three times the price, an hour down the road in Dubai.
Make no mistake, this is a big resort and breakfast in particular can get a little hectic. Peace and quiet is very easy to find though. There are plenty of quiet nooks and alcoves to relax in and the quality of the white sand beach was an unexpected surprise.
The staff were very friendly and helpful, always stopping to say hello when crossing paths with a guest. Lunch in the Café was rather slow though and we did have a bit of miscommunication with regards to the cake in the room.
Still those are minor complaints in what was otherwise a fantastic stay. I can see the appeal of being in Dubai and certainly enjoyed our stay at the Park Hyatt there previously. However, for me this is a far more impressive resort with better hardware and far keener pricing. For a long weekend escape during the European winter months, the Park Hyatt Abu Dhabi is an ideal choice.
---
Book online with Hyatt Privé benefits
---
Hyatt Privé Partner Booking
Click the image to get the best available, flexible rate and also receive:
Priority room upgrades, subject to availability.
Full breakfast for up to two in-room guests.
$100 hotel credit.
Welcome amenity.
Early check-in/late check-out, subject to availability.
Note: You will still earn stay credit and ALL elite benefits, exactly like a direct booking with Hyatt.com.
The Park Hyatt Abu Dhabi can be booked directly online by clicking the "BOOK NOW" image.
First time booking with us? Here's how to quickly get set up:
Do you have a more complex booking enquiry, involving multiples rooms or hotels? Email us for immediate booking assistance:
EMAIL FOR MULTI PROPERTY ENQUIRIES
---