---
Intro
---
When one of my friends casually mentioned in the pub that his older brother was the CEO of a private jet company, I knew this was an opportunity too good to pass up. In a wondrous victory for good old fashioned nepotism, I convinced him to put me in touch with Stratajet's press office and managed to weasel my way onto one of their press trips to the ruggedly spectacular, Scottish Island of Islay.
Sounds like fun but almost nobody can actually afford to fly private right?
To be honest, at first I was thinking that this would be a great opportunity to have fun and take some cool pics but wasn't entirely sure how useful a trip report this would be, given that the costs of private aviation rule out 99% of people.
Then I was sent some numbers:
– A Citation CJ2 going from London (Biggin Hill) to Dublin (Weston) for £4,000 = £500pp
– A Chieftain available from London (Fairoaks) to Paris (Le Bourget) for £3,000 = £375pp
– A Citation Excel going from London (Luton) to Mallorca (Palma de Mallorca) for £6,500 = £812.50pp.
– A King Air available between London (Fairoaks) and Nice (Cote d'Azur) for £6,000 = £850pp
OK, definitely not low cost carrier territory but a flight to Paris, where you can carry all your liquids straight onto the plane and not worry about taking off your belt, a parking spot within metres of the plane, all whilst avoiding the horrors of CDG for £375pp. I'm sure a fair few of you would be keen to give that a go!
Naturally I wondered how the hell Stratajet were able to offer these kinds of prices and wondered if this was a case of them cherry picking specific routes where a jet had an empty leg home, after dropping its full fare passengers off. There are a number of companies out there that specialise in selling these empty legs at a steep discounts, since the marginal cost to the seller of offering these is effectively zero (the jet would be flying home empty anyway).
The downside of this empty leg system is that you need to be extremely flexible with both your dates and destination. The chances of you matching up exactly with the route, date and time of an existing empty leg are minimal.
So what is Stratajet doing?
The answer is that in addition to pricing regular flights, Stratajet gets info on any empty legs within a reasonable distance of your route and prices in the cost of detouring the empty leg to your liking.
For example, if you search London to Milan and there's a jet that is flying empty from Edinburgh to Rome, Stratajet will calculate the cost of the detour, extra landing/takeoff fees and any extra parking fees to adjust to your schedule. The adjusted prices will still be way cheaper than chartering a plane from scratch, even if they're slightly higher than flying to the exact spec of the original empty leg.
NO OTHER COMPANY IN THE WORLD DOES THIS.
Until Stratajet came along, the private jet industry was incredibly anachronistic, cumbersome and inefficient.
Jonny Nicol, the CEO (and my friend's older brother), created the world's only true real-time booking system for private jets.
Any other private jet company with a 'booking engine' is actually just throwing you a rough quote which then gets firmed up after a series of back and forth emails and/or phone calls with brokers. The number of calculations and variables involved in getting a jet from point A to point B are so complex that nobody else had even tried to systematise and simplify things. For their part the jet brokers sure as hell didn't want an electronic system removing the opacity from the market and revealing the true extent of their 'contribution' to efficient pricing.
I had no idea about any of this before speaking to Stratajet's press people but it is alarming how backward the private flight industry is considering the demanding and generally time poor market segment that it targets.
I hope that this explains why I think Stratajet are a cool company and why I think that private travel can actually have a place in the budget of somebody who is already flying long haul Business and First Class on a regular basis. Much like my other trip reports, I strive not only to inspire but to inform. This type of travel is definitely something that is within reach…
Now onto the fun stuff. The trip itself!
---
Outbound to Islay on the Chieftain
---
Outbound
Class: Private
From: Lydd, England (LYX)
To: Islay, Scotland (ILY)
Duration: 1h50
Aircraft: Chieftain
---
---
My day began with a chauffeur driven car to Biggin Hill Airport, slightly to the Southeast of Croydon. I was struck by how suburban my surroundings were on the drive there. Usually if I'm travelling by car to the airport I'm going to be dealing with major traffic and longer distances but this felt a bit like a bit more like a drive to the shops and I mean that in the best way possible. There was just no stress at all.
It was kind of surreal to be dropped right at the entrance to the airport and be straight in the Departure Lounge. There are luggage trolleys at the entrance but otherwise there still wasn't much about this that felt like an airport. There were no crowds, no long distances to walk and no airport security to deal with at all. I went from the front door to the lounge in under a minute.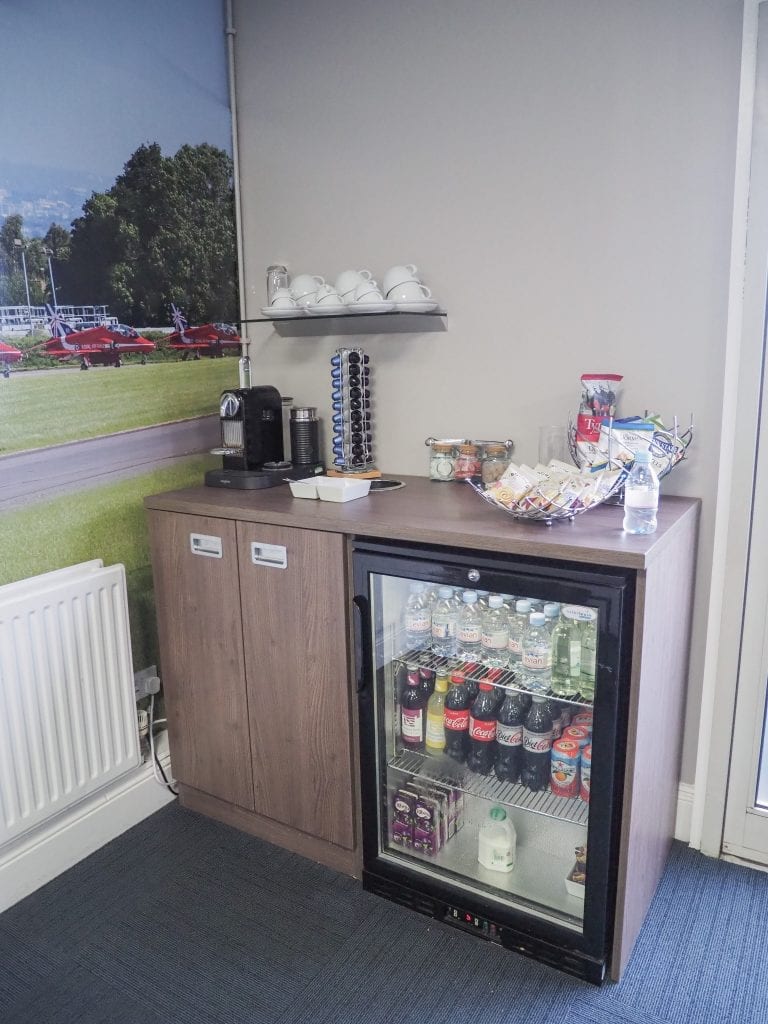 There was a drinks station set up in the main hall as well as a selection of refreshments within the lounge that had been assigned to our group. One particularly cool thing about this experience was that the pilots were congregating and using the same facilities as us. It really made the entire experience of flying feel like the most natural, normal thing ever.
When you're in a regular airport there are so many barriers, checkpoints and official procedures that everybody is operating under an undue level of stress. Even the most experienced of fliers will be firing on extra adrenaline whenever they're in a new airport, rushing to make a connection. Here there is only one departure gate and if you're late, the plane waits for you.
Unfortunately, our trip happened to coincide with a bout of dense fog and low lying cloud. This meant that we were still missing the second of two aircraft that would be shuttling our group up to Islay. On the plus side this gave us plenty of time to photograph the Learjet that had arrived a few hours earlier.
After waiting an hour or so for the cloud to clear, we took an executive decision to make our way by road to the only clear runway within 100 miles of BQH : Lydd airfield (LYX). The CEO of Stratajet would be meeting us there in his Chieftain to fly us to Islay himself.
I'm sure Stratajet's press people weren't exactly delighted at the prospect of us encountering IRROPS during our trip but to their credit, the company took care of things incredibly quickly. I can only imagine the furious background manoeuvring required to find an appropriate airfield and transport seven people to it with an hour's notice. FYI if we were paying customers, Stratajet would have given us the same offer: wait for the clouds to clear or be driven to an alternative airfield at no additional cost. The choice is yours, the costs are theirs – just like a regular airline but better.
Moments after entering the departure hall at Lydd we got word that Jonny, Stratajet's CEO had just touched down and was getting the aircraft ready to take us to Islay. He swaggered into the room in his green tweed jacket and greeted us all with an apologetic chuckle. He explained to us that the cloud base over most of England was so low that the tallest buildings and antennas in each airfield protruded above them. Ordinarily, when the cloud base is low you can fly blind and rely on your instruments to guide you once you break through. Obviously that becomes gravely problematic if there are solid obstacles within the blind zone.
Given Jonny's extensive experience as a fighter pilot and record breaking flight of this plane around the Arctic, I have no doubt that were it humanly possible he would have landed this thing in BQH and taken us from there.
Jonny had actually been hoping to fly us on his own Chieftain (the one pictured at the top of this review) but due to it being serviced he had to source this one at the last minute. However, I think this interior really helps to reinforce a point that Stratajet often make reference to, it is only the ludicrous inefficiency of the existing private jet market that makes it price up as a luxury good. At its core, private air travel is all about convenience.
This is about as bare bones an experience as you'll get on a private plane but still you get to enjoy flying point to point, to an airfield that otherwise has no direct service, whilst dictating the timings and never having to deal with a major commercial airport (unless you want to) – all in total privacy. Champagne and burnished walnut are nice-to-haves, but they are not paramount to the liberating experience of taking to the skies.
Although propeller planes are a little noisier and slower than jets they do have one major advantage: their enormous windows, which were also kept classy with the addition of curtains. Talking of keeping it classy, I have to commend Jonny on his choice of attire:
If one day I grow up to become the CEO of a private jet company, I'm sure you'll find me making similar sartorial choices…
---
Islay House
---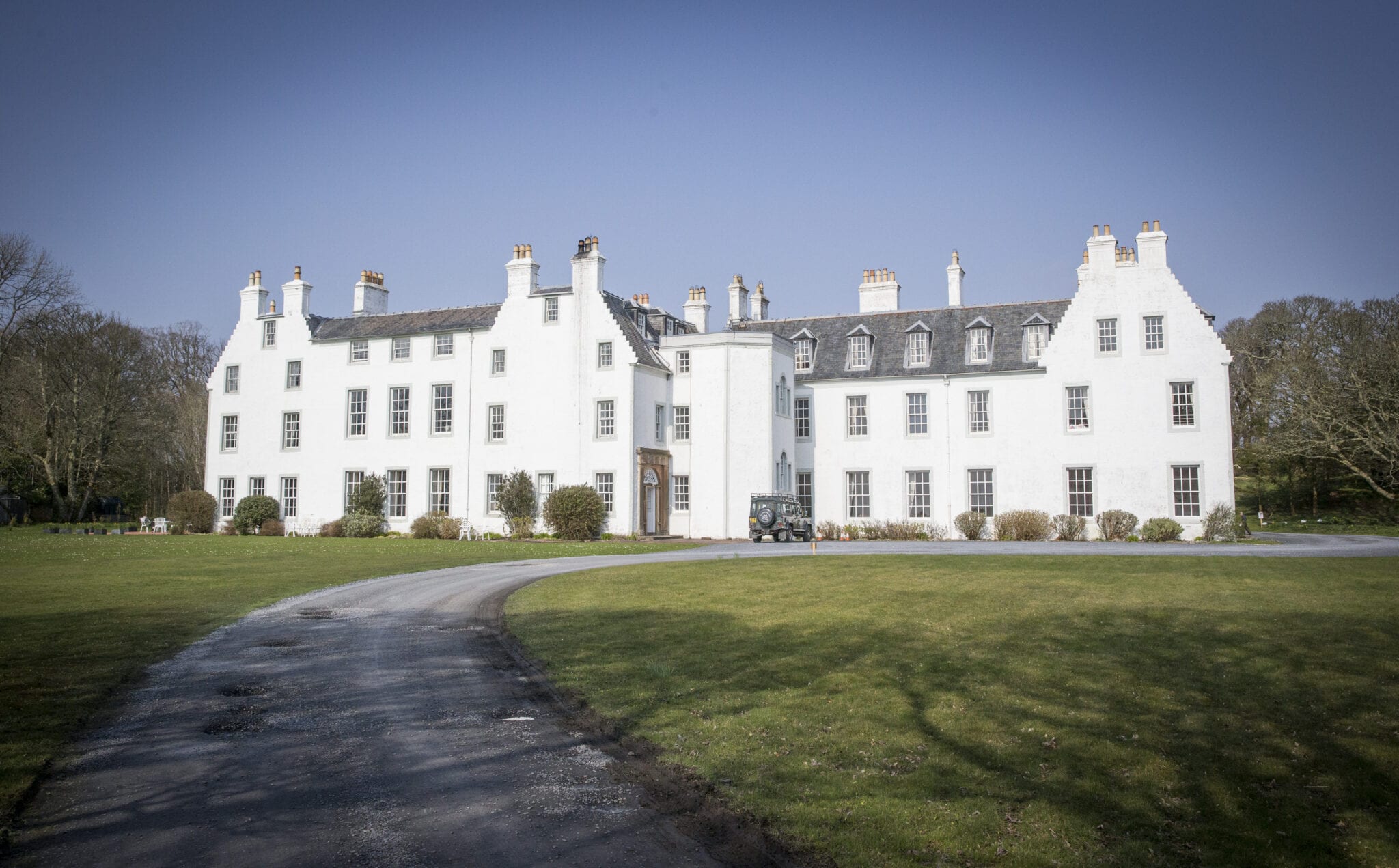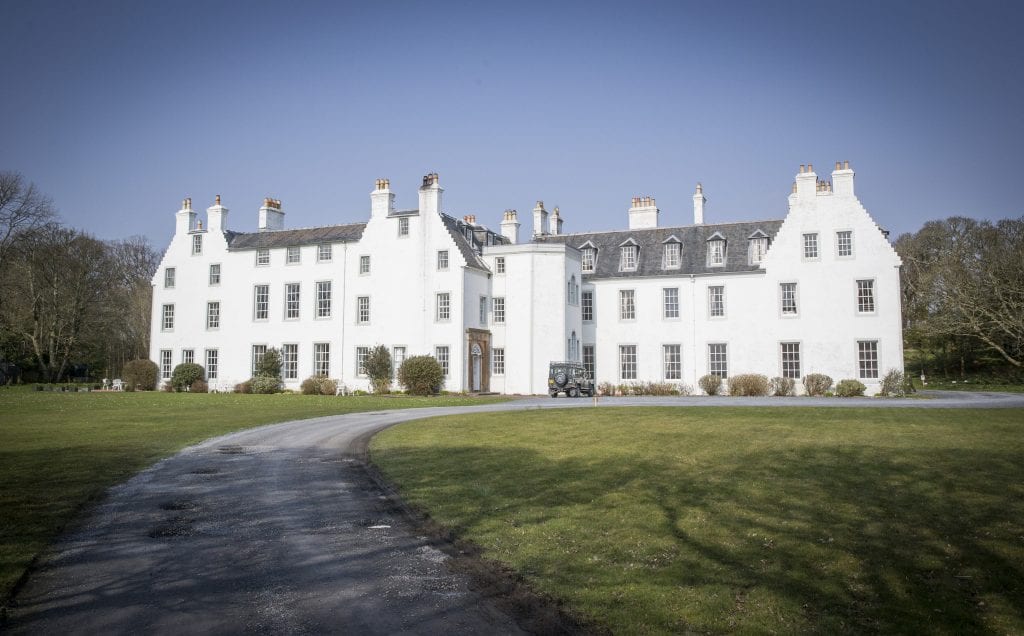 Islay house is the former home of the Laird of Islay and sits in beautiful private grounds around 25 minutes drive from the airport. ©Flick.digital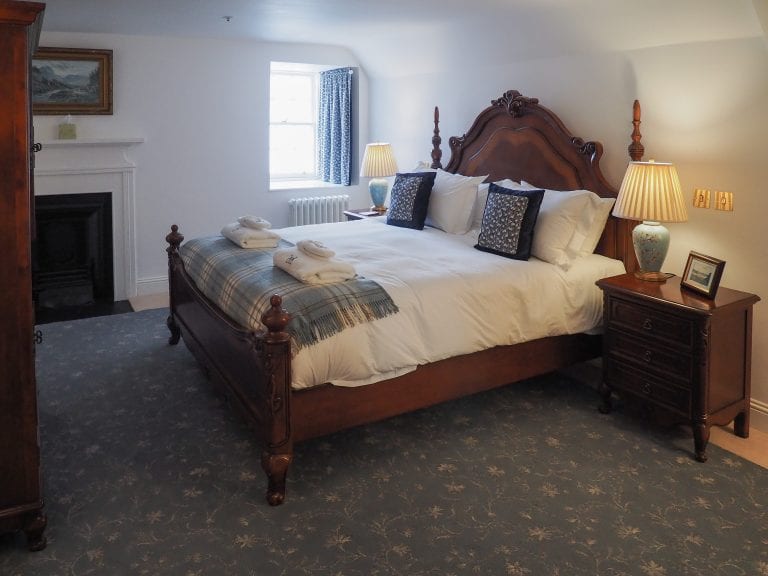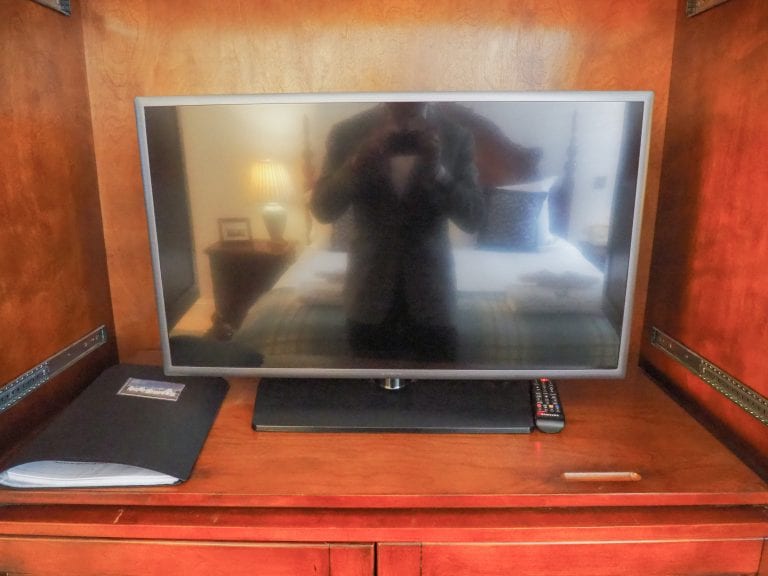 I was allocated one of the more modestly sized rooms in the House, Snowdrop, but honestly the space didn't feel too small, there was plenty of storage available and to my surprise there was even a Nespresso machine, something which you don't even get in most regular rooms at Mandarin Orientals.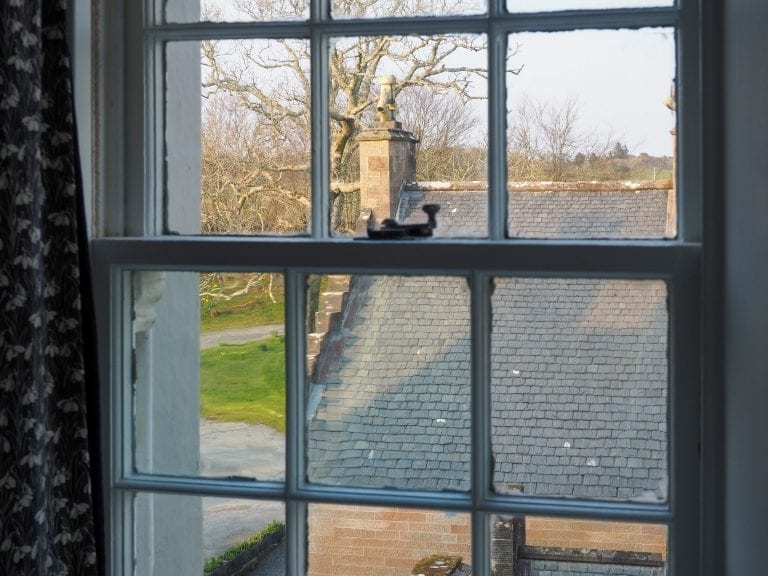 With its dual vanities and expanse of white marble, this bathroom certainly didn't feel 'entry level'.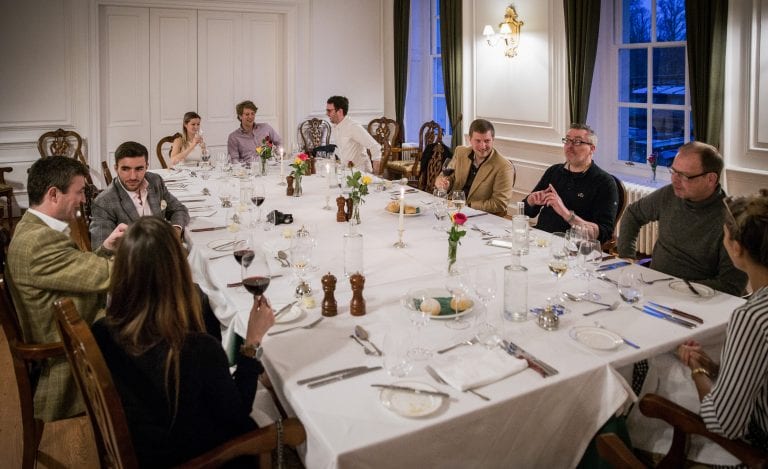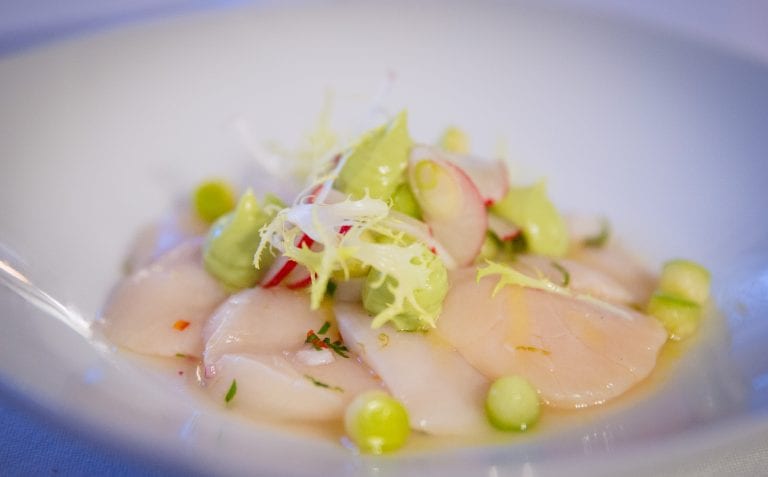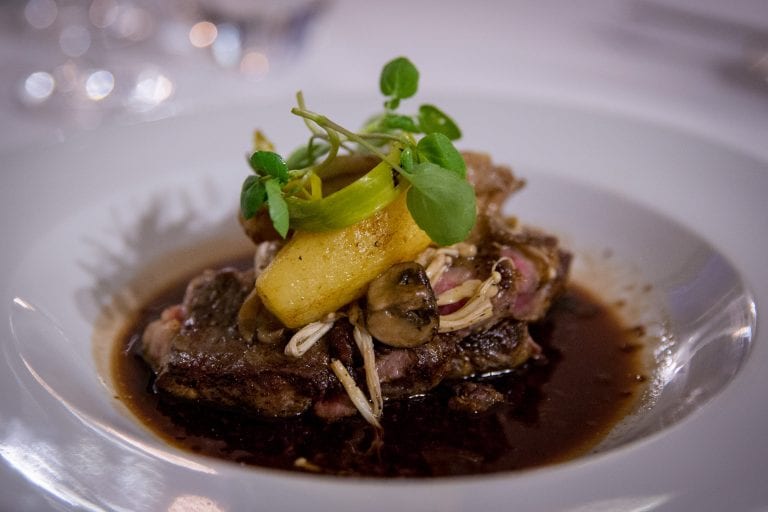 Whilst I had really been looking forward to the whisky I was almost equally excited to sample some of the local produce. To my shame, this was my first ever time in Scotland. I had been hearing for years about how this was a country that was every bit as a beautiful as New Zealand, with equally delicious meat and seafood in addition to its globally renowned alcohol. If the food at Islay house is any indication, that was an understatement. The scallops were enormous, fresh and deliciously perfumed. The beef was equally good. It was like somehow the cow's circulatory system had been pumping concentrated beef soup around the animal in lieu of haemoglobin. Unbelievable.
After dinner we spent the night making our way through the unbelievable whisky selection at the bar. There was some absolutely next level stuff here, including whisky from historical distilleries that no longer exist. The staff here were not only great company but also deeply knowledgeable about the history of Islay and its many distilleries.
I awoke some time around midday to a panicked knocking at my door, which quickly transitioned to a loud knocking within the confines of my cranium. I was told that I had ten minutes to pack my things and get myself ready for lunch at Ardbeg distillery. Ordinarily I would have been thrilled at the prospect of lunch at Ardbeg, home to one of my favourite whiskies ever, however my unrelenting hangover was making the prospect rather more terrifying than I would have hoped.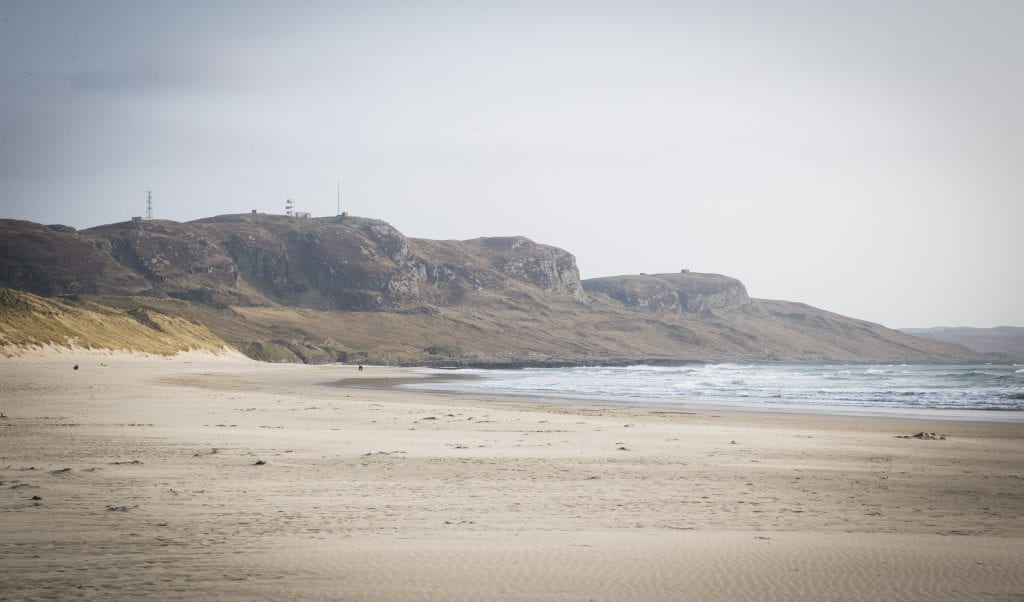 Looking out over the magnificent landscape I soon found my second wind. ©Flick.digital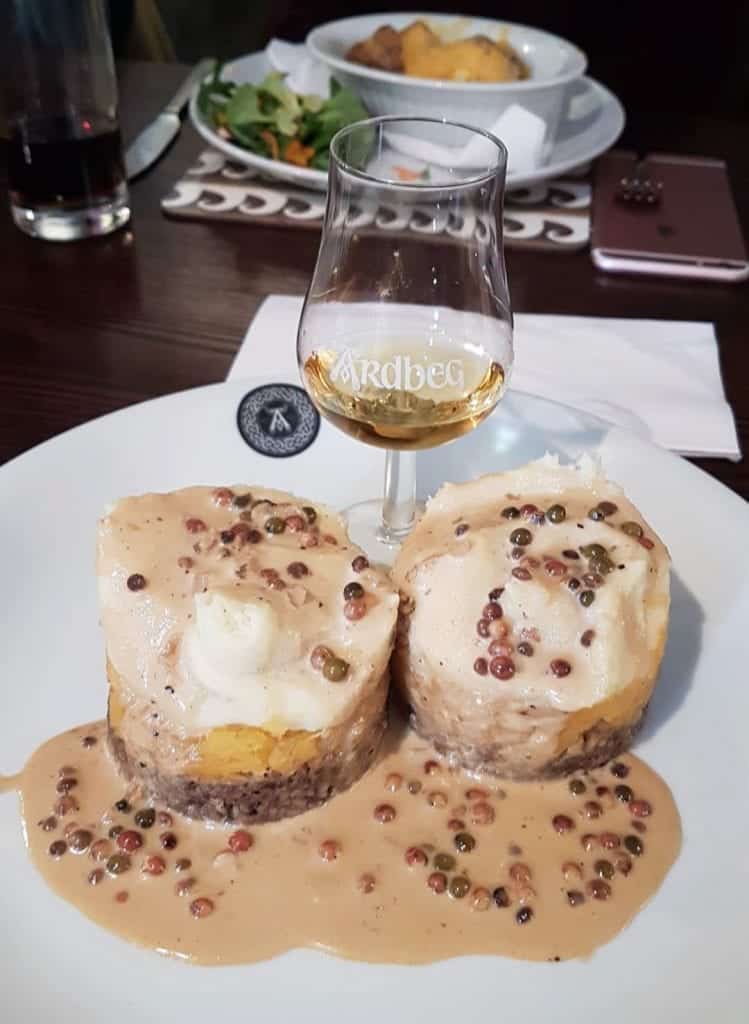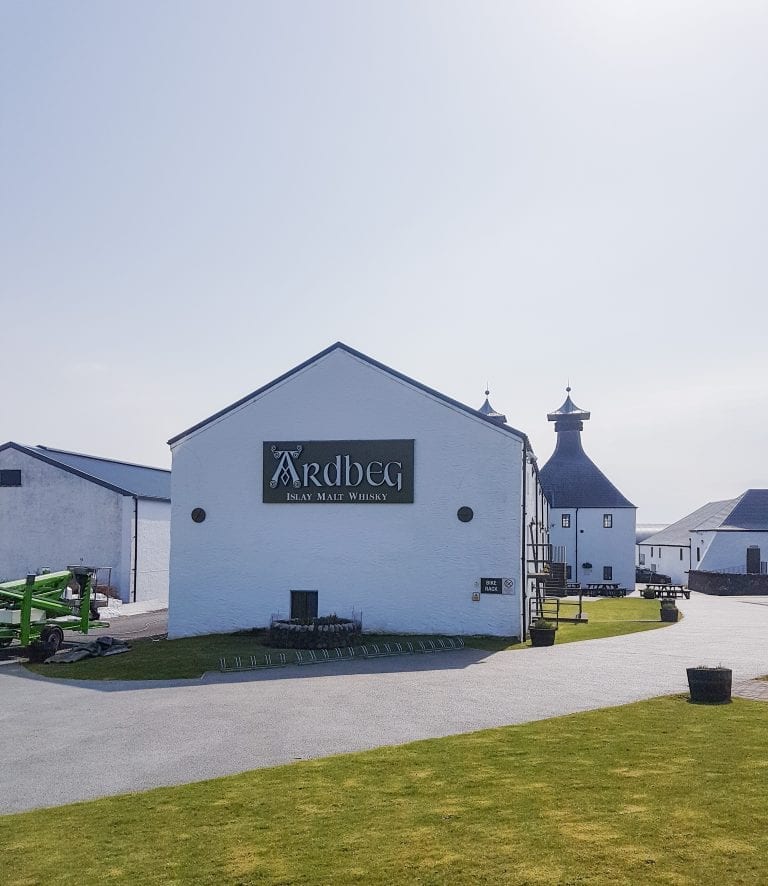 I'm not going to lie, peppery haggis accompanied by one of Ardbeg's most unrelentingly brutal single malts is not the most obvious choice of food when you're feeling delicate but there was no way I was going to leave Islay without trying this.
Once our meal was over it was unfortunately time to make our way back to Islay airport for the flight home. Part of me wished that I could stay longer, enjoying the wonderful food and drink, the wondrous scenery and the company of the locals for a little longer… but then I realised that a way bigger part of me was insanely psyched for the flight home on a Learjet!
---
Home to London on the Learjet 45
---
Return
Class: Private
From: Islay, Scotland (ILY)
To: Biggin Hill, England (BQH)
Duration: 1h05
Aircraft: Learjet 45
---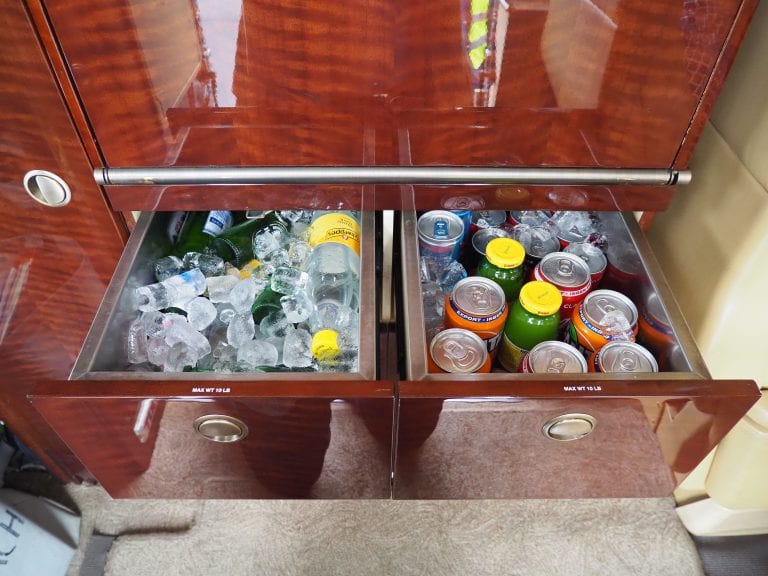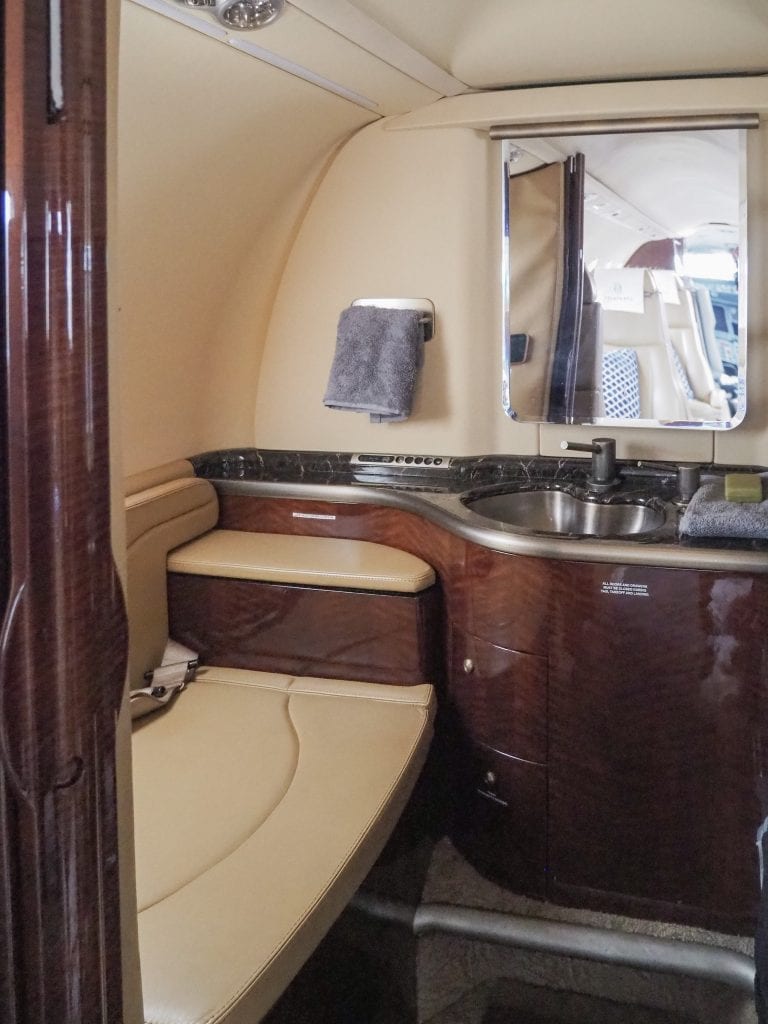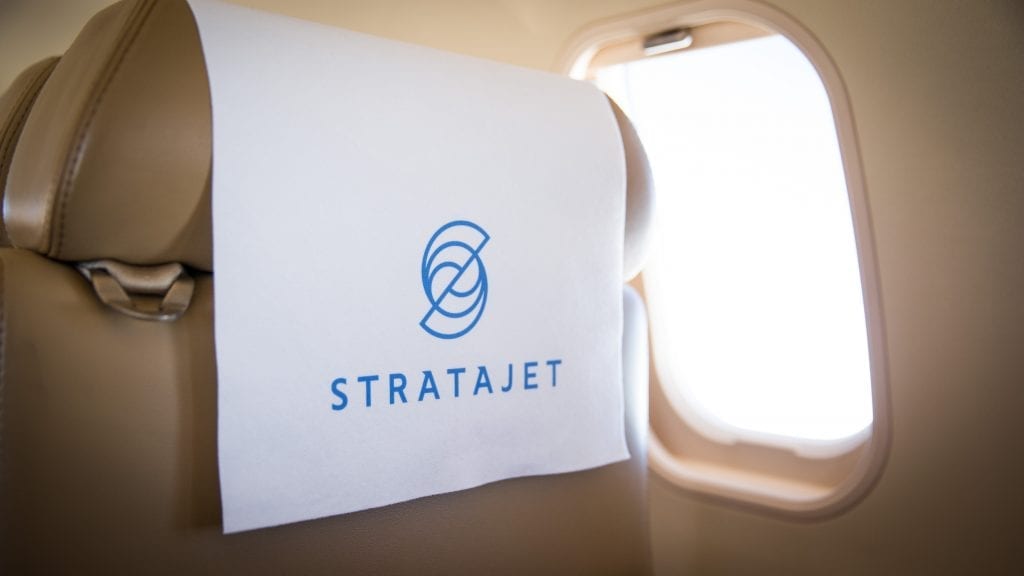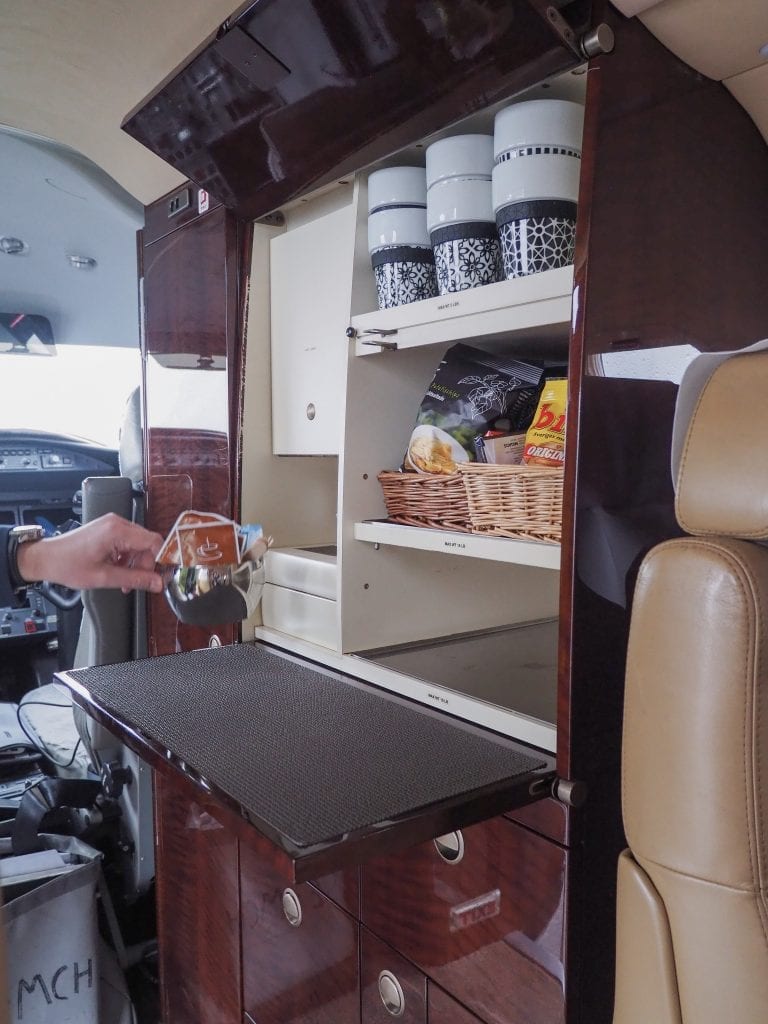 Since the Learjet is a rather small plane there was no space for separate cabin crew, this meant that the first officer doubled as our barman once we were airborne. Maybe my expectations were too low but I hadn't been expecting to find a bathroom on board, let alone one this luxurious; the leather seat reminded me of the Qatar First Class bathrooms on the A380!
All too soon, the flight was over. We touched down to be met at the airplane stairs by a fleet of chauffeur driven cars, ready to take us back to our regular lives. As we bid each other farewell we all agreed, this would definitely not be the last time we ever set foot on a private jet…
---
Conclusion
---
I actually learned a lot on this trip, in addition to having an amazing time:
Private planes are relatively affordable especially when you factor in the additional costs and time it takes to reach some of the more remote destinations that they serve.
Scotland is an amazing holiday destination. In my quest to see as much of the world as possible, I'm too quick to discount the places which are most geographically proximate to me.
Don't eat peppery haggis when you're hungover. Your stomach will not thank you.
I'm truly thankful to Stratajet and Islay house for putting this trip together and am really looking forward to organising my own personal trip in the not too distant future. Perhaps it would be fun to do a trip like this with some of my readers…
---
Flights by: Stratajet.com
Accommodation by: Islay House
---