Singapore Airlines (SQ)
Flight: SQ68
Class: First Class
Seat: 1A
From: Barcelona (BCN)
To: Sao Paulo (GRU)
Duration: 11h10
Aircraft: Boeing 777-300ER
Status during flight: Star Alliance Gold (Avianca Amigo)
Cost: 58,000 Krisflyer Miles (converted from UK Amex Platinum card)
---
Intro
---
It's always exciting heading down the jet bridge on your way to a First Class flight. As Charlie Chaplin once said, "the saddest thing I can imagine is to get used to luxury". Thankfully I'm still at the stage in my life where despite having flown a lot in First Class, every new reservation is made months in advance and comes with tons of meticulous research and almost daily checking of seat maps, weather, sunset times, analysis of most likely flight path over major landmarks, etc.
The long and short of it is that I've always massively built up the experience in my head, the mixture of relief and excitement when I finally step on board a plane is intoxicating. Having my dad to share it with made it ten times better though!
Whilst the old SQ cabin is by no means cutting edge any more, there is something undeniably amazing about stepping into such a private space on board a public mode of transport. The fact that there was only one other passenger in the cabin with my dad and I made it all the more special.
My dad explores seat 1K as I take my customary cabin shots.
Despite this being a product I was already familiar with, seeing the look on my dad's face as we first stepped on board was priceless.
"Bloody hell, this is quite special isn't it?", he said.
"Just you wait until you see how good the service is…", I replied, barely able to remove the smile from my face. Whenever you fly SQ you just know that things are going to go beyond smoothly. You feel immediately at ease. You don't need to worry about the crew having an off day as SQ crews never have them, in my experience. This is the true mark of a top tier First Class operator.
---
Pre-Departure
---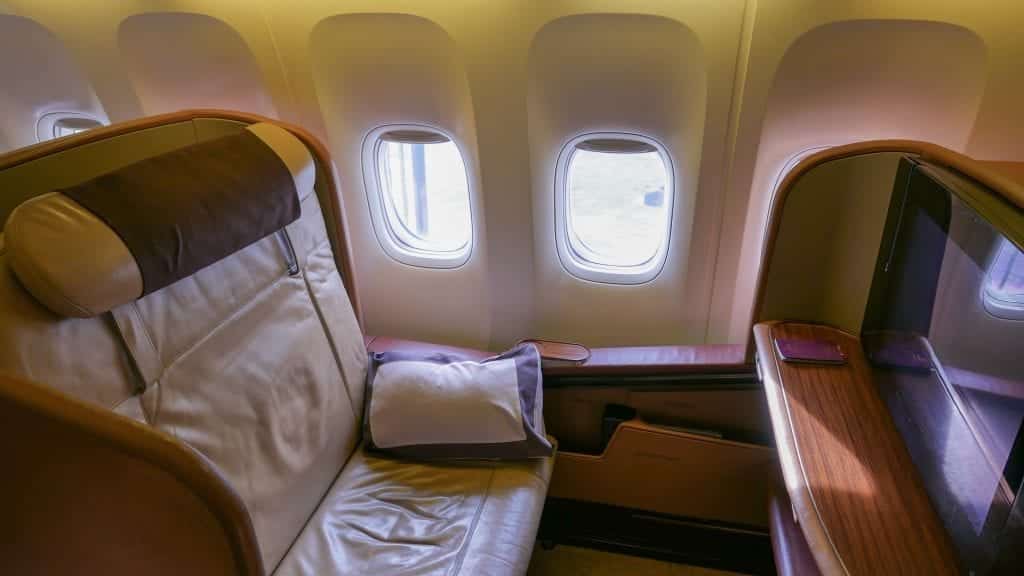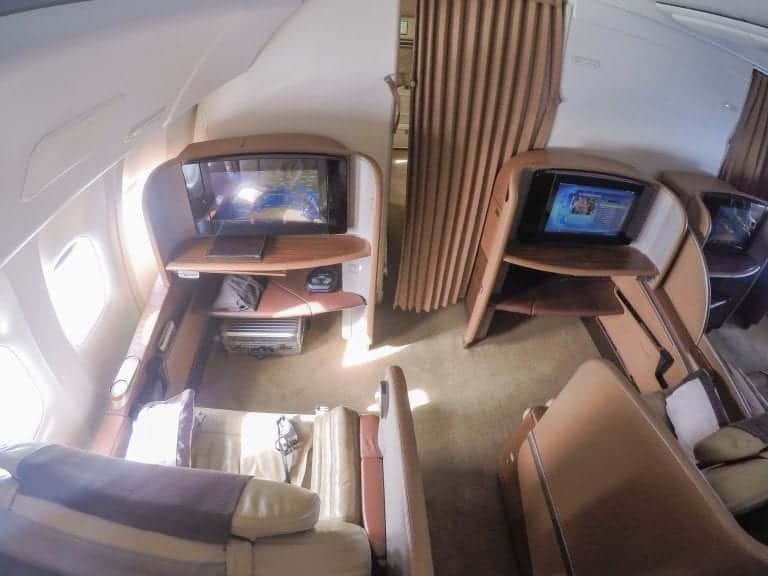 This product was launched in 2006 and now looks understandably dated (although you will still find it on on two of SQ's 777s at the time of writing). The seats are almost too wide, with pillows and leather bolsters required to make things more comfortable. There is plenty of storage space and I particularly like the fact that carry ons are easily accessible under the footrest.
However, this space is almost entirely open plan, meaning that the seat can feel a little cluttered with objects sliding around during take off, landing and turbulence.
The screen is also a lot smaller than what people are used to nowadays, with a very large bezel and features a rather reflective surface.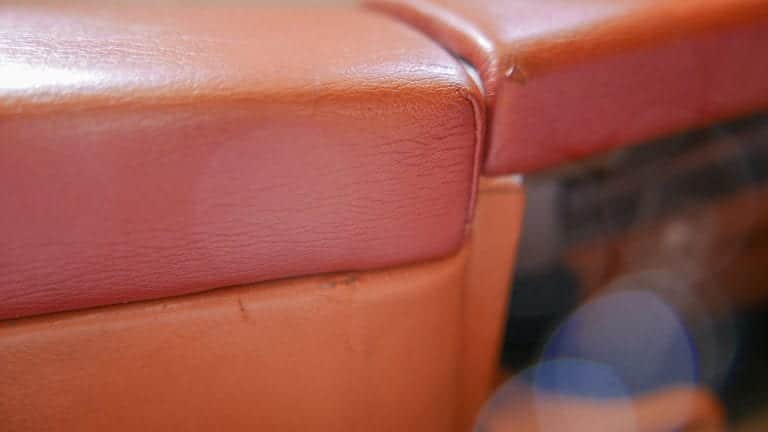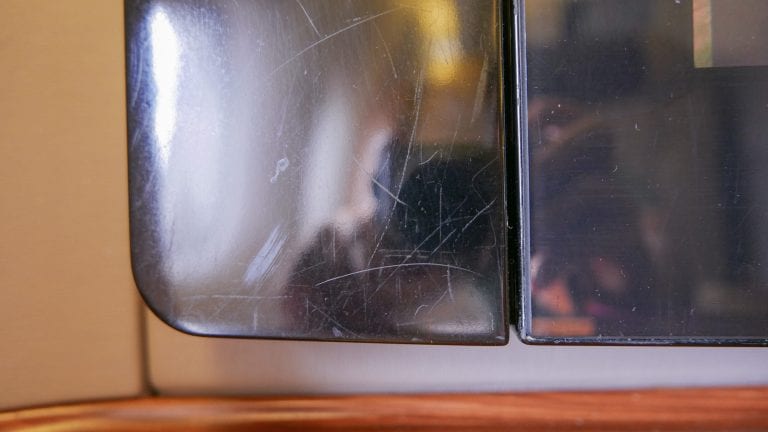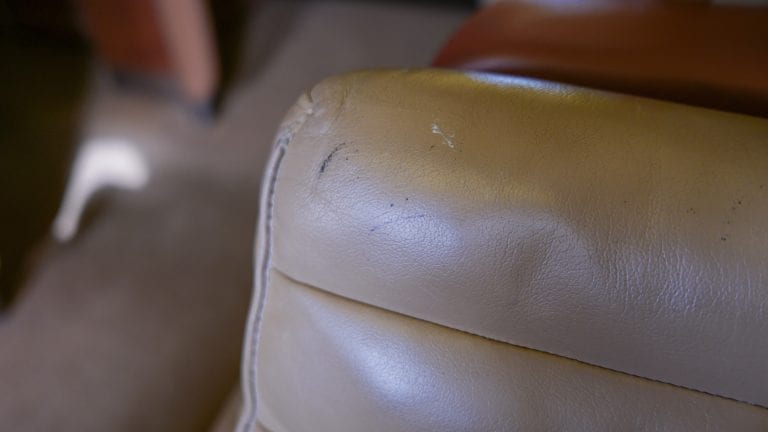 One of the downsides of fine leather and glossy surfaces is that they can be hard to maintain. A decade on, there were quite a few signs of wear and tear.
Still, it's very easy to overlook a few scuffs or a small screen when a member of cabin crew approaches you before take off and asks the all important question: "What can I get you to drink before take off?"
Without missing a beat, my dad immediately answered, "Champagne!"
A sneaky smile appeared on the FA's lips, as she asked the all important question:
"Of course sir, would you prefer Krug or Dom Perignon?"
Having tried it once on Cathay First, my dad has never been able to stop talking about how much he loves Krug (and the apple doesn't fall far from the tree…). The FA was happy to oblige, disappearing briefly to create that magical 'POP' sound in the galley, before returning to pour us two glasses of Krug at our seats.
Dad enjoying the first of many glasses of Krug.
Like father, like son.
Despite being a fifth freedom route, no corners were cut in terms of the service. We were each handed Ferragamo amenity kits before take off, containing some very generously sized bottles of cologne.
Despite the rather antiquated IFE screen, the headphones were anything but. Bose QC25s were waiting for us upon boarding. I must admit the product placement worked on me. This was the last flight I ever took before buying my own pair. Now I feel first class even when I'm flying Ryanair.
Since we had boarded early we had time for a couple of refills of the Krug before push back. Things were getting off to a great start.
---
The Flight
---
Once we had finished our ascent the female FA came to see if we would like to continue our liquid breakfast. We of course obliged. She also asked if we would like to eat now or wait a little. We decided it was probably best to line our stomachs a bit lest we end up on an early morning, booze fuelled rampage (those are best saved for when you are over the Atlantic and it's too late to turn the plane around).
I mentioned earlier that this fifth freedom route did not suffer from a reduced service; thankfully that extended to the catering too. We were able to order specially created Spanish dishes which for now at least, do not currently feature on any SQ menu! I really loved the Swiss speciality BTC dishes when Kamara and I flew Suites ex-ZRH and was hoping that my home country would be equally well represented.
Since we had the whole front row to ourselves, my dad and I made the centre pair into our dining room, moving away from the window seats which we had occupied during takeoff.
To begin, we were offered a fruit plate, containing a variety of tropical fruits and berries. I was a big fan of this. The choice of different fruits was great with a particular emphasis on sharp and acidic flavours, perfect for the first proper meal of the day.
Having seen the Spanish breakfast option on the menu, I couldn't resist and asked if I could get one in addition to my pre-ordered dish. Since the only other passenger had asked to skip this meal and opted to sleep, my requested was indulged. I'm so glad it was because this was really excellent, beautifully silky scrambled eggs paired with deeply savoury manchego cheese and Iberico ham.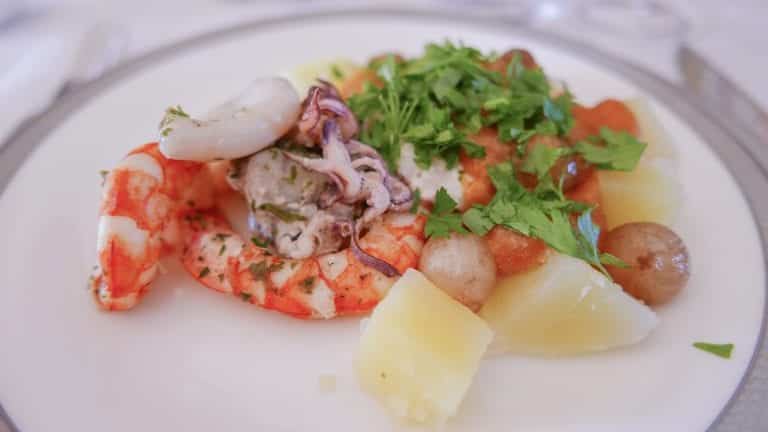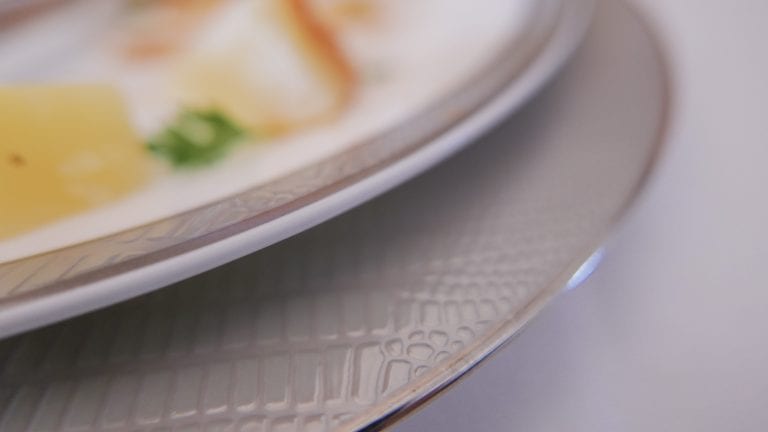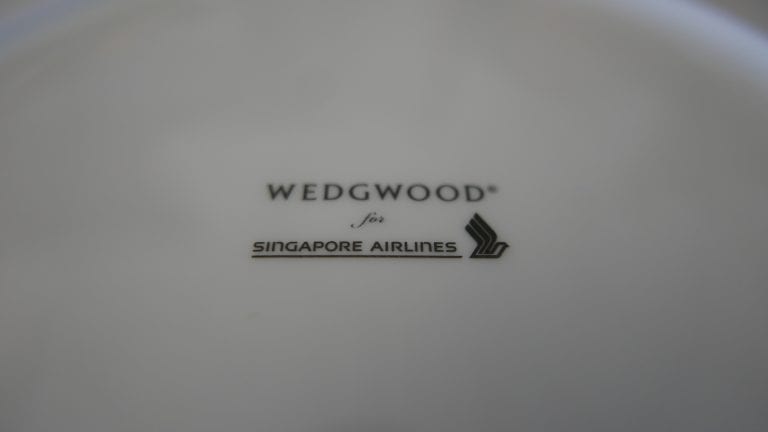 After the eggs I was served my BTC dish: the Catalan Suquet. This was a bit weird. Most of the elements of a suquet were there but normally this is a stew held together by a thick, rich, orange coloured broth. Instead of that I got a few bits of slightly overcooked seafood. It wasn't necessarily bad, just not what I was expecting.
The Wedgwood tableware on the other hand was every bit as elegant and luxurious as I remembered.
At the end of the meal I ordered a double espresso macchiato, made with Jamaica Blue Mountain coffee. It was fantastic. Not only was the coffee beautifully flavoured, the drink had been prepared with just the right amount of milk and foam. Something a lot of other airlines still can't get right in F.
At this point I couldn't quite bring myself to fall asleep. It always feels like a waste, sleeping when you could be enjoying the food, drink and service in F. So I ordered a chamomile tea and some cashews.
After the tea and nuts I spent some time admiring the views. Once we passed Dakar I knew it was going to be nothing but ocean for countless hours, the perfect opportunity for a nap.
My bed was expertly prepared for me in the time it took for me to get changed into the pyjamas provided. The Givenchy bedding was wonderfully crisp and having three pillows and such a wide bed made for a very comfortable sleep.
I awoke two hours later and went over to see how my dad was doing. He'd been watching movies, drinking red wine and eating cheese. Put simply: he was having a great time. I asked him if he fancied switching things up and having some champagne and caviar instead.
This was not a tough sell.
Drinks List
An embarrassment of riches. Two of the world's finest champagnes, a 1er Cru Burgundy and a second growth Bordeaux as well as numerous cocktails and spirits.
---
A seven course lunch beginning with Singapore's famous satay. Fantastic.
Between us we ordered pretty much the entire menu…. starting with a bottle of champagne each.
We decided to switch back and forth between Krug and Dom between courses because quite honestly, when the hell else do you get the chance to do something as awesome as this?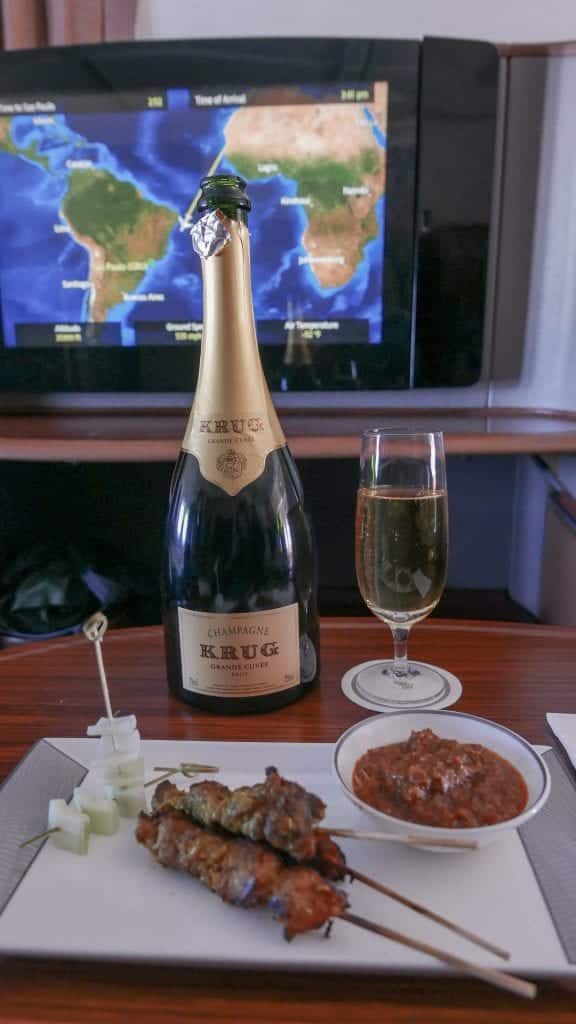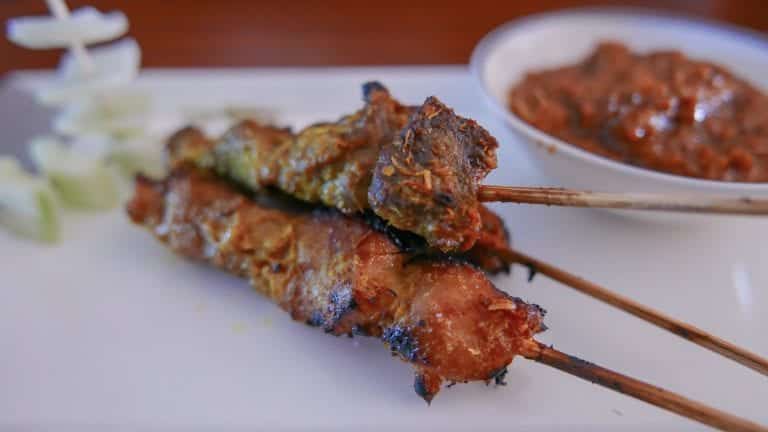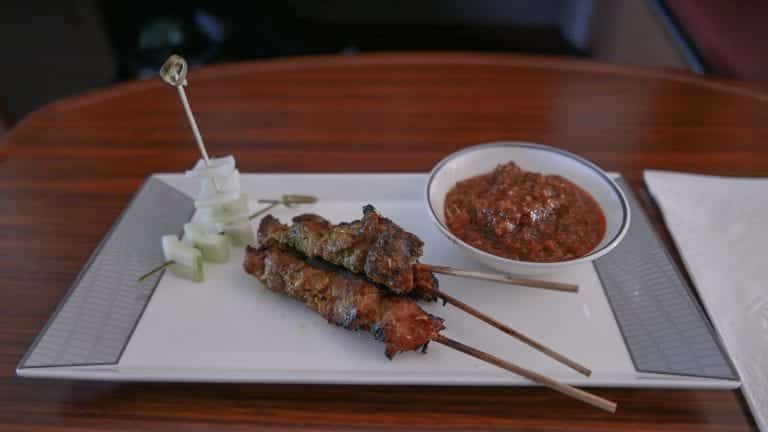 If this was all I had to eat and drink on the entire flight I would have been overjoyed. Satay in the UK just doesn't compare to the smoky, lemongrass coated sticks of deliciousness served on SQ. The peanut sauce is properly thick, with a hint of lime and chili, sticking perfectly to the meat.
The caviar portion was a little small but since it was just me and my dad eating, we were gleefully brought a second helping.
During the caviar course we decided to do a blind tasting… Krug was the winner for both of us!
Next up was a very rich and aromatic chicken and vegetable soup. On the ground I almost never order them but in the air, I just can't get enough of a good soup!
This was followed by a very generously sized and very fresh salad. I loved the eclectic choice of ingredients: butternut squash, pine nuts, endives and tomatoes. Really good.
At this stage the FA said that our main courses were not quite ready but said we really should try the lobster starter as it would be a shame for it to go to waste. Being gracious gentlemen, we of course obliged… and were very happy with our decision.
My dad ordered the stir fried pork dish, which was frankly terrible. Way more fat and gristle than actual meat, with some low quality vegetables and reheated rice. He didn't finish it. Noticing this the FA immediately asked if everything was ok and agreed that the meat didn't look great. She offered my dad one of the other dishes but he decided against it.
My dish was the diametric opposite. A perfectly rare beef fillet topped with a piece of foie gras that was almost its physical equal. The potatoes were beautifully cooked and were ideal for absorbing the deeply umami jus. Being the good son that I am, I of course split this with my dad. Besides, I didn't want to get too full before our special dinner in Sao Paulo!
At this stage, the constant eating and boozing, paired with a complete lack of any physical exercise, began to take their toll. We shared a cheese plate rather than ordering one each. Our stomachs were sending us an unmistakable signal that enough was enough. To be fair though, my dad had just finished one of these forty minutes before beginning the meal.
We tried to say no to dessert but the FA wasn't having any of it. She said that no matter how full we were, we could split the Grand Marnier Crème Brûlée between us. Once again, we were glad that she twisted our arms.
To finish our meal we ordered two double espressos. These were served with even more food because for some reason SQ staff are only happy when they send their guests to the bariatric ward.
There was a single miss in the form of the pork dish but otherwise this meal was absolutely superb. The FA (or lead stewardess as she would be known on SQ) and the CSM paced the service wonderfully, engaging us in witty conversation, discussing everything from the SQ Concorde via Bahrain to restaurant recommendations in Bali. Their timing and general demeanour were impeccable, in this regard this was better than any restaurant I've ever had the pleasure of dining in.
The champagne and the majority of the dishes were superb. I really couldn't ask for much more from a meal prepared in a galley at 35,000ft.
After the meal was over we headed back to our respective seats for another brief snooze before landing. A big meal can really take it out of you!
---
Conclusion
---
I was so happy to be able to share this experience with my Dad. I know how much he appreciates great wine and food and I was delighted to be able to just hang out and enjoy his company on such a lengthy daytime flight.
I did have minor reservations going into this, a fear that SQ would deliver a second rate experience and the crews would be disinterested, given that the route was due to be scrapped.
This couldn't have been further from the truth.
This was a proper long-haul flight and as such was treated with all the diligence and attention of the similarly protracted London to Singapore flights. Having the cabin to ourselves was really just the icing on the cake.
At half the mileage cost of the LHR-SIN and with so many waking hours to enjoy it, this really was one of the best value miles redemptions and most memorable flights I've ever taken.

---
Brazil Hotel Reviews
---
Here is a selection of our most recent Brazil hotel reviews:
---