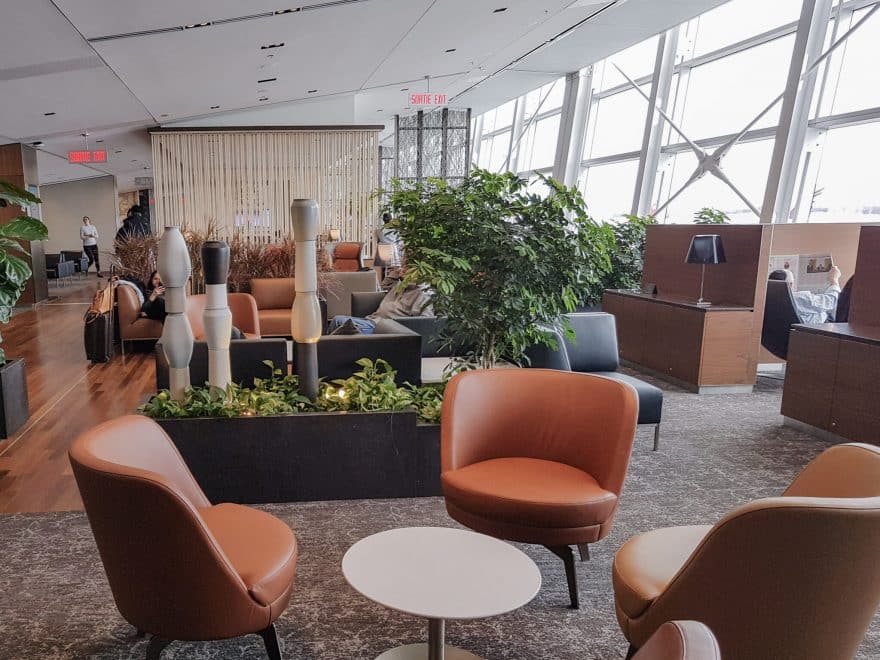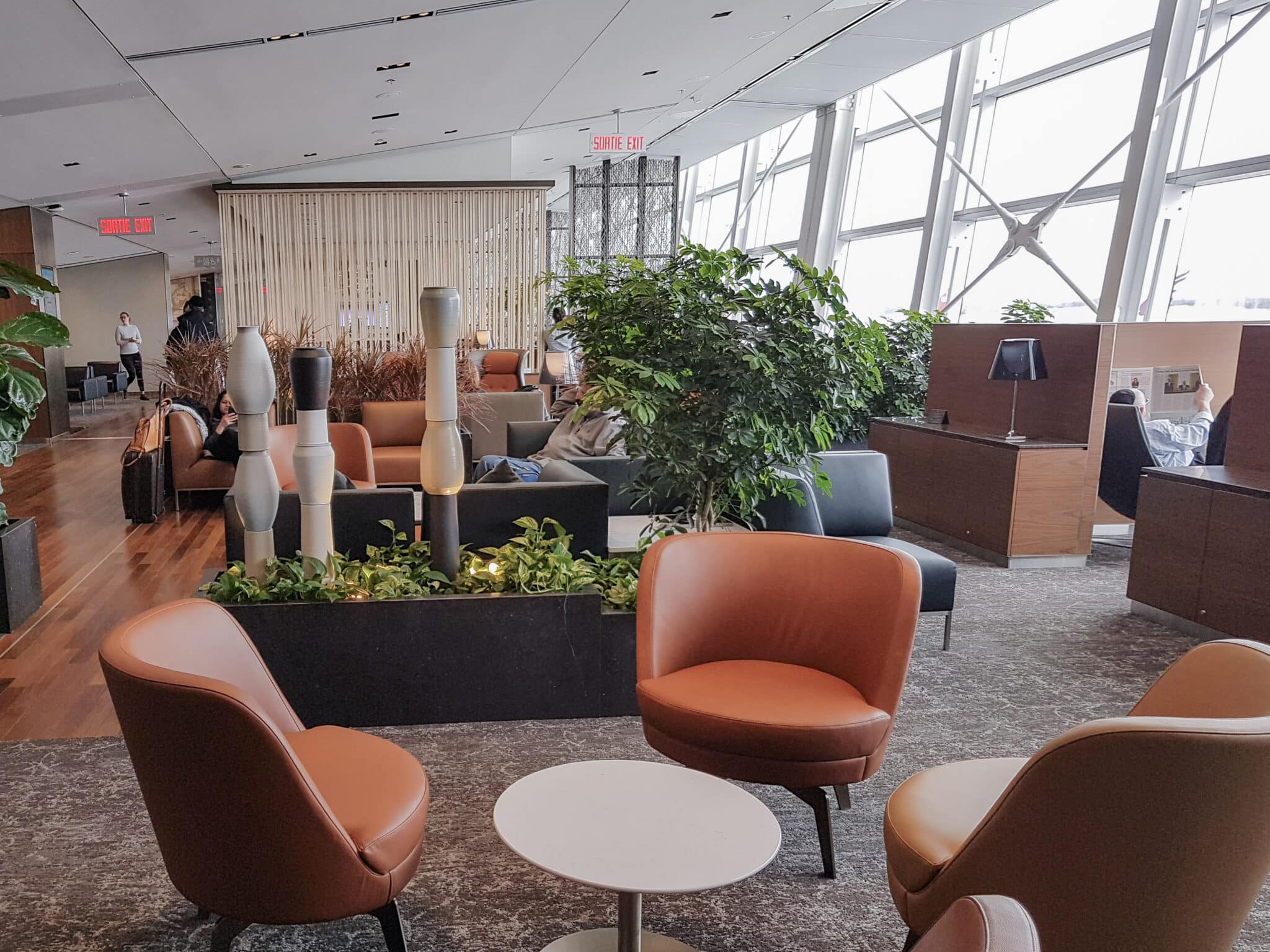 REVIEW – Air Canada International Maple Leaf Lounge – Montreal (YUL)
October 2, 2019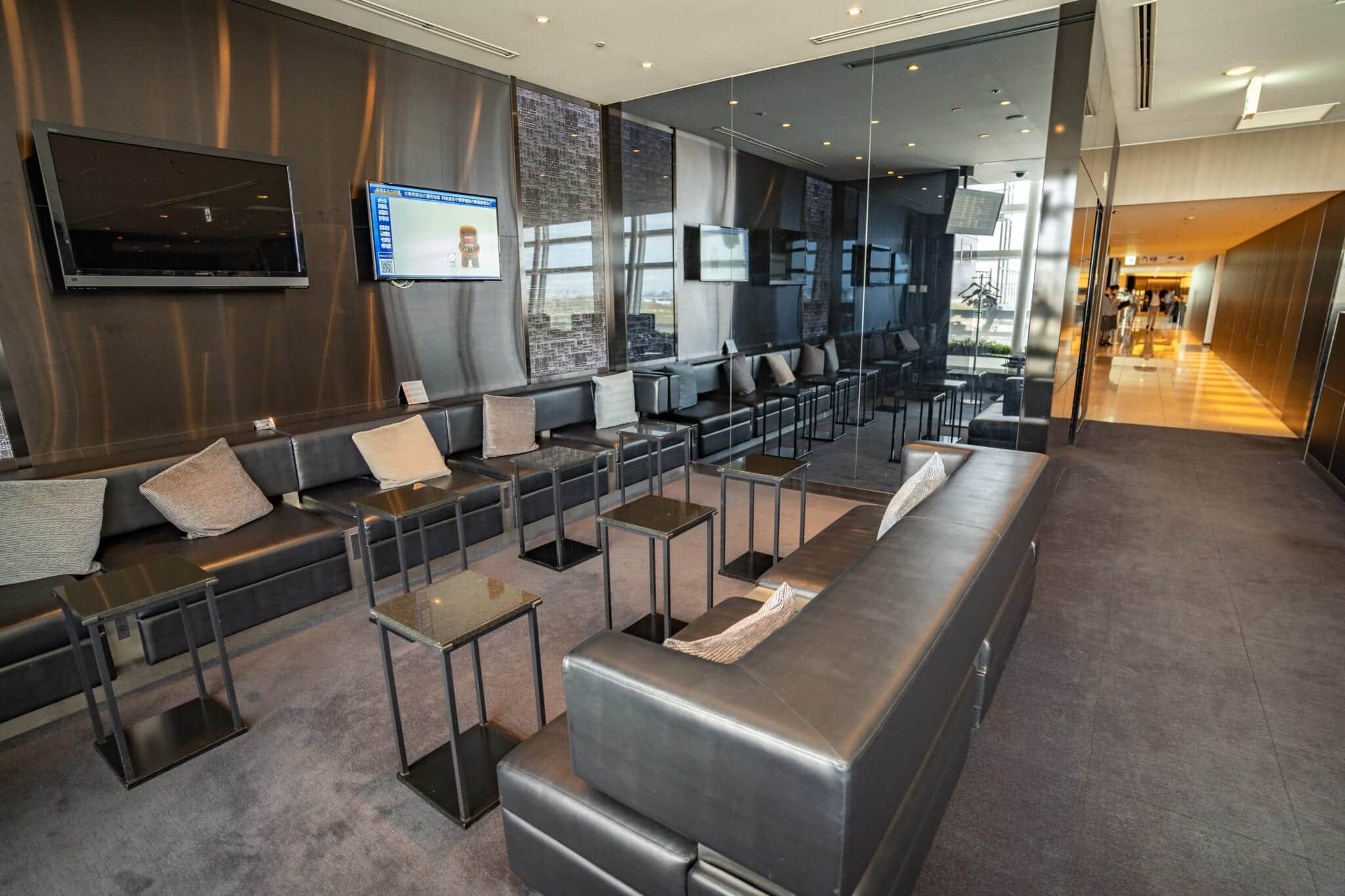 REVIEW – ANA Suite Lounge – Tokyo Haneda (HND) Gate 110
October 27, 2019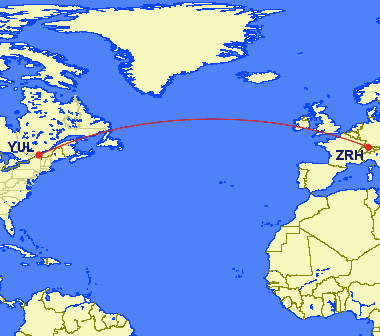 SWISS (LX)
Flight: LX87
Class: First Class
From: Montreal (YUL)
To: Zurich (ZRH)
Duration: 7h00m
Aircraft: B777-300ER
Seat: 2K
Status during flight: Star Alliance Gold (avianca Amigo)
Date: March 2017
---
Intro
---
After 24 hours enjoying the sights and food of the beautiful, wintry city of Montreal it was finally time to step into SWISS' all new B777 First Class cabin. I was so happy to be able to plan the trip in a way that let me try the older A330 product beforehand as it meant I could finish on a real high note.
As soon as I approached the jetbridge I was greeted by the smiling crew, "Welcome back, leaving so soon?" they said as I stepped into reception area and made my way left to seat 2K. Not only had I selected the exact same seat for my return, I'd managed to get the exact same crew too! The scientific, analytical part of my mind immediately filled with joy as a I realised that I had the perfect control for my comparison of the two different SWISS products!
The emotive part of me loved how great this crew were on the outbound and was excited for more superb service from them on the return. Ordinarily I'd try and maximise sleep on a Sunday night Eastbound redeye but flying SWISS First is no ordinary experience…
---
Pre-Departure
---
From the moment that I entered the cabin it was immediately apparent to me that SWISS had taken a great leap forward with this product. The walls of the suites were taller, walls had been added around the screens and whilst we're on the subject, the screens themselves had nearly doubled in size and resolution. The lack of central storage bins also made the cabin feel much larger and brighter.
I was then offered my choice of drink before departure and asked for a glass of the Laurent Perrier Grand Siecle. I was happy to note that a pressed linen napkin had taken the place of the incongruous, industrial rubber tray that featured on my outbound journey.
The delicious cheese straws made a repeat appearance but this time they were paired with smoked duck, served with dried red currants.
As my amuse bouche was cleared I was offered a warm towel. I would have preferred to be given this before eating but as is the case with most frequent flyers I always carry sanitiser, just in case (I know I'm not the only one that gets all OCD and wipes all the surfaces down with the towel too)!
---
The Seat
---
Although this seat featured a lot of the hallmarks of SWISS' old product like the wooden trim, white gloss surfaces and the oblong lamp, almost every aspect of the seat was improved upon in some way.
Even seemingly minor details were addressed – the venting by the windows was still there but had now been raised to the same height as the countertop. On the A330 the vents were much lower down and basically created a small canyon which filled with dirt and empty bottles. Not very First Class.
The addition of proper walls was extremely welcome given how open the previous cabin was. Given the size of these screens it would have been incredibly distracting to be able to see what others in the cabin were watching.
It may not seem obvious at first glance but these seats are in fact fully enclosed suites, with three different levels of privacy. In the shot of the full cabin above you can see what the seats look like when in their most open setting. In the shot below I had left the door open but slid the small privacy screen shut to create a semi-private suite.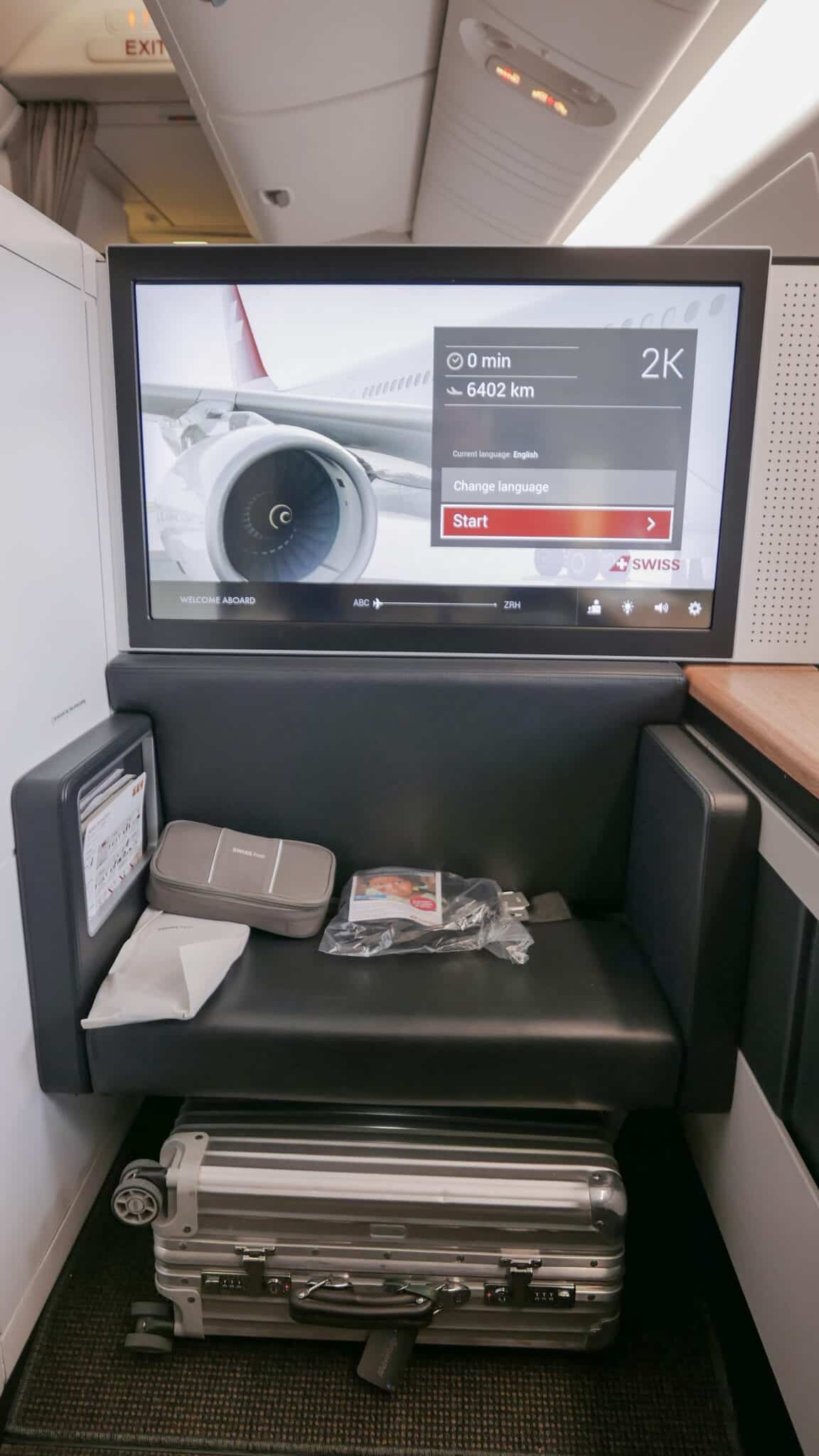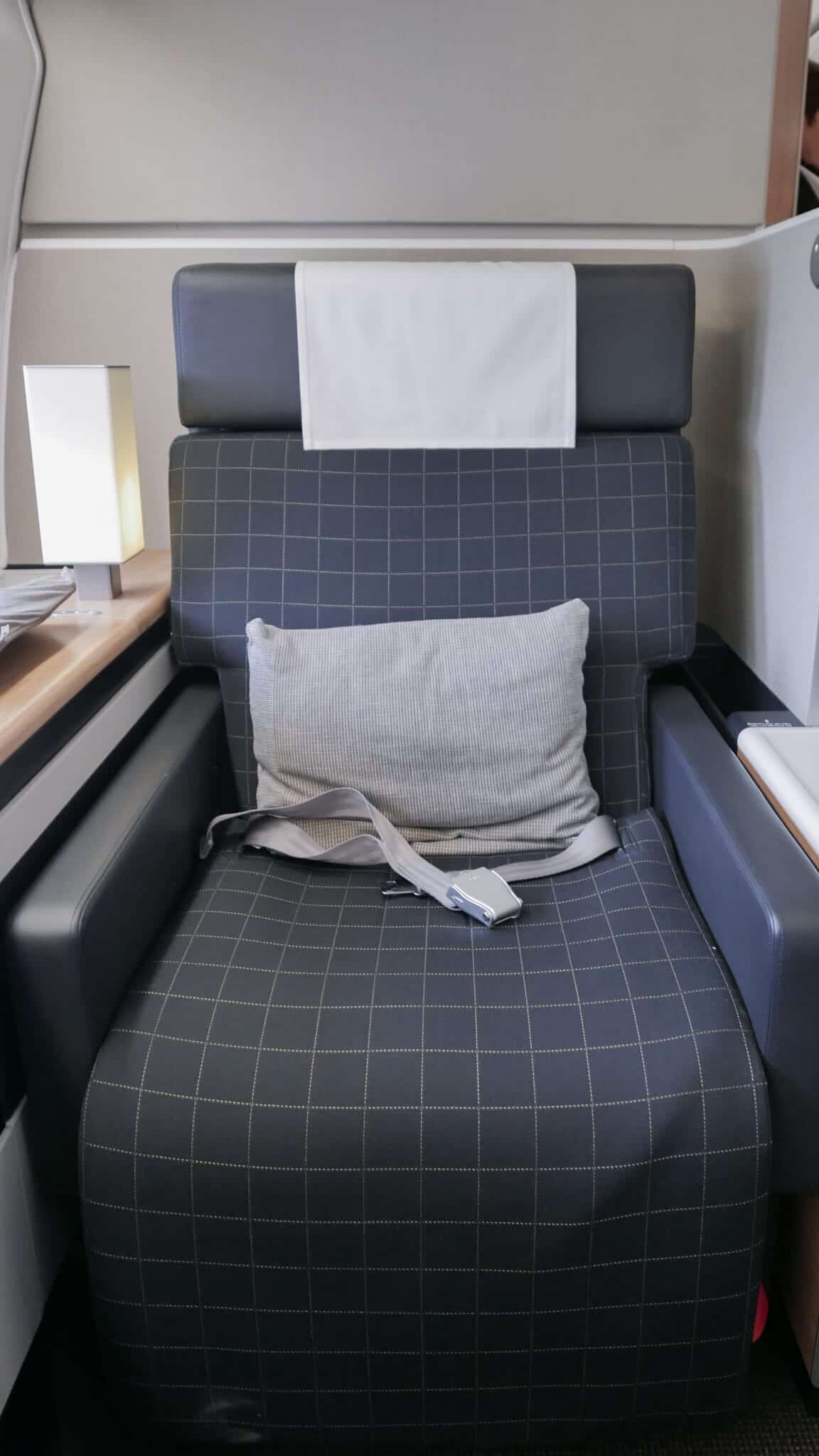 In a very clever use of the space, the wardrobe doubles as a door to the suite. If you leave your wardrobe open, your suite is closed. Although as you can see here, you can still slide open your small privacy screen to create a serving hatch of sorts.
There's also a handy mirror hidden behind a flap in the wardrobe door.
..and two additional storage compartments within the wardrobe door.
The seat features an abundance of storage compartments. When the wardrobe is closed you can access a compartment under your aisle side armrest, perfect for storing a large laptop or magazines.
Another compartment containing a universal power socket, a USB port and the IFE controller.
The new touch screen controller is ultra responsive and very intuitive to use.
The headphones also received a big upgrade from the clunky old cans I was given on the A330. They still weren't top end like the B&O, Sony or Bose used on some other carriers but they certainly looked and sounded much better than the previous iteration.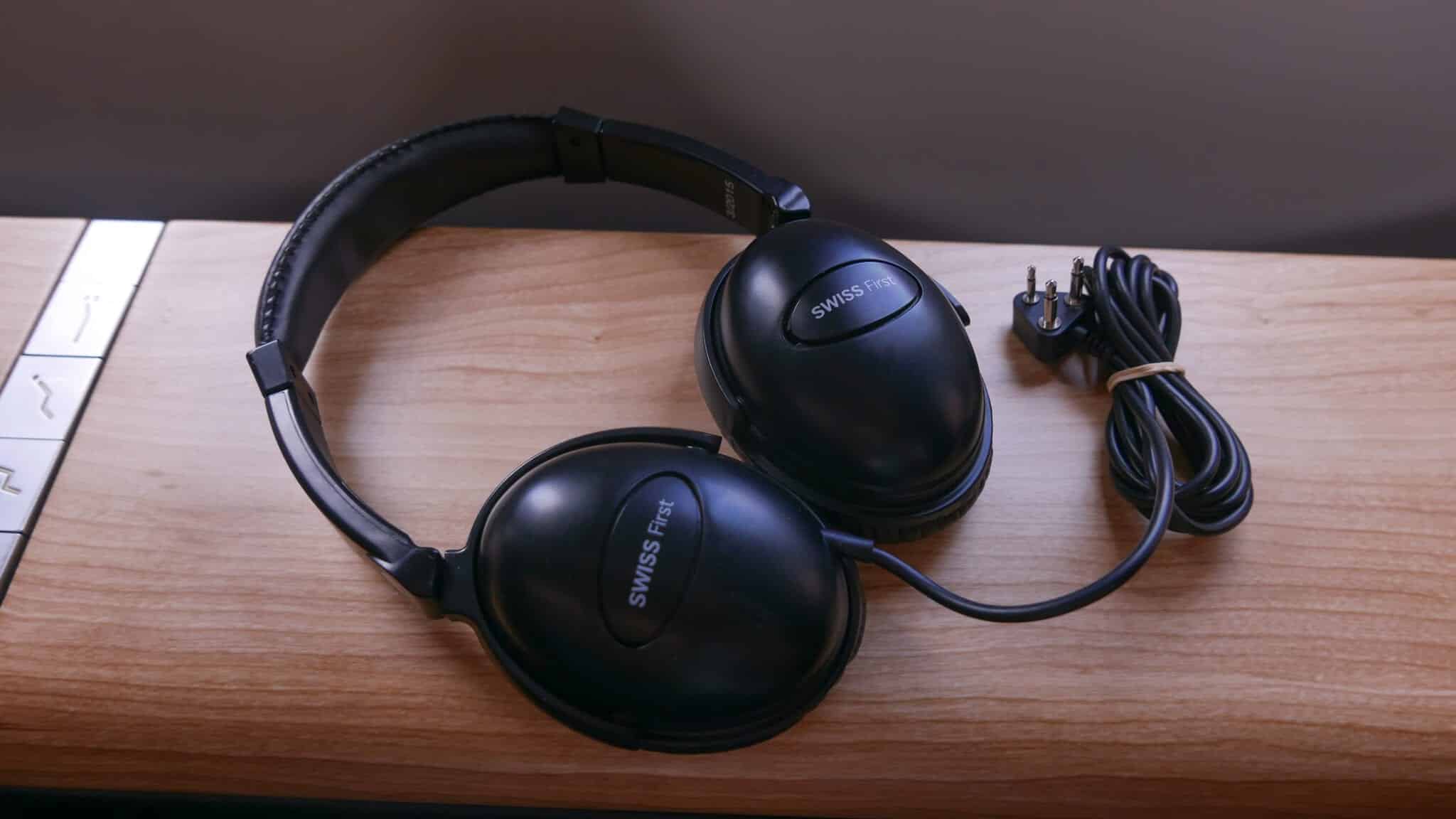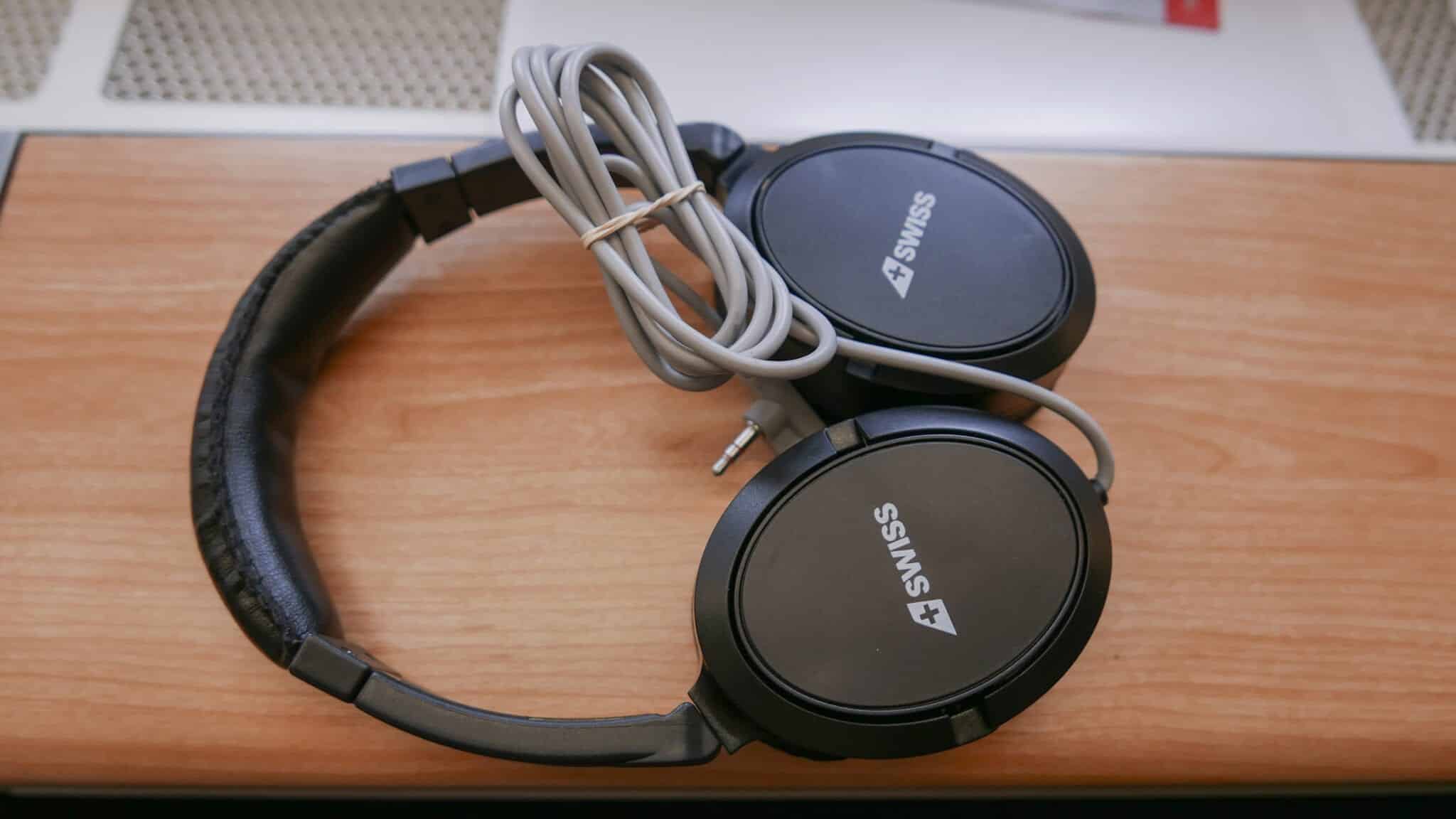 I particularly liked the recessed and illuminated side tables. I could leave my phone there and not worry about it sliding away during turbulence, take-off and landing.
An elegant, push activated reading light.
Finally, the windows saw a major remodelling. Previously they were not dissimilar to economy class, whereas now SWISS opted to encase them in an enclosure featuring fully electronic blinds.
The seat is quite possibly my favourite 'regular' First Class product in the world. The finishes are very sleek, there is so much storage that you can realistically refer to it as unpacking when you first sit down, the IFE screen is huge and it has the option of closing into a fully private suite.
---
The Flight
---
The crew came around to take dinner orders shortly after take off:
Menu
This time I knew the drill so was well prepared to receive absolutely everything from the starter section in addition to my main course. Given my desire to one day be able to return to a beach without hiding in shame, I initially ordered the fish, as it seemed like the lightest option.
However the FA taking my order told me that there was a special Vaud sausage main course that was 'off menu' and absolutely wonderful. Oh well. How could I resist?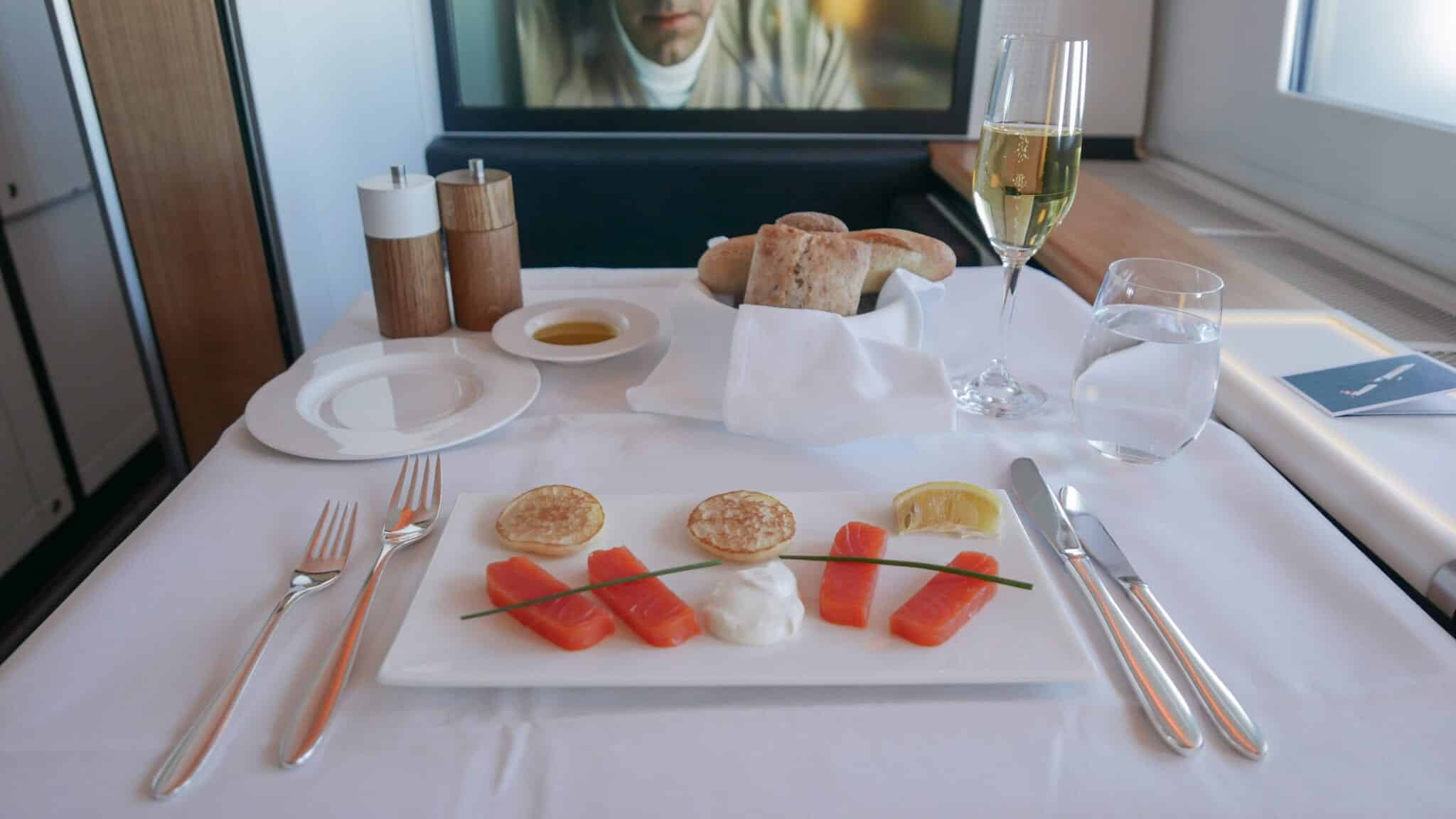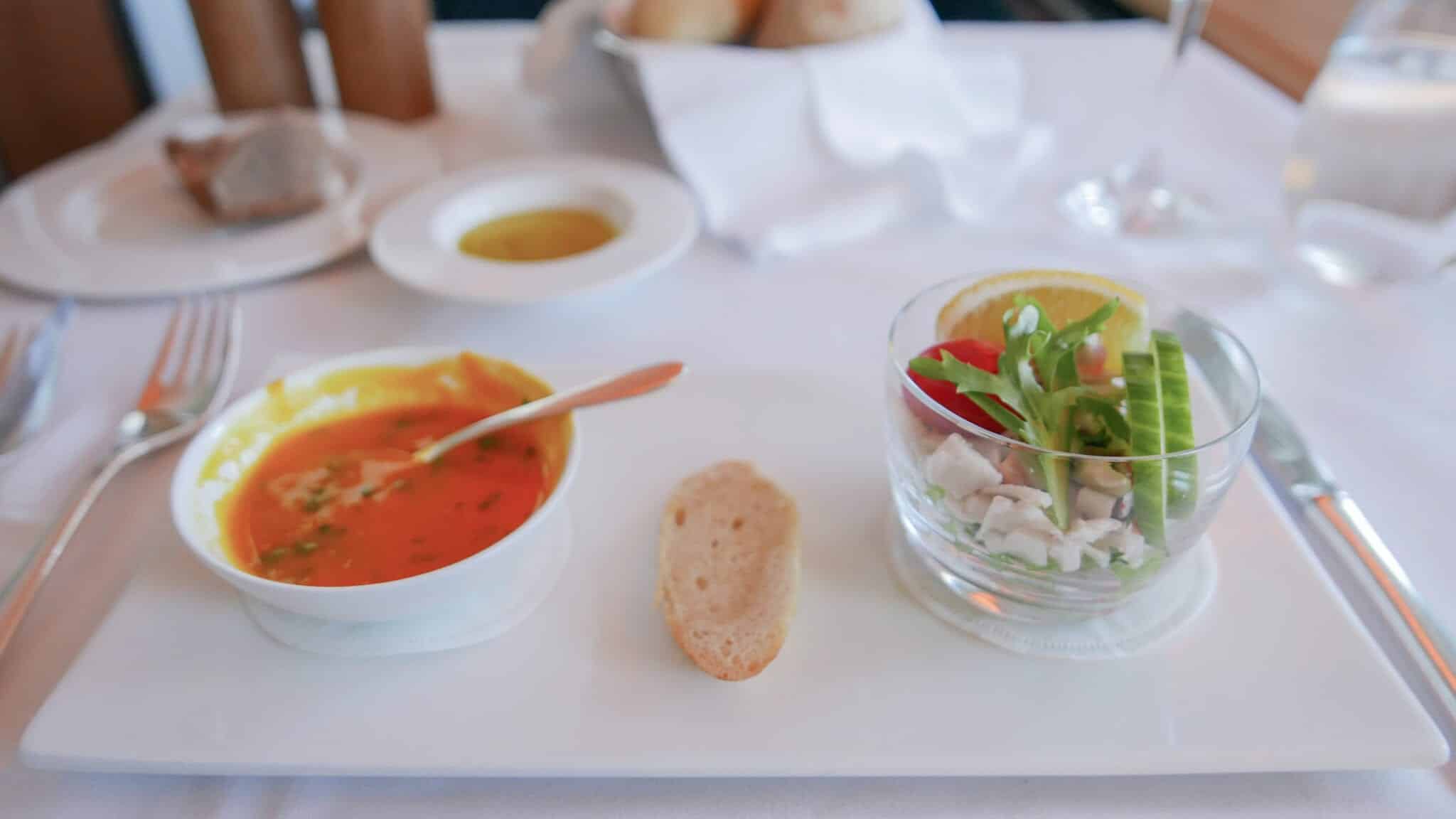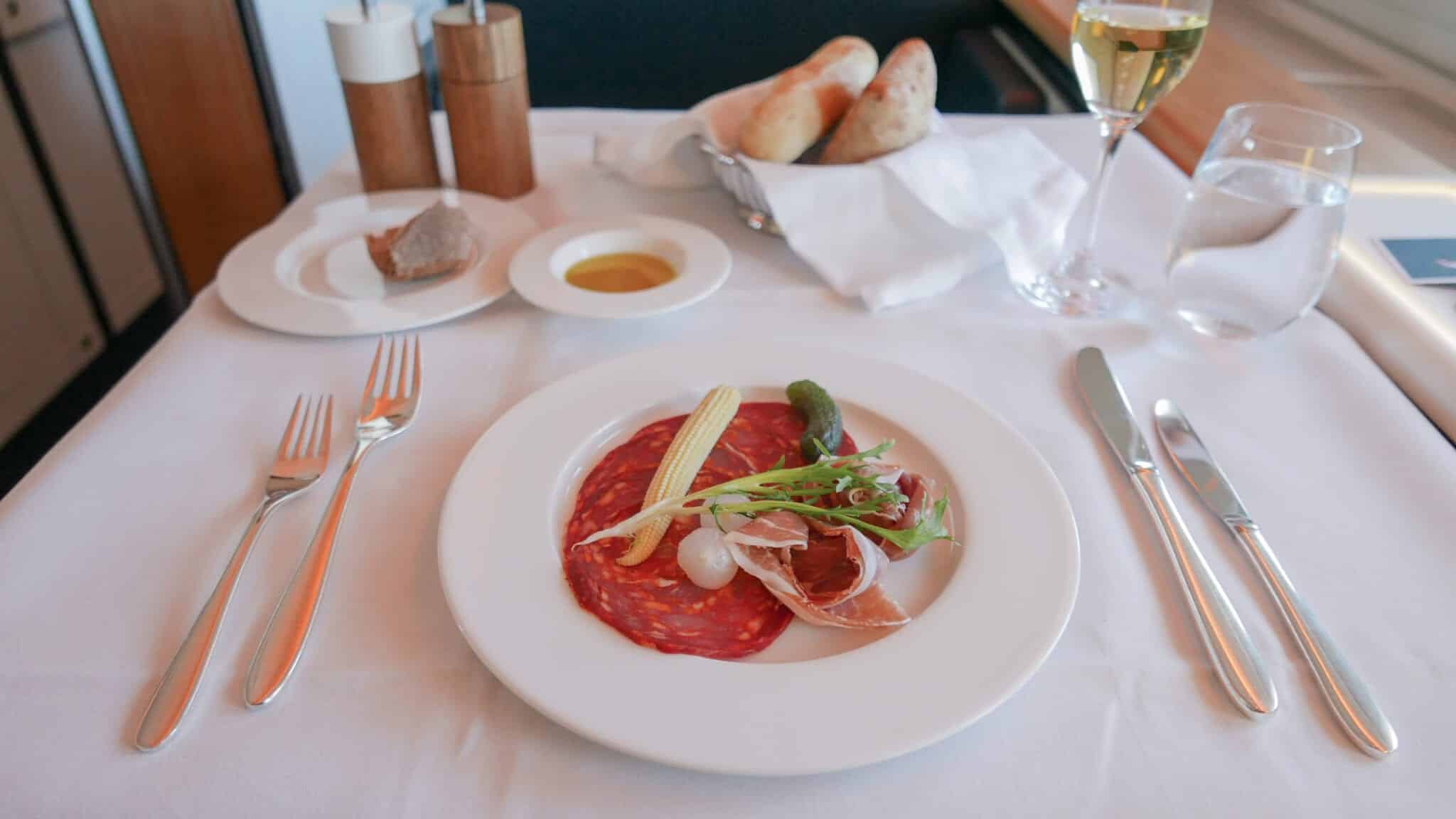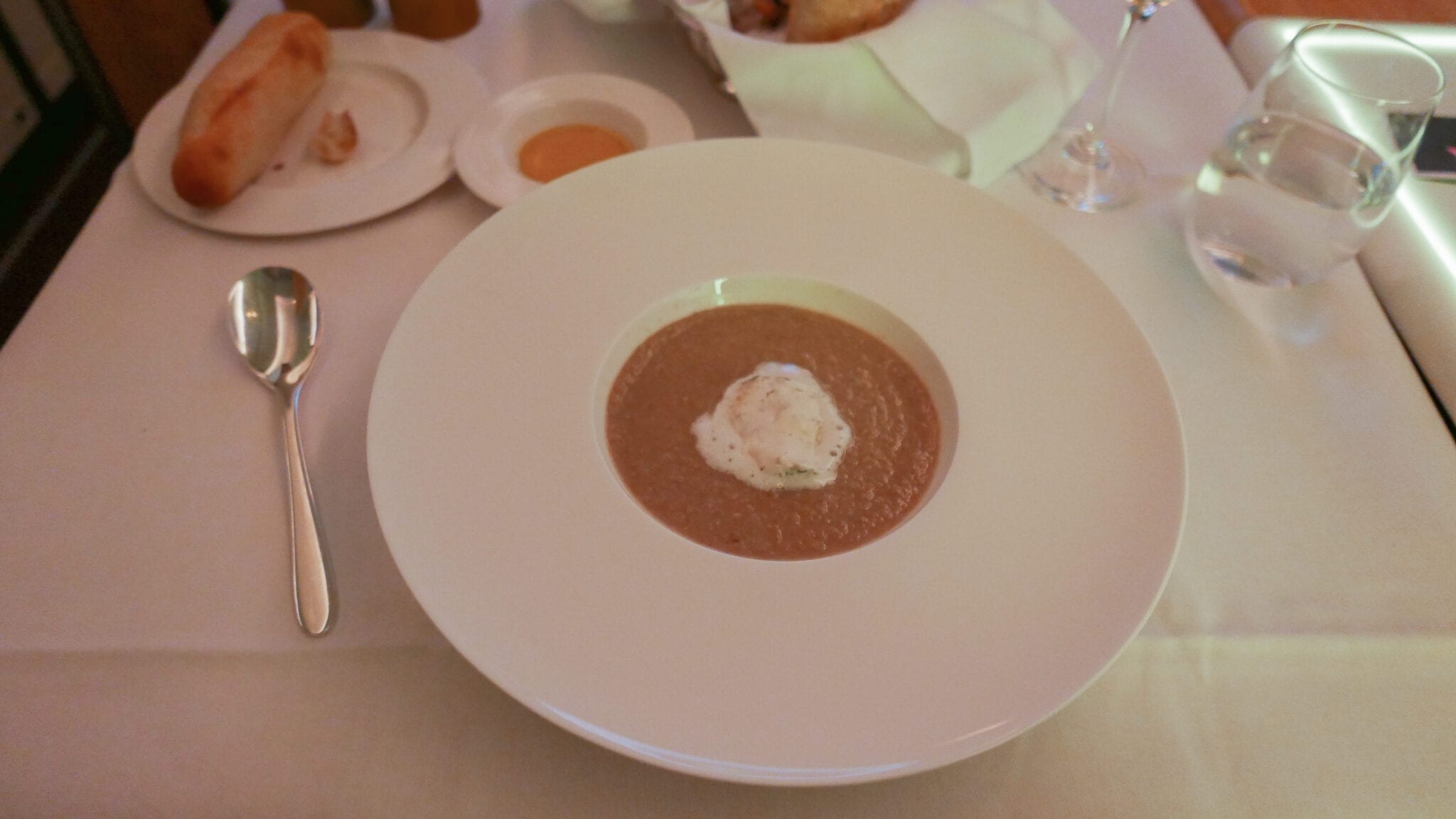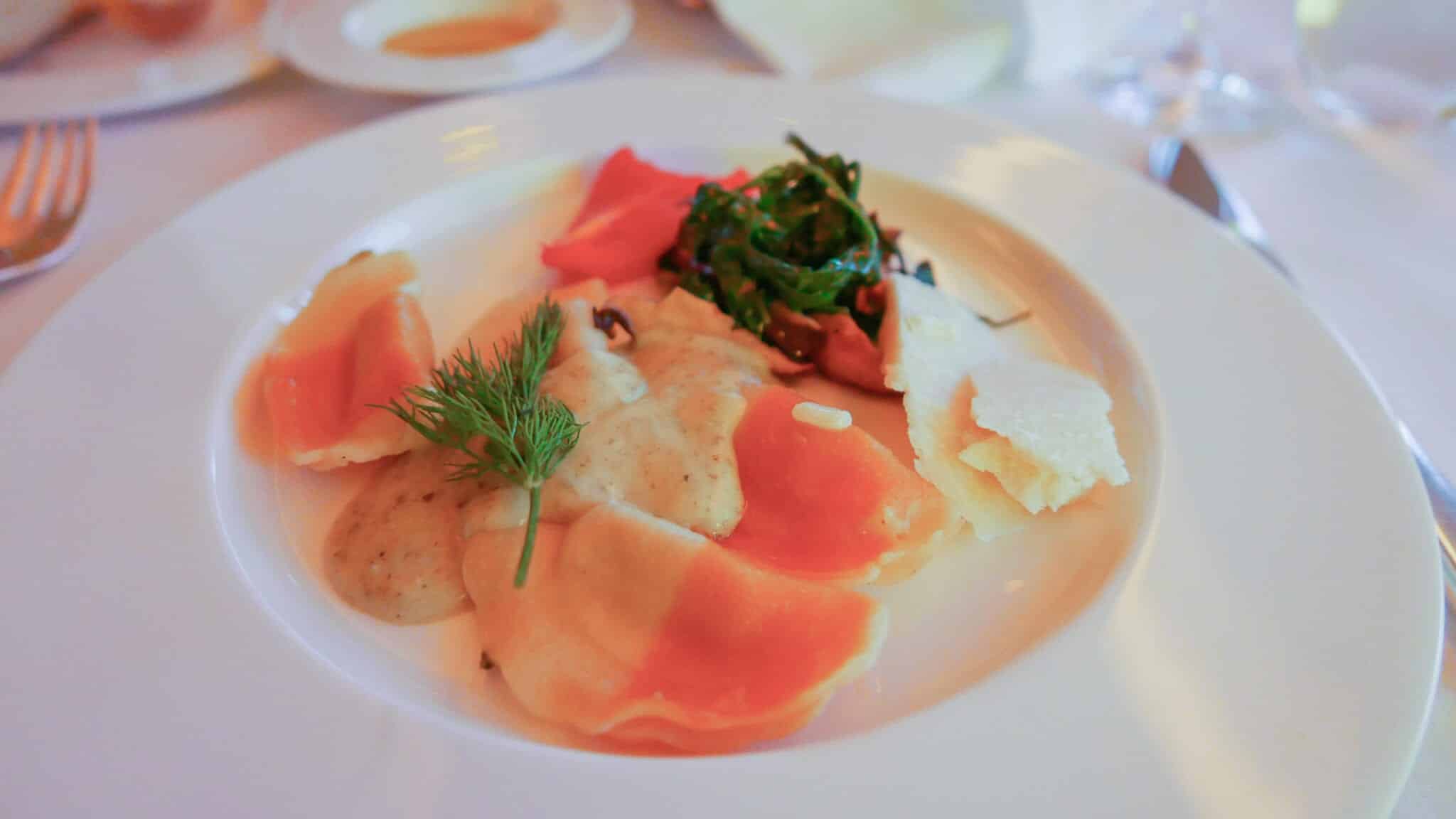 Naturally I was approaching Mr Creosote levels of fullness by the time that my main course arrived. Somehow I persevered.
This dish may not look like much but it was hands down one of the most delicious things I've ever eaten on a plane. The depth of flavour was just off the charts.
After all that food there was no way in hell that I was going to eat dessert. Given that we only had around 4 hours until landing I figured it was a good idea to invoke the power of a 'coffee nap', rather than attempting to get anything resembling a normal night's sleep.
I then headed to the bathroom to change into the Zimmerli pyjamas provided. How cool does the suite look at night with this lighting?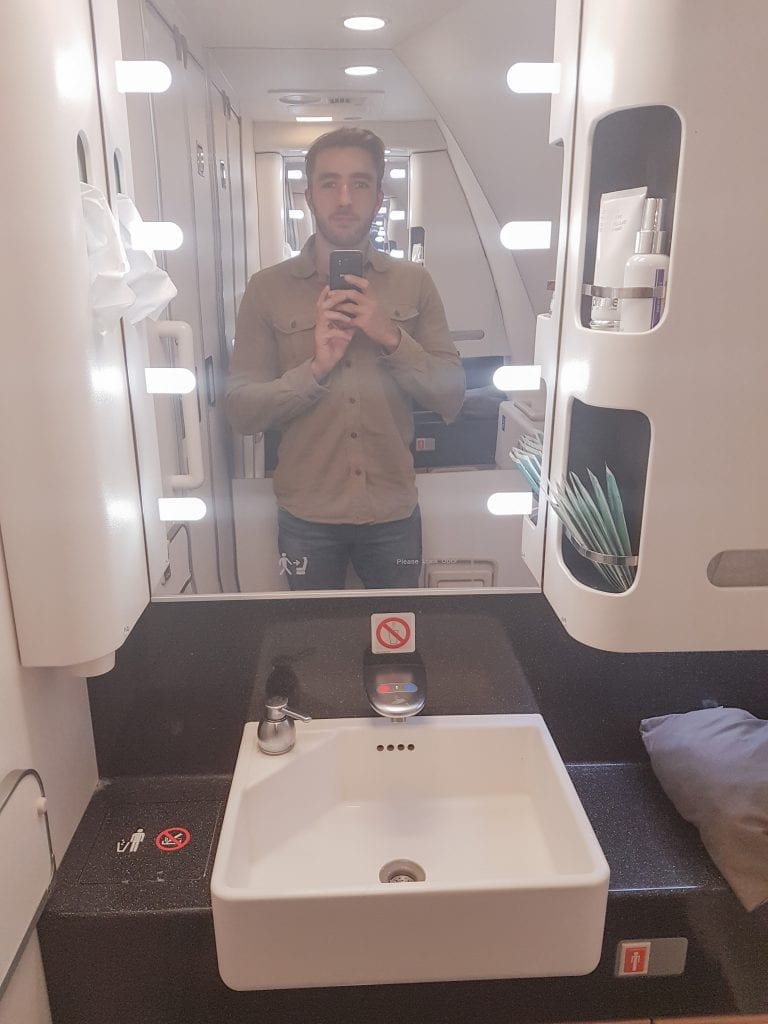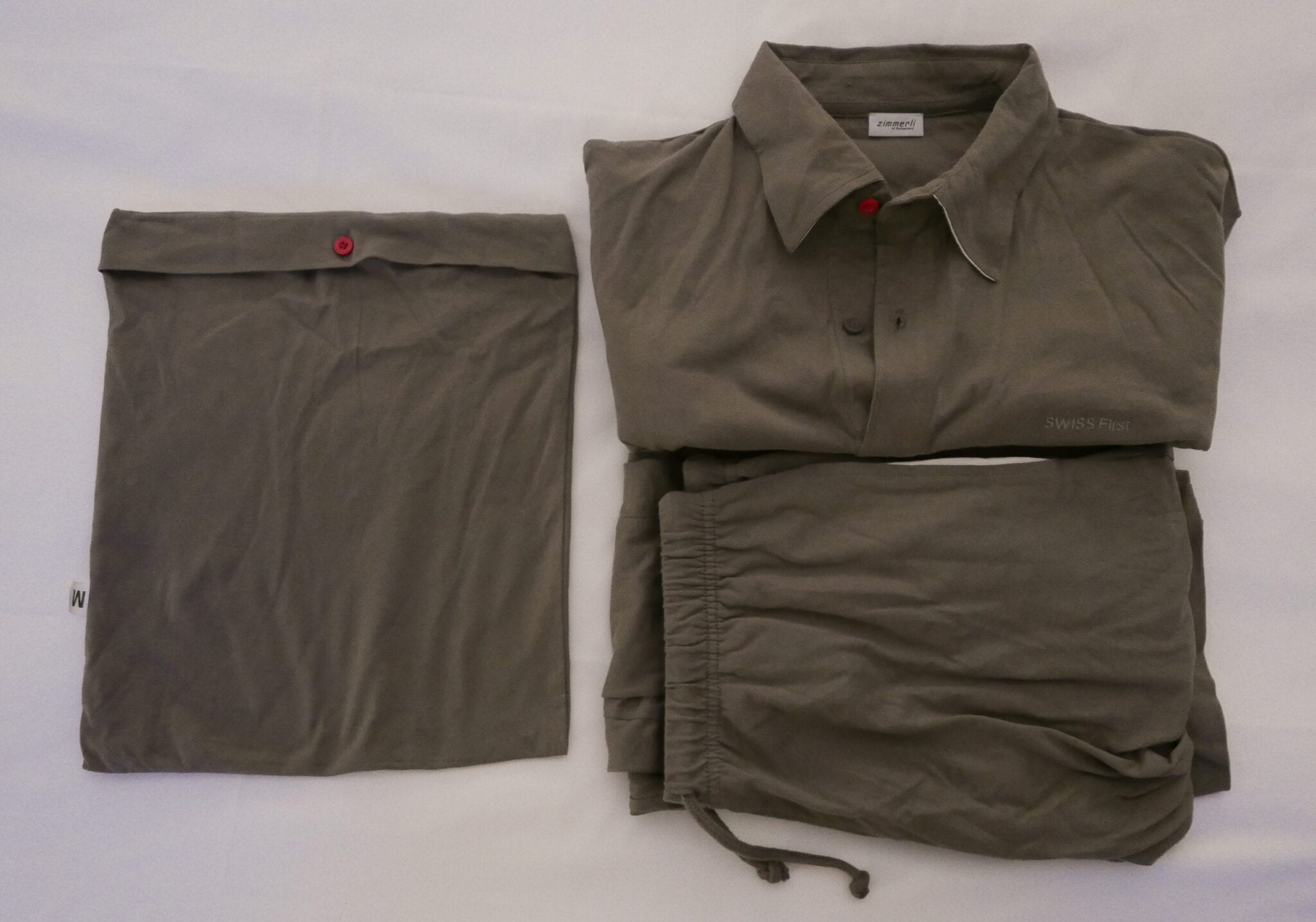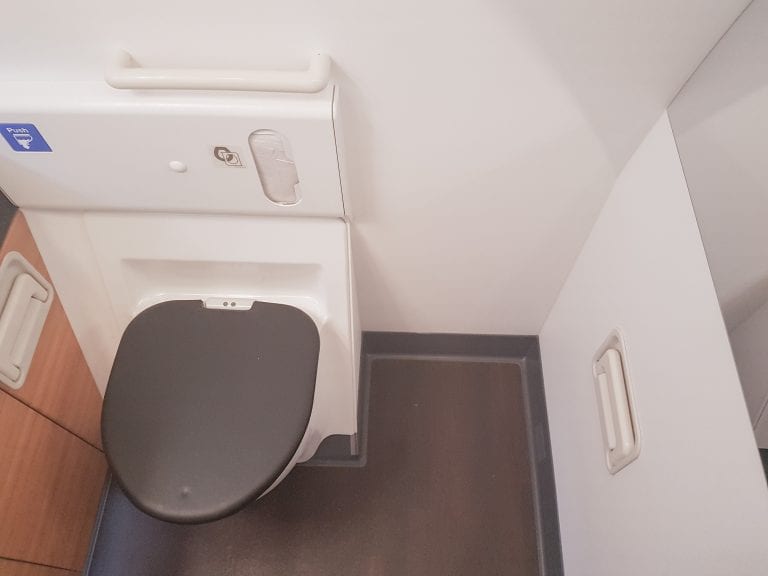 The Bed
I returned to find that my seat had been proactively made into a bed by the crew. As soon as I got in an FA approached to offer me a bedtime tea.
My chamomile tea was served with an entire box of Sprüngli luxury pralines.
I dropped to sleep within moments of finishing my tea. The bed surface was very comfortable and the multiple pillows and crisp linen really provided an inviting space to sleep in.
---
Conclusion
---
I woke up with around 40 minutes to go until landing and immediately jumped into action, getting changed and packing all of my things up. I still had a connecting flight from ZRH to LHR before heading to the office in the morning but honestly I was feeling great.
Very full, probably still slightly buzzed from a mixture of prestige cuvée champagne and espresso but mostly just deeply content and having had such an amazing flight with a crew that was a perfect mixture of friendly, polite and professional.
I was already convinced that SWISS First is one of the greatest ways to fly when the Maȋtre de Cabine approached and handed me a gift. He handed me a card signed by the entire crew, thanking me for being "such a nice passenger" and also gave me a box of Sprüngli pralines to take home!
I honestly wasn't expecting anything of the sort and was really blown away by this lovely gesture.
The crew were all so genuinely warm and interested in the fact that I'd done such a quick turnaround in F. As soon as they caught wind of the fact that this was my first time flying SWISS First they really did anything and everything to ensure my experience was a memorable one.
I honestly can't wait to fly SWISS again!
---
Canada Hotel Reviews
---
Here is a selection of our most recent Canada hotel reviews: