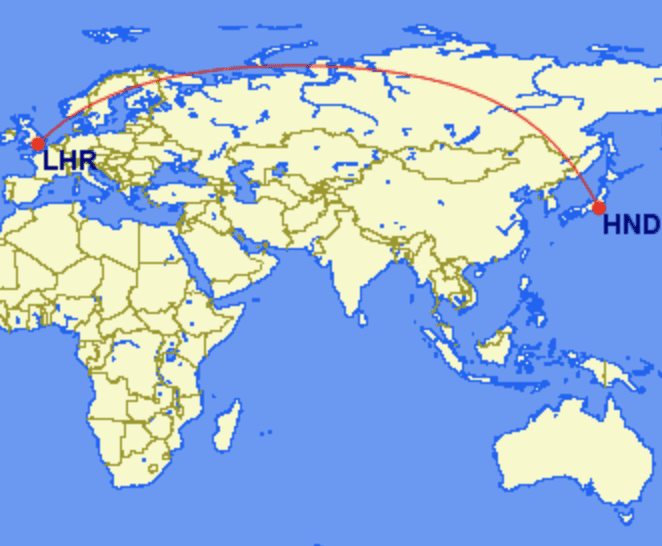 All Nippon Airways (NH)
Flight: NH212
Class: First Class
From: Tokyo (HND)
To: London (LHR)
Duration: 12h50m
Aircraft: B777-300ER
Seat: 2A
Status during flight: None
Cost: 120k Virgin Miles + £402.12 round trip LHR-HND in First
Date: October 2019
---
Intro
---
My ANA First Class experience got off to something of a lacklustre start with the utterly pedestrian ANA Suite Lounge but honestly I had low expectations to begin with.
So often in the aviation industry we see step changes resulting in a radical redrawing of the pecking order of premium carriers. A decade ago it would have been laughable to suggest that American would have one of the best seats across the Atlantic or that United would have some of the best lounges.
Nowadays ANA's international lounges are probably the worst of any full service carrier in Asia but the new First and Business seats, announced as a complete surprise in July this year, promise to be some of the very best in the sky and I was looking forward to seeing if they would truly deliver.
For all its faults, the ANA Suite Lounge has great views, giving me the opportunity to snap a picture of my ride back to London.
My gate was conveniently located outside the escalator to the lounge and I was able to make my way to the front of the line a few minutes before boarding was scheduled to commence.
The boarding area was methodically split into 4 boarding groups with Group 2 being the largest. Given the premium heavy configuration on the newly refreshed 777s (8 in first class, 64 in business, 24 in premium economy, and 116 in economy), this makes a lot of sense.
We boarded 15 minutes later than expected. I can only imagine that ANA embarked upon a national campaign of profuse apology as a result.
Japan takes public transport punctuality very seriously:
As I made my way down the stairs to the jet bridge, that familiar sense of excitement and anticipation built up within me. It's an amazing feeling knowing that you're mere moments away from finally seeing a brand new cabin for the first time. The press shots and reviews finally come to life.
In this case, nobody on earth has written a full review of this product yet. Getting the global exclusive only compounded the intensity of the excitement.
---
Pre-Departure
---
I was warmly greeted at the door of the plane by two smiling flight attendants and immediately started snapping pictures as quickly as possible, before the other passengers boarded.
The 8 seat First Class cabin of the refurbished ANA 777.
Once I had my shot of the First Class cabin, I quickly rushed past my seat (2A) and into the 2 row mini-cabin of business class. Excited though I was about First I was almost equally enthused by the prospect of seeing the groundbreaking new Business Class seat.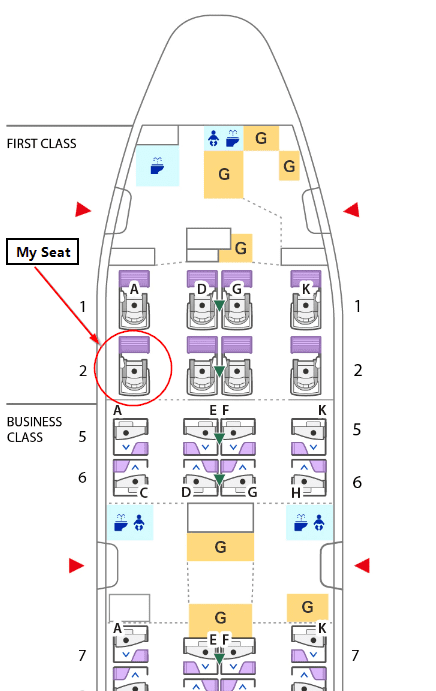 ---
Bonus: A sneak peek of "The Room" Business Class
---
I only had a brief chance to photograph the new Business Class seat but I have to say that I was extremely impressed. If you're in the two row mini-cabin, directly behind First Class, you'll be in a quiet and private cabin, with the same number of seats as First class.
Although the seats aren't as long as those in First, they are actually wider. You could easily fit two people side by side in the same seat, which presents a unique opportunity to indulge in companion dining.
The seat is so wide that ANA supplies two pillows per person as standard in order to fill the space out. At 24″ the IFE screen is a clear seven inches larger than the ones used by Lufthansa in First Class whilst boasting a far higher 4K resolution.
There is enough storage space under the foot rest to fit a roll aboard case and the seat boasts closing doors for complete privacy.
After seeing all this it almost felt like a waste heading back into First!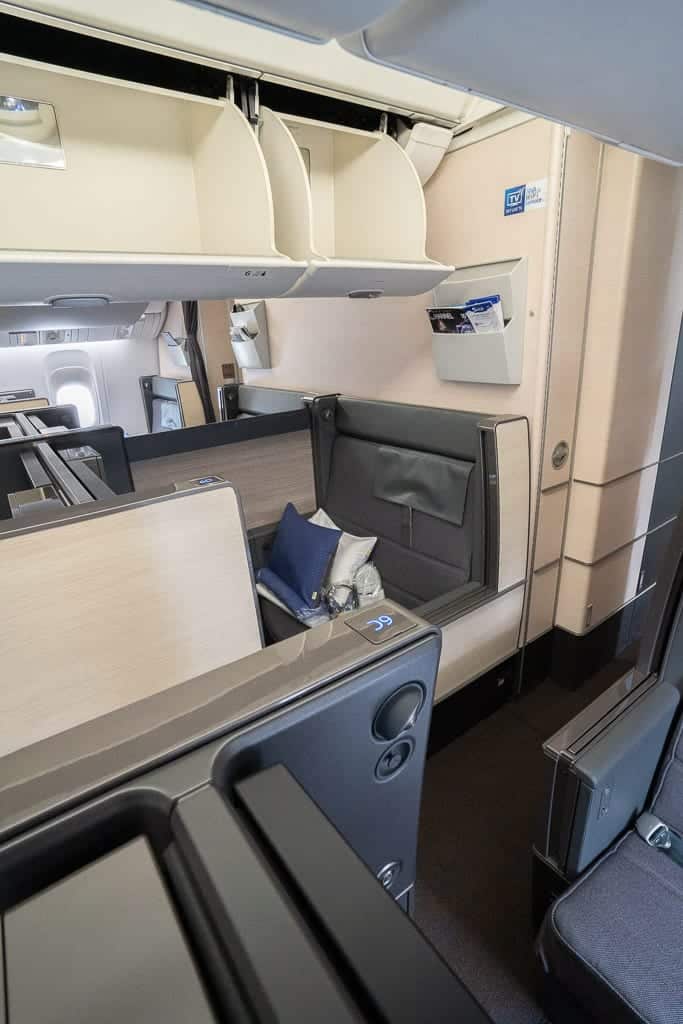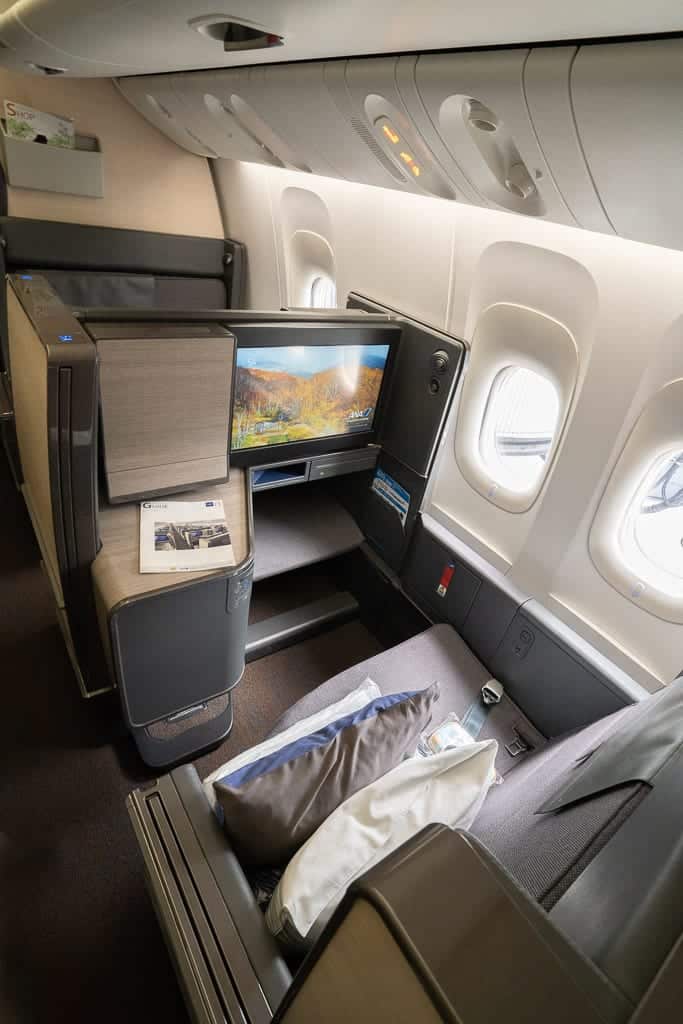 ---
The New ANA First Class: "The Suite"
---
Stepping into the First Class cabin the first thing you're struck by is the overwhelming enormity of the screens. At 43″ and featuring a 4K resolution these rival what a lot of people have in their living rooms. To see this on an airplane is truly incredible.
People usually have a strong desire to sit in row 1, meaning that the rear row in First tends to have empty seats. My plan of picking seat 2A worked perfectly. 2D was free to become my bedroom later on.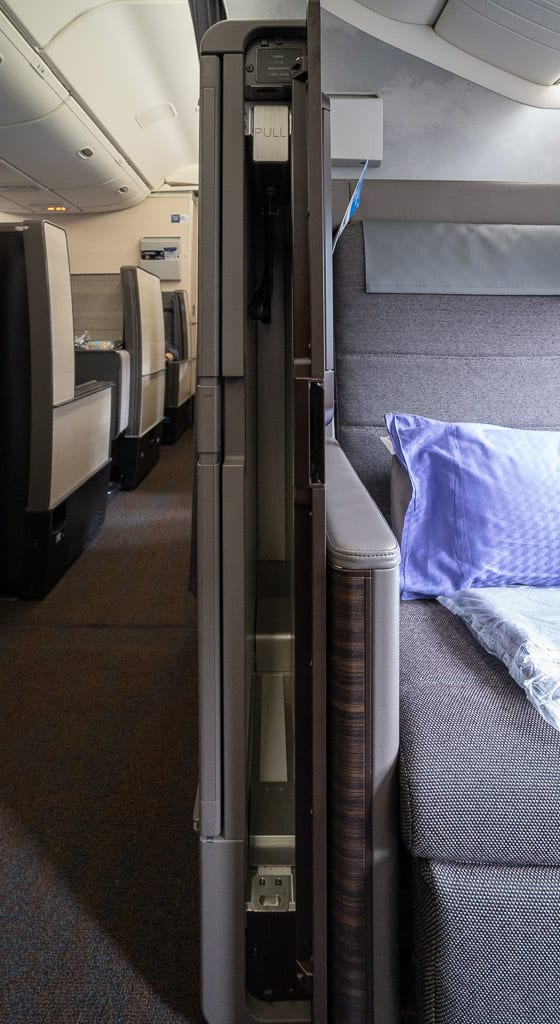 As I mentioned above, the First Class seats are actually narrower than those in Business. This is due to the addition of a slim wardrobe on the aisle side and a padded armrest on the inside.
Honestly though the seat still feels very spacious. If anything, I can see a valid argument for the Business Class seat being too wide and perhaps slightly uncomfortable as a result of the missing armrest.
Plenty of room under the ottoman for both my Rimowa Classic Flight and a pair of boots next to it.
A padded armrest featuring the touch screen IFE controller and both button and wheel style seat controls.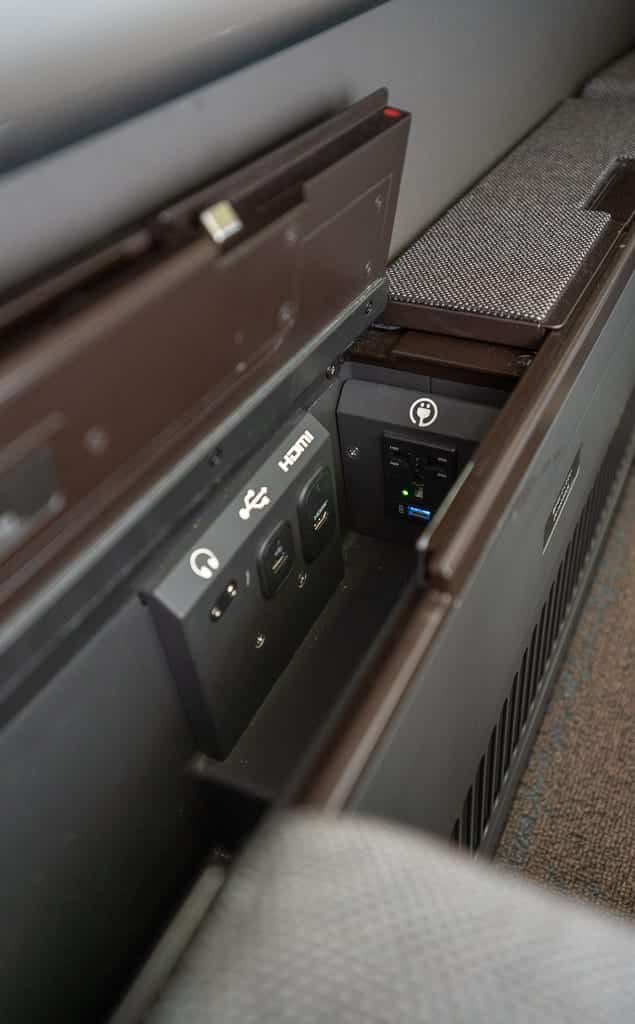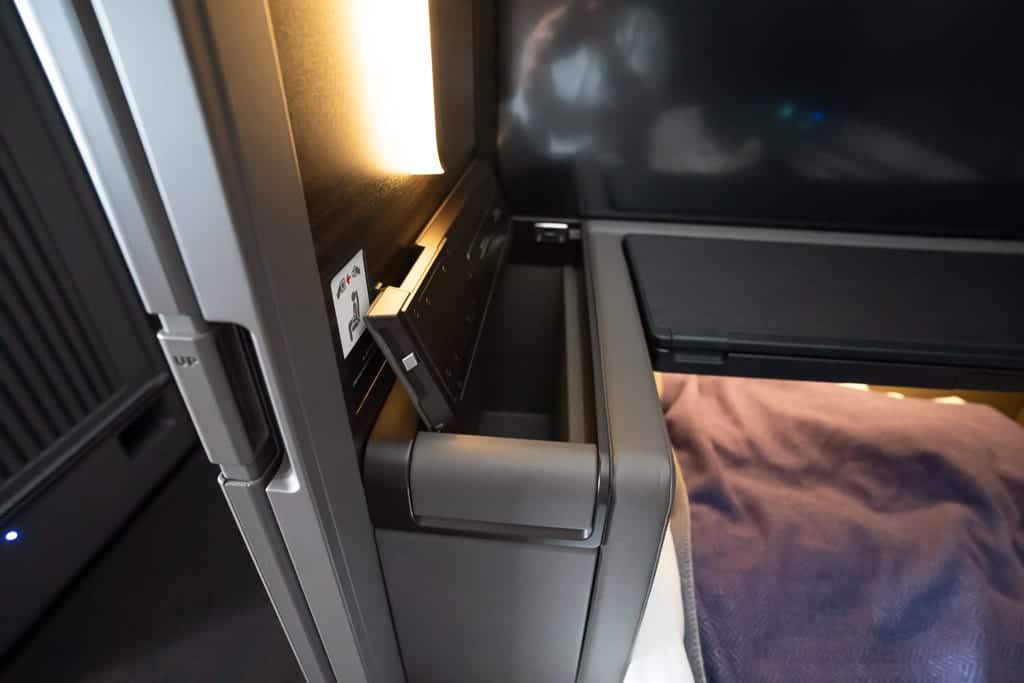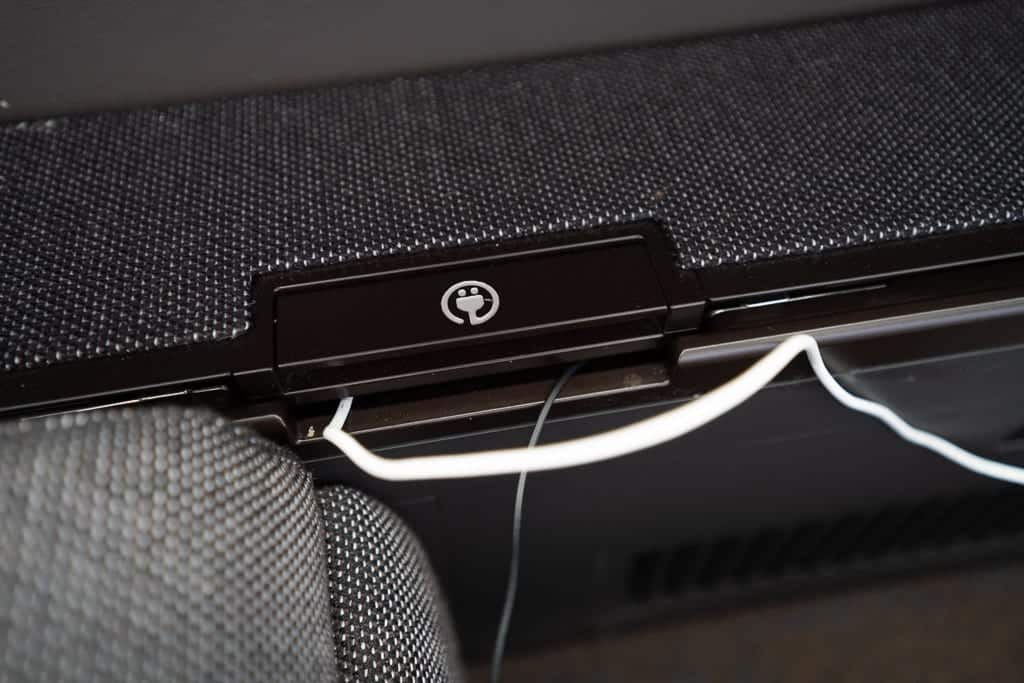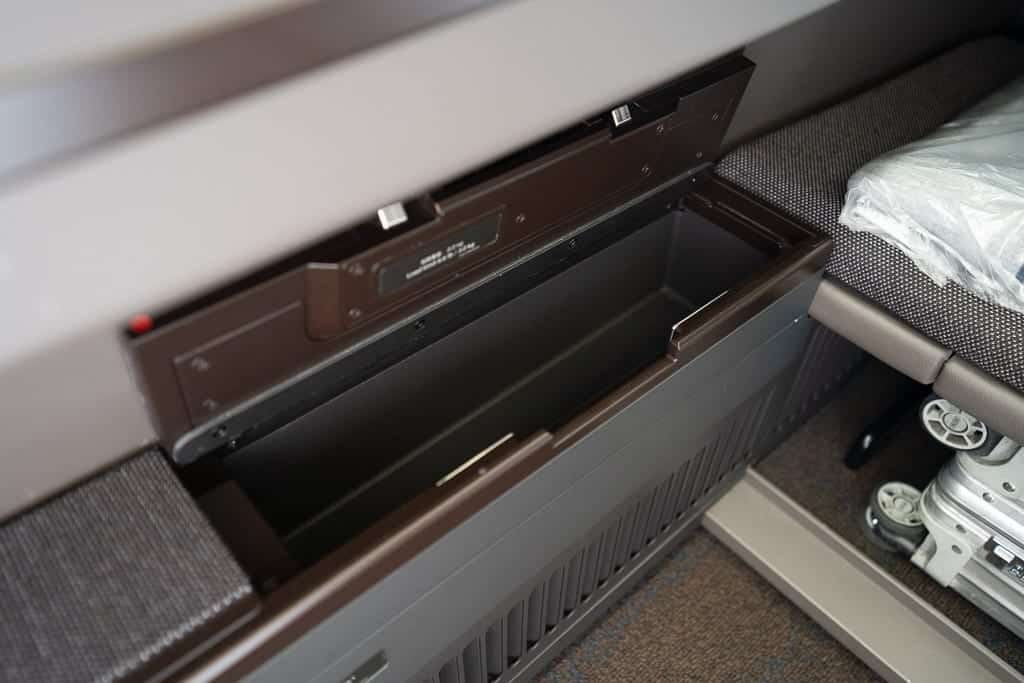 The seat is certainly not lacking in storage options. I was impressed both by the fact that the power supply supported fast charging and that HDMI connectivity was offered.
Very Meta: Editing photos of the flight whilst still on the flight. Unfortunately Seat 2A had a malfunctioning HDMI port as well as a broken storage compartment, which is why I was using seat 2D when connecting my laptop. Slightly worrying for such a new product…
This is in many ways the most exciting thing about the newly refreshed 777 cabins:
Finally an Asian carrier that permits passengers to control the temperature! In the past, enduring onsen-like temperatures was the trade off for superior service and food. Now you have air vents powerful enough to blow your chopsticks clean off the table, which is fine since connoisseurs eat sushi with their hands anyway…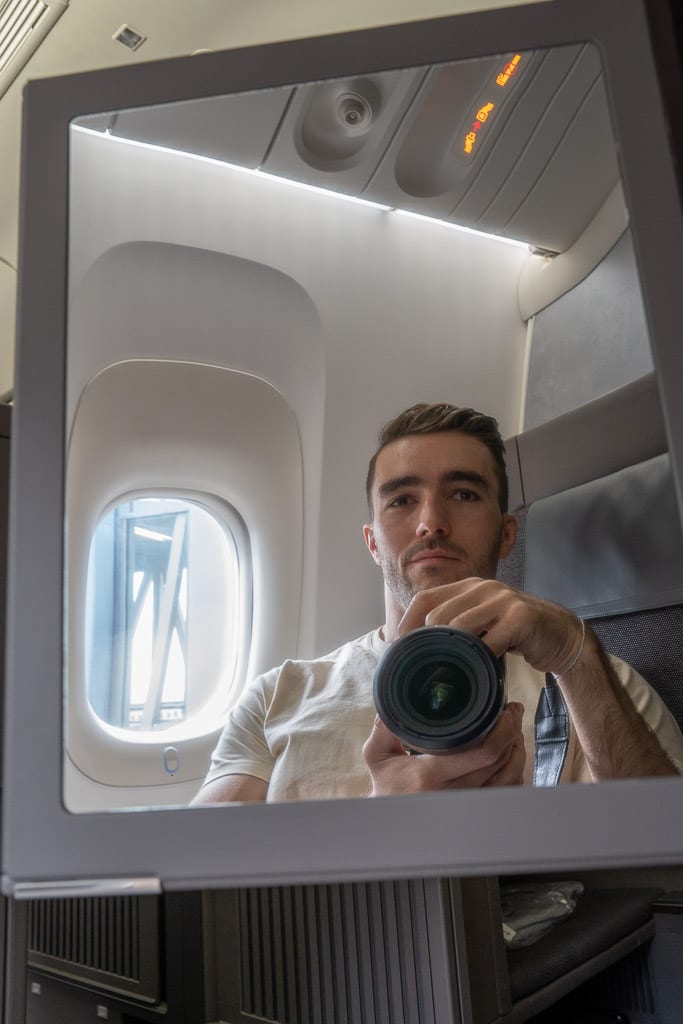 Another huge improvement over the old seat, which blocked all but one window. First Class passengers now have three full windows to look out of featuring electronic blinds.
Overall this seat is by no means groundbreaking but still represents a huge step up over the old product which I reviewed back in 2014. Structurally the seat has a lot in common with the SWISS 777 seat (which I love) but adds more storage space, a better wardrobe, better doors and an enormous TV.
The only First Class product outside of an A380 that looks like it compares is the new Emirates 'Gamechanger' which I booked a while ago and will be flying in a few weeks. I'm very curious to see which comes out on top. At this stage though it really feels like we're reaching the limits of what is possible within the confines of a single decker wide body aircraft.
---
The Flight
---
The crew left me to it as I proceeded to photograph every little detail of the seat. This is usually an early indicator of a good First Class crew, they adapt the service delivery and wait for me to finish with my camera before asking if I want a drink or any help with the seat.
Once I had settled in I was offered a choice of pre-departure beverage.
I was surprised that the champagne wasn't poured at my seat (it came from a tray of pre-poured drinks) and suspect that this was due to ANA not wanting to pay the duty for serving Krug on the ground. Another minor note is that I wasn't offered an oshibori (warm towel). This is such an integral part of Japanese service culture and is standard on most airlines even in business class. The omission of this detail in First Class, on a Japanese carrier was somewhat jarring.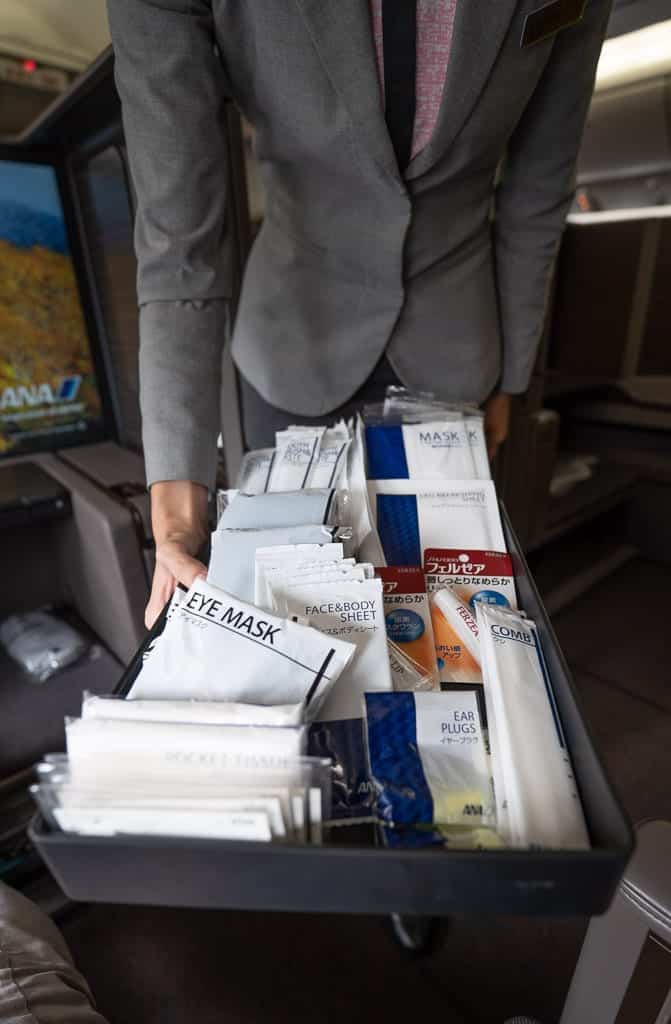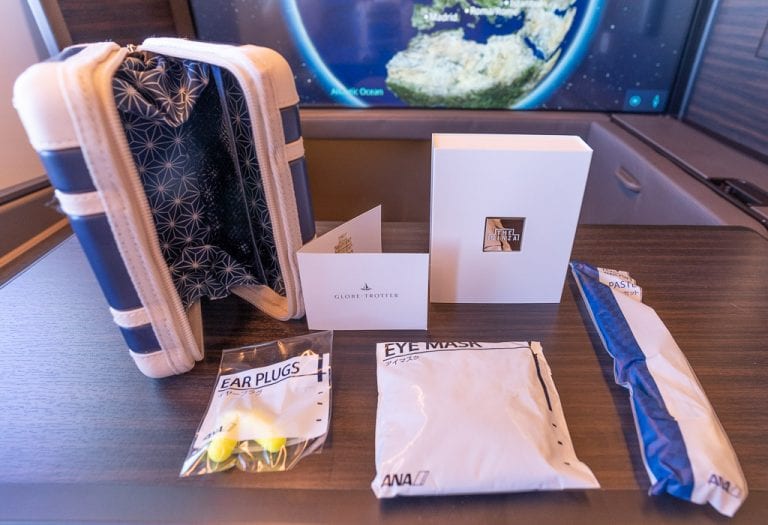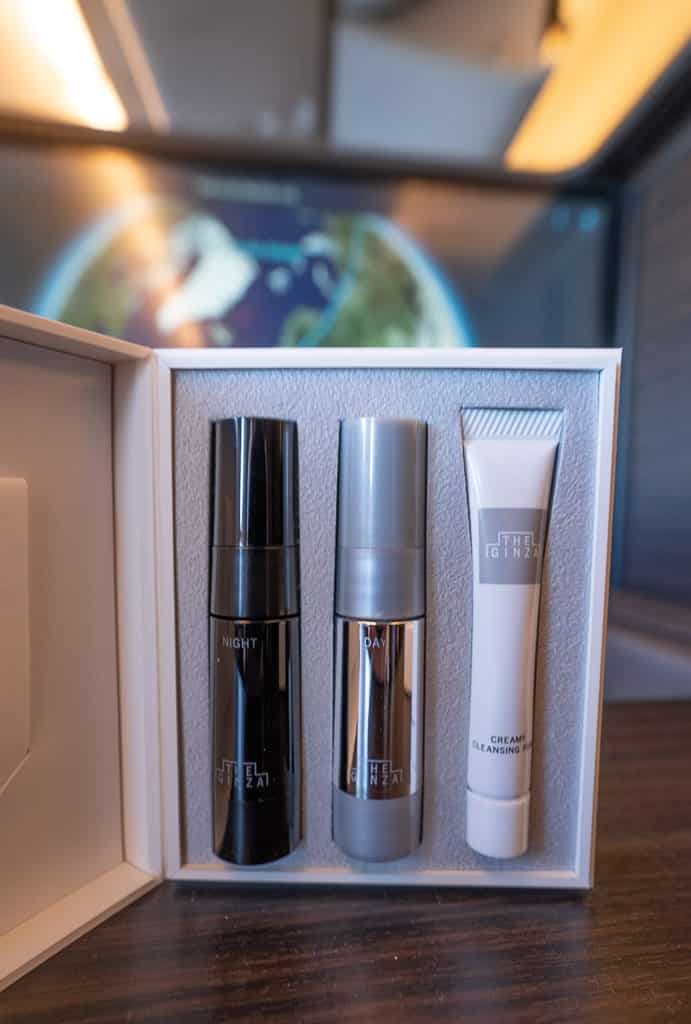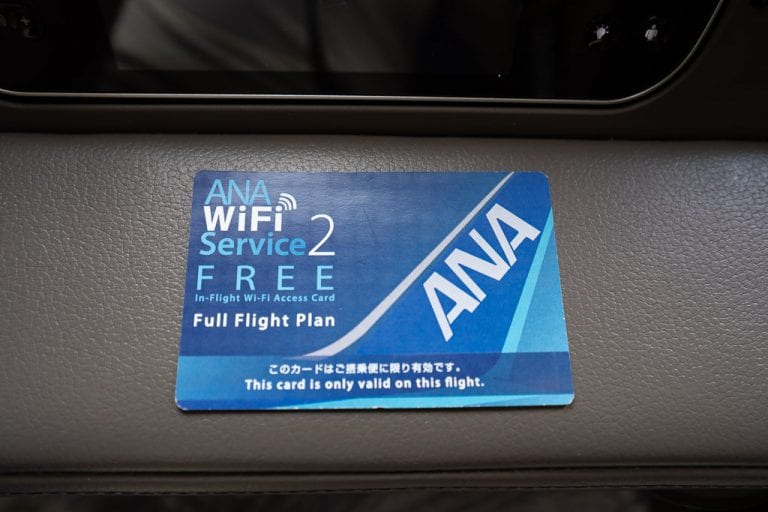 Prior to take off pyjamas and amenities were offered.
The amenity kits are Globetrotter branded and appear very similar in design to the Brics kits previously offered by Qatar in First Class. There is an additional kit within the kit; a set of three creams from The Ginza – a very exclusive Japanese skincare brand. This is further supplemented by a tray of more obscure amenities, distributed from a large tray by the crew.
From moisture masks to lip balm to leg refreshing sheets (which are exactly what they sound like), ANA really has thought of everything. I've never seen a more complete set of in-flight amenities offered by an airline.
Finally it seems as if airlines are realising that charging a few dollars extra for WiFi is not a good look in your most prestigious cabin. Complimentary WiFi is offered to all ANA First Class passengers on the refurbished 777.
You could use the WiFi to download the ANA app and use your phone to control the IFE. Personally I didn't see the need given the responsiveness of the IFE system but I can see how this might be a cool feature on a short haul plane where films can be downloaded to your phone.
The Sony noise cancelling headphones were of a high enough quality that I kept my Bose QC25s stowed away – it's not often that I can say that.
The film selection wasn't huge but there was a decent mix of new films and a well curated selection of critically acclaimed classics spanning several decades. I did try and stream Netflix by connecting my laptop via the HDMI cable but unfortunately the connection speed wasn't fast enough to load anything.
We took off around 40 minutes late, as a result of one runway being closed, due to a bird strike. When you're in First though, these inconveniences don't really seem to matter.
Menus were distributed shortly after the seatbelt signs were turned off.
---
The food menu is impressively extensive and ambitious, particularly when you factor in the ability to mix and match absolutely anything at any time during the flight. I remember the food being the absolute highlight when I last flew ANA F, to the point where I legitimately couldn't distinguish it from dishes served in Michelin starred restaurants on the ground.
Nothing about this menu made me question that recollection. I mean how often do you see a dish like, 'Barracuda poĕle and turnip flan with botargo emulsion' on a plane?
A lot of other airlines are serving Krug 2004 in lieu of the cheaper NV but I actually prefer the latter and to my knowledge ANA is one of the very few airlines that still serves it.
The sake collection is very impressive too but the real showstopper here is the Hibiki 21. A whisky so rare and in demand that it is almost impossible to buy outside of an auction house.
If you're lucky enough to get your hands on a bottle expect to pay at least £750… or £1 per ml. If you like whisky the presence of this bottle alone may be reason enough to sway you towards flying with ANA.
There is a wide selection of soft drinks available including a 'luxury' soft drink in the form of the cloudy 'Mapple Juice Fuji'. Although frankly this pales in comparison with the ethereal Queen of Royal Blue Tea offered by JAL in their First Class cabin.
Lunch
---
I asked for Krug and this time it was poured at my seat and served alongside a selection of truly delicious canapés. The FA described each of them in painstaking detail just as you'd expect in a high-end restaurant.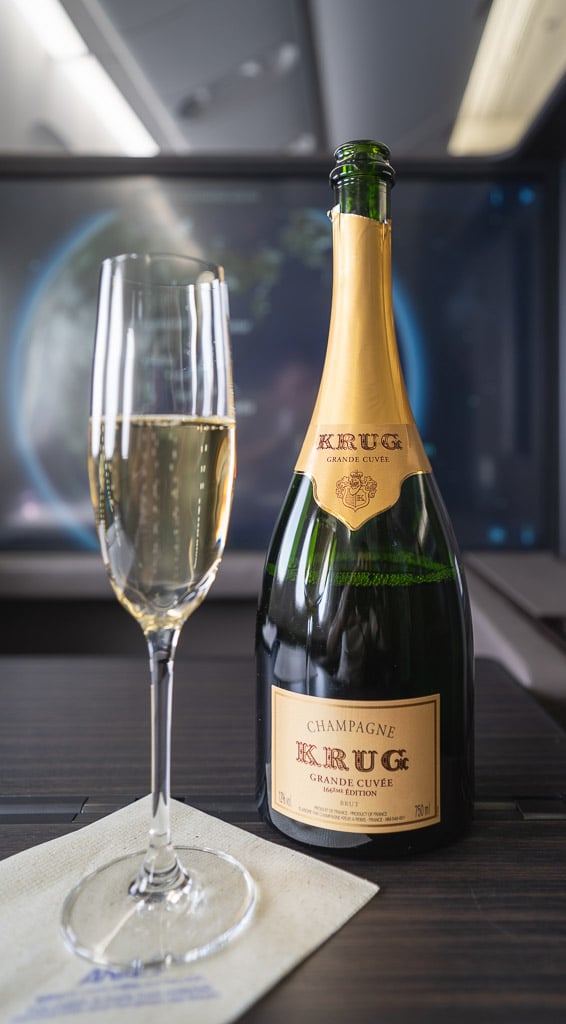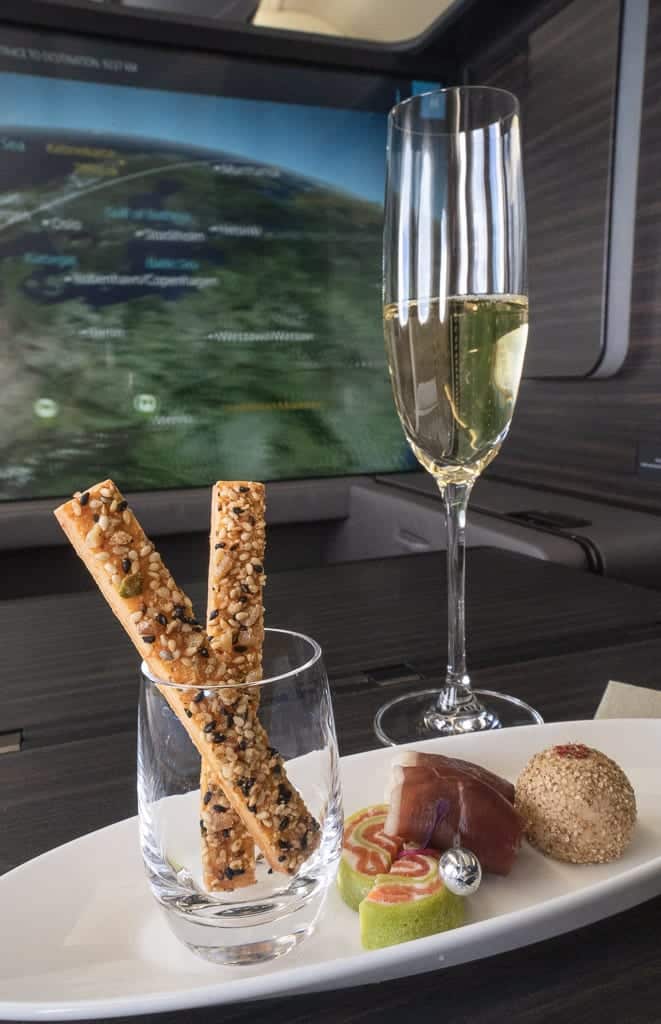 I opted for the Japanese Kaiseki tasting menu as my lunch, preceded by a starter of mixed seafood and marinated vegetable crudités with caviar.
Focus firmly on the Krug…
This dish was absolutely exceptional. Truly magnificent. A mixture of fresh and vibrant vegetables with crab, scallops, lobster and a generous serving of caviar. This dish was genuinely indistinguishable from fine-dining served on the ground.
The First Kaiseki course was beautifully presented on a slightly adhesive lacquer try, which prevents dishes from moving during turbulence.
Tiger prawn and fig with sesame miso sauce. Mashed lily bulb with green soybeans. Simmered duck in soy-based sauce. Grilled sweetfish. Simmered konjac in soy-based sauce. Persimmon rolled with daikon radish. Assortment on bamboo leaf boat (seared botargo, deep-fried ginkgo leaf-shaped sweet potato and propagules). Pear and dried gourd with tofu paste.
Obviously the presentation wasn't quite up there with the likes of Michelin *** Wa Yamamura in Nara but given that these ingredients were mostly cured and prepared in some way, freshness wasn't really an issue and the overall balance and variety of flavours was wonderful.
View this post on Instagram
The next two courses were the sashimi and the clear soup.
The sashimi was adapted for the air by searing the fish and using prepared monkfish liver, meaning that the lack of absolute freshness could be easily compensated for.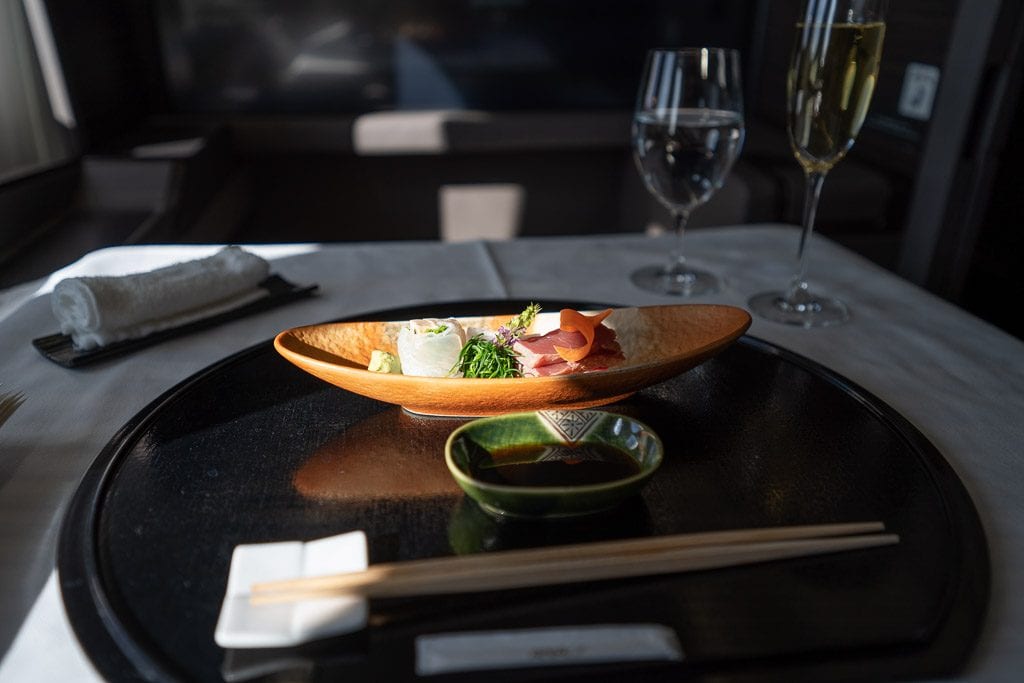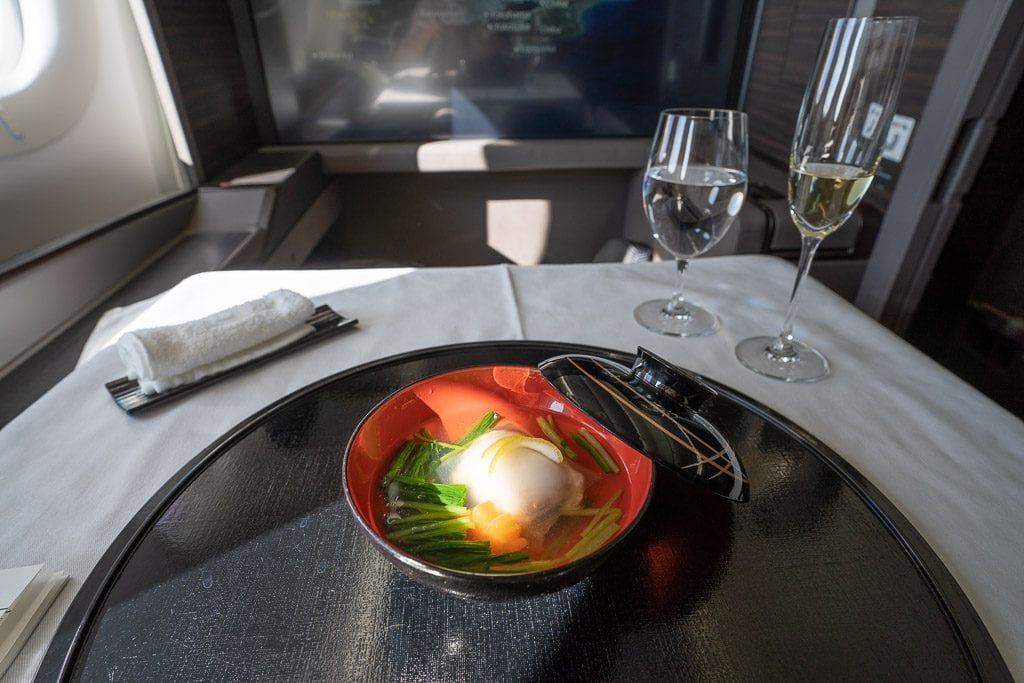 I'm a real sucker for a clear soup; the clean taste of the fish stock and the uni here was expertly offset by the vibrant yuzu peel.
The main course: Kazesayaka rice from Nagano. Simmered squid stuffed with glutinous rice in soy-based sauce. Japanese pickles. Grilled surf clam with red yuzu citron pepper and miso vinegar paste. Miso soup. Grilled avocado stuffed with seafood and grilled miso-marinated wagyu beef.
Not only was everything absolutely delicious I was also inspired to bake an avocado at home too after particularly enjoying that component of the main course!
I also took the opportunity to sample the sublime Aramasa 6 X-type sake as a pairing to the fish elements.
If the only sake you've ever tried came from a restaurant that serves two types: hot or cold, then the you will never forget your first taste of the good stuff. It is like an entirely different category of drink.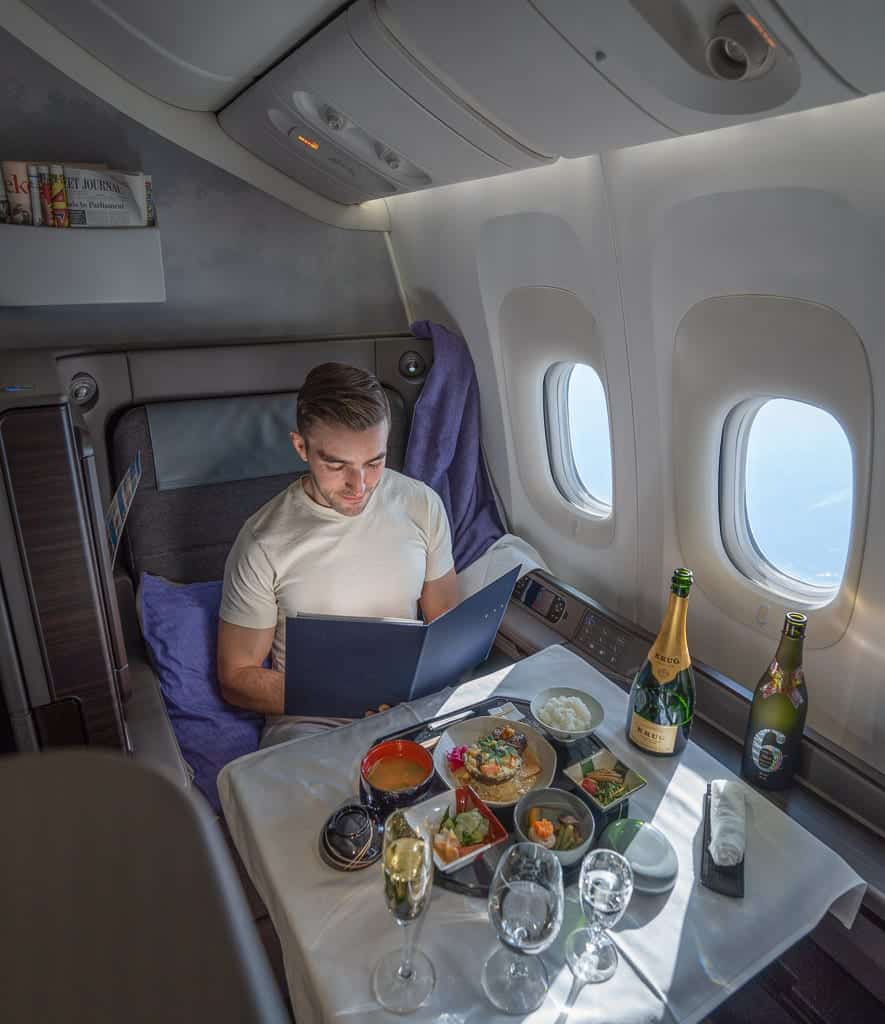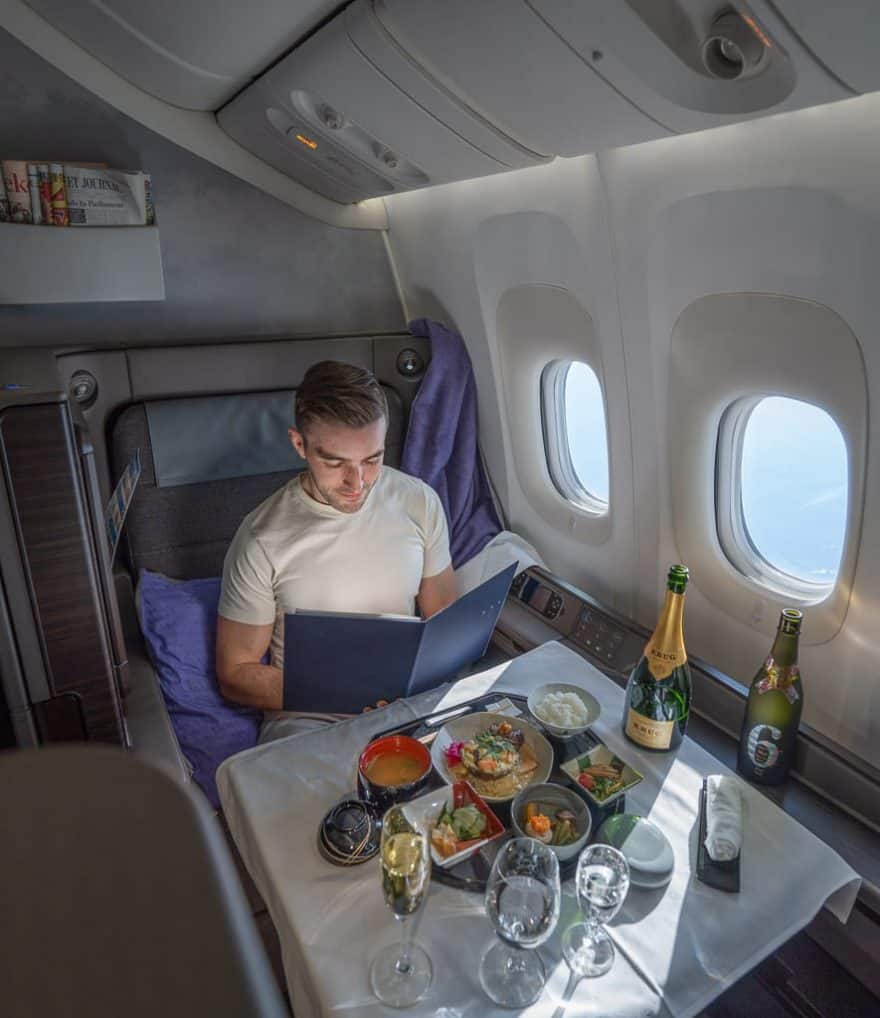 I rounded off the meal with an espresso macchiato and a selection of Japanese confections.
After that enormous feast I asked a member of the cabin crew to make a bed for me in seat 2D as I went to change into my sleepwear.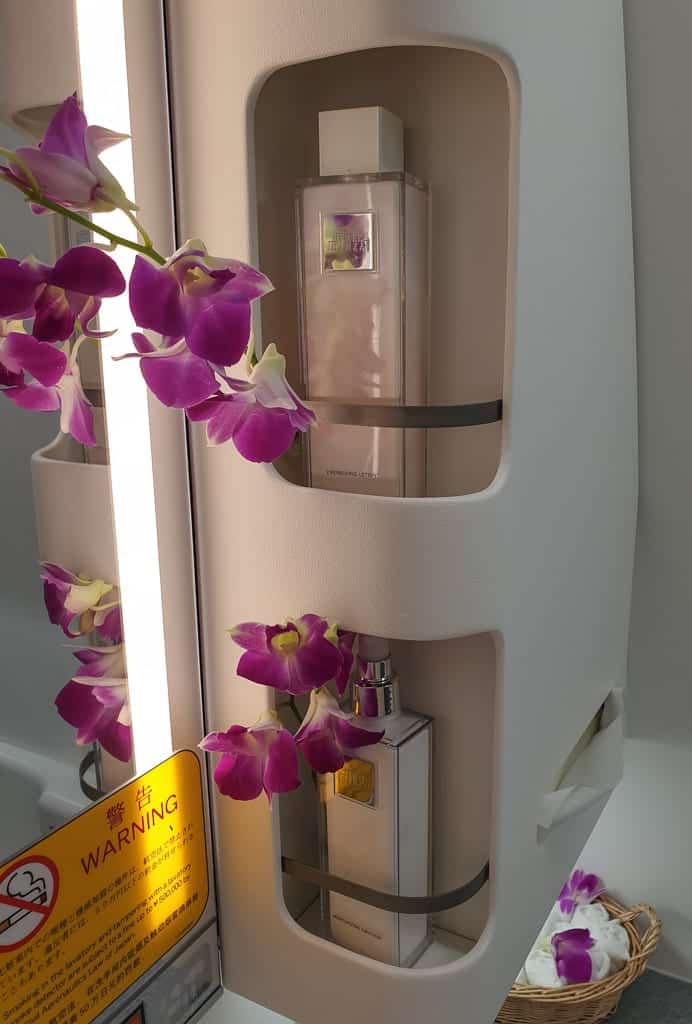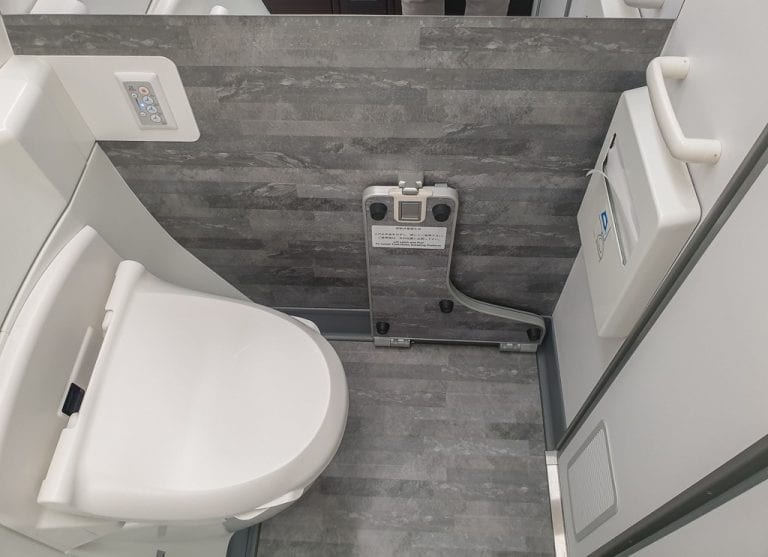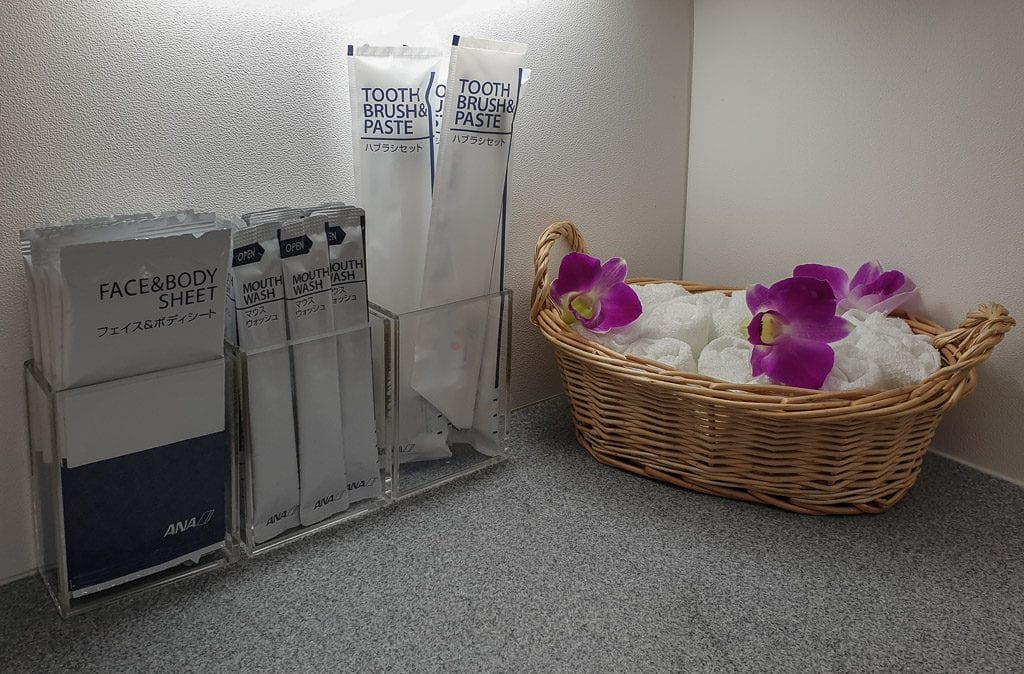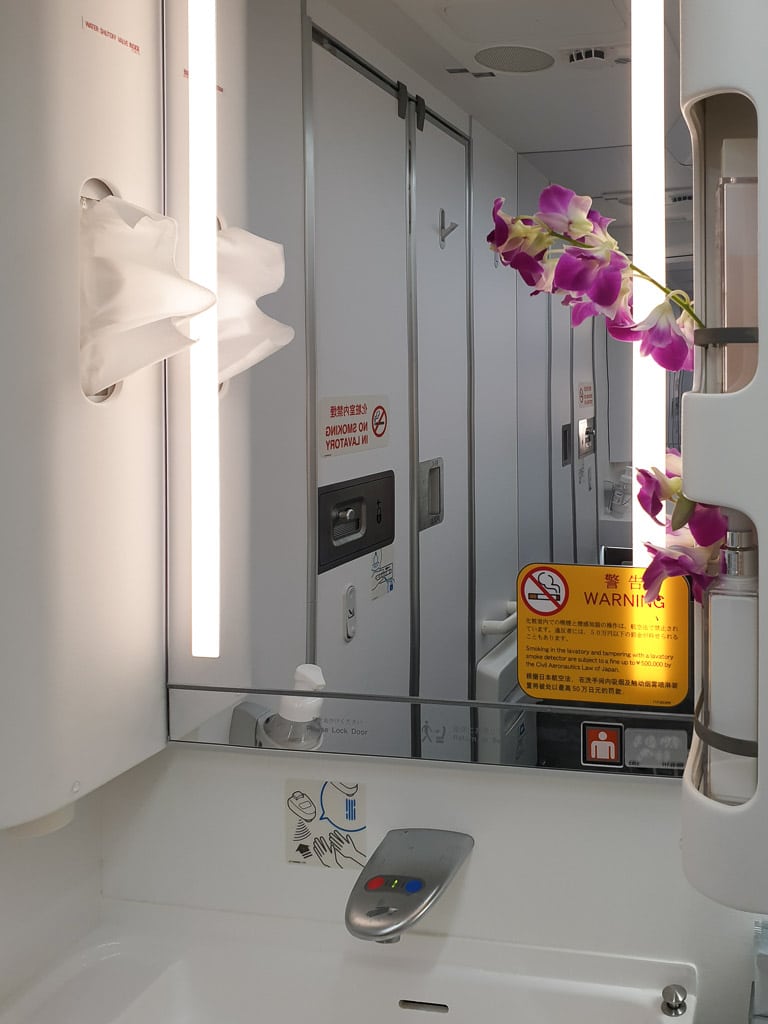 Sleep
The Large size fit me well and didn't feature the awkwardly enormous waistbands you get on other airlines. The material on these is thick though so if you didn't have air vents you'd be sweating for sure.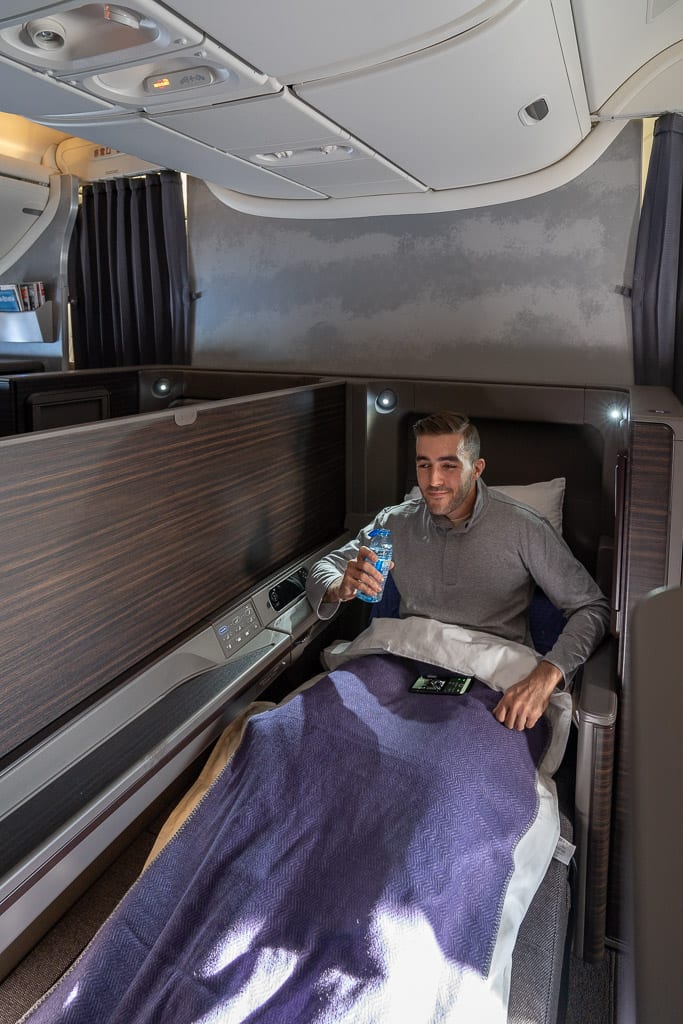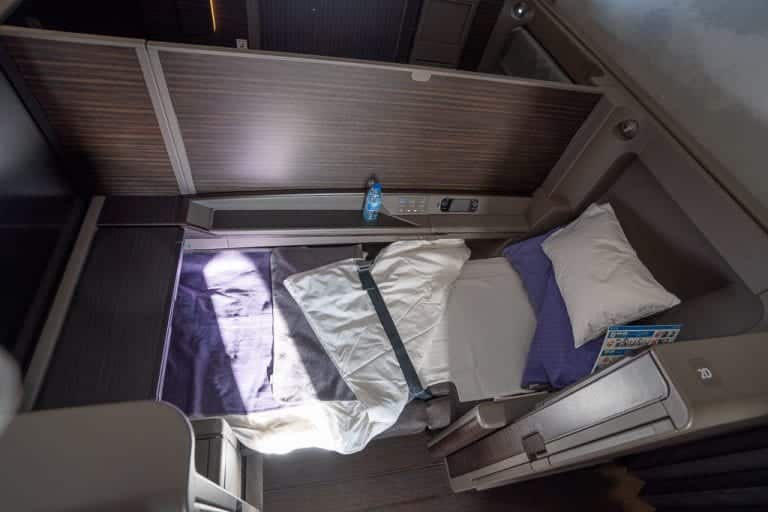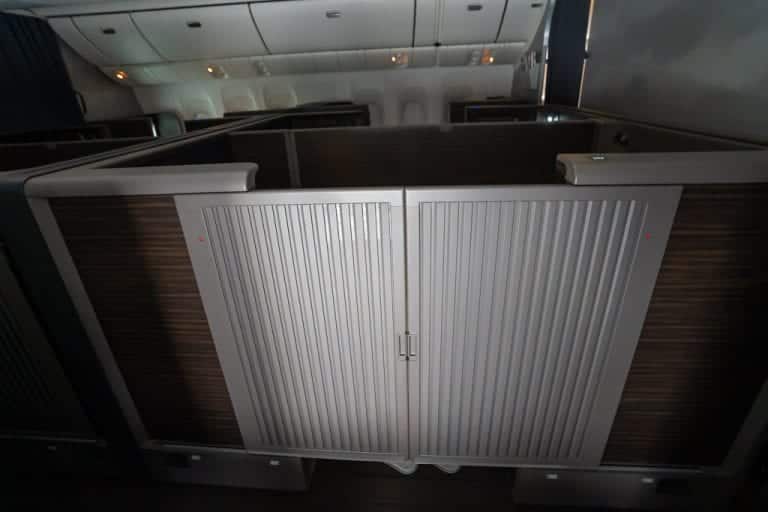 All the cushions and pillows are memory foam and there is plenty of space so spread out, the doors also ensure privacy and help to keep light out if you're in the centre seats. However, I did not sleep comfortably.
The memory foam mattress which I enjoyed on the old product is now gone. It has been replaced by a large linen napkin, roughly one micron thick. I've had far more comfortable sleeps in Business Class on the likes of AA, AC and NZ, all of whom offer proper thick mattress toppers.
Even a soothing cup of hojicha, served in a very elegant traditional cup, couldn't lull me into sleep.
In the end I decided to just lie in bed and watch a 4K documentary on the island of Ogasawara. Technically it is part of Tokyo despite being a 24h boat ride South, in the middle of the Pacific and is referred to as the Asian Galapagos. I must admit I'd never heard of the island before but am now really intrigued by the idea of a visit…
After the documentary I decided to head back to my original seat and indulge in a spot of whisky tasting. The King George V is already a significant level above the Johnnie Walker Blue that most other airlines serve in First Class but I was far more excited at the prospect of getting my hands on a bottle of the unbelievably rare Hibiki 21. I got chatting to another passenger on the flight and he joked that even the chairman of Suntory can't source a personal bottle!
View this post on Instagram
Dinner
After quickly making my way through two very large glasses of whisky, in a bid to finish them before the ice melted, I felt like eating something would be a sensible course of action.
I began by ordering the smoked scallop and miso-cured roe from the 'Sake accompaniments' section of the menu. Delicious though this was, it wasn't exactly going to sate my hunger.
Still unsure as to how hungry I was, I ordered the Tsumari pork rillettes and black truffle sandwich. It was a rich and dense slab of umami but still didn't quite hit the spot.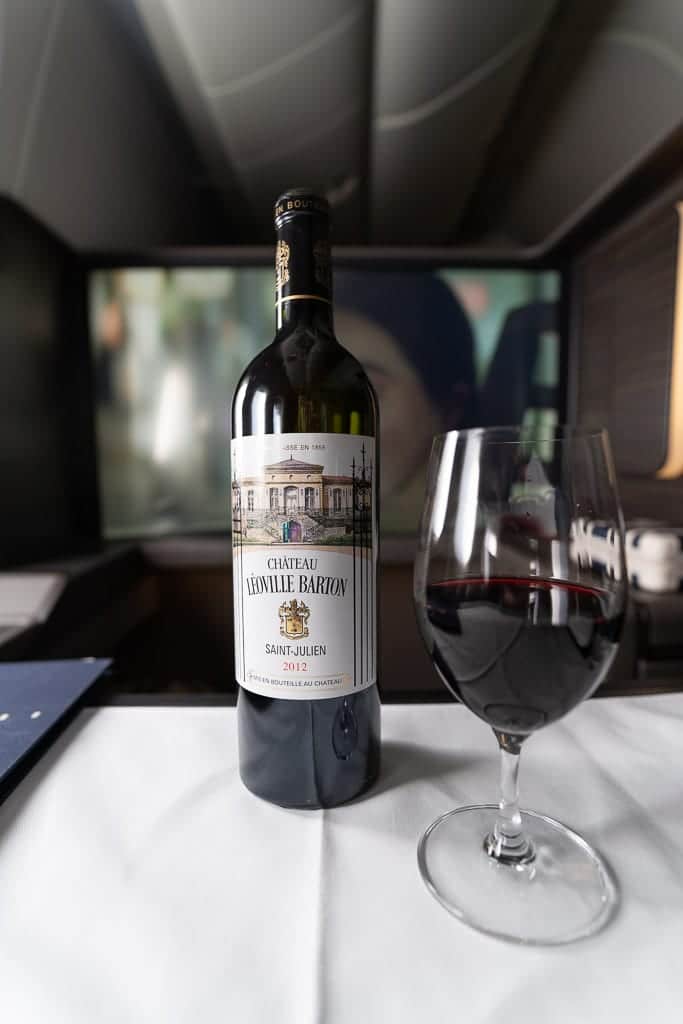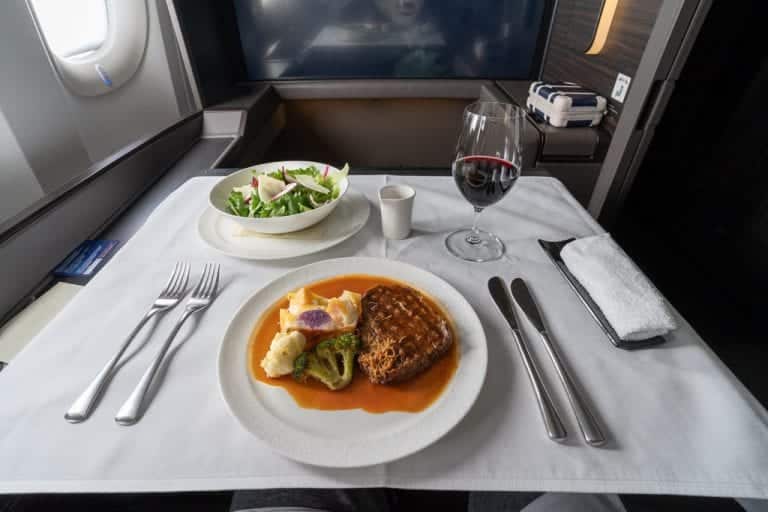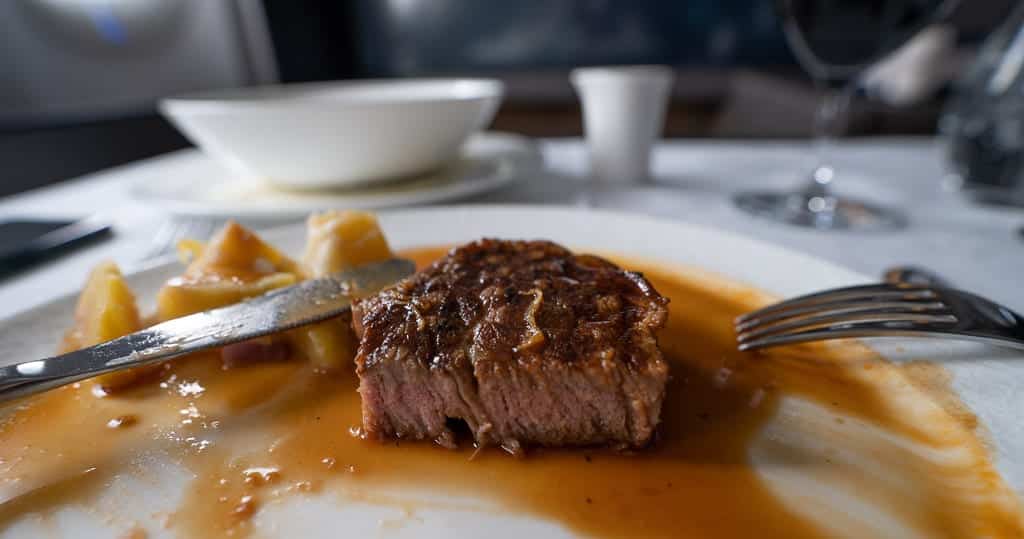 I asked for the Wagyu sirloin with the dauphinoise of five potatoes and ginger sauce. Despite the fact that it was cooked medium it was incredibly tender and almost melted when touched by a knife and fork. Obviously it would have been rude not to pair this with a glass of Bordeaux and ANA had a very serviceable, if slightly young, Château Léoville Barton 2012 to fit the bill.
I was rather full at this point but was in the mood for something sweet to round out my meal. I decided to try a glass of the Mapple Juice Fuji, described as:
"A sophisticated juice from Nagano Prefecture, made from foliate apples grown on sunny slopes beneath Japan's Minami Alps. Every apple is fully ripened with the leaves to heighten its nutritional value. Rich, fresh-squeezed sweetness complemented by bracing sourness. Free of water, sugar, preservatives, and other additives."
It was better than regular apple juice from a carton but I wouldn't go out of my way to track this down. I'm just not sure that the world needs a luxury apple juice…
At this point I was completely full and feeling very relaxed. I spent an hour or so editing photos in Seat 2D before changing back into my clothes, mentally preparing myself for the journey across London and the inevitability of heading to the office the following morning.
---
Conclusion
---
I've been to Japan ten times since 2014 and have flown a wide variety of carriers there, including Thai, Virgin, Qatar, JAL and Cathay. Recently I had almost exclusively flown to and from the Land of the Rising Sun on JAL; it is a very easily accessible product which regularly makes 2 seats available for redemption and is a wonderful experience in almost every way.
However, every time that I flew JAL I couldn't help but think back to my ANA First Class flight back in 2014. Despite the bland seat with its blocked windows, I remember that flight very fondly and had been longing to try the experience again. I totally lucked out when booking this seat using Virgin miles. Availability was wide open back when I booked this, ten months ahead of the flight date when nobody had any idea that ANA would be releasing a new seat.
The service was extremely attentive throughout, every bit as good as I remembered it and easily on a par with JAL.
The drinks selection is extremely strong, if you like whisky you'll be in heaven. As a champagne lover I'd still give JAL the edge though since they currently serve Salon, Cristal and Comtes de Champagne.
The kaiseki was impressive but actually I feel like ANA is even stronger with its Western dishes. The caviar presentation is absolutely inspired and I personally prefer it to the Sugalabo collaboration on JAL.
When I saw the air vents I thought that ANA was going to clearly beat JAL when it comes to sleep comfort. However the sleeping surface is rock hard (similar to Etihad apartments before they introduced their mattress topper) and is clearly something that ANA will need to focus on.
Speaking of hard products, this is clearly where ANA has the edge over their Japanese rival. The outlandishly large screen, unlimited wifi, closing doors and air vents mean that ANA has one of the very best seats in the sky. The design is very sleek, very elegant and very modern. In comparison, the JAL seat feels like visiting grandma's house… in the 80s.
Where does the new ANA F stack up overall? I currently rate it second only to Singapore Suites. However ANA (much like SQ) still clearly need to work on their lounges. Lufthansa and SWISS both offer superb facilities to passengers in their home terminals and ANA's is an embarrassment in comparison. I'd honestly rather spend time in Cathay's outstation business class lounge in London than in the ANA Suite lounge in Haneda.
With these new seats ANA have issued a clear statement of intent. The hard product now matches the superlative service and phenomenal food offering. Will this be a flash in the pan or will ANA follow up to deliver a truly premium experience from end to end? Here's hoping…
---
Japan Hotel Reviews
---
Here is a selection of our most recent Japan hotel reviews:
---