Garuda Indonesia (GA)
Flight: GA 87
Class: Business Class
From: London (LHR)
To: Jakarta (CGK)
Duration: 14h20m
Aircraft: B777-300ER
Seat: 6K
Frequent Flyer status during flight: None
Flight date: May 2017
---
Intro
---
Garuda is, with all the affection in the world, something of an oddball airline.
I've been sitting on this report for a while, wondering whether or not to publish it – more for the sake of posterity than anything else. At the time when I took this flight Garuda was flying direct from London to Jakarta but flying indirect on the way back (stopping in Singapore). This was due to the poor runway quality, meaning that a fully fueled 777 couldn't take off from Jakarta.
Prior to this Garuda had tried routing via Amsterdam, departing from Gatwick rather than Heathrow. Since I took this flight the route was cancelled for a few months, only to be replaced by London to Bali direct. That route has now also been cancelled and is currently replaced by London to Medan – a city which is neither the political, industrial or tourist capital of Indonesia.
Scheduling peculiarities aside though, Garuda is an airline that I had previously only encountered on my internal flights within Indonesia and I was really curious to see how the seat and service that I had loved so much would measure up on a true long haul flight.
---
Pre-Departure
---
When I took this flight Garuda were located at Heathrow's Terminal 3 and were using the rather basic Priority Pass lounge, even for their First Class Passengers. They've since transferred to Terminal 4, with the free for all that is the Skyteam lounge. Neither of these lounges makes a particularly good impression for a passenger travelling in a premium cabin.
Boarding was very well organised though, with First Class passengers being quietly ushered onto the plane by their personal escorts before Business Class passengers were called to board over the PA.
My previous experience with Garuda's Business Class had been on a plane that had no F cabin and a very large Business section. This time around the configuration resulted in a very small and private mini-cabin of Business Class directly behind First. I selected Seat 6K at the very front of it.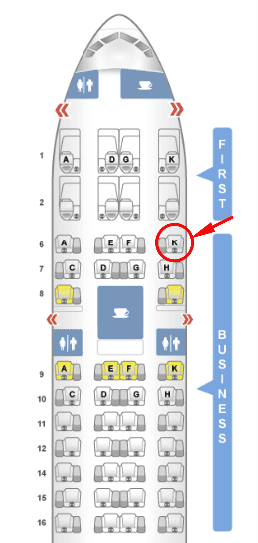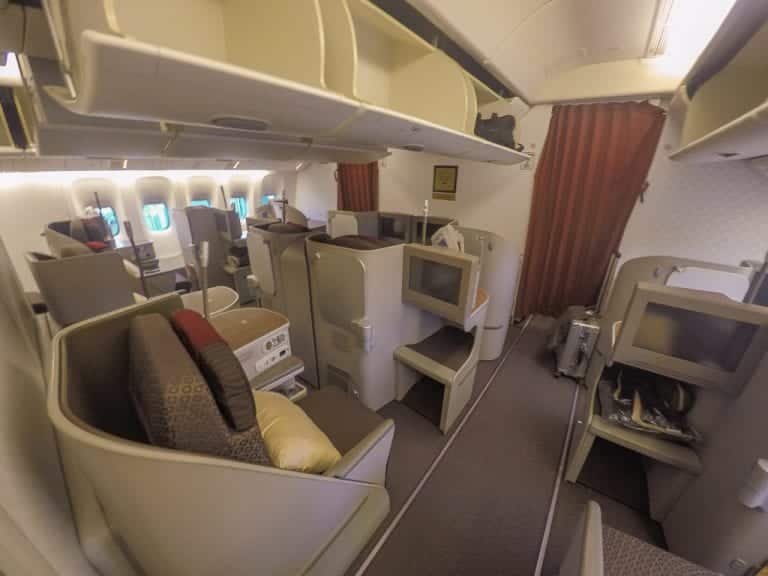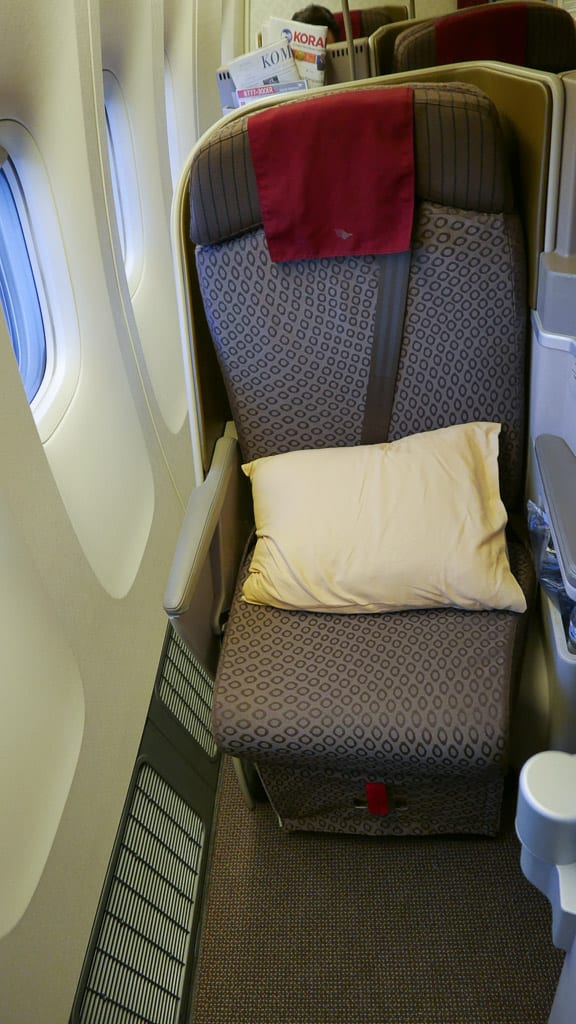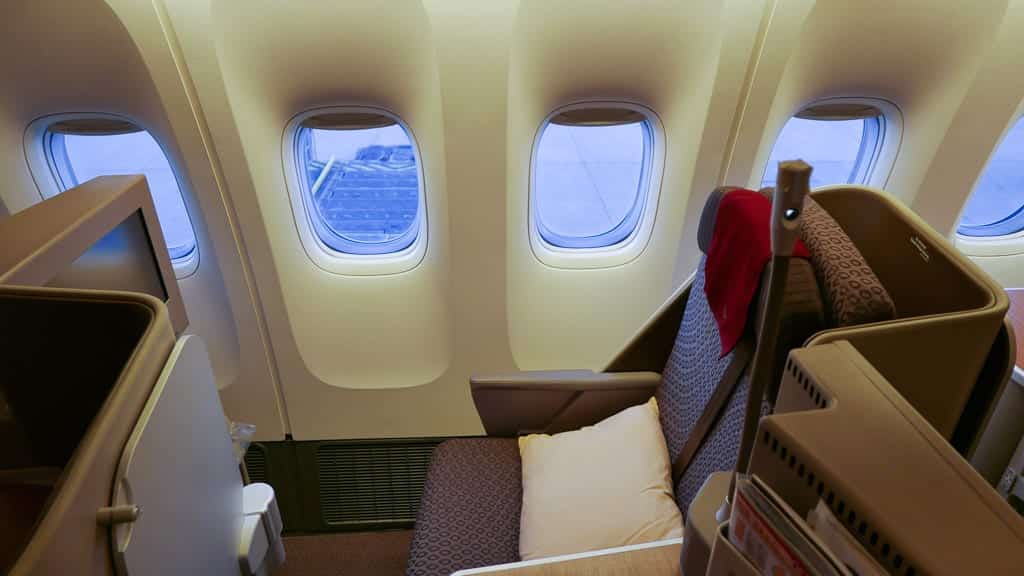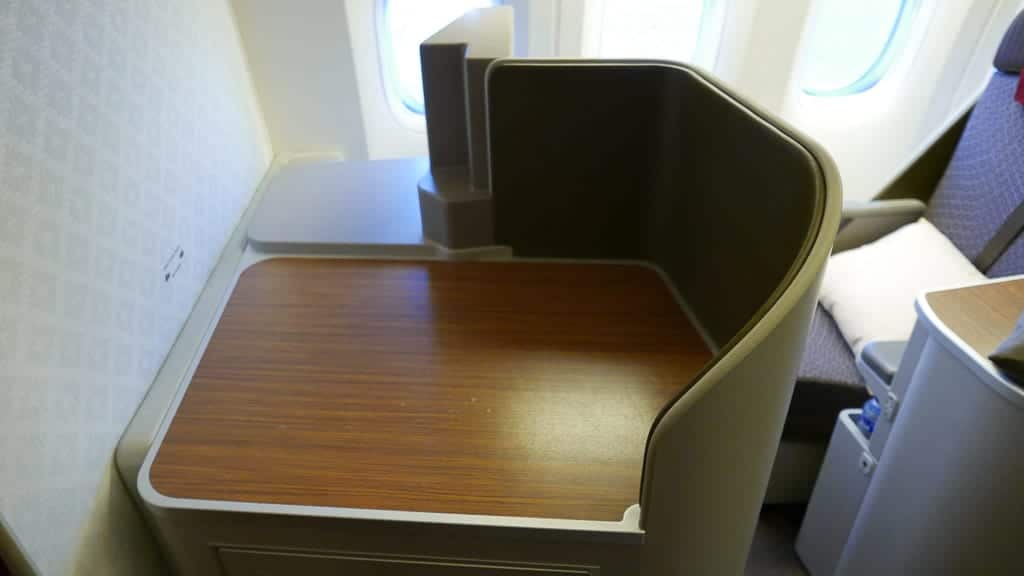 Garuda uses standard Sogerama Solstys seats on their 777 Business Class, a configuration which is extremely private when you are seated in a true window seat, with the table on the outside. All seats have direct aisle access and a good amount of counter space. The advantage of the bulkhead seats is that you also have an extra space on which you can open a hard shell case.
This seating configuration is the precursor to the new 787 seats used by Singapore and now also Turkish. Seats where privacy shielding is the most notable addition (other than overall modernisation of the seat trim).
View this post on Instagram
When you see the aisle seats you can see why:
This is exactly the same issue that was addressed in the second generation of reverse herringbone seats after the seats pioneered by US Airways were found to be lacking in privacy. I'm honestly surprised that another seat manufacturer went and made the same mistake…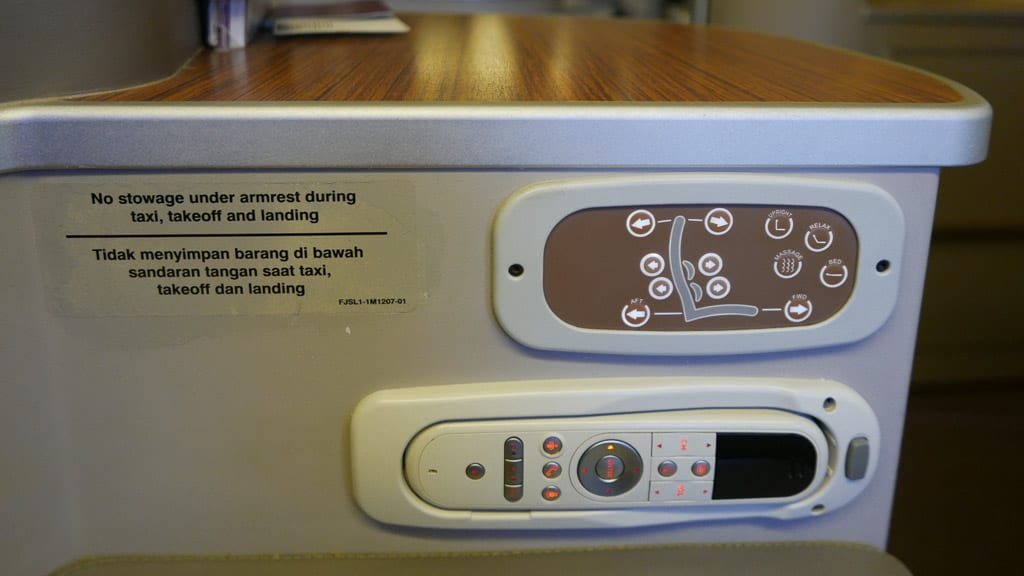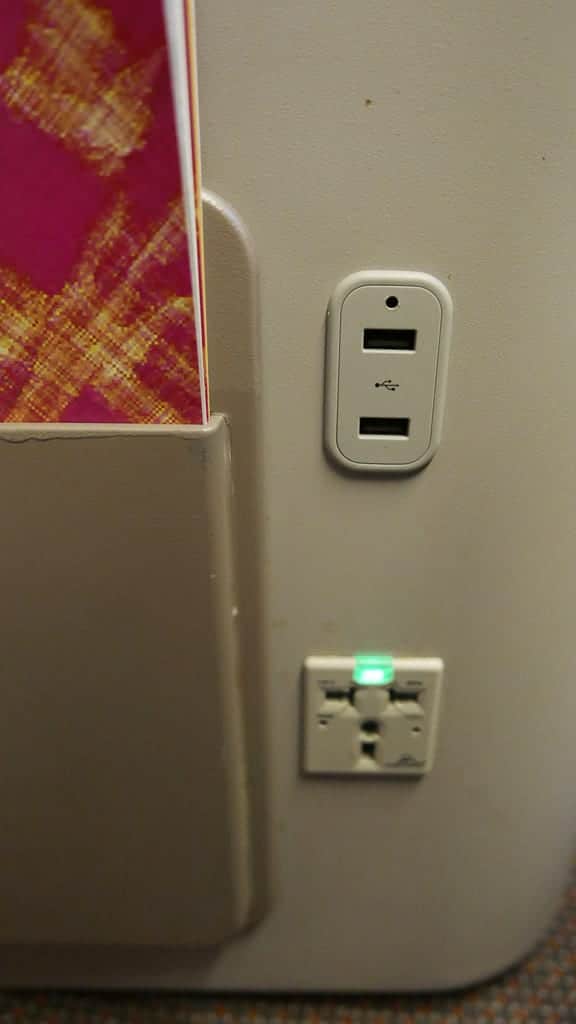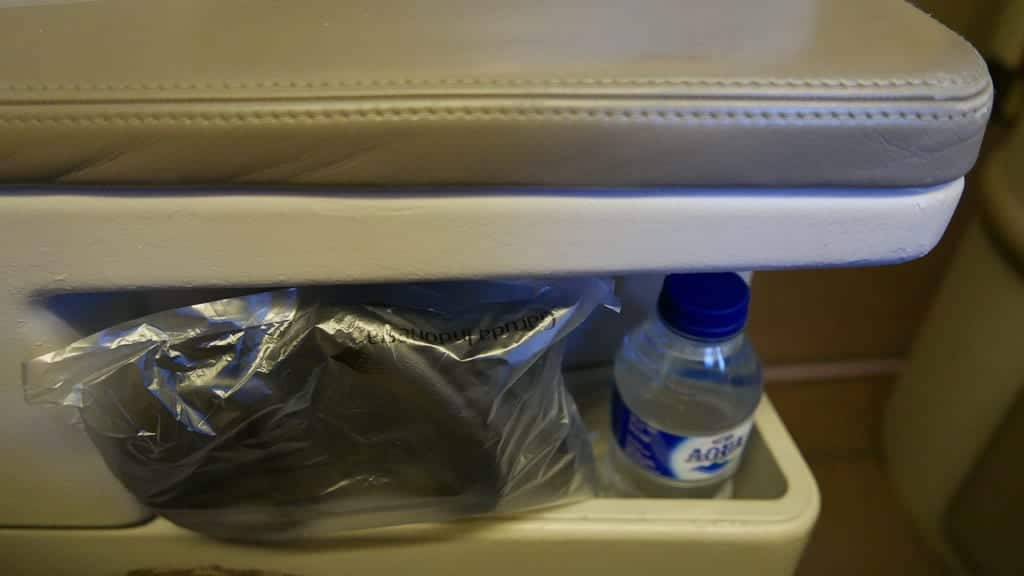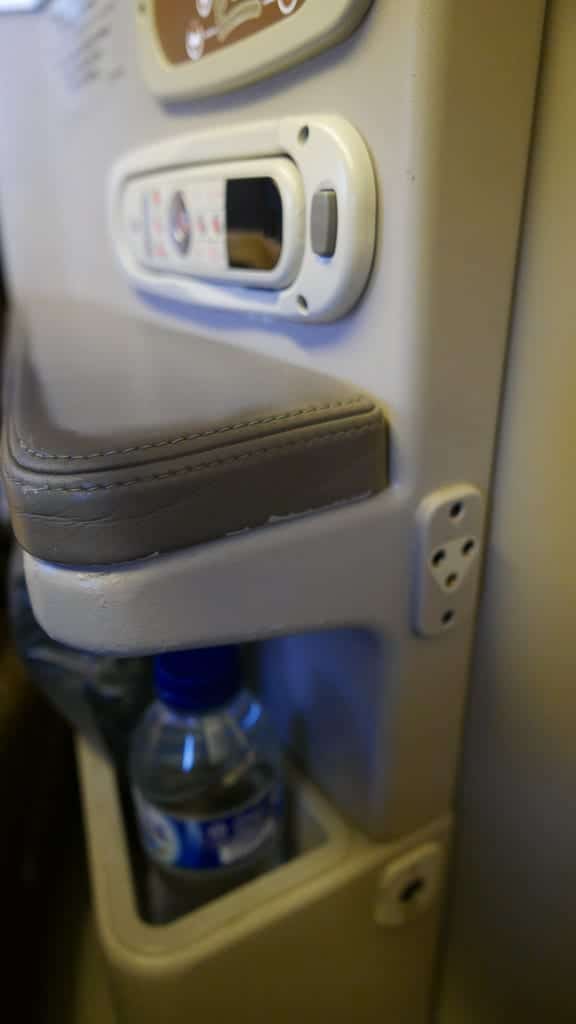 The seat is quite limited in terms of storage options. There is only one proper compartment and upon boarding it was entirely occupied with the water bottle and headphones that had been placed there for me. (Again, this is something that has been addressed by SQ and TK with their new seat as it features a storage cupboard on top of the side table.)
The seat features two USB sockets as well as a universal power socket.
The IFE screen is quite small and low resolution, with a very large plastic bezel surrounding it. Given the choice of beige plastic trim, I couldn't help feeling like I was sat in an office cubicle using Windows 95.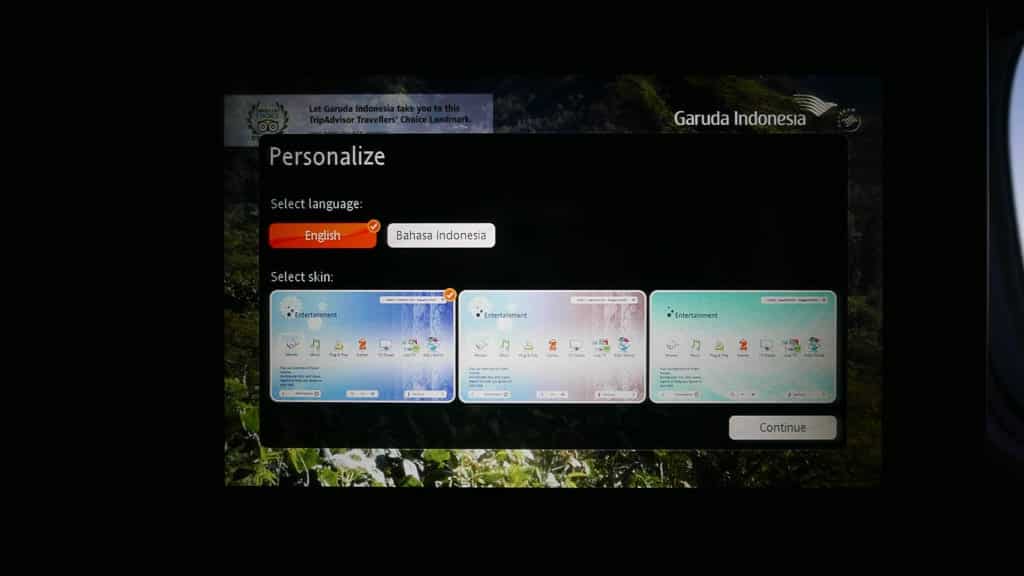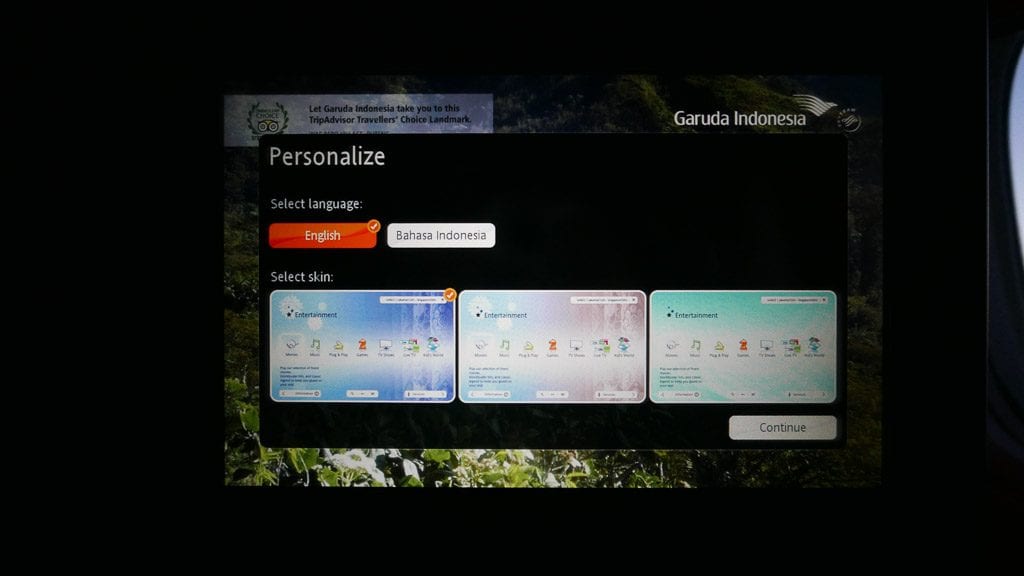 As I settled into my seat a flight attendant came to offer me a welcome drink – I asked for champagne.
She returned a few moments later to pour a glass of Billecart Salmon Rosé at my seat. I was really impressed to see a wine of this quality in a Business Class cabin and even more impressed to have it properly poured into a long stemmed flute. So many other airlines make do with pre-poured trays in thimble sized glasses but Garuda certainly realises that first impressions count.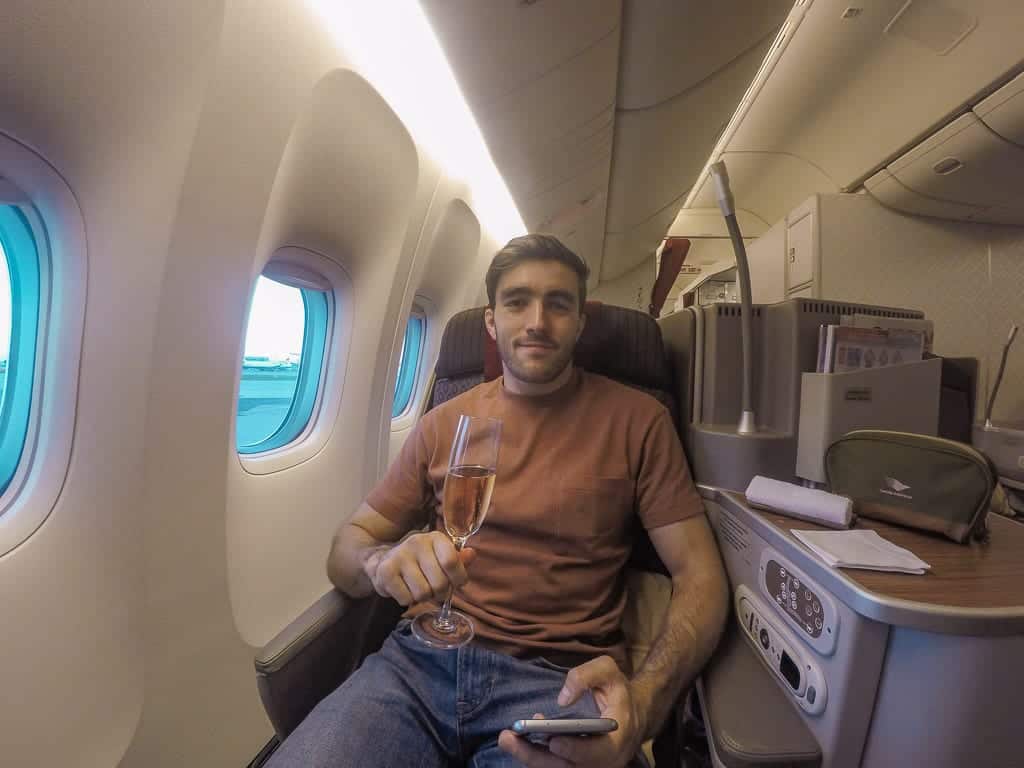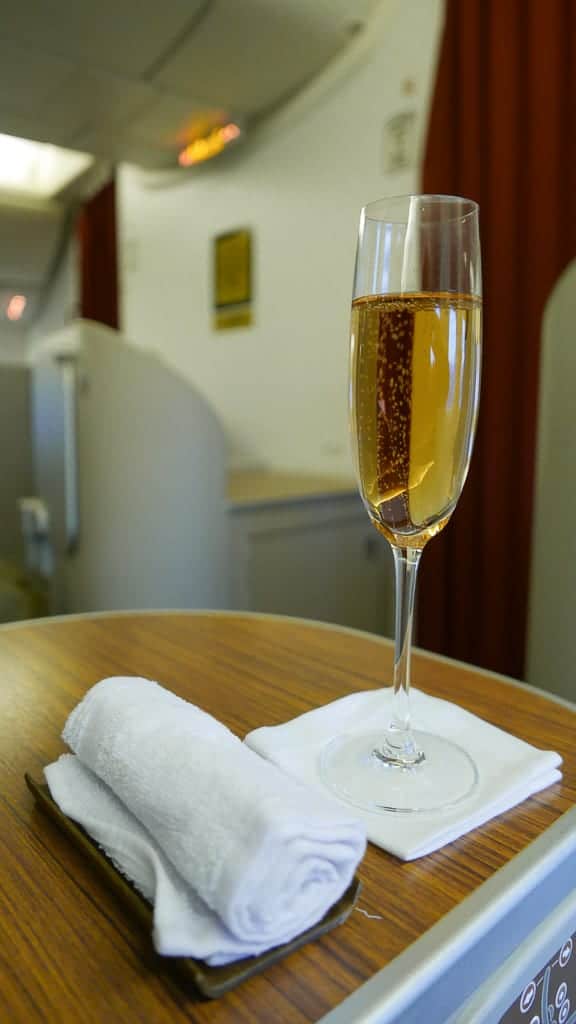 I was also brought a warm and thick hand towel of a similar quality to those used by Qatar (albeit without the choice between hot and cold) and an amenity kit by L'Occitane.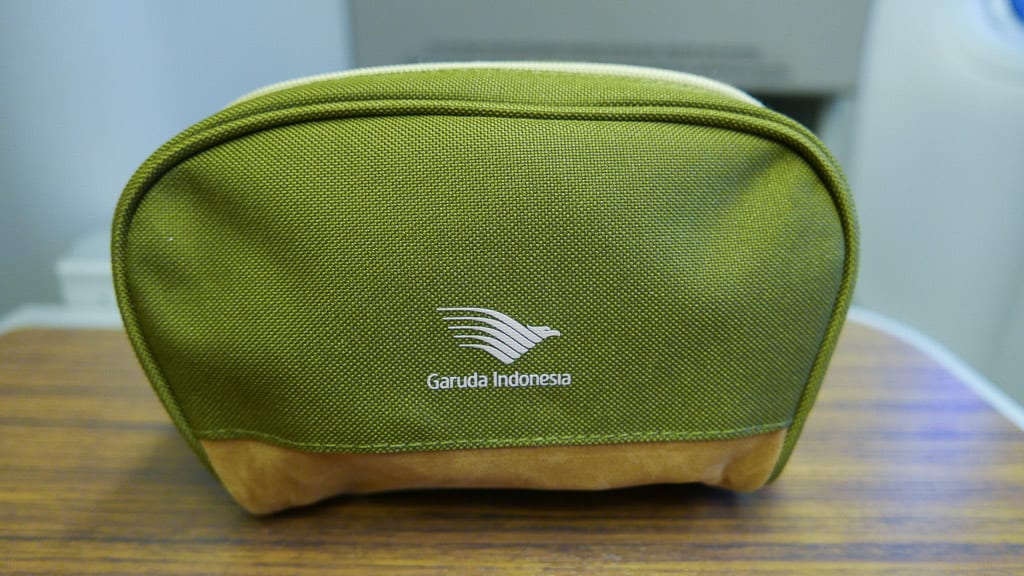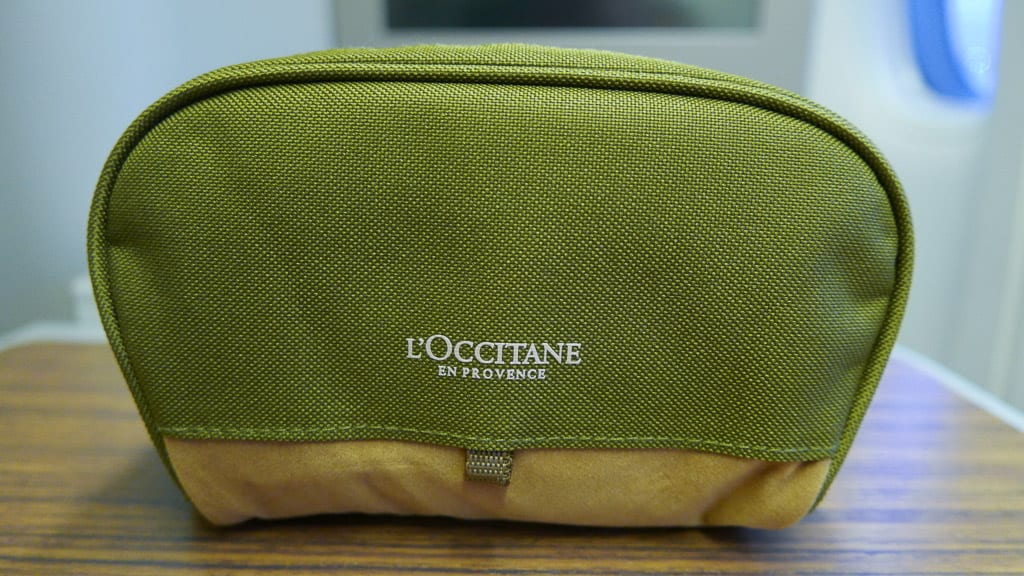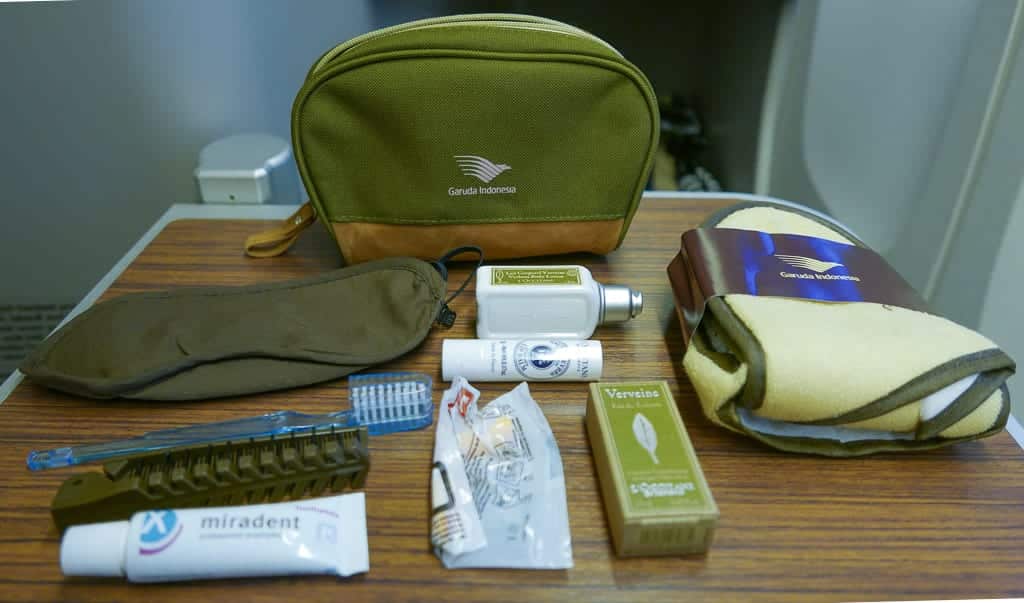 I then took the opportunity to make myself more comfortable by changing into the slippers provided in the kit.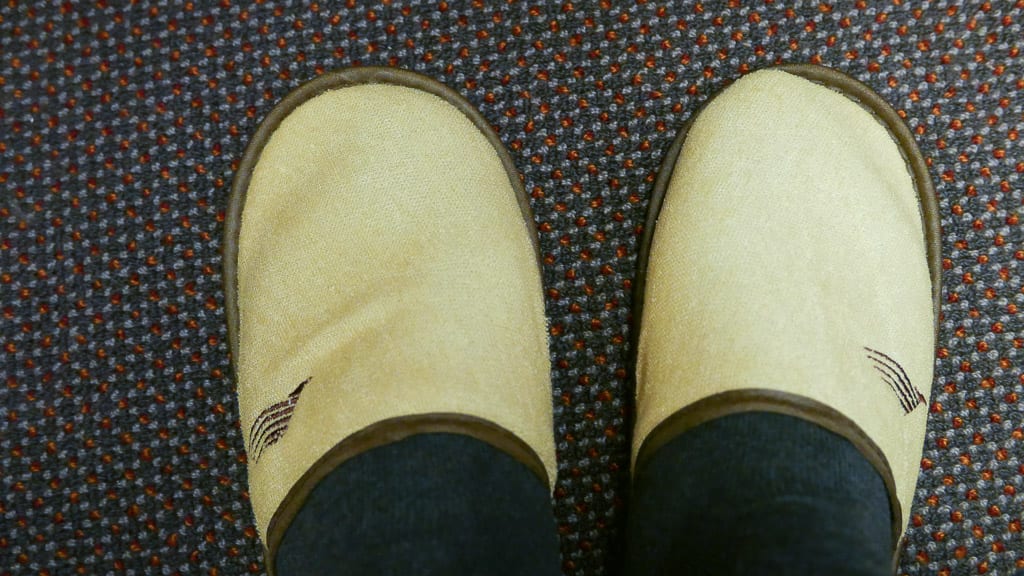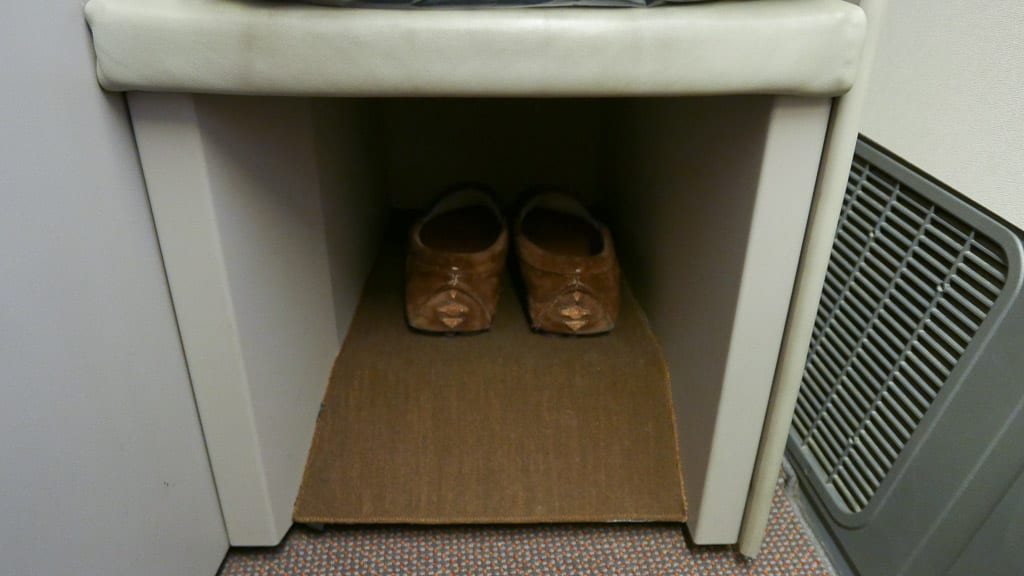 This is a small touch that most carriers reserve for First Class and even then airlines like BA only do so "on request". So kudos to Garuda for handing them out to all passengers in Business as standard.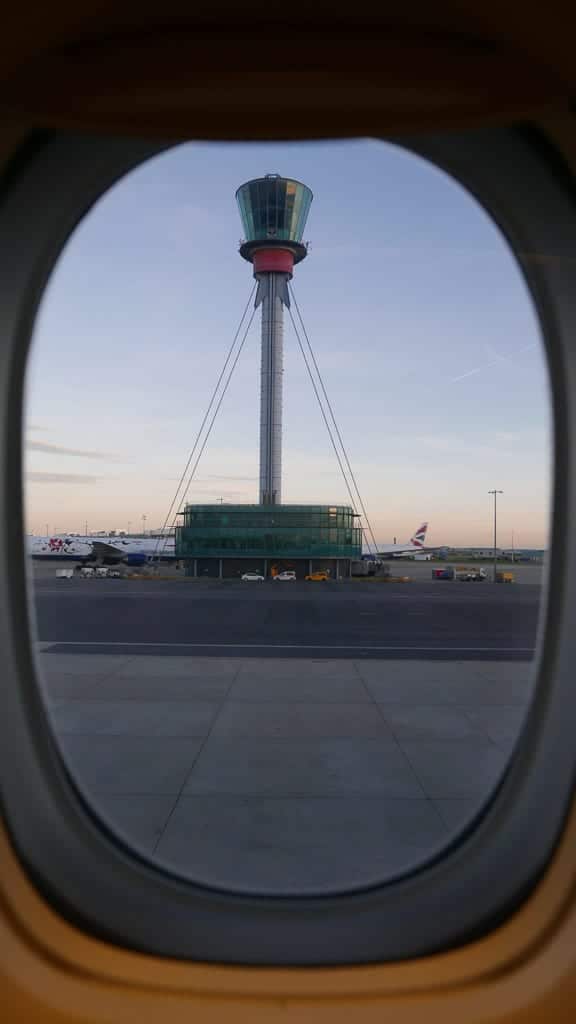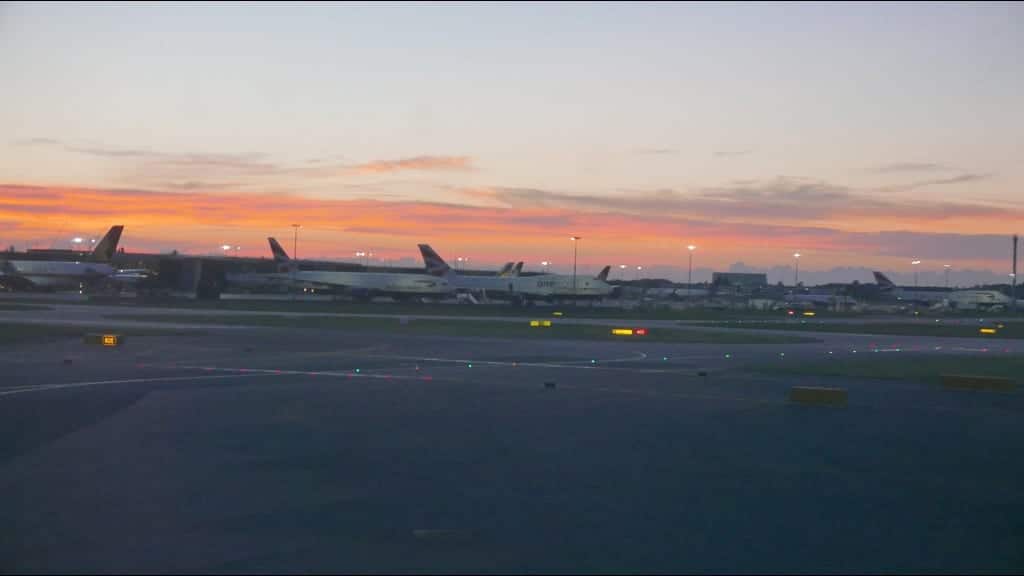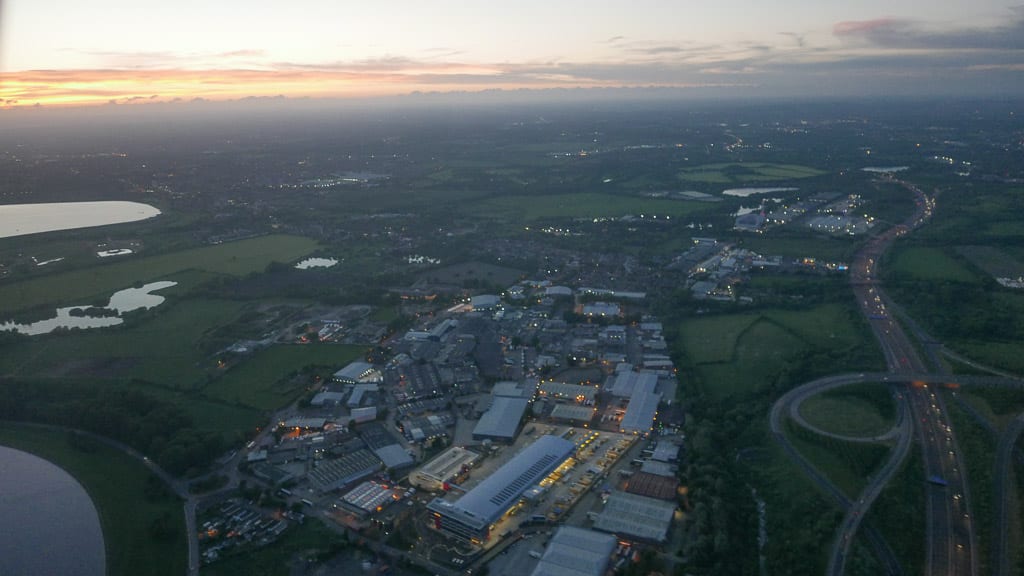 After a quick top up of everybody's champagne we pushed back on time, on this beautiful London evening…
---
The Flight
---
Once we were airborne the crew quickly jumped into action. The mini-cabin was unusually empty (the cause or the result of this route being changed so frequently?) so the crew had plenty of time to interact with each passenger, providing a truly personal service.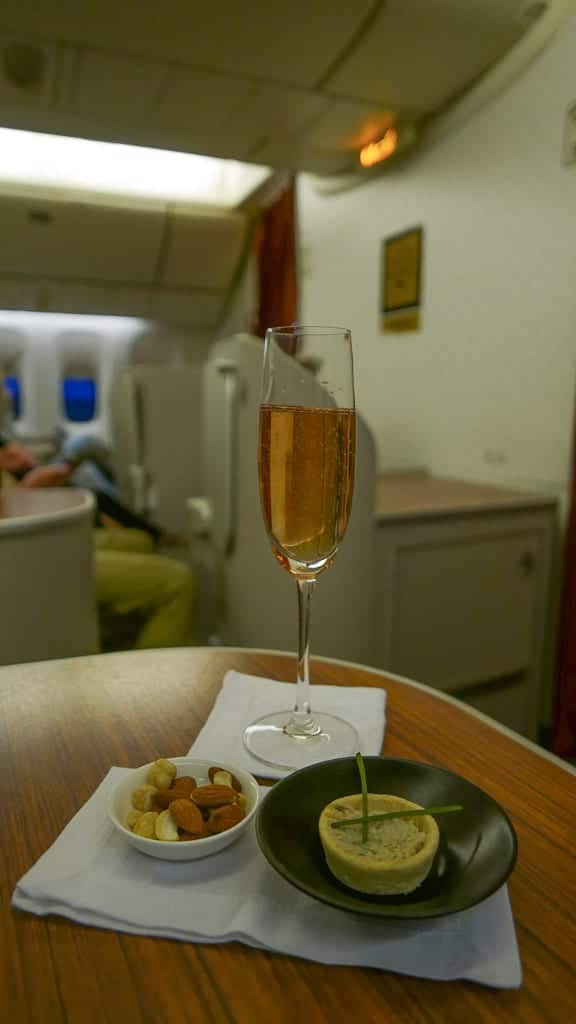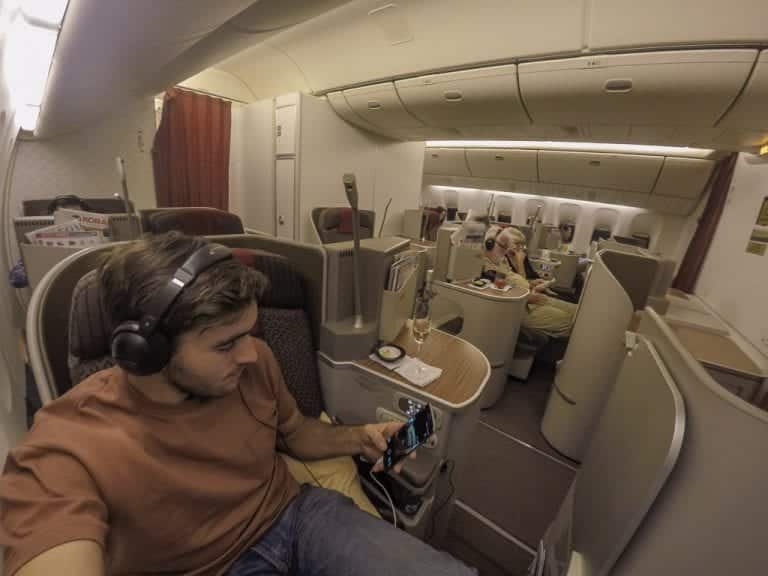 The champagne was served with a ramekin of warm almonds as well as an amuse bouche tartlette. Plenty of airlines have cut back on this level of service in First so to see this in Business Class was, again, remarkable.
The FAs took dinner orders as they served our drinks. There was a choice of four starters and four main courses, most of which veered towards an Asian flavour palate, which was fine by me!
---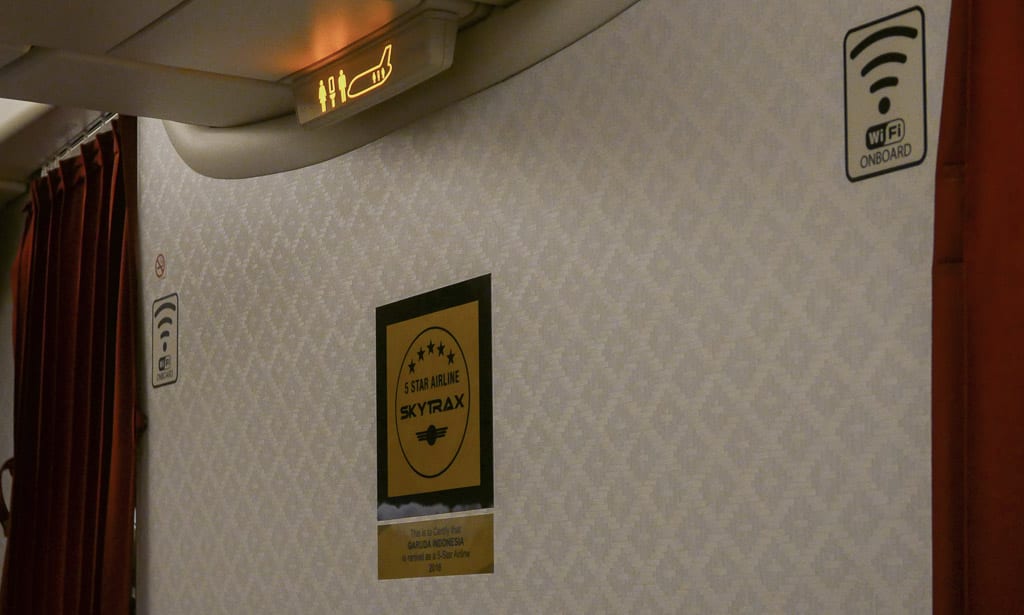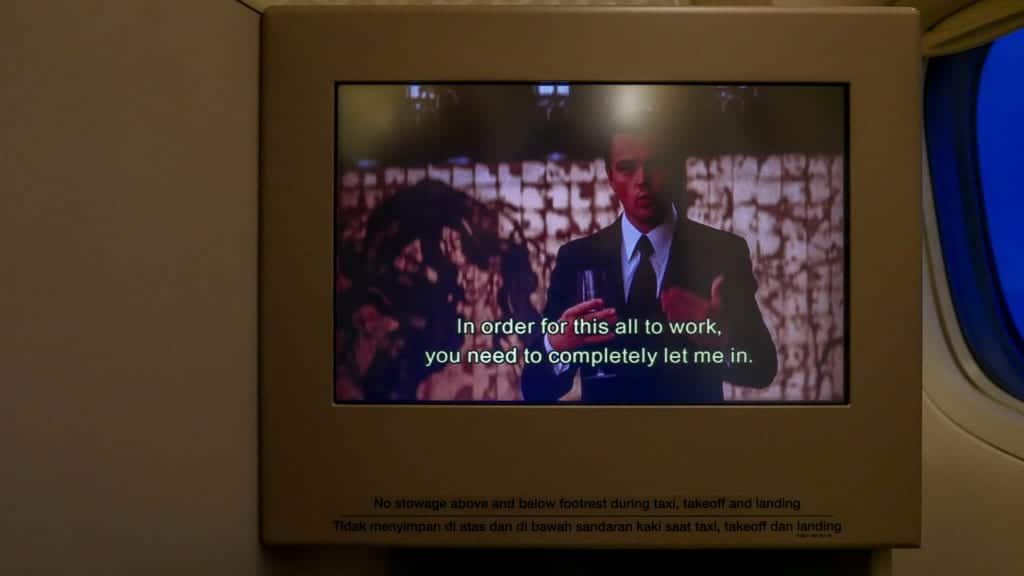 The table setting on Garuda Business is very impressive: freshly pressed linen tablecloths, full sized cutlery and glassware, side plates and a bread basket.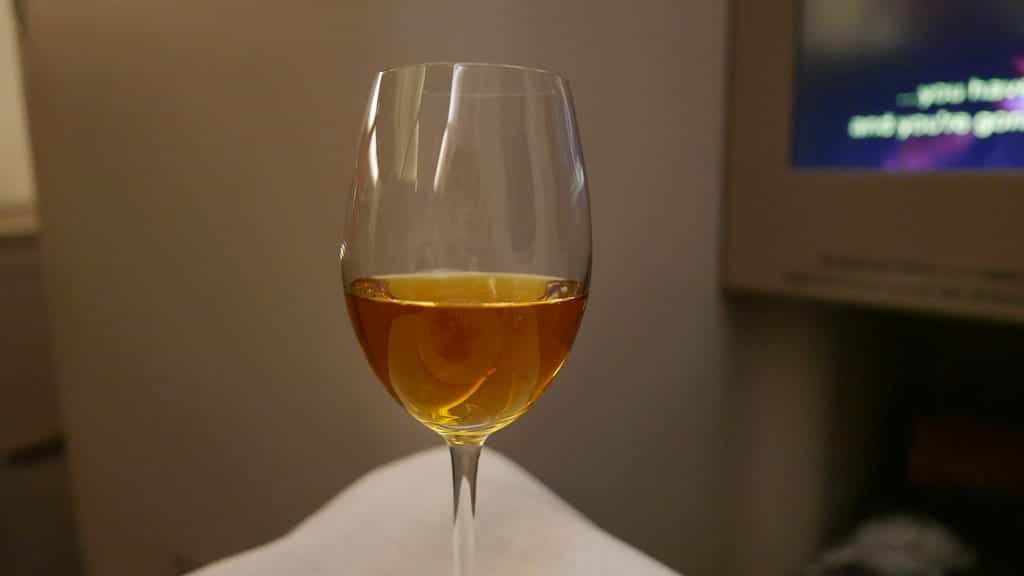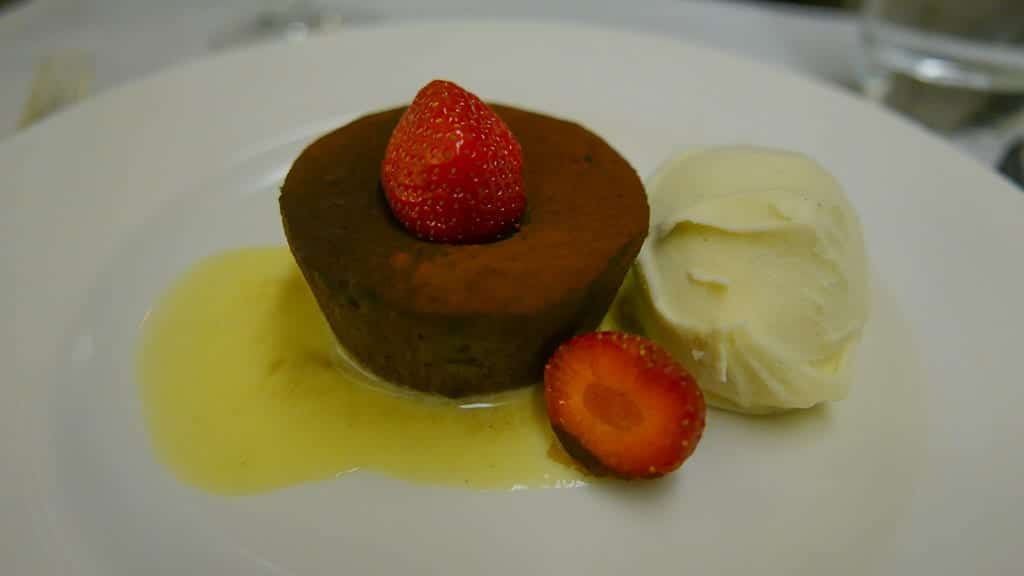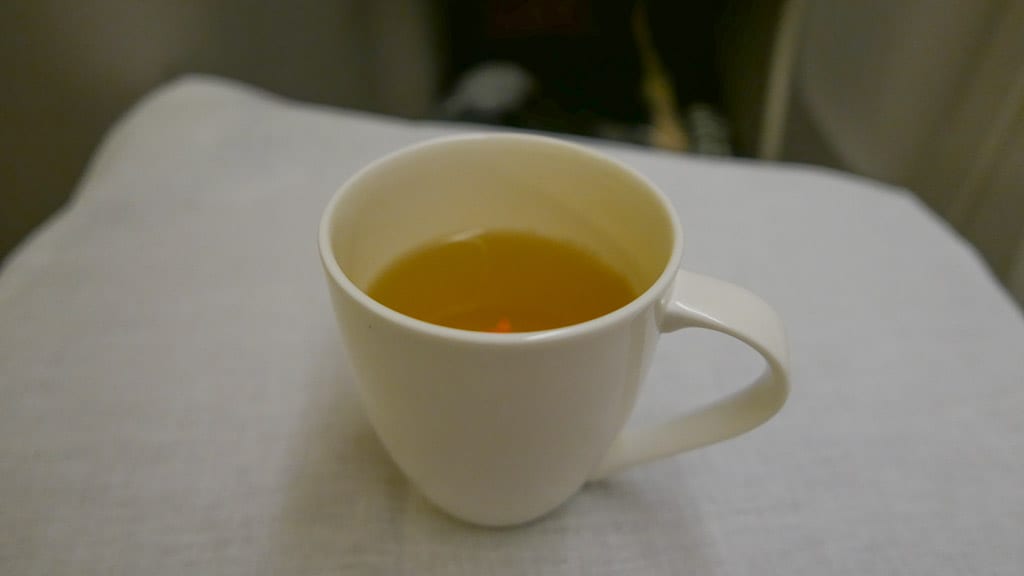 I ordered the salted caramel fondant with vanilla ice cream and strawberries to finish. It. Was. Incredible.
I was very impressed to see the always superb Noble One Botrytis being offered as a dessert wine and had a glass to accompany the fondant. I then selected a peppermint tea from the extensive tea selection to bring the meal to its conclusion.
After that feast I was ready to get some sleep, I had brought my own sleepwear since I know that Garuda doesn't supply it in Business – one of the very few areas in which they don't go above and beyond with their soft product.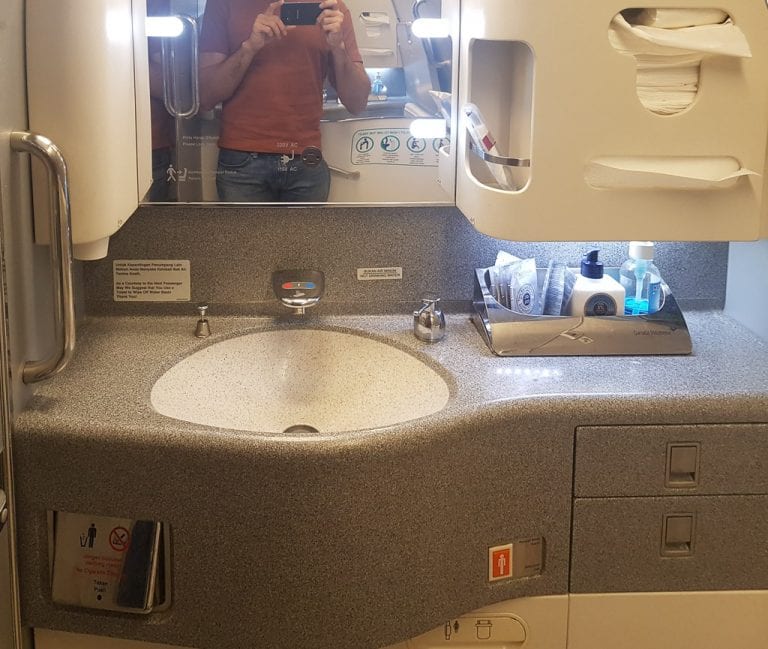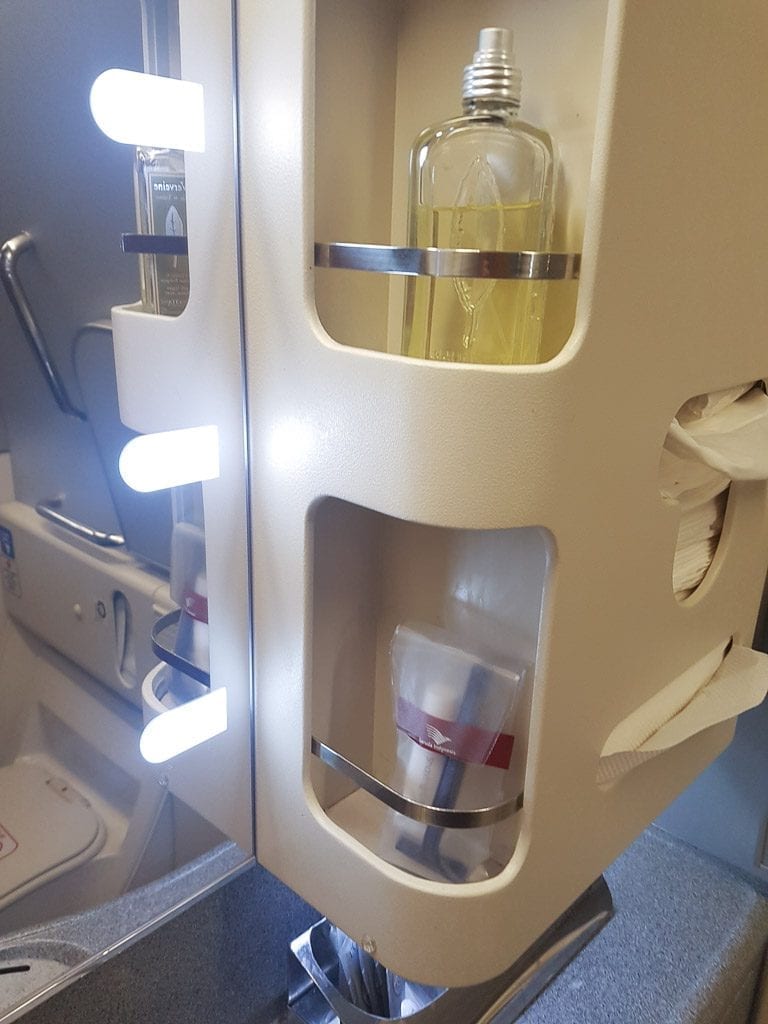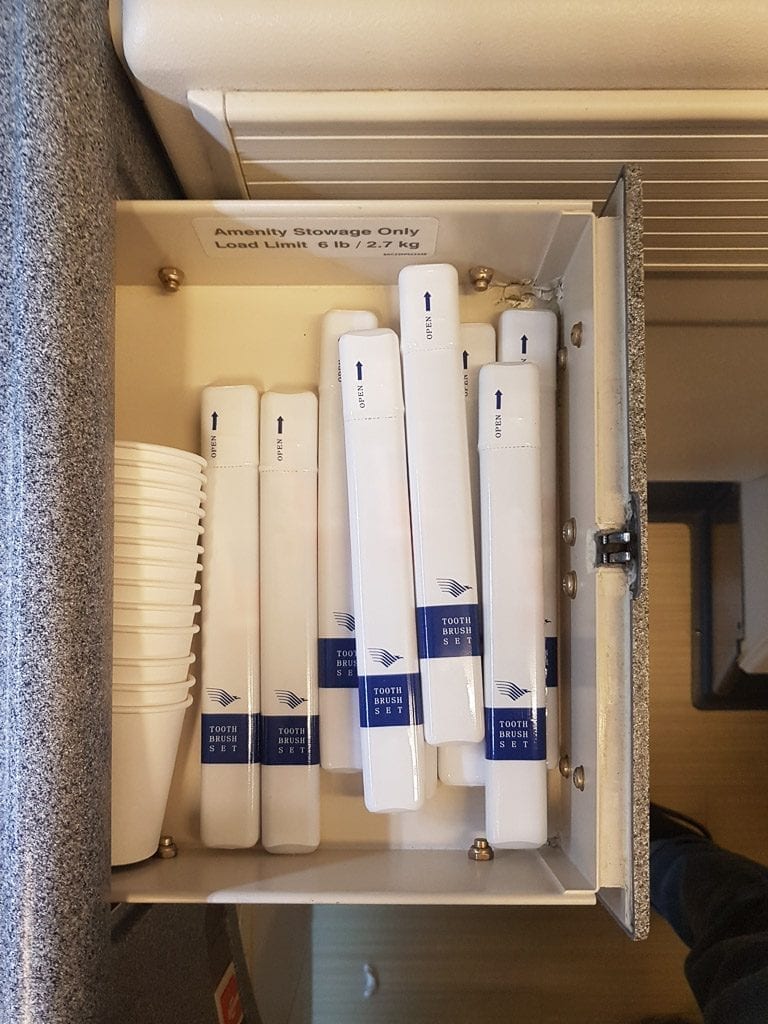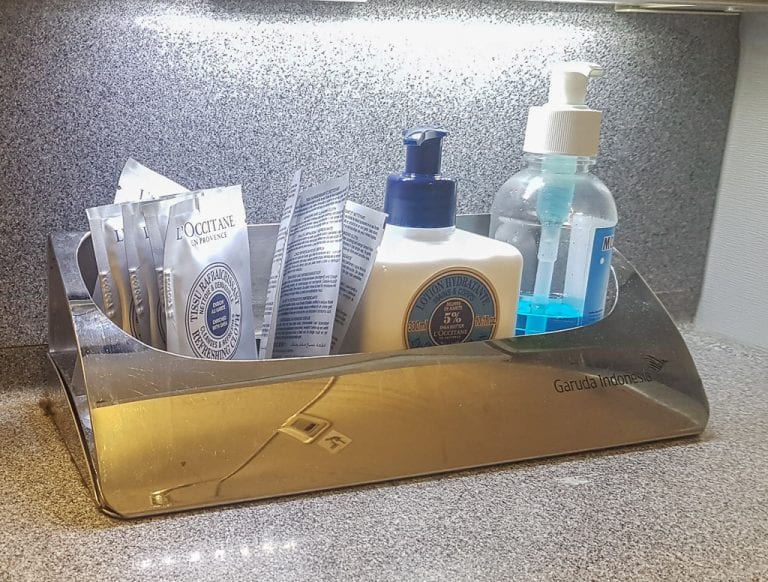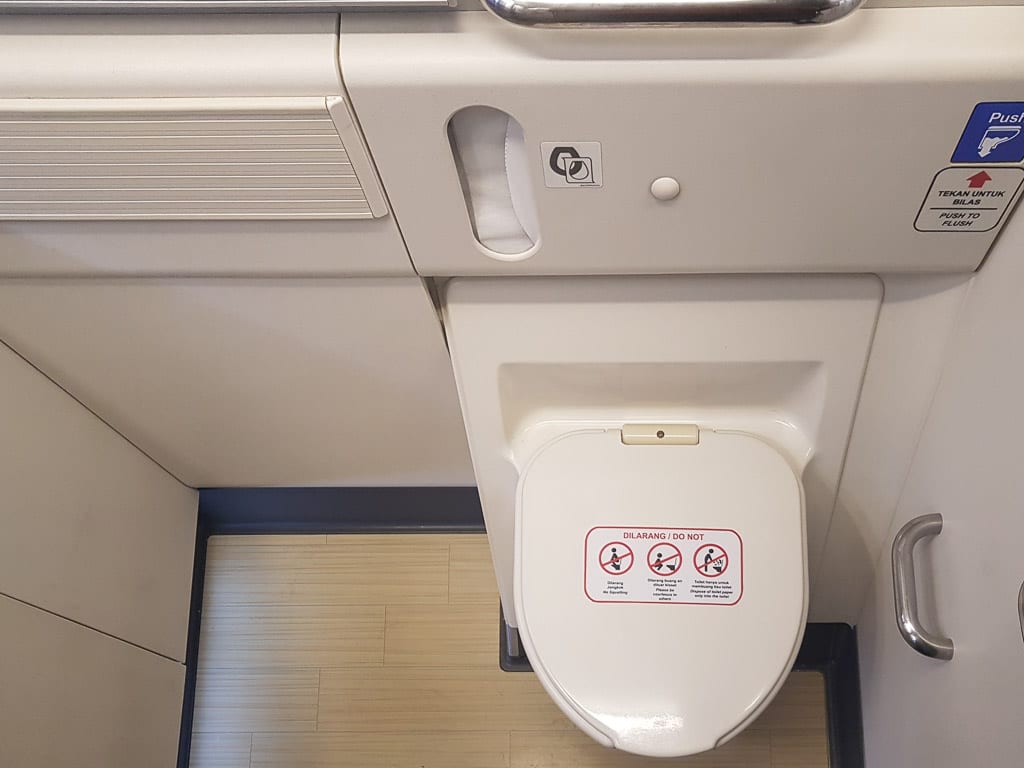 Bed
I returned to find my bed made for me, there was no mattress pad but the duvet was very thick and luxurious and I had an abundance of large fluffy pillows to ensure my comfort.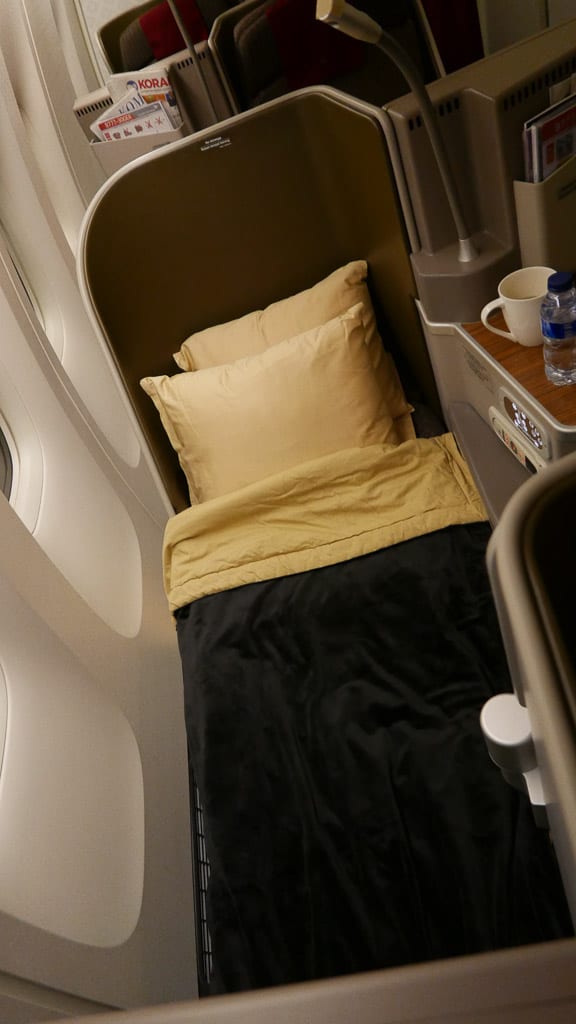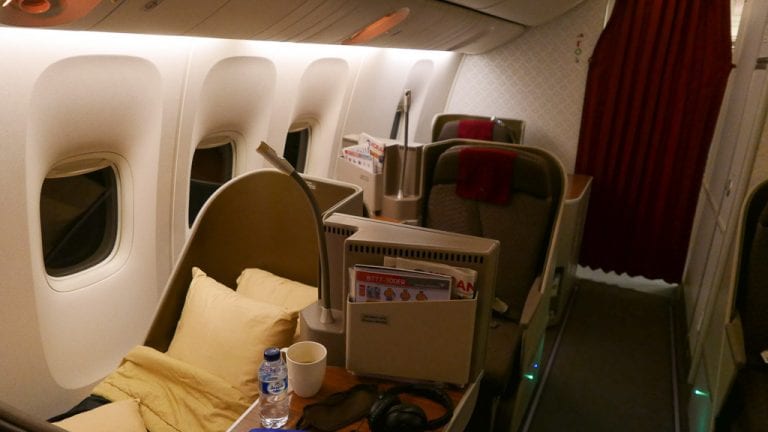 I woke up after about six hours of sleep and ordered some mixed satay skewers.
After my sweet hit of schadenfreude I watched another film and started to edit some of my photos from the flight. Soon enough, that familiar smell of breakfast began to fill the cabin.
Despite the fact that espresso based coffee is consumed all over the world as an absolute basic necessity (particularly in the world of business) it is still surprising how many carriers think they can get away with serving watery swill. Garuda could have made do with basic Nespresso and still beaten their peers but once again they went above and beyond.
---
Conclusion
---
This flight didn't start off in the best way. The lack of a decent lounge can be hard to overcome as you immediately start off on the wrong foot.
However, from the moment I stepped on board I knew I was in for something special. So many aspects of Garuda's Business Class are delivered on a First Class level that I was actually slightly worried that First would seem like a disappointment in comparison!
Full sized cutlery and stemware
Slippers for all passengers
An amuse bouche served with pre dinner drinks
Bed turndown service
Dessert wine
A variety of espresso based coffees
The seat may not be the most modern, particularly when it comes to the IFE but it is still comfortable, provides aisle access for all passengers and has seats to suit both couples and solo passengers.
Above all the crew were exceptional. They were thoughtful, proactive, friendly, courteous and thoroughly professional throughout. They were truly up there with the likes of Singapore and the Japanese carriers. Nothing was too much bother for them and often they would go out of their way to suggest ways in which they could make your flight better.
If only Garuda could deliver this route with any consistency, they should easily be able to command a premium for this product. Unfortunately Business Class revenue tends to come from businesses and few things bother corporate travel managers as much as a lack of certainty. Here's hoping that we see the return of this route on a permanent basis going forward…
---