Garuda Indonesia (GA)
Flight: GA 86
Class: First Class
From: London (LHR)
To: Jakarta (CGK)
Duration: 17h15m (including a technical stop in SIN)
Aircraft: B777-300ER
Seat: 1K
Frequent Flyer status during flight: None
Flight date: May 2017
---
Intro
---
As I mentioned in the intro to my outbound journey, Garuda has had some real scheduling issues when it comes to establishing flights between Jakarta and Europe. At the time that I took this flight they still needed to make a technical stop in Singapore in order to refuel before carrying on to London.
I wasn't against this in principle since it meant that I'd have more time to enjoy the flight and would get to mix things up by stretching my legs in Changi airport. I was also curious to see how many passengers would be taking each of the two segments individually (answer: none in First).
---
Pre-Departure
---
After whiling away a few hours in the very boring First Class lounge I was collected by my Garuda PA Herlina who walked me to the gate. The boarding process had already begun but this had no bearing on First Class passengers at all. We simply walked straight past everybody and through a private roped channel onto a jet bridge reserved for F passengers and right into the First Class cabin.
As a side sleeper I was very happy to spot a bolster pillow like the ones provided in Singapore Suites. As somebody with a sense of tasteful design I was somewhat less thrilled to have to look at a bright orange wall for the next 17 hours.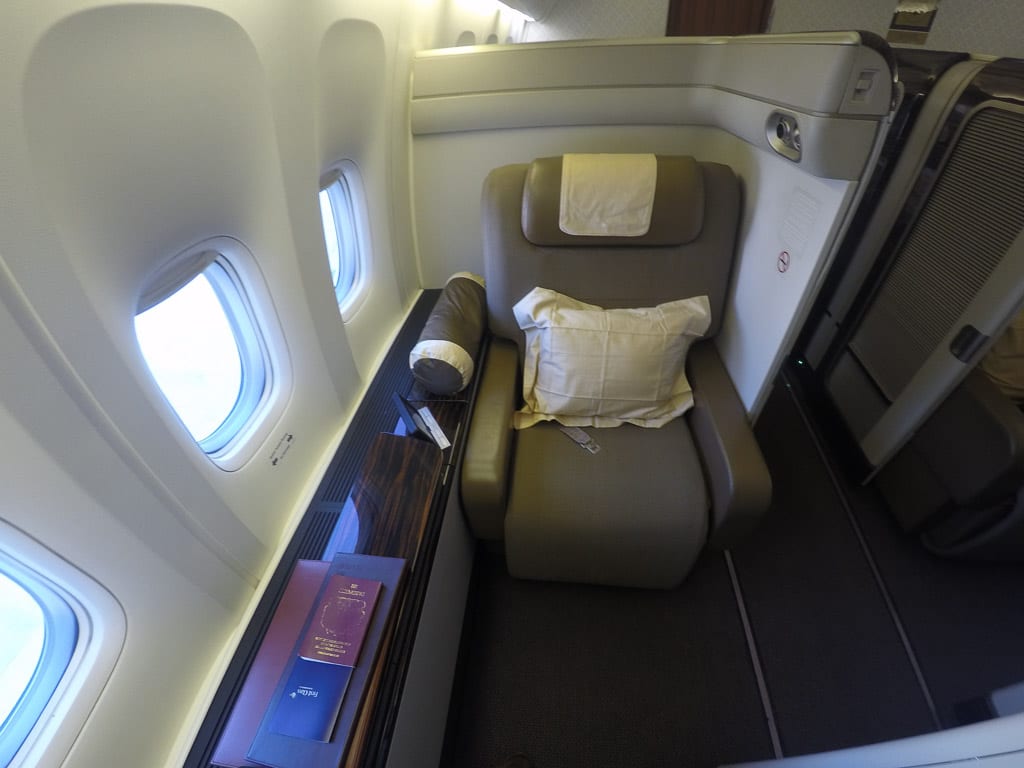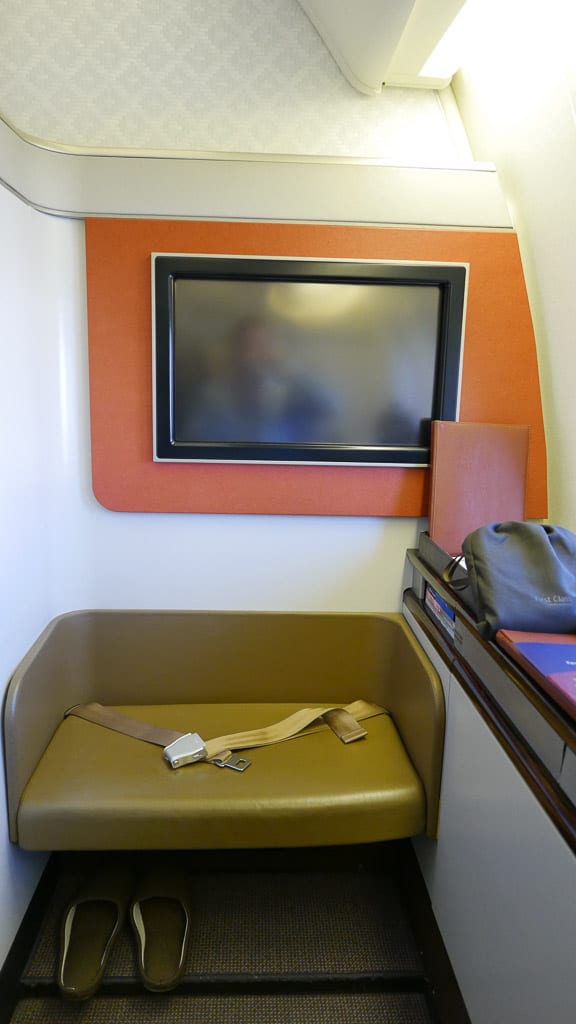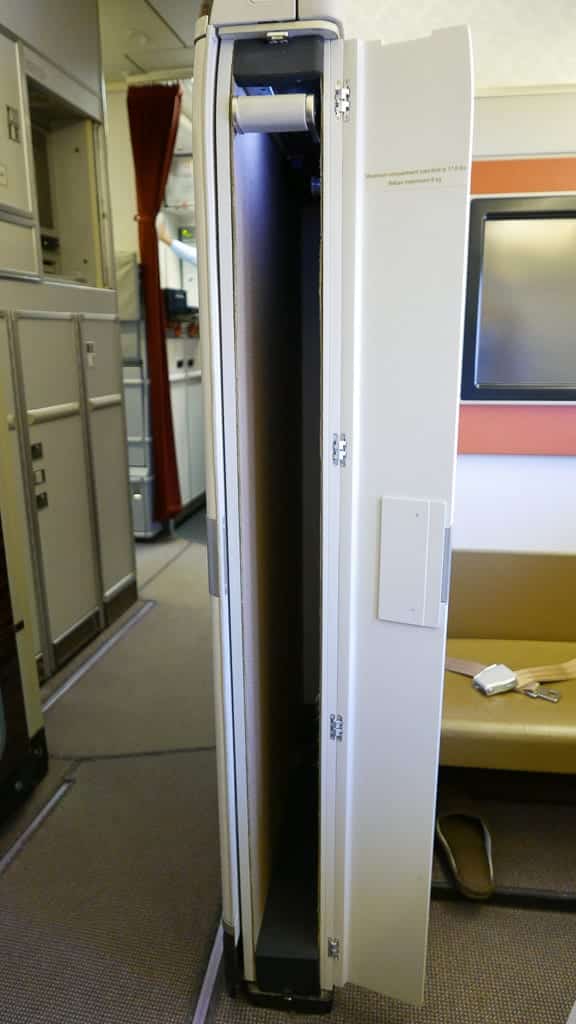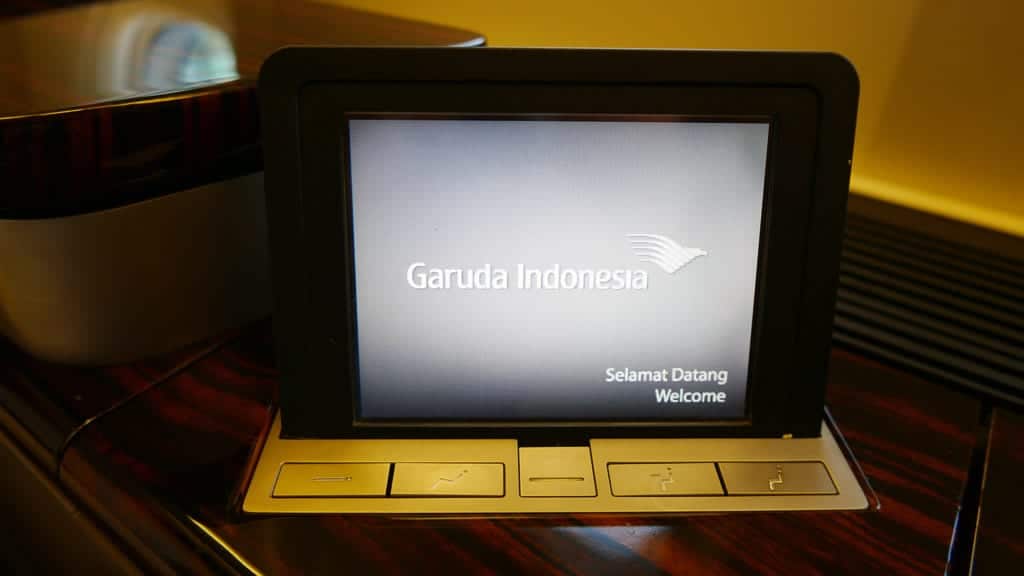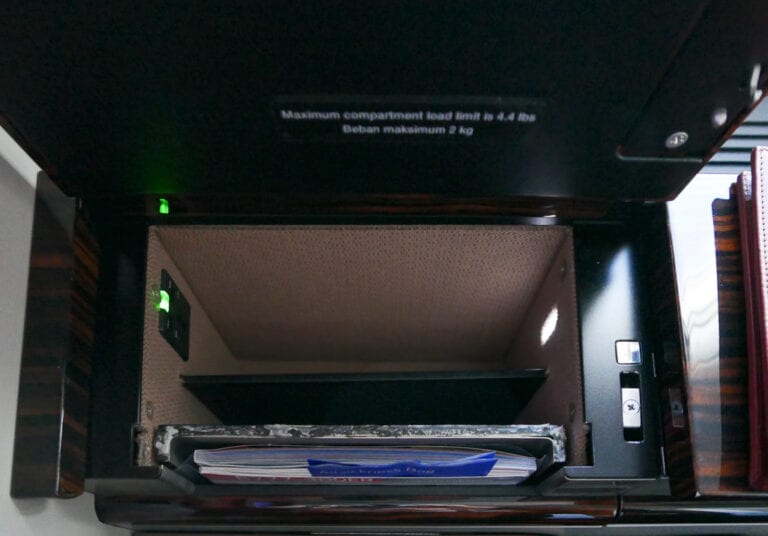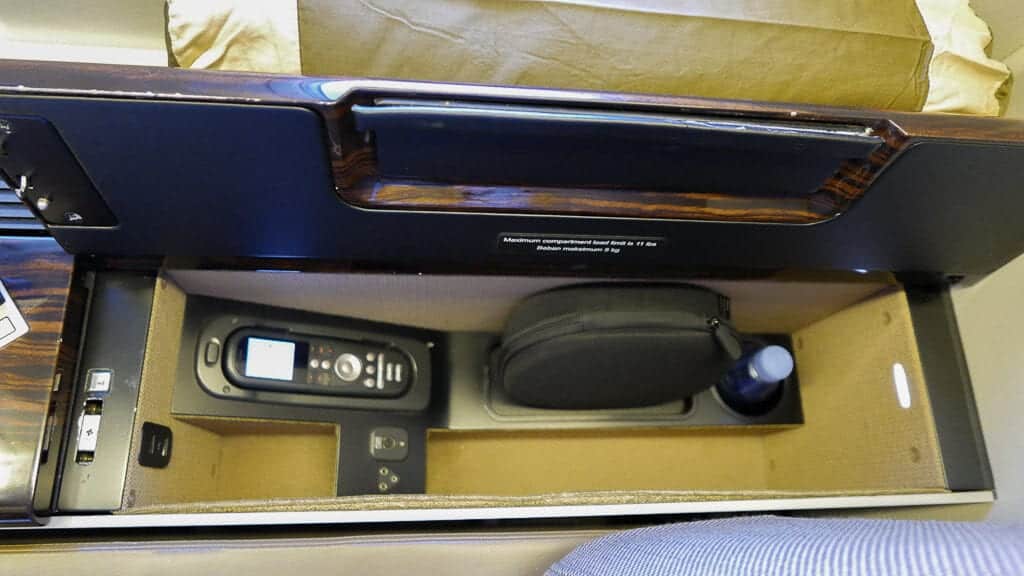 The overall design and finishes of the suite were rather dreary and old fashioned. It felt like the skeleton of a modern First Class suite had been retrofitted with as much beige and brown as possible to suck all the life out of it. I know people complain about the bling on Emirates but at least it helps to offset all the grey that they use on the seat upholstery. I guess the orange feature wall was a nod to modernity but it just doesn't look elegant at all, instead evoking memories of motorway service stations in the 1980s.
Speaking of antiquated, I was wondering if the IFE in First Class would be upgraded over the Windows 95 looking interface in Business Class…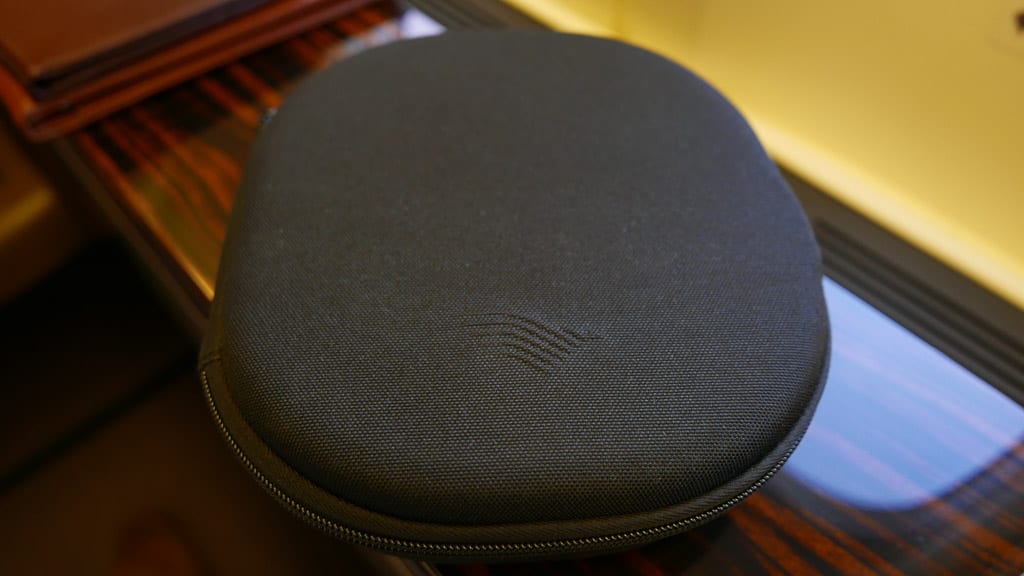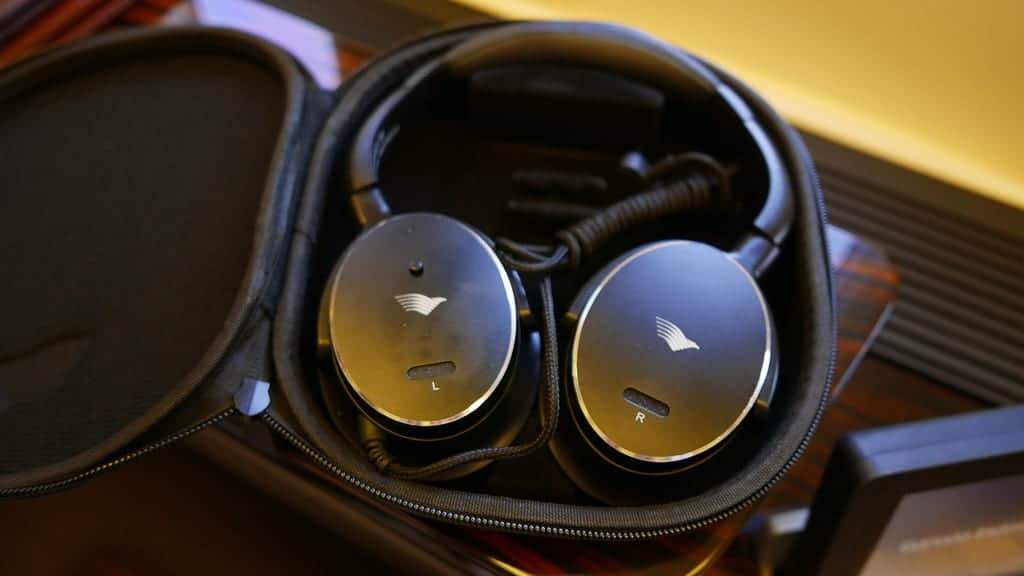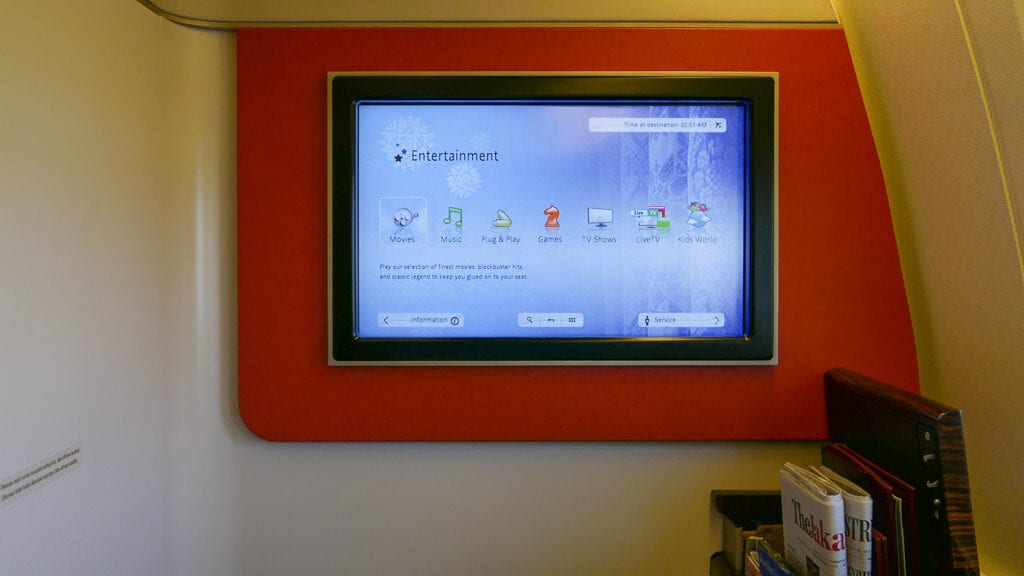 The headphones were quite a bit better though and featured active noise cancellation.
The amenity kit was disappointing. An unbranded bag with a couple of basic items inside as well as two hotel toiletry sized Hermès products, just like the ones used by the Sofitel in Amsterdam for example.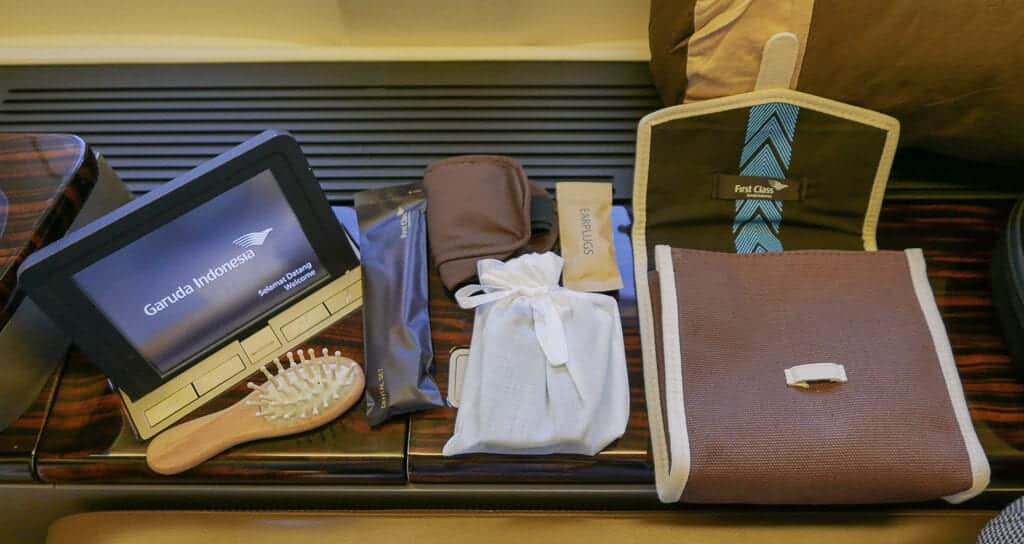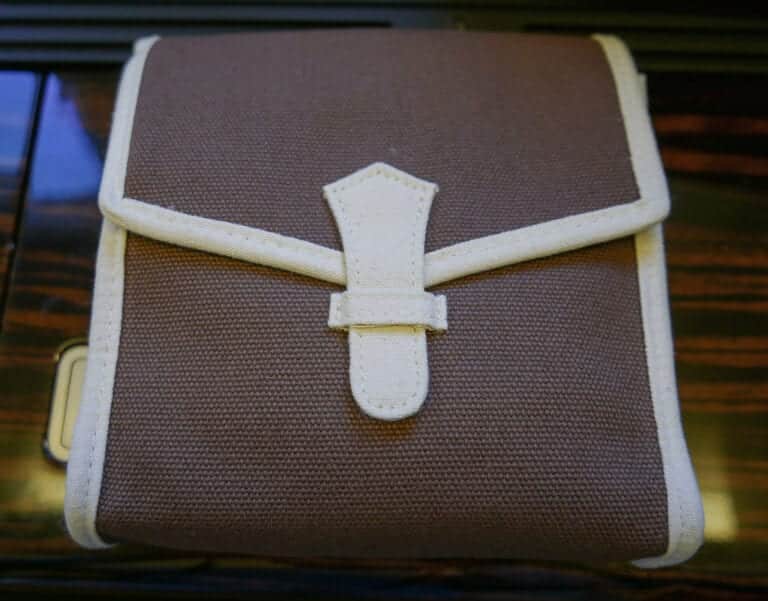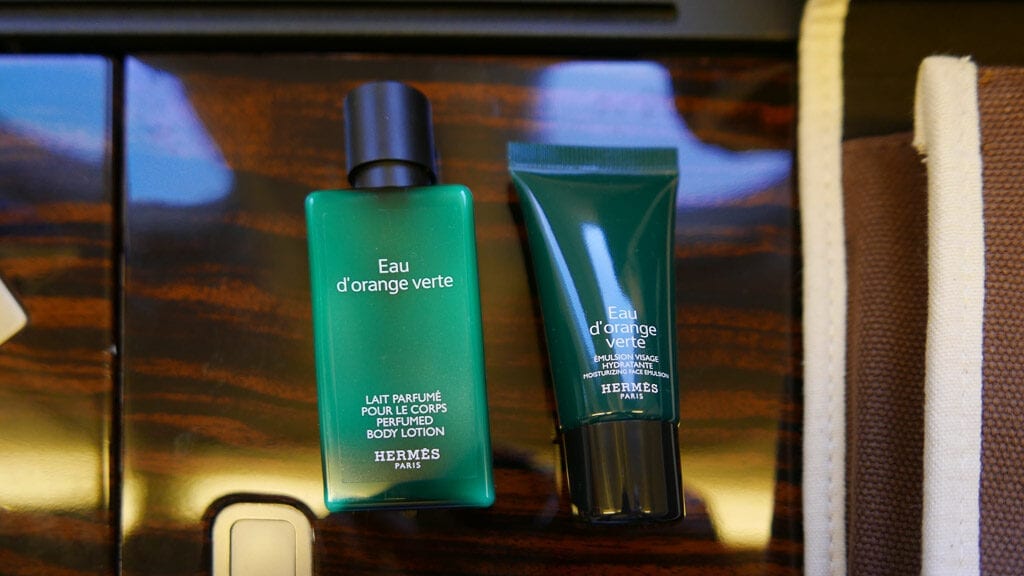 Overall I actually preferred the design and contents of the Garuda Business Class kit!
---
Part 1: The Flight to Singapore
---
I was offered a drink upon boarding and was very disappointed to discover that they were serving the exact same champagnes in First Class as they were in Business! Usually food and drink are the major differentiators between the top two cabins on a plane but this is the first time I've ever seen a major carrier keep the drinks list the same. Don't get me wrong, Billecart Salmon Rosé is a fine champagne (particularly for Business Class) but in First Class it is quite a statement when you don't serve a prestige cuvée. The statement being: "we're too cheap to spring for the good stuff and don't think our passengers are sophisticated enough to notice."
Since we were delayed by around 30 minutes the crew came to top up everybody's glasses and assure us that we would make up the time on the second leg.
On this short hop to Singapore, the full drinks list was available but the food selection was understandably somewhat abbreviated.
---
It wasn't just the champagne that was decidedly Business Class: Gordon's Gin, Heineken, Dow's Ruby Port and Martell Cordon Bleu. Not exactly top shelf stuff…
---
Intermission : A brief stop in Singapore
---
Thoroughly confused by the fact that I wanted to visit a meat stand rather than say Dior or a perfume shop, my Singaporean assistant then drove me to the DNata lounge used by Garuda. I had previously reviewed this facility and was really looking forward to one of their barista-made coffees before heading back to the plane. Granted, it isn't as fancy as The Private Room but at least us First Class passengers were given a private area to hang out in, which offered table service.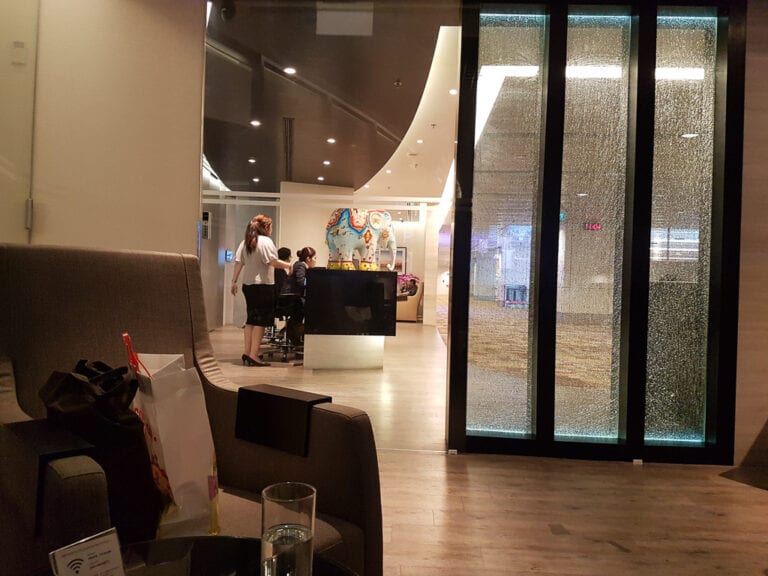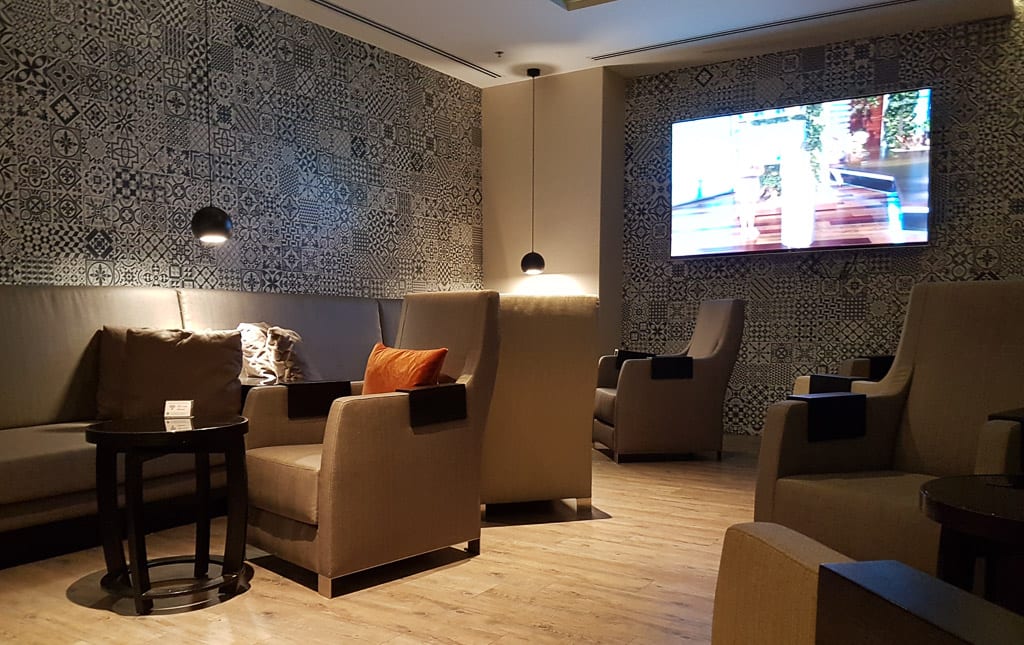 ---
Part 2: The Flight to London
---
I took this opportunity to peruse the main food menu, the entirety of which would be available to me over the next 13 hours or so.
Main Food Menu
One very unique aspect of flying First Class with Garuda is that you are contacted in advance of your flight by a special team that will fulfill any specific catering requests that you may have. I ordered two of my favourite Balinese specialities and was looking forward to seeing how they would turn out. (I had also requested Krug Rosé and Pol Roger Winston Churchill but they weren't having any of it!)
Once we were up in the air most passengers asked to have lunch straight away. Since I was still on UK time I wasn't particularly hungry so just asked to have some caviar. I've no idea why but the photo I took capturing that moment is still to this day my most liked instagram image ever: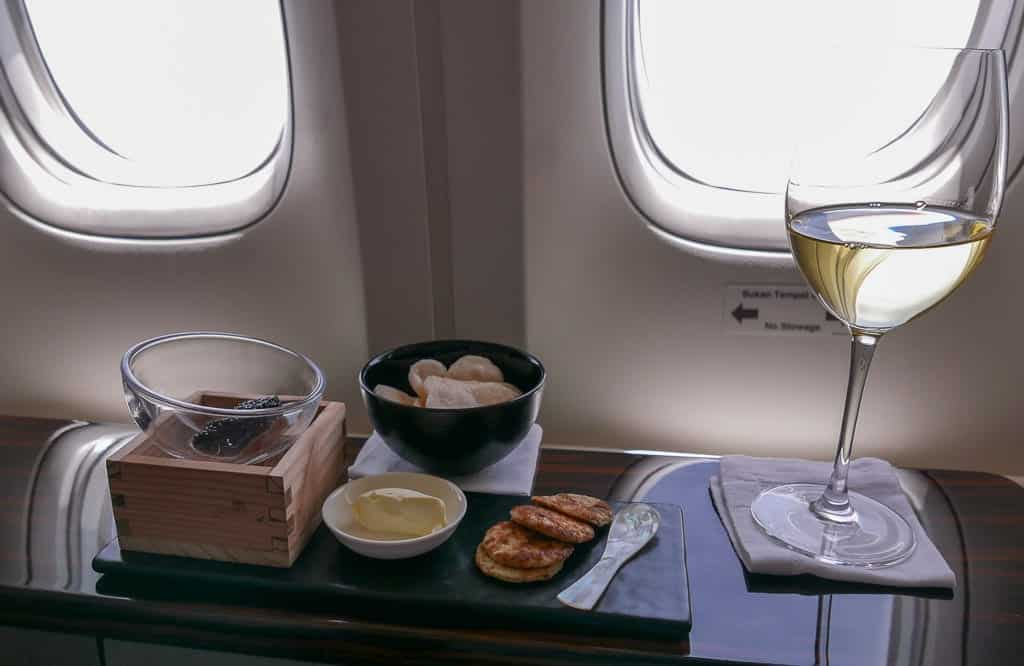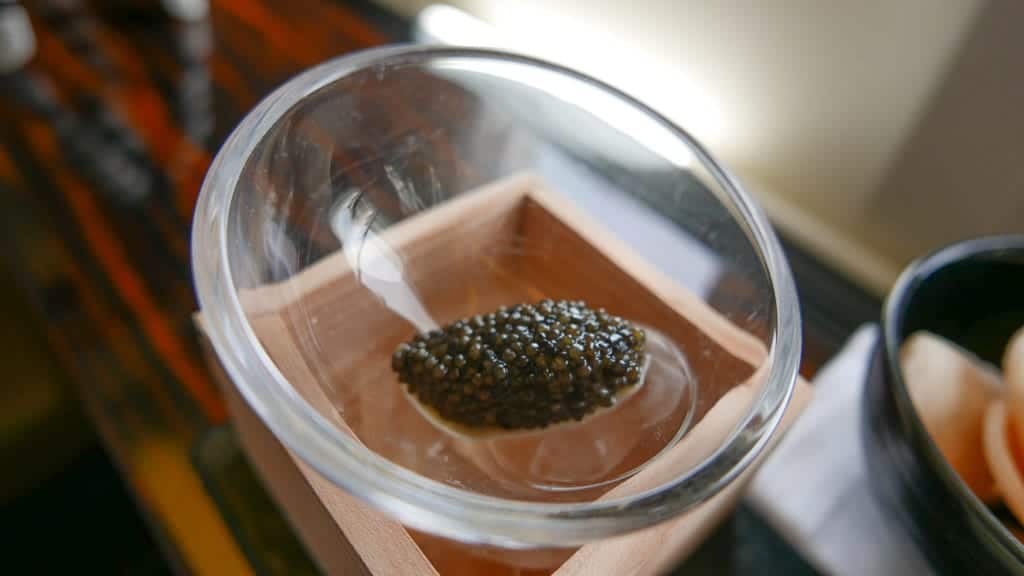 After I finished the caviar, the crew came to check if I'd changed my mind and wanted anything more to eat. I asked if they had any more macadamia nuts and improvised a truly delicious main course…
After my light meal I asked the crew to make up the bed and headed to the bathroom to get changed into my PJs. I had been asked my size in advance and went with a Large which fit…ok. The sleepwear was unbranded and not particularly breathable or comfortable.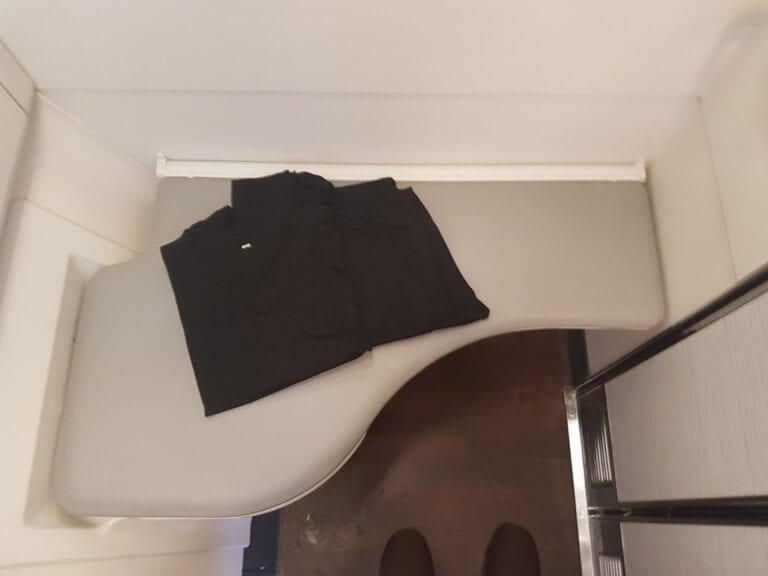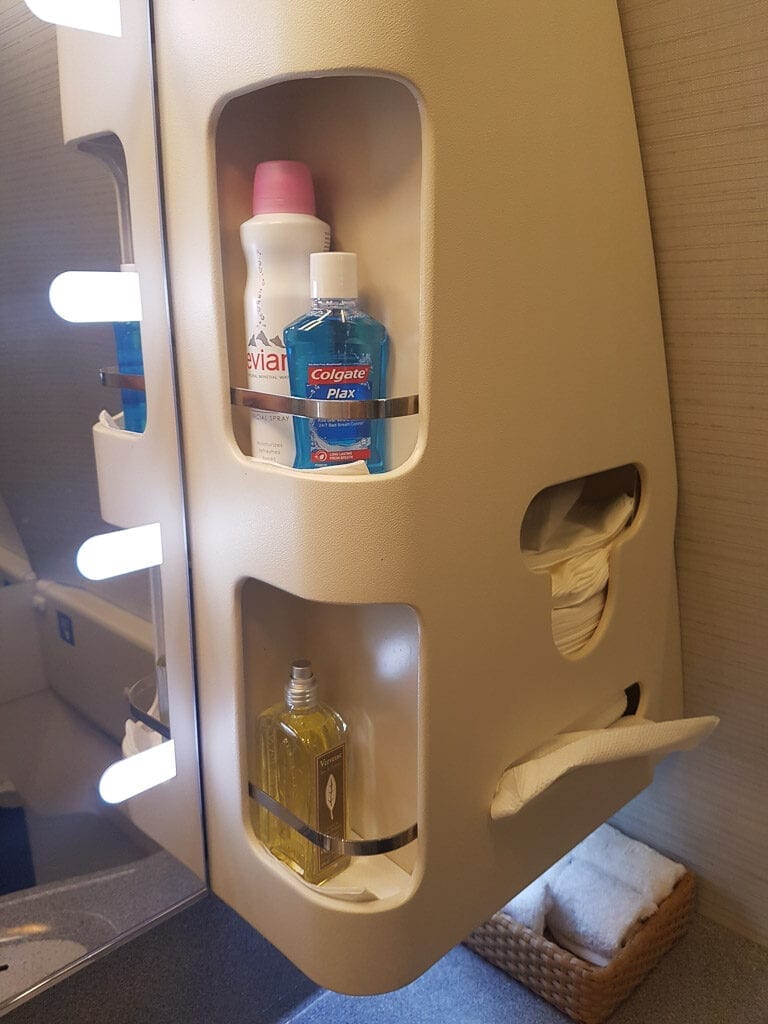 The bed setup was very impressive. The bedding was very comfortable, helped in no small part by the three full sized pillows. The mattress topper also ensured that the sleeping surface was soft and free of lumps. The privacy was incredible too, with the robust and tall doors far better than the flimsy blinds set into the doors of Singapore Suites.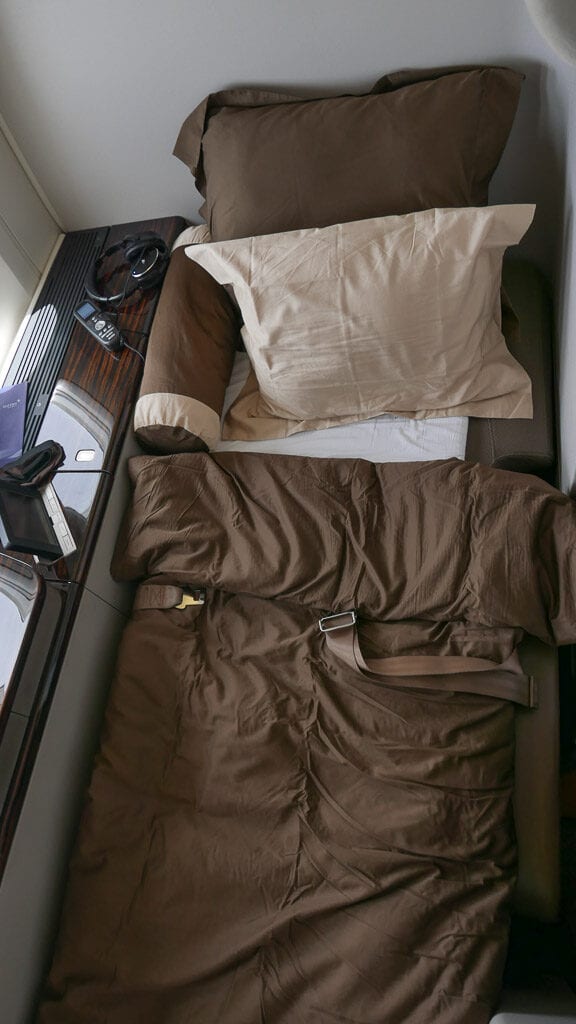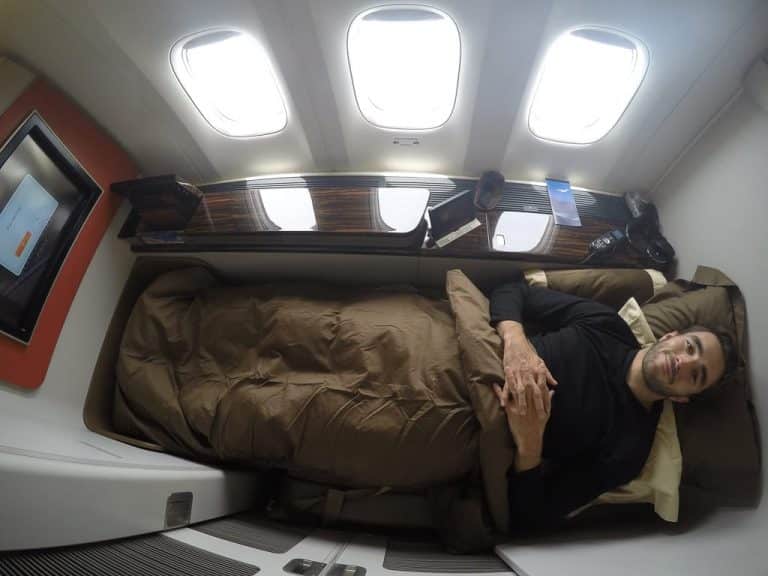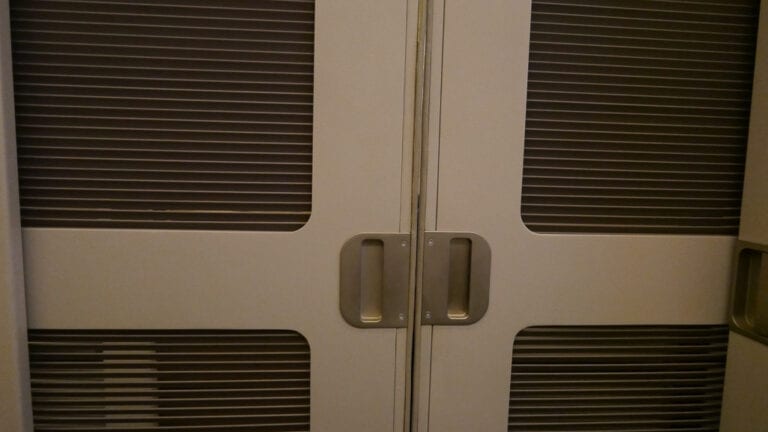 I spent an hour or so working on my laptop and reading before asking the crew to serve my lunch.
I had really been looking forward to this but unfortunately the duck was tough and chewy. Not a patch on the almost ethereal version served at Alila Villas Uluwatu. The vegetables were quite soggy and overcooked too. I guess a crispy texture is hard to achieve on the old steam ovens on a 777. In fact I can't recall a time I've ever encountered a truly crispy texture on a protein served on a plane.
---
Conclusion
---
There's a lot to like about Garuda as an airline but one thing is abundantly clear. The Business Class is so good that First feels slightly disappointing in comparison.
The tableware, hot towels, food, drink and amenity kit are almost identical between the two products. The IFE is just as antiquated in both cabins and is well overdue for an upgrade. I found the service to be professional and well intentioned but somewhat lacking in warmth. The crew didn't go out of their way to make proactive suggestions or engage in conversation in the way that I've encountered on JAL, ANA, Cathay or Singapore – airlines which are natural competitors for Garuda.
I couldn't help feeling throughout my experience that Garuda was playing at providing a First Class product without actually having the budget or the wherewithal to deliver on the premise. The windowless lounge was a lacklustre start to an experience that came infuriatingly close to being excellent but fell short in multiple ways.
The caviar presentation was beautiful but the portion was so measly that it ended up being a big old serving of assorted carbs with cream and a tiny bit of actual sturgeon roe. The champagne is not up to First Class standards and neither are any of the spirits. Having said that, the still wines were rather good as was the coffee – which shows that Garuda are able to get things right when they want to. The bed was very comfortable and the privacy was excellent. With a quick refresh of the upholstery, the addition of an HDMI port and a large new screen, the hard product would easily hold its own against the top tier of First Class. The writing kit is pointless and the condition it was kept in meant that it was a net detractor to the overall experience. The PJs and amenity kit both seemed cheap in a world in which other airlines are really making the most of their partnerships with top luxury brands.
Given everything I experienced on this trip, my summary is this: Indonesia is great and so are the people, I never pass up a chance to visit and am always delighted to be there. I am happy that Garuda is as good as it is in Business Class (easily in the top 5 airlines despite the slightly dated seat) however First Class needs some real improvement before it can compete in the same way.
---