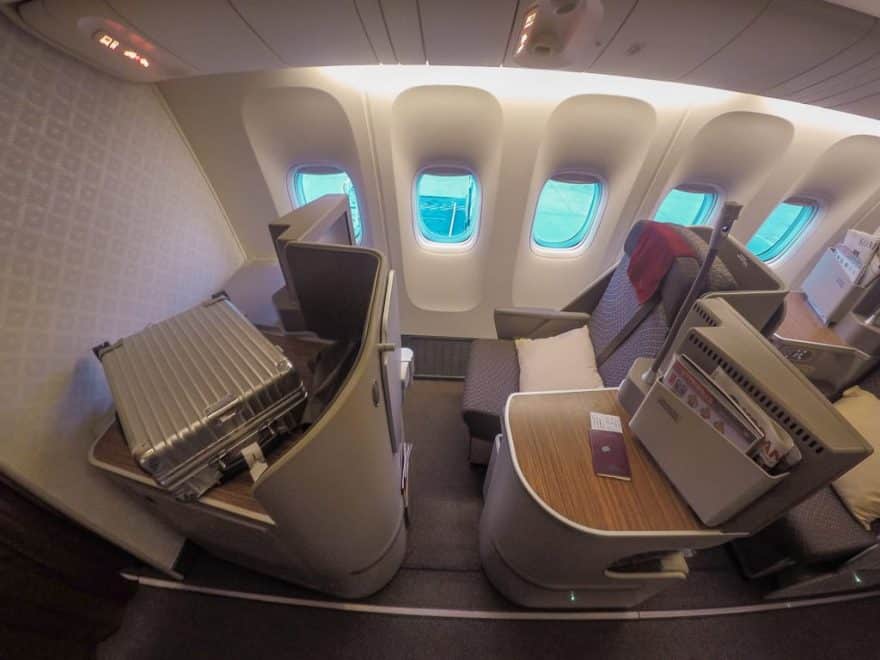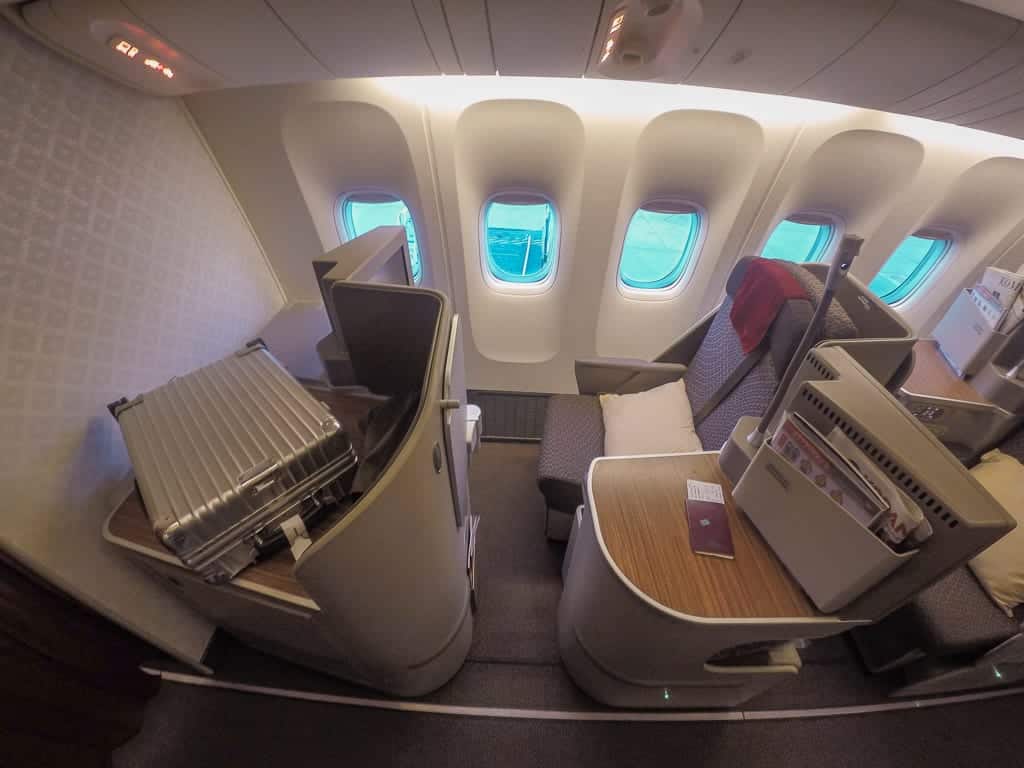 REVIEW – Garuda Indonesia : Business Class – London LHR to Jakarta CGK (B777)
November 17, 2019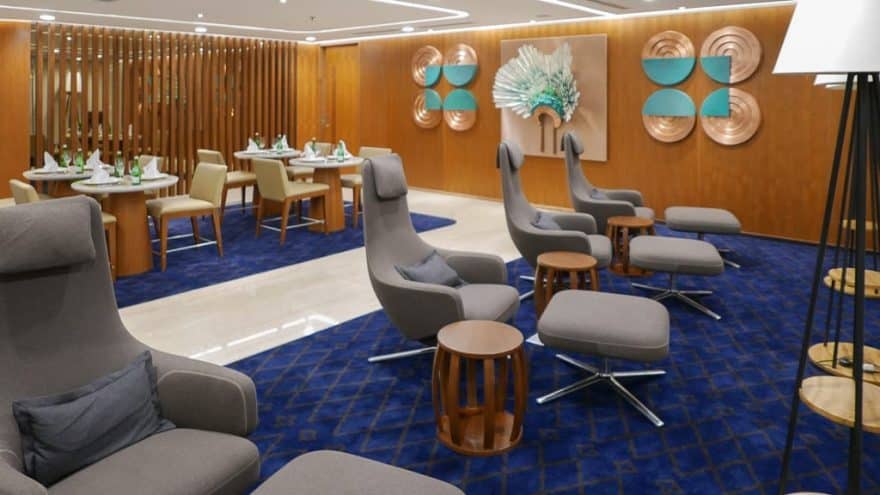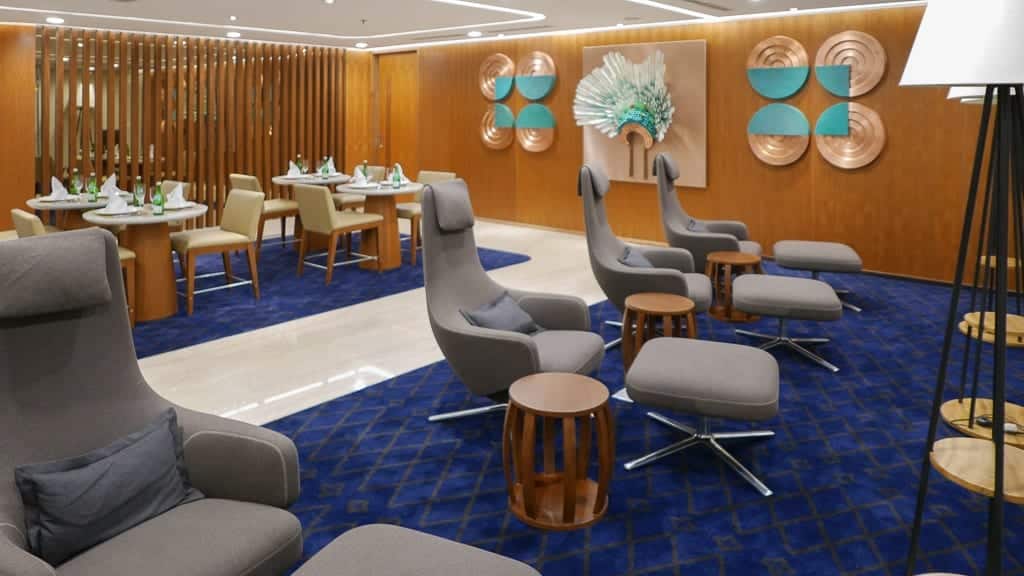 REVIEW – Garuda Indonesia First Class Lounge – Jakarta (CGK) Terminal 3
November 24, 2019
Ritz Carlton Mega Kuningan
Location: Jakarta, Indonesia
Rate: 3.5m IDR per night (inc. tax) / £160 GBP (book with STARS)
Room Type: Spa Terrace
Status during stay: Marriott Bonvoy Gold (courtesy of UK Amex Platinum)
---
Intro
---
Jakarta, much like Bangkok, is a city that is replete with a veritable cornucopia of luxury hotels, most of which are priced at a level more akin to a Travelodge. I had a lot of different factors to consider, not least of which was the absurd traffic, which on a bad day can easily add 2 hours to your airport transfer if you pick the wrong part of town to stay in.
I was tempted by the super low rates at both the Four Seasons and the Mandarin, rates which were fractions of what these brands charge in Europe, however once I realised that the FS was an all suites property I had a lightbulb moment. Rather than just searching for a great deal on standard hotel rooms, why not start looking at the cash rates for suites in ALL of the city's luxury hotels?
When I did that, my choice became obvious. For the equivalent of £160 per night I could get a very special suite indeed at the Ritz Carlton Mega Kuningan (one of two Ritz Carlton properties in Jakarta). This was a suite that not only came with access to the club lounge but was also located in a jungle-like area of the hotel, adjacent to the rooftop pool and gym, in which each suite is classified as a Villa with it's own enormous sunken stone jacuzzi pool, replete with terrace furniture, a rock garden and lanterns.
Since I was only going to be in town for two nights, my intention was to completely ignore the timezone and just do whatever my body wanted. Having access to food, drink and a private pool at any hour of the day sounded like the perfect strategy to avoid the evils of jetlag. I also felt like it would be slightly sad to come all this way and be locked away in an air conditioned tower the whole time.
---
Arrival
---
I grabbed a Silverbird taxi at the airport and managed to make it to the hotel within 45 minutes, which, given what Jakarta is capable of, was better than I had expected.
I'd previously witnessed ramped up security at a few hotels in Indonesia but given the tragic history of this property it was understandable that the Ritz Carlton went above and beyond in this regard. Visible guns, sniffer dogs, multiple barriers and a full vehicle inspection clearly demonstrated that this hotel takes security seriously.
After the checkpoint we drove up a steep driveway to the very impressive arrival area of the hotel. All guests must pass through an airport style metal detector before entering the lobby. I was met at the scanner by a member of staff who welcomed me to the property by name and told me that my bags would be scanned separately and taken care of by one of the bellhops.
I was then escorted through the lobby and up to the club lounge on the 26th floor.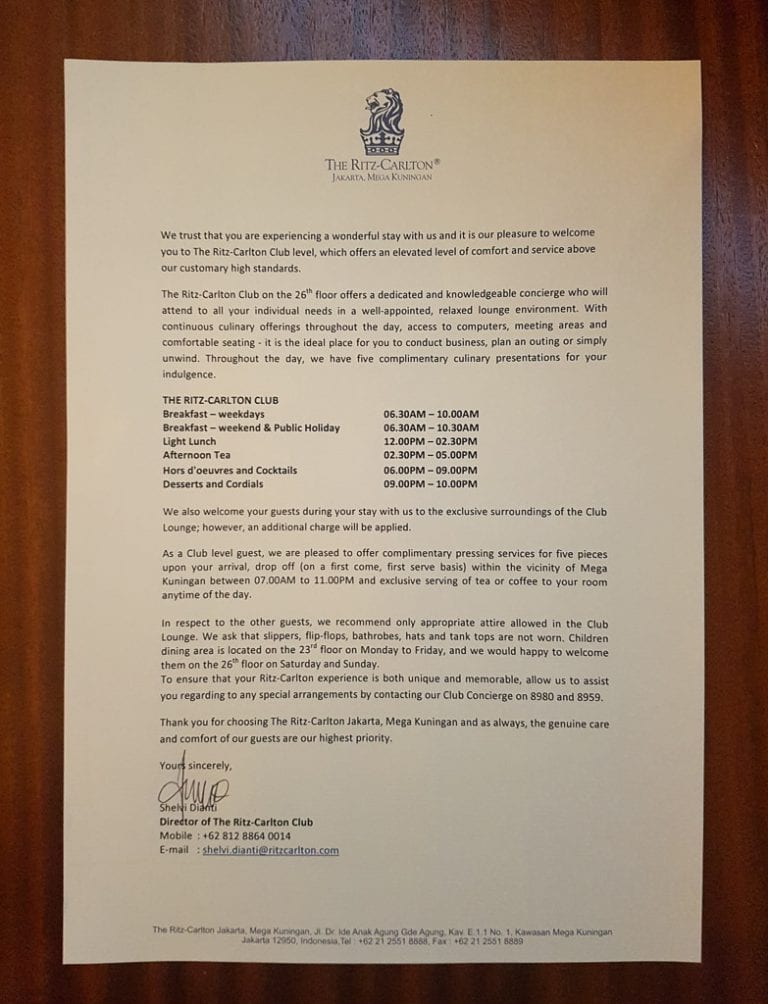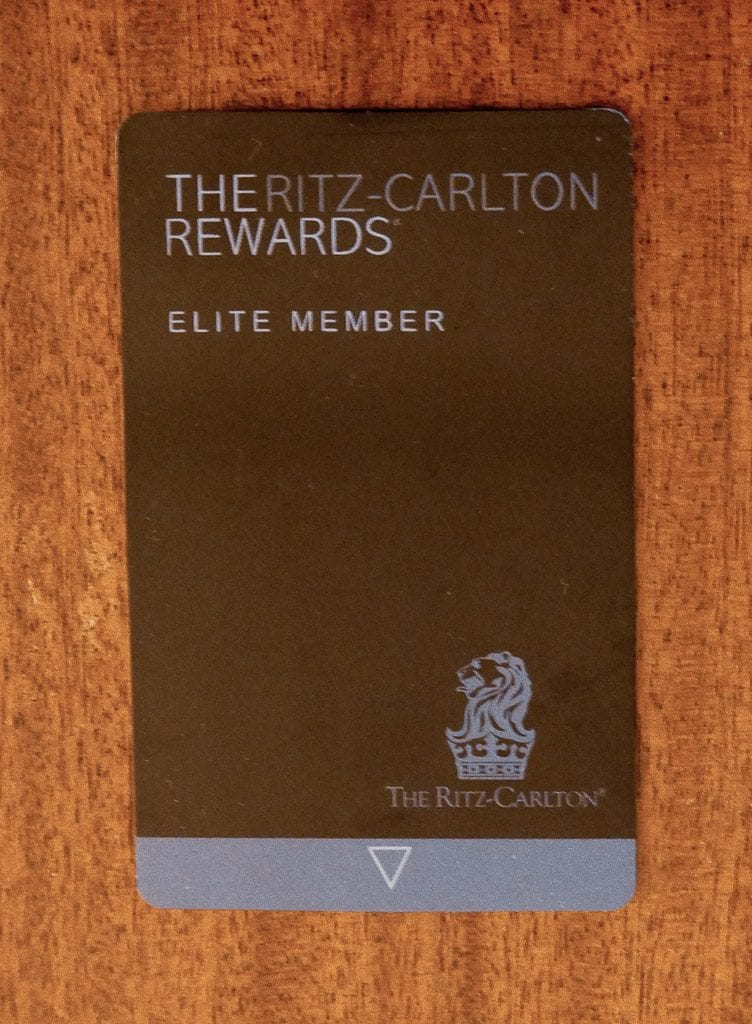 Up in the club lounge I was warmly greeted by a welcoming committee of around 20 staff. The Club Lounge Manager took a copy of my passport and confirmed my credit card details before handing me a welcome letter and my keycard. At this point I was escorted back down to my room on the fifth floor.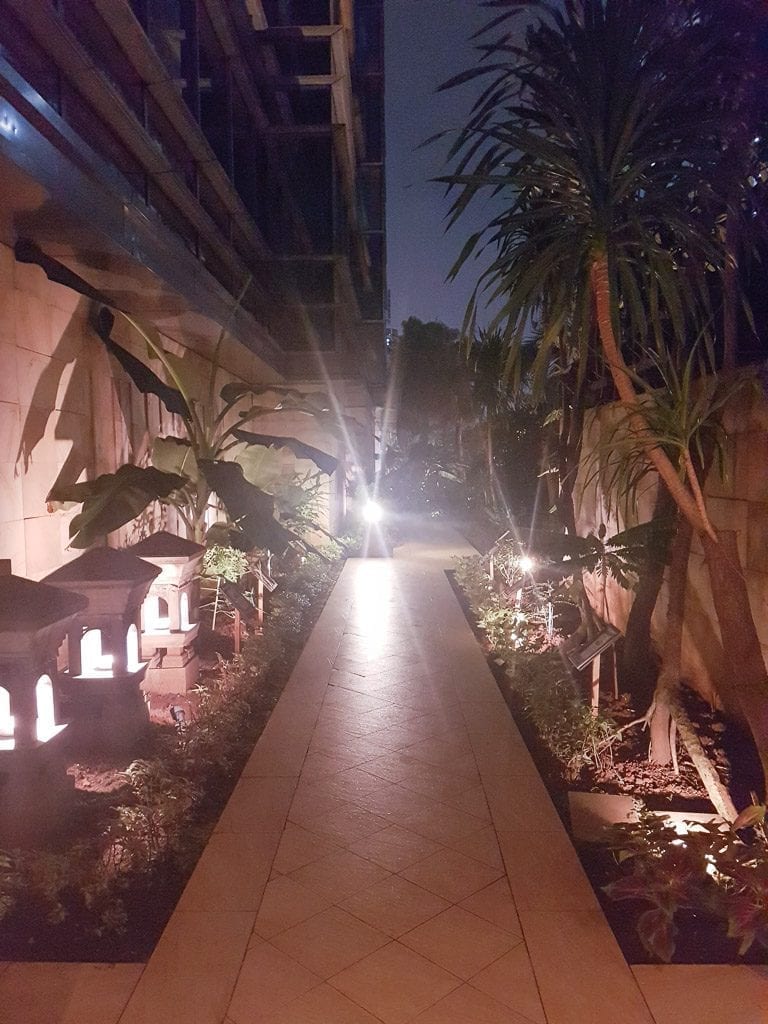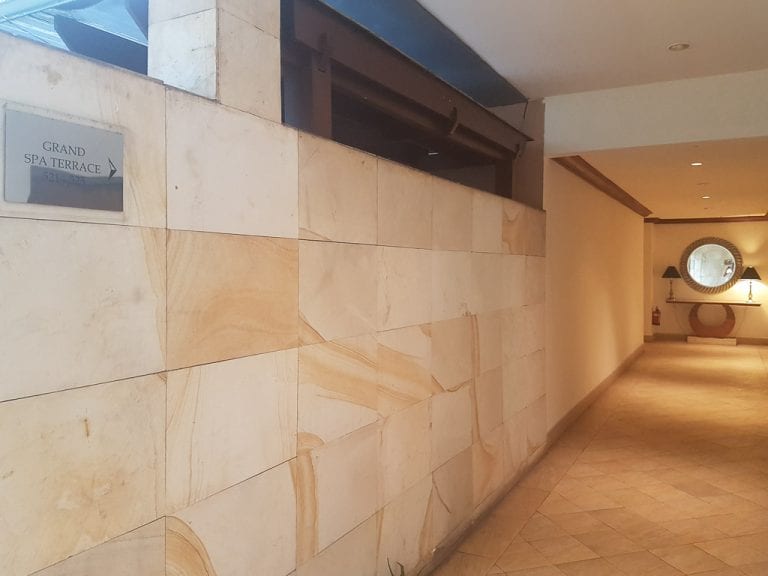 In addition to being the location of my suite, the fifth floor houses the hotel's swimming pool, spa and fitness area.The hallways are completely open air and from the moment I stepped out of the lift it felt like I was in a resort rather than a large business hotel in a bustling metropolis.
---
Spa Terrace Room
---
Despite being classified as a suite the interior of the room was quite small, with the separate living area being located outdoors. In a seaside location this could be considered false advertising but in a city this was such a special proposition that it didn't bother me at all.
I was more than happy to have a small room with a giant plunge pool and outdoor furniture, rather than having a separate indoor lounge.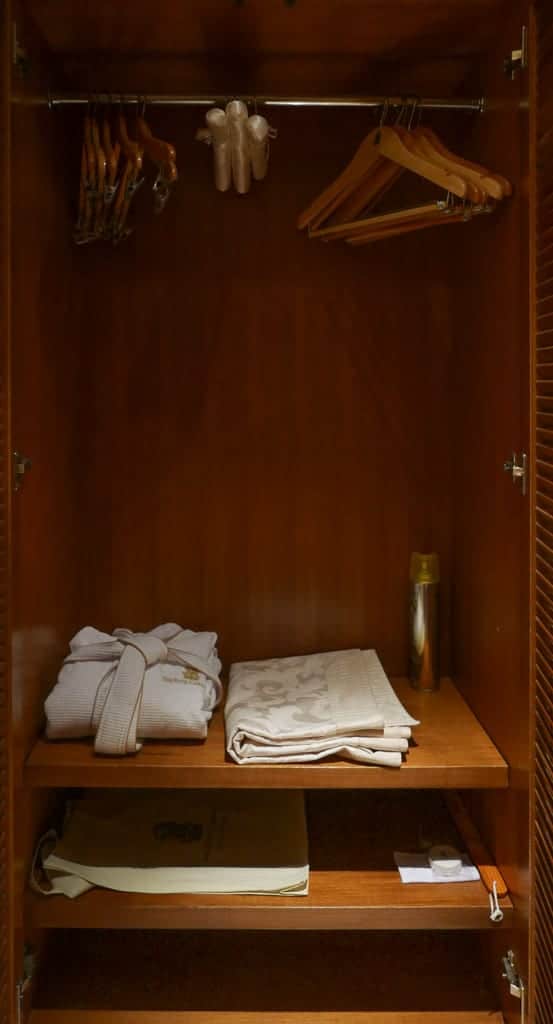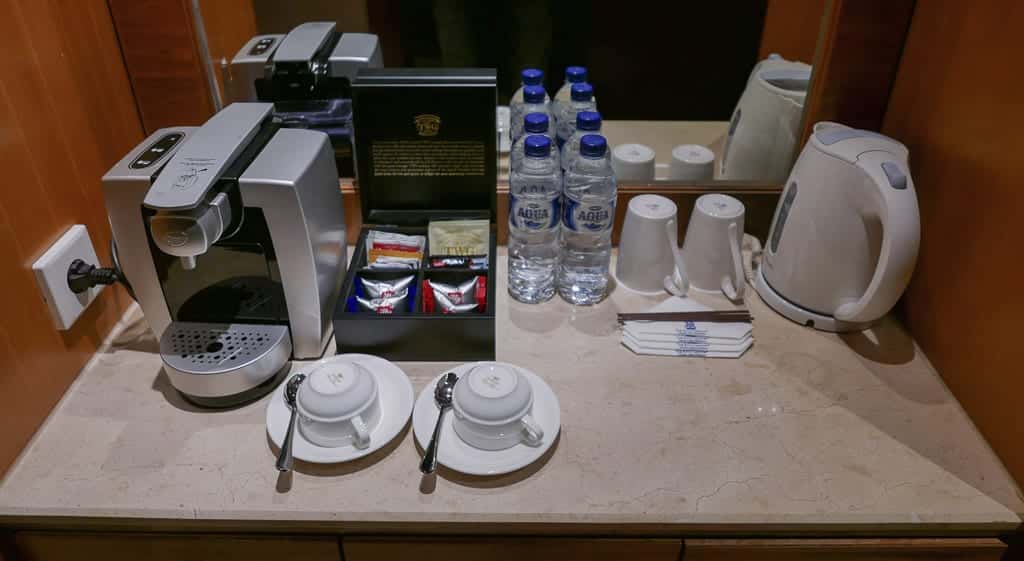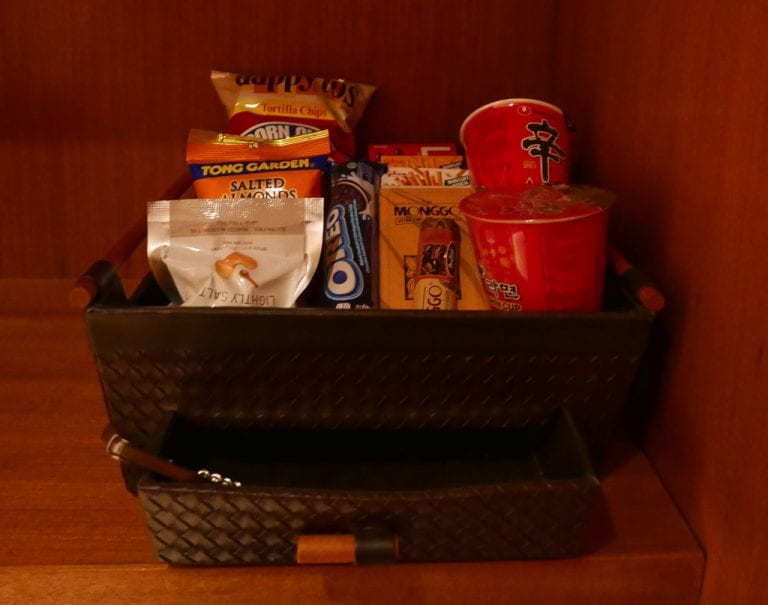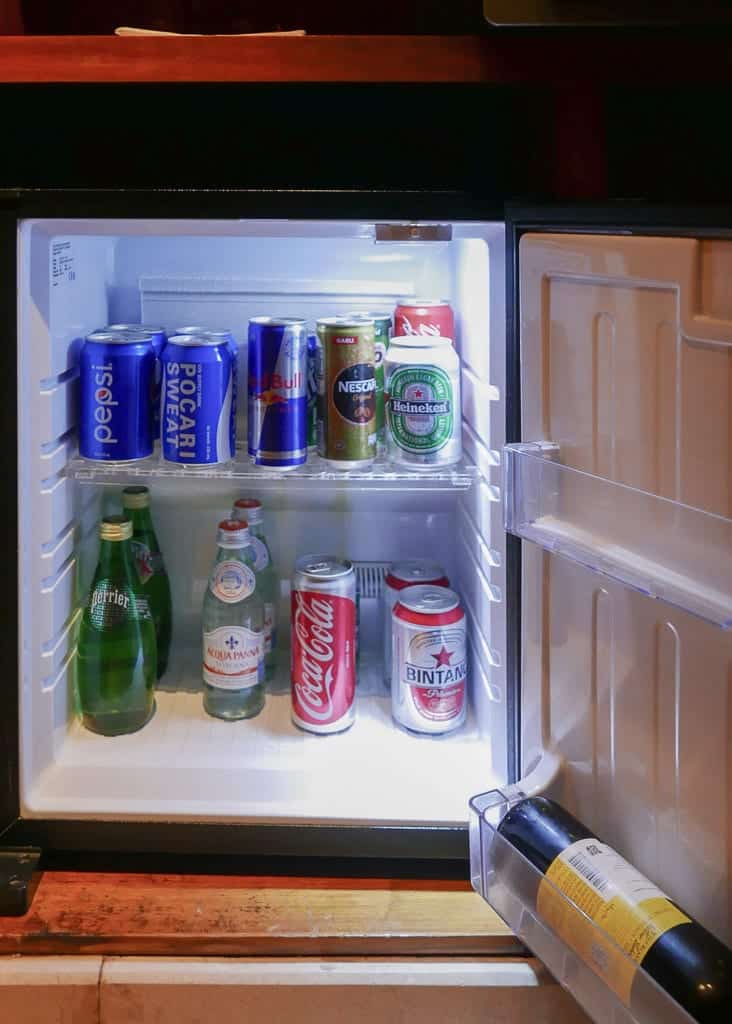 The entrance of the room faced towards the minibar area and the rather limited wardrobe. I would have expected thicker and higher quality hangers in a hotel of this calibre and likewise I felt that the minibar selection was somewhat bottom shelf, with no champagne at all and a bottle of Wolf Blass Cabernet Sauvignon chilling in the door.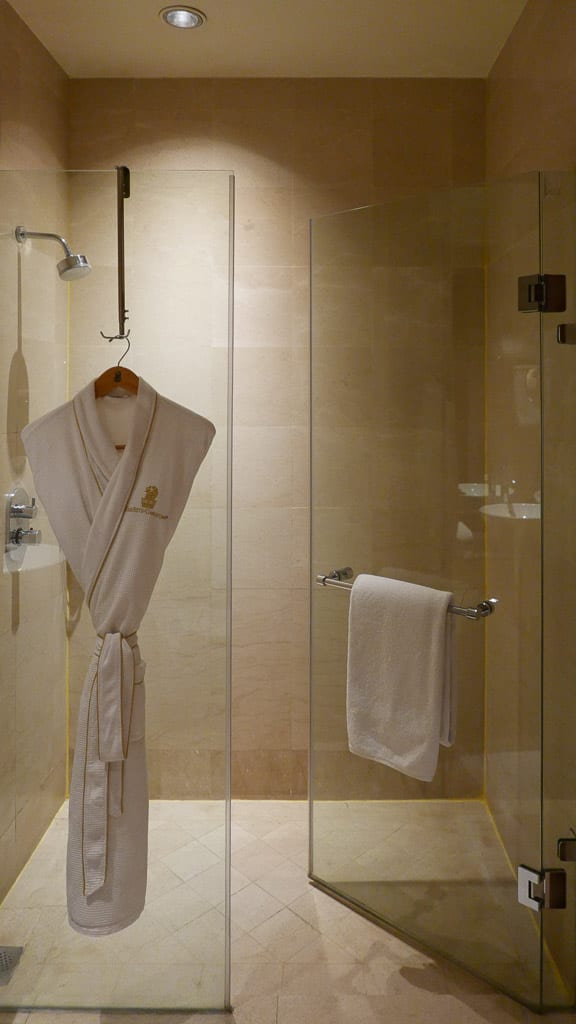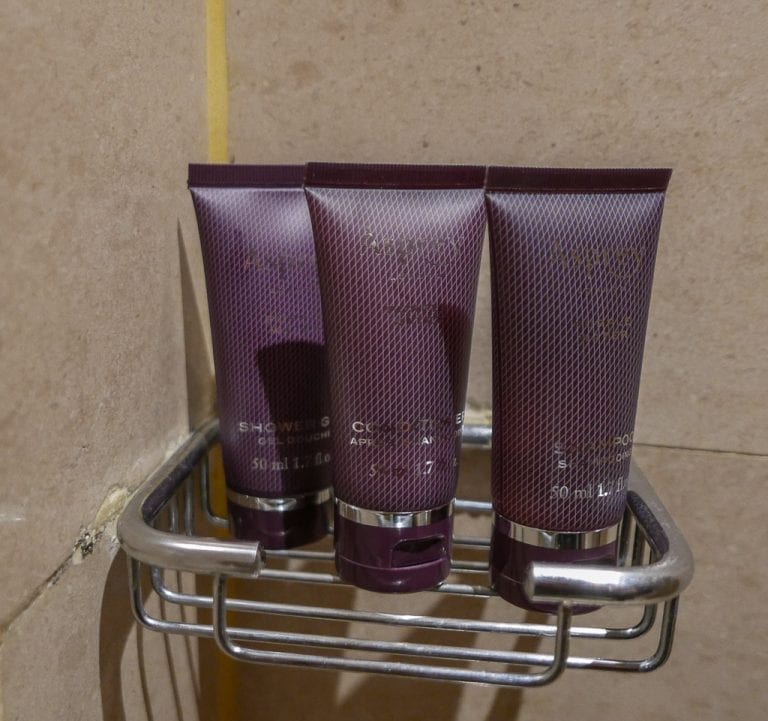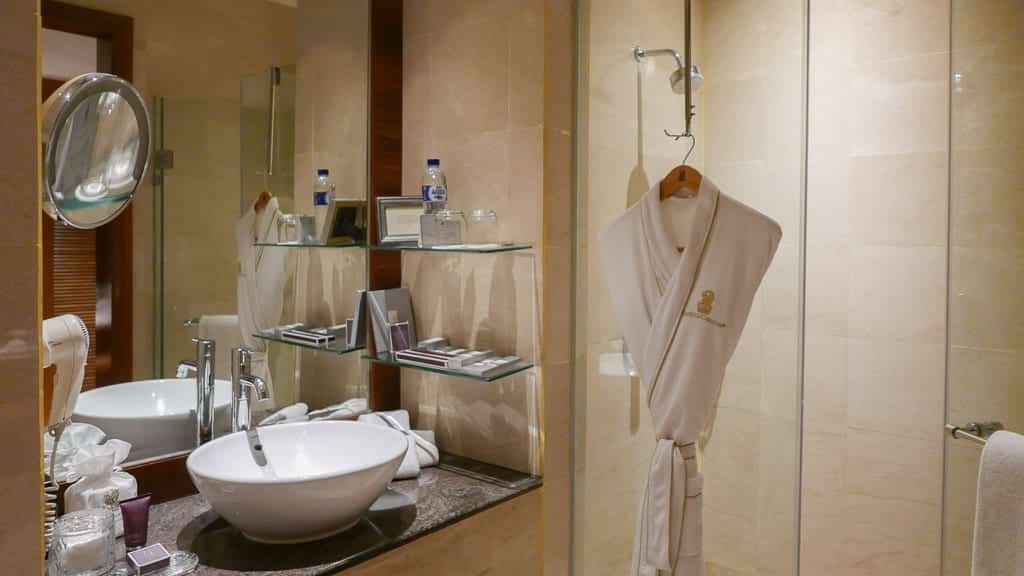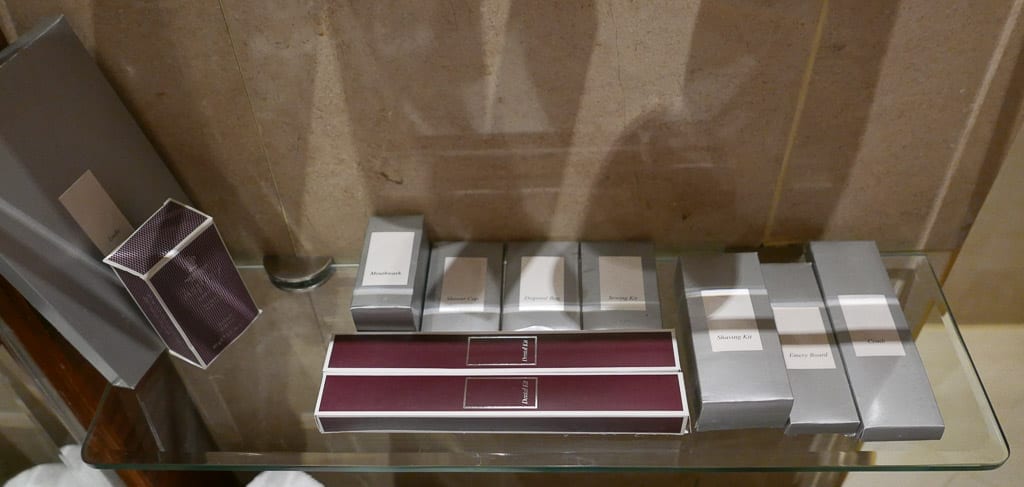 The minibar area face towards the entrance to the bathroom. Despite being quite compact and only featuring a single sink, the bathroom was spotlessly maintained and very well stocked with amenities.
The bedroom was more spacious than I was expecting.
The decor of the hotel is of a certain 'classic' style which is not usually my favourite. However the room was spotlessly clean and very well maintained. The king size bed was as soft as a marshmallow and piled high with feather pillows.
Since I had arrived late, turndown had already been performed. It was at this stage that I noticed the antiquated phone and clock as well as the lack of charging points near the bed.
I understand the fact that this style of property really appeals to a certain demographic but I feel like certain modern touches can be introduced without ruining the overall aesthetic. I think Peninsula hotels are the perfect example of this.
Thankfully the TV was modern and the desk featured charging points for my laptop, although honestly it was what lay outdoors that interested me the most…
My own private pool and rock garden!
Heading to the edge of the garden and looking up, this was my view. Absolutely surreal. I honestly felt like I was in another world.
This beats pretty much every other city hotel suite ever. What an absolutely amazing idea. I love how housekeeping would always put out fresh bath mats by the edge too, as well as plenty of fluffy rolled up towels.
The pool may not look that deep but it felt very spacious and I can attest to the fact that jets were operating at full power. I honestly can't think of a time that I've ever seen a bigger jacuzzi in my whole life!
As far as room hardware goes, there are definitely more modern and larger suites in Jakarta. However I would gladly trade them all for a super comfy bed in a smaller room, with the ability to totally disconnect from the chaos of the city in my own private pool. I really wish more hotels in warmer regions of the world would emulate this design.
A final note when it comes to the room – the housekeeping team were fantastic. I was on an admittedly weird schedule, given that I was keeping my body clock on London time. Still the DND sign was always respected and every time I returned to my room it had been cleaned. It was like being at an Aman. The housekeeping team were also very sweet and made a little towel bear for me, placing my glasses on top of his head. They also wrote a note saying that they had noticed my loose cables and had given me some Ritz Carlton branded bags to put them in. I've honestly never seen this level of personalised attention to detail in a hotel before and this really made a very positive impression on me.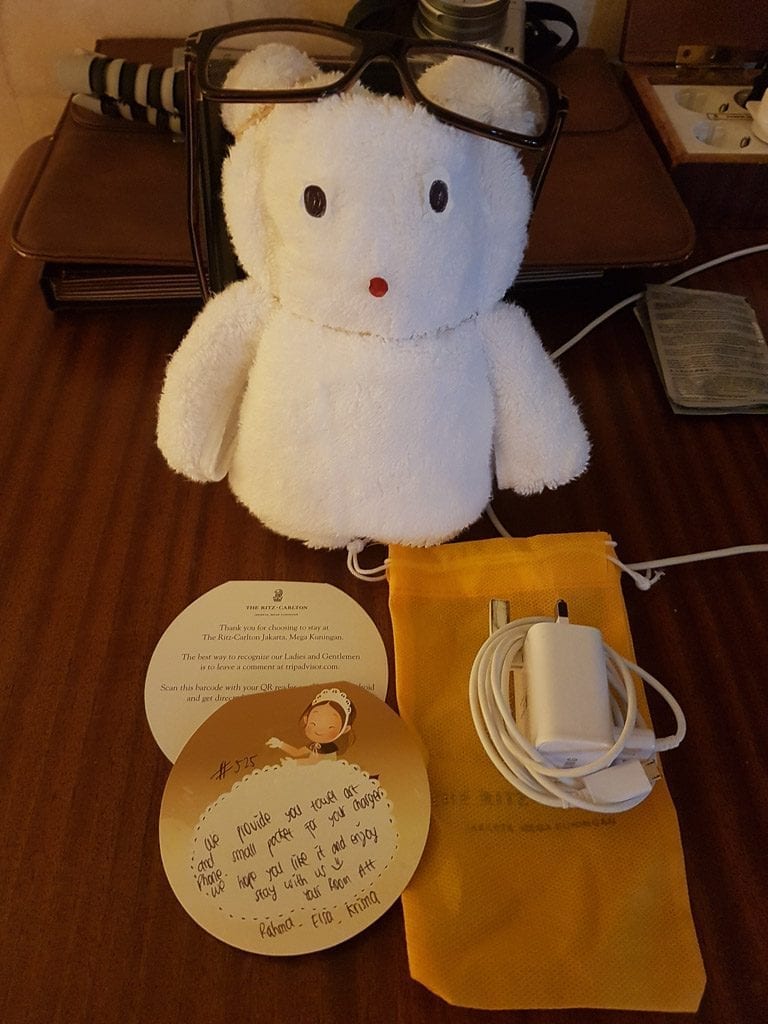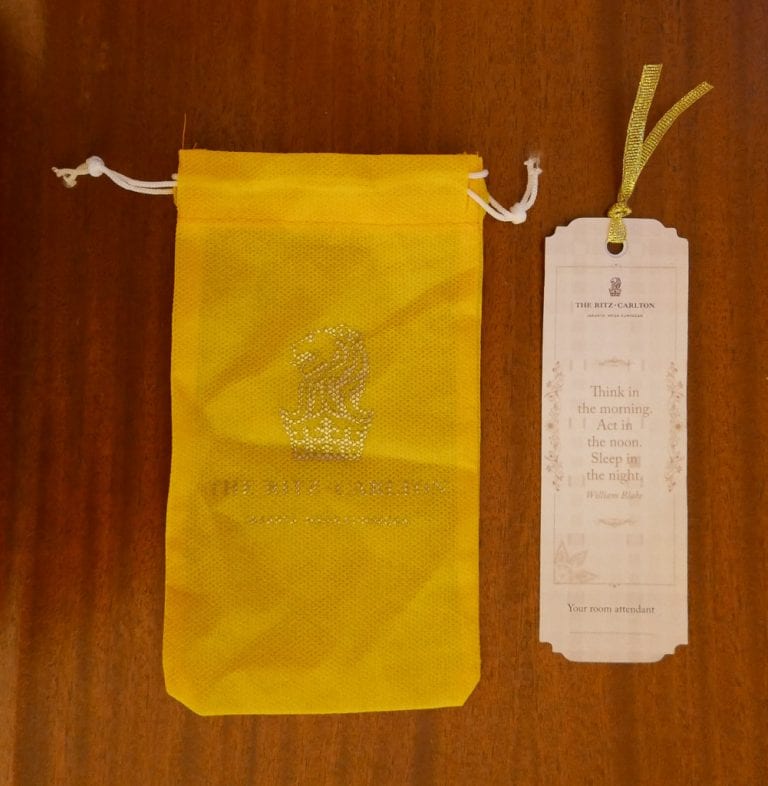 ---
Club Lounge
---
Anybody that has travelled extensively knows that Asian hotels do two things better than anywhere: Club Lounges and Breakfasts (and of course, breakfasts within Club Lounges!).
Since Ritz Carlton hotels are quite strict with their criteria for upgrading people into Rooms with Club access I was expecting the lounge to operate on a high level, with little of the cost cutting you tend to see in regular Marriott and Hilton properties. I was not disappointed…
The welcome letter detailed the following benefits:
Weekday Breakfast
Weekend Breakfast
Light Lunch
Afternoon Tea
Hors D'Oeuvres and Cocktails
Desserts and Cordials
I think even Takeru Kobayashi would struggle to get through all of that. For all intents and purposes, Club Lounge guests are on an all-inclusive package at this hotel.
In addition to the usual food and drink, Club Lounge guests are also offered:
Complimentary pressing of five items of clothing per stay
Complimentary car service within the local vicinity from 7:00am – 11:00pm
Complimentary in-room tea and coffee delivery service
The Club Lounge is absolutely enormous and spans not only the entire 26th floor of the hotel but also has access to a section of the 23rd floor – the area in which children must remain during the days of the working week.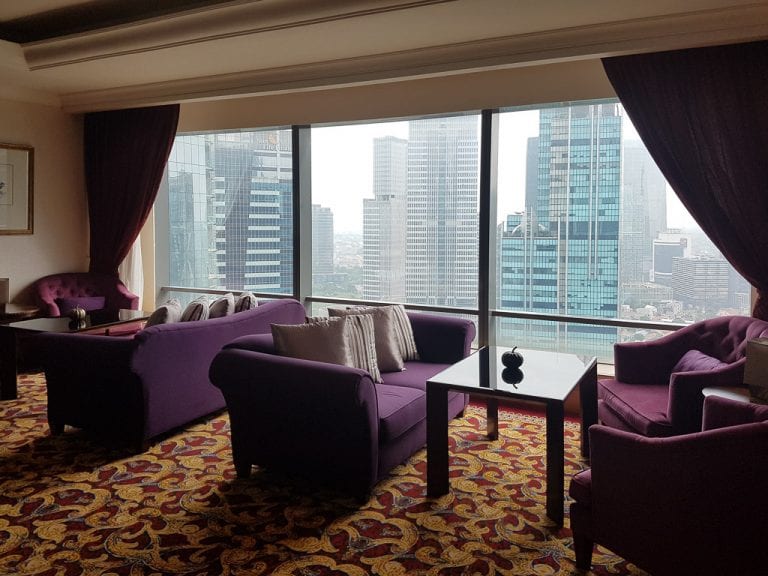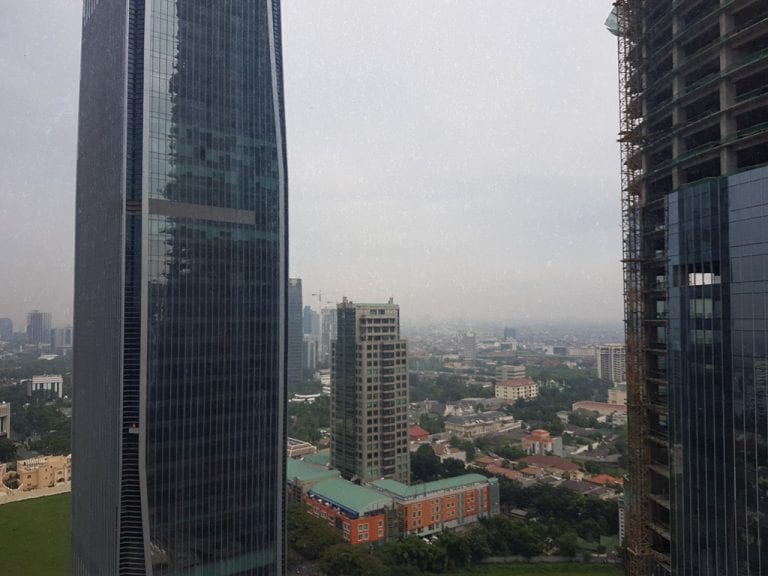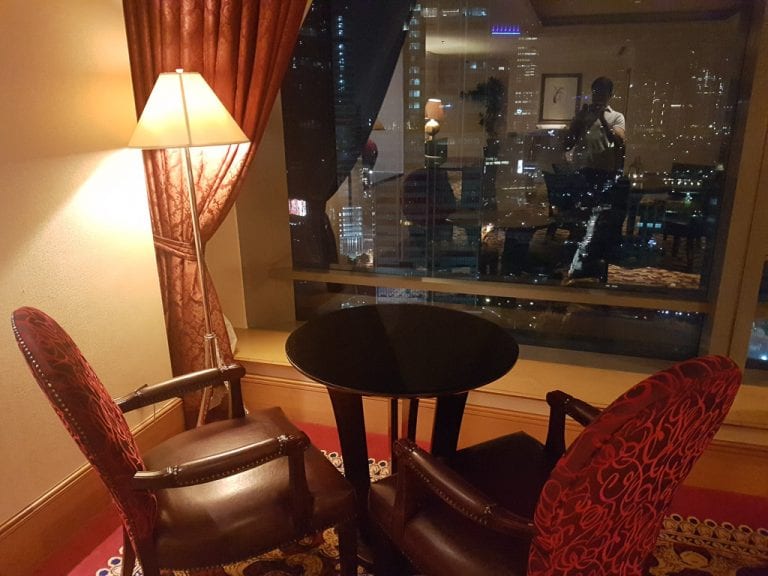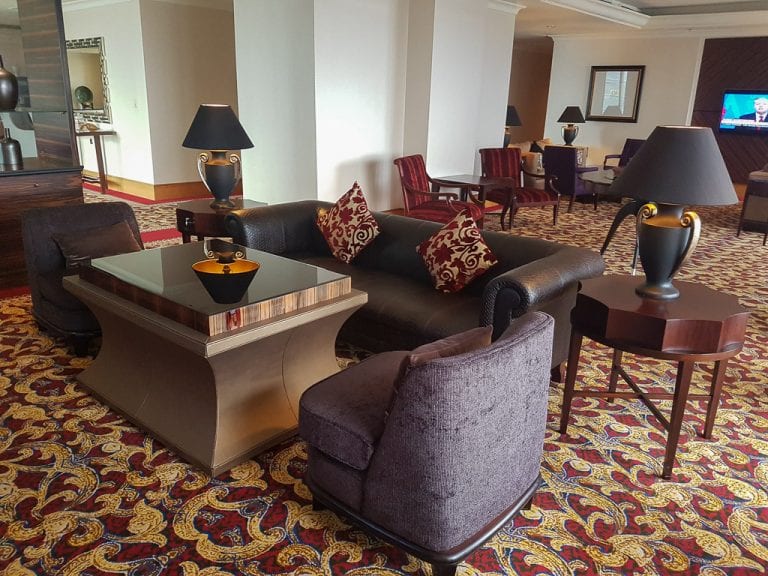 Something of a rarity for a club lounge: A full sized pool table.
The decor has a few nods to modernity with the splashes of purple but remains steadfastly old school nonetheless. Given the enormity of the lounge's footprint it was never busy and the service was always exceptional. I was consistently greeted by name and the staff quickly remembered drinks orders and ensured top ups arrived before I could even ask for them.
On my first visit I took a seat in one of the two main dining areas and was immediately greeted by a server, offered a drink and also asked if I would like anything brought to me from the buffet. I thanked the server and said that I was happy to serve myself.
The food selection was nothing short of spectacular.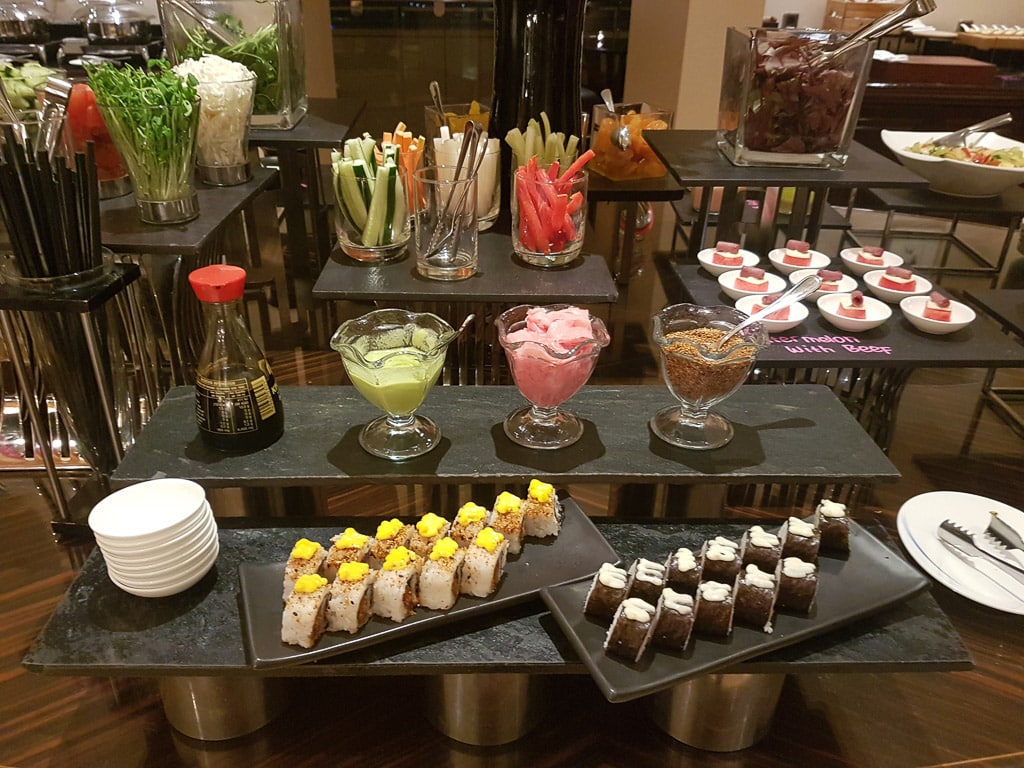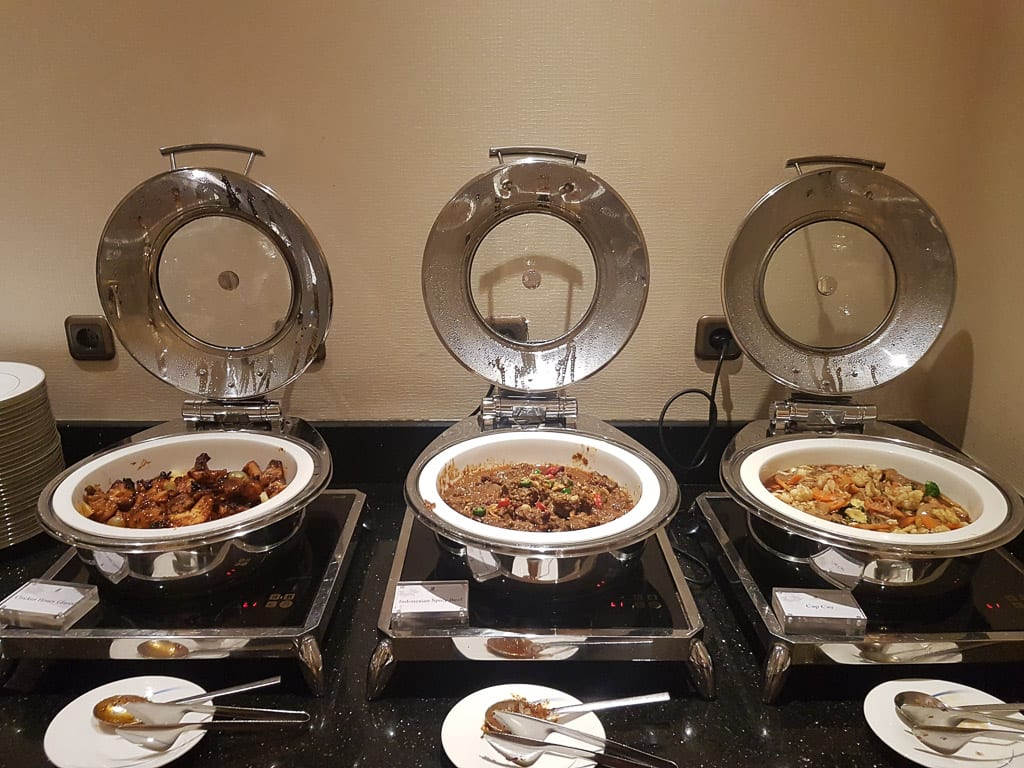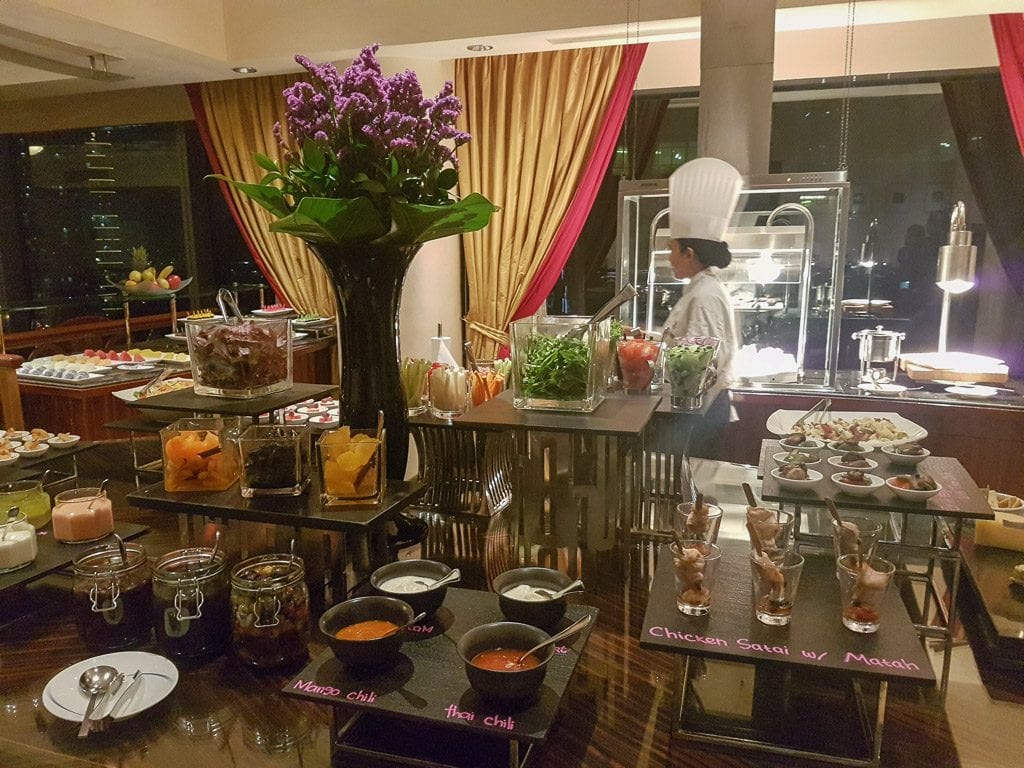 For something that was referred to as canapés and hors d'oeuvres I was expecting some fruit, cheese, maybe a couple of hot savoury options and some kind of dessert. I was not expecting five different hot main courses, three types of sushi, cold cuts, seven types of cake, a salad buffet, wings, satay skewers and a full carvery station. I genuinely struggle to see how this makes any financial sense at all but somehow they kept this up for the majority of the day.
My 'canapes'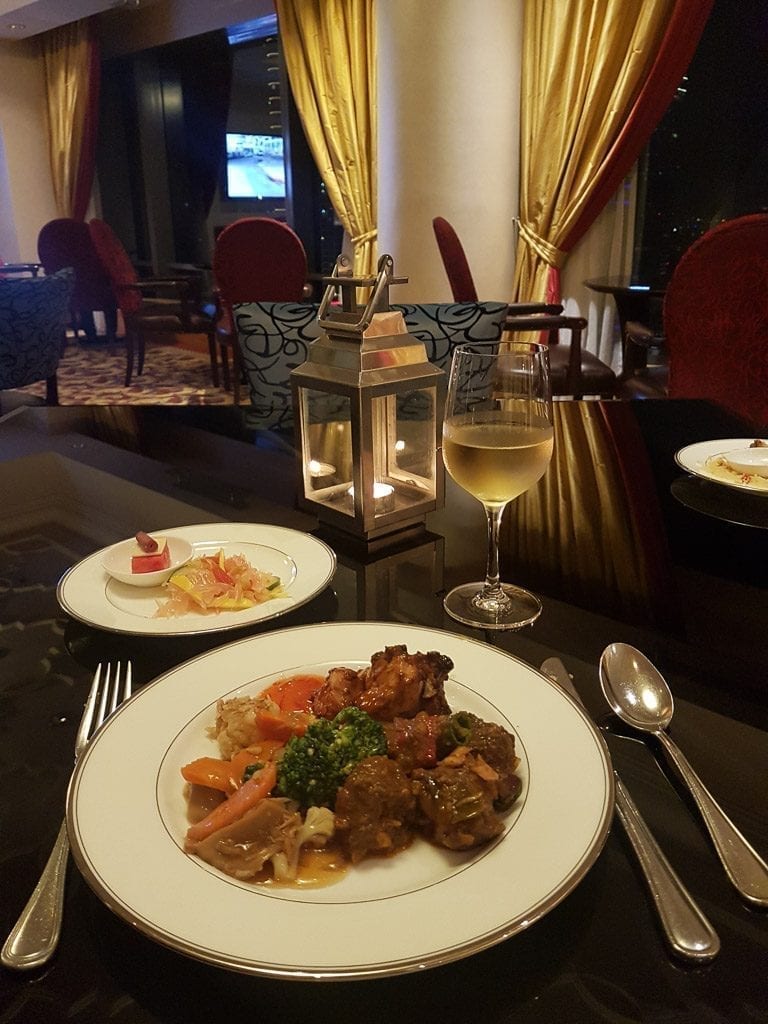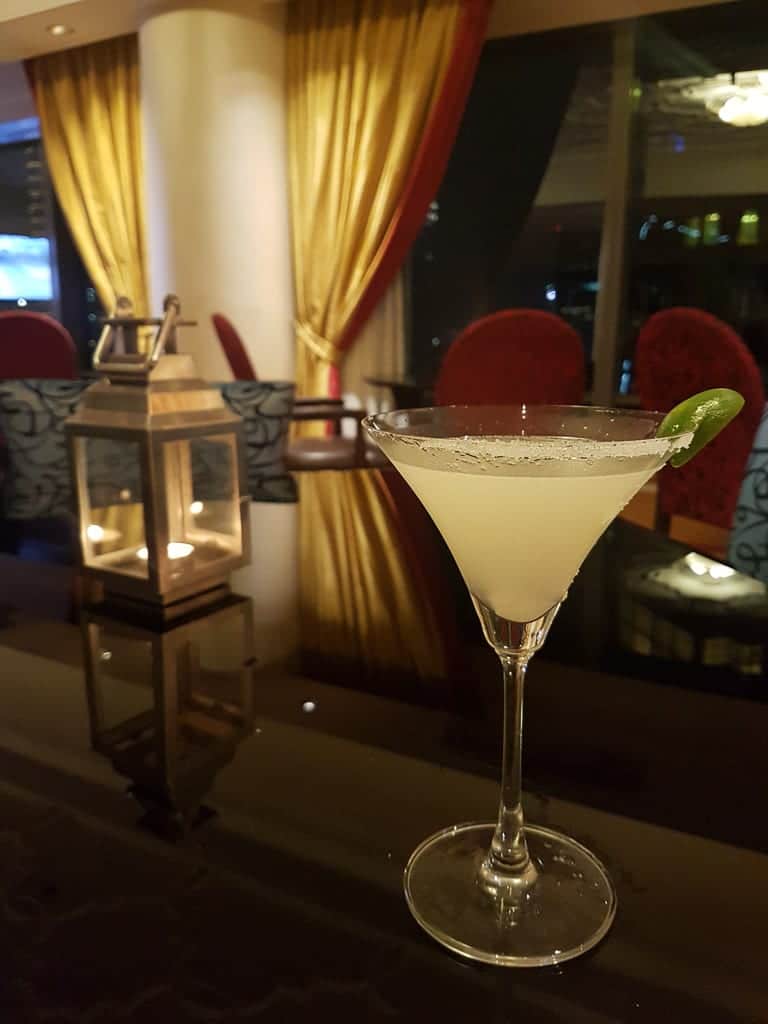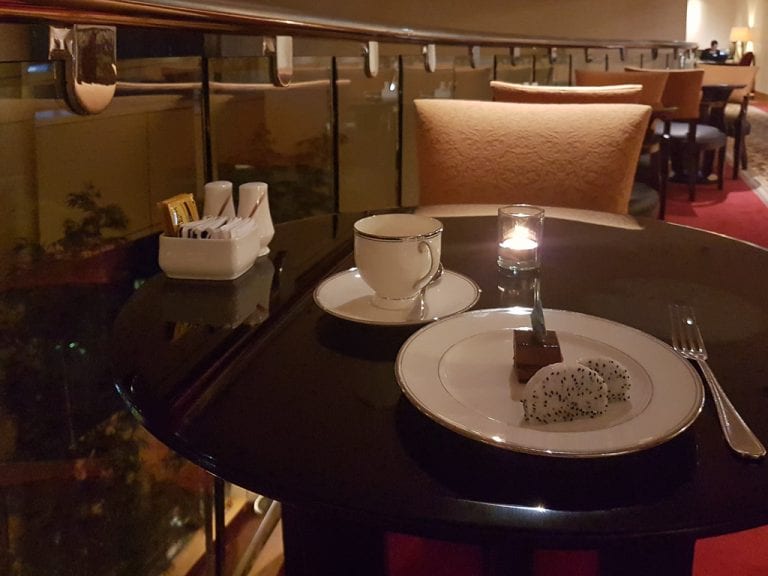 Often a club lounge breakfast feels like second best. You exchange the quiet and convenience for a lesser selection. This is categorically not the case at the Ritz Carlton Mega Kuningan, here breakfast was every bit as impressive as the late night spread. Indeed it was easily the equal of many fully fledged restaurant buffets.
Breakfast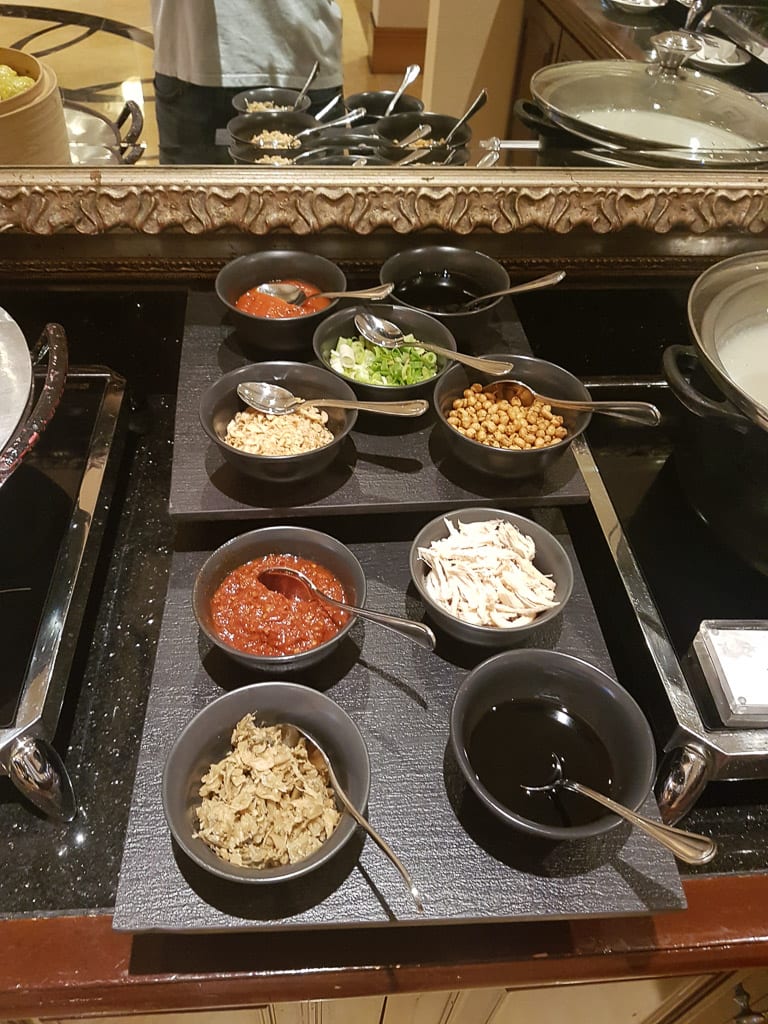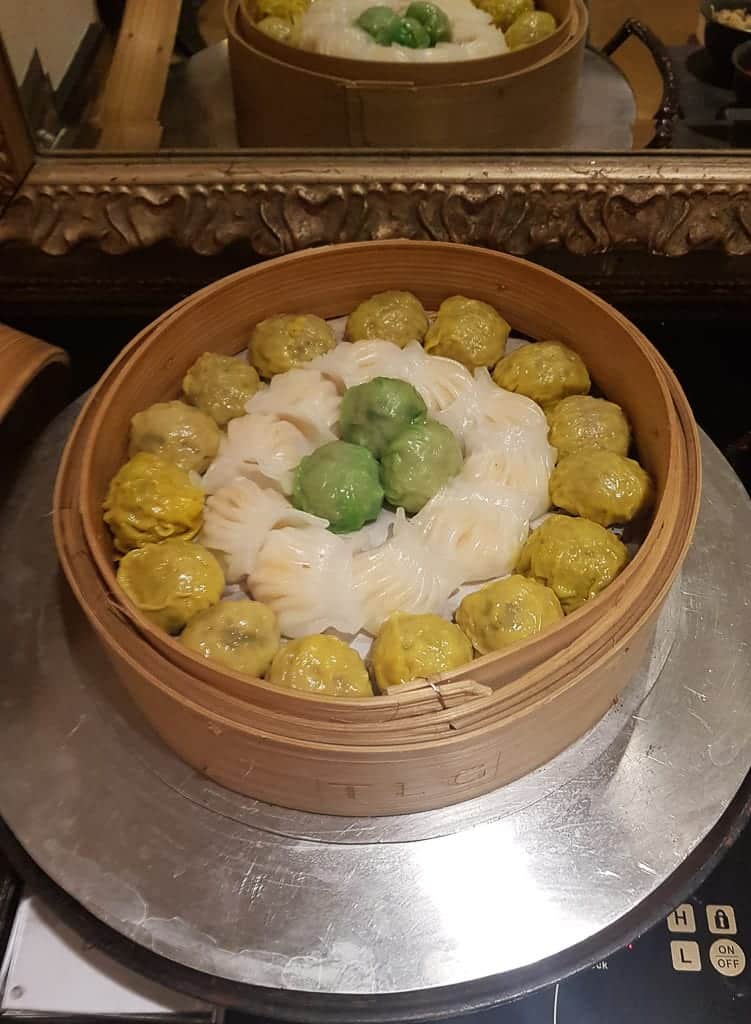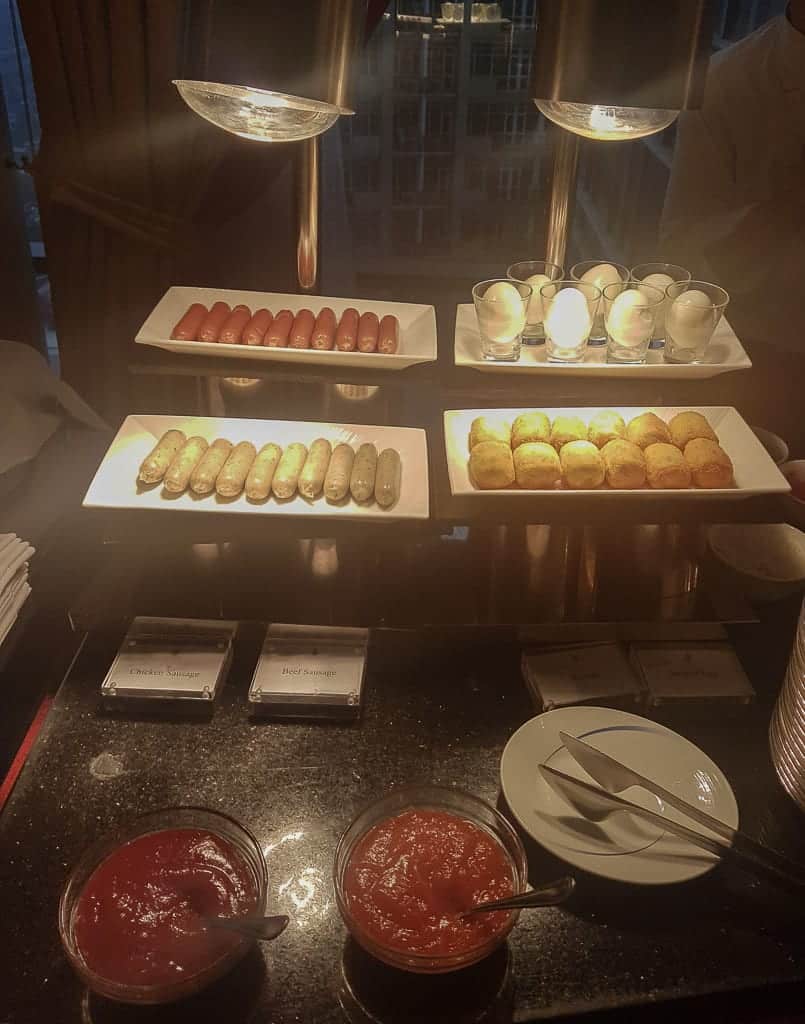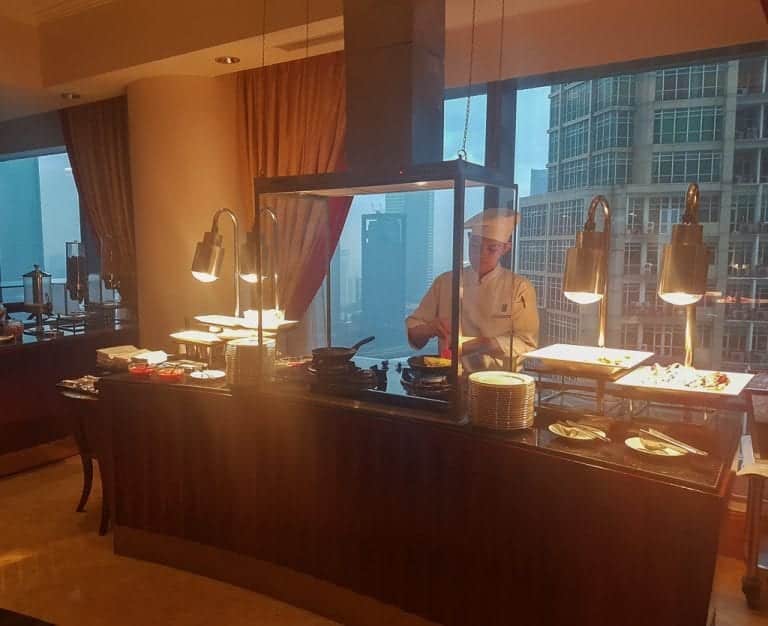 Starting my day here really felt like getting the best of both worlds. Personalised and attentive service in a very peaceful setting with no compromise on quality or selection of food.
The car service was a bit useless since Jakarta traffic is so bad that walking is generally quicker, however I did make use of the pressing service. I left some wrinkled shirts hanging in the wardrobe and mentioned to my server that I would be calling to have them collected later in the day. When I returned to my room from breakfast they'd already been taken and a couple of minutes after I woke from my nap and turned off the 'Do Not Disturb' sign, they showed up beautifully pressed.
Given the minimal price difference between a regular room with club access and one without, upgrading is the definition of a no brainer – even if for some crazy reason you don't want to 'splash out' on the Spa Terrace suite (sorry, I couldn't help myself). The lounge is enormous, the service is superb, there is an abundance of delicious food throughout the day and they make a mean Margarita.
---
Hotel Facilities
---
Having a room on the same floor as the pool and gym was the height of convenience and most of the time I had the entire floor to myself.
Walking through the gardens, filled with papaya plants and fountains was so relaxing.
There's something very special about swimming in a giant pool, surrounded by skyscrapers.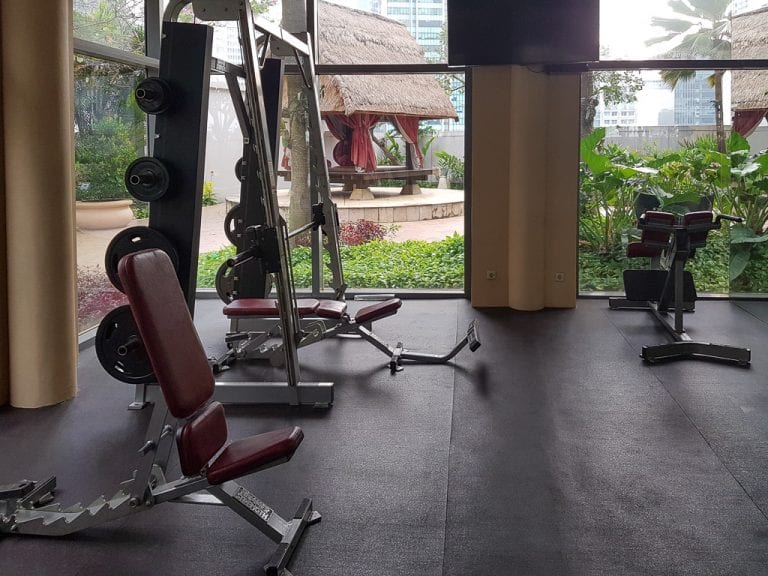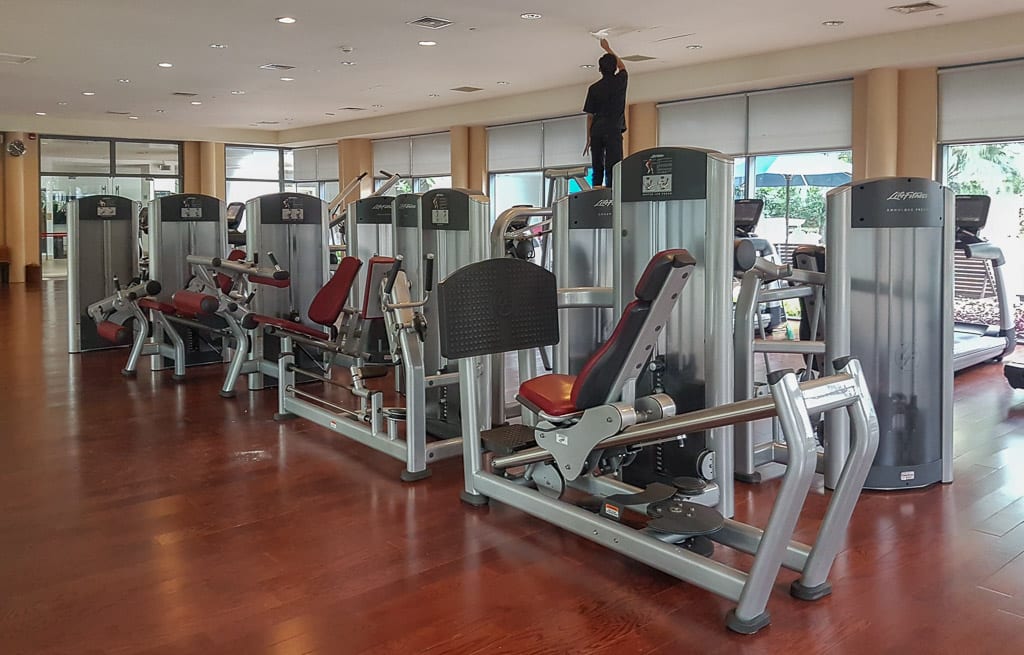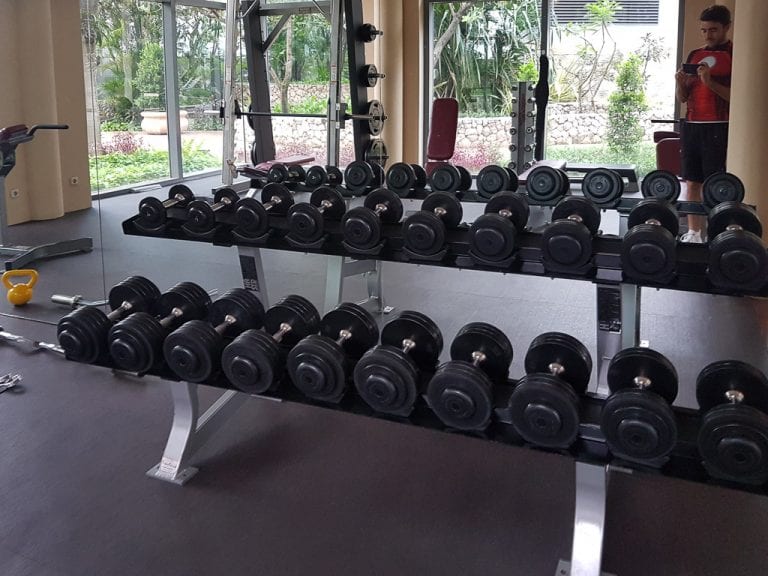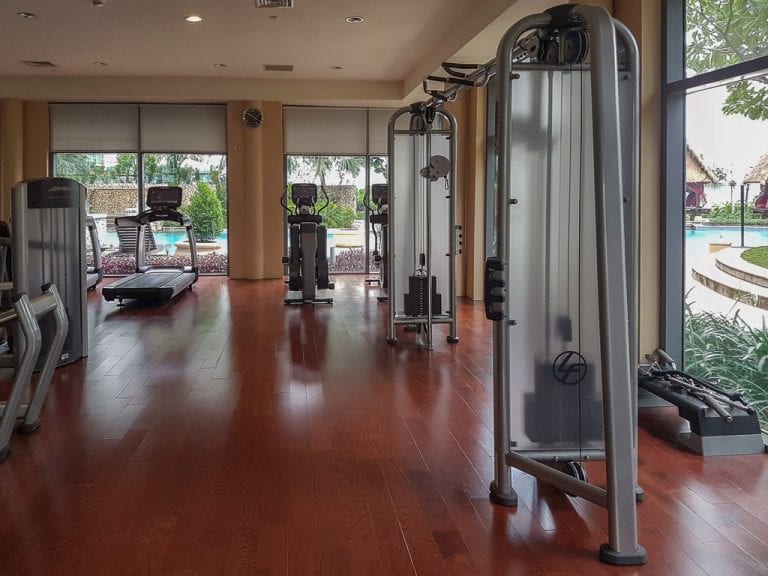 The gym was far better equipped than I could have hoped for: the dumbbells actually went up to a decent weight, there was a smith machine, a cable crossover station and at least ten different Life Fitness machines, half of which were for legs – a real rarity in the world of hotel gyms.
---
In Room Dining
---
Even though I had access to the Club Lounge, my odd schedule meant that I was asleep for a lot of the day and hungry during the few hours in which the lounge was shut.
Thankfully the hotel had an all day dining menu that was both incredibly varied and, for a five star hotel, fantastic value. No resorting to $30 club sandwiches from a pared down night menu here!
15 chicken wings for $10 !
An entire Singapore Chilli Crab for $21 !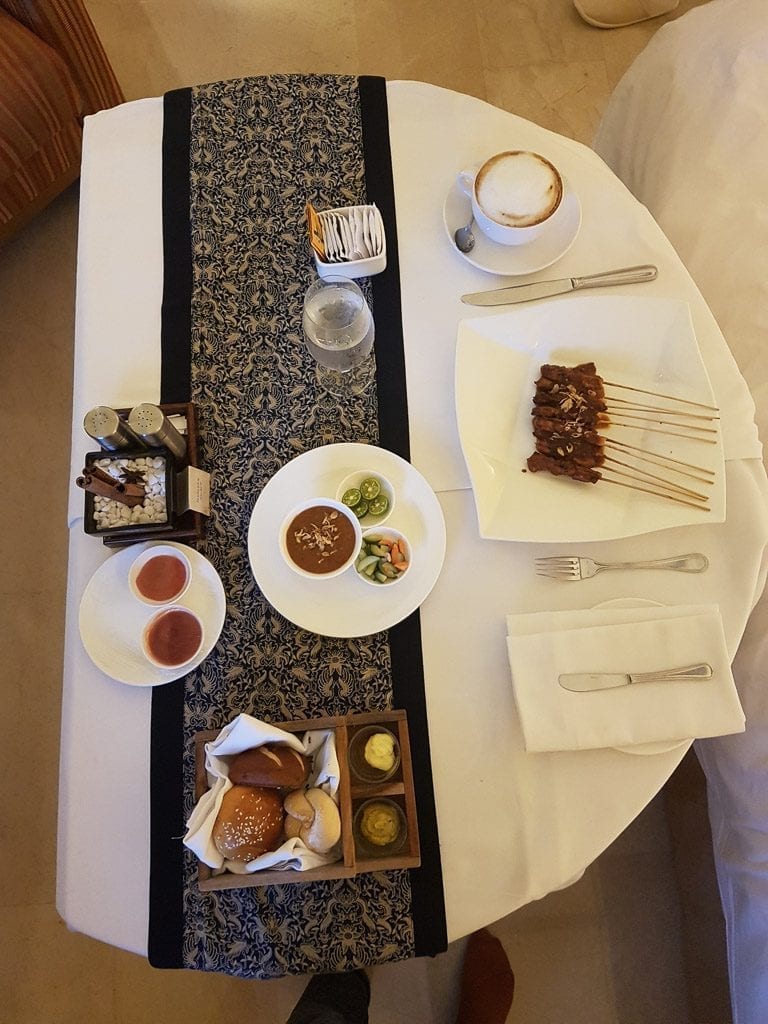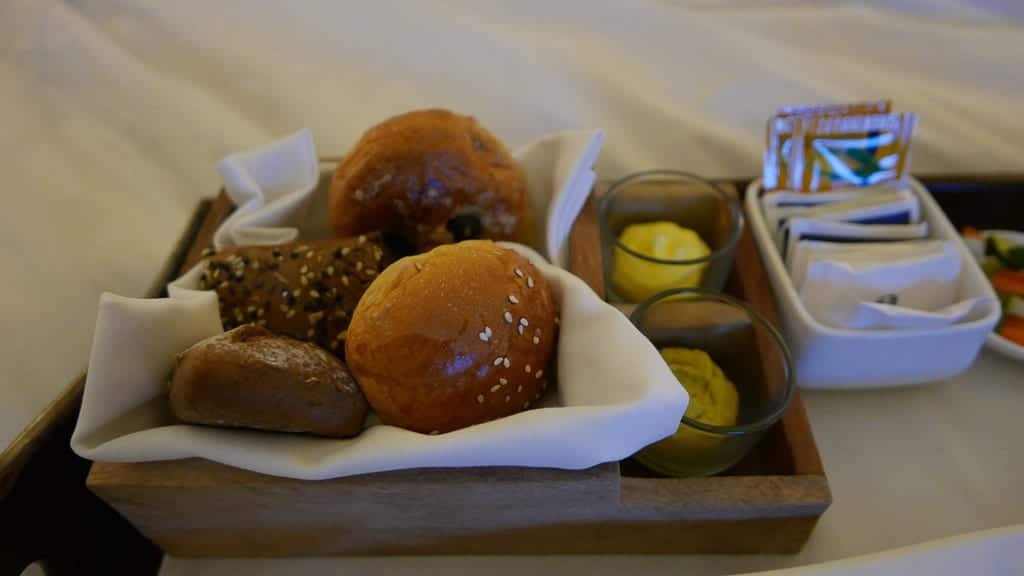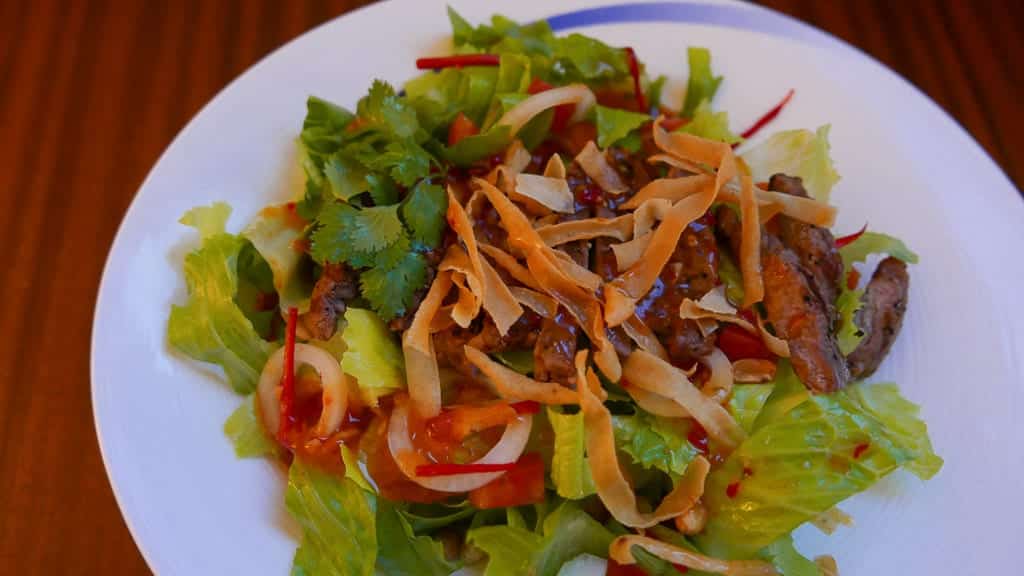 My 'pre-breakfast' arrived within about 20 minutes and since I was a club lounge guest, the cappuccino was complimentary. The presentation was exactly as you'd expect from a hotel of this calibre and the food was delicious. A perfect low carb start to the day – with optional bread basket ????
---
Conclusion
---
Basics Checklist
☒ Power sockets near the bed
☑︎ Easy to understand light switches
☑︎ Coffee machine
☒ Separate shower and bath
Shower only but this is definitely preferable to the dreaded shower/bath combo
☑︎ Blackout blinds
☑︎ Stable, fast and free Wifi
☑︎ Feather pillows
☑︎ Quiet and powerful aircon
Given the dizzying array of luxury properties in Jakarta I was gripped by a real FOMO before this stay. I needn't have been. Although this hotel isn't the most modern in Jakarta (it isn't even the most modern of the two Ritz Carltons) it exceeded my expectations in almost every way. The concept of the room was executed fantastically. The gym was in the upper echelon of any I've ever encountered and the club lounge set a new high watermark for the quality and generosity of not only the food and drink but also the staff in its employ.
I would recommend a stay here wholeheartedly and will be sure to return.
---