TRIP REPORT – An offer too good to refuse : A spectacular trip to Tunisia and Vietnam
January 22, 2020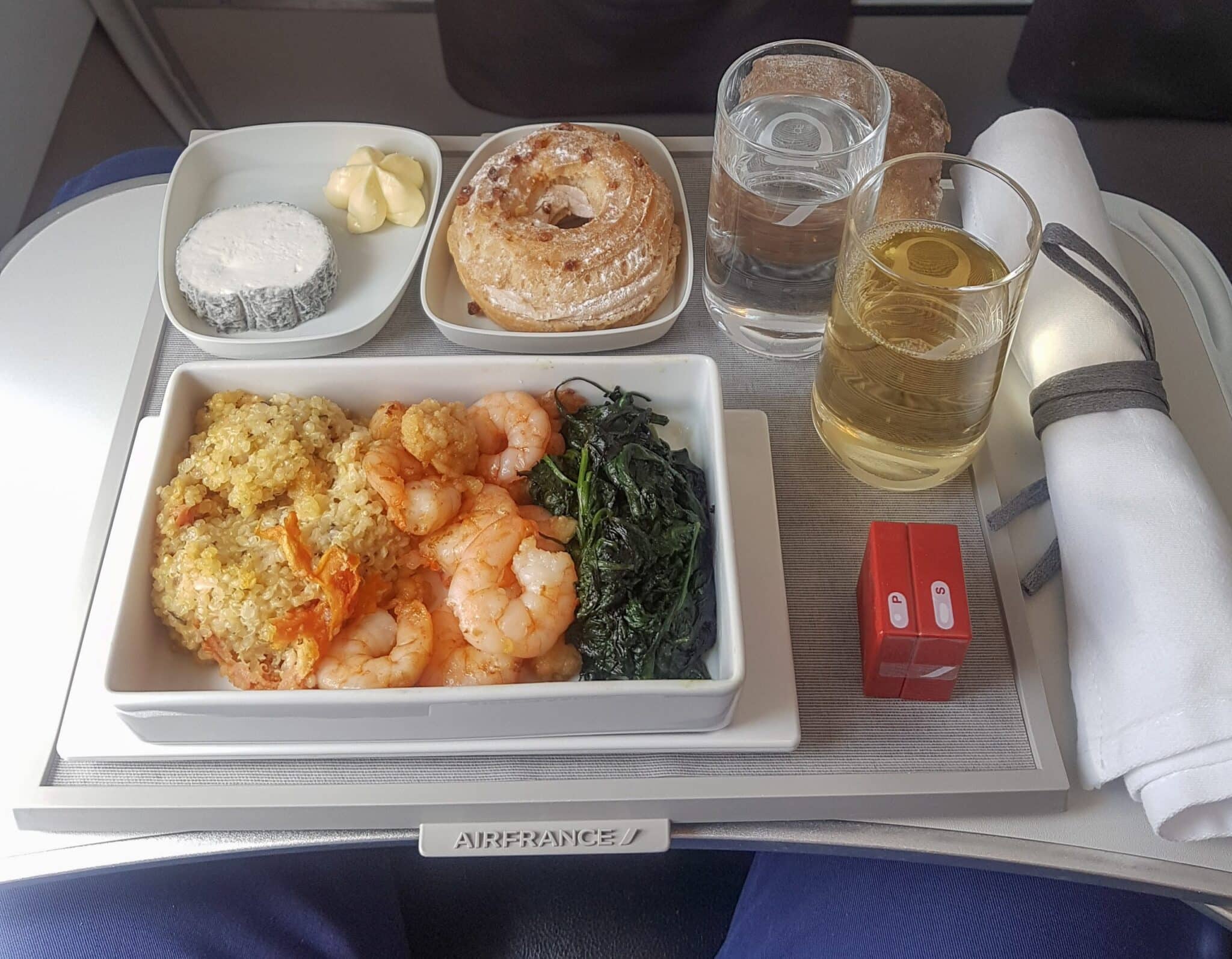 REVIEW – Air France : Business Class – A321 – Tunis TUN to Paris CDG
February 22, 2020
Four Seasons Tunis
Rate: €190 per night (originally €285 – 3rd night free via FSPP)
Room Type: Premier Room

upgraded from Deluxe Sea View

Loyalty Program: FSPP
---
Intro
---
Tunis has never been a city with an abundance of luxury or even serviceable hotel options. For the last few years the top pick from an international hotel brand was the Sheraton, which is… a Sheraton and the Ramada, which looks like a 1980s timeshare in Torremolinos.
When Four Seasons first began to finance the construction of their resort here, Tunis was a destination popular with middle class Europeans keen to escape their colder climes in the winter months. Cheaper than Dubai and with an abundance of sites of global cultural importance, Tunisia was a slightly offbeat but nonetheless popular destination that was slowly trying to capture the interest of more upmarket travellers.
The Four Seasons was conceived as a multi-million dollar bastion of style infused with a strong sense of local architecture, situated on a stretch of private beach in the exclusive Gammarth neighbourhood. Finally a world class hotel in this cradle of ancient civilisation…
Everything was on track for this to be one of the most hotly anticipated new openings in the Four Seasons portfolio but then in March of 2015 tragedy struck. A terrorist attack left 21 tourists dead at the Bardo museum in Tunis, followed three months later by another attack targeting tourists in the seaside resort of Port El Kantaoui – this time 38 were left dead, of which 30 were Britons.
Understandably the economy, reliant as it was on tourism, took a huge hit. With construction of the Four Seasons already well underway, the project continued. As a result you have what is quite possibly the most skewed price to quality ratio of any hotel on earth. Not only that but it is located in a city which has a huge amount to offer tourists; in addition to the Bardo Museum's incredible collection you have the ruins of Carthage and the jaw droppingly picturesque district of Sidi Bou Said (a better version of Oia in Santorini with 1% the number of people around).
The more I looked into our stay in Tunis the more excited I became – fortune had decided that I would visit in order to secure a super cheap business class airfare but I had a feeling that this visit would be a lot more than just a mere stopover…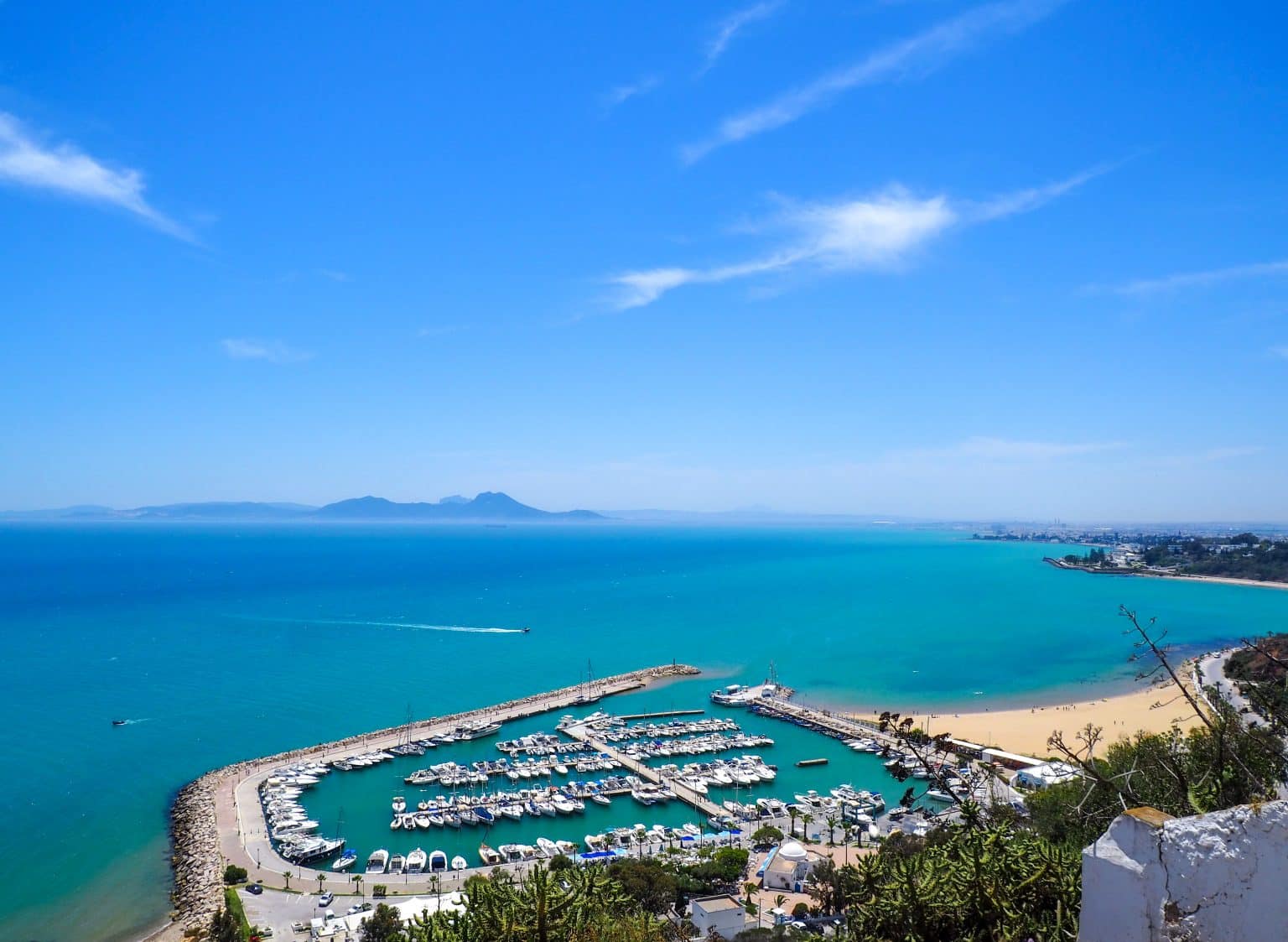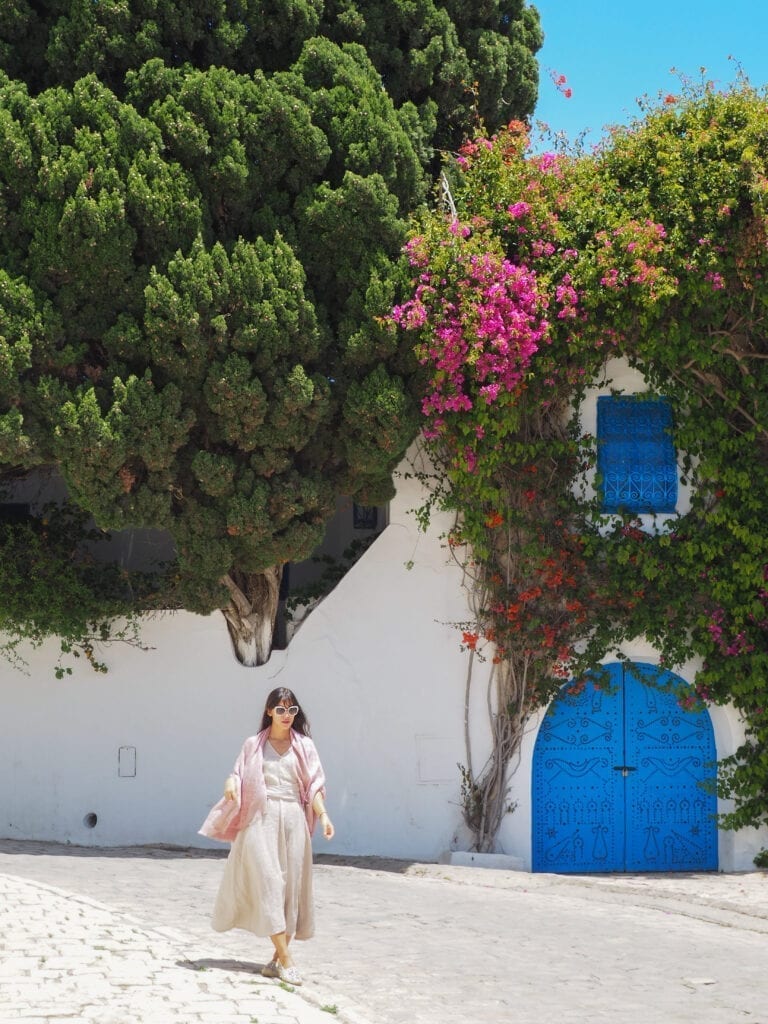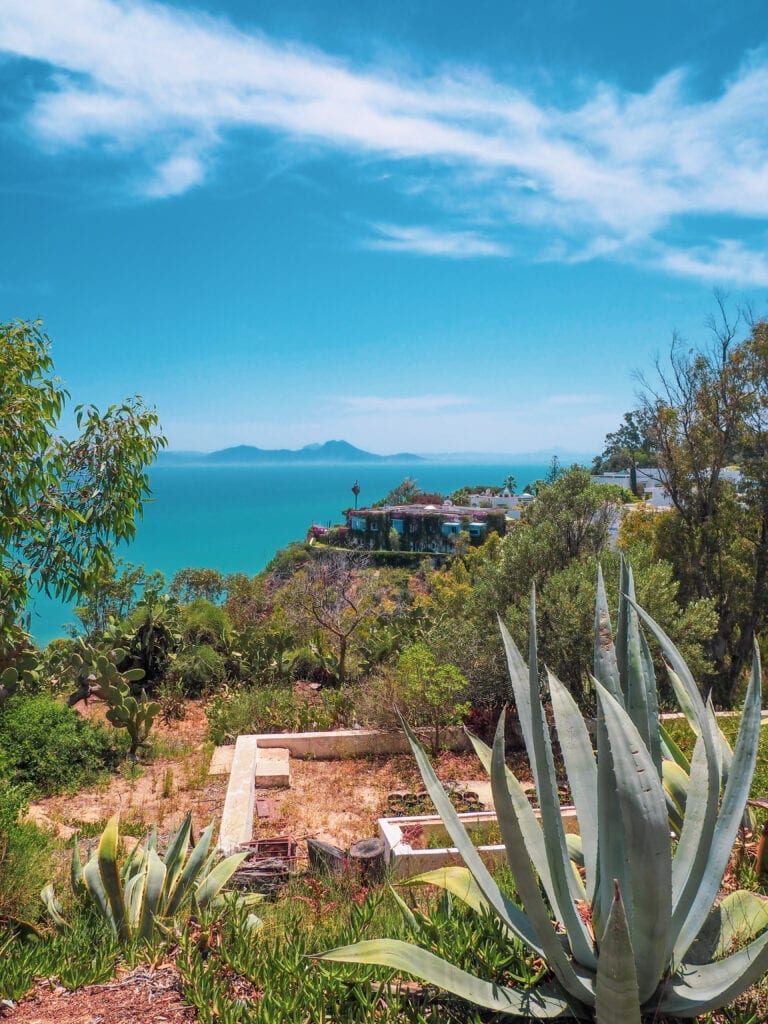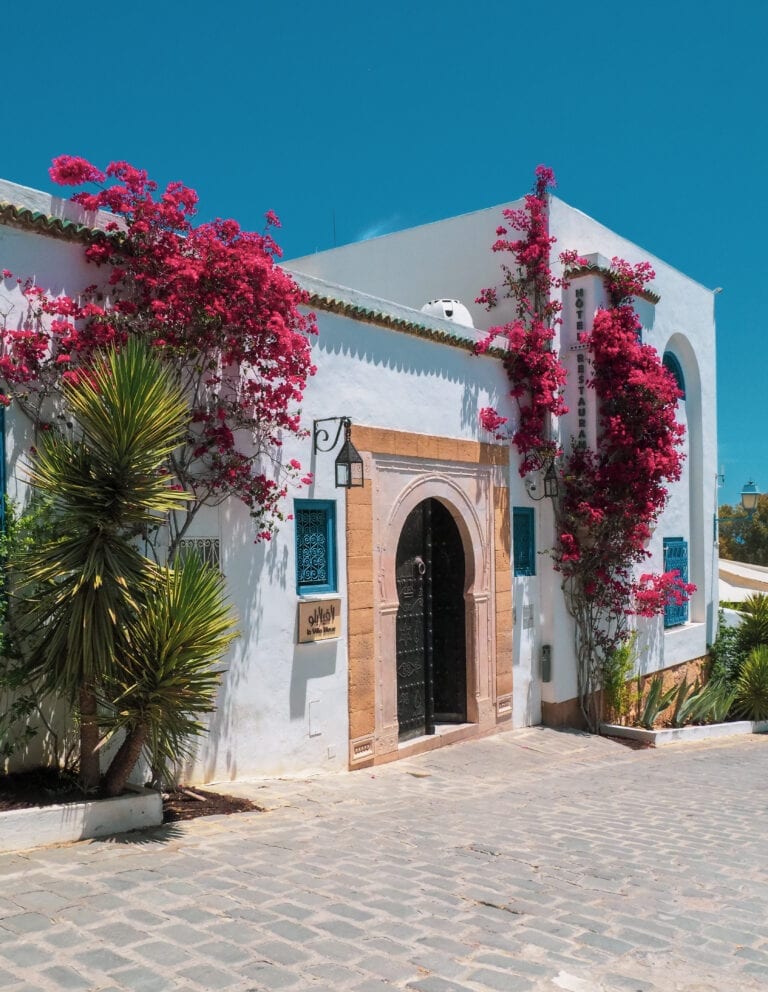 ---
Booking
---
I booked as always via the Four Seasons Preferred Partner program.
The Four Seasons website was showing a Deluxe Sea View Room without breakfast for €285 per night. Using the FSPP program I was able to match the €285 and ALSO received:
3rd night free: reducing the average nightly rate to €190

Upgrade of one category

confirmed

at the time of booking

to a Premier Room with sea view
Full breakfast for up to two in room guests. Either at the restaurant or via in-room dining.
$100 Hotel Credit.
Early check-in/late check-out subject to availability.
So I paid less, to spend longer in a better room, with breakfast and $100 extra thrown in too!
Since I am a Four Seasons Preferred partner agent, I can offer you FSPP benefits at any Four Seasons property.
I will always match the rate that you see on FourSeasons.com and if you find a cheaper rate elsewhere I can help to get the price matched AND STILL add the FSPP benefits to your booking!
EMAIL FOR FSPP BOOKING ENQUIRIES
---
Arrival
---
With no Uber or other app driven taxis on offer and plenty of horror stories about local taxi scams doing the rounds, I opted to make things quick and simple by requesting a hotel car.
We were met at arrivals by a young driver who helped us with our bags, guided us past the many taxi touts and out into the warm night air of the car park where his brand new Mercedes C Class awaited. I love that initial rush when you exit the airport terminal, the moment when the smell, sounds, temperature and humidity of a new country suddenly hit you.
Being able to enjoy that moment in peace, taking it all in without worrying about your belongings or having to deal with scammers lingering outside of arrivals is a wonderful feeling.
The air conditioning was great, the seats were comfortable, there was cold water, phone charging and fast WiFi was available too (albeit with a password along the lines of dnokjwgkneqPEGK!FN0fg – probably would have been simpler for everybody to just make it… "Fourseasons").
Despite being very friendly, our driver lacked polish. Rather than asking us what music we would prefer, or maybe even just defaulting to something local or classical, he decided to put on some hardcore gangsta rap.
Now, I'm a man who knows all the words to Hit 'em Up by Tupac (and 45 of them begin with the letter F) but I did find it a little weird that the driver just assumed that his music was something that hotel guests would be into…
The drive only took around 20 minutes or so and wasn't exactly superb value for €60 but I still feel that a first time visitor would want to go with it for peace of mind (on the return leg the hotel called for a very comfortable local taxi with a pre-agreed price of €15).
Pulling up to the property I was immediately struck by how impressive the grounds were and how seriously the property takes security. This was right up there with the Ritz Carlton in Jakarta in terms of the level of scrutiny that our vehicle encountered upon entry.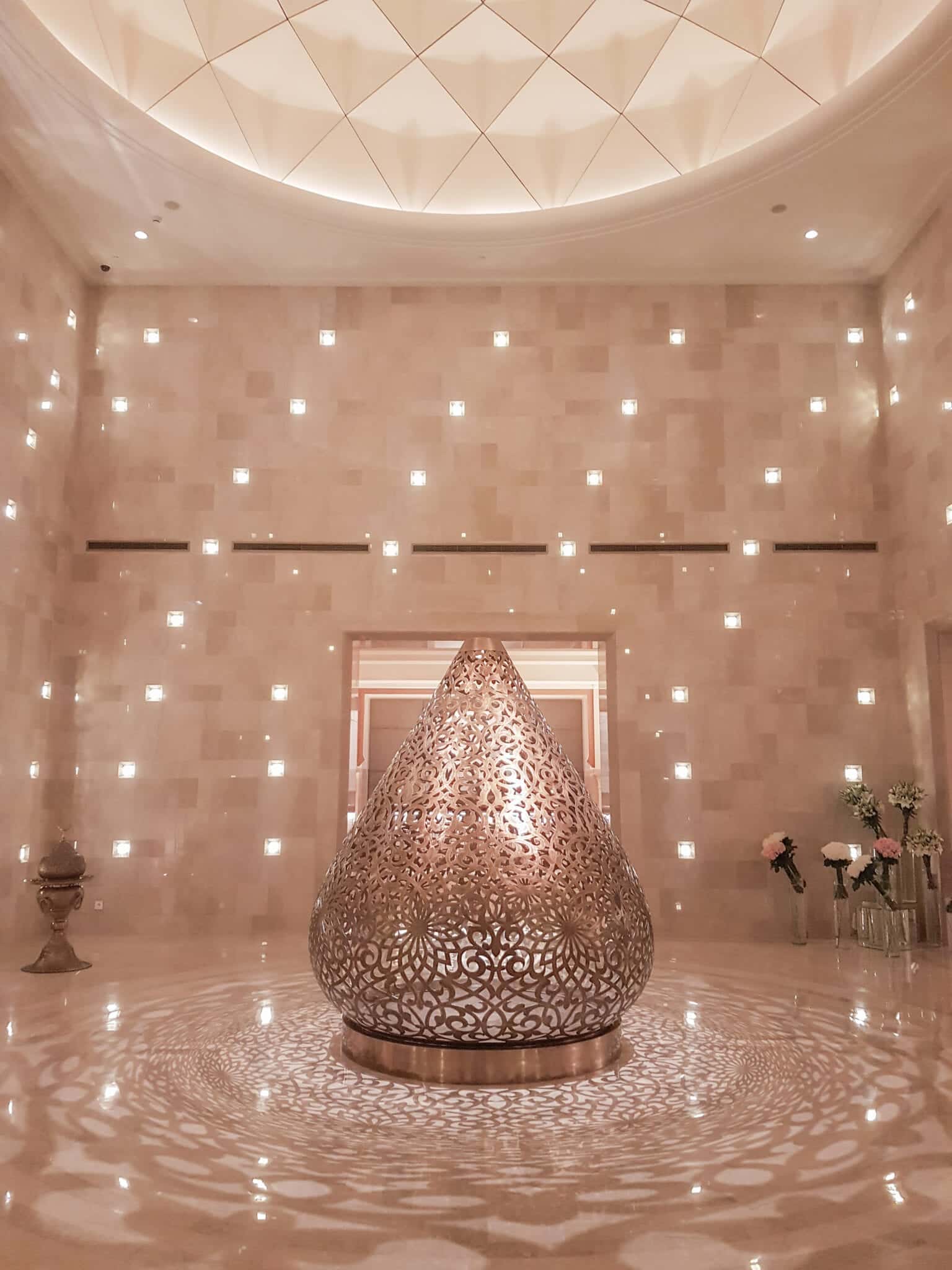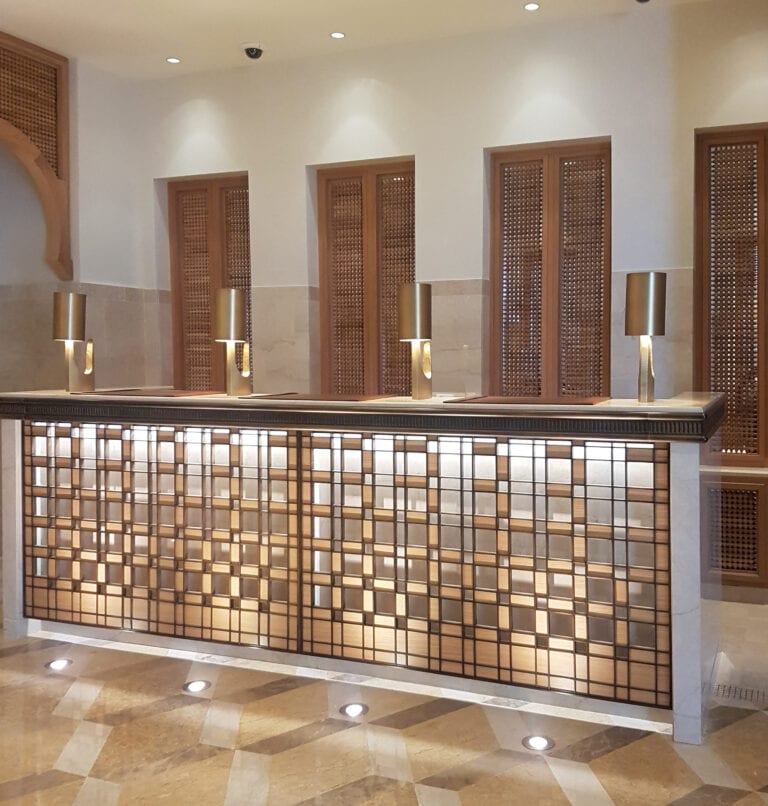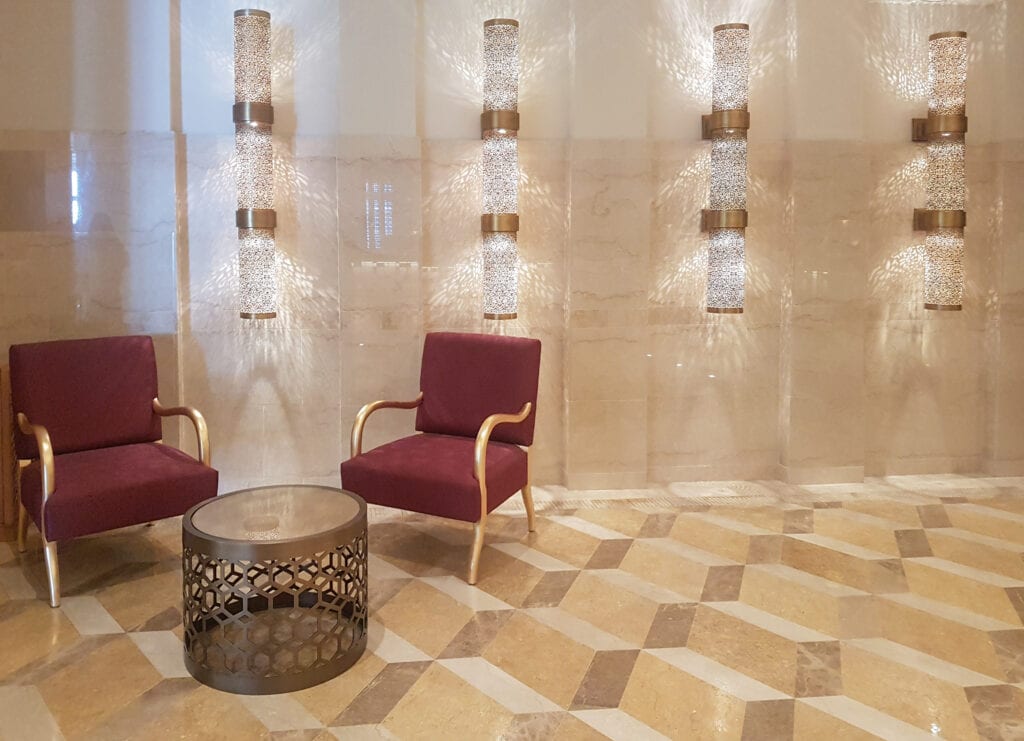 Four Seasons hotels are renowned for their lobbies and the flower displays contained therein. The Tunis property is no exception. The lobby is a cavernous marble sanctum crowned by an illuminated geometric dome and dominated by a gigantic Arabic lamp that sits at its centre. This most certainly is not the Sheraton.
We were checked in very promptly and efficiently by the duty manager and then escorted to our room. The manager asked if we wanted a full tour now or if we preferred to wait until the following morning since we were arriving late at night. A small personalised alteration to the service protocol that not all hotels would note.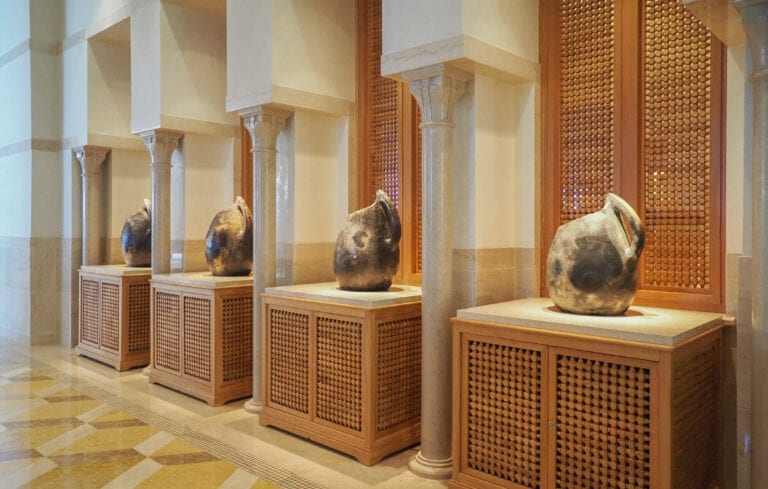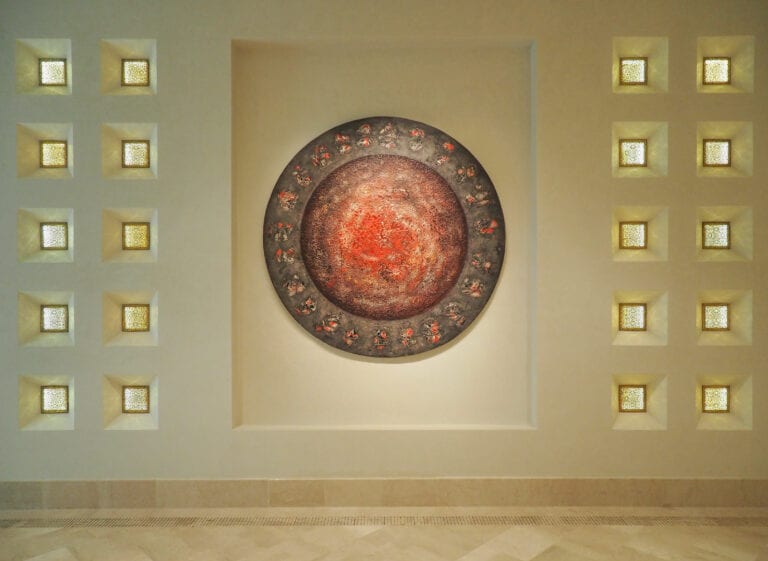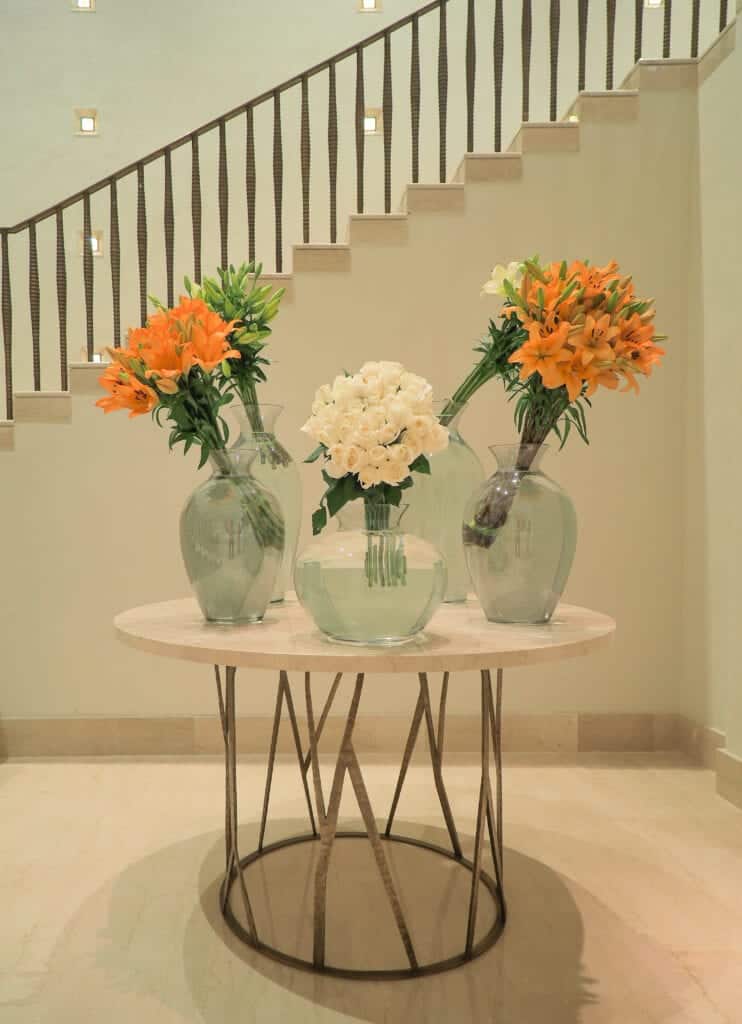 I must admit that I had my reservations about this property, particularly given how low the room rate is compared to the average for this chain but walking through the rest of the public spaces on the way to our room those doubts were quickly extinguished. Everywhere you look there are amazing floral displays, thought provoking artwork and ancient artefacts all beautifully interspersed to give the hotel an overall feeling of elegance and quality.
The rooms are located around a series of tranquil courtyards branching out in two wings from the central lobby area and flanking either side of the outdoor swimming pool.
---
Four Seasons Premier Room
---
I had initially booked a garden view suite (which would be automatically upgraded to an ocean view suite at the time of booking thanks to FSPP). However upon further consideration I far preferred the floorplan of the Premier Rooms – they are orientated lengthways with a huge amount of natural light provided by the floor to ceiling glass doors that open onto the balcony. In contrast, the Sea View Suites seem a lot more fragmented and darker.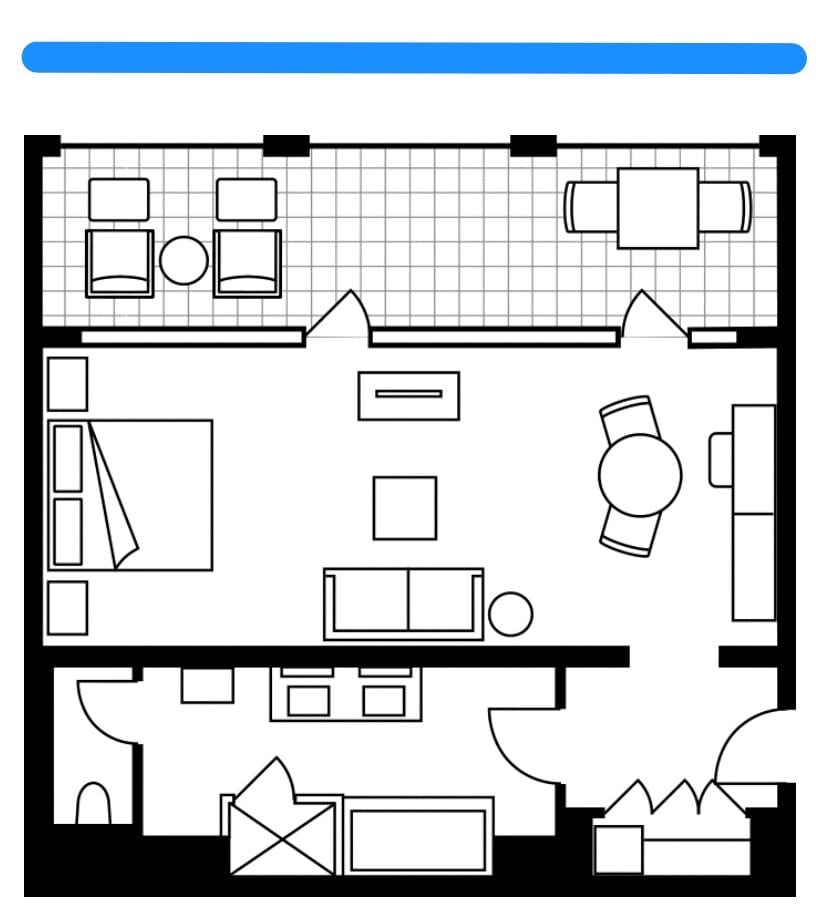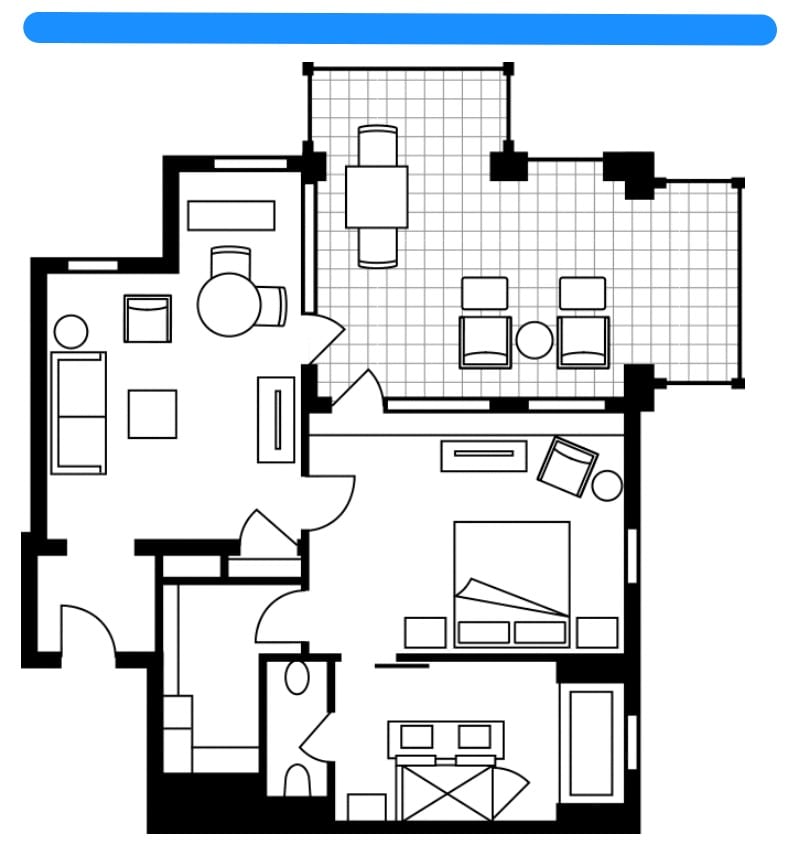 The design of the rooms errs towards sleek minimalism with a few key Arabic touches. In many ways this reminds me of the style of the Park Hyatt Abu Dhabi albeit with a more classically elegant feel given the darker tones, traditional rug and large silver platter found in the living area.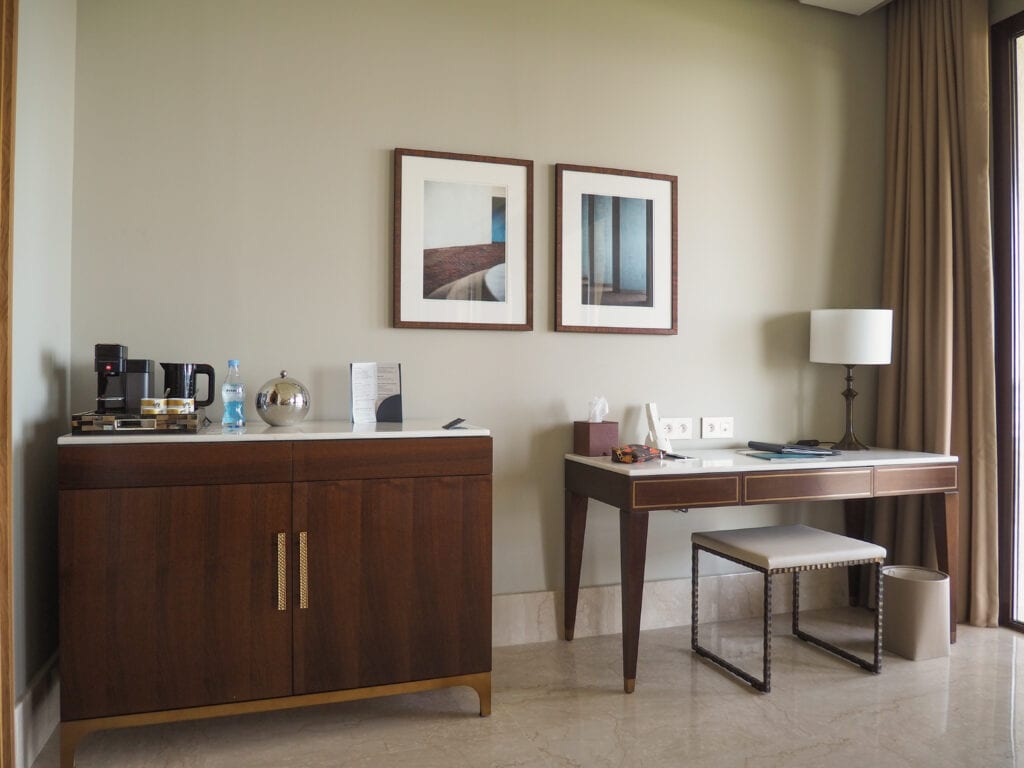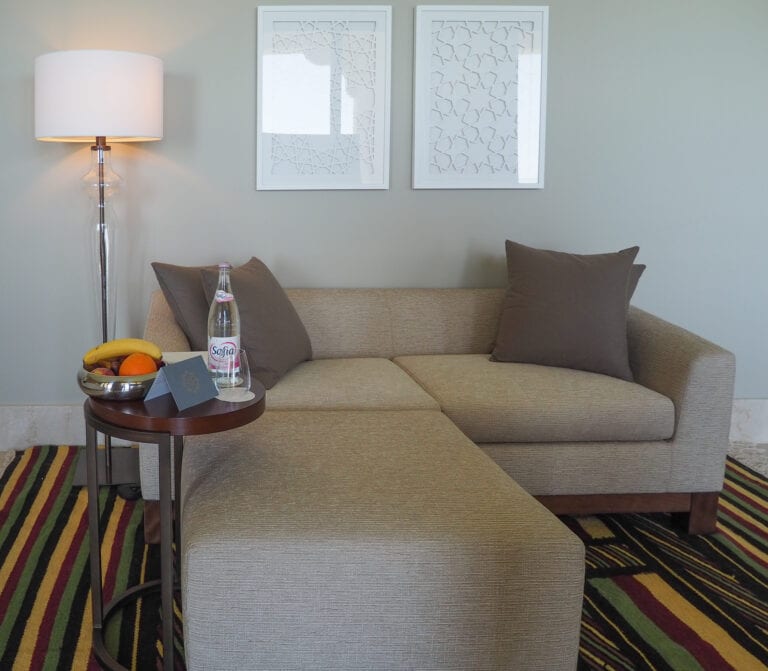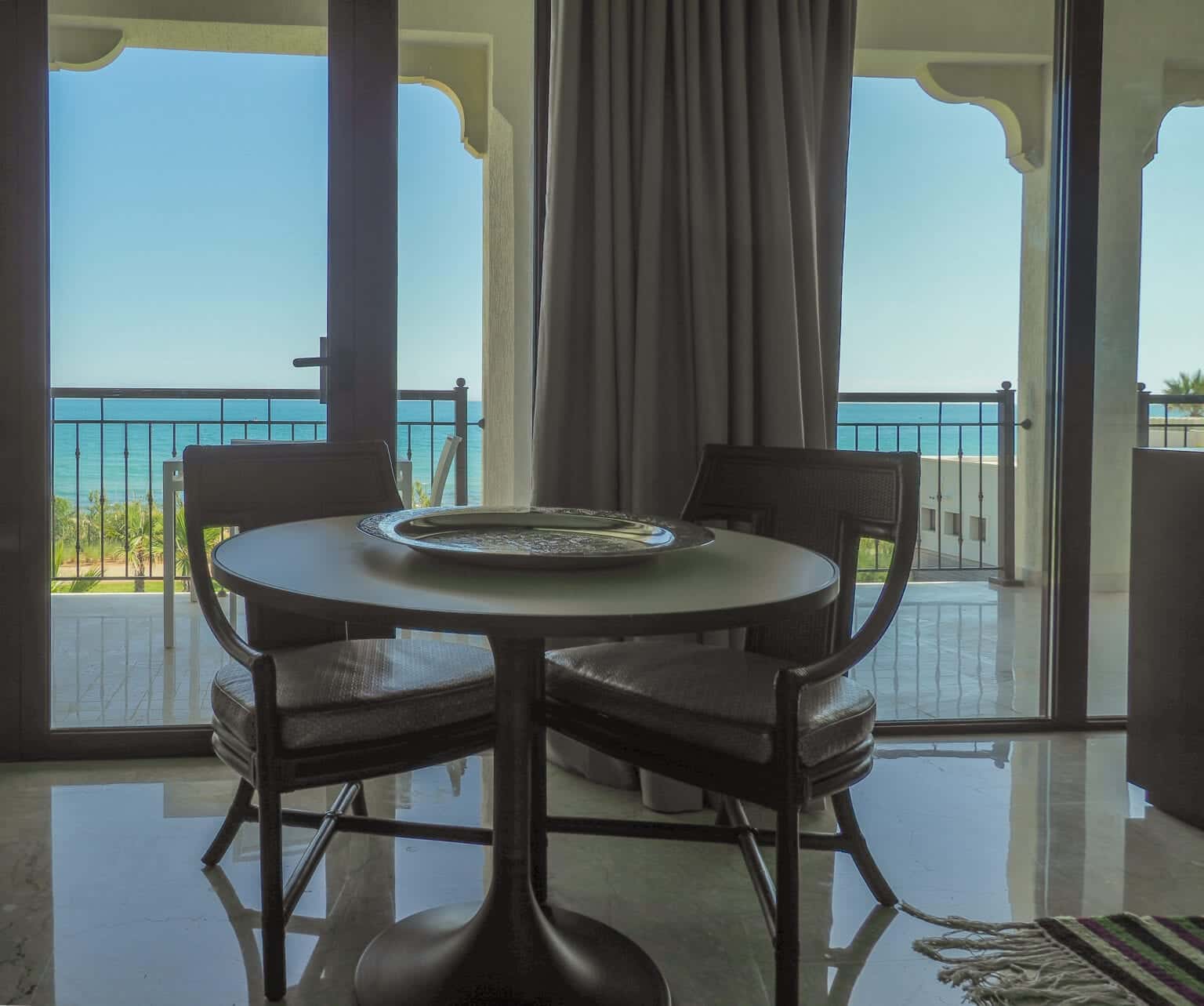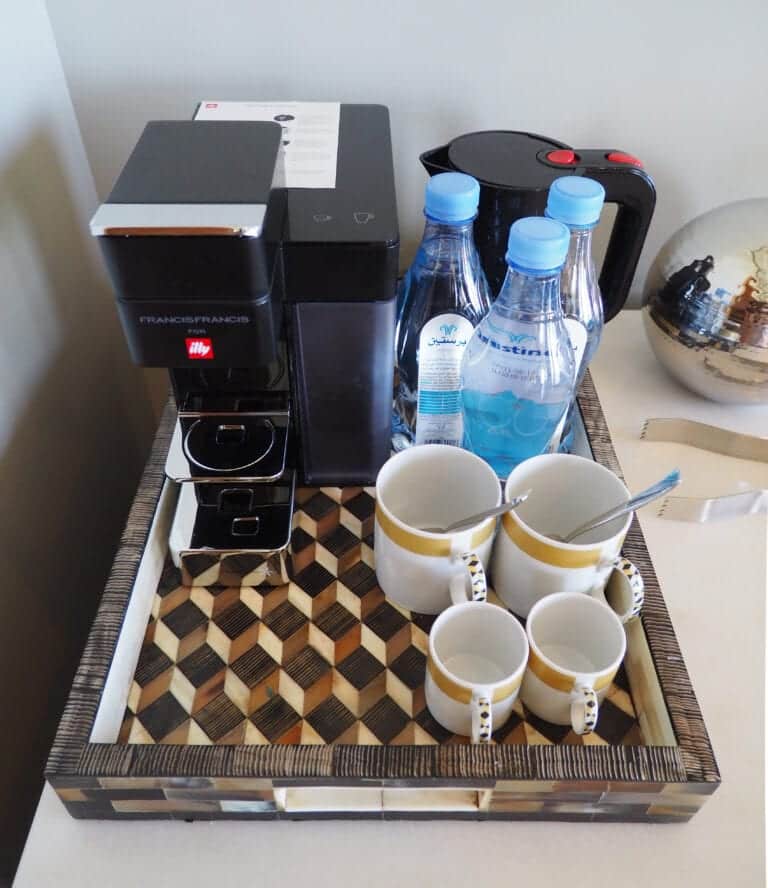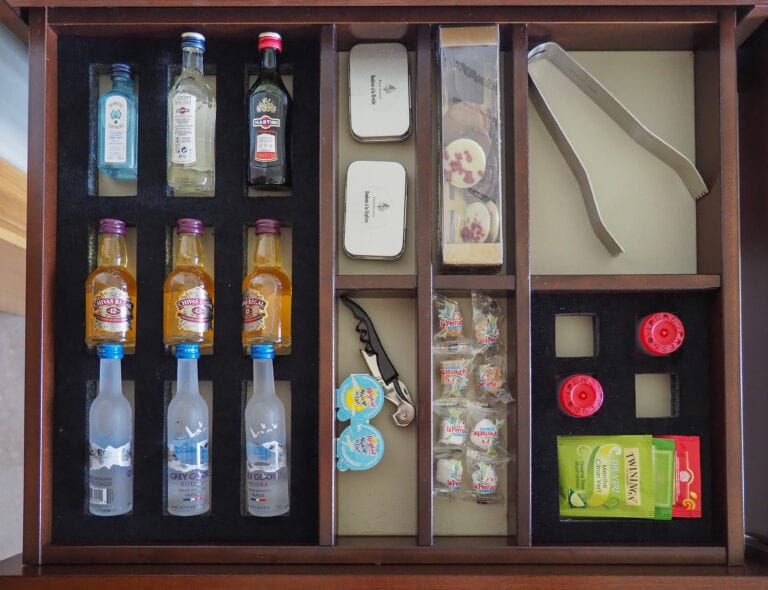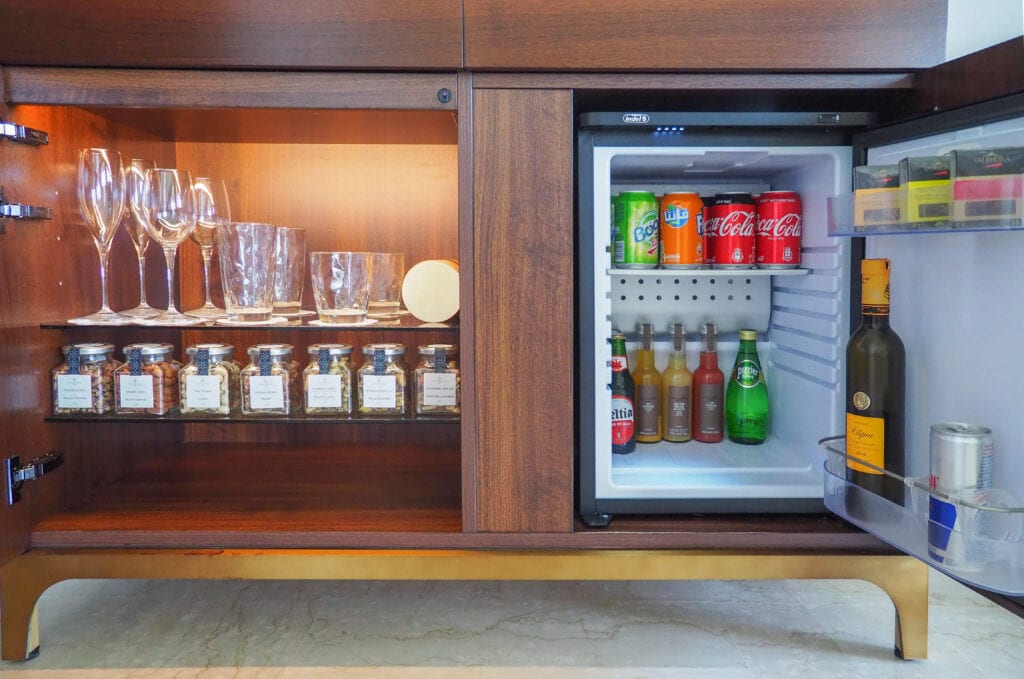 I loved how our room had so many different areas to sit and relax, both inside the room and out on the terrace. The space was used perfectly, each area was distinct from the one most proximate to it, with no feeling of clutter at all.
Without question my favourite part of the room was the balcony and given the very small premium required to guarantee a sea view I'd say that this is a real no brainer. Sitting out here with hardly a soul in sight and a private audience with the sea, brought the type of relaxation that is usually impossible to find in a capital city. It truly is amazing to think that the administrative centre of the country is so close to such a serene view.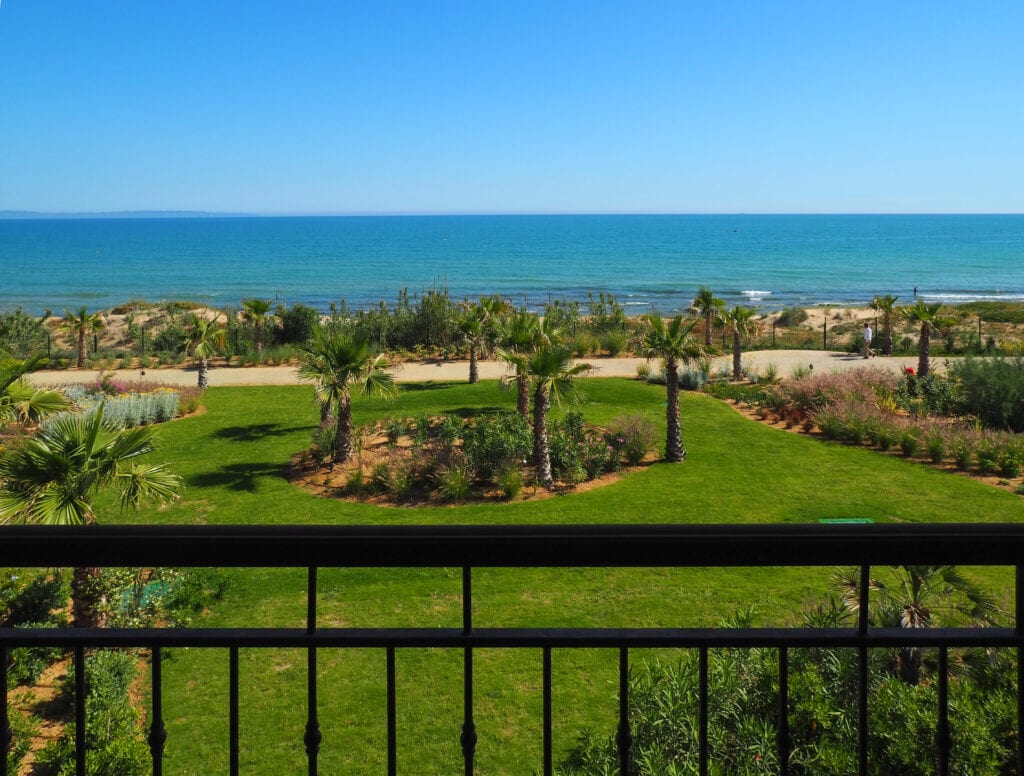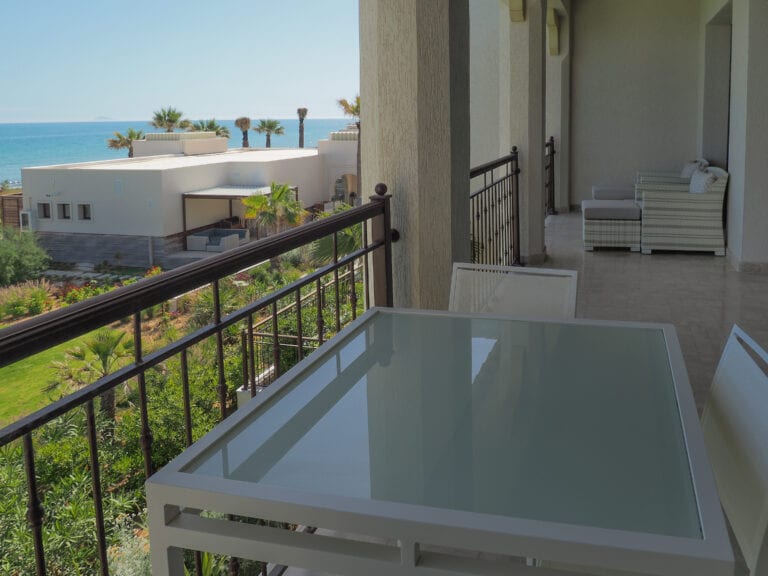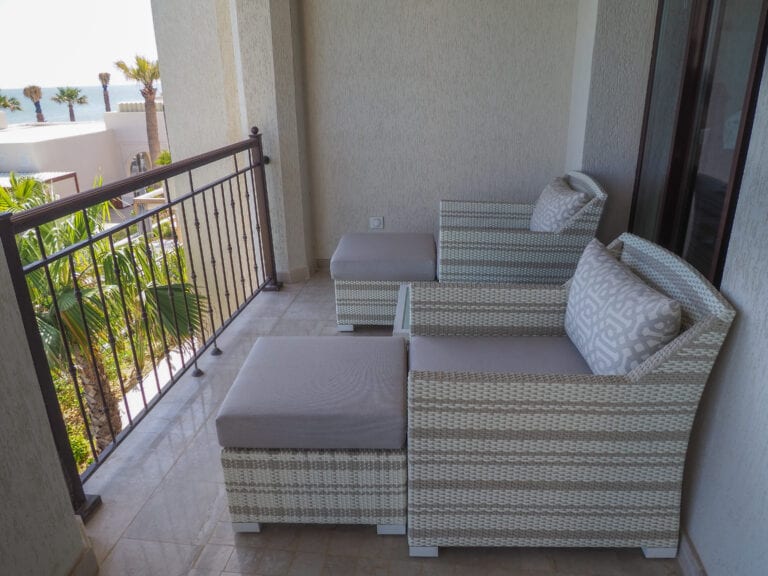 Of course, a sea view isn't enough to ensure a good stay though, ultimately a hotel room has to get one thing right above all else: sleep quality.
Over the years I've been fortunate enough to try a huge number of different hotel beds and I can safely say that Four Seasons have the most consistently comfortable bedding of any brand. The Tunis property maintains the standard with ludicrously high thread count sheets, a mattress that is both firm but topped with a layer of softness and multiple plump pillows that yield perfectly to the weight of your head.
The blackout curtains ensured that no light disturbance came in from outside and there was absolutely no external noise to be heard at night (although some guests have previously complained about a nearby nightclub, we heard nothing on Friday or Saturday night despite being in the wing closest to it).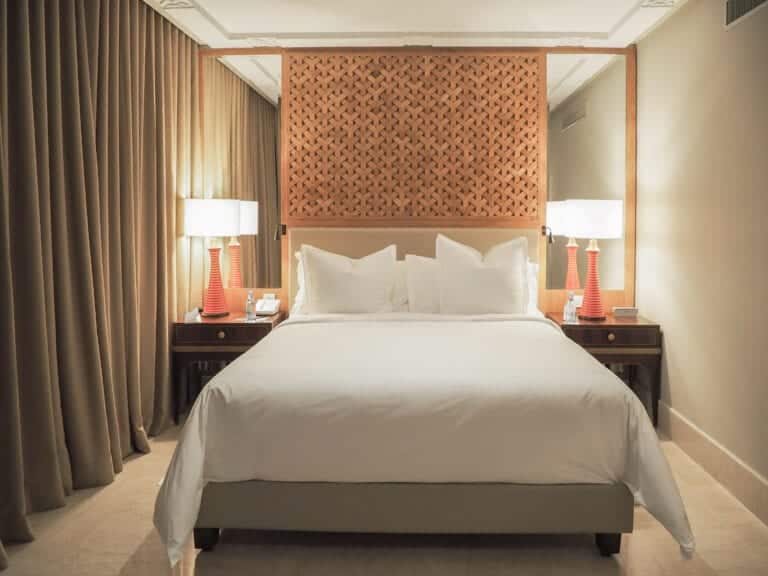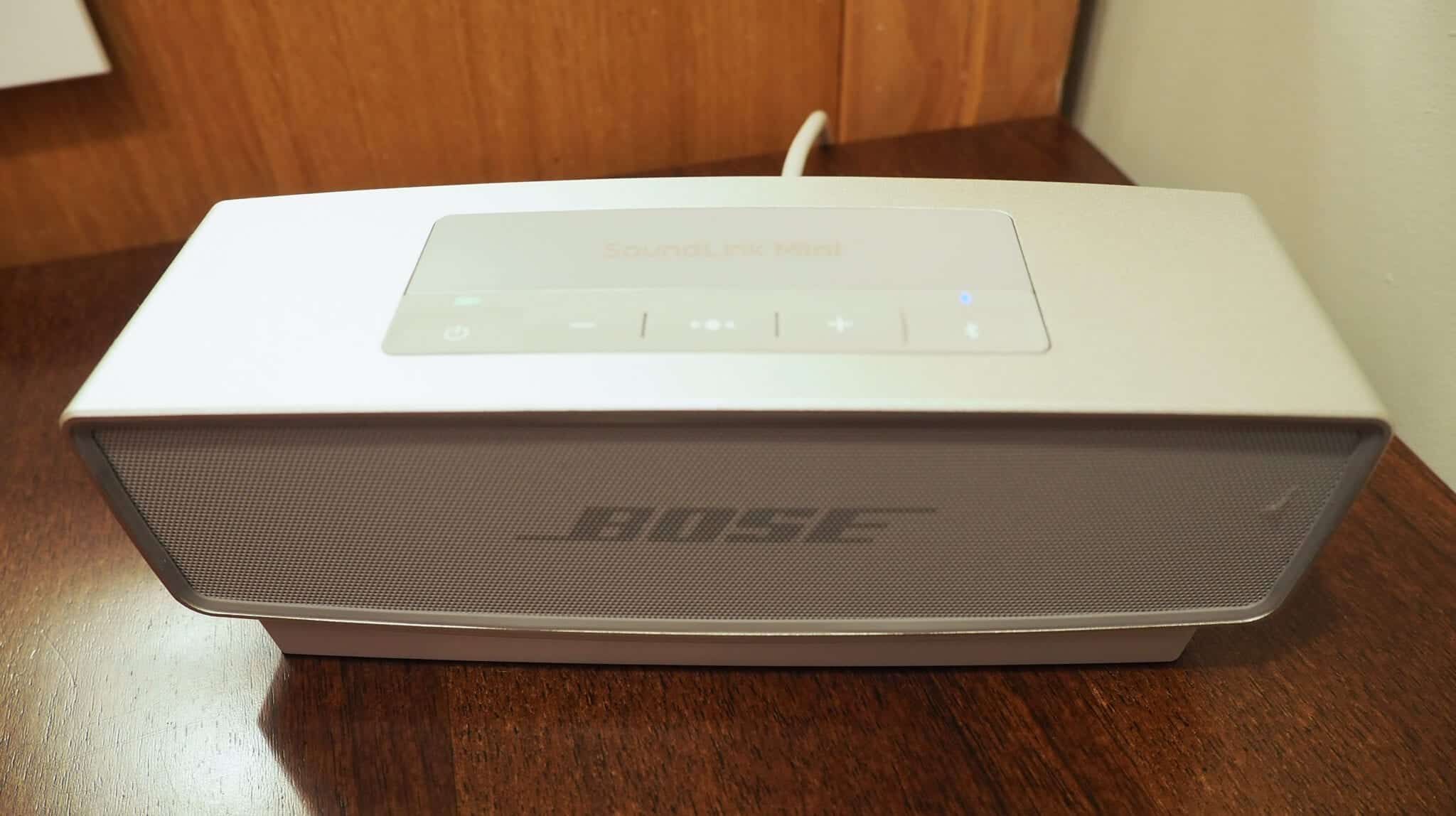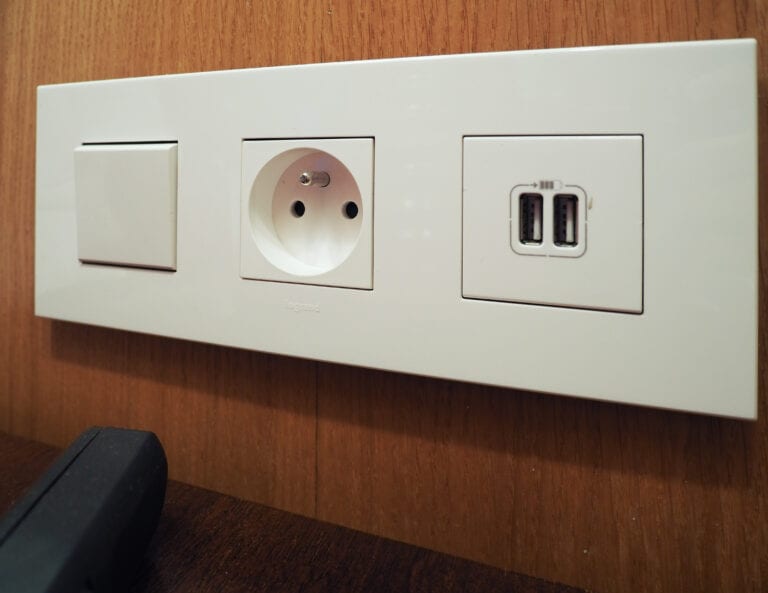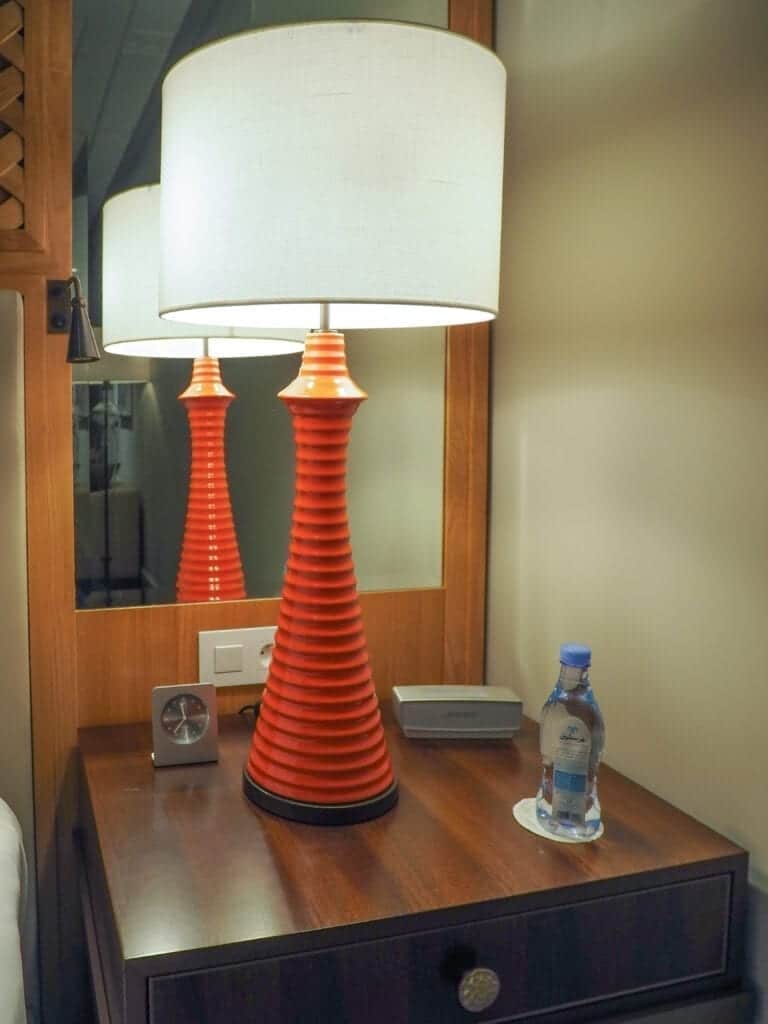 Being a new property, the hardware is very modern, including USB ports by the bed for charging your phone. The power sockets are unfortunately not universal but the hotel was able to provide multiple adapters when requested.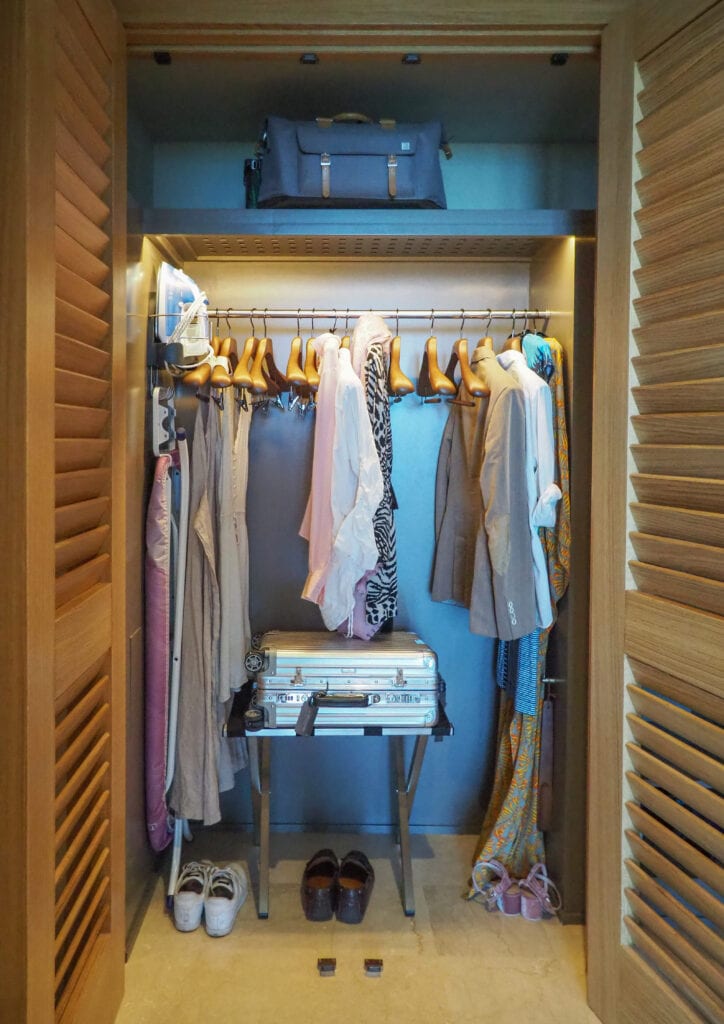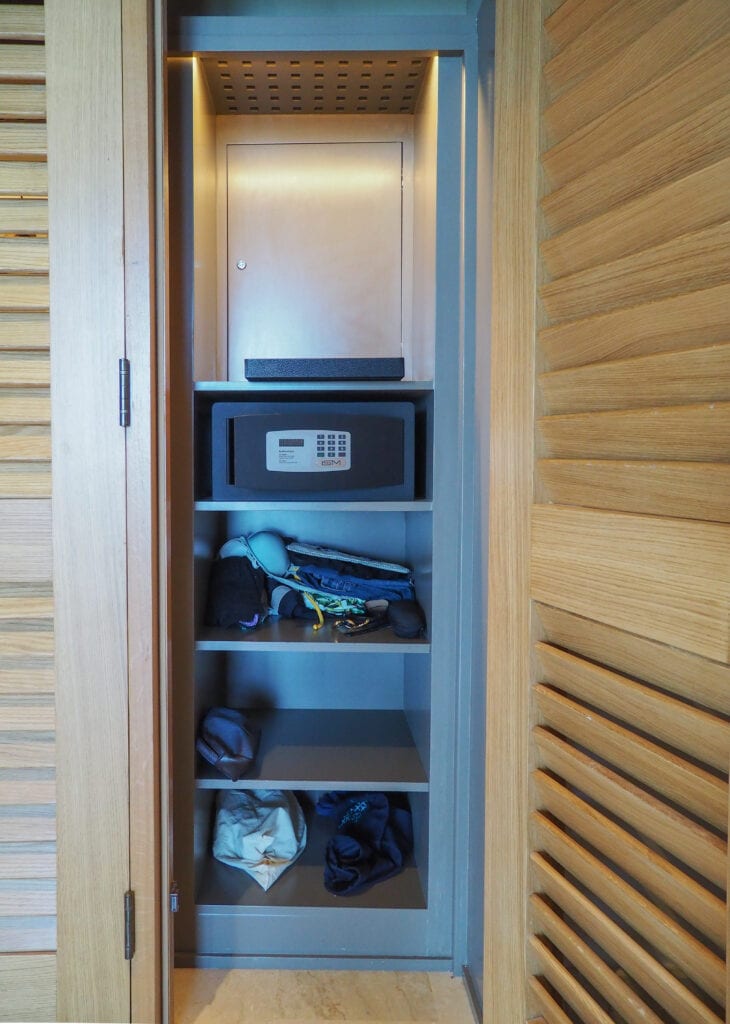 A bathroom can really make or break a hotel room, I'm glad to say that ours definitely fell into the former camp. Despite lacking natural light, the bathroom felt very bright and spacious. Every surface was sparklingly clean including the pipes under the sinks, which are visible when sitting in the bath. The only thing that was missing was some greenery – something which I quickly resolved by taking the small vase of flowers from our in-room dining tray and placing it by the sinks!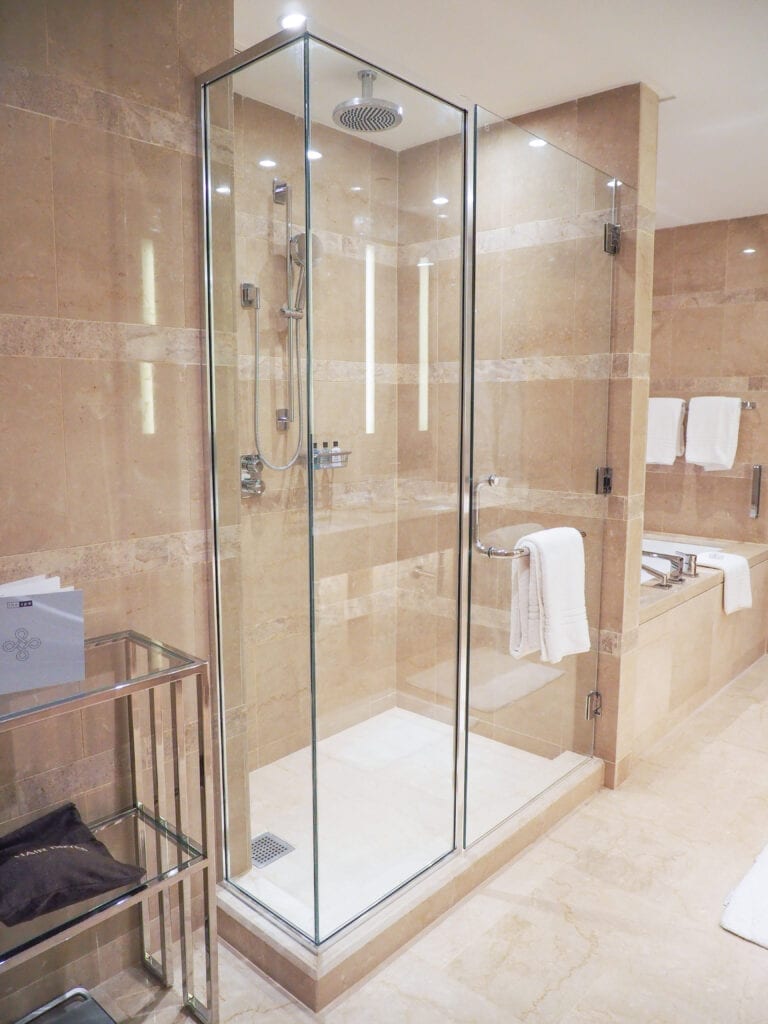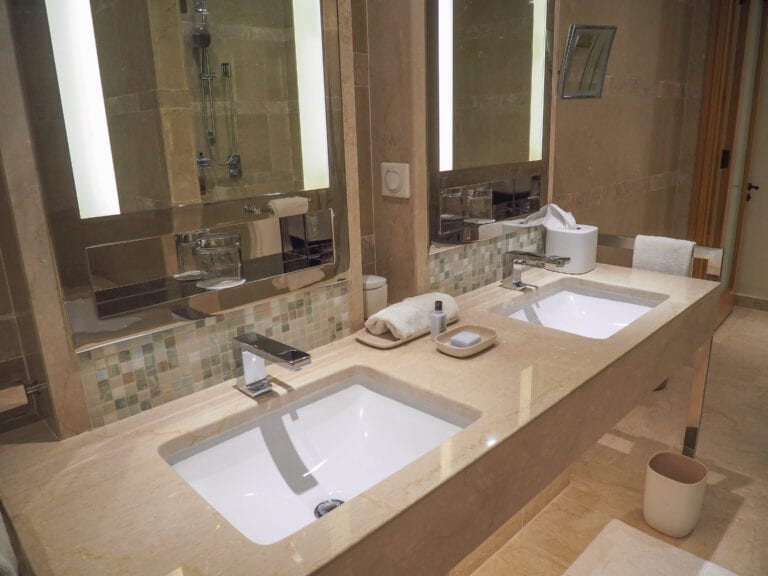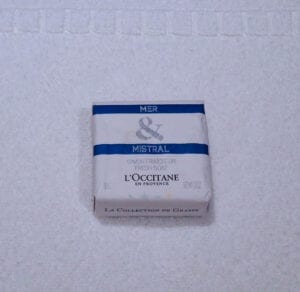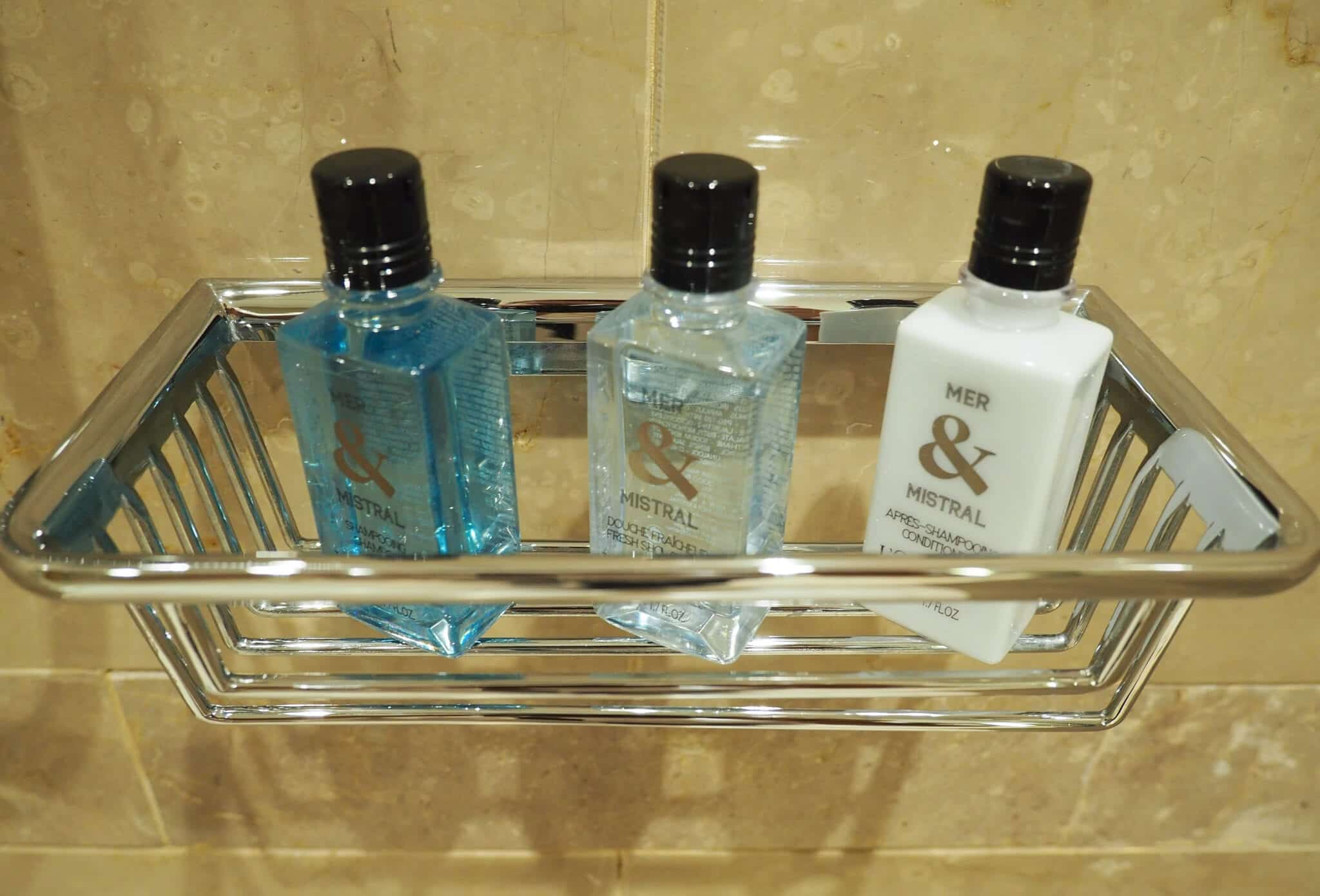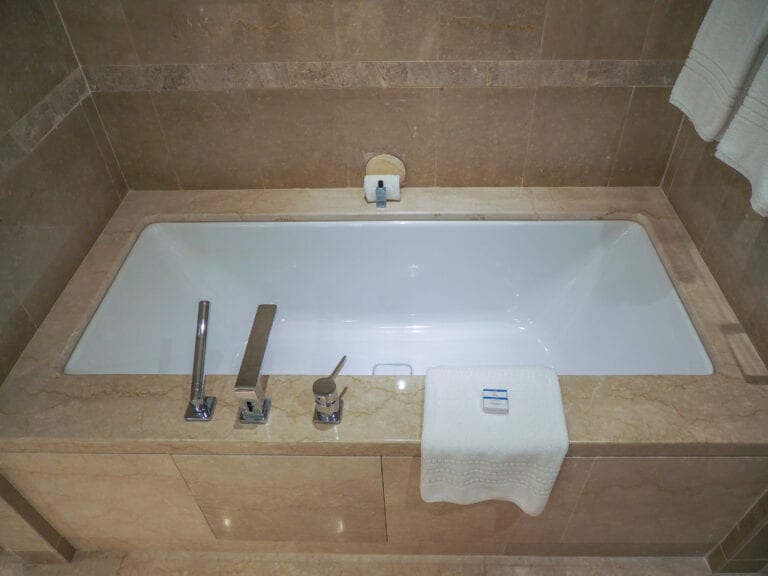 I really liked the smell and consistency of the L'Occitane toiletries and I'm happy to report that the shower pressure was excellent as was the fill time for the bath.
Housekeeping
Not only was our room spotlessly clean but our housekeeper was genuinely a cut above, a true professional. He knocked on our door on our first morning and asked if there was a particular time that it would be best for him to service the room and stuck to this every day.
I mentioned that we'd like more coffee and more water and when we returned to the room we found an abundance of both, as well as numerous other small personal touches.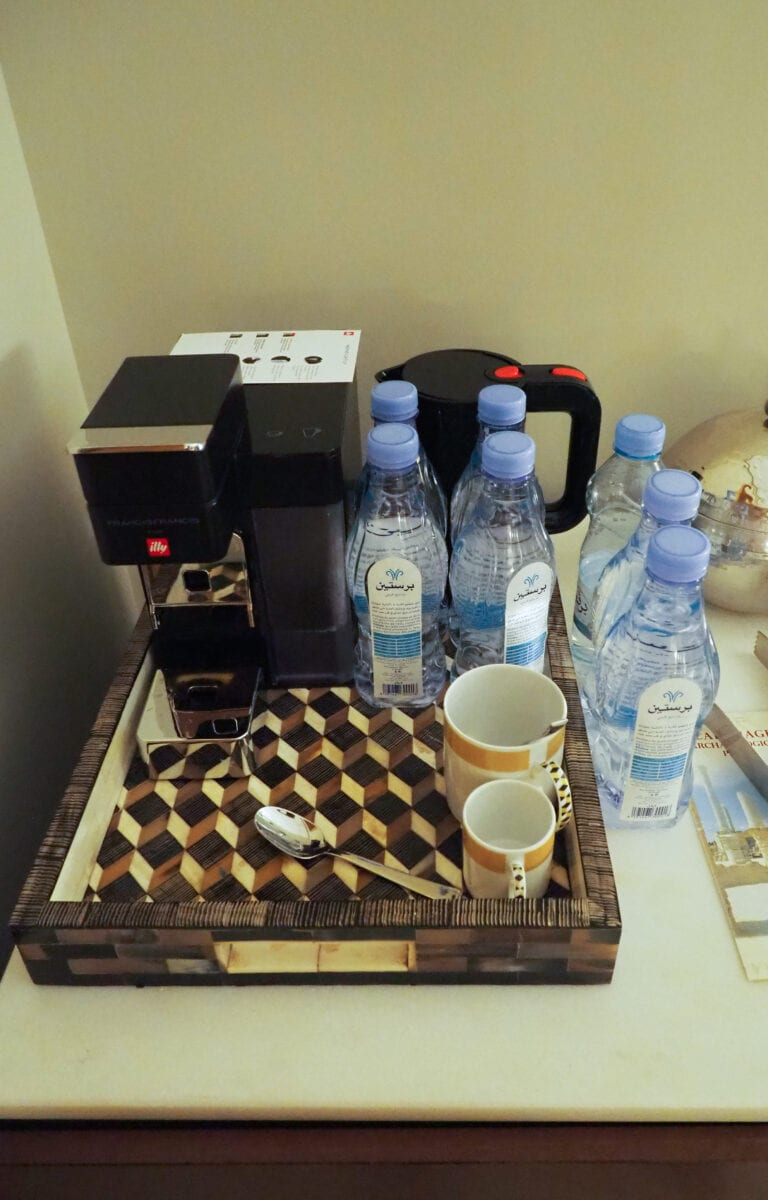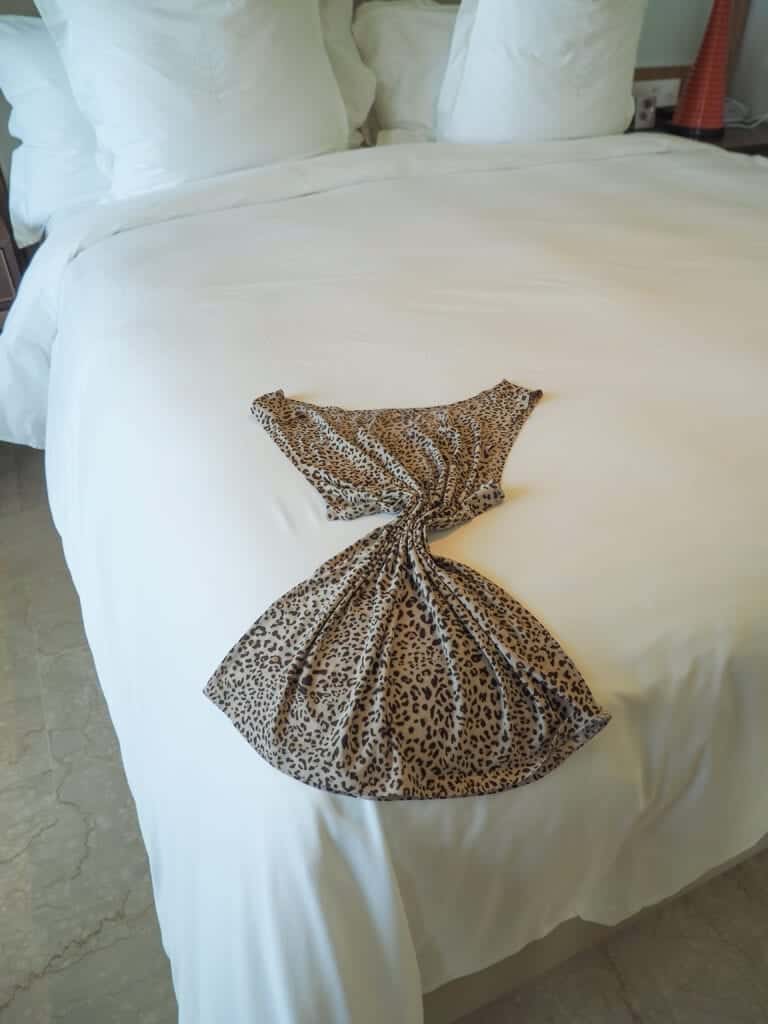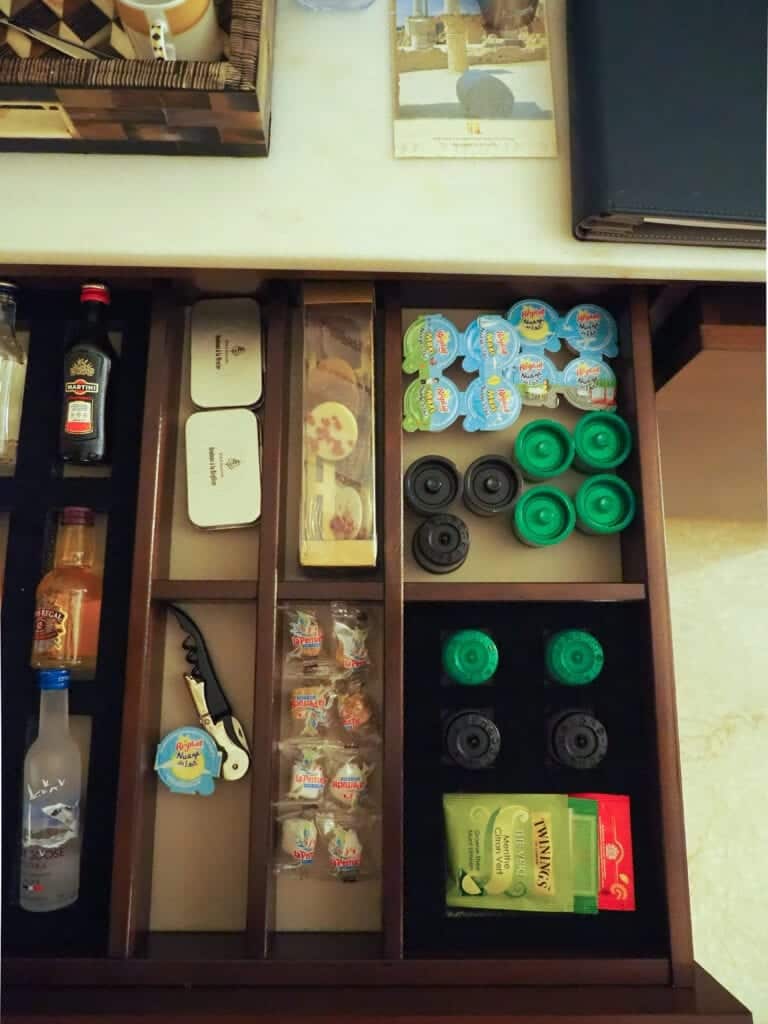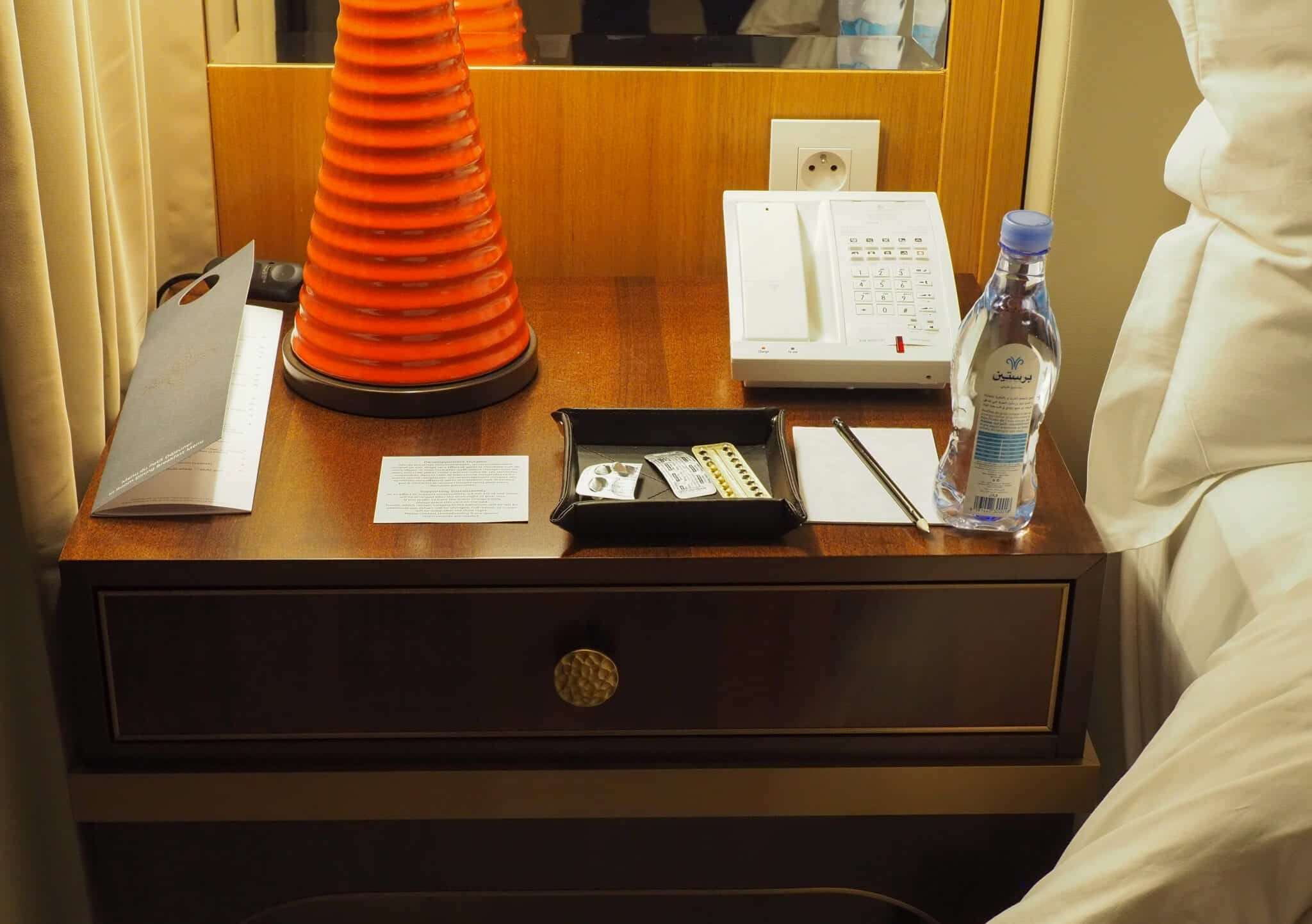 The staff really seemed to relish the opportunity to go above and beyond, when I called to ask for fresh milk for our coffee we were brought a flask filled with freshly foamed milk alongside cups better suited for a cappuccino (as opposed to the standard mugs that come with the room) – this then became a regular daily occurrence.
---
Food and Drink
---
Breakfast at Azure
Not only did we receive the 3rd night free thanks to booking with FSPP we also received free breakfast. We also had the standard FSPP option to either take breakfast in Azur restaurant or as room service, at no extra charge.
Azur restaurant is a venue overlooking the main pool and the ocean that also offers a buffet dinner, frequented by well-to-do locals.
Service was prompt and efficient with menus for a la carte dishes distributed the moment we sat down and orders for both food and coffee always taken within a minute or two. There was ample seating indoors but given the beautiful view we always opted to sit outside.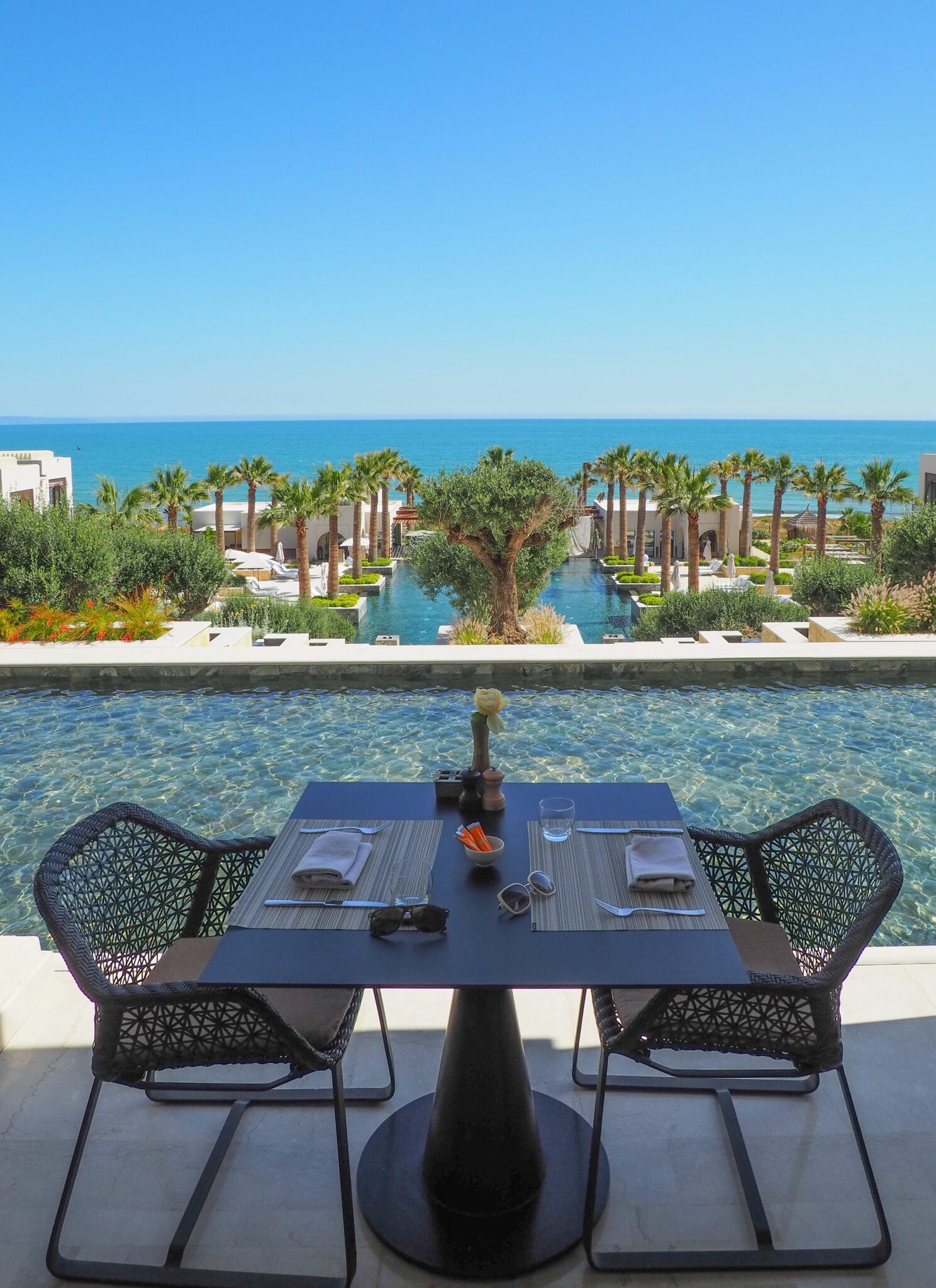 The buffet was incredibly varied, easily on a par with the top buffets at Asian hotels. If you like carbs you'll be in heaven with all the freshly baked breads and pastries, crepes, french toast and multiple types of fresh honey.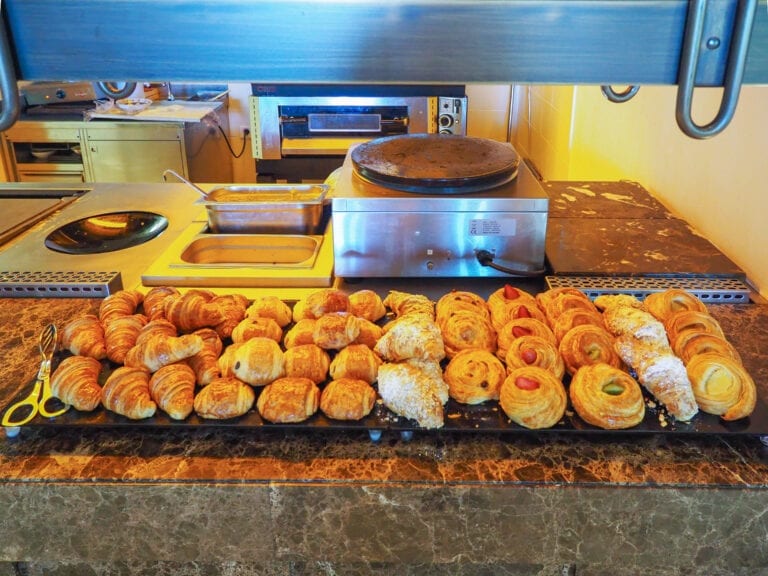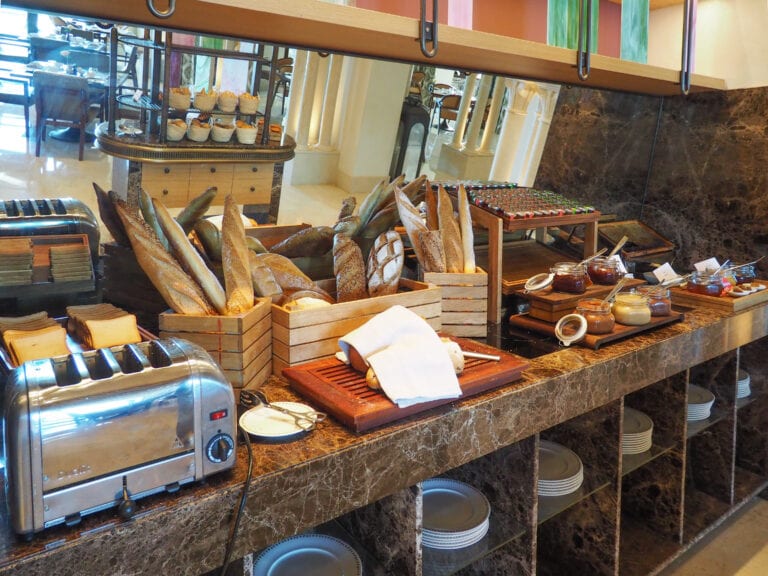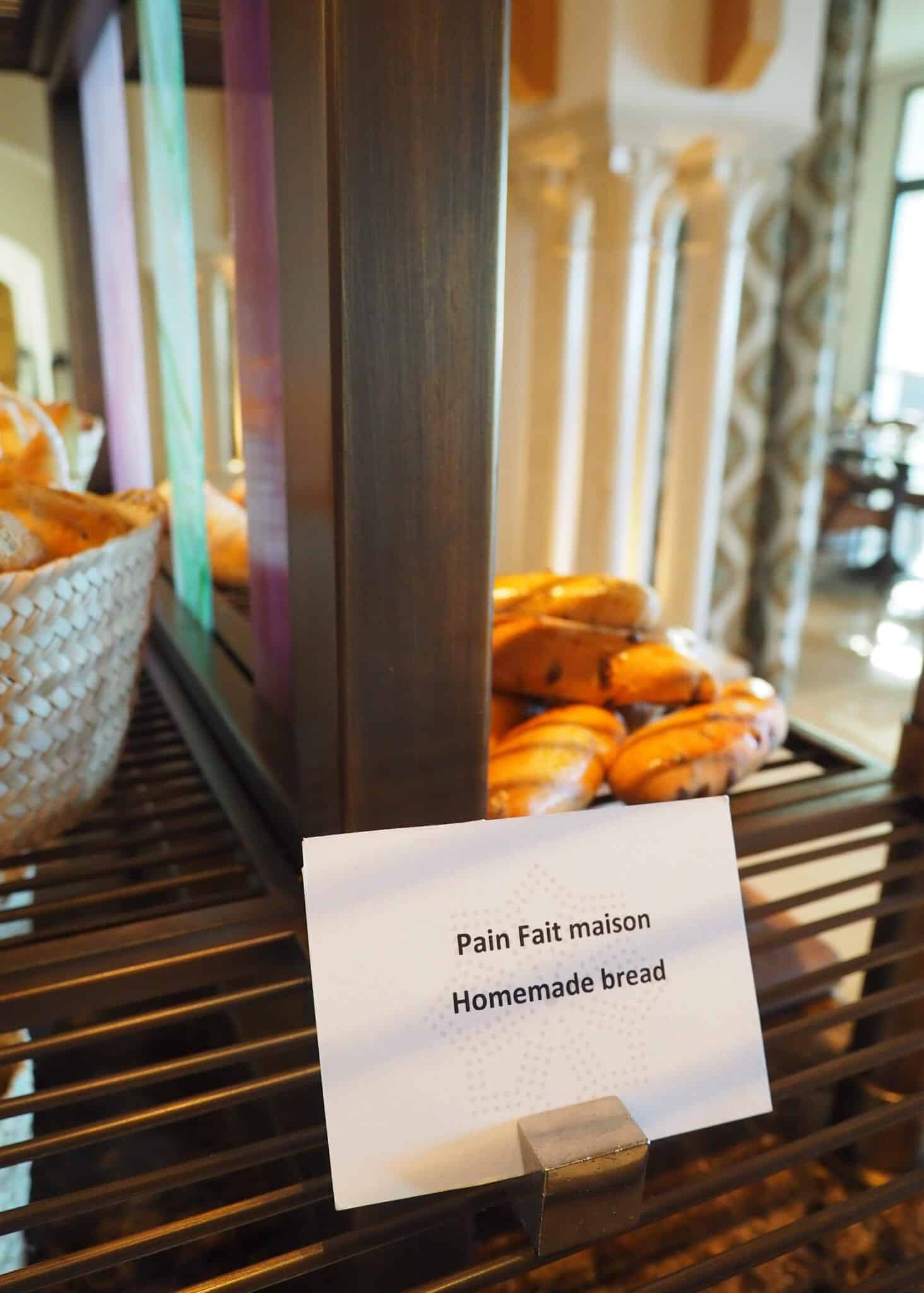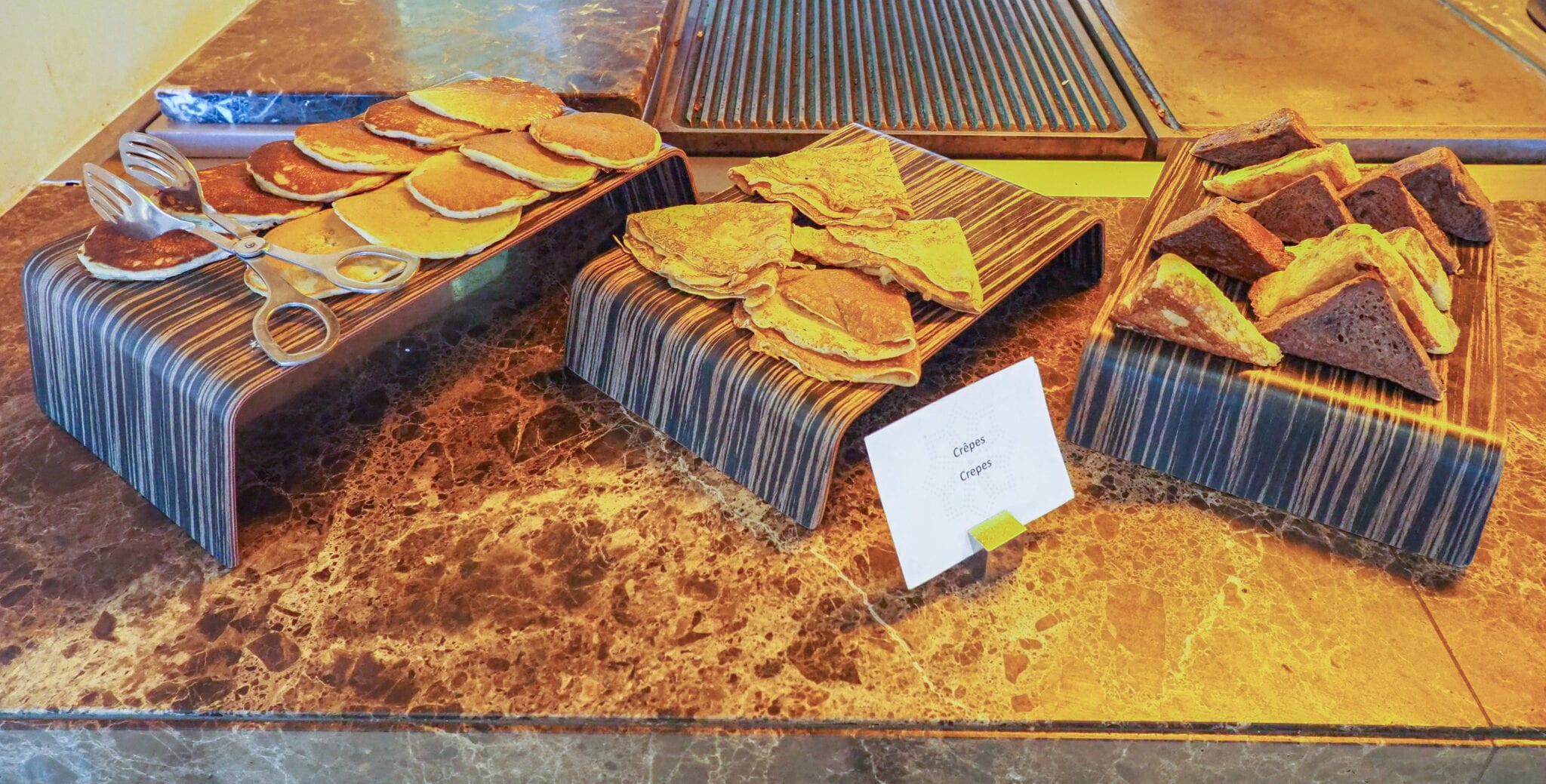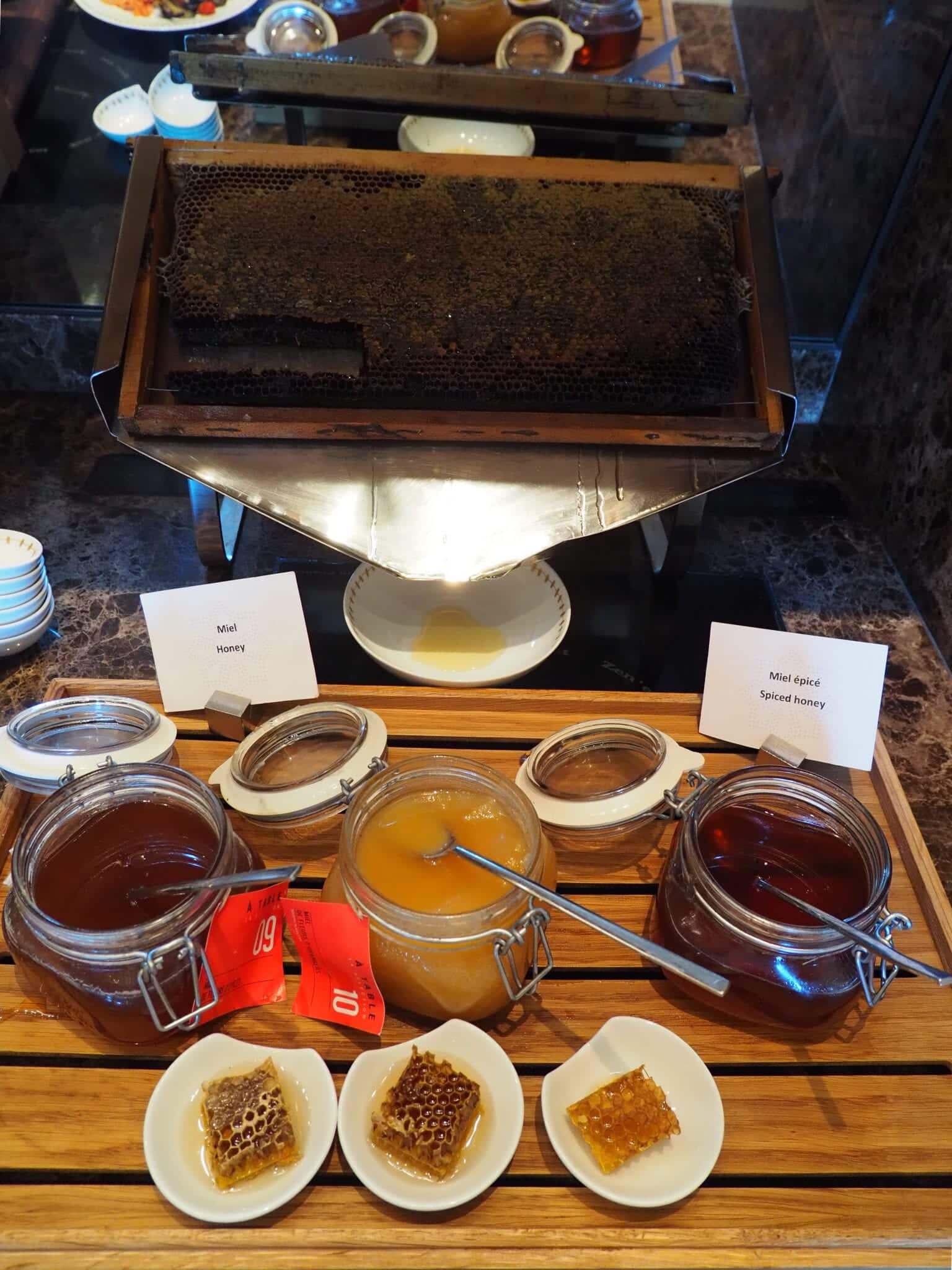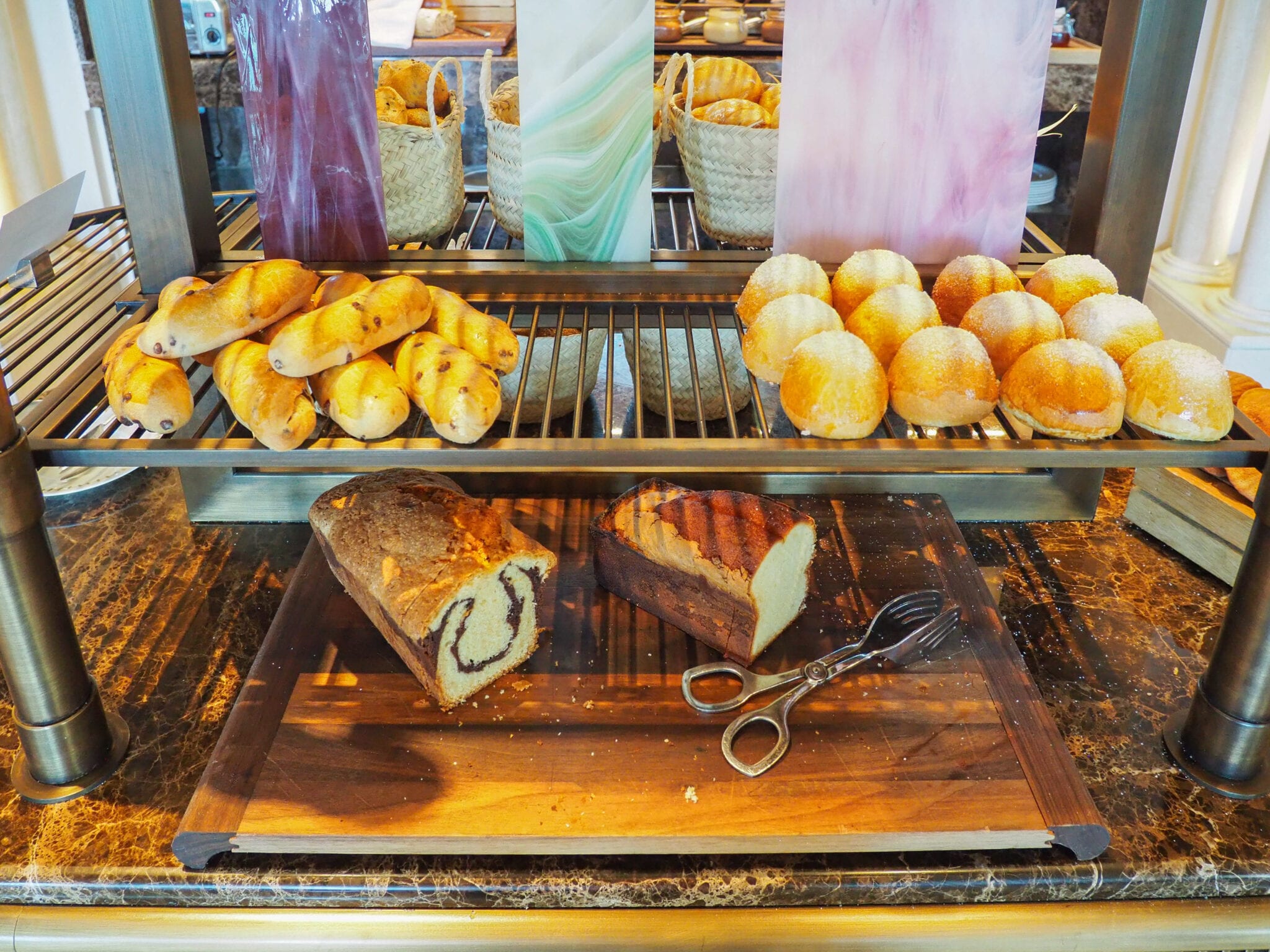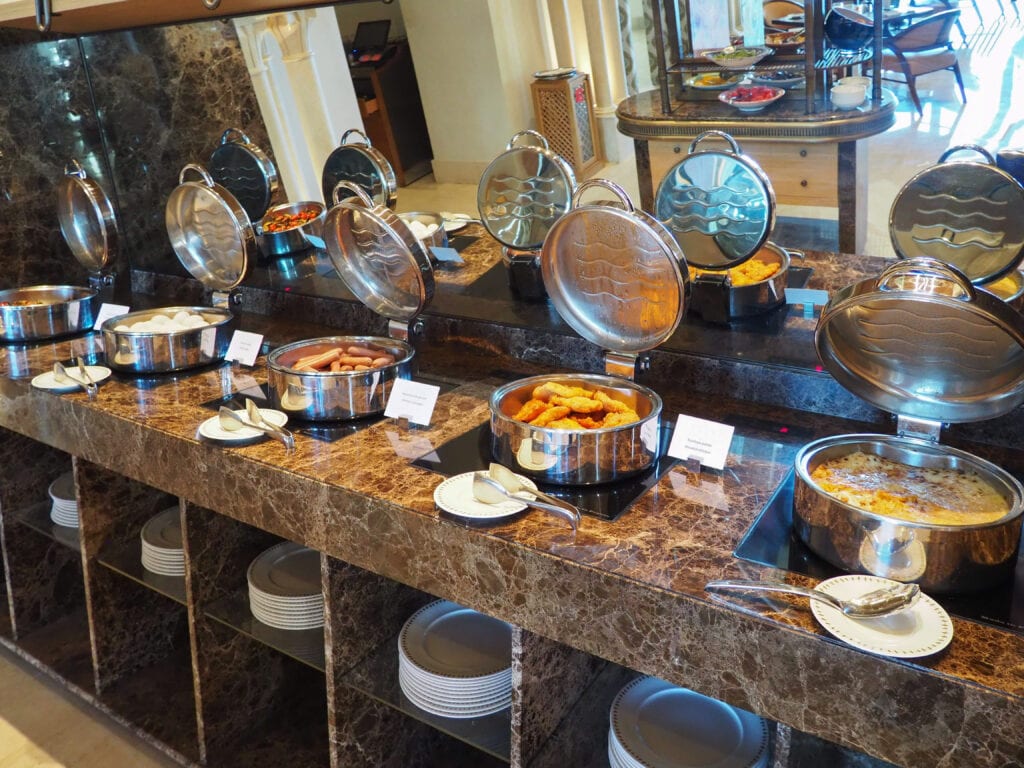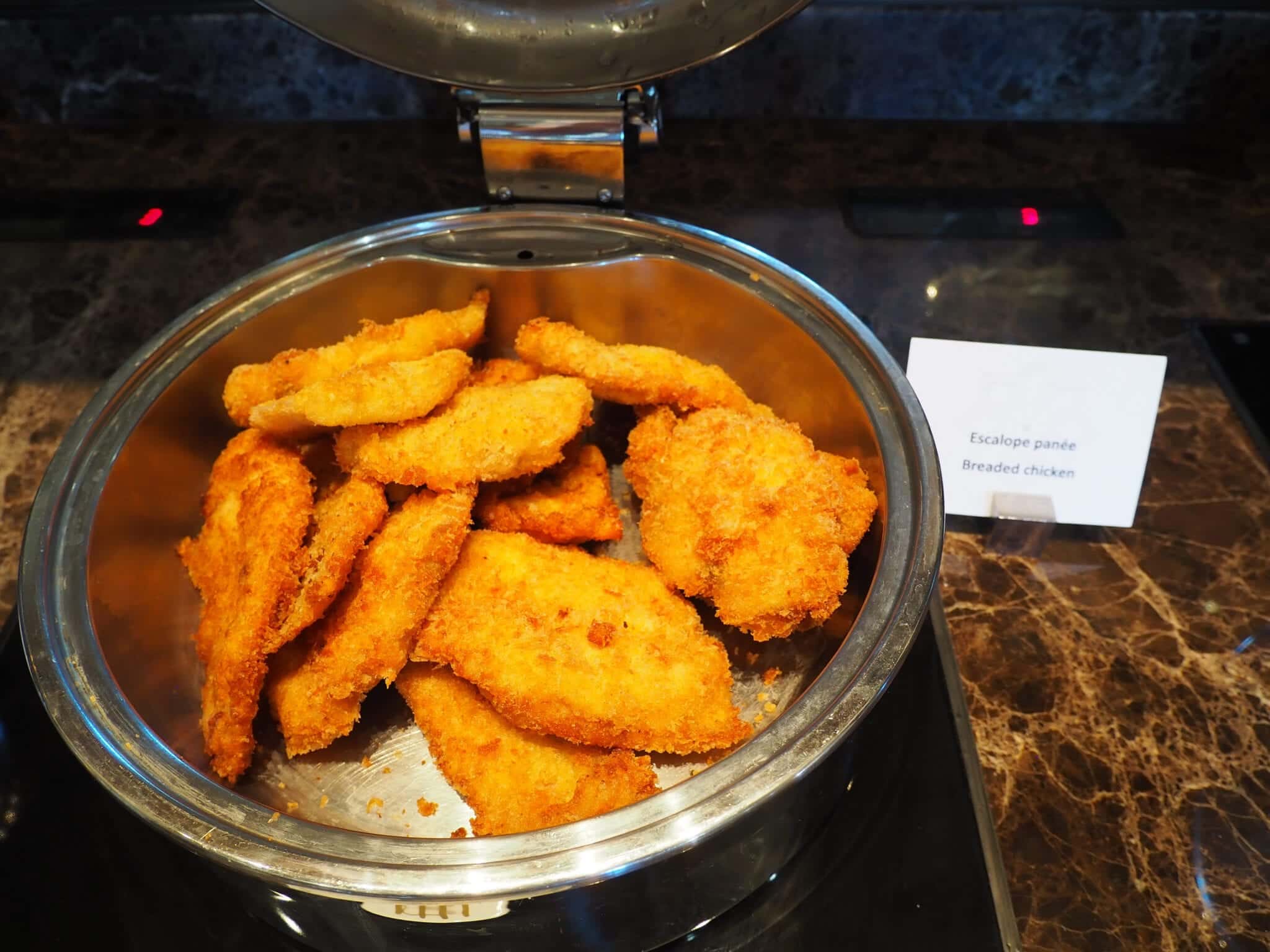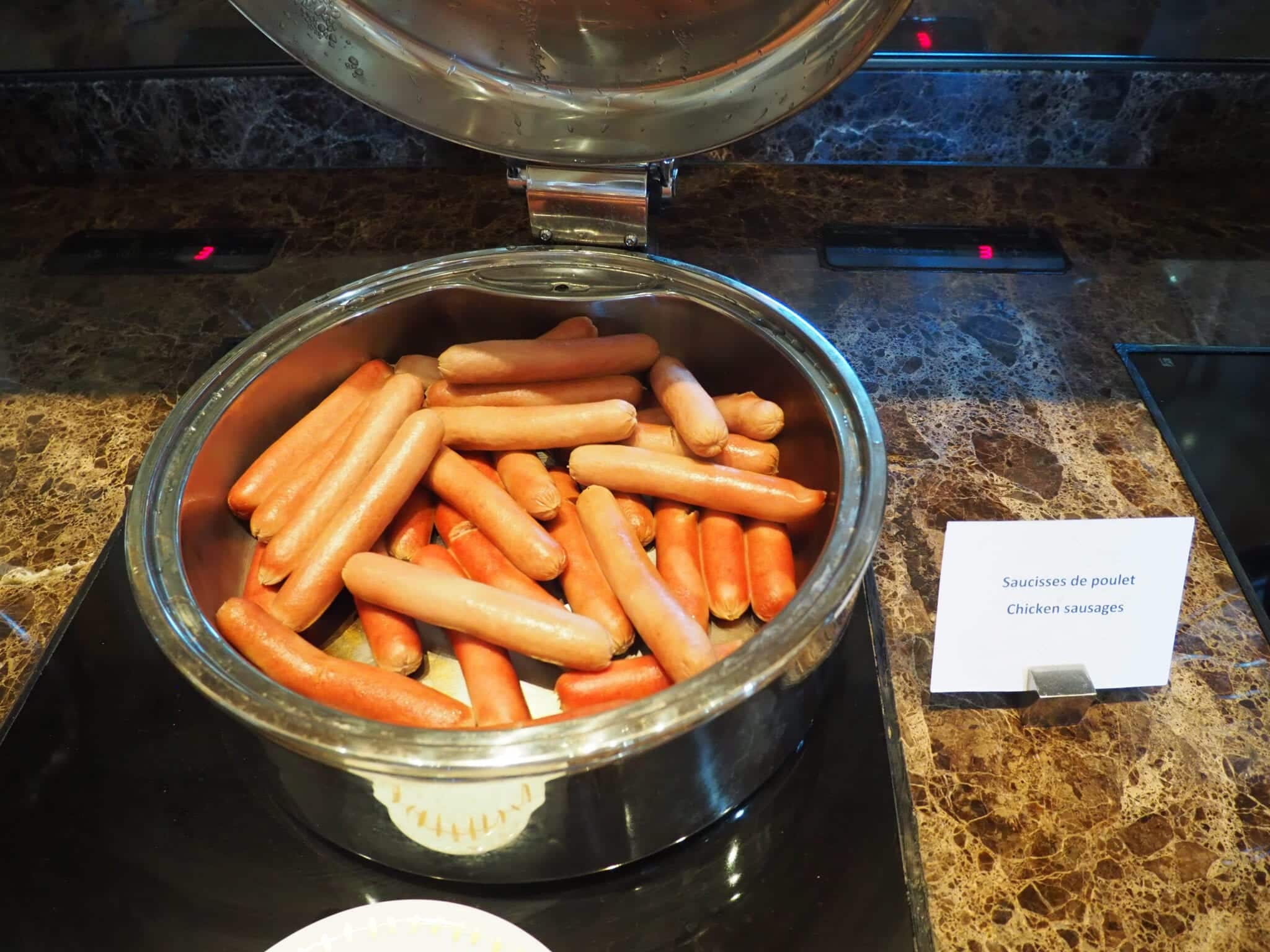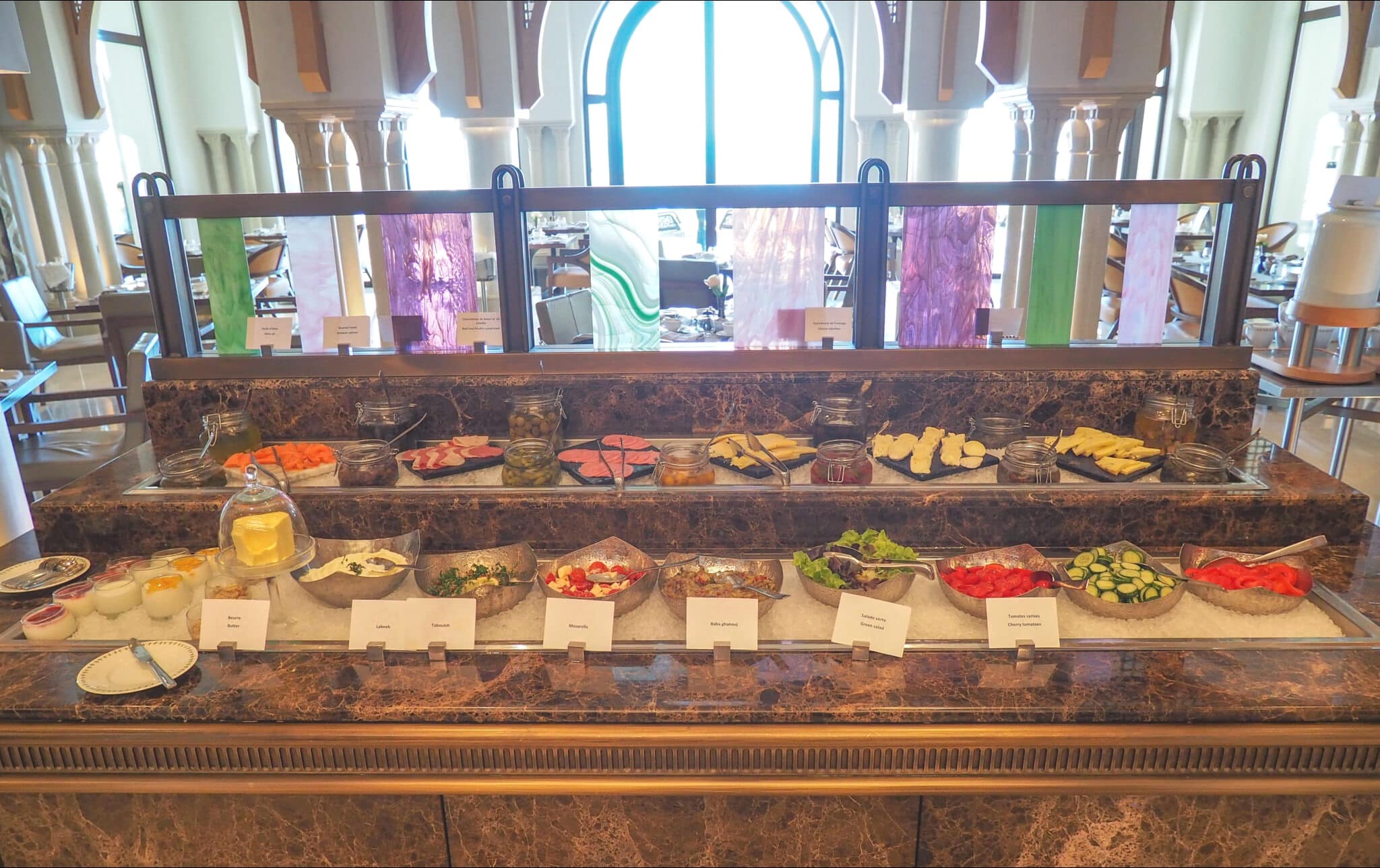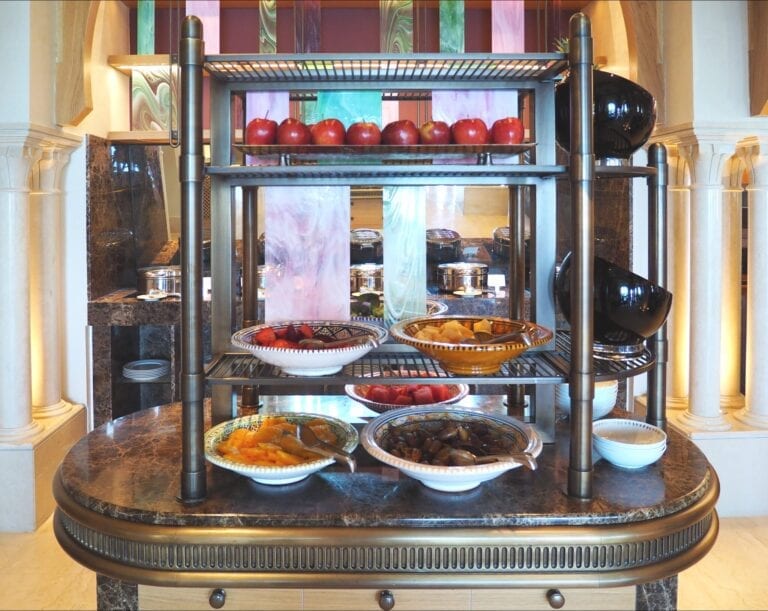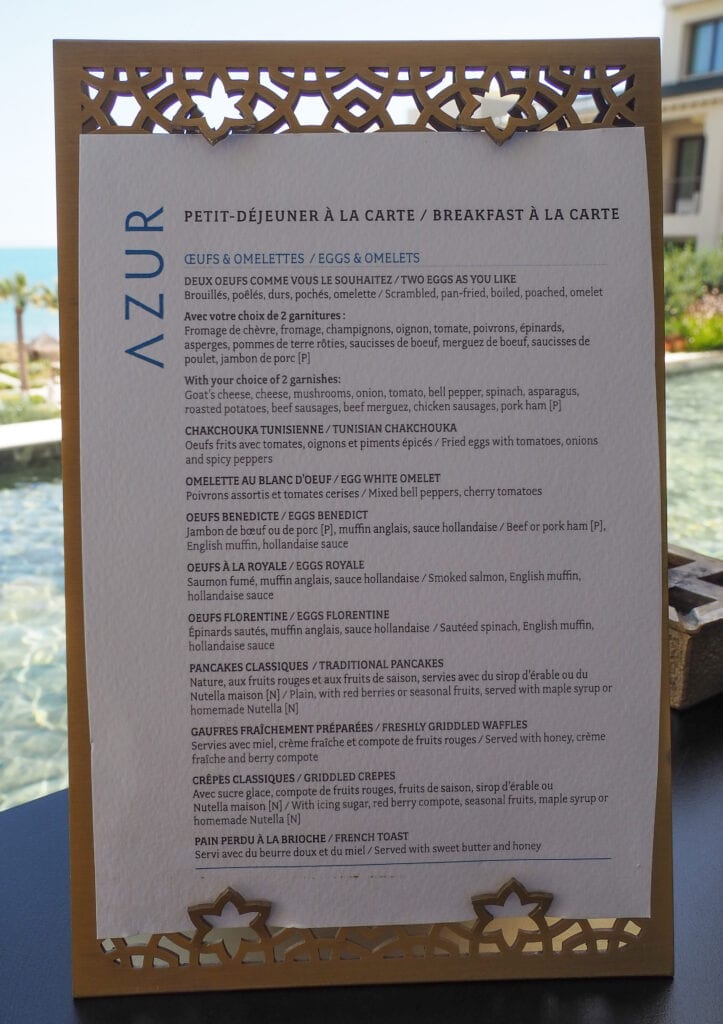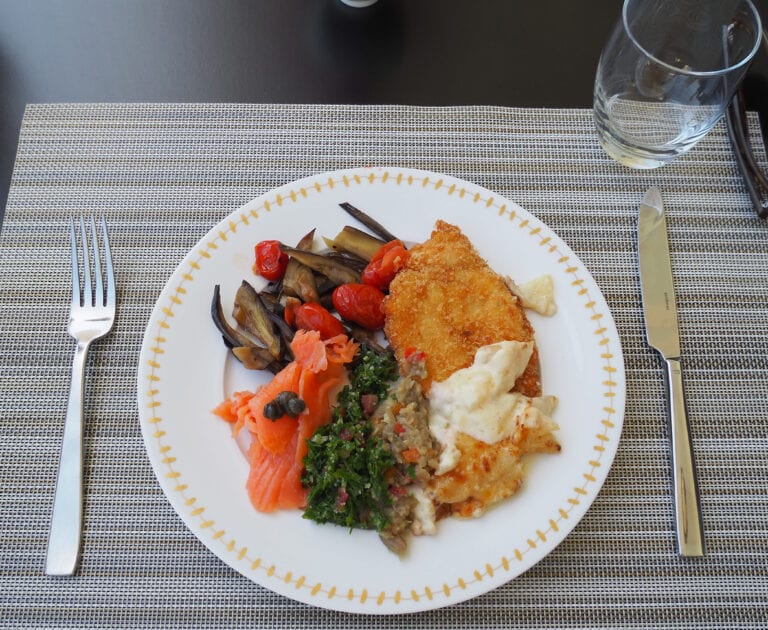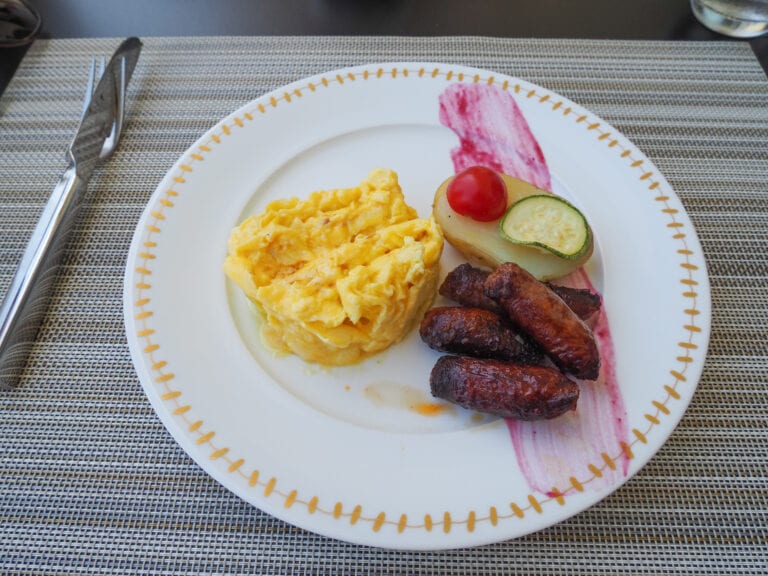 Overall it was hard to fault the breakfast here. The quality of both the buffet items and the a la carte dishes was very high. I particularly enjoyed mixing up various different mezze dishes each morning before ordering my main course. The double macchiatos were perfectly made and we were never kept waiting. Al fresco dining is not without its potential hazards but here the winds were calm, the shade was ample and there were no bugs to speak of….
Dinner at Azure
Given our late arrival time at the hotel we weren't sure if we'd still be able to have dinner here on the first night. The duty manager told us not to worry since the buffet would be open until 11:30pm and offered to walk us over. He handed us over to one of his colleagues who would be our server for the meal. He was extremely friendly and chatty and really made a great first impression for the hotel.
It transpired that the buffet actually only ran until 10:30pm and that technically we only had 5 minutes or so to eat. However we were told not to worry, it was our holiday and therefore we should only concern ourselves with relaxing.
We started off with a selection of mezze as well as a couple of stewed meat dishes.
When we returned from our visit to the buffet, our server said that he would arrange for our own private buffet at the table. That way the staff could continue their cleaning and we could sample everything without worrying about getting in their way. This is the kind of service that you come to Four Seasons hotels for.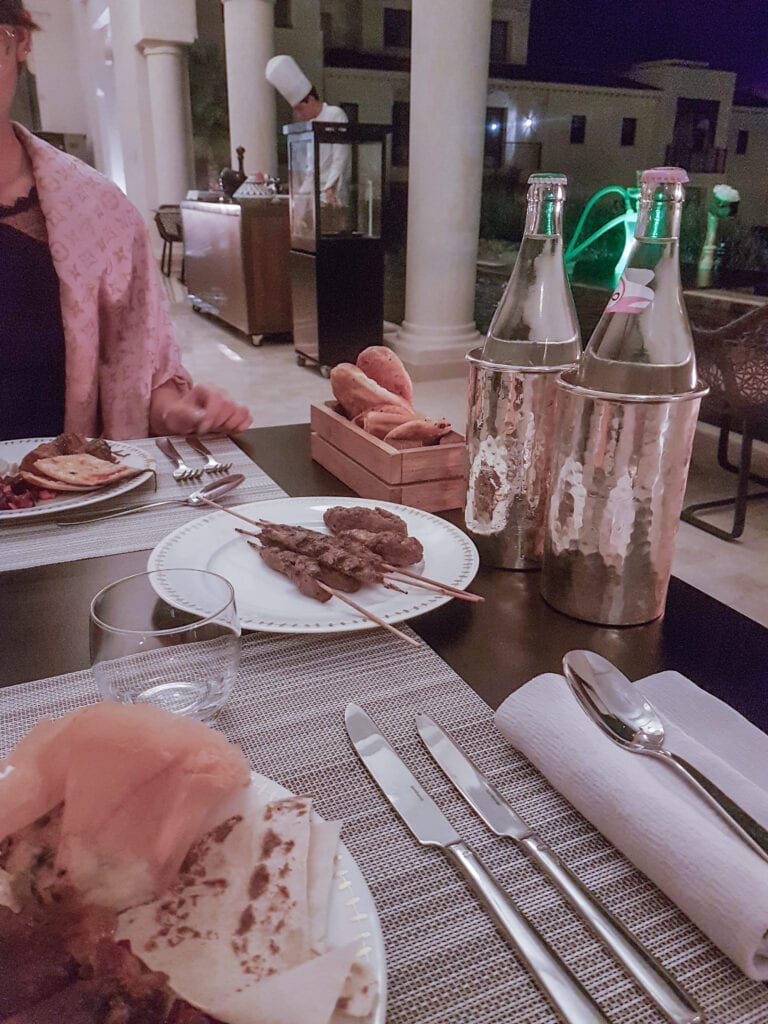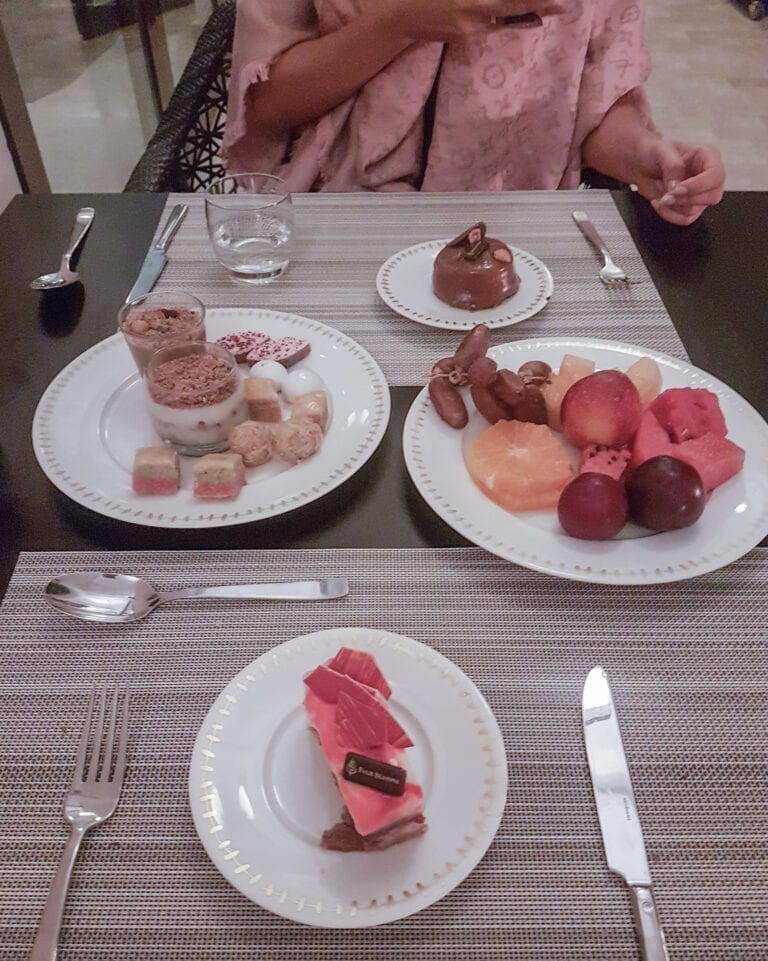 Whilst this certainly wasn't as elegant as dining a la carte the food was nevertheless very good and the service was beyond reproach. I don't imagine that there are many other hotel restaurants out there that would have treated us this well so soon before closing time.
Blu Bar & Grill
This place was a real letdown. Outdoors there is no real shade, which means that it is unpleasantly hot at midday. We opted to sit indoors and were kept waiting for a very long time before being seen. When a waitress approached she simply dumped down a load of cutlery on our table and left.
I eventually had to go outside to flag a member of staff down for a menu and calls for the ventilator near us to be turned on were forgotten. Tables next to us were also left uncleared for prolonged periods of time.
It's a shame because the food was really great – no matter how delicious it was though the overall experience here left a bitter taste.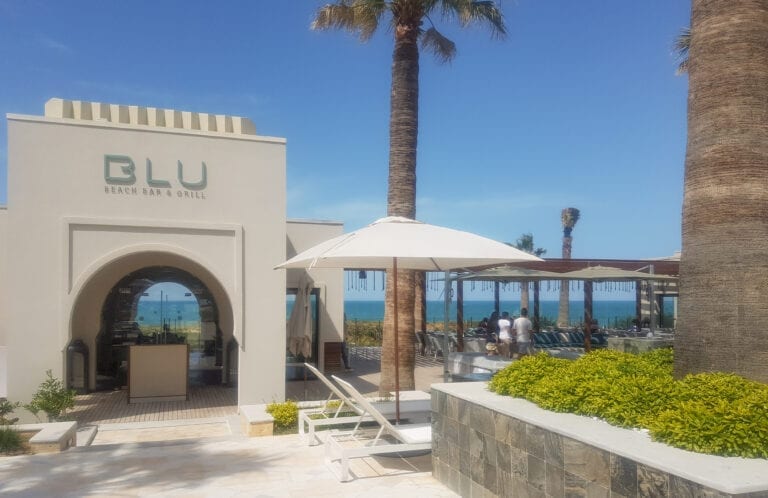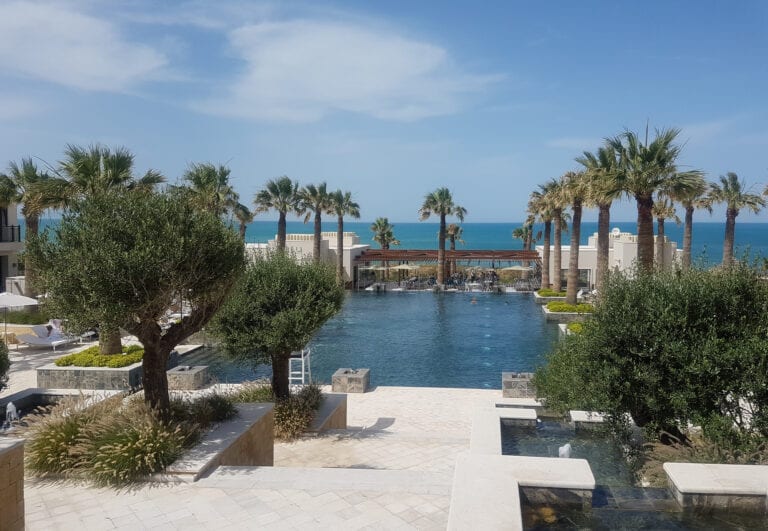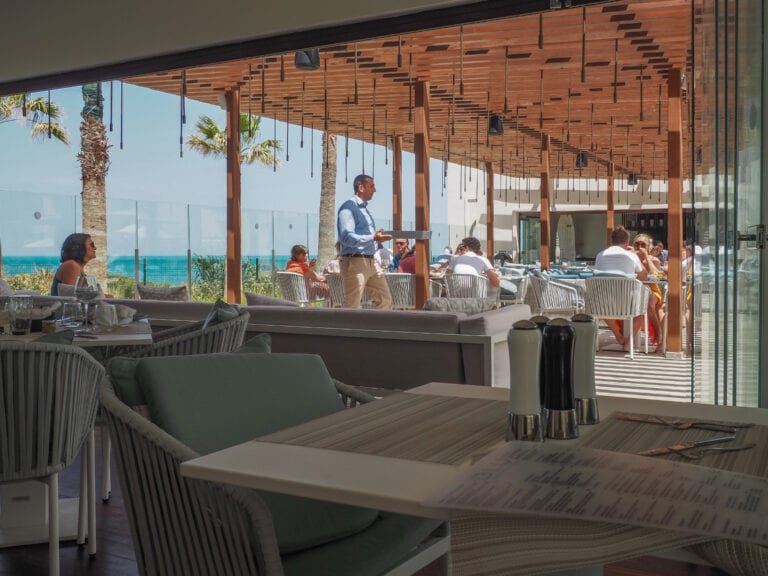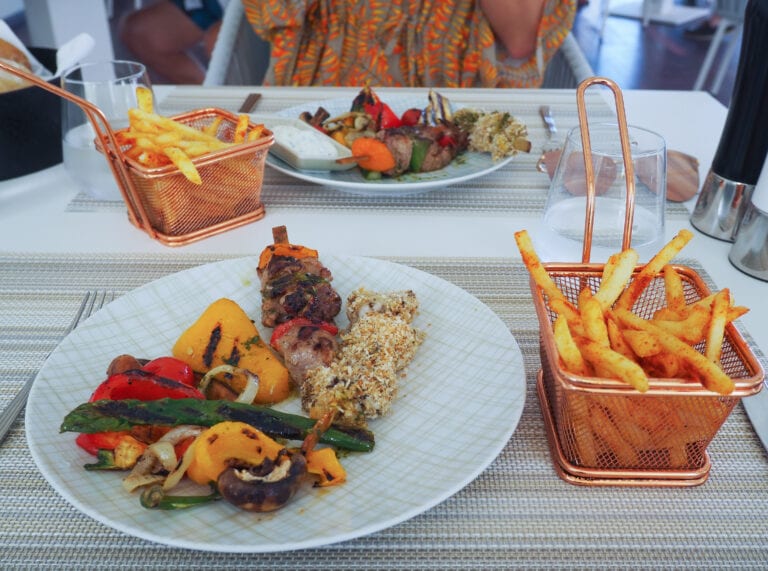 I mentioned issues here to the guest experiences manager Melissa. She arranged for the manager of Blu to meet us during checkout and to his credit he was very gracious, he discussed how things were going to improve and said that he really valued our feedback – the charge for this meal was also withdrawn from our bill.
In-Room Dining
Any time that you have a room with both a fantastic view and ample dining space it's hard to resist the option to just stay in and enjoy room service. I really love the Four Seasons app, I find it to be so much better than anything similar offered by other hotel chains. You are in constant chat contact with staff whenever you need to be and this actually begins from the moment you make your reservation, so you can use it to contact the concierge for concert tickets and restaurant reservations too.
It is particularly useful for room service since you can fully customise every item of your order with total certainty that there will be no miscommunication or language barriers.
Unfortunately I think we must have been the first guests at this property to make use of it since we discovered a few bugs including the fact that it's clock was out by an hour – meaning that dishes that were listed as "speedy 20mins" could only be ordered for delivery a minimum of 1h20m from when we ordered. It was upon first experiencing these issues that we came into contact with Melissa and she was extremely proactive in getting things fixed.
The food itself was of an incredibly high standard and the menu represented ludicrous value for money. The exchange rate is roughly 0.25 TND to 1 GBP or to put it another way, freshly made cocktails served on our private sea view balcony at a Four Seasons hotel were roughly five pounds each!
We were given $100 of credit to spend at the hotel thanks to booking via FSPP and honestly we struggled to see how we could spend that on a single meal!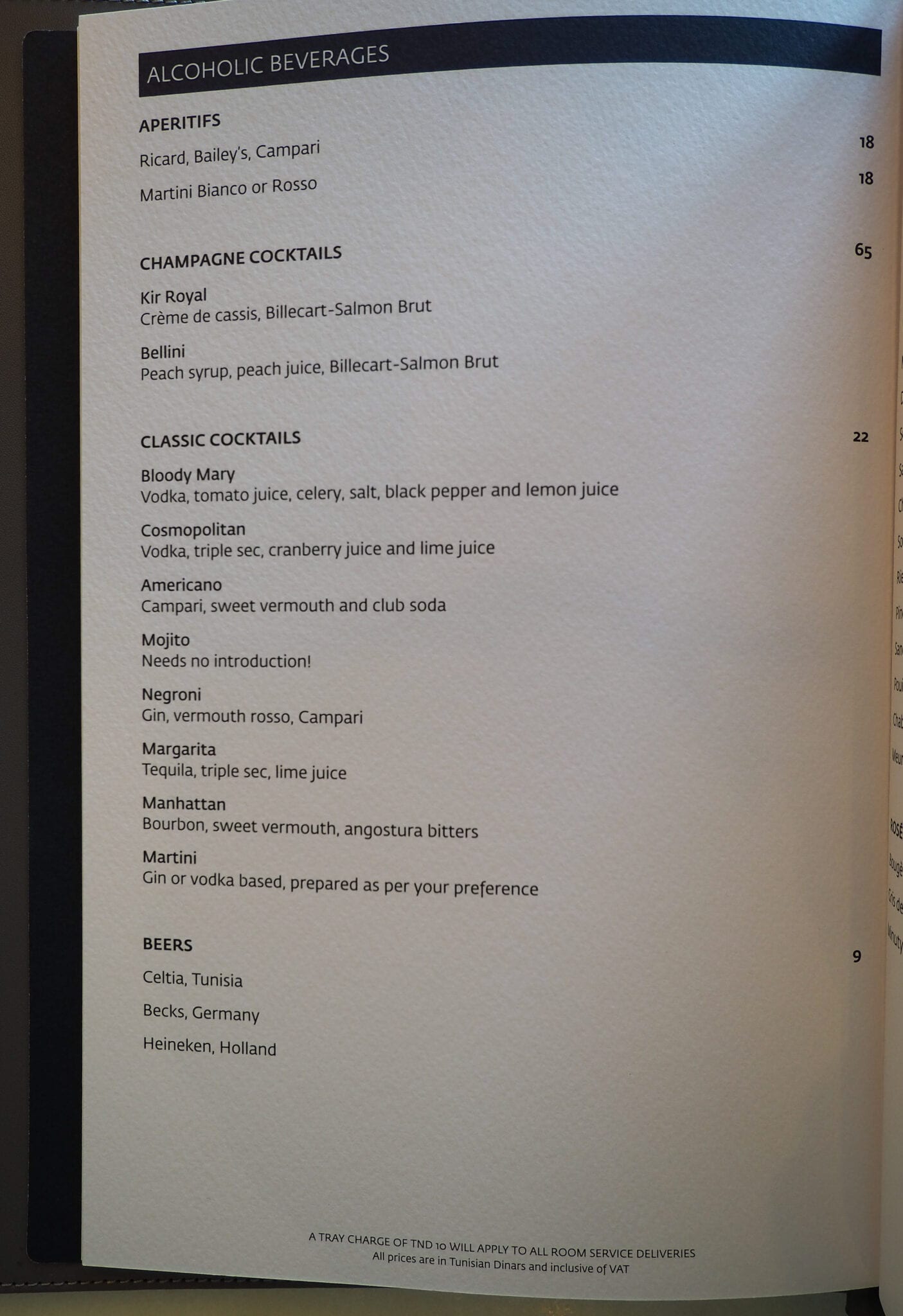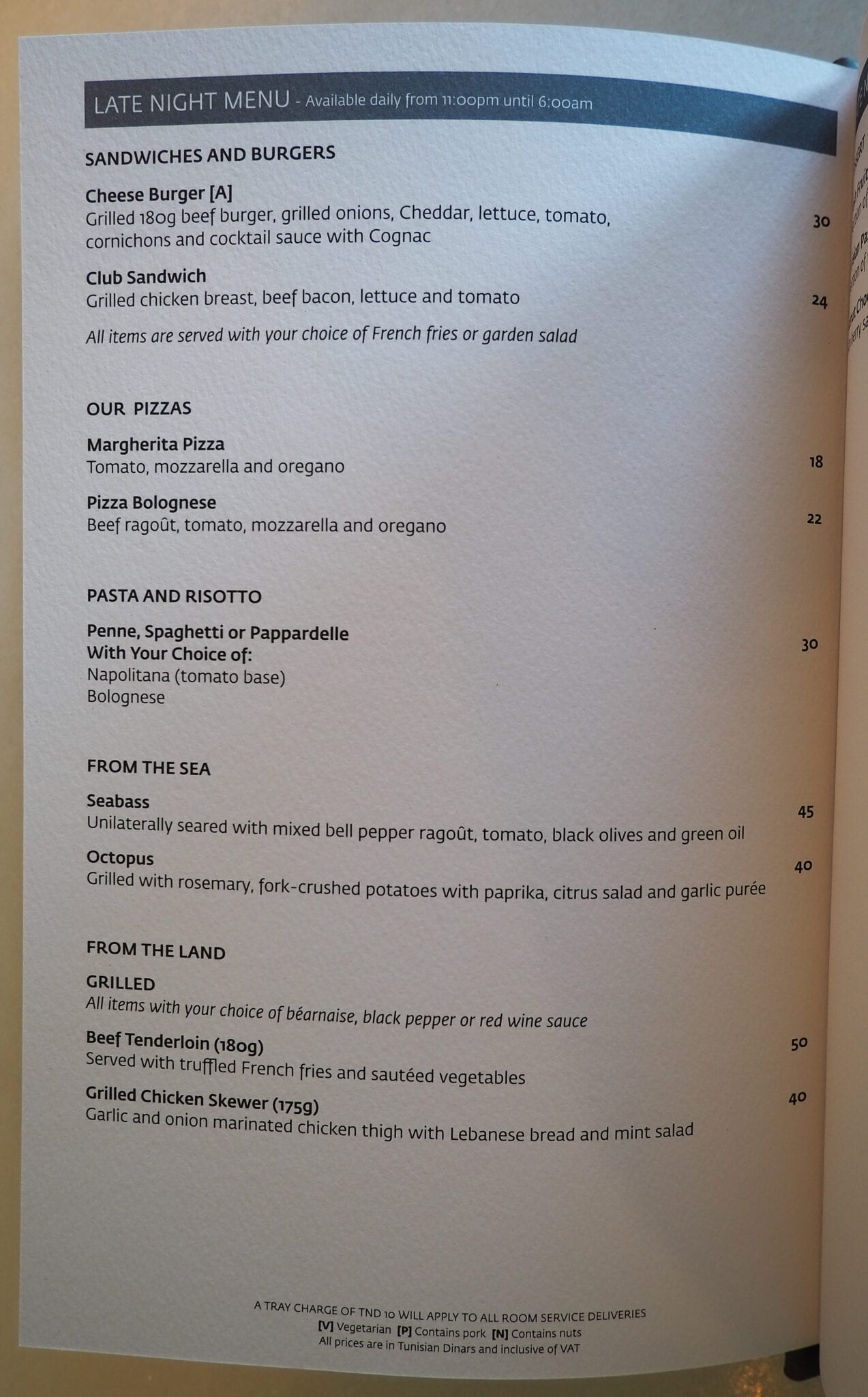 A light lunch on the balcony after a morning spent exploring the streets of Sidi Bou Said. The food was fresh, plentiful and delicious.
On our final evening we had dinner on the balcony and the meal seriously exceeded expectations. The grilled prawns and the steak were simple but very effective. However the truffle and foie pasta and the desserts were real show stoppers, proof that the kitchen is able to deliver complex dishes with a high level of precision.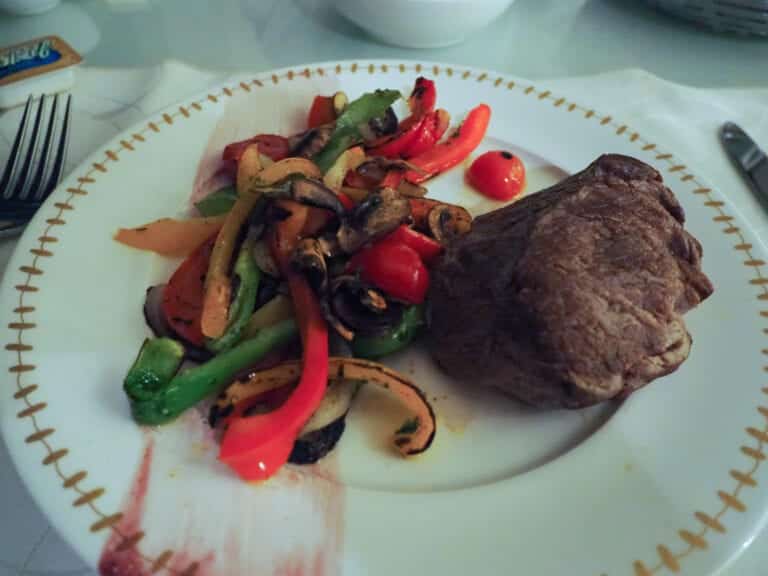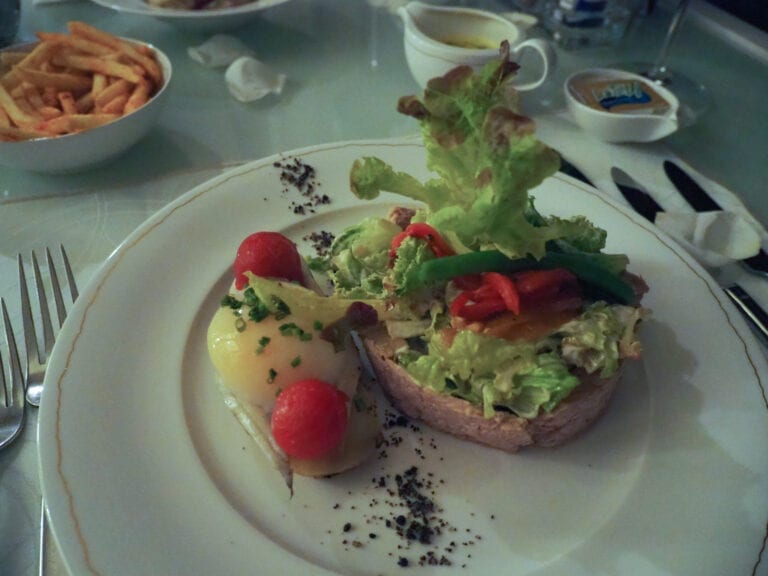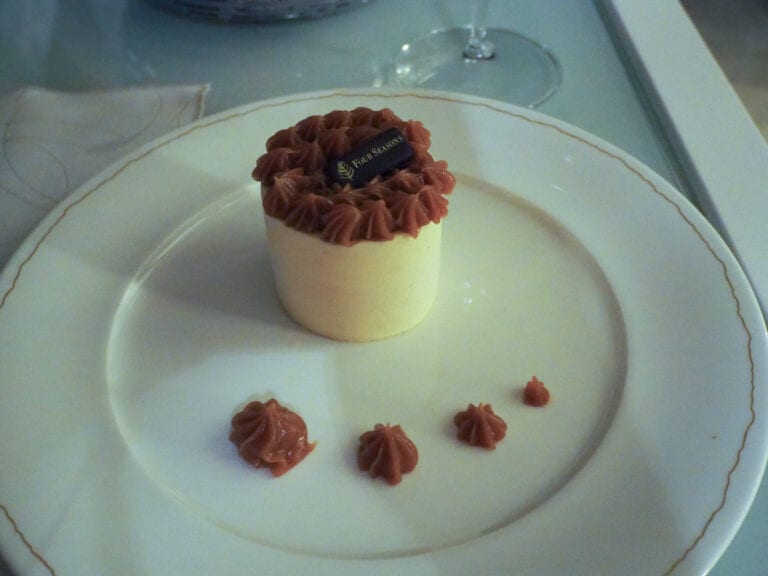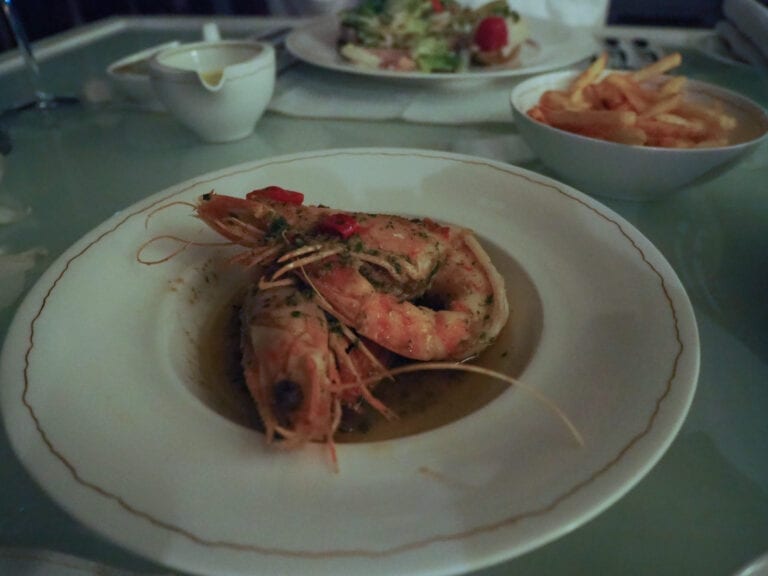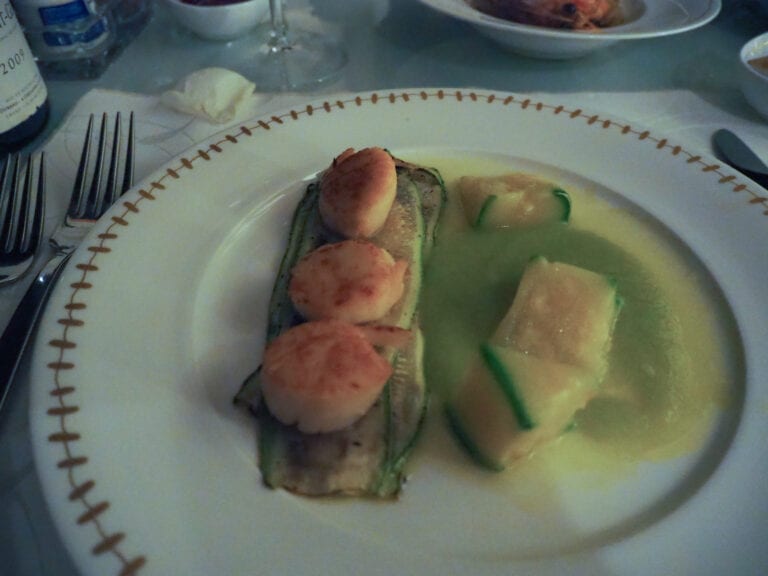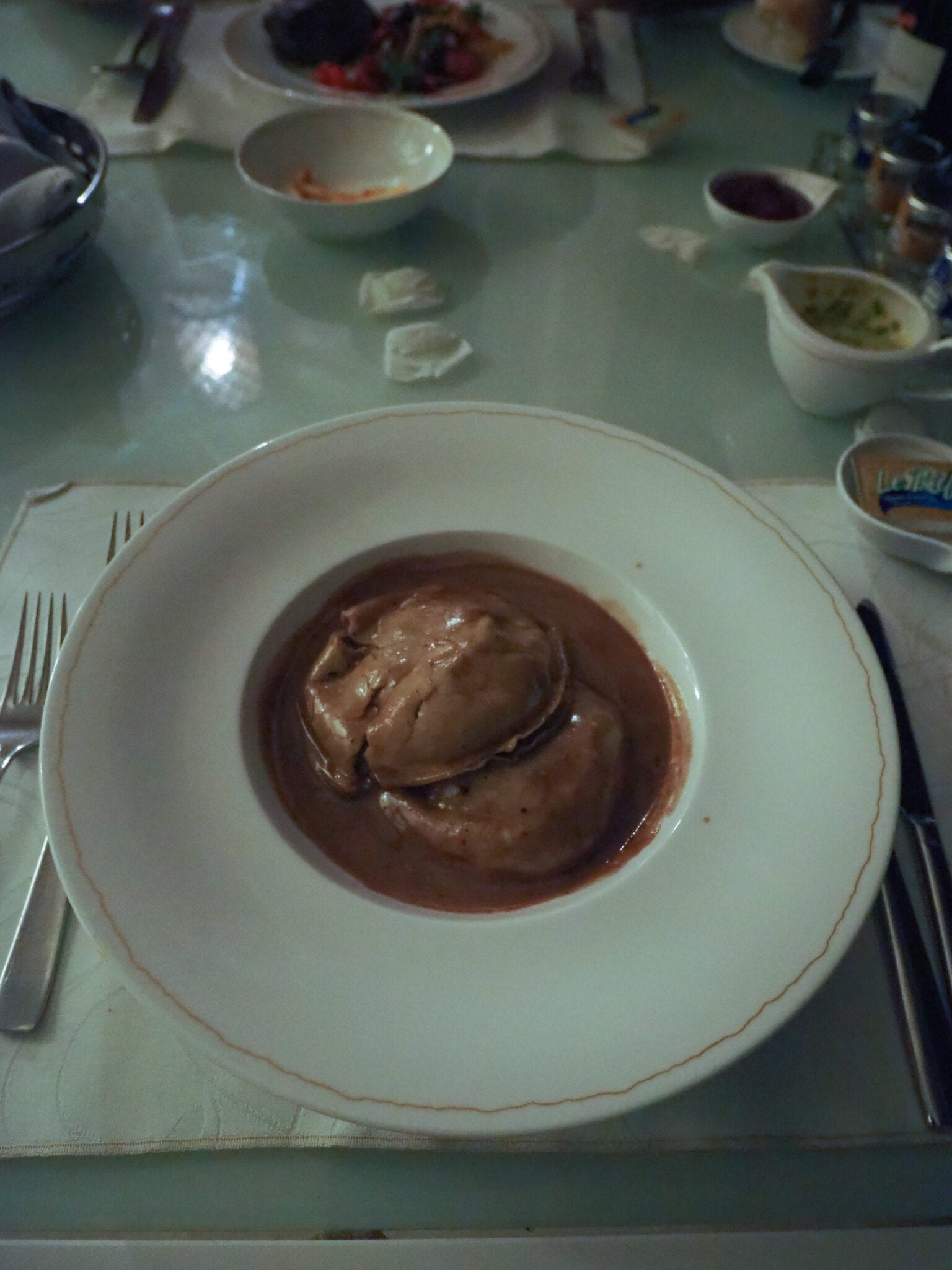 Twenty minutes or so we were brought another selection of desserts as an apology for the issues at Blu and with the app. This was totally unnecessary but very much appreciated.
Round two of desserts. Most of this turned into Kamara's pre-breakfast the next day!
The Creek Lounge
Given the ease and value of having cocktails delivered to our room, we didn't spend much time at the hotel bar but when we went we received fantastic service, with staff ensuring that cocktails were to our liking and making proactive suggestions for drinks to our tastes.
---
Hotel Facilities
---
Outdoor Pool
The hotel is modelled around a tiered garden, giving way to an expansive swimming pool set against the backdrop of the sparkling Mediterranean.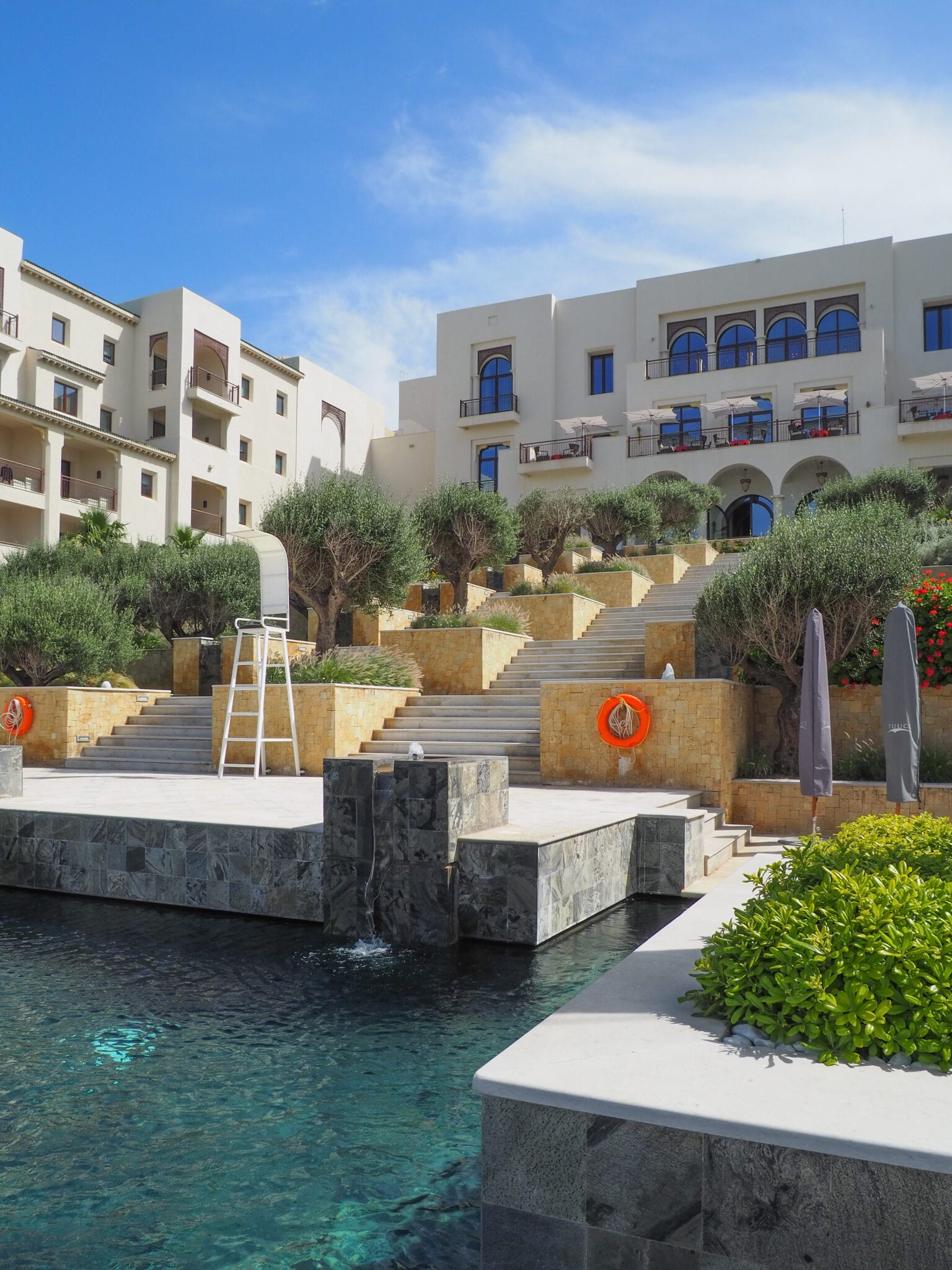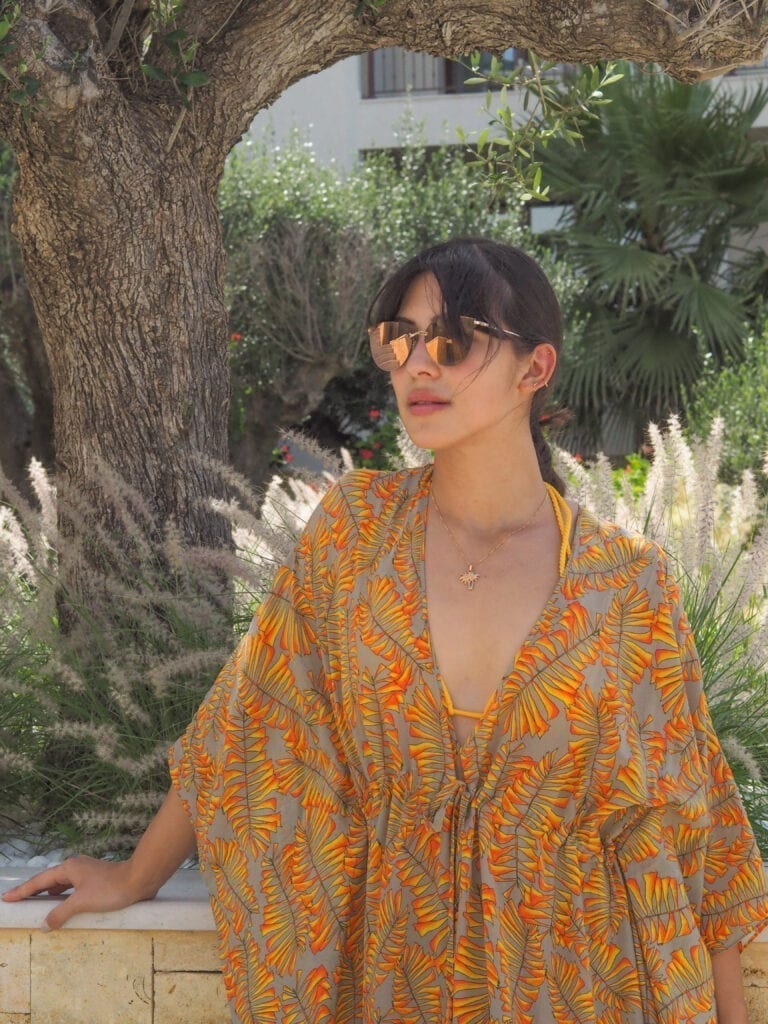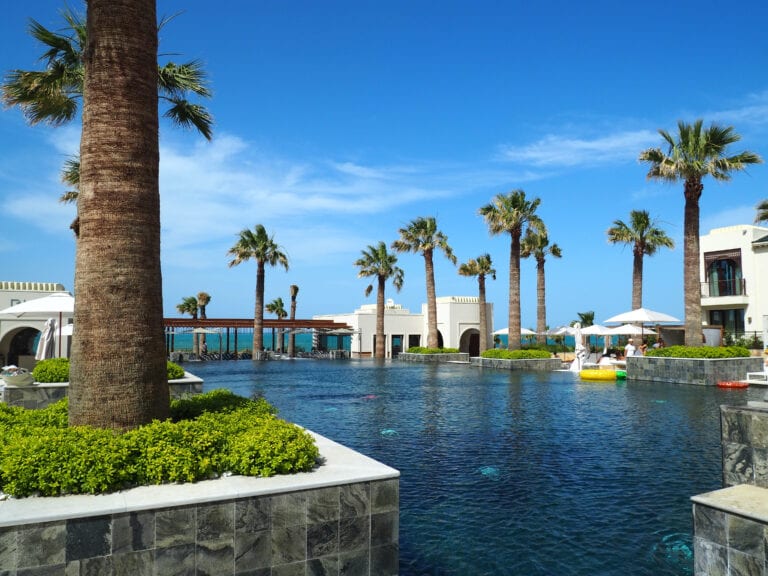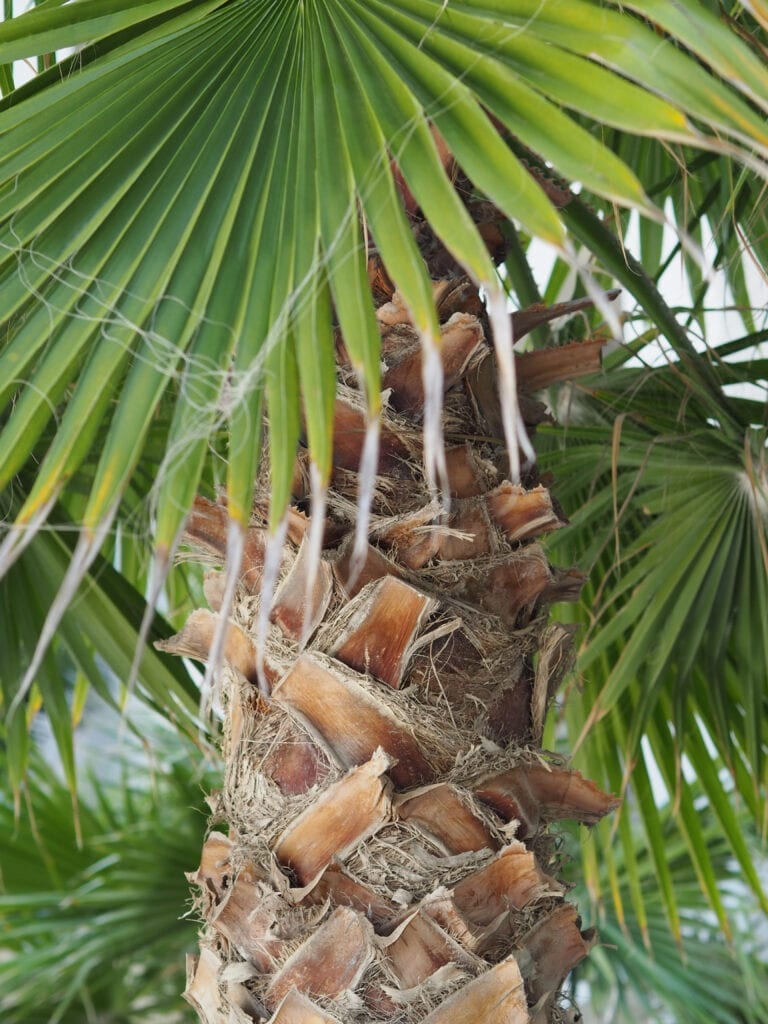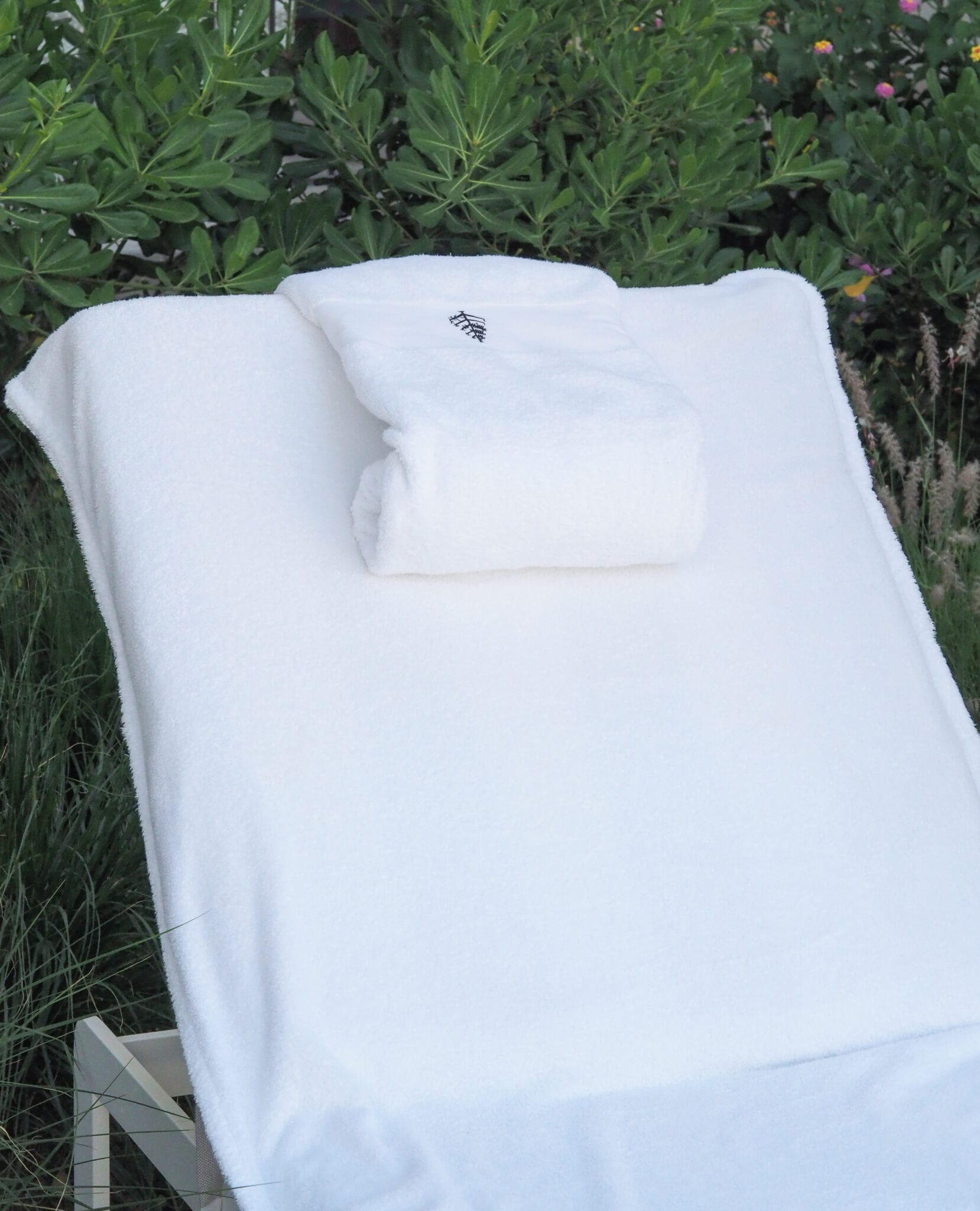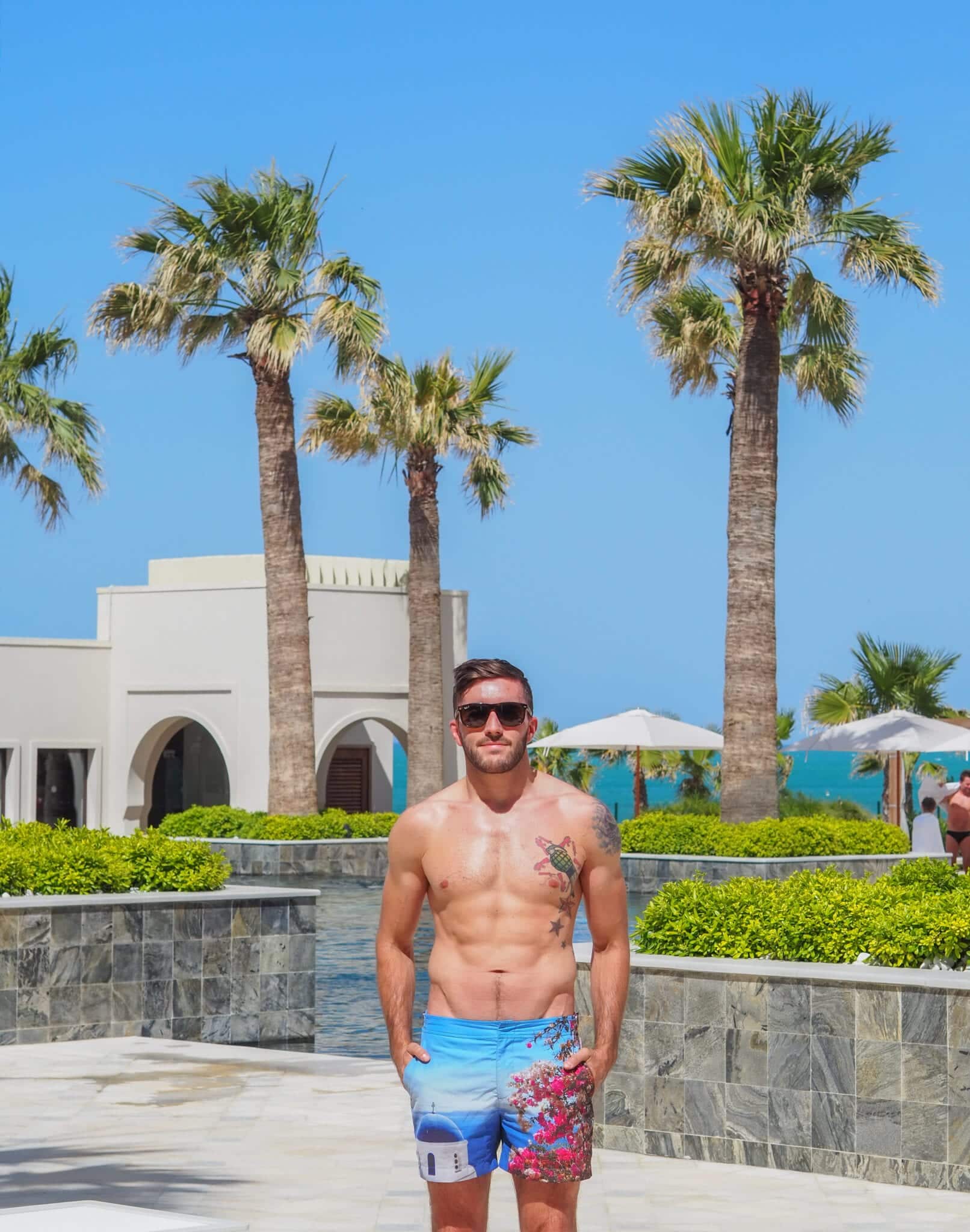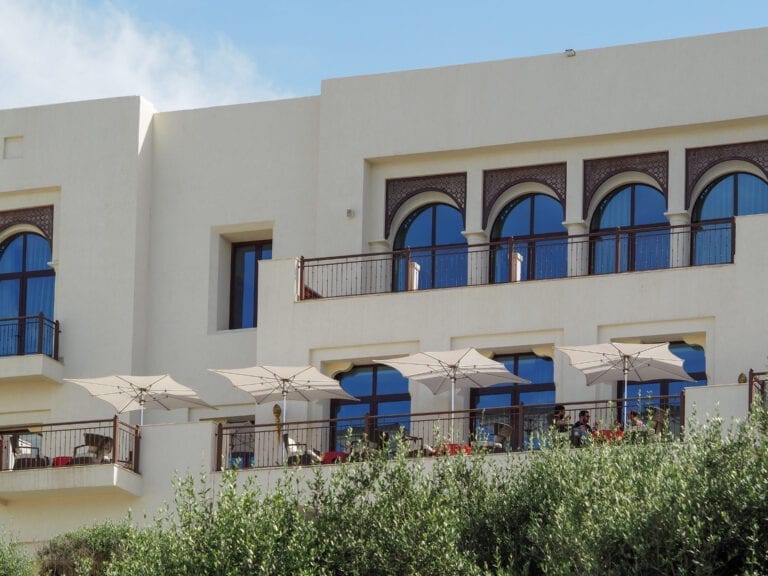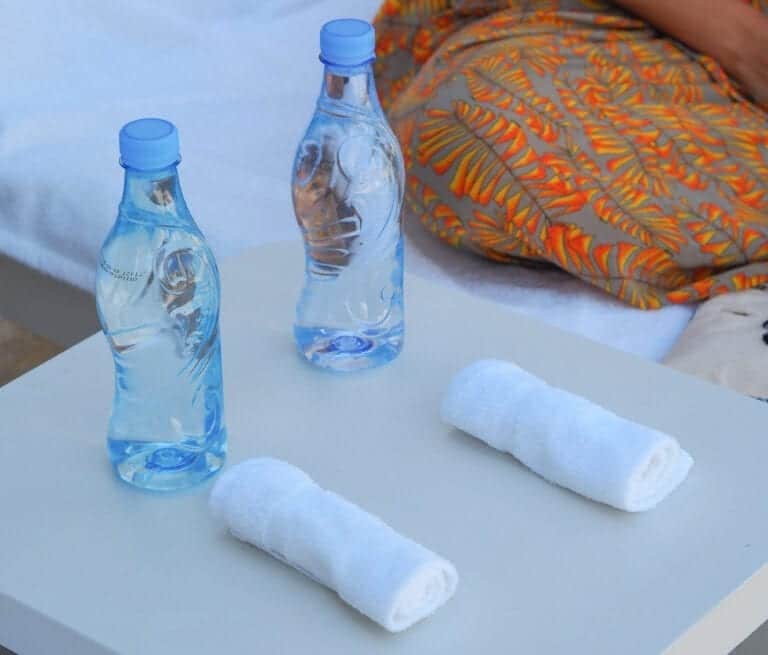 The service at the pool was great, with towels cleared, deckchairs prepared and cold water provided at a moments notice. I loved how there were so many different areas and alcoves to sit, meaning that there was always somewhere quiet and private, despite the large size of the pool.
During our visit the beach wasn't accessible although the hotel does have plans to expand and add a beach club on the other side of Blu.
Spa Facilities
I feel like it's something of a toss up at resort hotels, half the time the gym will be a token gesture, with guests expected to spend the entire day flopping around the pool and gorging themselves with little thought given to exercise. Other times you get an extremely extensive and modern fitness facility which rivals the best regular city gyms.
I'm happy to report that the Four Seasons Tunis falls firmly into the latter camp. The changing rooms were a cavernous chamber of opulence, looking at the hotel website you'd never realise how expansive this area is.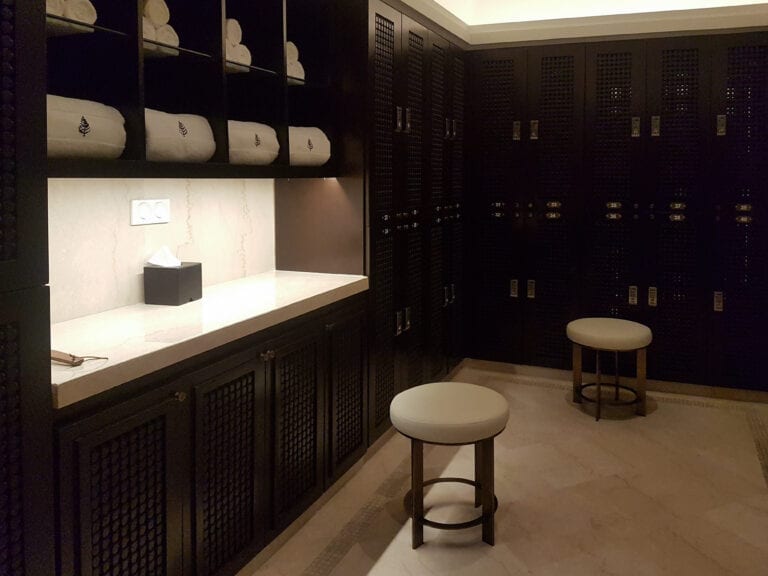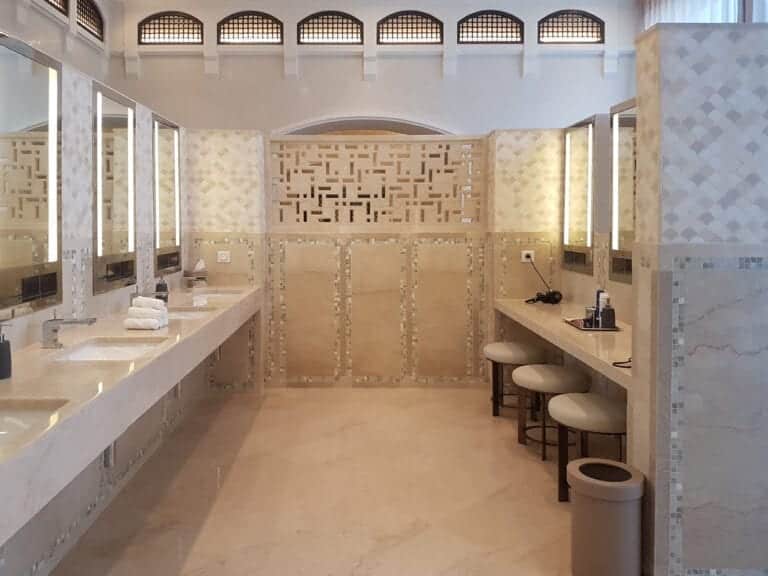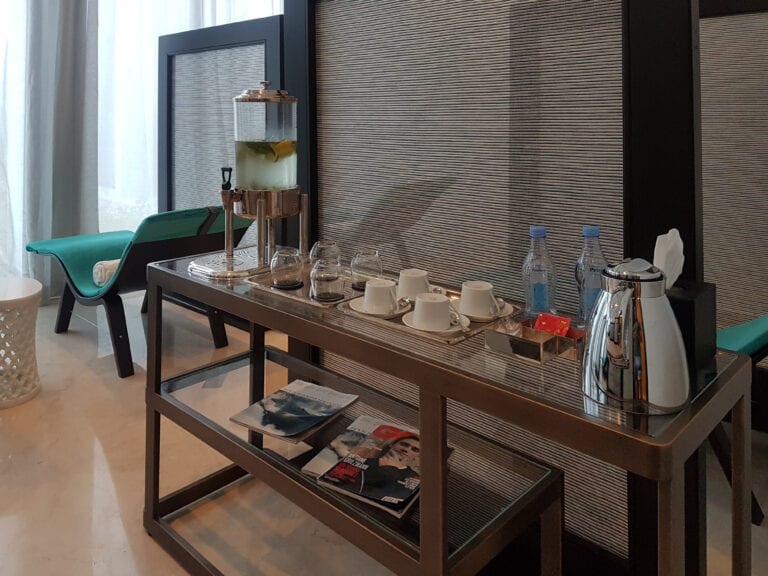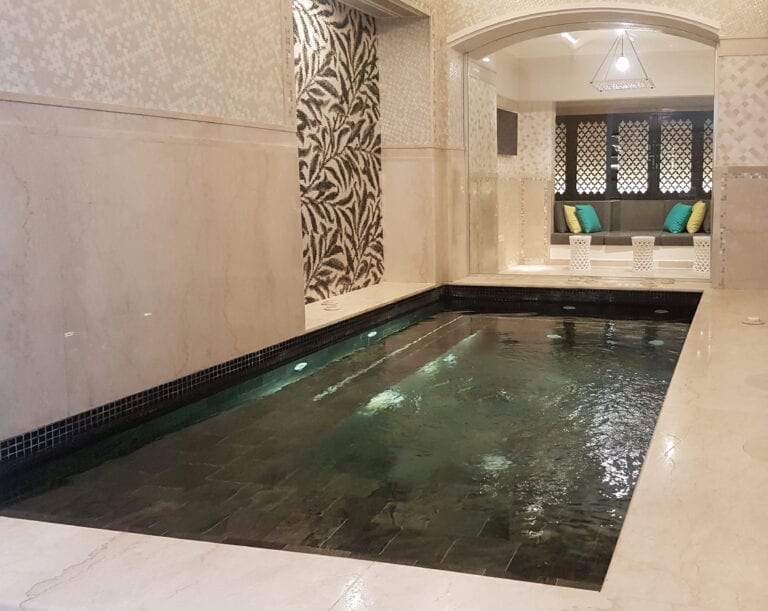 Every time I thought I'd finally made it to the main pool I turned another corner and found yet another part of the changing room complex!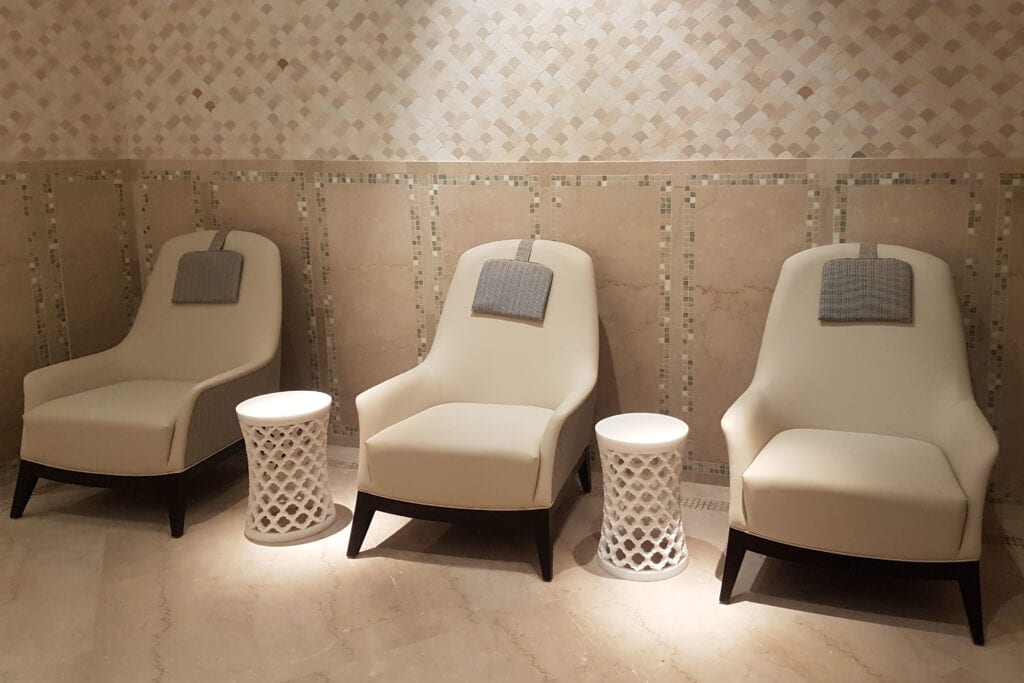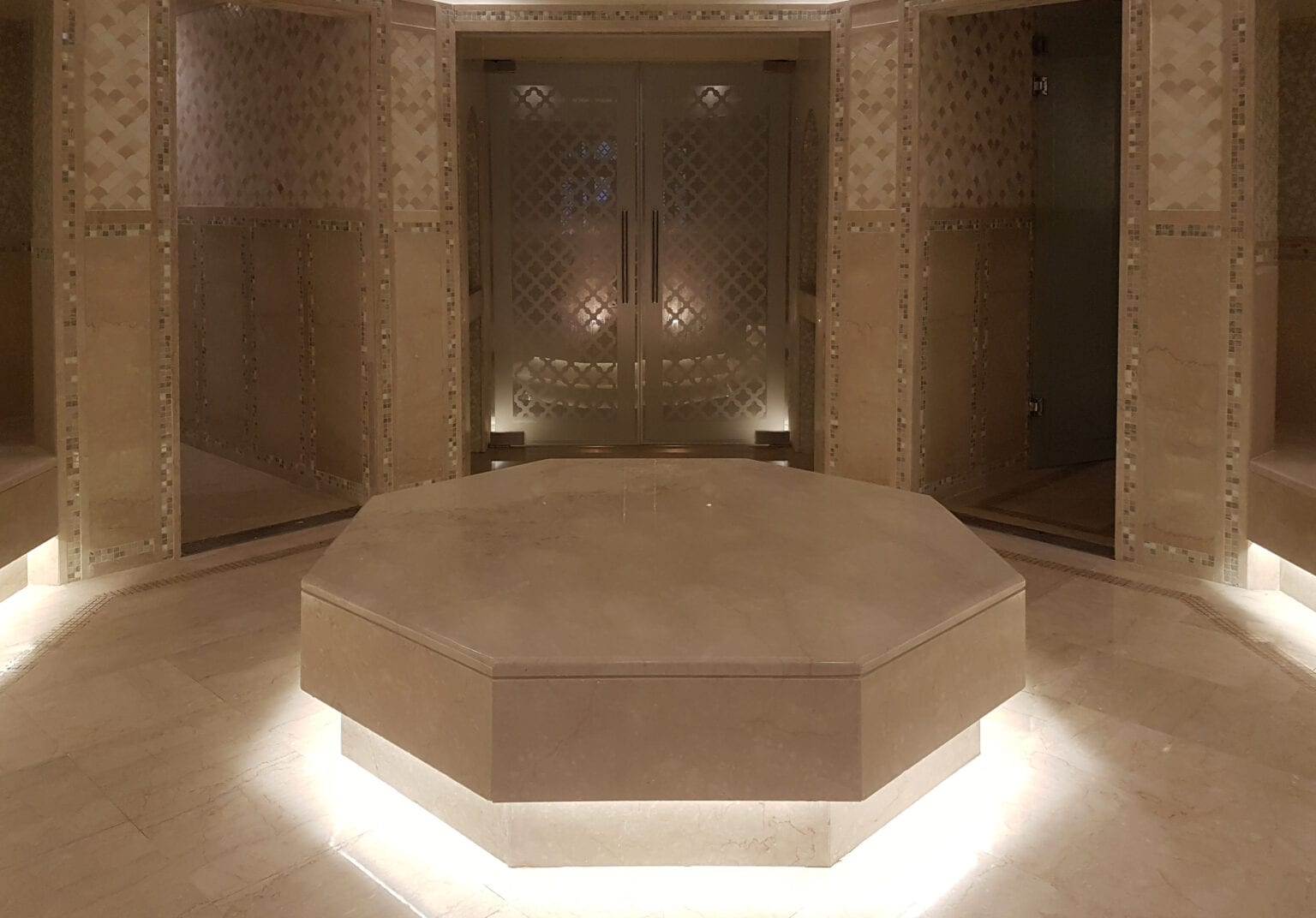 Gym
The gym has a copious quantity of cardio equipment.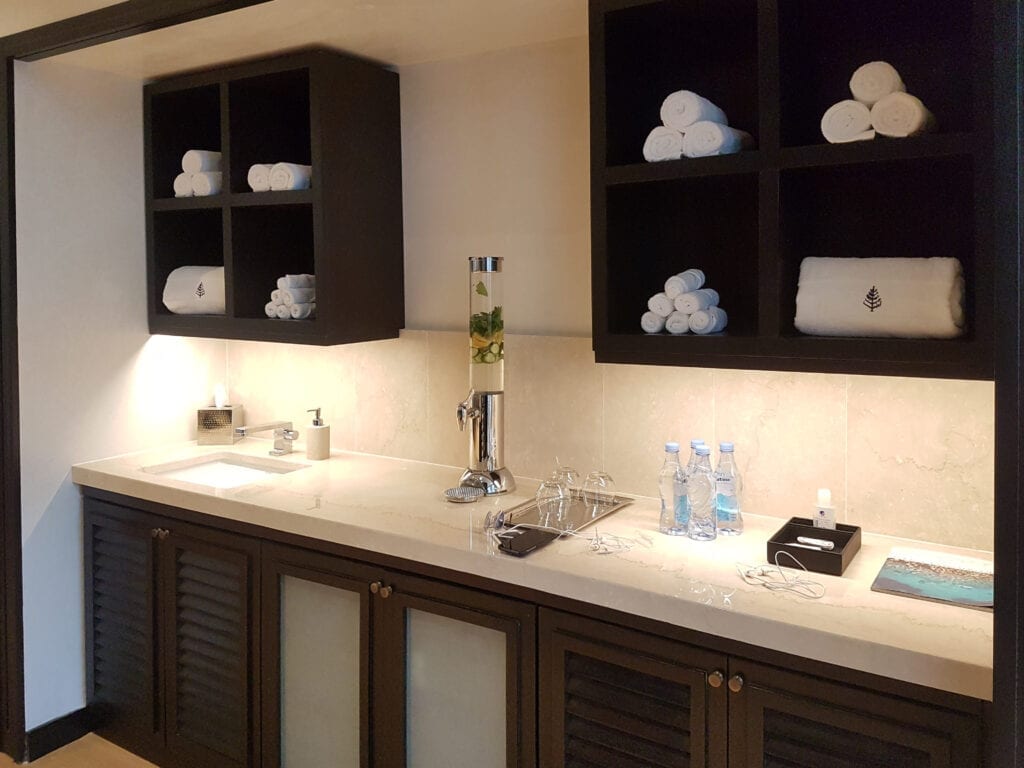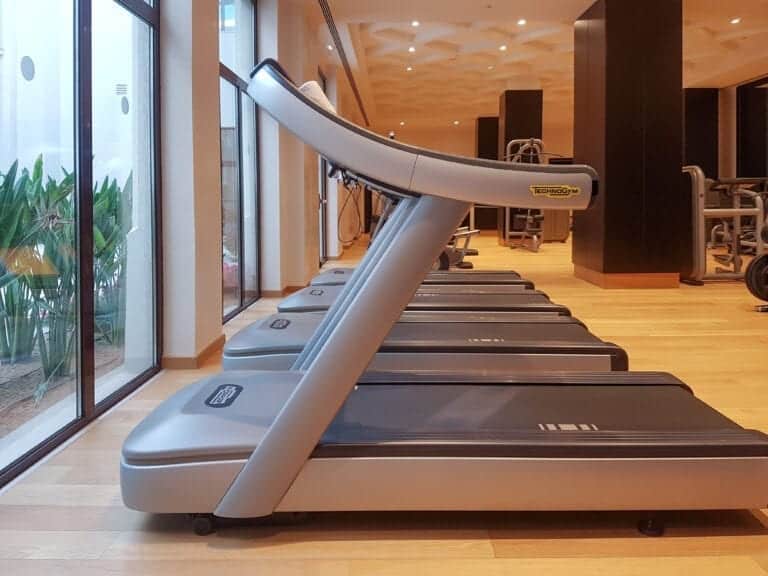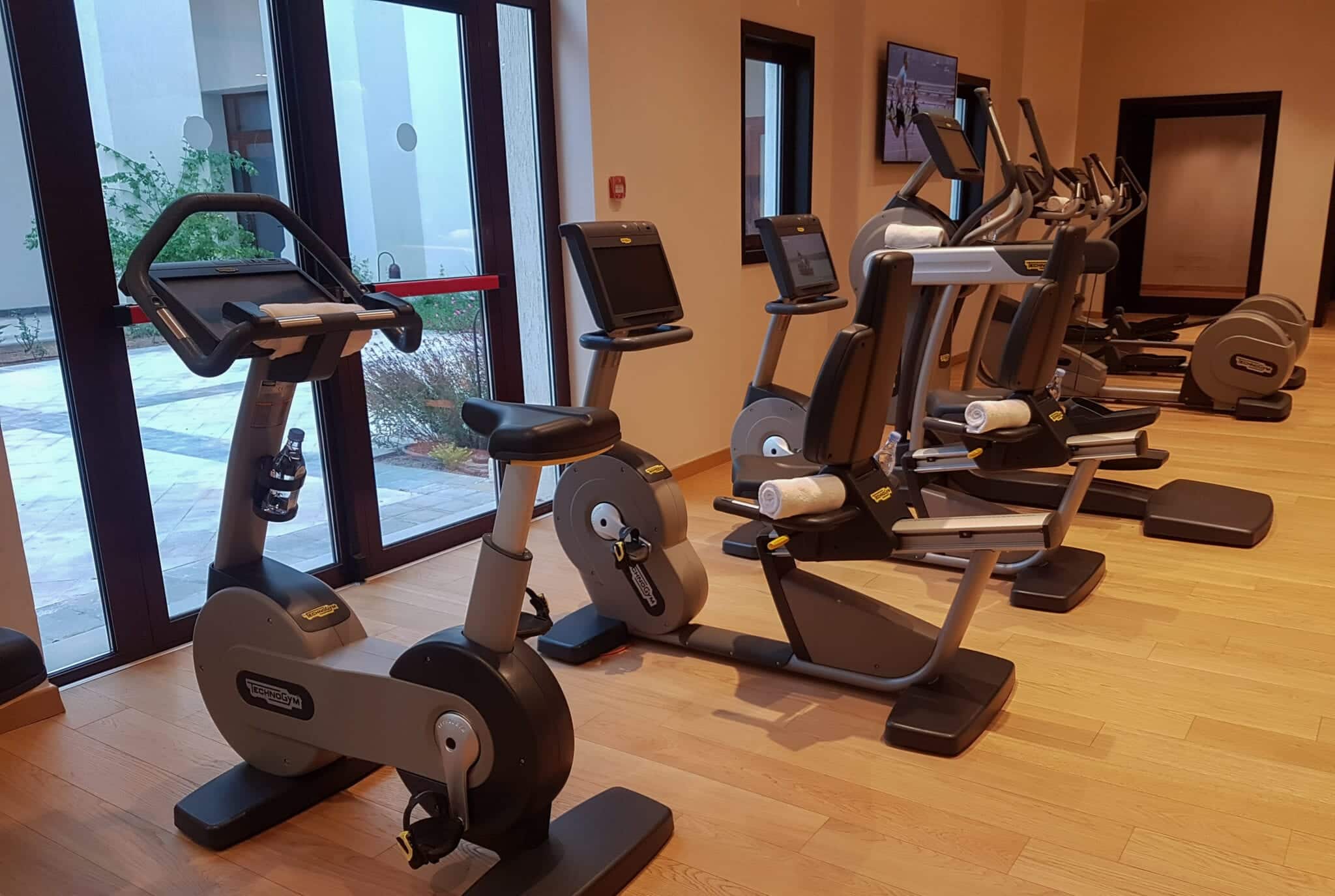 However, what interested me the most was the strength training equipment.
Usually most hotel gyms would end there but here the fun was just beginning. In addition to the power rack and dumbbells going to 26kg there were proper olympic dumbbell handles meaning you could build dumbbells all the way up to 60kg.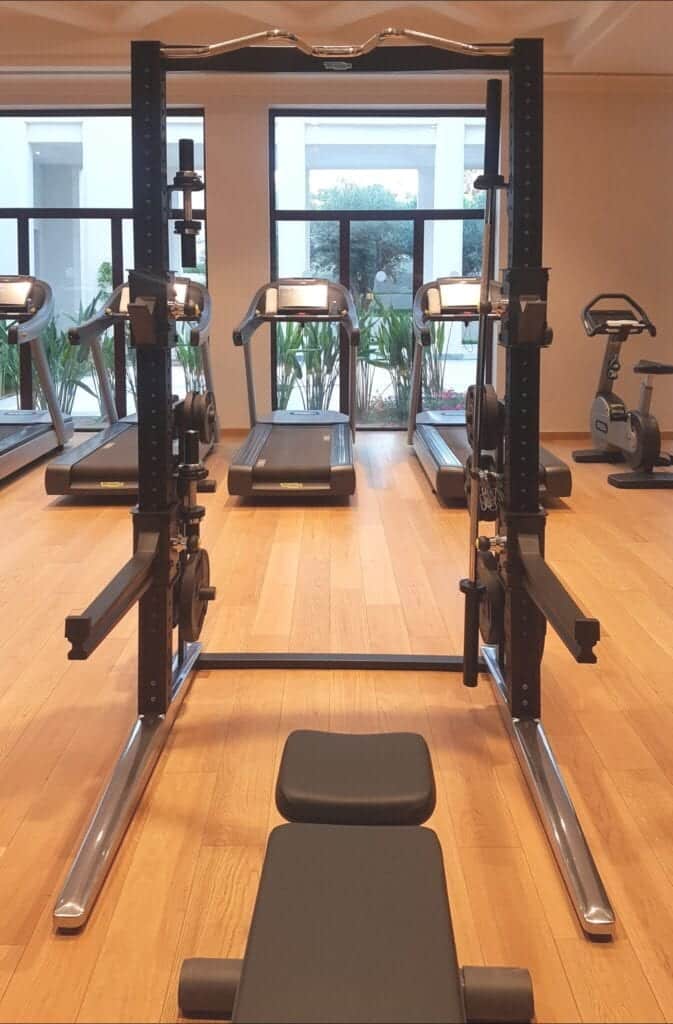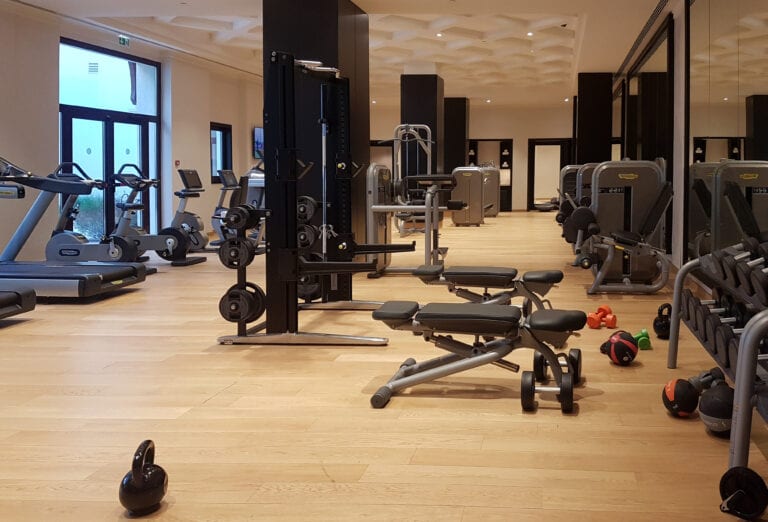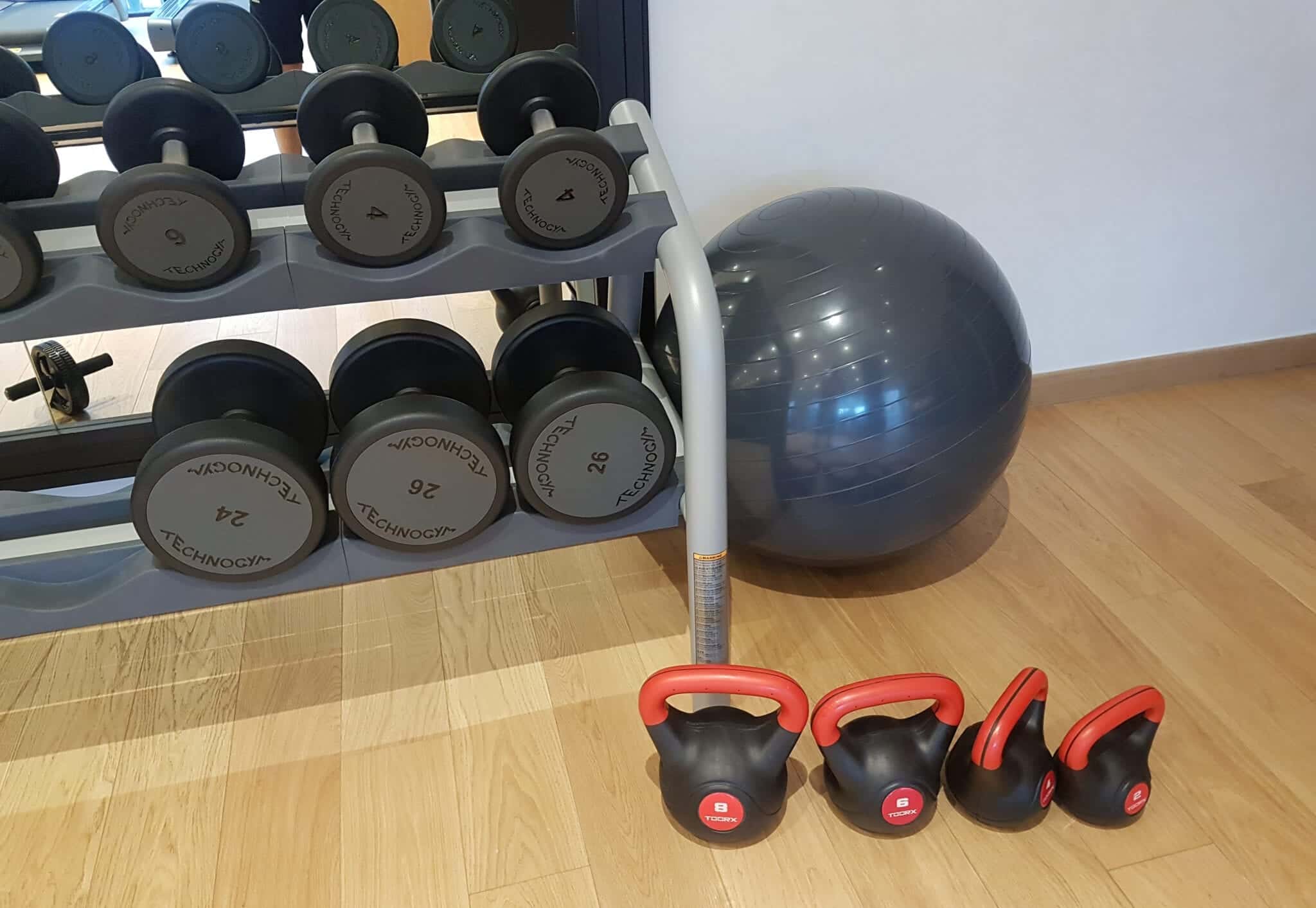 Indoor/ Outdoor Pool
The indoor pool is an oasis of palatial tranquility and was completely devoid of other guests every time we visited. It honestly felt like we were royalty, enjoying our own private facilities when we were here.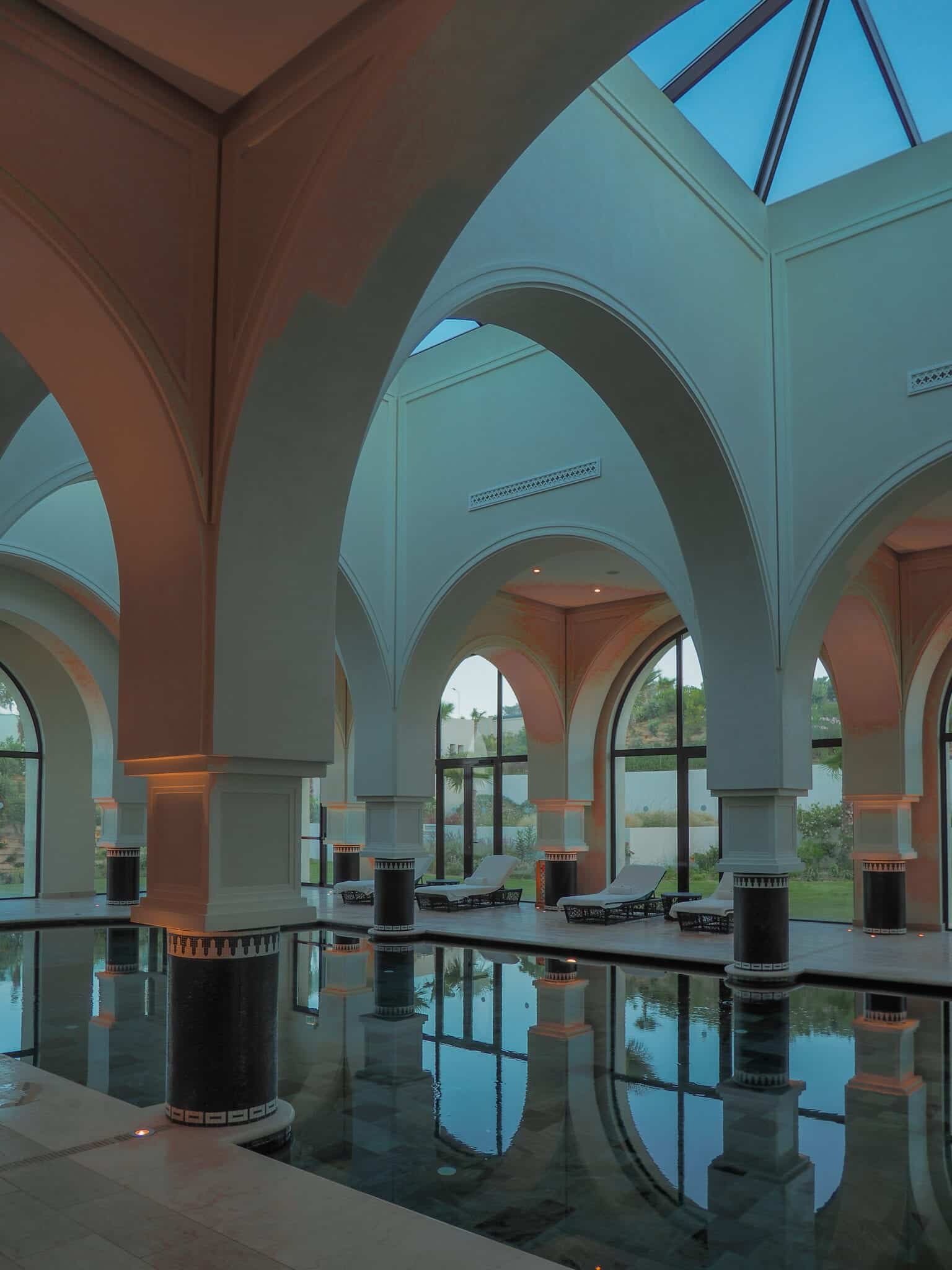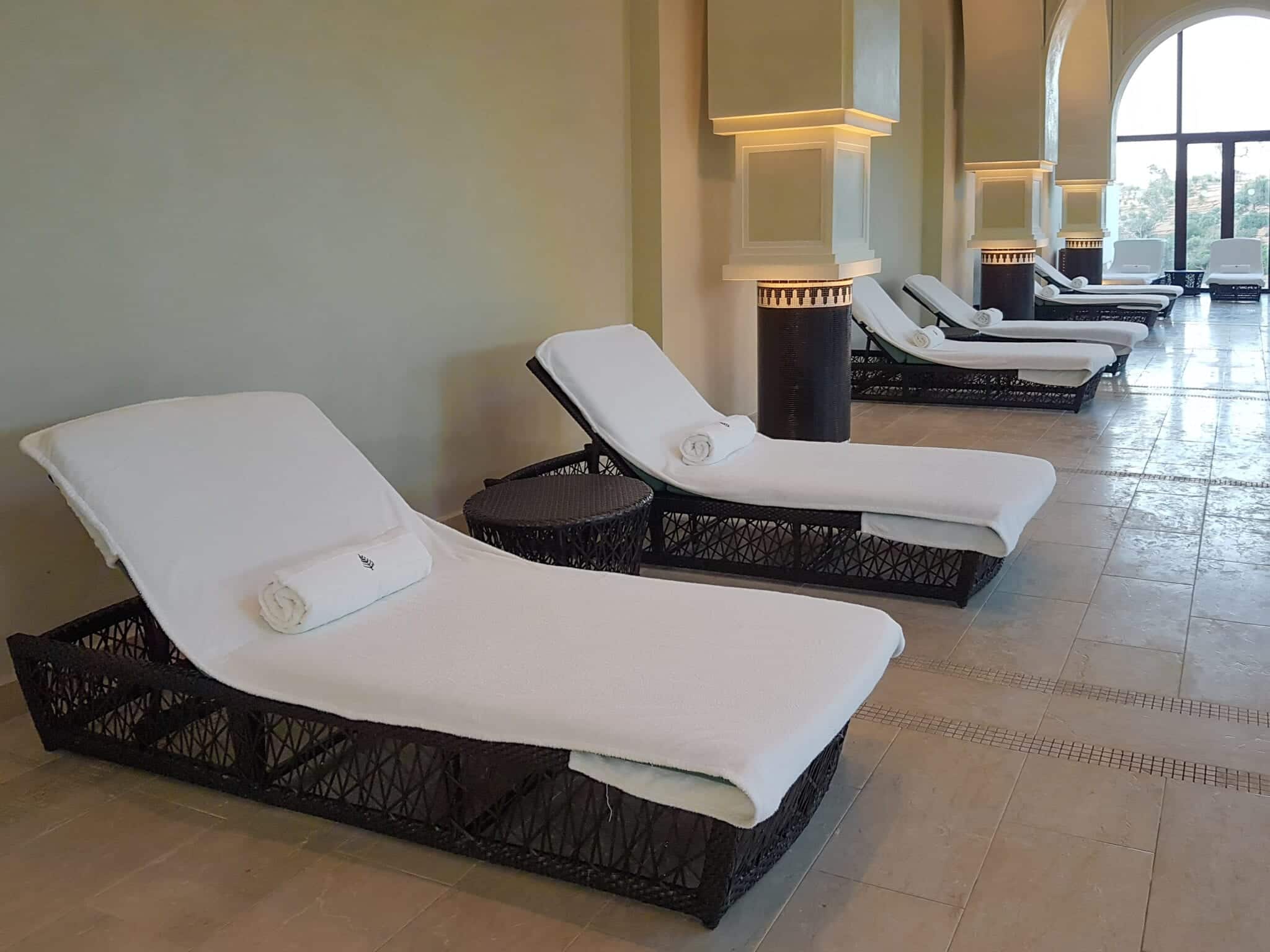 Not a bad spot to swim a few laps before dinner!
---
Conclusion
---
Basics Checklist
☑︎ Power sockets near the bed
Bonus points for USB, minus points for no universal power
☑︎ Easy to understand light switches
☑︎ Coffee machine
Bonus points for illy machine and jugs of warm foamed milk
☑︎ Separate shower and bath
☑︎ Blackout blinds
☑︎ Stable, fast and free Wifi
☑︎ Feather pillows
☑︎ Quiet and powerful aircon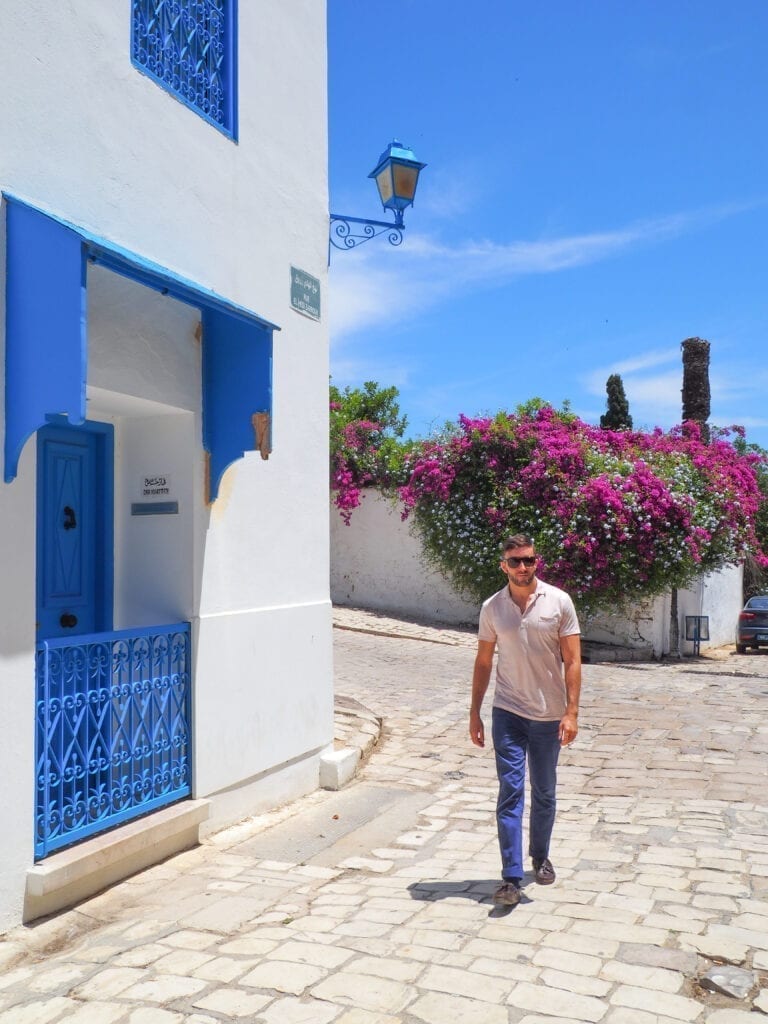 ---
I was very pleasantly surprised both by Tunis as a city and by the Four Seasons. The city is filled with some spectacular sights like the beautiful streets of Sidi Bou Said, the ruins of ancient Carthage and the world class Bardo museum. This explains why a hotel of the calibre of the Four Seasons was given the go-ahead here.
Any worries about this property being a second tier re-enactment of a Four Seasons were quickly abated the moment we passed through security and first laid eyes on the magnificent marble lobby. The hardware was fantastic throughout with the spa facilities being as good as any I have ever seen. The view of the Mediterranean is wonderful and the fact that there are no other resorts around really makes it feel like you are in your own private enclave – there is a real allure in this not currently being a destination with mass-market appeal (however unjustified that may be).
The service wasn't perfect but problems were dealt with swiftly and outside of Blu the staff really seemed to be doing everything in their power to go above and beyond. They genuinely bought into the ethos of Four Seasons Service and you could see that they relished the opportunity to surprise and delight wherever possible.
If you want a luxurious break from the European winter don't think twice. The only low level aspect of the offering here is the pricing. Otherwise, this is everything you could expect from a Four Seasons hotel.
---
Book online with Four Seasons Preferred Partner benefits
---
Four Seasons Preferred Partner Booking
An example of FSPP benefits which may be available on your stay:
Upgrade of one category,

subject to availability at check-in.
Full breakfast for up to two in-room guests.
$100 Hotel Credit.
Welcome amenity.
Early check-in/late check-out, subject to availability.
---