REVIEW – Park Hyatt Saigon (Vietnam)
March 25, 2020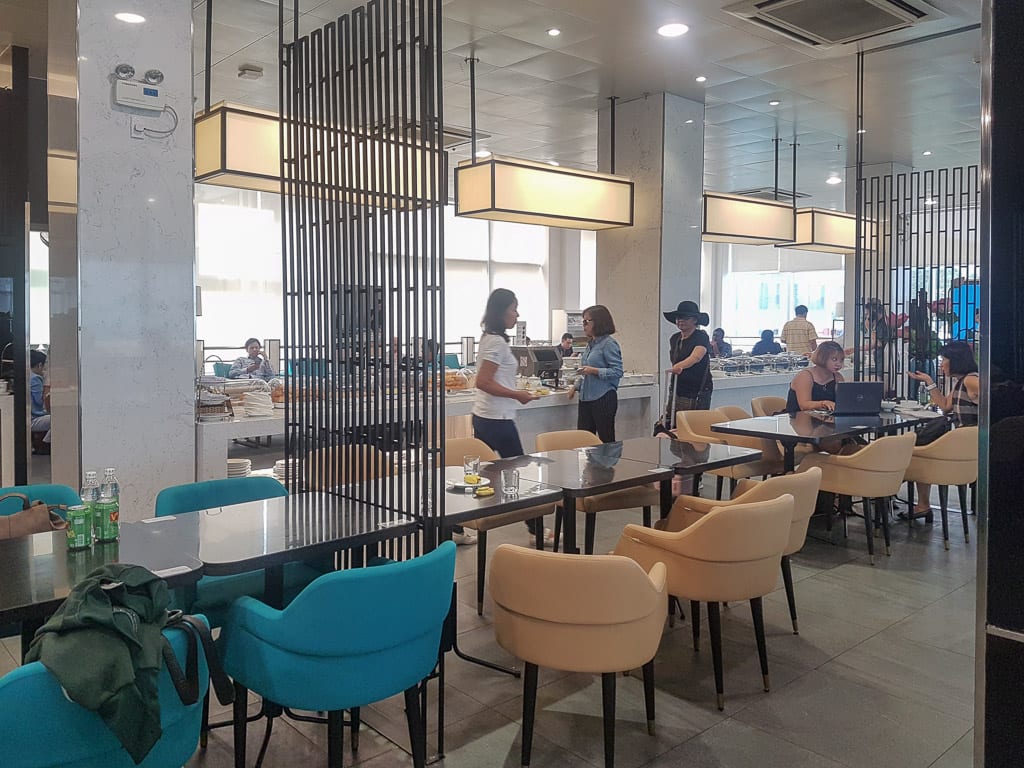 REVIEW – Vietnam Airlines Lotus Lounge : Saigon SGN (Domestic)
March 30, 2020
The Reverie Saigon
Room Type: Junior Suite

upgraded from Panorama Deluxe King

Chain: LHW
Status during stay: Leaders Club Member
---
Intro
---
I was initially a little cautious about booking a stay at The Reverie, on the face of it this property is everything I usually avoid – loud, showy, ostentatious, over the top.
However, every review I read kept saying the same thing: the service is absolutely unparalleled and if you give this hotel a chance you won't regret it.
The more I looked into it the more I was swayed. The lobby features a million dollar jade clock made by Baldi of Florence and a purple ostrich leather sofa built for Michael Jackson by Colombostile. Elsewhere one of the ballrooms has a Bechstein grand piano dating to 1895, which just as an extra kicker, has been entirely clad in malachite. The ultra rare blue marble used throughout the hotel was flown in especially from Bolivia. The degree of opulence is truly out of control. At some point you just have to take your hat off to the designers and applaud the audacity of their endeavour.
I could also mention the fact that the rooms feature Poltrona Frau furniture (as seen in Etihad's first class apartments) and Hermes toiletries, whilst the club lounge serves free-flowing Roederer champagne. In light of everything else though this seems rather akin to telling a lottery winner that they have also won a coupon for a free upgrade to a large soda with their next purchase of a Happy Meal.
The clincher for me came when I discovered that the hotel has one very special standout amongst its fleet of luxury vehicles: A Rolls Royce Phantom Dragon.
The Phantom Dragon was made in very limited quantities to commemorate the Chinese year of the Dragon in 2012. At four times the price of a regular Rolls Royce Phantom it is the kind of vehicle I would never imagine I'd have the chance to see in the flesh, much less get driven around in.
Since we would be celebrating Kamara's birthday here and she is half Chinese and born in the year of the dragon, this seemed like perfect serendipity. I knew we had to stay here.
---
Booking
---
Our clients are able to access Virtuoso rates at The Reverie Saigon.
Virtuoso bookings always match the best available rate on the Reverie website, but ALSO offer extras such as:
Upgrade of one category,

based on availability at time of check-in.
Full breakfast for up to two in-room guests.
$100 food & beverage credit
Early check-in/late check-out, subject to availability.
We actually booked the room below a Junior Suite (Panorama Deluxe King) and were upgraded by the hotel, thanks to booking the Virtuoso rate.
You can book a Virtuoso rate at The Reverie Saigon for yourself by using our online booking portal:
BOOK THE REVERIE WITH VIRTUOSO BENEFITS
If you're booking with us for the first time, here's a quick guide on how to use the booking portal:
If you are planning an itinerary involving multiple rooms or properties, please get in touch for immediate booking assistance:
---
Arrival
---
We took a Grab from the Park Hyatt Saigon, which clocked in at a cost of about $2. Ordinarily we would have walked such a short distance but I value my life enough not to risk wheeling suitcases in front of Saigon traffic!
We were dropped at the front entrance to the hotel, which is actually located within a very exclusive designer homeware mall (from which a large number of the hotels interior furnishings are sourced). We were met by a doorman in a top hat who assisted us with our bags, walked us past the shops and into the absolutely astonishing downstairs lobby.
A lot of people come here just to get their pictures taken, not realising that this is merely a greeting area. The real lobby is located on the seventh floor… and is far more extravagant.
We were greeted by name at the desk (I have no idea how they knew it was me) and were asked to leave our luggage since it would be delivered to the room in due course. We briefly stopped to admire the intricately hand blown murano chandeliers, shaped like the silhouette of Vietnam, before being escorted down a Bolivian blue marble hallway and into a gold plated, amber walled lift.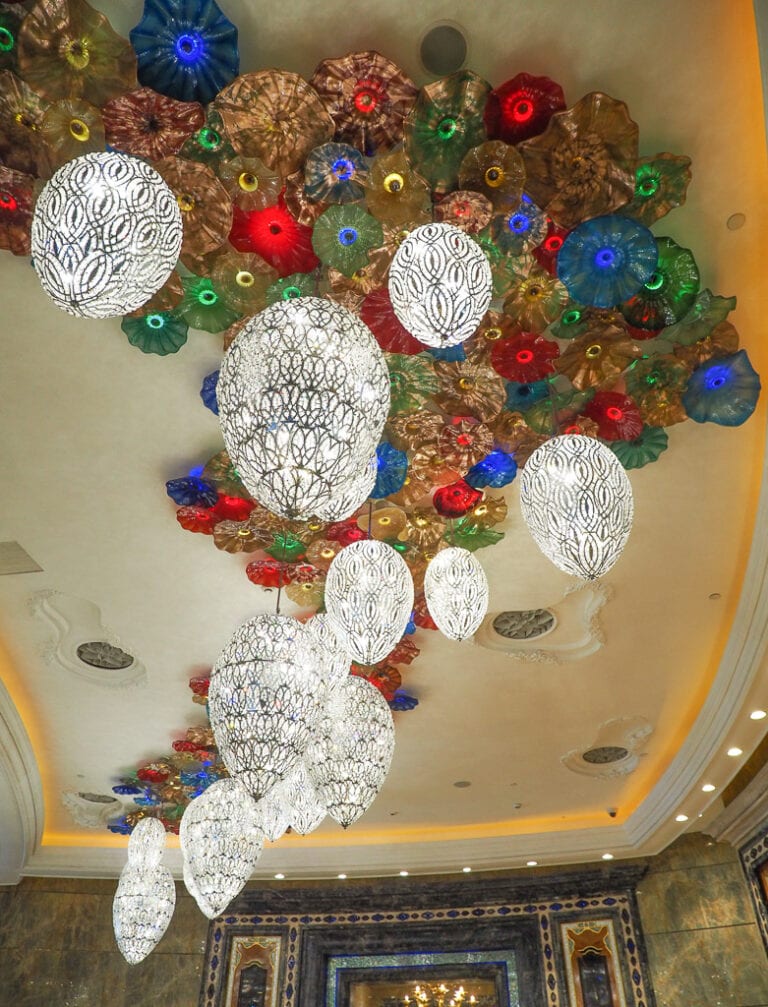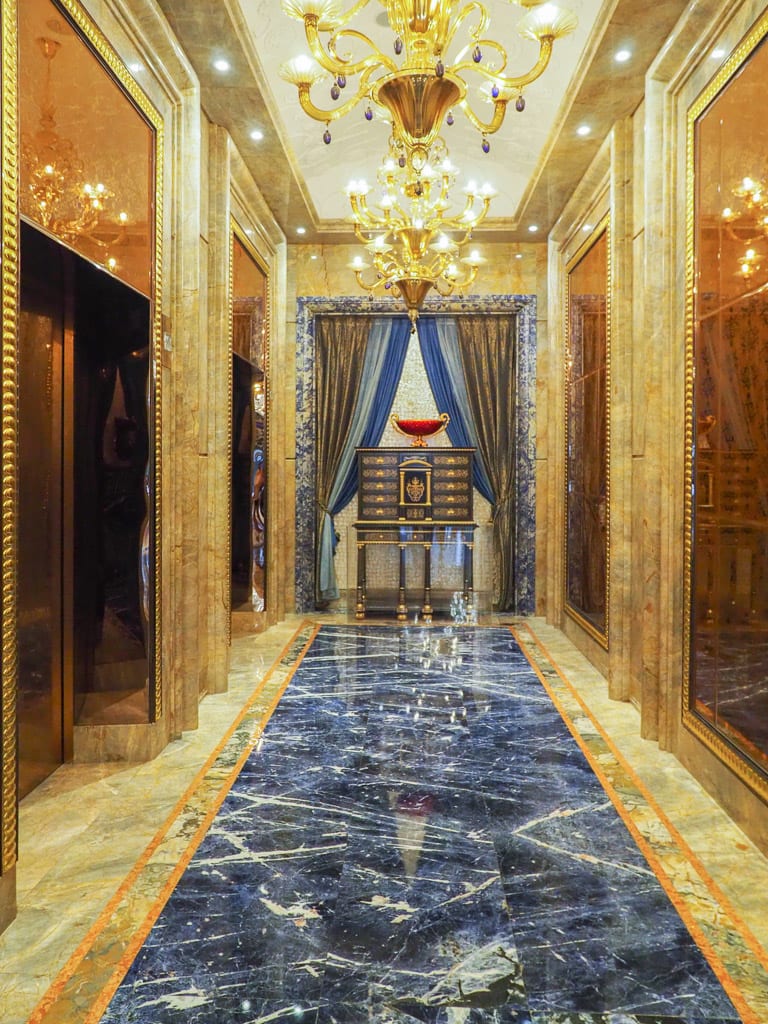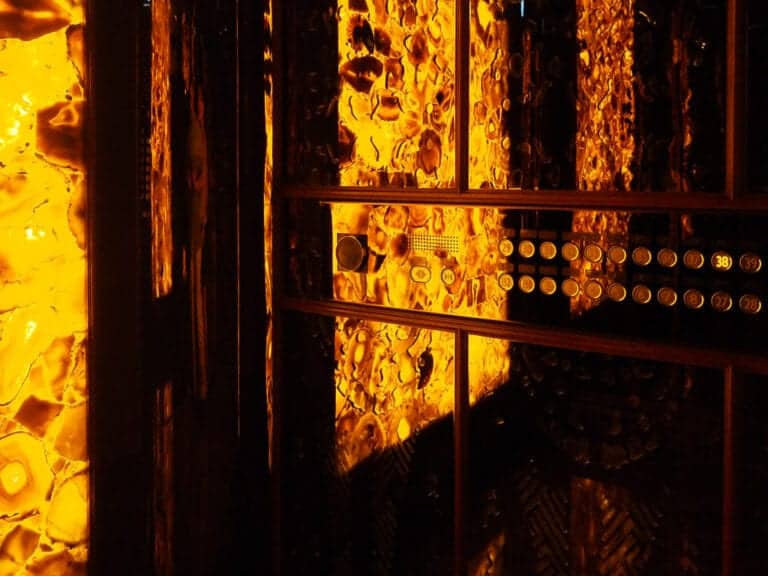 Once we arrived on the seventh floor we were very smoothly handed over to a member of the reception team. He walked us down this corridor, that looked like the inside of an intergalactic nightclub, and on to the lobby itself for check-in formalities.
There are no two ways about it. This is probably the most next level hotel lobby of all time. I've seen some real stunners but usually they rely on a beautiful view. This one is all about the decor and honestly I've never seen anything like it in my life.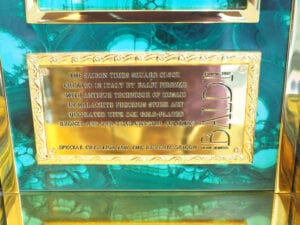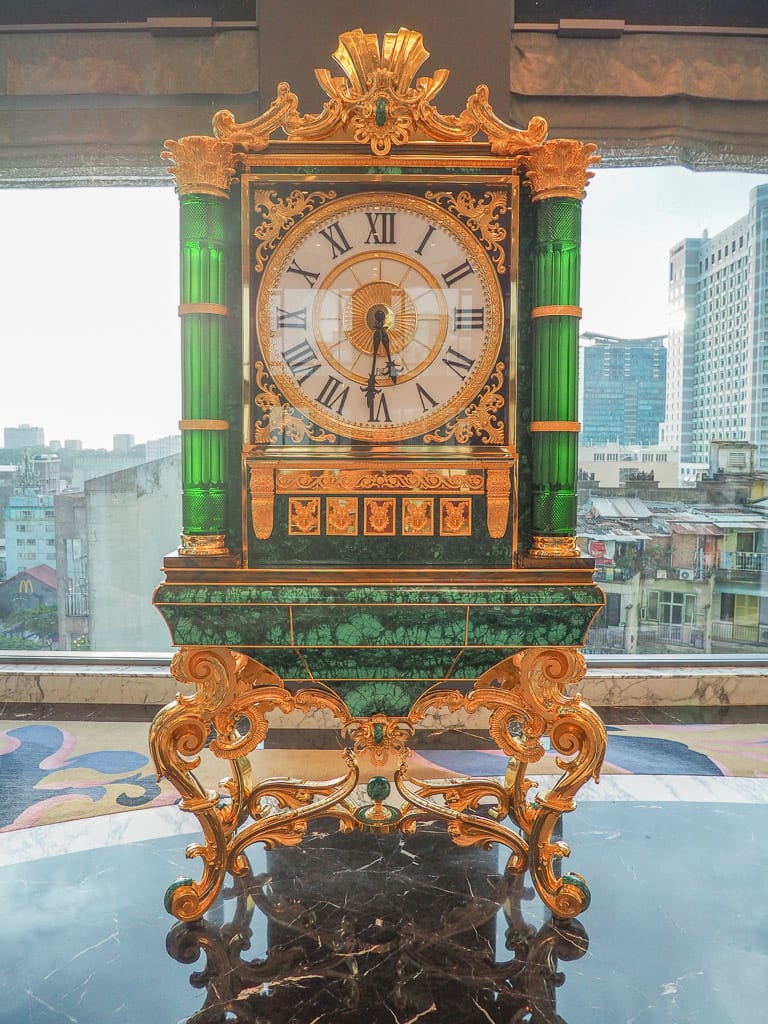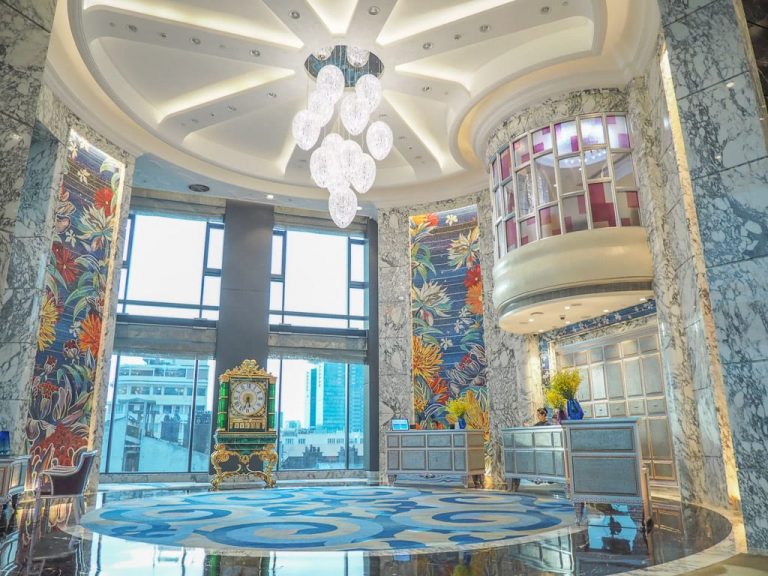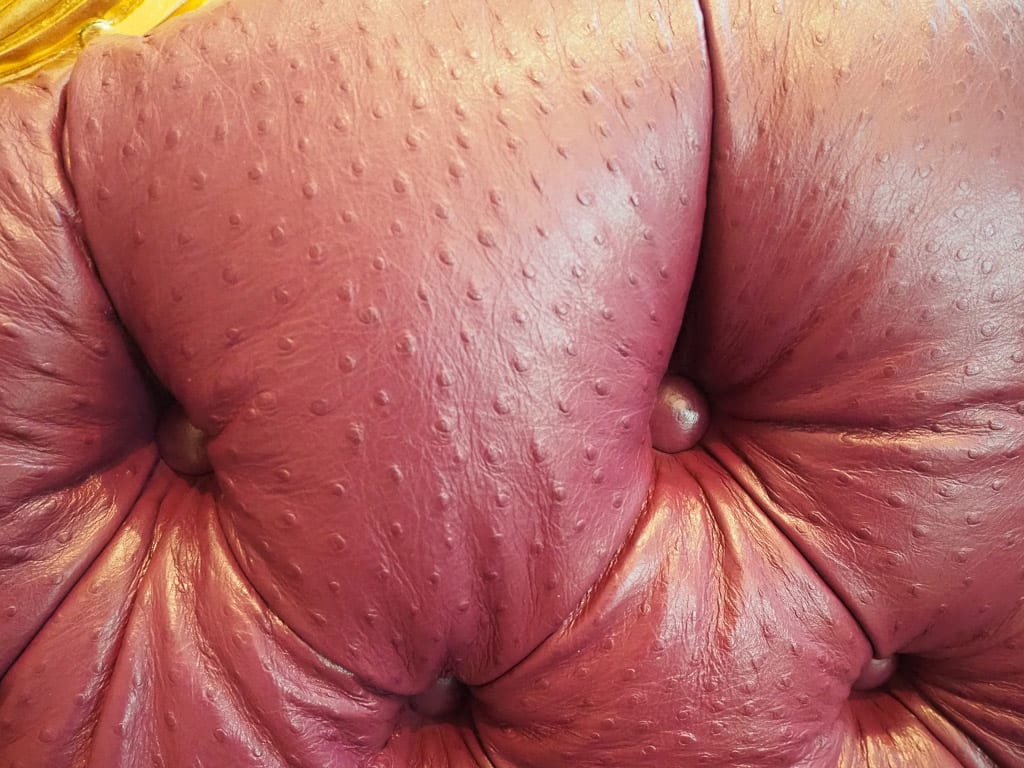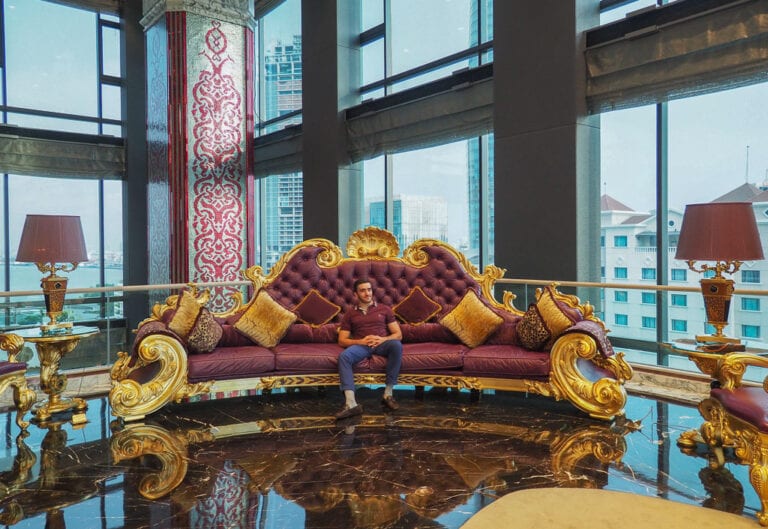 The check-in process was very efficient, with our
guaranteed Virtuoso Benefits
being confirmed as was as a space available upgrade into a Junior Suite. The Junior Suite is the lowest category of room that qualifies for
club lounge access,
which made the upgrade even sweeter! After completing the formalities at the desk, the receptionist gathered our room keys and welcome letter and guided us up to our room.
---
Junior Suite
---
The Reverie is located in one of the tallest buildings in Saigon and we were lucky enough to be allocated a room 32 floors up.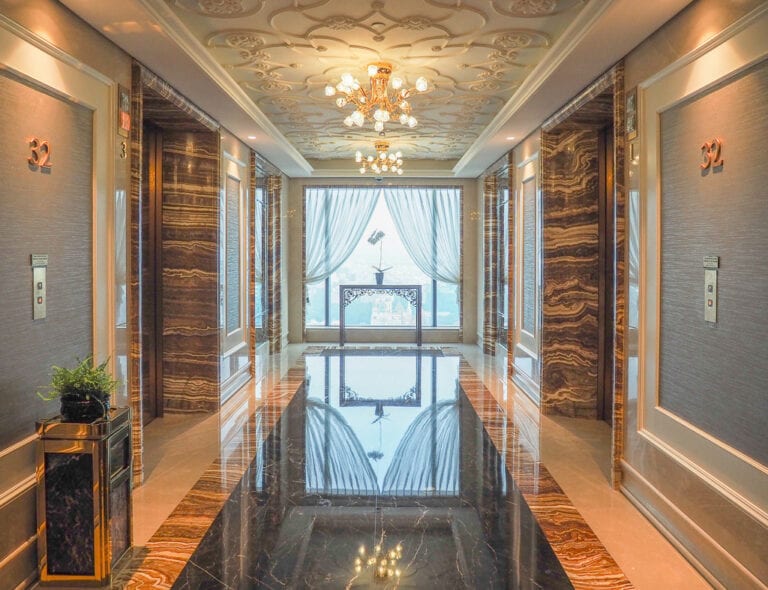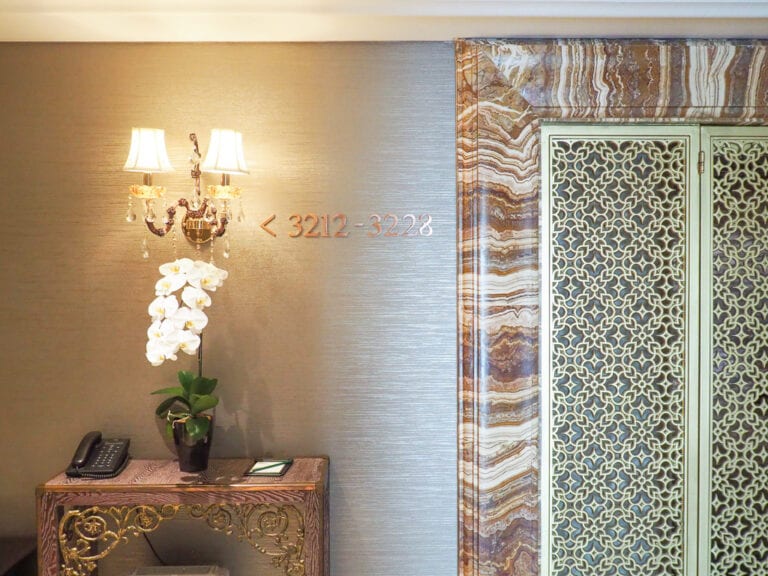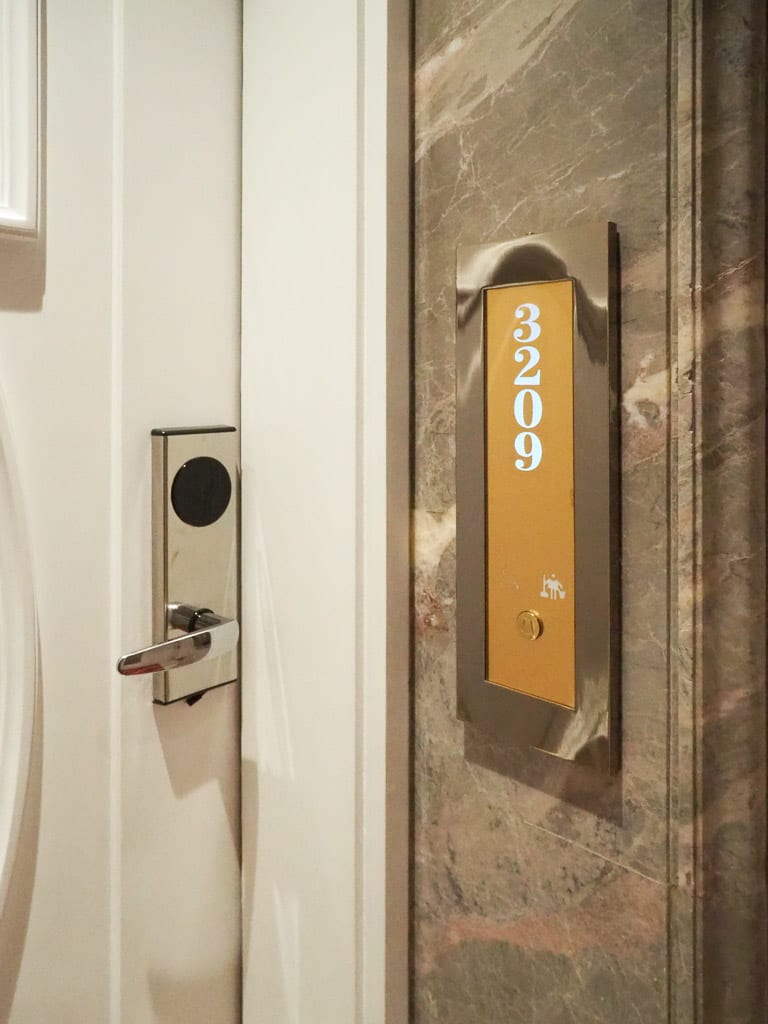 Press play below for a full video walkthrough of our room:
Our room was only considered to be a junior suite since the bedroom and lounging area were not separated by a wall. However, the reception area and desk were separate so if you're up early and need to take a call or work without disturbing your partner there's ample space within which to do this.
Not only were we given a bottle of Tuscan red and chocolates as a welcome amenity, we also had several bird of paradise flowers placed throughout the suite since I had mentioned when arranging our stay that these are Kamara's favourite. I know that a lot of people just leave the notes and requests section of a reservation blank but I feel that it never hurts to ask as often hotels have entire teams dedicated to working on these and as they say, if you don't ask you don't get!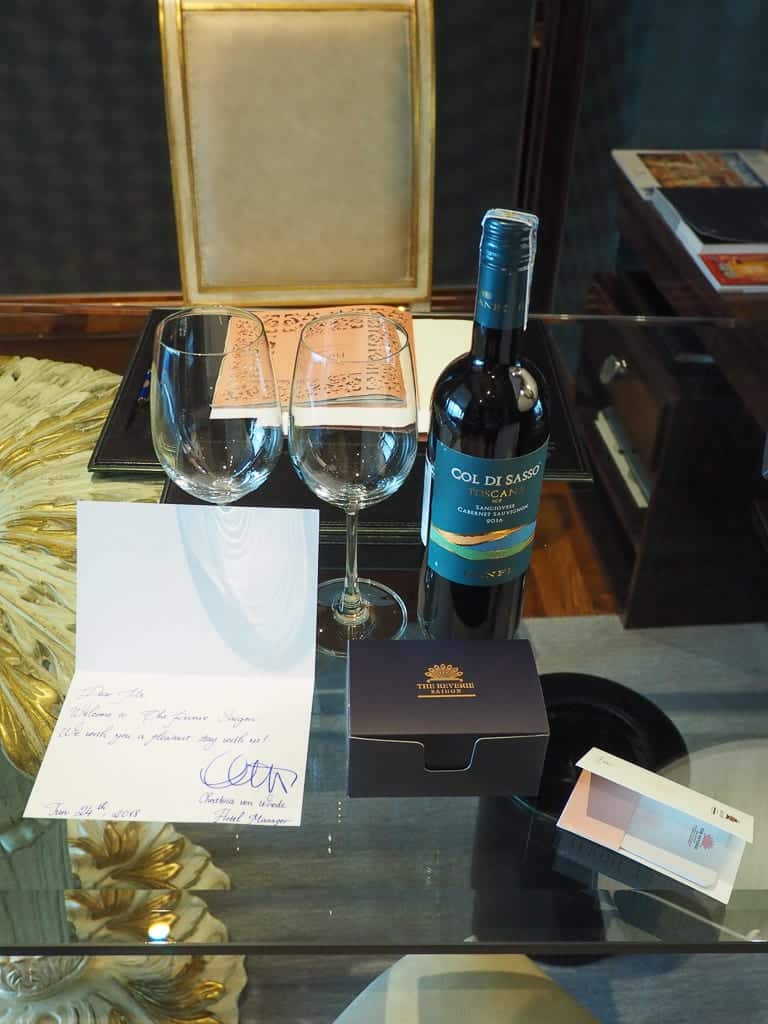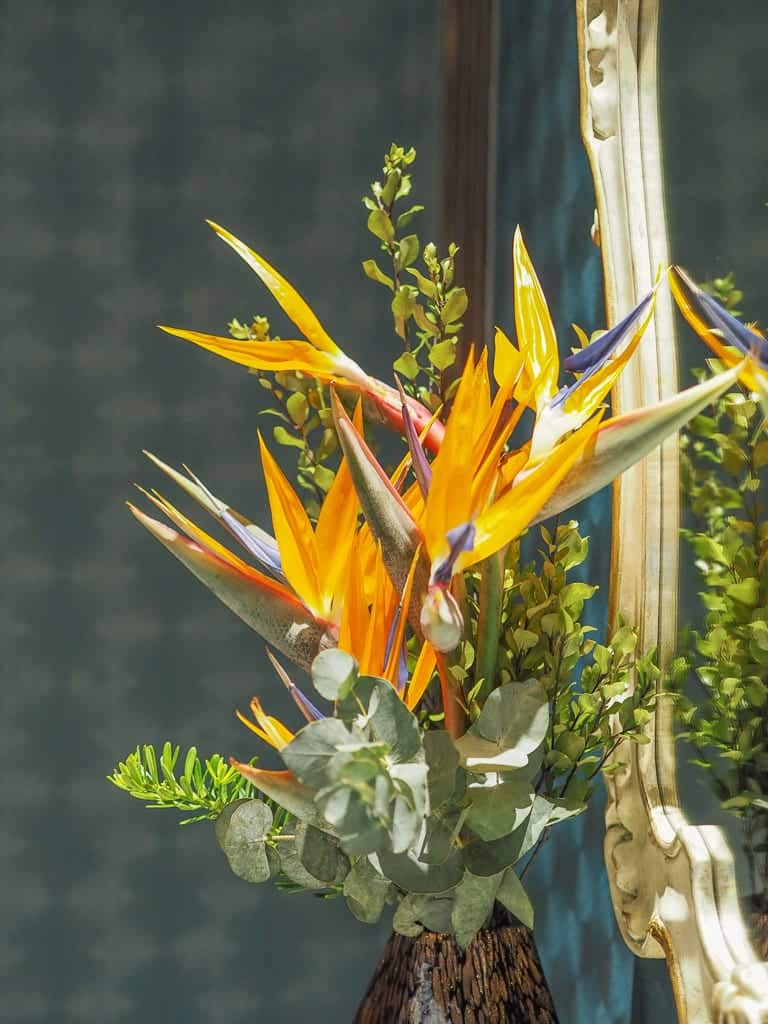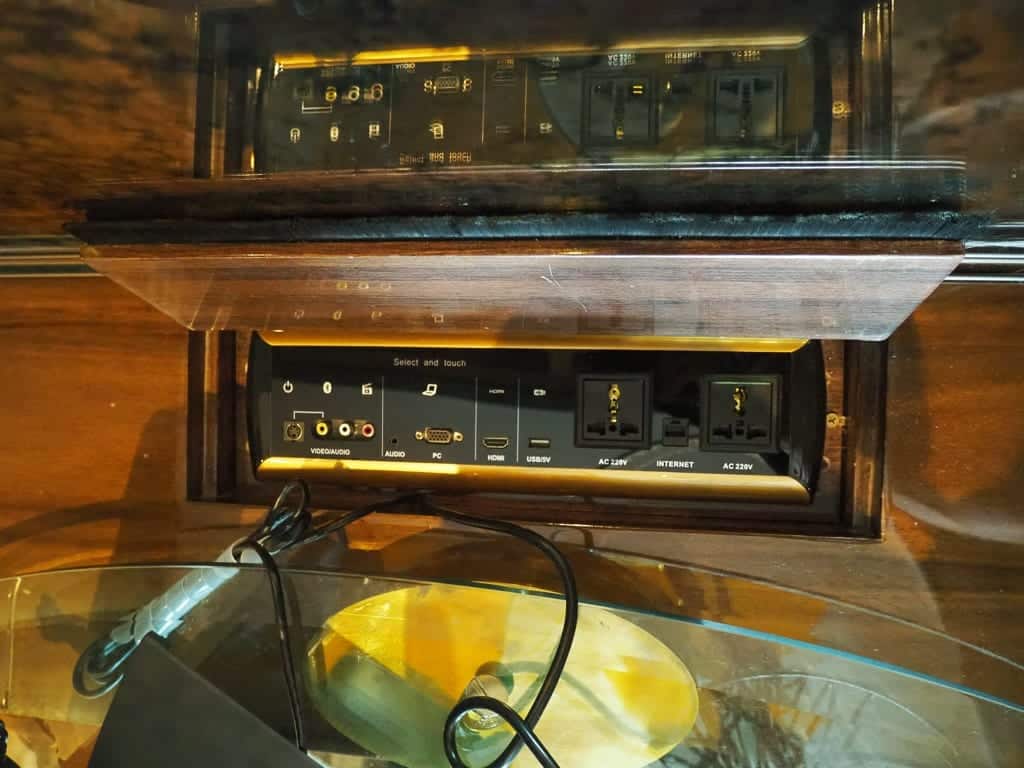 The bedroom was a real showstopper. There's no two ways about it. Mosaic walls, an oversized ornamental rug, glossy walnut furniture and an intricately carved ceiling. Everywhere you look the decor screams opulence, although the effect is more restrained than the outlandish design in the public spaces.
The bed was amazingly comfortable and dressed in ultra high thread count Frette bed linens; it was easily on a par with my favourite Four Seasons beds. A full pillow menu was also provided to cater to even the most meticulous of sleeping standards. The little details were all taken care of too: both sides of the bed had universal power sockets as well as a full set of very clearly labelled lighting controls. Kamara was a big fan of the velvet lined jewellery box on her side of the bed too!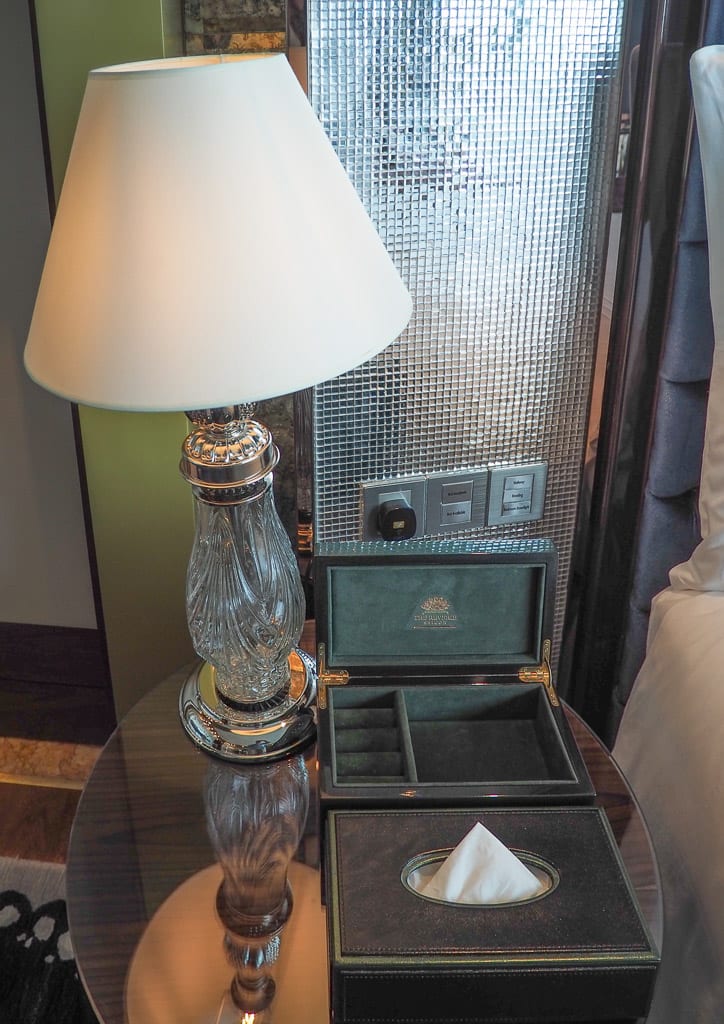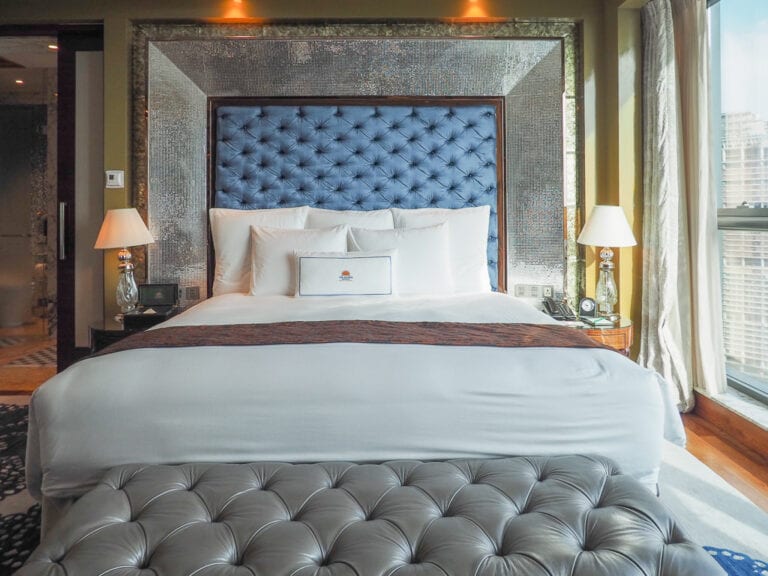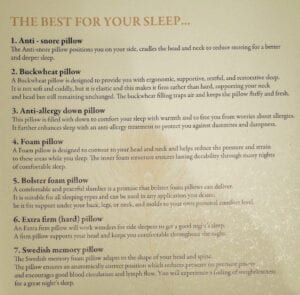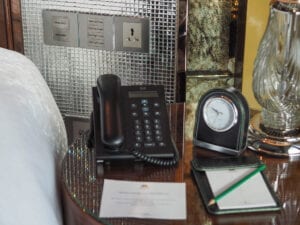 The view of the Bitexco tower from our bed was rather special too…
There was admittedly not a huge amount of lounging space in the bedroom, just a single chaise longue. The daily replenished fruits were a nice touch though.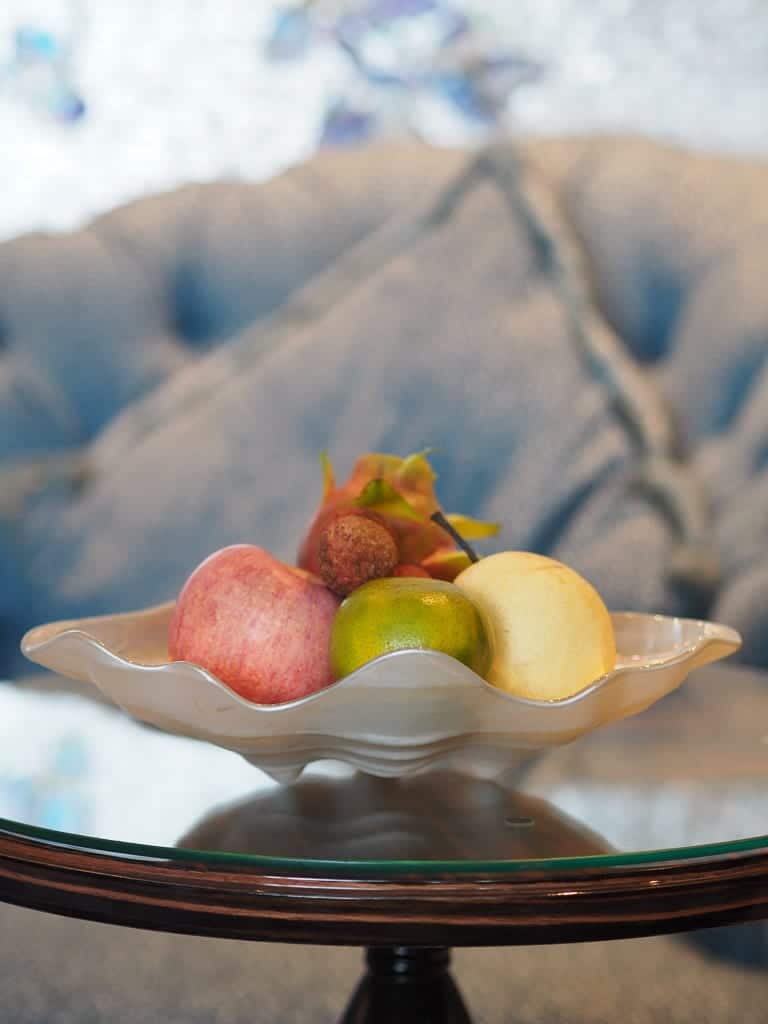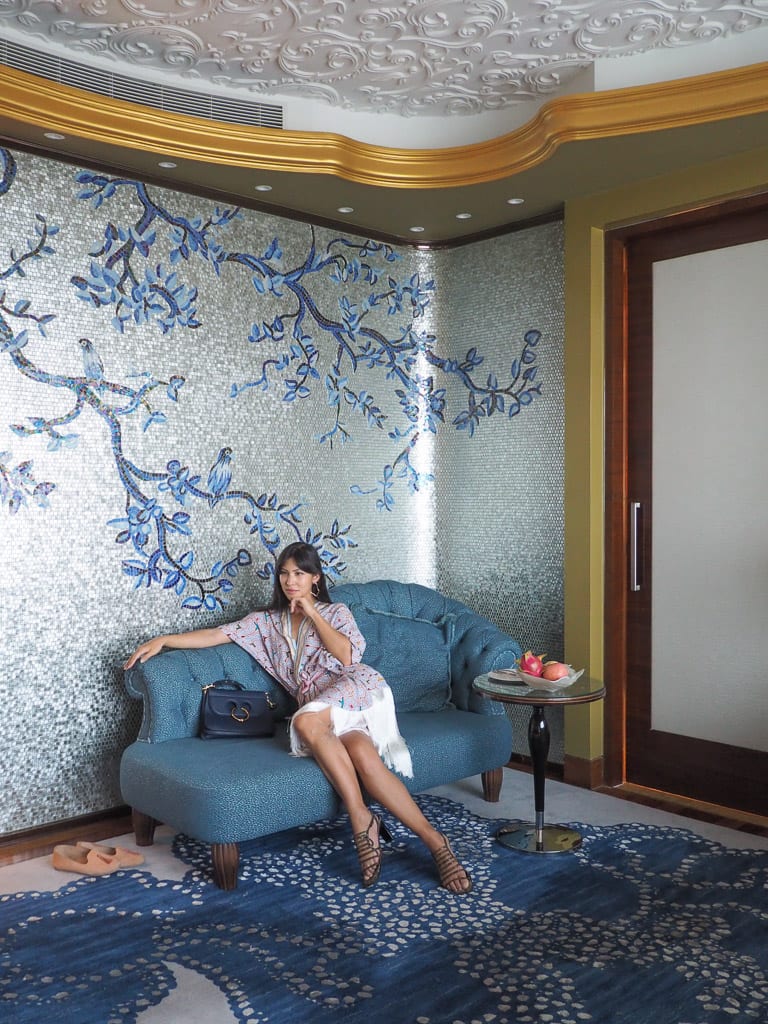 Not only was there a selection of teas and coffees available in the room, we were also given enormous quantities of bottled water each day as well as a fully stocked complimentary minibar, filled with soft drinks.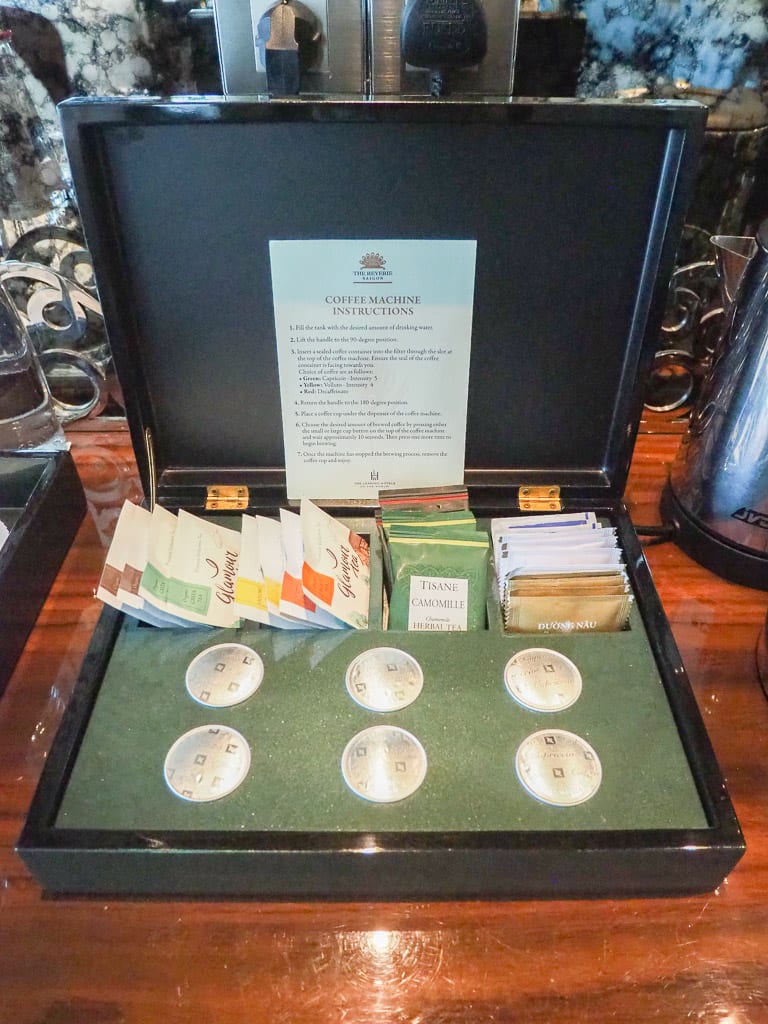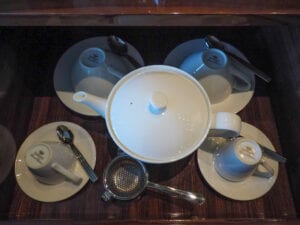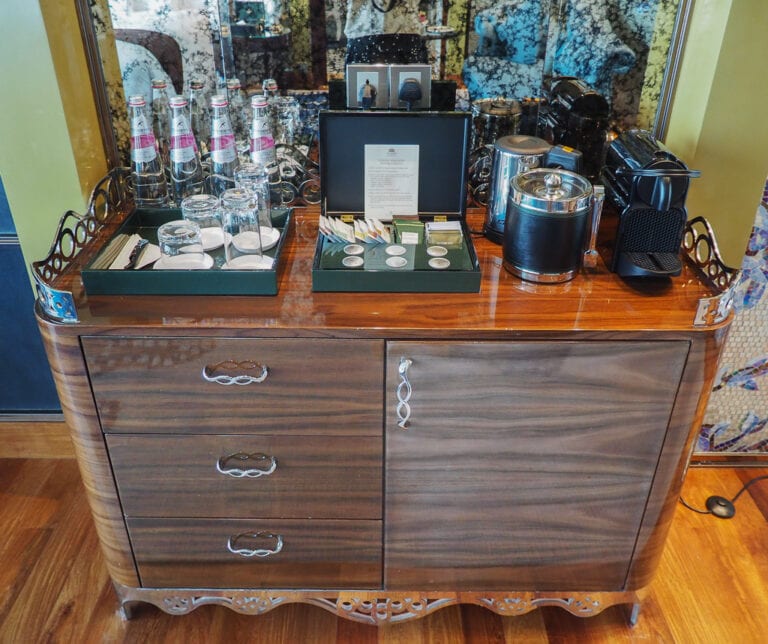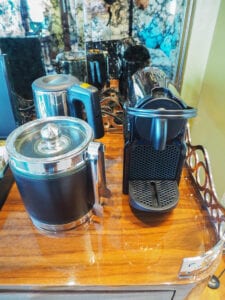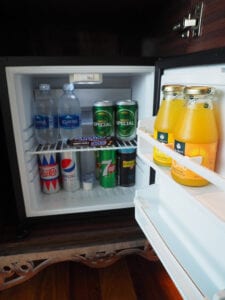 ---
Bathroom
The bathroom was almost as large as the bedroom and featured three distinct areas, the first of which was this area with the dual vanities.
One of the greatest luxuries in life is space and the countertop here had it in abundance. Should you require even more there were enormous drawers beneath each sink. Bottled water was refreshed on a regular basis as were the numerous Hermes amenities within the green lacquered chest.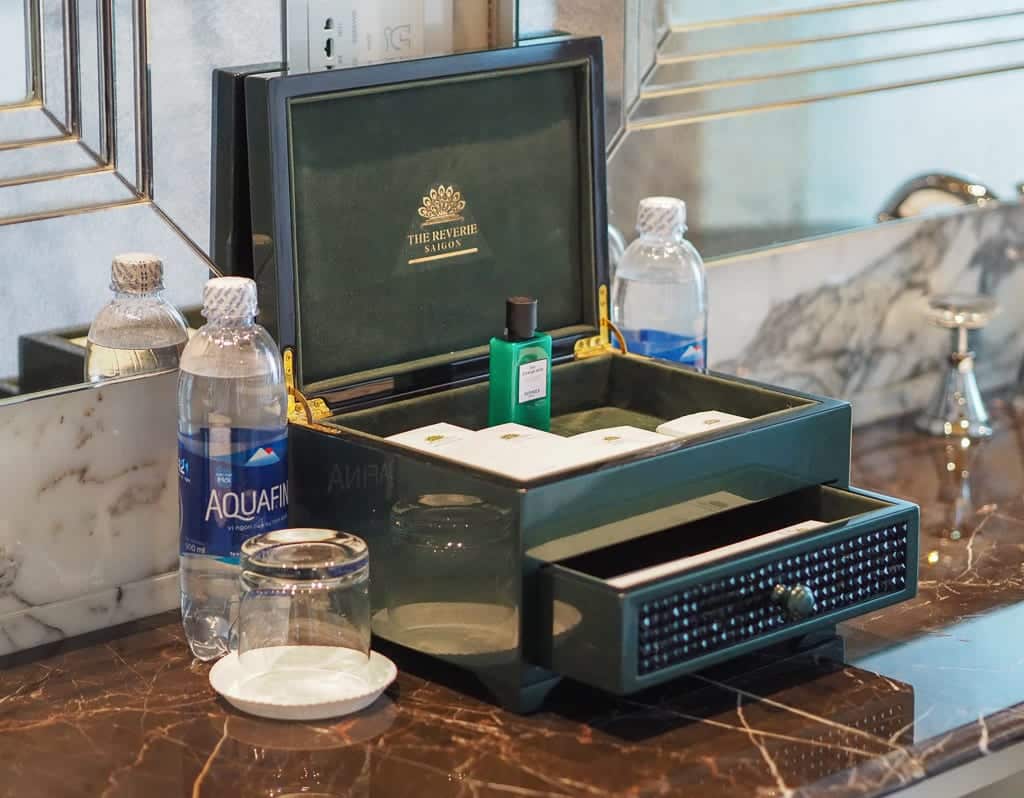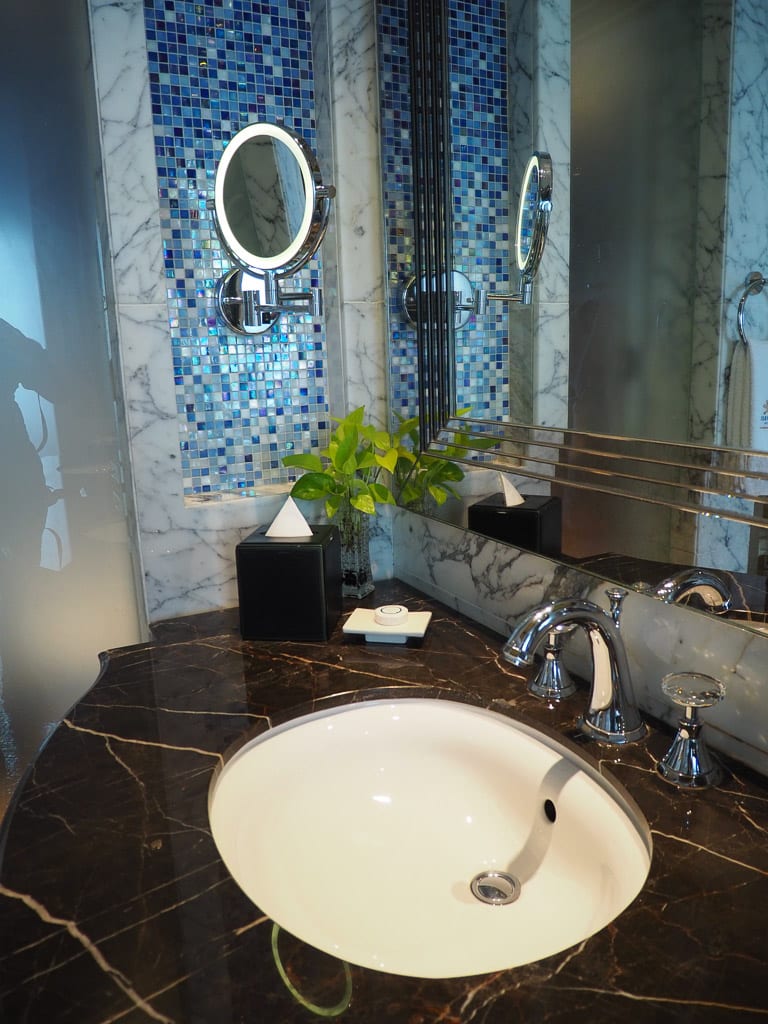 To the right of the dual vanities was the marble floored wetroom featuring a rainfall shower and a deep soaking tub with the same spectacular view as the bedroom. A bath with a view is another of life's great luxuries. Having the time to actually spend an hour soaking and then having clear glass with this kind view and no neighbours looking in is something that only a very privileged few get to experience on a regular basis. The Frette bathrobes were an absolute joy to step into after bathing too.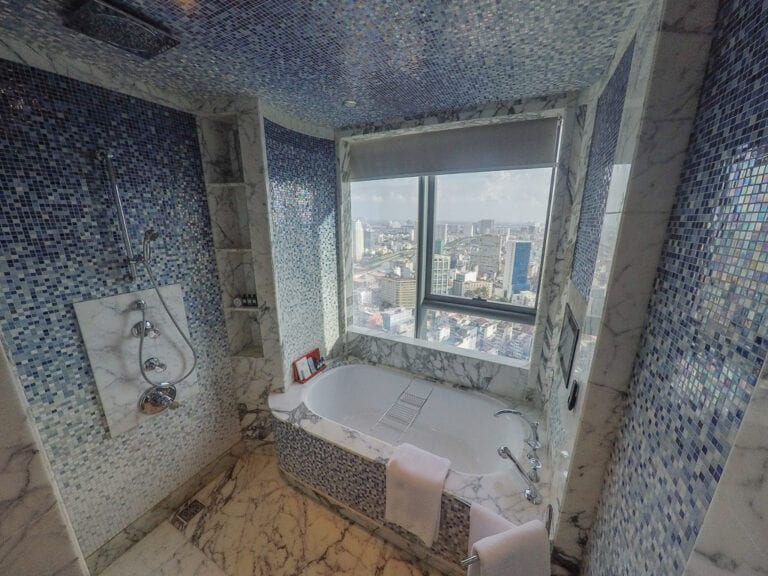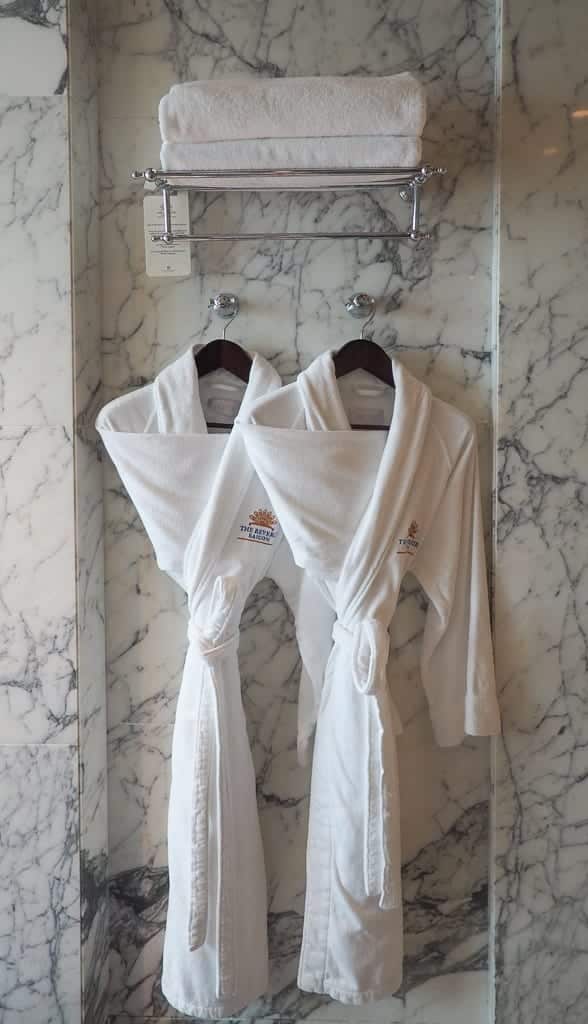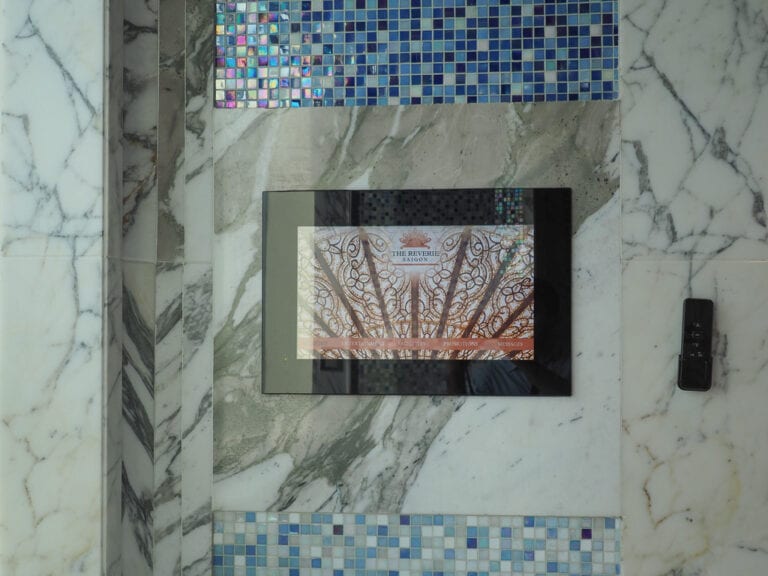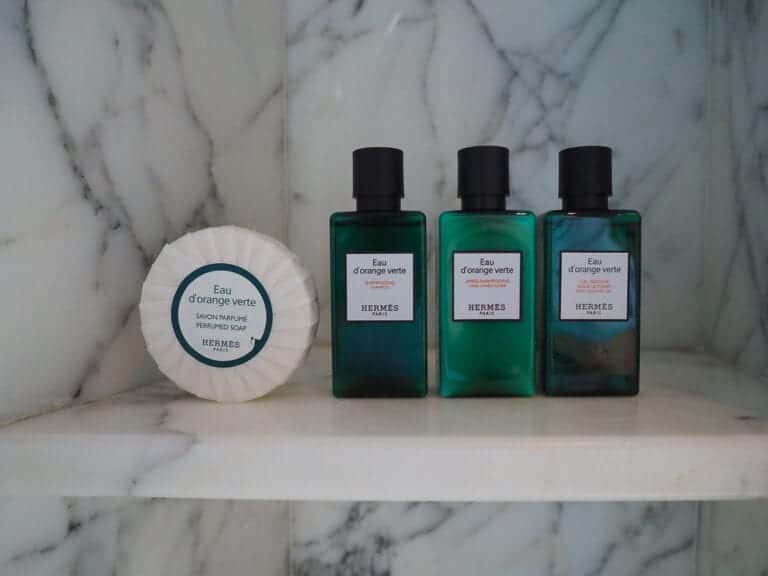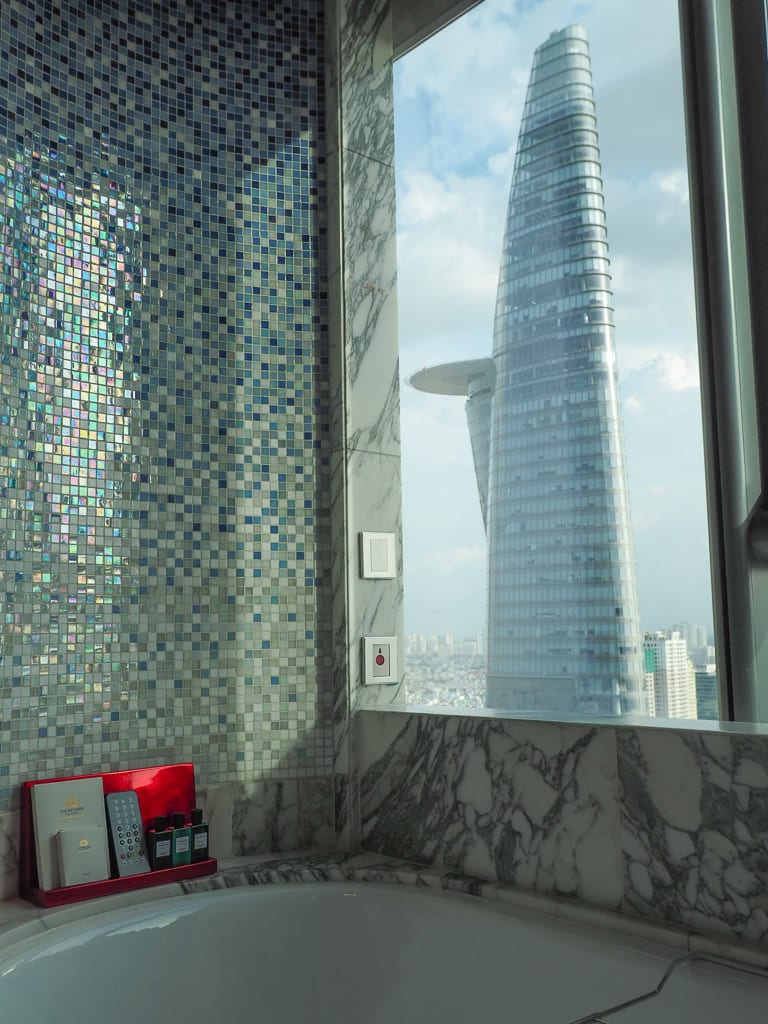 To the left of the dual vanities was a beauty area with enough mirrors to view yourself from every conceivable angle. Behind the frosted glass was a Buck Rogers toilet with a heated seat and as many functions as my iPhone.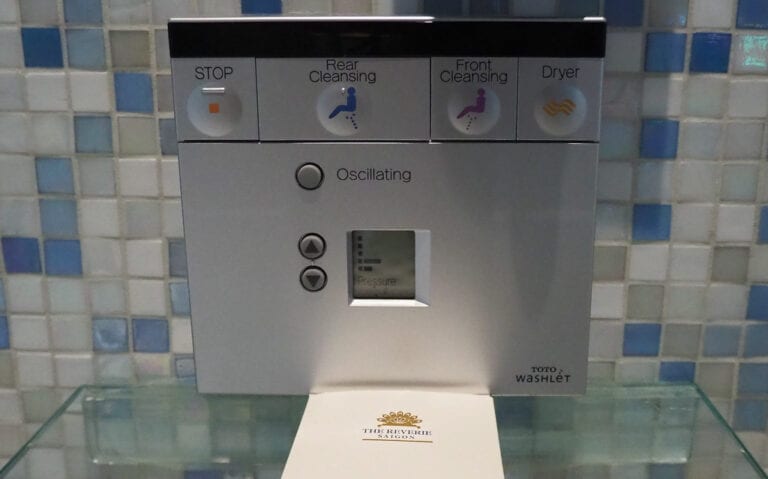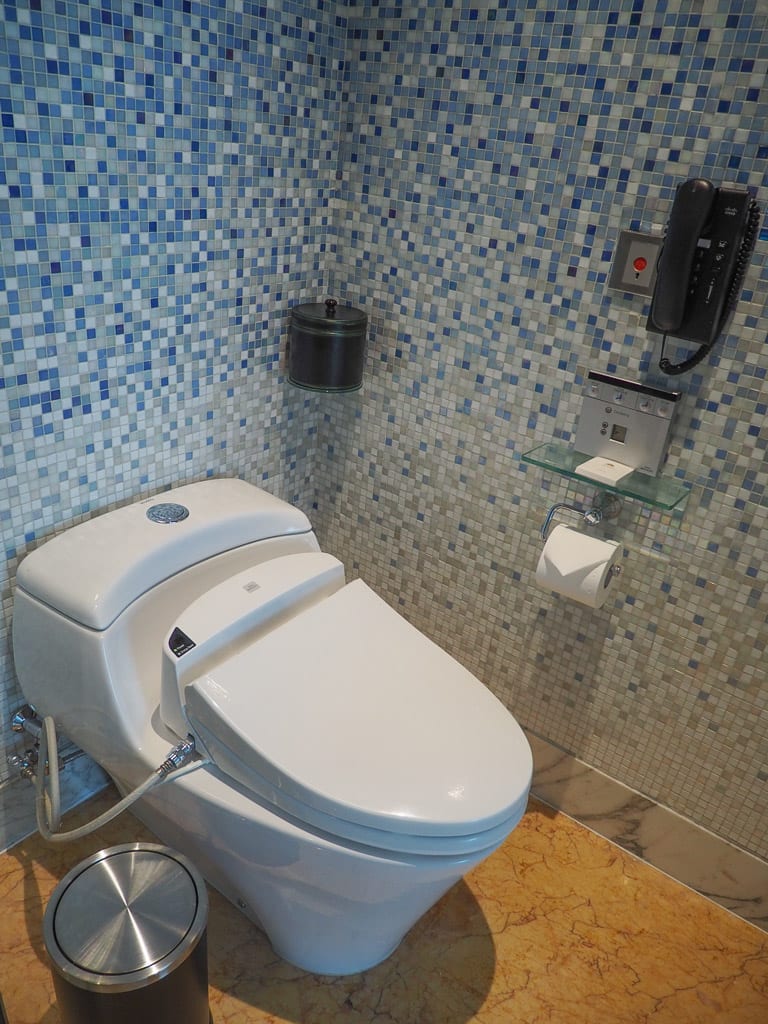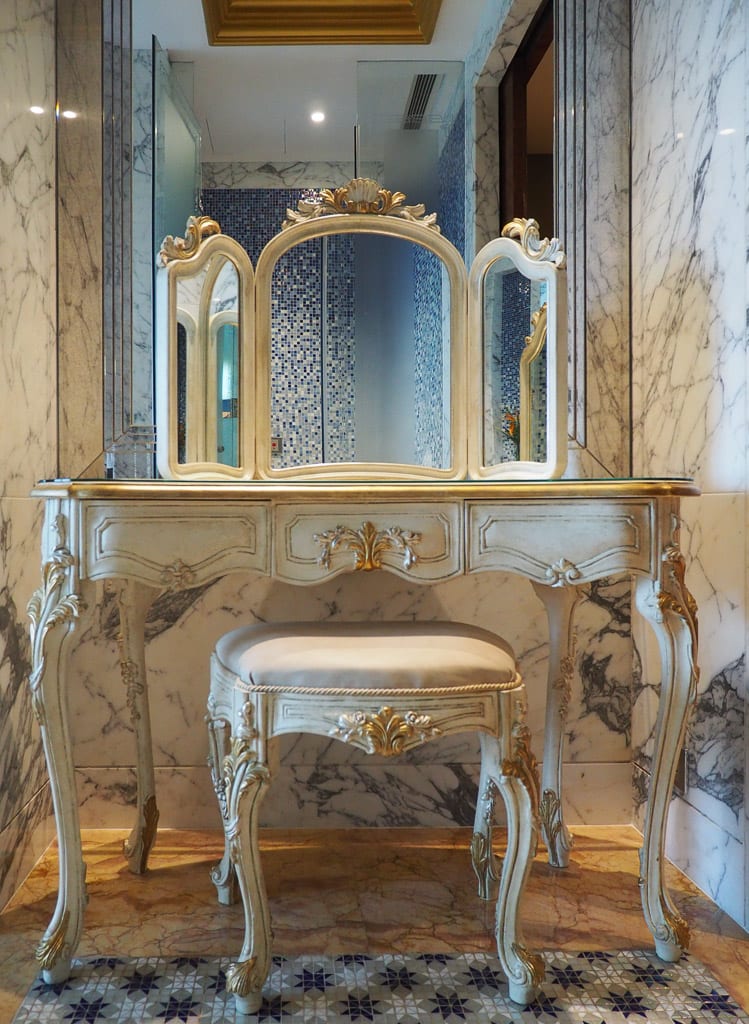 ---
Continuing out of the bathroom, you come to the walk-in wardrobe area. There was more than enough space here for two people to unpack a month's worth of outfits and I was really impressed with the variety of different hangers supplied. I also appreciate when properties provide an iron, no shirt no matter how well folded is going to come out of my luggage looking crisp and perfect.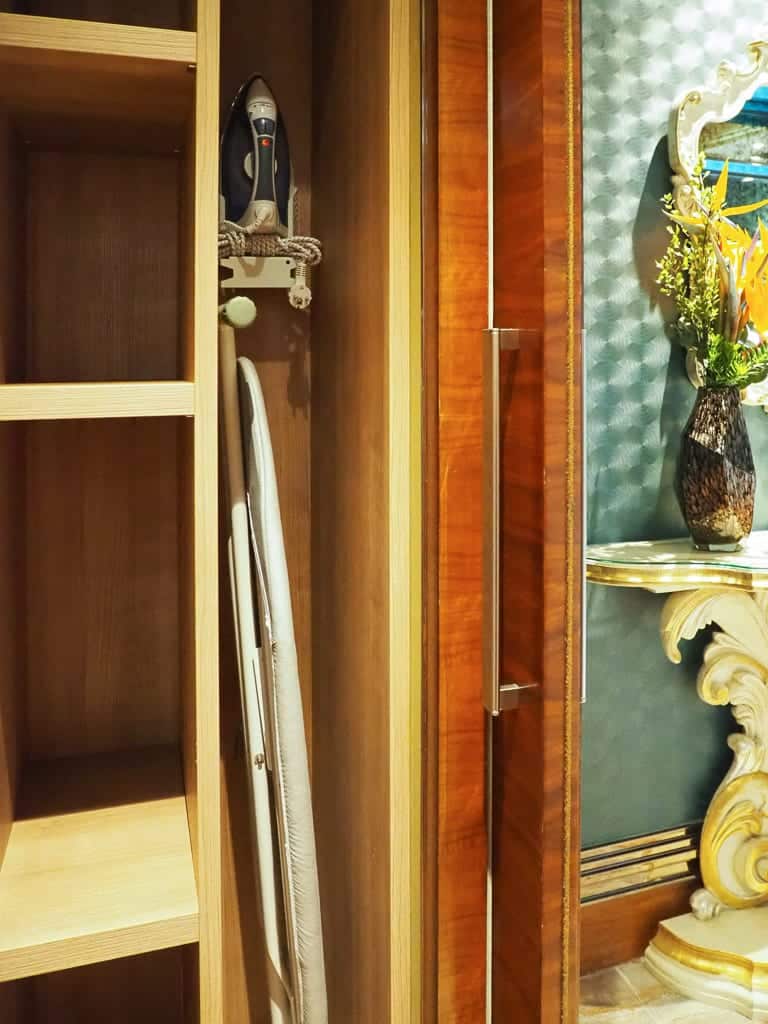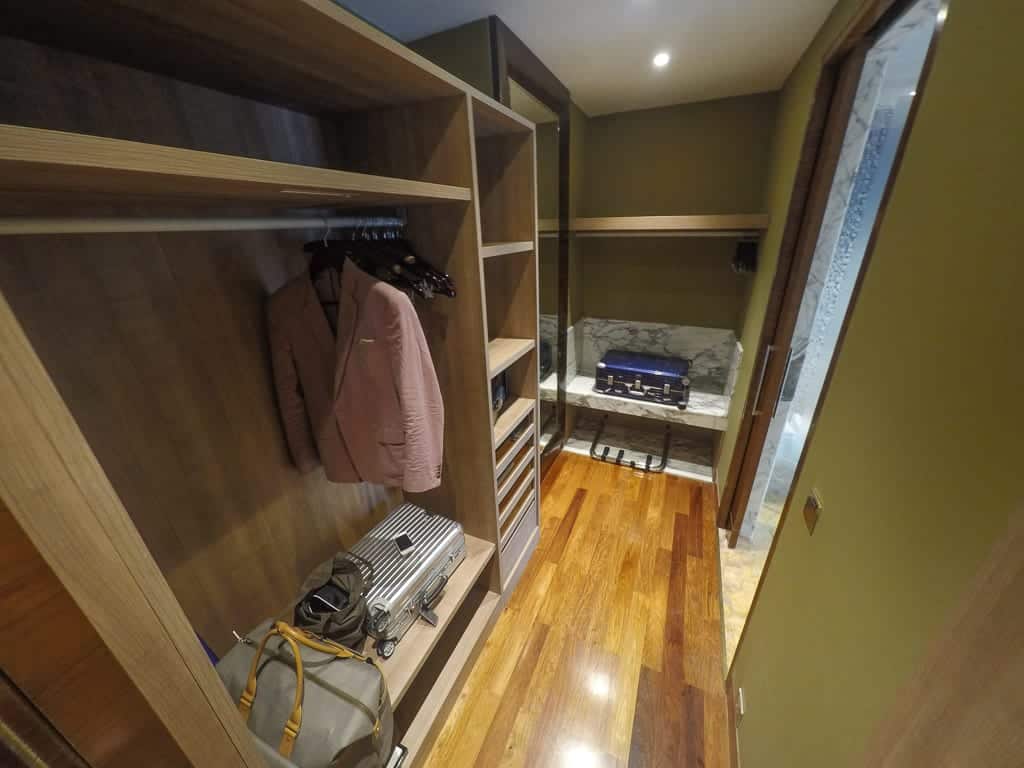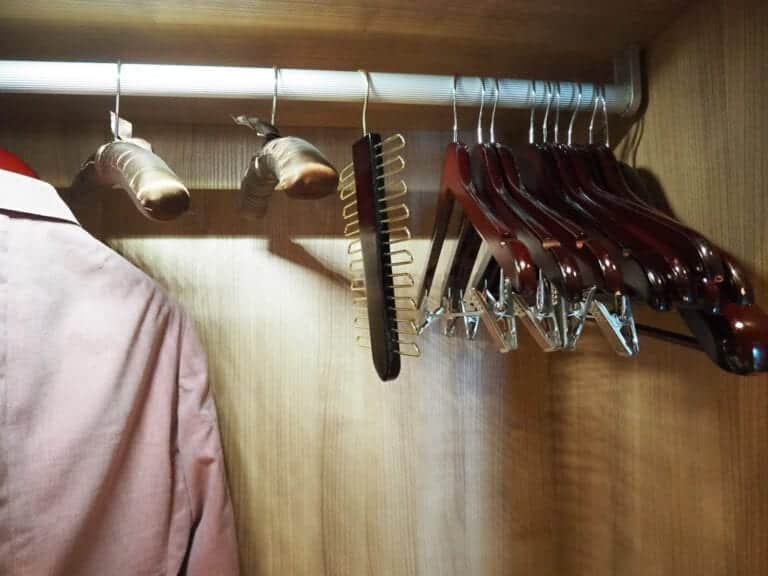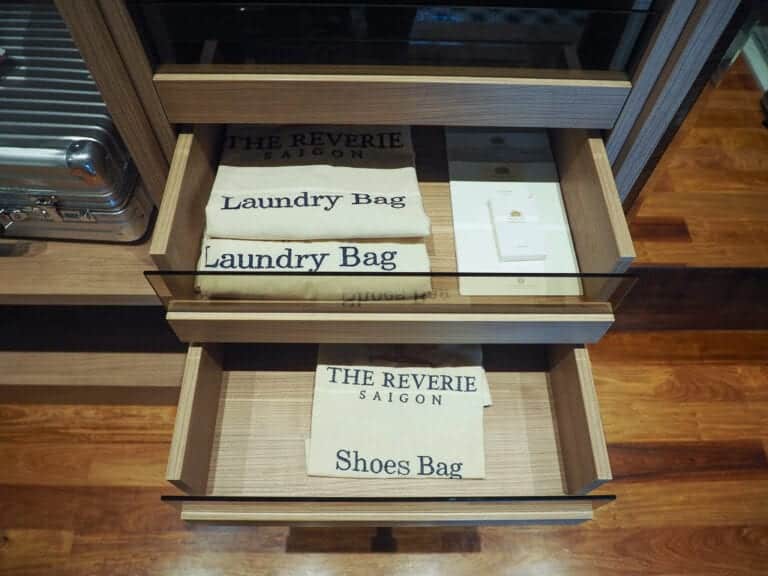 Turndown Service
Every evening we would return to a darkened room with a flickering fire displayed on the TV screen. We would each be given a box of chocolates and a bottle of water, with all of our cables being tidied away for us.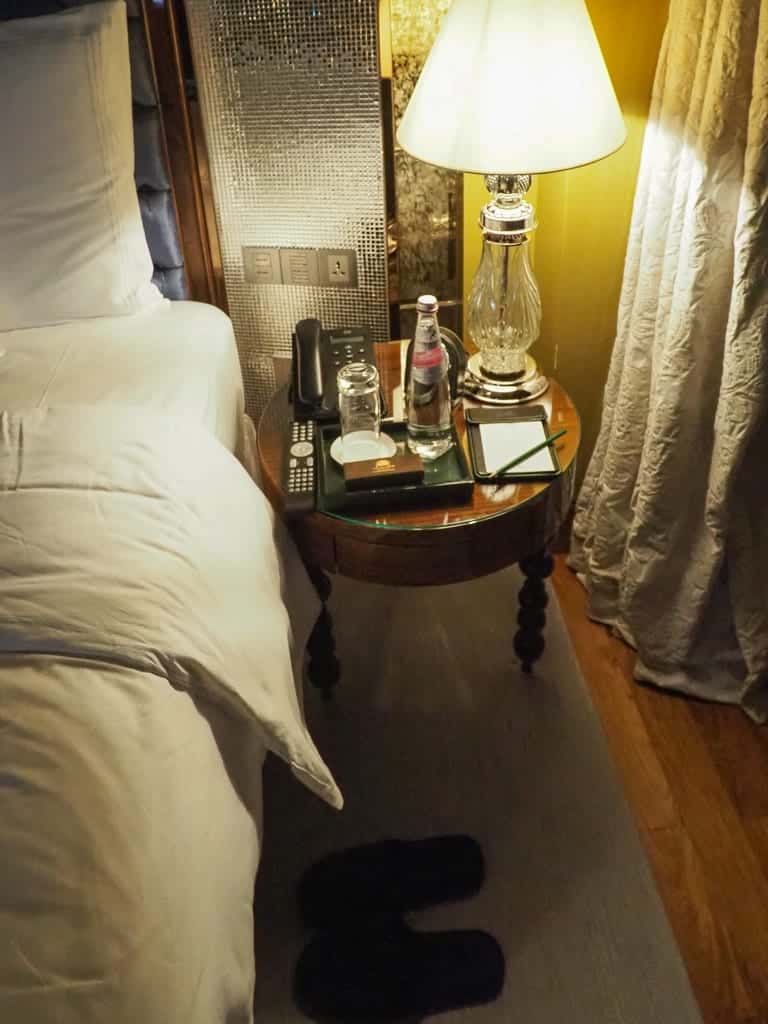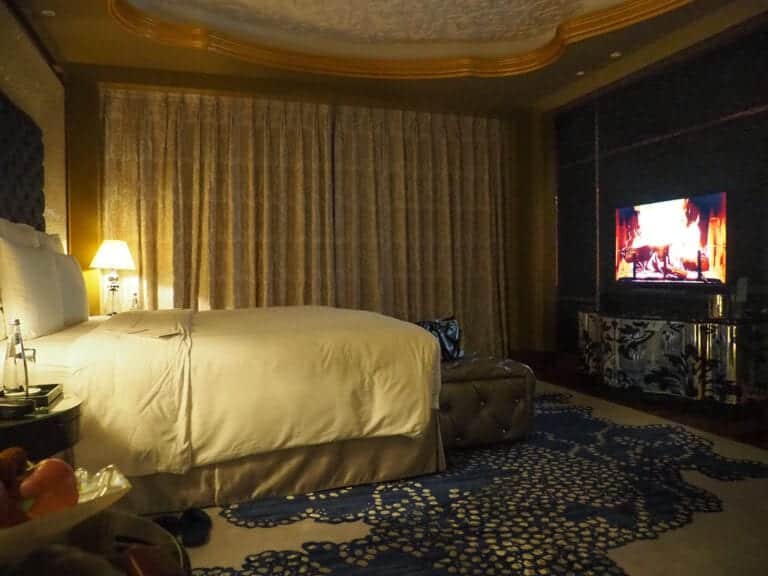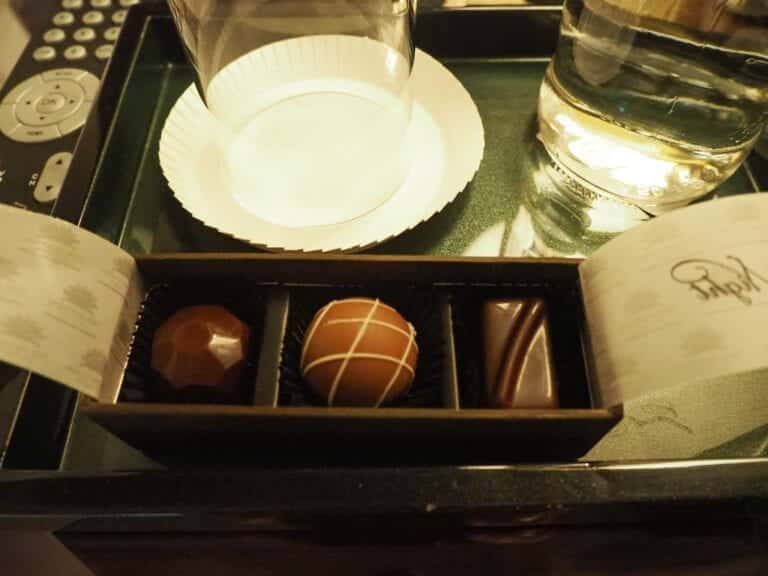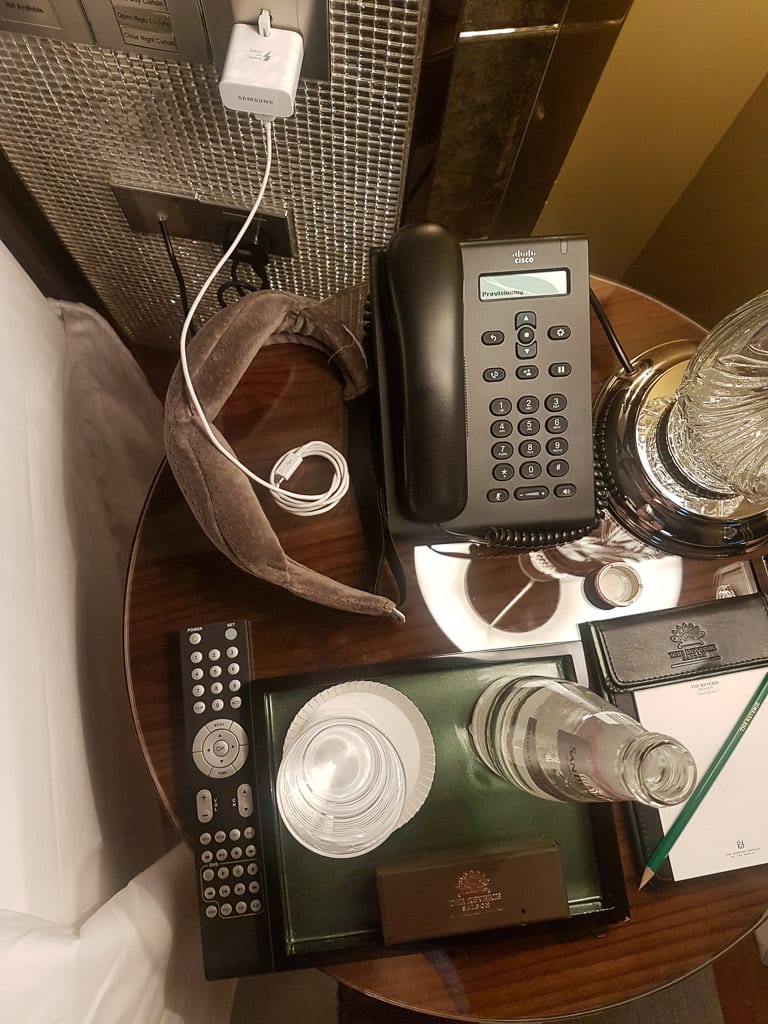 ---
Club Lounge
---
Getting upgraded to a room with Club Lounge access was a real game changer. Don't get me wrong, the hotel is clearly incredible in pretty much every way as it is. However, the lounge gave us a quiet space in which to enjoy complimentary food and drink, of a very high level, throughout the day.
This felt more like a true private member's club, with proper table service and private concierges, rather than the typical club lounges I've previously experienced in the big hotel chains.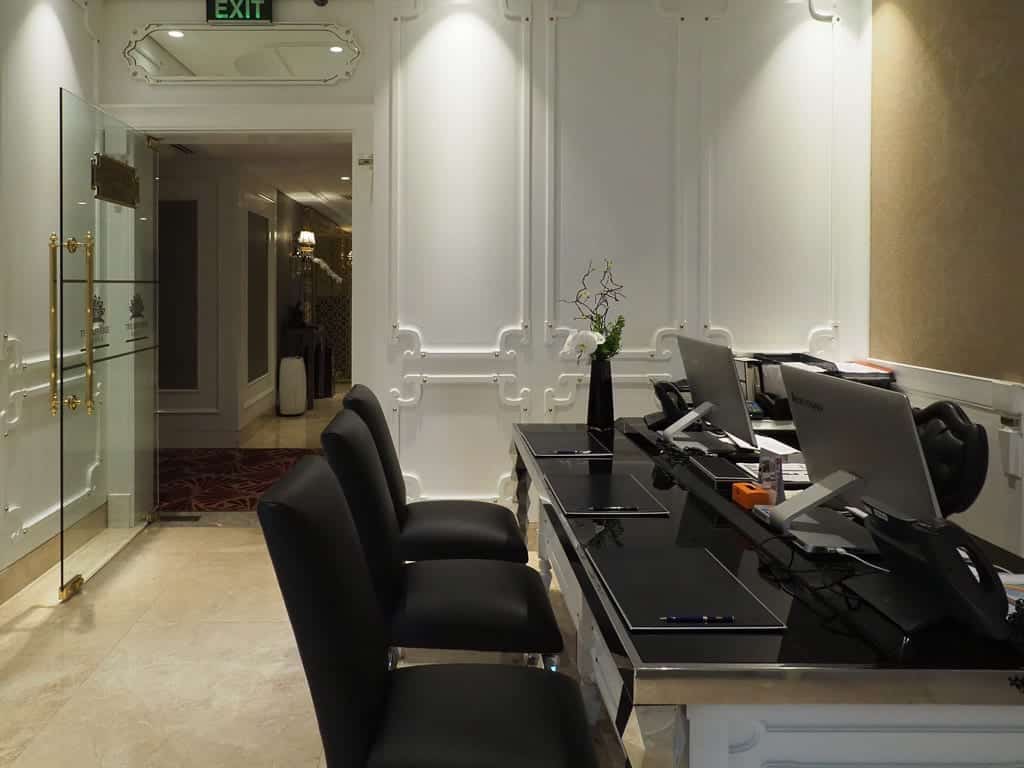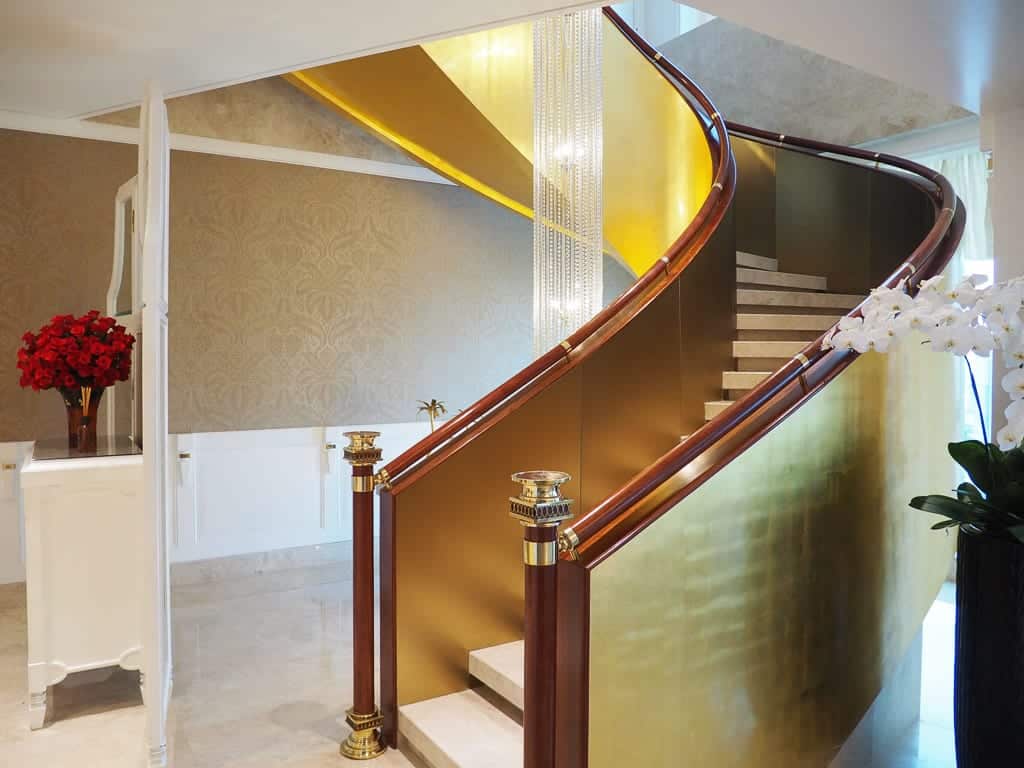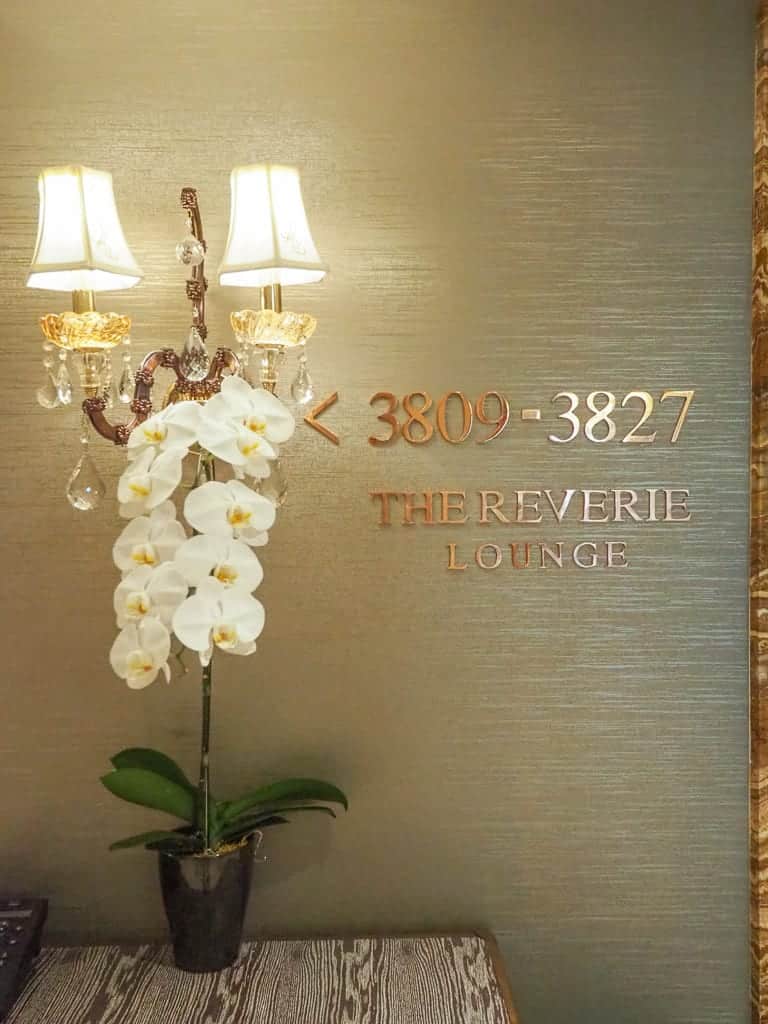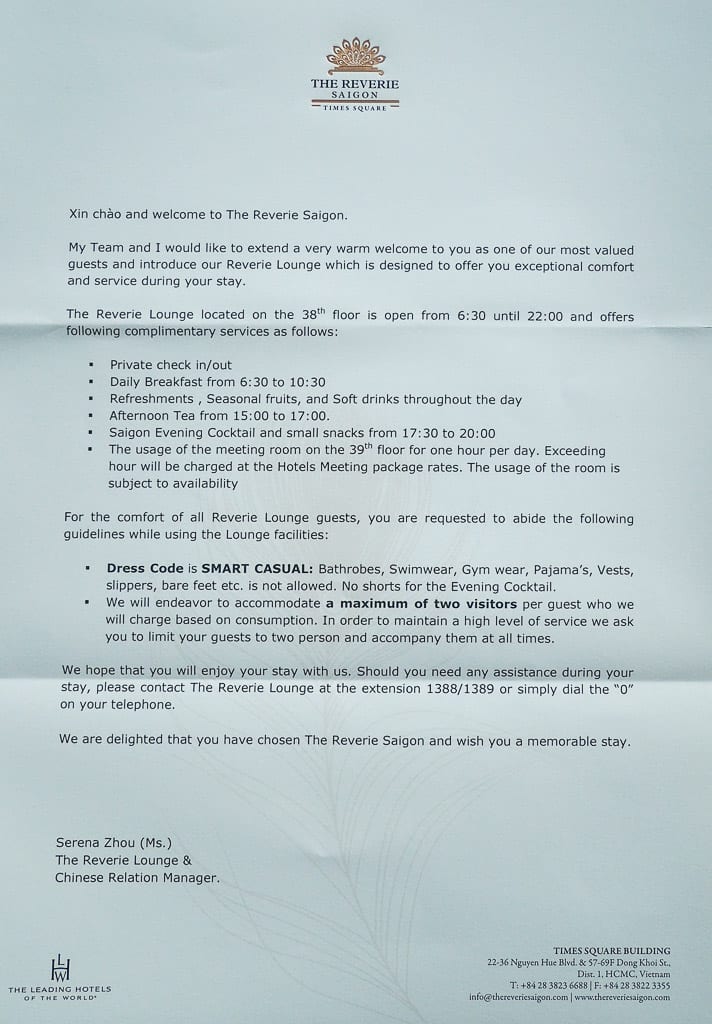 In practice, there was service here from 6:30am to 10:00pm every day. Only cocktails were limited to the 17:30-20:00 – all other drinks (including the Roederer champagne) could be ordered at any time if you should so desire. Every time we entered the lounge we were warmly greeted, shown to a table and offered a drinks menu immediately. Honestly the service couldn't have been better.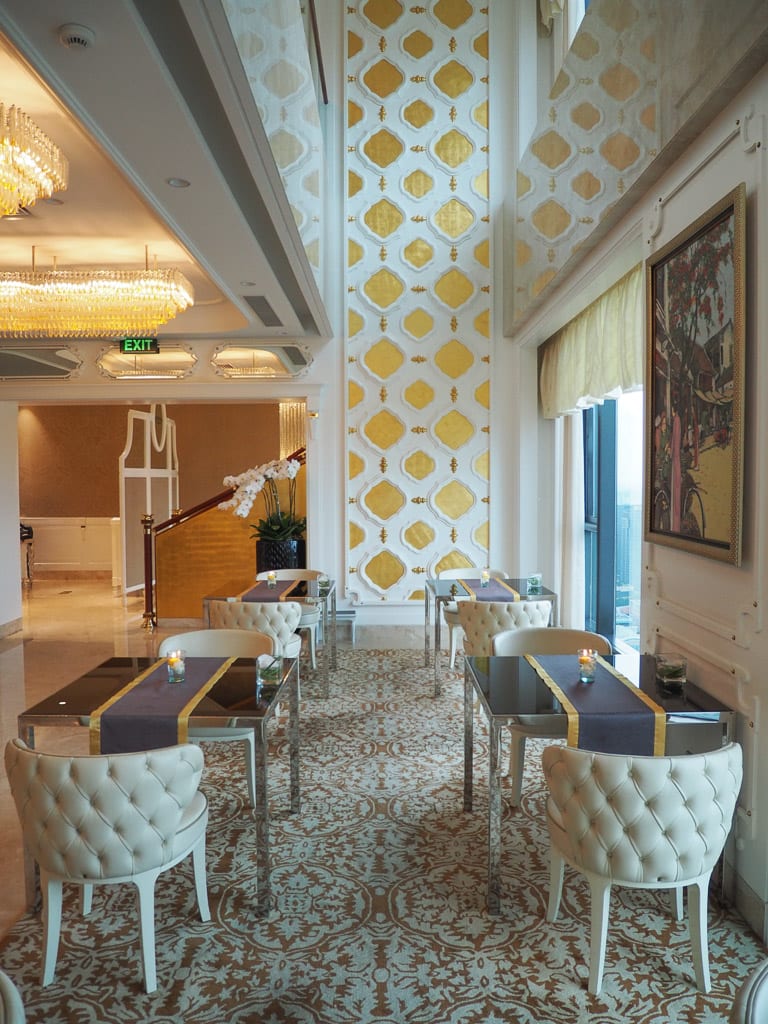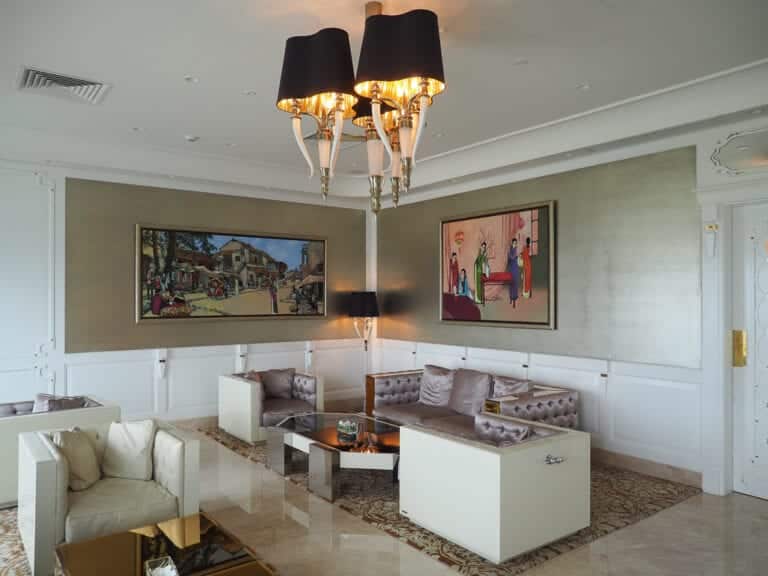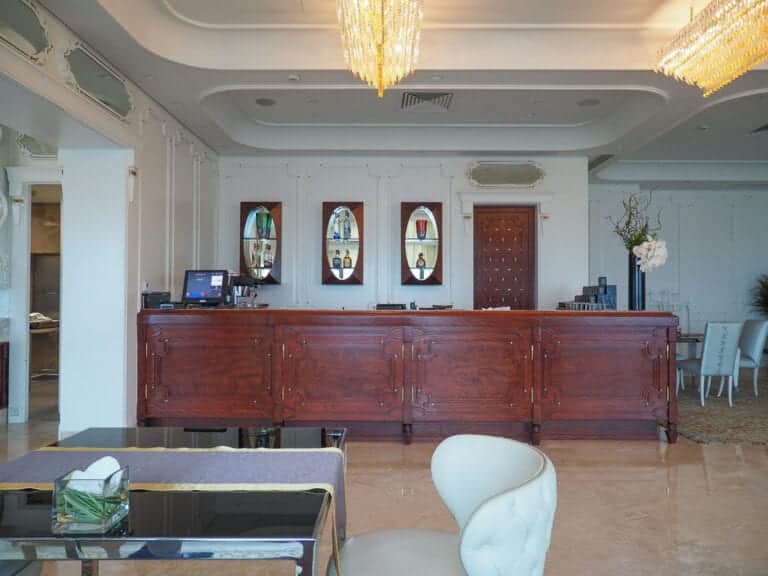 My favourite spot was the furthest room at the end of the lounge. We would invariably have this area to ourselves and I could have spent hours on end playing with the telescope.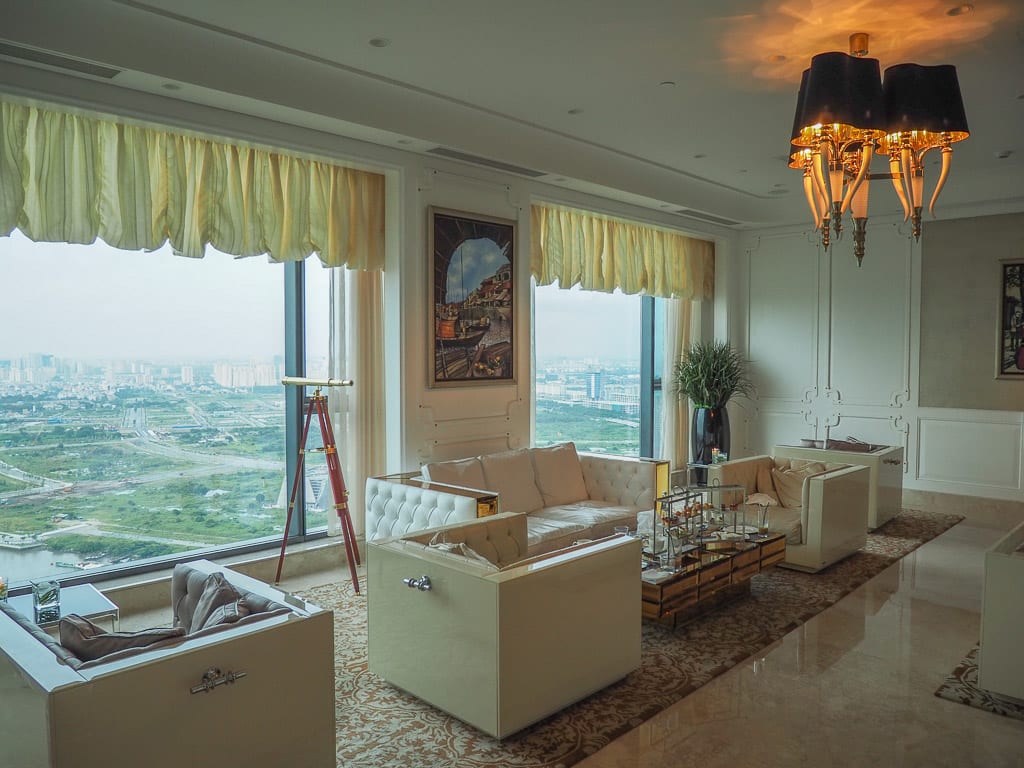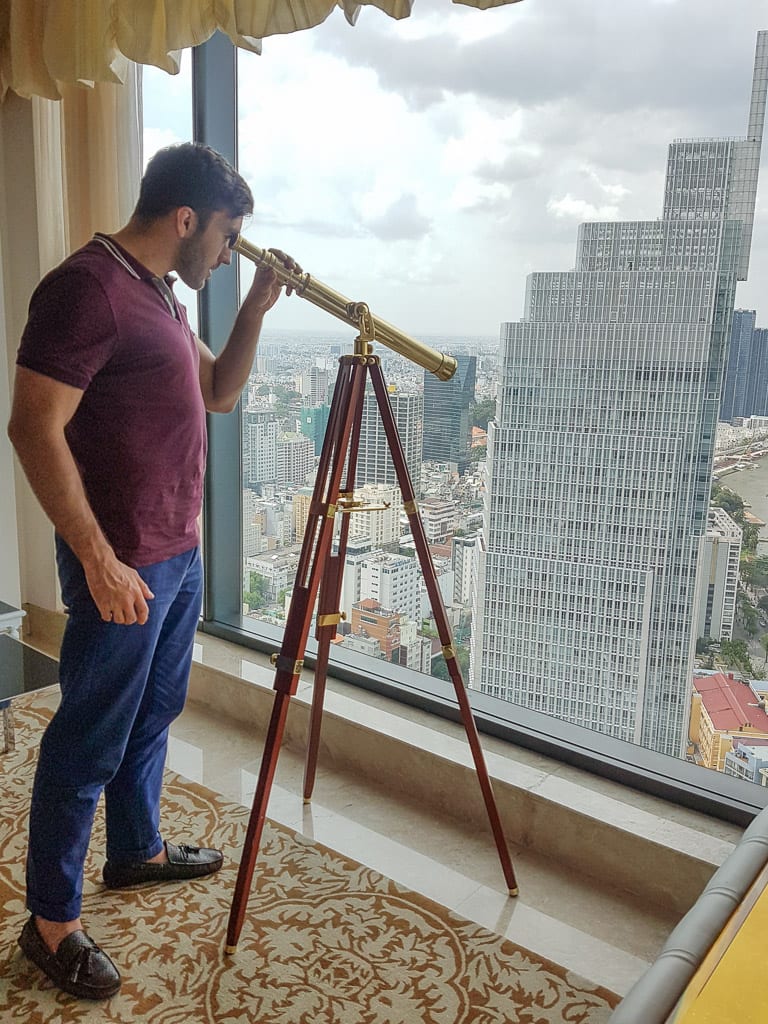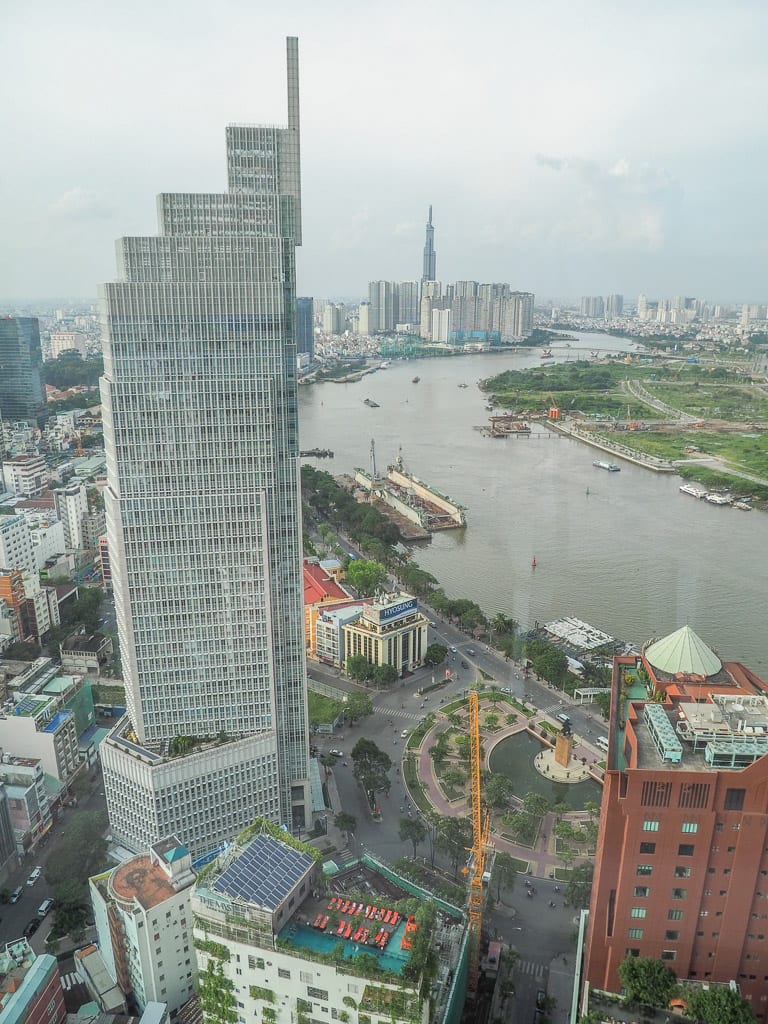 Breakfast
I always enjoy the peaceful nature of a club lounge breakfast, listening to the delicate clinking of cutlery in a quiet room with a great view is a beautiful way to start the day. All too often though the service and food selection will be lacking in comparison to eating at the hotel's restaurant. I'm very pleased to report that even though the a la carte breakfast couldn't quite compete with breakfast in the main restaurant, in terms of variety, it was still fantastic as an overall experience.
Breakfast began with an offering of juices, mineral water and teas and coffee.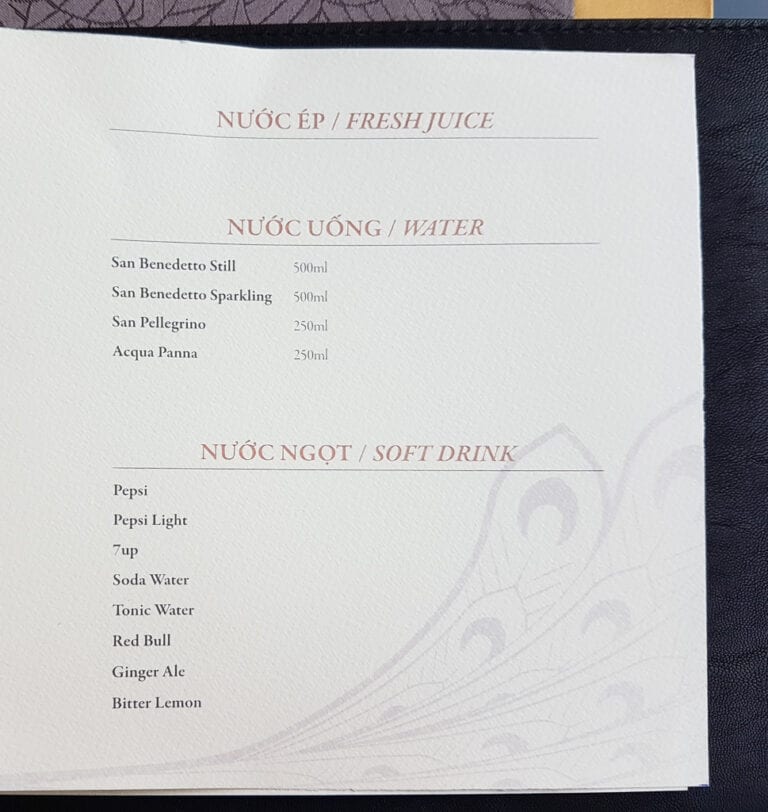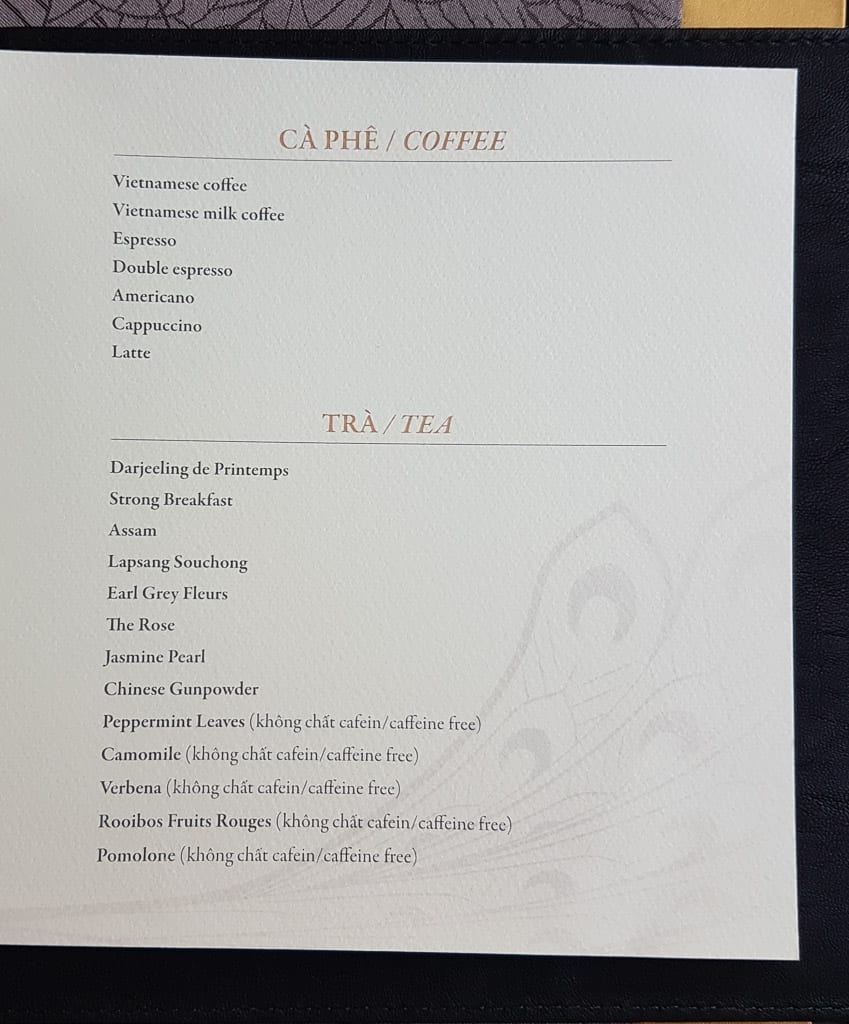 Breakfast Menu (click images to expand)
The breakfast menu was very extensive, with a selection of both Western and Vietnamese options. We were brought a bakery basket along with our drinks order which honestly I could have done without. My steak and eggs were amazing though and Kamara loved her seafood fried rice.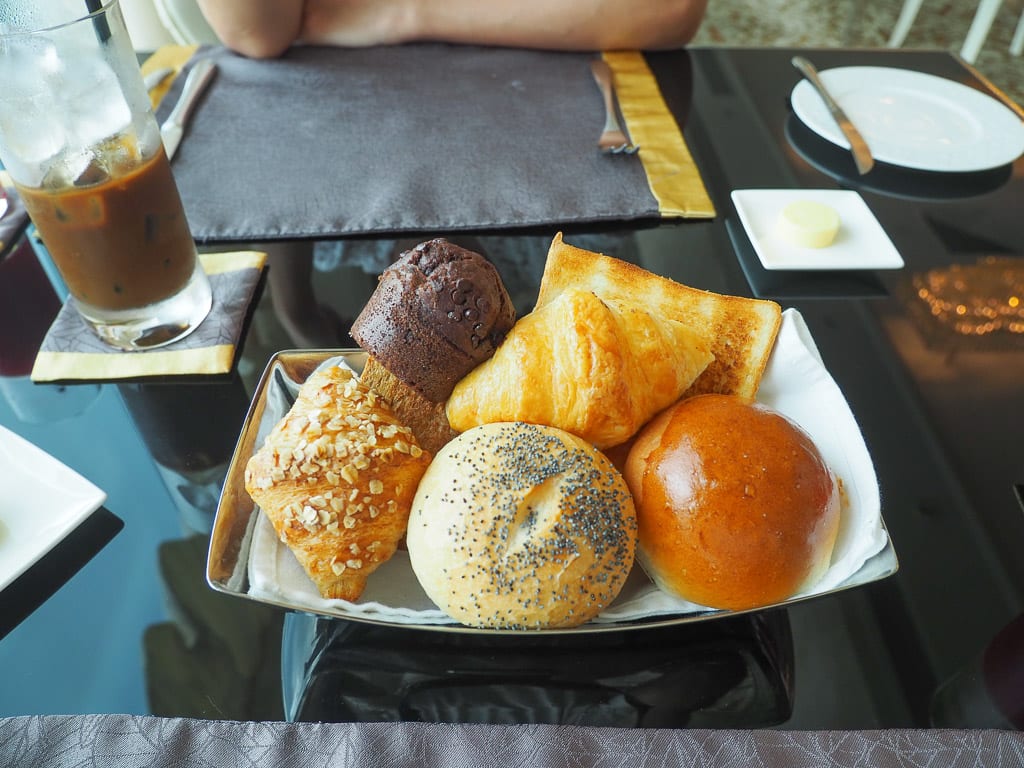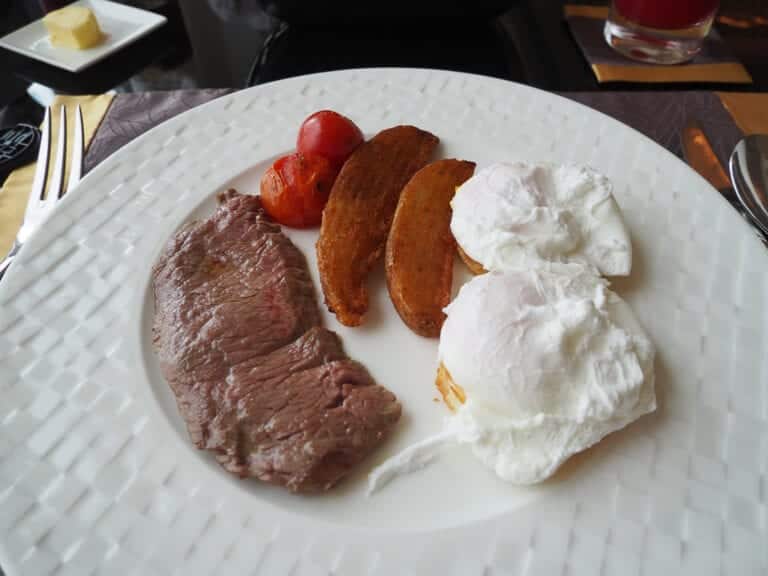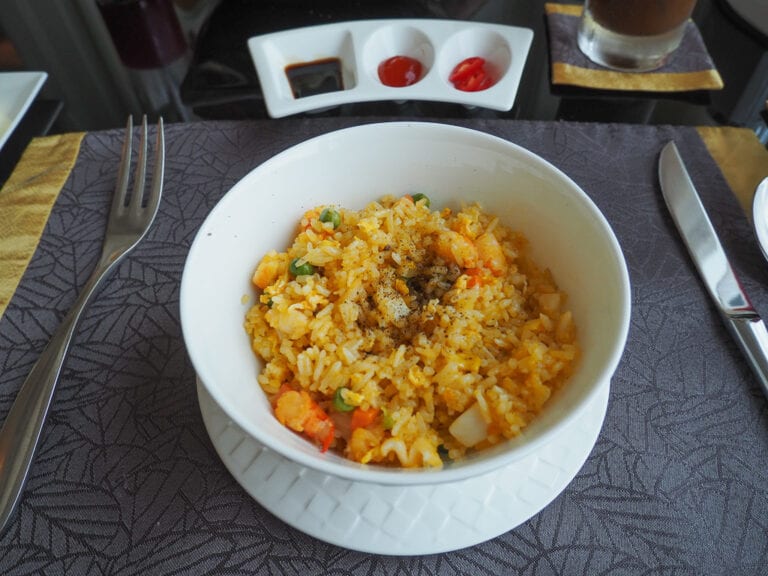 Afternoon Tea
The afternoon tea at the club lounge is a formal sit-down affair similar to what you'd expect in the main tea room of any luxury hotel. This includes both a very cool looking cake stand filled with pastries and sandwiches and freshly baked scones. As I mentioned previously, you can order champagne too if you prefer it to tea!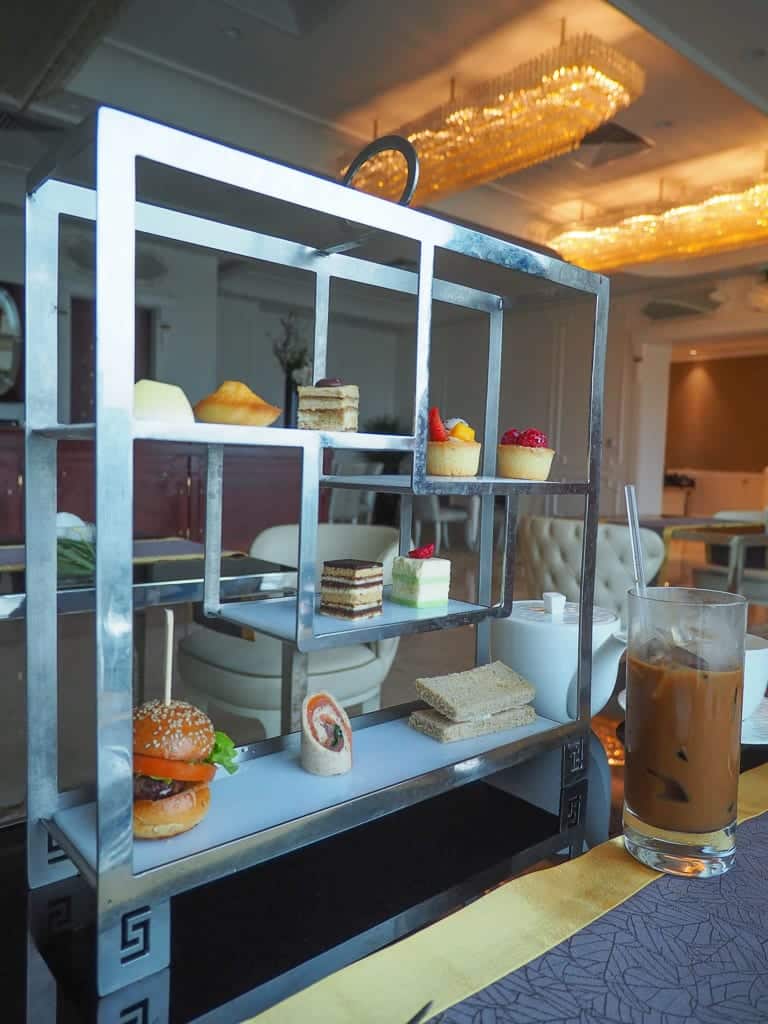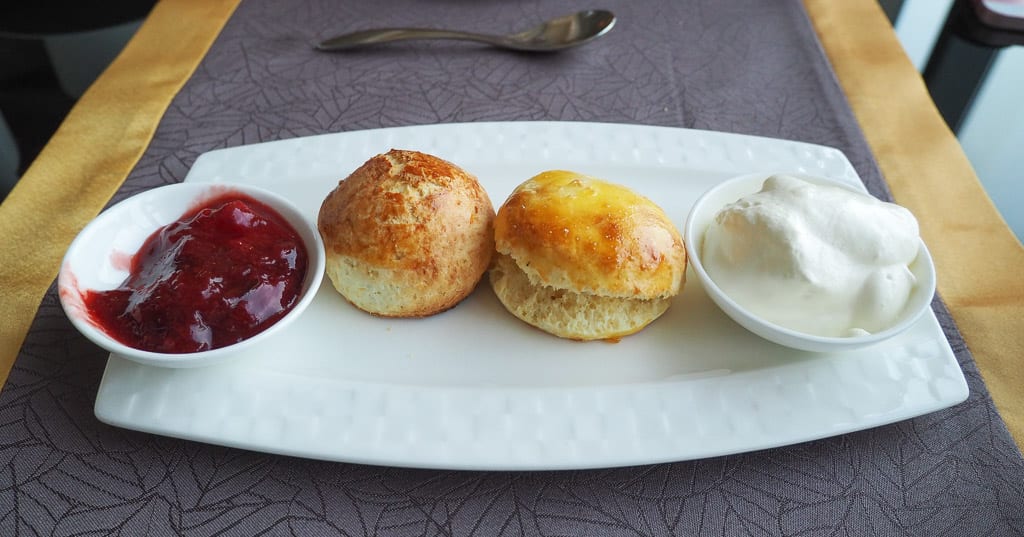 Evening cocktails
Honestly, no club lounge I've ever visited compares to the munificent display of extravagance at the Reverie's evening cocktail hour. Limitless fresh sushi and sashimi, crudites, myriad cheeses, foie gras canapes, dim sum, crispy fried chicken, spring rolls, beef skewers and more together with a selection of cakes, desserts, biscotti and macarons. The main problem here is holding back so that you don't ruin your appetite for dinner (it would be a hell of a shame to miss out on street food in Saigon!).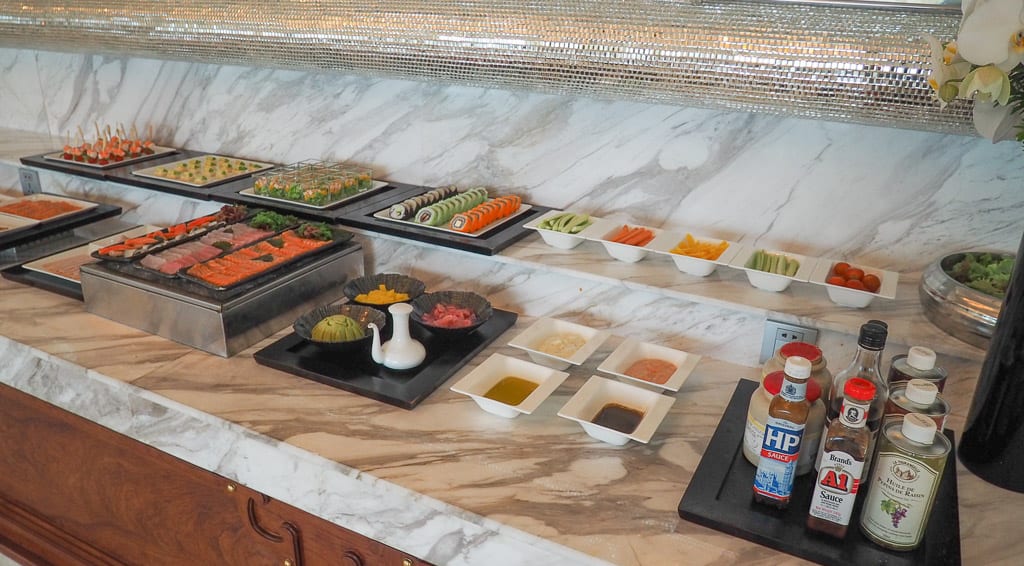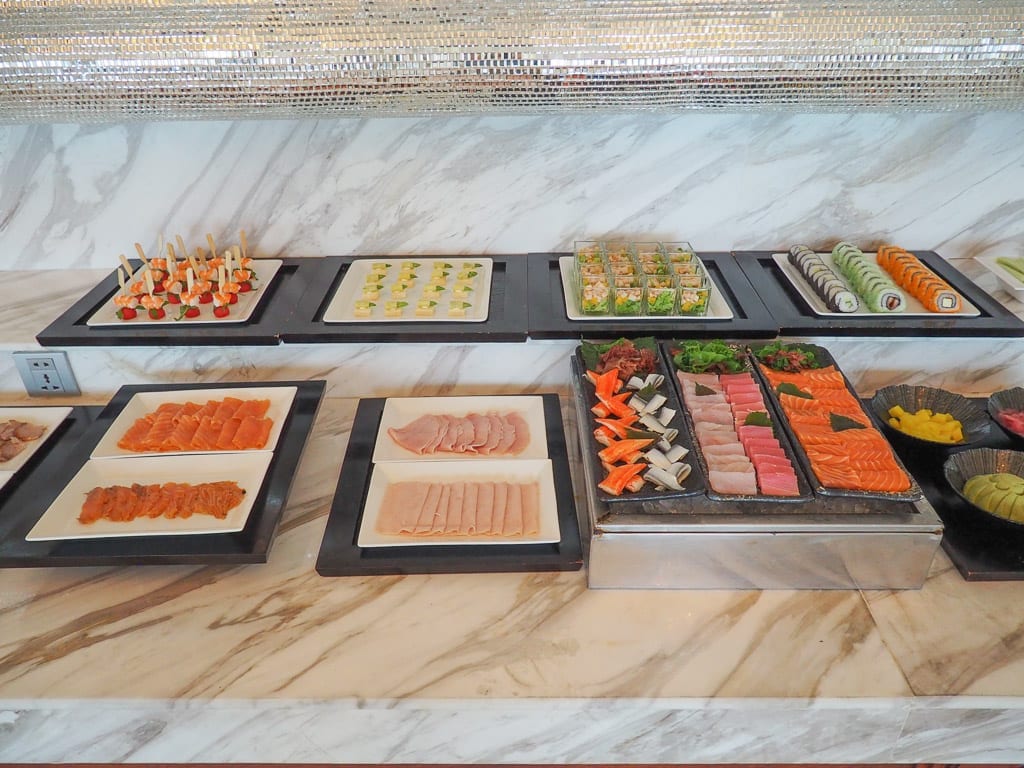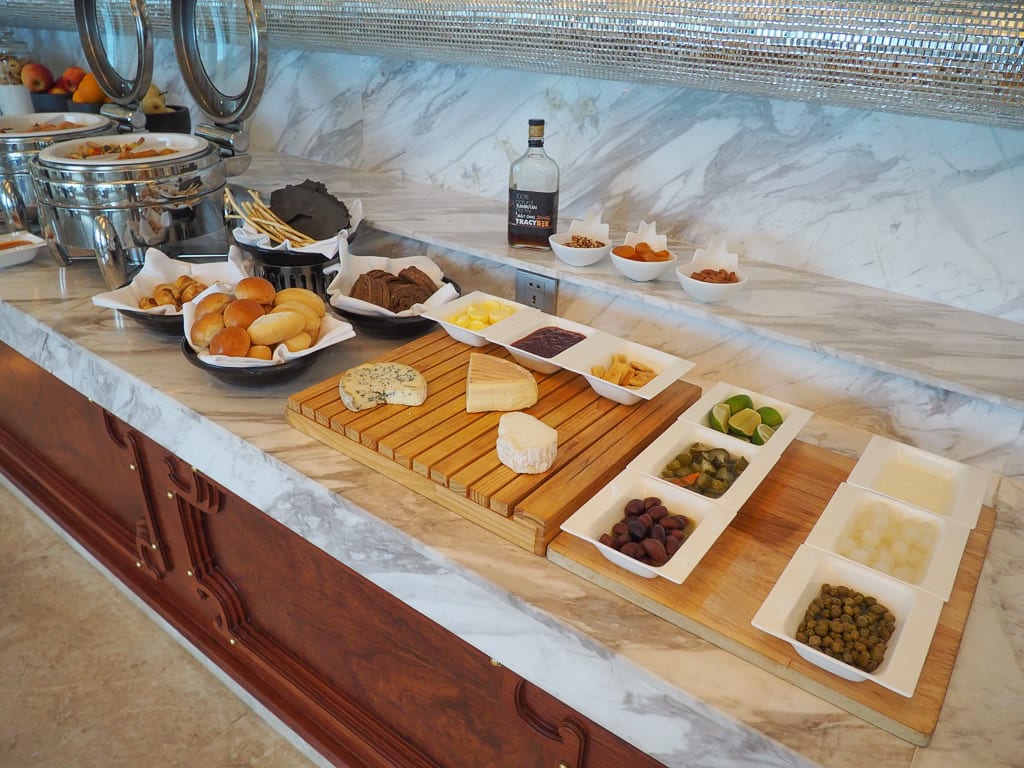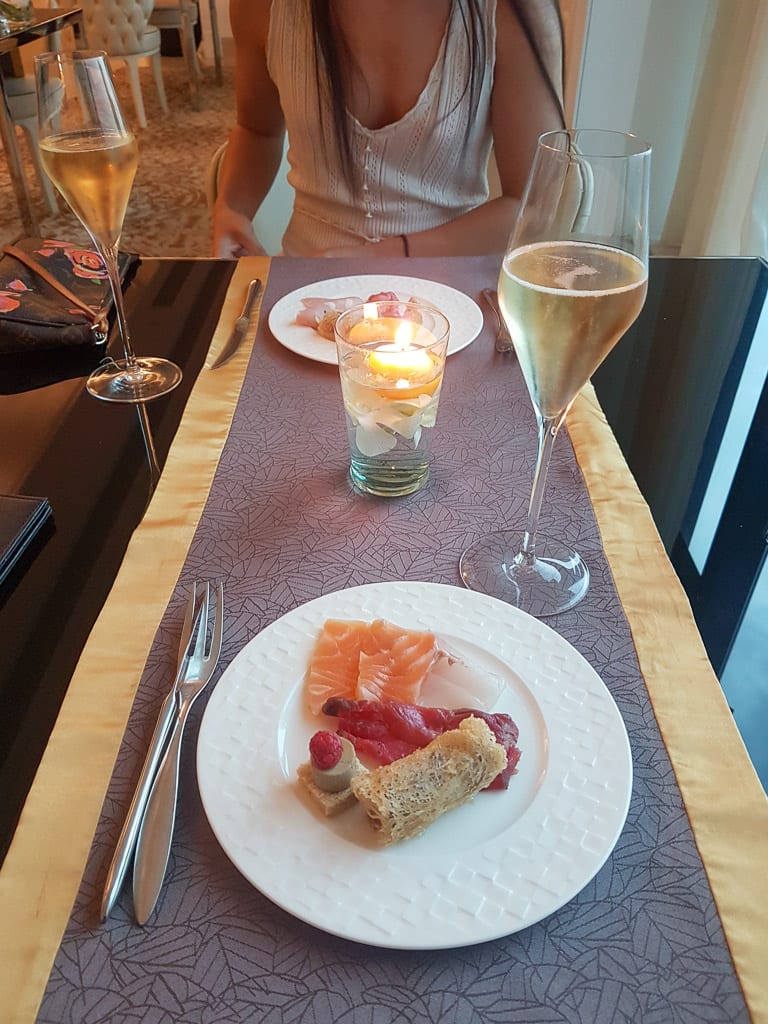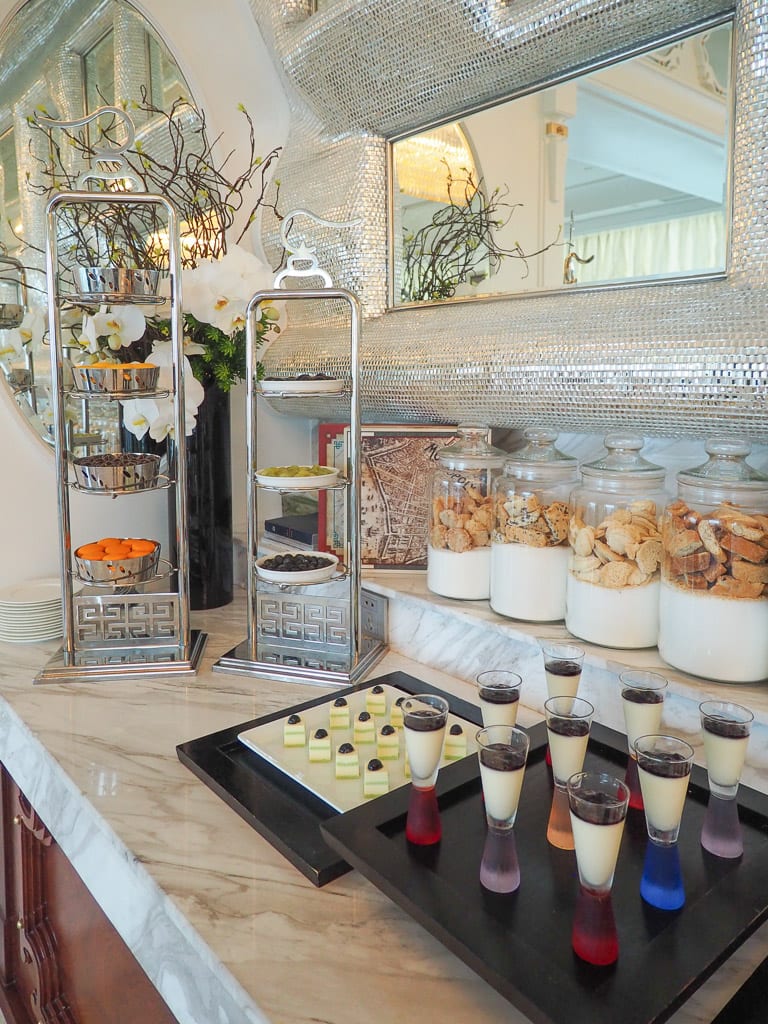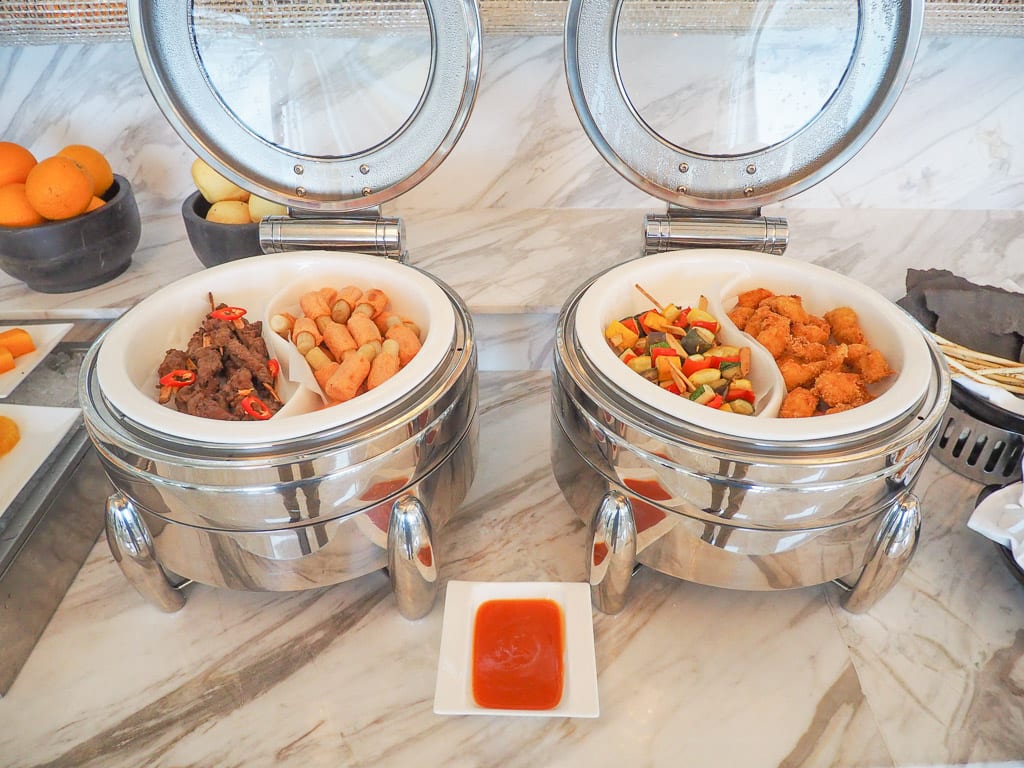 Drinks Menu (click images to expand)
---
Food and Drink
---
Breakfast at Cafe Cardinal
One morning we had to get up early for sightseeing so we decided to swing past the main breakfast buffet since it opened at 6am, half an hour earlier than the club lounge.
The dining space is very spacious and extremely impressive, particularly when viewed from the lobby above: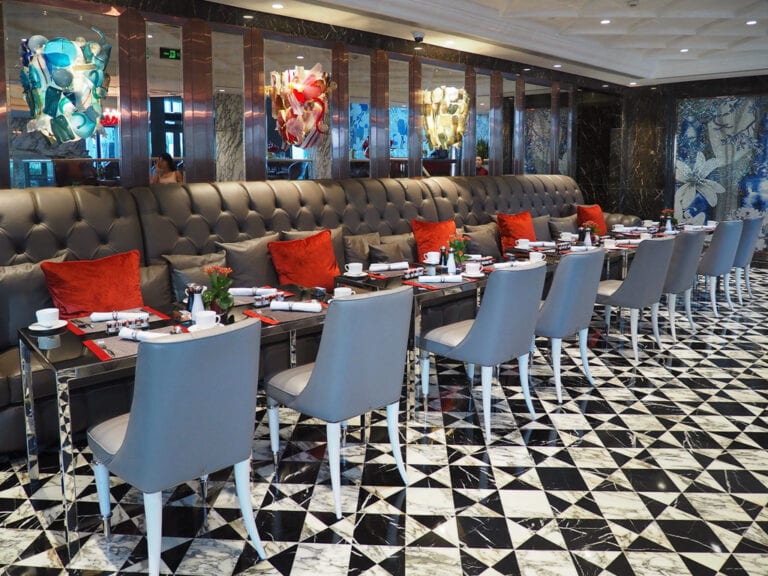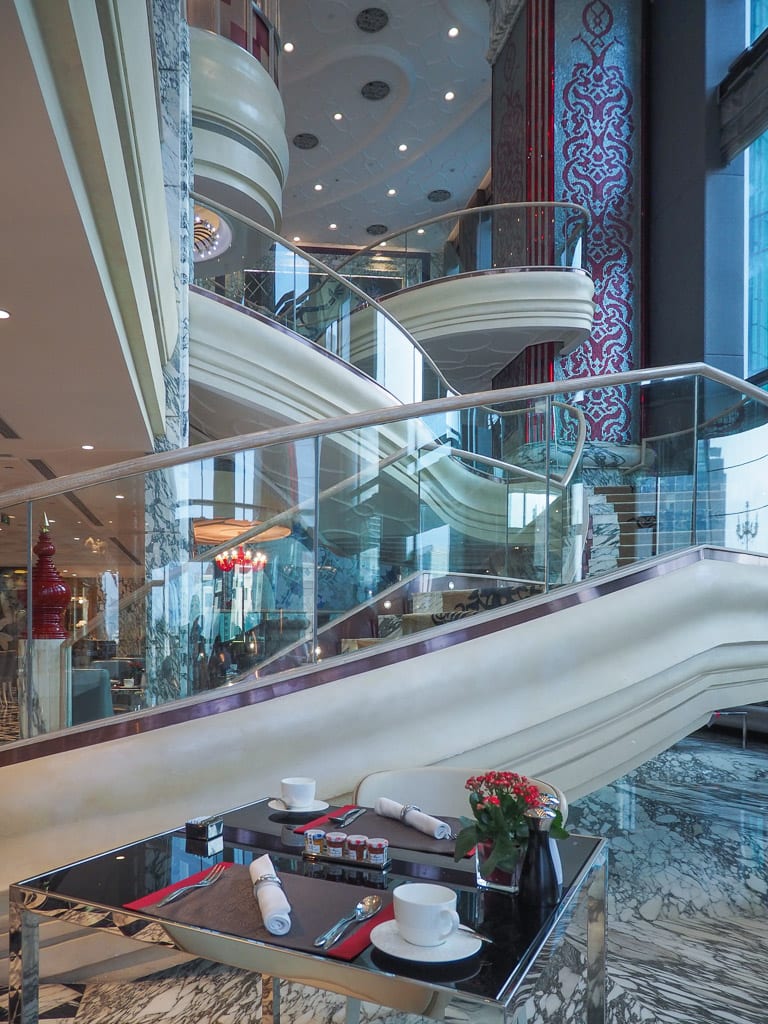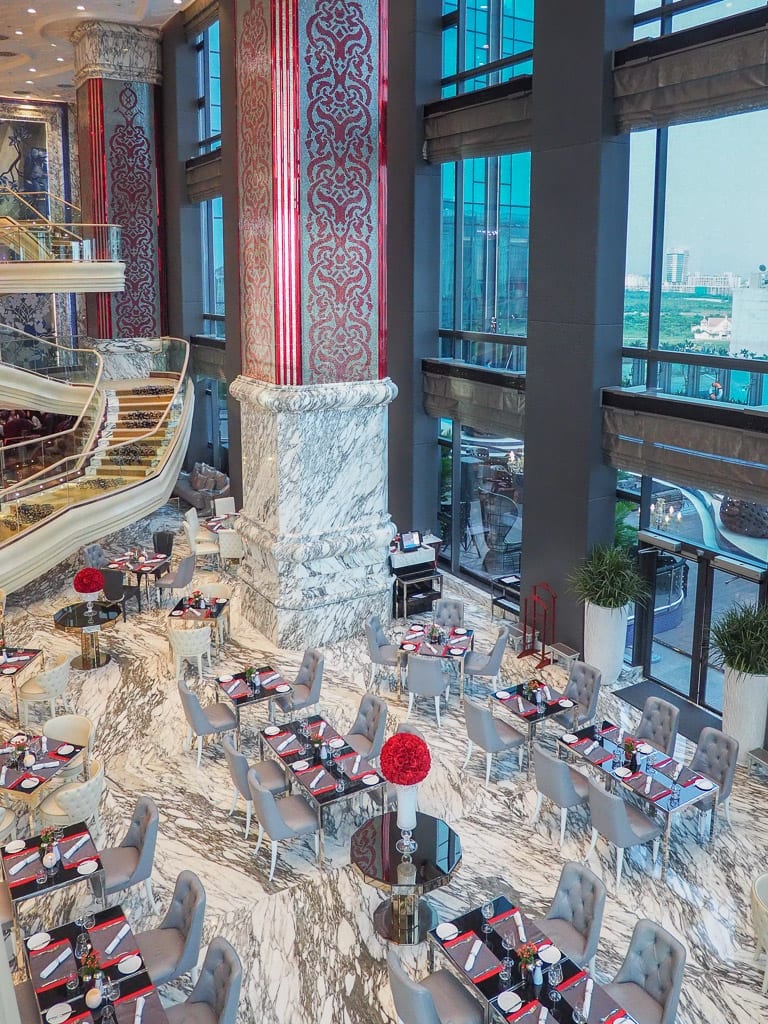 We were warmly greeted at the entrance and offered our choice of seats. We opted to sit near the buffet for maximum efficiency. The server handed us two menus, took our hot drinks orders immediately and said he'd be back to see if we wanted any a la carte dishes once he returned with our coffees.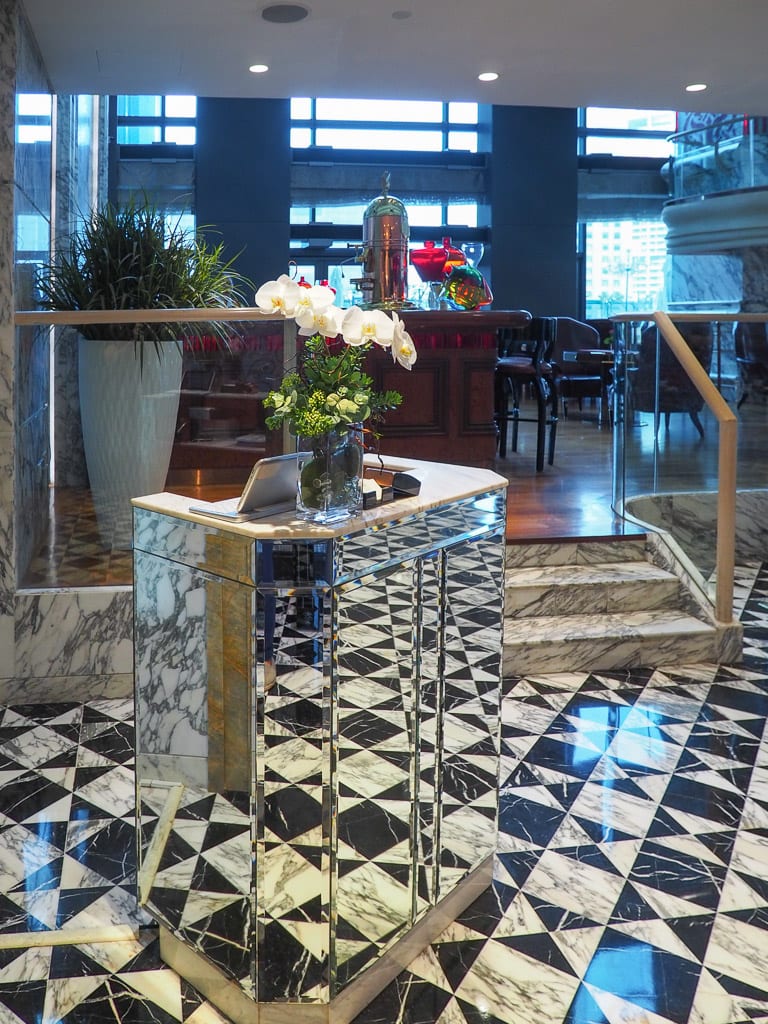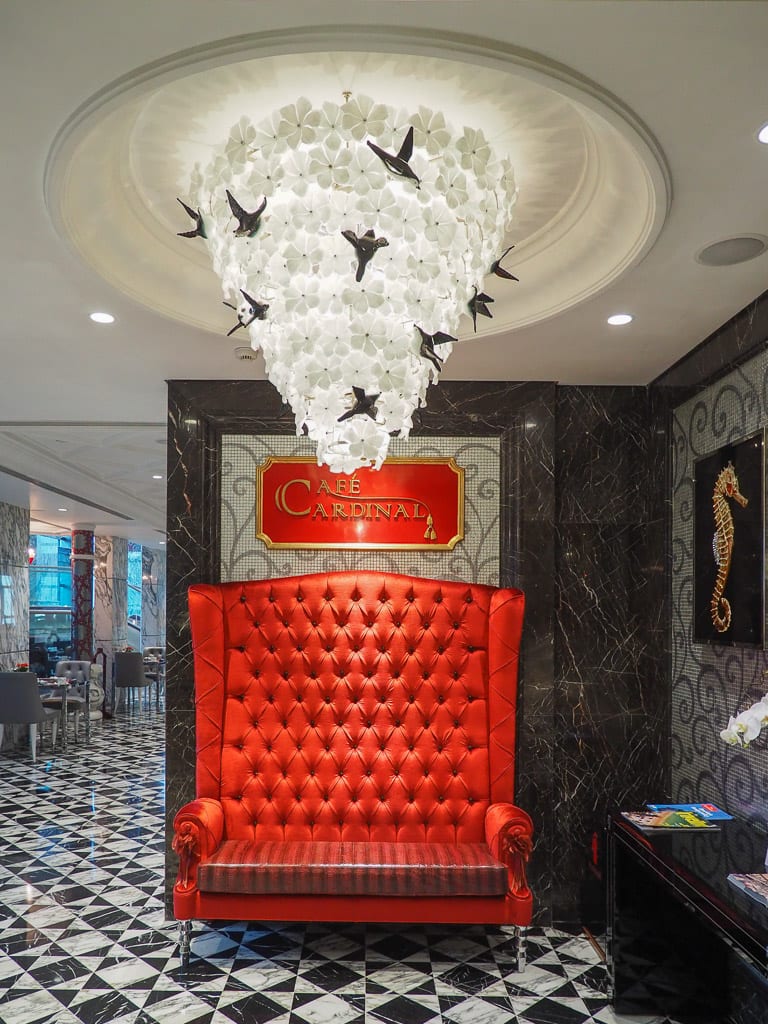 Breakfast Menu (click images to expand)
The breakfast buffet selection was truly staggering. Anything you can think of, they had it. Not only that but the quality was extremely high, the same sashimi grade fish, imported European charcuterie and fresh juices as in the lounge with the addition of a massive variety of cereals, freshly baked pastries and cooked breakfast dishes.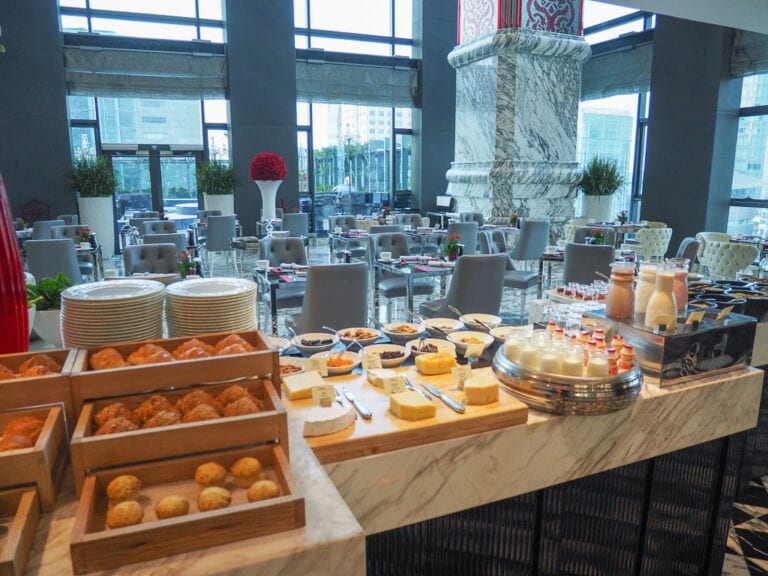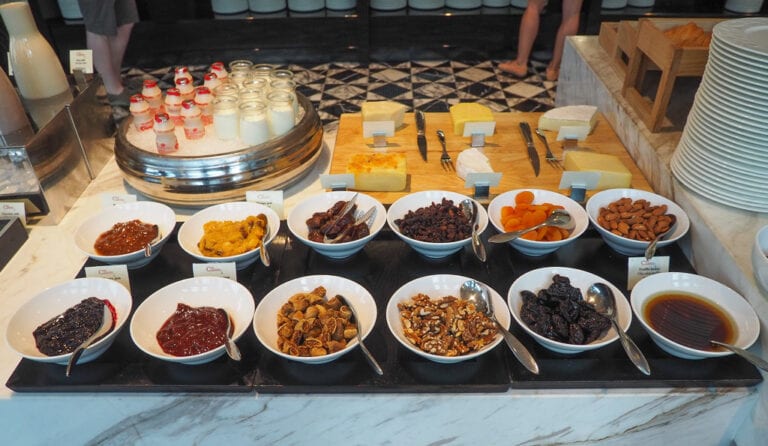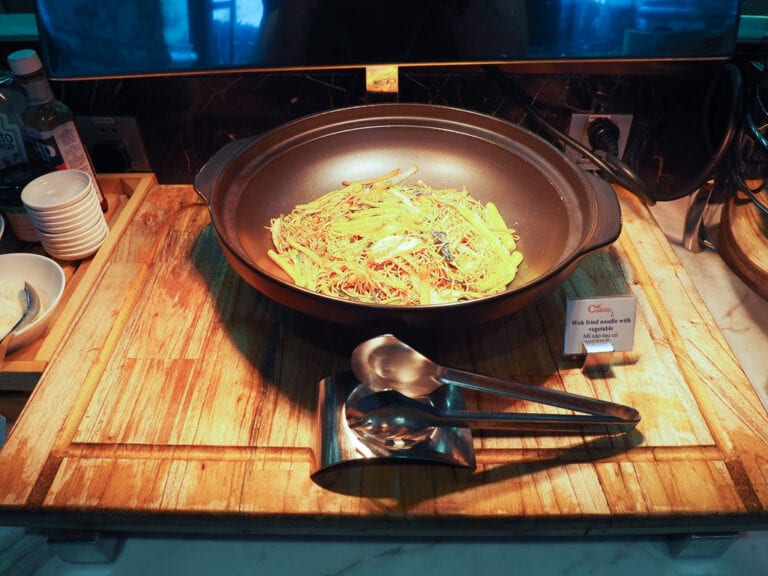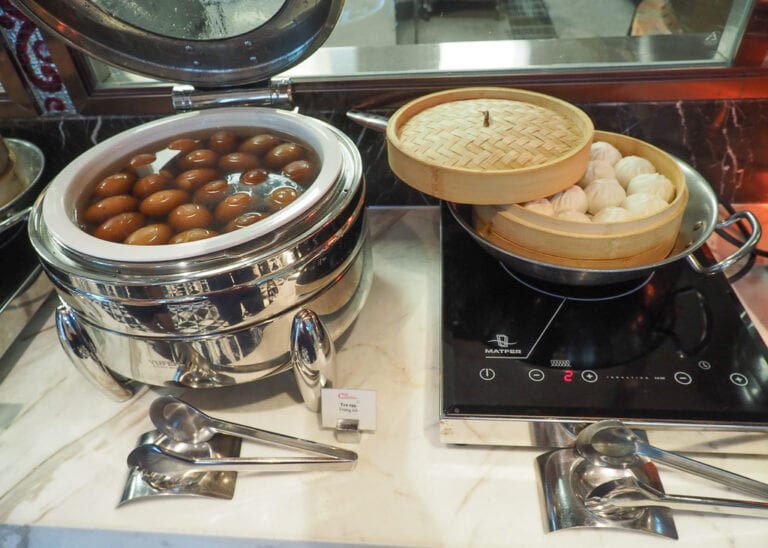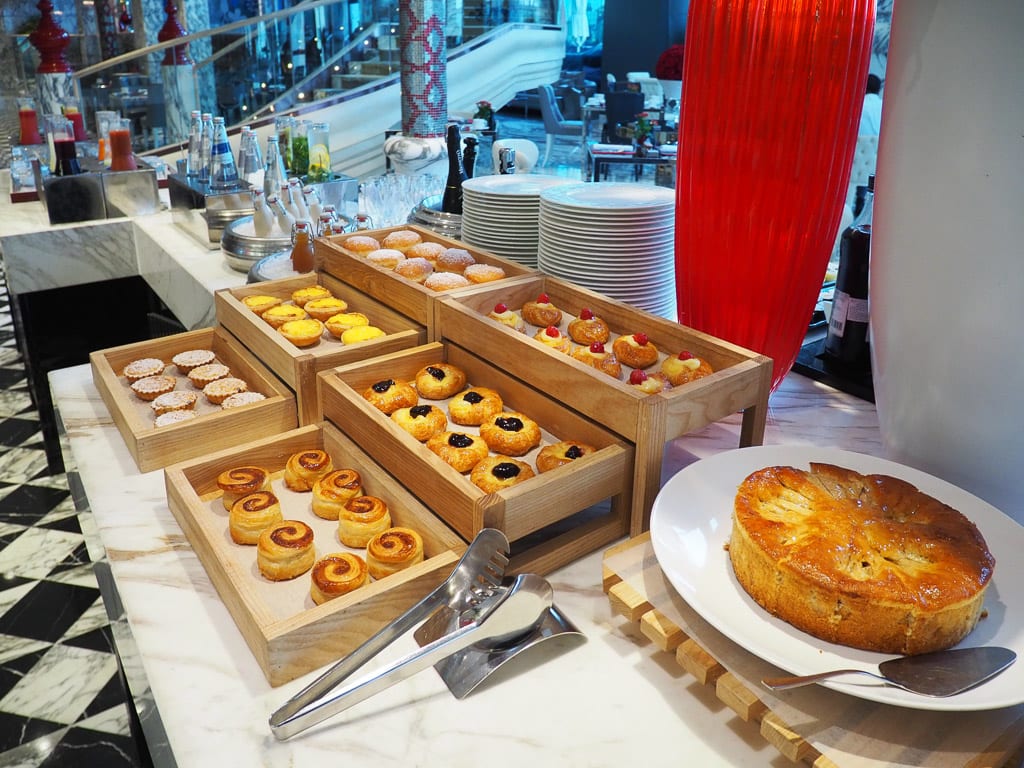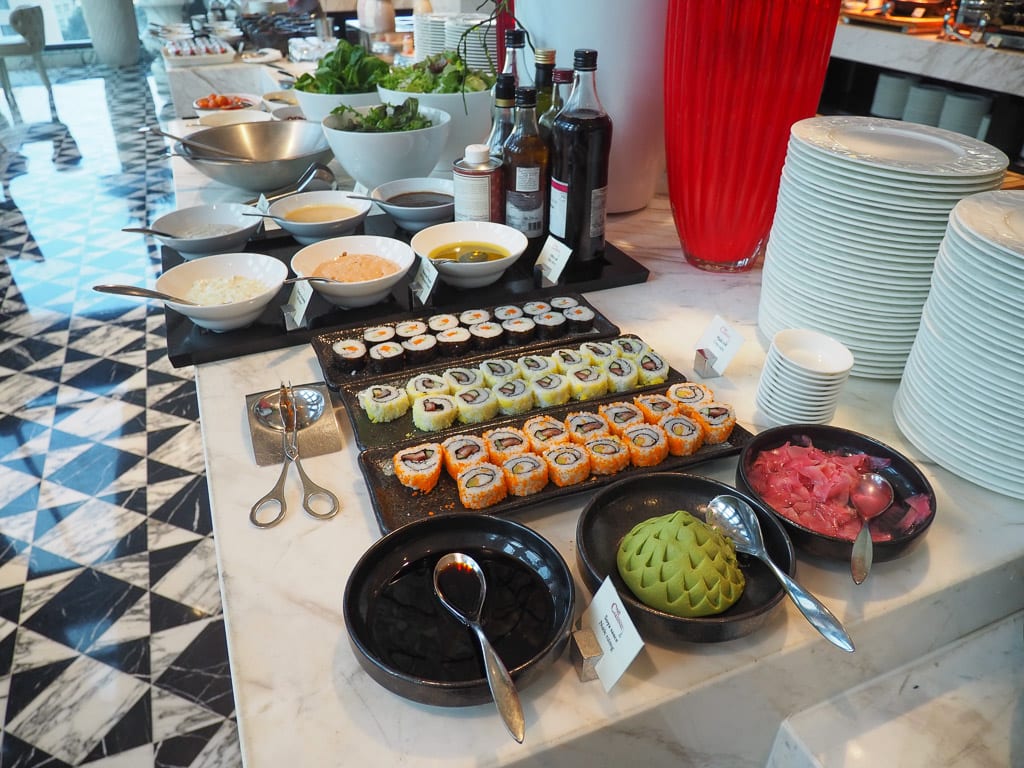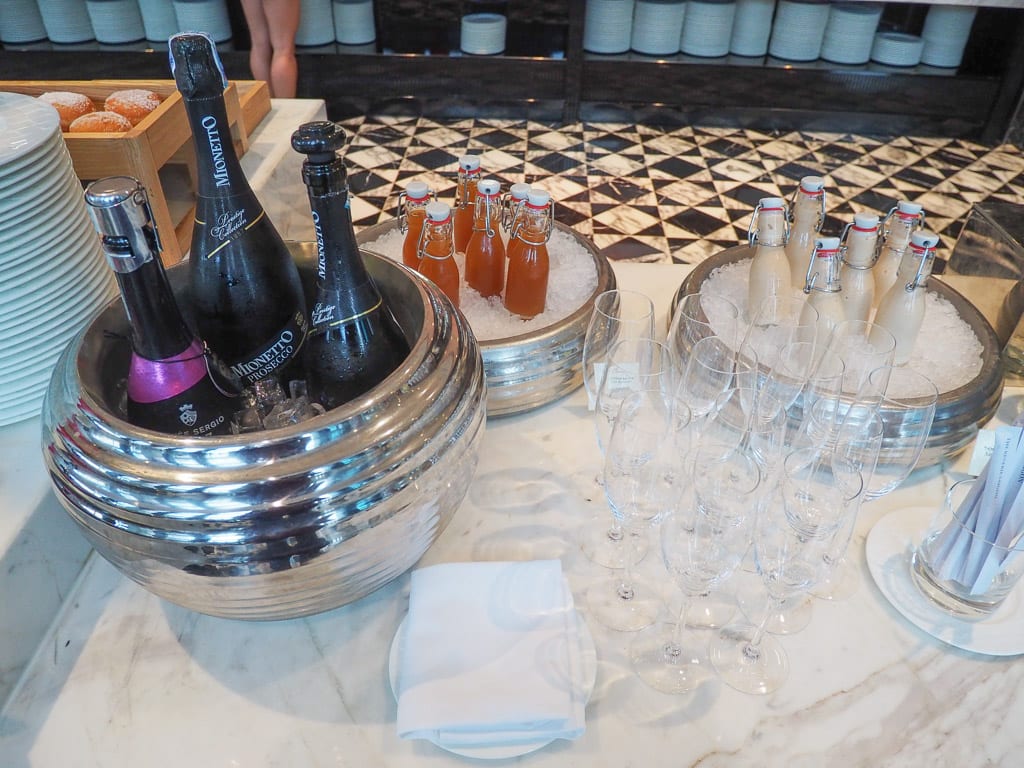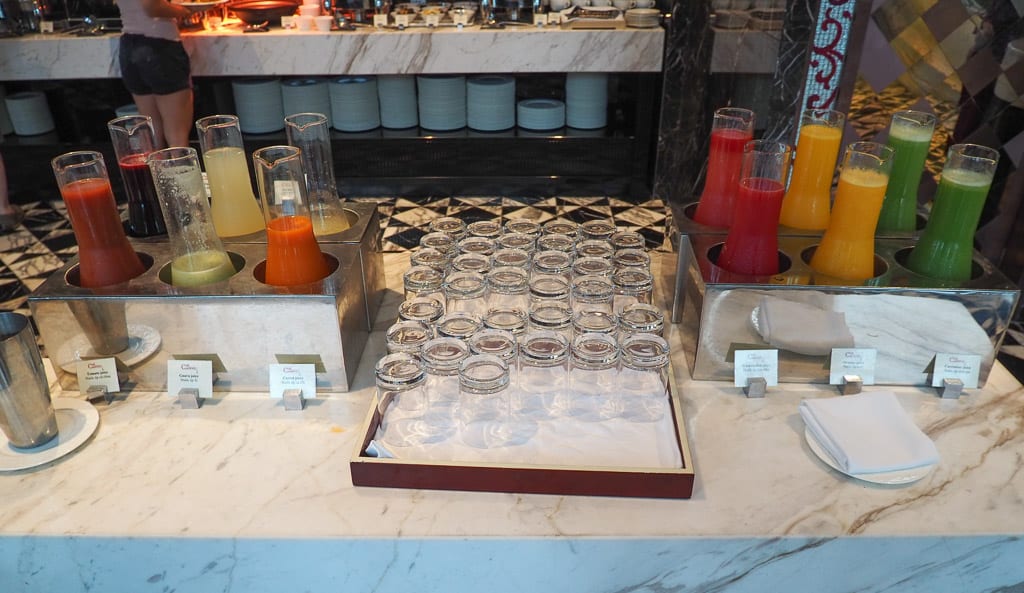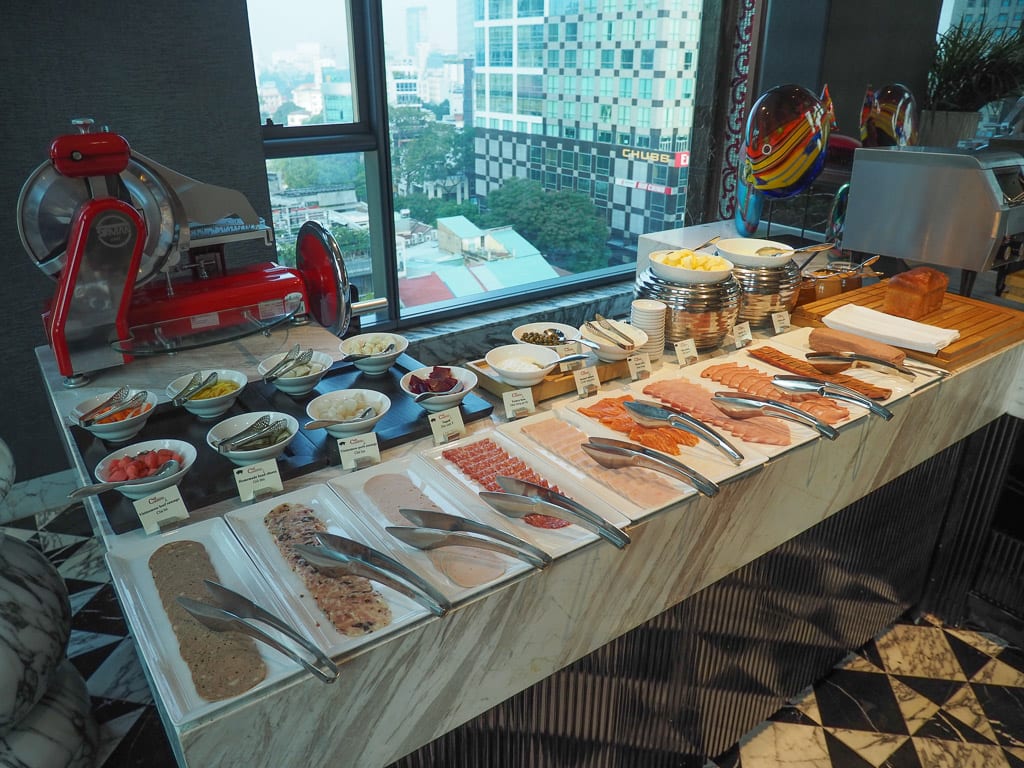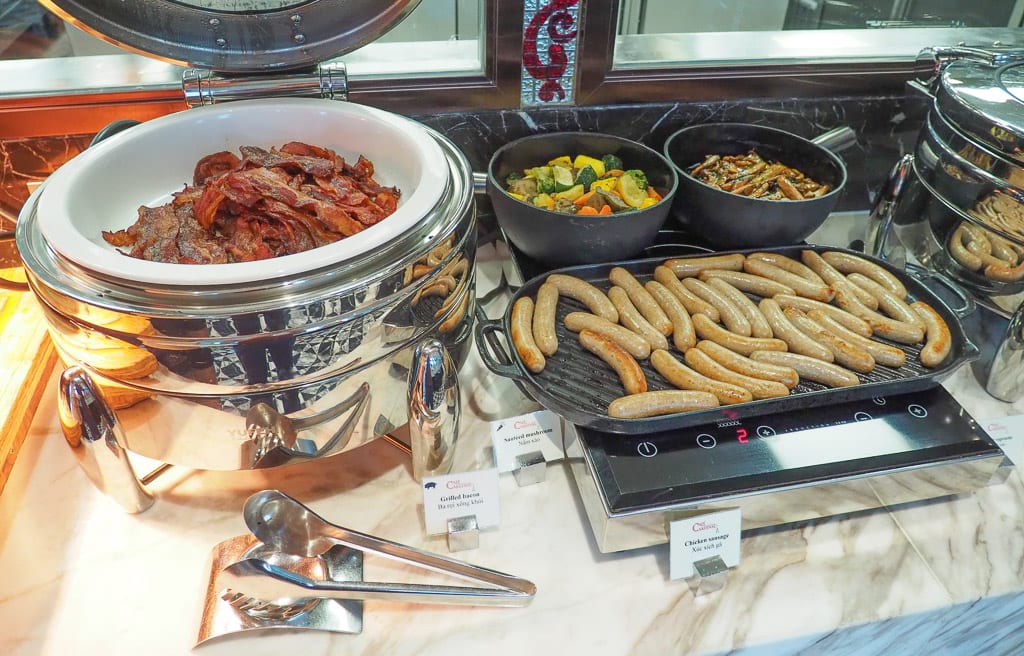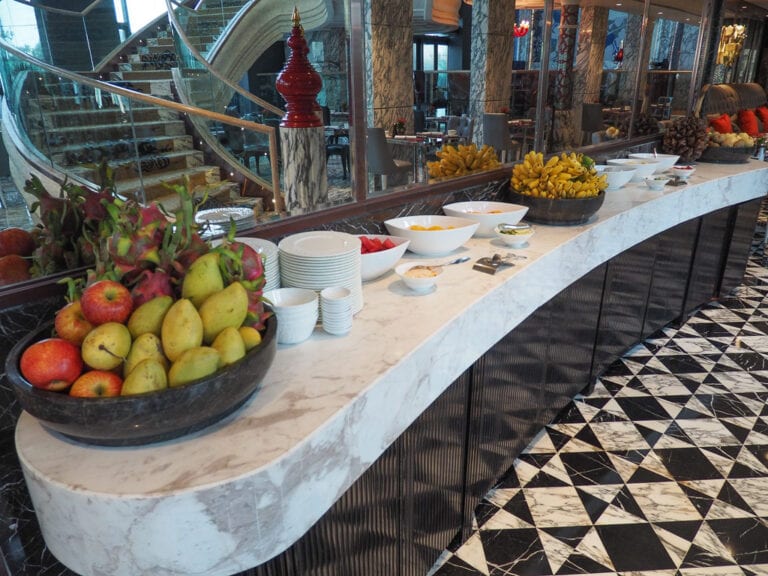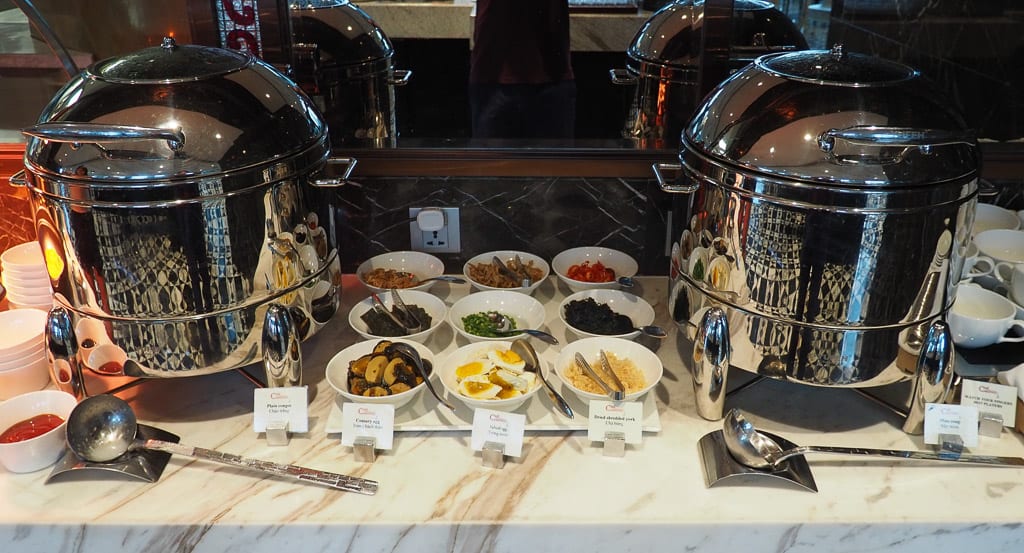 I ordered the egg Florentine, which was properly cooked with a runny yolk but otherwise unremarkable. The plating seemed rushed and the asparagus was overcooked.
Dinner at R&J Italian Restaurant
Kamara's favourite cuisine is Italian and as luck would have it, the undisputed pinnacle of Italian fine dining in Saigon is located in a subterranean floor beneath the entrance to The Reverie. It's scary how well this birthday trip came together! The Club Lounge staff made reservations for us and said that they would make all the necessary arrangements to ensure that we had a memorable evening.
We were met at the ground floor entrance and shown down an amber panelled staircase reminiscent of the Ritz Carlton Hong Kong before being presented with an amuse bouche and a glass of prosecco each at the restaurant bar.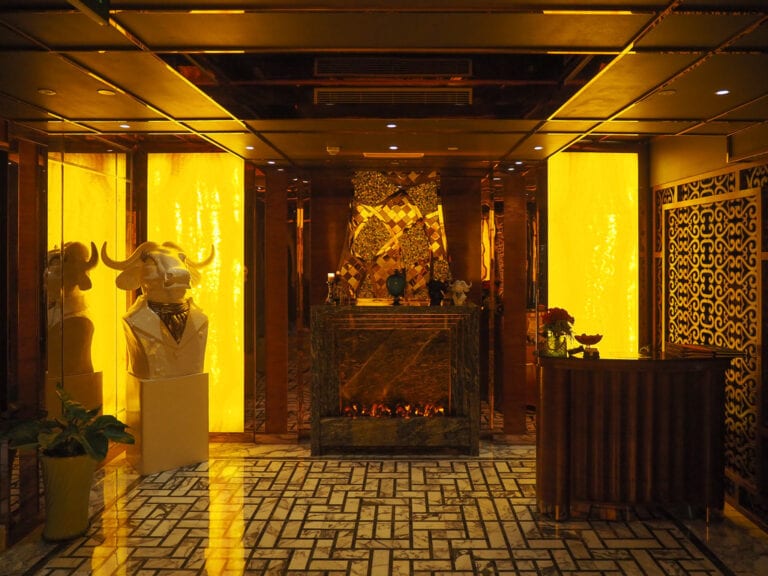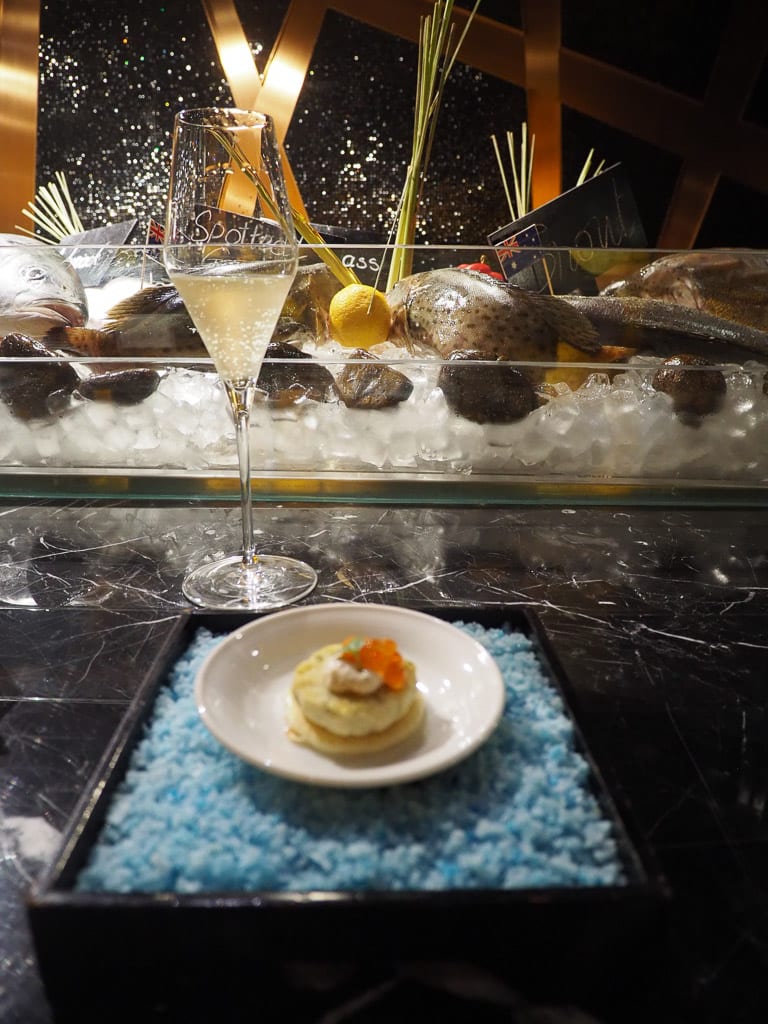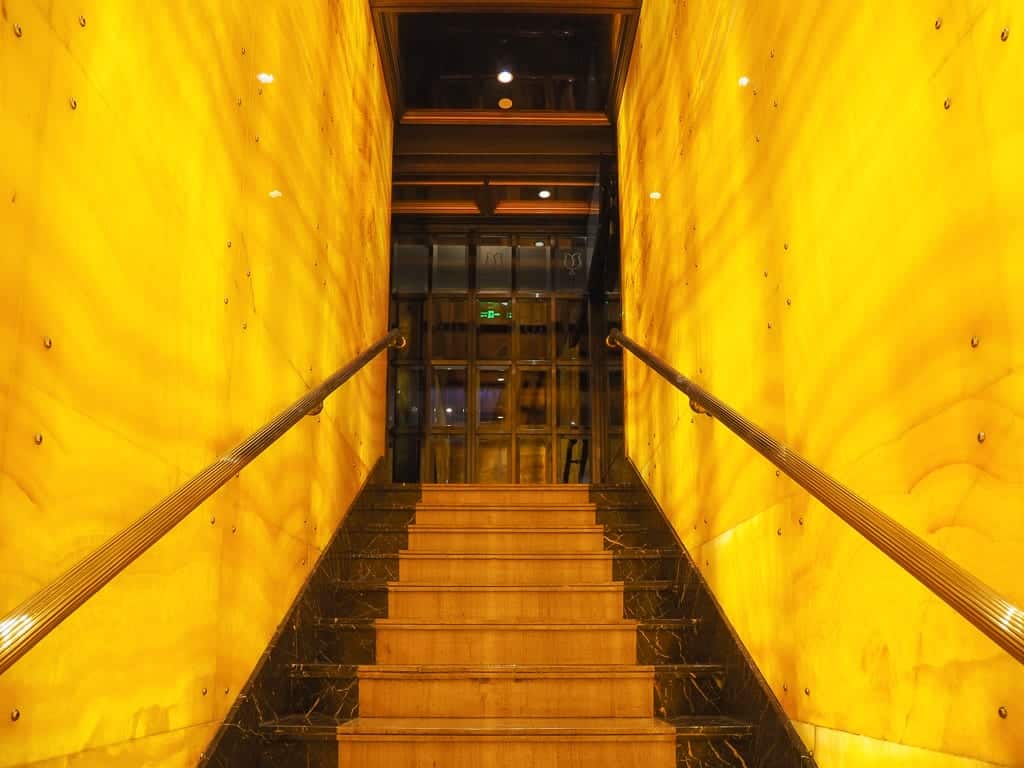 We were genuinely treated like royalty from the moment that we arrived at the restaurant. Not only was the decor incredible but the service was super friendly and really down to earth, the Italian head chef came out to chat with us for quite a while and in many ways his relaxed and jovial demeanour reminded me of the service we have received in some of our favorite spots in Florence like Le Fonticine and Buca Mario.
We started the meal with some G&Ts. They were served together with an extremely elaborate chest filled with different breads. These came with dipping bowls filled with balsamic vinegar that had been aged for over 15 years together with a small batch olive oil.
In true Italian style we had a pasta course each before the main course. I opted for grilled lobster with a delicious truffle topped tagliatelle whereas Kamara went with the frutti di mare squid ink linguine. Both dishes were exceptional although I think that Kamara's was the clear winner.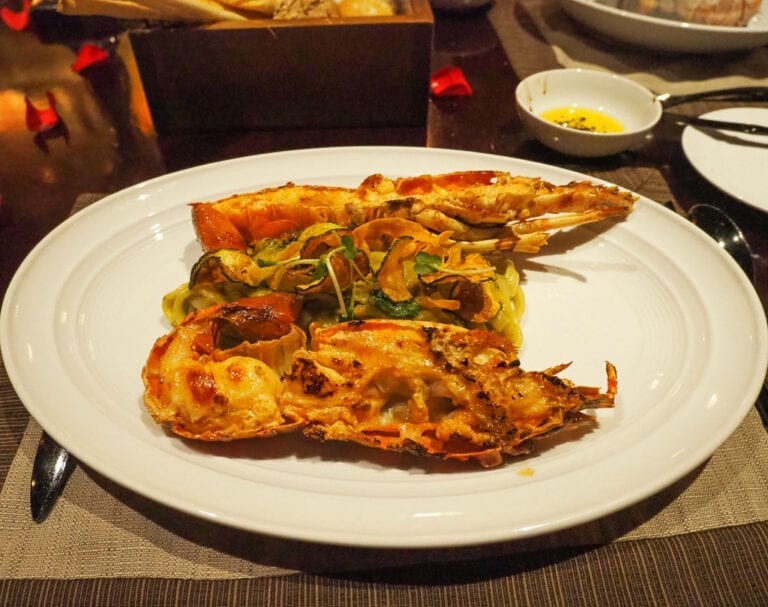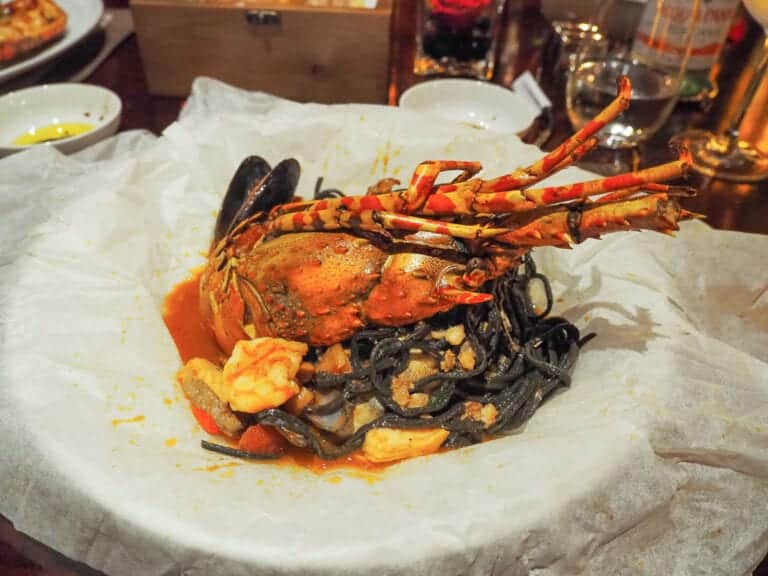 The main course of Bistecca Fiorentina was prepared for us table-side by the chef. I love this kind of theatrical dining, all too often this is missing in modern restaurants.
The steak was absolutely incredible, wonderfully cooked with a crunchy maillard transformed exterior, whilst beautifully rare on the inside. The vegetables were cooked to perfection as well.
We were so full after all of that food that we could barely contemplate dessert. However the chef insisted that we had to try the House speciality of chocolate with nuts and dried fruits prepared table-side.
Somehow after a small taste of chocolate, Kamara realised that her 'dessert stomach' was empty – so we ordered two delicious and mercifully small plates, one of which was thoughtfully decorated for her birthday.
Overall this was a fantastic meal, the service food and decor were all absolutely top notch. I usually stick to the local cuisine when travelling but if you had a yearning for Italian food whilst in Saigon you can rest assured that coming here would be money very well spent.
When we returned to our room we saw that the club lounge staff had very thoughtfully left a birthday cake and congratulatory note for Kamara. We were so full that we actually ended up getting this boxed up and took it with us to Amanoi.
---
Leisure Facilities
---
The gym and spa are located on the 6th floor (one floor below the lobby). You wouldn't feel uncomfortable heading straight to the gym from your room in your workout gear, since the entrance is quite close to the lifts, however you would be missing out on the spectacular changing rooms!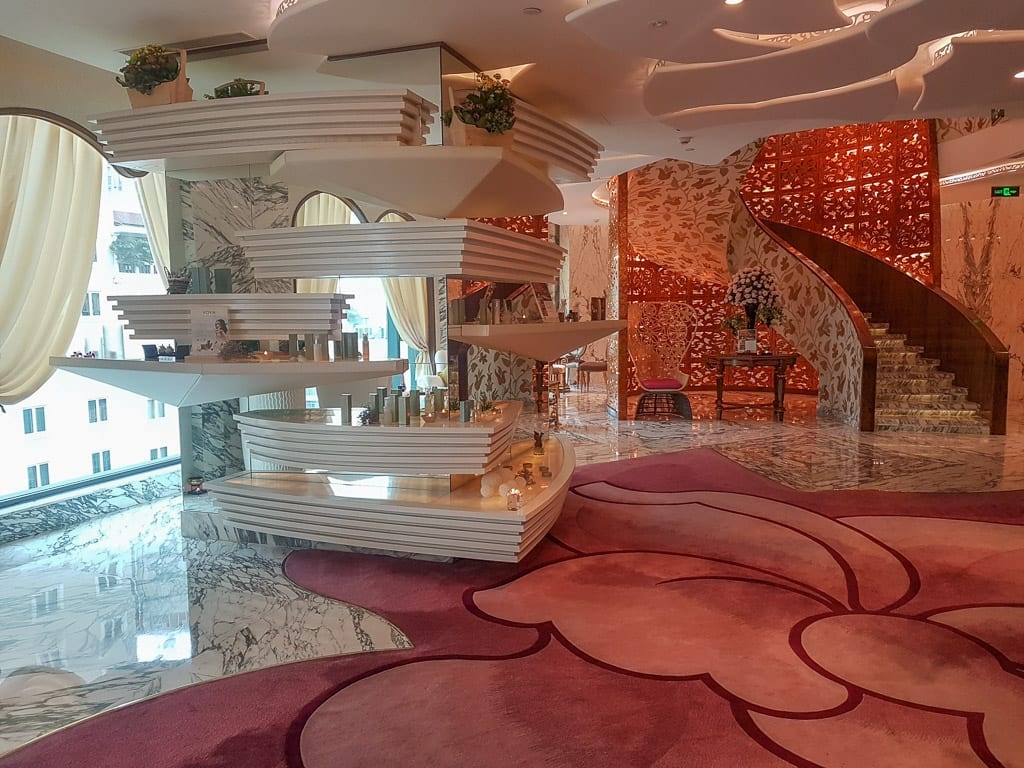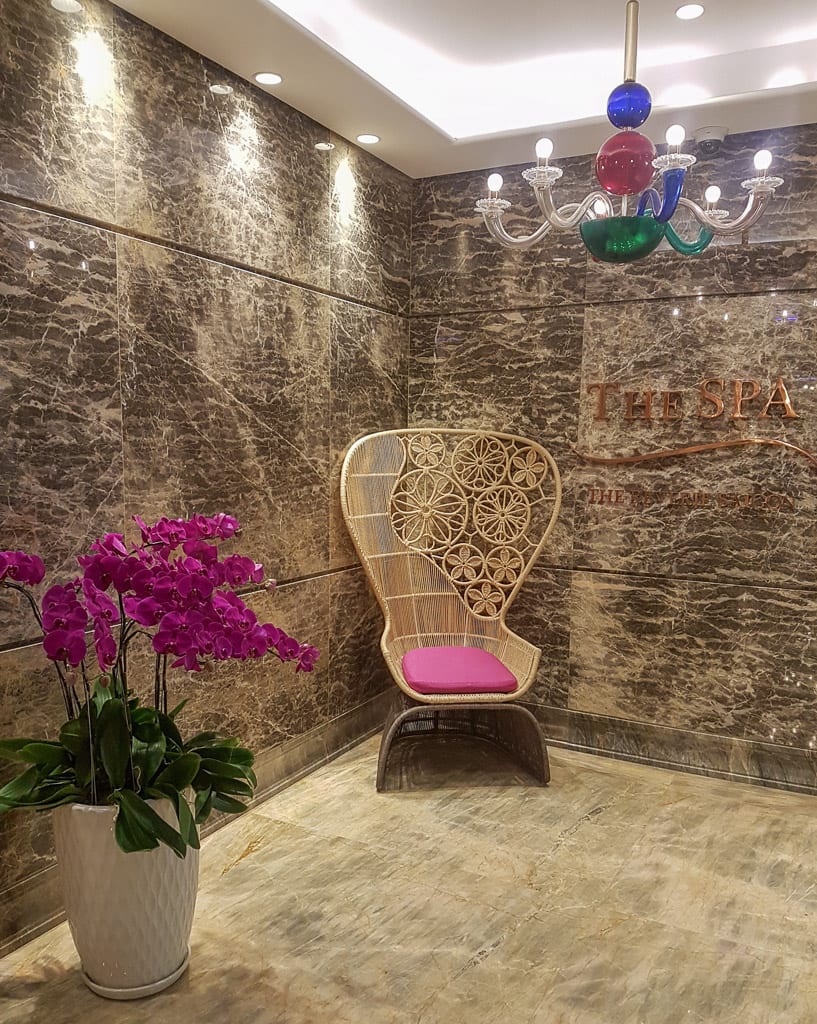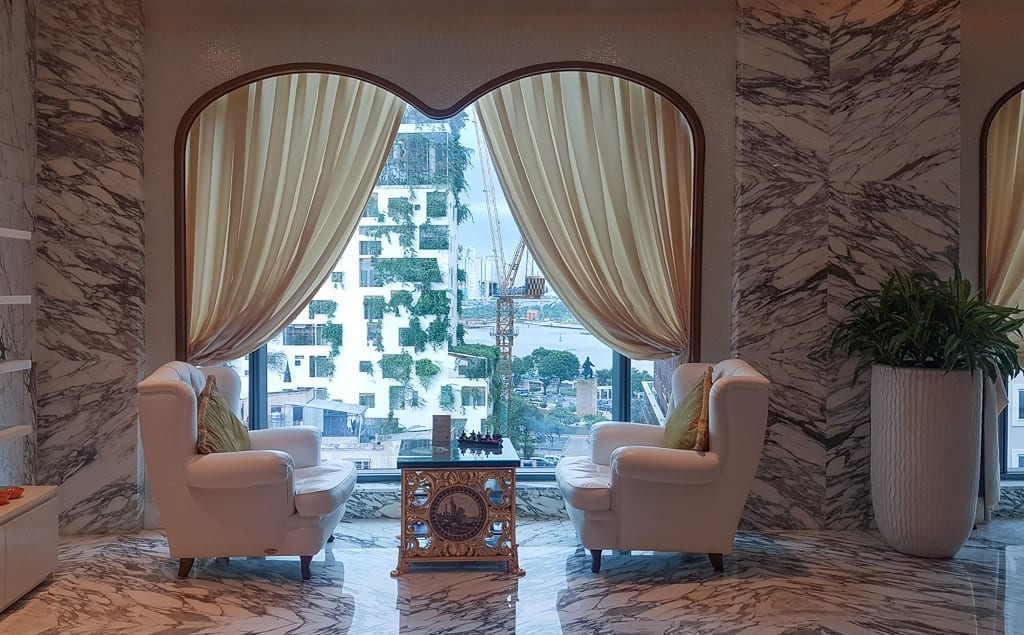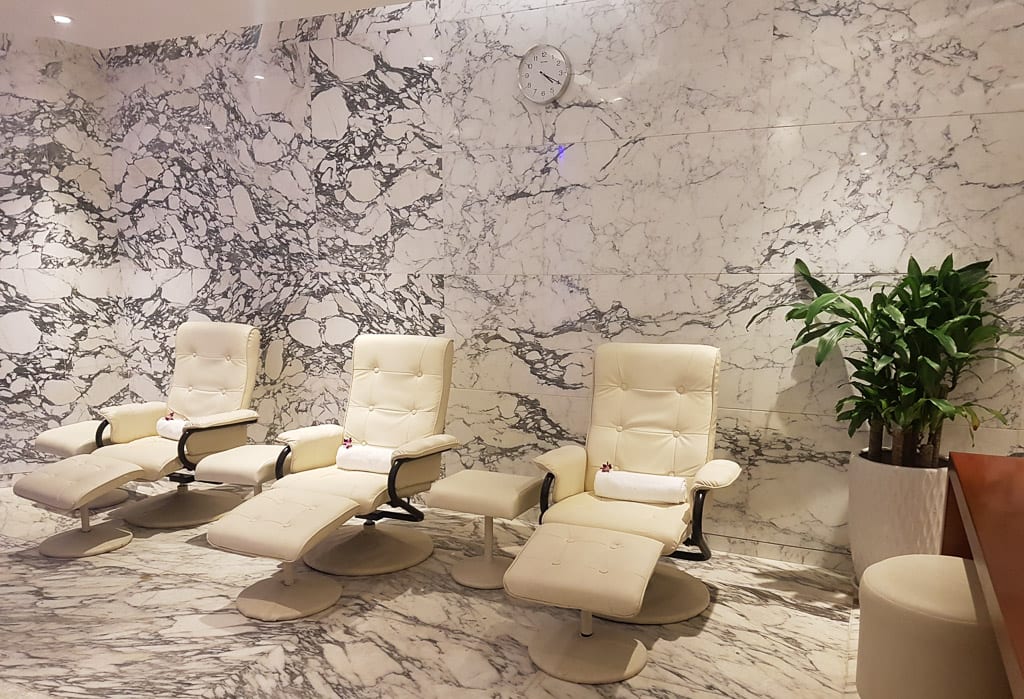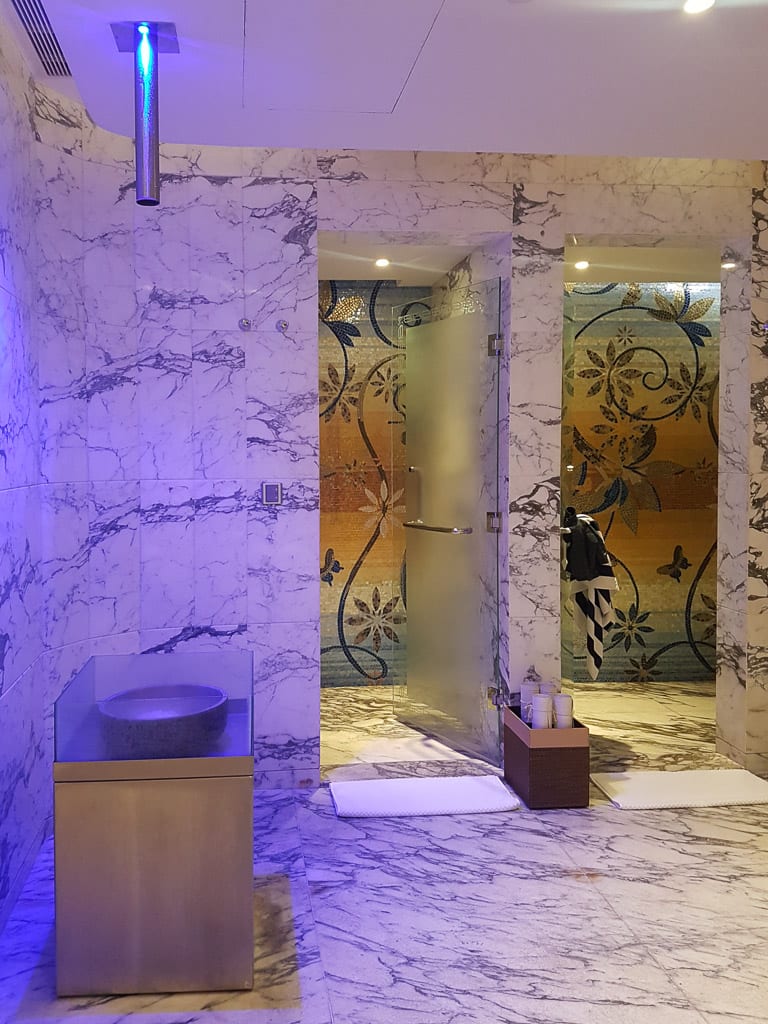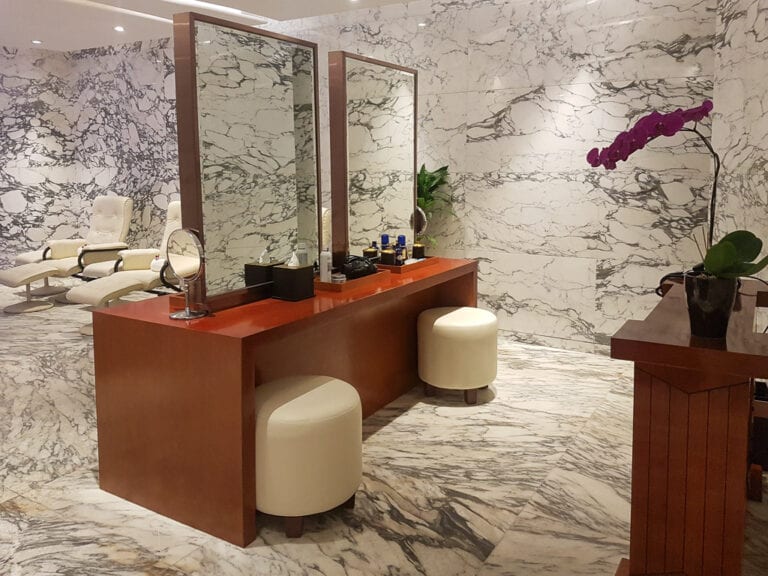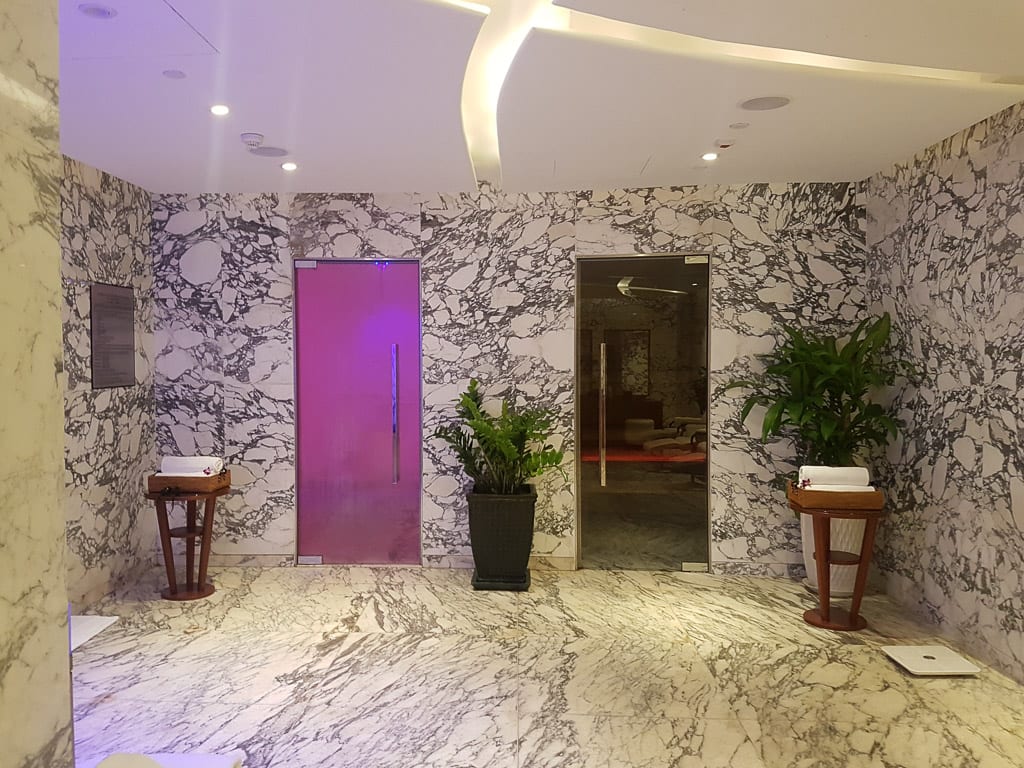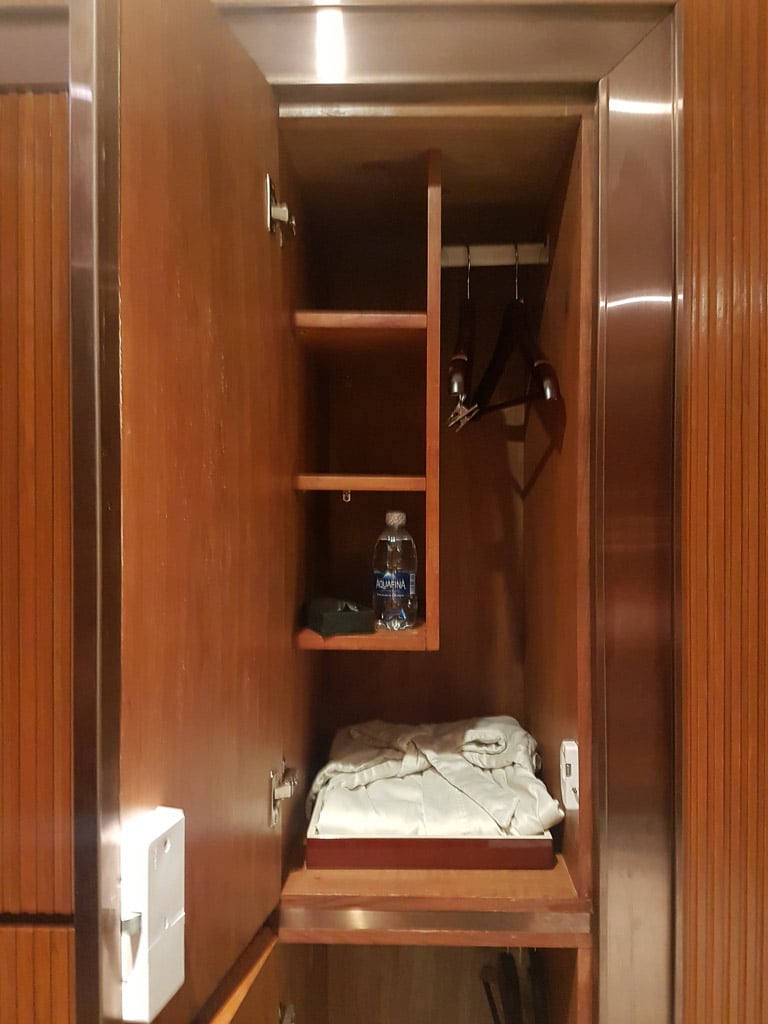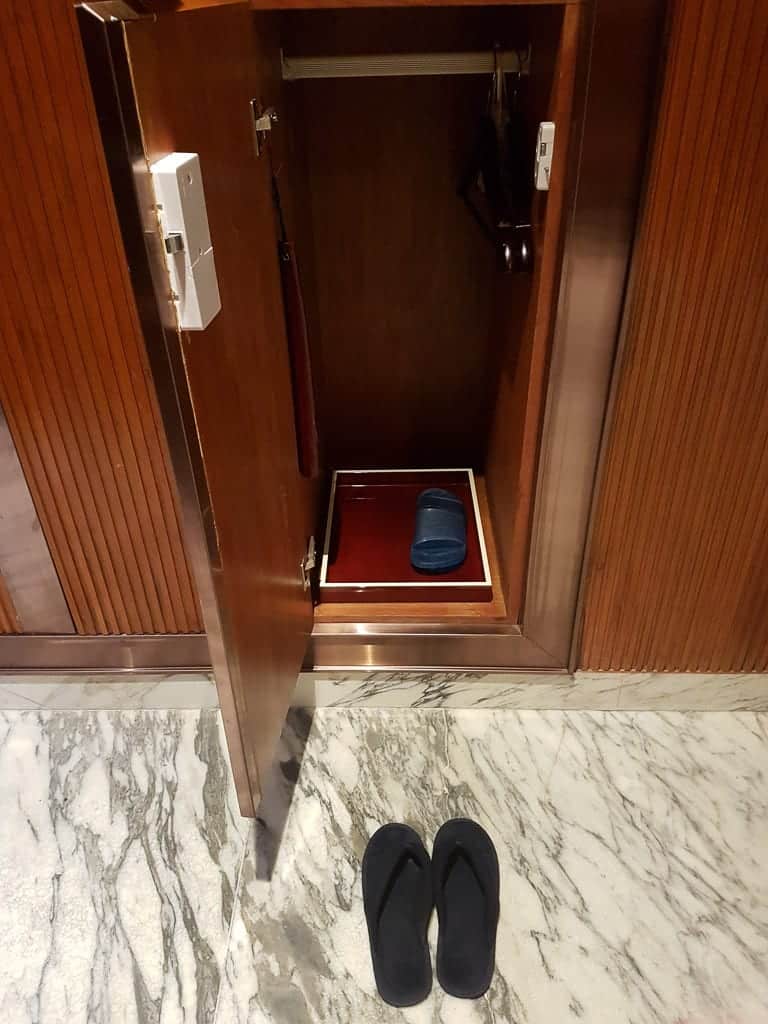 The range of products available was truly incredible. I don't even really know what skin toner is but I'll be damned if they didn't have a limitless supply of it here. The only spa facilities I've seen that compare to this are the ones at the Park Hyatt Tokyo (and the more tattoos I get the less likely it is I can get away with visiting that place unfortunately).
The gym was very decent for a hotel facility and actually had a very good balance between cardio machines and Technogym stations. The dumbbells weren't the heaviest but you could definitely get a decent workout done here and would have enough variety to keep you going, even during an extended stay.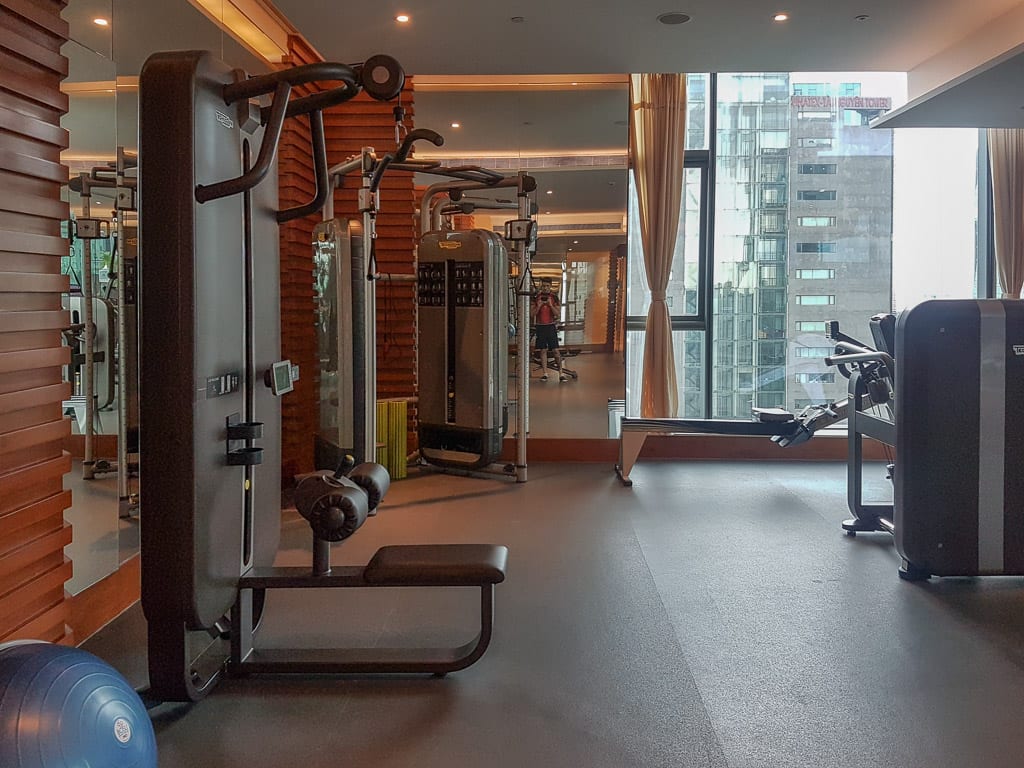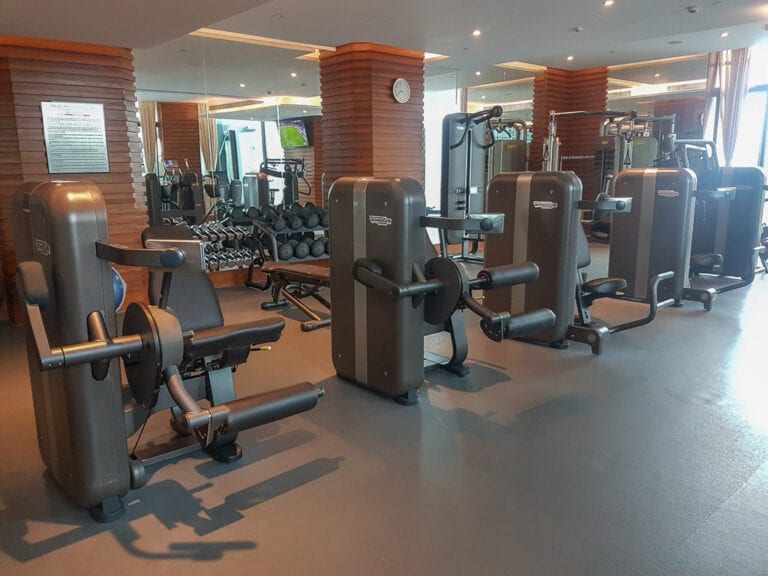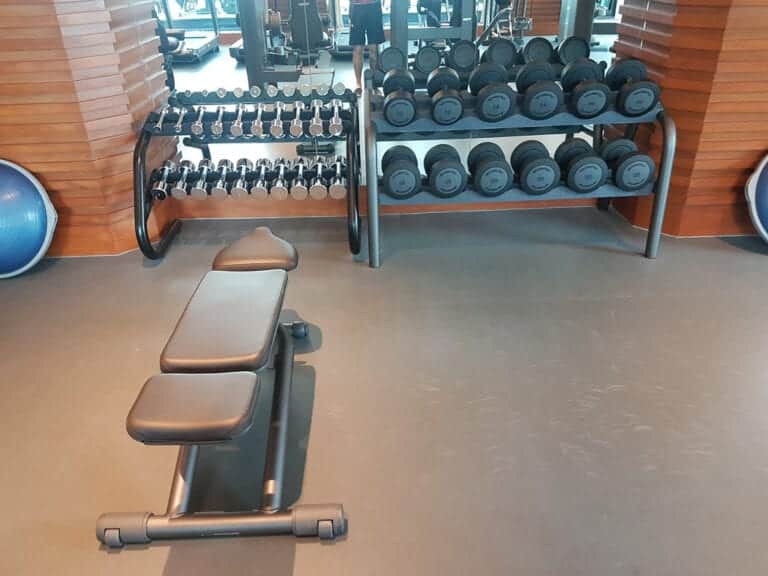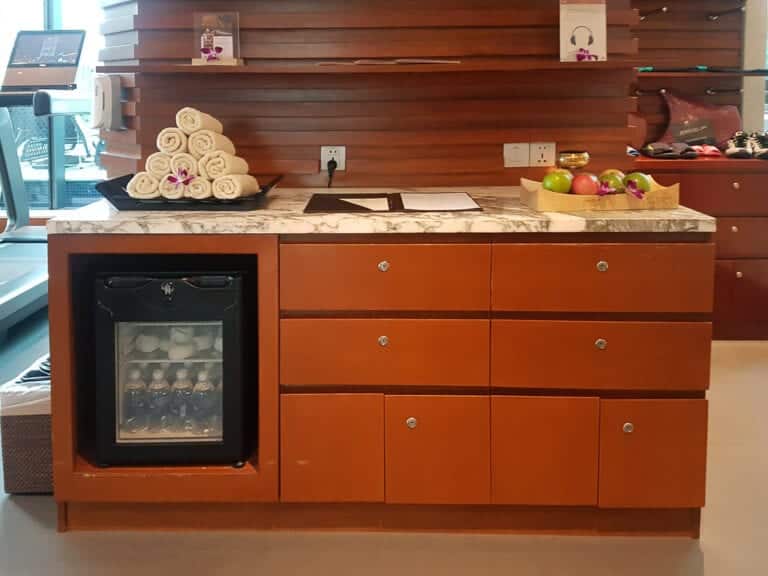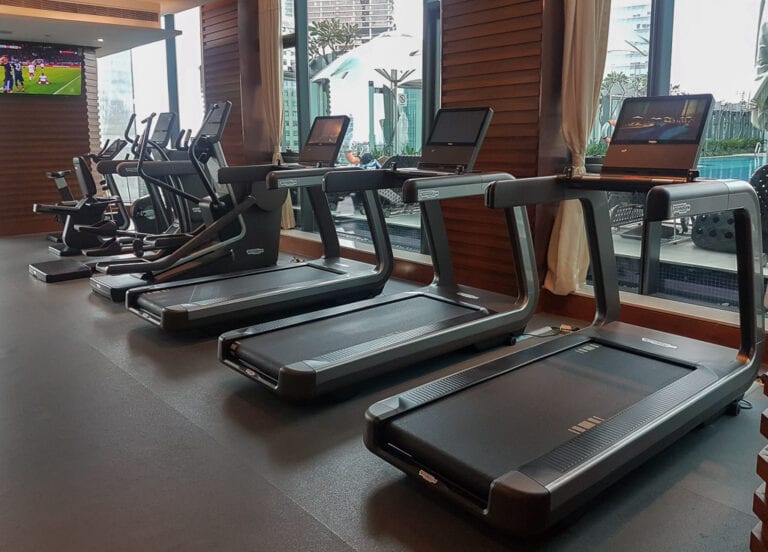 After finishing our workout Kamara took a while to wash and dry her hair (and use all the fancy products). Amazingly, the staff approached me as I waited for her and brought out iced berry tea, not only for me but also for her so that she wouldn't feel left out when she emerged. That's what I call service!
The Rolls Royce Phantom Dragon
Not strictly speaking a 'facility' but certainly a stand out feature of the hotel. The club lounge staff were so amazing in helping to arrange this for me, at times it felt like we were all secret agents, quickly speaking a few words every time Kamara left the table to use the bathroom or to grab some cookies from the buffet. When one of the ladies handed over the envelope with the final details she said, "Your girlfriend is so lucky to have you". Which I like to bring up every time she gets annoyed at me…
After a bit of back and forth we decided that the optimum plan would be to tell Kamara that we were going for an early dinner and to get dressed accordingly. We would then be taken on an hour long drive around Saigon before coming right back to the hotel for our dinner at R&J. She never suspected!
Our car was waiting for us at the main entrance to the property, an expansive and quiet courtyard away from the busy road.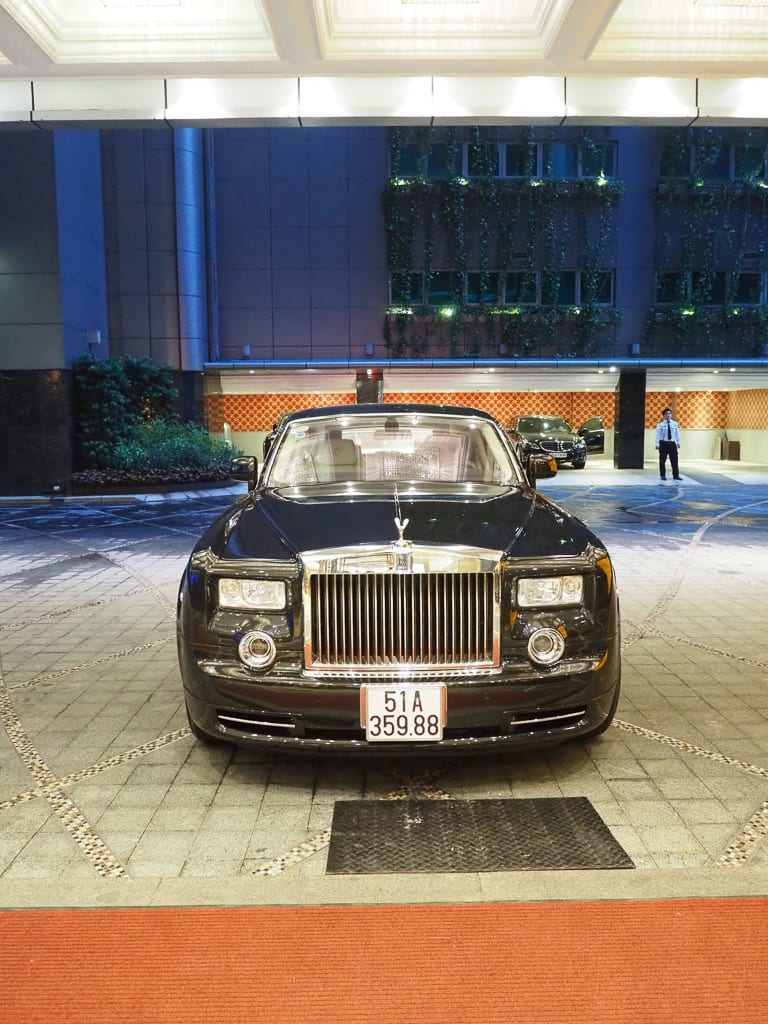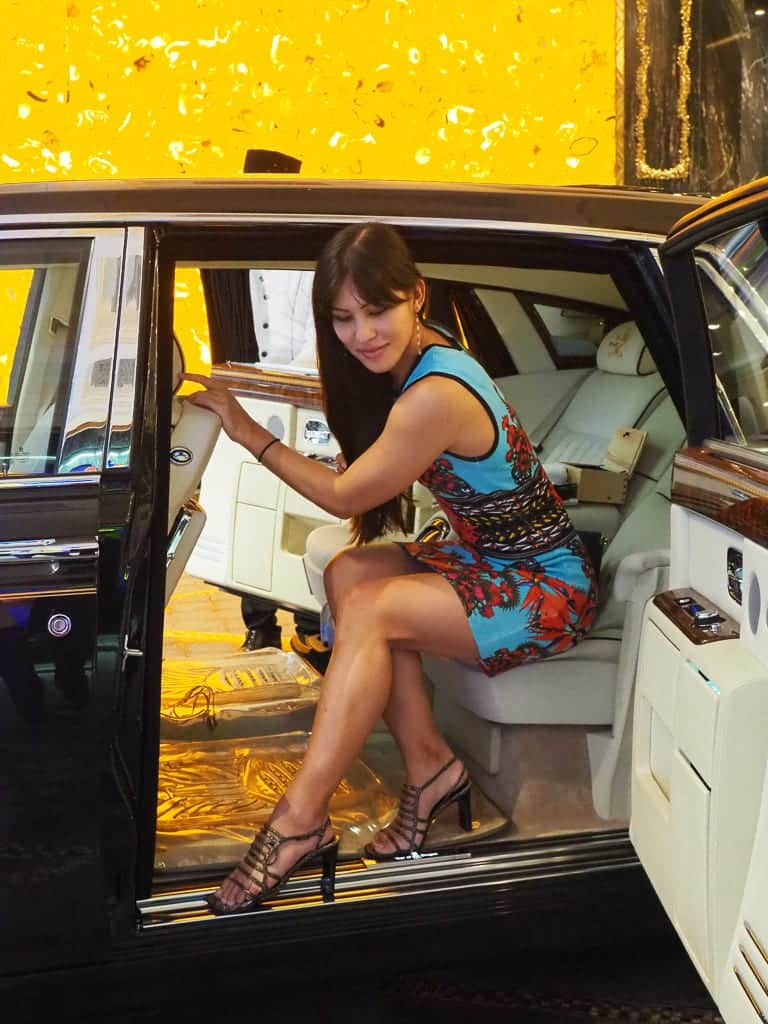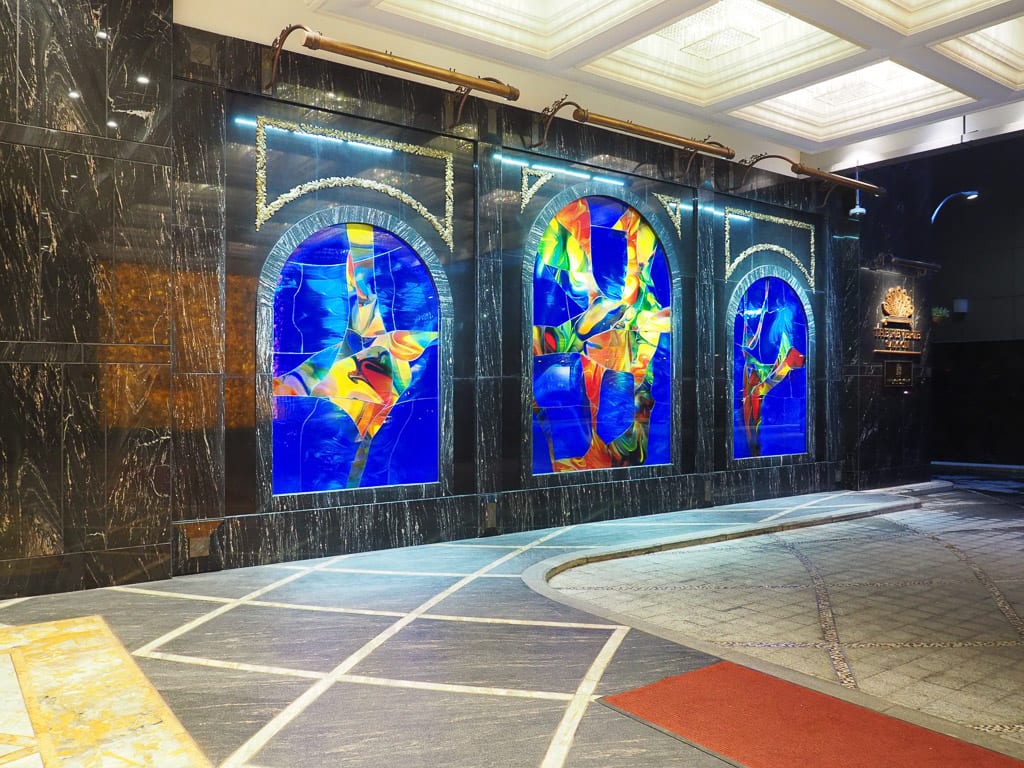 The interior of the car was incredible. Legroom for days, giant TV screens, supremely comfortable padding and all manner of compartments and features to explore. It was honestly as exciting as trying out a new First Class airplane cabin for the first time!
Snacks, water and an iPad were provided as well as USB charging points and wifi.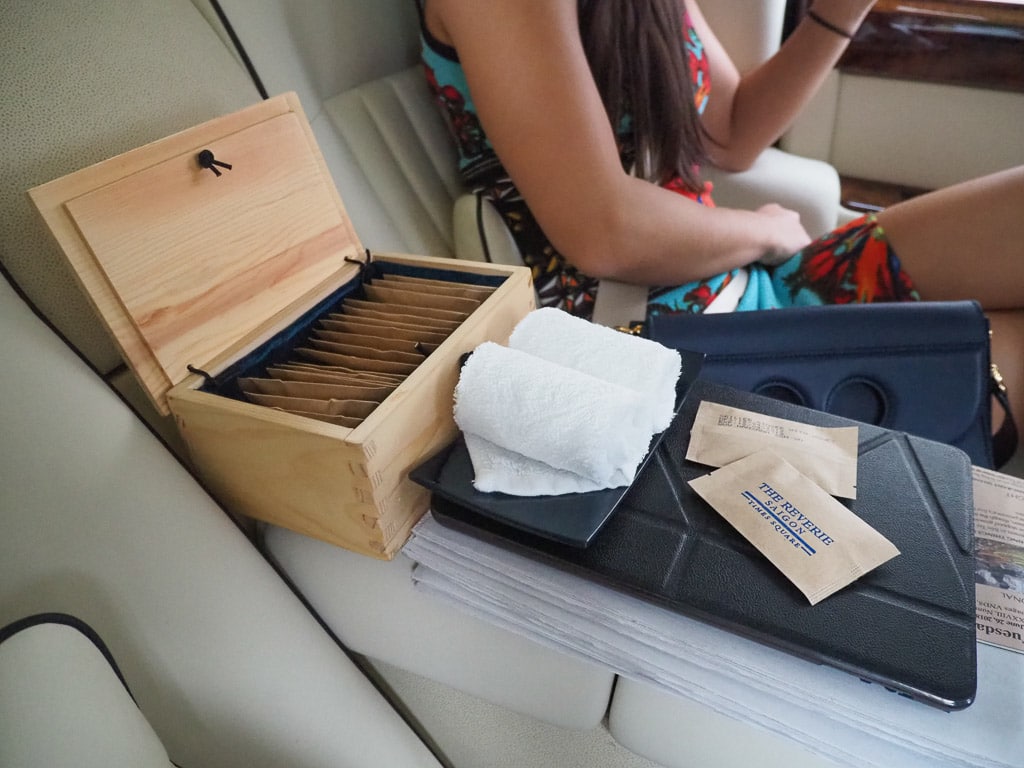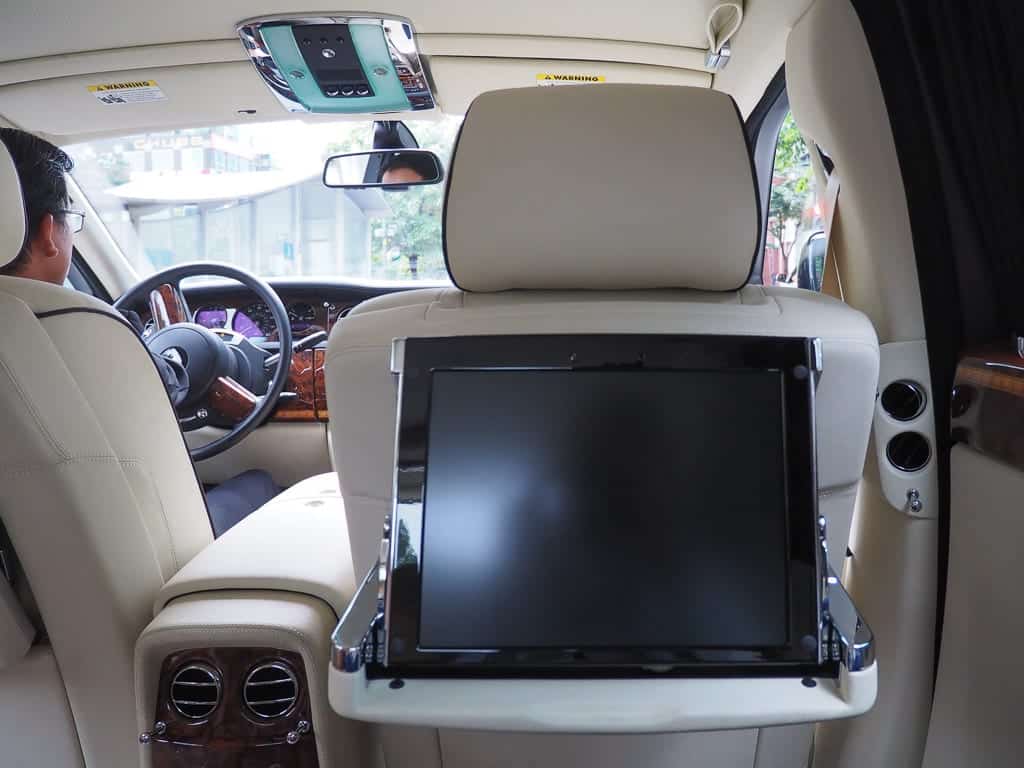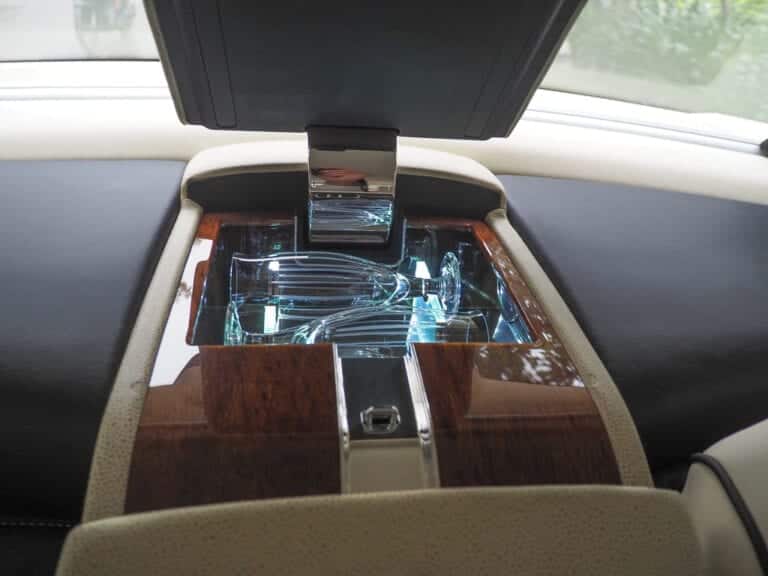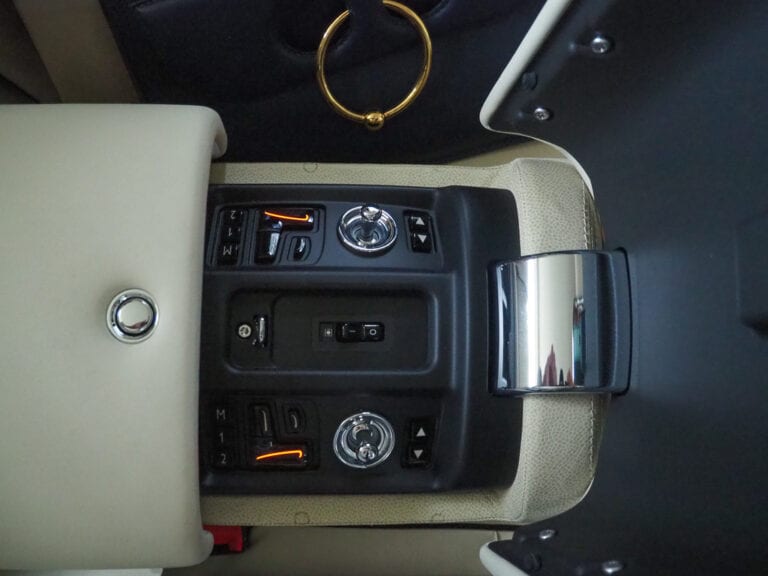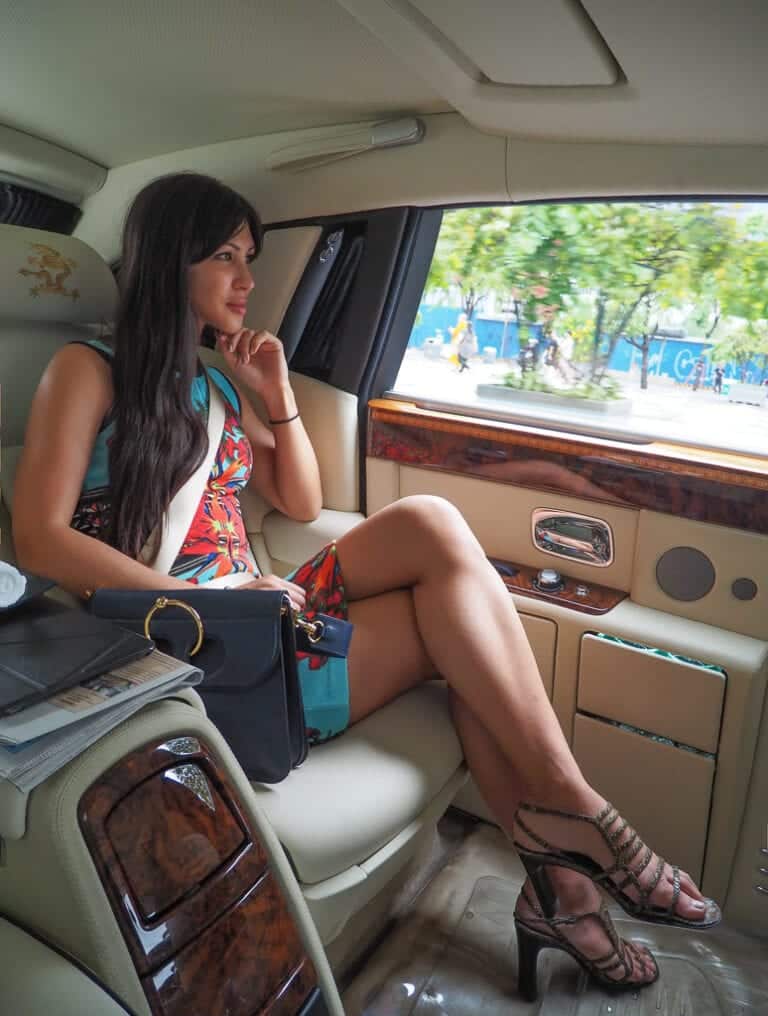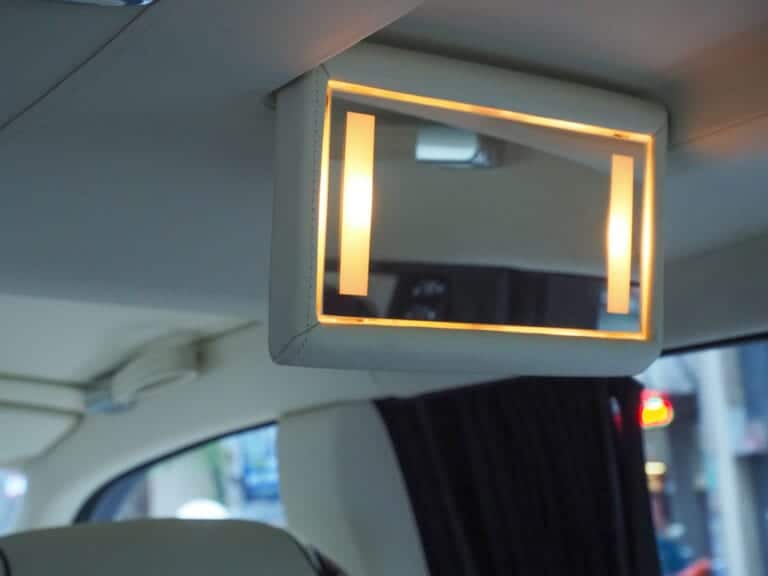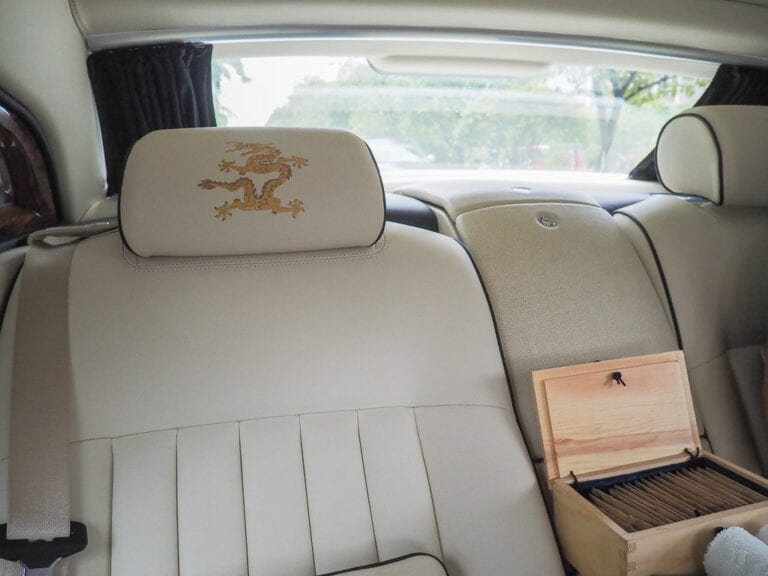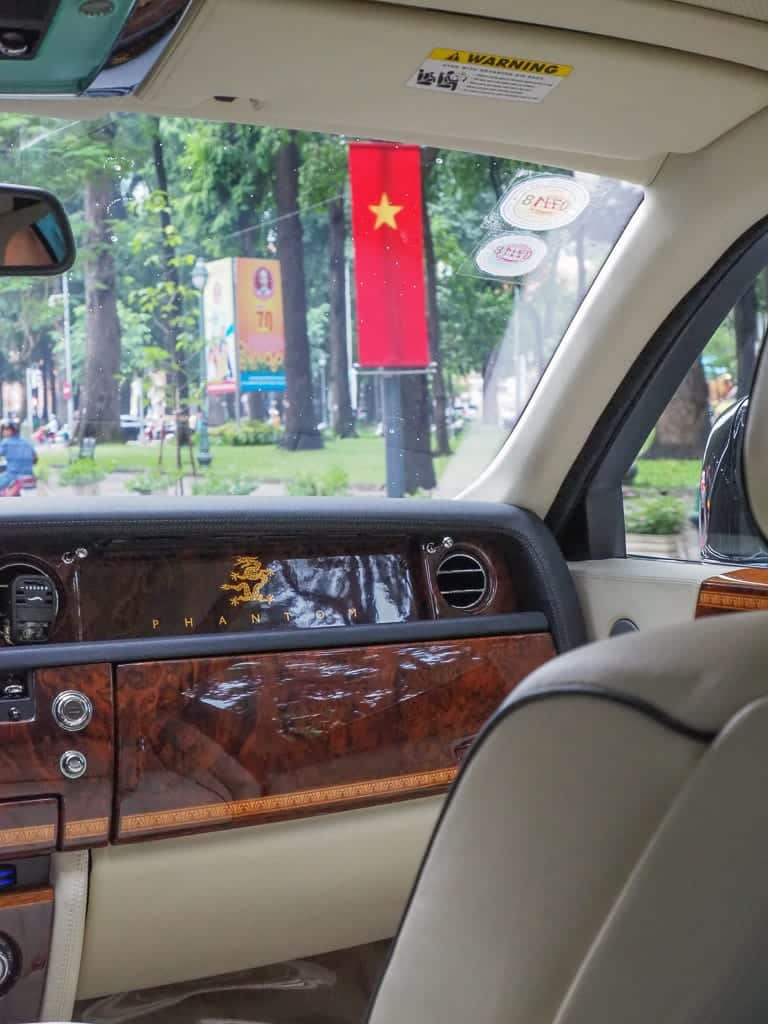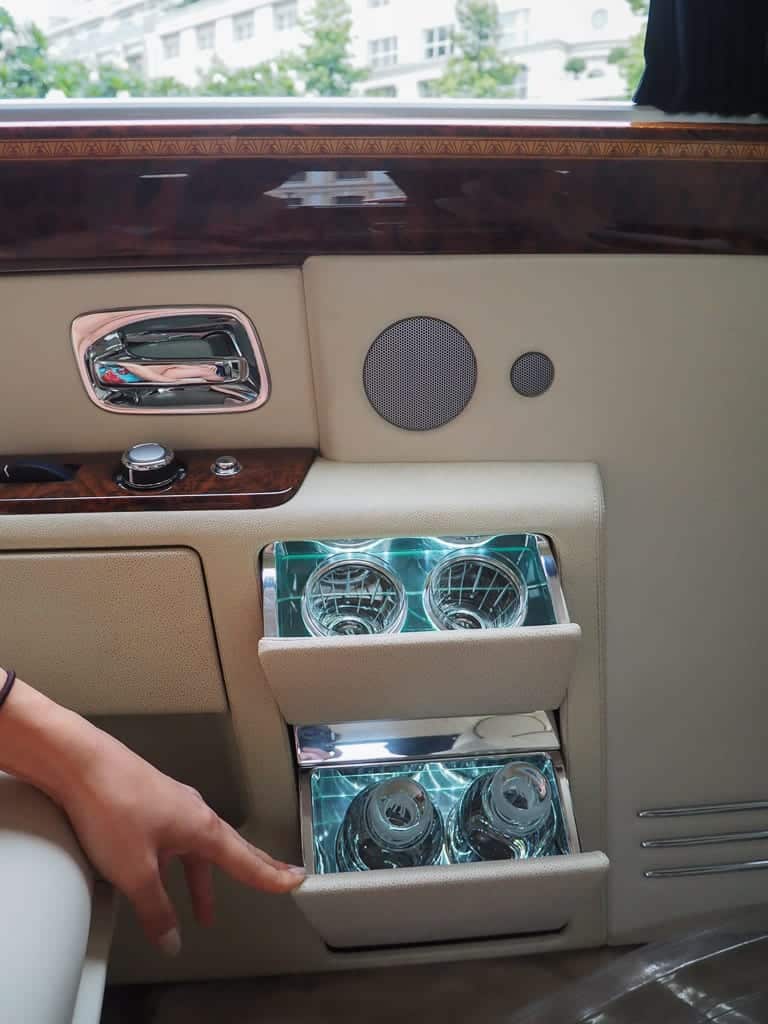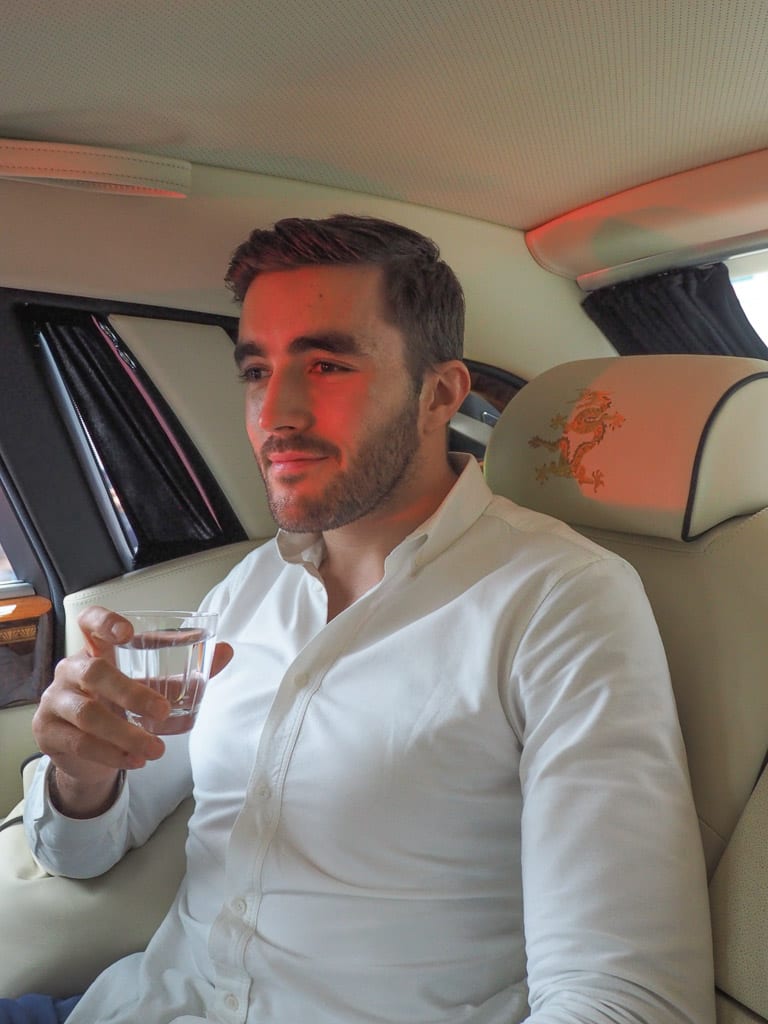 The one hour trip cost $350 plus tax and honestly it was worth every penny. They say that most people will only ride a Rolls Royce once in their lifetime and they won't be alive to enjoy it; I'm very glad that we ticked this off the list in good time!
---
Conclusion
---
Basics Checklist
☑︎ Power sockets near the bed
☑︎ Easy to understand light switches
☑︎ Coffee Machine
☑︎ Separate shower and bath
Bonus points for the glass encased wet room
☑︎ Blackout Blinds
☑︎ Stable, fast and free Wifi
☑︎ Feather pillows
☑︎ Quiet and powerful aircon
This place may look extravagant and OTT but it is a unique form of design which is honestly like nothing else you will have ever seen. Every moment spent within The Reverie felt like a waking dream. The name of the hotel couldn't have been more apposite.
The bedding was supremely comfortable, the food quality was superb and at every turn you were faced with an another reassuringly expensive brand: Hermes, Louis Roederer, Poltrona Frau, Frette, Rolls Royce. This is a hotel which would command many multiples of the room rate if it was located in Europe or North America. At $255 a night including breakfast, hotel credit and an upgrade this was ludicrously good value for money.
The service was not only efficient but was proactive, kind and effusive. Everything you could ever hope for.
As far as city hotels go this is now firmly tied for the top spot together with the Park Hyatt Sydney and the Ritz Carlton Kyoto. If you pick the Park Hyatt Saigon over this you're doing yourself a serious disservice. I would unreservedly recommend The Reverie Saigon to anybody. In a word: Extraordinary.
---
Book online with Virtuoso benefits
---
Virtuoso Partner Booking
Virtuoso bookings are fully refundable and will match the best flexible rate available directly from the hotel. In addition, you will receive:
Upgrade on arrival, subject to availability.
Daily full breakfast for up to two in-room guests.
$100 USD hotel credit.
Early check-in/late check-out, subject to availability.
The Reverie Saigon can be booked directly online by clicking the "BOOK NOW" image.
If you're a first time client and want to learn how our free service works and how to get set up on our booking portal, click below for the guide:
Do you have a more complex booking enquiry, involving multiples rooms or hotels? Email us for immediate booking assistance: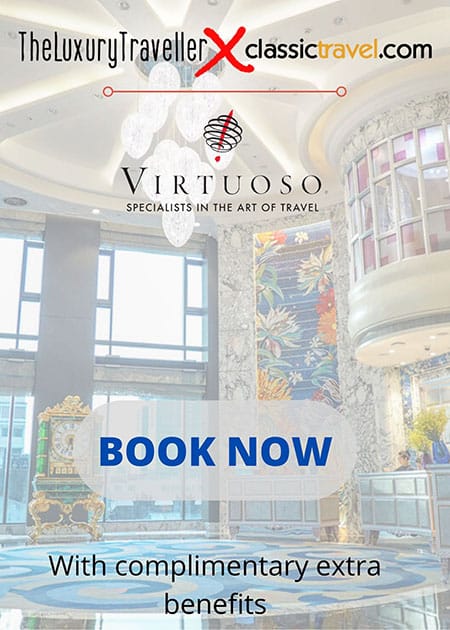 ---