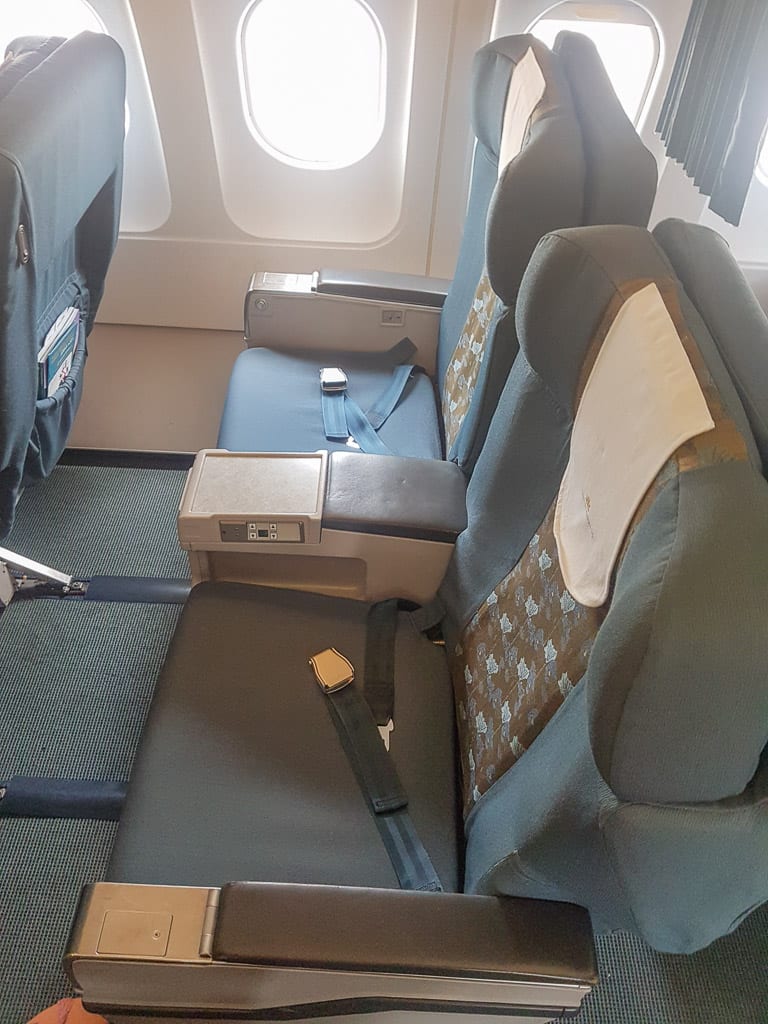 REVIEW – Vietnam Airlines : Business Class – A321 – Saigon SGN to Cam Ranh CXR
April 1, 2020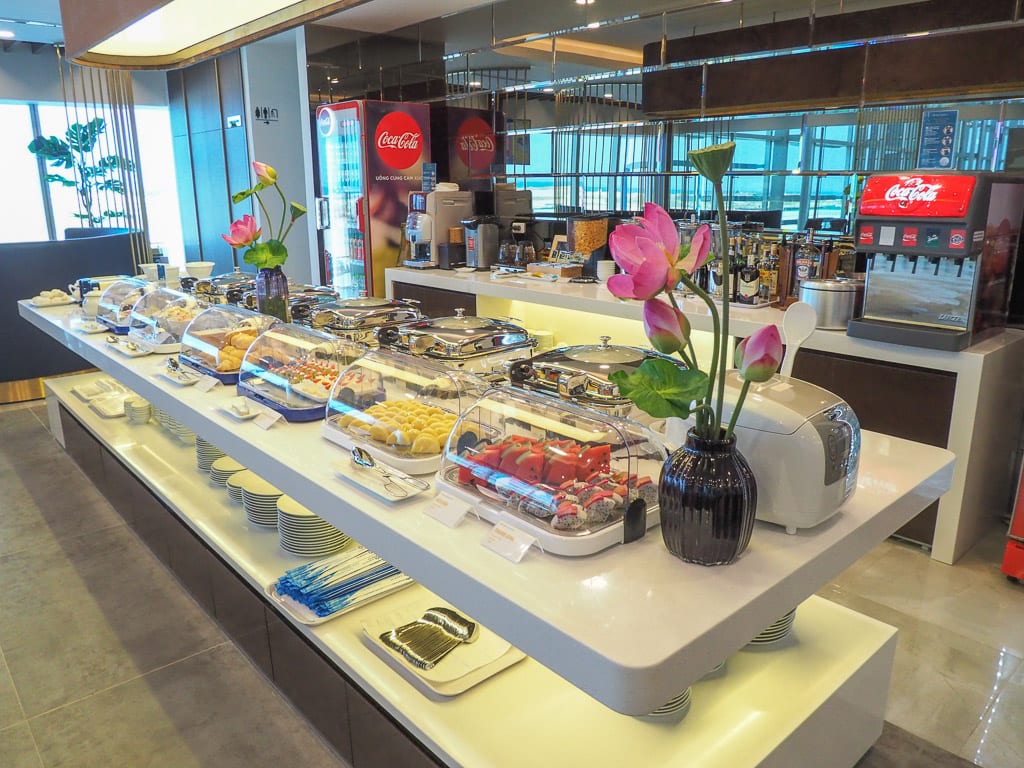 REVIEW – Vietnam Airlines Lotus Lounge : Cam Ranh CXR (International)
April 10, 2020
---
Intro
---
I've been following Aman as a hotel brand for years. The stories of unparalleled service (the staff will do anything legally possible in order to say "yes" to a guest), design beyond the comprehension of most mortal architects and privileged locations devoid of any possible competition intrigued me.
George Clooney got married at the Venice property, Novak Djokovic was married at the Aman in Montenegro, Bill Gates and Mark Zuckerberg regularly visit Aman properties around the world. If the rich and famous, people who can holiday absolutely anywhere with money no object, choose Aman – surely there has to be a reason?
The room rates are ordinarily as stratospheric as you'd expect, since the room counts (and occupancy) tend to be very low and the staff to guest ratio is the highest in the industry.
However I had heard time and again that not only did Amanoi have some of the best hardware and service within the Aman chain, it also had some of the most reasonable pricing.
---
Booking
---
I was determined to make this stay happen for Kamara's special 30th birthday trip and although it wasn't cheap by any means, I managed to get quite a deal.
Instead of paying the standard $1035 per night for an Ocean Pavillion without breakfast we got:
A complimentary fourth night – reducing the nightly cost to $775
Breakfast included
Return airport transfers
An upgrade to a villa with a private pool
All but the upgrade are possible via the Aman website if your stay falls within the dates of their Undiscovered Amanoi offer but why would you book directly without the chance of an upgrade, when you can pay the same price with Classic Travel and be in with a chance of getting your own private pool for free?
You can book a Virtuoso rate at Amanoi for yourself by using our online booking portal:
BOOK AMANOI WITH VIRTUOSO BENEFITS
If you're booking with us for the first time, here's a quick guide on how to use the booking portal:
If you are planning an itinerary involving multiple rooms or properties, please get in touch for immediate booking assistance:
---
Arrival
---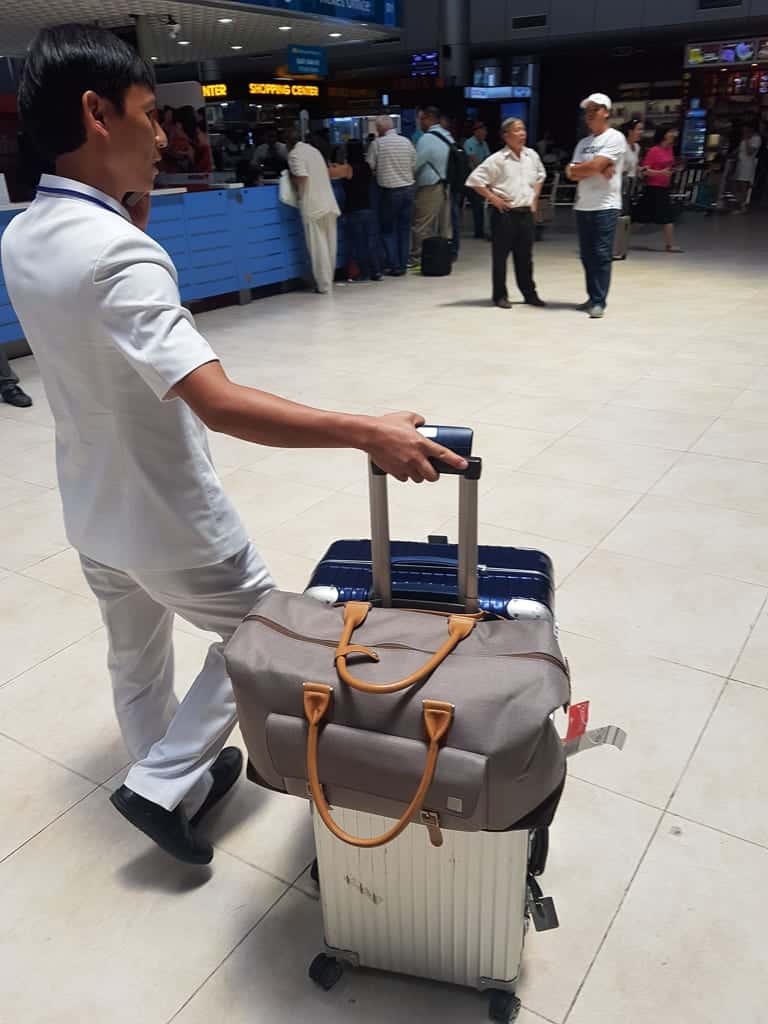 When we first arrived at the luggage carousel at CXR airport, Kamara had absolutely no idea where we were headed to. As soon as she spotted the gentleman in a white Aman uniform she proclaimed, "I knew it!"
The Aman porter confirmed my name and the number of bags before asking us to follow him. He then made a quick call, presumably to alert his colleague waiting in the Aman SUV to prepare the air con, fresh water and iced towels for us.
After we got into the spotlessly clean vehicle the driver handed us this information card: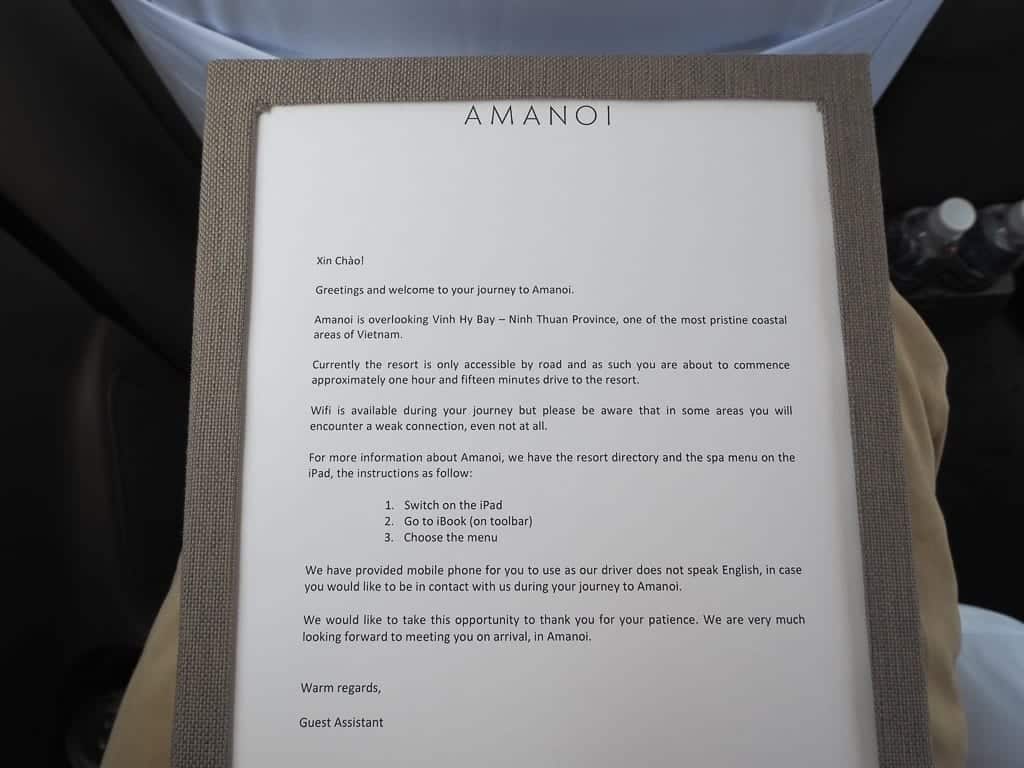 I like that fact that Aman were happy to hire a perfectly good driver even though he was only learning English. The company has a policy of always hiring local staff where possible to make a positive impact on the locations where it does business. I was more than happy to use the phone provided should any emergencies arise during our one hour transfer to the hotel!
I liked the fact that an iPad was provided with all the hotel info so that we could begin planning how to spend our days and what dishes to order at dinner. It connected via WiFi, which could also be accessed on our phones. The copious amounts of cashews and dried mango were a very nice touch too.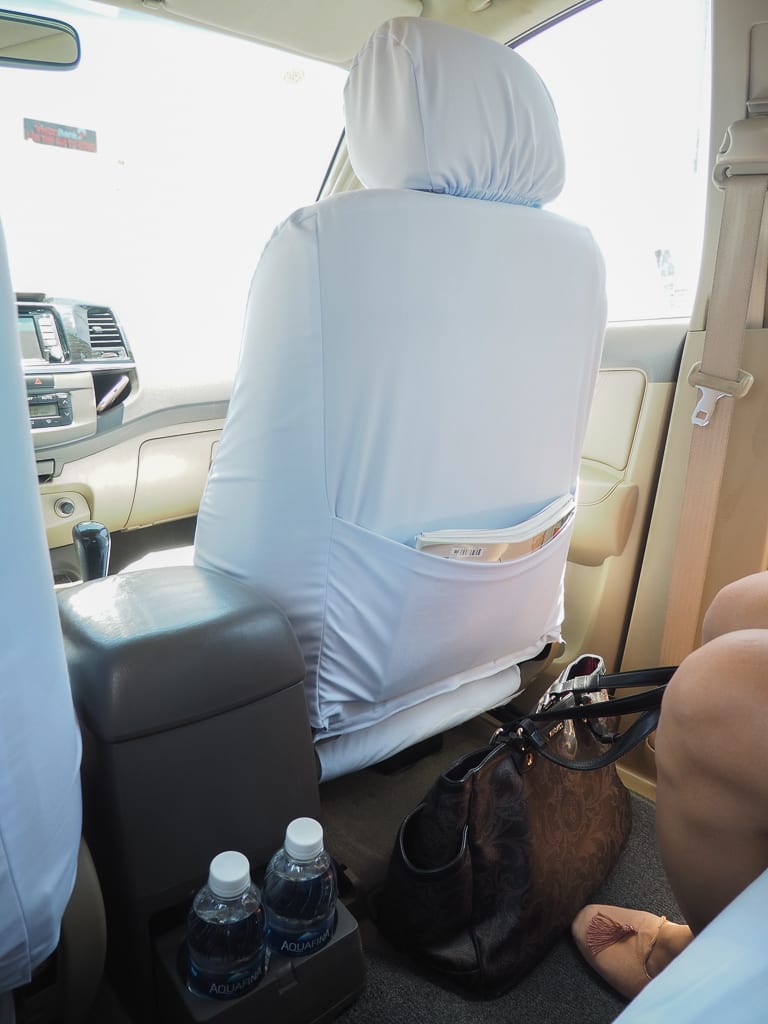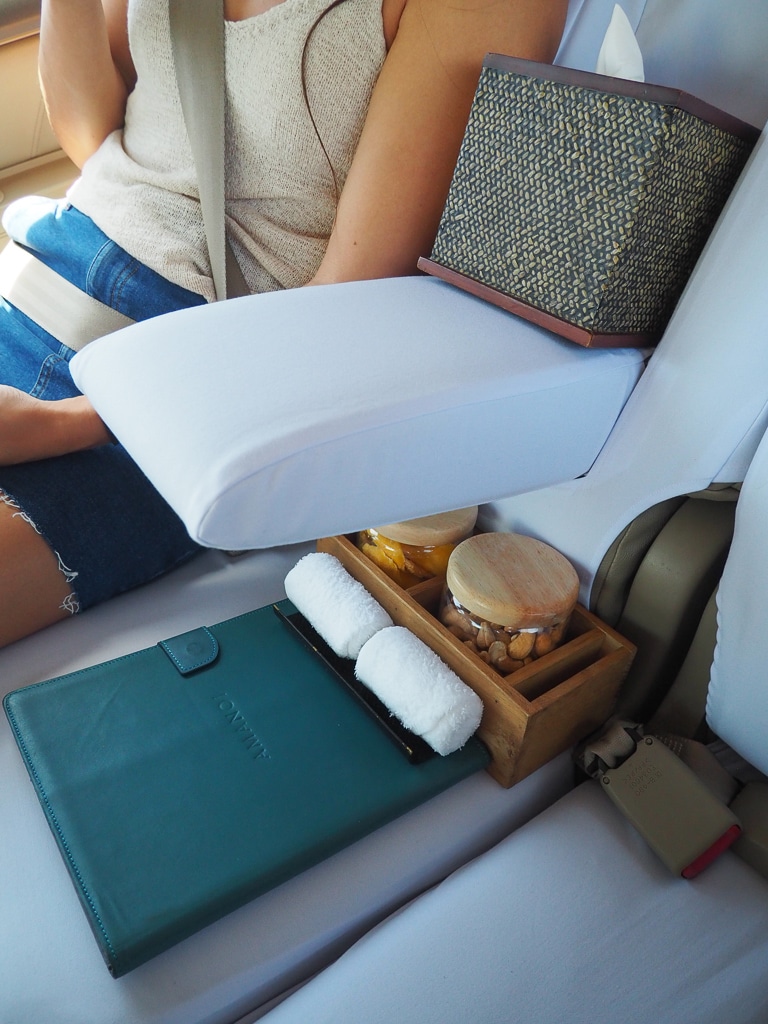 Although the driver didn't speak perfect English he was very friendly and actually pretty fluent! He even suggested we stop for a photo since he saw that I was busy taking pictures with my camera. If the fishing town of Vinh Hy was any indication, we were in for some spectacular views at the resort…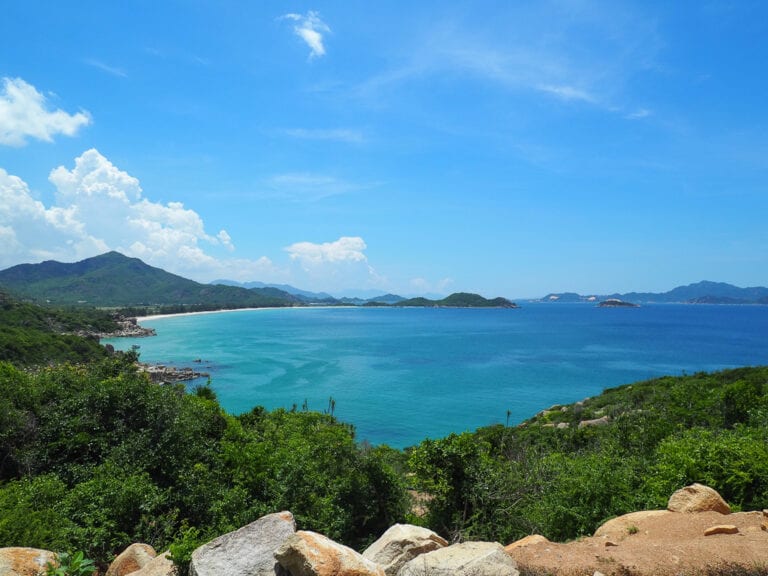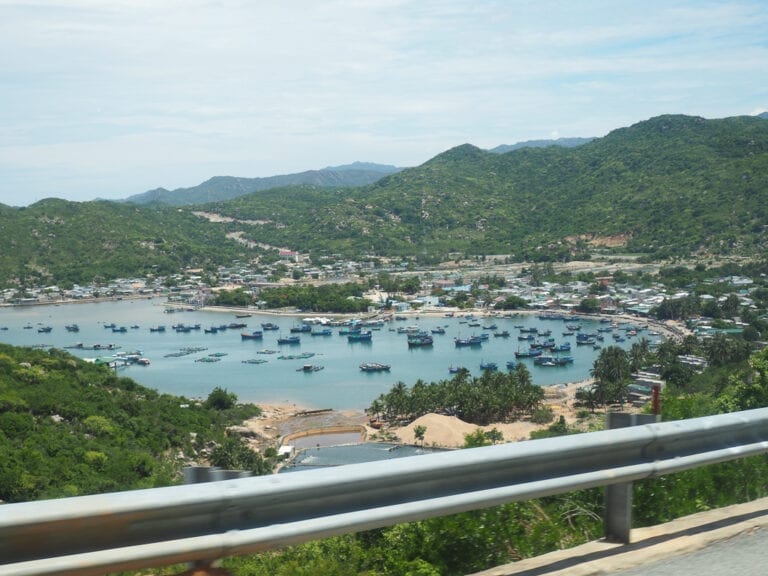 We pulled up to the stone walls of Amanoi around ten minutes after our photo stop. After nearly a full year of obsessing about this stay we had finally arrived! (The driver slowed the car and rolled down the window when he saw me taking this shot.)
We were greeted at the driveway by Joy – the deputy GM of the property – and two other members of staff. Joy apologised for the fact that the GM was away during our stay but said that she would do everything in her power to ensure that our first Aman stay would be very memorable, especially since Kamara was celebrating her birthday.
We slowly walked up a flight of stairs that looked like they belonged in some grand Vietnamese palace, only this palace looked brand new and had no other visitors. This place genuinely makes you feel like royalty. The scale and grandeur of the architecture and the fact that you rarely see another soul is a sensation that has to be felt to be fully understood.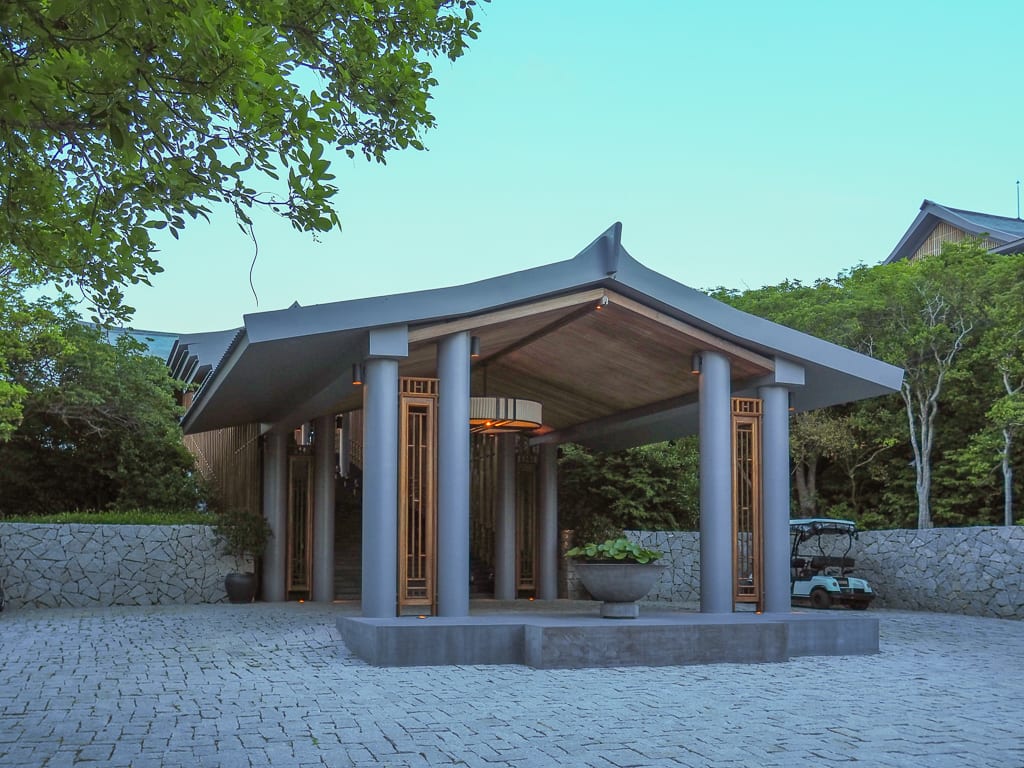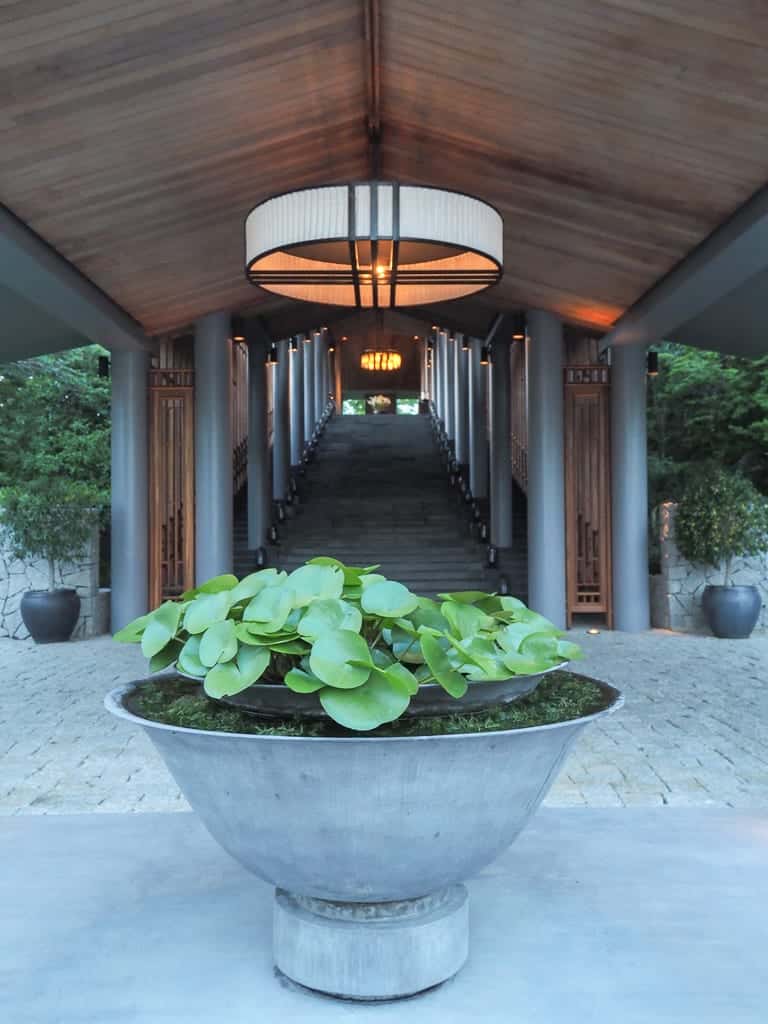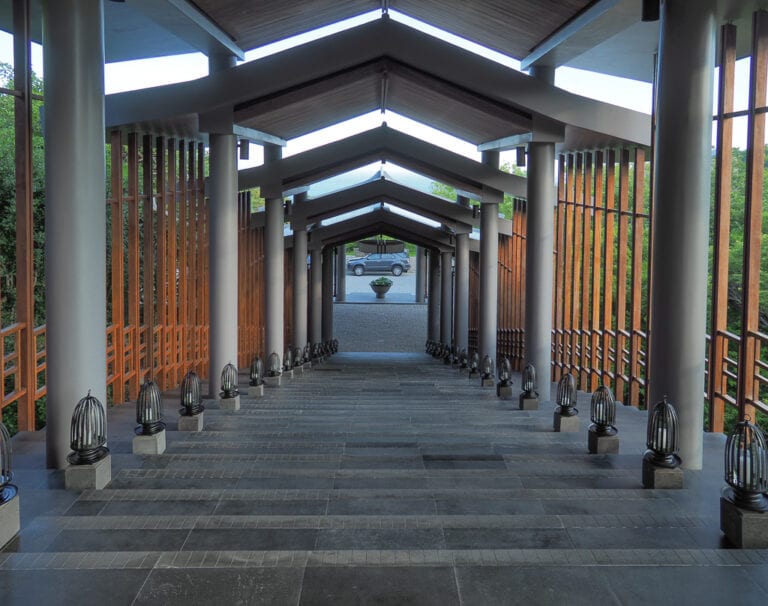 We stopped for a moment to take in the view from the first floor sitting area as Joy pointed out a few points of interest in the area. This is an example of a beautifully decorated, clean and spacious area that was always devoid of people. For any other hotel this would be a centrepiece. At Amanoi, it is a mere stopping point on your way up to the main public spaces, one floor above.
We ascended another flight of stairs to reach the main hub of the resort, the floor containing the cocktail bar, indoor restaurant and expansive outdoor eating venue (as well as the hidden entrance to the library).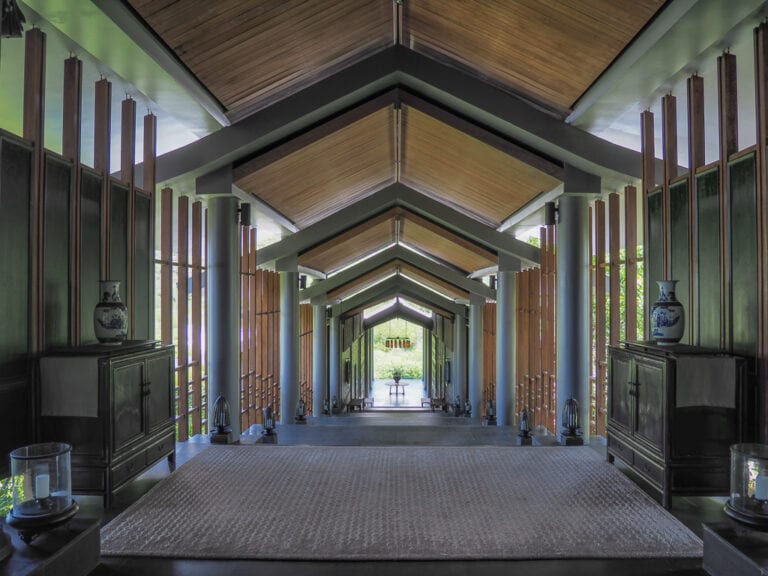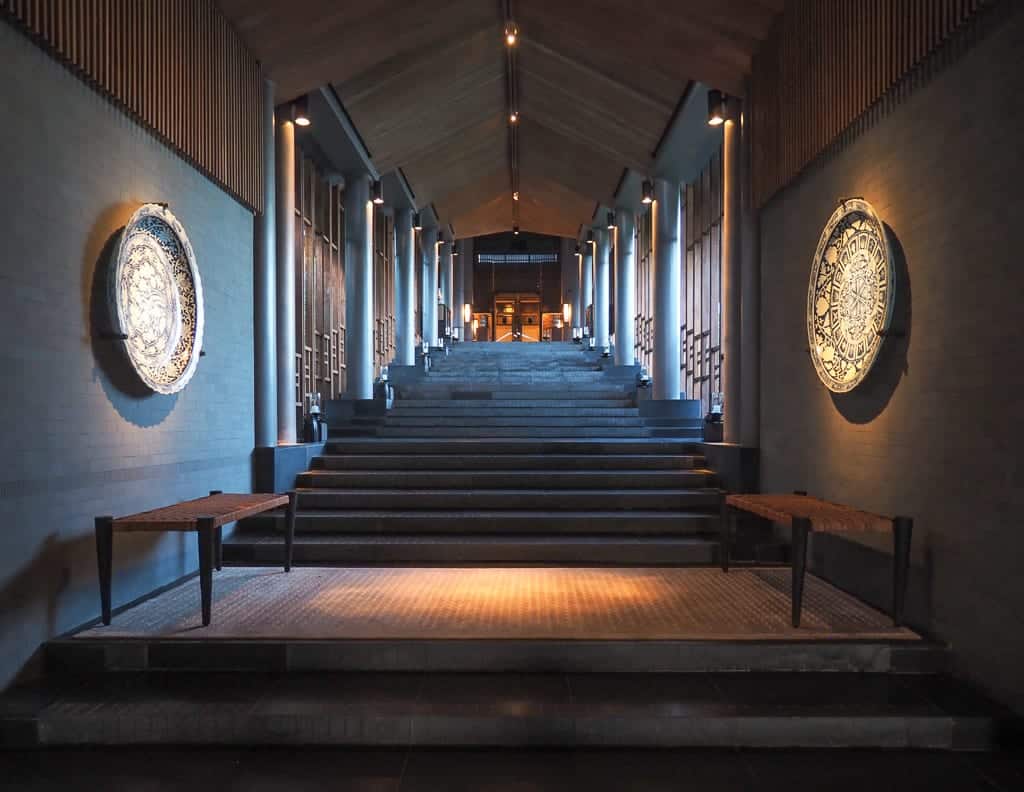 I thought the views couldn't get any better than what I'd already seen… I was wrong.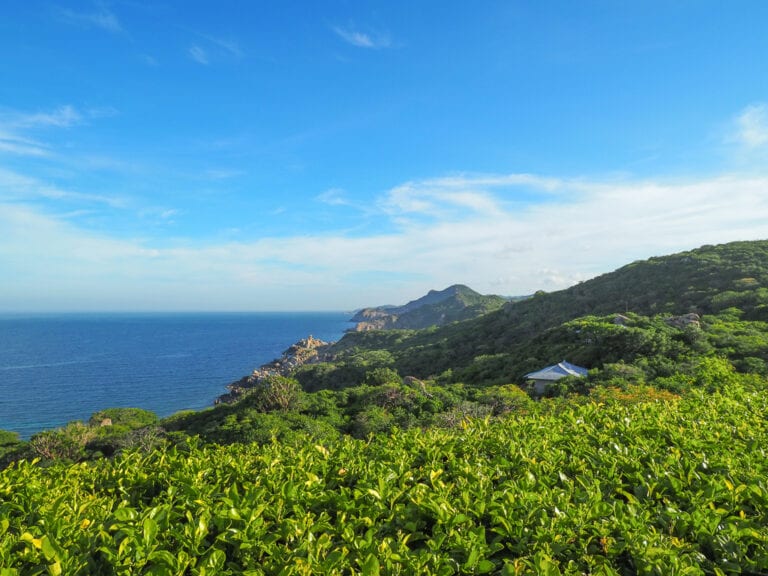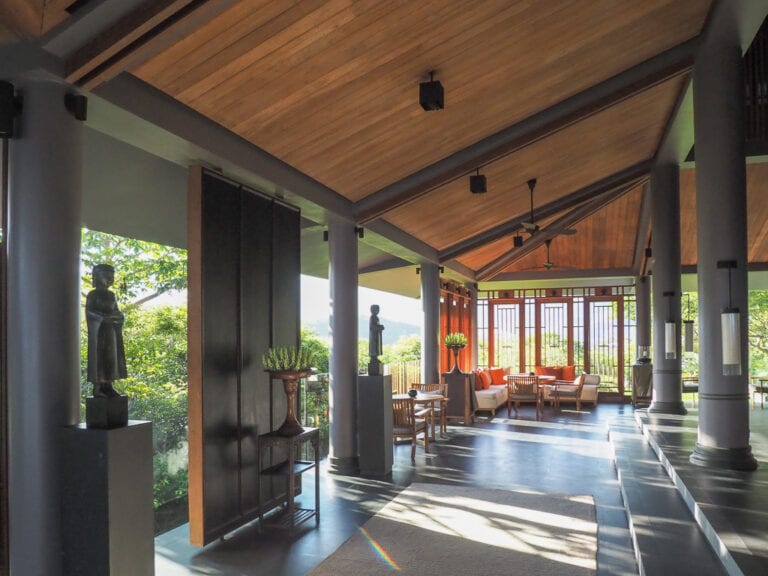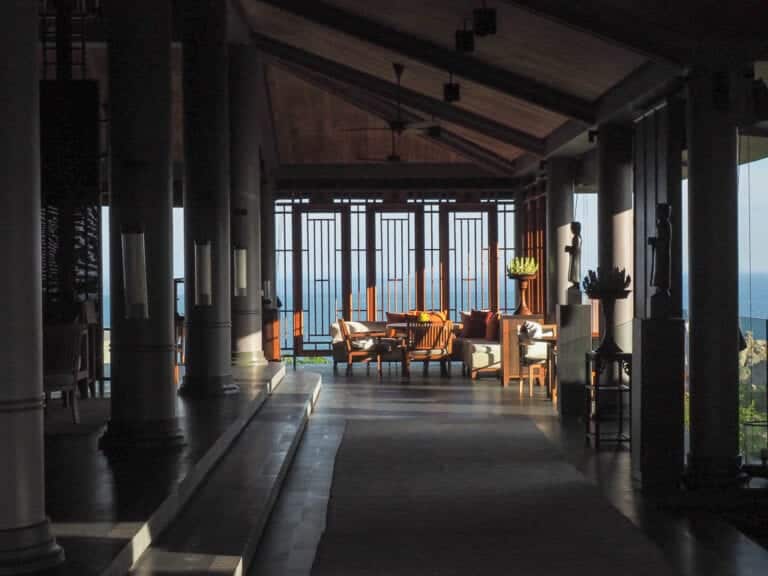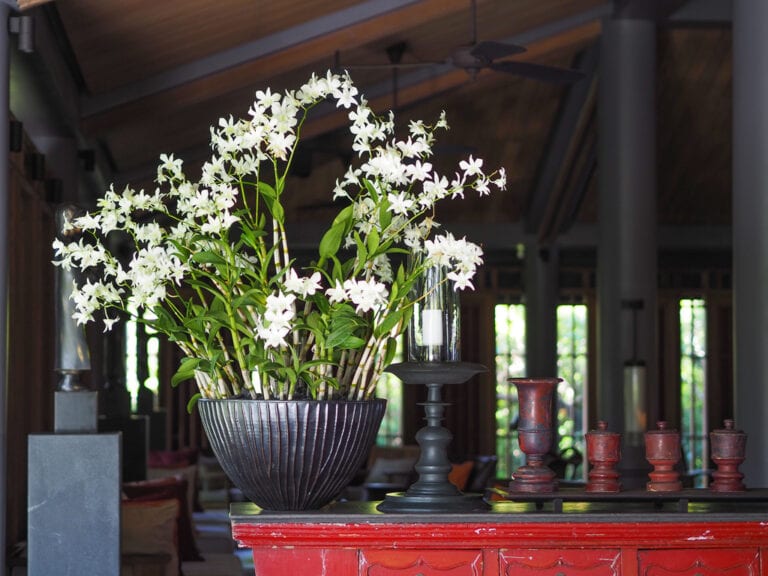 ---
Mountain Pool Villa & Ocean Pool Villa
---
Thanks to our Virtuoso booking we were upgraded one category from an Ocean Pavillion to a Mountain Pool Villa upon arrival. The interior of all the Pavilions and Villas is identical with only the view and the presence of a pool distinguishing them.
I would recommend doing what we did and booking the highest non-pool room in the hopes of getting upgraded one notch to a room with a pool.
The value of the upgrade from Ocean Pavilion to Mountain Pool Villa is $350 per night and from our experience both Mountain and Ocean views are equally stunning, whereas the difference between having a pool or not is much more meaningful. We were fortunate enough to be upgraded during check in to a Mountain Pool Villa (#19) just as we had hoped.
It is something of a tradition of Amans for senior staff to check in with guests every morning, during breakfast, to see what their plans are for the day. Andrew, the Front Office manager, is one of the kindest and most gentle characters that I've encountered on my travels and it was always a delight to speak to him. This was particularly true on our first morning here – he informed us that the hotel would like to upgrade us by an additional step to an Ocean Pool Villa (#12). I guess this upgrade was the result of this being our first ever Aman stay, coupled with it being Kamara's birthday.
Here is a video tour of our Ocean Pool Villa #12 (Kamara did her best to get out of the frame but wasn't quite able to escape the gaze of the camera!) alongside a video taken from the deck of the Mountain Pool Villa #19.
Amanoi is a large resort, covering a vast swathe of national park – as such, buggies are the preferred means of transport. There are certainly plenty of great hikes in the vicinity but walking to your villa in the direct sunlight is not the most appealing.
Thankfully there was almost never a wait for a buggy and drivers invariably knew which villa we were in without us having to say, even when we changed villas during our stay. Should you need to briefly wait for a buggy there were some shaded seats near the giftshop in which to do so. If you ever encountered a buggy whilst walking they would always stop to ask if you needed a ride and if facing you at night, they'd immediately drop their headlights to avoid shining in your face.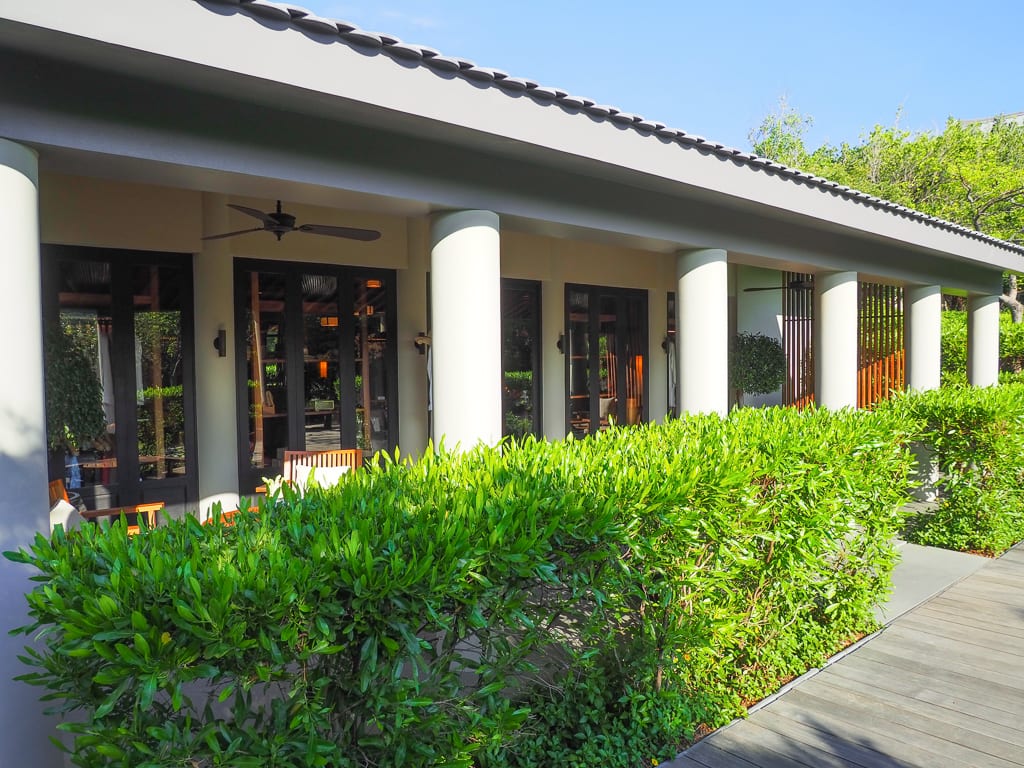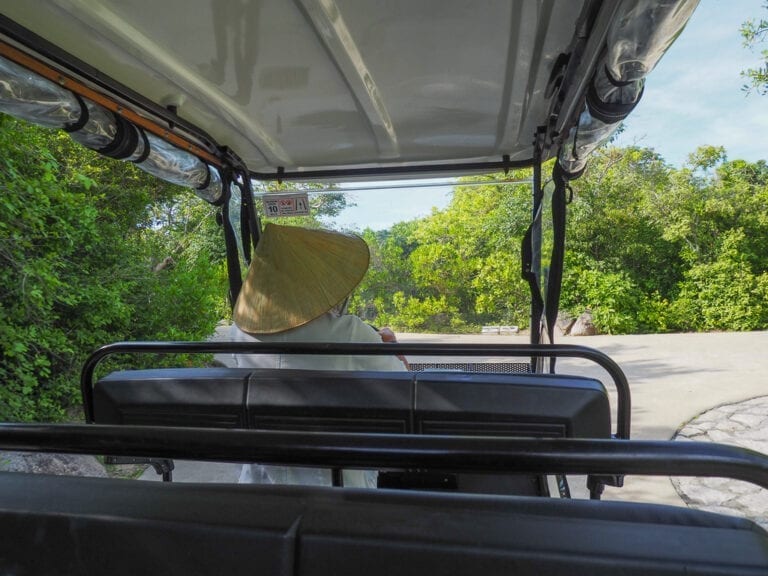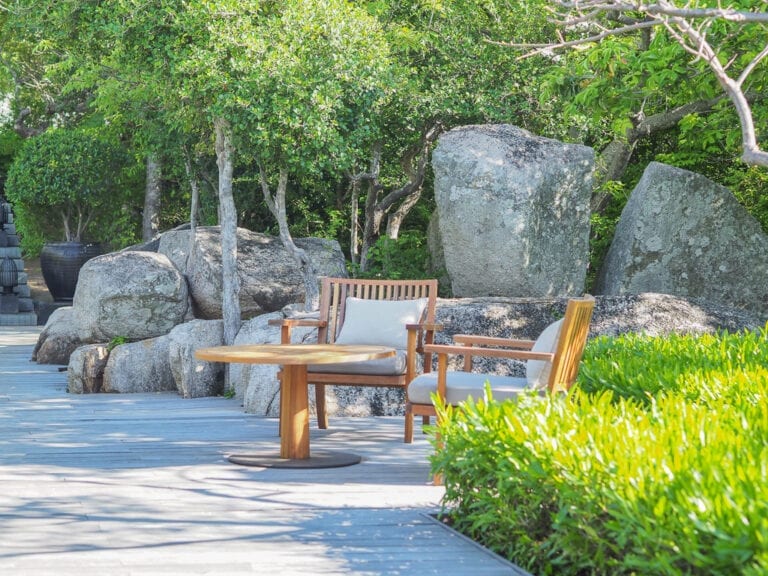 In addition to having a mountain view at the back, our Mountain Pool Villa (villa number 19) also had a wonderful view of the ocean from the front porch.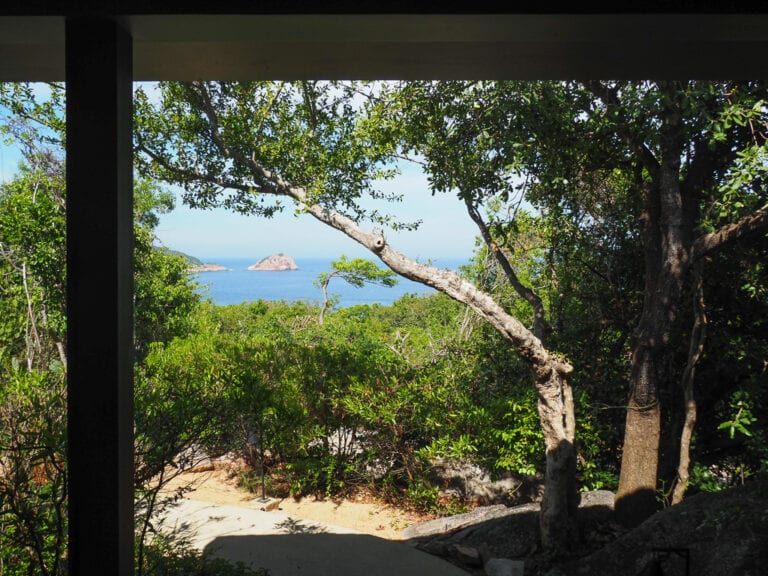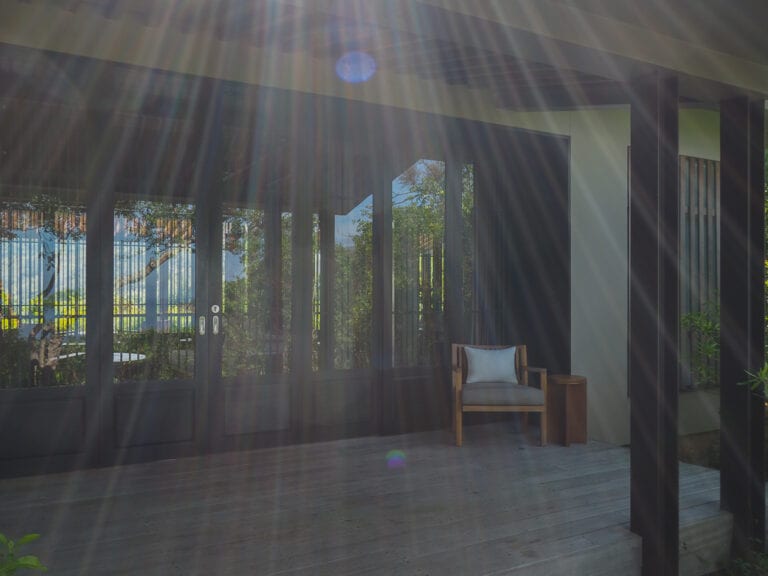 The Jean Michel Gathy design of the interiors is absolutely stunning. One thing that I'd always noted when looking at reviews of Amans is that they seem very plain but in reality what you have is a lot of space, zero clutter and a very high degree of craft and quality throughout. Every piece of furniture, every light fixture; it all feels so solid, like everything here will truly stand the test of time. The level of maintenance at Amanoi is right up there with the best Japanese properties like the Park Hyatt Tokyo, a hotel where the design hasn't been updated for decades but everything still feels brand new.
As we walked into our villa for the first time Kamara was delighted to see that, just like at The Reverie, Amanoi had left a giant bouquet of bird of paradise flowers in the room for her as well as a very well stocked fruit bowl (which was regularly replenished for us).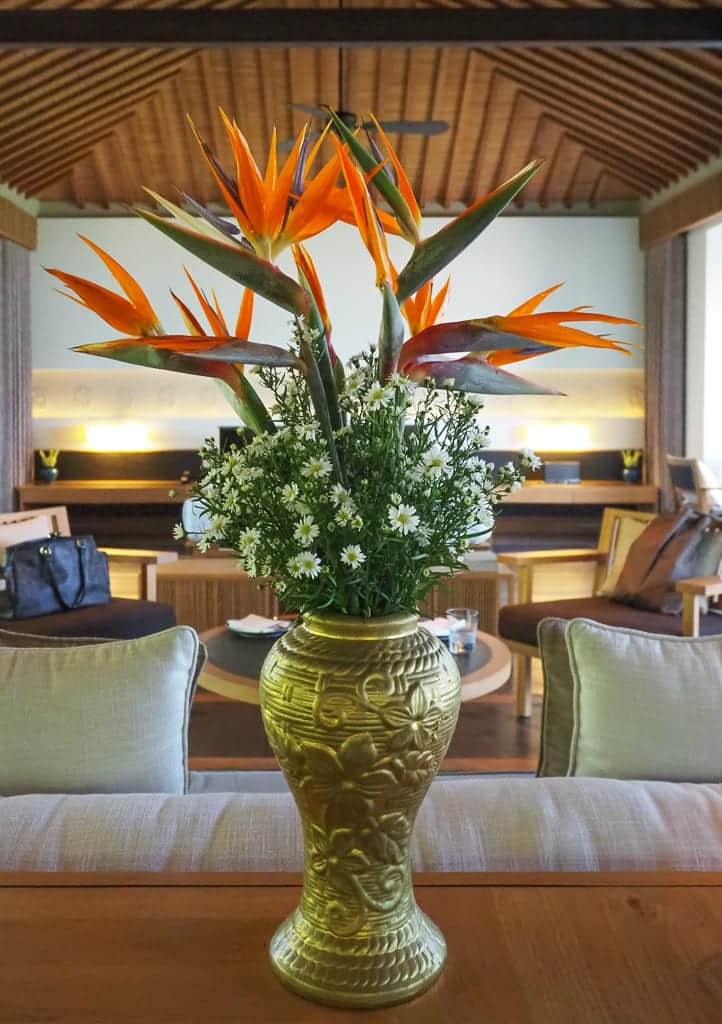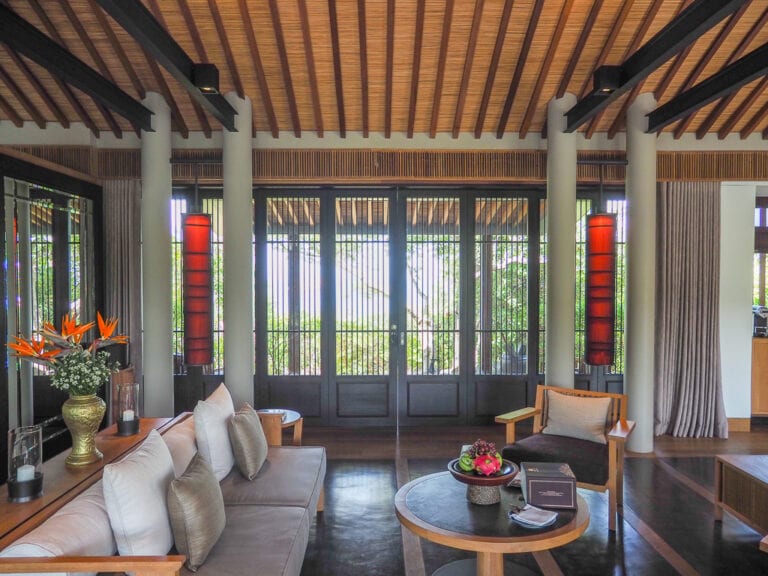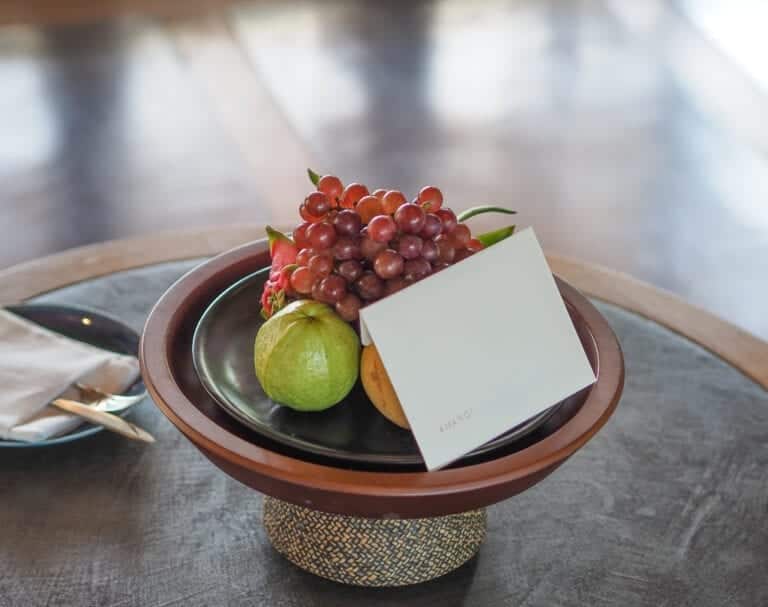 Traditionally Aman resorts never had TVs in the rooms, over time however this has changed. Still, I appreciate the hotel's efforts in hiding all the cables with a custom fitted 'TV cosy'. A coffee table book is provided for those that prefer to shun cinematic entertainment (and more specifically those with the pecuniary means with which to purchase their own villa at an Aman resort).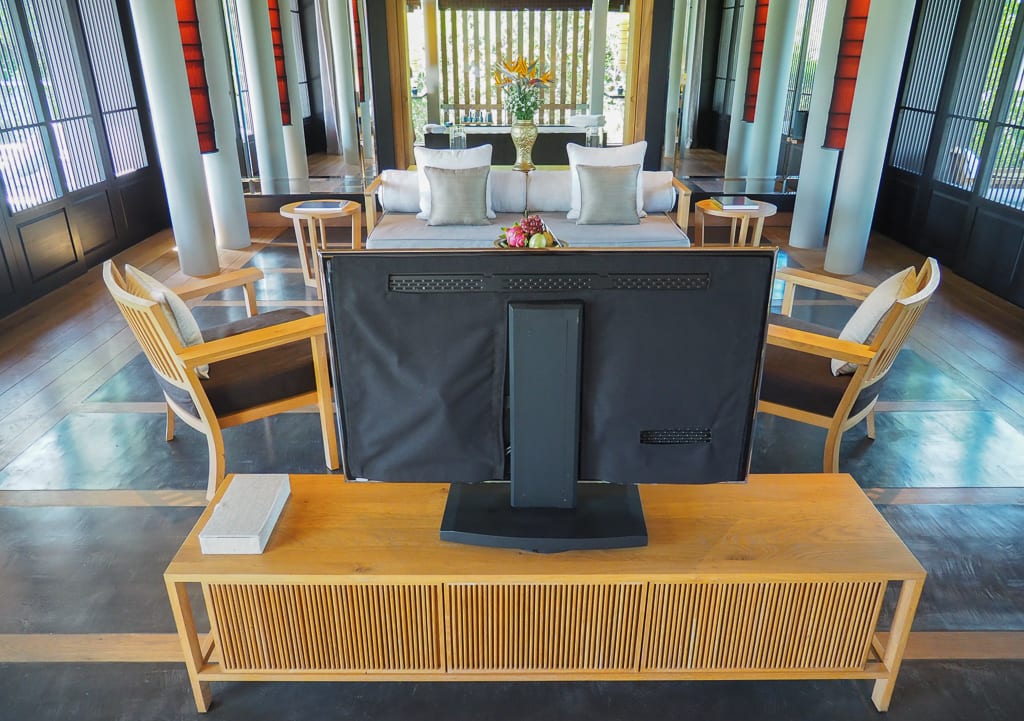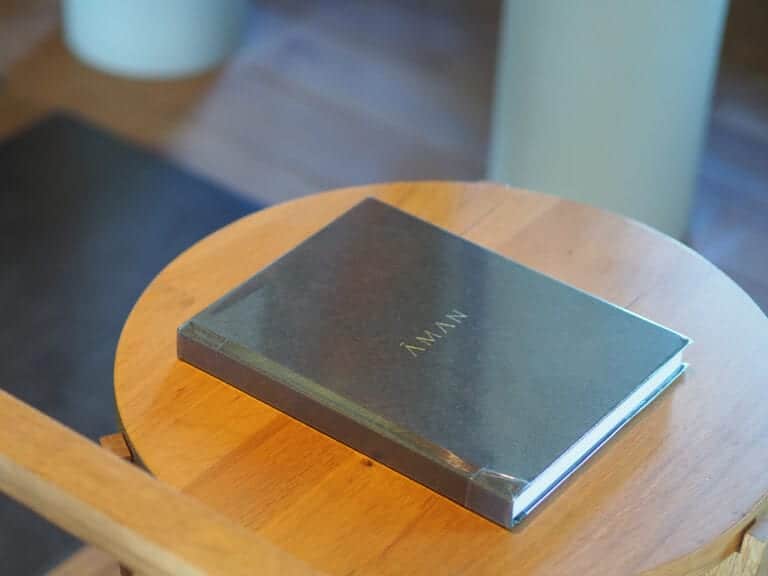 The bedroom section of the villa again provided an abundance of space, with a huge king bed and oversized side tables. The bed was little on the firm side but mattress toppers are available and staff will enquire to ensure that your sleep was comfortable after your first night.
Power sockets were available next to the bed however I was surprised to see that they only fit local devices, where both the Park Hyatt and Reverie in Saigon used universal sockets.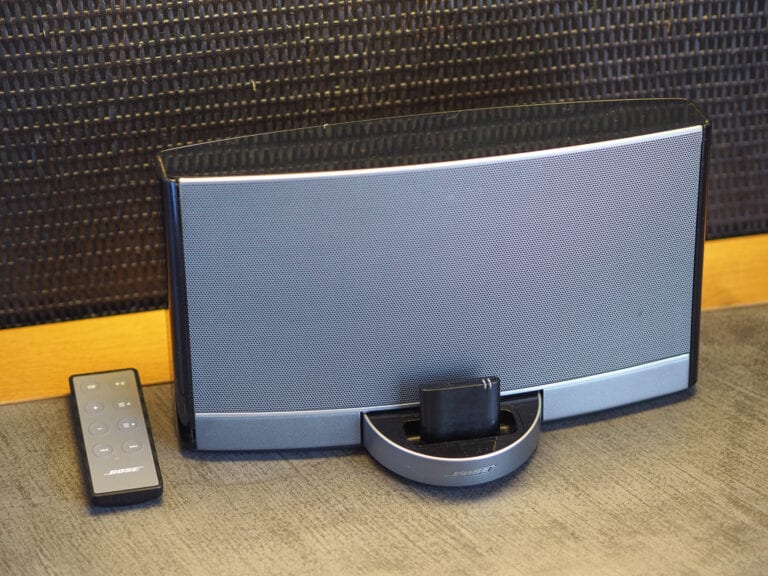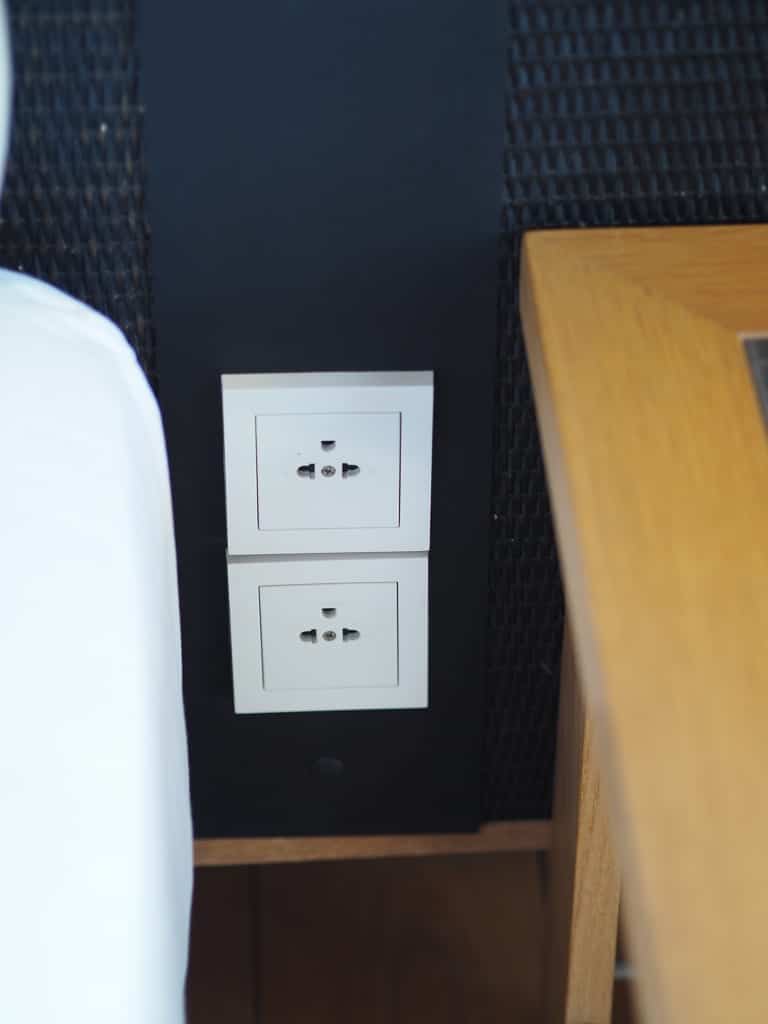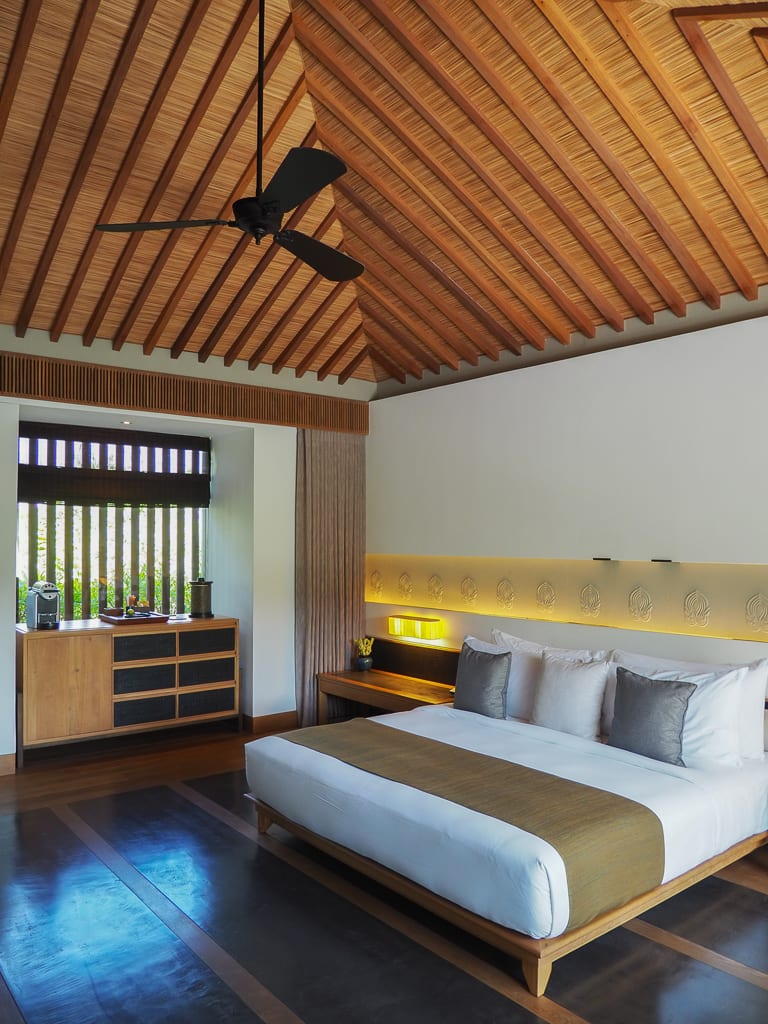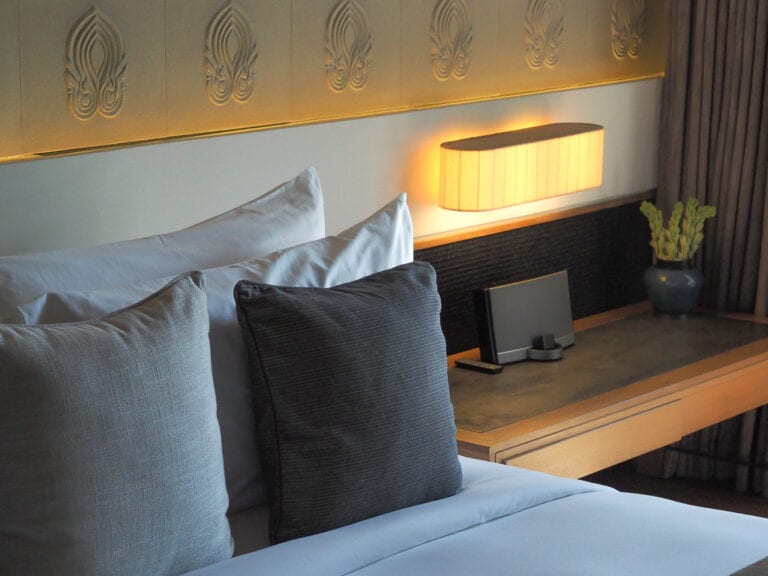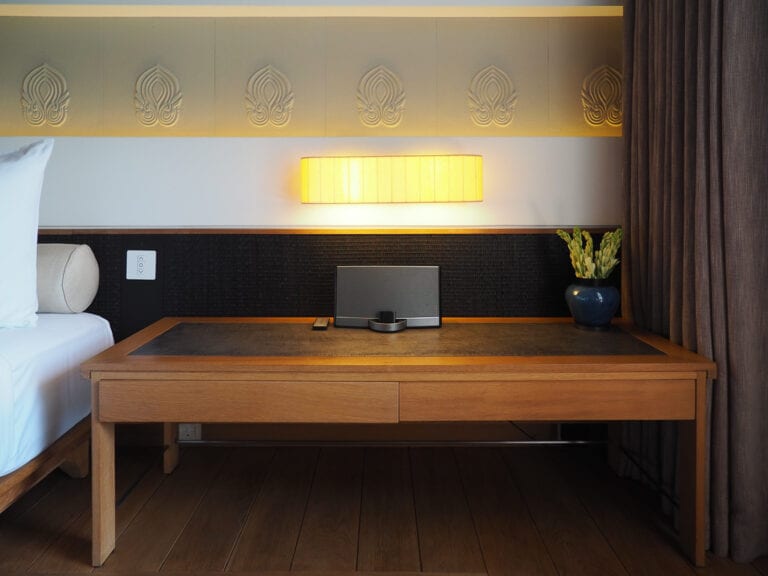 The minibar area next to the bed featured a commercial saucer style Nespresso machine and a selection of TWG teas. Again the small details prevailed here, like the chopping board with an indentation to stop your lime rolling away and the leather sheathed Victorinox knife placed next to it. The cups and saucers were the same beautiful locally produced porcelain as used in the restaurant and the glassware was all Schott Zwiesel. Our supply of ice was replenished every time we left the room.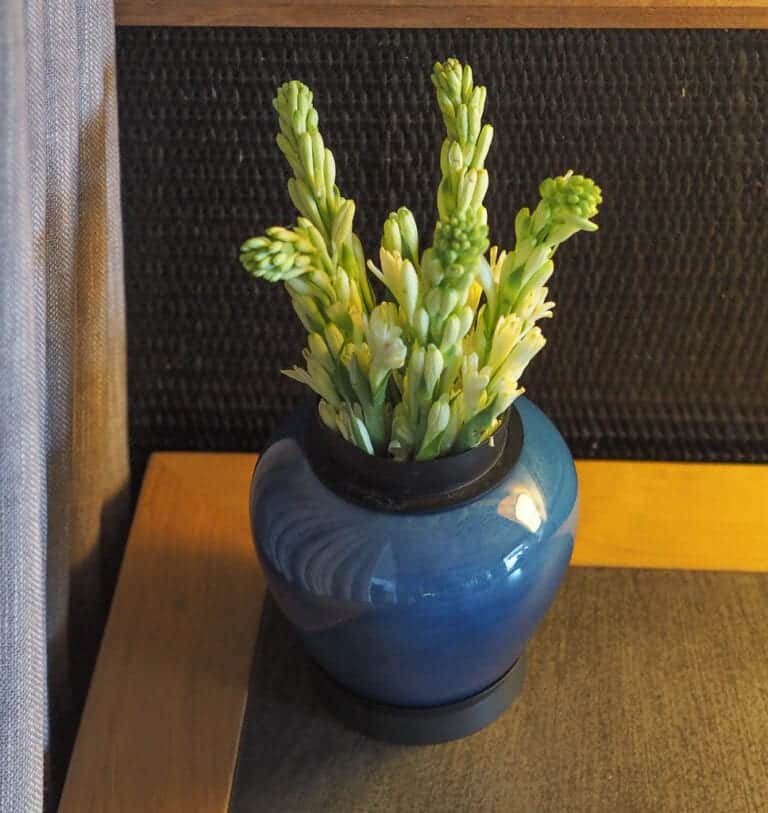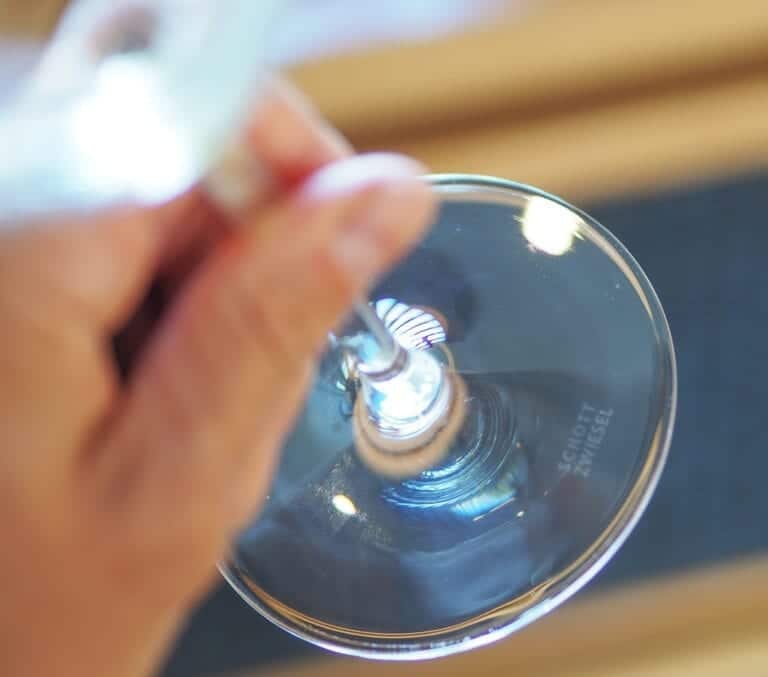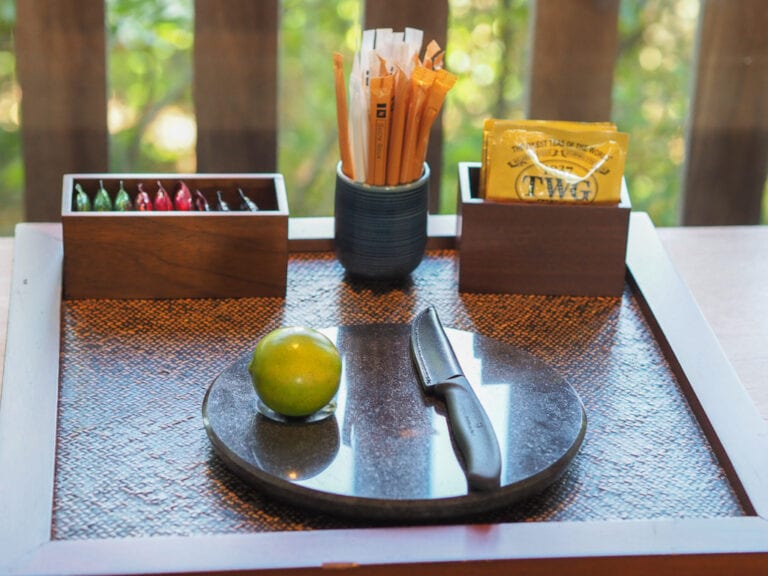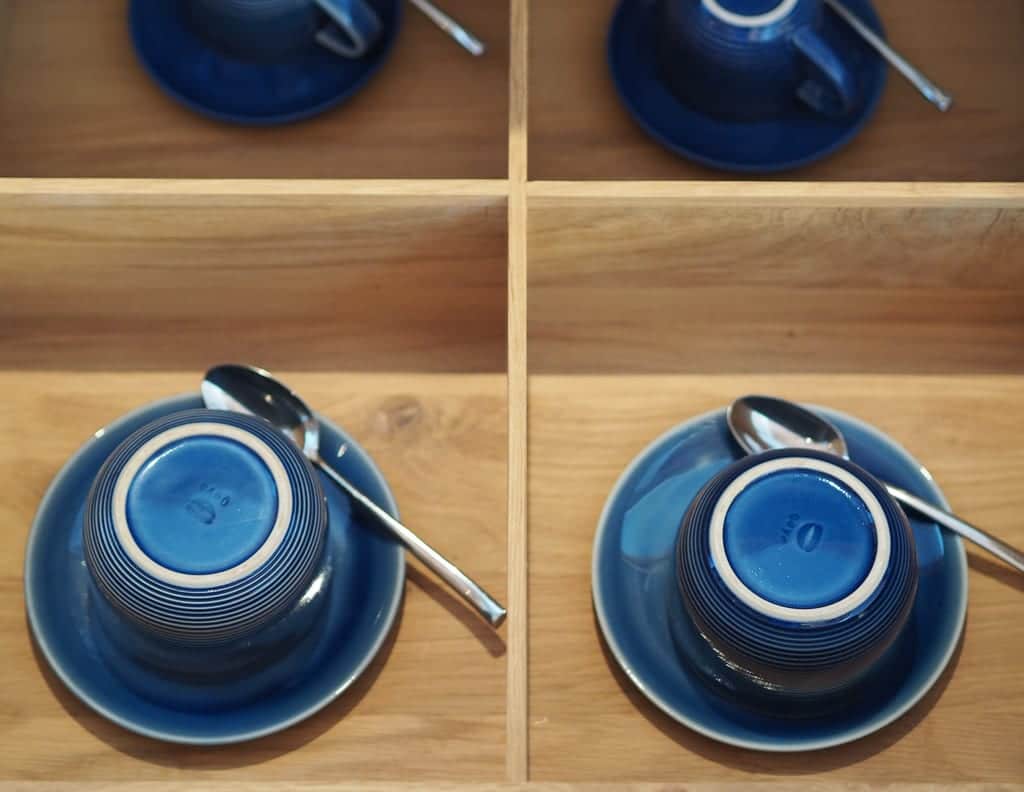 Two large open wardrobes served to separate the bathroom from the rest of the open plan villa. A variety of different hanger types was provided as was a selection of amenities: sun hats, flip flops, slippers and a box containing a travel adapter, mosquito coil, suncream and various other bits and pieces. I was particularly happy to see that sun protection was provided since a lot of high end resorts show their true colours by charging extortionate amounts for cream and hats.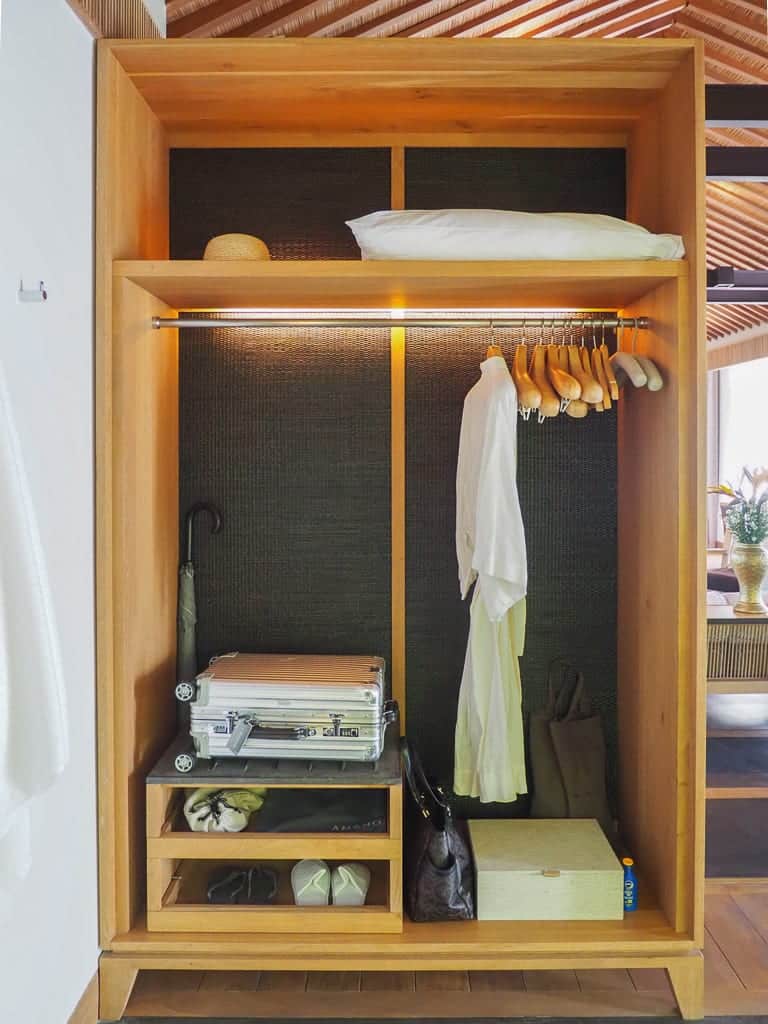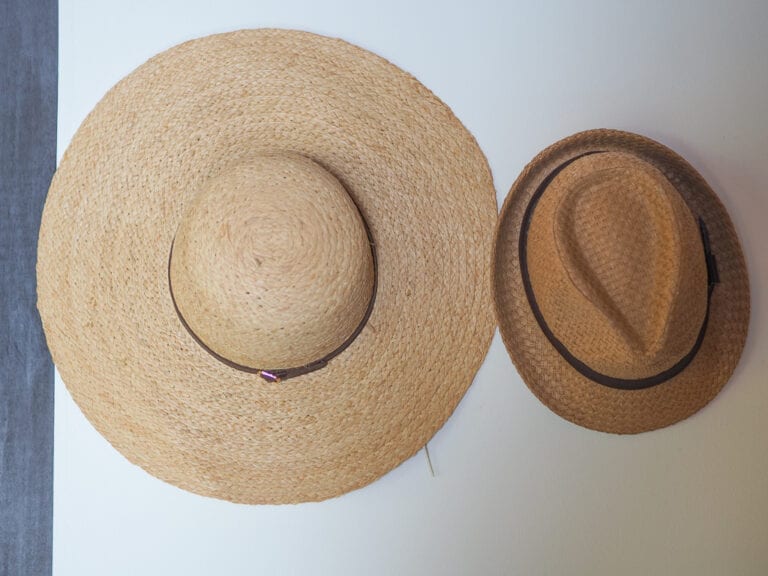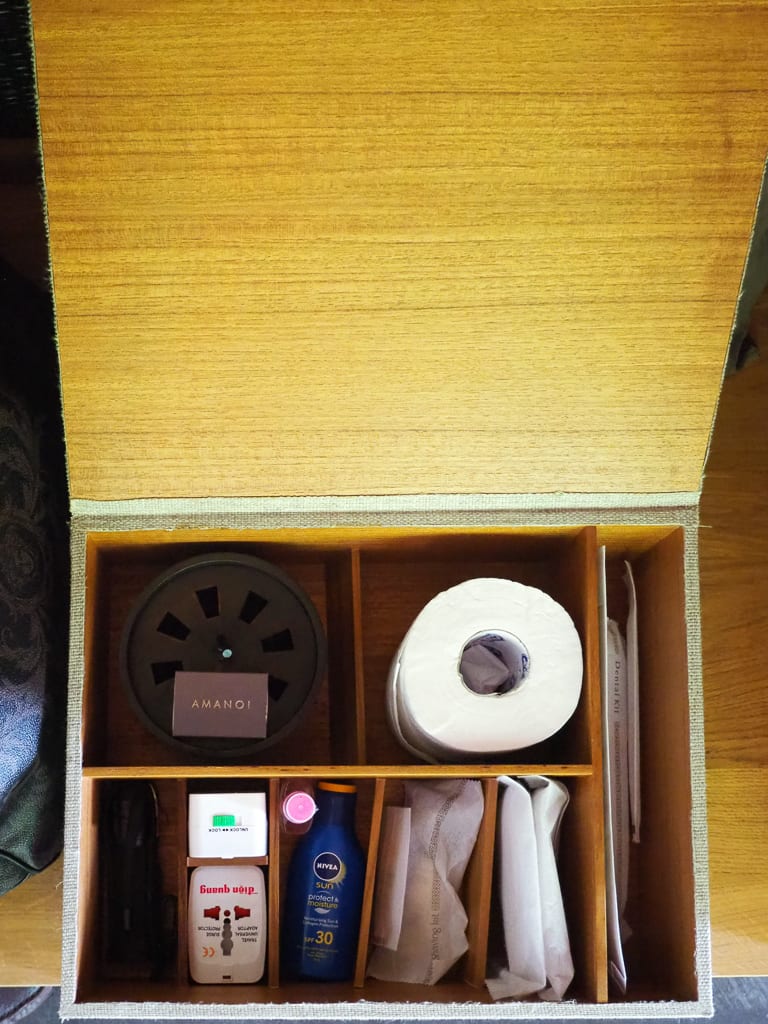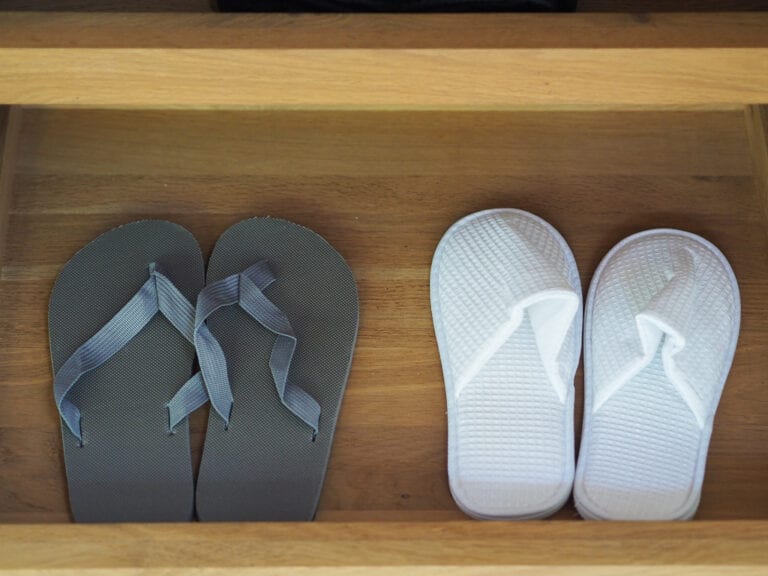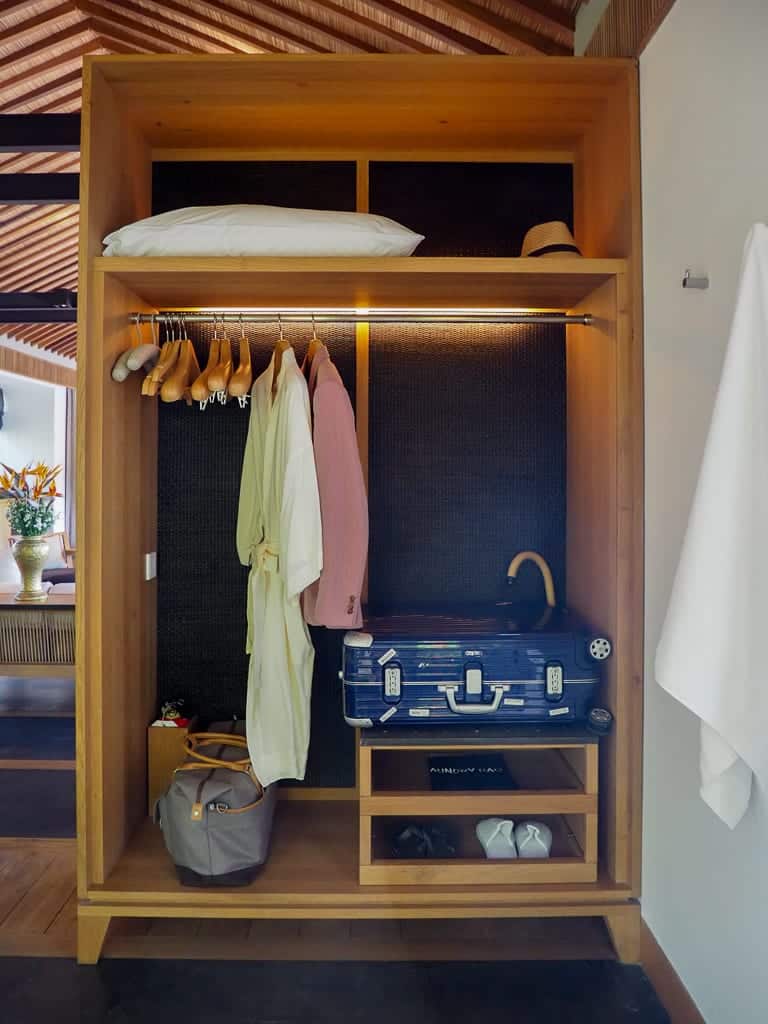 There was also a super handy beach bag tucked away in the wardrobe. Not only did it look stylish but it was actually useful, with a variety of different pockets. All too often hotels will just provide a large, garish sack, where all the contents are free to smash together. Once again, at Amanoi details matter.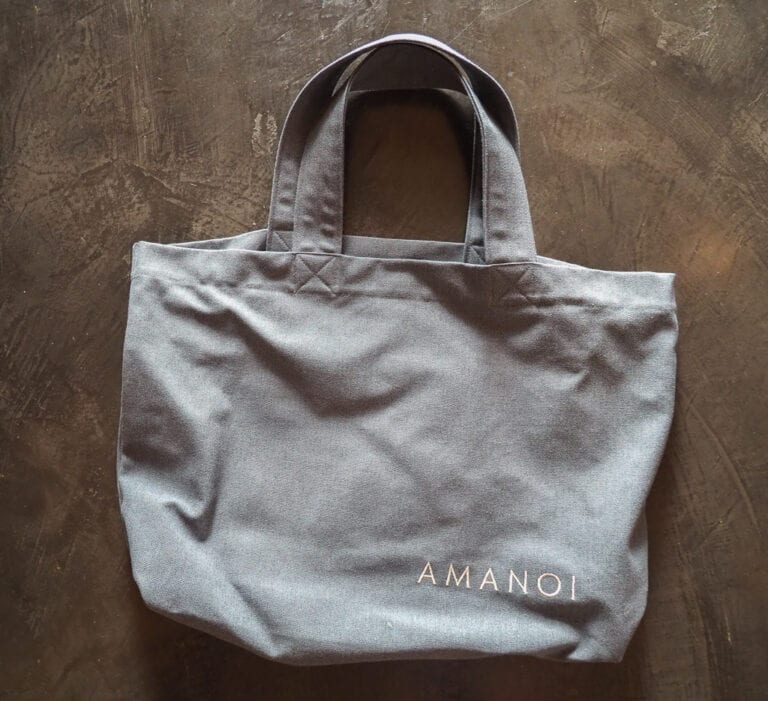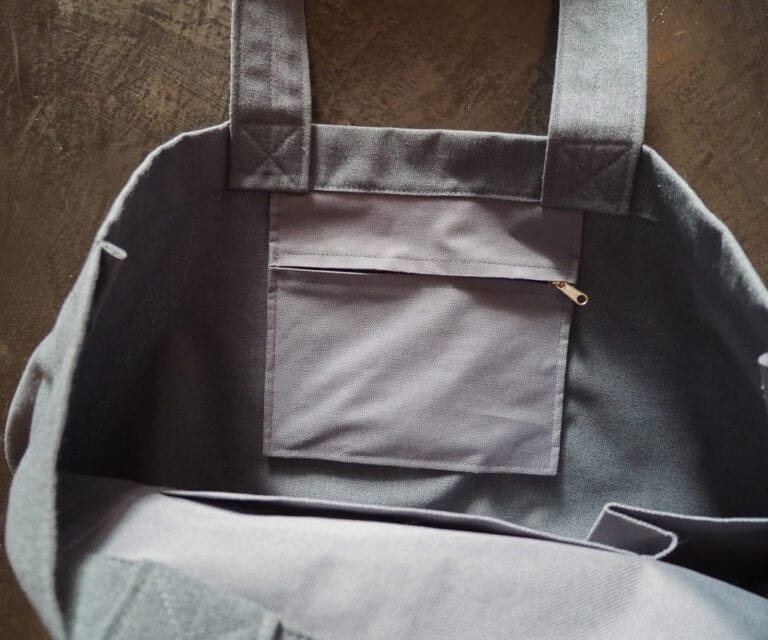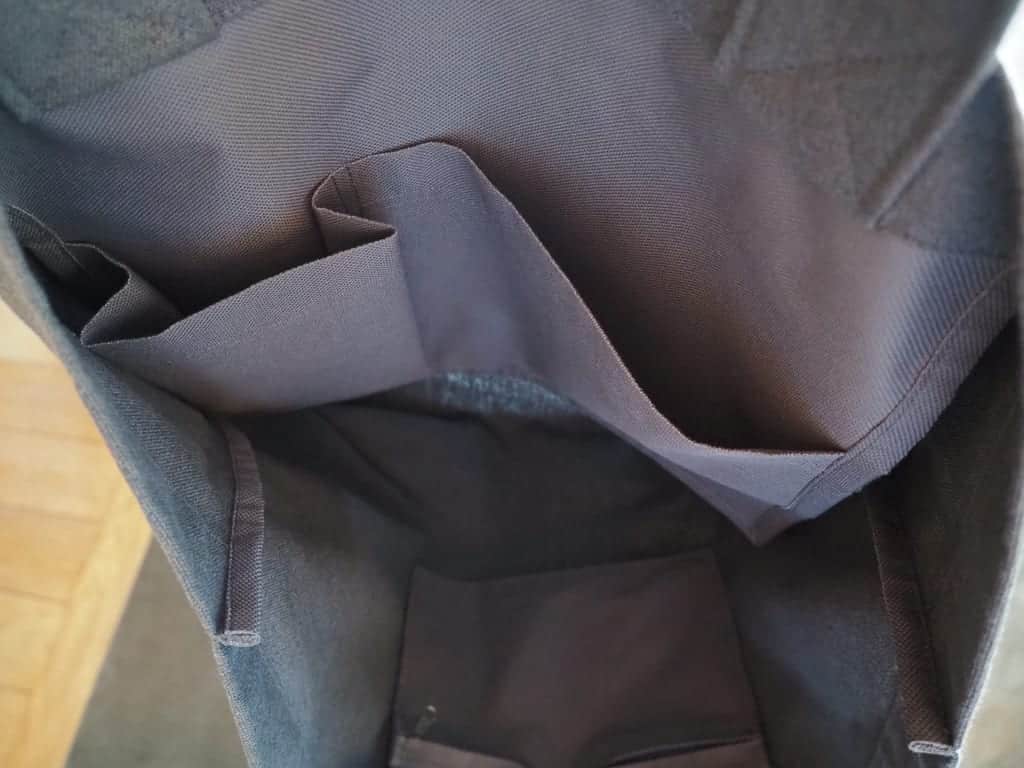 The back wall of the bathroom was made of glass and faced the greenery outside our villa, ensuring that bright light could stream into the room whilst still providing privacy. Once again the counter space was abundant and storage options were very discrete and in keeping with the Vietnamese decor of the room. It would have been nice to have a magnifying mirror on both sides though. It seems odd in this day and age for there to be an expectation that only females want this feature and that there will always be one in every room. Besides, the lack of symmetry really set off my OCD!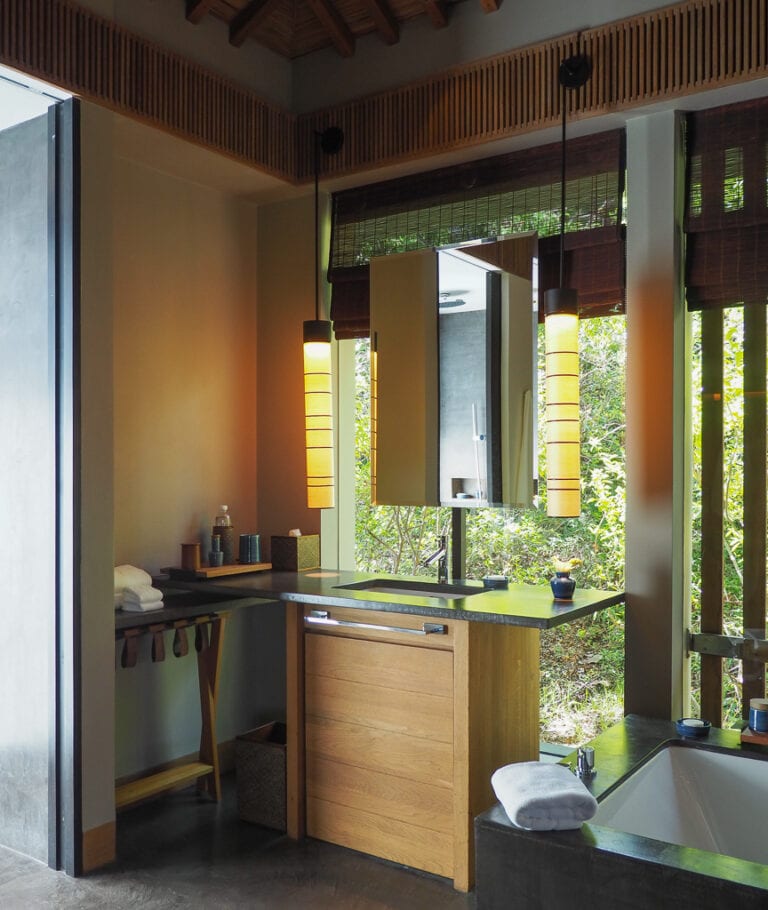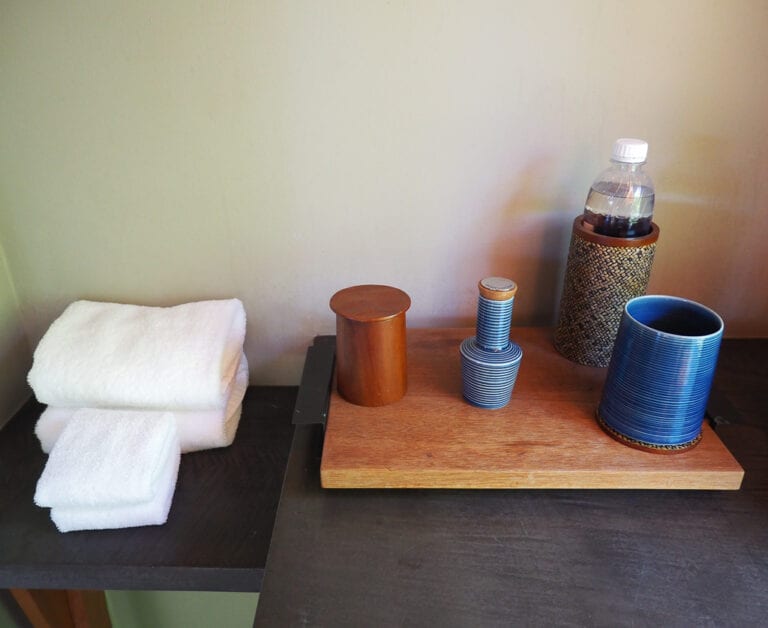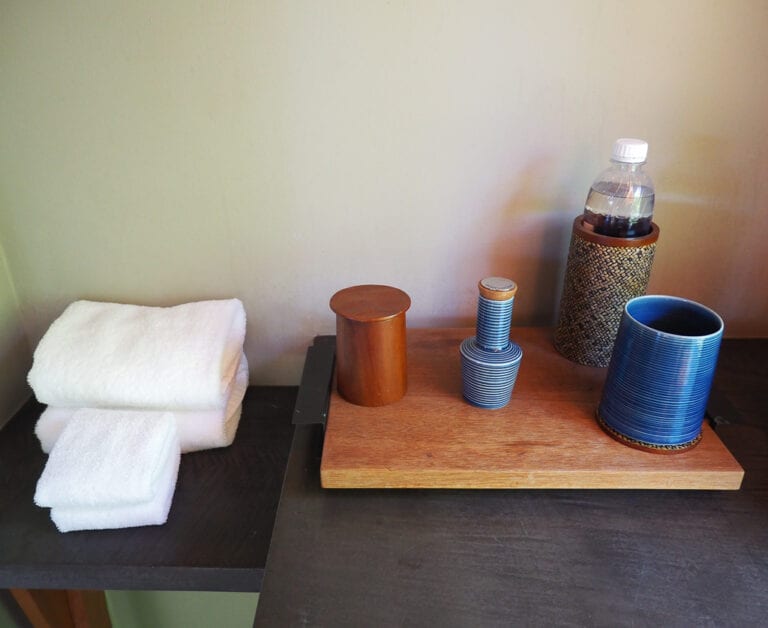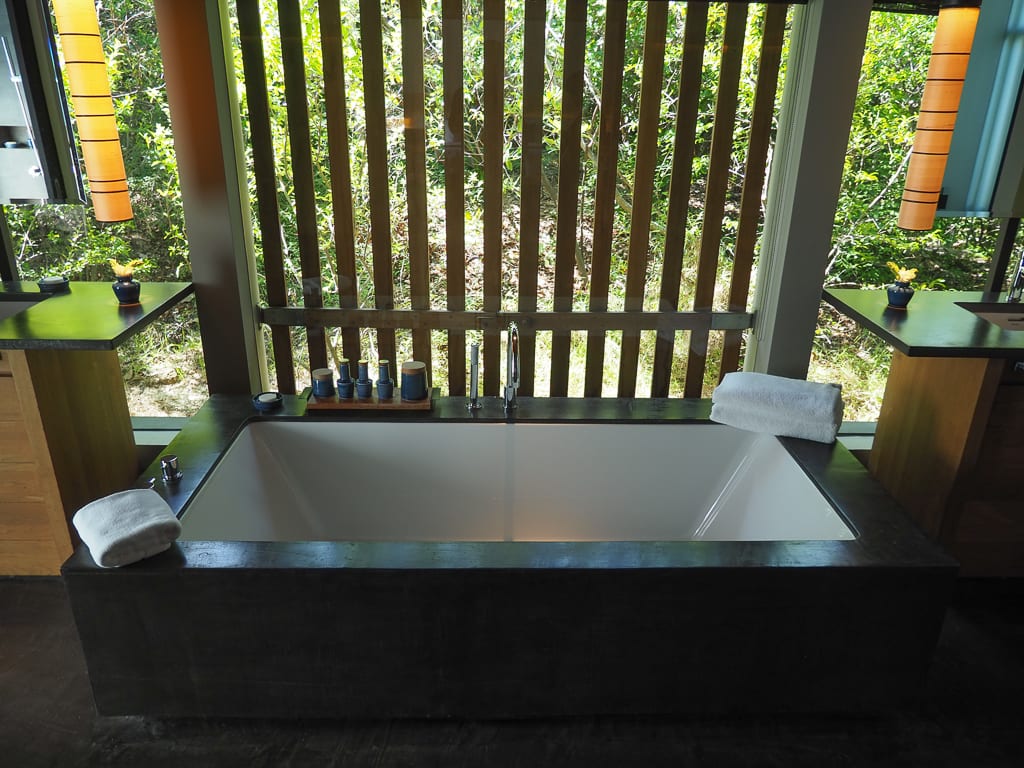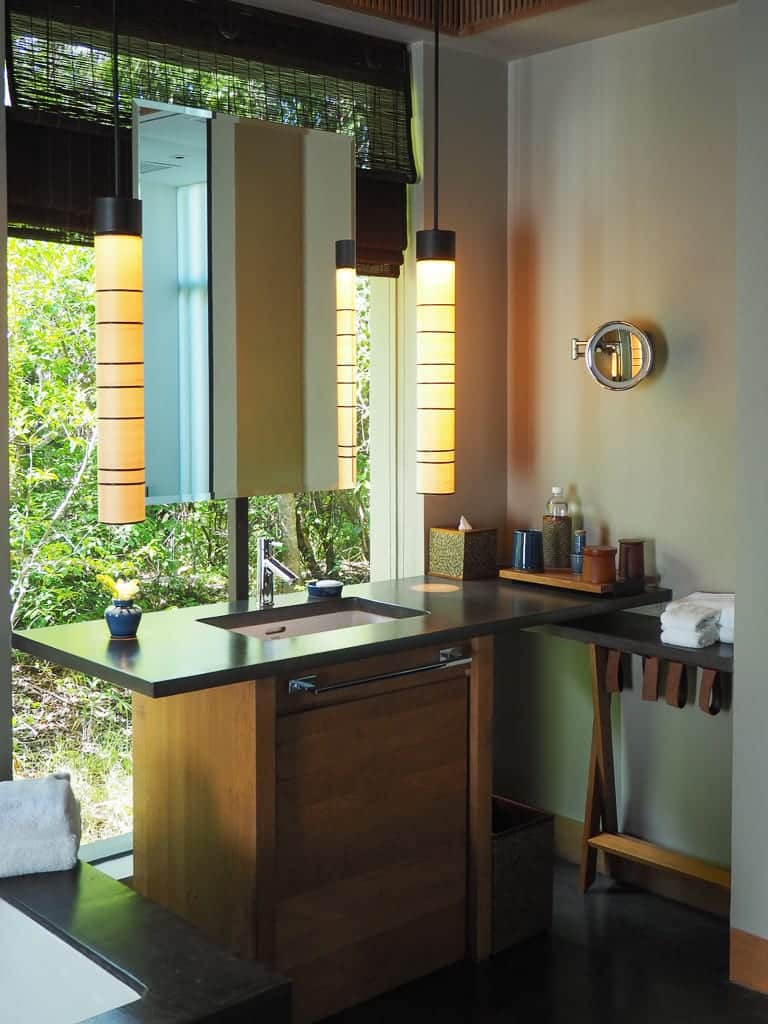 With this being Asia (and once again drawing comparisons with The Reverie) I had been expecting a Toto toilet, though I did appreciate the recessed lighting providing a miniature art installation in there. There was also a designer phone provided, should you need to do business as you do your business.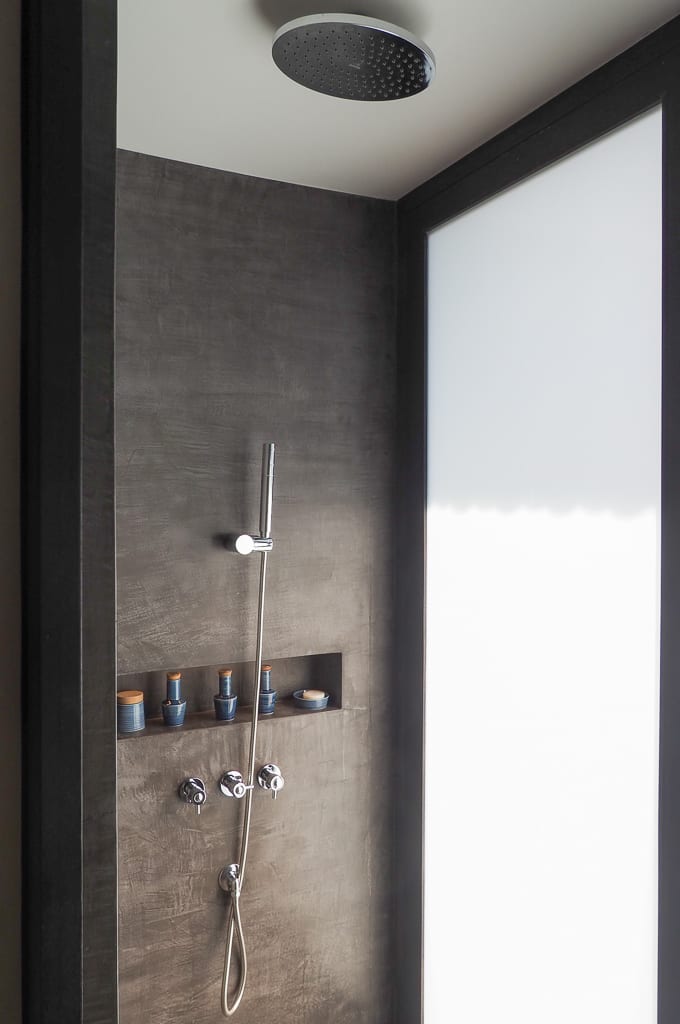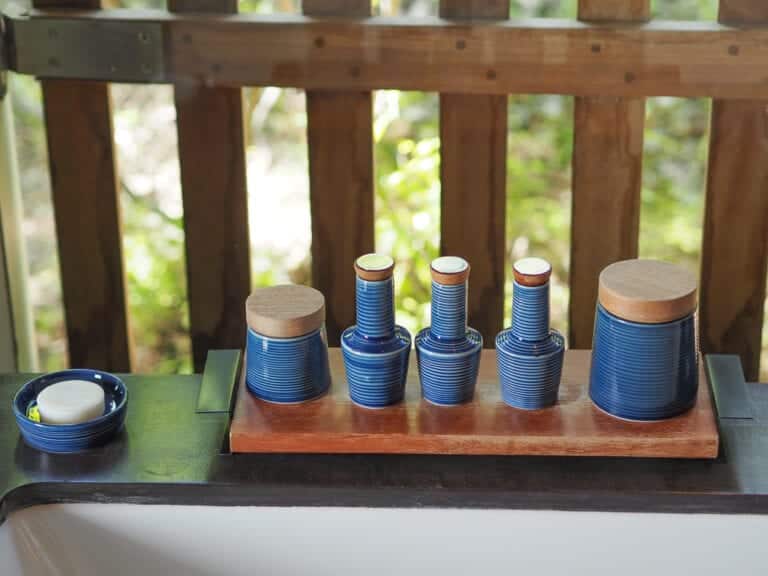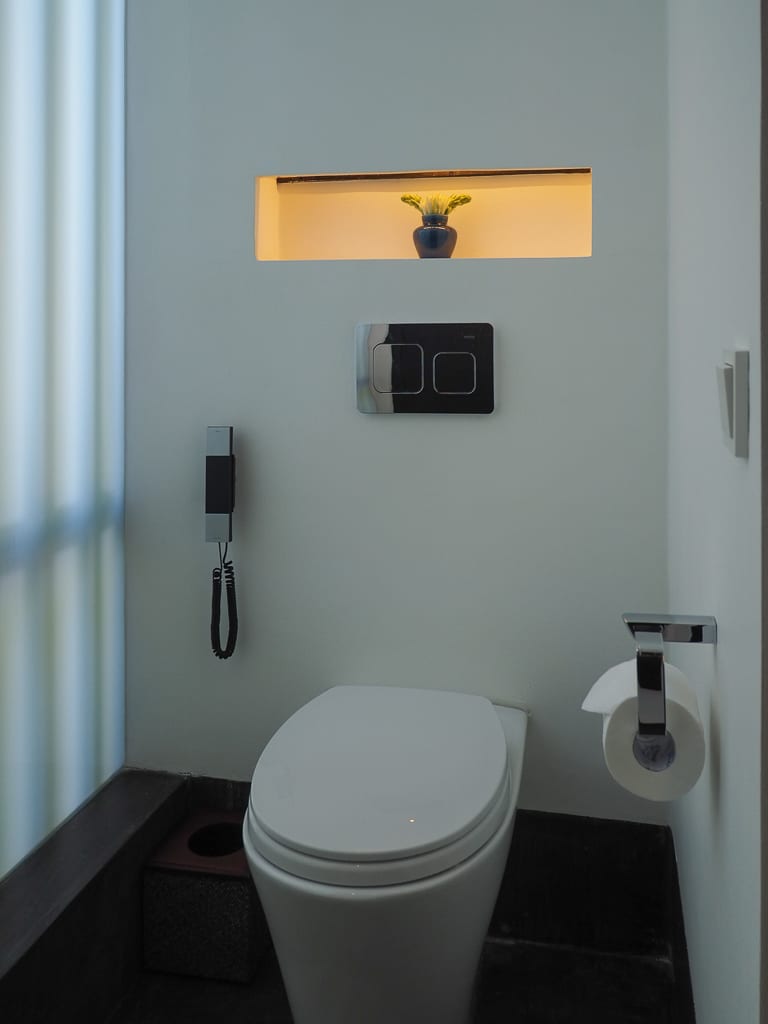 The powerful rainfall shower served as a gateway to outside space, with the frosted glass wall sliding away to reveal the pool area. Aman has always been ahead of the curve in its environmental practices and rather than providing imported toiletries in plastic bottles, opts instead to provide guests with locally sourced products in porcelain containers. The toiletries had an amazing scent and certainly didn't seem like a cheap alternative to using branded products.
Speaking of the outdoor space, I genuinely enjoyed both the Mountain and Ocean villa views equally, at least during the day. I really appreciated the complete tranquility of gazing out into the mountains as birds swooped overhead and I also liked seeing all the traffic of the local fishing boats going back and forth from their fishing spots with the ocean view.
At night time the sunset colours over the ocean were pretty spectacular though and I must admit I wasn't up at sunrise to compare on the mountain side.
SWPE LEFT AND RIGHT TO COMPARE VIEWS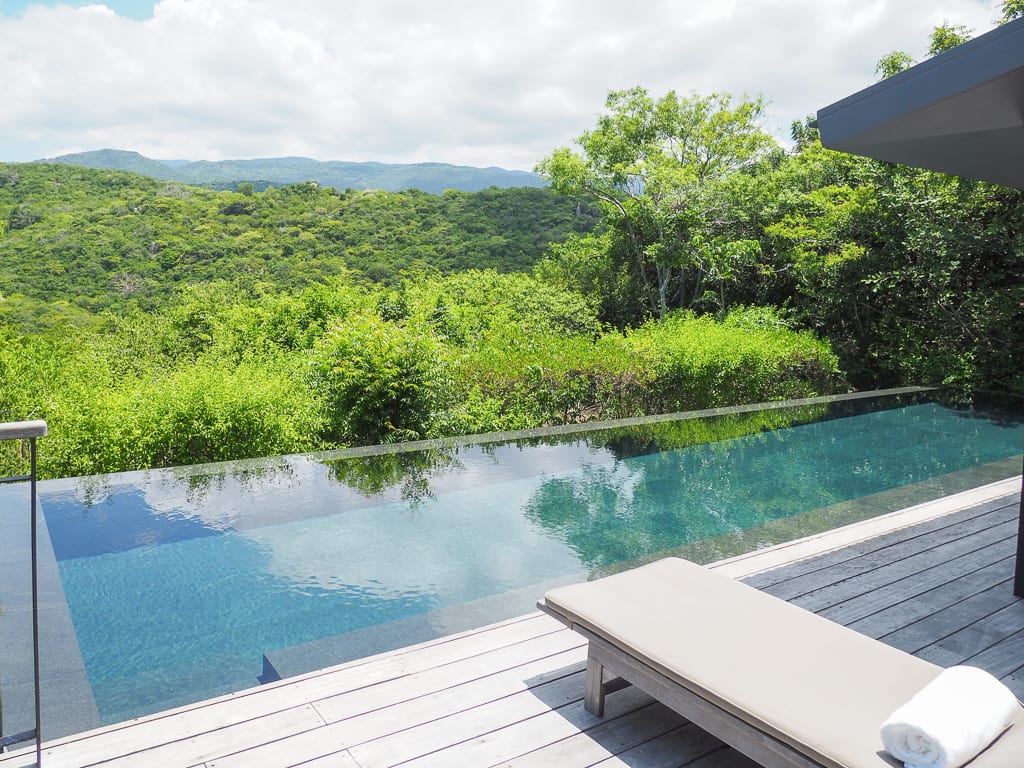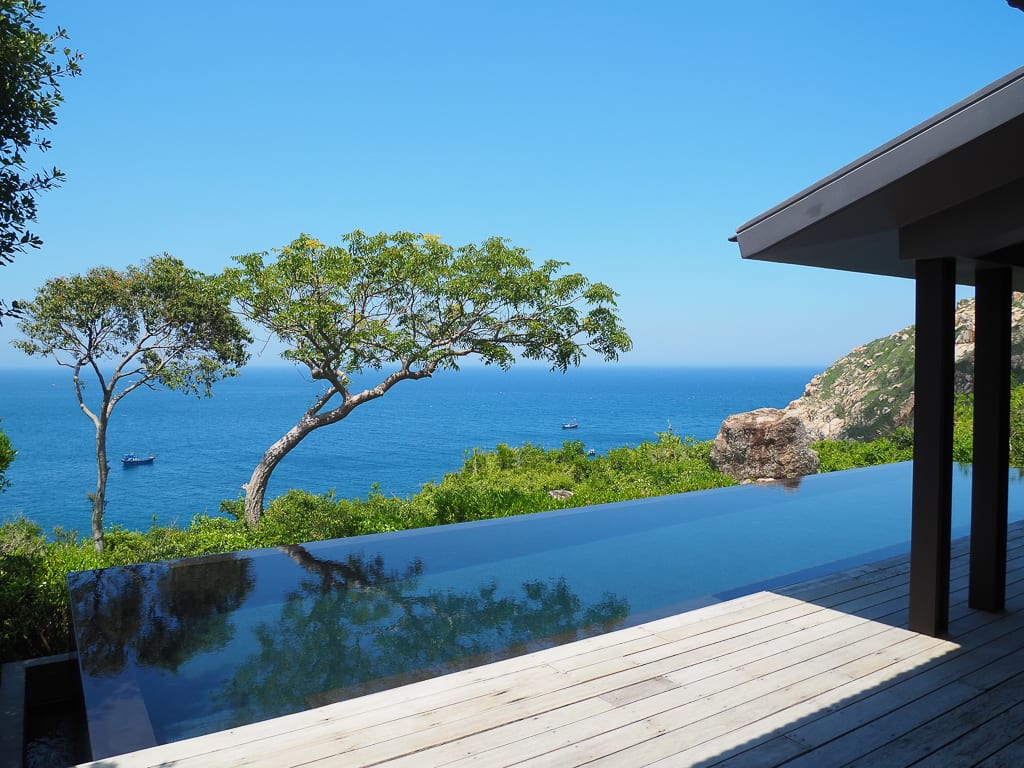 The deck areas around the pool villas are ample and thankfully are made of light wood so you can walk around barefoot without burning your feet.
I also really appreciated having a large shaded area in which to sit and have meals.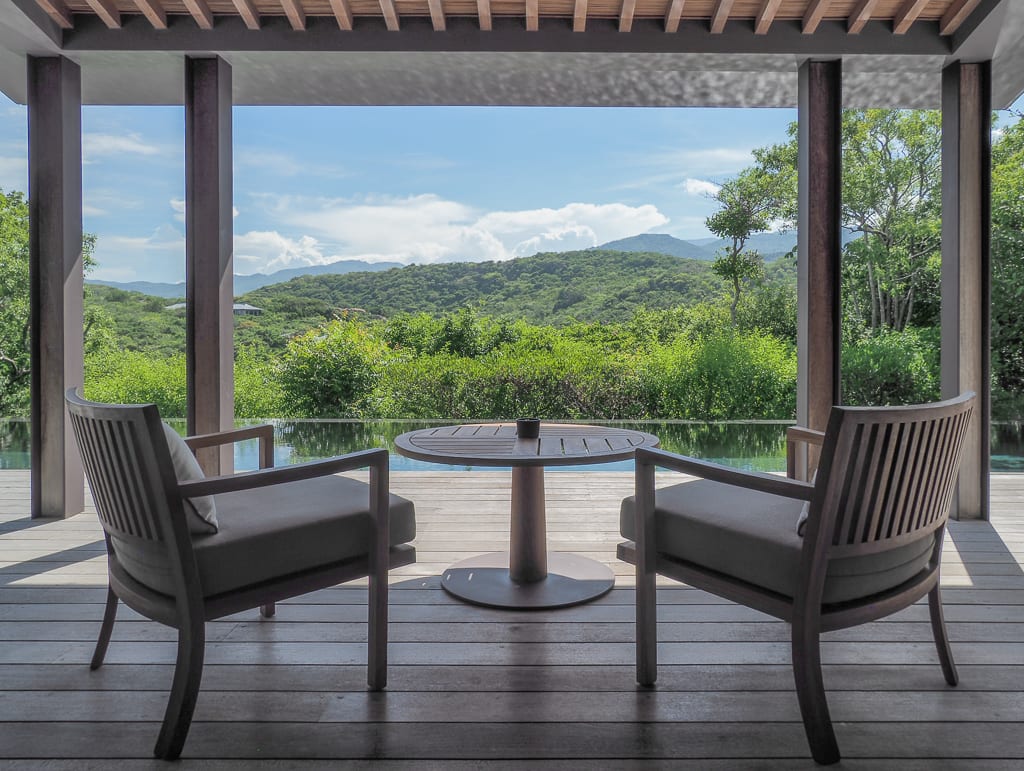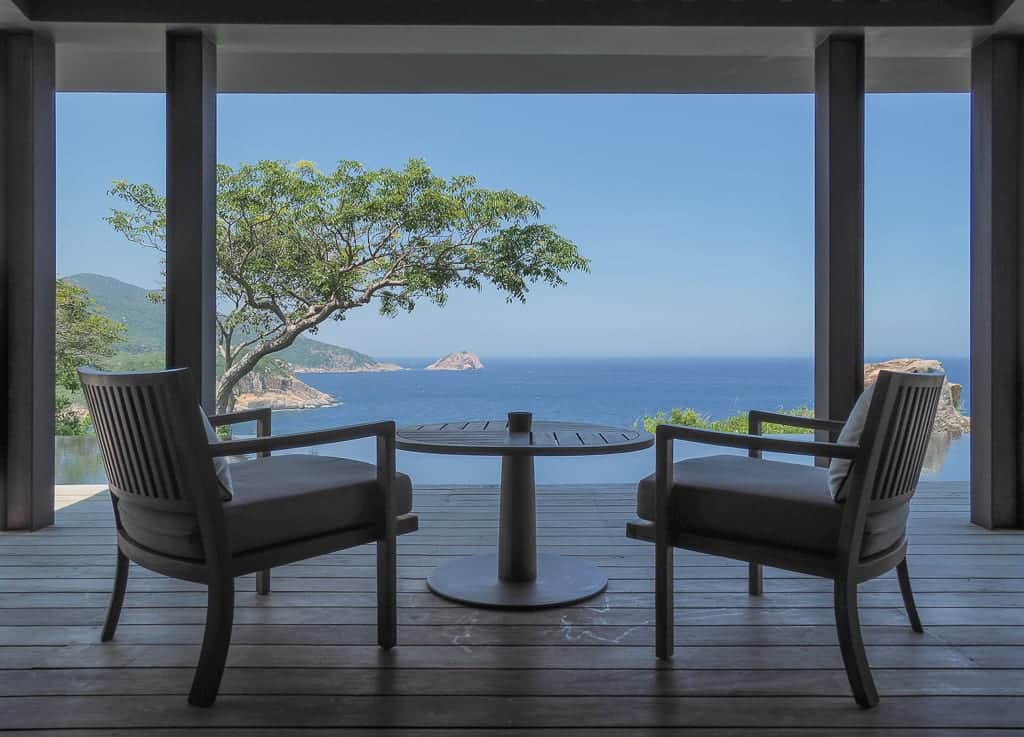 As I said earlier, the improvement to your stay from having your own private pool is hard to overstate. The public pools at the beach club and cliff top are undeniably spectacular but there's nothing quite like being able to jump straight into your own private body of water before you've even had your first coffee of the day, or enjoying pre-dinner sundowners from your pool's edge.
---
Hotel Facilities
---
With the exception of the new city properties like New York and Tokyo, Aman's ethos has always been to find a location first and then create demand for their new destination. Amanoi is no exception. Being the only resort within the entire national park means that you have total tranquility at all times. Given the expansive nature of the resort transport is crucial – the distances you'll cover in a day are significant. Thankfully the logistical challenges are fantastically well taken care of by the resort. For example, if the staff see you with a beach bag at breakfast in the main restaurant, they'll call a buggy driver as soon as it looks like you're finishing up. You never have to ask, the process is seamless.
Beach Club
The Beach Club is located a ten minute buggy ride downhill from the main building.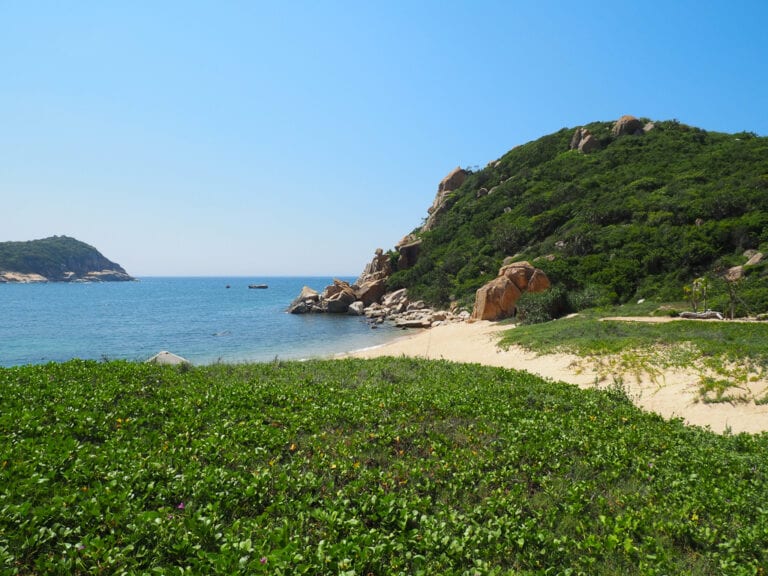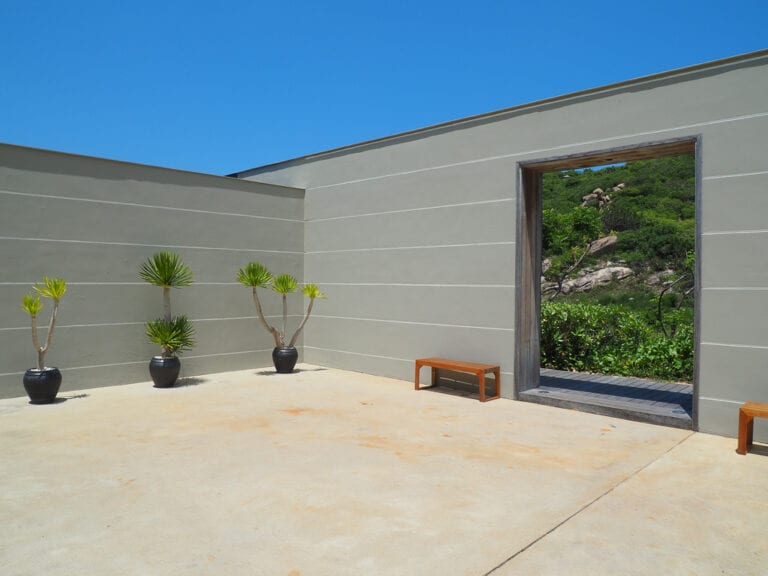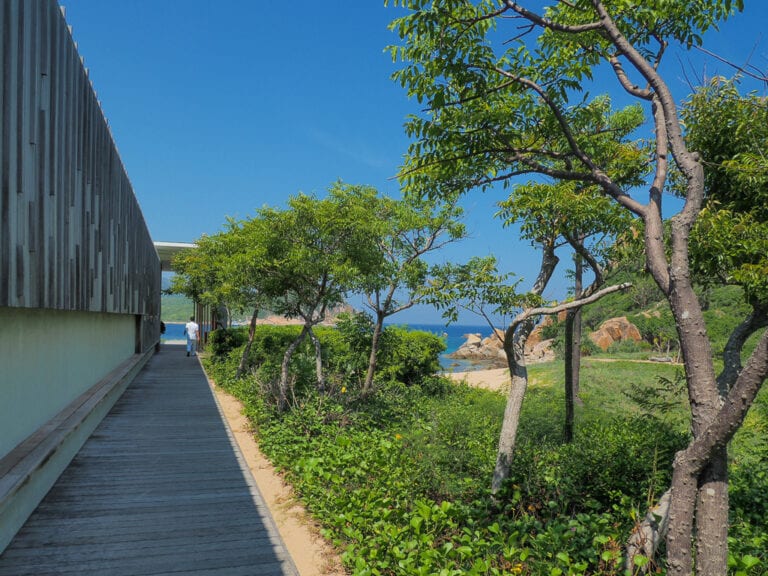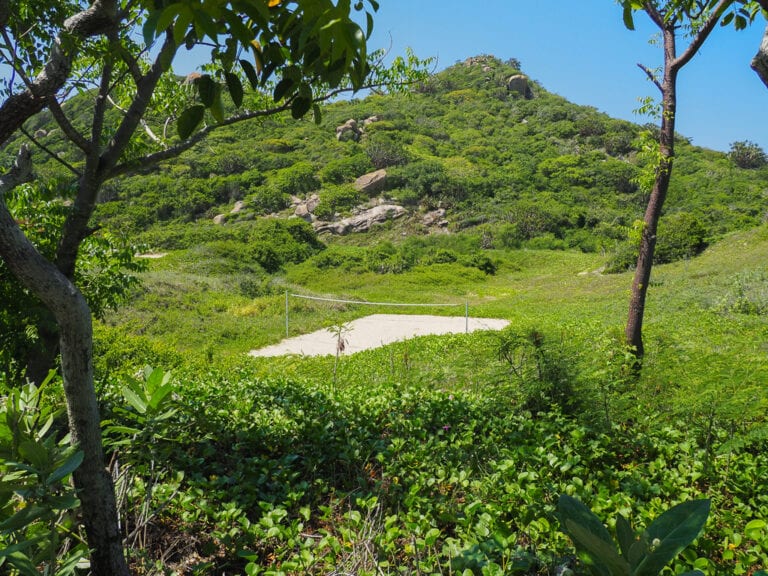 The club is split into two levels. The upper level features a very architecturally impressive infinity pool and restaurant.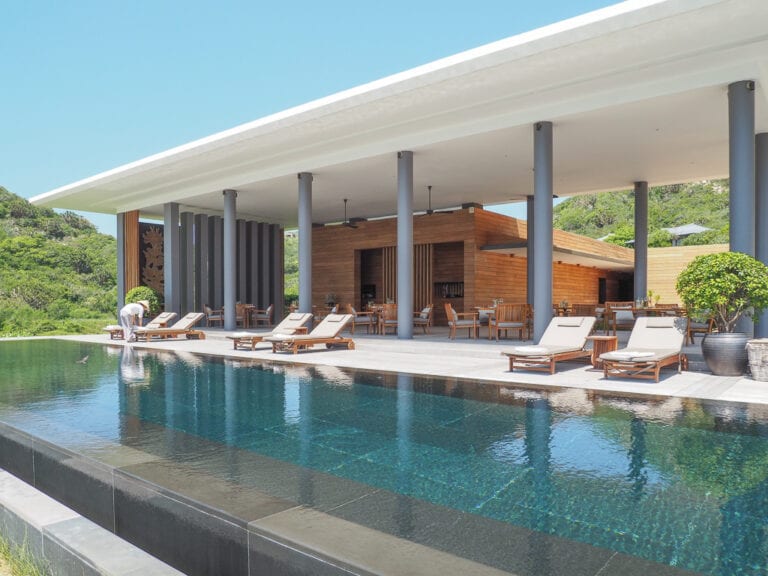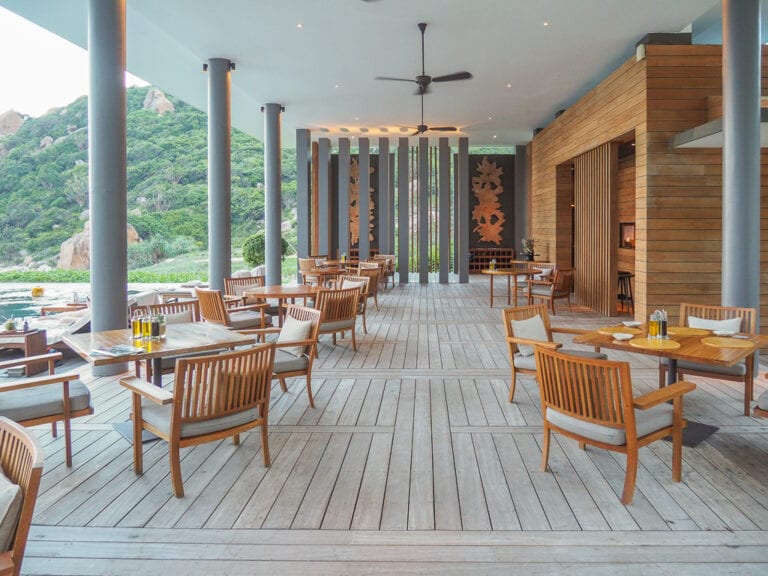 The pool wraps all the way around the front of the restaurant and widens beyond it into something of a lagoon, facing Vinh Hy bay. The setting is very relaxing, with only the sounds of birdsong and the distant chug-chug-chug of fishing boat motors punctuating the silence.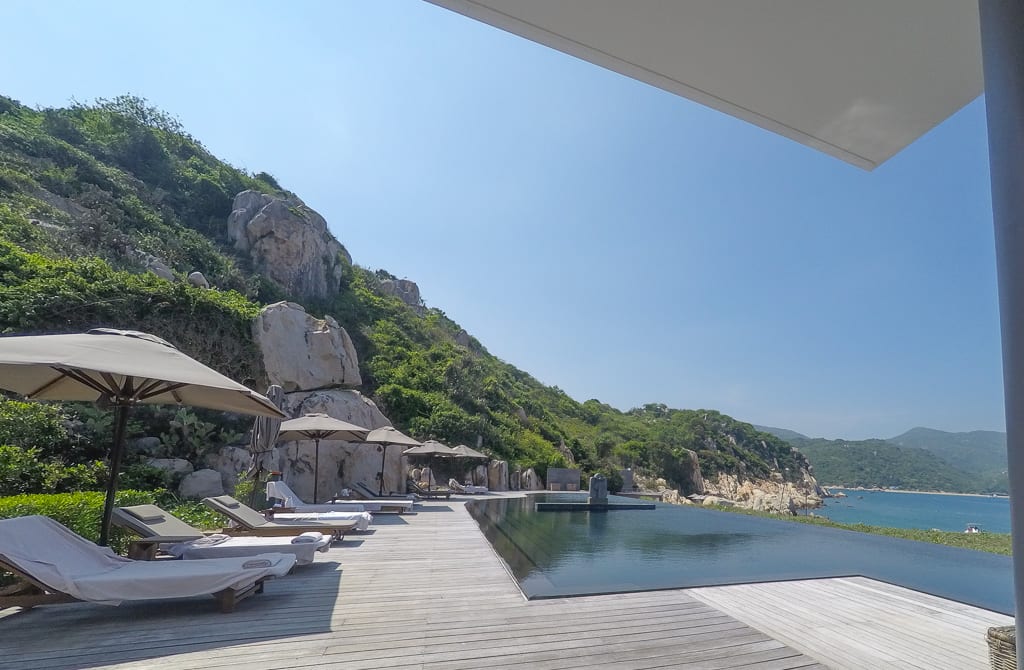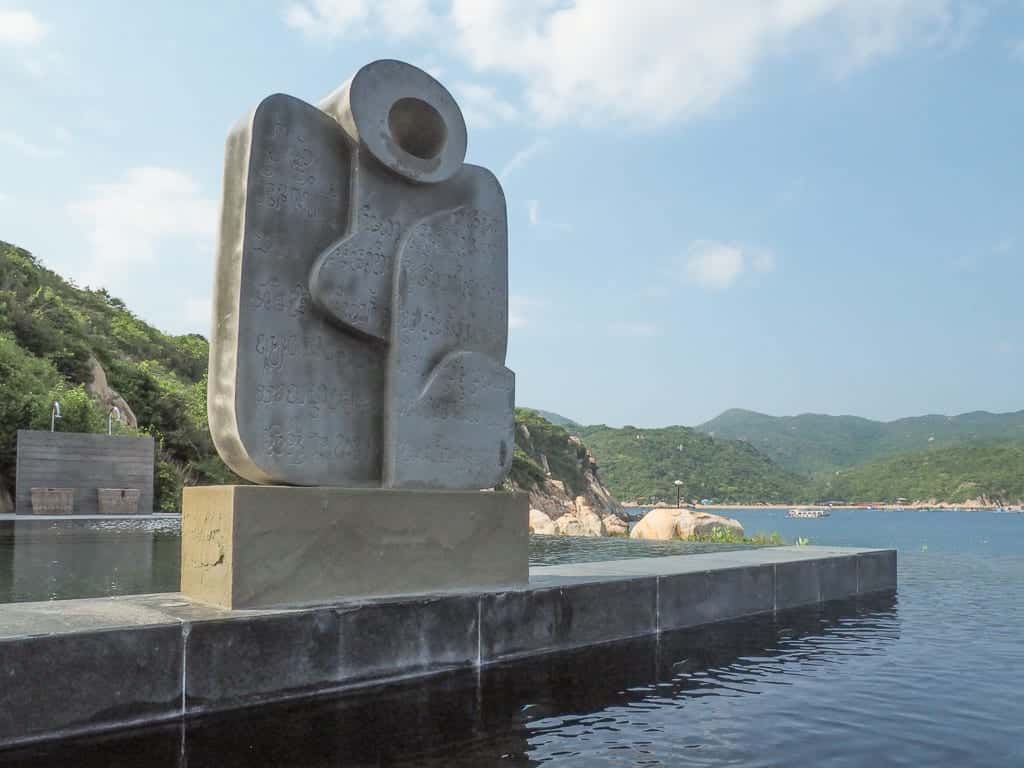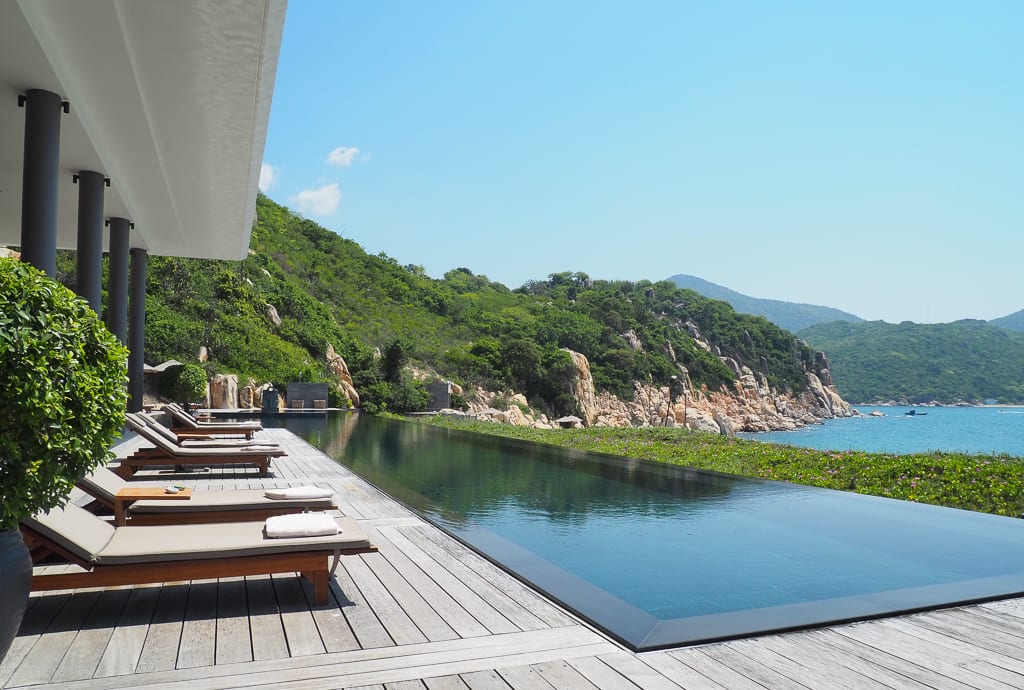 As you descend the stairs, you come to the beach itself. Although the sand is a little coarse, the water is very clean and tranquil. In addition to the main row of loungers there are a number of smaller private decks, our favourite of which was nestled in amongst the rocks.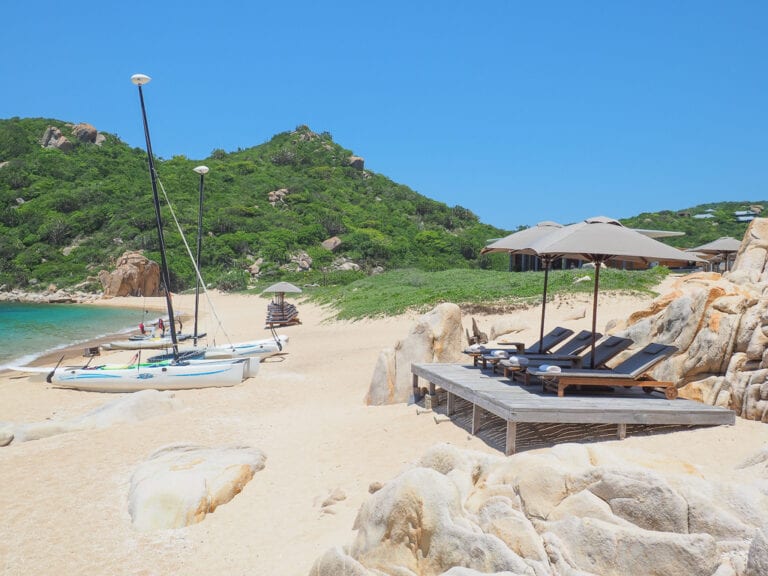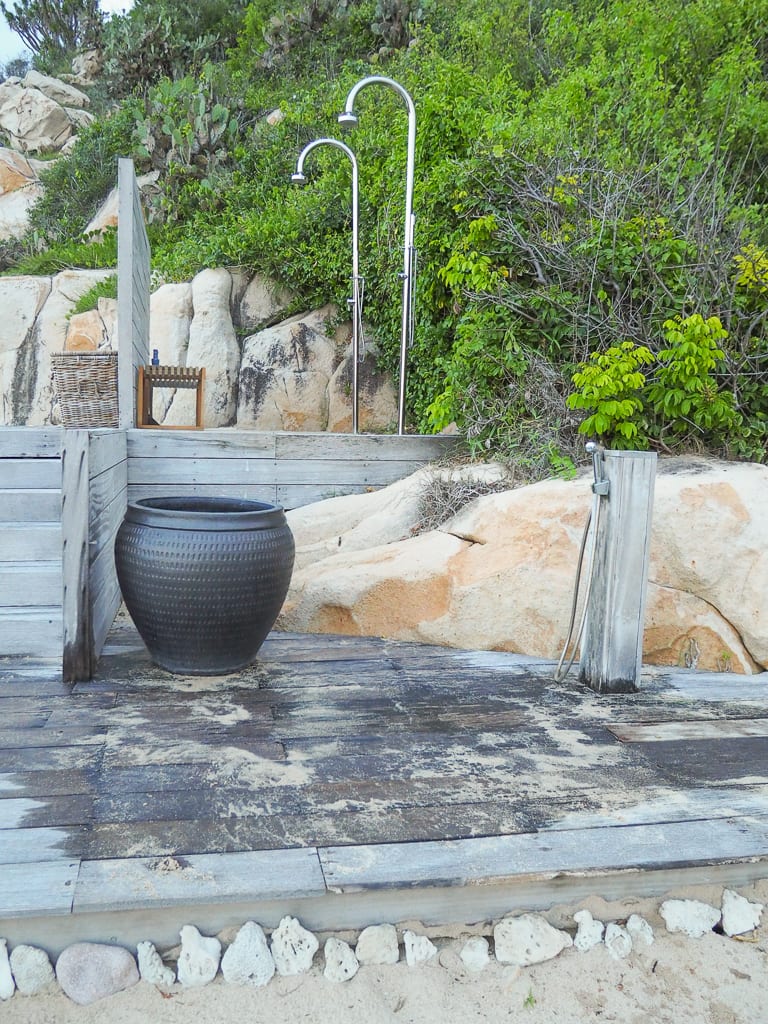 Even when you are ensconced in one of the private decks, the service is prompt and very efficient. One day when I noticed that my camera battery had died a member of staff actually went all the way to our room for us and brought me a spare. This is the kind of service that sets Aman out from the pack. Whenever you take a seat at the beach club staff will also set out a tray with facial mist, suncream, bottled water and stones, painted by local children, to weight down anything that may be in danger of blowing away.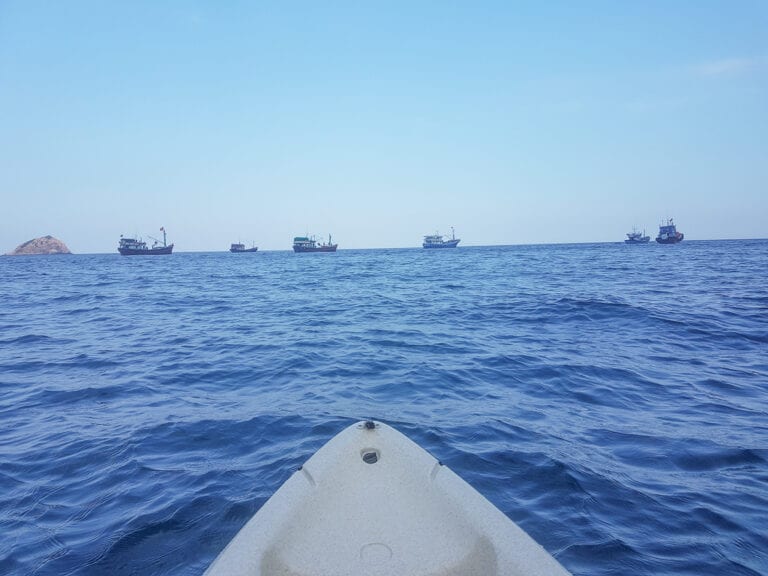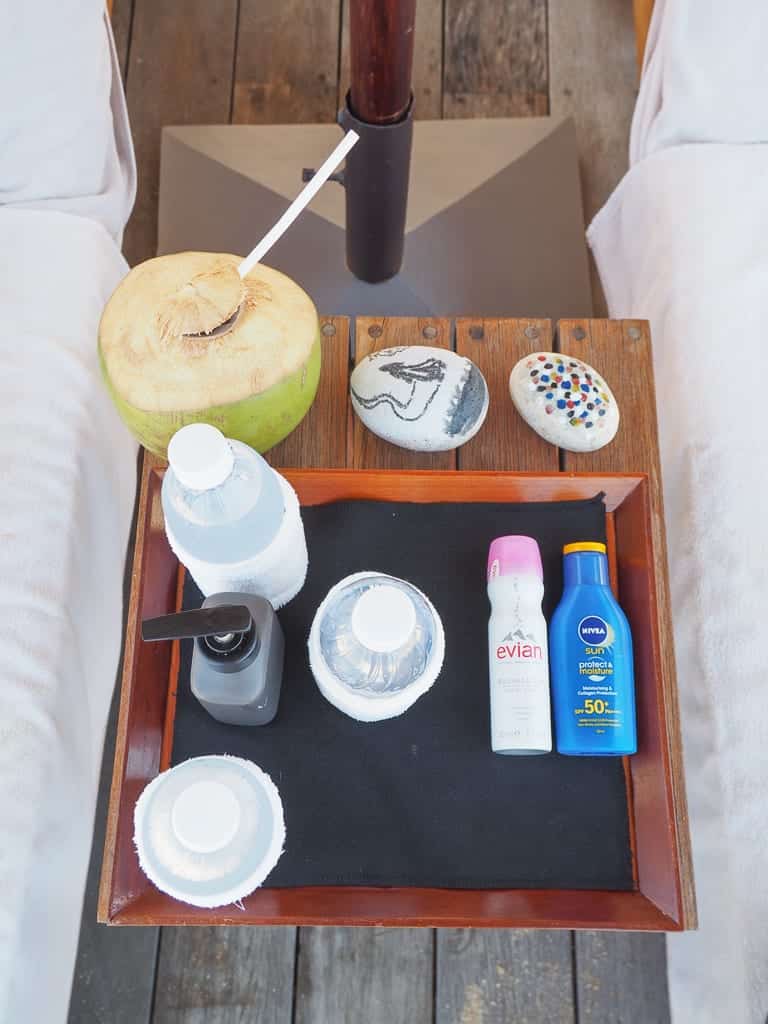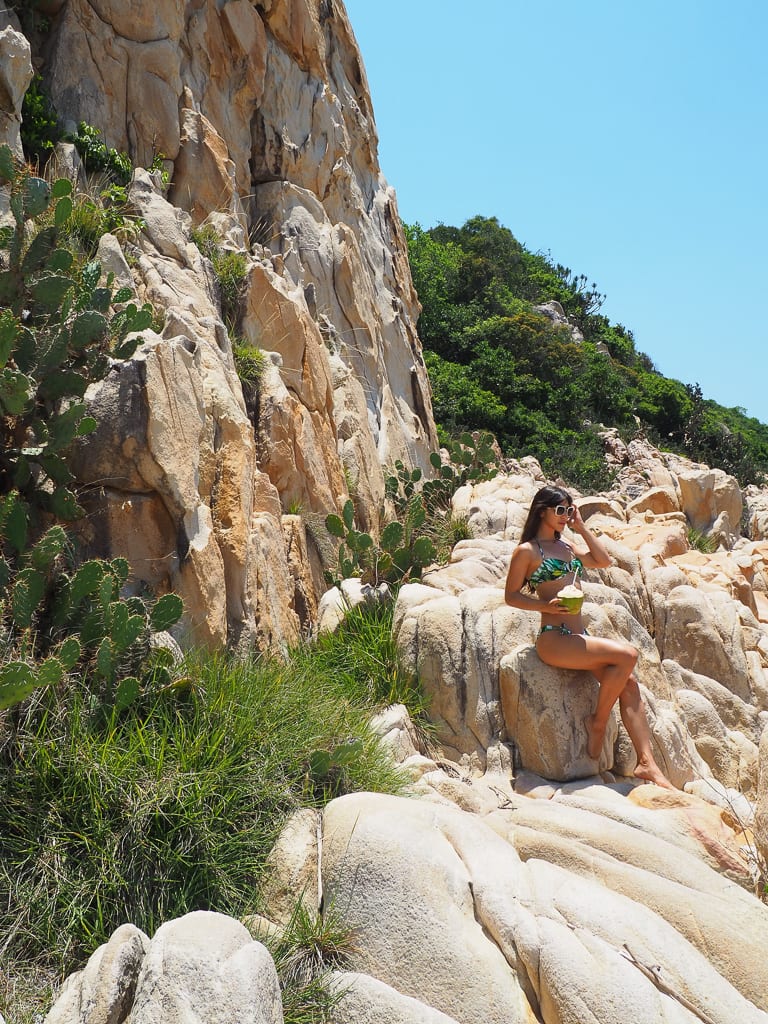 Non-motorised water sports are also complimentary at Amanoi and we really enjoyed heading out into the bay with kayaks and getting out amongst the fishing boats, discovering hidden coves and beaches along the coastline.
Spa and Fitness facilities
In addition to the mountains and sea, the property also features an expansive lake with its own wellness villas. The nightly rates for these include 3 hours of spa treatments per day.
If that sounds a little too intense for you, there are complimentary yoga classes every morning.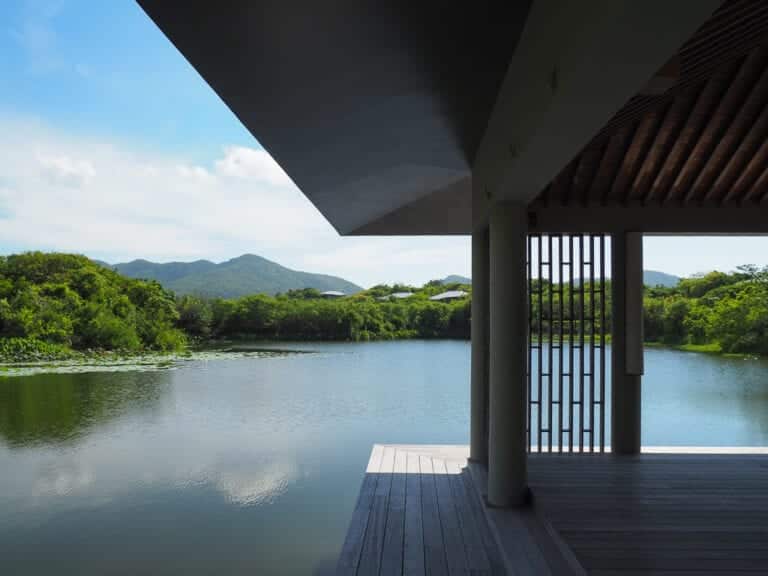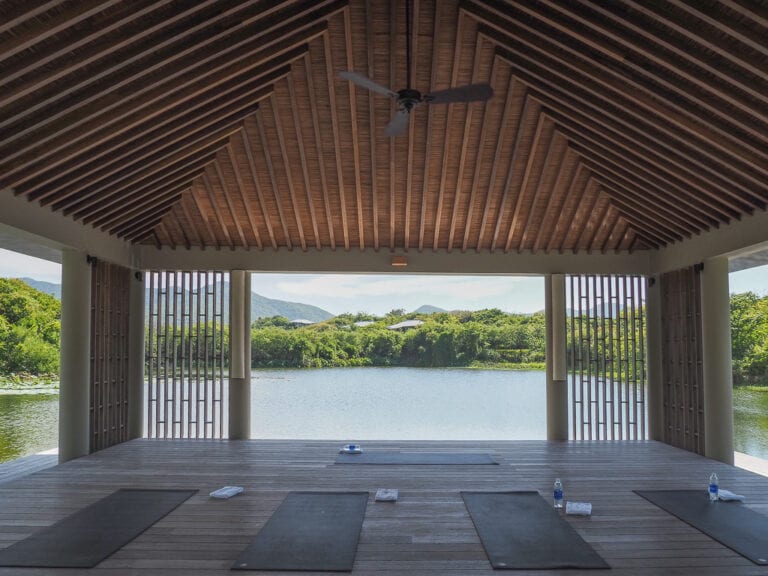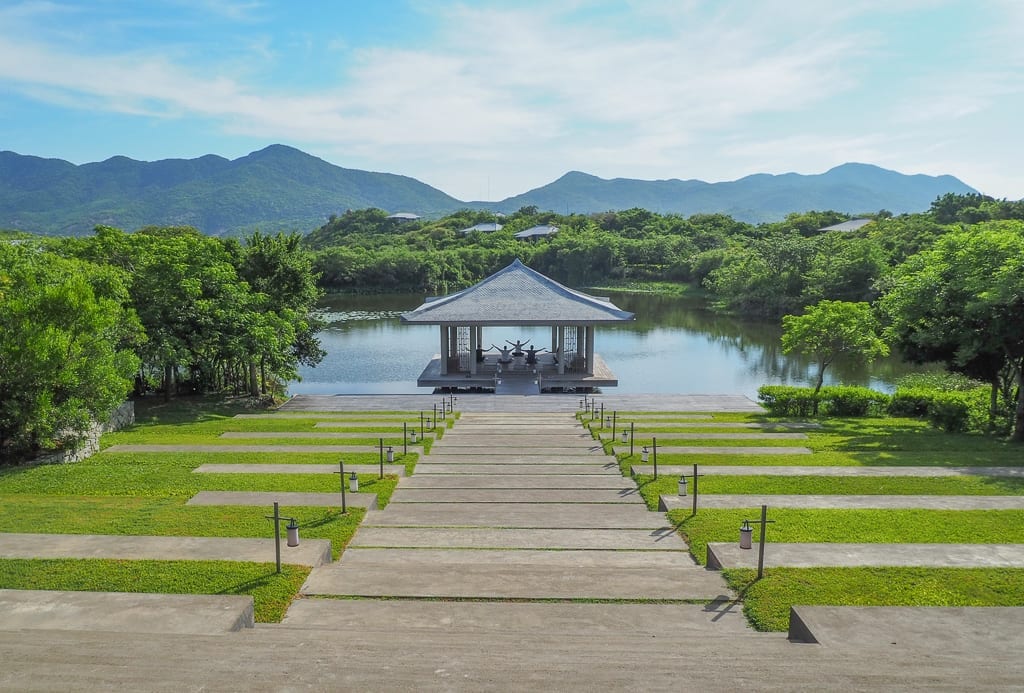 There is also a lakeside private spa house that you can book on a complimentary basis for an hour at a time. We had a great time relaxing in the enormous steam room and jacuzzi before sitting out on the deck facing the lake.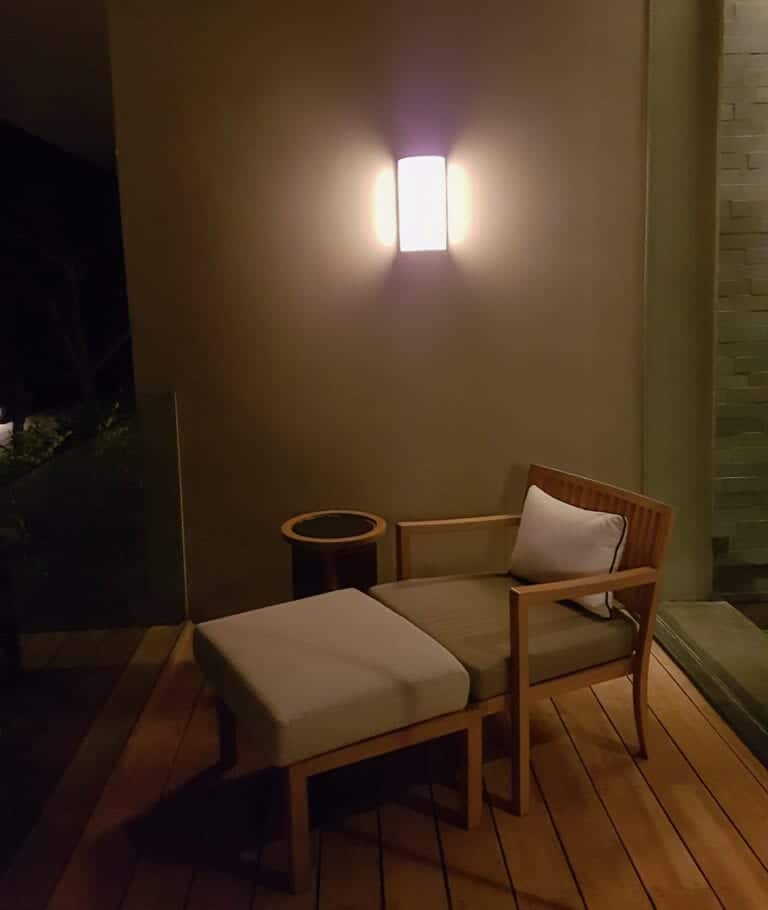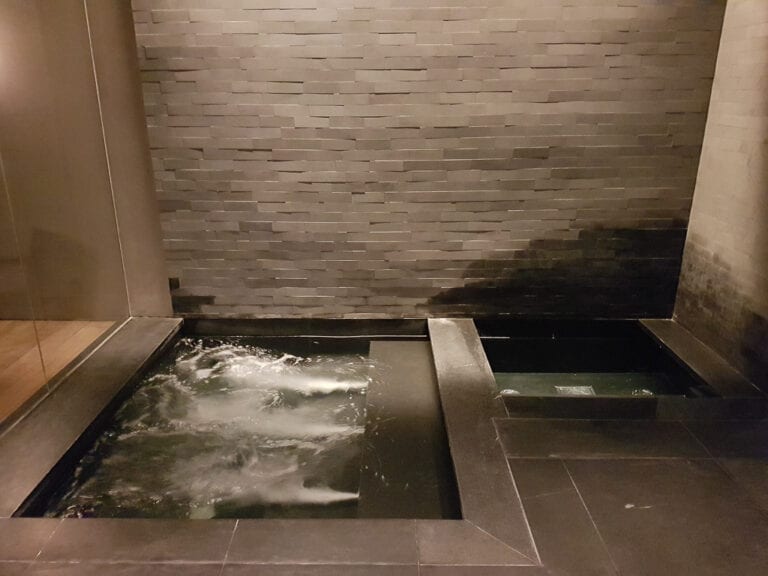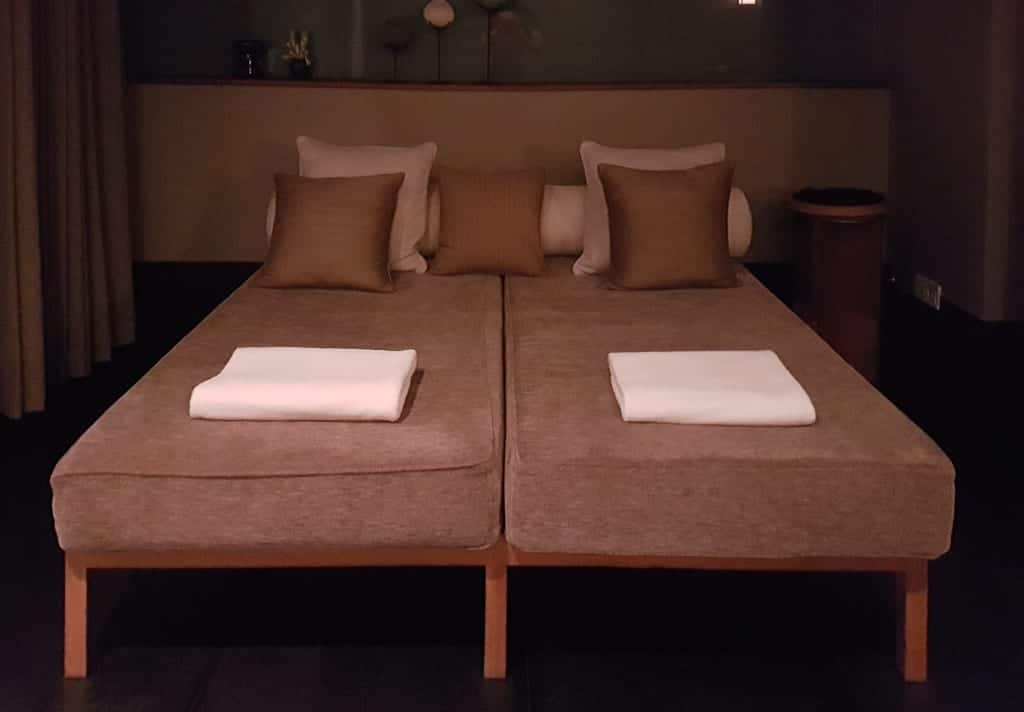 My only criticism of this experience is that the changing room had no ventilation and no air conditioning. This meant that you we were still sweating as we tried to get changed for dinner. When Kamara mentioned this, the spa manager said that this was because air conditioning is not good for you. It seemed odd that guests weren't given the option and that he pushed back like this, starting a debate on the merits of air conditioning.
He was definitely the least 'Aman-like' of the employees we encountered during our time here and was also very pushy with spa treatments, to the point that Kamara agreed to a facial and then called up later to cancel it, just to get him to leave us alone after yoga one morning!
The extensive gym facility is located within the main spa building, which is accessed through this very elegant reception area.
The variety of machines and weights in the gym was very impressive and everything was always kept spotlessly clean and tidy by the staff.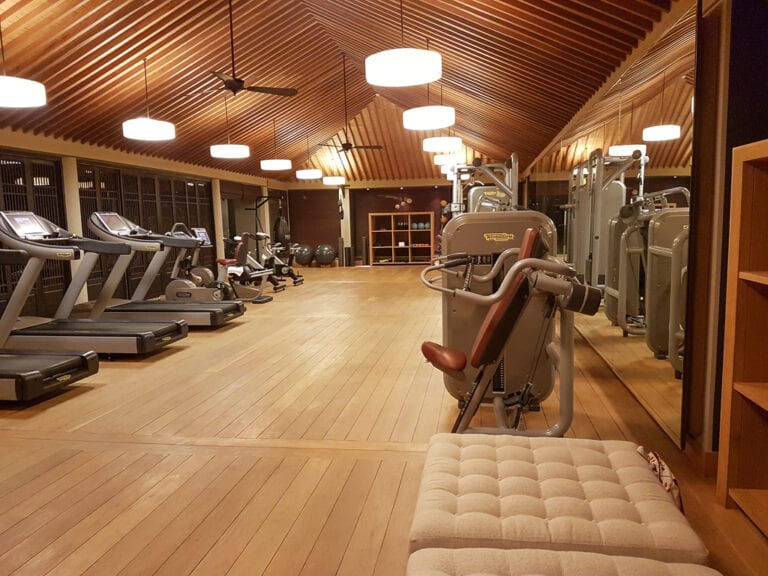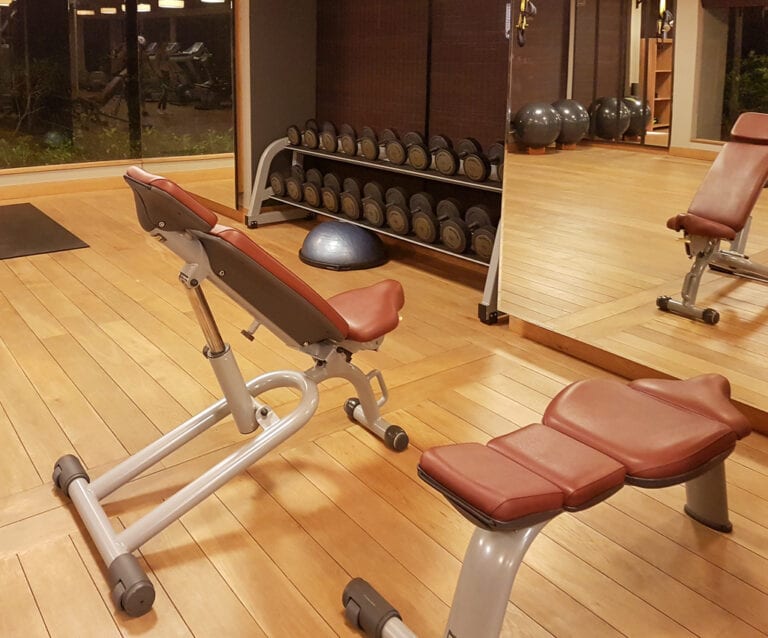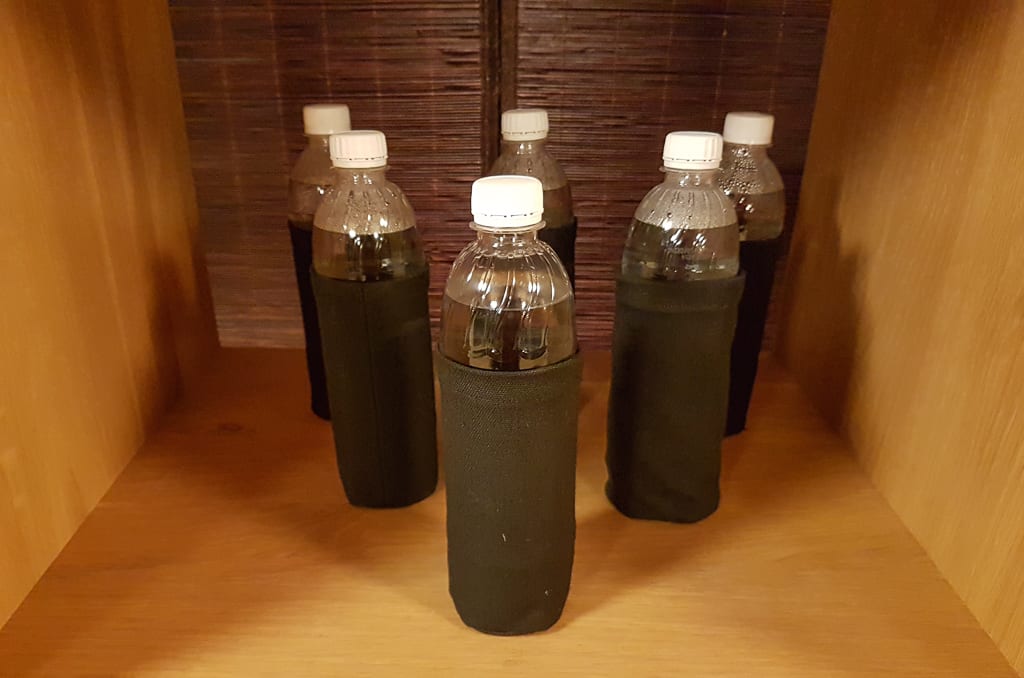 The changing facilities however weren't so great. There was no privacy and lockers were open plan and not secured. At least here there was air conditioning though!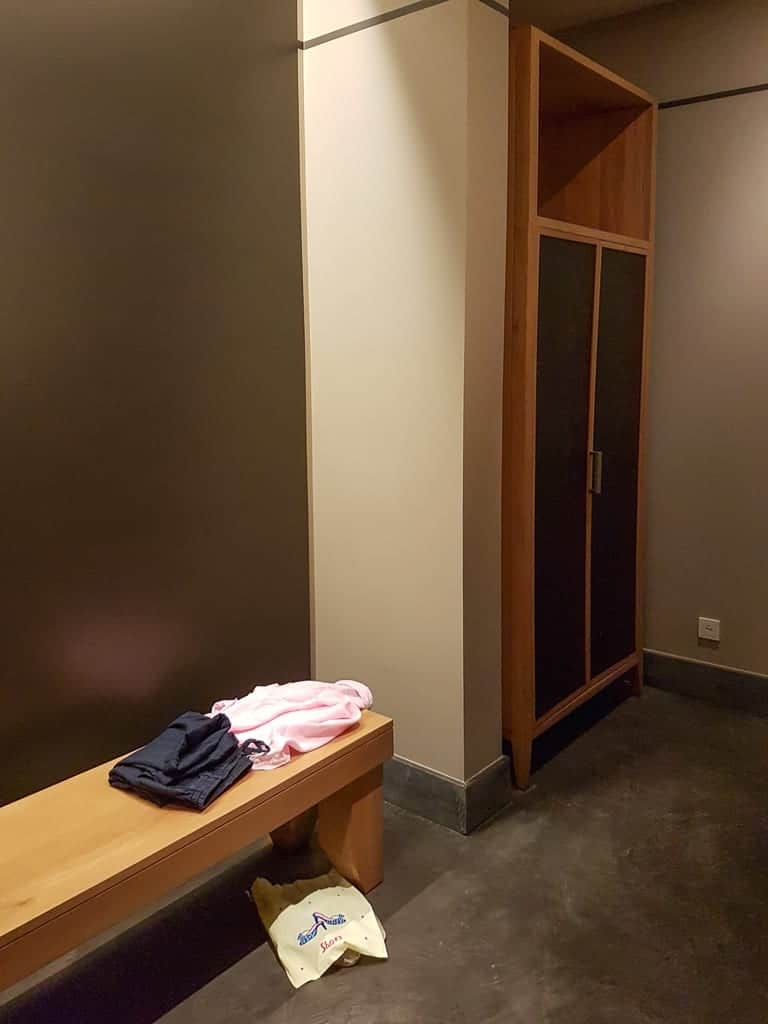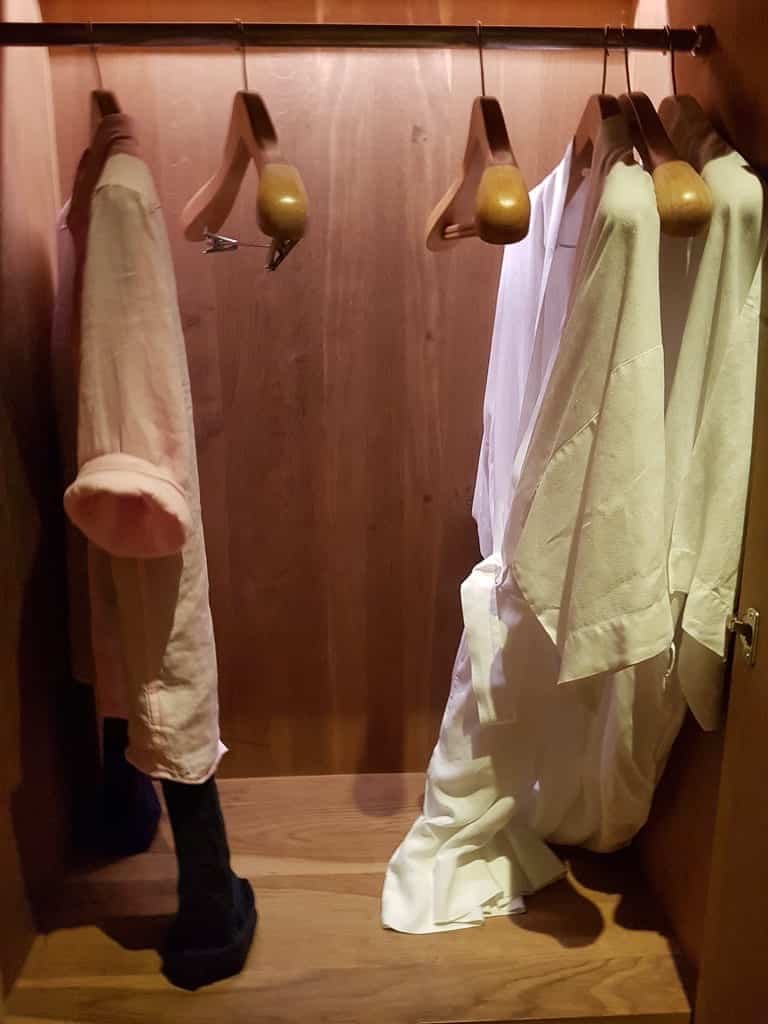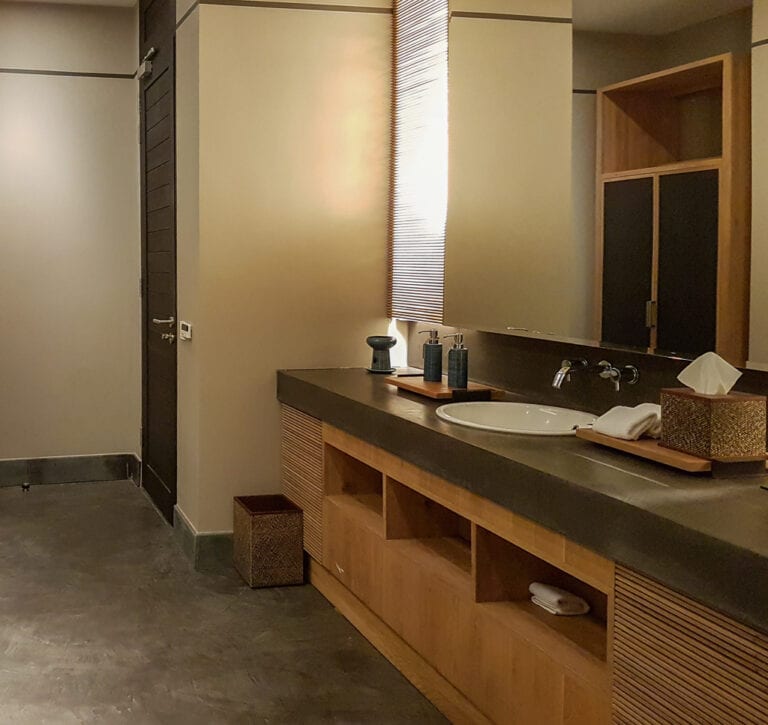 The Library
It is a brand standard for all Aman resorts to have a library and Amanoi is no exception. The library here is a little hard to find though as you have to enter via the interior dining room of the main restaurant and then descend a flight of stairs to gain access.
The library has a huge selection of books as well as board games, two iMacs and a PC. More than enough to keep you entertained on a rainy day.
The Cliff Pool
Tucked away next to the main building is the cliff pool, featuring as incredible a view as any human could reasonably expect to witness. The only slight issue is that you would usually have to call for service using the phone provided, unless you alerted staff at the main building that you were on your way. I can see why they don't have a pool attendant here all day long but when everything else is done so seamlessly this stood out to us.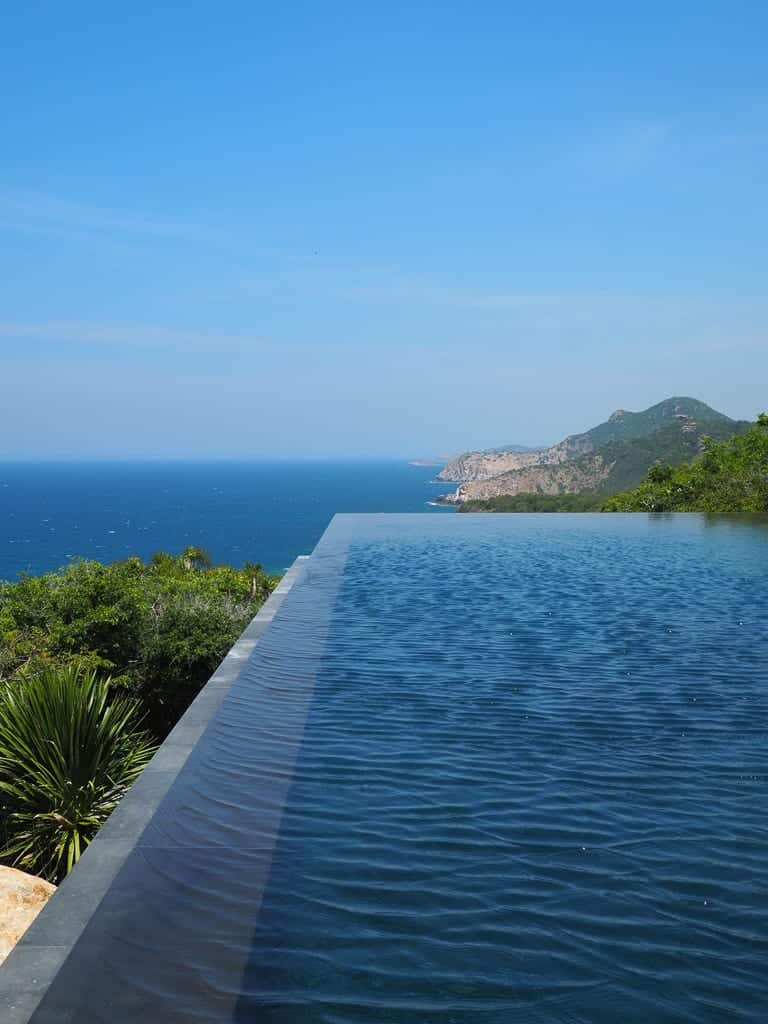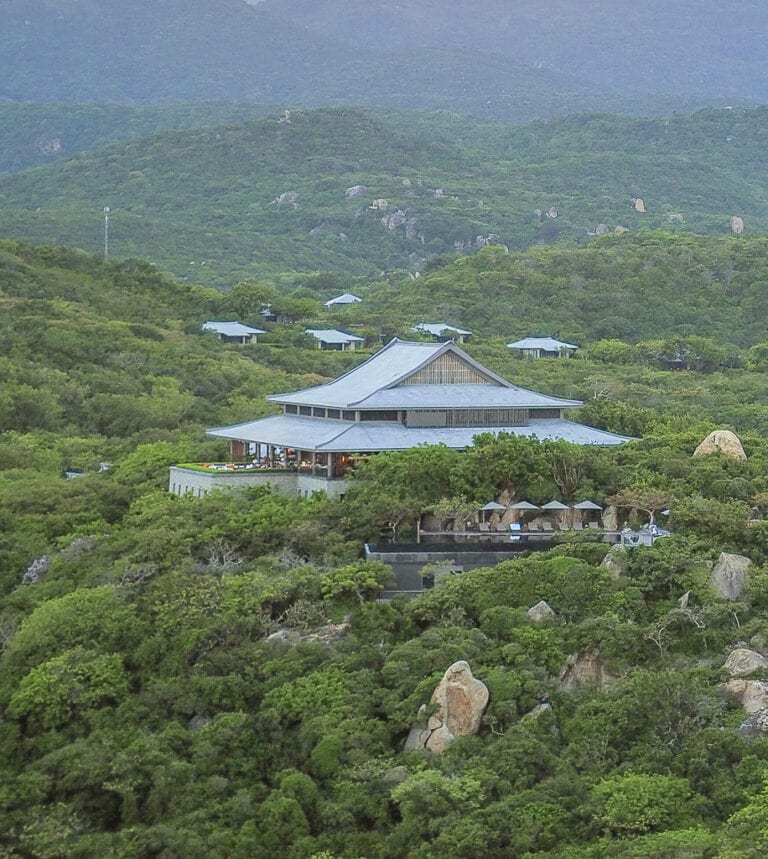 Not a bad compromise if you're in one of the pavillions without a private pool…
Hiking Goga Peak
I'm not going to lie, our focus was firmly on relaxing during our stay but we were still strongly encouraged by the staff to take a walk up to Goga Peak to experience the sunset view. I'm so glad they convinced us! The hike is not too steep and you can reach the top in around half an hour from the main building.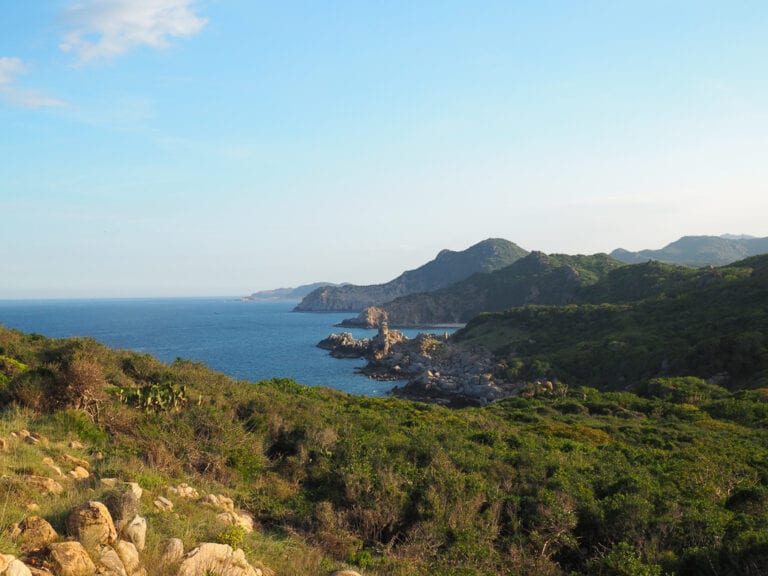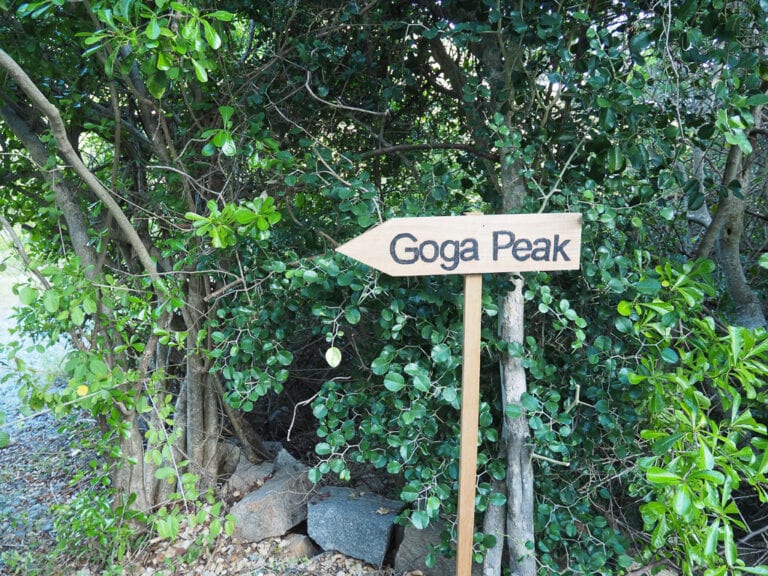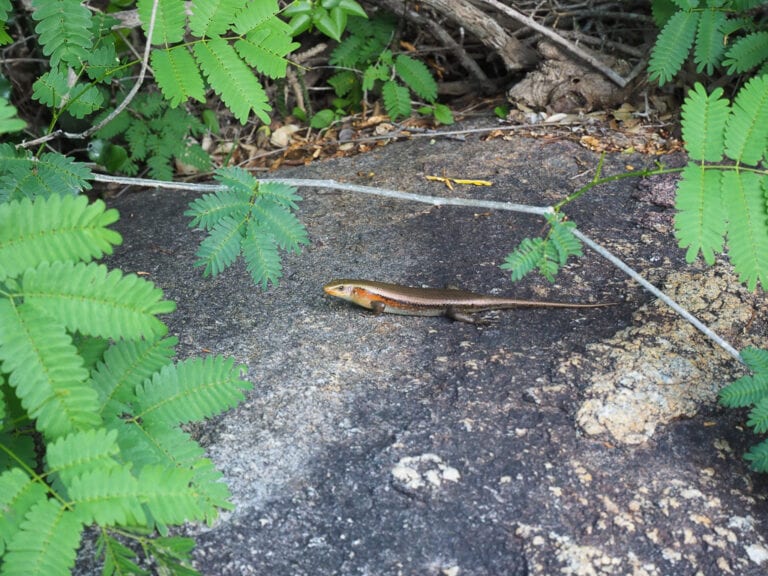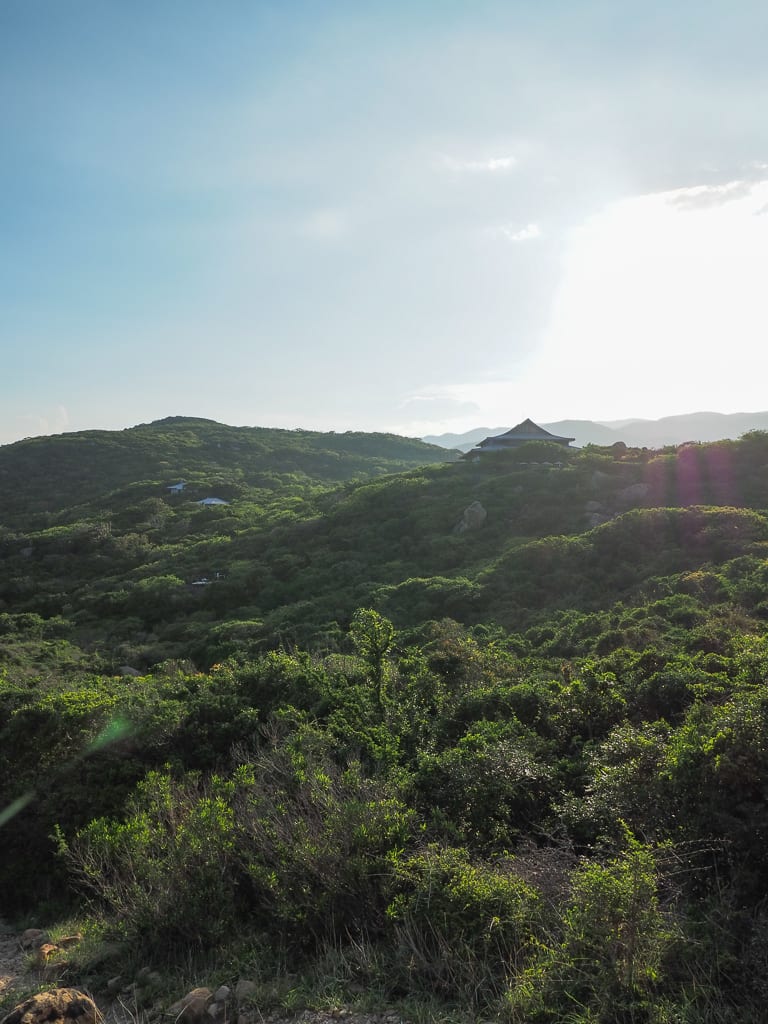 The views kept getting more and more incredible as we ascended. Right at the very top was a purpose built platform, which granted us a 360 degree view of the enviable surroundings that Amanoi inhabits.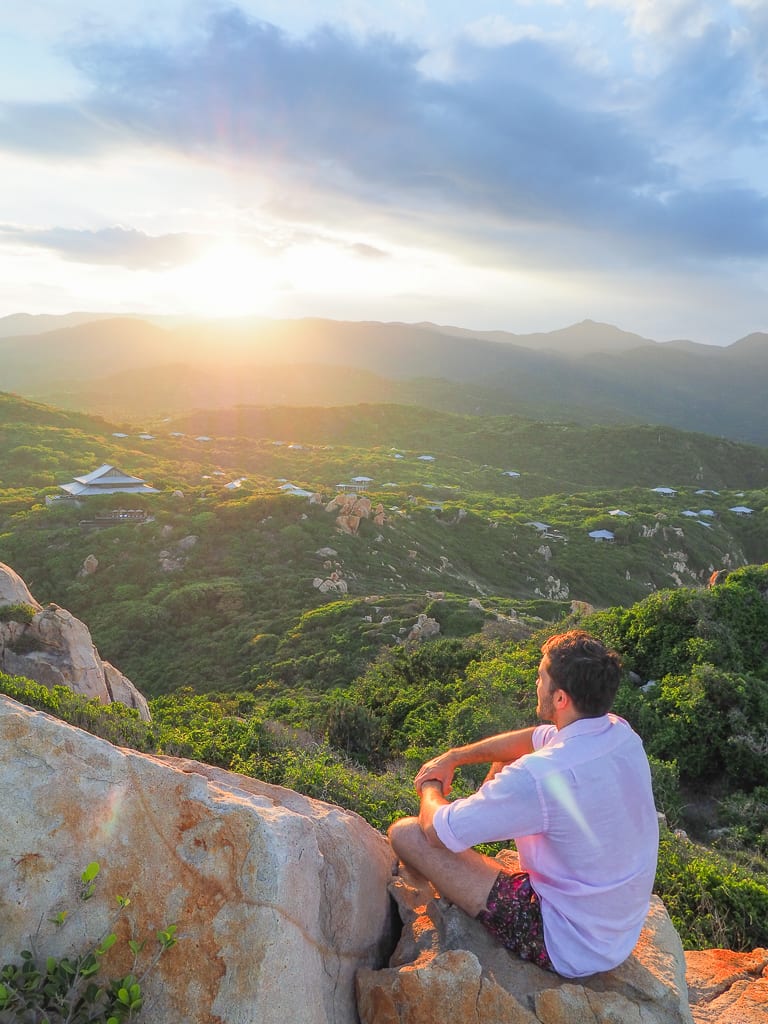 Seeing the whole resort laid out in front of us really made me appreciate the amount of hard work that must have gone into designing and maintaining the place. There is a fishing village on the bay but otherwise there is nothing but wilderness in all directions. The buildings blend seamlessly into their surroundings and everything within the resort runs smoothly, as well or better than hotels inhabiting a single tower in the middle of a city. When you consider that a lot of the staff come from the fishing village or ones just like it along the coast, the level of service (and of course linguistic ability) is all the more impressive.
---
Food and Drink
---
If there's one criticism that's regularly levelled at Aman it is the fact that the food and drink is relatively unimpressive. When you consider the level of meticulous consideration that goes into everything else, the food seems like an afterthought. I was interested to see whether my own experience would echo this sentiment.
Breakfast
All rates at Amanoi include daily breakfast, which can be eaten either in the main restaurant or in your villa. The restaurant provides a truly spectacular setting in which to start your day.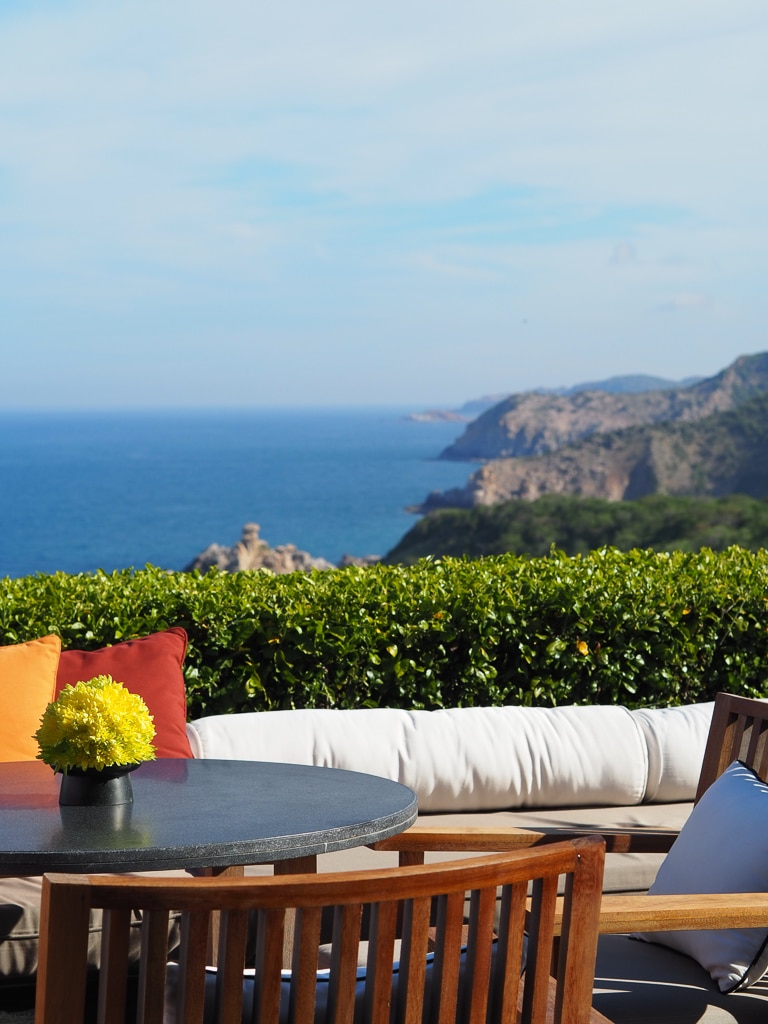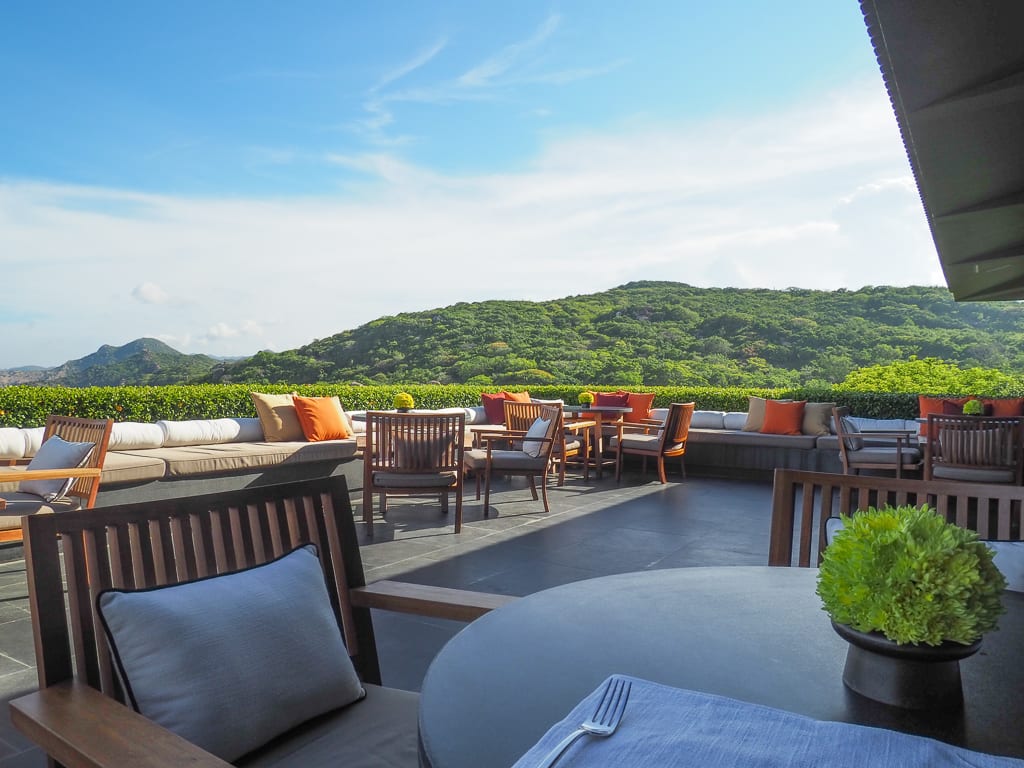 The staff varied in ability with a little bit of a language barrier from some, although you could tell they were trying really hard. Others like our favourite Sang, were so amazingly brimming with enthusiasm and genuine caring that it completely made our day just seeing her in the morning.
The food was decent but not great. The pho was nowhere near the level of what we encountered elsewhere in Vietnam, the stock seemed a little flavourless and watery when compared to the breakfast pho at the Park Hyatt Saigon. Much to Kamara's chagrin we were unable to get crepes for breakfast, we were told that only American-style pancakes were available since these are pre-made.
My expectation would have been for all a la carte food to be cooked to order at any hotel of this calibre. Bacon was perfectly crispy but was paired with soggy French toast and bagels were served untoasted. It wasn't all bad though. We loved the fresh juices and Vietnamese coffee. I also really enjoyed the chia pudding and when I asked for a few extra strawberries to top it with, I wasn't expecting such an enormous bowl of amazingly fresh fruit. These were completely off menu so it speaks volumes that not only were they available, they were also of a such a high quality.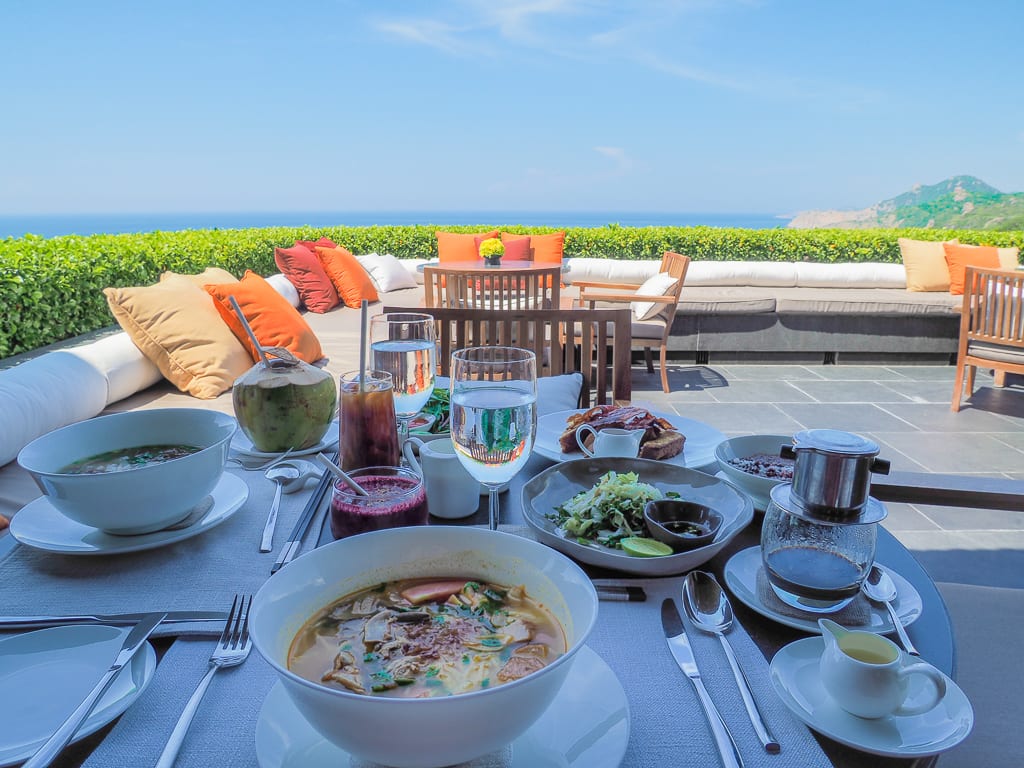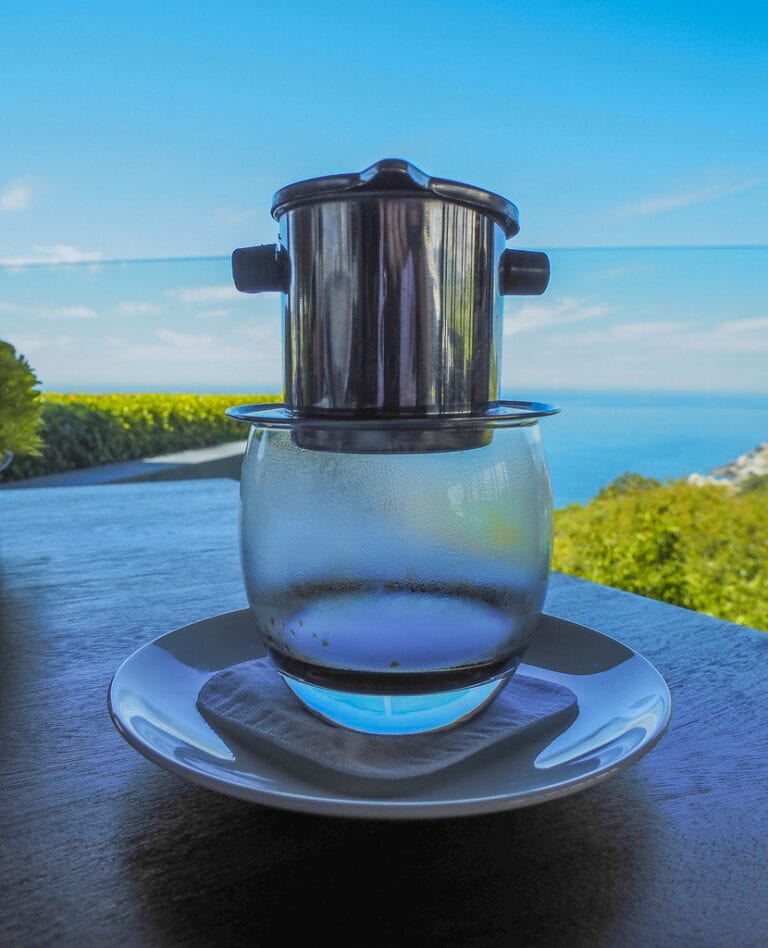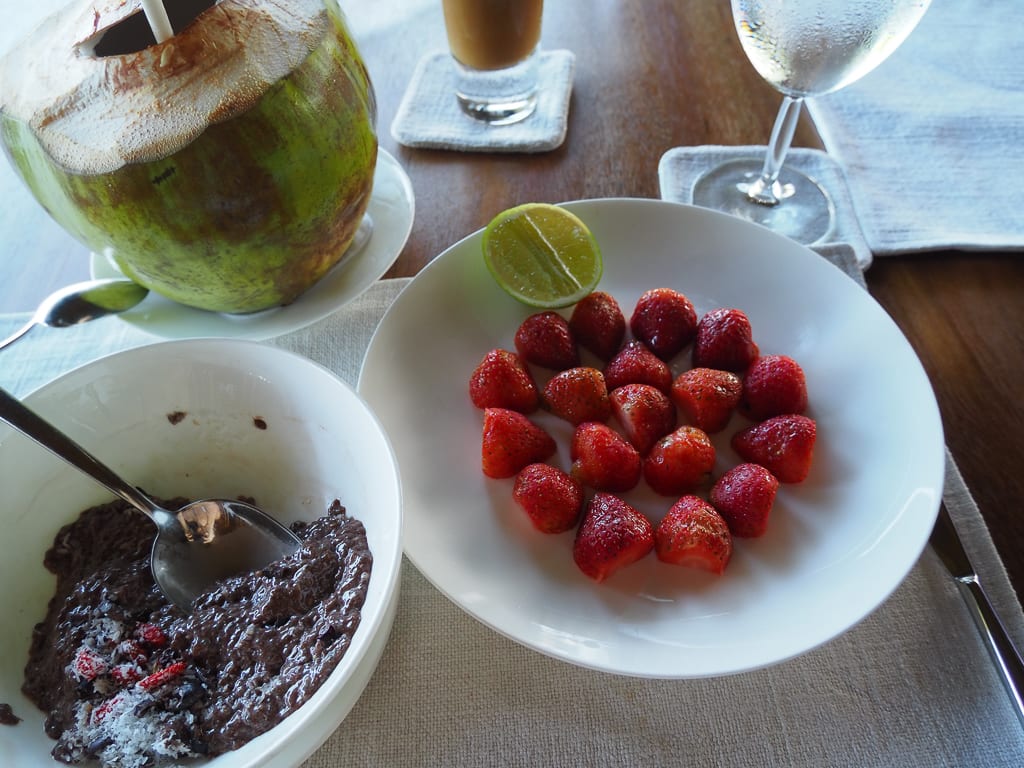 All guests have the option of taking their breakfast as in villa dining too, which can make for a great alternative to visiting the main restaurant if you're feeling lazy! The presentation was fantastic, with a lot of the dishes being constructed at our villa to ensure freshness and consistency. Delivery times were around 30-45mins.
Lunch
Lunch and dinner were much better than breakfast on the whole. I have to say that I preferred the service in the main restaurant to the Beach Club though. I think the tone was set when the chef here came out to do an awkward prepared greeting speech to every newly arriving guest.
Not only did he repeat the whole speech verbatim, within earshot of everybody else (who had already heard it multiple times) he also forgot he'd already spoken to us and immediately launched into the full 90 second diatribe the second time that he saw us too!
Honestly, I'd prefer it if the chef wasn't kept away from his work in the kitchen. Perhaps emerging towards the end of service to ask how the food was, rather than making prepared speeches. As I said though, the food was a clear cut above what we got at breakfast. Not only were the Asian dishes fantastic, the freshly baked focaccia and pasta dishes were excellent too.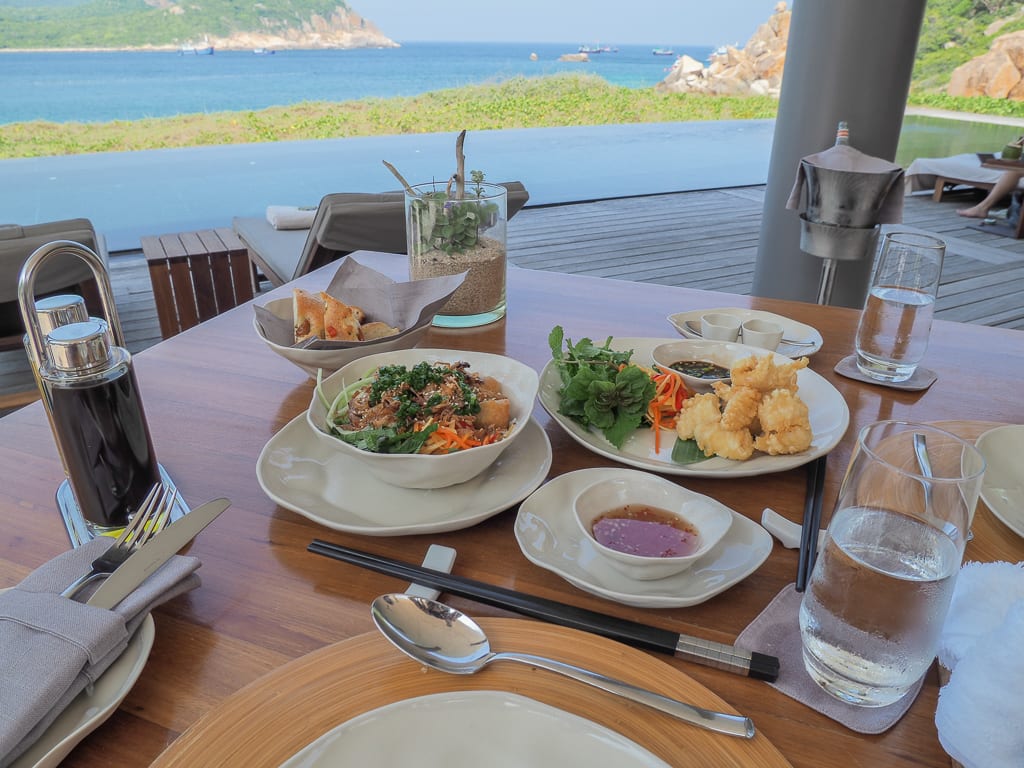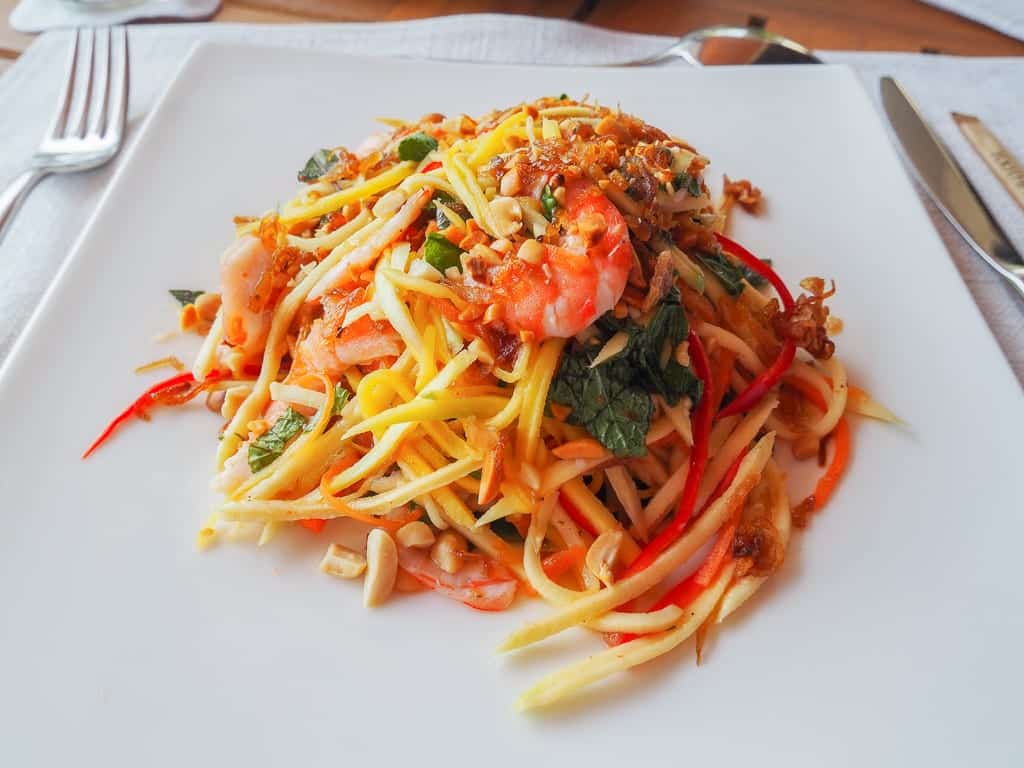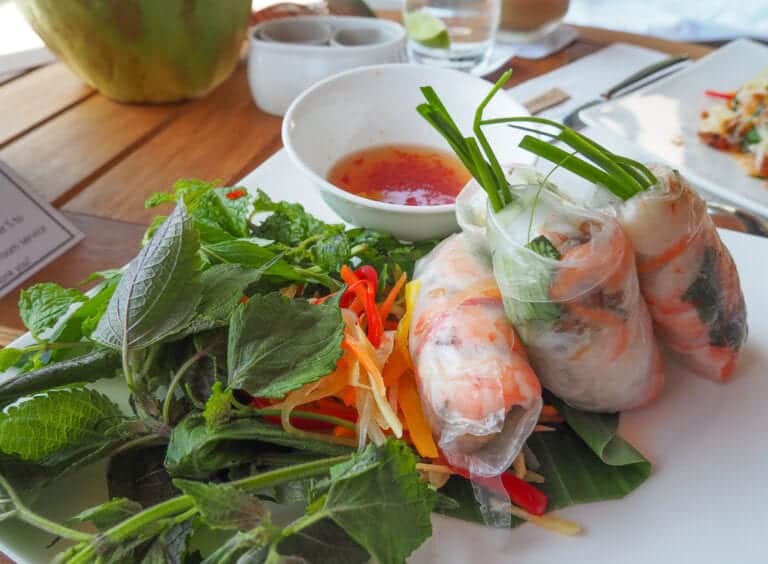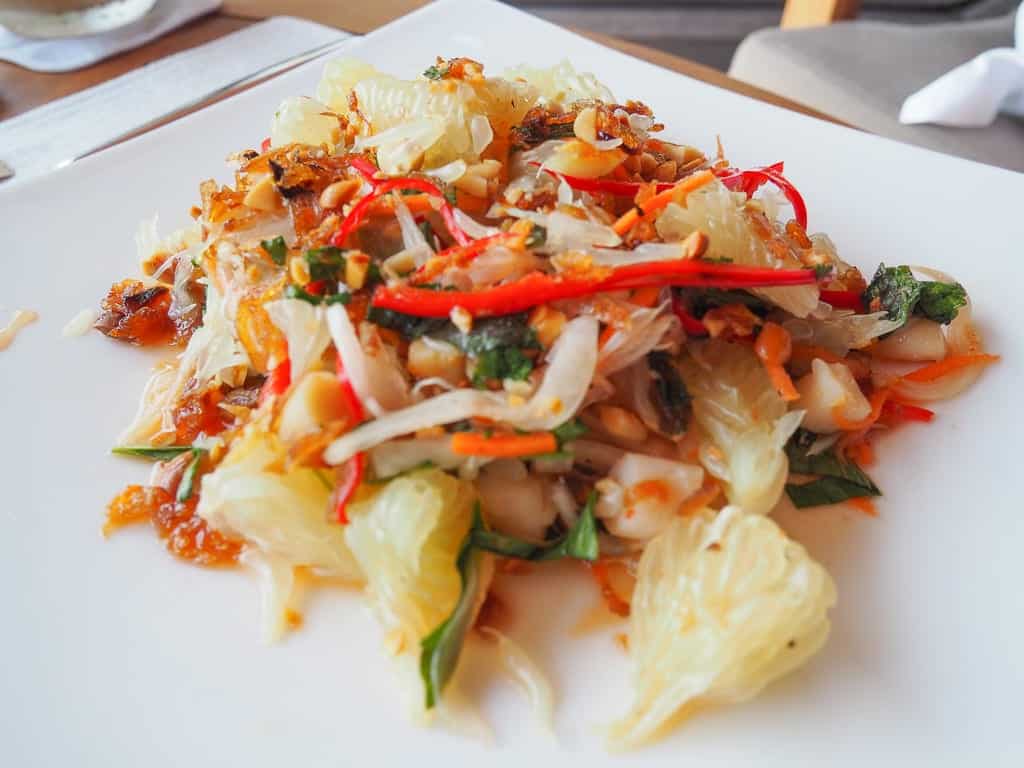 The lunchtime menu for in-villa dining mirrors that of the beach club and we personally preferred to eat here, enjoying the shade during the hottest hours of the day – heading to the beach club later in the afternoon.
Afternoon Tea (15:30-16:30)
Complimentary afternoon tea is included for all guests at Amanoi and despite my usual reservations about what I have been known to call 'the most bullshit meal of the day', the offering here is actually pretty good. A local lady came to prepare freshly cooked rice pancakes, topped with delicious meat, vegetable and seafood combinations. Around her were tiered cake stands filled with a combination of local gelatinous puddings and cakes, as well as more familiar macarons and pastries.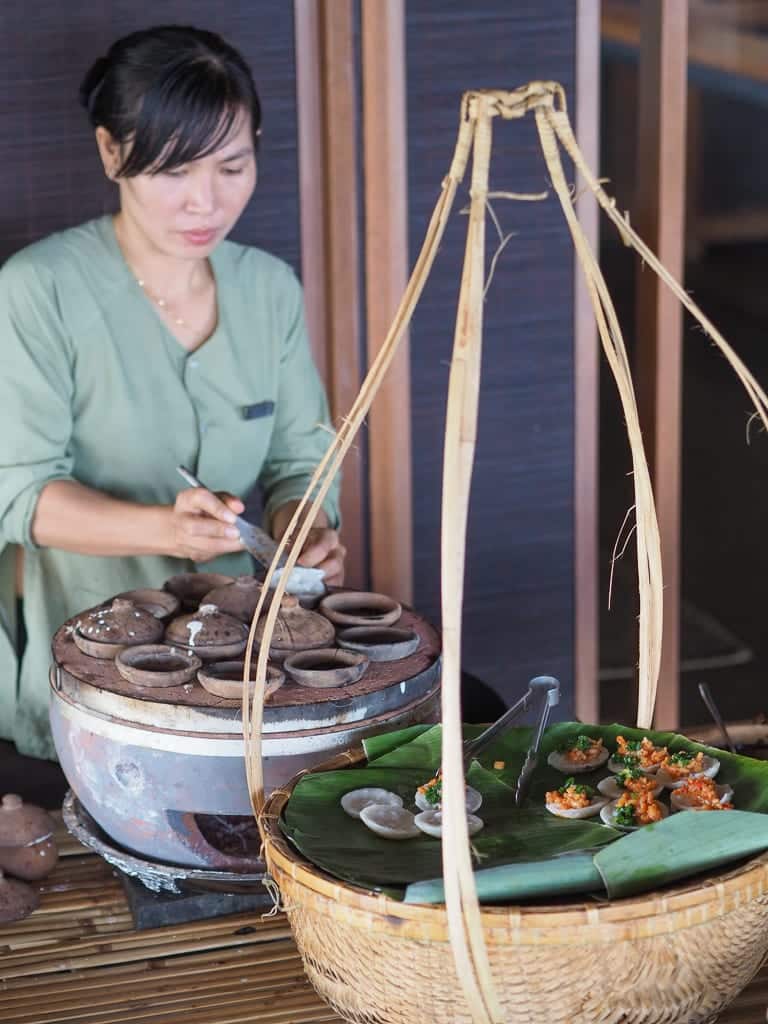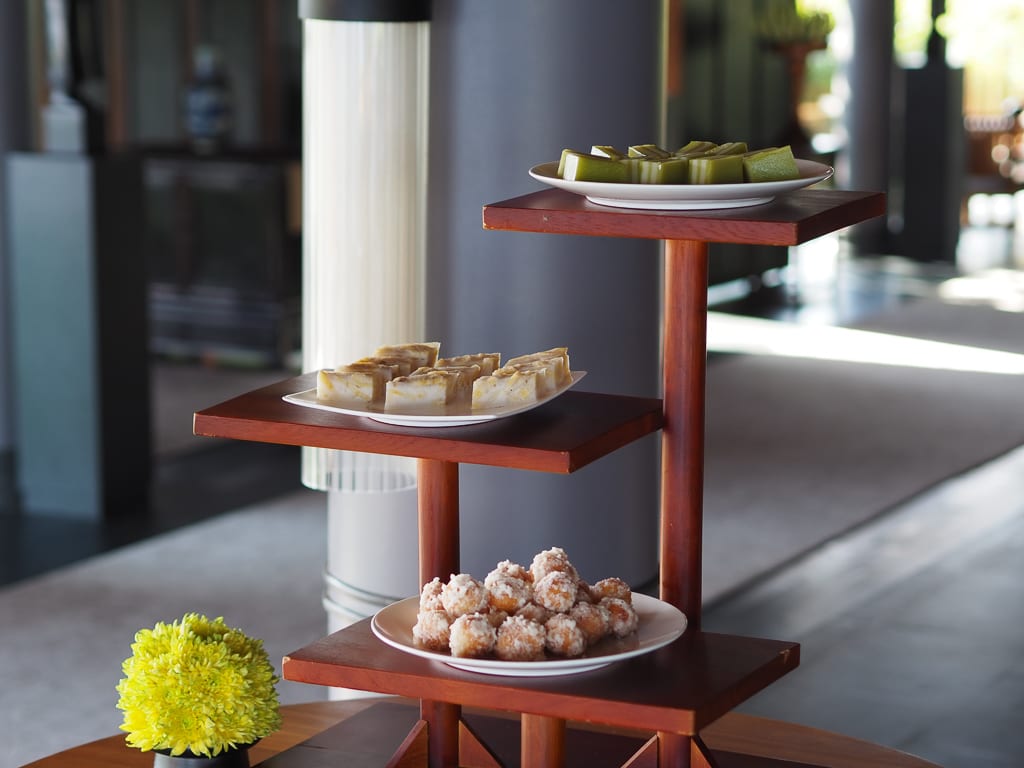 Although this was all set up to resemble a buffet, in practice staff were waiting to serve us and encouraged us to take a seat as they brought our choice over to our table. A full selection of soft drinks was on offer with my choice never wavering from my favourite Vietnamese iced coffee.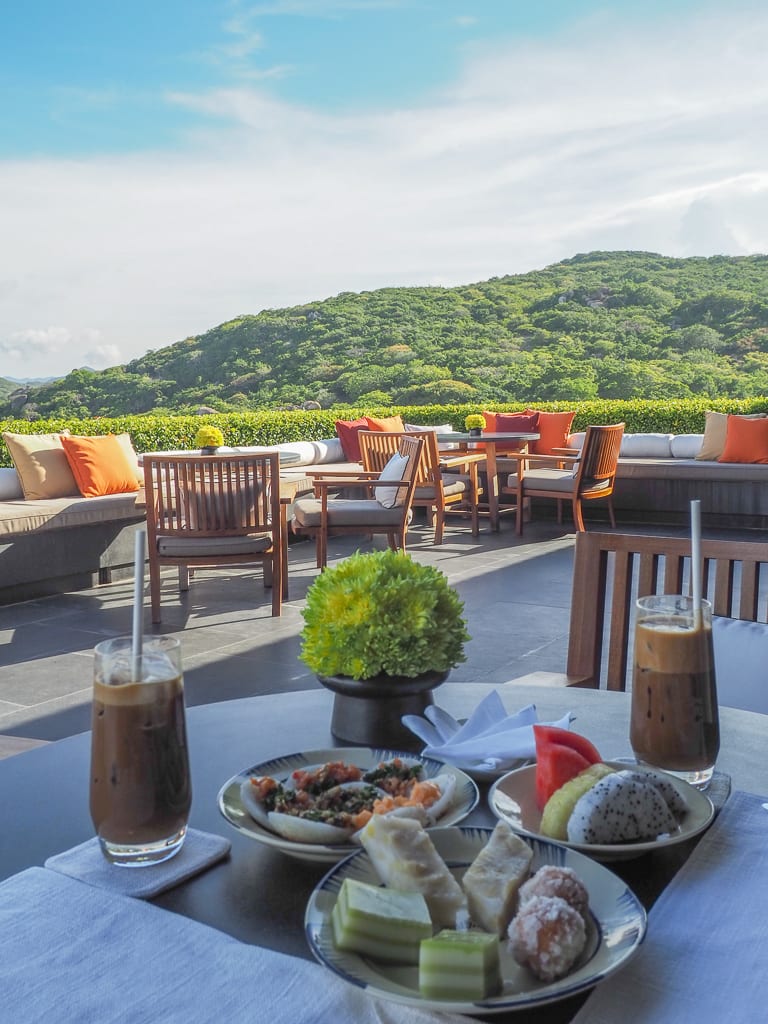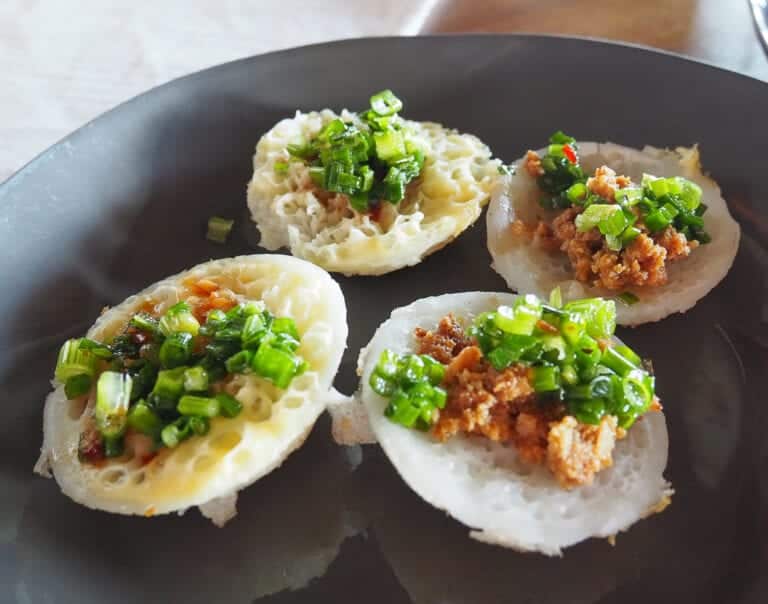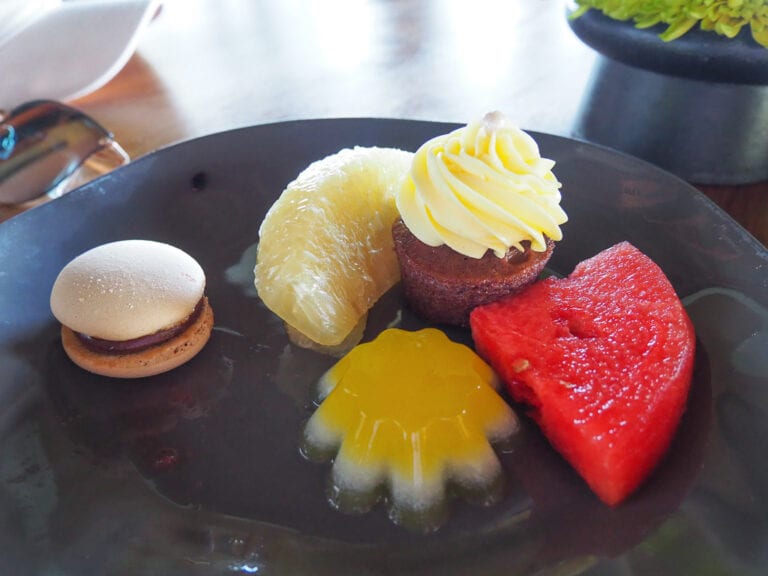 The Bar
The resort magically transforms at night; approaching the main building to visit the bar for a pre-dinner drink is a very special experience. The flickering lanterns guide your path up the stairs to a hushed kingdom of indulgence.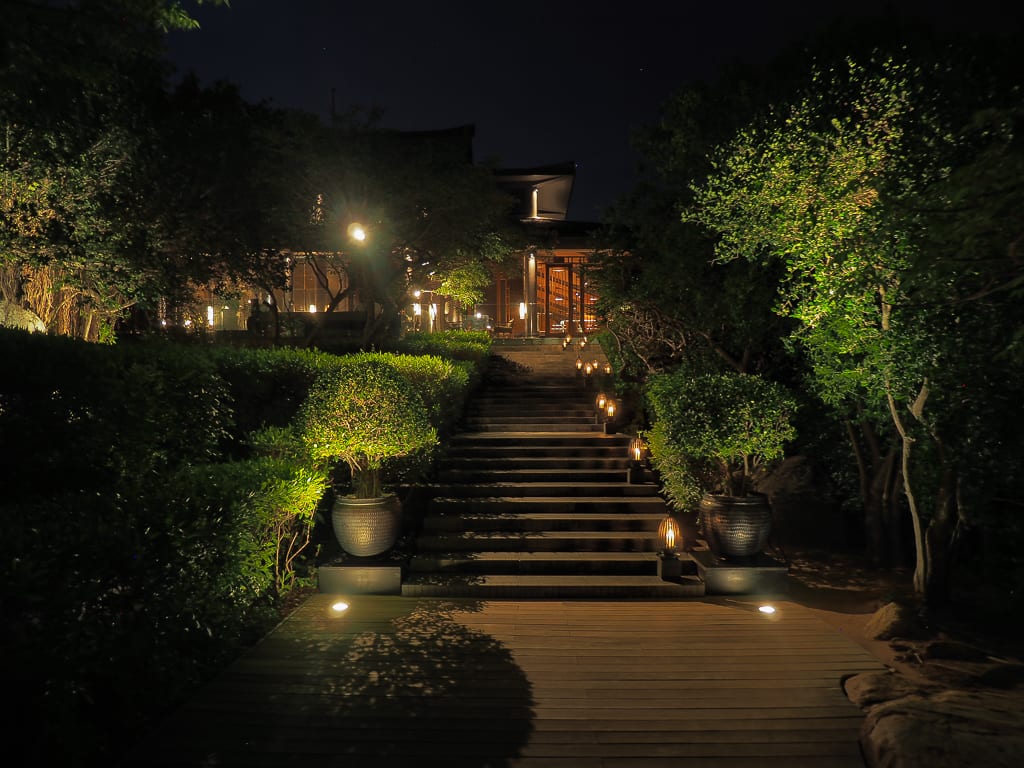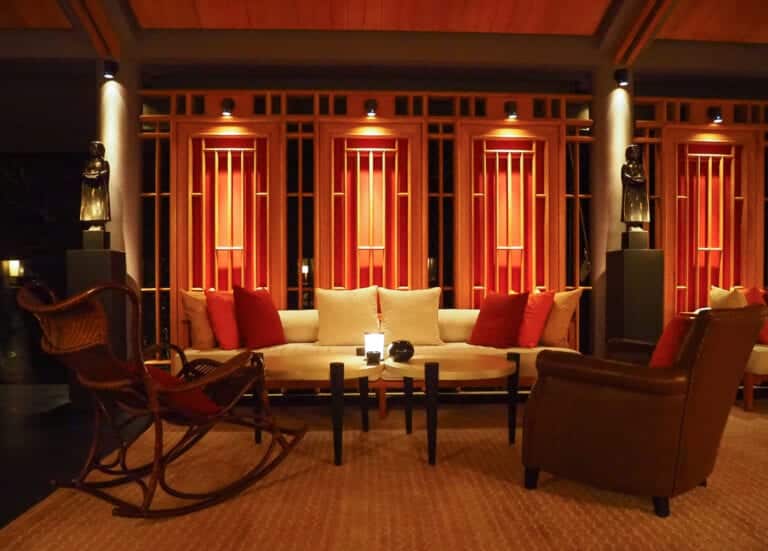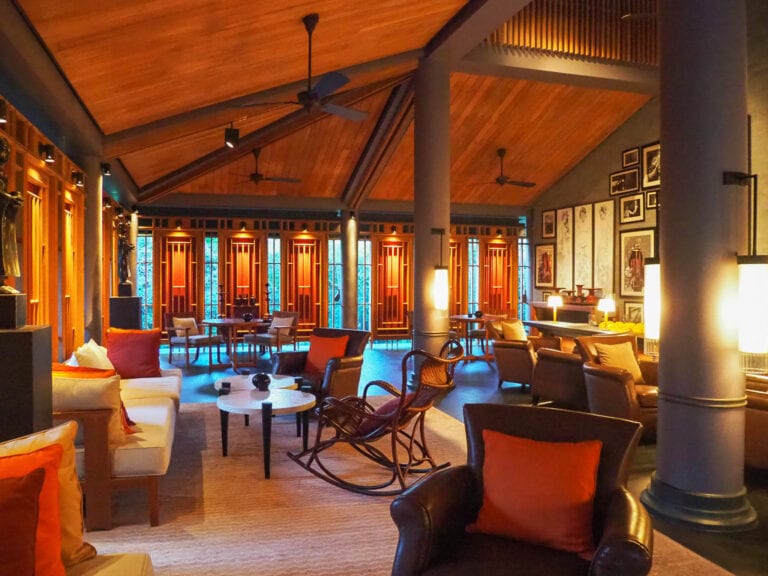 As we sat at the bar for the first time we were greeted very warmly by Sang (a.k.a. the friendliest person on earth) and asked to take our time perusing the menu as she poured us some iced water. The menu featured a variety of house specialities in addition to the classics.
We always preferred to sit at the bar since the seats were so comfortable and it allowed us to converse with staff and watch how they made drinks.
When I ordered a negroni, the person who started making my drink seemed a little unsure. At this stage another member of bar staff came and took over. I could immediately tell from the way he prepared the orange peel that he had proper bar experience. I questioned him about this and the gentleman, named Tuan, confirmed that indeed he used to work in a cocktail bar in Saigon before moving to Amanoi, at the time of the resort's opening, to be closer to his family. His drinks were textbook quality and he knew how to make suggestions and alterations based on our preferences.
We had previously visited both Amanjiwo and Amangalla for cocktails and found the drinks to be mediocre at best. Having a competent barman in the middle of a national park like this is a tremendous asset for the hotel. I also thought that the complimentary bar snacks were a lovely touch. Each day we would be treated to a different set of canapes and they were universally excellent.
On our first night (the day after Kamara's birthday) we returned to the bar for a nightcap after dinner. Shortly after we ordered our drinks the lights went down and I figured that there had been a power cut… until I saw Sang walking into the room with her face illuminated by a single candle, sitting atop a birthday cake for Kamara. This was a really sweet gesture and so much more impactful than just leaving something in the room. A really cute personal touch, which Kamara genuinely appreciated.
Dinner
Dinner was served in the main restaurant right next to the bar. There was the option to sit indoors but honestly the evenings were cool enough in June, that we much preferred the idea of enjoying the gentle breeze and seeing the twinkling light around us.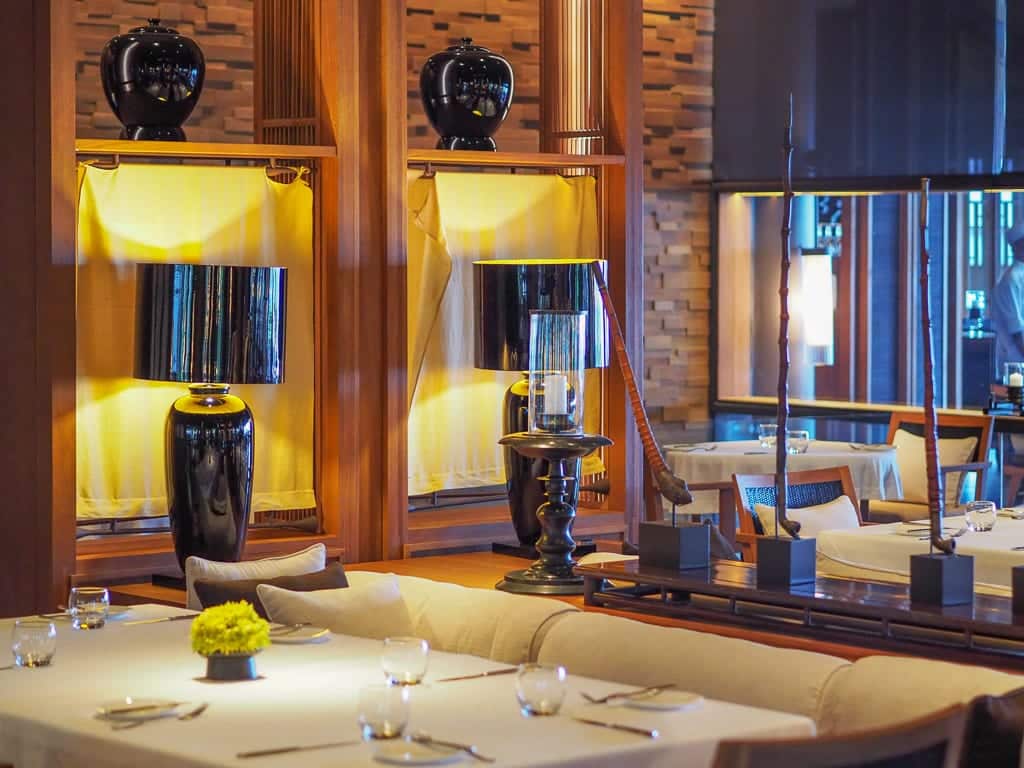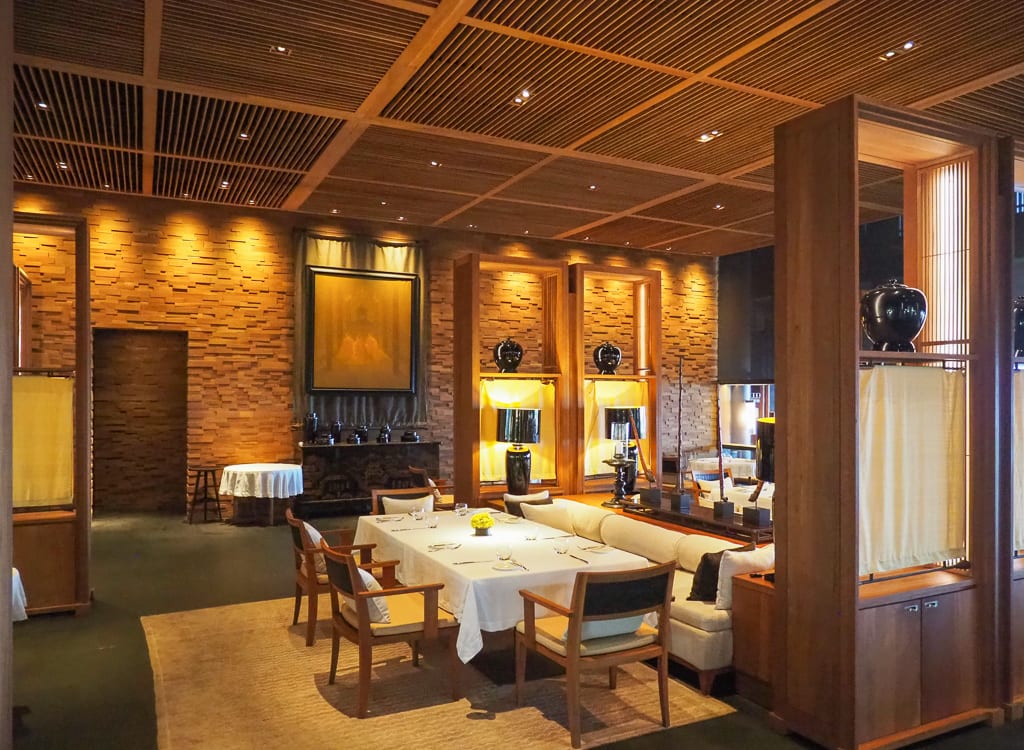 Dinner was a very relaxed yet elegant affair. The main thing I noted is how reasonable the prices are given the remoteness of the hotel and the lack of alternatives. A less scrupulous owner could really have gone to town overcharging for things but here the mains were around $30-$35, which is expensive for Vietnam but eminently reasonable for a hotel of this calibre.
Dinner began with thick scented towels and a large bowl of rice crackers.
There were a couple of set menu options which were also fantastic value at around $60. We tried splitting one between the two of us one evening and honestly it was still too much food. It was all delicious though and the staff were very sweet, bringing us out an extra dessert compliments of the house (even though we struggled to finish it!).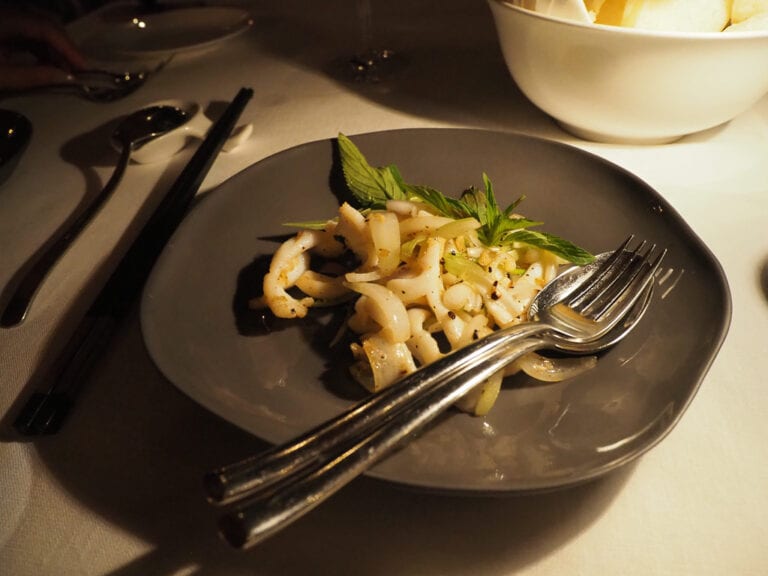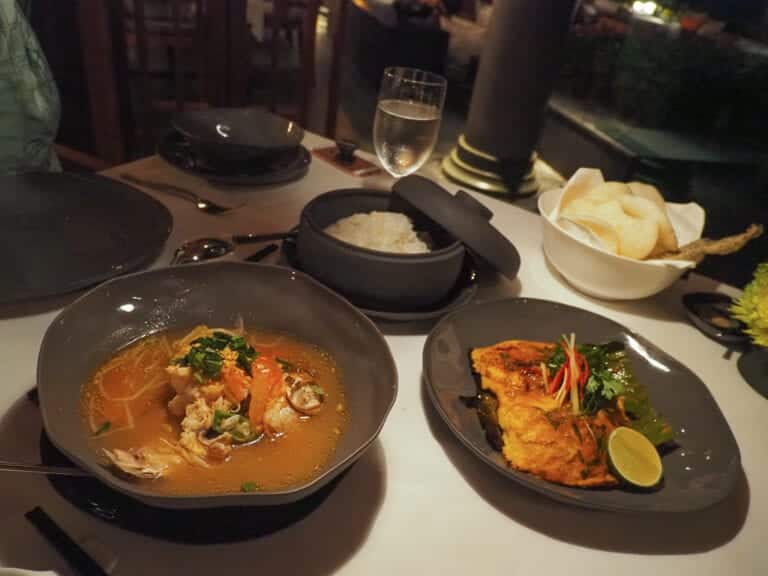 Clay pot dishes, freshly grilled seafood and beef tenderloin cooked in bamboo were all stand outs. Kamara was also a big fan of the pasta (as she often tends to be).
---
Service
---
I don't usually give this its own section in my reviews since I feel that I can adequately encapsulate the service elements of my stays within the bulk of the review. I felt however I would be remiss in doing so here. The service was so genuinely superlative that I feel the need to summarise some of my favourite moments:
When we forgot our spare camera battery at the beach club and one of the members of staff went all the way back to our villa to retrieve it for us.
Every time we left the room, returning to find that it had been tidied, ice topped up, new towels provided etc. Aman housekeeping are often referred to as ninjas and I can see why. They move silently, unseen and execute their work with supreme efficiency.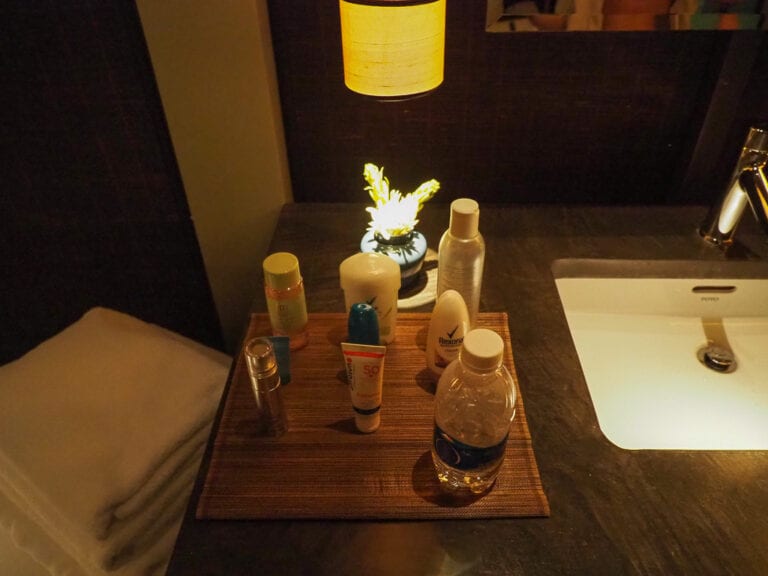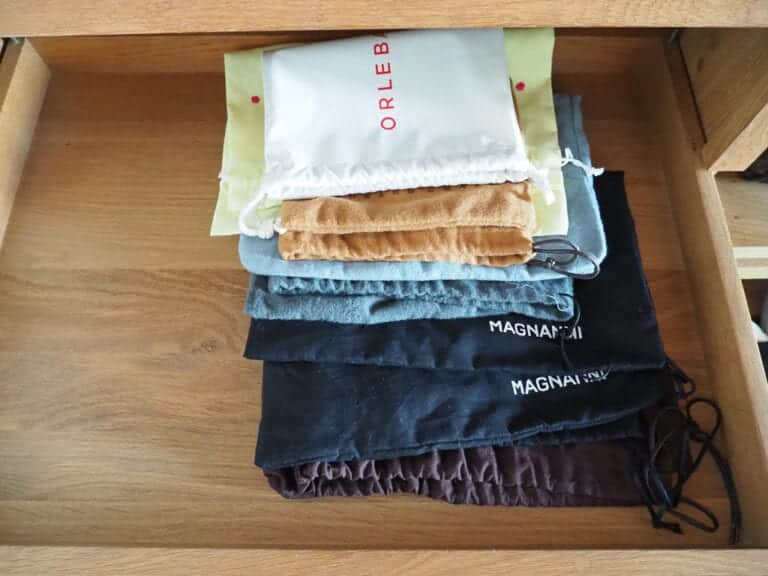 Everybody knew who we were. It honestly felt a bit like being a celebrity. We never gave our room number, never signed a cheque and never waited for transport. Everything just magically fell into place. Staff at the spa would enquire if we had enjoyed our hike the previous day. Room service delivery would ask how our kayaking had been. It was almost scary how much every staff member was focused on us. Almost.
So many staff members were superb, amongst the best we've ever encountered, but Sang was just such an incredibly sweet and kind person it honestly seemed like she had lived her entire life in a Disney movie. The second you saw her infectious smile you just knew you were going to be well looked after. Kamara's face was priceless when Sang walked in with her birthday cake as we sat at the bar one night.
Being told we'd been upgraded and then asked if it would be ok for the staff to move our things for us. We left our Mountain Pool Villa at 9am, were told of the change during breakfast, headed to the beach club and then returned to an Ocean Pool Villa for lunch. It contained all of our things positioned EXACTLY as they were in our old villa. I swear they must have gone in there with VR goggles overlaying images of our previous room to get things perfectly aligned. Honestly one of the most surreal experiences ever.
Finally, turndown. Every night after dinner and drinks we would return to the enchanting glow of our bedroom.
The fruit bowl would be replenished, everything would be spotlessly clean and every night a new gift was left for us on the bed: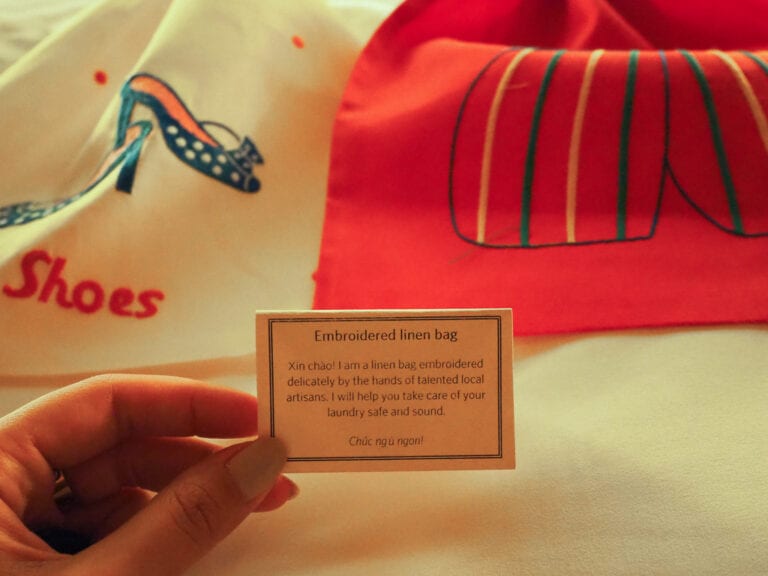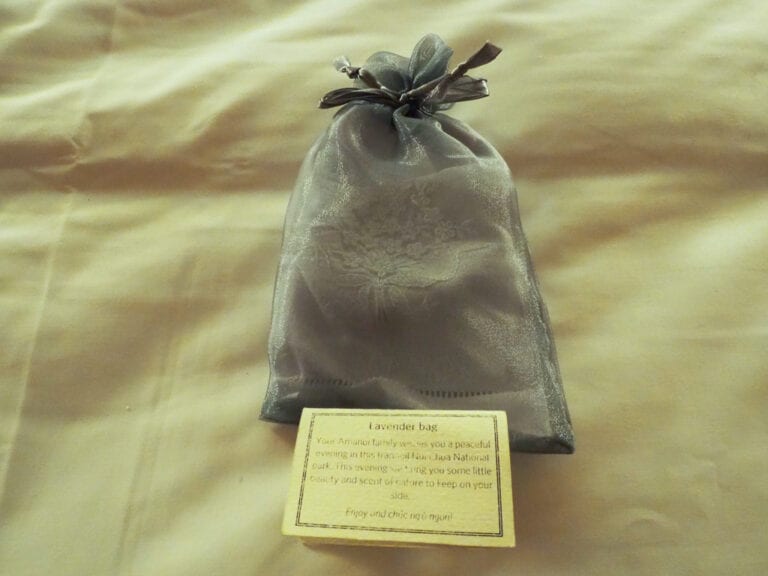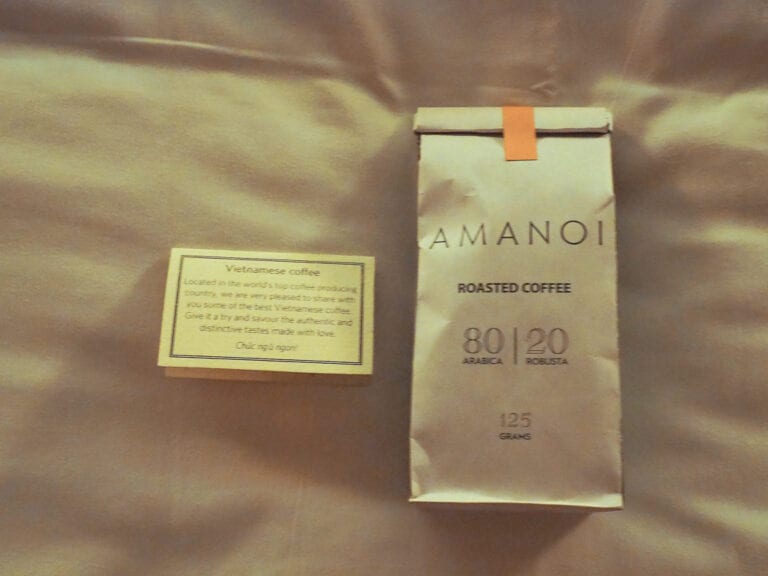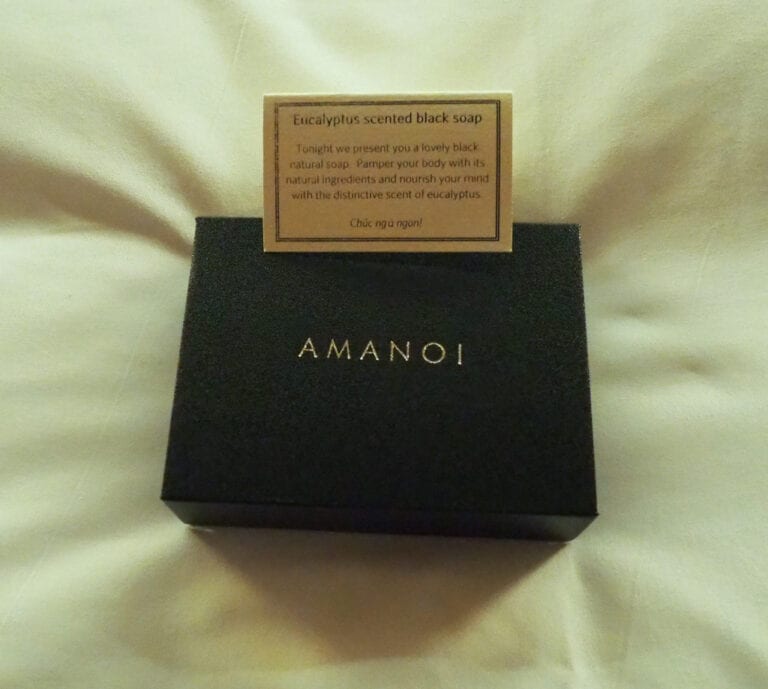 It is hard to overstate the quality of the service here. Until you experience it you may well tell yourself that you're happy with regular service. "I'm not high maintenance", you'll think to yourself. Believe me, it's only when you visit somewhere like Amanoi that you understand how far these things can go. "No" just isn't in the vocabulary here. Service is almost taken to showboating extremes at times… and I absolutely loved every minute of it.
---
Conclusion
---
Basics Checklist
☑︎ Power sockets near the bed
-Local only (not universal)
☑︎ Easy to understand light switches
☑︎ Coffee machine
☑︎ Separate shower and bath
+Private Pool
☑︎ Blackout blinds
☑︎ Stable, fast and free Wifi
☑︎ Feather pillows
☑︎ Quiet and powerful aircon
I had huge expectations going into my first Aman stay. I wanted to see why this hotel chain regularly charges twice as much as its nearest competitors and why it is favoured by those for whom money is no object.
These expectations were well and truly exceeded.
The service was genuinely beyond compare. There were no signs on the doors, no named restaurants and no cheques to sign, exactly as it would be if we were staying with (extremely diligent) friends.
It honestly seems a little unfair to compare an Aman experience to a regular hotel stay. The only thing that comes close is staying at a Japanese ryokan were ceremony and service are paramount. The fact that this ethos (known as Omotenashi) has somehow been expanded across a sprawling swathe of national park, in the middle of Vietnam, is nothing short of incredible.
The room hardware is superb, the public spaces are as architecturally impressive as UNESCO world heritage sites and the natural environment is unspoiled and stunning.
Is Amanoi worth the cost? Undoubtedly. Every single penny.
---
Book Amanoi online with Virtuoso Amenities
---
Virtuoso Partner Booking
Virtuoso bookings exactly match the best rate on Aman.com and are fully flexible.
In addition, you will receive:
Upgrade on arrival, subject to availability.
Daily breakfast for up to two in-room guests.
30 minute Wellness Experience for up to 2 guests.
Early check-in/late check-out, subject to availability.
Amanoi can be booked directly online by clicking the "BOOK NOW" image.
First time booking with us? Here's how to quickly get set up: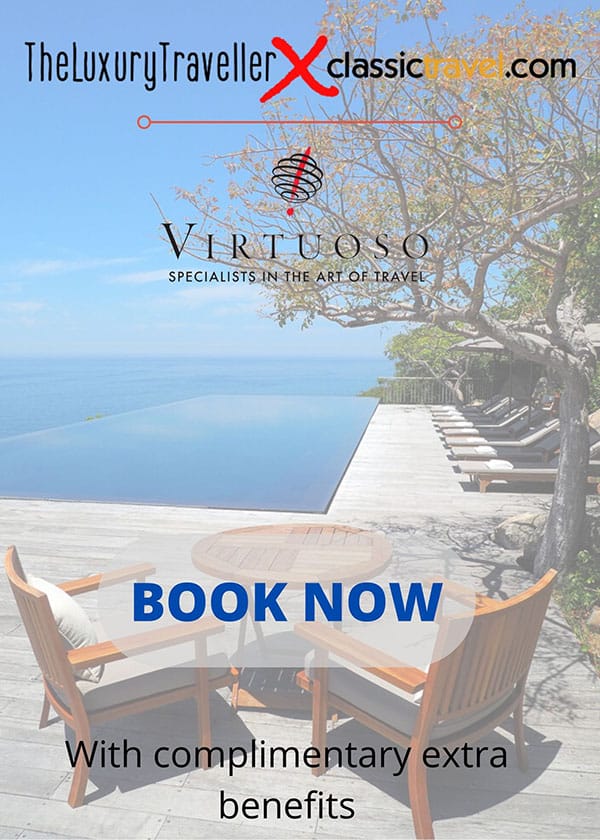 ---