Class: Business and First
Access:
Date visited: November 2017
---
Intro
---
Much like their Middle Eastern rival Etihad, Qatar Airways are located within London Heathrow's 'reject Terminal' – Terminal 4. As with Etihad, they also operate a combined Business and First Class lounge in London, with table service for all guests.
Having visited the Etihad lounge on a number of occasions I've found it to fall short for a First Class passenger but it is better than expected if you're in Business Class and are otherwise accustomed to the facilities offered by European airlines.
Having heard from many people that the Qatar lounge was far closer to a First Class experience I was curious to see if this was indeed the case.
The fact that airline status holders are not permitted entry, unless they're flying in a premium cabin certainly means that resources can be much more keenly focused than in lounges with more permissive entry policies…
---
The Lounge
---
The lounge is located directly adjacent to the gates regularly used by Qatar meaning that guests can maximise their time here.
As soon as we walked in my jaw nearly hit the floor. The design in here is really something else. This looks less like an airport lounge and more like the lobby to an exclusive boutique hotel. The engraved sandstone wall, impressive display of orchids and enormous candle lantern make a huge impact as you enter.
Much like a hotel, we were immediately greeted and assisted with our bags, as our boarding passes were quickly inspected. The Australian lounge manager arranged for our bags to be stored and offered to show us around the facility.
We first passed an atrium like sitting area, centred around a marble fountain. A water feature appears to be a unifying theme throughout all Qatar Airways lounges, admittedly though this particular example was markedly less impressive than those found in Qatar's palatial Al Mourjan and Al Safwa facilities in Doha.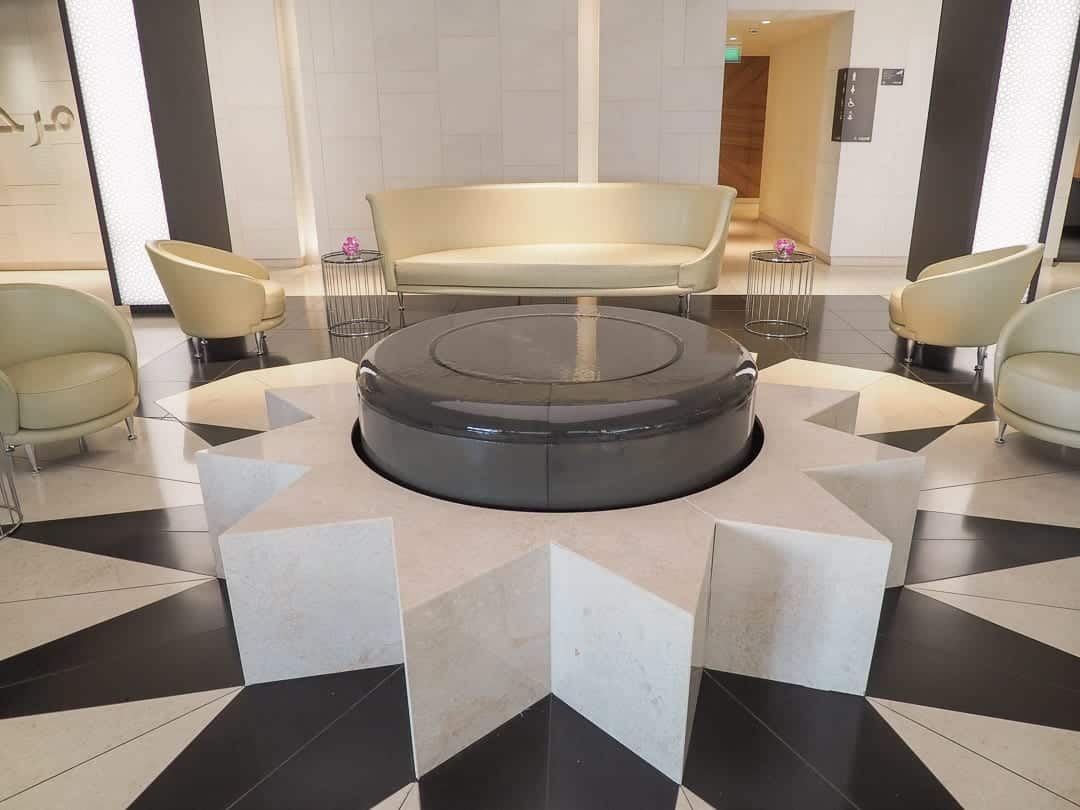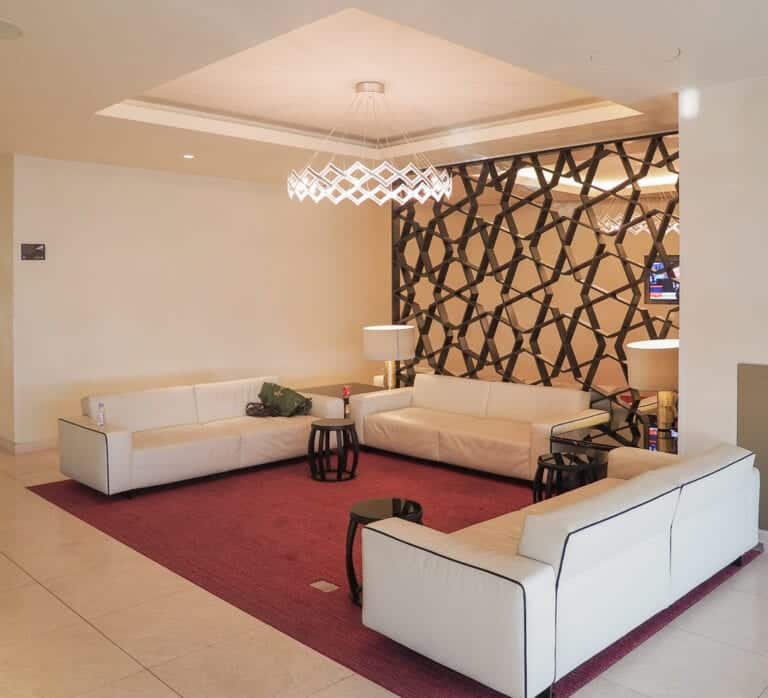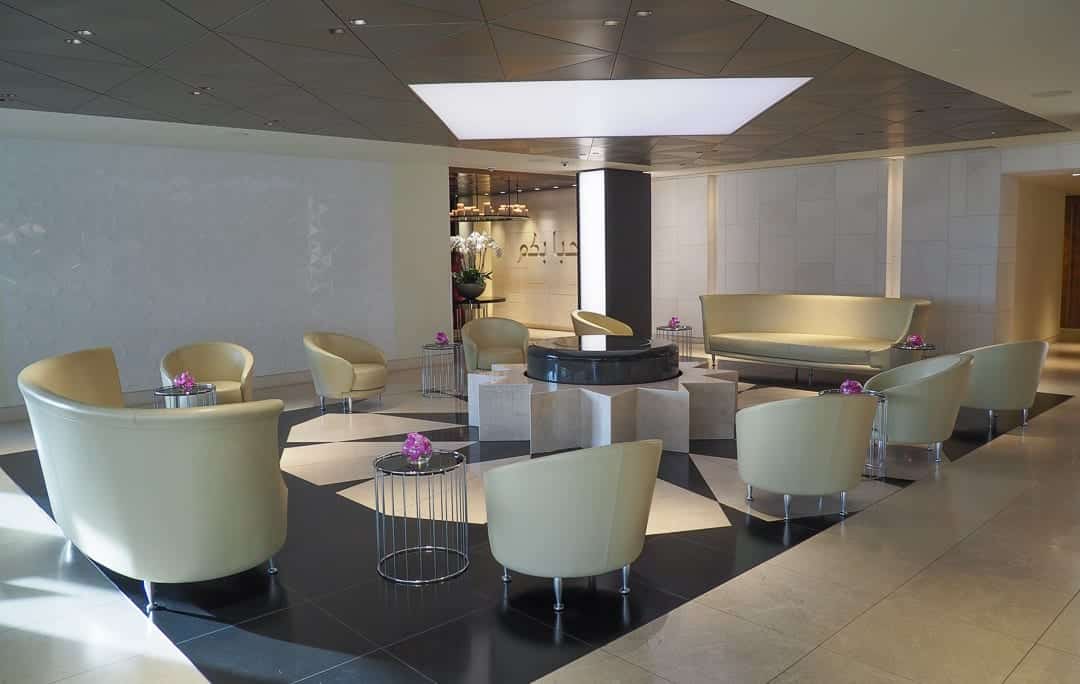 Floor to ceiling windows run down the entire length of the lounge, providing tarmac views (always interesting at T4!) and plentiful natural light. We walked past numerous window seats on our way to the main dining area.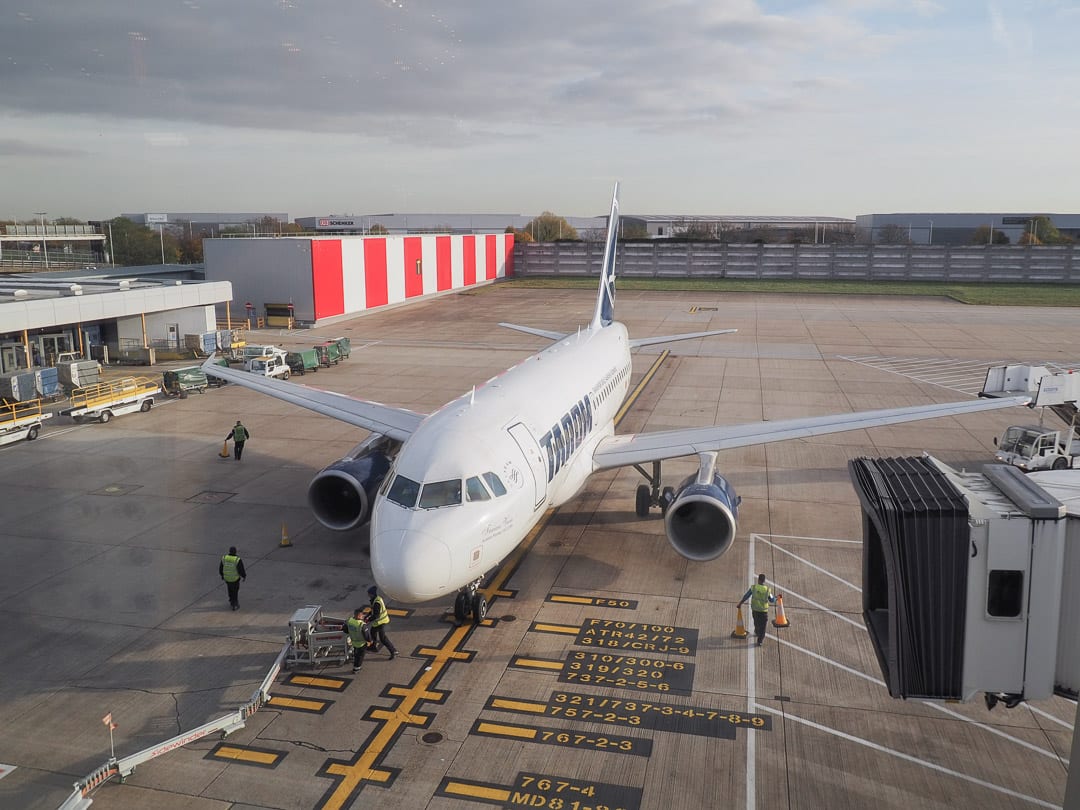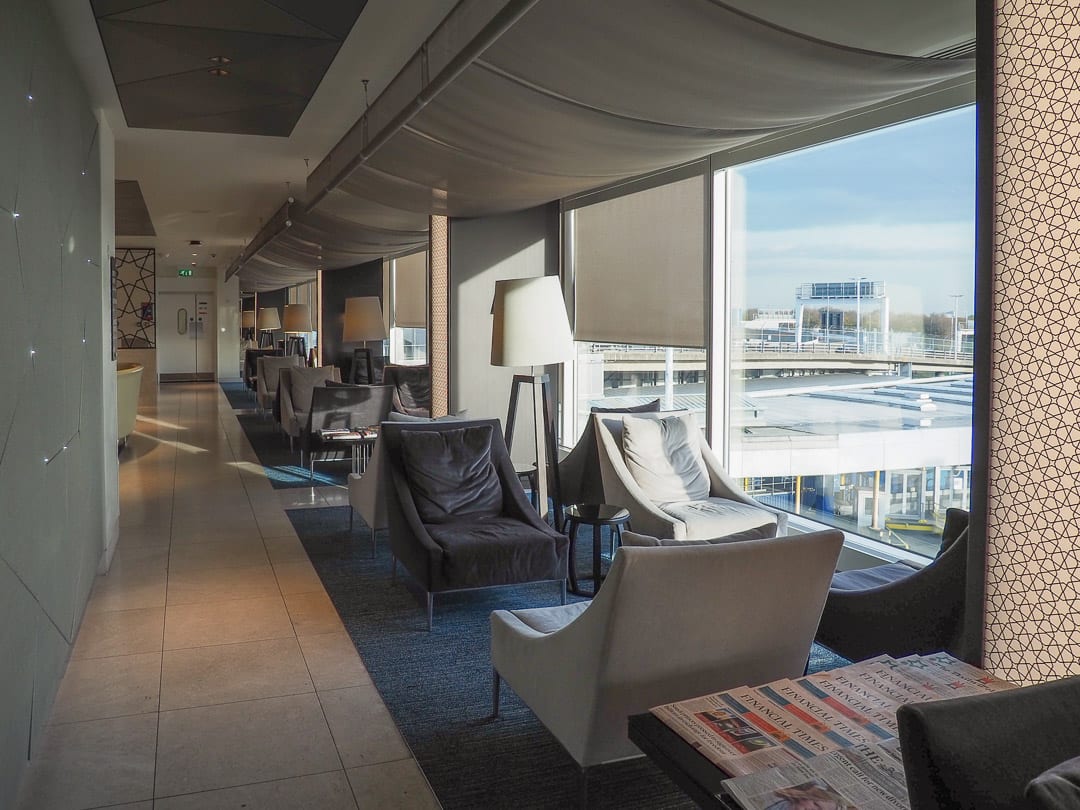 The dining area is the beating heart of the lounge and the place where the majority of guests chose to spend their time during our visit. You could see that the lounge manager was very proud of the food and drink offerings as he talked us through the various options, introduced us to serving staff and explained that table service was also available.
The presentation was beautiful, every single aspect was thoughtful and cohesive. The copper accents were a recurring theme throughout the display and honestly the entire look of the deli counter was more akin to what you'd expect at a popular lunch spot in Mayfair or Soho, rather than an airport lounge.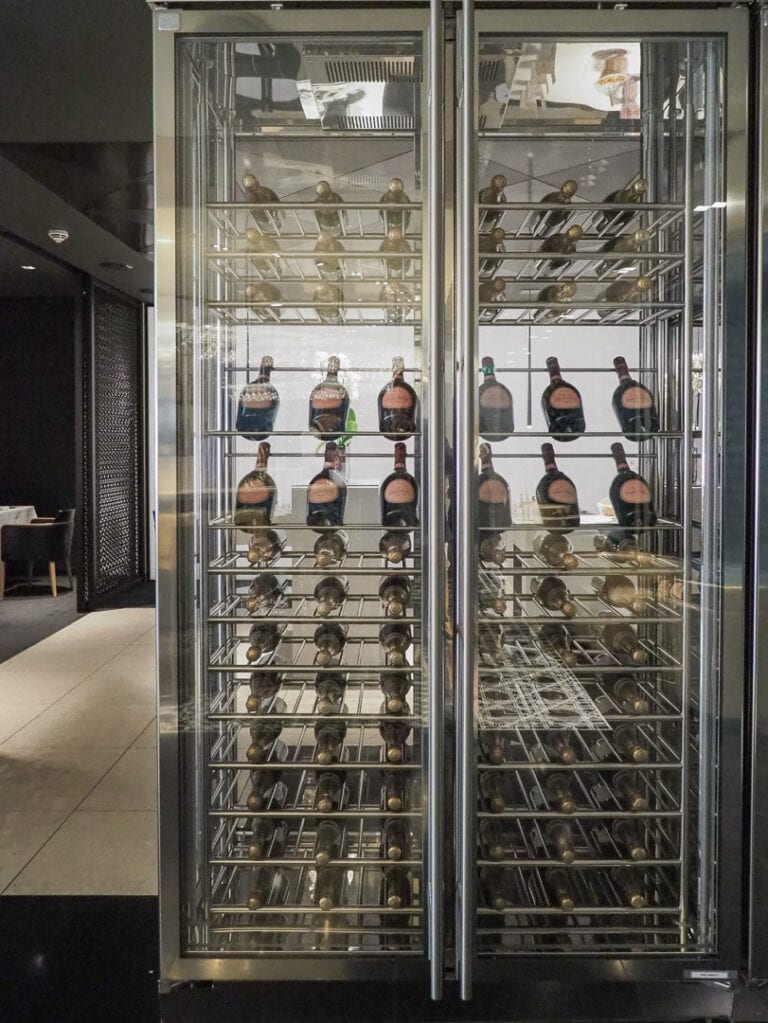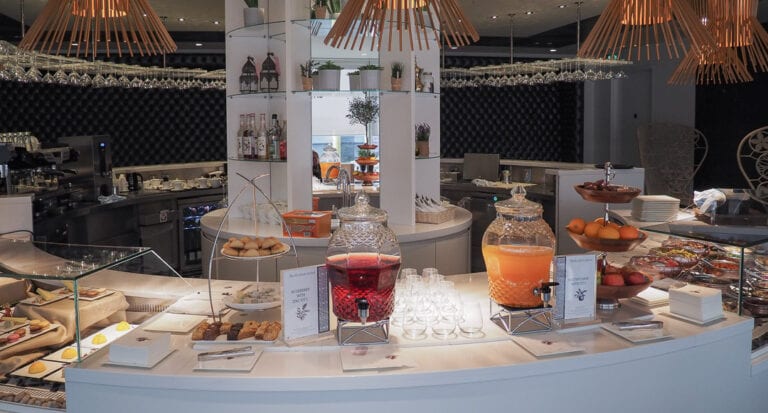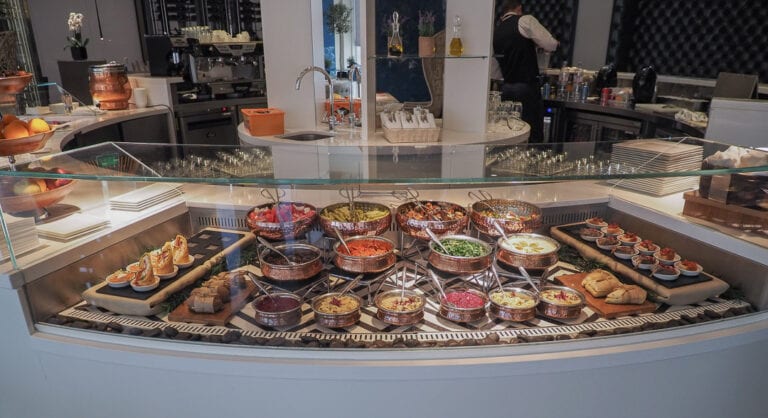 As we approached the bar section we were asked if we'd like anything to drink. Kamara had already helped herself to fruit juice from the Deli but I was much more interested in a glass of the prominently displayed Laurent Perrier Rosé. This is a fantastic champagne for a Business Class facility and indeed, in the days prior to its most recent renovation, this was the champagne served in Cathay Pacific's former First Class lounge in Terminal 3.
At this point the manager asked if we'd like to take a seat and order some food. Whilst formal restaurant style seats are available the area is a little dark and lacking in character (I imagine it is more appealing here at night).
We opted instead to sit at one of the tables by the windows, adorned with greenery. It is here that the manager bade us farewell as he called a server over to take our order.
The server handed us a menu each and took our drinks order before returning to see what food we'd like. It isn't just the champagne selection which is impressive here, there was also a broad selection of still wines encompassing numerous varietals from both the new and old world.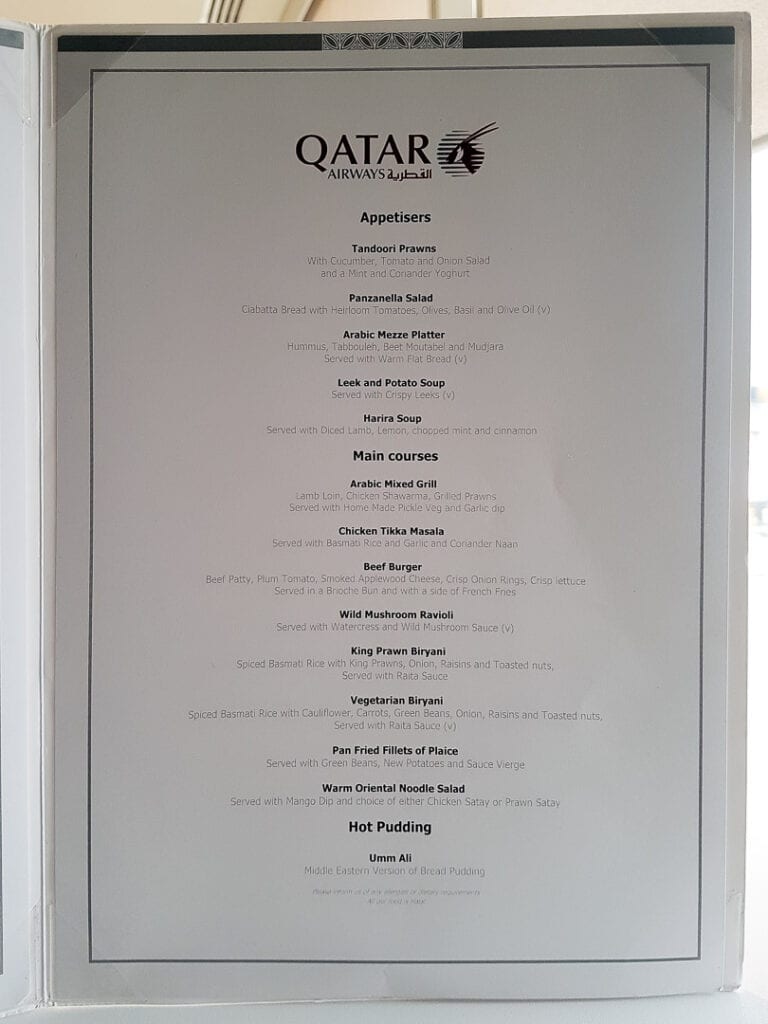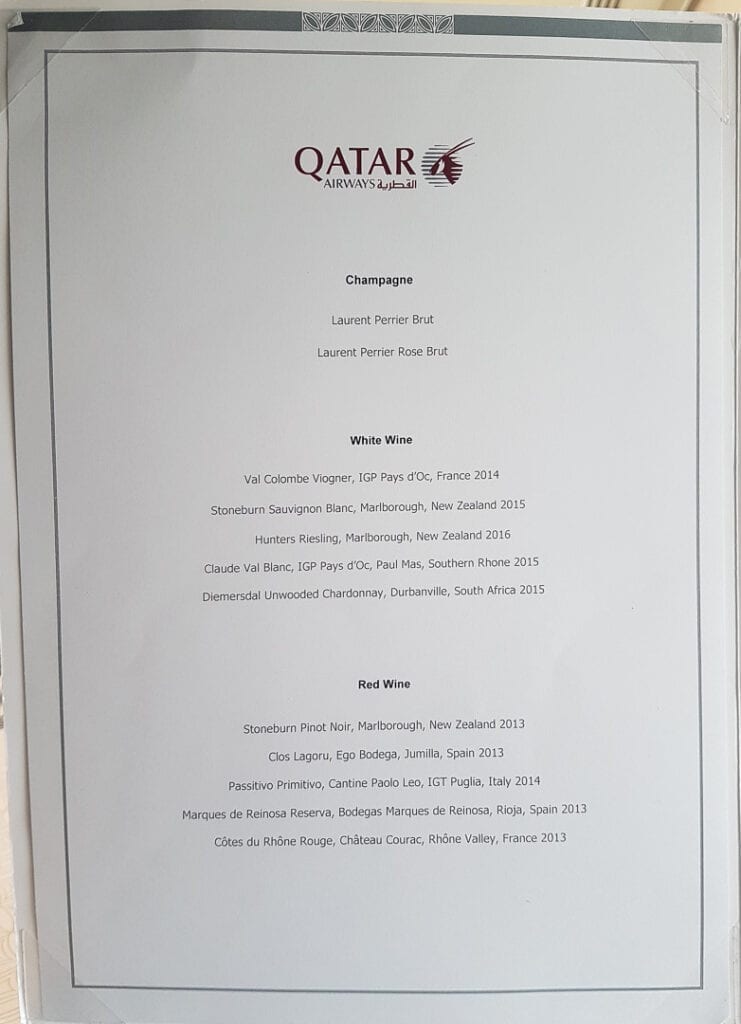 I ordered the tandoori prawns which were very elegantly presented but a little lacking in flavour and a little on the small side.
Kamara went with the Harira soup which she really enjoyed.
We then shared a mixed grill. We asked before ordering if we'd have enough time to eat it before boarding and were assured that we'd be fine. It arrived very quickly and appeared to have been reheated, much like what you'd expect from food on a plane. The prawns were considerably larger and fresher tasting than the tandoori ones though.
As soon as we finished eating we were told that boarding had commenced but that we should still have time to head to the sweet section and fill a takeaway box for our flight (if you scroll up to the picture of the restaurant seating you can see the sweet selection). Kamara was particularly happy about this piece of information!
---
Conclusion
---
This lounge more than lived up to expectations. I'd been told beforehand that this was more akin to a First Class facility and I found that to be exactly the case. The decor, personalised service and drinks are indisputably at that level.
I found the a la carte food to be a little disappointing and actually preferred the food that we tried from the deli counter but otherwise I found it hard to fault this experience.
---
Q Suites and First Class to Kyoto
Part 1:

Qatar Airways Premium Lounge : London Heathrow T4

Part 2:

Qatar Airways : Business Class – B77W Q Suites – London (LHR) to Doha (DOH)

Part 3:

Ritz Carlton Kyoto : Deluxe Garden Room

Part 4:

Prince Gallery Tokyo : Grand Deluxe Corner King Room

Part 5:

Qatar Airways : Business Class – A350 – Tokyo (HND) to Doha (DOH)

Part 6:

Qatar Airways : First Class – A380 – Doha (DOH) to London (LHR)