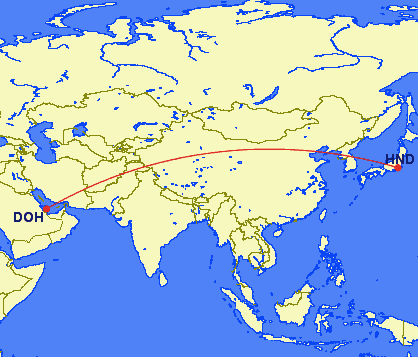 Qatar Airways (QR)
Flight: QR 813
Class: Business Class
From: Tokyo (HND)
To: Doha (DOH)
Duration: 9h30m
Aircraft: A350
Seat: 3A
Frequent Flyer status during flight: OneWorld Emerald (AA Executive Platinum)
Booking type: €650 round trip London to Tokyo in First and Business
Flight date: November 2017
---
Intro
---
Jump straight to The Conclusion
---
After spending a couple of hours in one of my favourite airport lounges on Earth (the JAL First Class Lounge), we made our way to the gate to board our flight to Doha. I had previously only ever flown an A350 on a short trip between London and Helsinki, this would be my first ever long haul flight on this plane.
The Qatar A350 fleet is a bit of a lottery. Despite being the newest aircraft type in Qatar's fleet, not all of the A350s have the newest seats. In fact you have a chance of ending up in one of the three possible configurations:
The Old School 2-2-2 configuration

This configuration is actually not too bad if you're travelling as a couple; the legroom is extraordinary too with no footwell constraining your feet. However, there is no privacy at all and the finishes and IFE are fairly antiquated.

Q suites

A revolutionary design, which I reviewed on the 777. Fully enclosed suites with closing doors and the possibility of creating a double bed or even a quad suite in the sky. The only seat which comes close to this globally is the new ANA Business Class.

Reverse Herringbone seats

The configuration we ended up with on this flight. The seat that spearheaded Qatar's transformation into a globally lauded carrier. Most commonly found on Dreamliners and A380s.
---
Pre-Departure
---
Boarding started just after 11pm and most people were already looking pretty tired, myself included… I was a bit spaced out myself when one of my readers came over to say hi; it's always a pleasure bumping into somebody that reads my blog or follows my social media accounts though. You know for sure we'll have interests in common and have a cool conversation about travel!
The first thing that I noticed stepping into the A350 cabin for the first time is how high the ceilings are compared to the same layout on the Dreamliner or A380. There are also no overhead bins above the middle seats, which adds significantly to the impression of space (although it means that passengers obviously have less space in which to put their luggage).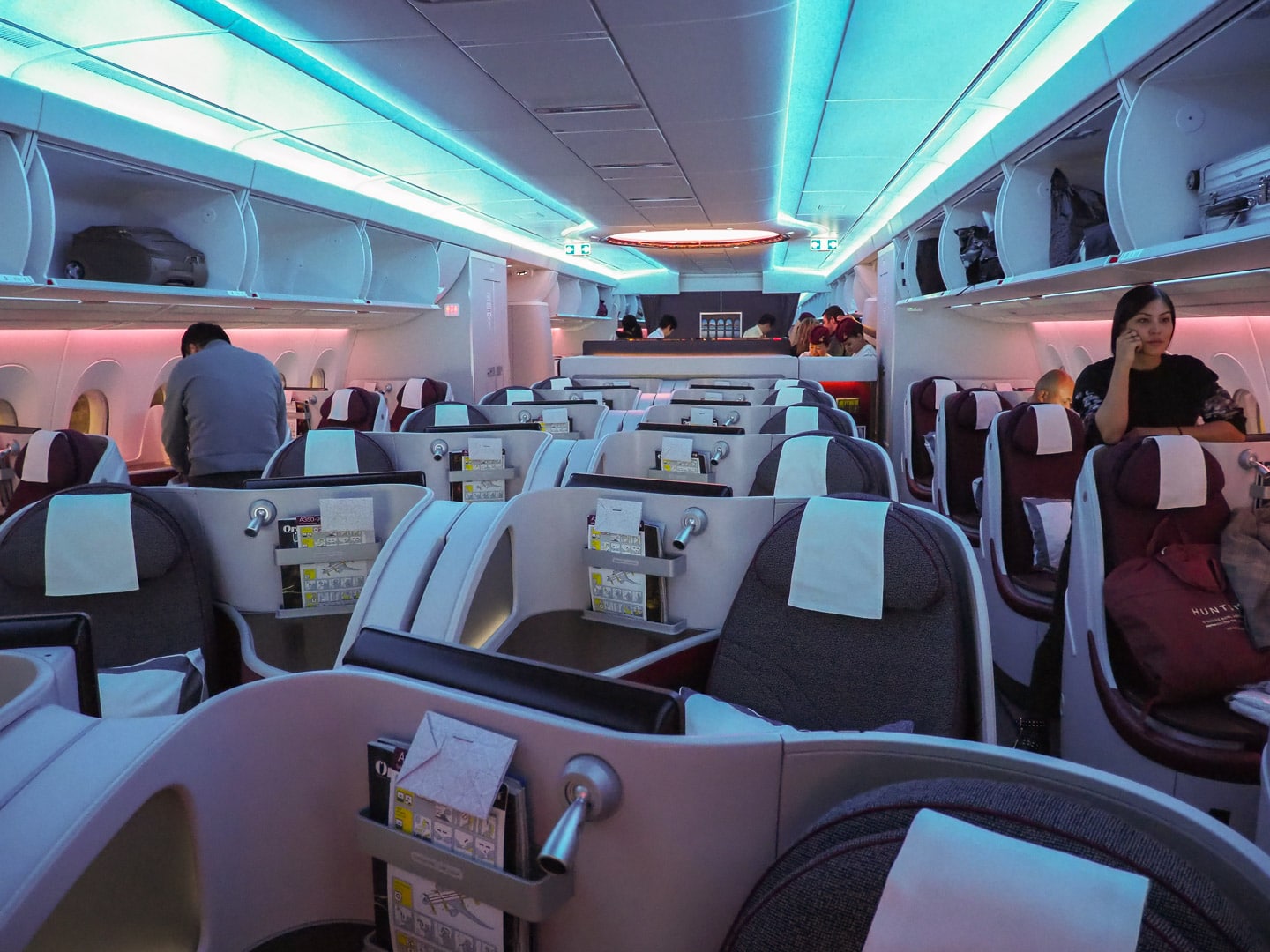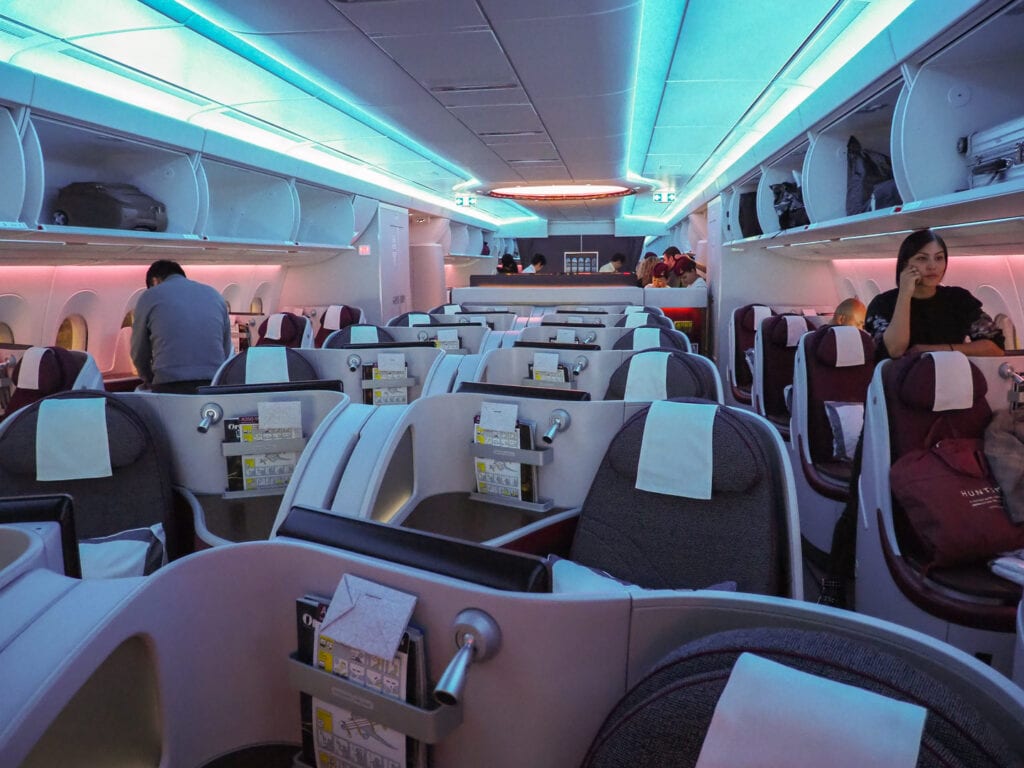 Seat 1A was blocked as always so Kamara and I went with 3A and 4A. We tend to always take two windows in Business especially on night flights. A lot of couples prefer to take middle seats but personally I find them very exposed in this configuration plus I like to be able to look out of the window and see the views and the engines (I'm also fortunate enough to see Kamara every day too, so can live without being sat directly next to her for a few hours!).
The seat is very similar to those on the Dreamliner and A380 but I noticed a few small differences.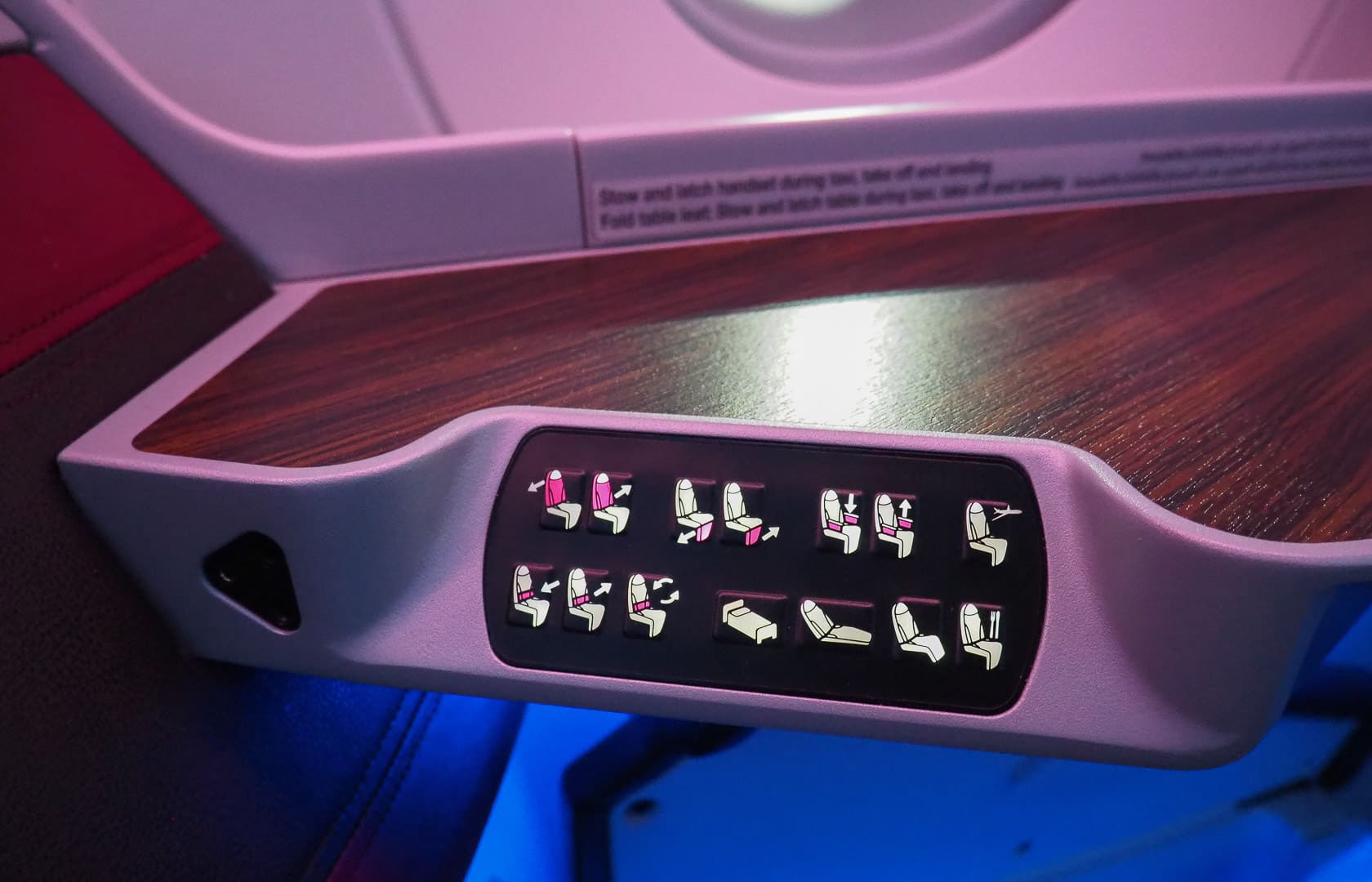 The Dreamliner features an illuminated wing which slightly blocks the windows, however both the A380 and this A350 seat do not. I actually don't mind this wing and feel that it adds overall to the aesthetics of the seat; it also ensures that items placed on the tabletop don't slide off into somebody else's seat.
The design of the footwell is different on the A350 and overall the seat felt like it had a longer footprint than on other aircraft. I struggled to reach the footrest without reclining whereas this is not the case on the A380 or 787. It also seemed that my feet had considerably more space to move around.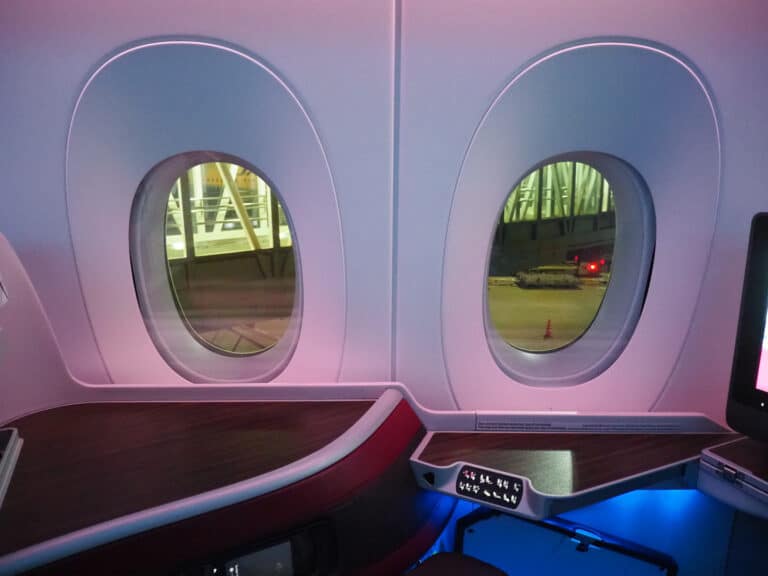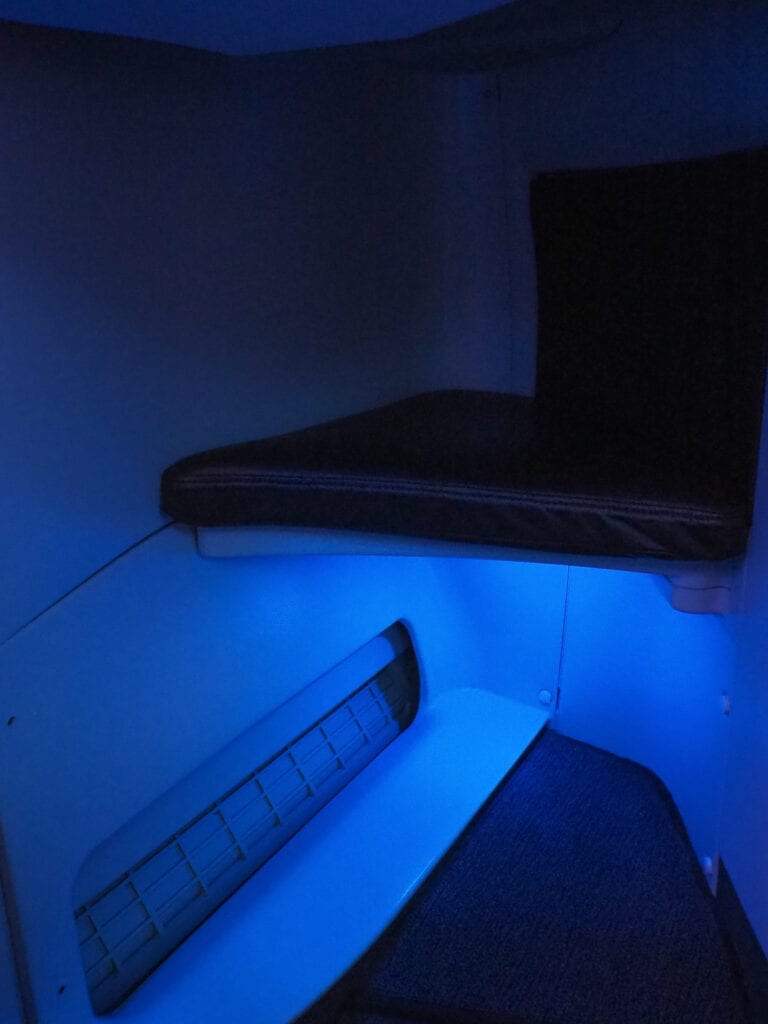 Otherwise, storage is very similar across aircraft, with compartments on both sides as well as a floor level drawer, which contained a pair of complimentary slippers and could then be used as a shoe locker.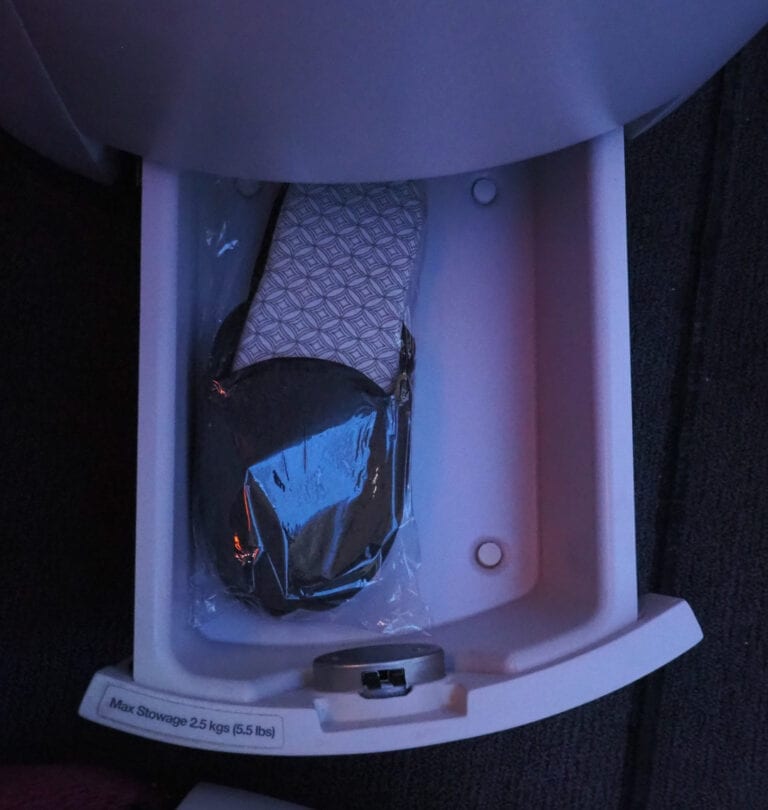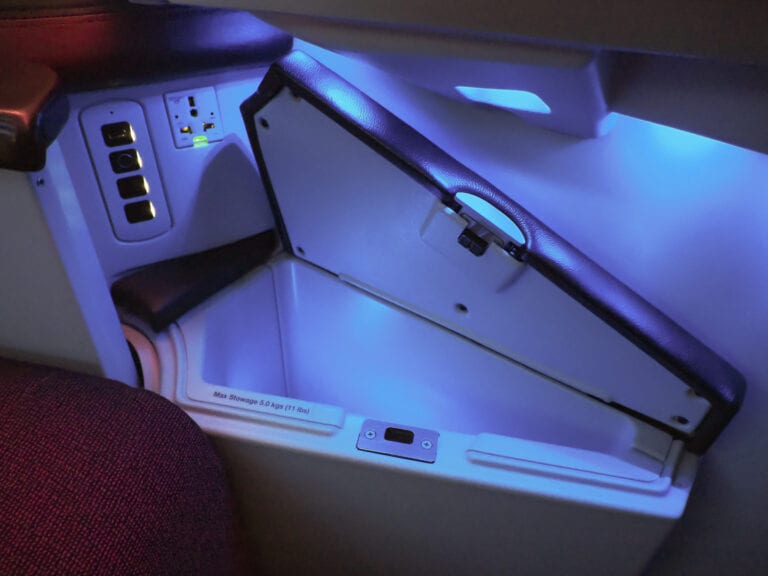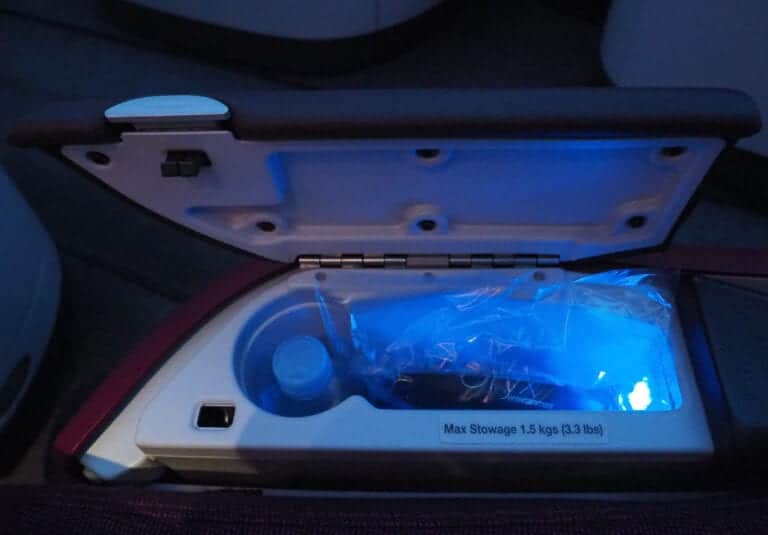 A bottle of water and a pair of noise cancelling headphones were placed within the armrest storage compartment, ready for immediate use. Speaking of the headphones: I encountered the same issue as on other Qatar aircraft. With my Mac power connected, a loud humming noise emanated from the headphones, meaning that I couldn't charge my Mac and use the IFE at the same time.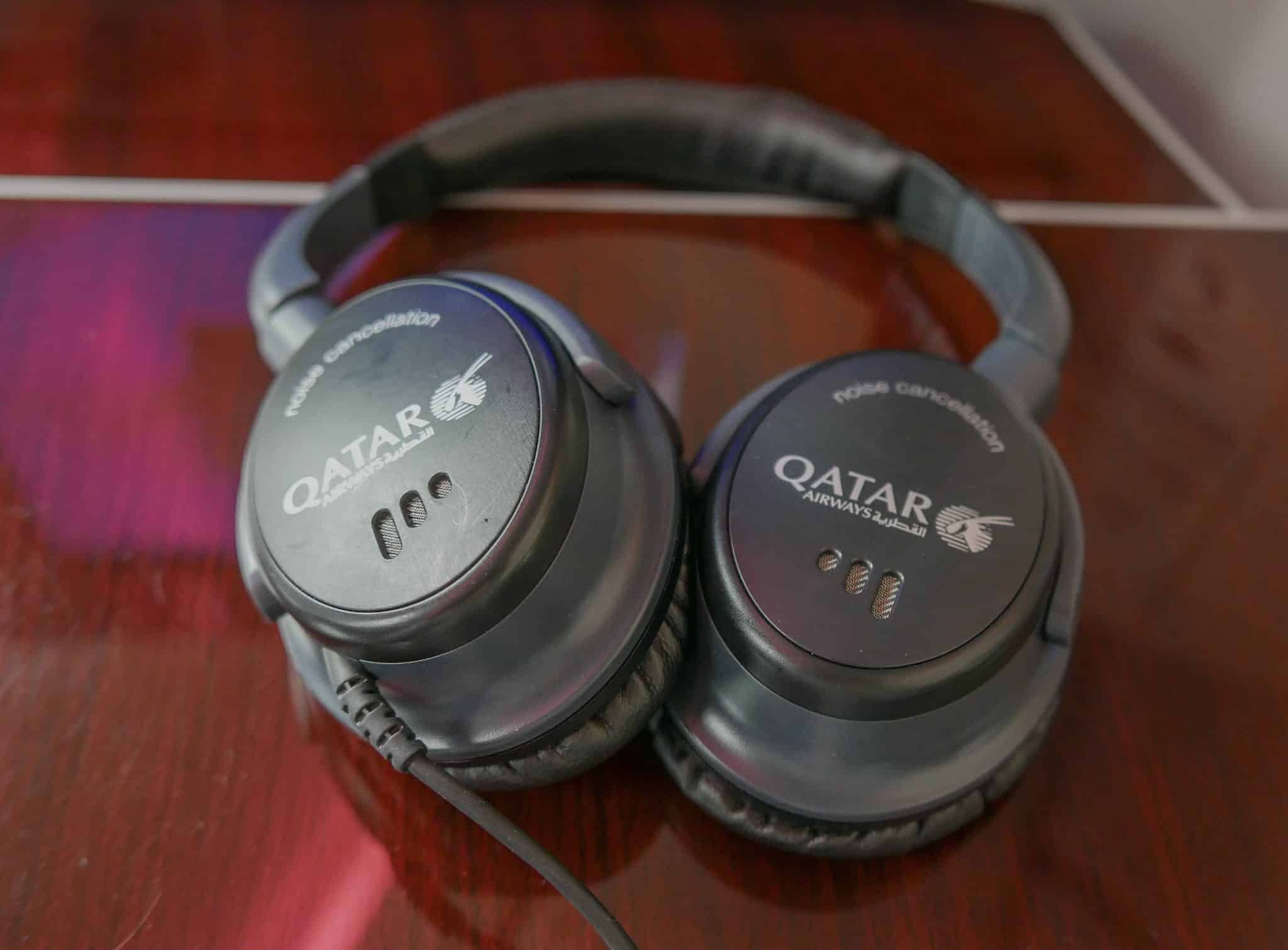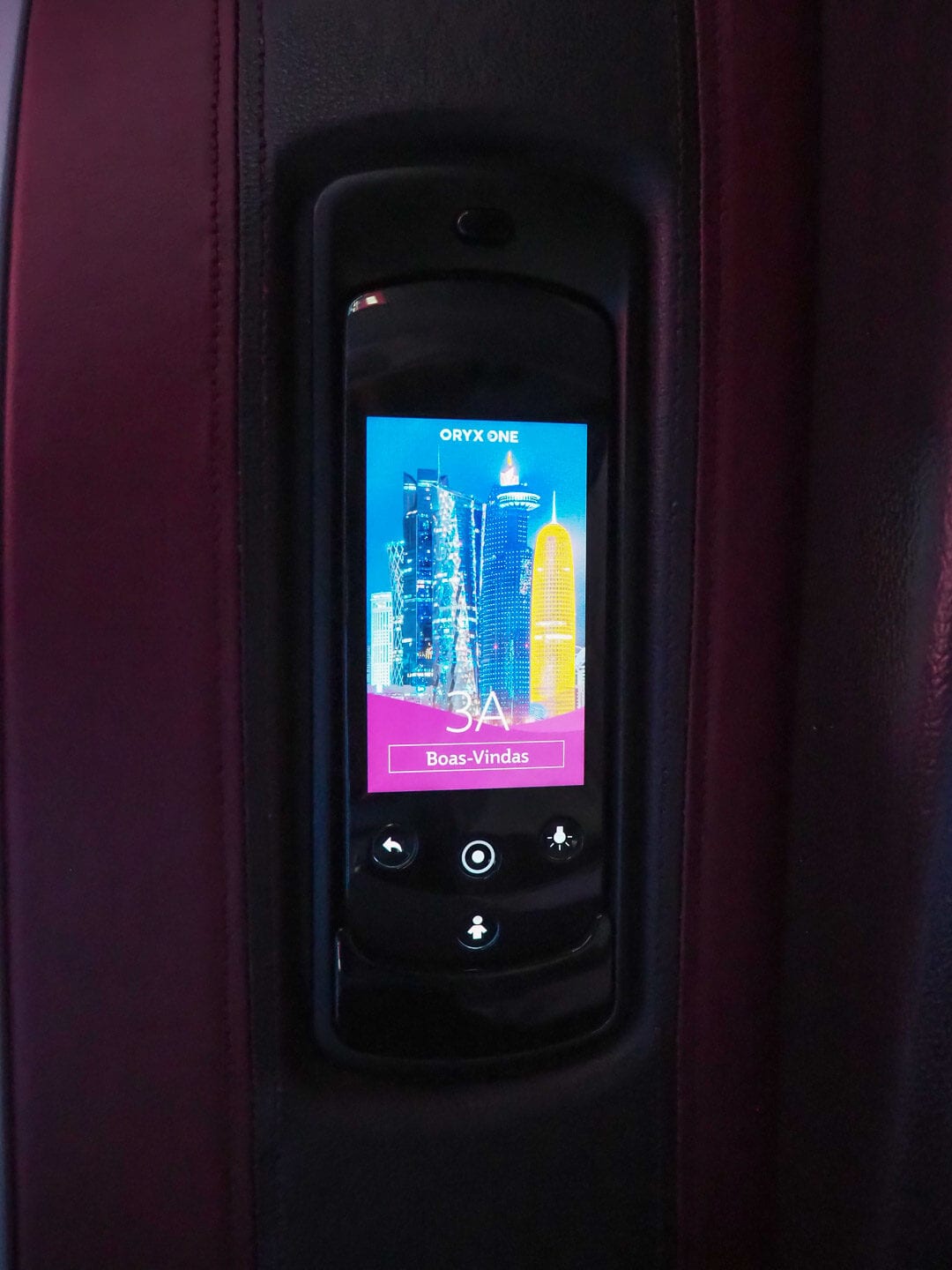 As I was exploring the seat the crew came around to offer a choice of hot or cold towels as well as pre departure drinks. I went with a glass of water to rehydrate after all the Laurent Perrier in the lounge.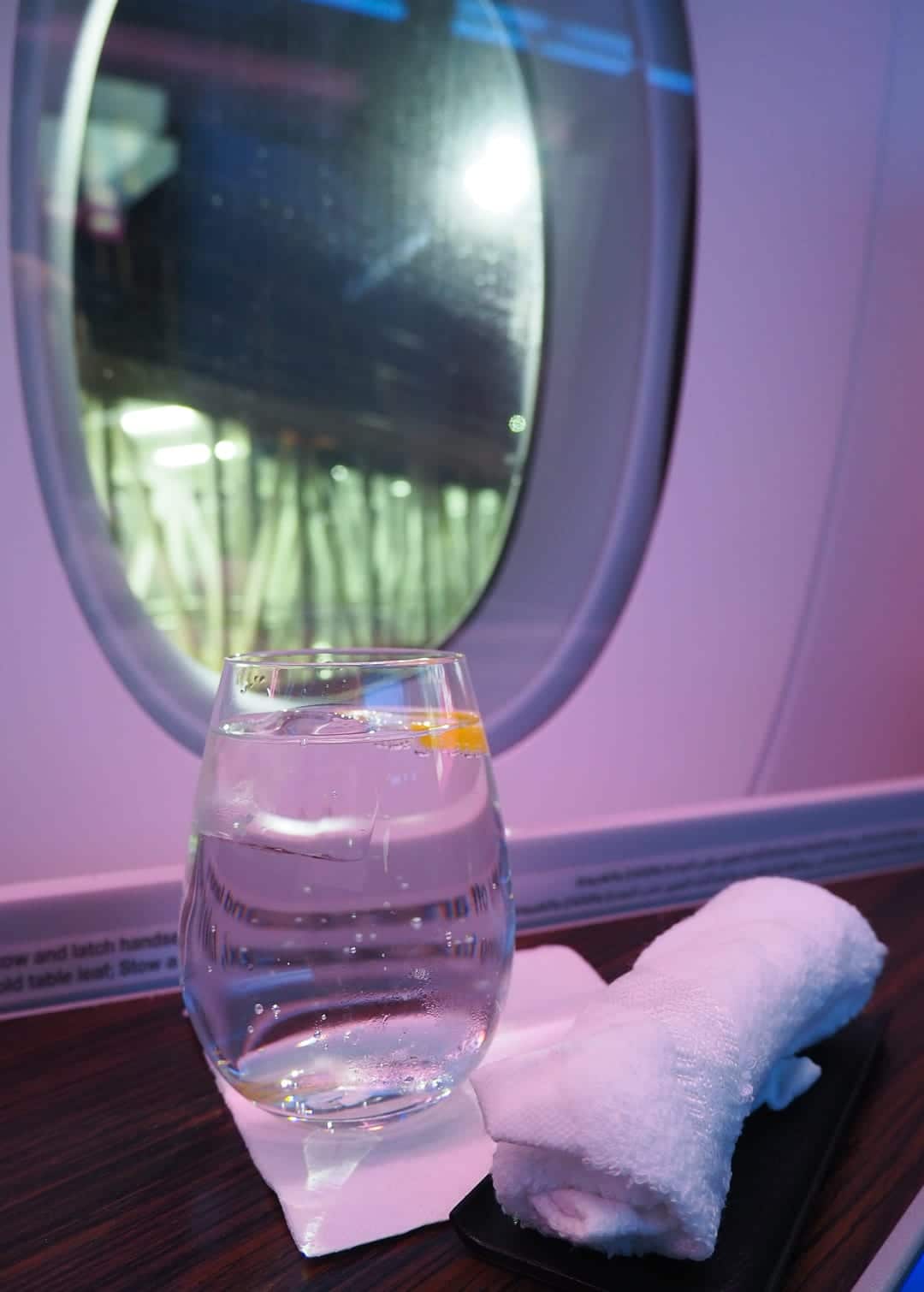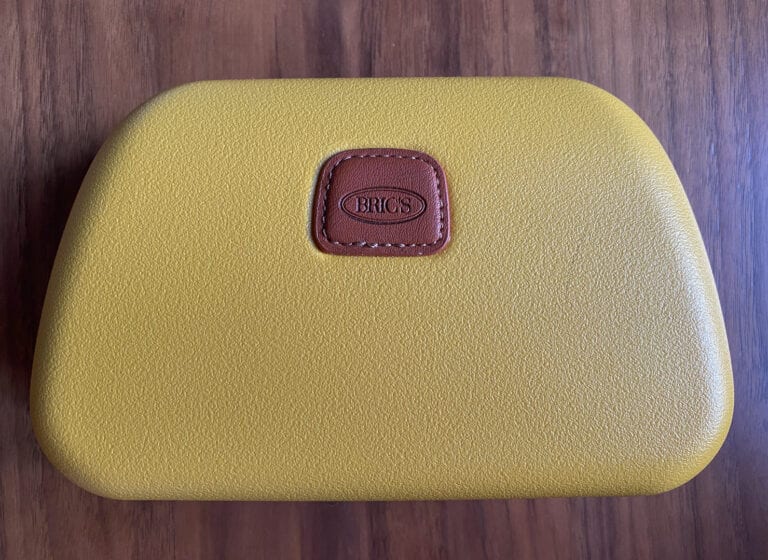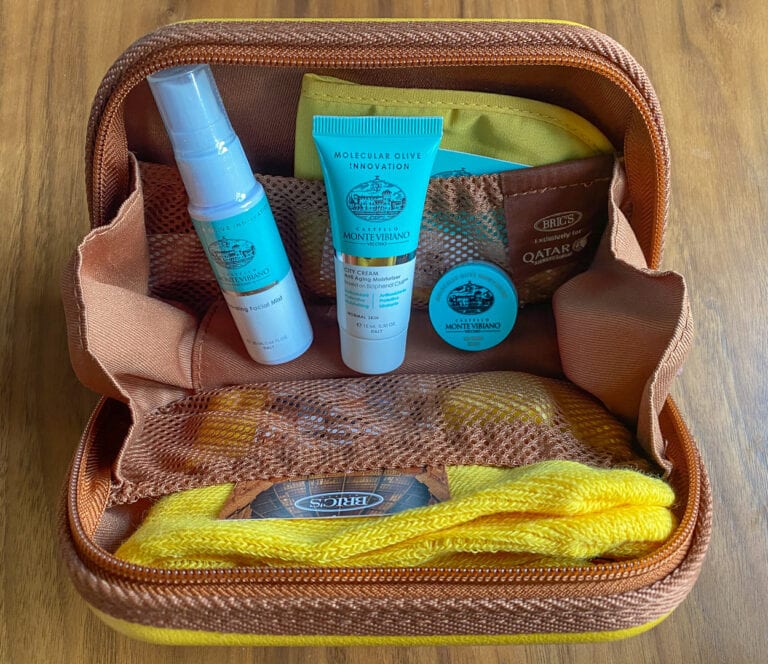 Amenity kits were also distributed prior to take off, supplied by Italian manufacturer BRICS and filled with an above average selection of amenities by Castello Monte Vibiano.
Overall the standard of the pre-departure service was noticeably worse than on most recent Qatar flights though, especially when comparing to our outbound flight to Narita. On that flight the crew was 90% Japanese and absolutely superb. On this flight there were only a couple of Japanese crew and things seemed quite shambolic. From what I heard, no passengers were addressed by name and plenty of people still had coats in their laps during takeoff, since apparently there weren't enough hangers to go around.
---
The Flight
---
Once we were airborne the crew came around to hand out menus and take meal orders. No mention was made of dine on demand. Although I imagine 99% of people either went straight to sleep or had dinner immediately, given our late departure time.
Qatar's wine lists never fail to impress, with a huge variety of old and new world wines included. Even some of the world's top First Class wine lists don't feature both a Port and a dessert wine, let alone those in Business Class. The clear standout of this list was the 2011 Chateau Branaire Ducru, a 4th growth claret ordinarily retailing for around £40 per bottle.
---
Meal orders were taken shortly after the menus were distributed. There seemed to be a high degree of confusion, perhaps due to a language barrier.
I ordered the Japanese Kaiseki meal and asked for it to be accompanied with tea and sake. I was asked if I wanted the sake hot or warm (good thing I didn't want it cold!); meanwhile no order was taken for my pre meal drink. I didn't ask the crew to take my order for a glass of champagne before dinner as I thought this would only serve to compound the confusion.
After this the Japanese cabin manager came over to introduce herself, addressing me by name and engaging in some very pleasant and friendly conversation.
Her level of training and professionalism appeared to be significantly higher than the majority of the crew. Over the course of the flight I saw her going over to various members of crew to assist, leading to a noticeable improvement in service quality as the flight progressed.
Moments after the cabin manager left my seat, I was approached by a member of the crew. She had come to deliver my pre-meal beverage…which I had yet to order.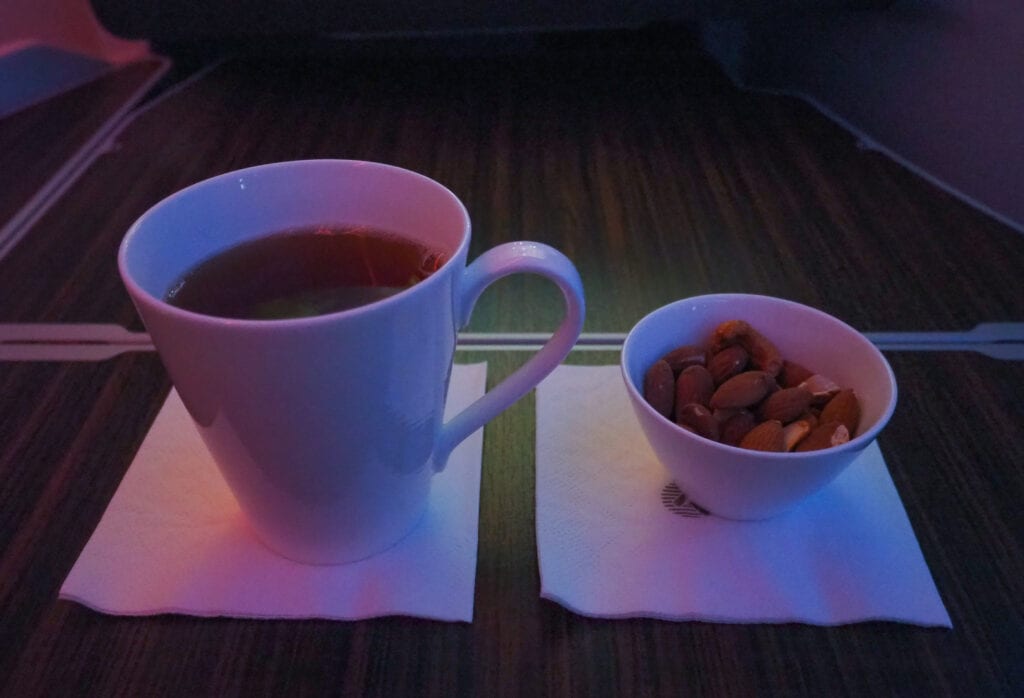 I was brought a mug of tea with a cold ramekin of almonds (and two cashews). Not quite the champagne I would have ordered but I kept hold of the tea and had it with my meal as originally intended. Usually Qatar serves mixed warm nuts, this is the the first time I've been served cold almonds.
The crew were quick to come around and begin setting tables for passengers that wanted to eat dinner. I'm always impressed by the service delivery during meals on Qatar. A tablecloth is placed directly on your table and full sized tableware is set – this is close to a true restaurant experience.
The kaiseki meal was presented on a single tray, as is often the case with bento lunches in Japan. I've always ranked Qatar's food as some of the best in Business Class but this was really a cut above. Truly First Class in terms of presentation and flavour.
The meal consisted of:
Zensai: Teriyaki sesame scallop with sakura tofu and dashi jelly, sweet potato and simmered duck breast
Japanese clear soup: Sea bream, yoshino-kuzu and shiitake mushroom
Dainomono: Braised beef belly with yuzu teriyaki sauce, simmered vegetables and steamed rice
Not only was I brought a small bottle of sake, I was also given proper genmaicha (roasted tea) to accompany it. In addition to the mug of green tea I'd been given earlier.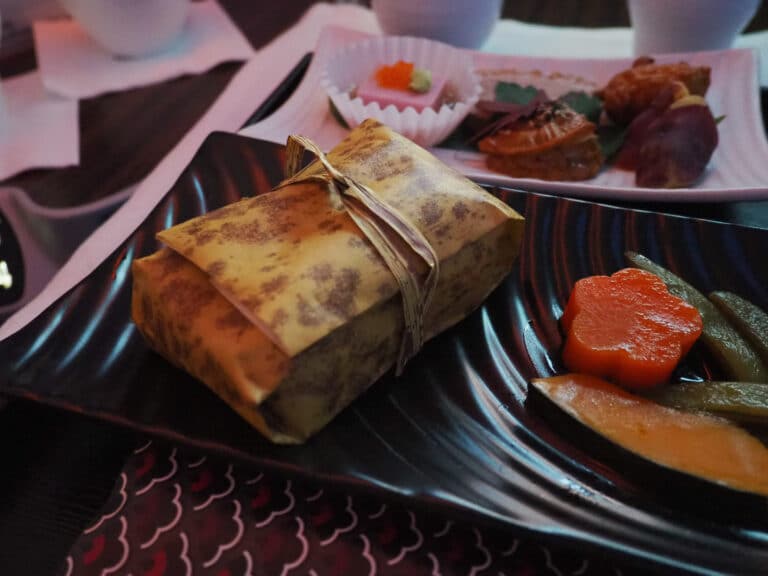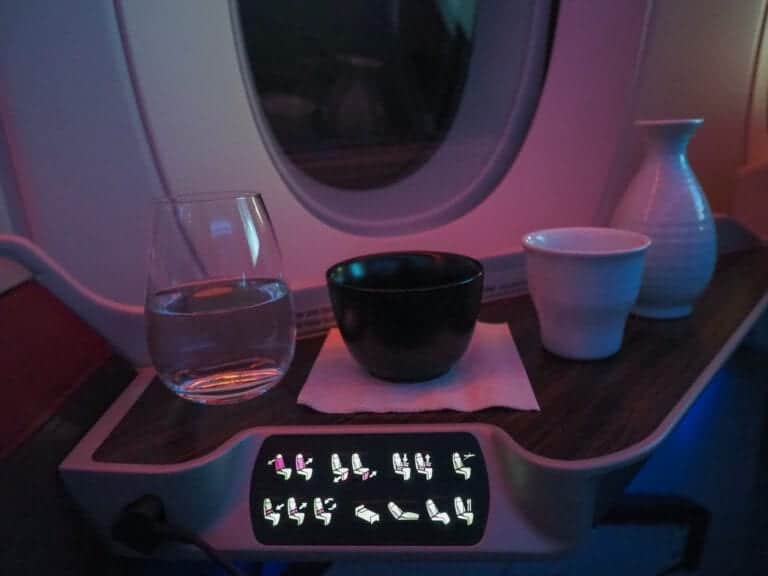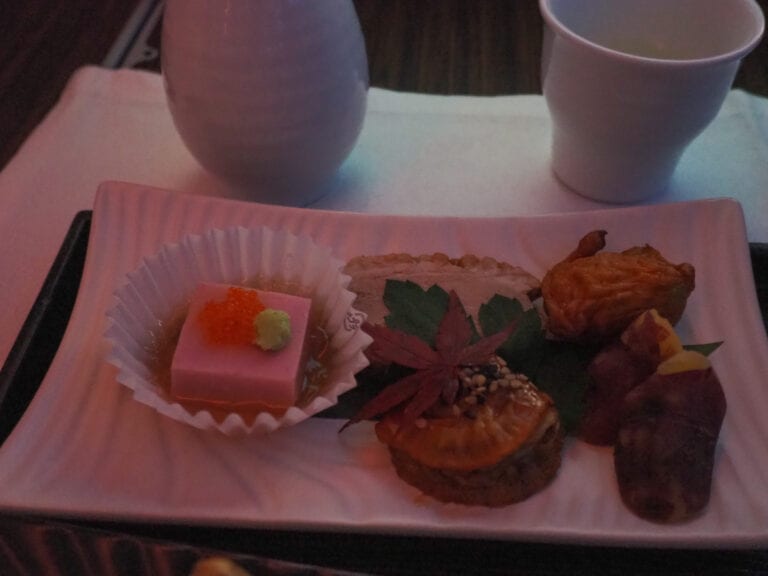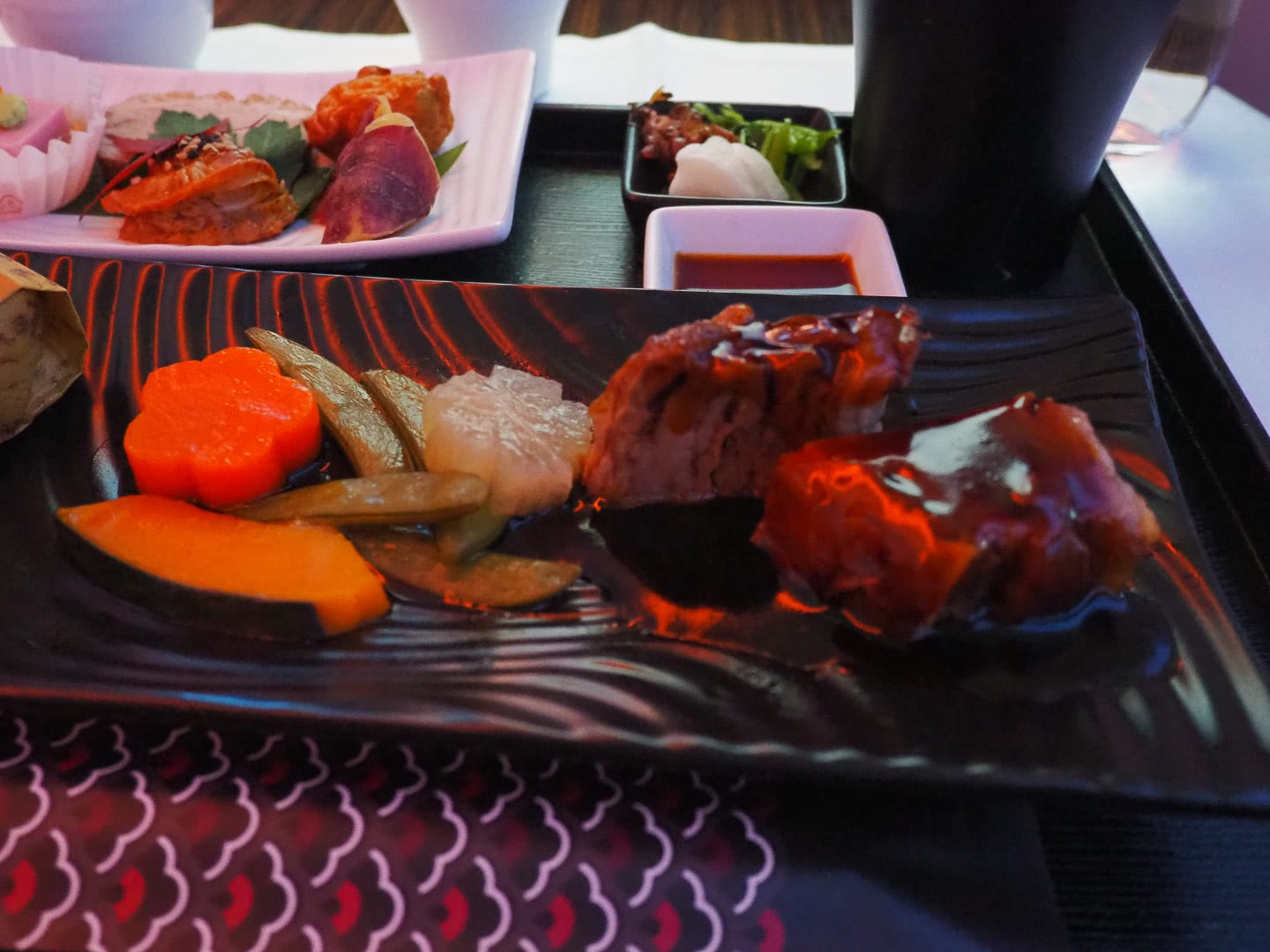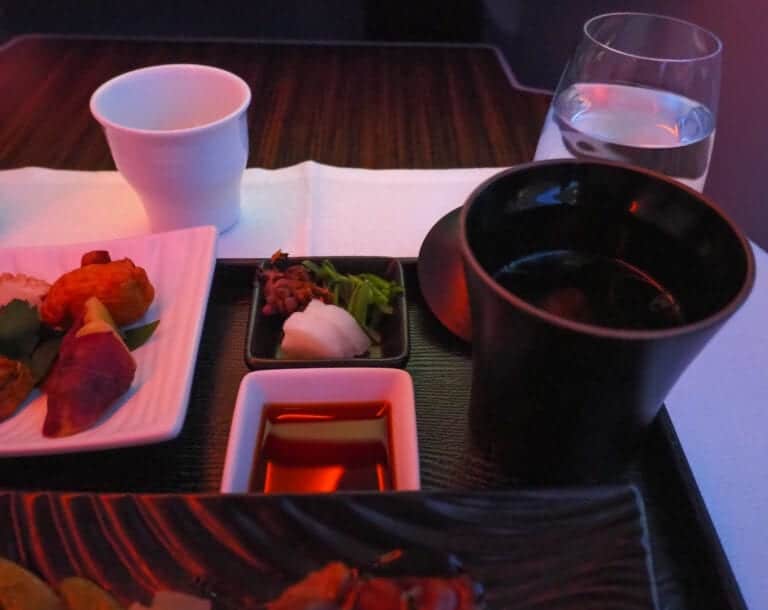 This meal truly exceeded even my high expectations for Qatar. Service also improved, perhaps as a result of many passengers going to sleep. The crew were conversational and proactive, offering top ups and checking in regularly to clear plates and offer more food.
After the meal I went to get changed into the sleepwear provided – this was the standard Qatar branded sleepwear rather than the White Company PJs provided on Q Suites. On the way to the bathroom I passed the central bar area where a small display of snacks and drinks had been set up by the crew.
I wasn't able to get a clear shot of the bed so here is one from the near identical A380. Sleep comfort was very decent, the crew prepared my bed by adding a mattress topper to go with the pillow and blanket.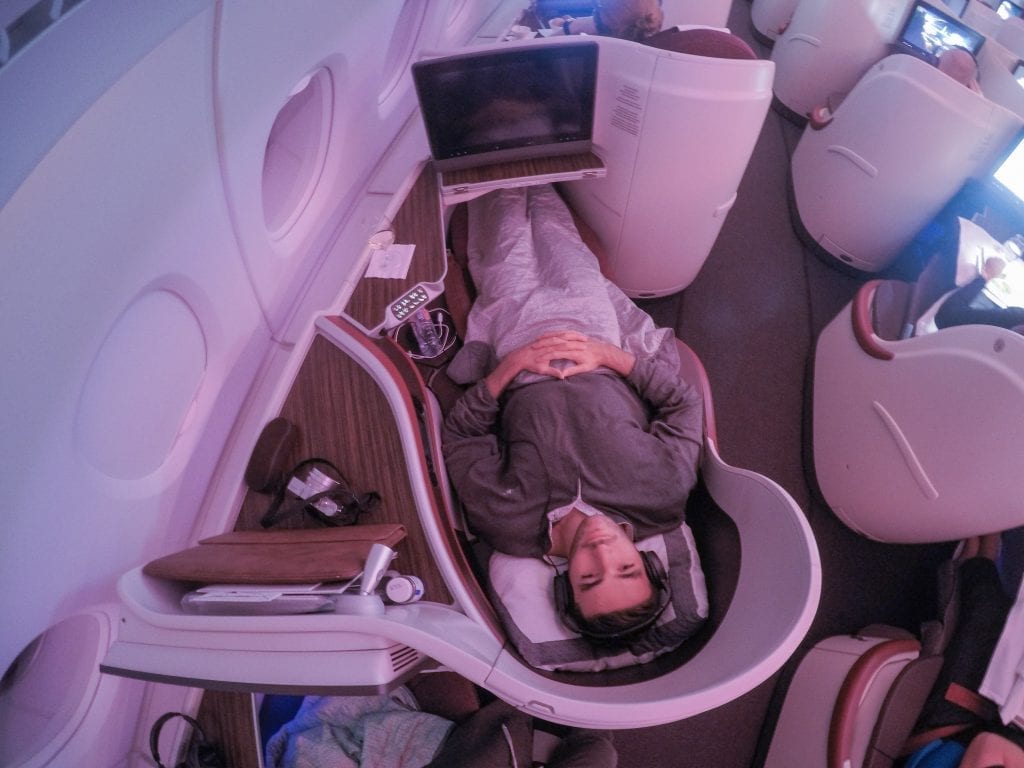 After around 6 hours of sleep I awoke to hear the clinking of cutlery as the aroma of breakfast filled the cabin. I'd already pre-ordered the Japanese option, clinging on to my final opportunity to eat in this way after a wonderful seven night trip to one of my favourite countries in the world.
Whilst the meal wasn't quite on the level of the spellbinding breakfast feasts at the Ritz Carlton Kyoto, it was still the best Business Class breakfast I've ever had and materially better than a lot of breakfasts I've had in First Class.
After that amazing meal I enjoyed a spectacular aerial sunrise for the last hour of the flight, as we approached Doha.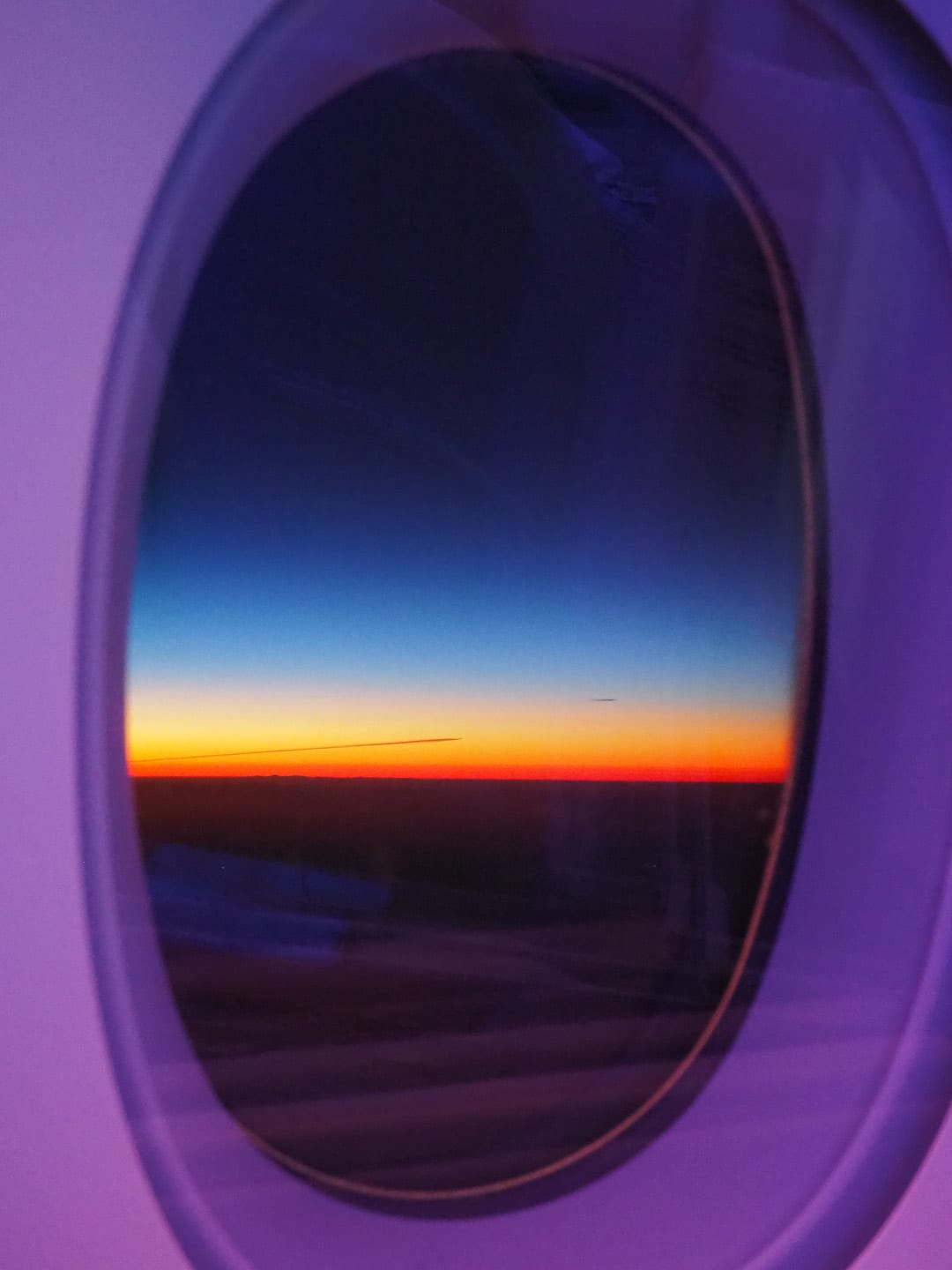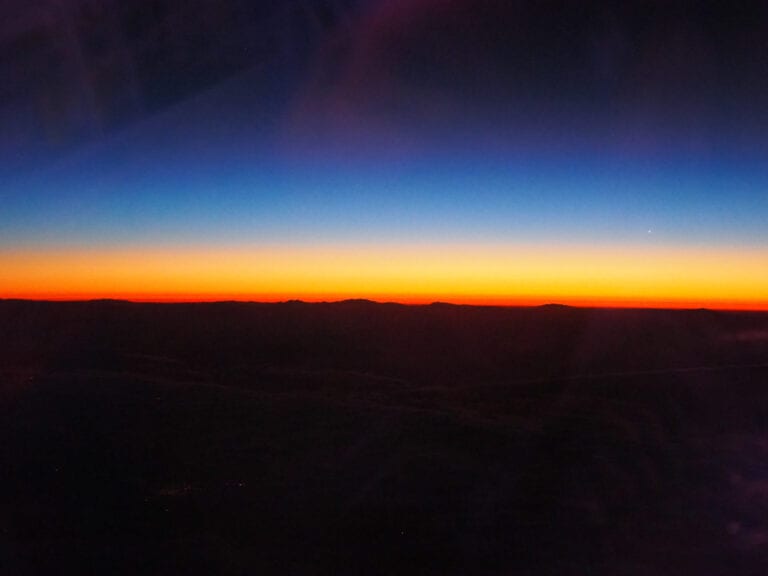 ---
Conclusion
---
I was surprised to notice a few little service slips on this flight since Qatar tends to be so consistent in service delivery. Having said that, Qatar on an 'off day' is still better than almost any other airline on their best.
Pyjamas and slippers, direct aisle access for all seats, fine claret and two exquisitely elaborate meals – this sounds more like First Class than Business Class and that is what you get with Qatar.
---
Q Suites and First Class to Japan
Part 1:

Part 2:

Part 3:

Part 4:

Part 5:

Qatar Airways : Business Class – A350 – Tokyo (HND) to Doha (DOH)

Part 6:

Qatar Airways : First Class – A380 – Doha (DOH) to London (LHR)